Office Outfits For Women Over 50: What to wear to work is one of the most important questions we ask ourselves from Monday to Friday, no matter what our age. In today's modern world, women our age spend most of their time in offices, corporate companies, and banks.
So looking professional with this age is also very important. So today, we will put some creative work outfit ideas for women over 50.
How to Dress For Work in Your Fifties?
As always, we will start with some basic tips and rules that we need to follow:
Choose well-fitting clothes: Fitting is more important than ever in your fifties, especially when it comes to office outfits. So experiment with different styles to find the fittings that look best on you because what works on a pear-shaped body will never look as good on an apple-shaped one.
Comfort is the key: You often spend more hours in your work clothes than your pajamas so they have to be as comfortable as possible. Uncomfortable shoes and clothes can ruin our mood and the day so never compromise on comfort.
Choose quality over quantity: Give preference to good quality clothes and shoes and avoid fast fashion brands whenever possible.
Avoid buying the same style: There are certain colors or prints that look best on us and we often end up buying loads of them for no reason. For instance, I love the color Pink and I feel like no other color looks as good on me. So unconsciously, I often used to end up buying outfits in Pink colors because those were the ones I loved the best. And then I would feel like my wardrobe was full of the same type of outfits that were basically clones. So avoid cloning and experiment with different colors. I now make a conscious effort and remind myself to not buy anything new in Pink unless I get rid of an old item first.
Go for comfortable shoes: Uncomfy shoes and heels in particular won't just give you a bad day but they have many other negative effects on your health in the long run, including giving you a bad posture. So always go for comfortable shoes, I personally don't mind wearing good quality sneakers to work every day because my comfort comes first.
Tailored coats can be your best friend: Yes that's right. Invest in a couple of good quality coats or blazers in different colors and you'll love creating different looks with them.
Update your handbag collection: If you feel like your handbags are outdated or too hip for your age, you might want to switch to more classy handbags as they can make a lot of difference in your overall office look.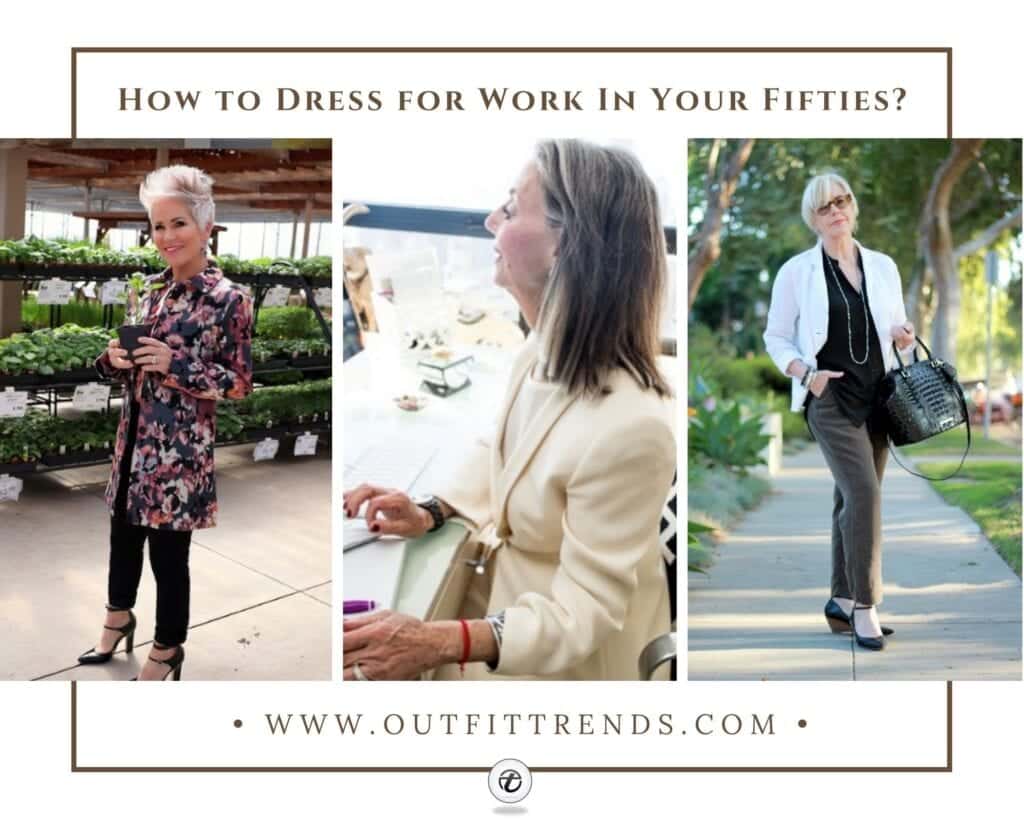 # 20 – Floral Jackets
Floral jackets are the perfect accessory to have for Spring. But be careful when choosing prints as big prints don't work well on most body shapes so it's often safer to go for smaller prints. You can wear such jackets over solid colored shirts or even with patterned blouses. The best part is that they have a very slimming effect, especially if you can find longer ones that cover your hips, like the one shown here: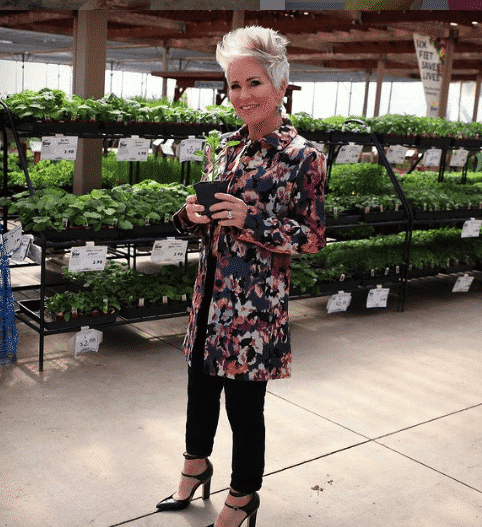 # 19 – A White Blazer
A white blazer is one of the classies must-have items for our age. It's elegant and it can be paired with a range of items including turtlenecks, jumpsuits, skirts and what not!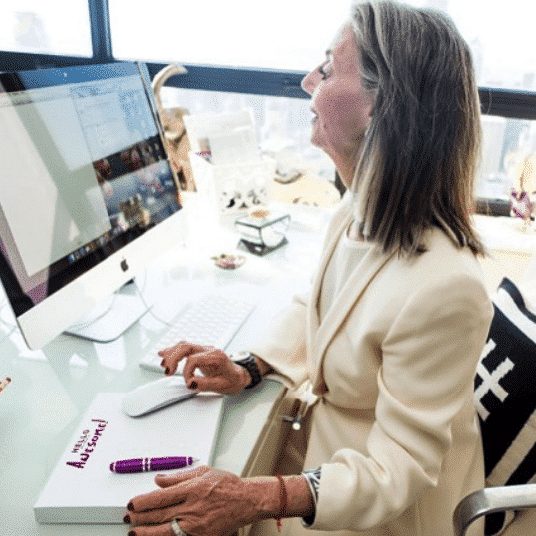 Shop similar items:
Slim Fit Wear to Work White Blazer Jacket Coat (L, White) $25.8
# 18- Celebrity Style
The most appropriate and easiest way to adore for work is the classic look. The classic looks never fade, as it's still the excellent choice for a meeting, for office and professional looks.
Also Check : 18 Outfits for Women Over 60- Fashion Tips For 60 Plus Women
# 17- Vintage Look
The vintage look restrained at the waist with a thin wrapper belt looks perfect style with wine-red blazer, classic bag and heels.Perfect business wear for fifty plus women.
Shop similar items:
Red Open Front Blazer Jacket $25.19
# 16- Camel Coat with Long Boots
The combination looks perfect and looks great on women over 50.You can finish the look by adding a handbag and wrist watch. Here are some more ideas on How to Style Camel Coats.
Shop similar items:
Calvin Klein Women's Classic Cashmere Wool Blend Coat $ 199.99
Strappy Lace Up Low Heel Combat Boots $ 51.98
# 15 – Shirt Dress
Shirt dresses can be a summer staple as you wear them on your own and for Fall or Winter you can wear them with jeans or leggings and layer over with coats or jackets of your choice.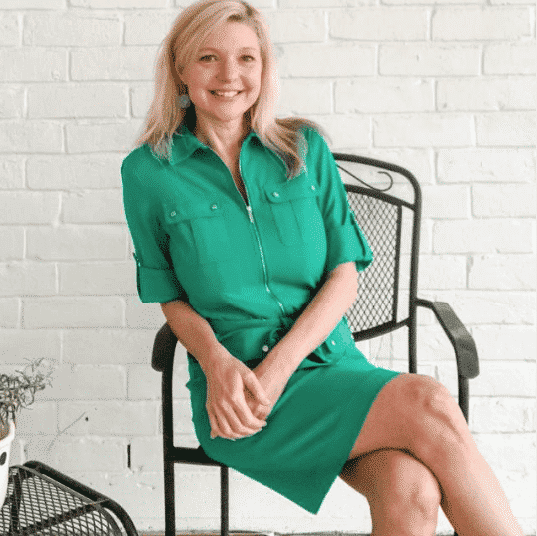 #14- Flared Skirts and Tailored Bodice
The A-line checked dress with a tailored bodice and slightly flared skirt fits well with women with larger hips and thighs. It beautifully emphasizes the waistline. Just have a try with gray wool coat and red accessories, including bag and boots.
# 13 – Polyvore Sets, Really Comfortable
Collection of best Polyvore sets are really professional and comfortable dresses, which are ideal for working and after-working hours wear. They not only looks good but feels comfortable and appropriate for working environment.
Business Casual Office Outfits for Women Over 50
# 12 – Professional Summer Look
Selection of fabric is very important in summer for professionals. They must be lightweight. You can wear sleeveless blouses under colorful jackets, that can also streamline your shape and look slimmer. You can remove the jacket in the afternoon when it heats up.
# 11 – Wrap Dress with Shawl Neck
If you want to flatter your shape then here we is a wrap dress with shawl neck, which has a best fit and style. It details your bustline and waist. It's an excellent piece for those who want to hide their hips. The long sleeve are really professional and keeps you warm whole day at the office.
# 10 – Good Coat, Good Idea
You can always embark a good coat one as an warm approach to winter.
# 10 – Opaque and Patterned Tights with perfect Hairstyle
If there is a work scheduled presentation, then you can go for patterned opaque tights for a great classic look. If you like this look, you should also go through these Short Hairstyle Ideas for Women Over 50 .
# 9 – Zara Jacket and Cashmere Jumper
It is the most cheery style with the changing weather as work outfit.
# 8 – Turtleneck Sweater with Leopard Print Blouse
This is the perfect classic work outfit for winters.
via
Shop similar items below:
Long Sleeve Mock Turtleneck Top $22.99
Asymmetrical Leopard High Waist Mini Short Skirt $18.99
# 7 – Glam up Your Office Style
Yes you can glam up your office style with cardigan, jeans and white shirt. A pair of shoes and bag can embrace a chic style.
# 6 – Sundress as Faux Skirt
Layering a sundress with a sweater gives warmth in the office, where the air condition is always on. Pairing up sweaters with sundresses is really adorable and appreciative.
# 5 – Lightweight Jackets For Summers
Office outfits in warm weather is always a bit of a challenge. Just try to include structured elements such as lightweight jacket and closed-toe shoe. They are really lifesavers during summer months.
# 4 – Artistic Garments
The artisan accessories are right statement pieces that imparts unique and neutral look in office. Some premium pieces are produced as high quality products by experts who are passionate regarding their craft.
# 3 – Flattering Printed Cape
Yes you can look amazing by occasionally mixing things. The cape looks super amazing and adorable with tights and jeans.
# 2 – Pencil Skirts
If you really love the foundation of neutrals then stretch your wardrobe with organized statement pieces. A pencil skirt is one of the lovely neutral that looks beautiful.
# 1 – Cook up a Personal Style
Yes you can cook your own personal style by throwing different designer ingredients together. Don't rely on pieces from just a one place. Experience a confident style by mixing up a bit.
Frequently Asked Questions
Here we answer some of the most common questions that our readers have sent to us:
Q. What should a 50 year woman wear to work?
We've shared above a number of ideas on work outfits for women over 50. But some of the essentials that we recommend that you should have in your wardrobe include well-fitted blazers, dress shirts, turtlenecks, straight pants, skirts, some striped shirts and some button-down shirts. If you wear suits to work, I also recommend investing in some good quality power suits that you can even mix and match when needed.
Q. What should you not wear to work after 50?
Some of the basics to avoid include wrinkled and bad-smelling clothes of course. But what you shouldn't wear to work also depends on where you work and what your boss and colleagues consider as appropriate. In some offices, your can even show up in distressed jeans but many would not be okay with that. So you need to study your work environment to decide what items to avoid. If you've just started working at a new place then the best strategy would be to do a bit of Facebook stalking and check on your company's profile how your new colleagues dress up as this will give you a pretty good idea of what's acceptable and what's not.
Q. How to plan work outfits for the week?
Planning ahead always helps you avoid mismanagement and also helps save time. You can start by making a list either in your diary or on your phone/laptop in which you mention what you want to wear on each day of the week. It's best to start doing this Saturday night. Then on Sunday you can take the items you want to wear out of your closet and arrange them in order. There are also different apps that you can use for this like these Wardrobe Planner Apps.
Q. Where to buy work outfits for women over 50?
Here are some of the best stores to shop for work attire in your fifties:
Nordstorm
Lululemon
Eileen Fisher
Zara
Gap
Shopbop
Dior
Living my 50s in style doing what I love the most!