Suspender Outfit Ideas – Every day, fashion lovers look for something that's not just elegant but also easy to pull off. Therefore, we bring you the ultimate stylish and effortless suspender dress ideas. Suspenders are long fabric strips used to hold up your skirts or trousers.
But, they don't just hold up, suspenders also bring a fashion-forward vibe to your outfit. A suspender dress is a lovely addition to your wardrobe as it makes you look youthful and gorgeous.
The typical colors you will find in a suspender dress are black and white. However, they have come a long way. So, look no further for a suspender dress guide. We bring you everything you need to know about wearing a suspender dress.
From tips on wearing them to trendy suspender dress outfit ideas, you must know to rock some pretty suspender dresses.
How to Wear A Suspender Dress?
Suspenders are a viable option for every woman. You might prefer to wear short skirts, mid-thigh skirts, or perhaps you are comfortable with longer skirts. The good news is suspenders look great with each of one these.
It's not the length or the kind of fabric you choose for suspenders but how you style them.
One of the key factors to wearing a suspender dress is to know what you will wear them with.
So, even if you have got some suspenders, you still need to know how to style them.
Sometimes, it can be tricky to understand what goes well with a suspender dress. But, they are worth an effort. Without wasting much time, let's get started with some tips first.
Tips on Wearing Suspender Dress
Choose the suspender fabric that goes well with the rest of your outfit.
What's the best tip I can give you for any outfit? Accessorize! Accessorizing your outfit the right way can make a huge difference in your look.
Do not hide your suspenders. Make sure you choose an outfit that highlights your suspenders.
A white or black blouse will look good with almost every suspender dress and it is the safest option to go for if you're trying suspenders for the first time.
If you're going with a darker shirt, consider wearing patterned suspenders or ones with complementary colors.
Ideal footwears for suspender dresses are ankle boots or heels. So, always wear one that compliments your overall look.
20 – Classic Black And White Suspender Dress
If you wish to wear the traditional black and white suspender, then here is a classy look for you. What's unique in this outfit is this A-line suspender skirt that gives elegant vibes. You can easily pair it with boots. However, heels will look great too.
One important factor is how you carry this outfit. So, carry this outfit with confidence. This is a well-put-together outfit and is a great addition to your work wardrobe. When wearing this suspender dress to work, either let your hair down or go for a sleek ponytail.
19 – Autumn Suspender Dress
Bright colors bring you the ultimate Fall vibes. Yellow is one cheerful color that should be in your Autumn wardrobe. Yellow and white are the perfect combo for this season. In this outfit, a full sleeves white top is paired with yellow suspender and sheer stockings. Moreover, braided hair adds an adorable touch to the look. Complete this look with low-top white sneakers.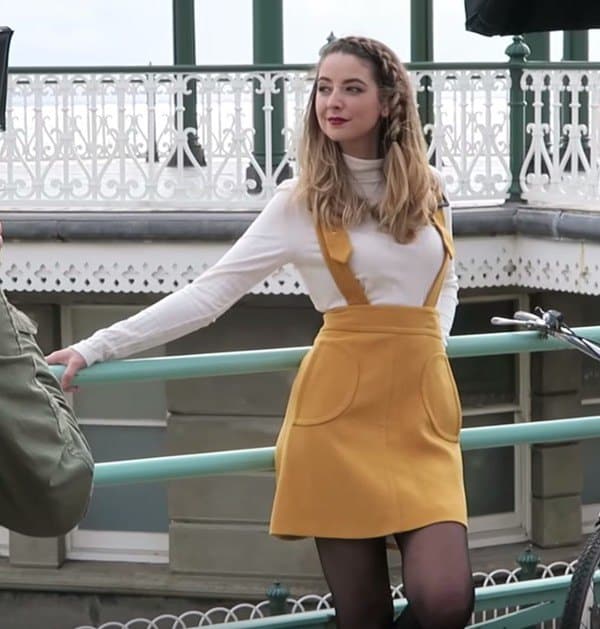 18 – With a Turtleneck
A suspender with a turtleneck top looks for people who love to wear turtlenecks. Create this classy look to make a statement. Also, here are some tips on styling turtleneck outfits.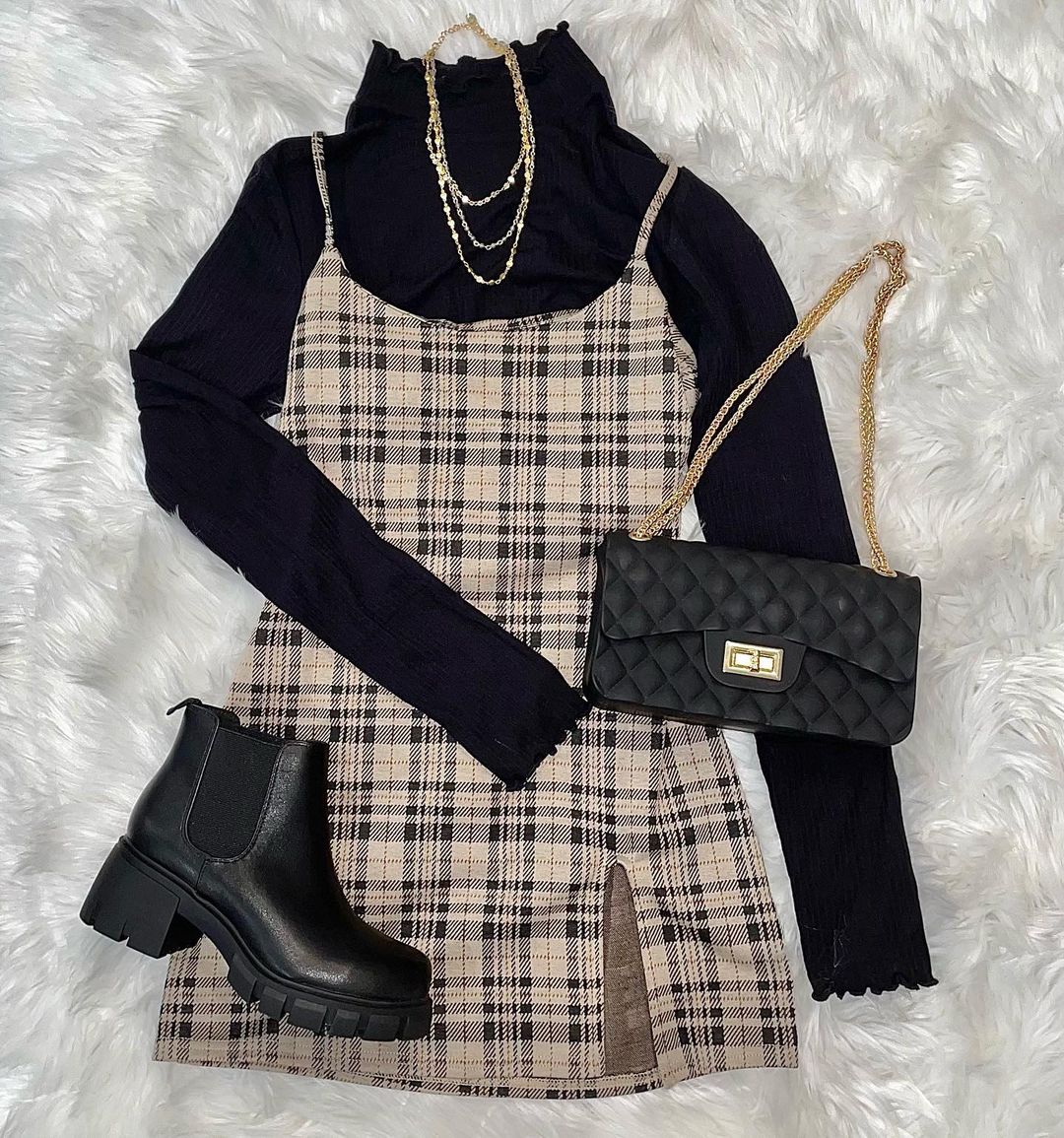 17 – Plaid Print Suspender Dress
16 – Suspender Skirt Outfit for Winters
Neutral colors are perfect for cold winter days. Pair an oversized shirt with a suspender skirt. Opt for a bit dark neutral-colored suspender dress and a light-colored shirt to put this look together beautifully. The outfit will not just keep you warm but you will also look presentable and cute.
Furthermore, you can also add a white color jacket to the look and your outfit will look effortlessly casual and cute. For this outfit inspiration, I recommend going for a minimal no make-up look and a simple bun. Carry a leather bag and add mid-calf lace-up boots to complete the look.
That's all you need to do and you will have a gorgeous winter look. If you like this neutral color scheme, then you need to see some of the best ways to wear neutral color outfits.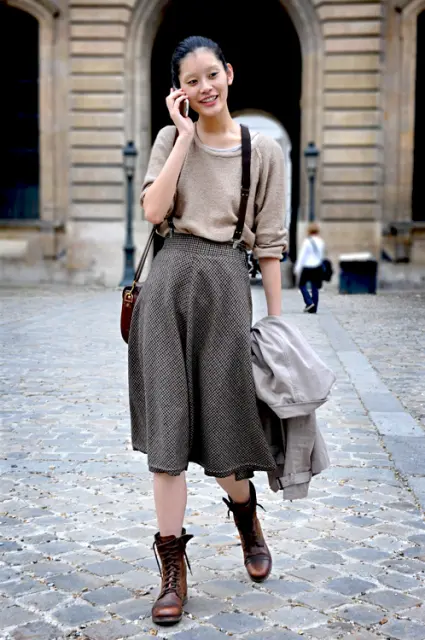 15 – Gorgeous in Green
Want to dress up nicely but keep it minimal? We have something for you to turn your ordinary green suspender dress into something more. Add a net top instead of a basic one. Keep it classy and minimal, add one or two accessories and complete this look with some comfortable ankle boots.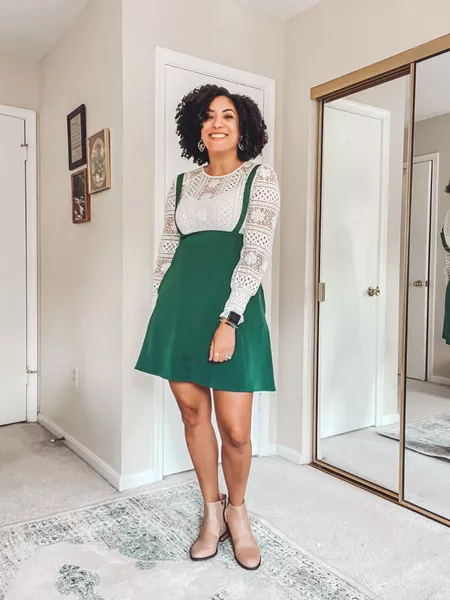 14 – For A Outdoor Picnic
You need an outfit that works all day for an outdoor picnic. Choose suspenders like this one. I love the button detailing that adds beauty to the dress. Pair it with a simple black top to define the solid-color suspender dress.
Opt for wavy hair for this look and create a really cool top-knot. Rule number one for any outdoor picnic is to apply sunscreen, do bronzy makeup to enhance the overall look. Apply your favorite lipstick and you are ready to dazzle. Here are some more Picnic Outfit Ideas for your inspiration.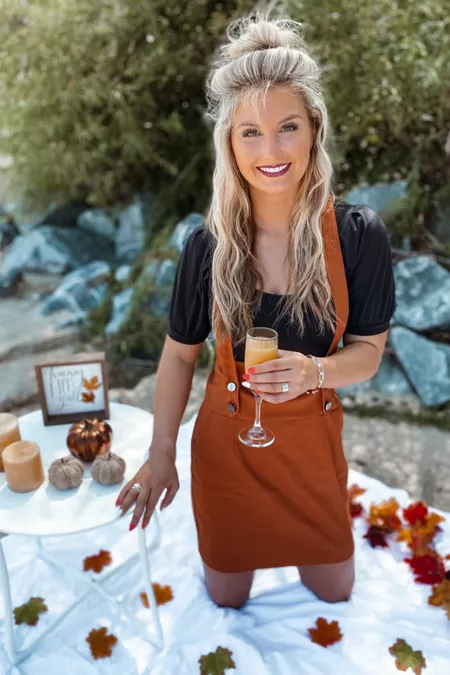 13 – Basic Suspender Dress with Floral Elements
Style a basic suspender dress with a floral top. Although you can go for any color of your choice, it would be a plus to have it in pastel colors as floral prints are further enhanced in pastel colors. Have a look at this picture and notice how basic everything in this outfit is. Yet, it looks classy and sophisticated because of its color selection.
When opting for this simple attire, I suggest going for a no make-up look and minimal accessories.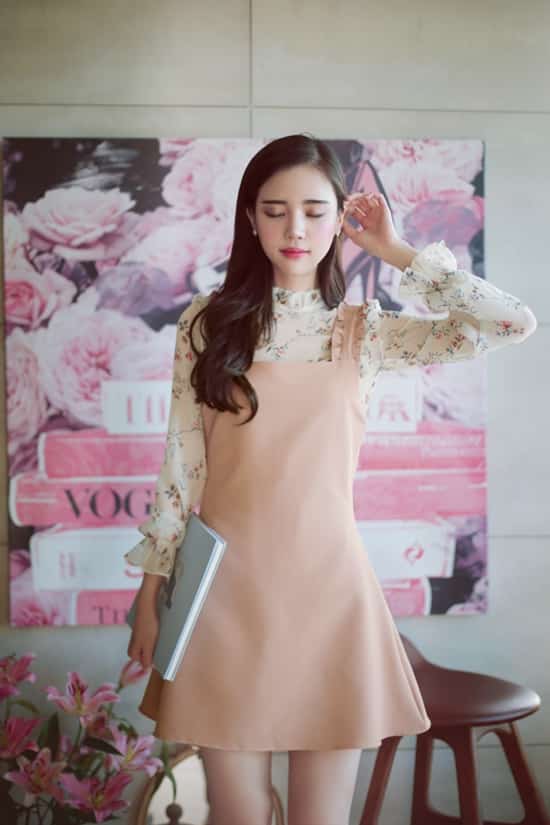 12 – Suspenders For Halloween
Choose suspenders and go crazy this Halloween. Black suspenders don't just look exceptionally good but they are comfortable which allows you to enjoy yourself to the fullest.
For the Halloween special outfit, we have paired a basic black suspender dress with an orange pumpkin shirt. Add black leggings, striped socks, and black boots. Lastly, complete this look with a black chain bag and a stylish black hat.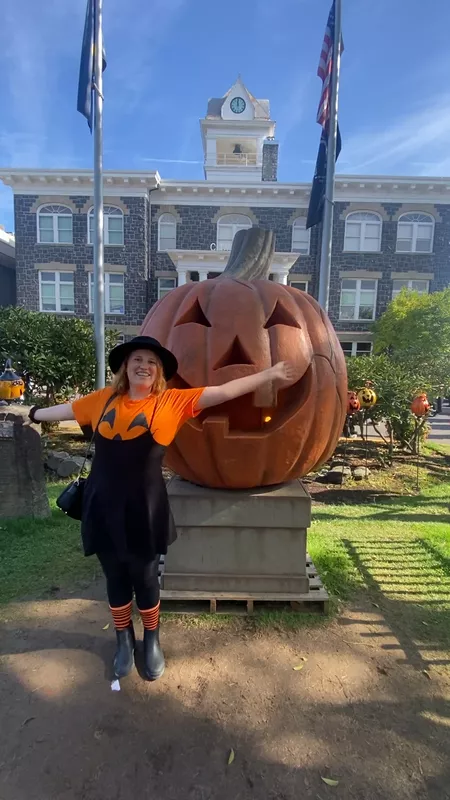 11 – My Favorite Combination
I love the color of this dress. Pink and white blend so well. A pink suspender dress and off-shoulder top are perfect for summer. Pair it with some hoop earrings and apply soft dewy make-up to enhance this look further.
10 – 90's Inspired Suspenders
Have a 90's theme party and can't decide what to wear? What's a better choice than this look. A classy suspender with a french beret hat that is perfect to rock a 90's party. You can easily recreate this look with a plaid suspender dress, a white tee-shirt, stockings, and black shoes.
Remember to also follow some make-up trends from the 90s to get a complete 90s look. For instance, red, brown, purple shades of lipstick were popular in the 90s. Lips lines were defined by using a dark lip liner and lighter lipstick shades on the rest of your lip.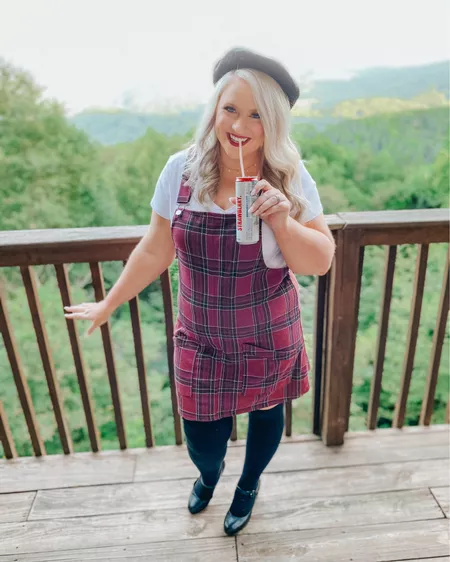 9 – What to Wear with a Blue Suspender Dress
Do you like wearing blue? Then, this one is for you. Blue suspender skirts over a white tee shirt are a cheerful combination. For this look, keep your hair down and accessorize. But, don't over-accessorize. Keep it minimal, wear some fancy earrings and a simple necklace.
Depending on your mood, choose ankle strap heels for a stylish look or low-top sneakers for a comfortable one. Apply soft nude make-up to enhance your look further.
8 – Casual Outfit with Suspenders
If you love wearing all-black but also want to add a little bit of color to your outfits, check out this outfit. This outfit is created with cold shoulders black top and leggings. A Lilac suspender dress is worn over it for a lively look. Pair this with mid-calf boots and put your hair into an everyday messy bun. That's it and you will have a stunning outfit.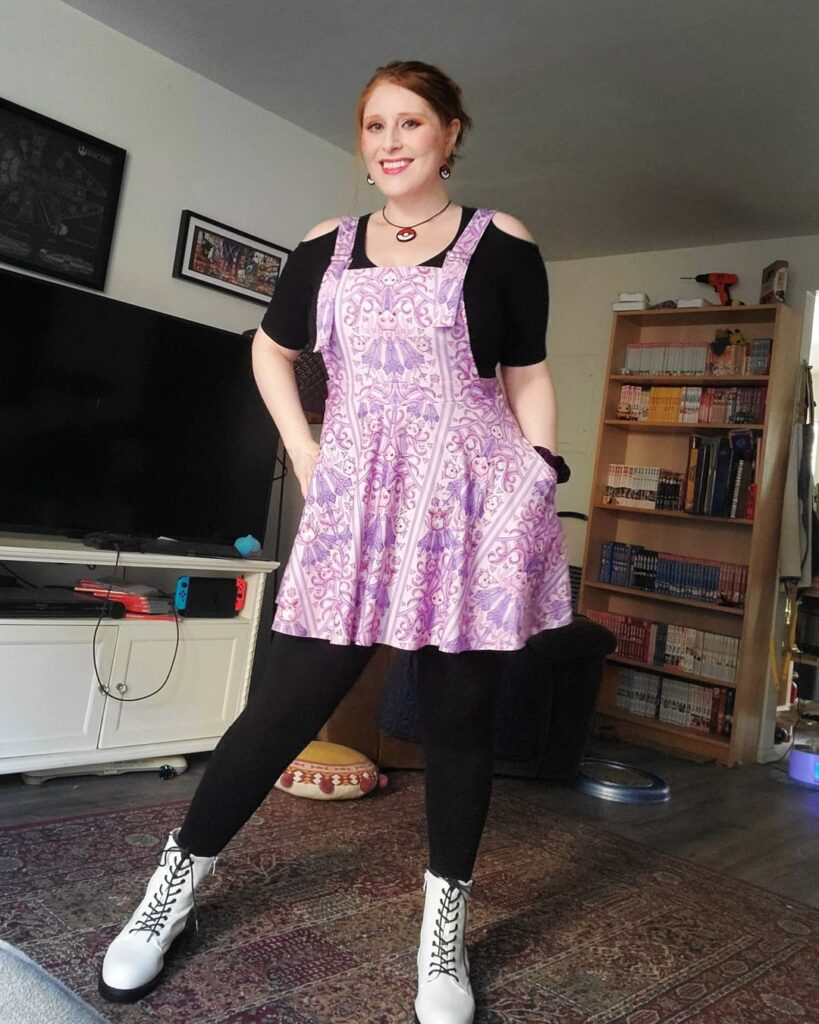 7 – Floral Print Suspender Dress
Floral prints can never get old. They are classic and the ultimate choice when you want to add a beautiful and feminine touch to the overall look. The look is great for friend's meet-ups or for a fancy lunch.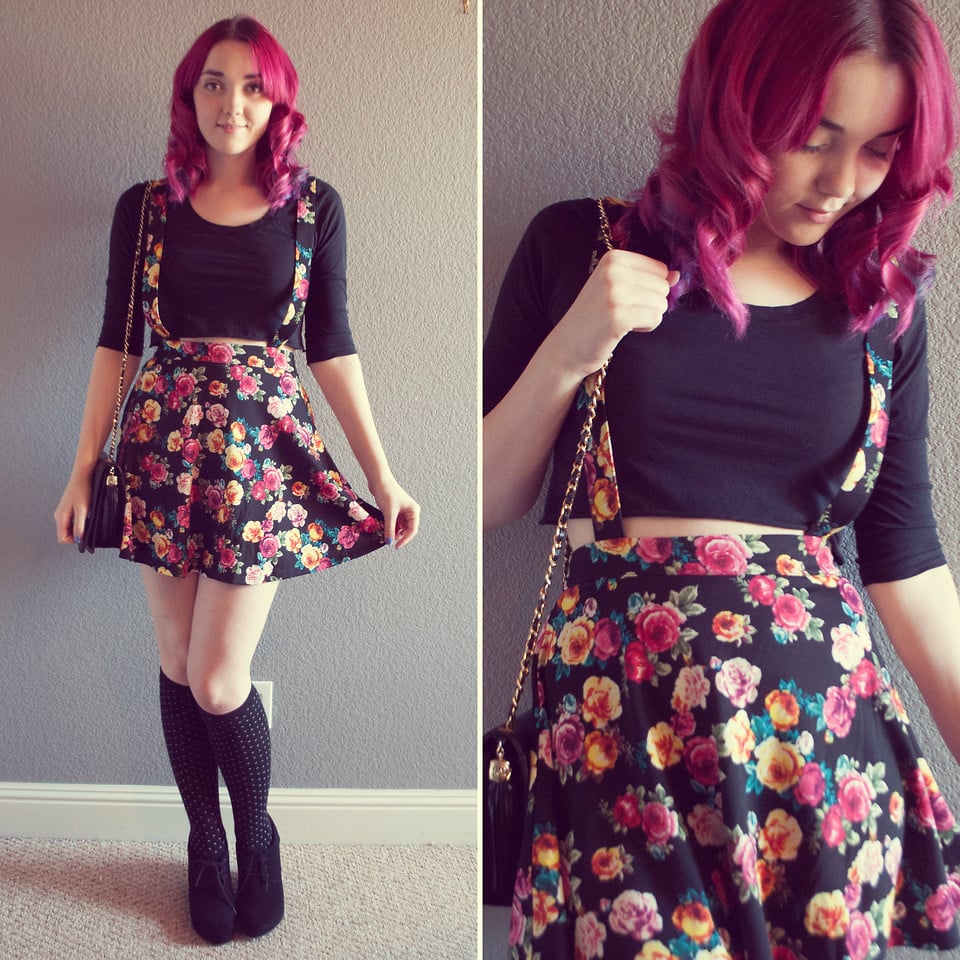 6 – Cute Suspender Dress
Korean fashion has some of the best suspender dress ideas and this one is worth seeking out. sweetheart neck suspender dress over a white shirt looks beautiful and feminine. The dress looks more adorable when paired with low-top sneakers.
Accessorize it with some daily jewelry pieces and you are ready. This look will have you feel cute and is great for a picnic or summer brunch.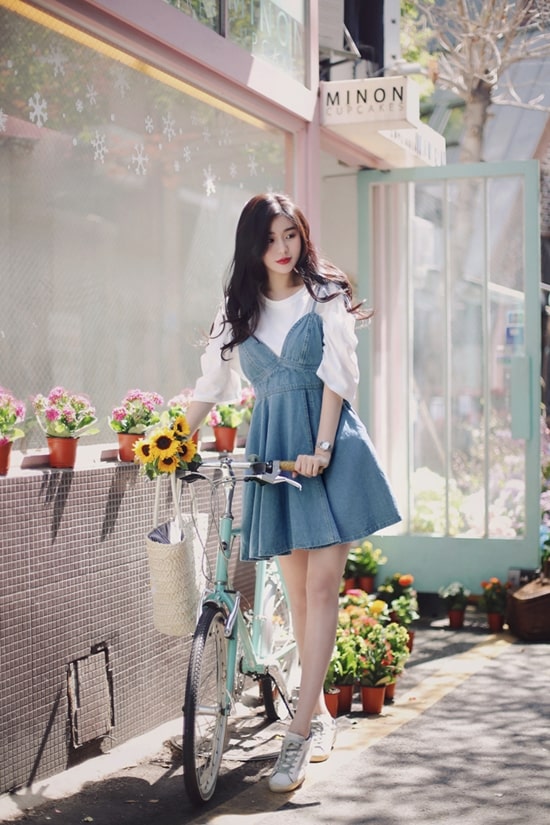 5 – Side Slit Suspender Skirt
Long side slits suspender skirt with stripe shirt for a breezy and stylish look. Add your favorite boots and you are done for the day. You will have an easy-going outfit without having to put much effort.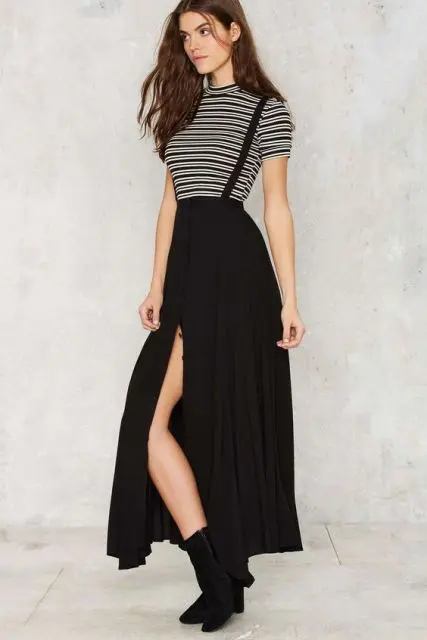 4 – With A Sweater
Via
3 – Sweatheart Red Suspender Dress
Instead of a plain blouse, add a printed blouse with puff sleeves like this one. Red and black are an ideal combo and I can't think of a better way to style them. The colors go together so well and the overall outfit looks so flattering. A red suspender dress over a puff sleeves blouse looks adorable.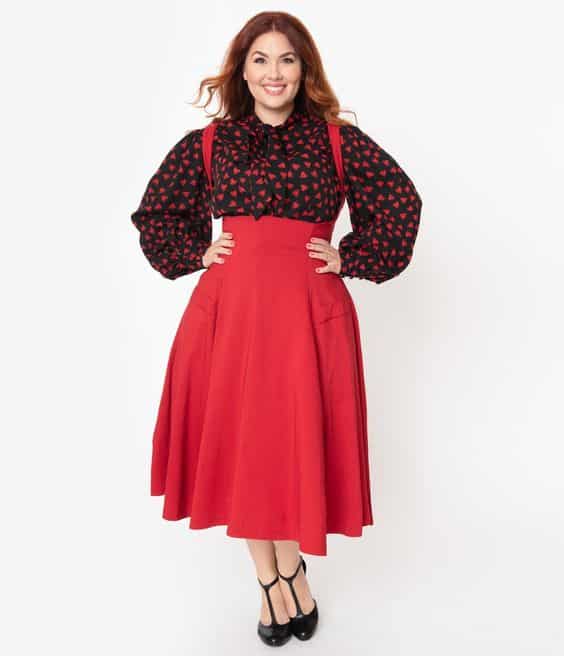 2 – Travel Outfit With A Suspender Dress
Can you think of a more chic outfit than this? Because I can't. I love everything about this outfit. The overall look has a lot to offer. It's comfortable, casual, and much more stylish than any outfit.
To recreate this look, get yourself a mini floral suspender dress, a white shirt, straight-leg jeans, combat boots, and lastly your favorite shades. Here are some more Travel Outfits for Airport that are inspired by the most stylish celebrities.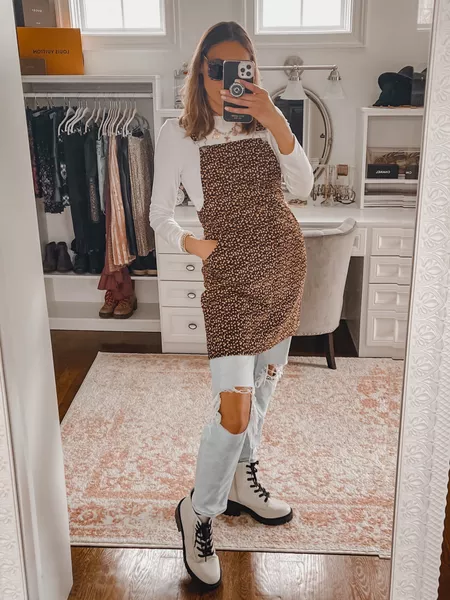 1 – Denim Suspender Dress
Denim and red striped shirts paired together are one of my favorite suspender look from the list. I love the button detailing on the skirt that makes it look anything but ordinary. Pair with a hat and pumps to bring classy vibes to the overall look.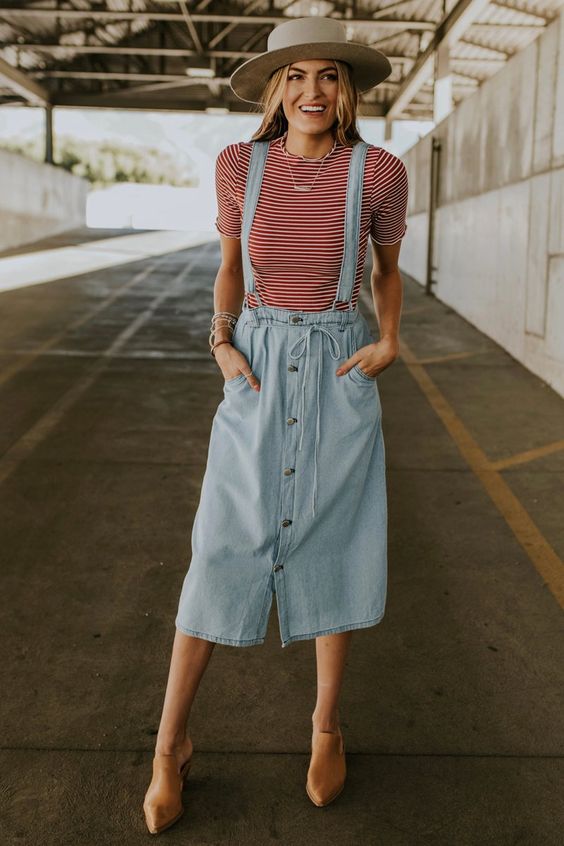 Via
Frequently Asked Questions
Q: What's the best way to style suspenders for women?
Suspenders can be styled in multiple ways. You can basically wear anything of your choice with suspenders. But, it depends a lot on the occasion. For instance, if you have a formal event coming you can wear suspenders with skirts; any length of the skirt would do. You can also pair it with jeans, shorts, or a sweater for a casual look.
Q: Are suspenders considered formal?
Suspenders are formal business attire and they are definitely appropriate. Choose suspenders for a formal setting to express your creative and authoritative personality at the workplace. However, it depends a lot on the kind of color, fabric, or print you choose. Our advice is to wear solid colors for business meetings.
Q: What color should my suspenders be?
The general rule is to choose suspenders that are darker than your shirt. so, start with bold colored or patterned suspenders that are visible. The most popular color of tops that goes with suspenders is white as suspenders are easily highlighted on them. However, if you are wearing some solid-color tops then you need to select some darker colors for your suspenders.
Q: Are suspender dresses good choice a party?
Yes, suspenders will look great at parties. But, opt for a fancy blouse instead of a plain one. For example, you can pair your suspender dress with a floral blouse, a puff sleeves top, or similar tops that add a formal look to the outfit. You can also choose a floral, patterned suspender dress or ones with some detailing to add a bit more to your party outfit. Moreover, choose some cheerful colors instead of the usual black and white. Add some accessories and a pair of heels for a glamorous look.