If you're going snowboarding, you should know what to wear so you can be warm, dry, and comfortable on the mountain. It is a high-intensity activity, so be sure you have the right gear to protect yourself from adverse conditions and perform at your best.
With these 18 curated inspiration outfits, we'll cover all you need to know from head to toe in one post!
Here's everything that we'll cover:
How to Dress for Snowboarding?
When it comes to snowboarding clothing, a few crucial elements to consider are the weather, your ability level, and your tastes. Dressing in layers is usually a smart idea, whether you're a novice or an experienced rider. This allows you to alter your wardrobe based on the temperature and amount of exercise.
You should also ensure your gear is waterproof and breathable to stay dry and comfortable all day. Furthermore, proper equipment, such as goggles, gloves, and helmets, can protect you from the cold, wind, and potential accidents.
And if you're heading over to a ski resort, do check out our ultimate guide on Ski Resort Outfits.
Styling Tips
Base Layers – A foundation layer is the initial layer of clothes you should wear while traveling somewhere chilly. This layer has direct skin contact and helps regulate your body temperature by wicking moisture away from your skin. Synthetic fabrics such as polyester, nylon, or merino wool should be used for base layers, so try finding clothes with those fabric linings. These fabrics are quick-drying and breathable, allowing you to stay dry and comfortable. Cotton absorbs moisture and might make you feel chilly and wet.
Mid Layers – The mid layer is worn over the primary layer to keep you warm. Because they are lightweight, breathable, and provide excellent warmth, fleece jackets or vests are a popular choice. A down jacket or a synthetic insulated jacket can also be worn. These coats are quite warm and may be worn alone on warmer days or below a shell jacket on colder days.
Outer Layers – The outer layer is the most significant. It is in charge of shielding you from the elements such as wind, snow, and rain. Waterproof, windproof, and breathable outer layers are ideal.
To snowboard efficiently, your outer layer should fit well and allow you lots of flexibility. Here's our exclusive guide on How to Layer Outfits.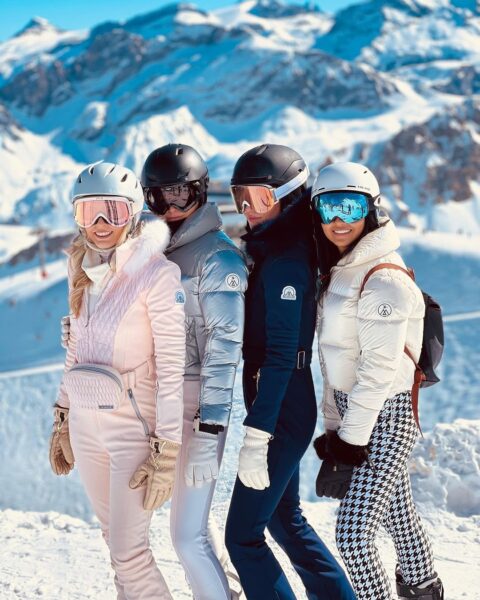 Accessories – Accessories are essential, and your look would be incomplete without them. Gloves or mittens are necessary for keeping your hands warm and dry. Look for gloves or mittens that have a waterproof and breathable membrane and that fit well. A neck gaiter or balaclava will keep your face and neck warm, while a beanie or helmet liner will keep your head and ears warm. Sunglasses or goggles are also useful for shielding your eyes from the sun, wind, and snow.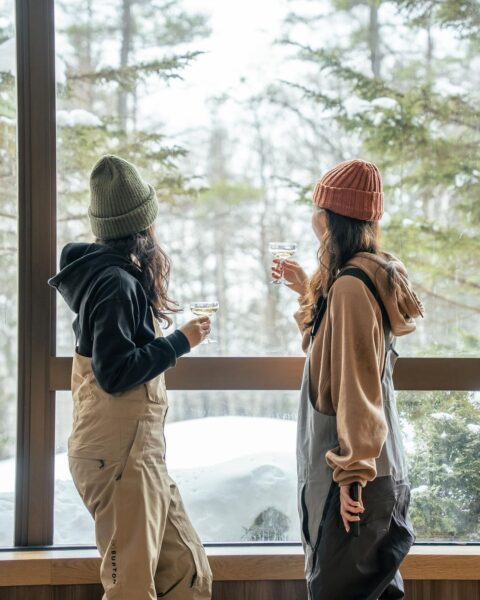 Footwear – Snowboarding boots should be comfortable and supportive. Choose boots with a stiff flex and adequate ankle support to provide you with the stability and control you need to slice down the mountain. These boots are intended to be worn in conjunction with snowboarding socks, which are thicker and more cushioned than conventional socks. Such socks are comprised of fabrics that drain moisture away from the skin while keeping your feet comfortable and dry.
Snowboarding Outfit Ideas
18 – Holographic Jacket with pink hues & blue-pink cargo pants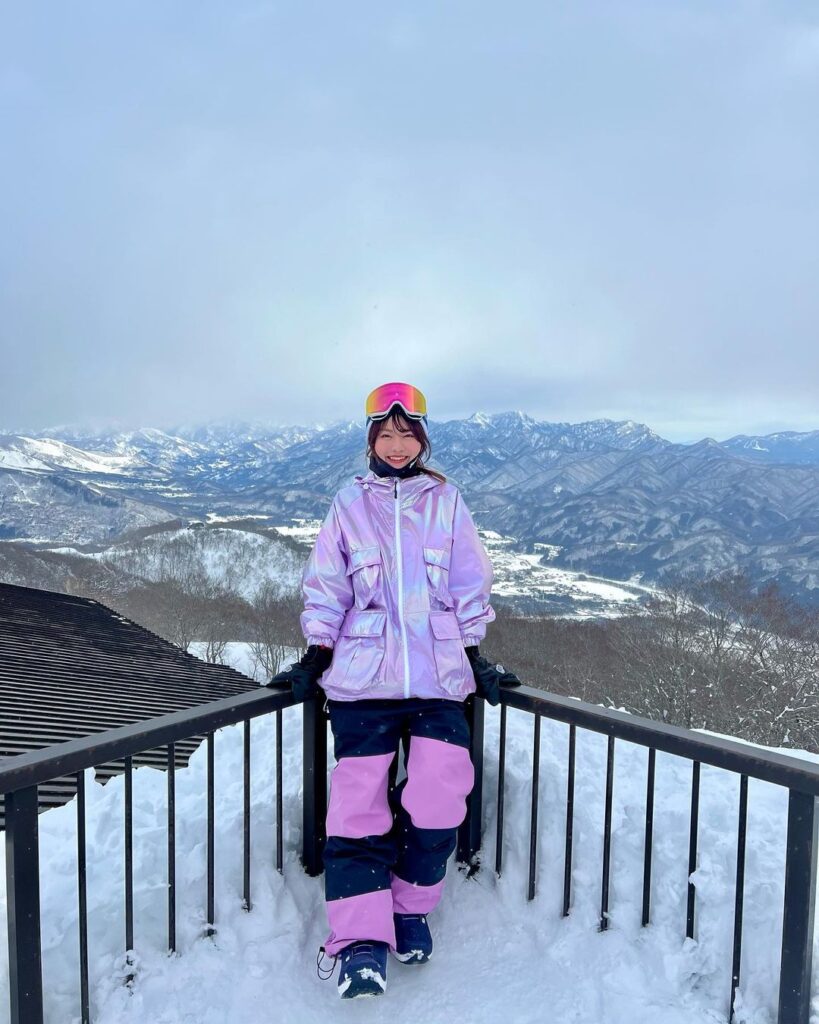 17 – Mustard Sweater Paired with Grey Overalls
16 – Black Sweatshirt paired with black sweatpants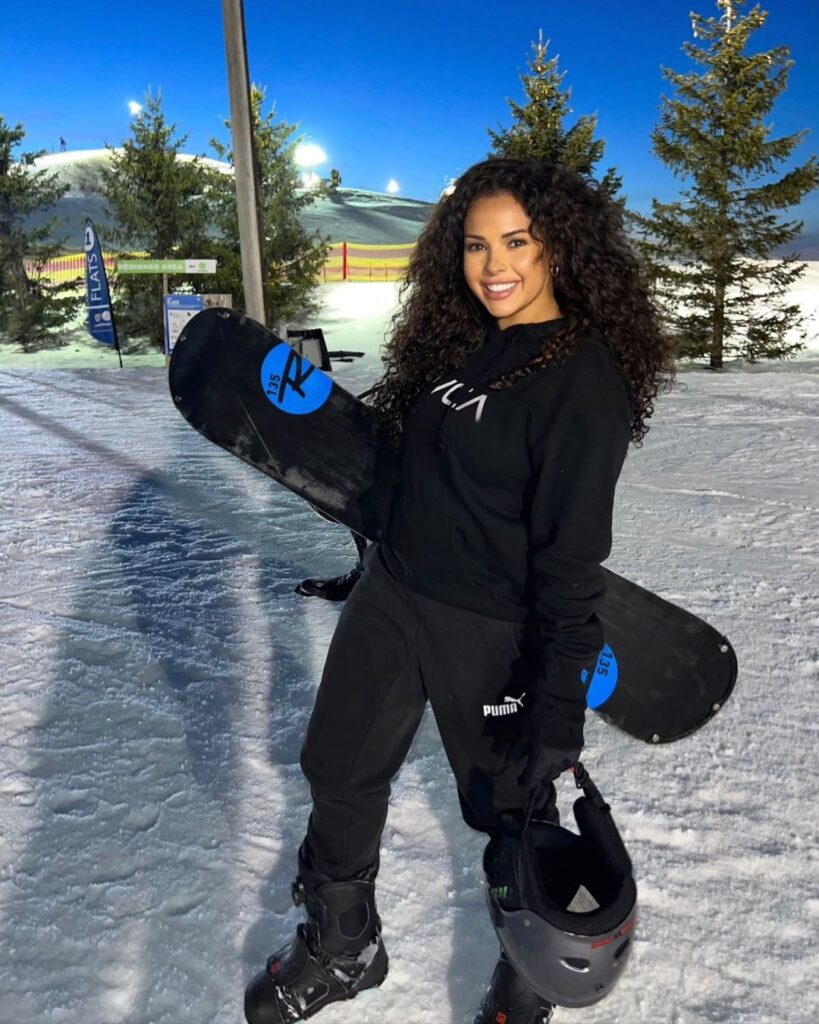 15 – blue crop-top with white pants and teal beanie
14 – Dark Brown Printed matching set with fur ear muffs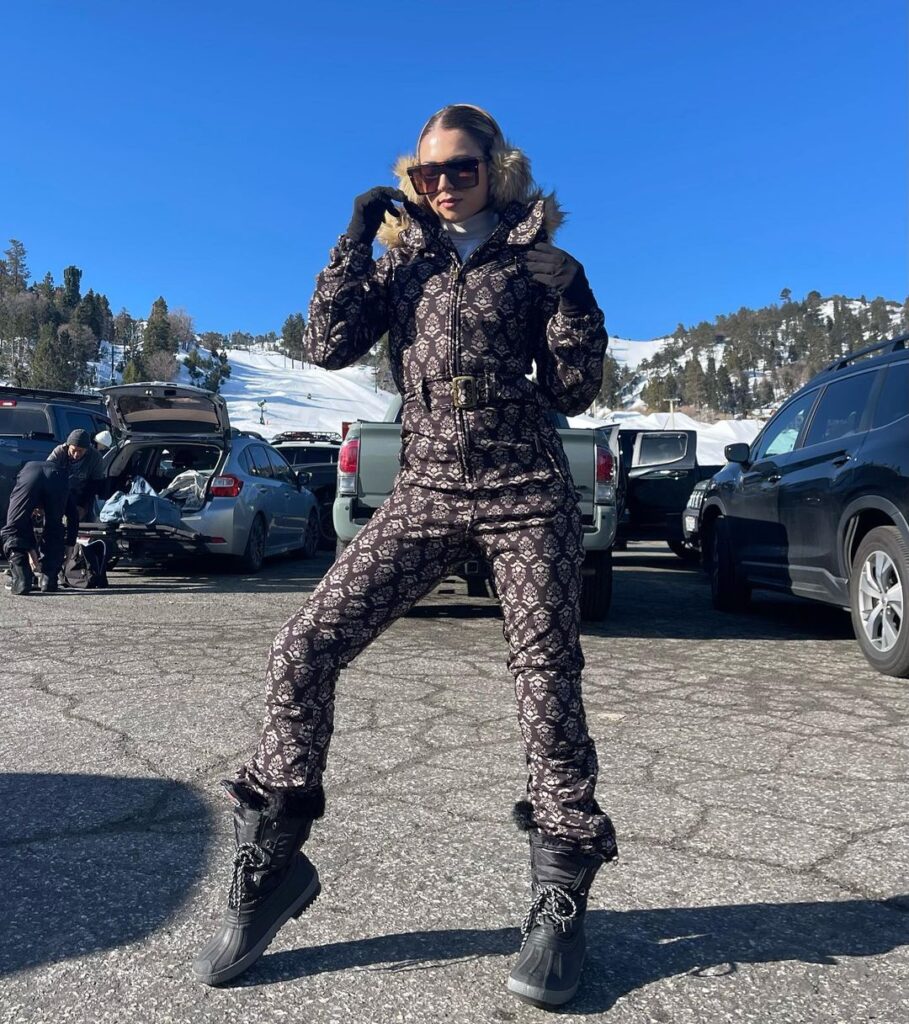 13 – black High-neck t-shirt with grey overalls & white Snowboarding shoes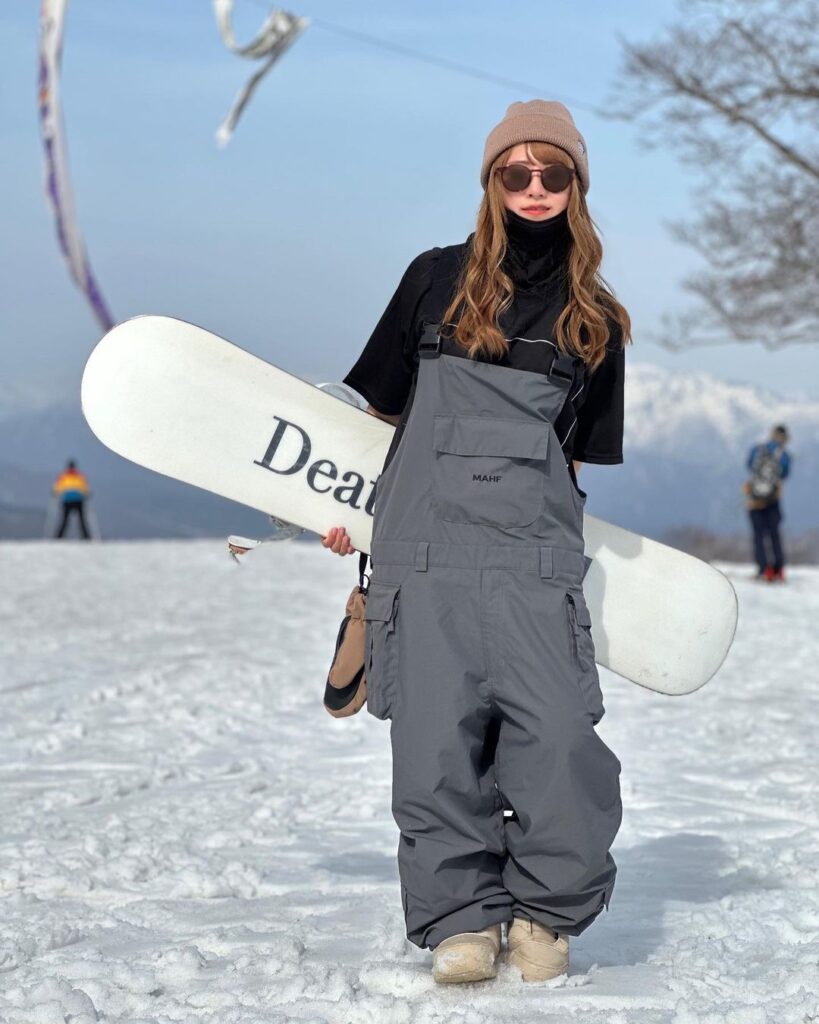 12 – White Full Sleeved crop top & green pants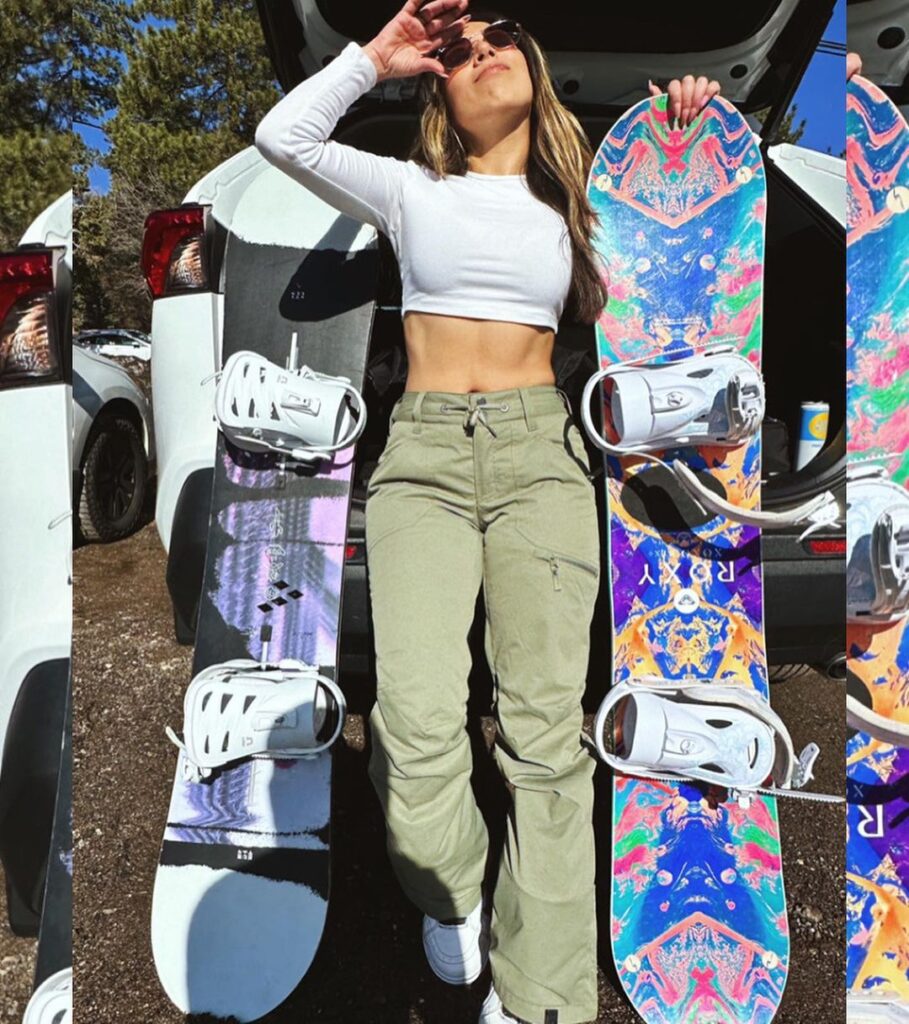 11 – Black puffer jacket & matching pants paired with gloves
10 – Pink overalls with matching outer jacket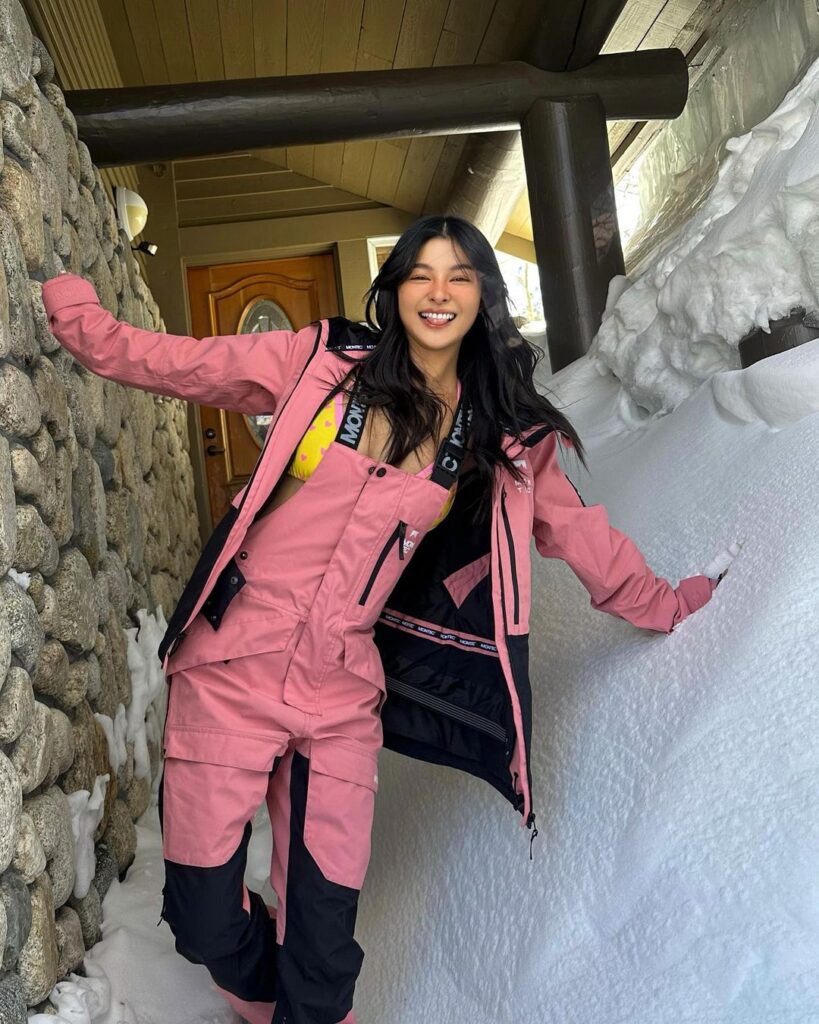 9 – Teal Jacket with white pants and brown beanie
8 – Dark Blue Top with purple pants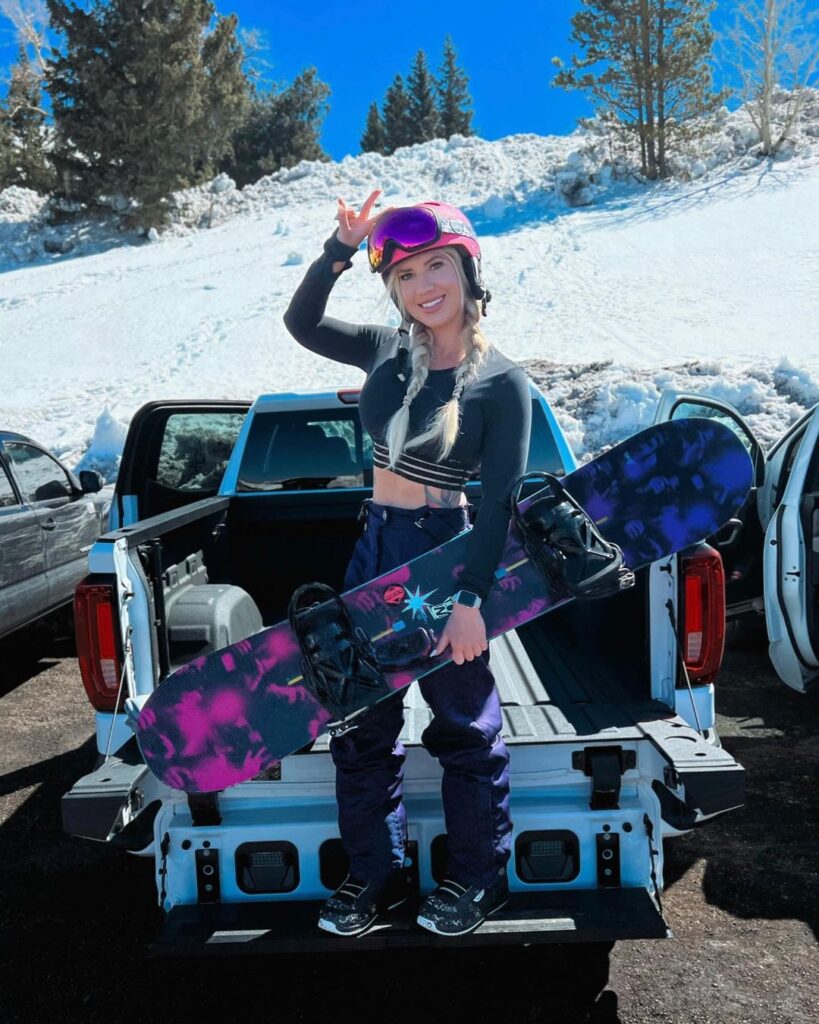 7 – Baby Pink Overalls paired with Grey sports vest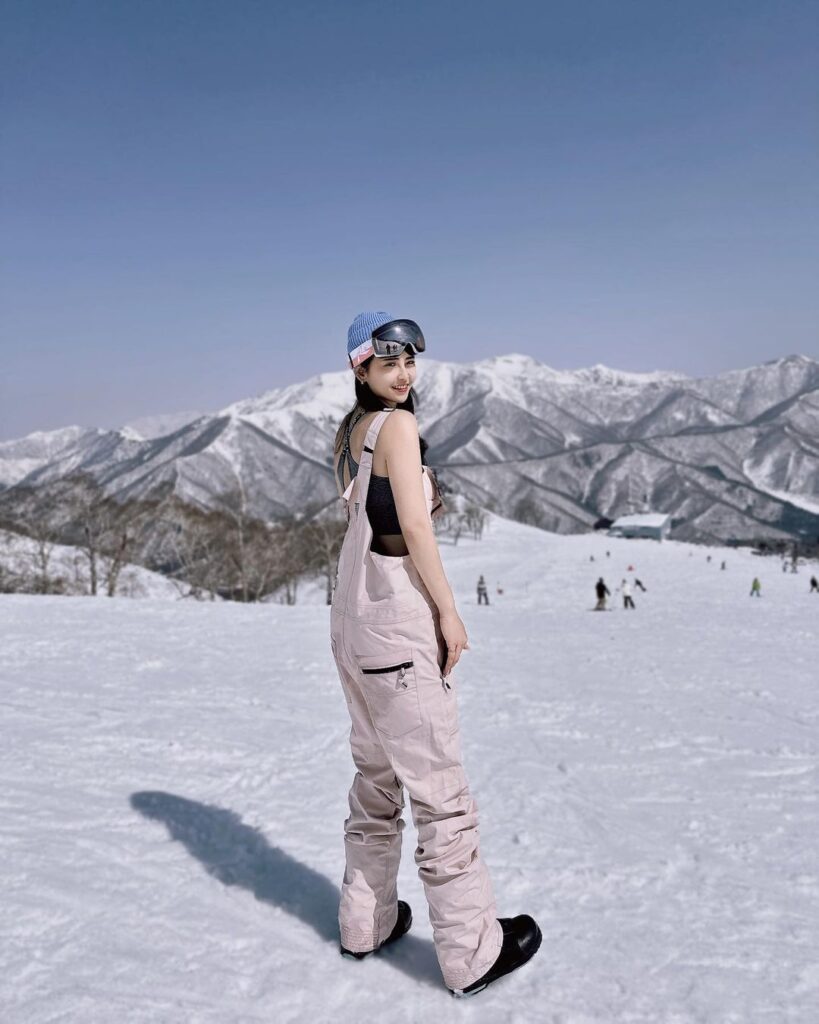 6 – Black Slim fit Top with Brown hoodie and black pants
Celebrity Inspiration
5 – Kylie Jenner's leopard Print-Inspired outfit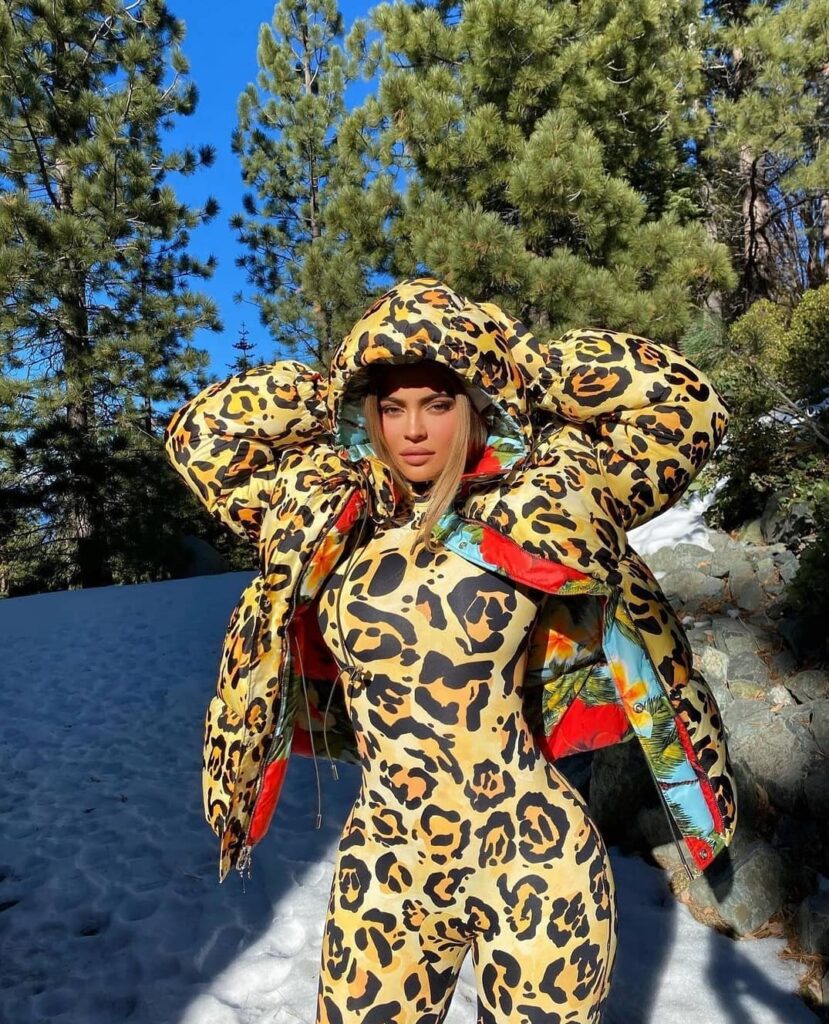 4 – avril lavigne's perfect fit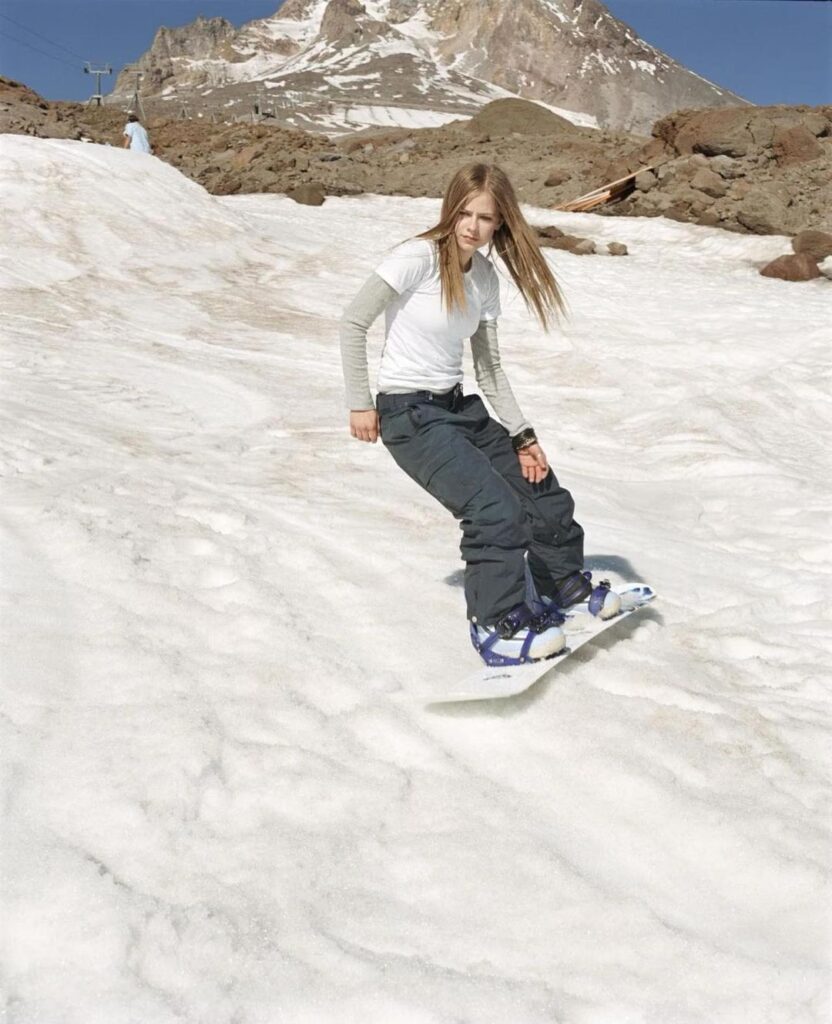 3 – Ciara's Black Bomber Jacket and matching overalls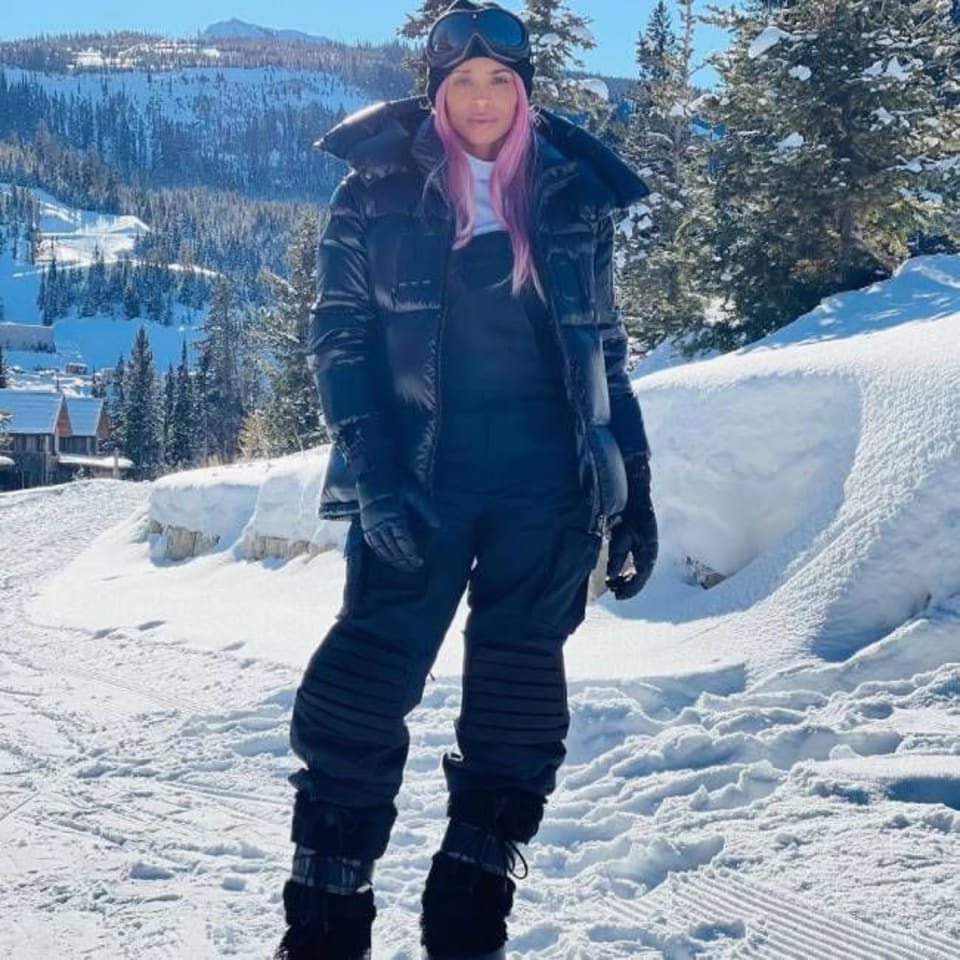 2 – Kendal Jenner's Take on black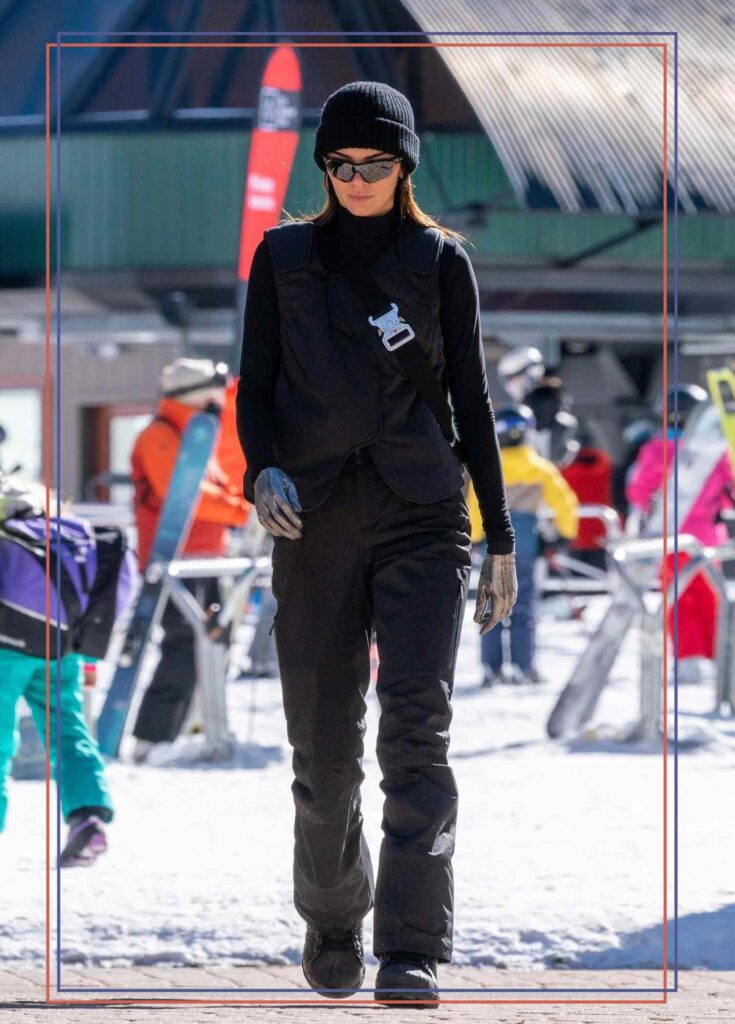 1 – Nina Dobrev's printed Fur Jacket and khaki bottoms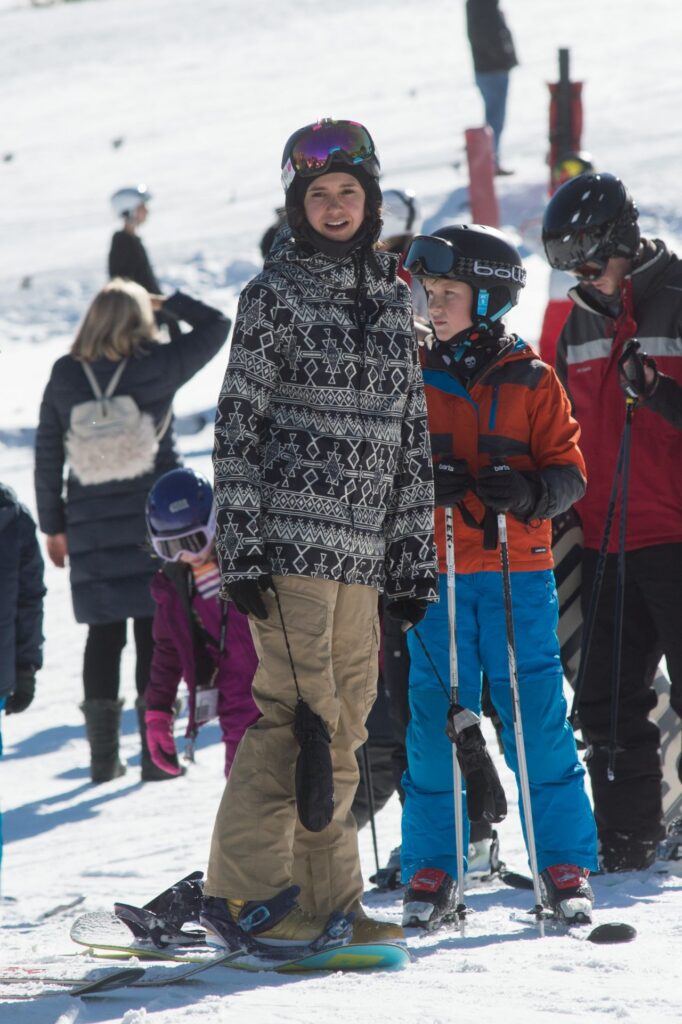 FAQs
Q. What is the best colour to wear snowboarding?
When it comes to choosing colours to wear snowboarding, there isn't really a right or wrong answer. Ultimately, the best colour for you will depend on your personal style, preferences, and mood. However, there are some practical considerations to keep in mind when choosing colours for your outfit:
Consider wearing bright colours such as neon yellow, orange, pink, or green if you want to be noticed on the mountain and stand out from the throng. These hues might also assist your friends or teachers in locating you. Alternatively, you can select colours that contrast with the snow and your surroundings. Wearing darker hues, such as black, navy, or burgundy, during a whiteout or overcast day, for example, can assist you see the ground and avoid obstructions.
Wearing hues that reflect the sun's rays is a smart idea, especially if you're snowboarding on a bright day. Lighter tones, such as white, grey, or pastels, reflect sunlight and keep you cool. Finally, the colour you wear should make you feel confident, at ease, and happy. Go for it if you like vivid and vibrant hues. It's also OK if you like subdued or neutral shades. You can find more guidance on this from our post on snowy day outfits.

Q. What to wear snowboarding if you don t have snow pants? Can you wear leggings to snowboard?
If you don't have snow pants, you can still go snowboarding by wearing other types of pants that can provide some protection and warmth. However, it's important to keep in mind that regular pants, including leggings, may not be as durable, waterproof, or insulated as snow pants, and may not offer adequate protection against the cold, snow, and moisture.
If you decide to wear leggings, here are some tips to keep in mind:
Look for leggings made of performance fabrics: Choose leggings that are made of moisture-wicking, quick-drying, and stretchy materials, such as polyester or nylon blends. Avoid cotton or other materials that absorb moisture and can leave you feeling wet and cold.
Layer up: Wear leggings as a base layer and add layers on top for extra warmth and protection. You can wear a pair of long johns or fleece-lined leggings under your regular leggings, and add a waterproof and insulated jacket or pants to keep you dry and warm.
Wear knee pads: It involves a lot of kneeling and sliding, which can be tough on your knees. Consider wearing knee pads or protective gear under your leggings to prevent injuries and bruises.
Avoid tight and restrictive leggings: Make sure your leggings are not too tight or restrictive, as this can limit your mobility and circulation. Look for leggings with a comfortable and flexible waistband that won't dig into your skin or slide down.
Q. What to wear snowboarding when it's warm?
When the weather is warm, dressing for snowboarding can be tricky. You want to stay cool and comfortable while still being protected from the elements. Here are some tips on what to wear snowboarding when it's warm:
Choose lightweight and breathable fabrics: Opt for fabrics that are moisture-wicking, quick-drying, and breathable. This will help you stay cool and dry by wicking away sweat and allowing air to circulate.
Dress in layers: Even though it's warm outside, you should still dress in layers to regulate your body temperature. Start with a lightweight base layer, such as a tank top or short-sleeved shirt, and add a long-sleeved shirt or fleece layer for extra warmth if needed. You can also bring a light jacket or windbreaker for colder parts of the day.
Wear lightweight and flexible pants: Look for pants that are made of lightweight and stretchy materials. These fabrics will allow you to move freely and won't weigh you down. You can also choose pants with zippered vents to help you cool off when needed.
Wear sunscreen and sunglasses: Protect your skin from the sun's harmful rays by applying sunscreen with an SPF of at least 30. Wear sunglasses or goggles to protect your eyes from the glare of the sun and the snow.
Choose the right footwear: Wear snowboarding boots that are comfortable and breathable. Look for boots with liners that can be removed or adjusted for better ventilation. You can also wear lightweight and breathable socks to keep your feet cool and dry.