What to Wear to Meet his Parents? We all know this sequence of events, you meet someone, you go out on a couple of dates with them, you fall in love and everything is perfect until the dreadful moment arrives – meeting the parents.
Not only is this 'rendezvous' stressful because of the pressures to say the right thing, and present yourself with the highest manners. It is also filled with worries of "what is an appropriate outfit to meet his parents?"
It is an understandable fear, and one should not feel ashamed or out of the ordinary when pondering on questions like what should I wear when I meet my boyfriend's family? After all, it is one of the most common problems a young person has. Nevermind, that we have already researched and prepared a rundown of family-appropriate outfits.
Styling Tips
A Modest Look: Most commonly the stigma stems from presenting yourself as appropriate to fit the possibly more conservative views of someone's parents. That is of course natural due to the age, and upbringing gaps that the generations of kids and parents usually have. However, remember to not overdo it. If your natural style is not the most cliché conservative type – don't force it. Because it might seem like you're faking something, and that is far worse.
Personal Style: Similar to the previous tip – don't shy away from something that is truly representative of your tastes and interests just to fit the mould you assume would impress the parents. After all, it is so much more interesting for parents to get a read off the personality as opposed to seeing someone who looks out of place in what she is wearing.
It Is More than the Clothes: In the end, what you're wearing doesn't make the final decision, after all, it is about more than clothes. So just remember to be yourself, and show off your good qualities. That is what matters, as we discussed in our post on The Psychology of Dressing Well.
How to Dress to Meet His Parents?
Now let's have a look at some outfit ideas. Remember that the purpose of these is just to inspire you. You don't need to copy any look from head to toe, just take some cues and create your own look that reflects your style.
20 – Spice Up a Casual Jeans Outfit with a Long Cardigan
Start the list off with a very casual and easy-to-put-together outfit that is perfect for any day-to-day setting to meet your partner's parents. This outfit is simple, but it still shows effort. Mainly due to the addition of the unique long cardigan.
So this is perfect for when you don't want to dress up too much but still want to show your partner's parents that you have prepared to meet them.
For more ways to style a cardigan check this article out!
19 – Create a Grey Themed Denim Outfit
Another simple outfit you can easily create yet still be confident that you look put together is this grey-toned look. All you need are jeans with a unique grey color denim and a dark grey t-shirt. This type of outfit is easily accentuated with black accessories and shoes.
18 – Style an Oversized Blazer with your Favorite Jeans
This is another outfit that incorporates jeans, however, is a lot more dressed up in comparison to the previous two. The special clothing item in this ensemble is the oversized blazer. It is a great option because in such a neutral color as grey it is not going to overdress the look.
However, this does add some professionalism to the look, which might be desired when meeting the parents.
17 – Create a Stylish Sporty Look with a Bomber Jacket
Alternatively, it is also acceptable to try and sport up a pair of jeans. It is easily done with a dark bomber jacket. Preferably one which contains some kind of graphics, names or numbers. This type of outfit is a great way to show off your hobbies and interests to your boyfriend's parents.
Here are some more ways to style a bomber jacket.
16 – Create a Playful Look with Pastel Colors for a Summer Meeting with the Parents
Alternatively to the previous denim outfits, this is perfect for meeting the parents in the case that the weather is quite warm that day. These denim shorts are noticeably long which is something you might consider recreating.
Simply because this way the outfit will be less exposed and more parent appropriate. To further elaborate on the idea that this is a sporty youthful and innocent outfit, try pairing these jean shorts with a button-down in a checkered print, and a bucket hat.
15 – Go For an Ultra Casual but Chic All White Look
As this lists approaches more dressy and formal outfits to wear to meet his parents, this is an outfit that lies in between casual and formal. It is very comfortable and easy to create. All you need is loosely fitted pants and a shirt combo.
This look can be easily dressed up with some gold jewelry and eyewear. Conversely, it can be dressed down with an informal hairstyle.
14 – Create a Formal Brown Look to Meet the Parents
If you're a fan of pants this look is right up your alley. The light brown colorway keeps this outfit from being overly masculine. Which is something that you might want when meeting your boyfriend's parents. However, it is reserved enough and formal enough for the occasion.
13 – Stay on the Formal Side with a Long Brown Skirt
Similar to the previous outfit, the color theme here is cozy neutrals. They make you look sophisticated yet elegant which is perfect for this type of occasion. The long skirt is optional, however, would work if you don't know how conservative or strict your partner's parents are.
12 – Keep The Outfit All Black for a Formal Cold Season Outfit
This outfit is similar to the previous one due to its neutrality. However, this is more appealing and can serve as a go-to during the colder months. It is super simple to put together all you need is a black sweater, and a black polka dotted skirt to pair.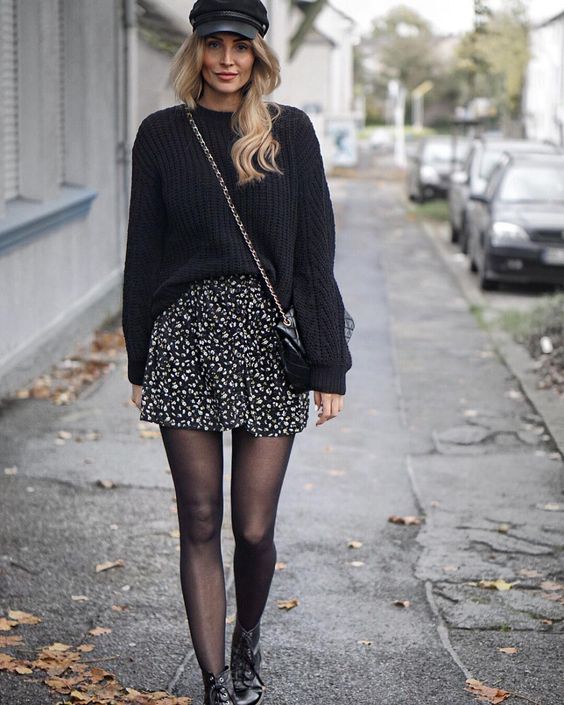 11 – Pair a Ribbed Dress with a Leather Jacket
This outfit is a mix of elegance and edginess. This is a great option to show your personality to the parents of your boyfriend. Make sure that the ribbed dress is of a neutral nude color. This is going to allow for the desired contrast with the rough black leather jacket.
10 – Create a Cute Nude Look with a Pleated Skirt
Alternatively, to the previous outfit, this one offers you an opportunity to just settle in one light color. However, to keep the outfit from being boring it is important to play around with textures. For instance, try pairing a pleated skirt with a fluffy buttoned sweatshirt.
Here are some more of my favorite ways to wear pleated skirts.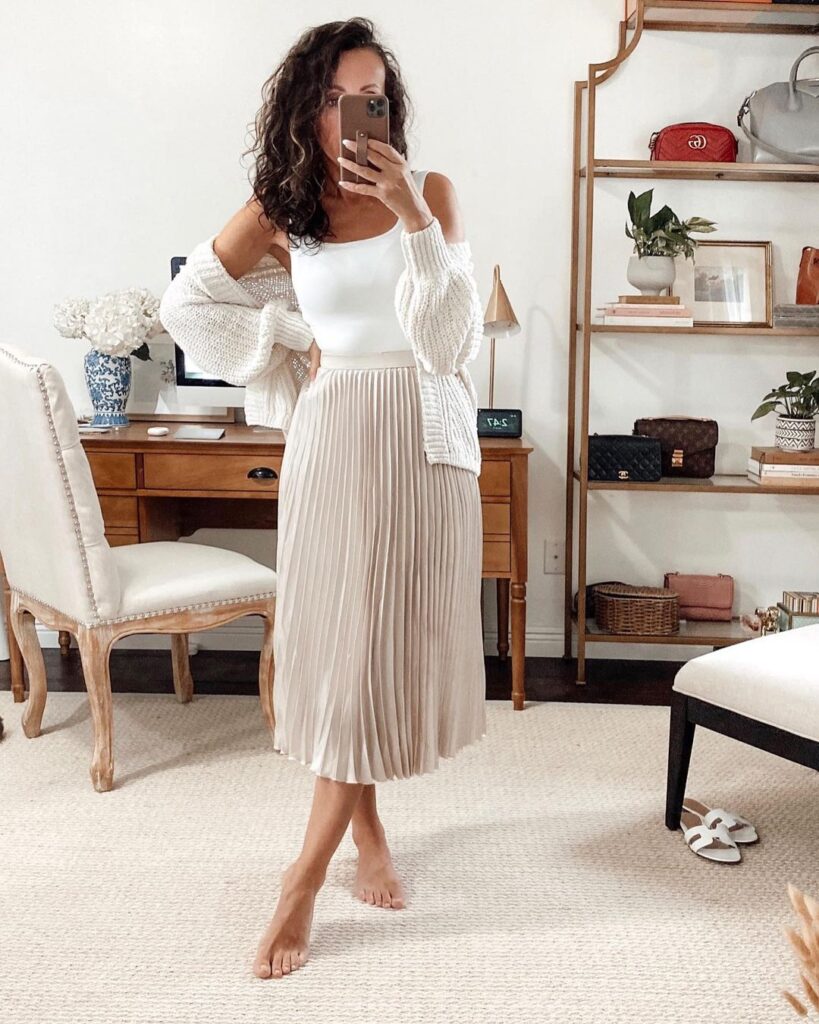 9 – Create a Quick and Easy Outfit with Just One Flared White Dress
Similar to the previous outfit, this too relies heavily on the color white. However, this look is far more simplistic. Although don't mistake simplistic for casual. On the contrary, this outfit would be great for a formal dinner or lunch. The key element in this dress is the cute length and voluminous form.
8 – Combine a Long White Dress with a Denim Jacket
Another way to style a white dress is with a jacket. Although we don't recommend you style a short skirt with a jacket because it will make the dress ride up higher and might cause you discomfort. A long dress on the other hand will be a perfect fit.
The denim jacket allows you an opportunity to style this outfit with casual shoes – for instance, white sneakers.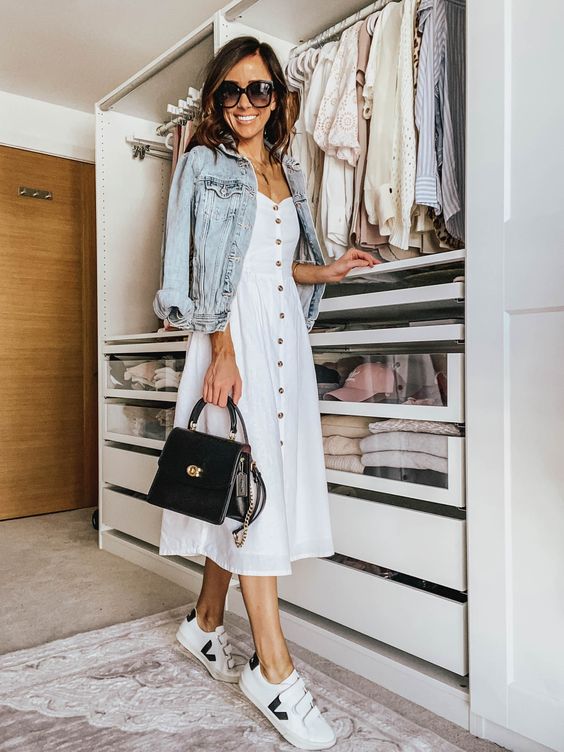 7 – Create a Cute All Black Look with Chunky Boots and a Layered Dress
Black is always a safe color choice, it makes you look sophisticated and definitely boosts confidence. Therefore it is a perfect option for the stressful day you meet your boyfriend's parents.
Creating an all-black look could be tricky because you don't want to look too gothic, however, you can never go wrong with a flared dress. As it definitely adds the necessary amount of femininity to the look.
Here are some more Chic Ways to Wear All Black.
6 – Find a Flared Dress with a Flower Print to Meet His Parents In
A white dress is good, but a white dress with a cute flower print is even better! Try finding a cute summery dress, preferably flared and with fluffy sleeves for this occasion. It will make you feel elegant and super comfy.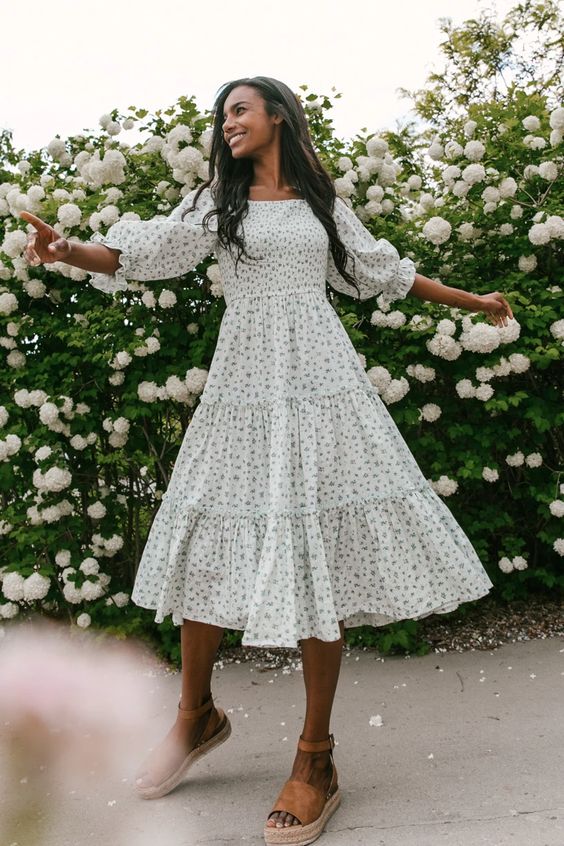 5 – Go For An Extremely Elegant Half Seethrough Dress Option
Although hearing the words half see-through might be concerning for this occasion. It is important where that light layer of fabric is. In this dress for instance the seethrough parts are concentrated on the arms. This creates a very elegant lady-like appeal. Which is perfect to meet his parents in.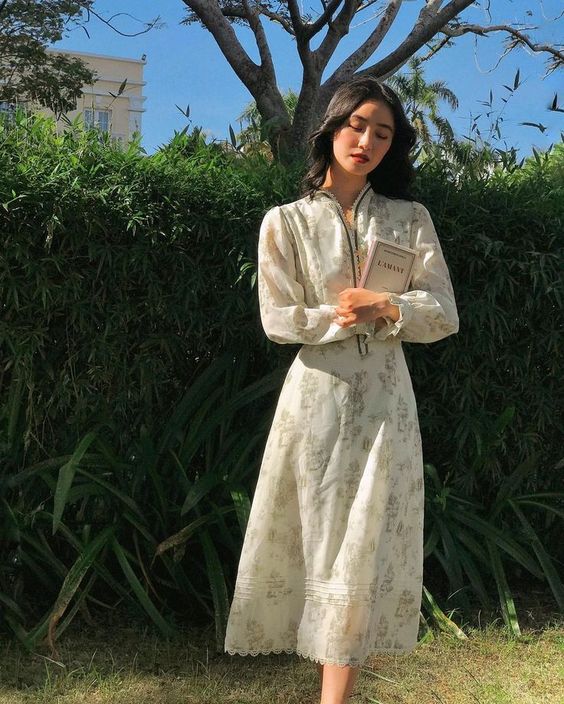 4 – Go Classic with a Black and White Polka Dotted Dress
There is nothing safer than a trusted polka dotted print, in a casual black and white color scheme. Find it in the length and fit that you prefer for the dress most and you are all set!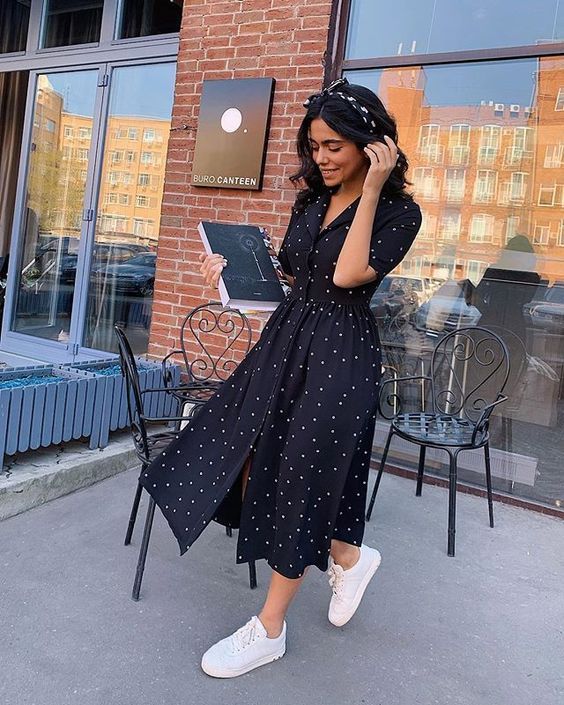 3 – Create a Vibrant Combo of a Green and Peach
This unique color combination is going to make a memorable and positive impression on the parents of your partner. We recommend a pleated skirt which will glisten in the light and make you look like a princess.
2 – Stay Super Casual with a Slim Dress with a Side Slit
Alternatively to the previously mentioned outfit, this outfit is far more casual and relaxed. This silhouette of a dress is perfect for you when you want to look put together but you don't want too much attention to your clothes. If you're someone who prefers to stay clear of making it obvious that you were dressing up for an occasion this is perfect.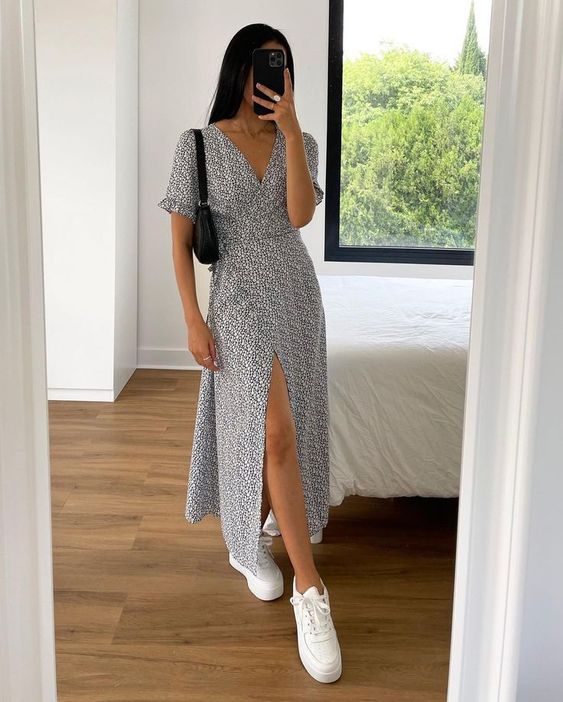 1 – Play Into the Cottage Core Trend with a Printed Dress and Brown Leather Accessories
The last look on the list is certainly a dressed-up version of what you can wear for this occasion. It is special because it plays into the recent large Cottage Core trend. The flared fit of the dress and floral print can be easily complimented with some brown leather accessories. Like shoes, and a bag.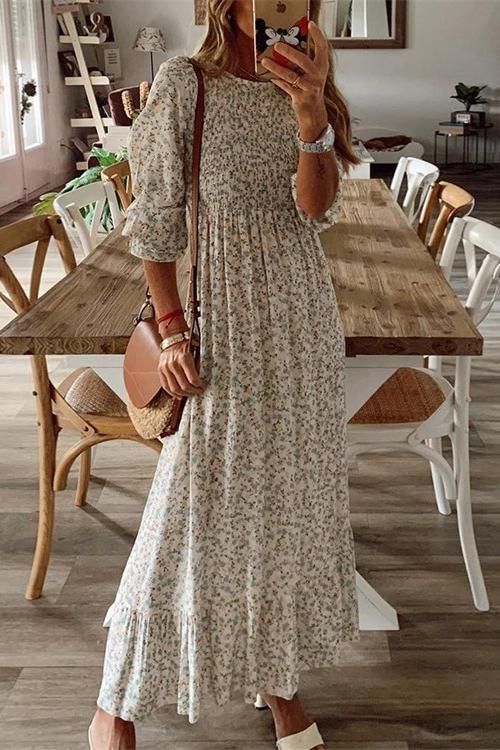 Frequently Asked Questions
Q. What to avoid wearing when you're meeting his parents?
Overall, this hinders strongly on the occasion. If you are meeting his parents at a party there is nothing bad about dressing up. However, if the occasion is very low-key and you're meeting his parents at their house, or a cozy restaurant, or a park – don't try to overdress. It is normal to want to look your absolute best which may lead to looking extra fancy. However, we recommend that you keep it casual. Looking overdressed to meet his family might show off your nerves, and not let your personality shine through.
What to wear when meeting his family for the first time?
If we were to recommend just one clothing item for this occasion – it would be a dress. Not any dress, it would have to be relatively casual, and not too short. Perhaps one with a cute girly print. The reason is that this will make you look very feminine, and give an innocent impression. However, if you will feel out of your comfort zone in a dress, and don't usually wear them – do not succumb to the pressure.