What to Wear With Red Ankle Boots. Some women reach for red lipstick, some for a red scarf – and some find their audaciousness in a pair of red heels. Ankle boots to be precise. This is the footwear equivalent of the aforementioned confidence-boosting accessories, in case you are aiming to venture into a more glamorous style. Similarly, if this is an effortless extension of your style, this article is for you.
Outfits with Red Ankle Boots
Wear with rolled-up pants: Show off your ankle boots by rolling up the pants that you wear with them. This will make the boots visible and let them be the star of your look. It will also be much more comfortable when the short edge of your boots isn't rubbing against your pants.
Wear with red: Although your ankle boots may sometimes dominate as a pop of color on your outfit. It is possible that because the ankle boots are at the bottom of the look – they can look out of place. Thus it is useful to incorporate this bright red somewhere else in the outfit to balance out the colors.
Wear with Midi or Maxi lengths: Whilst pants are recommended to be kept rolled up, when it comes to skirts the midi or maxi lengths are most recommended. These will offer a good amount of the leg to be open between the shoe and the skirt.
Wear Pantyhose for Mini Lengths: Lastly, try only to pair red ankle boots with mini skirts\ if you are wearing pantyhose. Otherwise, the amount of space between your outfit and the bright red shoe is too much and the look tends to give off an awkward, disoriented appeal.
18 – With Denims
To start off the list in a simple manner we propose to you an outfit with a pair of your most comfortable light denim jeans. A plain white t-shirt and a purse.
However, you must note that the handbag in this outfit is not chosen at random, it is purposefully of a matching bright red. This helps tie in your shoes to the otherwise casual outfit.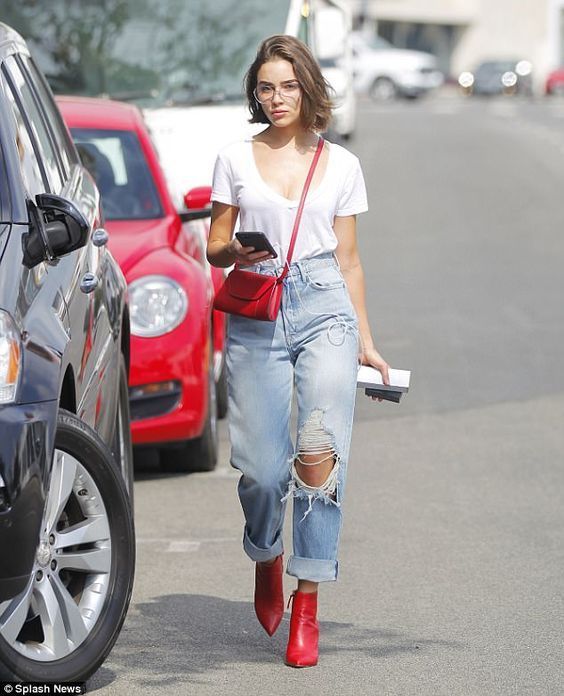 17 – Match a Casual Blazer
The second outfit on the list is a little play-up on the one you saw previously. This is a great look for a more professional setting, or just when the day is a bit windier. All you need to do is add a casual blazer to your look.
Although the option of keeping the red bag remains, you can also play on the texture of the blazer with a woven bag. This will also dilute the appearance of really bright red heels, which is always good for a more professional occasion.
16 – Pair a Grey Graphic T-shirt for a Casual Look
In another effort to dress down the red boots, try styling them together with a grey t-shirt. Preferably one which has some red design elements in the print. This is going to add dimension to the outfit, and not let the red shoes seem out of place on a very casual outfit.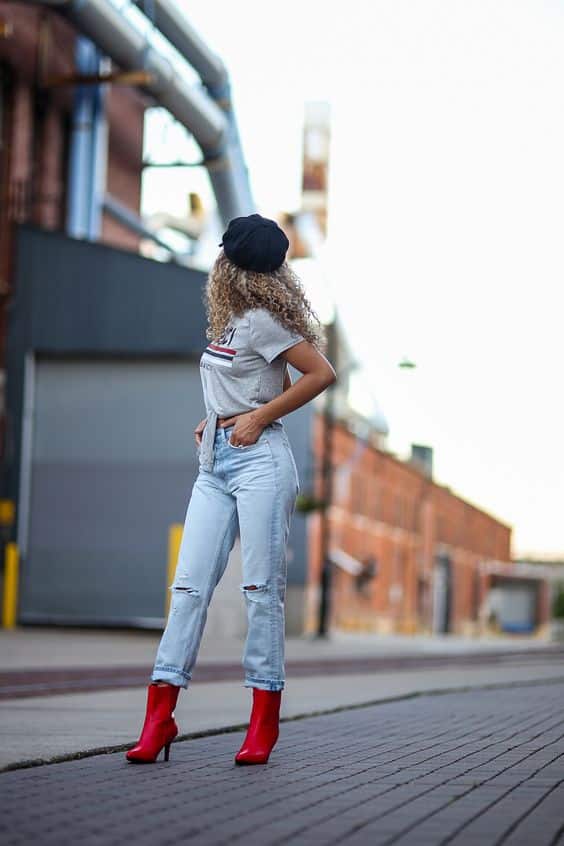 15 – With a Matching Red Top
In a way to build on the previous outfit suggestion, try to go for an all-over red cardigan top. This, however, is not the most casual outfit. It can be managed, however, by the type of fabric that your top is made out of.
In this particular example, you can see the top is made of lace. Although if you opt into a sweatshirt in the same color, be ready to have a more simple effect.
14 – Small Black Skirt
13 – Pair Three Items with the Color Red Into your Outfit
Similar to one of the previous outfits you will require a graphic t-shirt with some red elements for this outfit. However, unlike the previous look – it does not stop here. Continue to add red elements to the outfit. Even if it is a bigger bag, as seen in this example.
12 – Pair a White Cardigan to your Red Shoes For a Day-To-Day Outfit
For a day-to-day look that still says that you cared about getting ready that day, this is the perfect option. Simply adding this pair of shoes to your outfit achieves it for you. Pair a white cardigan and a pair of dark blue jeans to complete the outfit.
11 – With a Leather Jacket
These boots pair really well with a leather jacket. The rest of the outfit does not need to be anything special or out there. Instead try to keep it simple, stick to your favorite pair of jeans, and any t-shirt that best suits the weather and personal style.
Via
If you intend to have an outfit that is simple to put together yet looks a lot more dressy – this is an option you might go for. Try finding a leather jacket that is printed. Preferably one which is printed with some red or pink colors. This way it will perfectly fit with your shoes.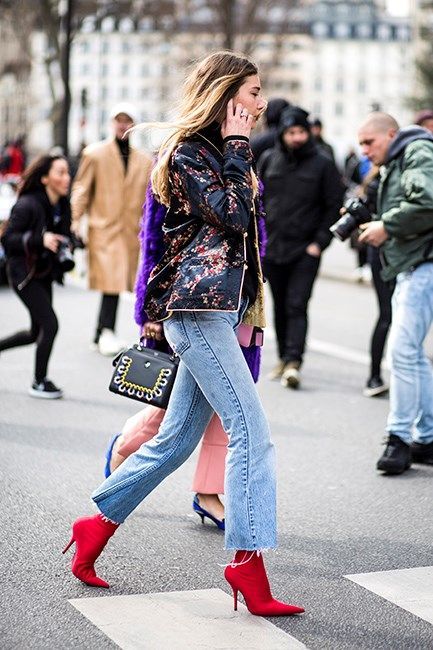 9 – Pair Animal Print
The color red and animal print are a notorious sultry pairing – so if you are looking for an outfit to wear to a date or a party, this one is for you. Try wearing the animal print on your jacket or coat.
Here are some more Animal Print Outfits that you'll definitely love.
8 – Wear Rolled Up Denim Jeans with Heeled Boots
A fun option for red heel boots is a pair that has a small spike heel. These pair very well with denim jeans, especially rolled-up ones.
An additional element you can add is a fuzzy black purse. Because when the base of your outfit is simple it allows for different additions that could elevate it very effortlessly.
7 – Pair a Band T-shirt and Velvet Pants
A band t-shirt and some velvet pants, divided by a shiny golden chain belt is one of the coolest tom-boy go-to's you could go for, when styling these ankle boots. It is the perfect option for a night out.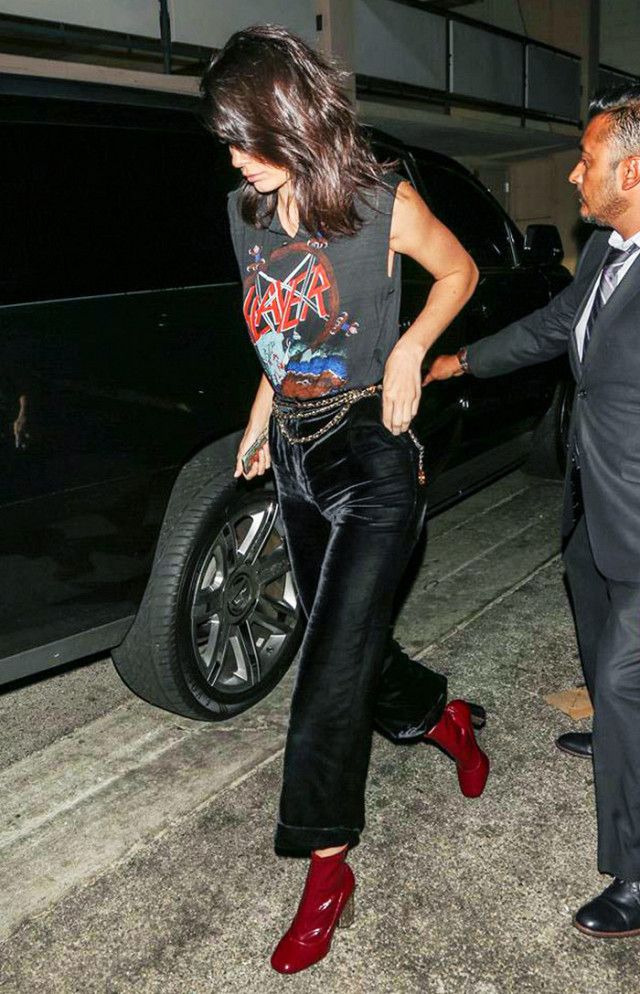 6 – With White Pants
One highly underrated manner in which you can style red ankle boots is white pants. They will offer crisp contrast to the bright red. Following this, it could be interesting to create a second color contrast with a black top.
5 – Pair a White Top and White Purse Together for a Summer Look
Another way you can pair white with red is through accessories. The effect will be as previously discussed – and will bring out the crisp nature of a bright red shoe. In this case, however, the necessary contrast is created by the t-shirt and handbag.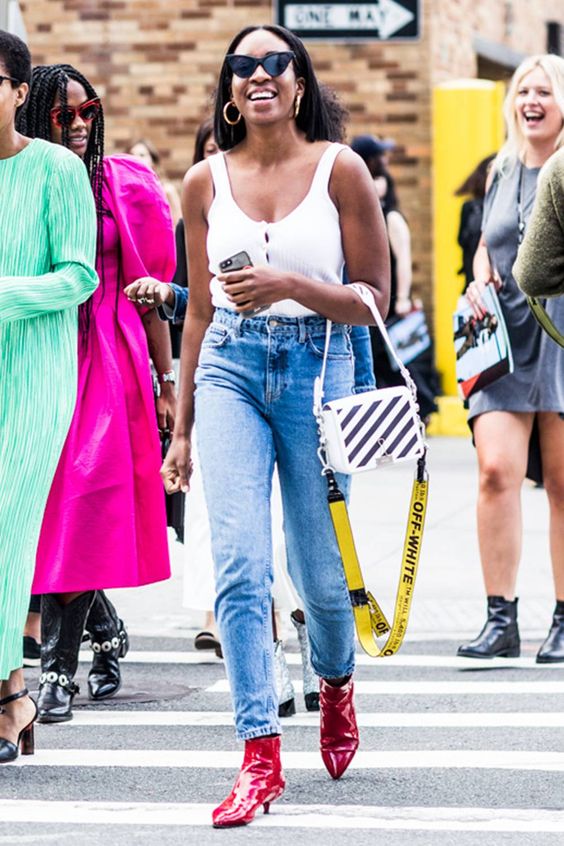 4 – With a Neutral Top
Alternatively, these botts pair very well with neutral colors. Like browns, and beiges. Therefore, if you need a classic outfit, do not shy away from this pairing. A pair of jean shorts and a thin neutral-sleeved top.
3 – Dilute an Outfit with Black Pants with Animal Print
We have already mentioned this before – animal print pairs very well with red boots. However, its other superpower is diluting an outfit with shape and color when you feel like you need it.
For example, very dark black pants could look slightly awkward with the juxtaposition of red shoes. However, if you include a patterned animal top, you will immediately avoid the block-like effect.
2 – Match a Floral Cardigan to a Pair of Stunning Red Boots
This is an easy way to effortlessly incorporate red heels into your outfit and not worry about them sticking out too much. Simply put together any comfortable casual outfit, including denim jeans or shorts and a t-shirt.
Then after you have your base, find a cardigan with a red colored print to wear on top. A long cardigan is a great option because it allows you to bring that color closer to the short shoe.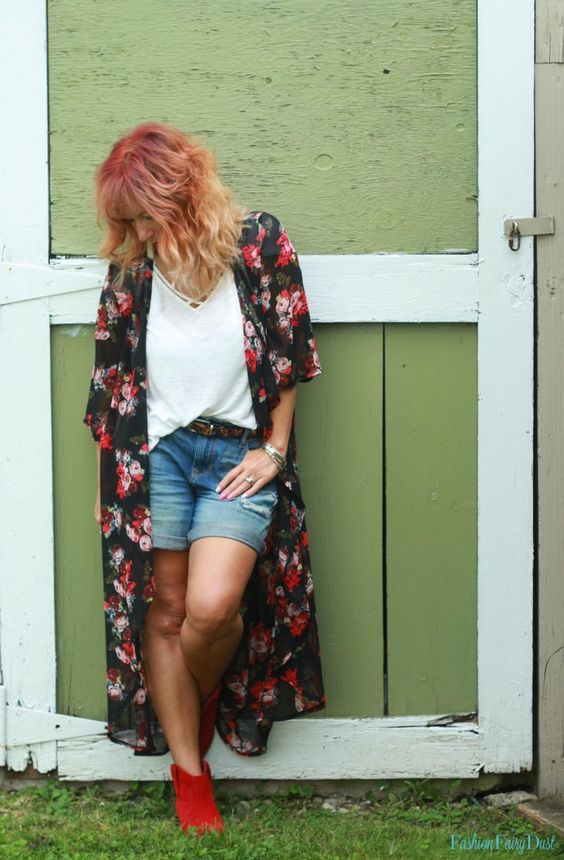 1 – Go For an All-Over Black Outfit with a Tight Belt
Lastly, we recommend you try pairing these boots in a way that will really make them pop. One great way to bring out color is through the use of neutrals – like black, grey or white. In this case you can see a maxi woven black dress. To amplify the slickness of this outfit, try tieing a tight belt around the dress.
Frequently Asked Questions
Q. How to style red ankle boots?
The overall styling tips for red ankle boots include trying to incorporate more red in your outfit elsewhere in order to tie in the bright color. Secondly, it is recommended to style these shoes with a casual, but classy outfit. So try styling them with a basic t-shirt, blazer, and rolled-up jeans for starters.
Q. What to wear with suede red ankle boots?
Suede ankle boots are best saved for fall, when you can play around with a plethora of textures and textiles within your outfits. So we recommend you pair them with a nice turtleneck an a scarf on one of the breezy fall days. To be in suit with the fall theme, try to remain within
Q. Do red boots go with anything?
Although some might say that red boots are staple items and a statement piece ready to be added to any outfit. It is not a secret that due to their bright color, they are hard to pair with every single clothing item.
However, if your closet is predominantly made up of neutral/classic colors – i.e., browns, black, greys, whites you will have an easier time pairing red boots with your clothing. Although if you often find yourself wearing bright colors, like greens, oranges, etc., you will have a harder time finding things that match the red boots.