They say you give people the first impression through your shoes. And if it's true that your footwear says a lot about you, then you shouldn't take this saying so lightly.
Feel tired of pulling out the same pairs of shoes? Maybe you're experiencing a "style rut." And I understand — wearing black Oxfords and brown loafers in a loop can be boring.
It's your calling to try something new. For one, the color green, which comes in various shades, is a good start. And we may see them everywhere, but it's not as common as you think. Men's footwear wardrobe wouldn't vouch otherwise.
Here's everything we'll cover today:
How To Style Green Shoes?
Pulling green off is challenging, as not all colors go well with it. Remember that it's paramount to consider the hue when choosing your outfits. So keep the color wheel closer to you.
Like with any outfit, the shade can make or break the look of your shoes. And keep in mind that block colors are better than multi-colored styles.
Styling Tips
Best Colors To Match.

 It is known that green shoes make a chino pop. And its magic doesn't end there. They say the best color matches include beige, blue, and white. And tan is an earthy tone, so it's an excellent move to team it up with green.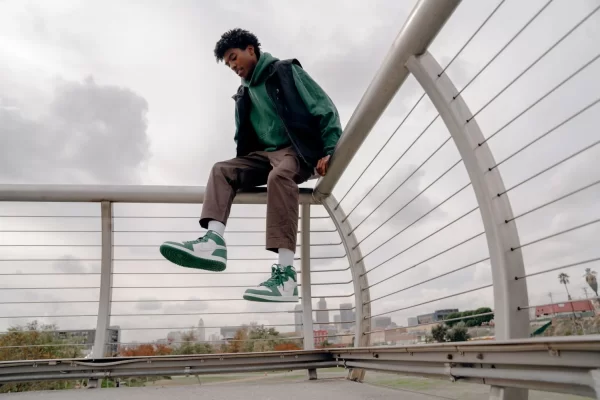 Accessories

. Dress to impress; accessorize to stand out. It's an underrated tactic to accentuate your outfits through accessories. For instance, green shoes look better with matching belts, caps, buttons, etc.

Use Socks As Contrast. 

Since you're wearing green shoes, the last thing you want is to wear green socks with them. Not that people will notice them at all times, but you might want to make minor changes and go with something contrasting to make your shoes stand out.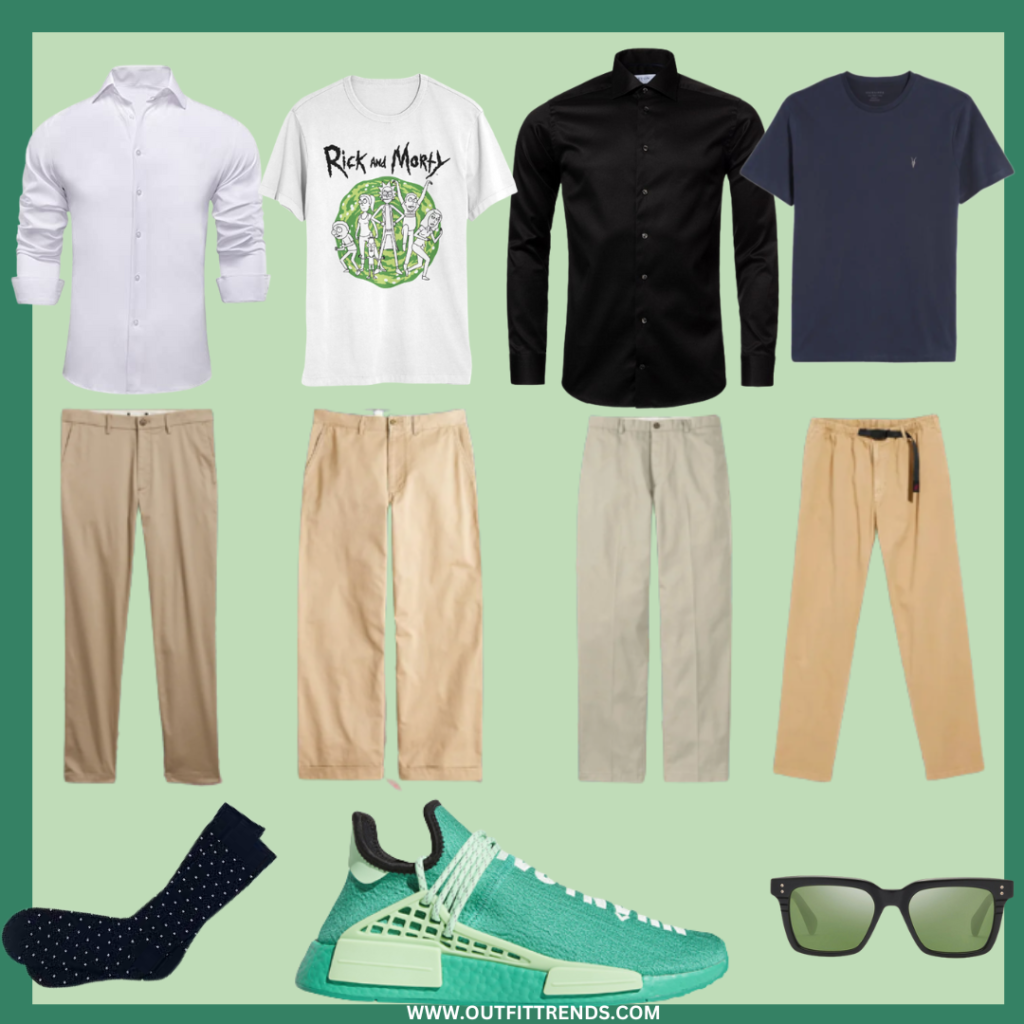 Shades of Green
Such an underrated color in menswear; green can be hard to pull on. Despite it not being a primary color, green can be versatile in some situations.
For one, green outfits can be dressed up and down.
Green shades such as sage, emerald, and moss are most commonly seen in men's footwear. But there are many greens, and one term isn't enough to enumerate and describe them all.
The rule of thumb: the darker the shade is, the more formal it is. Save the brighter ones for summer gigs and spring festivities. Let this be your reference when choosing your green shoes.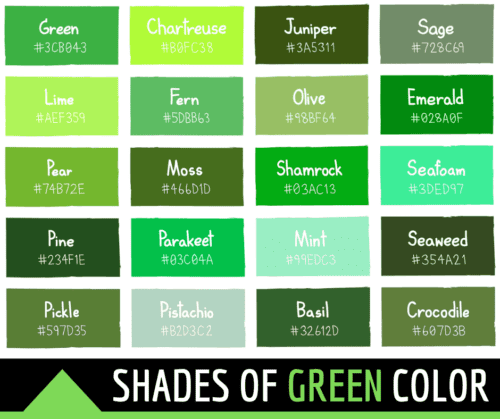 What Colors To Avoid With Green Shoes
Don't forget that color clashing is a big no-no in fashion. As such, be careful when wearing your green shoes with colors including, but not limited to the following:
Red

. Don't wear them with your green shoes. You don't want to be a laughingstock for looking like Christmas decor.

Olive.

For one, never wear your green shoes to work with olive trousers. Save them for St. Patrick's Day.

Navy.

If you wear bright green shoes, don't pair them with navy trousers. Instead, opt for a loden shade.

Brown.

This color doesn't look so good with green. Don't insist, don't be shocked if you'll look like a tree. You've been warned!

Baggy Greens.

 Leave them for the military. Now, don't think of wearing these unless you're a part of it.
Outfit Inspiration
30 – Spring Outfit
Spring is the best time to don florals and tropical prints. For instance, it's ideal to wear a green shirt and then match it with your shoes.
Khaki shorts would look good in this combo. And since it's hot in spring, leave the shirt unbuttoned and wear a white tank top or shirt underneath. If you haven't tried floral shirts, you have to check out these Floral Shirt Outfits for Men.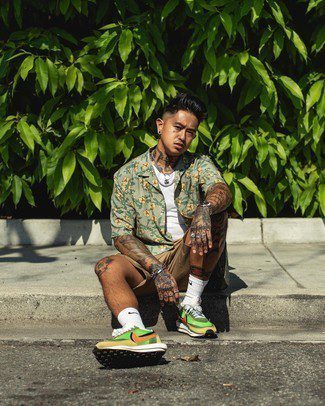 29 – Green And White
Green looks good with white. If you have green sneakers, it's better to use white lace instead of another green. Not only do they blend in well with each other. Then wear a green bomber jacket over a white tee. Some skinny jeans would be perfect to complete this look.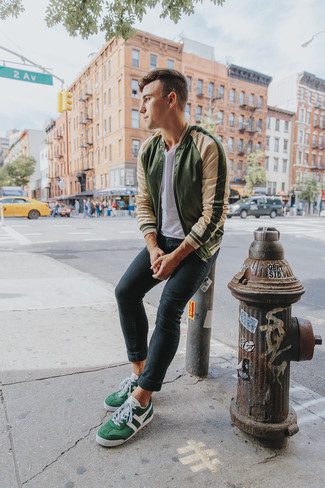 28 – With Dark Blue Jeans
Team up your green shoes with dark blue jeans. Match your footwear to your top but try to deviate from the usual shade this time.
Make the one darker than the other to avoid looking monotonous. You can roll up the sleeves and leave the shirt open for some added coolness.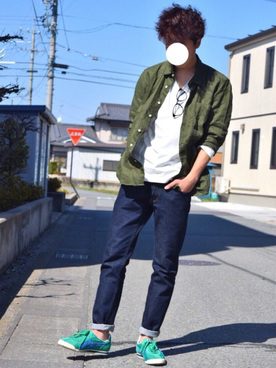 27 – With White Pants
White pants are meant for your green shoes. I mean, this color combo won't let you down. However, you need to be careful not to put dirt on your pants.
White is prone to dust and other unwanted stains, so watch out!
Add a little more freshness to your outfit by wearing a floral shirt with your green and white ensemble. Here are some more of my favorite White Jeans Outfits for Men.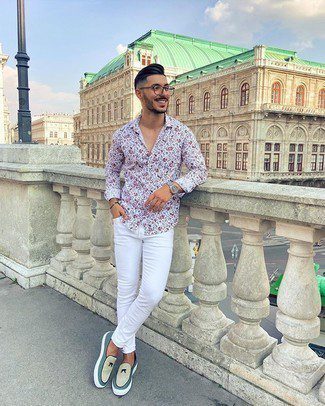 26 – What to Wear with Green Loafers?
This outfit is more of a smart-casual look than "just casual." The slight formality of green loafers adds up to the smart effect of the outfit itself. Blue jeans look good with a grey shirt, so team them up.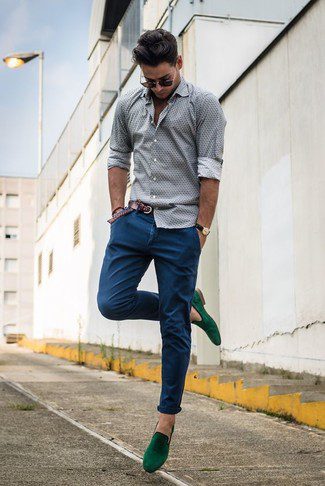 25 – Smart Casual
Wear a blue blazer over a crisp white shirt. For a business-appropriate look, pair your green loafers with blue jeans.
You can cuff your jeans and add a pocket square to the party. It would also be great to accessorize with sunglasses and a silver-strap wristwatch.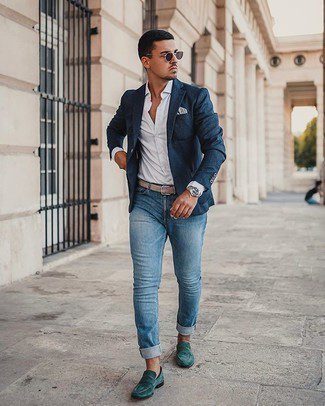 24 – Green Suit with Green Loafers
This may look monotonous because of too many greens.
A full Russian green suit never looks cliche, especially when paired with some darker green loafers. Wear a white undershirt and nothing else. We'd like to balance the scales here without crossing any lines.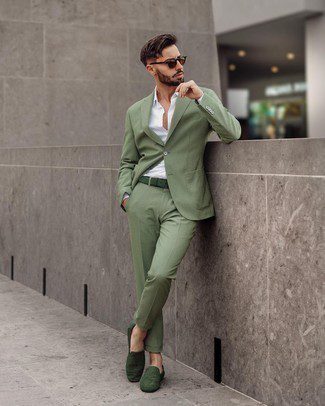 23 – Weekend Casual
Check out if you're shopping and hanging out this coming weekend. For instance, wear a long green sleeve shirt and tuck it into your pants. Let the pants contrast.
Here are some more Simple & Casual Weekend Outfits For Men.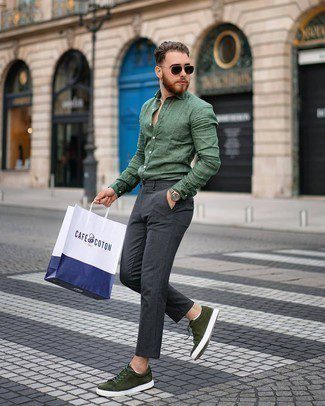 22 – With Denim Jacket
Now you may be surprised to see this entry. I know that green shoes look cliche with brown pants.
That's why you can make some changes by wearing a different color on your other foot. And for your good, match it to the shade of your denim.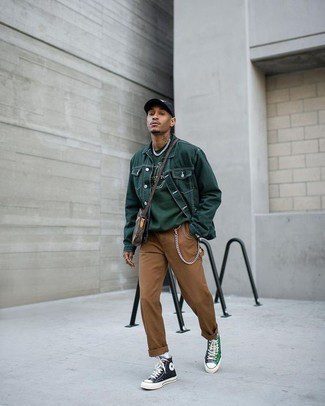 21 – With Grey Suit
Wear a wool grey suit over a check undershirt. Grey looks great with green; see for yourself! You can do some color pop through your tie.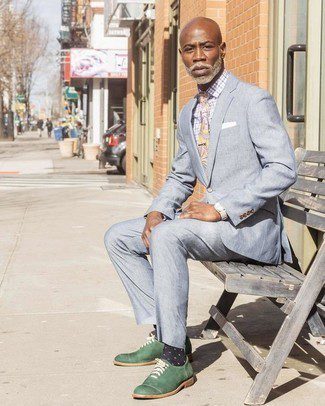 20 – Minimalist Outfit
If you are a minimalist, stick to pieces you can find in your capsule wardrobe. For one, simple styles are your only options here.
Try to combine only one or two colors to achieve this look. Fancy designs, cuts, and prints are off the table for now.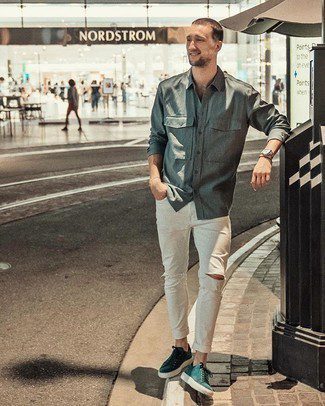 19 – With Matching Blazer
Do some matchy-matchy by rocking a green blazer over your crisp shirt. Pair them with faded blue jeans to create contrast.
Note that your shoes don't need to be the same shade as your jacket. If the coat you have is lighter or brighter than your footwear, that's okay!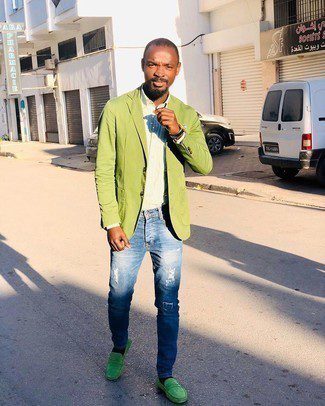 18 – With Suede Jacket
Create an outfit comprised of pieces in similar shades. A crocodile green suede jacket looks good with pine green leather shoes.
The jacket's texture adds some elegance to your overall style. Here's our complete guide on styling Suede Jacket Outfits.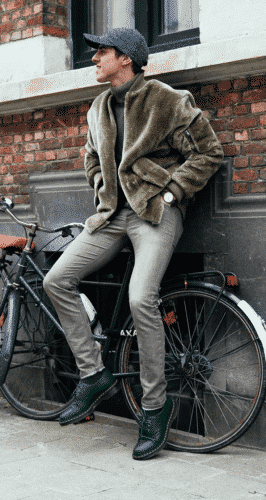 17 – With Beige Colored Suit
Green loafers look good with a beige suit too. Think of a beige or off-white suit, for example.
You can wear this to work despite having a less formal appearance than a classic black or navy blue suit. A polka-dot tie can break and add some flavor to it as well.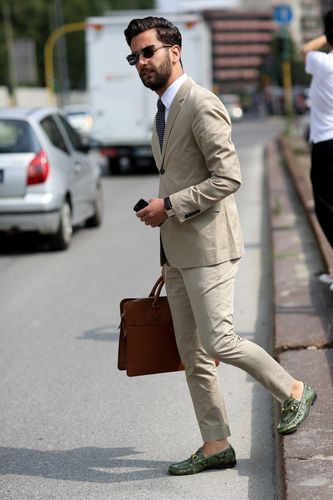 16 – Fall Outfit With Moss Green Sneakers
Expect that it'll be cold, like winter. It's time to grab those cold-weather essentials.
For instance, a blue pea coat looks great with a grey shawl. Faded blue jeans would be ideal in this getup, and they would also look good with green shoes.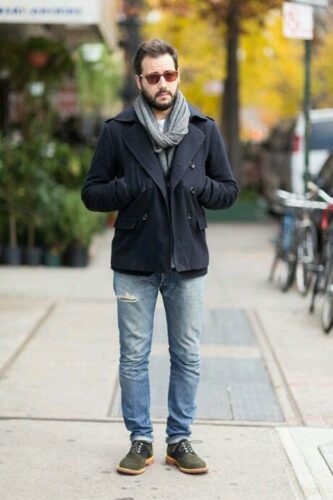 15 – With Flannel
Don a lumberjack style by wearing a flannel shirt over your basic tee. The trick is to leave it unbuttoned for a laidback look.
Plus, wearing it like this in hot weather is pretty convenient for some cooling effect. Green loafers look good with jeans, as you know it. To make some changes, ditch the socks and cuff your pants.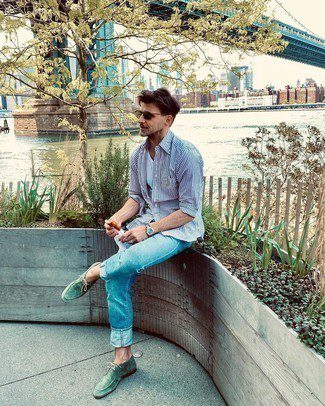 14 – With Knitwear
In winter, we want clothes that can shield us from the cold. But what about in summer?
While we crave the protection we deserve, we often overlook comfort and just settle for what's available.
A cardigan, for example, is lightweight and functional, which makes it suitable for both winter and summer.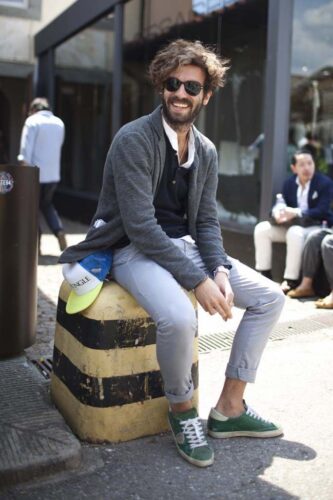 13 – With Matching Top
Try to match your shoes to your top piece.
For instance, green sneakers look good with a green shirt. It's better to look for green outfits with touches of other colors in them. All-green outfits would look dull, and stylish men don't like that.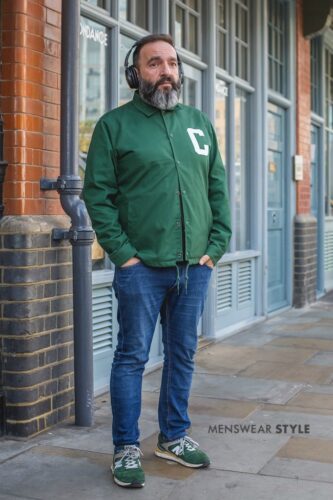 12 – Green Nike Sneakers With a Baggy Outfit
This one calls for a streetwear getup! Let's borrow some inspo from the 80s by wearing a baggy green sweater with ripped blue jeans.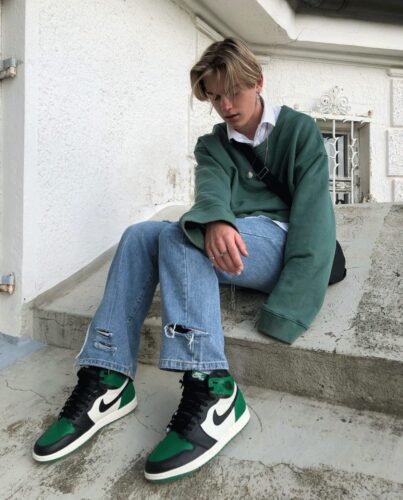 11 – With Pullover
Wear your green shoes with a pullover of the same shade. Don't get me wrong, but they look good without socks, so dare to cuff your pants and show some ankles.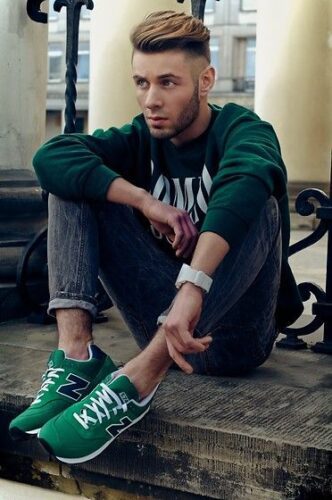 10 – Business Casual
I understand that green loafers aren't usually what we can call "business-appropriate."
In this look, he wears them with a grey suit. It's like a business casual getup with a touch of playfulness through the green shoes.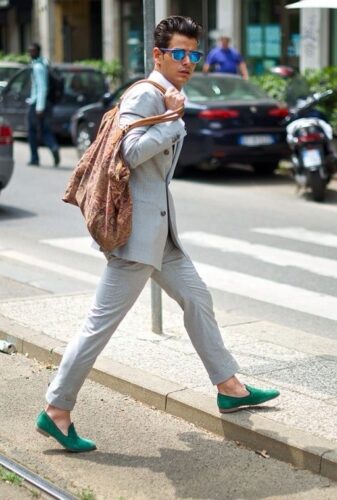 9 – For Plus-Size Men
Be picky when it comes to the fit of your outfits. Make sure they are neither baggy nor too tight. Ill-fitting clothes make you appear even bigger.
Not that there's something wrong with it. But stylish plus-size men don't settle with "just ok." That said, be aware of your body measurements.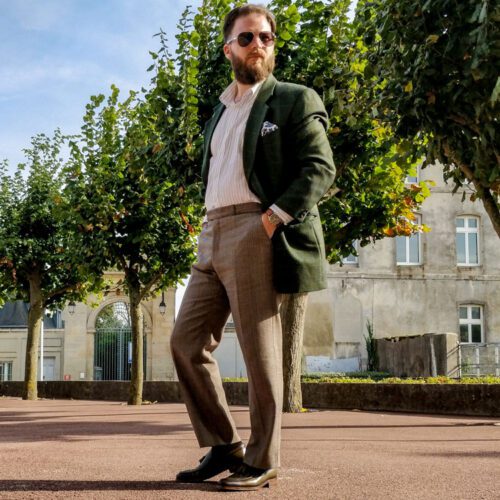 8 – For Mature Men
Older men should stick to neutral colors like blue, off-white, beige for their top and bottom pieces. And it's your chance to wear other colors through your footwear.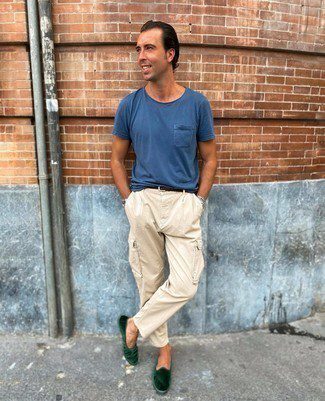 7 – Green Shoes, Black Pants
Classic black will look good with basically every color. That said, it's a no-brainer that green shoes would look great with black trousers. And wear a black Harrington jacket for a uniform appearance.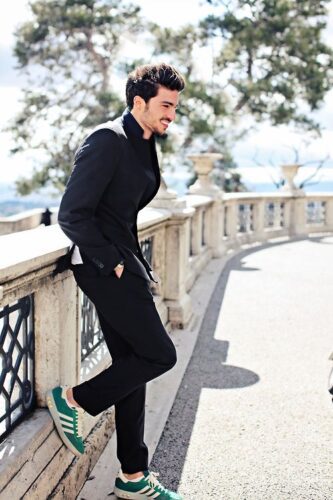 6 – Neon Green Shoes
Don't wait for March to come. It doesn't have to be St. Patrick's Day to don an all-green outfit.
A monochrome outfit consisting of a windbreaker, shorts, and sneakers can be your go-to rainy-day outfit.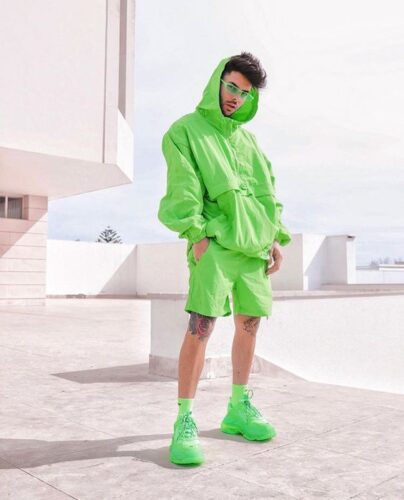 5 – Preppy Outfit
Ivy League Style? Rich Boy Outfit?
Regardless of what you will call it, a preppy outfit is a style suitable for many occasions. See how a green blazer matches green footwear.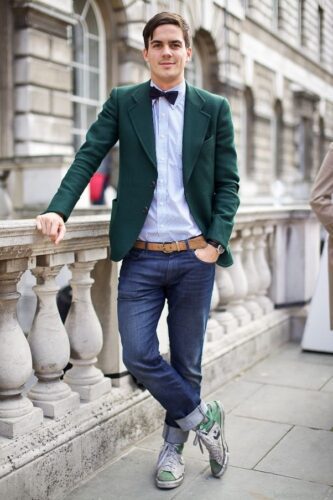 4 – Streetwear
Try Gatorade green shoes.
The streetwear scene doesn't require much formality, so opt for something laidback like sneakers. Grab a white tee, and then pair it with khaki chinos.
If you have a scarf, make it a neckerchief. And some sunglasses would also amp up your look.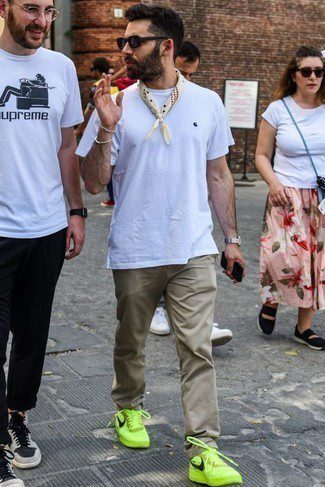 3 – Marcel Floruss
Known as an influential fashion icon, Marcel Floruss can rock every type of footwear. For one, he does green shoes right by wearing them with some dark jeans and overshirt.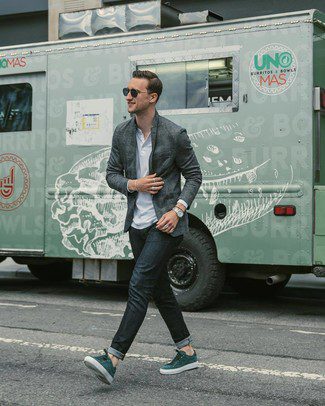 2 – Weekend Casual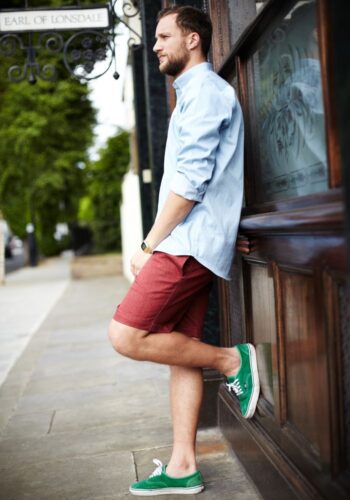 1 – With Denim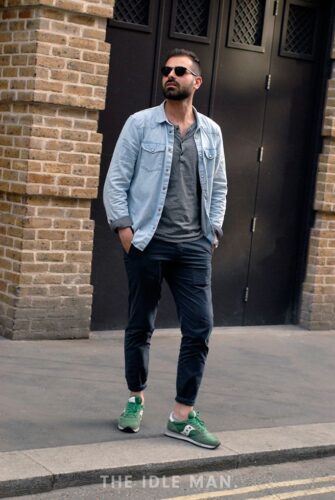 FAQs
Q. What pants and shirt match with olive green shoes?
Q. What should I wear with dark green shoes?
Q. What should I wear with mint green shoes?
Q. What colors go good with green shoes?
Q. What color shirt goes with lime green shoes?
Q. Does green shoes go with blue pants?
Q. Where can I buy green shoes?