Different types of jeans for men – Choosing a perfect pair of jeans according to your body type can be a real hassle. It's not only limited to women but also is a common problem for men too. There have been numerous styles of jeans introduced in the last decade, such as ripped jeans, boot cut jeans, paperbag jeans, slouchy jeans and baggy jeans.
And with that, the decision to find the perfect pair of jeans according to your body has become more like a universal issue now. Good fit in jeans should be your top priority while shopping. If the jeans are of an ideal fitting, then you can indeed style them on several occasions. They can make your whole outfit appear cool and stylish if appropriately styled.
Outfits To Wear With Jeans
In this article, we're going to talk about numerous different types of jeans for men, including funky jeans, baggy jeans, ripped jeans, and how you can style them according to your body type and which ones are perfect for you by keeping your preferences and style in mind. 
We're also going to guide you from A to Z along with a bunch of tips and tricks on how you can style a perfect fit along with the ideal pair of jeans according to your body type and what precautions should you take while shopping for different kinds of jeans for men.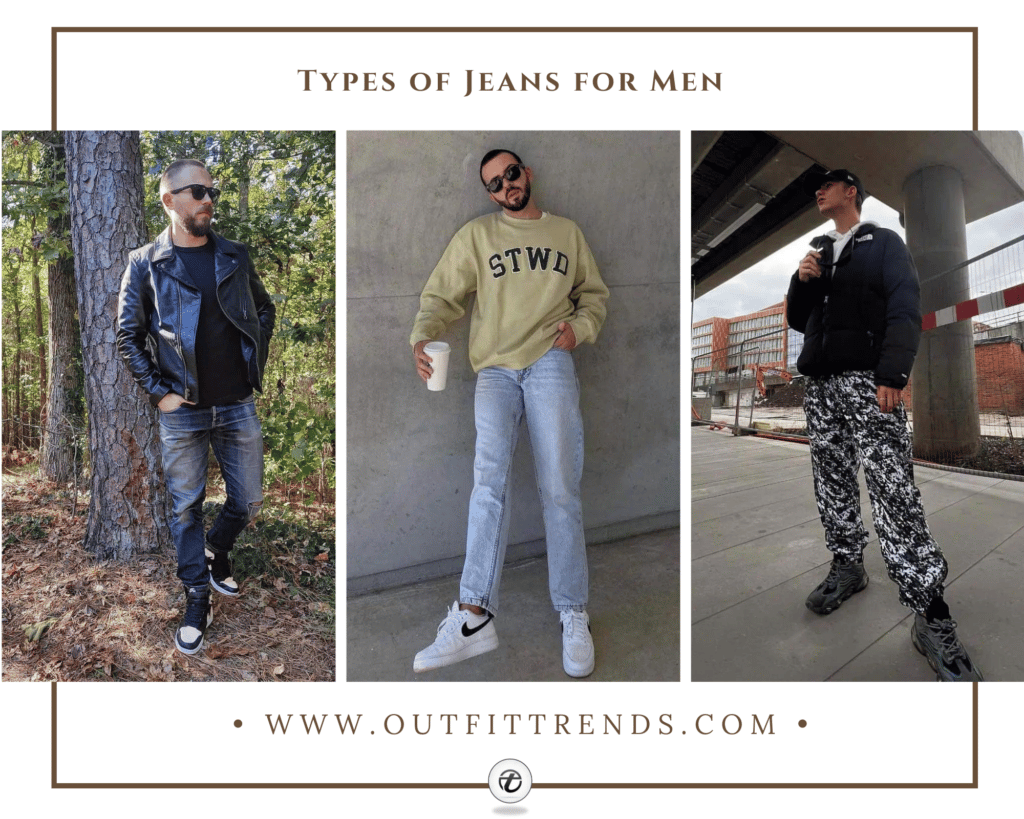 Dos And Don'ts On How To Style Different Types Of Jeans For Men
First of all, choose an ideal fit of jeans according to your body type.

You can style jeans on various occasions both casual and formal therefore choose a perfect and comfortable pair while shopping for jeans.

Avoid going for bright colors of jeans and instead go for solid colors such as black, grey, blue, beige, and white.

Wear jeans that highlight your outfit.

If you are more of the bulky side of a guy then do avoid wearing skinny fit or bootcut jeans.

Try multiple types of jeans and then choose which one will be the best fit for you.

You can style jeans as your everyday outfit on casual Tees or hoodies.

Pair them with sneakers for your everyday outings.
20- Patches Jeans For A Cool Look
Patches jeans have been in trend for a few years now. Just as the outfit in this photo, wear a patches jeans with a casual classic black or white t-shirt and white sneakers. You can design them with numerous types of patches according to your choice. They make you look cool and trendy with various styles of patches, teenagers usually wear them, and Gen Z. Many youngsters and male celebrities can be seeing styling these types of jeans to make a fashion statement.
19- Army Loose Jeans On Hoodie
Army Jeans or Pants for men have always been in fashion, they mostly come in green or grey color and you can style them as your casual fit, they are comfortable to wear and can be paired on several uppers such as hoodies, jackets, sweatshirts, and so on. You can pair them with black boots or sneakers, army jeans are usually worn in cold weather.
18- Straight Light Blue Jeans On Sweatshirt For A Causal Fit
This fit is perfect for your casual everyday outing, or you can also rock it on a casual dates such as movie dates or theme park dates. Straight Light blue jeans are the most common worn jeans, and you can style them on various occasions, making them handy and budget-friendly. You can style them on light colour baggy sweatshirts and white sneakers.
17- Straight Beige Jeans On Denim Jacket
Beige Straight jeans on a greenish denim jacket are ideal for semi-formal outings. You can style this classic outfit with white sneakers and add a hat (preferably in beige color) to make this look even more dapper. Various types of jeans for men, like loose jeans, are back in trend. You can style them in multiple ways and colors, such as beige, white, or grey.
16- Black Trouser Jeans For Winter
You can style a pair of black trousers jeans on a baggy hoodie or a sweatshirt. We'd suggest you go for pastel colors for the upper to make your outfit look more vibrant and relaxed, pair this trendy outfit with white sneakers and you're all set. Styling jeans as a trouser can come in handy on your casual outings. They're usually worn on cold, lazy days when you're too lazy or bored to bother yourself with choosing an outfit.
15- Skinny Fit Jeans On A Simple Tee
Skinny fit jeans have a huge fan base, you can wear this basic classy jeans with white or black sneakers. It's one of those outfits which is not only budget-friendly but also trendy which makes you appear sophisticated. You can style them on almost every occasion but they're most popular to be worn as a casual fit on a simple tee or a sweatshirt (if the weather is cold).
14- All Black Outfit AKA Black Denim On Black Shirt
Black denim is another popular type of jeans. This all-black outfit is perfect for the winter season, anyone can rock it effortlessly to appear comfortable, and this fit is especially preferable for youngsters as it gives a definite fashionista vibe. Black denim is perfect to wear daily with a simple t-shirt or a hoodie, or a sweatshirt. You can pair black sneakers with this outfit if you want to go for an all-black look, or else you can also style it with white sneakers.
13- Loose White Shirt And A Blue Relaxed Fit Jeans
Relaxed fit jeans are an ideal option for summers, you can style this look with black or dark brown boots, and you're all ready to go. You can easily pull off this fit as an office outfit or an everyday look. A loose white tee or a shirt in a light color on a fine pair of blue jeans is a wise choice to make you appear dashing.
12- Ripped Skinny Jeans On A Basic Shirt
Ripped jeans come in various fashions; they're decent for the summers. Style it with a grey button-down, black sneakers and glasses, and you're all set to rock this casual fit. Ripped jeans are one of the most popular types of jeans for men, and you can also style them on jackets and hoodies if the weather is cold,
11- Raw Hem Jeans On A Loose Button Down
If you feel like going for comfy lowers, then raw hem Jeans are perfect. For this fit, a black or any other solid loose button-down shirt will be an ideal choice and pair it with casual white sneakers to make this fit even more of an everyday look. You can style them in several ways without bothering about if the fit is ideal for your body type as it is much better than other types of jeans like skinny or straight jeans.
10- Black Skin Fit Slim Jeans On A Leather Jacket
This fit is perfect for the guys who are more of a racing fanatic. Black jeans are always a must-have in men's wardrobe. Pairing it with a black leather jacket would make you look dapper and trendy. Style it with black boots or sneakers and a black pair of sunglasses.
9- Baggy Loose Jeans On A Grey Tee
Baggy jeans have always been a popular choice for men's fashion. You can style them with a simple classic black, grey, or white color for a casual comfy fit, or you can always pair them with jackets and other outerwear. If the weather calls for it, style these comfortable baggy jeans with a casual grey shirt and black high boots for a statement fit.
8- Faded Blue Jeans For A Biker Look
If you're a biker or a track person then this fit is a perfect choice for you, a black leather jacket on a decent pair of faded jeans would not only make you appear dapper but also you will look and feel more confident because of this statement outfit, black or white sneakers will be an excellent choice to wear on this look and also a black pair of glasses.
7- White Turtleneck On A Cargo Pockets Jeans
Cargo jeans are one of the comfiest and funky jeans for men. Wear this comfortable pair of cargo with a white or black turtleneck in cold weather. You can also add accessories like glasses, chains, or a hat along with this fit to make it more of a casual side outfit; style brown or black high boots with this outfit. They're perfect for all seasons and give you more of a cool casual look which makes you appear confident and young.
6- Comfort Jeans Along with A Parka Jacket
Style comfy relaxed jeans on a parka jacket for a comfortable and effortless fit which would be a trendy look for winters; you can wear white or black sneakers with this fit. Cold weather calls for comfortable outfits, such as a decent pair of comfy jeans; comfort jeans are classic for jeans. You can pair them with several uppers and outerwear. Parka jackets are more of an essential in cold weather,
5- Flat Front Jeans For A Basic day
This fit is both comfy and trendy; you can usually style this look in summer with basic t-shirts and shirts and for winter. Style them with a black or white hoodie or a sweatshirt. Flat-front jeans have become the new everyday jeans; you can style a simple basic black or white t-shirt or a sweatshirt with flat-front jeans and pair them with white sneakers.
4- Style Bootcut Jeans For A Trendy Fit
Bootcut jeans have been in fashion for decades now; You can wear them on every formal or casual occasion, pair them with your everyday upper for a relaxed fit such as a white tee or a button-down shirt and style them with boots or essential sneakers. Bootcut jeans have a unique, charismatic vintage and macho vibe; we've seen many fashion icons, both men and women, rocking this trendy lower on various occasions.
3- Skin Fit Grey Jean On A Black Button Down
Skin fit jeans are ideal if your body is more of a muscular type, they make you look mature and stylish if the fit is perfect, style these jeans on a black half-sleeved button-down, this look is perfect to be worn on semi-formal occasions, you can pair this sophisticated fit with white sneakers or boots.
2- Knee Cut Jeans On A High Neck Top
Like ripped jeans, knee-cut jeans are also trendy in today's fashion trends. For this fit, style knee cut jeans with a solid color high neck. You can also style it with a parka jacket as outerwear if the weather is cold. Classic white sneakers would be perfect with this classy fit. Knee-cut jeans can be worn in many ways, ideal for standard body types.
1- Classic Blue Jeans On Black High Boots
Everyone is aware of the popularity of classic blue jeans. Style these lazy baggy fit jeans on black boots for winter; you can choose a basic t-shirt if you're going for a casual look, or else style it with high necks, sweatshirts, or button-downs for formal or semi-formal gatherings. You can pair these signature jeans with almost every outfit.
Frequently Asked Questions
Q. How many different types of jeans are there for men?
A. There are numerous types of jeans available but some of the most popular and common types of jeans are skinny, slim fit, baggy, straight, and relaxed fit.
Q. What jeans are popular now?
A. Nowadays, the most popular types of jeans for men are bootleg, skinny fit, straight, wide-legged, and baggy, they can be styled on several occasions.
Q. What should I wear with ripped jeans in winter?
A. You can style ripped jeans in winter on several types of outerwear such as denim jackets, leather jackets, parkas, and mid-length coats. You can also style them with sweatshirts and baggy hoodies.