Men Shalwar Kameez Designs for Eid -Eid marks the completion of the holy month of Ramazan; it's a gift by Allah to Muslims for the sacrifice they make during the blessed month. This joyous occasion is all about mirth and merriment. Muslims celebrate this event with full zeal and zest in every regard.
While talking about the occasion, festivity, jubilation, and gathering, we can never forget to talk about clothing, dressing up, and accessorizing. The Shalwar kameez is not just a traditional and national attire of Pakistan but also considered as a favorite Eid outfit by men from all across the world.
Even those people who never wear shalwar kameez throughout the year, tend to wear them for Eid because of its charm, sophistication, and ethnicity. If you choose the appropriate combination for your shalwar kameez, then you have created not just a traditional but also a fashionable dress.
How To Dress Up In Shalwar Kameez On Eid
Festivals like Eid are special moments where, one of the time of his life with his pals and family. All dressed up in ethnic attires. We have decided to help you all adult men and young boys with some dressing up ideas if you are planning to wear Kameez Shalwar.
Cotton or Lawn fabric is best to opt for summer Eid.
It is a must to accessorize your shalwar kameez the right way so to do that you can buy a Nehru jacket, handkerchiefs, and some soft, traditional shoes like Khussas or Kolhapuri.
You can also add some western touch to your traditional outfits for example by wearing leather sandals, boat shoes, or even espadrilles.
Knee-length shirts are in fashion these in case you are considering them.
Another question that pops in mind is whether you should wear light colors or dark ones on Eid. Here is the answer; light shades of shalwar kameez for Eid namaz and day time and bold shades with blingy details for the night.
↓ 25 – Collar Design
Guys, it is pretty evident that everyone's taste is not the same no matter what. There are people of every age with their interests. If we say that everyone cares a lot about their clothing more than anything else, then we aren't wrong.
There are little things that can make you and your outfit stand out. Focus on your collar style. Play with different styles and create something immensely creative and alluring. How about a statement collar, an embroidered or printed one. Ban is going to be a great choice as well. You can also check out these Latest Eid Kurta Shalwar Designs for more ideas.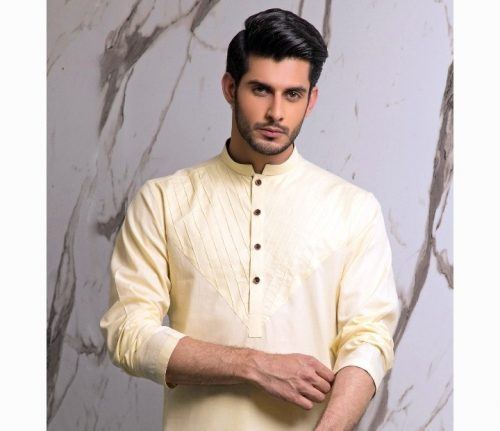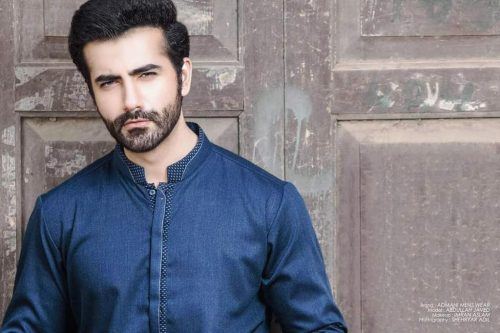 ↓ 24 – For Adults
While discussing fashion all we talk about is young people. It's sporadic that we see some great fashion posts regarding styling and dressing up tips for aged people. They all have a heart. They love to dress up too. You can't disagree with this.
Well, Eid celebrations and blessings are equal for all. If you are in your fifties sixteen or even seventies-eighties, you don't have to sit back and just watch your children and grandchildren dress up, but you have to be a part of their celebration. Here we have an idea for you of what to wear on Eid.
↓ 23 – White Kurta With Colorful Scarf
If you are sophisticated personality and fond of wearing white, then what can be better than wearing a simple white kurta for Eid, As we've all heard simplicity is the best policy, why not implement on this theory. If you want it to be a bit more vibrant and unique, get a multi-colored stole.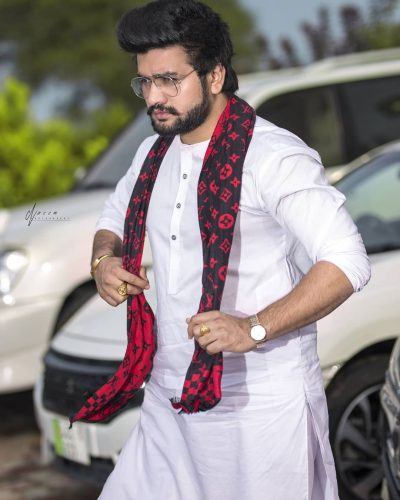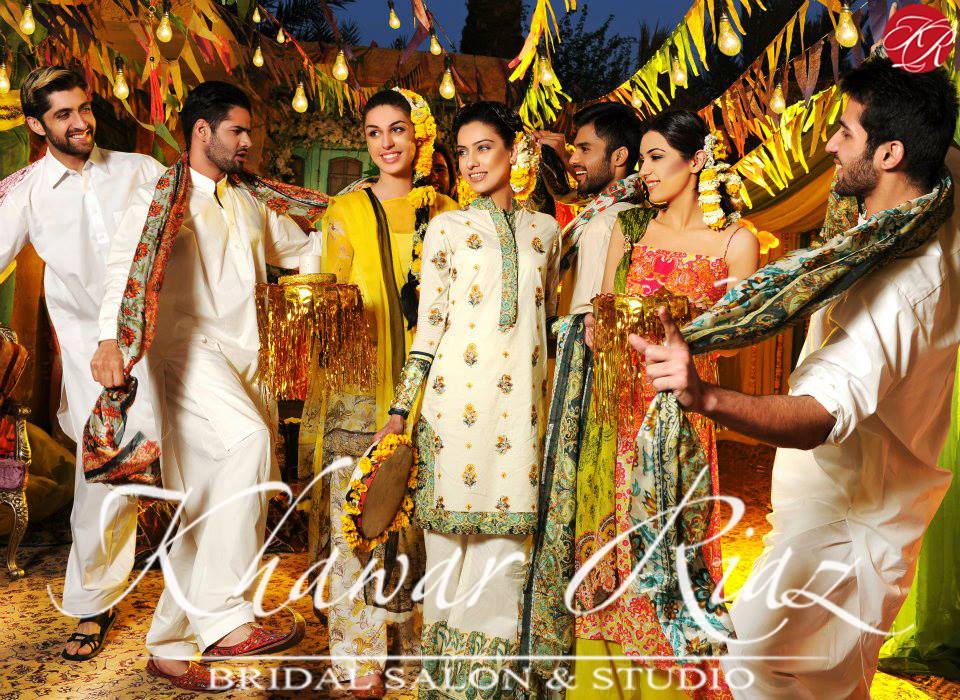 ↓ 22 – Sherwani Style
Here is a mind-blowing Eid dress idea for you boys. Get a sherwani with embroidery but make sure you don't get too fancy with a sherwani as it's Eid; a sweltering one, you must not forget. Opt for light colors like white, off white, grey, camel color, or neutral colors. What other better outfit can you even wear to an Eid lunch or dinner. All stunning and enchanting.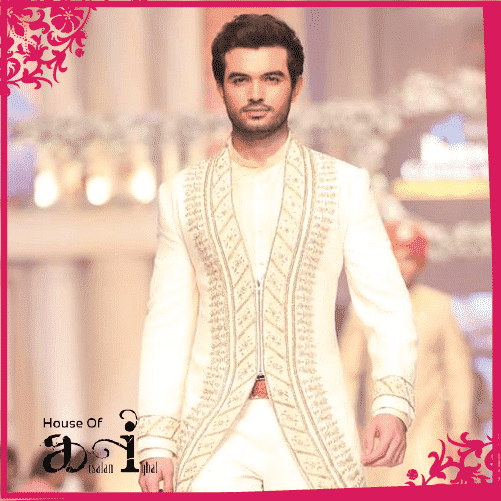 ↓ 21 – Amir Adnan Eid Shalwar Kameez Collection
Here are a few clips from the latest Eid collection by the well known Pakistani designer for men's clothing, Amir Adnan. Have a look at this simple brown shalwar kameez. The shade looks fantastic, and so does the style; however, the dark color will not be suitable for the day in this sizzling weather.
But, you can wear it for the evening functions for sure this Eid. So why not "get the look"?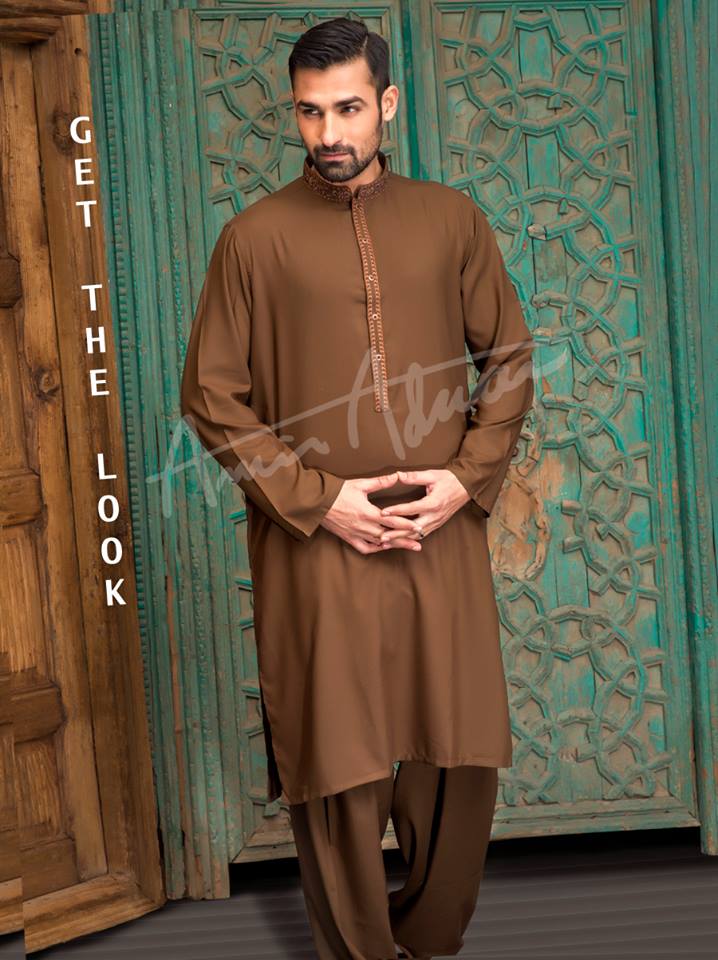 Visit Amir Adnan's store and pick up your favorite outfit at a reasonable price.
↓ 20 – Jamawar Waistcoat
Jamawar fabric is something that you can use on formal occasions. It will add a fancy touch to your dress which we think is a must for such occasions. Read this out for more ideas: 18 Ways to Wear Waistcoat for Classy Look.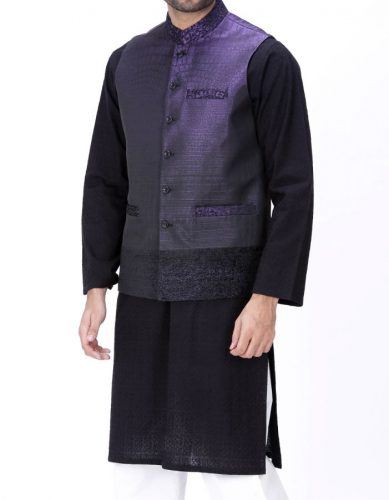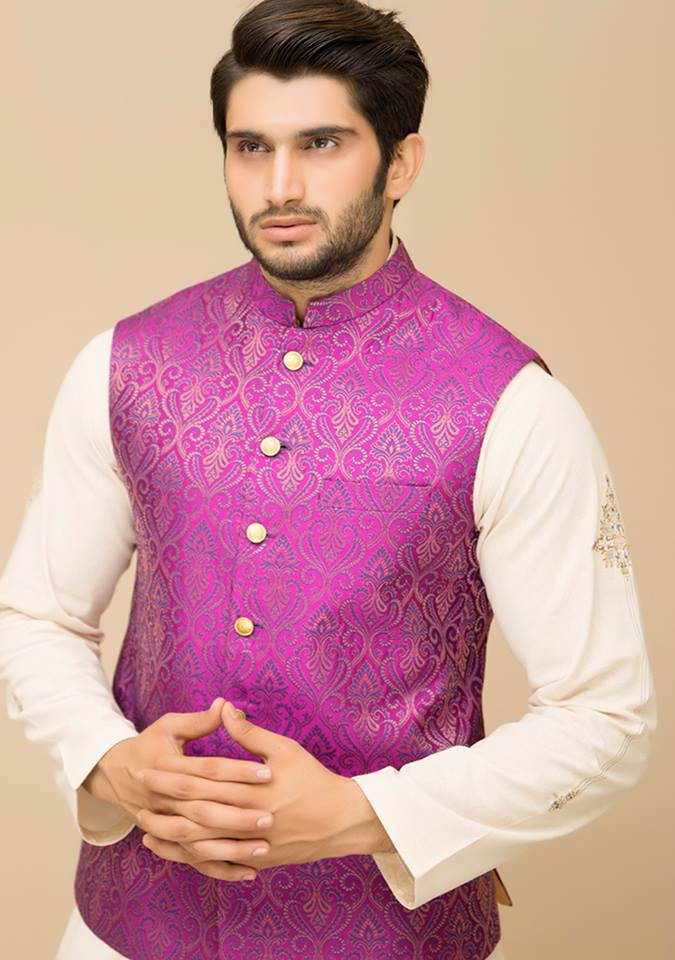 ↓ 19 – Casual Style
Considering the warm weather this year, one of the reliable options would be to go for white shalwar and some light-colored kameez like Peach, blue, green, and other soft or lime colors of the sort that will add a cooling effect to the simplest outfits. Take a look here but don't leave your heart here as we have a lot more for you. So, keep reading.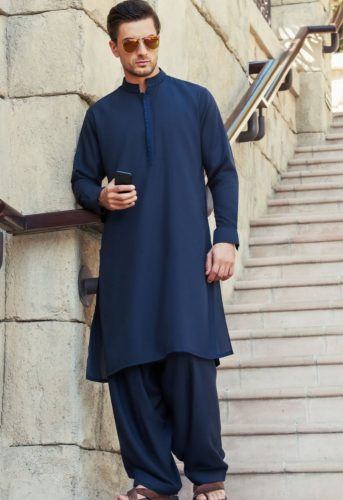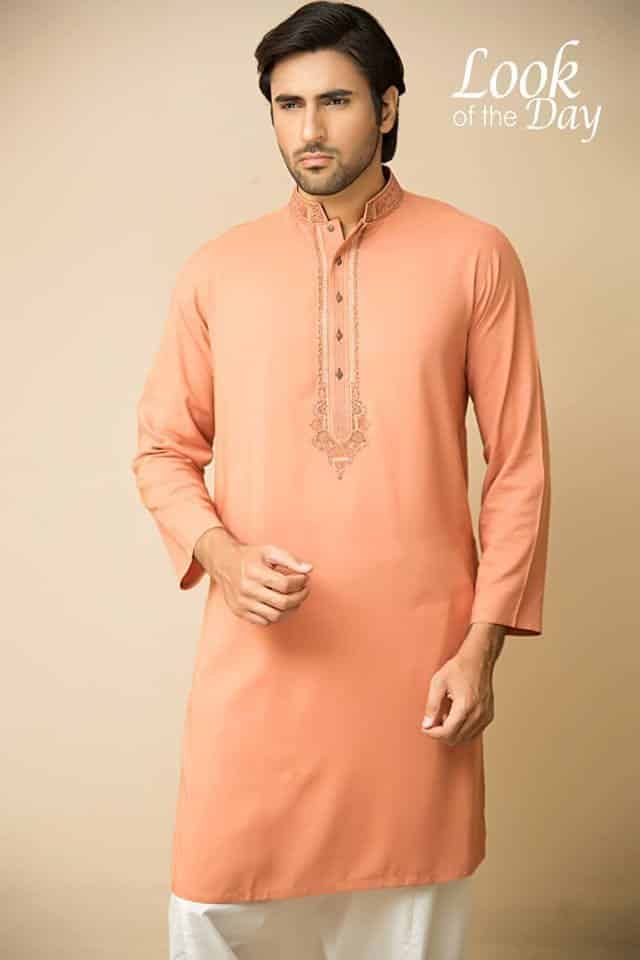 ↓ 18 – Embroidered
Embroidery on men's attire is making its own place in the fashion industry, and we have to say that people really love this idea. How about trying this trend on a very special occasion by the end of this month? Limited graceful embroidery around the collar or the buttons can give a whole new look to any ethnic outfit for men. We suggest you check out these 12 fancy embroidered dresses for men too.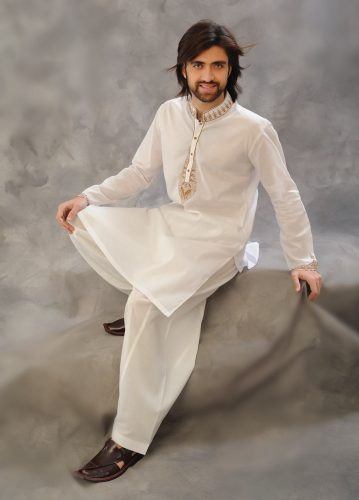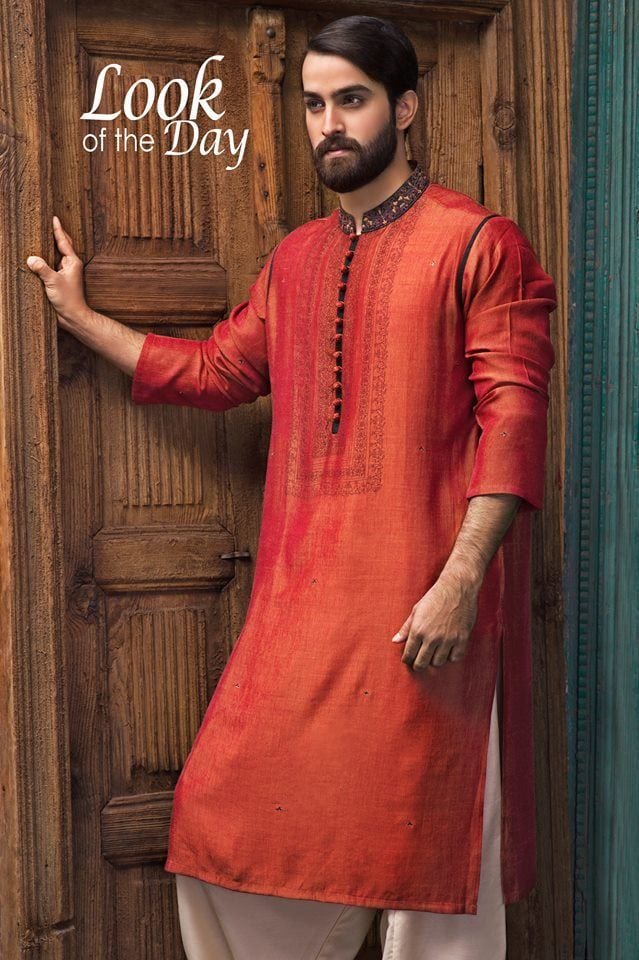 ↓ 17 – Waist Coat
A flawlessly tailored waistcoat can make a lot of difference in your everyday shalwar kameez. It will help you create an elegant and enthralling outfit for Eid. There are numerous ways of styling them and mixing and matching them but still, if you are wondering and not clear how to style it then check out these 12 stylish combinations for shalwar kameez with a waistcoat.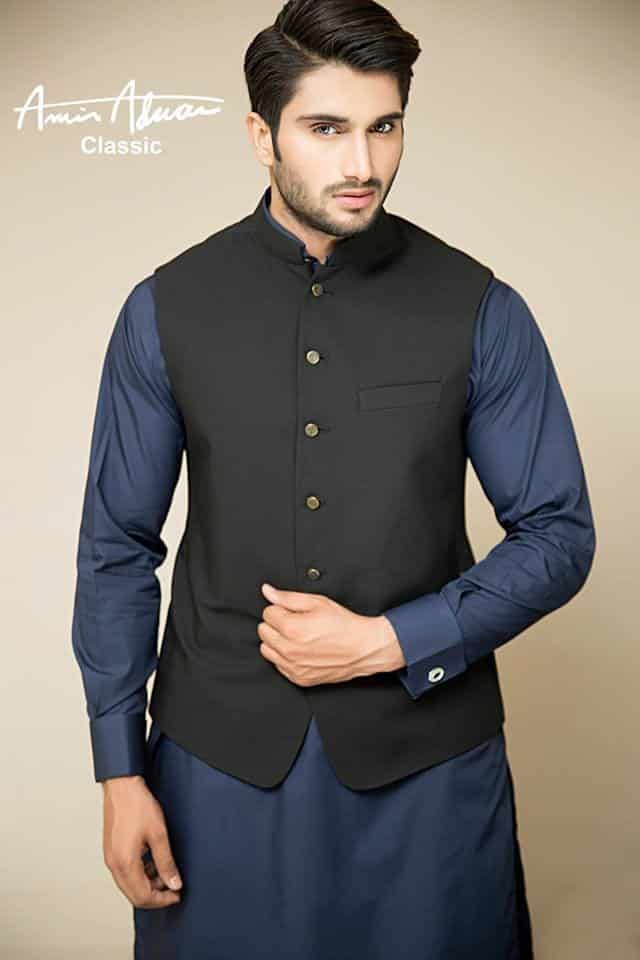 ↓ 16 – Designer Shalwar Kameez By Nauman Arfeen
Many new and rising designers have also brought forward some fantastic outfit ideas for this Eid-ul-Fitr, and we have to say that Nauman Arfeen's collection is astounding. Have a glimpse of it for yourself and let us know what you think. And if you like one then we hope at least your dress will be finalized.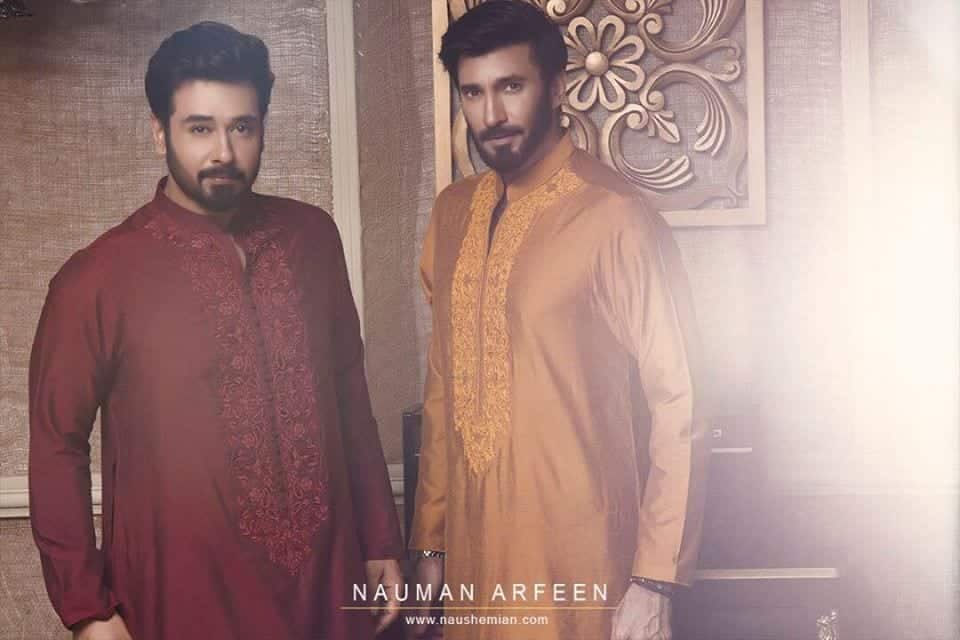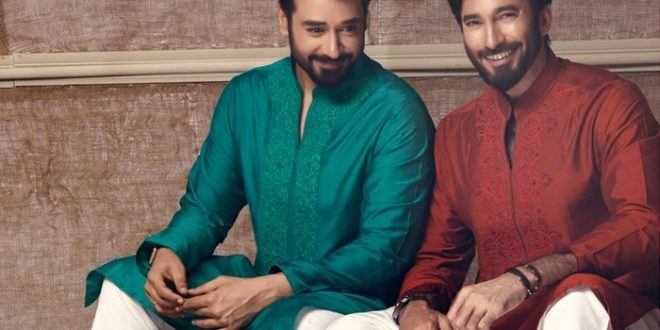 ↓ 15 – Regal Designs
Go regal this Eid by choosing royal colors and look for intricating details like handwork embroideries or statement sleeves or collars to make sure that you get an outfit that suits your personality the best.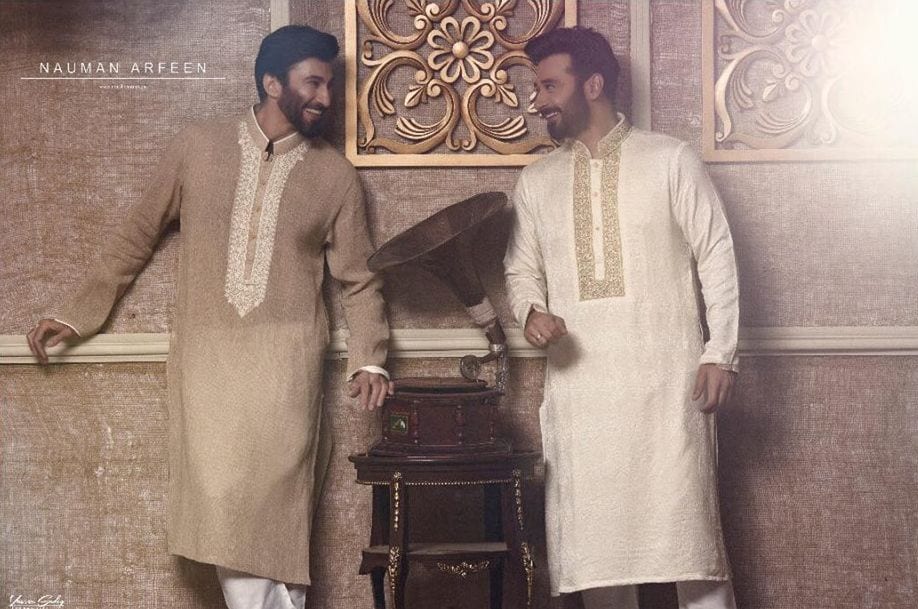 ↓ 14 – Gul Ahmed
Gul Ahmed came forward this year a very refreshing and yet decent Eid compilation for gentlemen which will make sure that you stay at the top of your style game. Here is one of our top picks from their latest collection. You might also like to check them yourself, so here you go. And wait, don't forget that their price range is really considerable.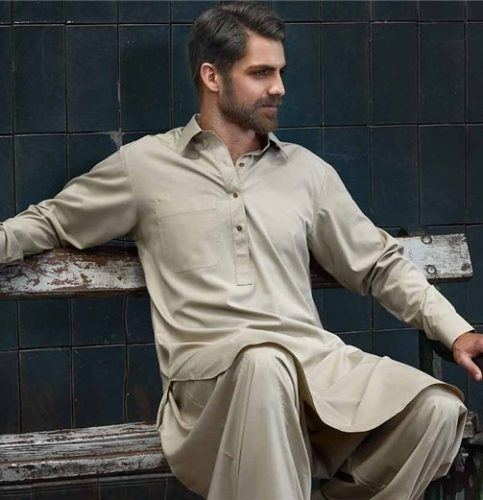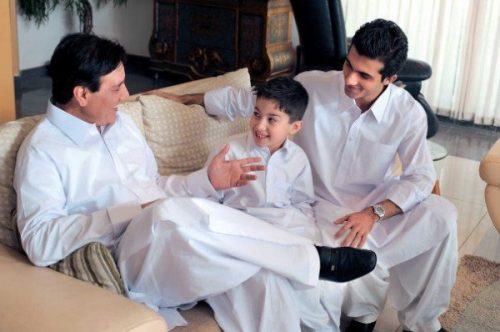 ↓ 13 – Unique
Time to be different than everyone else, leaving behind great and unique fashion styles for inspiration. Most of you might have heard of the news that the recent collection by world-famous brand that is Versace, which is inspired by none other than the rich cultural Pakistanis astounding dress? It's all about mixing Eastern into Western and creating a combo of them. We cannot get our eyes off them. How about you?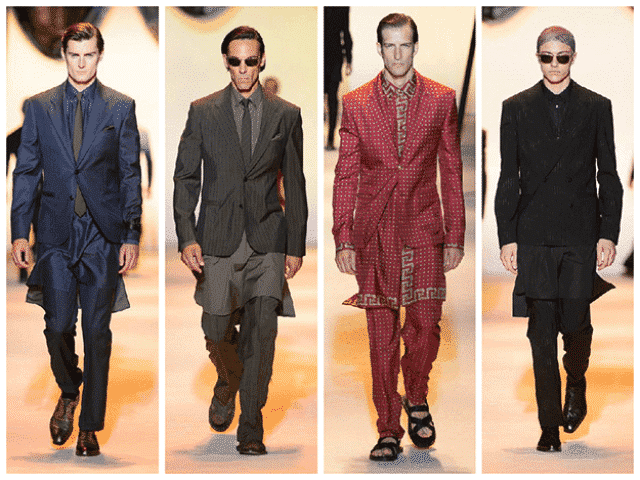 We have inline another simple and elegant combination of black, with golden buttons. We don't know what else you called a ravishing attire that's suitable for formal Eid functions.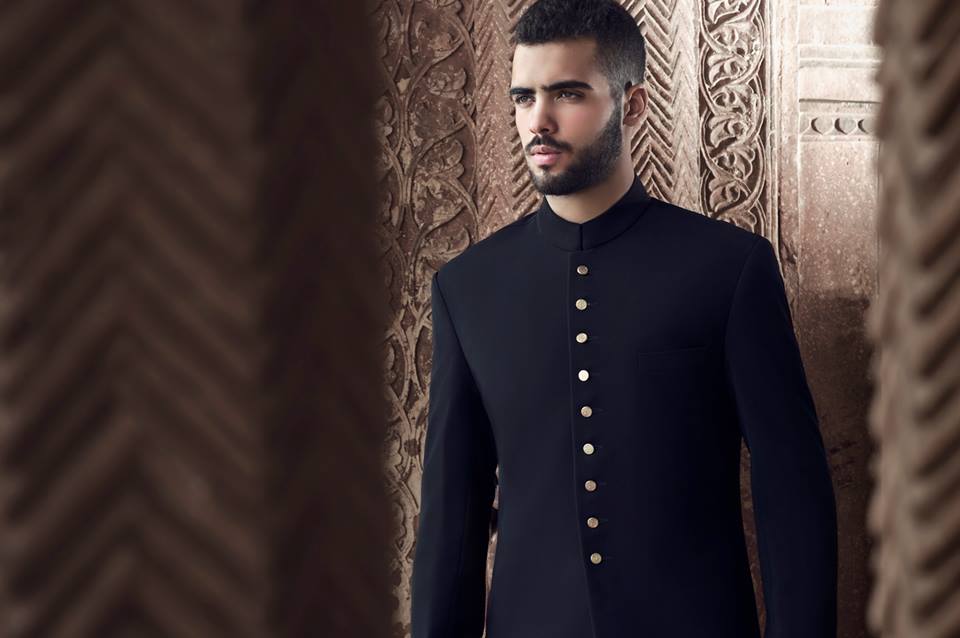 ↓ 12 – Best Colours for Men to Wear on Eid
Gold or copper Kurta in matching or with white shalwar along with loafers look great.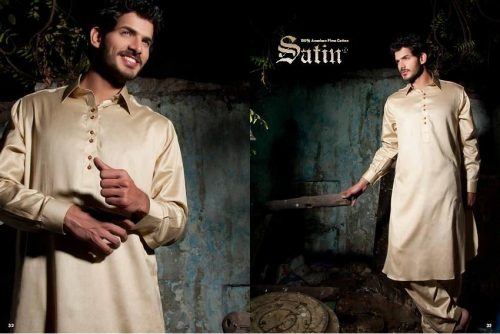 ↓ 11 – Eid Hairstyle
An appropriate hairstyle is a must in order to complement the entire look. Check out this handsome model Muneeb Butt's hairstyle with eid dress for Bonanza's photoshoot. Your eid hairstyle is supposed to be neat, decent, and simple since this is a religious and formal festivity. Don't forget to buy a hair gel during your Eid shopping.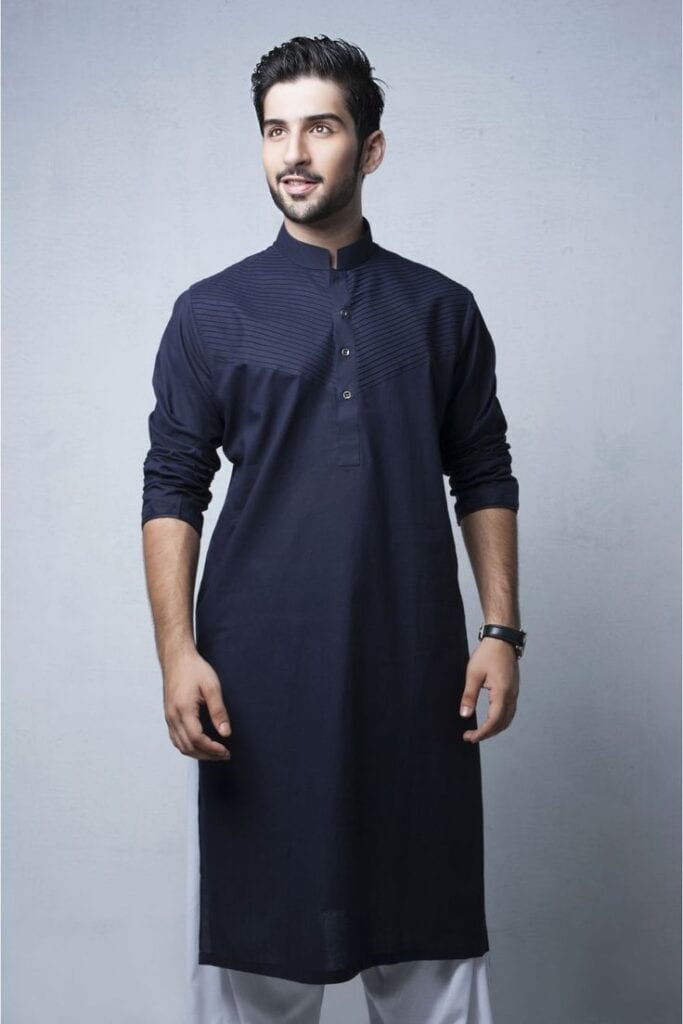 ↓ 10 – Shalwar Kameez By Emraan Rajput
For our lovely readers who enjoy reading our posts, we've discovered another brand for them. Yes, we are talking about Emran Rajput.Their fabric and designs won't disappoint you at all. Here are Latest Shalwar Kameez with Coat Style Combinations For Men.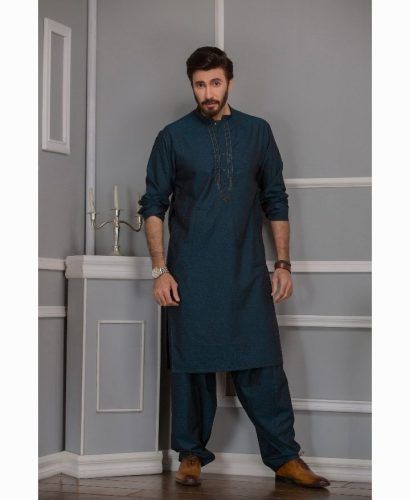 Check it out yourself at their store here
↓ 9 – Bonanza Men Eid Collection
While piling up Eid Shalwar Kameez designs for you all, we came across the fact that bonanza is a 10/10.  At least for us. Their fabric is amazing and the simple and decent designs they have, have definitely got us astonished. If you are busy and don't have enough time to go on a long raid of shopping stores then go here, problem solved.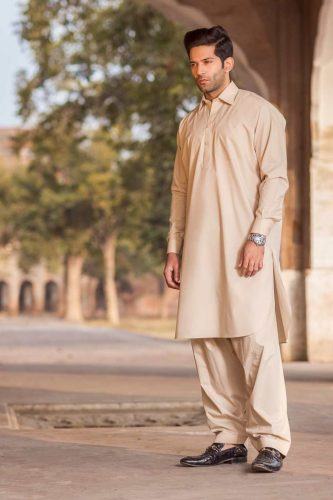 You can hunt and shop their collection On their store.
↓ 8 – Simple And Decent J. Eid's Collection
One of the most pocket-friendly and yet great quality men's outfits can always be found at J. (Junaid Jamshed). This year too, their Men's Eid collection is full of some fantastic colors and designs for all. Your age group should not bother you at all because they have collections for all age groups that are organized according to sizes in separate sections which makes it really easy to browse through. The best thing about their shalwar kameez is that they can always alter them for free if you want an exquisitely tailored fitting. Don't forget the fact that it's a trustworthy brand and they guarantee good quality. Their price range starts from roundabout 5000 and keeps on increasing.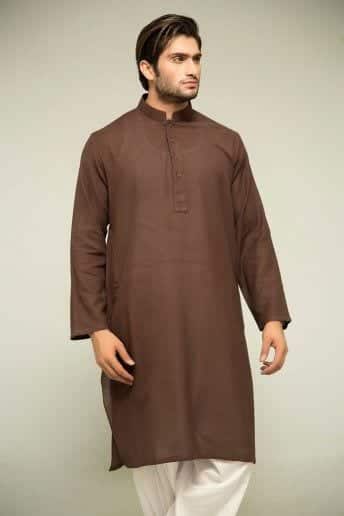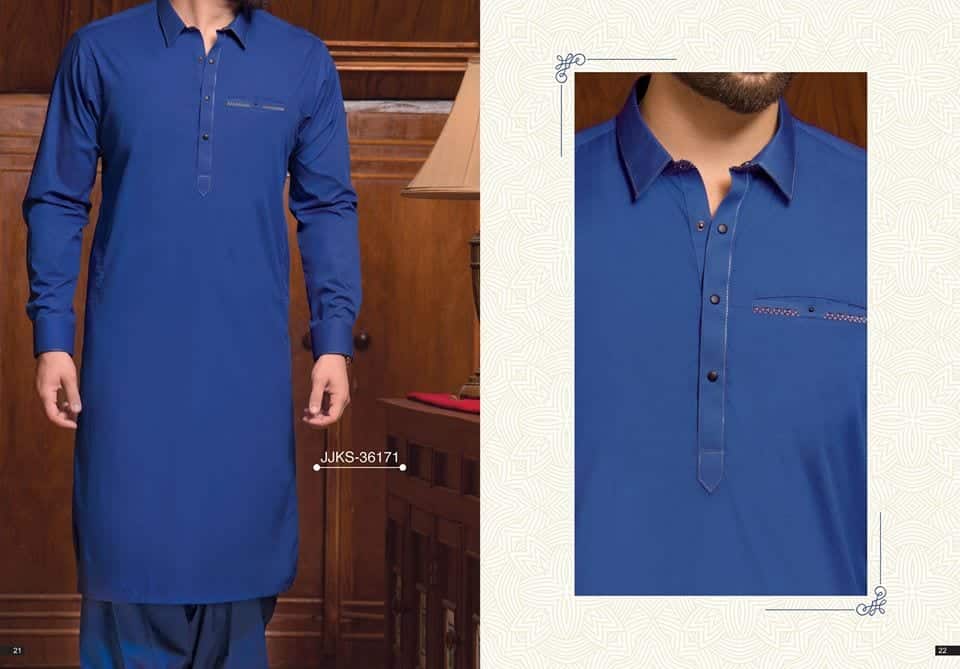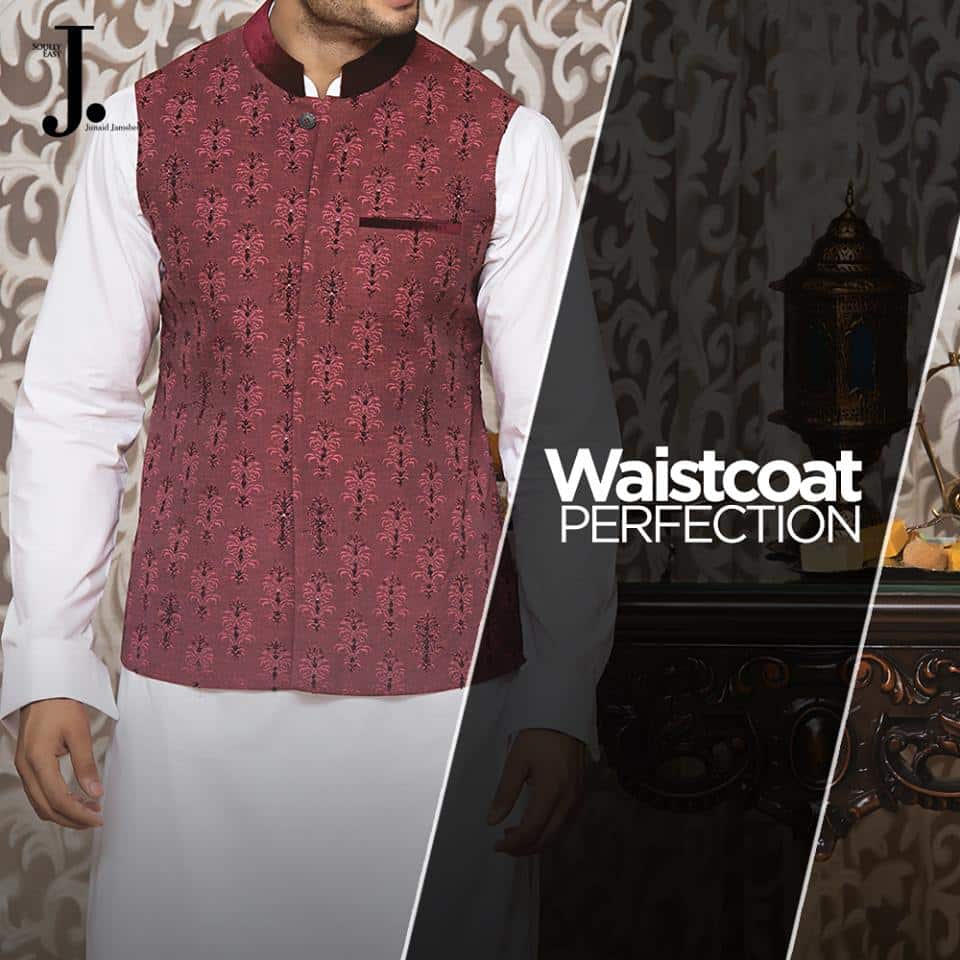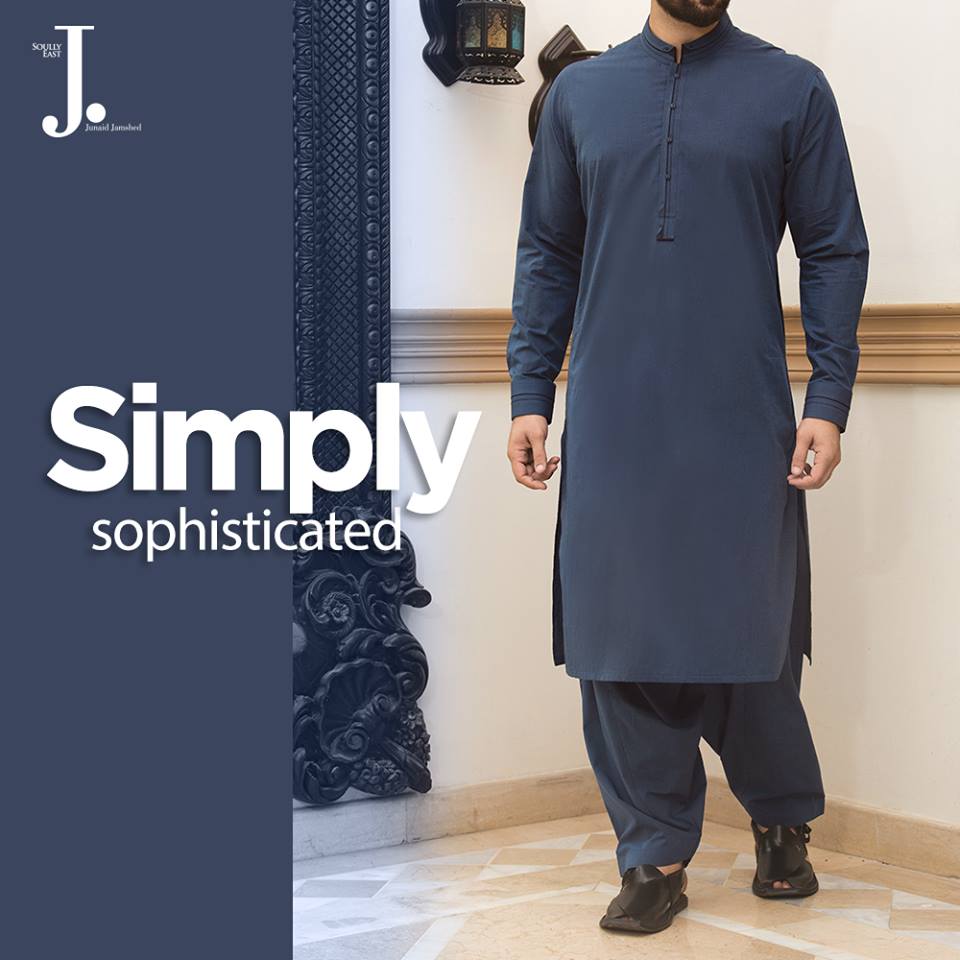 Visit Junaid Jamshed for more variety
↓ 7 – Pop Of colors
We want you to stay young and happy forever. And clothes can definitely make you happy. We are right, no? We are!! When everyone's going to wear white or black shalwar kameez this year, you should wear it too but a little differently.
Thinking about it right? Well, here is a mesmerizing idea for you. Add vibrant colors to it in small patches or some design like this one. We don't want you to miss out your shades and of course, a wristwatch. You are not done here yet. Get yourself Khussa as well.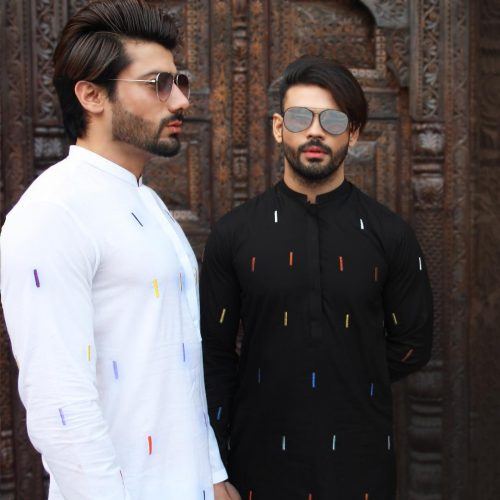 ↓ 6 – Perfect Summer Vibes
All we want is refreshing and positive vibes on this Eid only. You'll look wondrous in some light summer colors like lime color and pastel colors.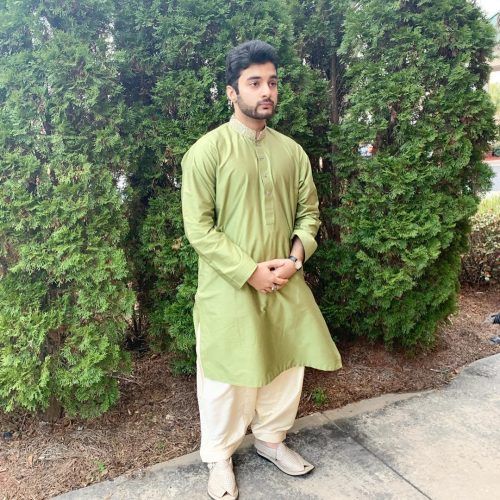 ↓ 5 – All Neutral
Go all neutral this Eid and stay easy Peezy.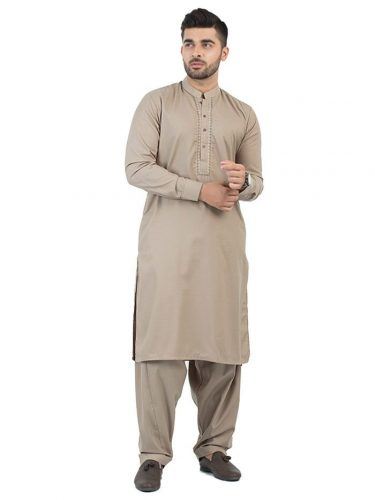 ↓ 4 – All White Outfit
This is clearly the most wanted color this Eid.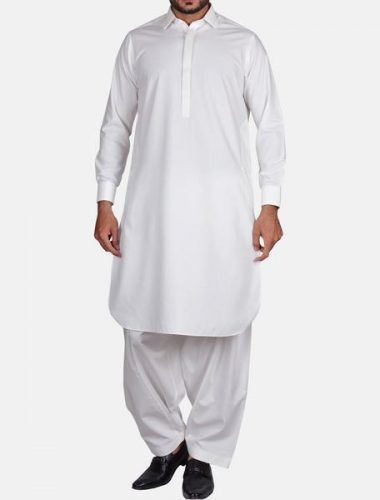 Formal men shalwar suit – 2950 PKR
↓ 3 – Black
Black eid outfit is the soundest choice in times when no other good option is nearby. Moreover, girls love guys in black Kameez Shalwar with rolled sleeves. *winks *. Here are some more Black Kurta Pajama styles for Men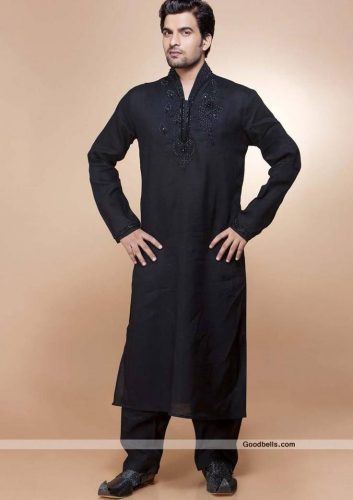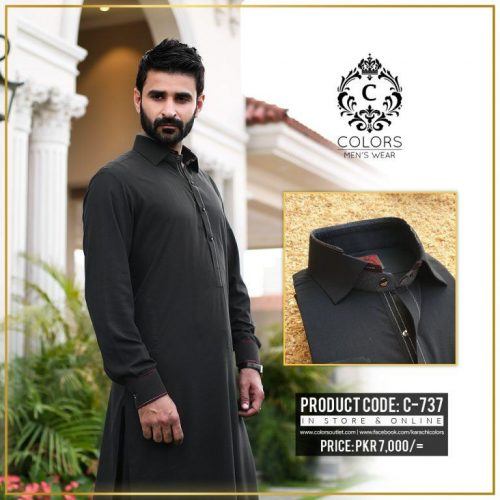 Men black kameez shalwar – 7000PKR
↓ 2 – Footwear
Never ever rule out footwear. I repeat never. Peshawar Chappal, Kulhapori or loafers that's it.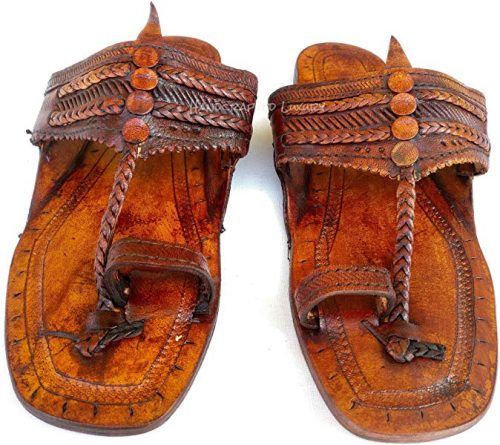 ↓ 1 – Where To Shop For Men's Eid Clothing?
The era when men were expected to wear anything and not fuss over their looks are long gone. Today in Pakistan we have several designers working specifically on men's clothing and their work is remarkable.
Many of these designers are providing us with the right quality products within the reach of a mediocre citizen of Pakistan. There are numerous brands now and we have listed some of them for your convenience below. Some brands like HSY and Humayun Alamgir might be a little expensive for some you but you can always get some great ideas for them and get fabric from your own local store and get it stitched in that design. You might also find replicas. All you need to do is use your mind and think about the designs we have provided you.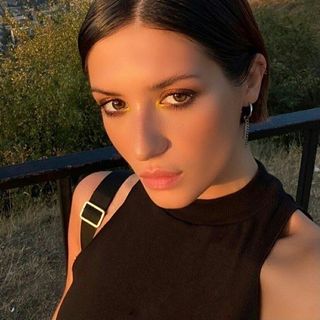 Avid reader and Fashionista. London Based freelance lifestyle editor