Brogue Shoes Outfits For Men. The Merriam–Webster dictionary describes "broguing" as the ornamentation of shoes using heavy perforations, making brogue shoes distinct from other footwear.
Brogues come in two types: the Derby with open lacing and the Oxford with closed lacing. Various designs include the full brogue, half brogue, and quarter brogue.
A shoe has two halves: the upper and bottom parts. The upper part of the "Vamp" is where you can see the holes for the laces. The bottom portion of the "Quarters" is the section beneath the Vamp. Double Monk co-founder Nick Schaerf said through DMarge that most of the punching (known as broguing) appears either along the seams or on the toe, which is known as a "medallion."
How to Wear Brogue Shoe Outfits for Men?
Brogue shoes are smart and fashionable, but not just that. They can also make any outfit interesting, and they owe it to their unique perforations. They can be a substitute for ordinary leather dress shoes in any outfit. And they also go best with specific dress codes, settings, and situations.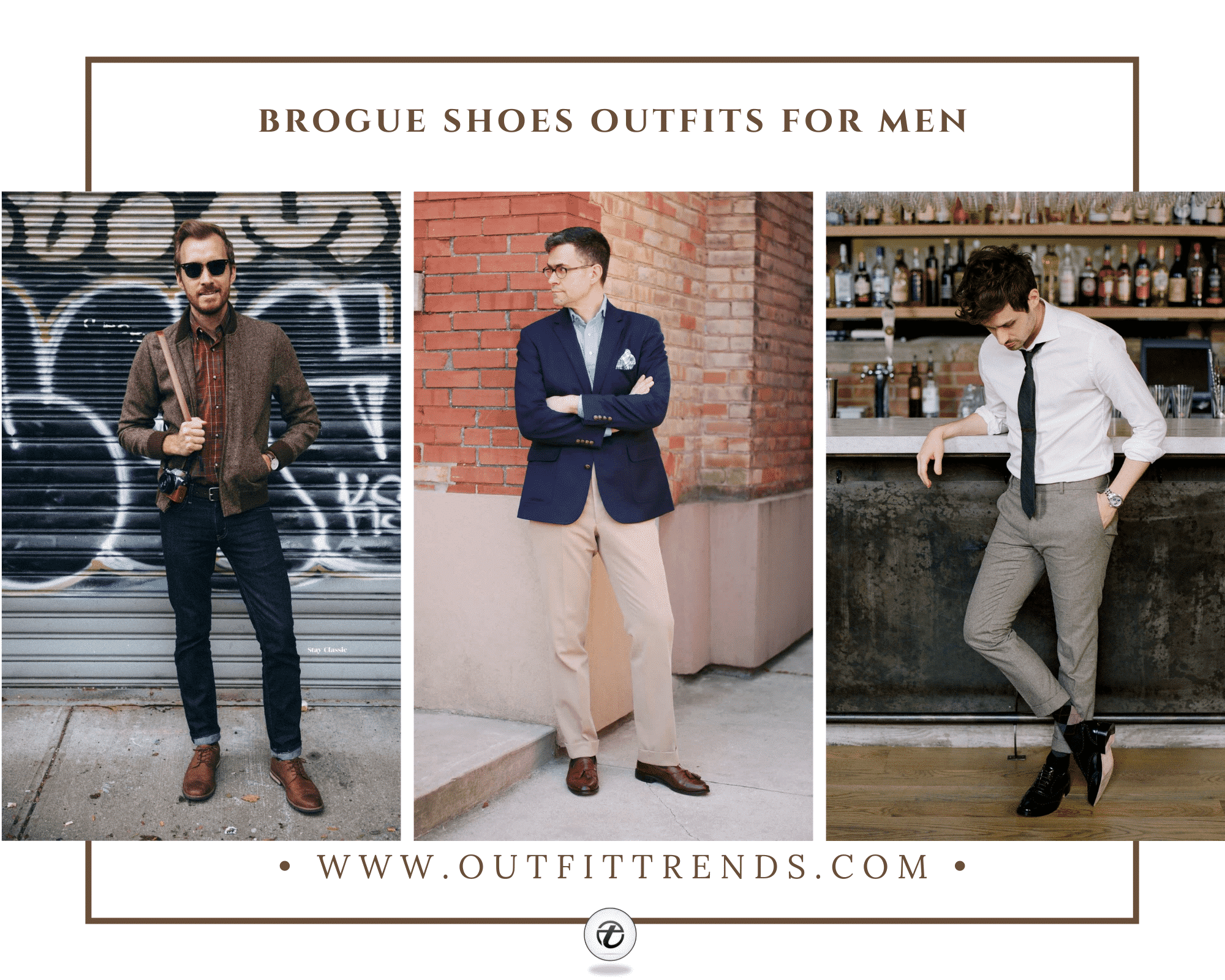 History of Brogue Shoes
Brogue shoes have quite a history. They came from the fields of 1700's Scotland, straight to the feet of royalty while wandering around the golf course. Modern brogues were born in Scotland and Ireland, where they were initially created using only small perforations. They are traditionally considered as a country thing, specially designed for walking through the wet Scottish countryside. For a purpose, the holes went right through the leather so that water could escape.
By the 1920s, brogues became very popular with men, particularly in the United States, England, and Europe. The brogue shoes are now an essential member of any guy's wardrobe. In fact, famous men like Fred Astaire, Gary Cooper, or Cary Grant were all fans of brogues.
The design has evolved and been modernized since then, and the perforations now primarily serve a decorative purpose. And today, brogues come in styles like Oxford and Derby, boots, loafers, and monk straps.
Types of Brogue Shoes
There are various types of brogues available on the market today, from those traditional shoemakers to expensive brands. There's a brogue out there specially made for you. You just have to look for them in the right place.
Full Brogue or Wingtip. They are the most iconic of them all. This style has a pointed toe cap with wing-like extensions that extend up to both sides of the shoe. And the toe cap looks like it has a 'W' or 'M' shape when viewed from the top.
Half Brogue. This style was first introduced by the famous London shoemaker

John Lobb Ltd

in 1937. The half brogue (semi-brogue) is known for having a toe cap with decorative punched detailing at the toe cap edges and center. Half brogues are more formal than full brogues, but they can suit a variety of outfits. 

Quarter Brogue. Quarter brogues are a practical and standard footwear option for workwear. They are defined by their straight-toe cap with decorative detailing along the cap's edge. It's different from half brogue because its center has no detailing cap.
Longwing. A longwing is a classic American style. It is a wingtip brogue where the wingtip extends to the back of the shoe instead of limping down the sole. They also don't have a toe cap, just edge perforations.
Spectator Brogue. This was a classic and timeless style in the 1930s and 1940s as it was considered elegant and dashing. The spectator is a two-tone brogue, usually a wingtip with dark-colored lacing, heels, and toes, while the rest of the shoe parts are in a contrasting lighter tone.
Blind. They feature a wingtip toe cap with broguing only along the edges and no medallion.
U-Cap.

A U-Cap (U-Tip) brogue

is an adapted version of the full brogue style. The difference is that the cap is U-shaped and not pointed like a wingtip and wraps around the vamp.

Ghillie.

Ghillie brogues

are the standard style of traditional formal Scottish footwear, including the black version for the evening dress code. They can either be a full brogue or wingtip but differ in some ways as they do not have a tongue. And they also have long laces that wrap around the legs, above the ankle, and are usually tied below the calf part.
Tips On Wearing Brogues
Some brogue types can be tricky to style. That said, you have to consider some pointers to make sure you're doing it right, and you are getting the most out of it.
Construction. Originally, the classic brogues are in a brown leather design. However, they are now available in different colors, styles, and materials, including suede. Mind that suede brogues are more relaxed than real leather. And take care of them the way you look after your regular Chelsea suedes.
Perforations. For casual outfits, choose brogues shoes with lots of perforations, and prefer minimal holes for formal events.
Quality. Just like with any leather dress shoe, consider full-grain leather. And the sole should be made using the "Goodyear Welting Construction Method." Or you can get a pair with a leather sole with stacked leather heels. Rubber sole is also a good alternative; just make sure it is in a Ridgeway or Dainite kind of quality.
Lacing. Wear open-laced brogues with casual outfits, and opt for closed-lacing if you want to look more formal. 
Colors. As usual, colors are important in fashion, especially when matching your outfits. Tan brogues go well with navy outfits, and black brogues work well with suits. And for colorful brogues, try to match them with your accessories.
Dressing Up. When you are wearing brogues with a formal outfit, try to match shades as much as possible. For example, black or dark brown brogues will look best with black and grey pieces. Wearing navy suits are a standard and practical option for a pair of brogues. But remember that tan brogues will best complement lighter suits. 
Dressing Down. As I said before, brogues are versatile, and that means you can pair them with jeans or shorts for a casual look, regardless of the weather.
What To Avoid?
There are a few "fashion don'ts" when styling your precious brogue shoes, and it's a must to bear them in mind. Few of them include simple reminders, such as:
Don't wear brogues with baggy trousers. Please, just don't.

Avoid wearing leather brogues two times in a row. It's because leather needs at least 24 hours to recover from perspiration after wearing for a long run.

Brogues should not be worn in black-tie events.
Where To Buy Brogue Shoes
For starters, if versatility is your goal, the semi-brogue is your best best. But a chestnut brown will also blend in well with a myriad of outfits. And go for black quarter brogues if you work at any white-collar job, such as a bank or law firm. Aside from these options, you might want to check these products out:
Modern men often ignore brogue shoes. Their point is that they are more casual than formal dress shoes. But the brogues are in vogue once again. And here are the reasons why you should add this footwear to your shoe collection. We also included some tips about how to wear them:
↓ 24 – Urban Style
Channel that contemporary urban man inside you. Your objective here is to look like a modern gent in the best way possible. Remember to stay in a single or similar color palette. You can start by grabbing some streetwear yet smart outfits like a bomber jacket, sleek shirt, and some blue cuffed jeans. A beret is optional, but it can make the overall ensemble a lot more appealing.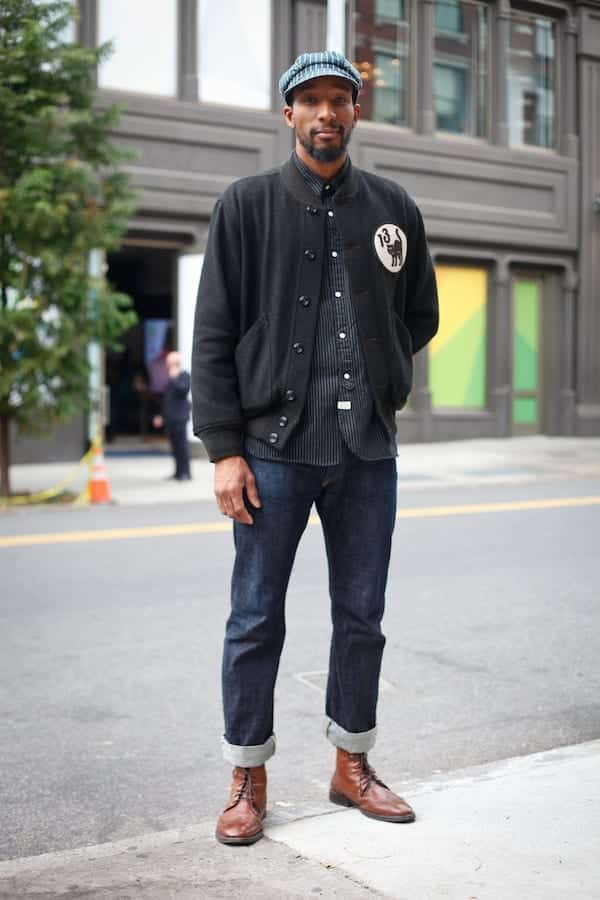 ↓ 23 – With Denim Jacket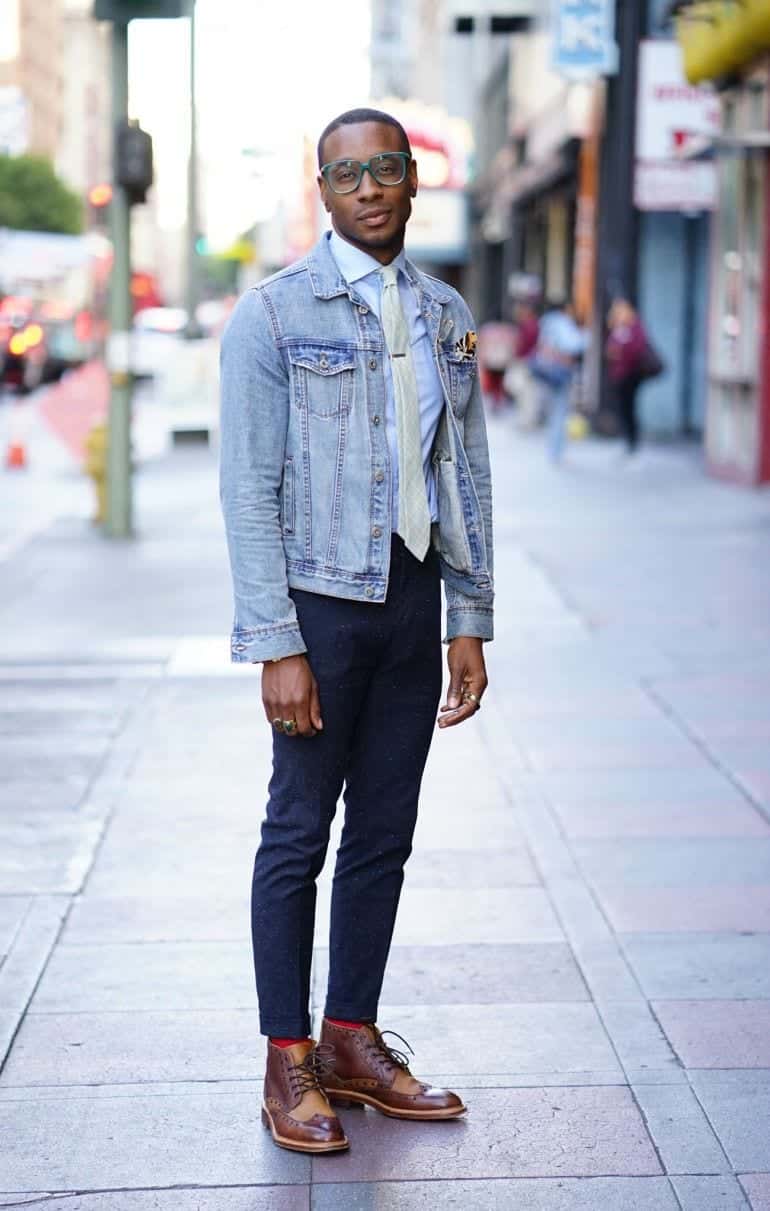 ↓ 22 – With Bomber Jacket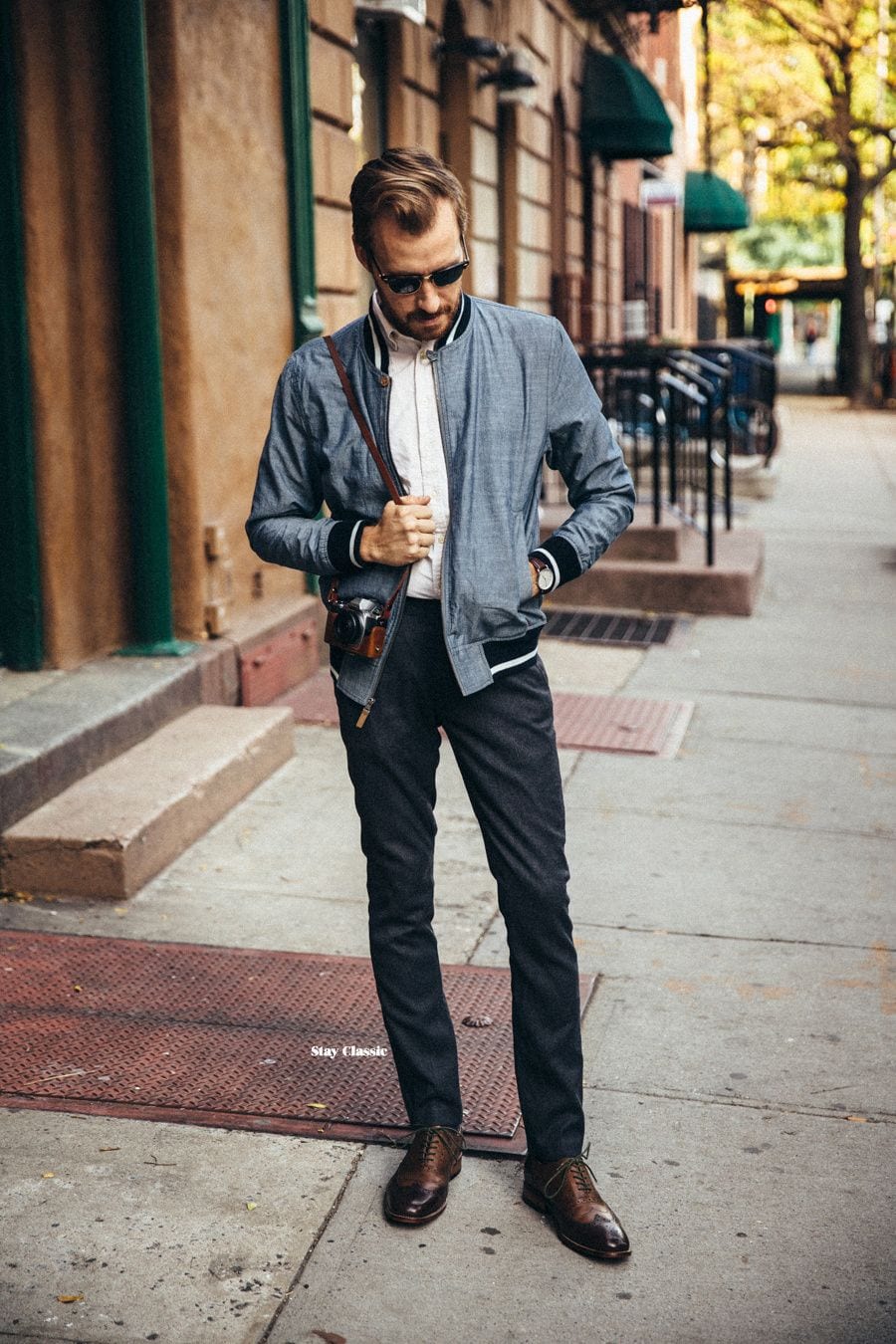 ↓ 21 – With Leather Jacket
The jacket and the brogues share the same finish and appearance. They're both shiny and elegant. So I think it's only fitting to see the two in one place. Try to differ the color from each other. For instance, wear brown brogues with a black leather jacket.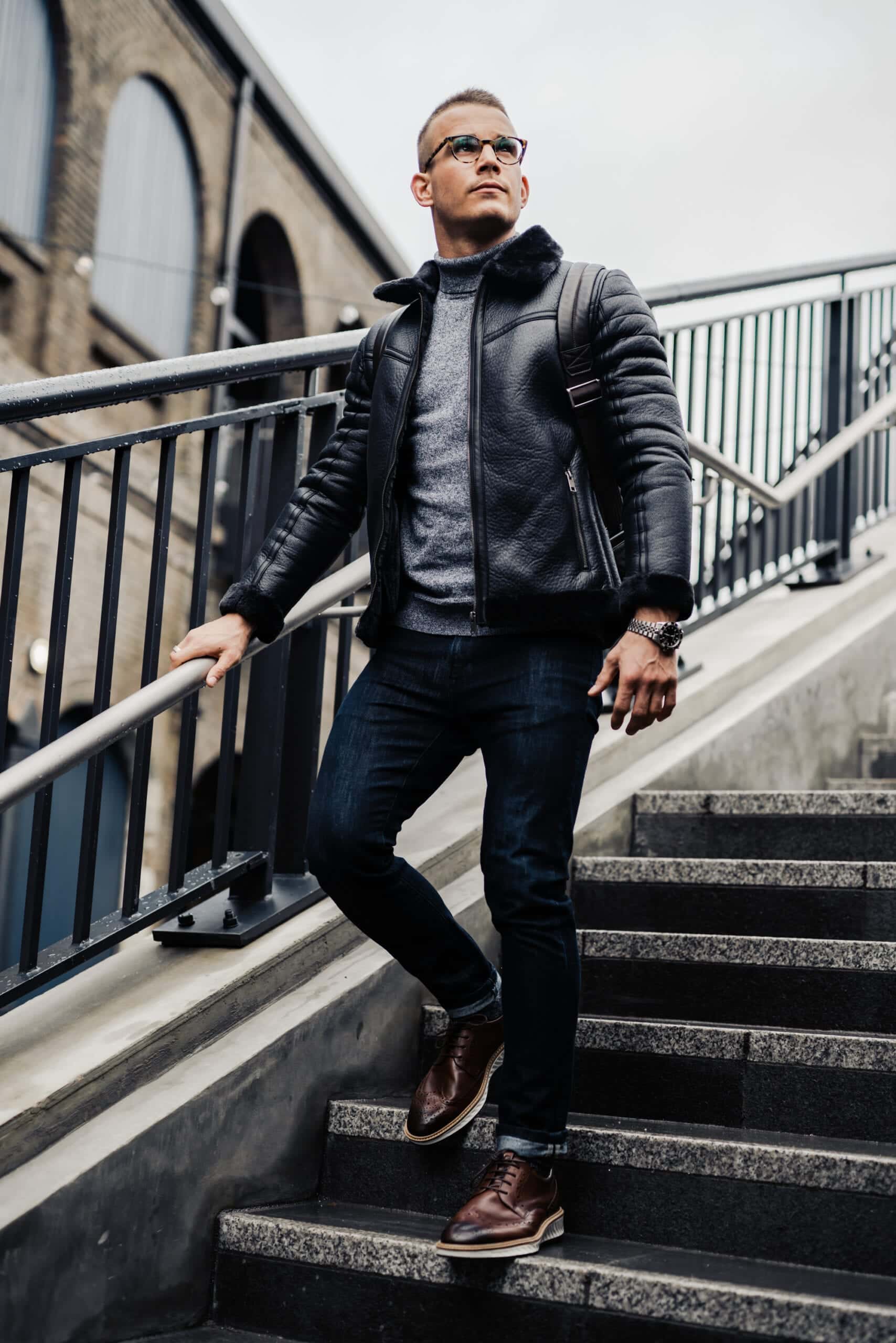 via
↓ 20 – When to Wear Brogue Shoes With A Suit?
A very practical way for a gentleman to style brogues is to wear them with a suit. They go well with a suit; just keep them shiny if you are wearing them for formal situations. As men's brogues were then used to stand the rigors of wetlands, they were made to perfection and became a lot smarter like today.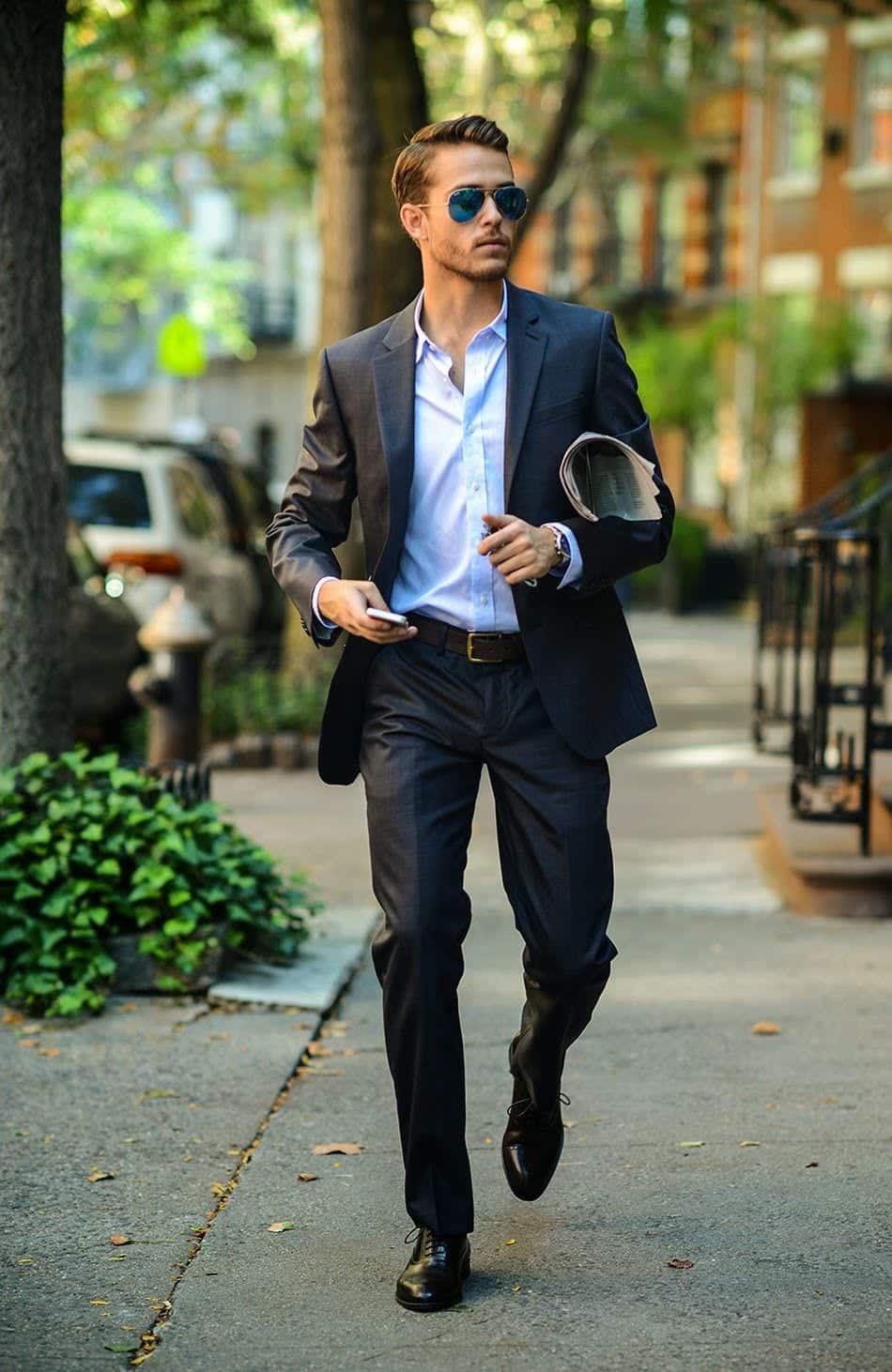 ↓ 19 – For Older Men
Several types of brogues look particularly great in older and mature men. For instance, If you are in your 50s, consider changing the usual dress shoes that you wear in the office every day. Time for some upgrade! From the standard option of black Oxford, try getting a pair of maple-colored quarter brogues.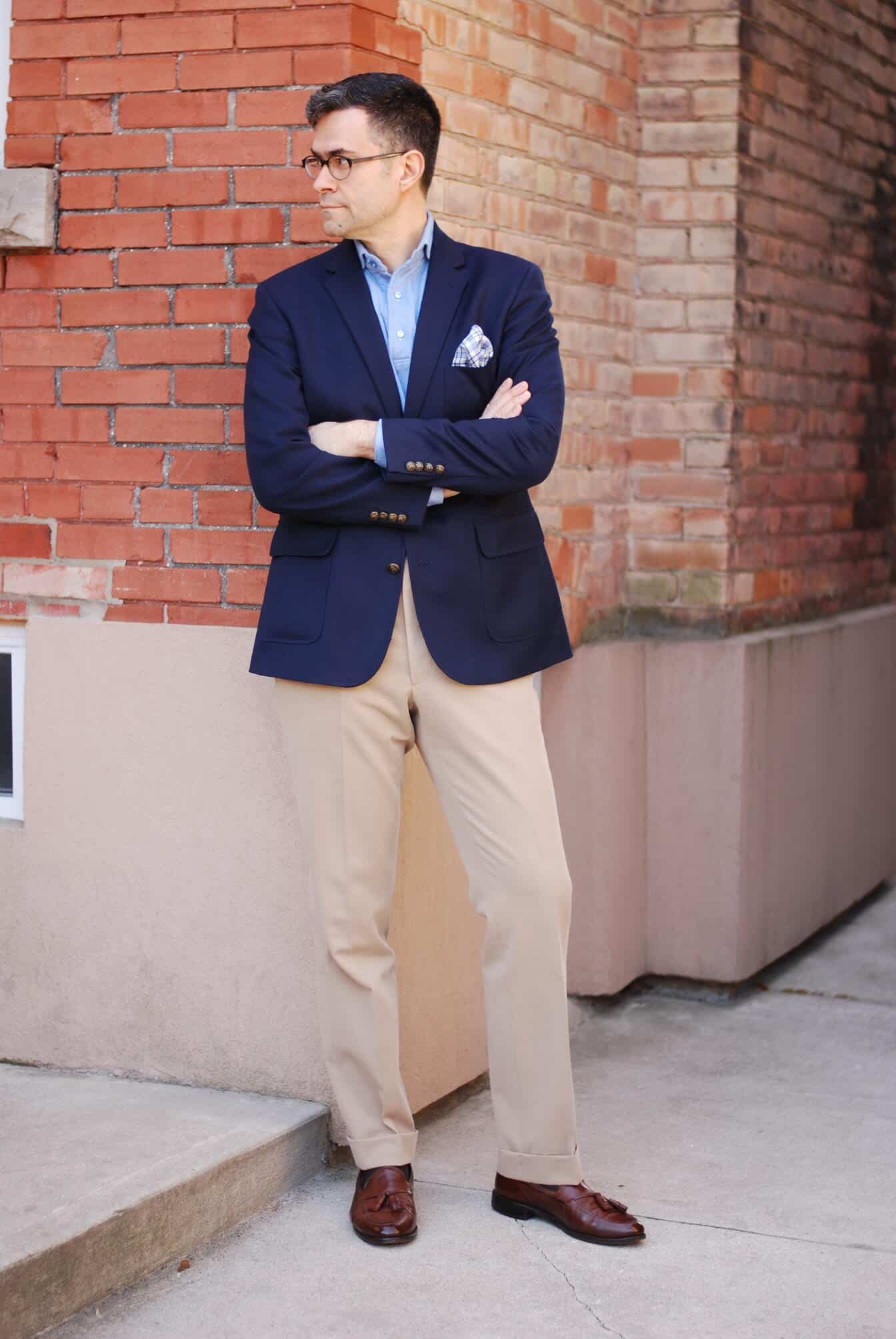 ↓ 18 – Formal Wear
Brogues are like a version of authentic dress shoes, so they are pretty formal. Back then, brogues were not acceptable for formal occasions as they were considered outdoor shoes. They are attractive as the detailing makes them appear more casual than a classic Oxford or Derby. Also, have a look at Men Summer Office wear-18 Best Workwear Outfits for Warm Months.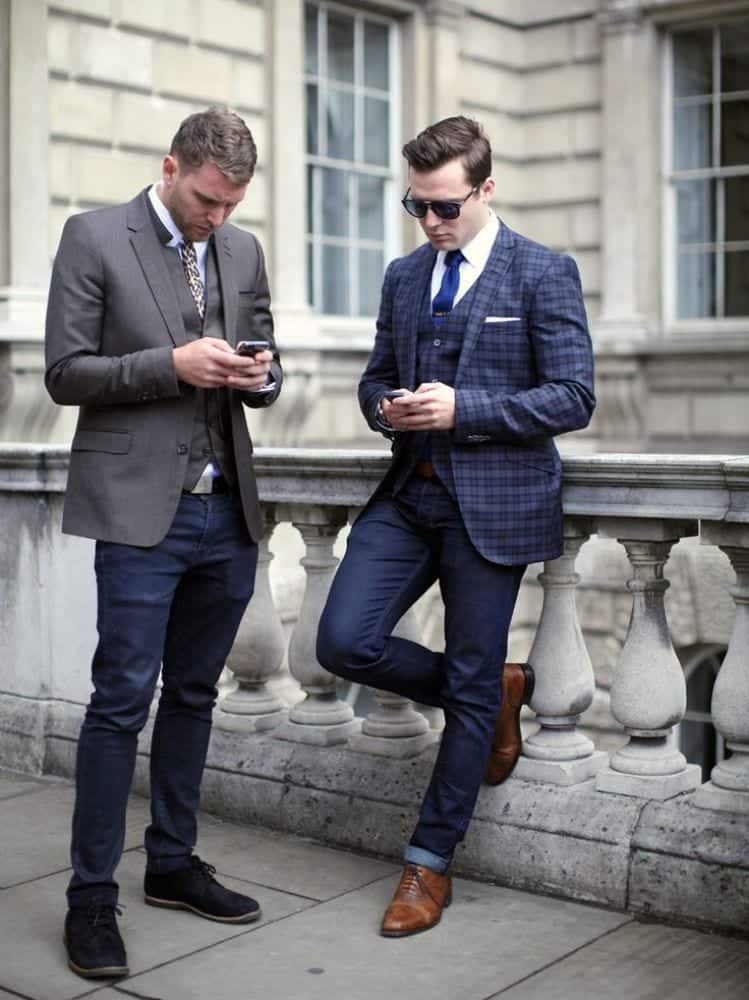 via
↓ 17 – Office Wear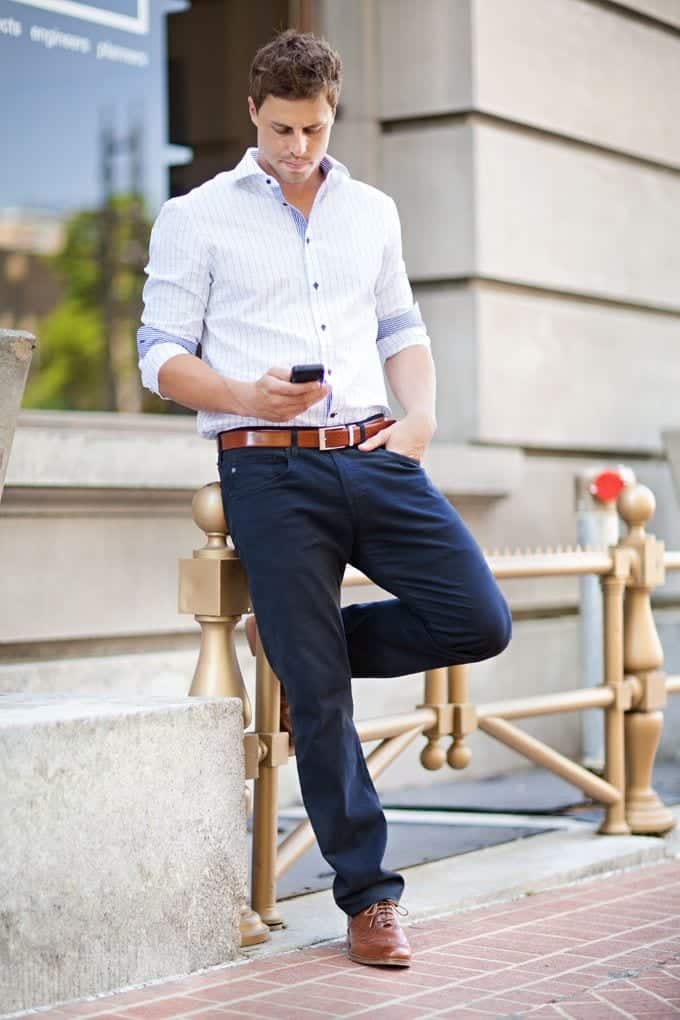 ↓ 16 – How To Style Brogue Shoes
These shoes can perfectly complete your look and get you ready for a smart-casual event or a semi-formal function.
↓ 15 – With Chinos
Stick to classic colors when choosing the right pants and shoes. Wear a simple shirt, but you can also add a blazer on top. Then it would be nice to cuff your pants to show off some skin (I mean ankles).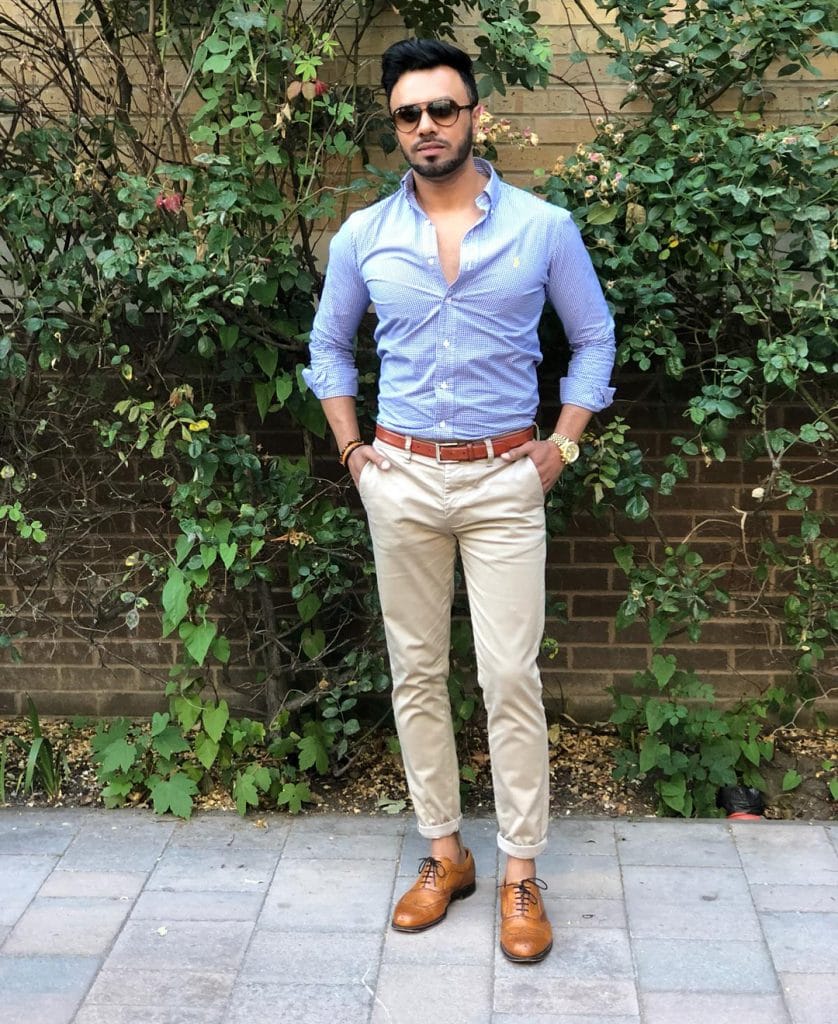 ↓ 14 – With Shorts
Brogues and shorts are a perfect match for the hotter months to come. Pair the look with a polo shirt. Meanwhile, casual, lightweight brogues match perfectly with shorts on a summer weekend—no need for socks.
↓ 13 – When to Wear Brogue Shoes With Jeans?
When wearing brogues with jeans, keep things simple yet sleek. Aim for a smart-casual appearance with skinny or slim jeans in a dark blue or black. Select a brogue with a chunky sole for a rugged appearance. But if you want to maintain a more elegant look, go for a suede style.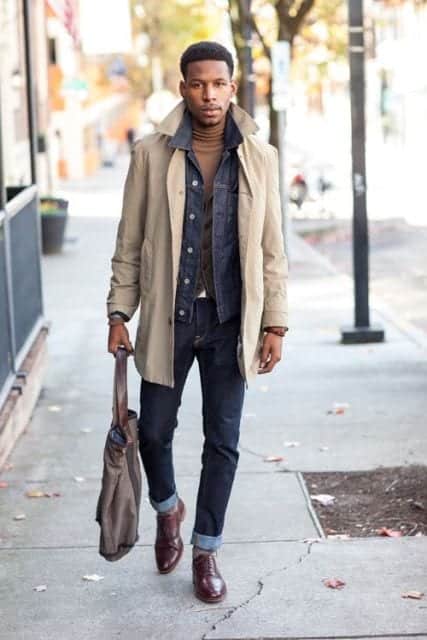 ↓ 12 – For Weddings
And to ensure your outfit would appear more sophisticated than casual, pick an elegant pair of brogues and wear them with a stylish pair of dress pants. You can pair them up with a shirt and a blazer. Also, have a look at Casual Wedding Guest Attire For Men | 25 Outfits & Tips.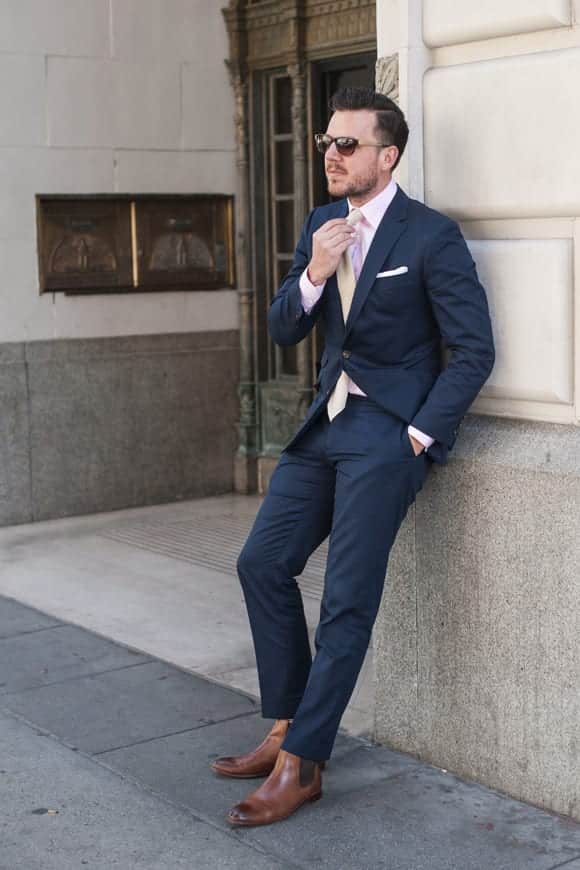 ↓ 11 – For Travel
Brogue boots are great for travels and road trips, especially in cold places. Try to pair the brogues with your overcoat or any outerwear you'll be wearing.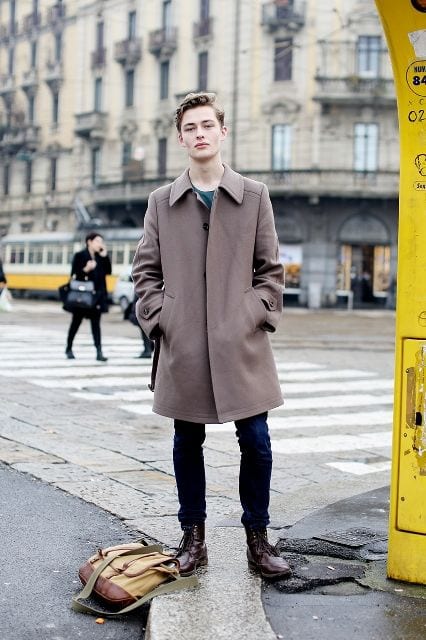 ↓ 10 – How to Create a Business Casual Look With Brogues?
At present, you can wear the classic brogues with a business-appropriate outfit or even a two-piece suit for a more formal look.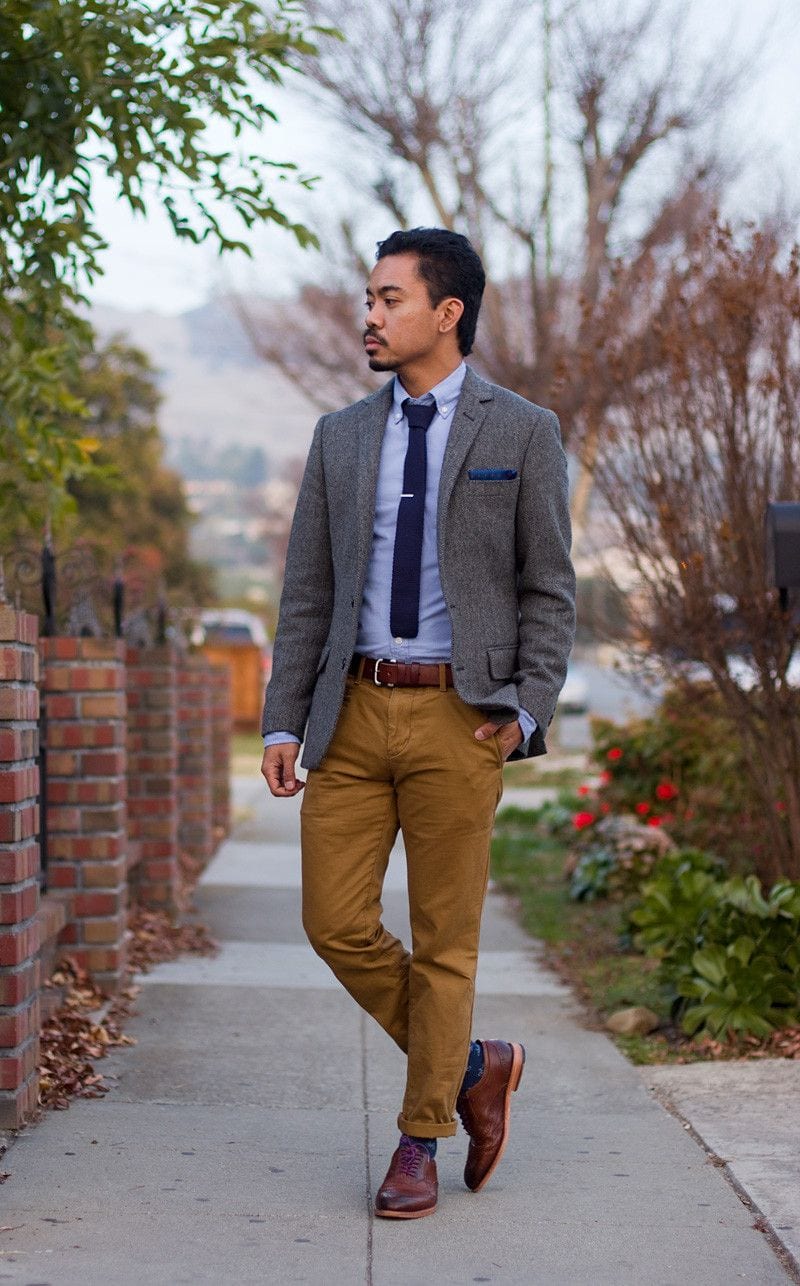 ↓ 9 – Winter Wardrobe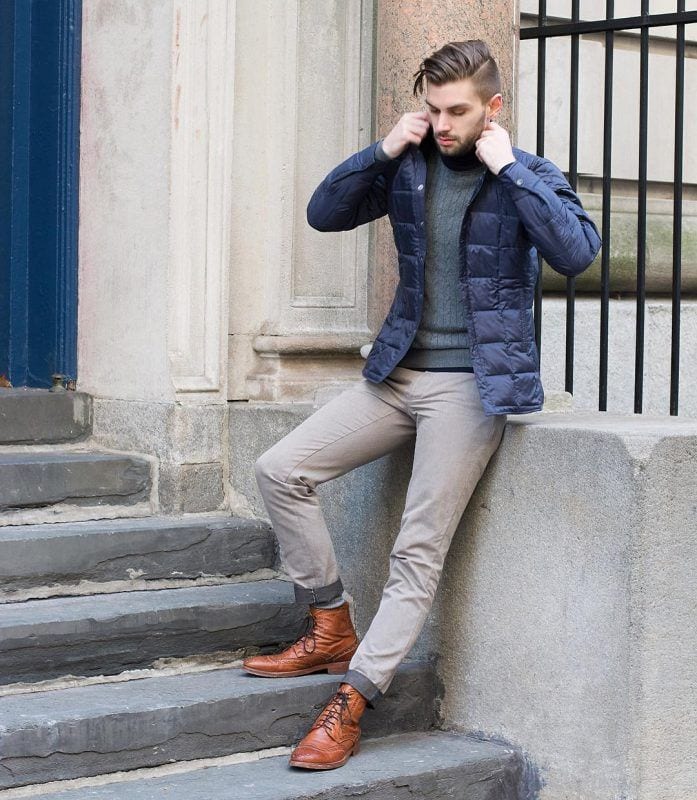 ↓ 8 – Autumn Look
Just like in winter, it can get really cold in the autumn season. And when dressing for this time of the year, brown shades, like this sherpa jacket, look pleasing to the naked eye. Not only that they are appealing, but they also entail the opportunity to match them with chestnut or gingerbread brown brogues.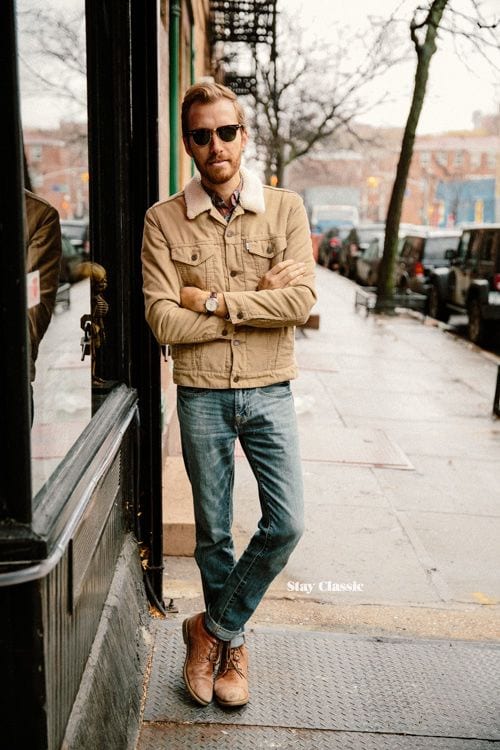 ↓ 7 – What to Wear With Sherpa Jacket and Brogues?
Aside from a brown sherpa collar jacket, you can try a different shade. As such, blue wash denim looks exceptionally dashing when worn with dark brown brogues, like this pair in caramel shade.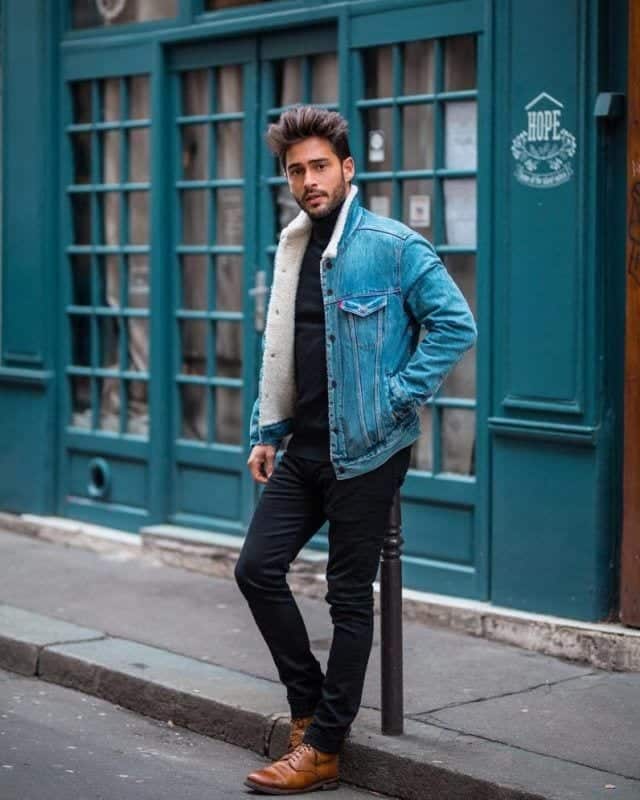 ↓ 6 – With Pullover Shirt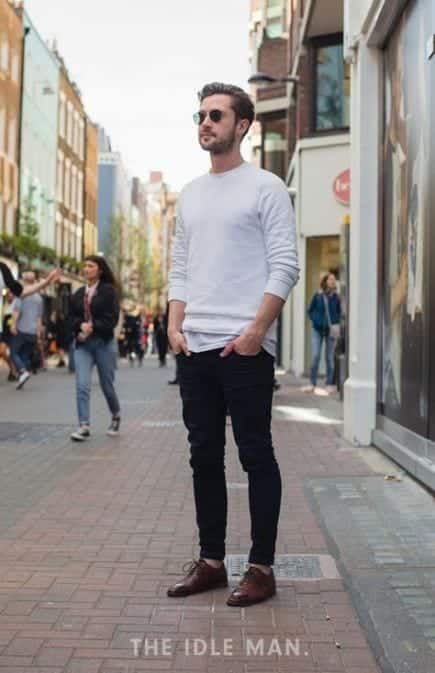 ↓ 5  – How to Wear Brogues With Suede Jacket?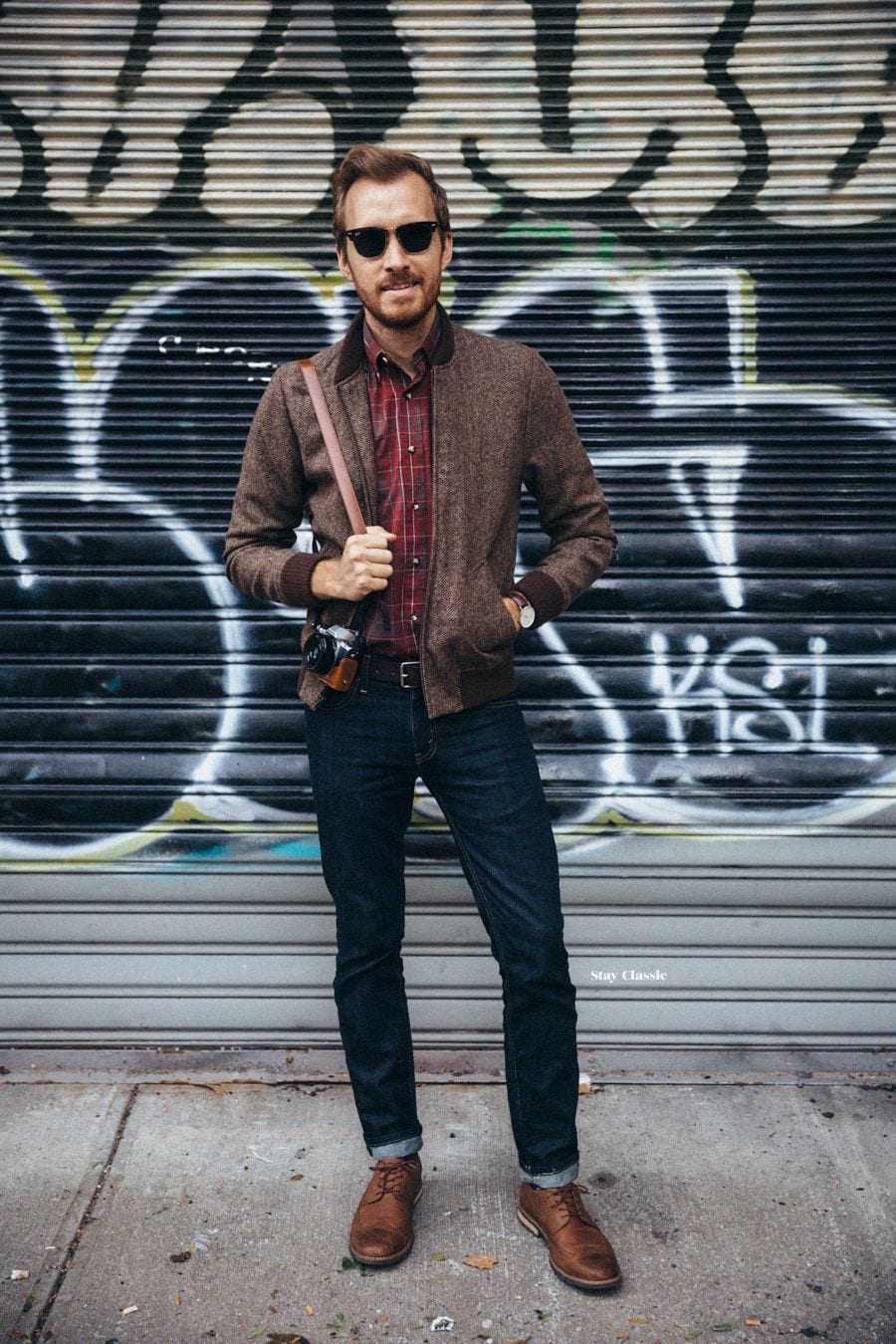 ↓ 4 – With Grey Trousers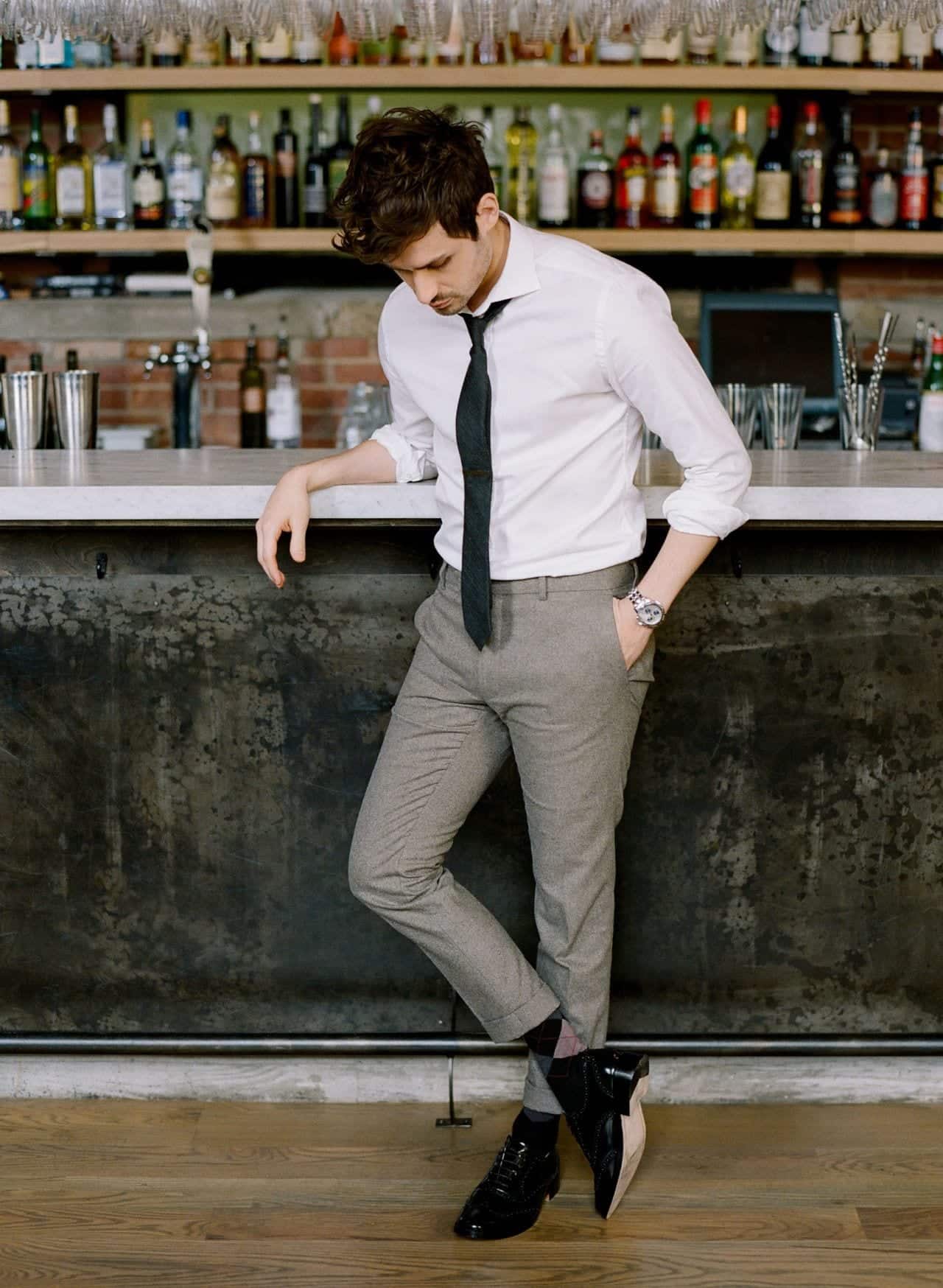 ↓ 3 – With Corduroy
↓ 2 – How to Wear Brogues With Cargo Pants?
 It is essential to get cargo pants that aren't too big to avoid looking like you have tiny chicken feet.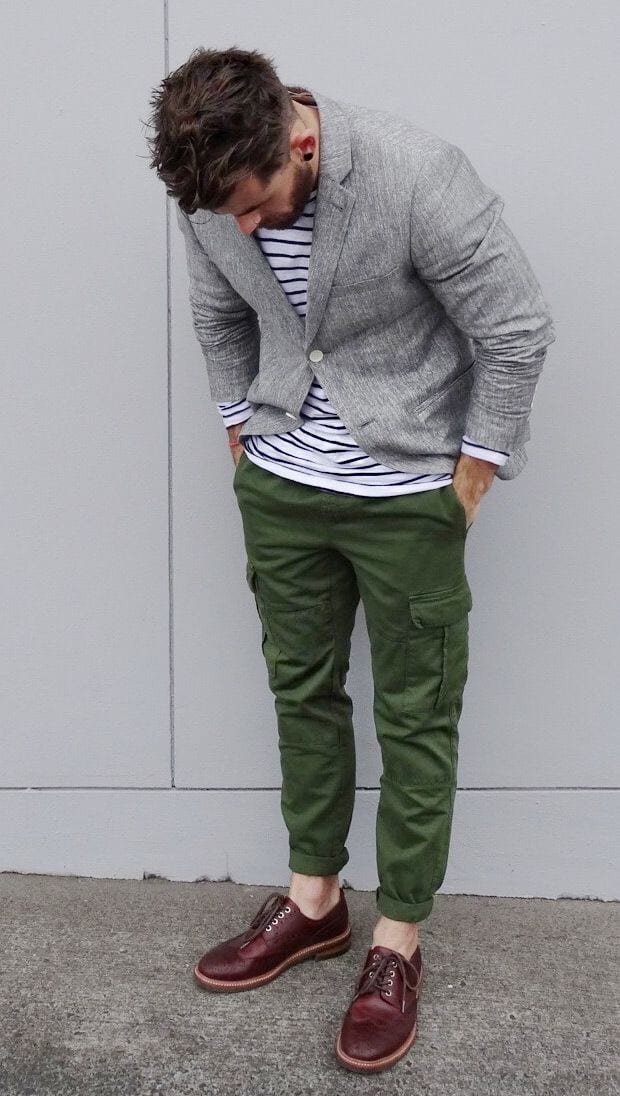 ↓ 1 – College Outfit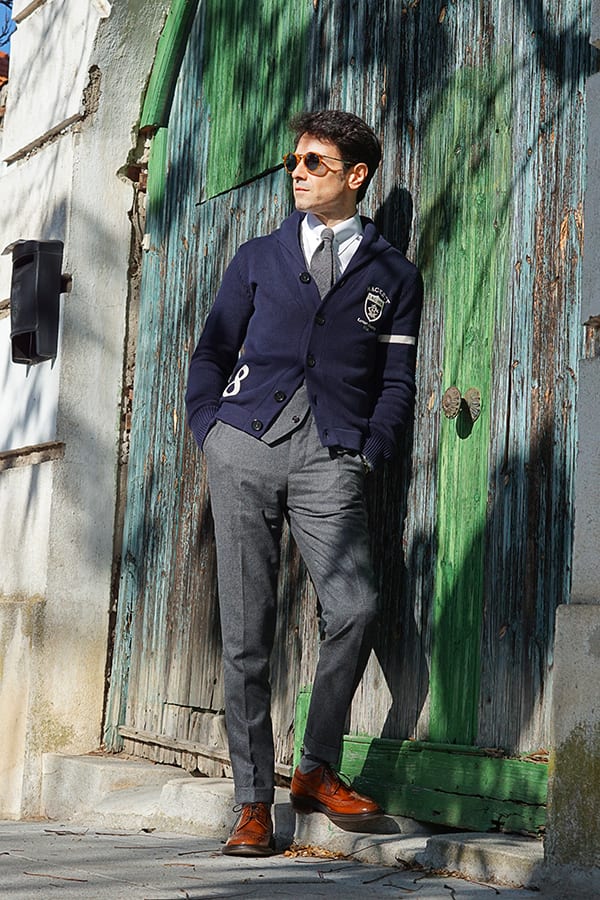 The brogues were once tagged as outdoor footwear, so they should not be seen on formal functions. Since then, brogues have been modernized and evolved in various styles that are now acceptable on formal occasions.
Frequently Asked Questions
Q. Is Oxford different from brogue shoes?
A. Not really. The Gentleman's Gazette said that some Oxfords are not brogues, and some brogues are not Oxfords. The lacing style and the broguing are their make-or-break features. But broguing refers to the perforations and not the physical form of the footwear itself. Oxford is the most formal of them all, with its closed lacing and shiny leather finish.
Q. How should I clean my brogues?
A. Use pieces of old newspapers to remove moisture from the brogues after wearing them.
Q. Should I wear brogues with a tuxedo?
A. Nope. It's a big fashion faux pas to wear brogue shoes to a black-tie event. Instead, go with Oxfords. And bear in mind that footwear can be less formal the more broguing it has and vice versa. They might be unacceptable for a strict black-tie dress code, but they'd be perfectly ideal for black-tie optional and semi-formal occasions, office wear, and smart-casual looks.