The "Most Exciting Two Minutes in Sports" season is finally here! Everyone must feel the atmosphere, experience, and traditions that make the Kentucky Derby so unique and memorable for the attending. But how to dress for the Kentucky Derby to make a lasting impression?
We've already talked in detail about What To Wear At The Races, but Kentucky Derby deserved a post of its own according to our editors, so here we are!
Dressing up for the derby is a sport in itself. You want to look unique, stylish, and comfortable simultaneously. Most attendings bring their A-game to the derby so it only makes sense for you to bust out all your special moves and rock your outfit!
After all, you will be making tons of memories at this event so make sure looking back on your pictures is worthwhile! You will find people dressed in the craziest yet classiest outfits, trying various drinks and enjoying fireworks, singing, dancing, and having the time of their lives.
What Attire to Wear to the Kentucky Derby?
This occasion is all about serving your finest looks and wearing clothes you have stashed away in the back of your closet for a special occasion. Dressing for men and women is different, but the fancy aspect remains constant. Do not worry because I am here to guide and take you through all the necessary steps.
All the beautiful ladies, it is time to channel your southern belle! A nice sundress, cocktail, midi, or maxi dress is the perfect pick. You can make it fancier by opting for vibrant shades and prints. You can also serve major looks by wearing a pantsuit and jumpsuits. And of course, the hat, which I personally love so a little disclaimer – I will be talking a lot about it!
Business formal is the best way to describe how men are supposed to dress up the Derby. A polished pantsuit that exclaims boldly is the way to go. You want to opt for bright colors, tropical prints, and plaid while keeping things trendy. A vest and pant set will look right on brand for the event!
Styling Tips for Her
You can plan your entire outfits around your hat. Skipping it is out of the question because you would be missing out on the experience. Thus, if your hat is bright, bold, and statement-worthy, keep your outfit simple & straightforward to contribute to the uniqueness of the hate.
Opt for a smaller fascinator that can be clipped or attached to a headband if you have short hair.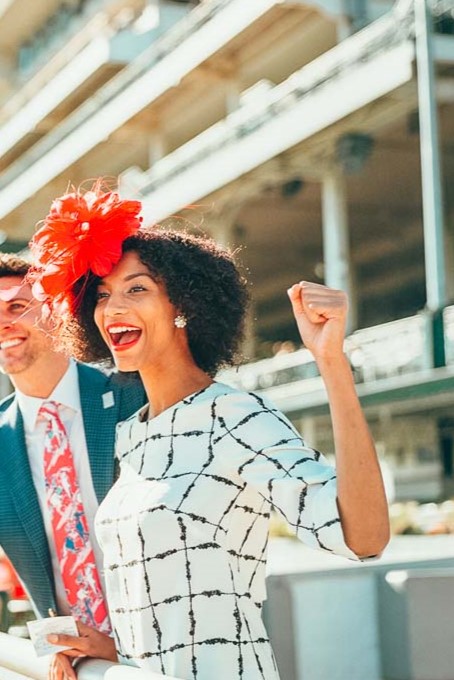 Pull your hair back in an elegant bun or side ponytail to make the hat the statement piece of your fit.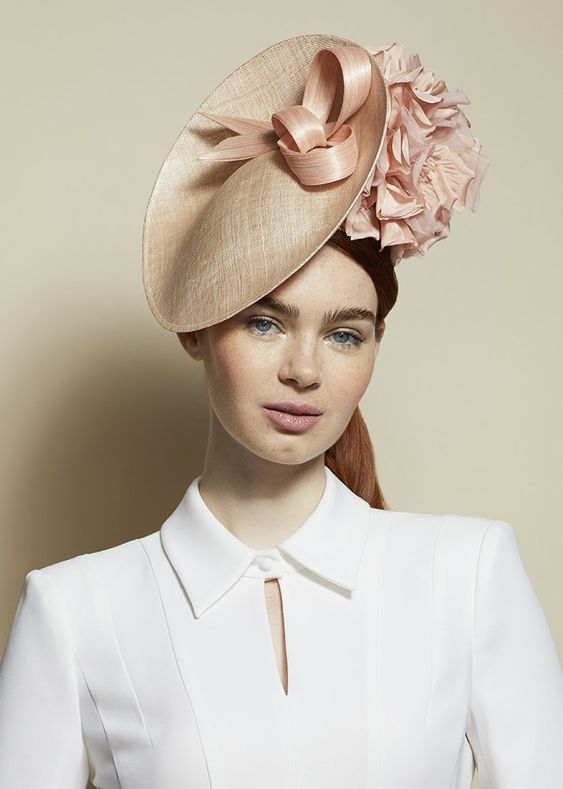 Wedge-heeled sandals are your best bet for staying comfortable and classy simultaneously. If you wish to wear stilettos or other kinds of heels, go for it! You can keep a pair of flats or flip-flops in case your feet get tired from standing around all day long.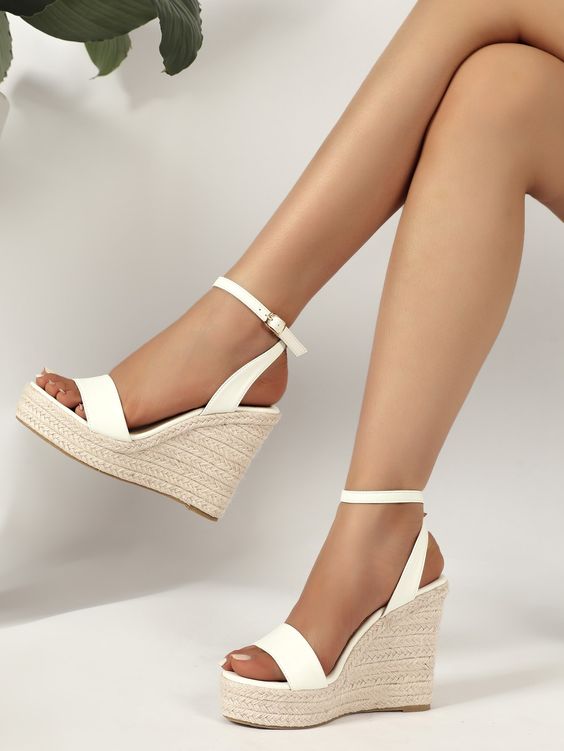 I always preach accessories can make or break your outfit, and similar is the case here! You can elevate your look to the next level by opting for the appropriate accessories that complement your outfit. Keep it simple and dainty if your clothes and hat are doing all the talking. Contrarily, you can go all out with bold earrings and necklaces if your dress and hat are simple, demure, and soft.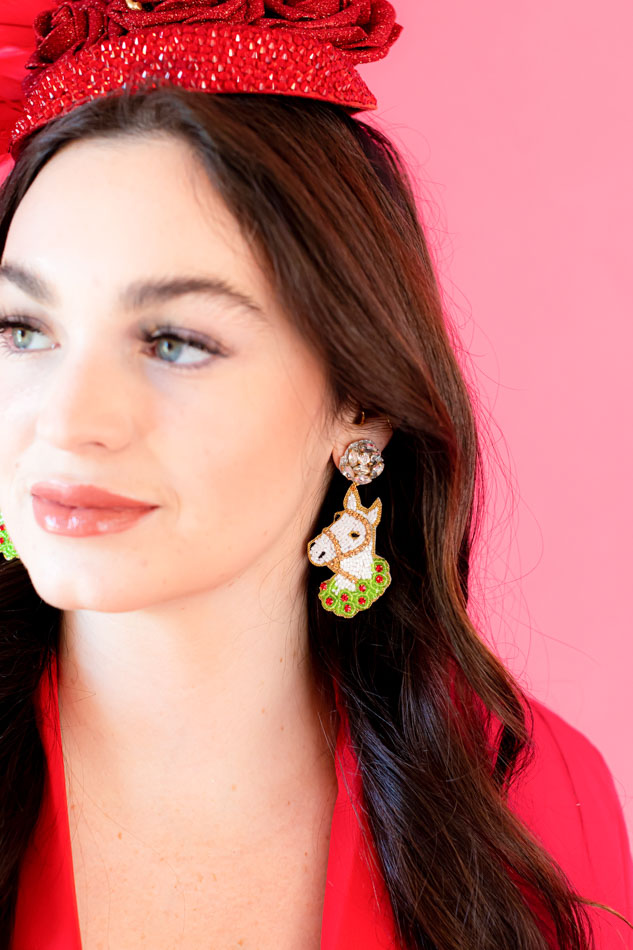 When planning an outfit, think bold and outside the box. Unusual prints and colors are most likely to be a hit if executed correctly!
Styling Tips for Him
It is probably for the best to leave your jeans behind. Instead, opt for breathable fabrics, including linen, cotton, and seersucker.
If you plan on wearing shorts, complete your outfit with a fancy blazer or suit jacket, or at the very least polished vest.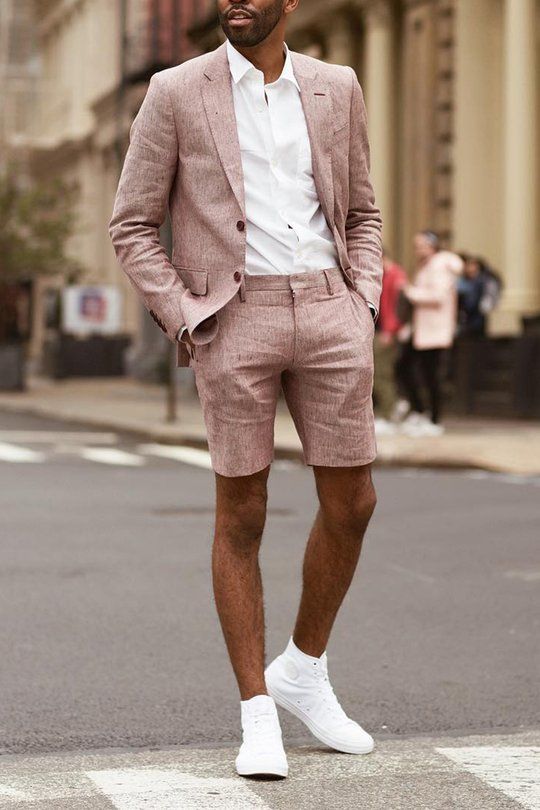 You can get as creative as you want when choosing your suit. You will find a huge variety of prints, and colors when choosing your suit. Head on to Vineyard Vines or Shinesty to find the suit of your dreams. And maybe even match with your significant other!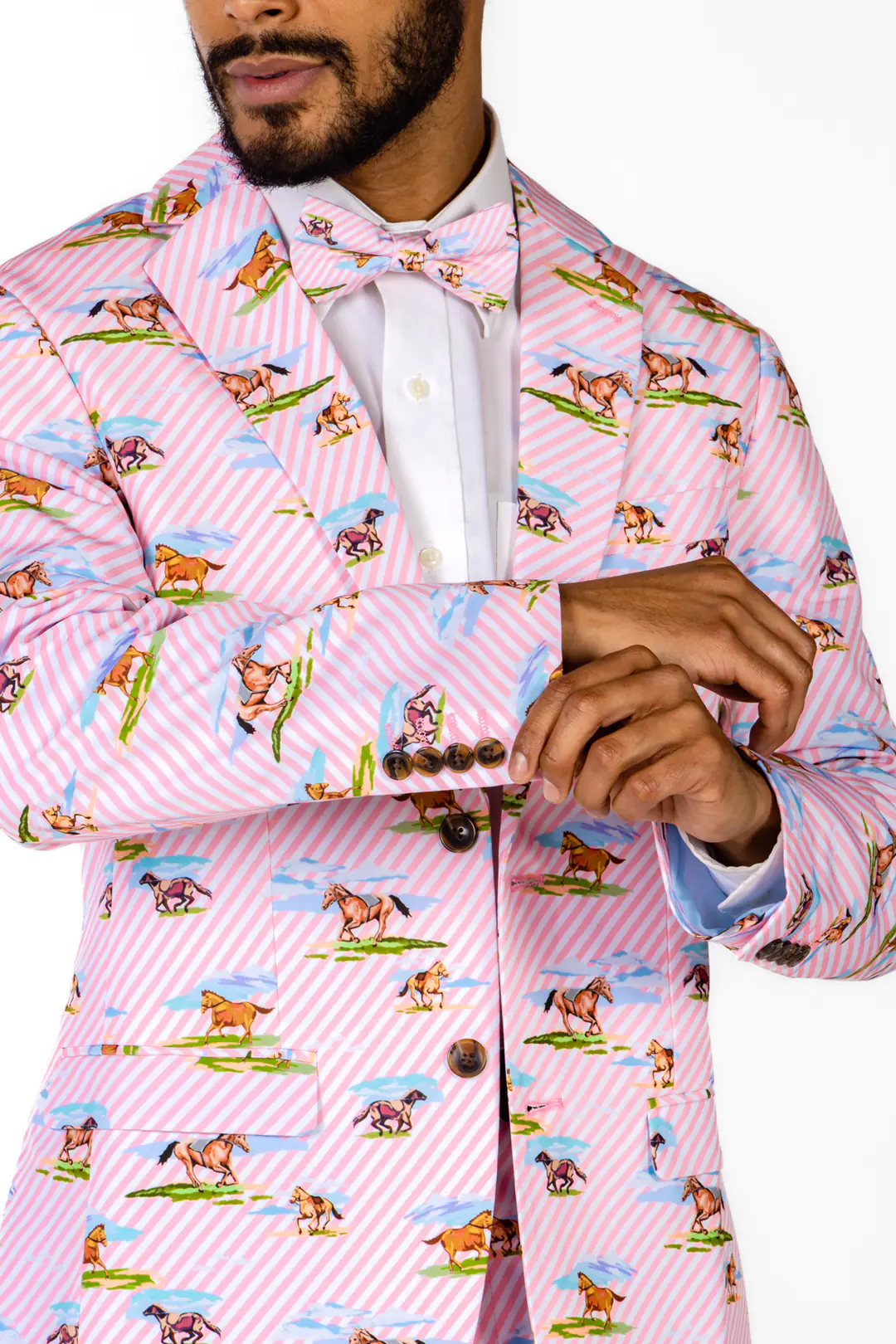 Make sure to add character and finishing touches to your outfit with the appropriate accessories! You can go for unique watches, suspenders, ties and bowties, lapel pins, sunglasses, and belts. The options are endless!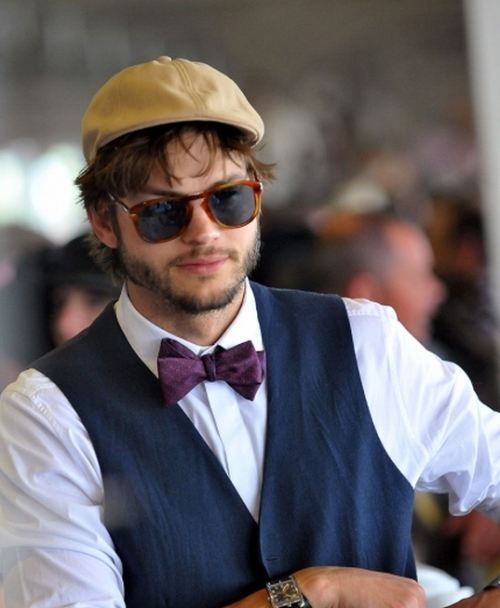 If all else fails and you can not decide upon an outfit for the life of you, opt for a pinstriped suit, and you are good to go! Pair it with a bright-colored shirt if the suit is neutral, or make it pop with complementing accessories and shoes to blend right in.
Please make sure to keep a handsome amount of cash on you. You might end up placing bets or buying snacks and beverages.
Kindly go through this list of prohibited items at the venue before you leave for the races!
Women's Outfits
50 – English Tea Party Meets Kentucky Derby in Pastel Hues & Delicate Embroidery
49 – Opt for Brightly Colored Stripes to Stand Out in the Summer Sun
48 – Do Not Forget to Carry Flats to Swap Those Heels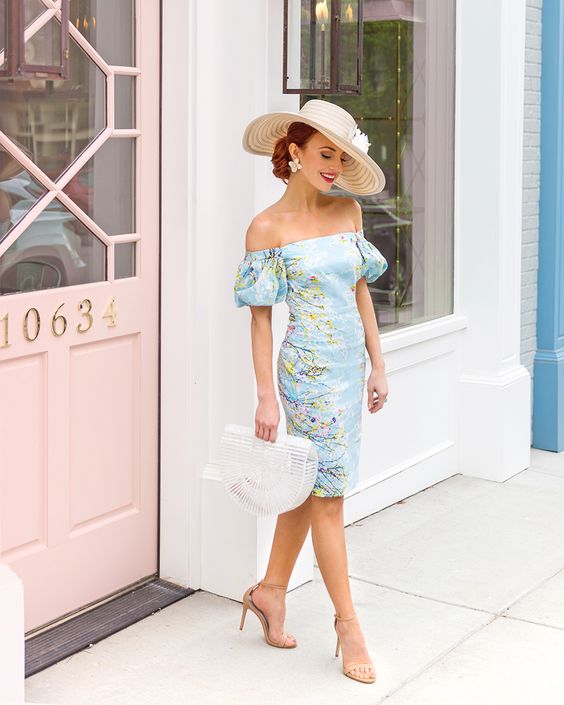 47 – Add a Bright Red Lip to Contrast Against the White Jumpsuit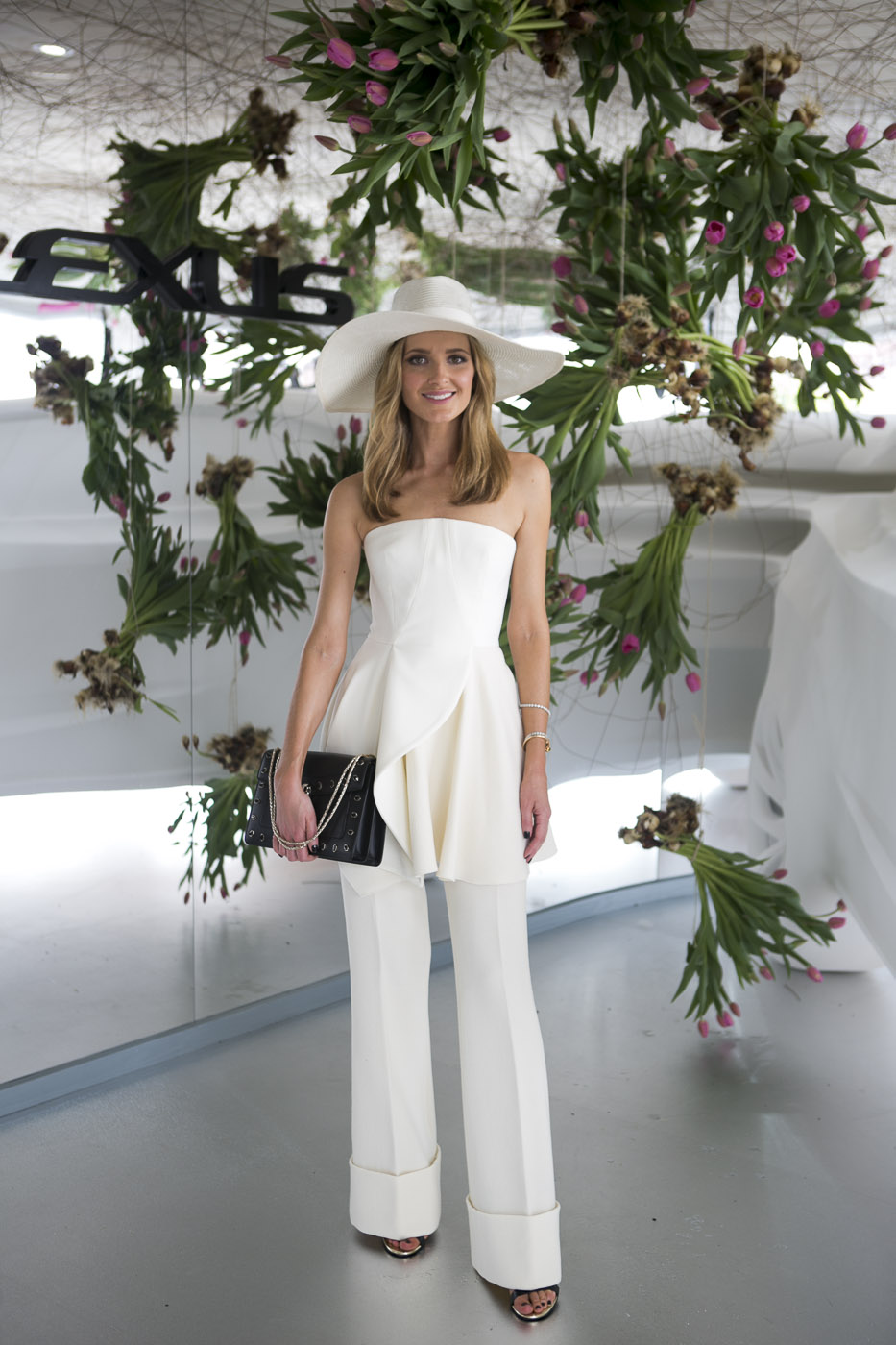 46 – Go All Out in Various Shades of Pink for the Oaks Day!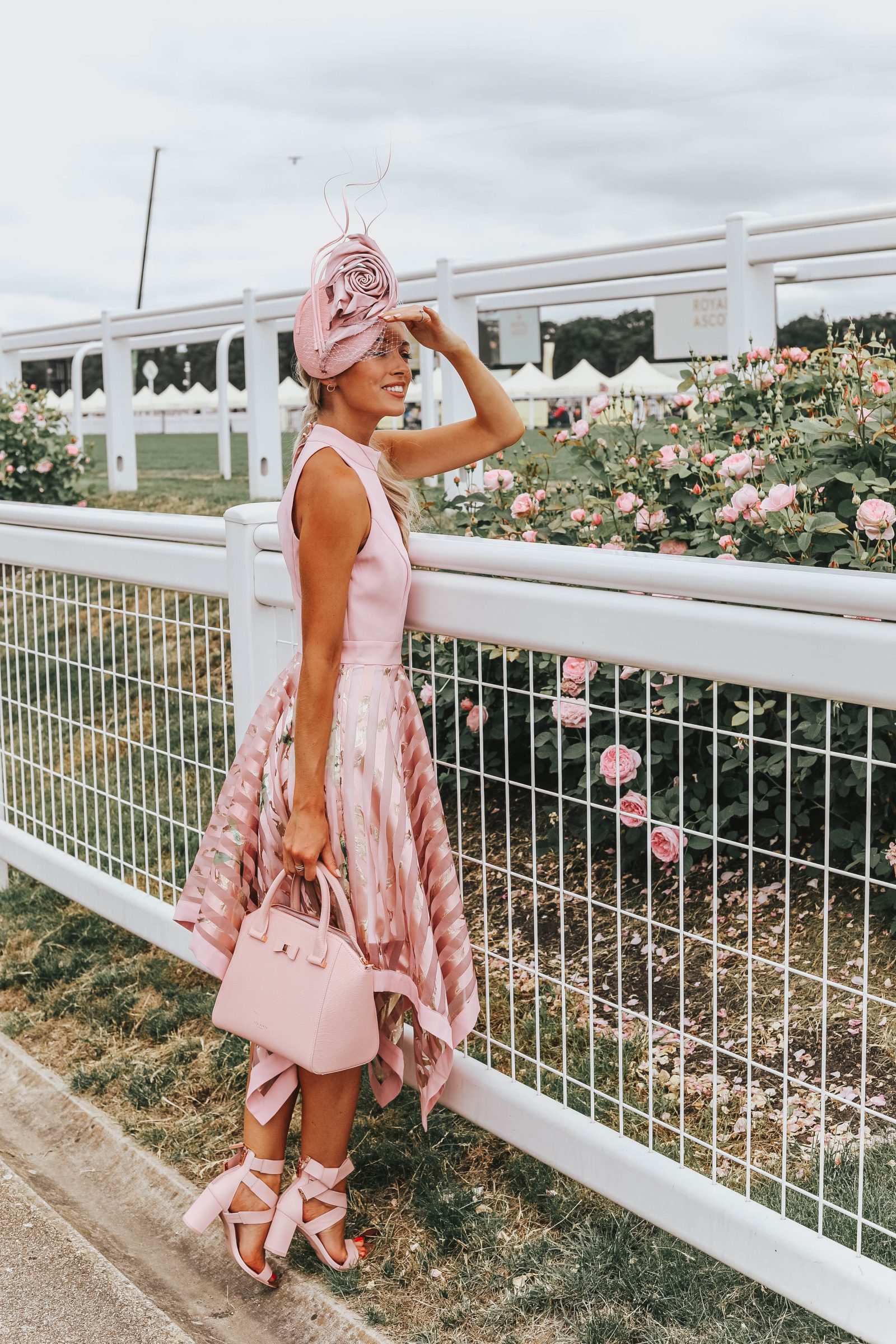 45 – Swap the Sandals for a Pair of Heeled Cowboy Boots to Show Off
44 – Match Sparkly Shoes & Accessories to Make this Outfit Stand Out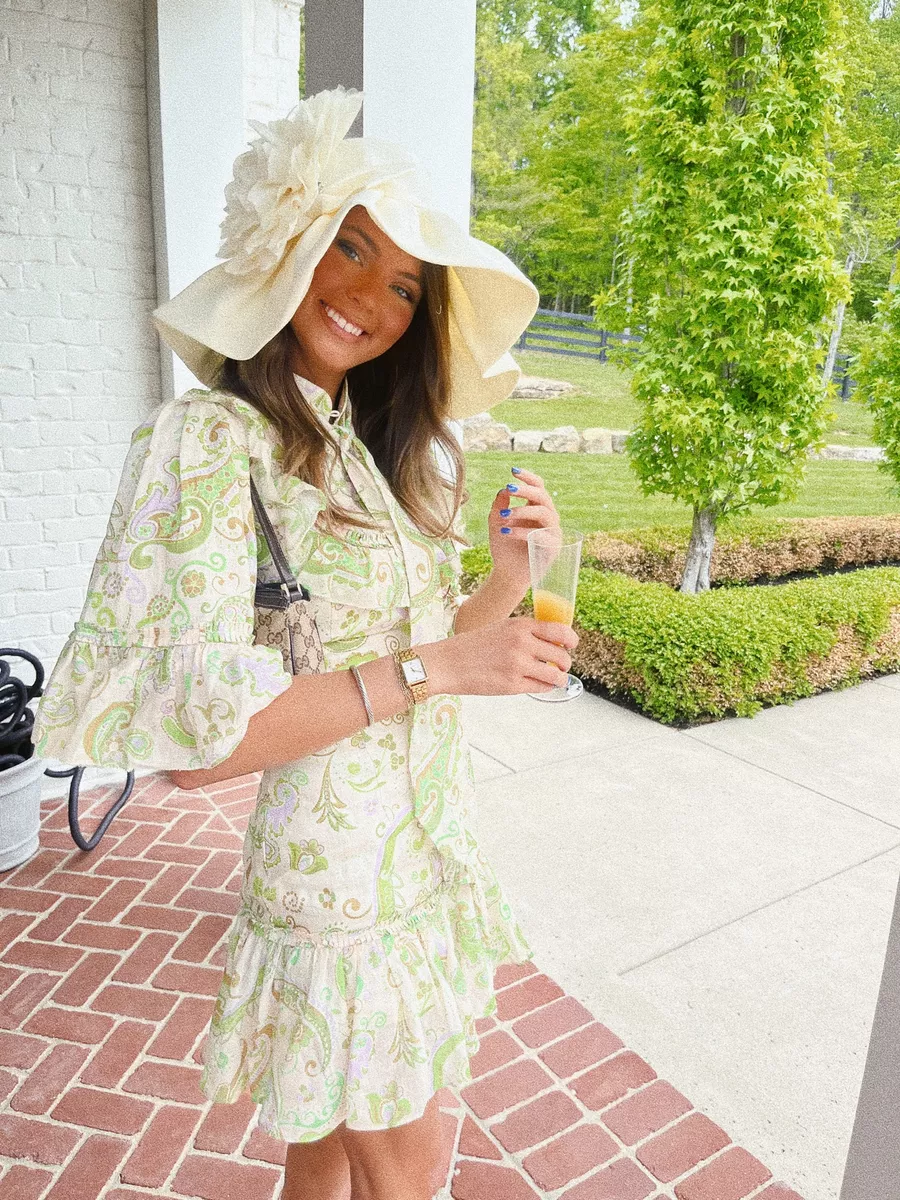 Shop the dress below:
43 – Opt for a Solid & Bold Dress & Pair it With a Hat in Complementing Shades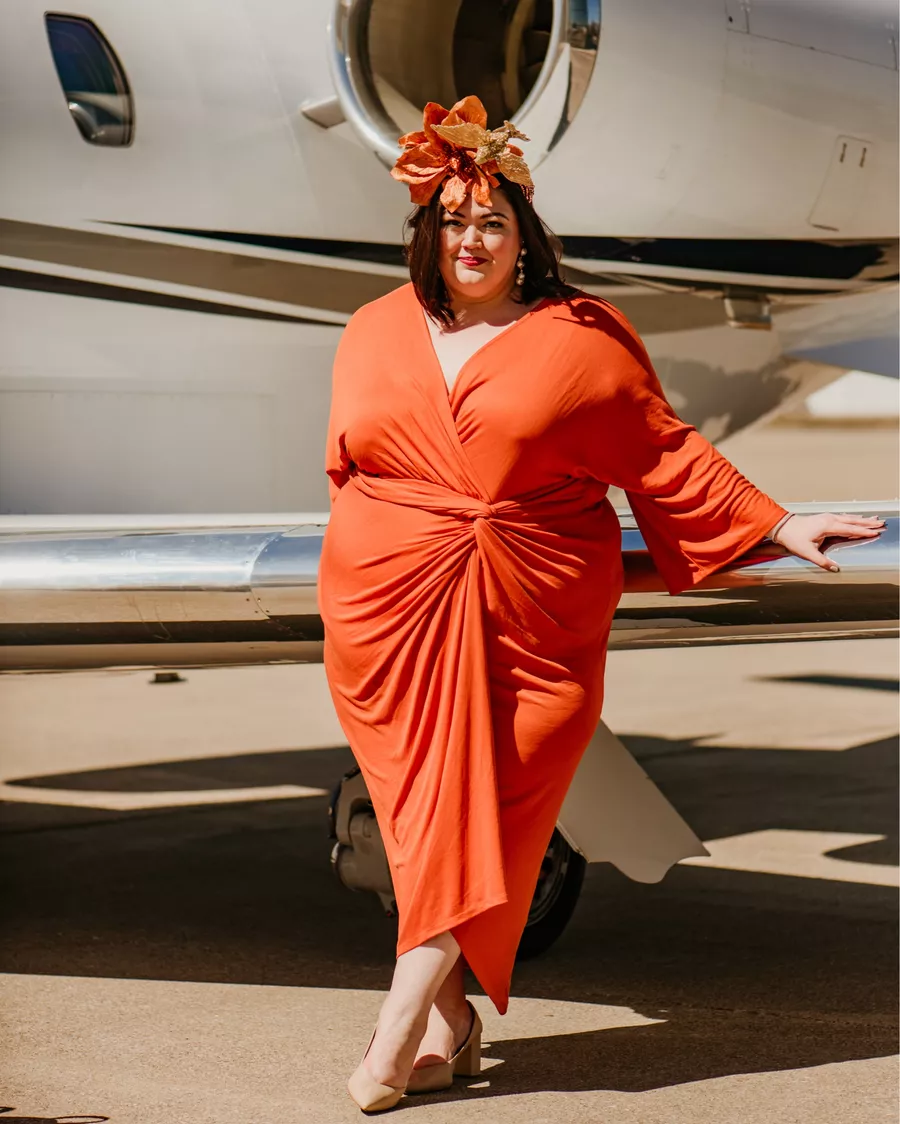 Get the look:
42 – Get Extra Fancy & Add Opera Gloves to Truly Stand Out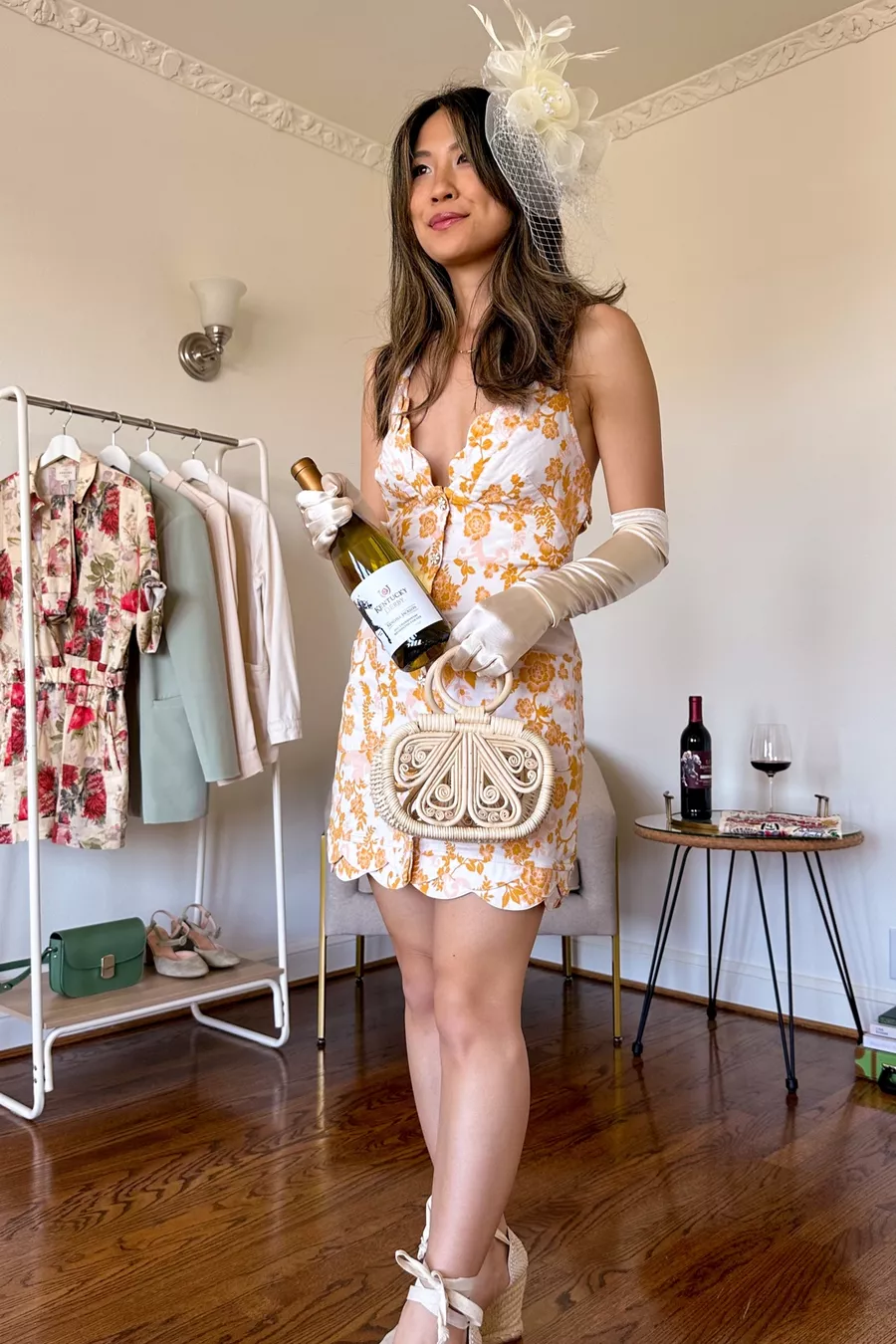 Evening Gloves in Champagne $12.99
41 – If Hats Are Not Your Thing, This is the Way to Make a Statement
40 – Maroon, White & Black is a Match Made in Heaven!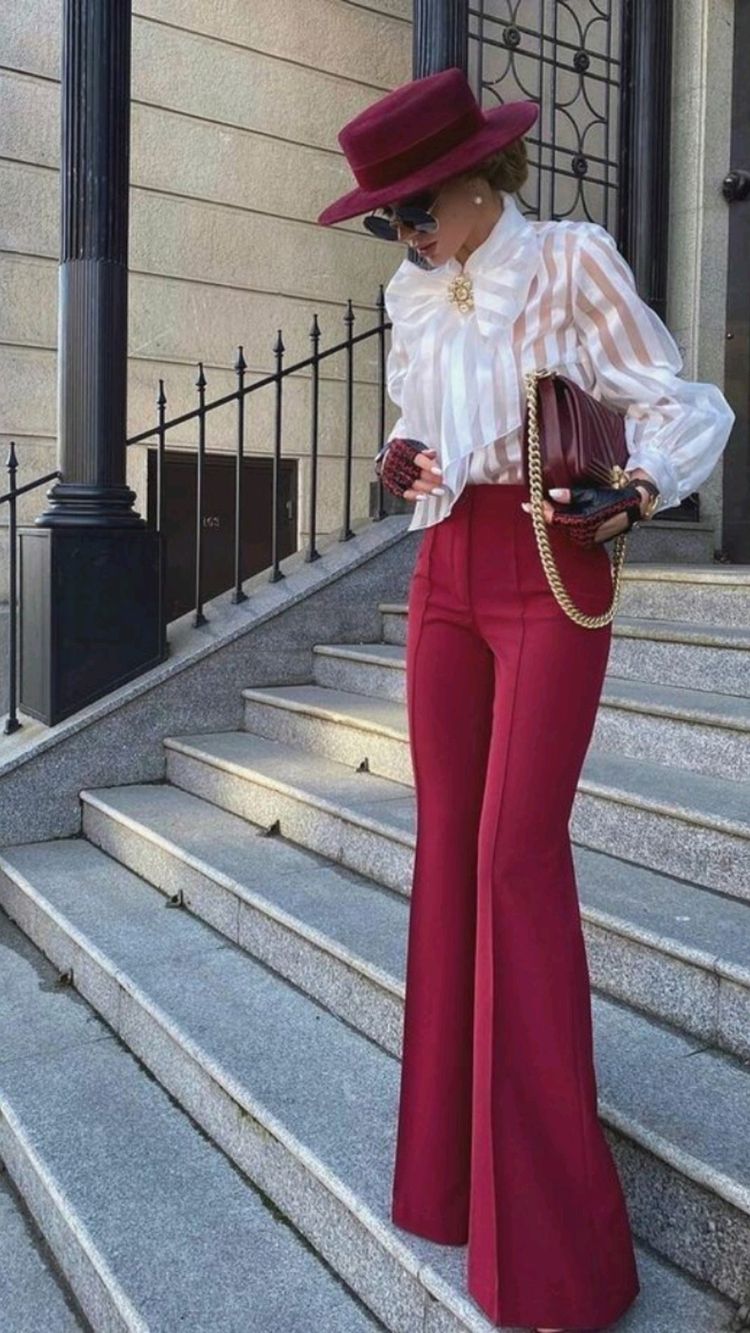 39 – Add Uniqueness With an Eyelet Dress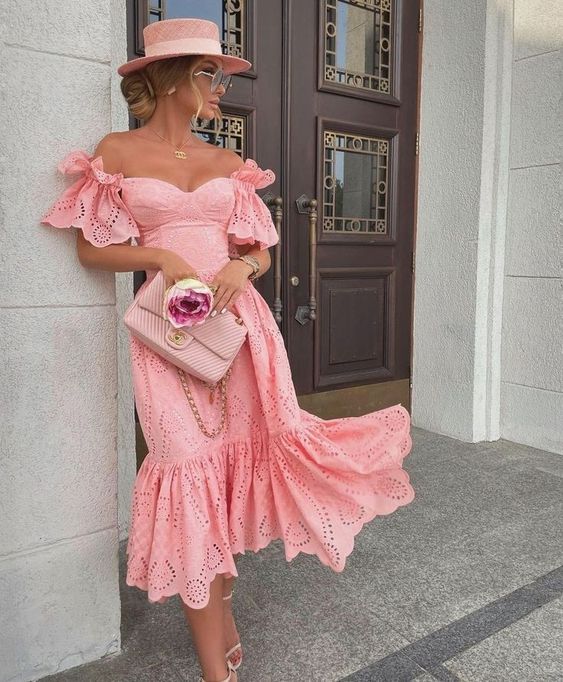 38 – A Pearl Choker Exudes Just the Right Vibes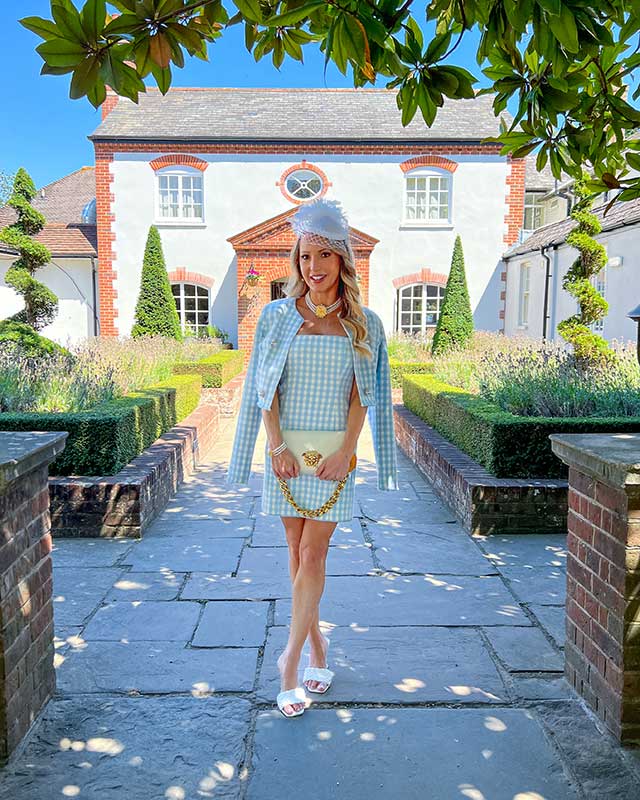 37 – Add a Fun Scarf to the Bag to Make the Look Brighter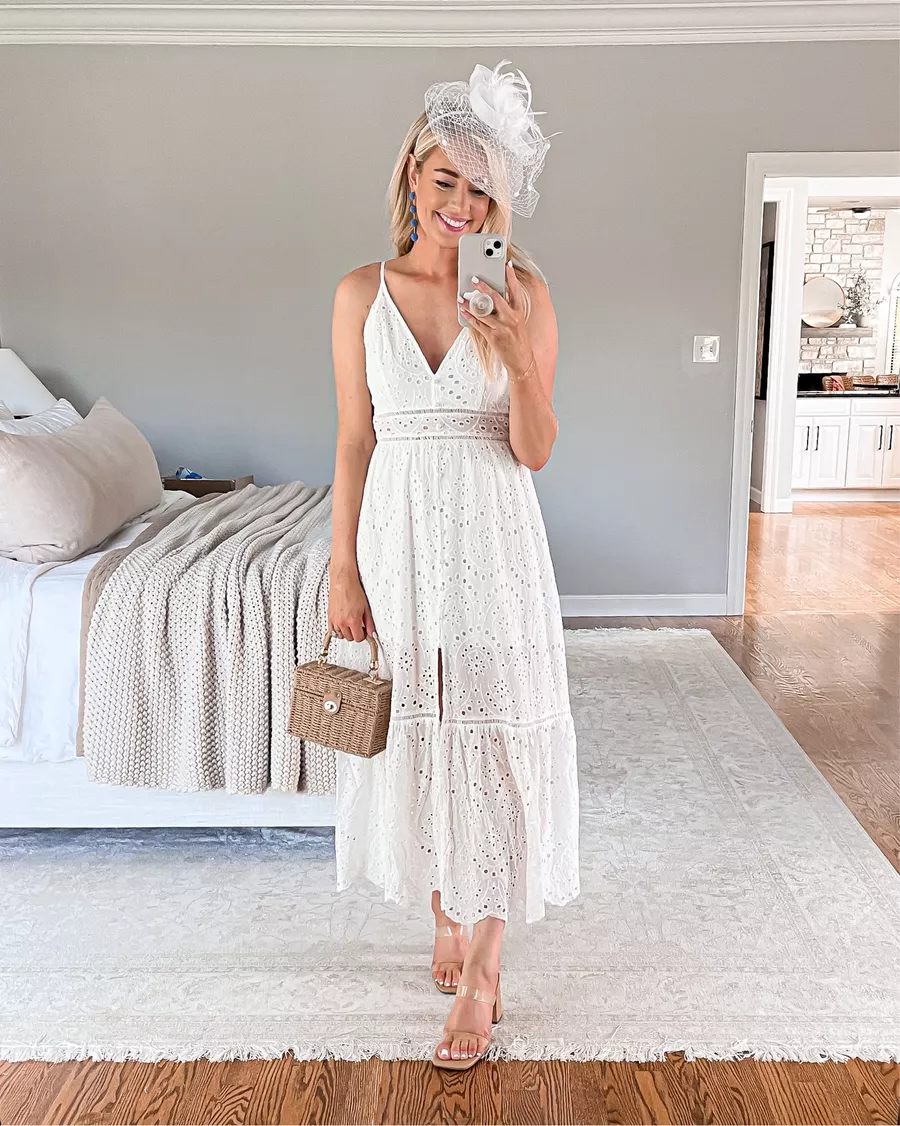 36 – Pair a Bright Yellow Hat With a White Plaid Fit to Stand Out
35 – This Floral Dress is How You Slay at a Derby!
Twist Strap Mule Sandal $54.60
34 – This Orange Number is the Perfect Way to be Distinct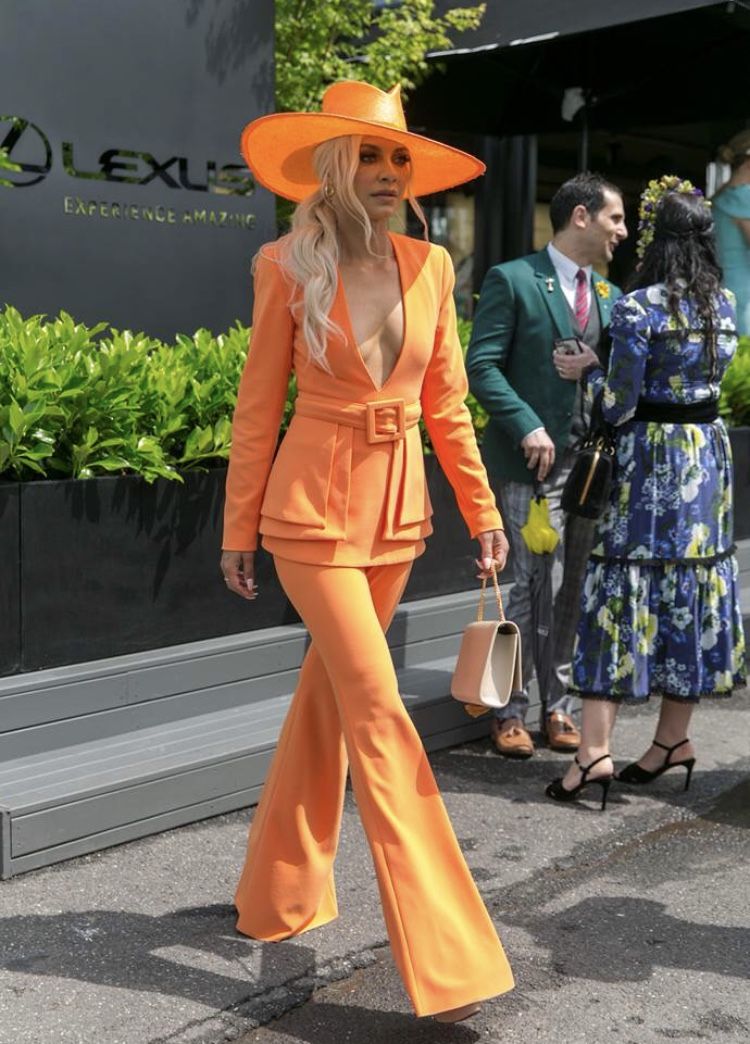 33 – Swap the Printed Clutch for a Shimmering Silver One to Complete the Look
32 – Choose a Hat that Matches the Colors of Your Dress Perfectly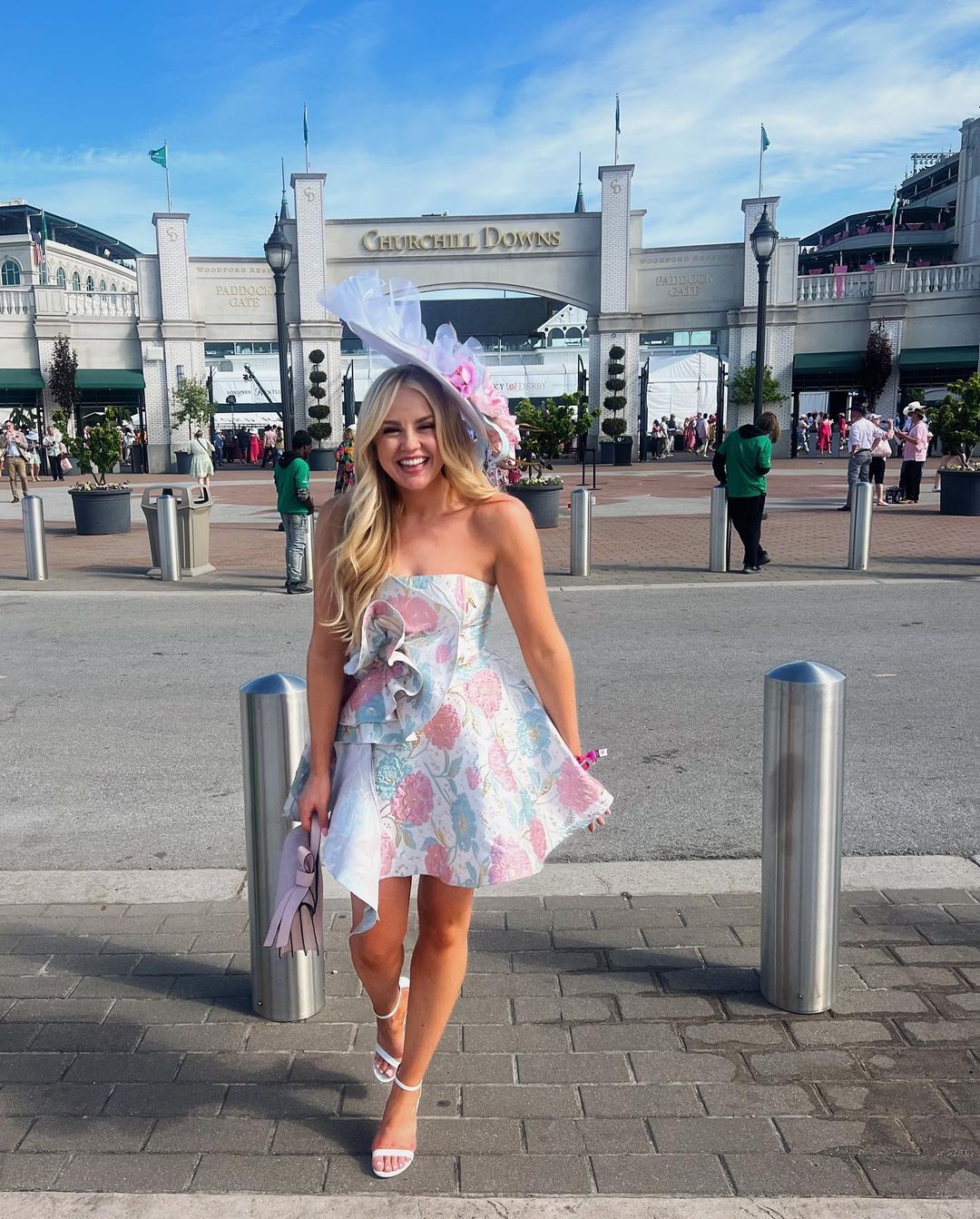 31 – Lime & Pink is a Combination That Always Slays!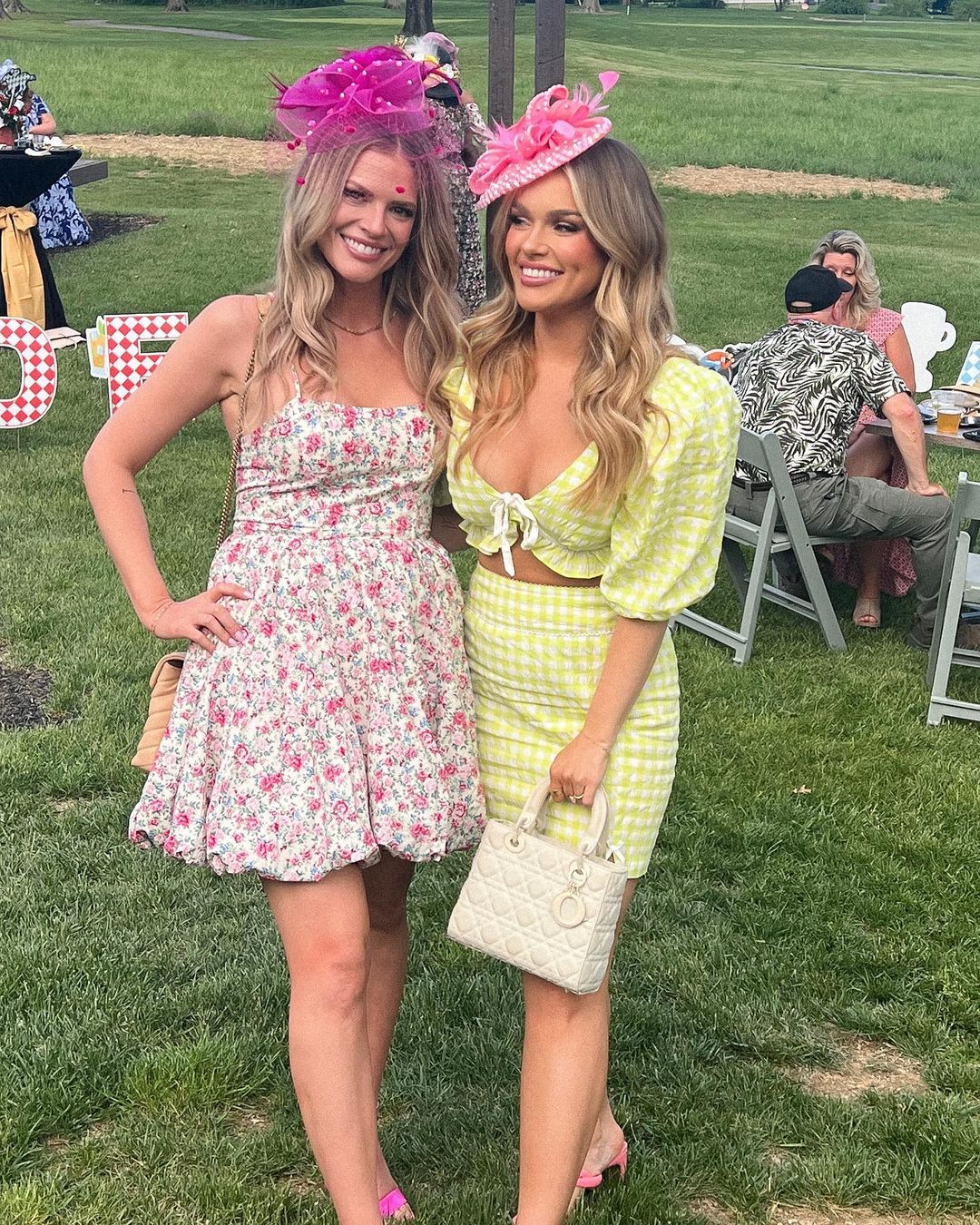 30 – Printed Blazers & Flared Pants are the Way to Go if Dresses Do Not Work For You
29 – The Accessories Elevate This Fit to an Entirely Different Level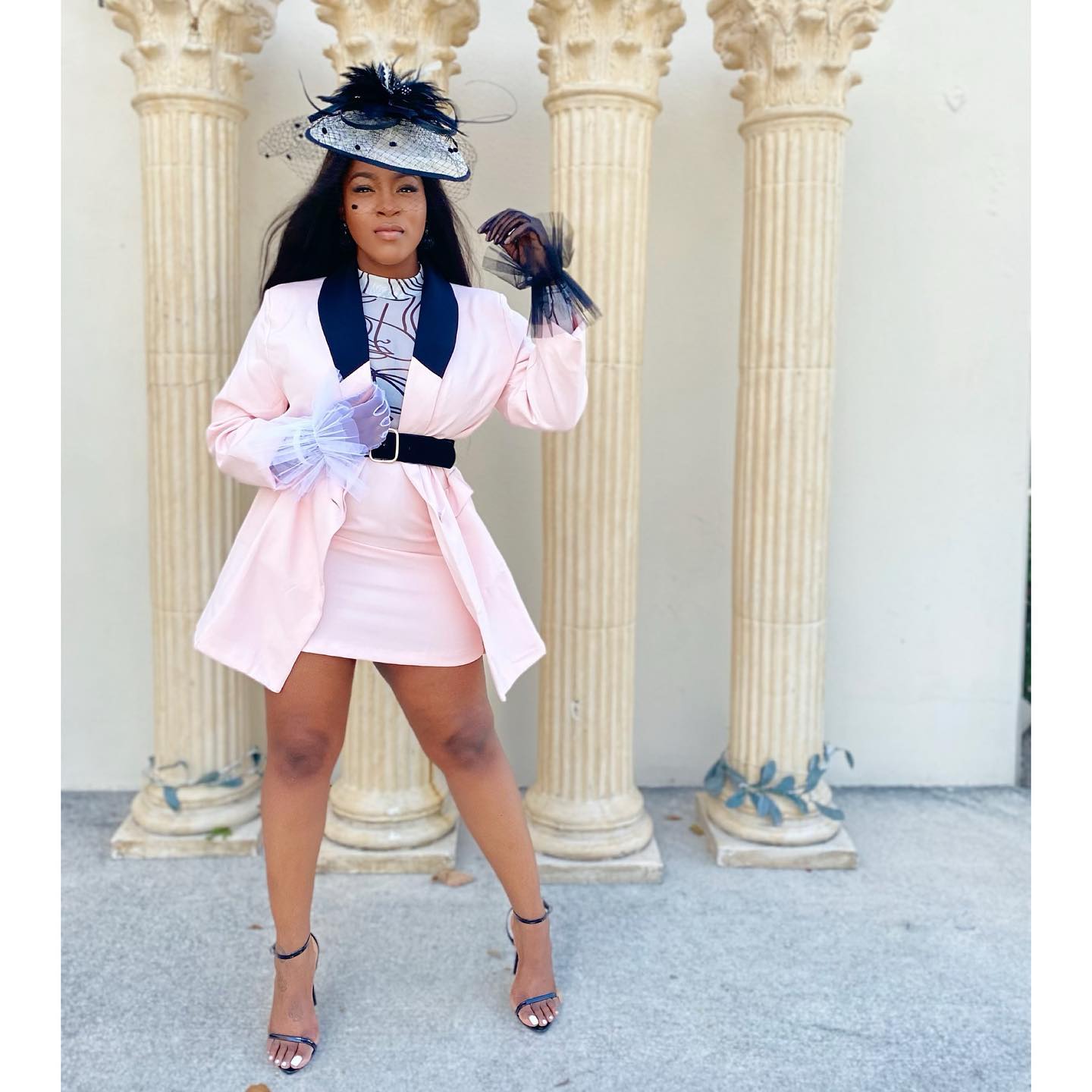 28 – Get Comfy & Stylish in a Complementing Scarf & Pant Set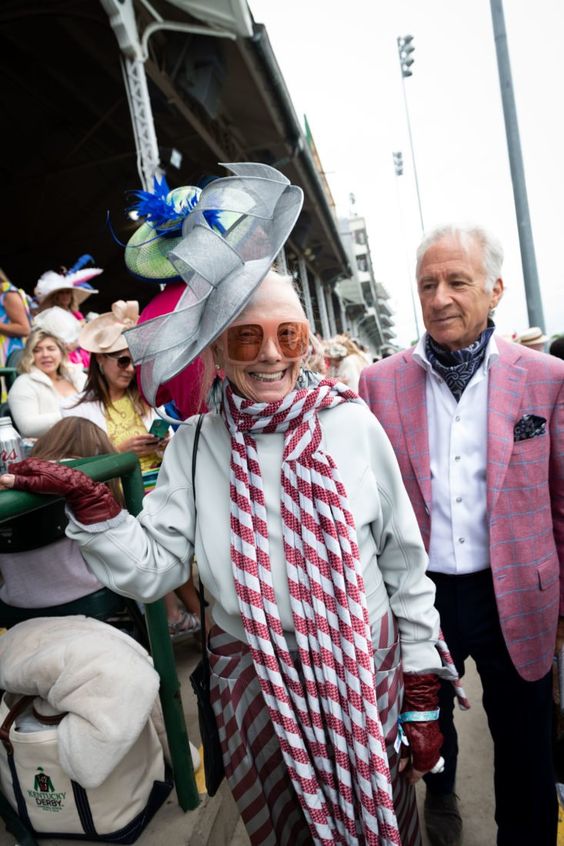 27 – Swap the White Crop Top for a Blouse with Collar Details
Couple Goal Moments
If you like coordinating your outfit with your S/O then you must check out these Celebrity Couples Matching Outfits.
26 – Go All Out With the Prints to Match Your Boo & Exude Couple Goals
25 – Opt for a Similar Dressing Style But Make it Unique Individually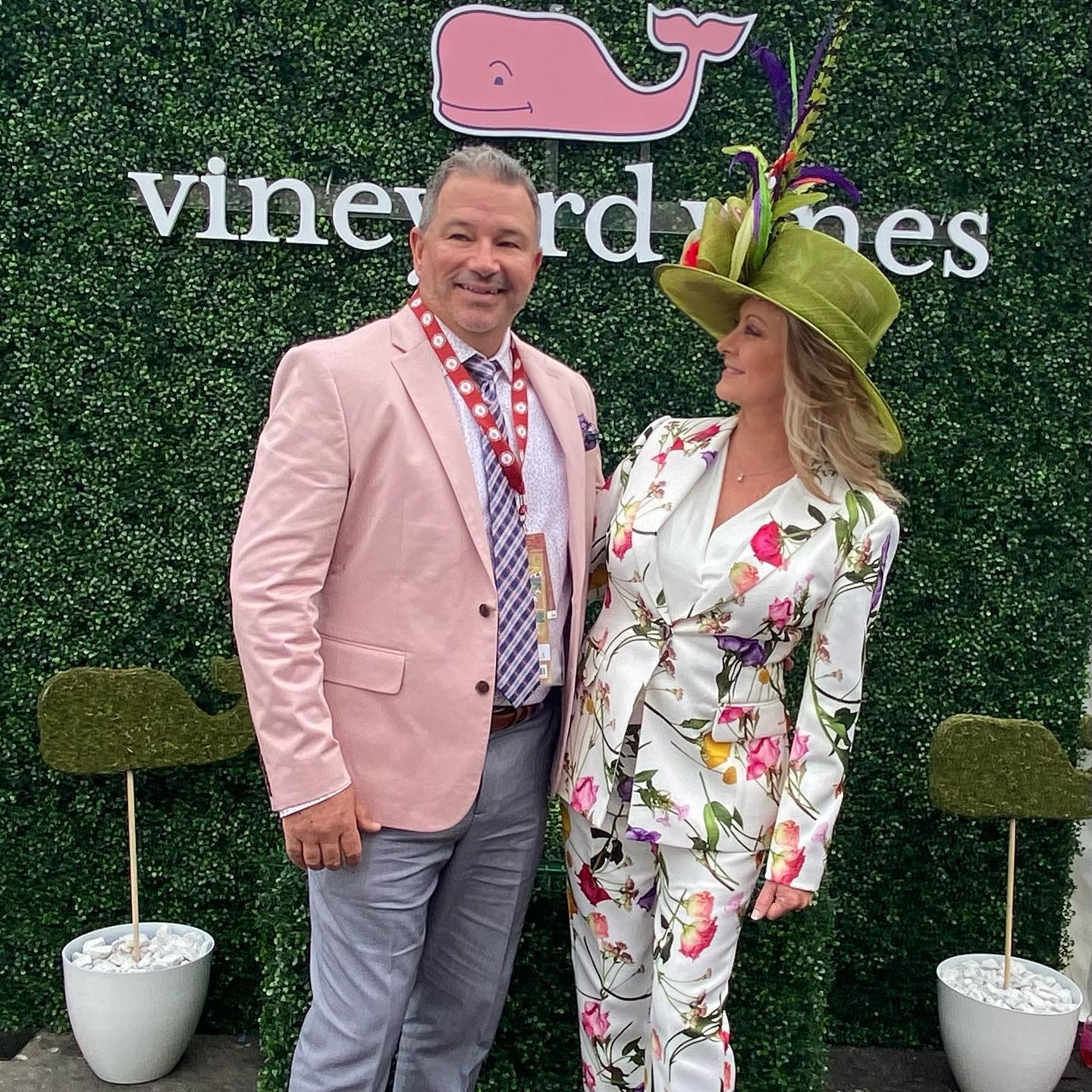 24 – Match The Color of Your Shirt to Your Woman's Dress for Subtle Cohesiveness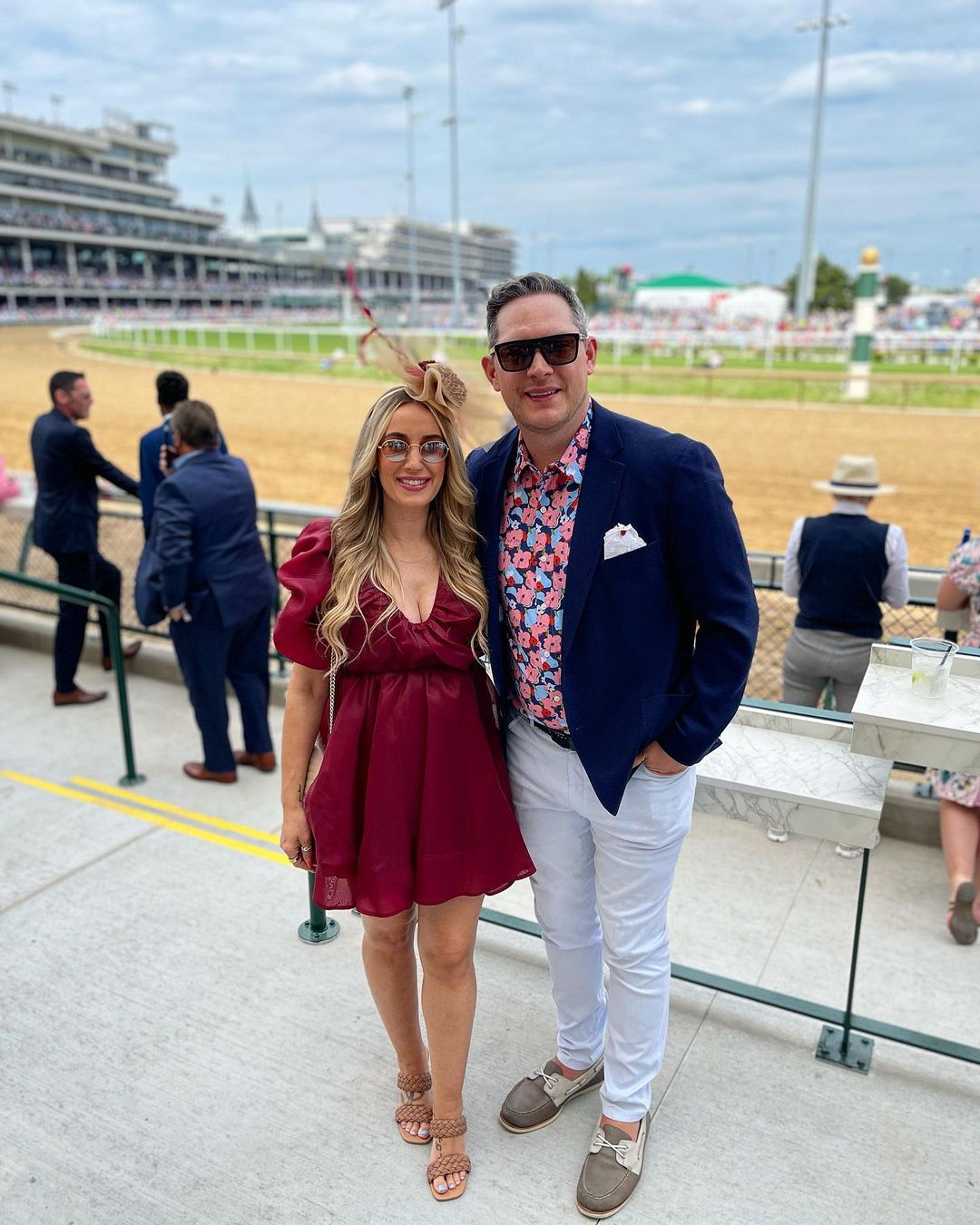 23 – It Does Not Get Any Easier to Twin Than in Similar Printed Clothes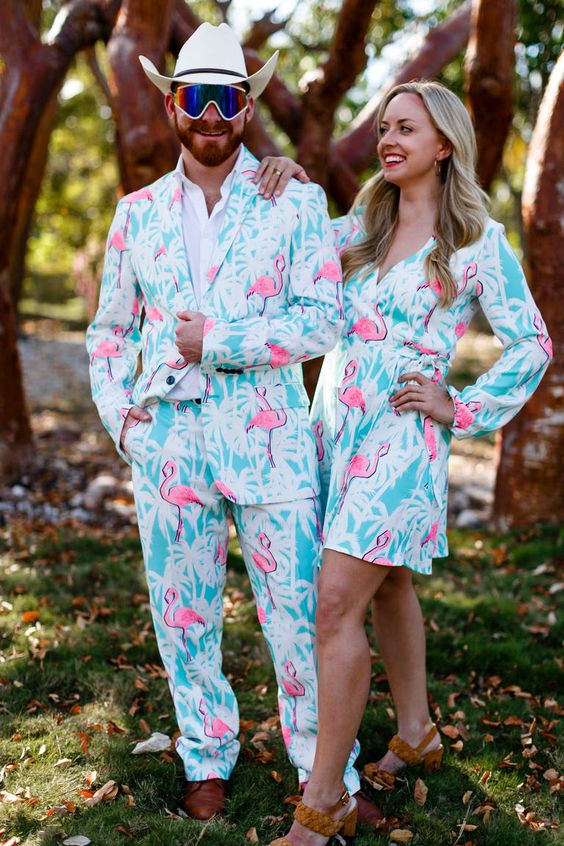 Get the flamingo suit:
22 – From the Glasses to the Shoes, Matching Your Significant Other is the Effortless Way to Complement Each Other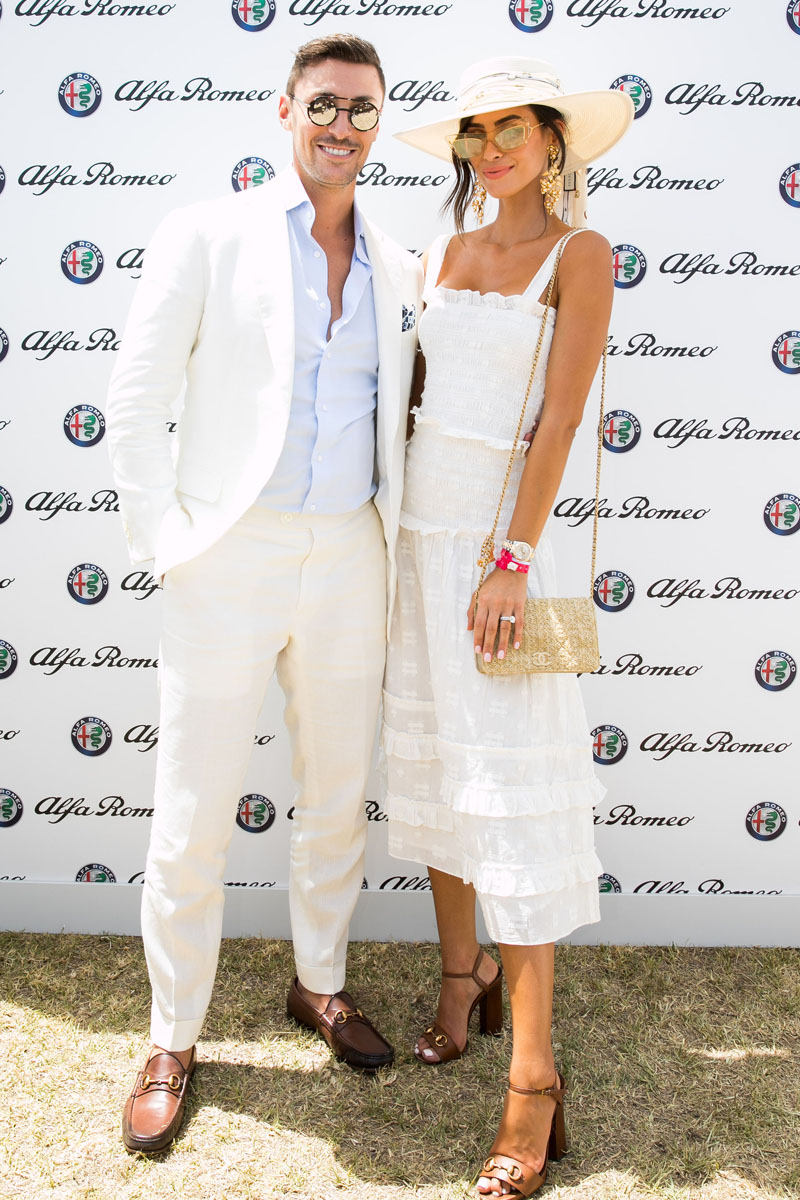 21 – This Shade of Blue is Summery, Bright & Just Right to Attract Attention Towards Yourselves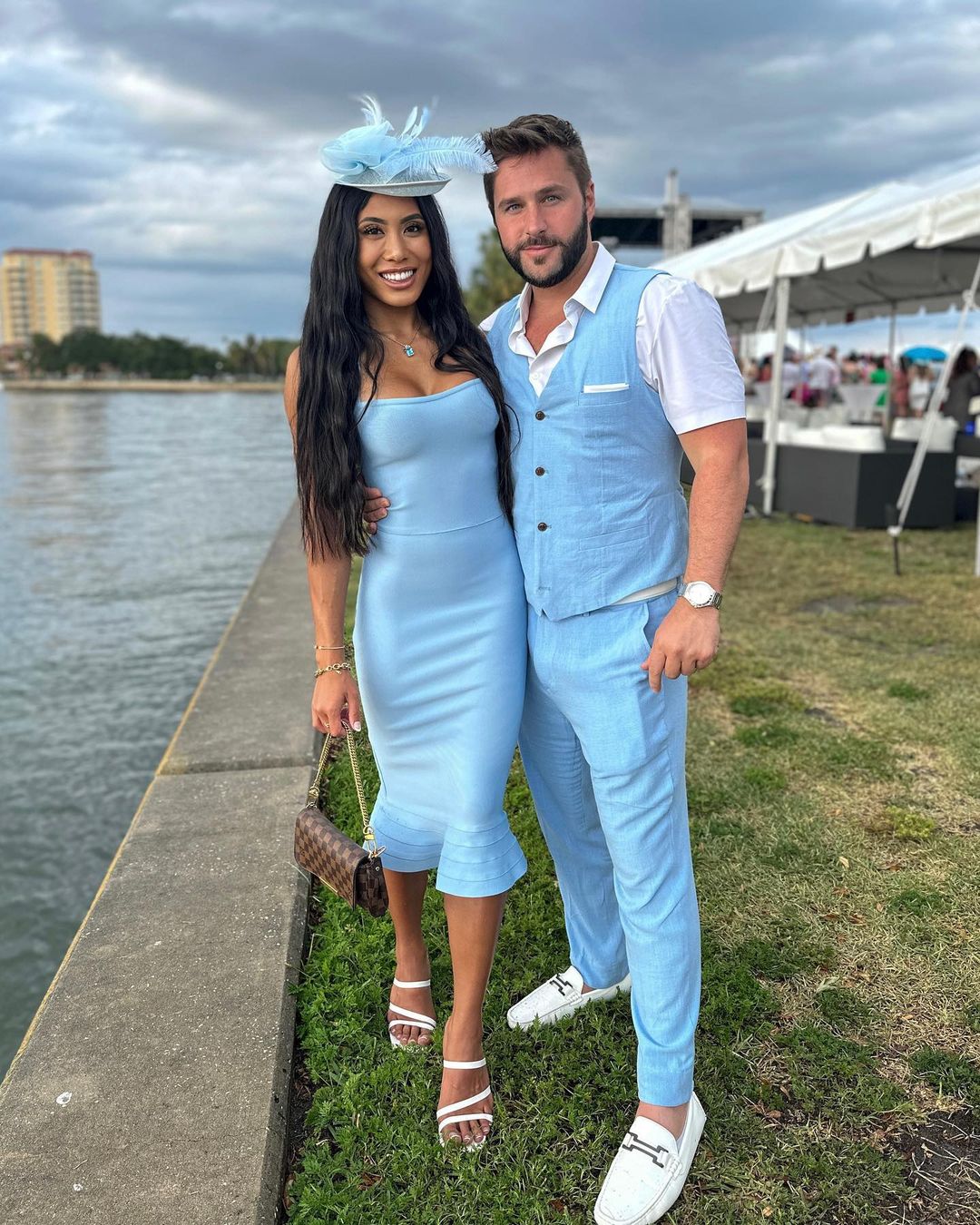 20 – Keep it Subtle, Classy & Elegant by Matching Your Lady's Dress With Your Bow Tie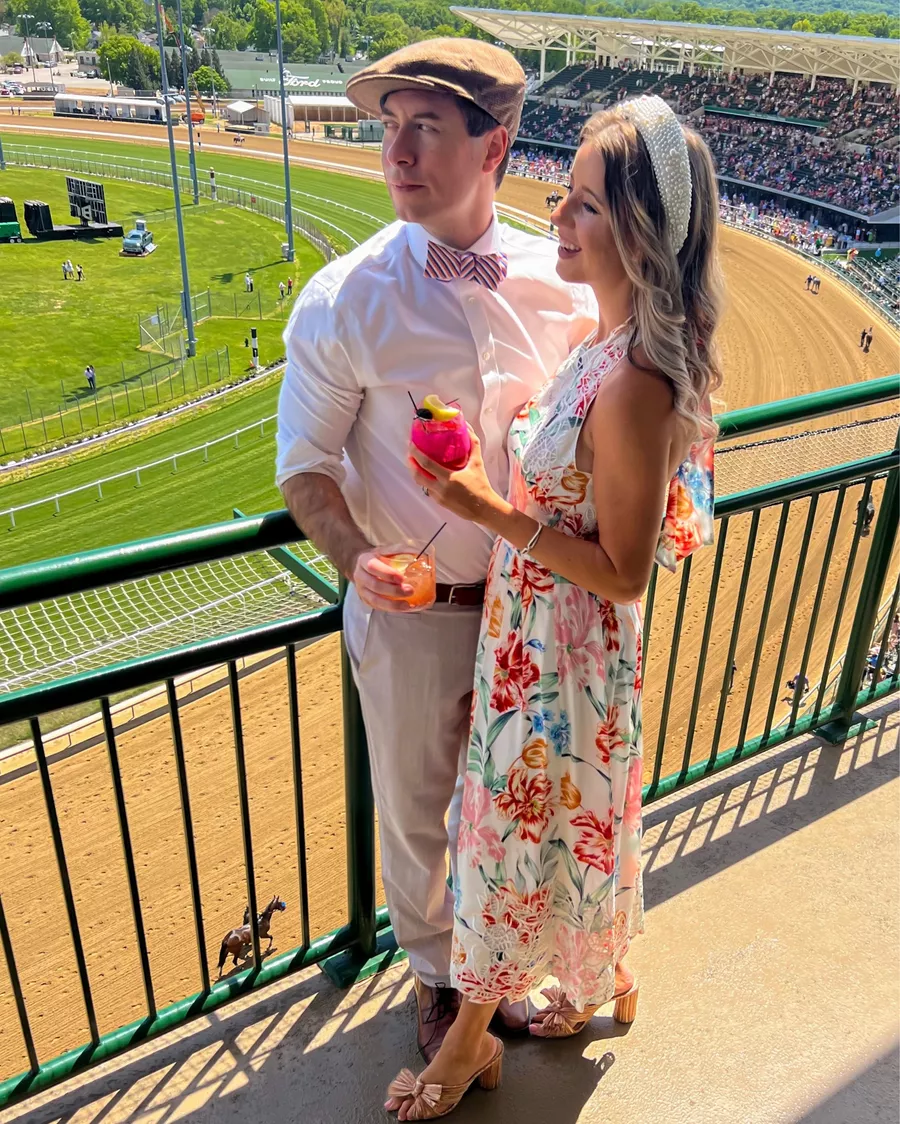 Shop the looks:
His:
Hutson & Genius Slim Fit Pants $248.00
Hers:
19 – And Decking Out in Pink is How You Nail The Oaks Day & Honor the Cause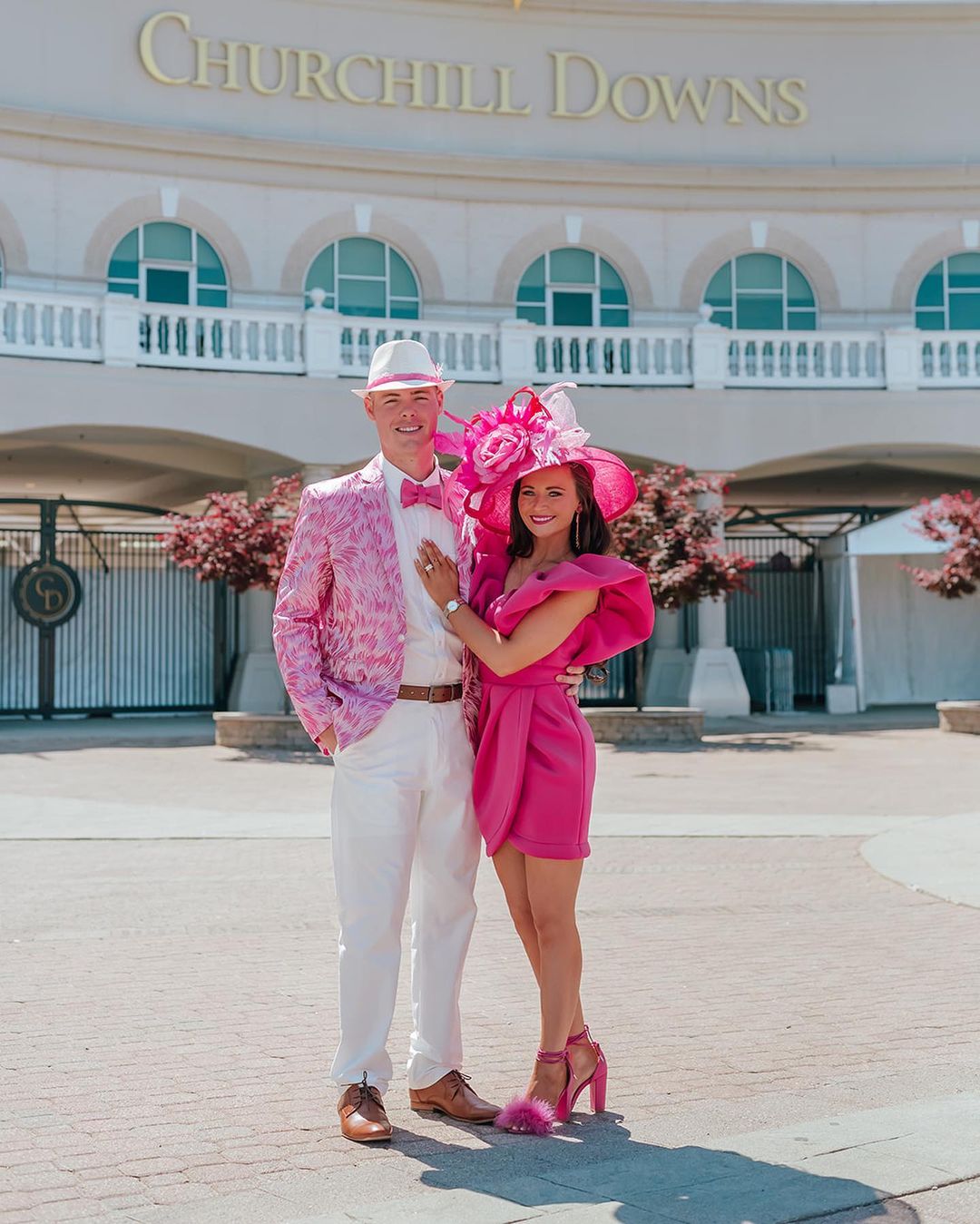 Men's Fits
18 – A Pastel Blazer With Bright Plaid Pants is the Ideal Combination for the Races
17 – Match Your Shoes to Your Hat in Neutral Tones to Make the Suit Eye Catching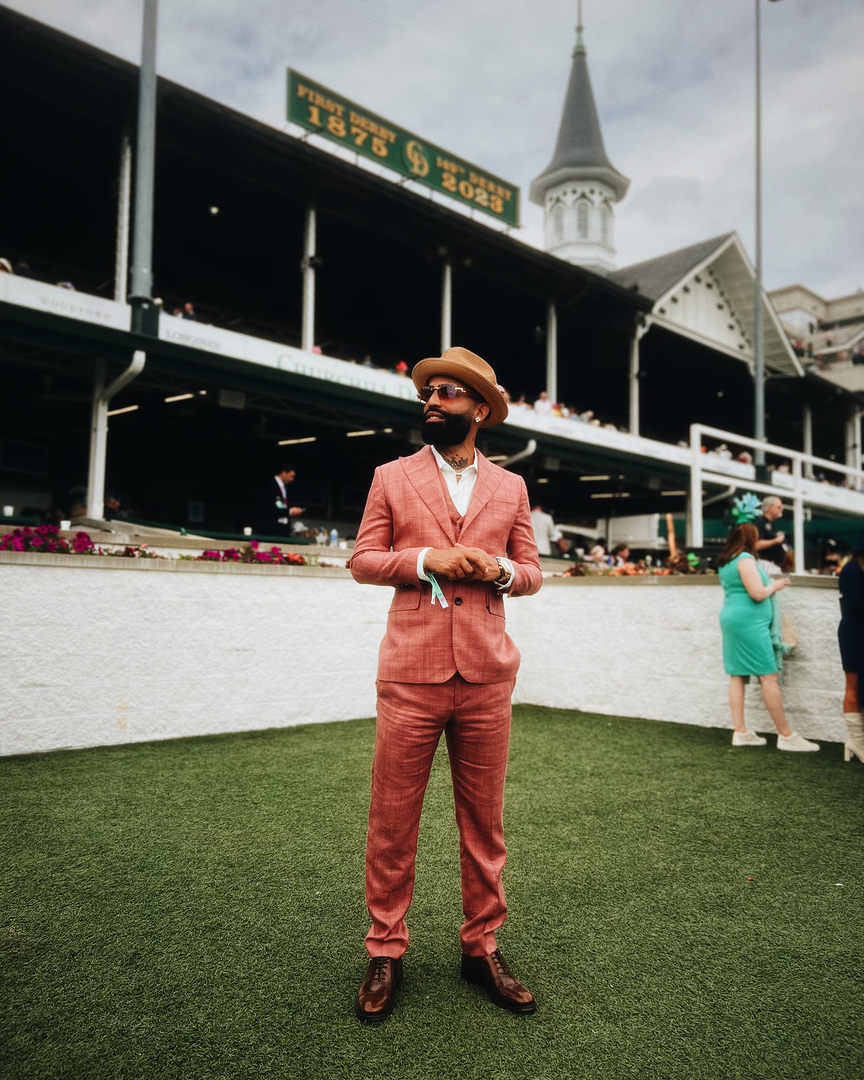 16 – Color Blocking Done Effortlessly!
This look has so much going on that breaking it down became a must! The hat matches the shirt effortlessly; the matching suit does its job phenomenally, and the belt complements the shoes immaculately. And finally, the printed bow tie is just what this outfit needed to complete it!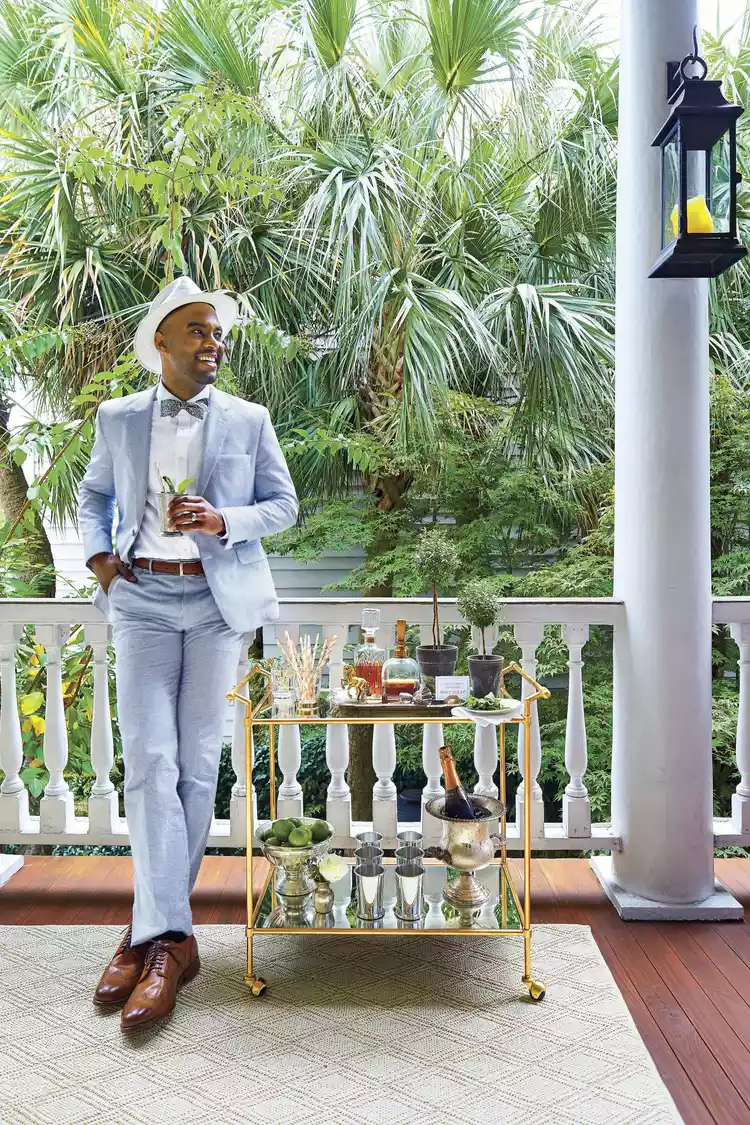 15 – Add Distinctiveness & Individuality With the Right Accessories: the Hat, Suspenders & Shoes!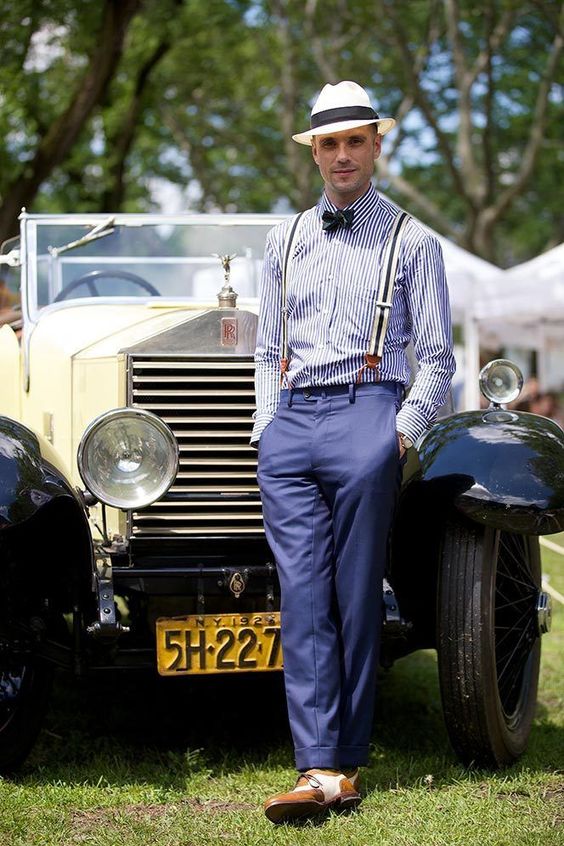 14 – The Polka Dot Shirt Complements the Striped Pants & Abstract Shoes Phenomenally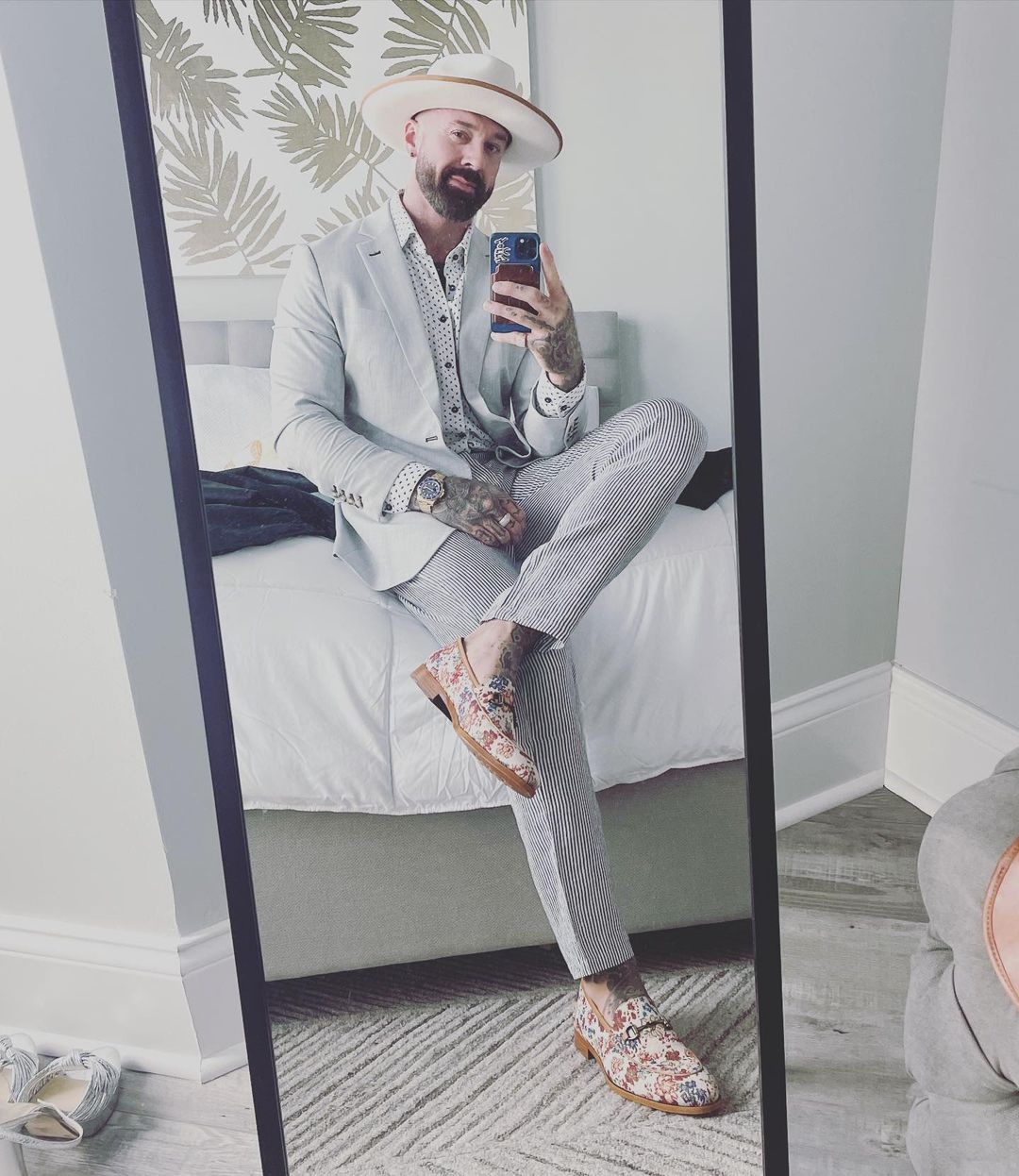 13 – Add a Blazer or a Funky Vest to Keep this Outfit Fun & Make it Derby Appropriate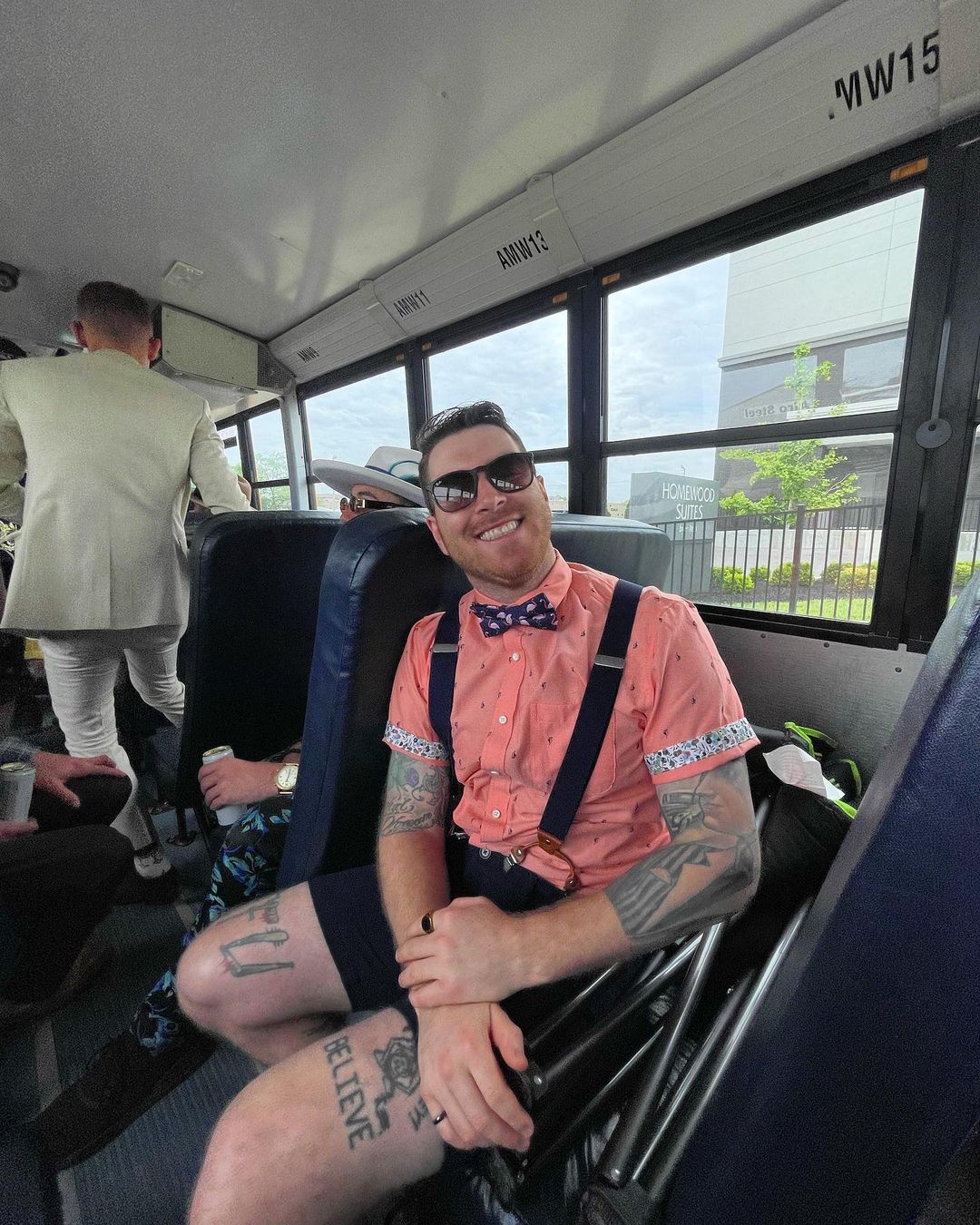 12 – Sage Green & Shades of Cream & Ivory are What Summers are All About!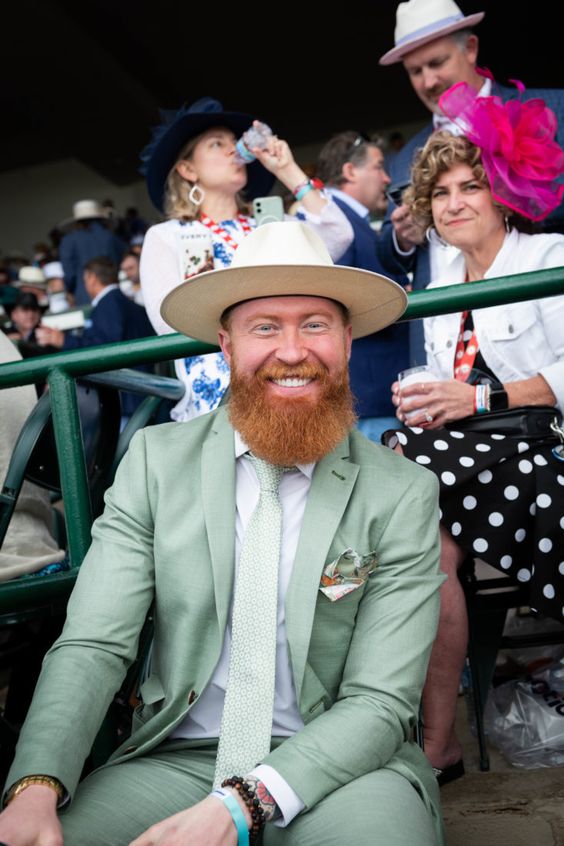 11 – A Floral Lapel Pin Adds Just the Right Amount of Character to Knock this Look Out of the Park!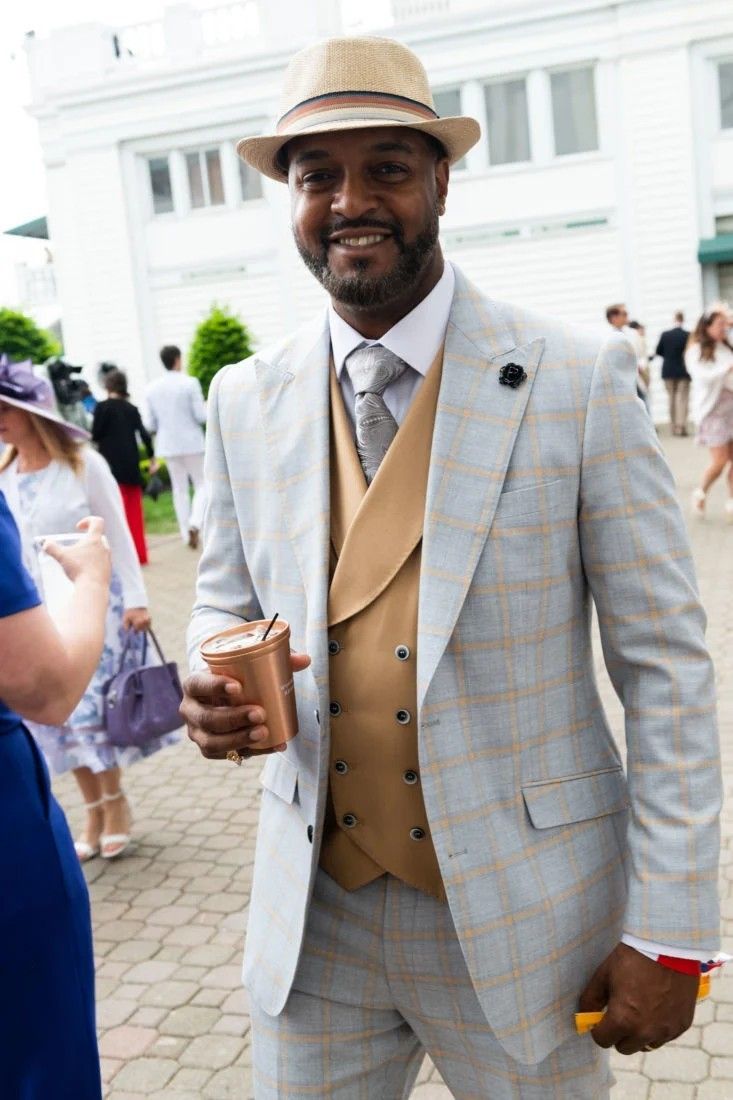 10 – Exude Major Squad Goals by Opting for the Craziest & Brightest Outfits to Slay at the Derby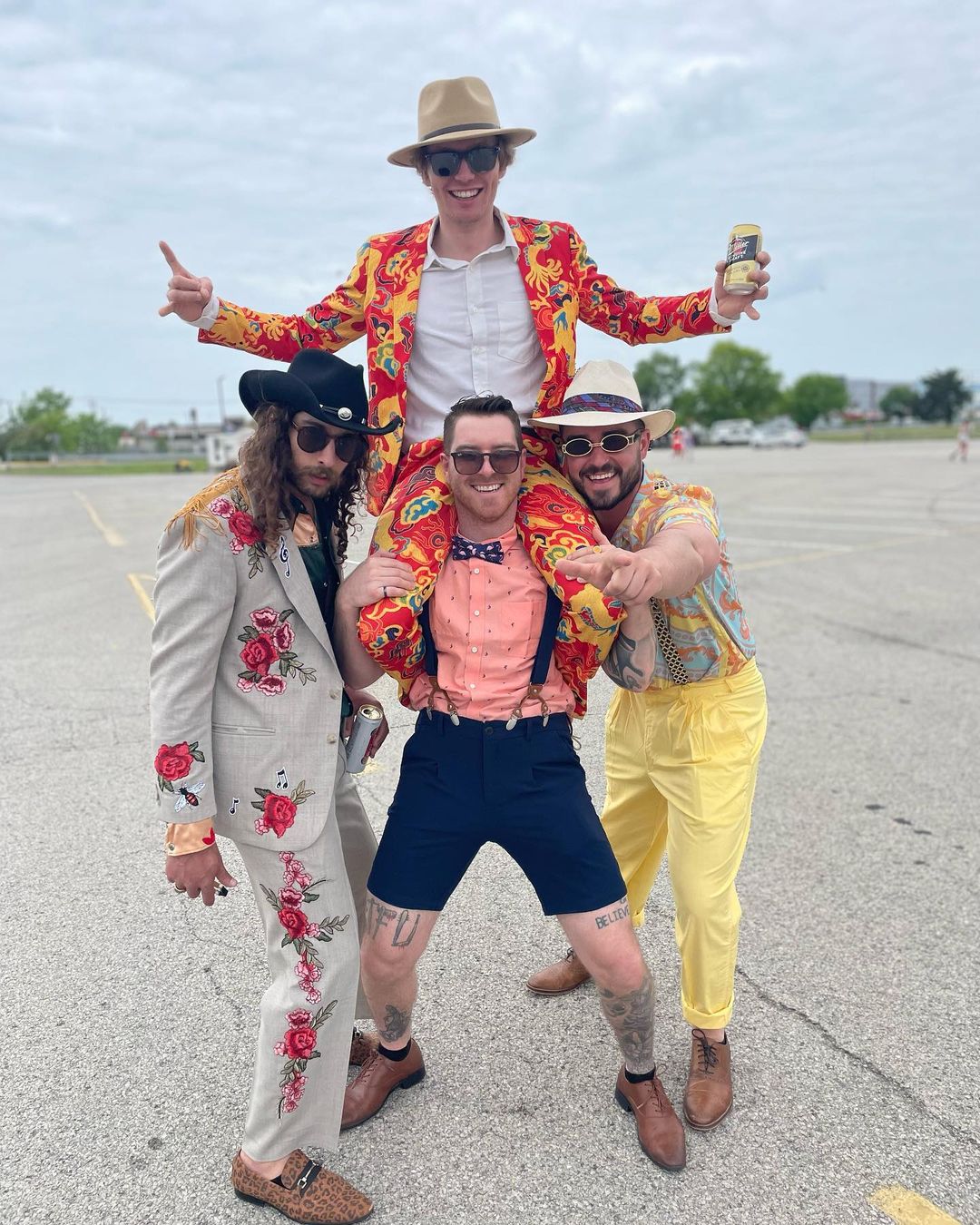 09 – A Shimmery Jacket Might Not be Everyone's Cup of Tea But When Done Right, Looks Fantastic!
08 – Add a Hint of Color to a Neutral Toned Suit With a Vest & Unique Hat
07 – Get the Appropriate Shoes that Tie Your Entire Look Together
The brown aspect of the shoes complements the pink suit and vest, while the ivory matches the white shirt of the outfit, uniting the ensemble.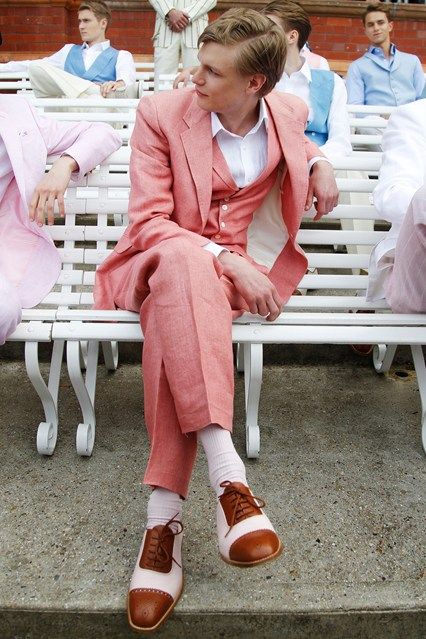 06 – Pair a Mustard Yellow Vest With a Brown Suit to Make Your Fit Pop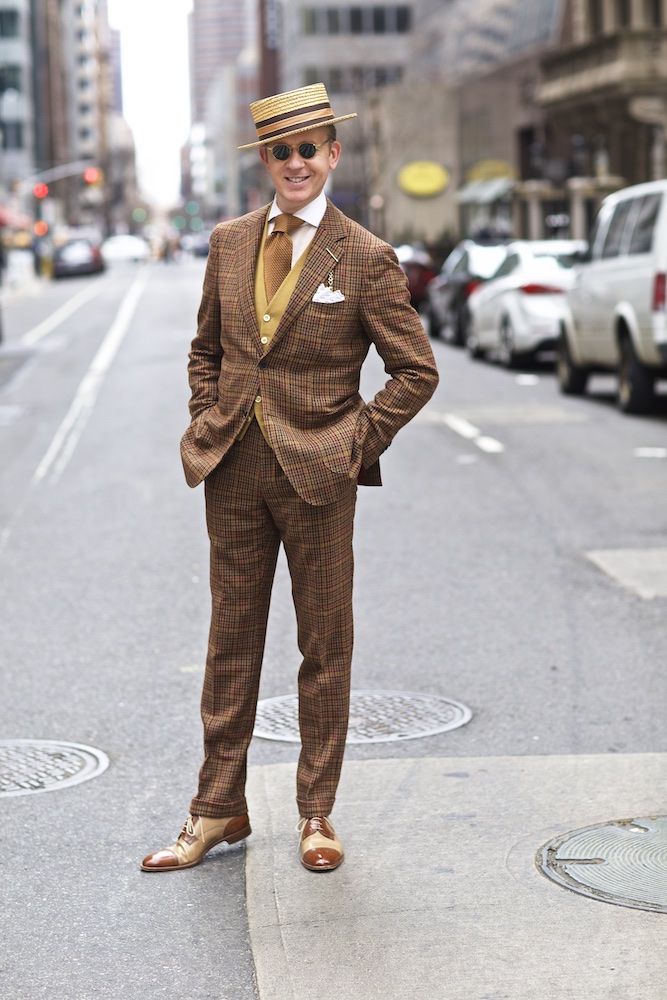 Celebrity Looks
05 – Joey Fatone Looks Incredible in This Blue & White Plaid Set
Swap the black bow tie for an olive green or navy blue one to make it blend better with the clothes and accessories!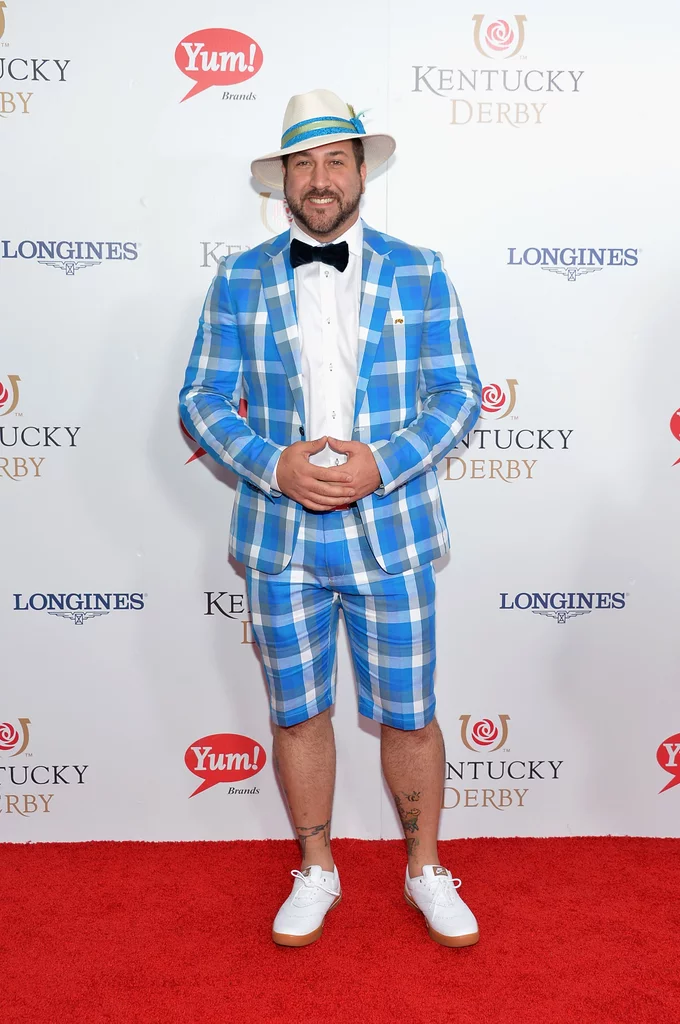 04 – Frances & Smokey Robinson Exude Major Goals in these Bright Red Pieces
Frances' printed suit is to die for!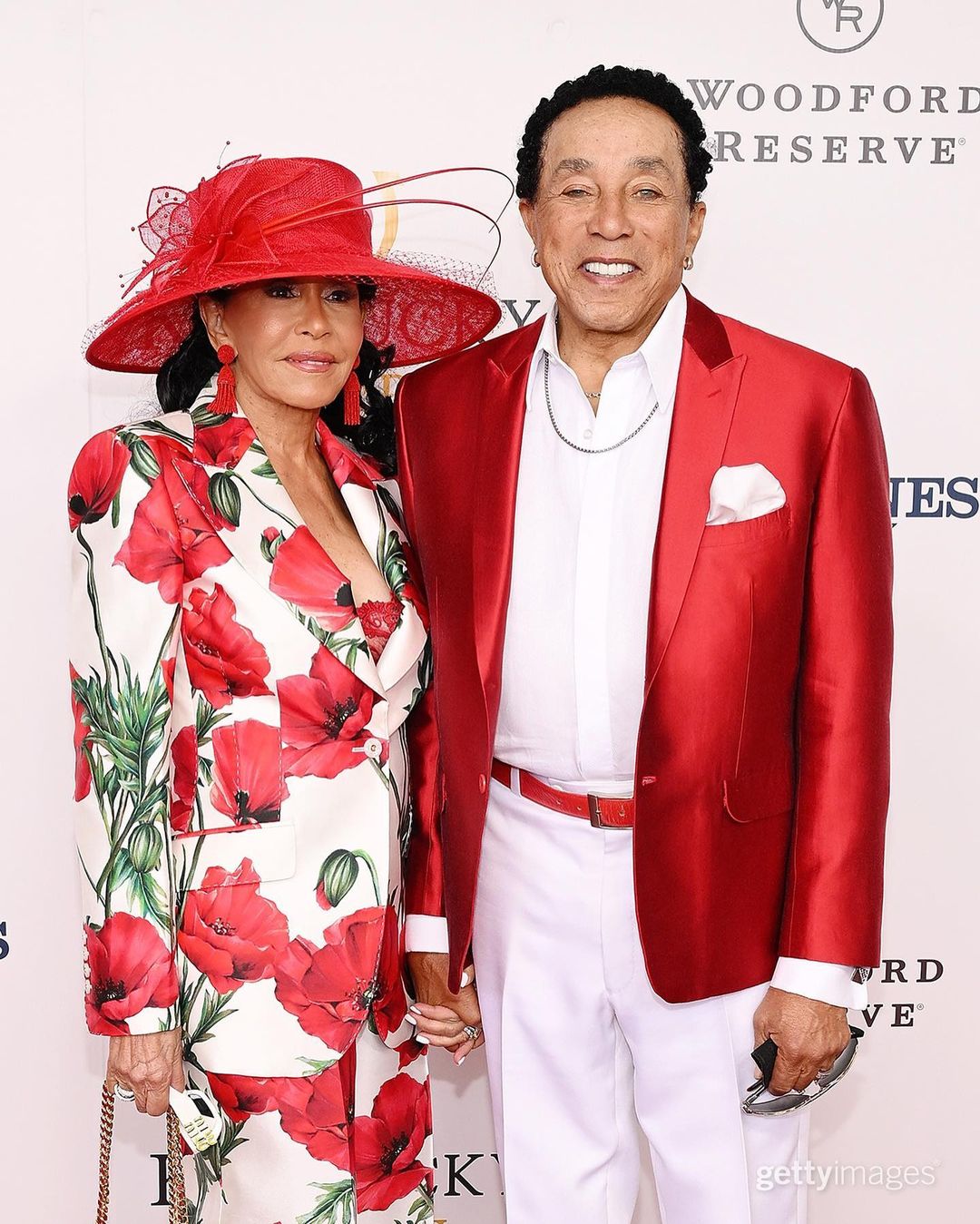 03 – Victoria's Secret Model Georgia Fowler Stuns in a Pale Blue Versace Dress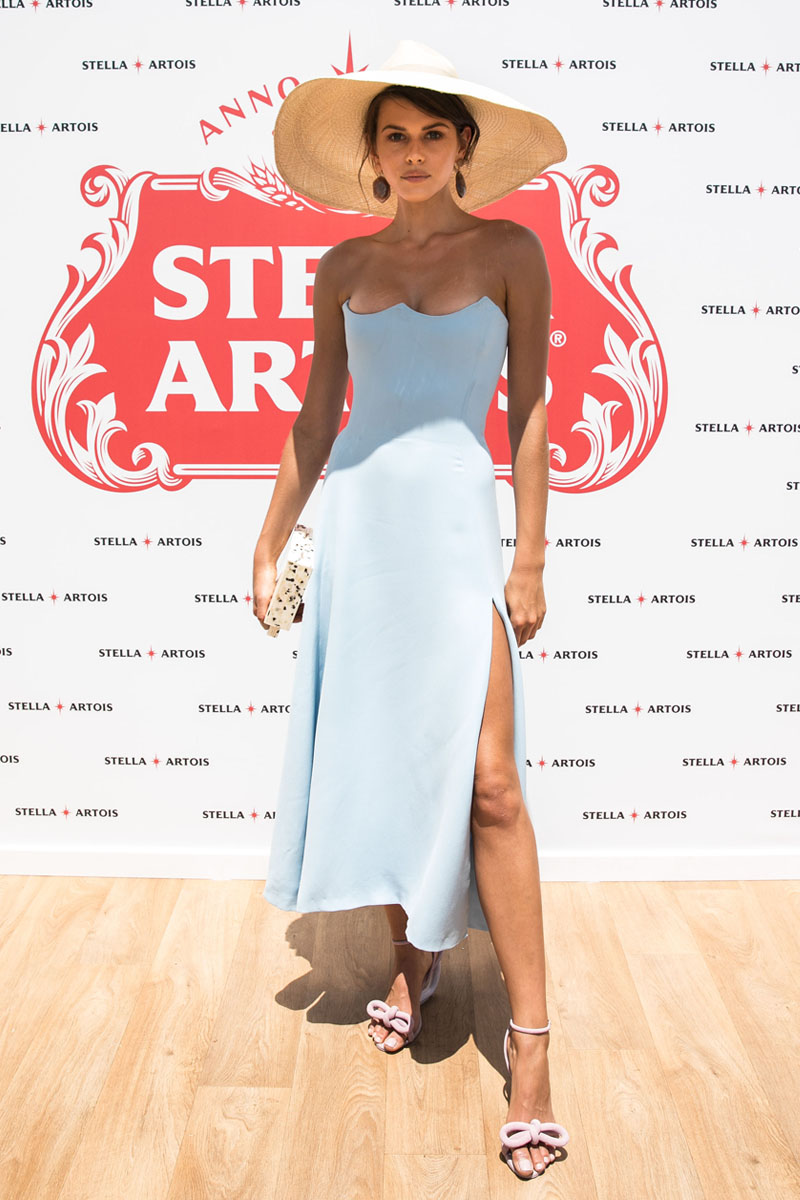 02 – Rachel Platten Looks Dreamy in an Abstract Matching Suit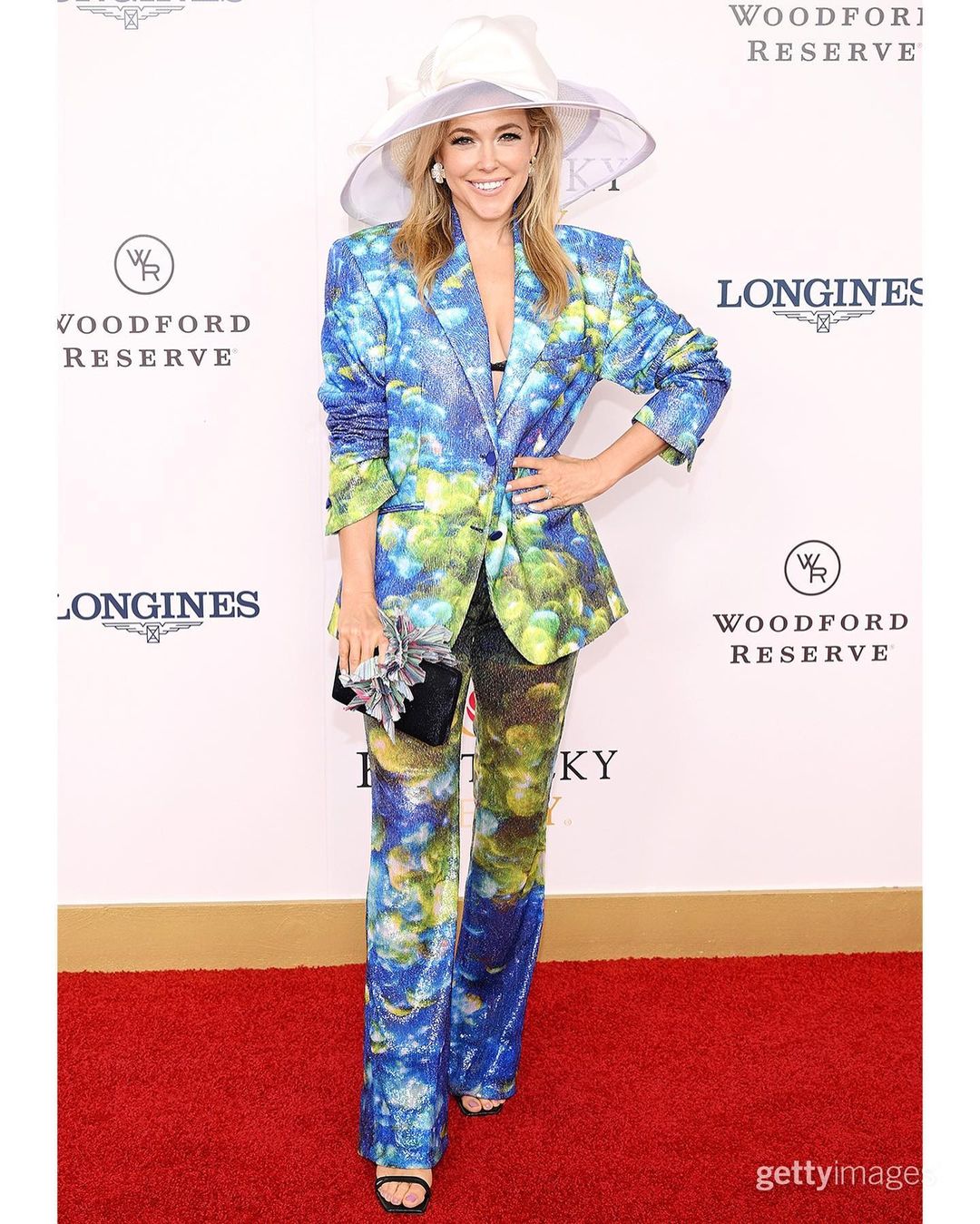 01 – It Does Not Get Any Sharper Than Chris Pine in Fine Lines!
FAQs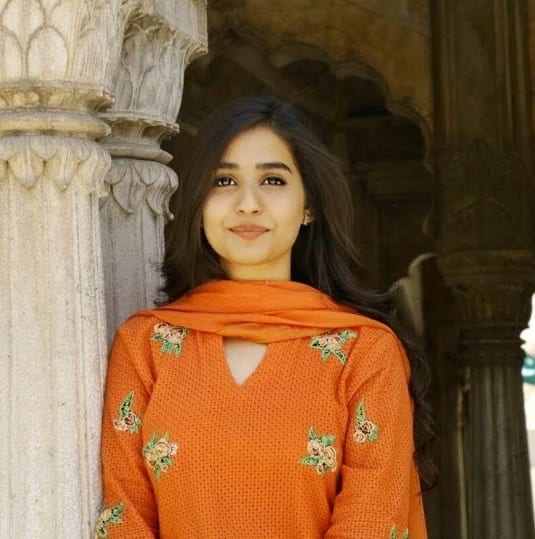 Janeeta Khan loves to write and loses herself in the world of fiction during her free time. You will probably find her curled in the corner with a Harry Potter book and a steaming mug of hot cocoa.