What To Wear At The Races: Planning a day out for going to races sounds like a really fun activity. Once you are done planning this activity, the next important step is to select an appropriate outfit for the event. Many racecourses have their dress codes mentioned which make it easier for you to choose an outfit, while you still have to consider some other facts like the weather and type of racecourse that you are attending.
How To Style Your Outfits For Races?
If you are attending races, you might be thinking of buying a new dress that goes well with the strict dress code rules and looks traditional. However, you can easily find a better option in your current wardrobe also. For the summer races, a printed midi dress, skirt, and formal trousers are the best choices.
Winter races have more options as you can wear pretty coat dresses, maxi dresses, jumpsuits, and midi dresses with leggings. Accessories like small earrings, necklaces, hats, and small clutches look stunning with the dresses. Platform heels, relaxed flats or toe pump heels for summer while ankle boots, Chelsea boots, or doc martens are ideal or comfortable footwear.
Tips To Style An Outfit For The Races
Before attending a race, make sure to study the dress codes properly if there are any, and style your outfit according to that.
Keep your footwear as comfortable as possible, as you might have to walk a lot to reach the racecourse.
Wear some accessories with your outfits like fascinators, hats, and sunglasses to appear more dressy.
Avoid wearing denim, or leather jackets and instead, go for formal cover-up options like tailored jackets, oversized blazers, or cardigans.
20 – Silk Midi Dress With Ankle Strap Heels
For a chic outfit, you wouldn't even have to buy something separately instead you can simply just wear a silk slip dress. The rich fabric is enough to give you a stunning look. However, you can enhance your look by adding jewels to it.
Pair diamond studs and rings with it, also high heels for footwear. Wear glittery heels for some extra glam. This silk dress can also be worn in winter by wearing a turtleneck underneath or a layer of trench coat over it with boots.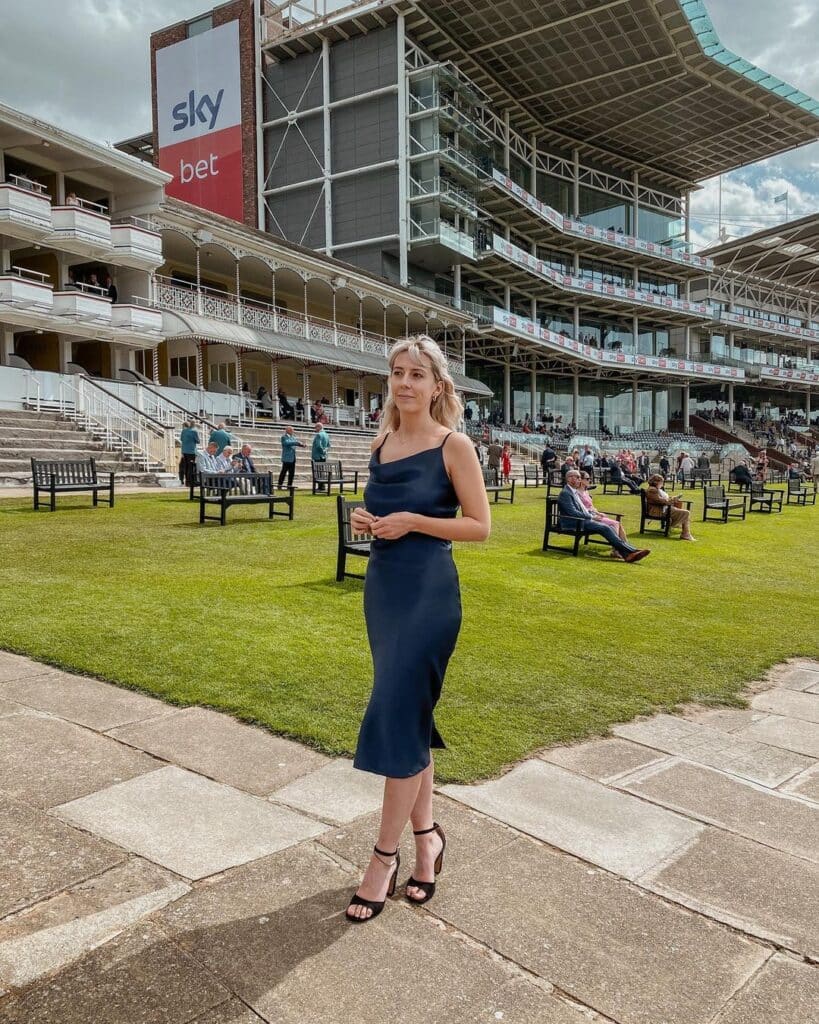 19 – Floral Print Maxi Dress Paired With Pink Platform Sandals
You should own at least one floral dress in your wardrobe because you can literally wear them on any occasion, any weather, and in any way. Be it a formal, casual, or business casual event, floral prints look gorgeous in each one of them.
This chiffon maxi dress is lightweight, flowy, and has a proper length which makes it perfect for a summer dress for the racecourse. Another thing that catches our eyes immediately is the stunning neon pink chunky heels. The color is popping out which is why you should also consider wearing something like this. The headband is another cute addition to the look.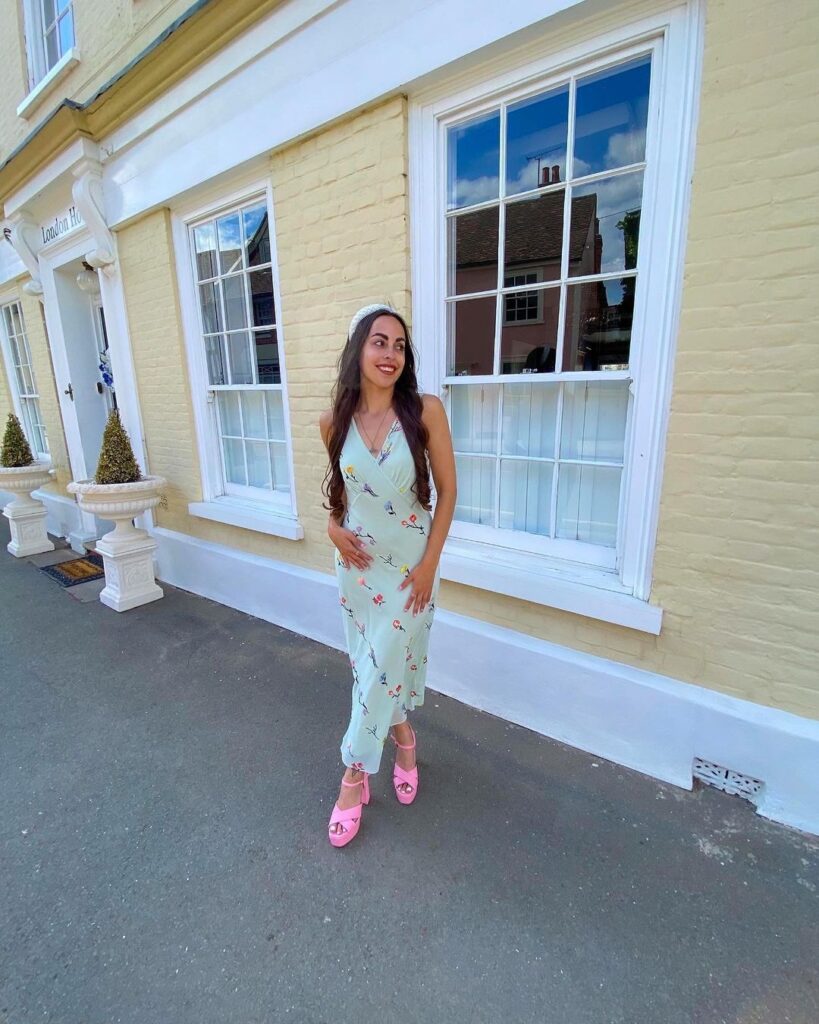 18 – Striped Blazer With Matching Pleated Pants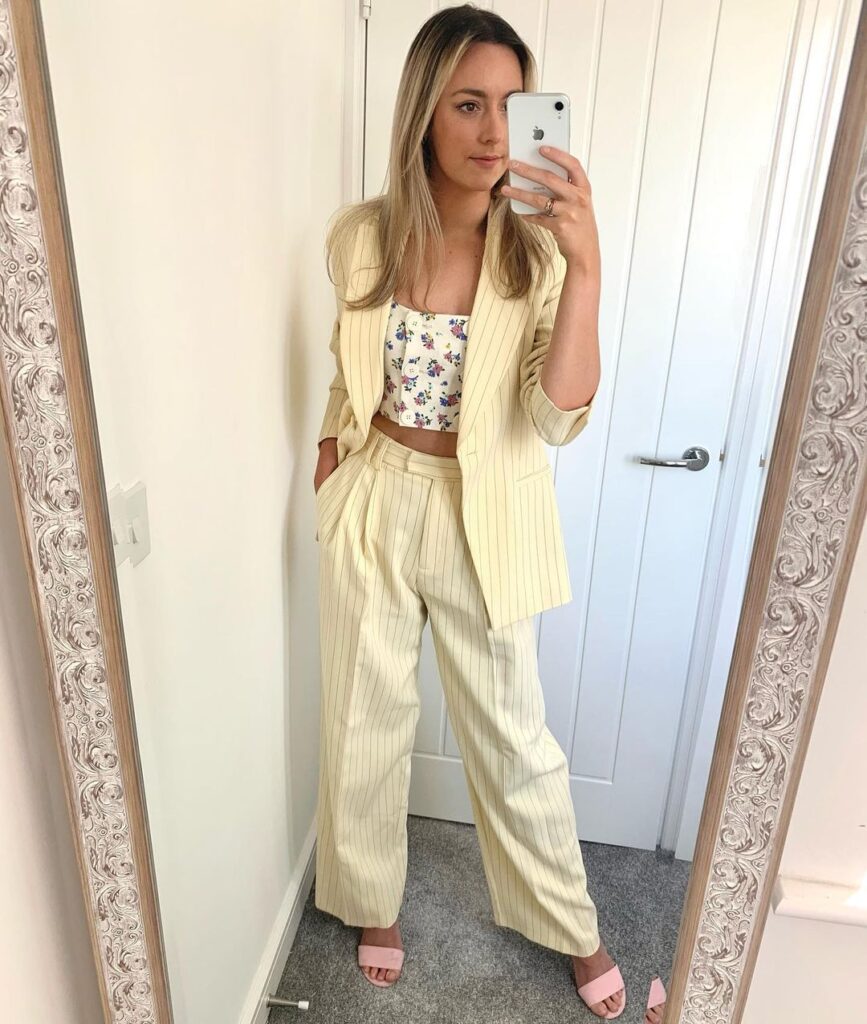 17 – Cropped Blazer Paired With Flare Trousers
If you don't want a completely formal look then wear a cropped blazer set like this one. The stylish flare trousers are paired with a formal cropped blazer. This two-piece set is a good option and a one-time investment as you can wear it to many different places altogether.
Wear the classy high heels with it and your outfit is ready. Another styling technique is to wear this cropped blazer with your formal midi dresses and hats for the royal ascot. High-waisted trousers will also go along with it.
16 – Halter Neck Top Paired With Tulle Skirt
Even though dresses of every kind are one of the most popular choices, skirts are also not left behind in this race of outfits. Midi and long skirts of different fabrics and different prints are ideal for this event. Pair them with formal blouses or casual tops to get all kinds of looks.
In this look, a simple black halter neck top is paired with a cute pink tulle skirt in midi length. Now, if the tulle skirt is too overwhelming for you, go with a silk, chiffon skirt, or other such options. For the cold weather, you can also wear a cropped pink blazer and boots with this outfit.
15 – Belted Blazer Dress With Strappy Heels
Something between formal and casual dressing is the perfect styling idea for the races. Blazers are categorized as a formal dressing but you can apply your styling techniques and get a chic semi-formal look with it.
Let me guide you, grab an oversized blazer and stylish belt around the waist. Wear a lace top inside the blazer and pair it with strappy heels. This all-black surely looks amazing but the opposite color, white will also look stunning.
Summer Outfits For Races
14 – Polka Dot Tiered Dress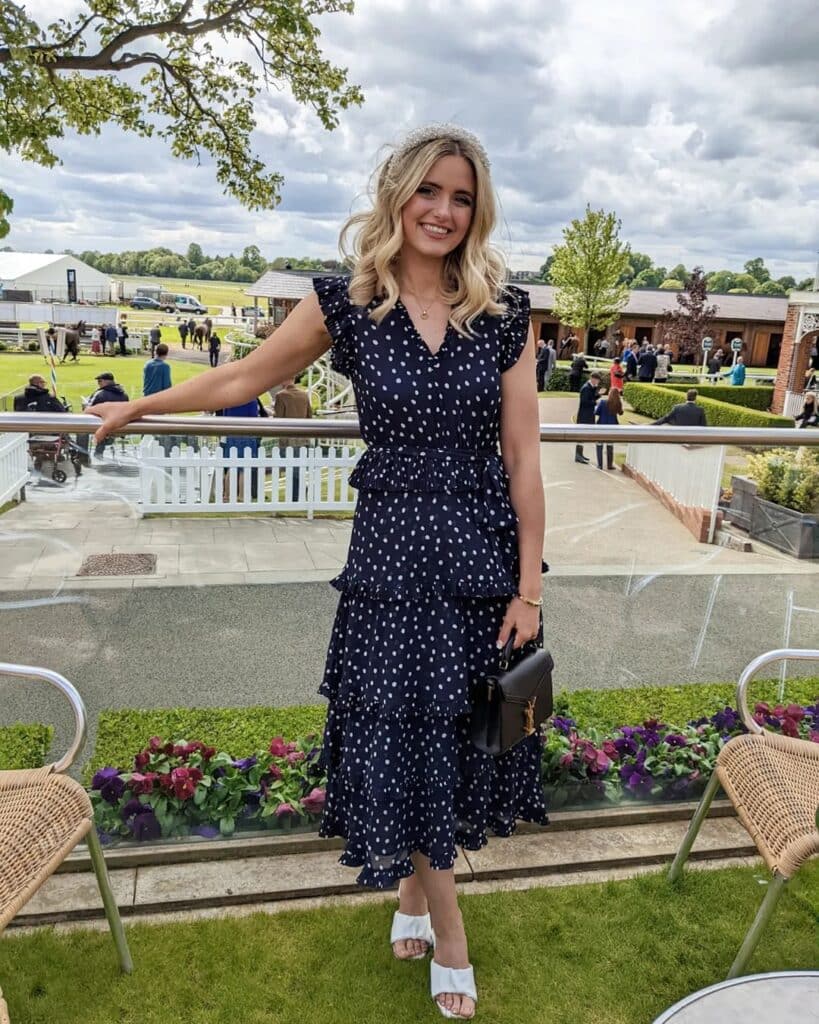 13 – Floral Jumpsuit With Feather Hat
Some people think that a jumpsuit is not an appropriate clothing choice to wear to the races, however, that's not true. It is completely acceptable to wear them and even the right choice can make you look stunning. For both formal and casual looks, jumpsuits can be worn.
This is a floral jumpsuit that you can easily wear in the summer and spring seasons. The light fabric, floral print, and short sleeves are ideal for this weather. Lastly, add a cute feather hat, earrings, and high heels to conclude your look.
12 – Vintage Belted Maxi Dress With Fascinator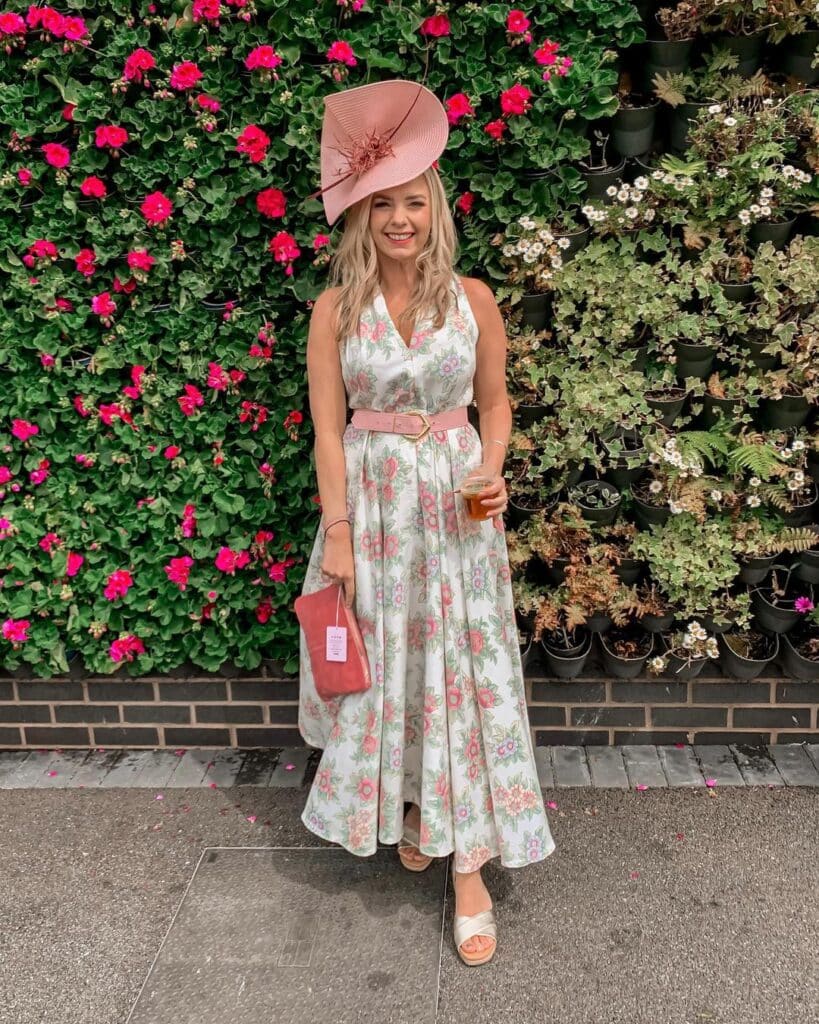 11 – Wrap Sundress Paired With Sneakers
What To Wear At The Races In Winter
10 – Pair A Sweater Dress With Long Checkered Coat
The winter outfits for the races should keep you warm and looking stylish at the same time. So for that purpose, sweater dresses, coat dresses, velvet dresses are some of the nice options. Prefer boots over heels to avoid getting a cold. Accessories in the winters include warm scarves and gloves.
This look is appropriate for races but you can also wear it at other events. Both sweater dress and the long checkered coat are great clothing pieces for winter and compliment each other as well. Pair it with pointed toe boots to complete the look.
9 – Green Trench Coat With Suede Boots
No matter how fashionable you want to look, extremely cold weather somehow forces you to put on layers. So why not make these layers stylish? A trendy trench coat can never be a bad choice. Put on a trench coat on your midi dress, and a chic outfit is ready.
Choose a rich color for the coat like emerald green, imperial blue, or violet, and if not, black is always there to satisfy your soul. Finish off the look by wearing long boots. Add fascinators and a stylish bag as accessories.
8 – Plaid Printed Overall Dress With Thigh-High Boots
Overall dresses can be the most adorable part of your wardrobe. There are so many different ways of styling these dresses. Different types of overall dresses like printed, denim, and others can be worn in any season.
In this look, a plaid printed overall dress is styled in a very gorgeous way. You can also get inspiration and wear it with turtlenecks, boots, and a belt. Other ways of styling an overall dress are to wear a long-sleeved blouse underneath or wear leggings with it or a coat.
7 – Wear An Oversized Blazer Over A Bodycon Dress
Mix and match some bold and bright colors for your winter races outfit. You can easily wear your fancy dresses in chilly weather, and protect yourself from the cold, by putting on a layer of warm and stylish coats, jackets, or cardigans.
Apart from these options, an oversized blazer is also a good choice as you can see by yourself. You can either wear it in the same color as your dress or in a contrasting color.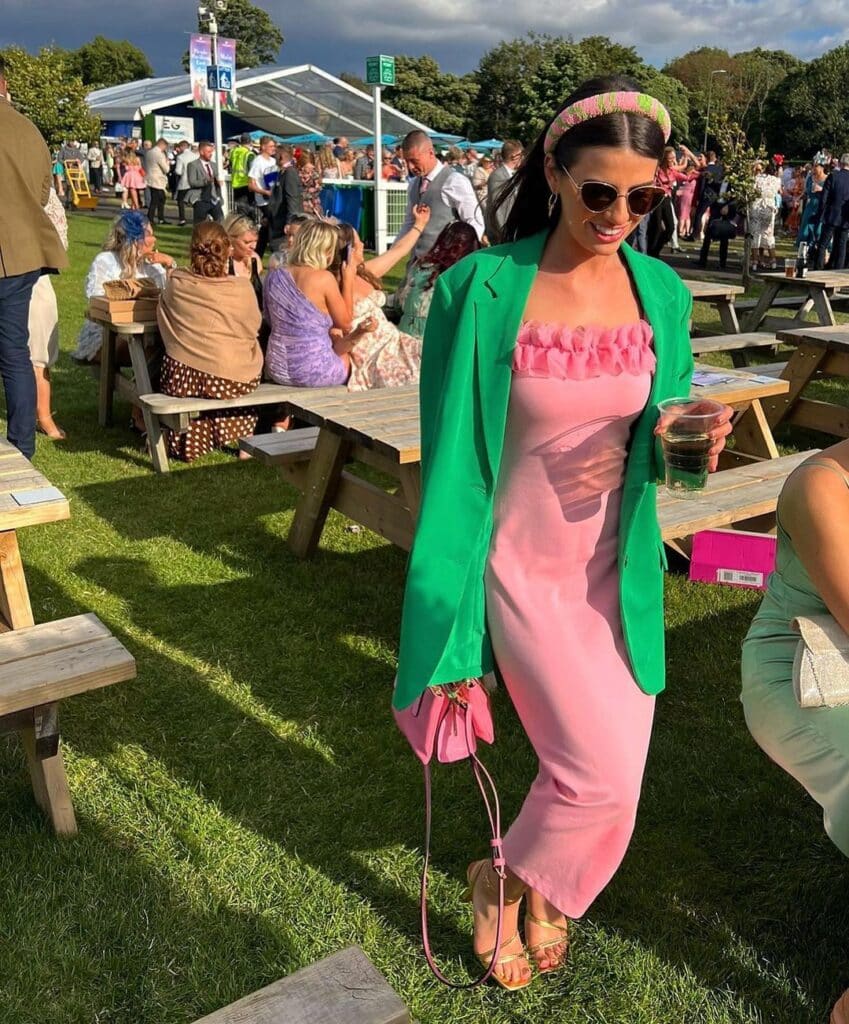 6 – Faux-Fur Collared Cape With Skinny Jeans
Get this chic winter look by pairing this fur cape with skinny jeans and thigh-high boots.
What To Wear At The Royal Ascot Racecourses?
5 – Collared Midi Dress With Laced Up Sandals
Royal ascot racecourses have some strict rules that you have to follow. Some of them are that the dressing of women should be modest, the shoulders should be covered, the length should be appropriate and there must be a hat.
Let's start with this easy and stylish look where a collared midi dress in light pink color is paired with laced-up wedges. It is a simple but modest dress that will give you a formal look. The best part is that you will also feel comfortable. So, wear this outfit if you want a subtle look.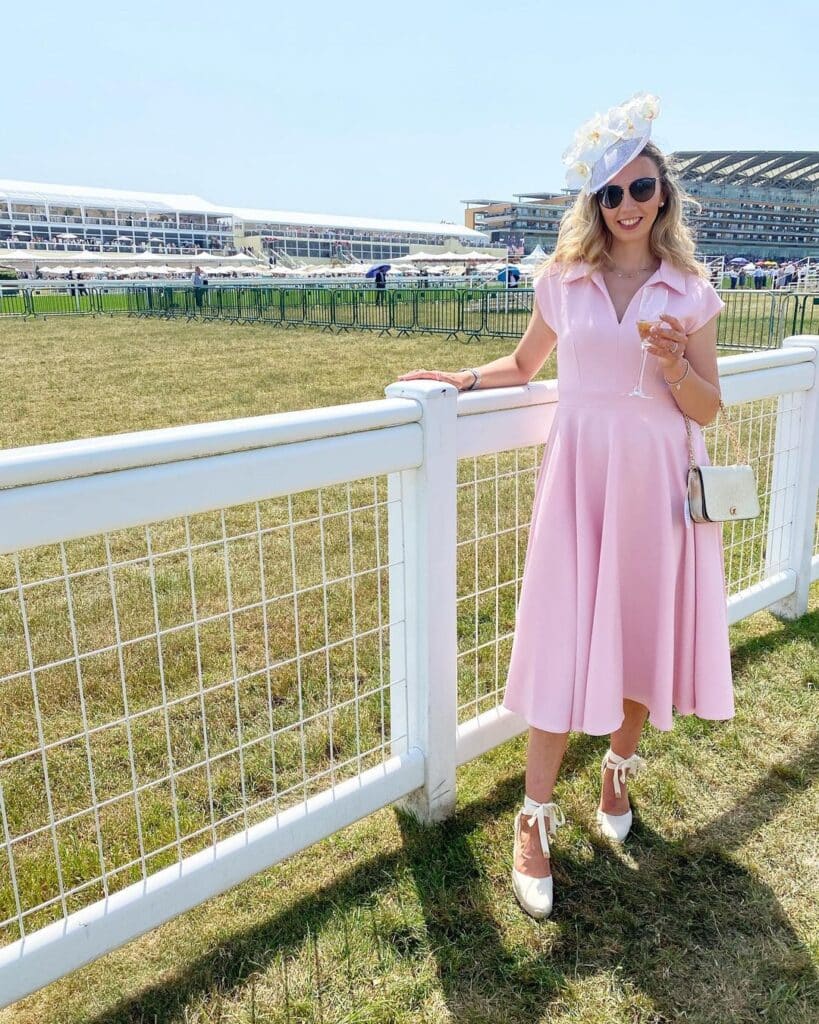 4 – Red Midi Dress With Black Heeled Pumps
The most elegant option is to wear a simple asymmetric midi dress in a bold color. The dress has long sleeves and looks absolutely gorgeous. This look is the perfect definition of minimal but stylish dressing. Such kind of dressing is preferred by many people for the royal ascot.
Nothing much is needed for the accessories as you can just wear a stylish pair of earrings and some classy rings in your hands. Heels in black or the same color would also look good. Lastly, a vintage hat will complete your look.
3 – Mock-Neck Satin Dress With Lantern Sleeves
Investing in a new dress is also not a bad idea, after all, you only get a chance to attend a royal racecourse once in a while. So, take full advantage of this opportunity and be the best-dressed person. If you are planning to buy a new dress only for this event, consider buying this one.
The dress has a pleated and belted waist and the blouse has a beaded mock neck and lantern sleeves. All the small details make it look more stunning. The dress is also multi-purpose as you can easily wear it to weddings, birthday parties, or any other formal event.
2 – Palazzo Pants Paired With Vest Top
If you are not a dress kind of girl but still want a chic outfit idea, then this look is for you. Take inspiration and wear formal trousers for the event. They are both comfortable and a good alternative to dresses. The trousers could be palazzo pants or flare pants, or any other option.
Then pair the trouser with a formal blouse or top. Here a vest top is paired with high-waisted palazzo pants and a skinny black belt is also added to make this look trendier. Pointed-toe heels are an option for footwear. To keep this as an all-white look, wear other accessories like jewels, hats, and bags in white color as well.
1 – Velvet Blouse Paired With Vintage Skirt And Nude Shoes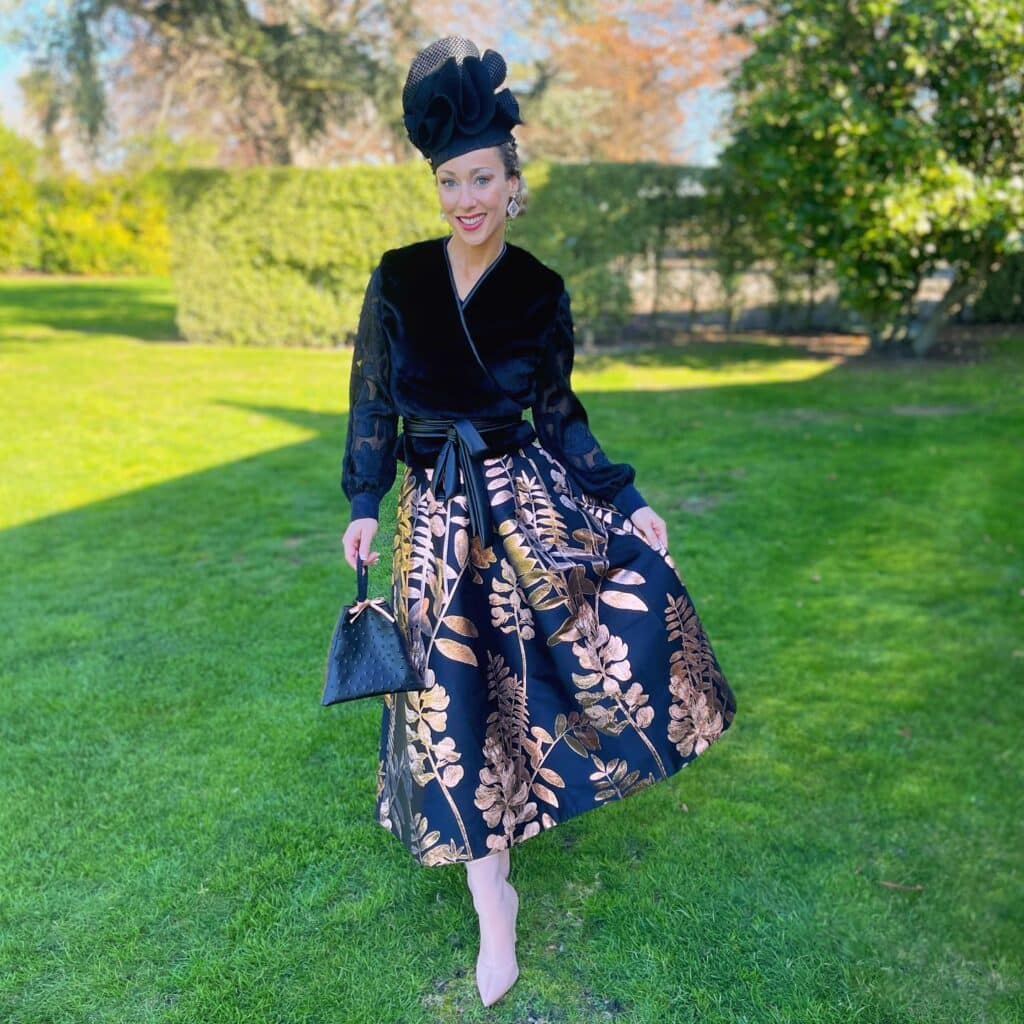 Frequently Asked Questions
Q. Can you wear jeans to races?
Ans. The first option should be to avoid wearing casual jeans, but if you are someone who only feels comfortable in jeans, then pair them with formal blouses and tops to balance the look. However, you should avoid wearing ripped jeans because they look inappropriate.
Low Heels or mules should be preferred over sneakers or other casual shoes. And after all, attending a race is a nice chance of dressing up and enjoying it, then why not embrace it and get some Instagram-worthy pictures at the event?
Q. Do I have to wear a hat to the races?
Ans. One of the most misunderstood points of all time is that it is compulsory to wear hats for all races.
The hats and fascinators are cool fashion accessories and you don't get many chances of wearing them so it is a good idea to wear them to races with your beautiful dresses to get the royal feeling. Beaded headbands and pearl hairclips are some of the other hair accessories that you can opt for.
Q. What you should avoid wearing at races?
Ans. Imagine that everyone around you on the racecourse is formally dressed in nice clothes and accessories, while you are there in your casual sweats and shorts. That doesn't sound good right?
Well, this why is any kind of shorts, crop top, ripped jeans, or sweats are a big no-no for the racecourse. Even if there is no proper dress code for the event, you should avoid wearing such clothes instead, dresses with a proper length that look elegant are some of the nice options for the races.