Outfits with tulle skirt – Looking for stylish Tulle skirts this season ? Ideas how to wear tulle skirts with different outfits for glamorous look?well You are at a right place. Because we bring some great  tulle skirts styling tips.You can also get ideas what shoes to wear with tulle skirts.
What is Tulle? Tulle or you may call it net,  is a very  lightweight and fine netting material. This material is generally made from fibers, including , nylon, silk, and rayon. Tulle most commonly used for wedding gowns , veils , and now extensively being used in Skirts.
There is something impressive about the new tulle skirts style that can make any girl and women to trip in it, whether you are seven years of age or more than forty years who declined to go back in their dreams of childhood like they are dancing in cloud of feathery tutus. Now there are some reasons that any girl should own this tulle skirts because again the fashion of tulle skirts is on top of list. These are the most girlish and fairies pieces for every women.
Tulle can be styled in different ways.You can wear them for different occasions .From casual to formal , street style to funky look tulle just give a stunning look.You can also wear it as a work wear too.If you are confuse what shoes/sandals to wear with tulle skirts the the safest way is to style them with high heels.It will always go in matching with these skirts and gives a chic look.  I would like to tell you about a few styling tips regarding the wearing of tulle skirt in an easy manner.
1. Hip and sexy
Sensation like channeling a fresh, hip modern mostly girls want to look today? Then take out your favorite tulle skirts and have a pair with something sexiest like as a corset or a top to get a glorious and perfect look while wearing it all the day. This style will suit you and give you a stunning look that you can simply create and pull this off.
2. Street Style with Tulle Skirt
Take the tulle skirts to streets  by wearing cozy pieces like a blouse, chambray or denim shirts. The combination with every day regular items with tulle that can make a girly outfit and anyone can wear on smart streets without any tension. You can dress up in this without feeling too dainty and girly.
3. Casual Look
Try wearing  black tulle skirt with the combination of 3D and graphic shirts or tartan shirts along with multi combo rings for casual look.Your presence looks like as edgy and girly. Keep in mind that always wear tulle skirts with casual shirts.
4. Girly and soft
If you are a kind of that girl who always likes to indulge herself in ultra feminine, dainy pieces and soft ,then believe me this skirt is the best choice. As we know that it is already a dainty and girly .They best way is to wear it with pastel colors or soft lovely neutrals.
Following images are going to give you perfect illustration of what has been mentioned before.Lets view the collection.
How to wear Tulle Skirts ?
Always remember that you cannot be a fashionista until or unless you have invested into a highly recommended leather jacket. This one piece of clothing can be amalgamated with so many wardrobe chic or malfunctioned pieces and turns them into modern clothes. Same goes with a beautiful white tulle skirt. These net mid length skirts are a perfect way to move about. If going to a concert this is a gorgeous piece to wear. Combine it with a graphic t-shirt and accessorize with a chunky gold chain and glasses. Blue clutch and high heels will complement your look with a high bun.
Always on the list of your casual wearing colors; black and white has been a favorite since time immemorial. Jazz up your simple black vest with a white tulle skirt with a denim jacket for the spring fiestas.  A statement necklace and some gold bracelets will do the trick. Add a pop of color with a red bag and heels. You can also wear ballet flats with this ensemble.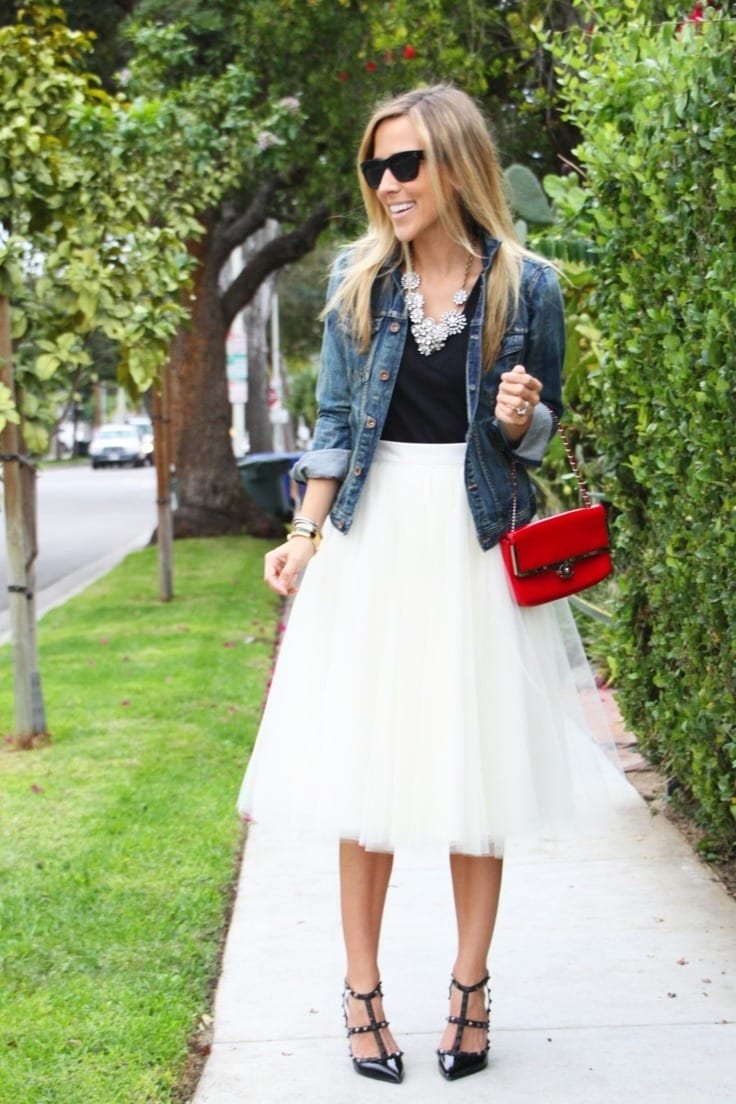 Want to look beautiful with a little boldness. take the risk of incorporating net and net into the whole look. Simple black spaghetti vest with a net turtleneck and a net skirt is a flaming combo, a head turner. Have your hair tied up in a side pony  tail and pumps. No accessories are needed with this look.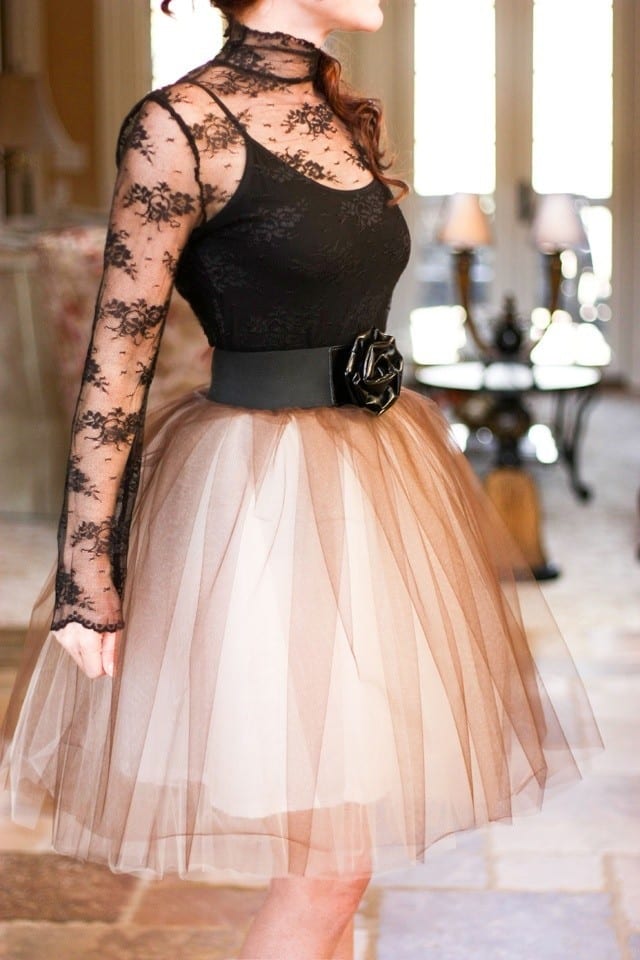 Who says that a country girl cannot rock a plaid flannel shirt with a tulle skirt. Match your regular red and white shirt with a black skirt and a belt. A beaded necklace and leopard print pumps for the extra spice. Let your hair loose with a bold lip color.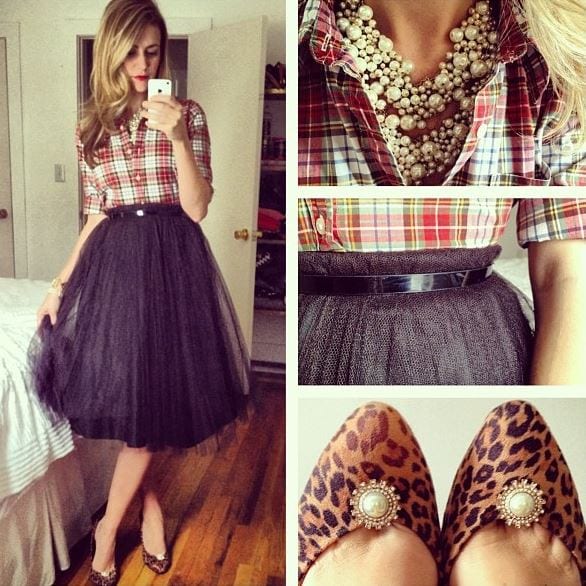 Go for different colors to stand among the crowd. This teal mid length skirt is great when you are meeting up with friends in a shopping mall. Wear a simple black t-shirt with animal print belt and a black clutch and brown pumps.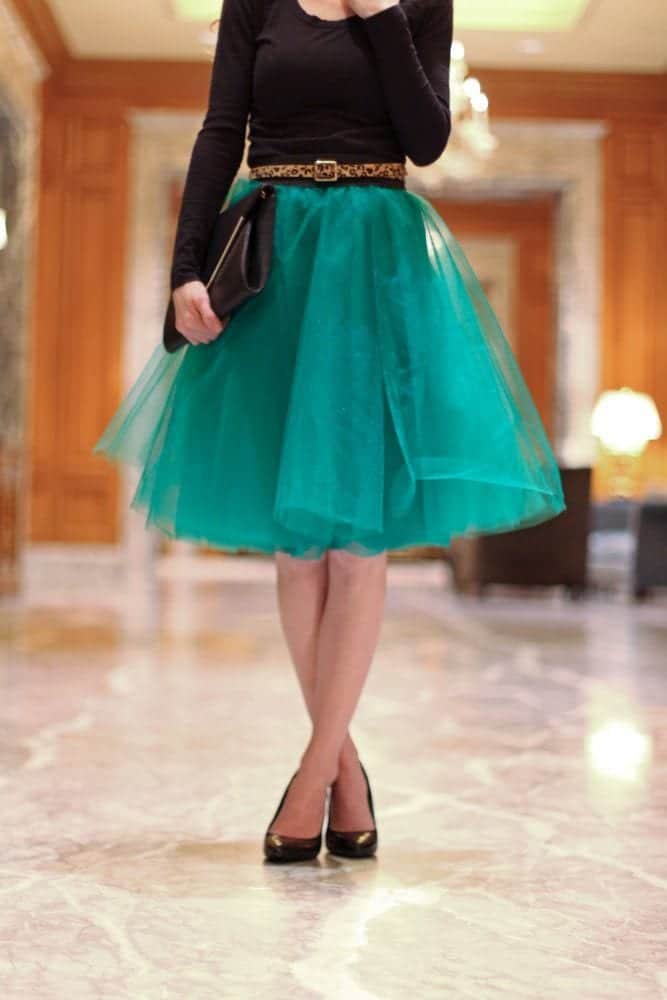 Tulle skirts come in varying shades and sizes. If you are mini skirt girl then this ensemble is perfect for you. Pair your black tulle with a white graphic shirt and a denim jacket. But please remember to wear stockings with it. High heeled boots or oxfords will add the glamor needed.
Neutral and grey tones work best for the night and the cold season. Look how sophisticated this simple grey skirt looks with an almost matching body fitting shirt and beautiful cream pumps. A perfect attire for a date.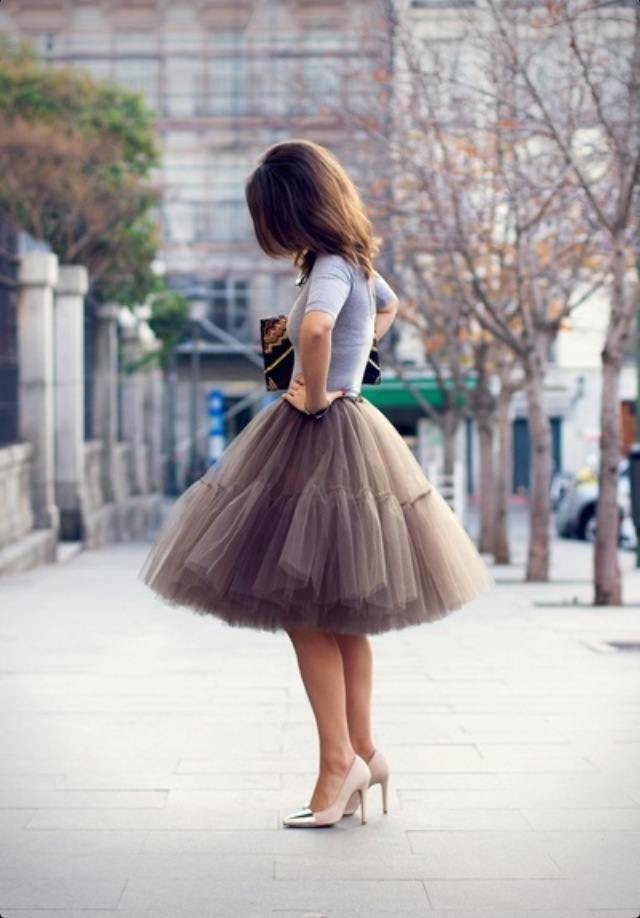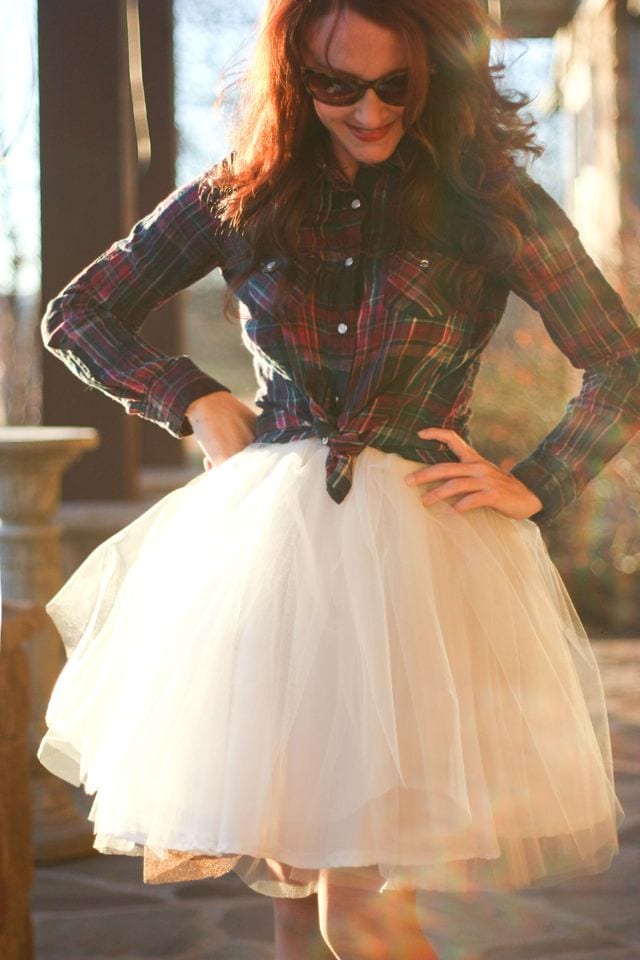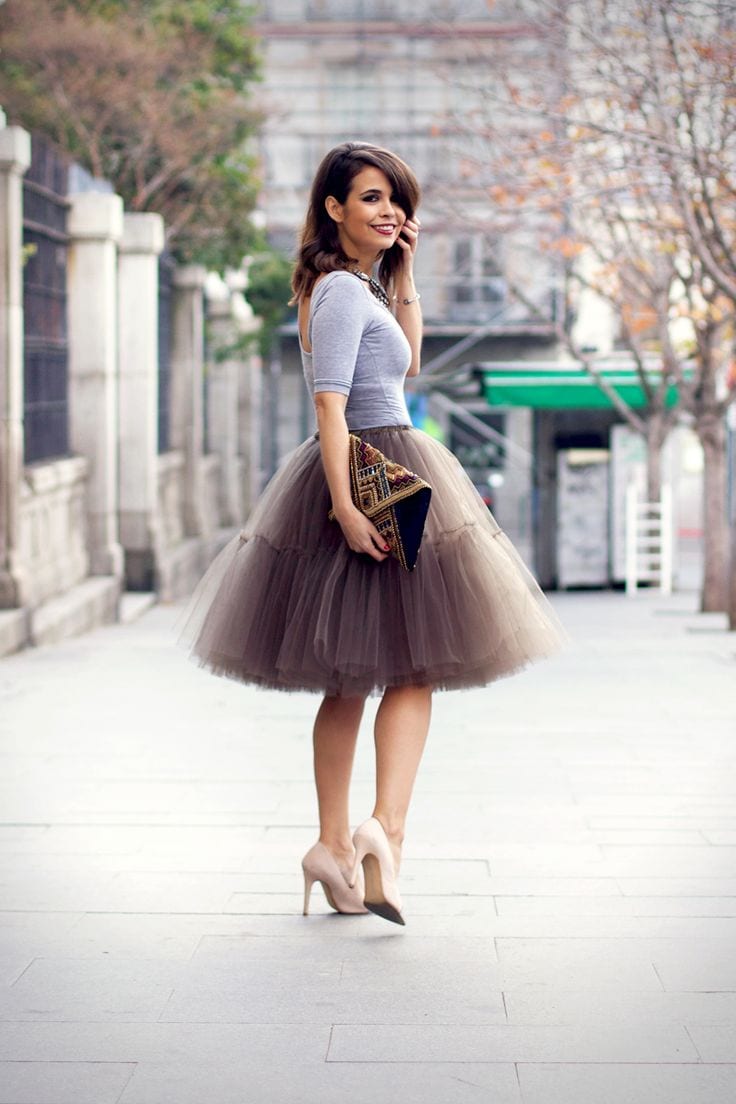 Going to a cocktail party and want to turn heads. Do try this purple and white combo with the vintage styles shirt and matching pumps for the whole look.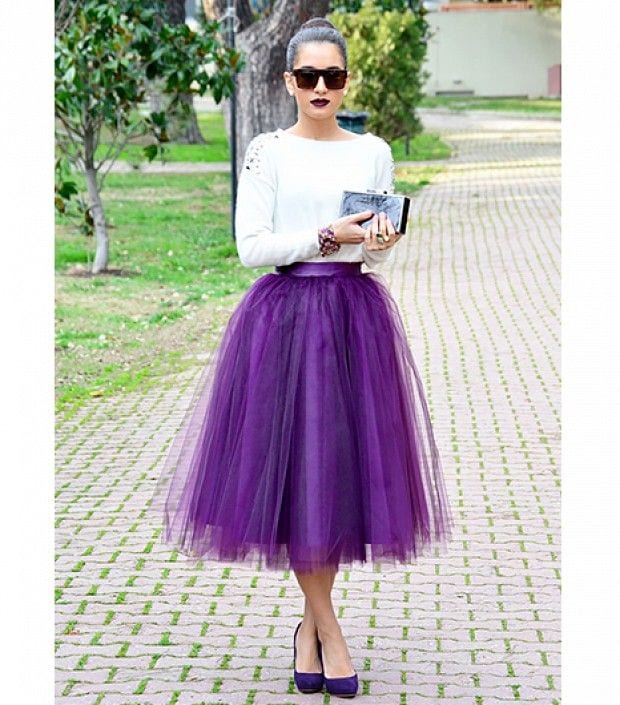 via
Polka dots can be tricky to dress up with but this black and white shirt is going really well with a black skirt and  a golden plate at the center. You can wear metallic shoes for the extra oomph or these simple sandals.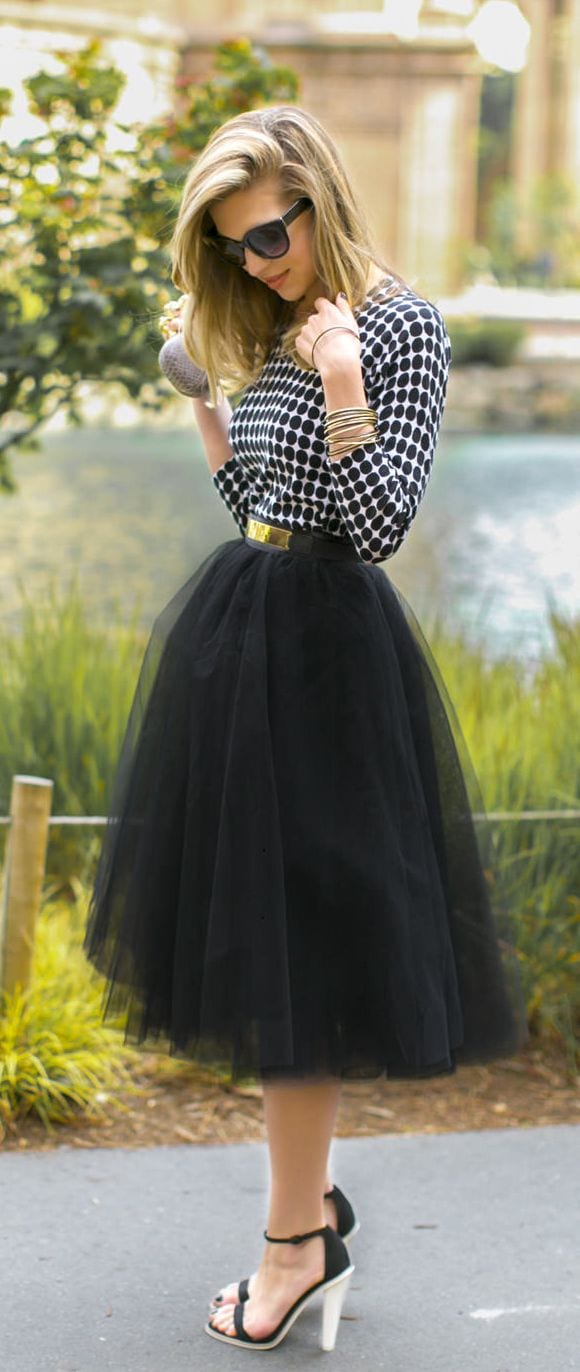 Buy above Stylish Midi Tulle Skirt from Here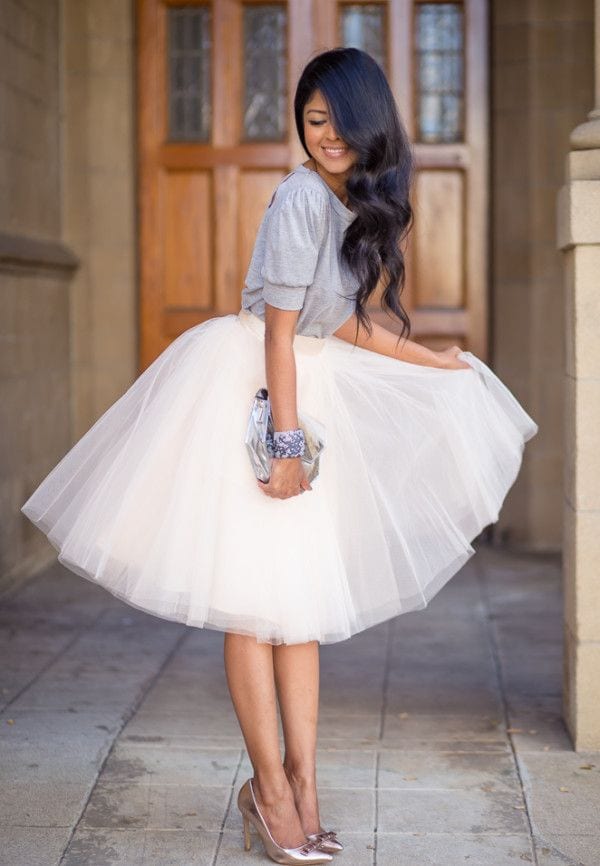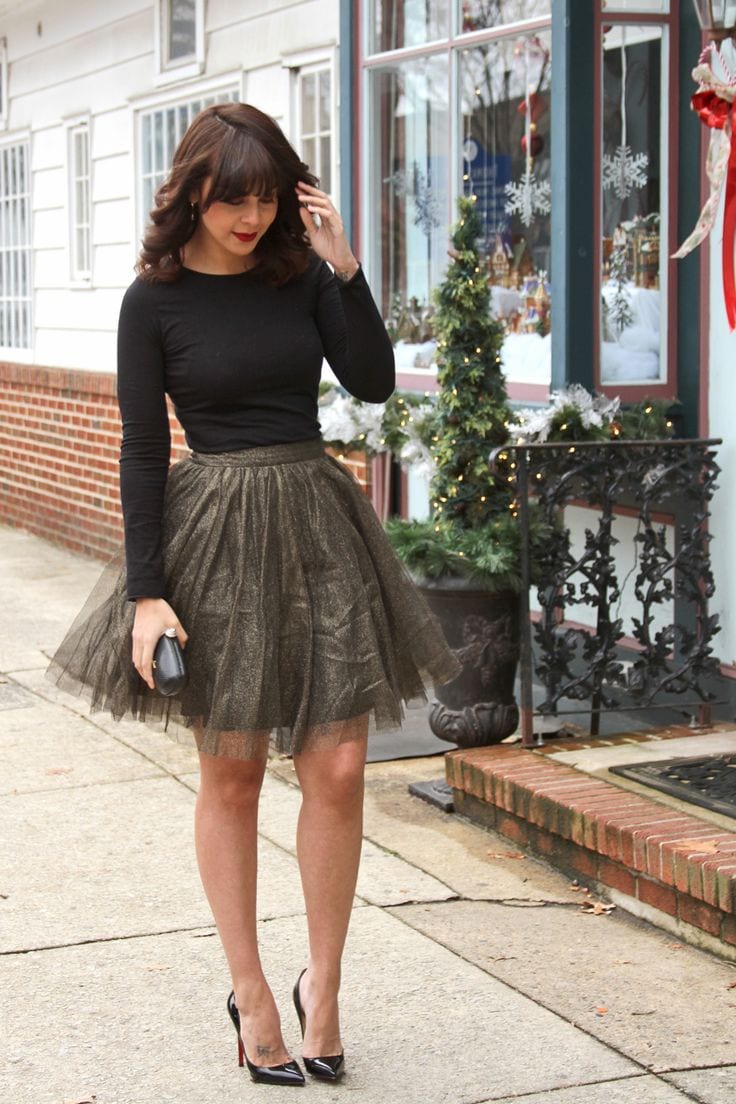 Cropped shirts have also made a come back and look great with any sort of skirt. Accessorize with gold jewelry.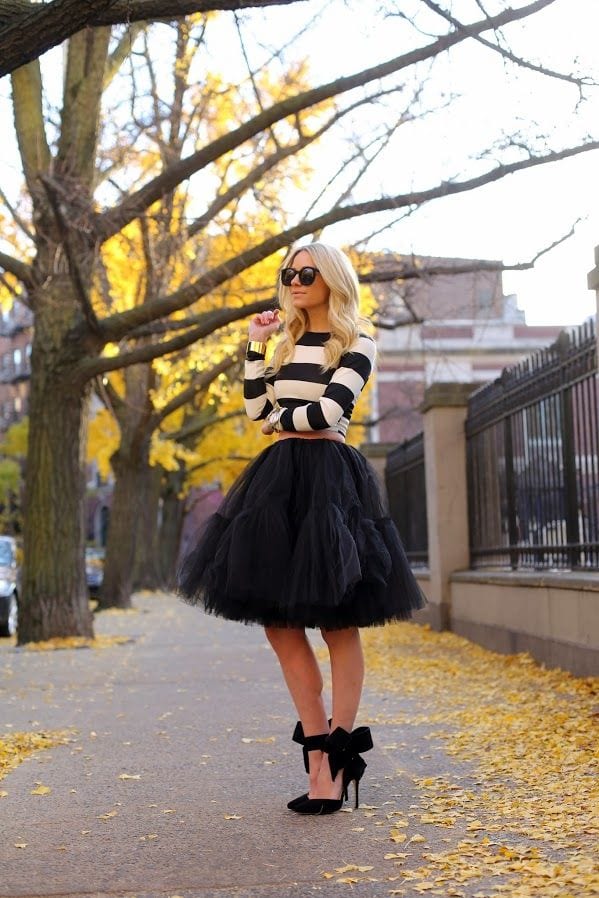 via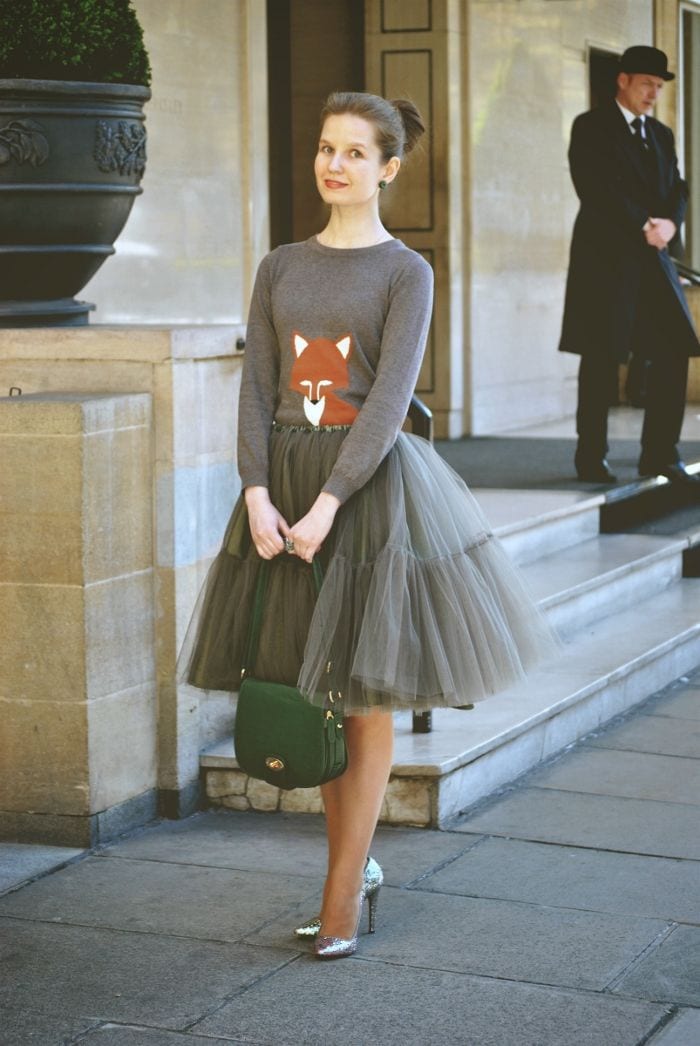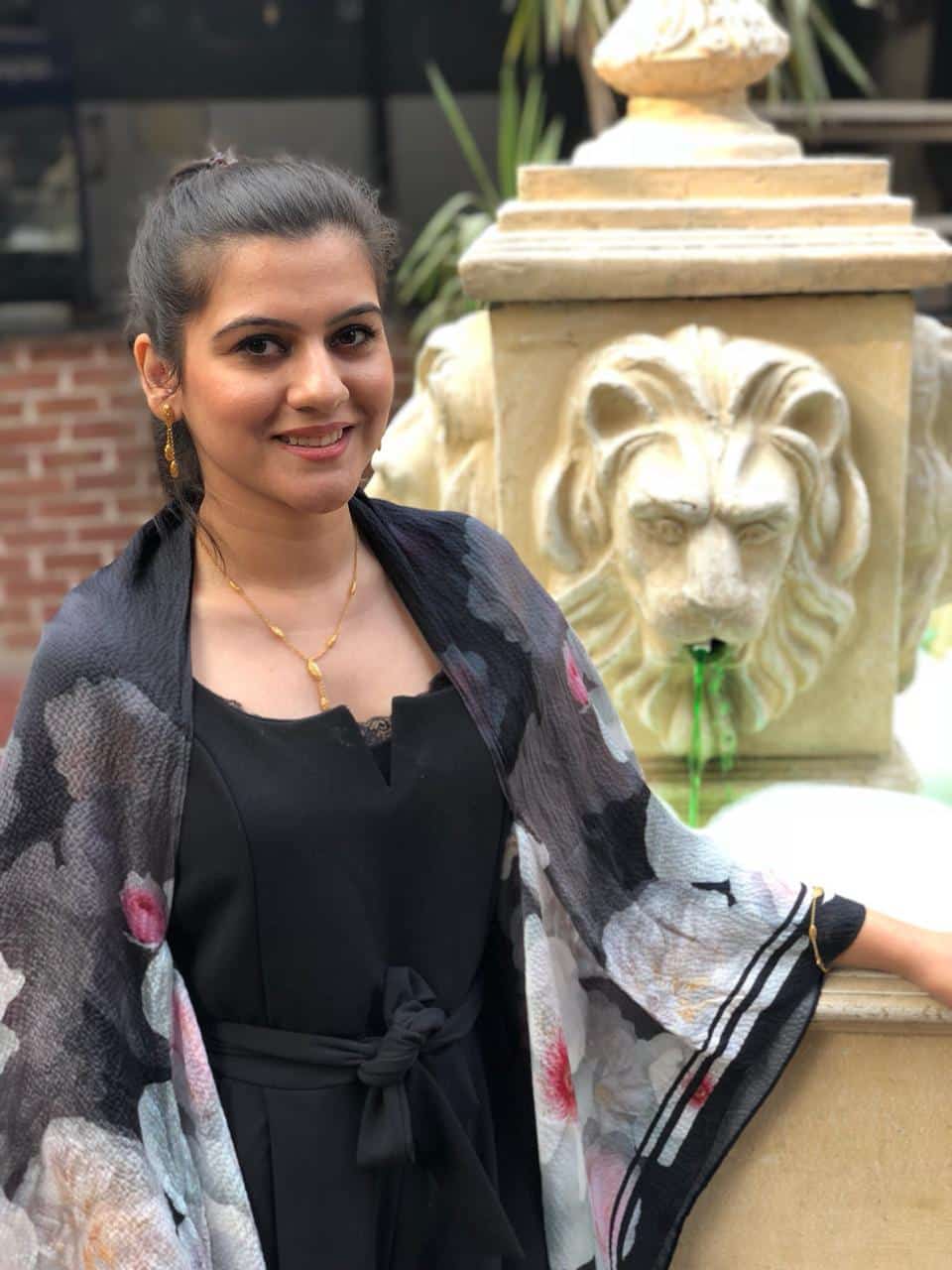 A content writer by the day and a reader by the night – two things that she loves the most. When Zoona isn't writing, she'll either be thinking of what to bake next or where to travel next. When it comes to writing, she has always been a storyteller and one of her short stories was published in 2014 in the Oxford University Press's anthology of contemporary Pakistani short stories, I'll Find My Way.  Her love for fiction writing also drove her to complete a short course on "How Writers Write Fiction," at The University of Iowa. Her other interests include binge-watching Netflix or online gaming.