Girls Bodysuit Outfits. Do you want to look super cool? Want to carry a prim and refined look? Don't want to bother tucking in your shirt every now and then? Well, if your answer is yes to above-mentioned questions then hello, you're at the right place.
We will tell you how you can chuck out your dress shirts and instead go for body suits that look very sexy yet elegant and fit well with all kind of dresses. Read our suggestions and decide for yourself.
How to Wear a Bodysuit
↓30 – Without a Bra
If you're to attend a big occasion or a special date has been planned, wear this Lacy pencil frock with Bodysuit inside. This will allow you to avoid wearing a g bra and this dress would look super gorgeous if you are petite. Don't tie your hair if you're to carry this look. Also, have a look at 20 Great Ways to Rock A Braless Look.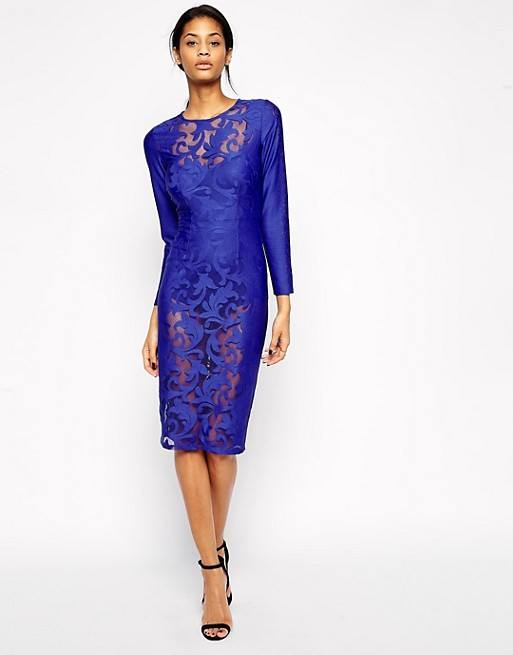 ↓29 – As Sportswear
Bodysuits are easier to carry and you don't have to worry about flowy shirts at all. So wear bodysuit with your jersey shorts if you're going for your sports routine or if you'll be going to a place where there will be a lot of physical activity, say a beach party or cheerleading activity.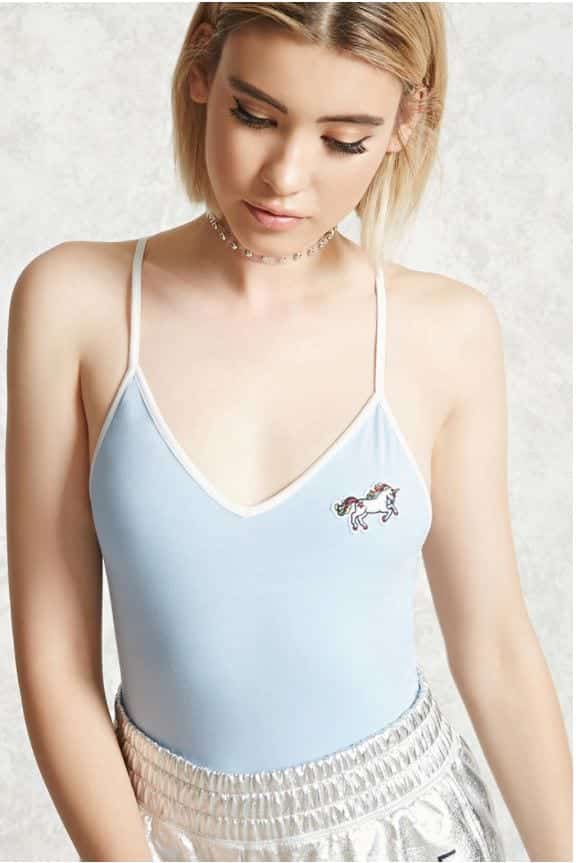 ↓28 – With Pants
Go out on a date wearing this multi straps bodysuit and cigarette pants. Not only is the style very chic, it is super classy too. Wear nude lip-color with this look. Here are 20 Ways Girls can Wear Khaki Pants.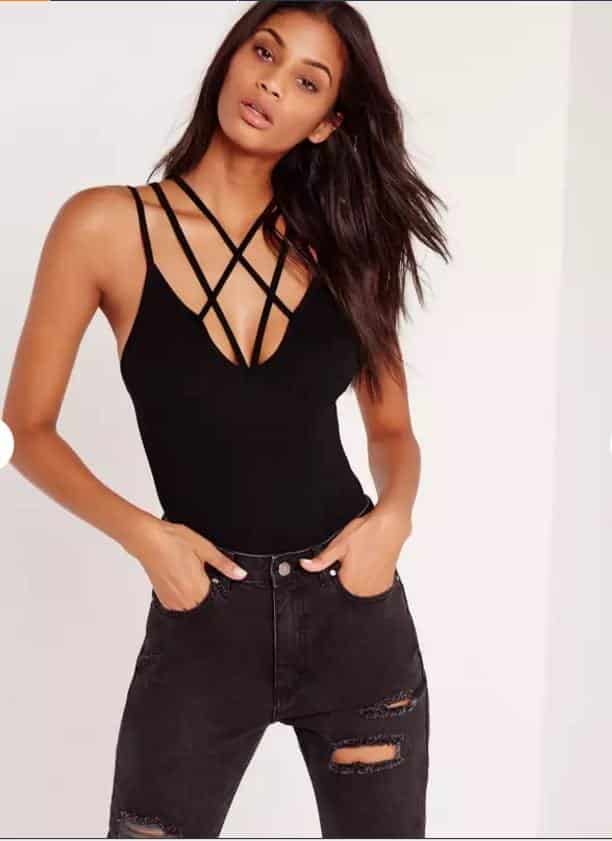 ↓27 – All black
If you've to show off your beautiful curves then wear your black body suit with fitting black pants. Wear your high heels with this style and make sure to curl your hair a bit to have the perfect beach waves.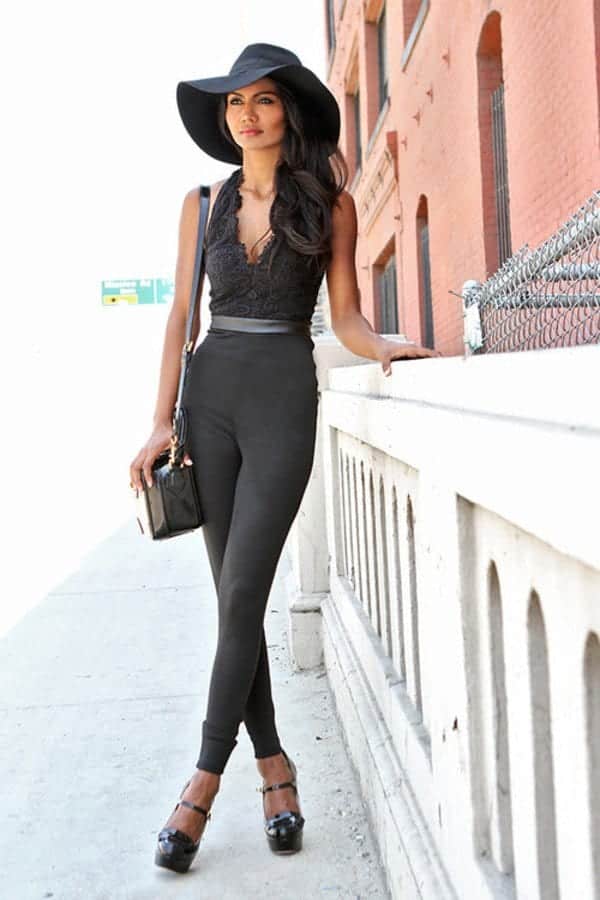 ↓26 – With Skirt
If you adore Kim Kardashian then you must have observed she experiments a lot with bodysuit. Here are two ideas for you to wear bodysuit like KK. For a casual occasion, a simple black bodysuit with a jersey pencil skirt of same color while when you have to attend your friend's birthday or some special occasion wear deep neck bodysuit with short, leather, pencil skirt, and leather overcoat. Elegant and super hot. Do check out these beautiful Outfits with Sheer Skirts.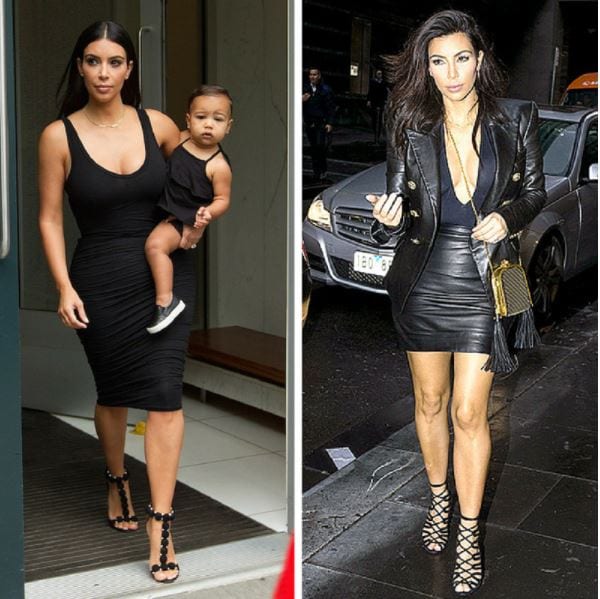 ↓25 – With Shorts
Because it is summers it is not always a feasible option to wear heavy jeans or long frocks. Beat the heat with the cute pale brown bodysuit and off-white colored ripped shorts. You can even cut your old pants and get the same stylish look. Put on your shades and go out in sun with a smile on your face.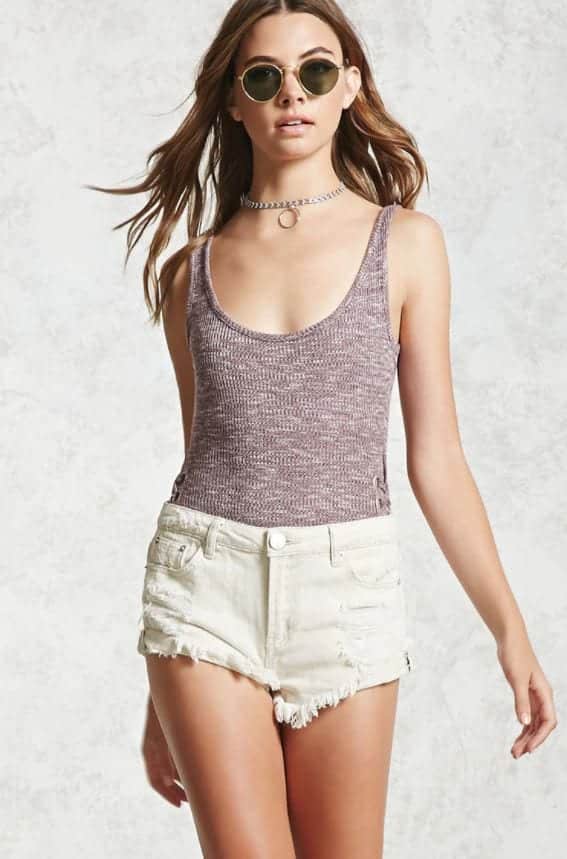 ↓24 – With Denim Shorts
For those who don't like the ripped jeans or shorts and want a neater more sophisticated look, well a plain, full-sleeved black bodysuit with denim shorts is for you. You can even carry this look on a casual lunch date. Simple yet very elegant. Coral lip color and thin eyeliner will look perfect with this look. Here are 25 Cute Outfits Ideas to Wear with Denim Studded Shorts.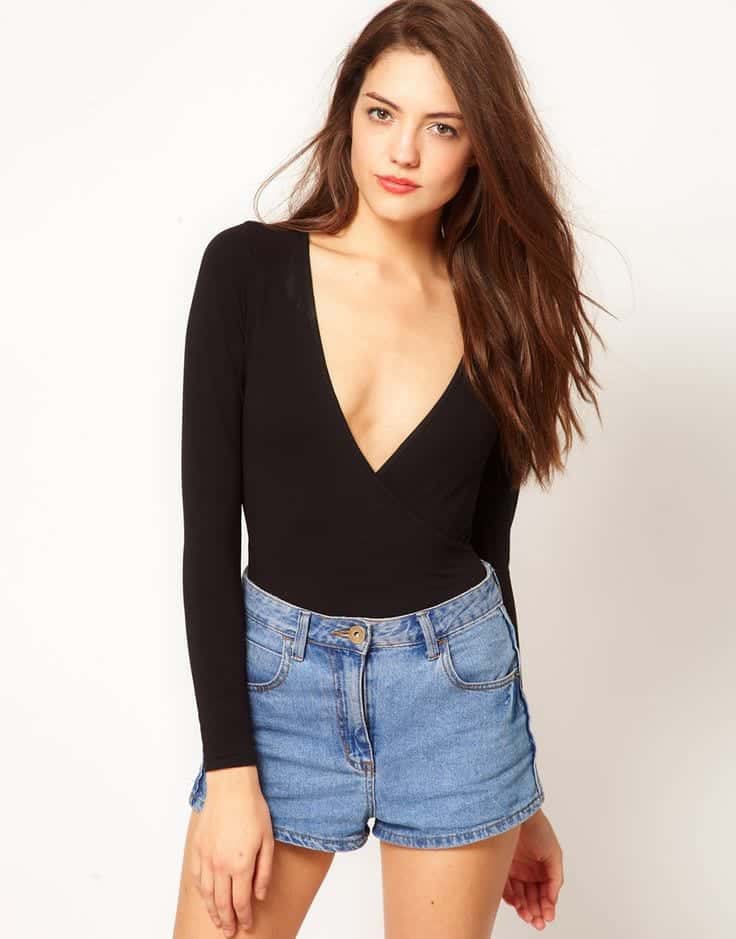 ↓23 – Backless
Wants to showoff your beach tan? Well, with a backless bodysuit with a simple boyfriend jeans you can show it off fashionably. Streaked hair and earthy make-up shades would look great with this look.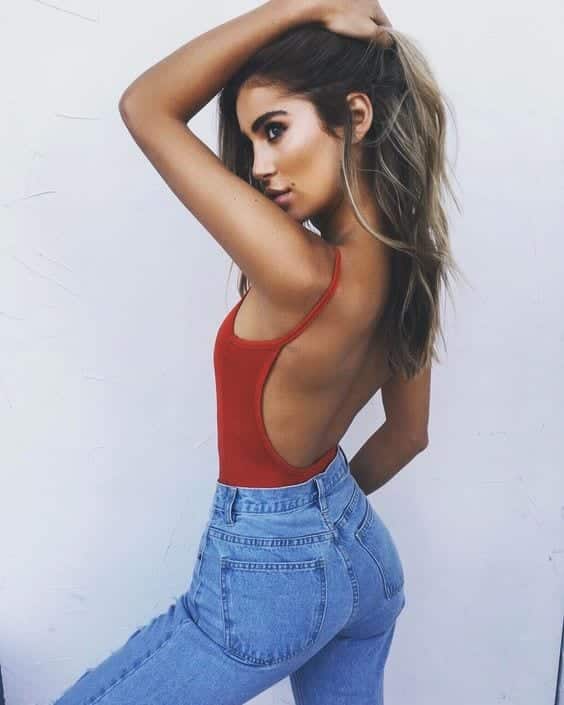 ↓22 – Street Style
The best form of dressing for street style is the plain black bodysuit and the soft, warm pajamas, fur pants or your sweatpants. Make sure you tie your hair properly with this look. Here are 16 Popular Spring Street Style Outfits Ideas For Women.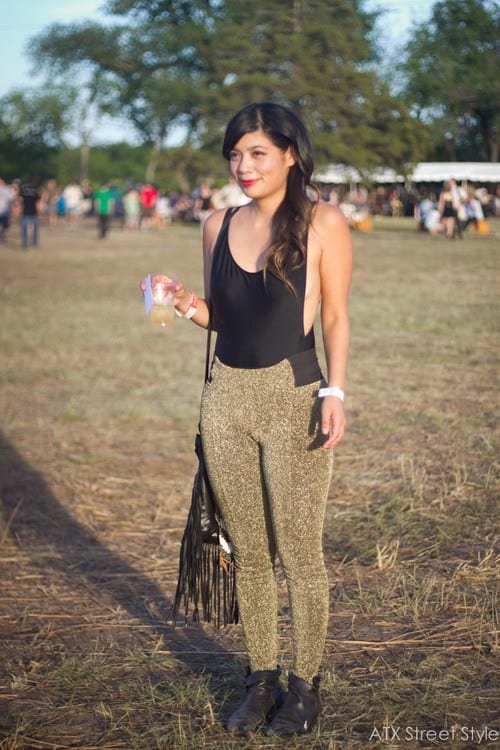 ↓21- With High-Waist Pants
Do you adore the vintage fashion styles? If you do, then this look is surely your thing, perfect straight high-waist striped pants with a gorgeous bodysuit. Wear a long golden or copper chain and carry a neon colored bag with this look. Wow, so classy!
↓20 – Makeup
All the bold ladies out there, if you love wearing front open bodysuits and if you own one in black color, pair it with a black shorts and wear nude shade lip color, and heavy smokey eye makeup. Bold and very, very beautiful. Here are 15 Easy and Stylish Eye Makeup Tutorials for you.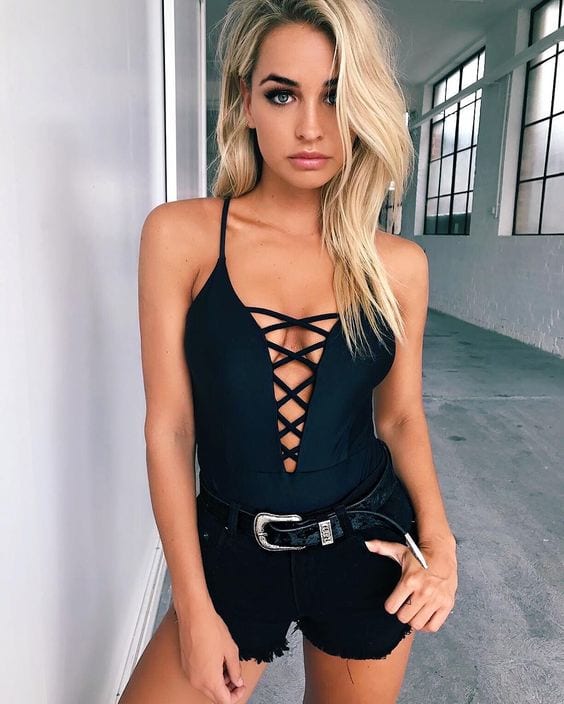 ↓19 – With Capris
Well lovelies, stop fretting over those cover girl models' pictures. You need to just have a good dressing sense to look great. Pair up your Bodysuit with a sexy bell bottom capris and a long, straight coat, neatly tie your hair in a slick bun and carry a leather bag with this look. Trust us, this is The Diva look.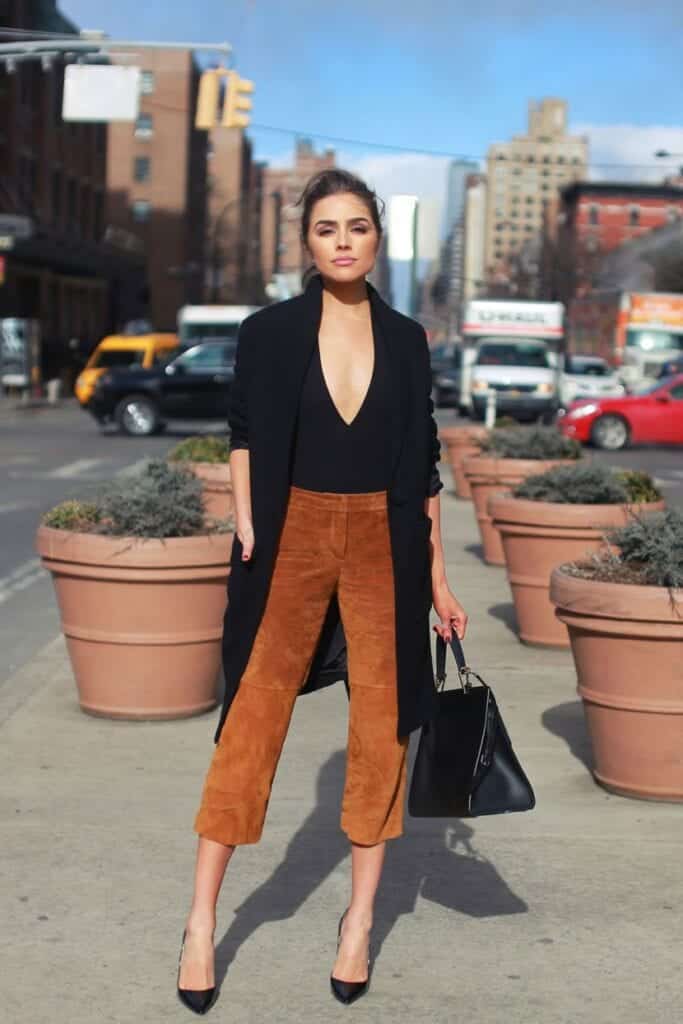 ↓18 – The Perfect Dress for Date
Impress your significant other with your perfect style by wearing a sleeveless bodysuit with an A-line plaid skirt and a classy, short, black jacket. Show off your elegance with a leather bag and a matching block heel shoes. This look can also be carried at the workplace. Here are 20 Ideas how to Dress up for Movie Date.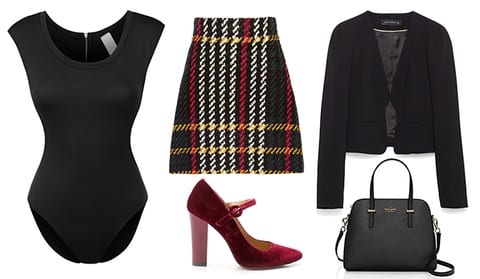 ↓17 – Lace
If you feel uncomfortable in showing off too much a skin, well wear a lacy bodysuit with an off-shoulder crop top. Wear a straight pant and a matching overcoat for this look. Your golden pointed toes pumps will look cute with this look. The perfect Parisian look.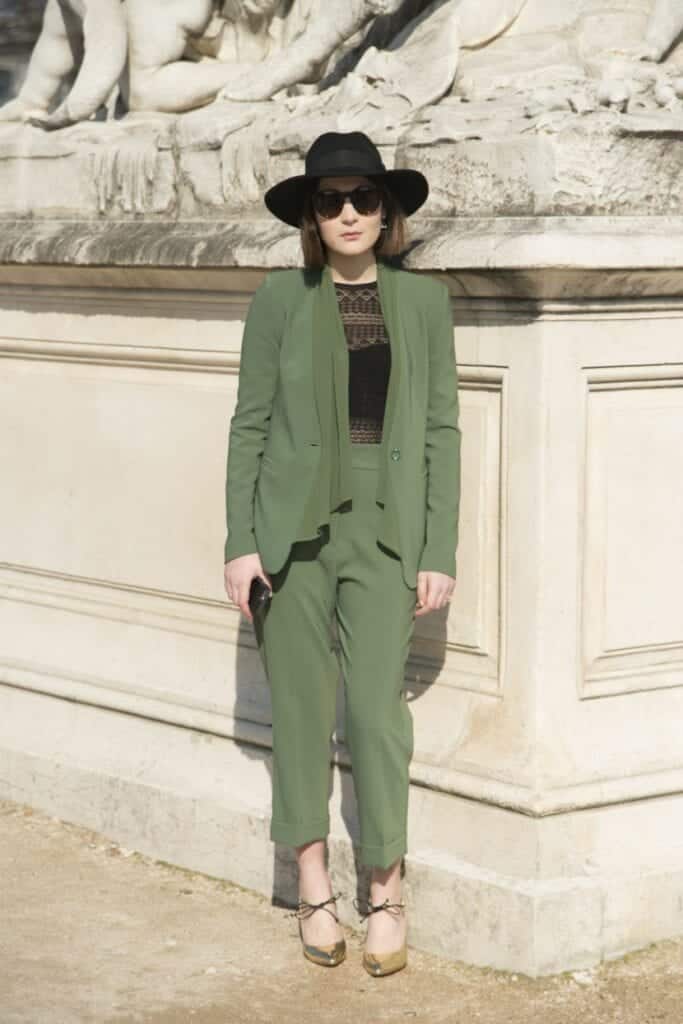 ↓16 – Work Wear
If you want to wear bodysuit on the workplace, wear it with straight jeans and a printed or embroidered jacket. Very classy and ethnic. Check out these 22 Elegant WorkWear Outfits Combinations for Women.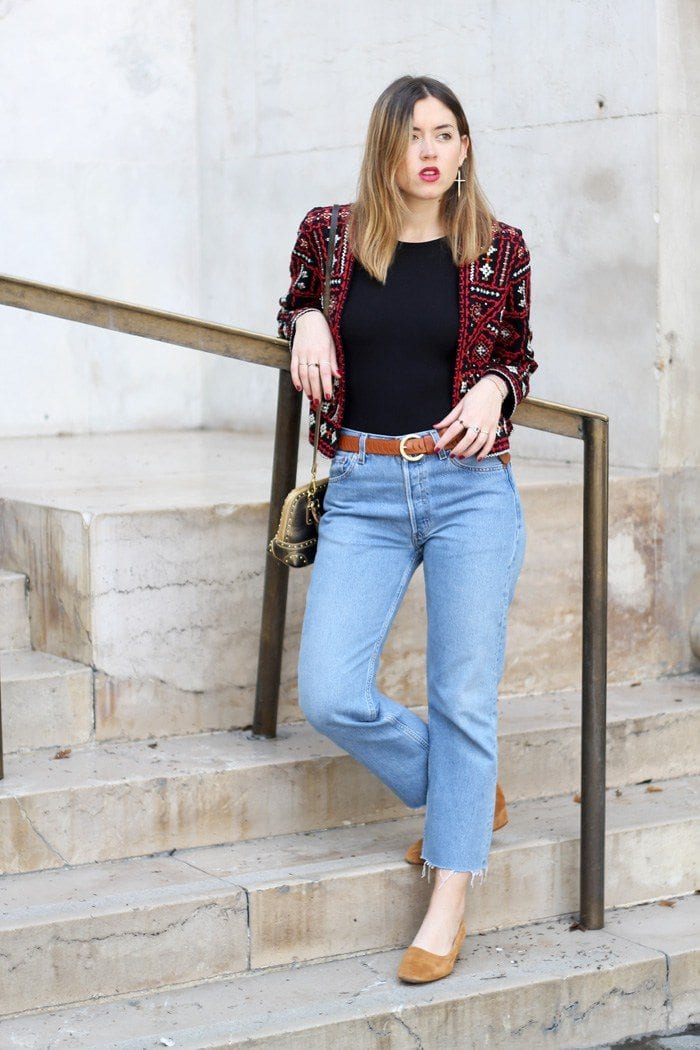 ↓15 – Shopping Look
Shopping can be very tiring; if you don't want to tire yourself out and stay comfortable while shopping wear a simple bodysuit with gray straight pants. Make sure your pant is not slim fit, because skinny pants can cause pain if you wear them for too long, that too when you've to walk a lot.

↓14 – Wearing Bodysuit instead of Shirt
Everyone would agree that bodysuit gives you freedom no other top can give, you don't worry about your shirt flying, or not properly tucked in. So instead of your usual tank tops wear your bodysuit with boyfriend jeans and rock your style. Your aviators would definitely go with this look. And don't miss out this amazing guide on How to Wear the Same Outfit in Different Ways for a New look every day, there are a total of 57 fabulous styles!

↓13 – Kim Kardashian
If you're a fan of Kim Kardashian, you are probably aware that she carries the bodysuit perfectly well. replicate her style with simple black jeans and a nude color bodysuit. Wear an earthy tone of makeup and ankle strap sandals for this look.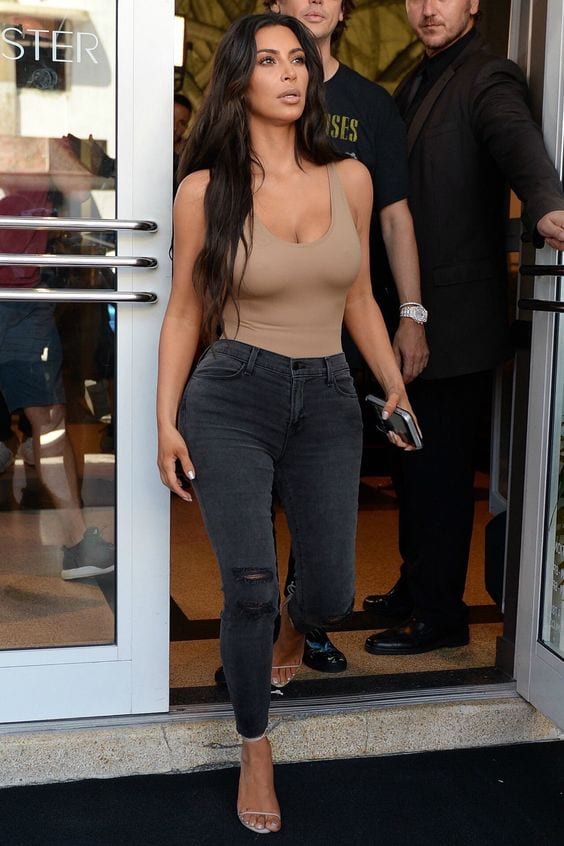 ↓12 – What Shoes to Wear with Bodysuit
When selecting the right pair of shoes for your attire, lots of things depend on how you are dressed, but it is observed that ankle straps look best with a bodysuit. Here are the best Shoes that Women Can Wear With Sweatpant.

↓11 – With Floral Prints
If you have lacy bodysuits you can wear them with cute floral prints and enjoy a full girly look. This Look can be carried in office/workplace too and is perfect for plus size women.
↓10 – Dressing Up for the Meeting
Remember that in an official meeting, what is important is the presentation of your work but before that, it is significant that your overall appearance speaks confidence. So go bold with a front ruffle silk blouse, a long white cotton, overcoat, and a straight, matching, dress pant. Here are 27 Ways to Wear Shirt Dress in Different Styles.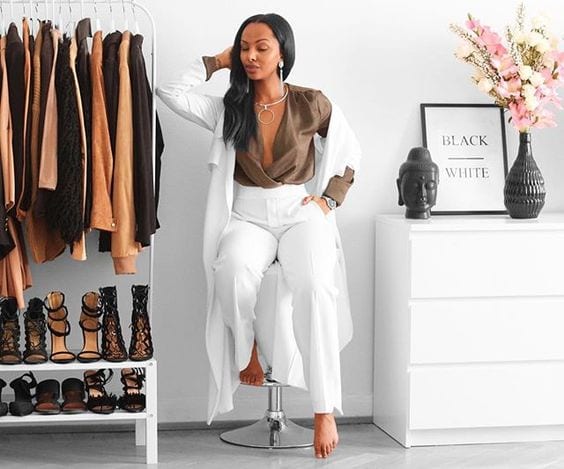 ↓9 – For Special Occasions
All those who don't fear going bold, this dress is for you. Some sheer blouse and a leather pants with high heel stilettos will look great and you'll surely be appreciated for your sexy dress preference.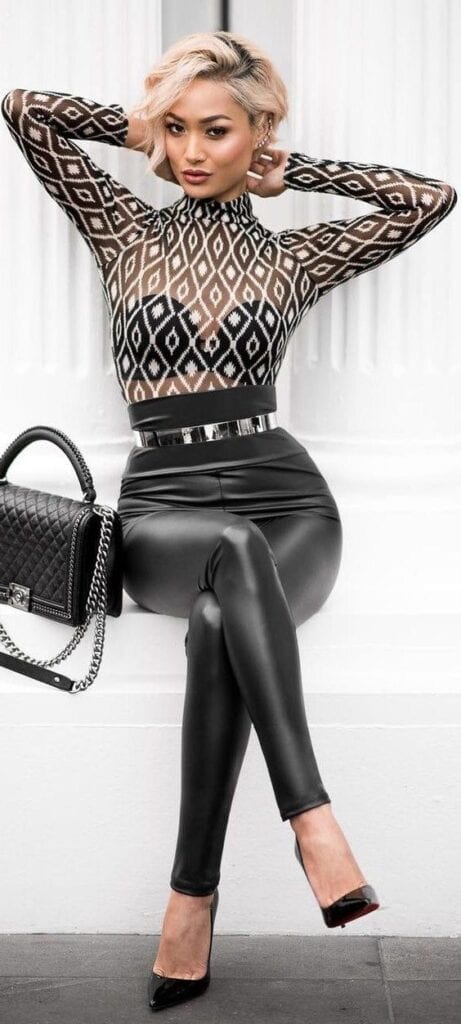 via
↓8 – How to Wear Pleated Skirt with Bodysuit
Pleated skirts are love and look lovely on just everyone. Wear this super classy golden pleated skirt with a beautiful full sleeved bodysuit with plunging neckline and let people be in awe of your graceful dressing sense. Here are the best Pleated Skirt Outfits.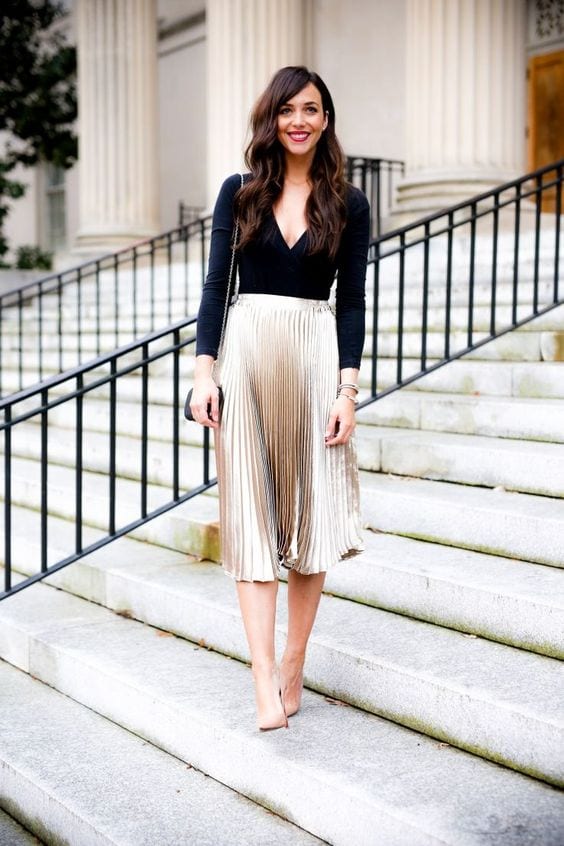 ↓7 – Without Lining
Often we don't feel like wearing lining because of the hot weather. Well, that can be avoided if you have a ruffled bodysuit which you can wear with a white skinny jeans. The multiple layers of ruffles will not make your bodysuit see-through and thus you won't be needing additional linings.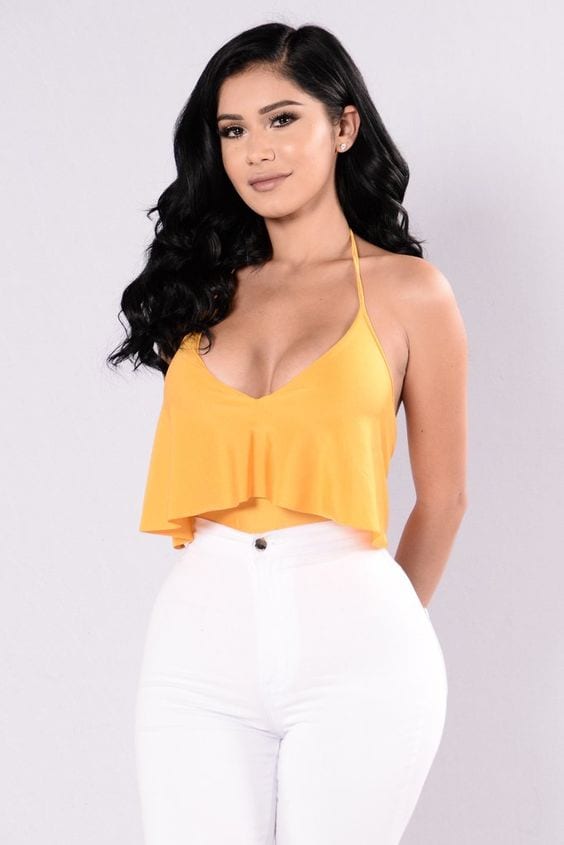 ↓6 – Dance Parties
Wear a front revealing gray bodysuit with a black pant or pencil skirt if you're going to a dance party this week. This dress is stylish and very chic. Check out these 80s Theme Party Outfit Ideas.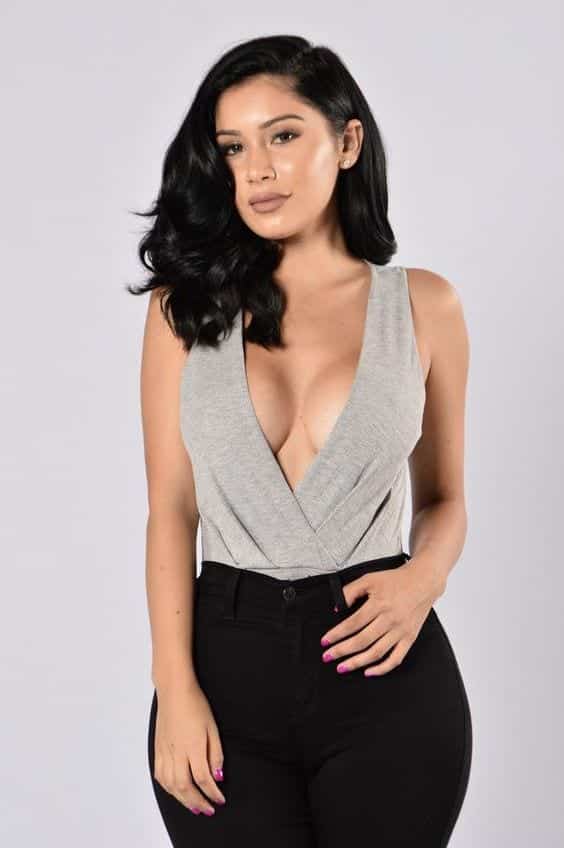 ↓5 – Off-Shoulder Bodysuit for Beach
Go have some fun on the beach with this cute off-shoulder bodysuit and the super adorable denim shorts. Don't tie your hair and let them enjoy the sea breezes too.

↓4 – With Checkered Pants
The best street style is perfectly wearing checkered pants with your tops. Wear your bodysuit of your choice with checkered pants and be the real fashionista of the street.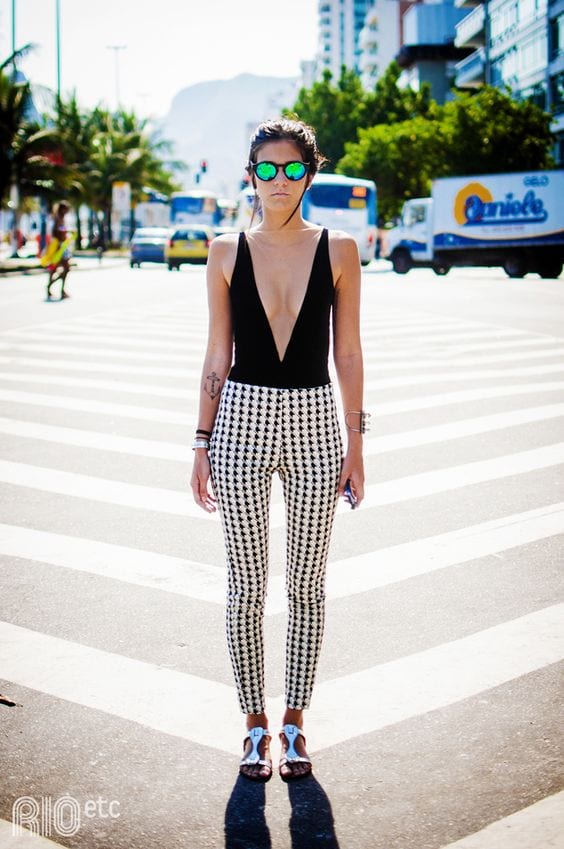 ↓3 – How to Wear a Bodysuit on Your Wedding
You read it right, bodysuit can easily be worn on your big day, you have to select the right kind to go with your skirt. Look how very magnificent this entire dress looks, the intricately designed bodysuit with pearls and beads with a flowy, gray skirt to go with it. This is the ultimate wedding dress for those who believe in elegance.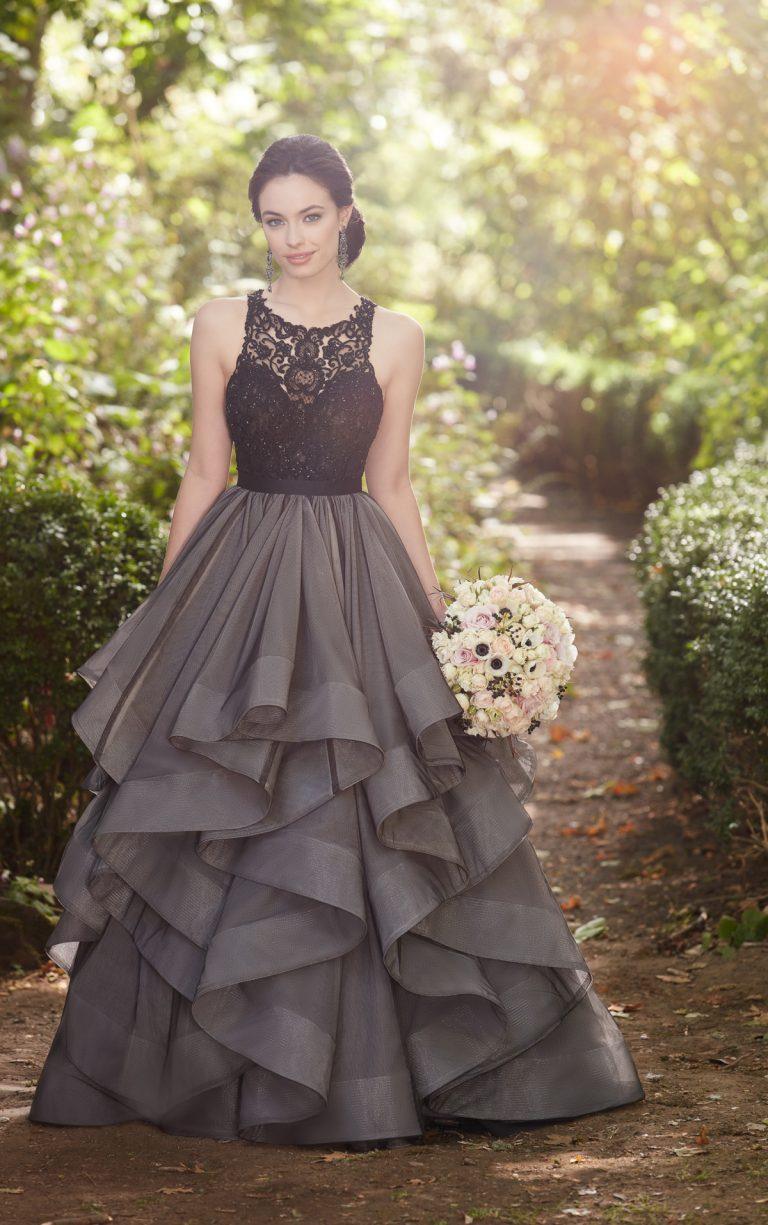 ↓2 – Plus Size Women
Who says plus size women can not wear bodysuit. Everyone can, so if you are a woman who loves her curves, then show it off with this pretty bodysuit and the simple jeans pant. Chic and very voguish.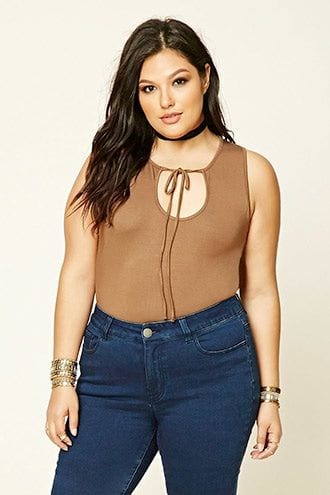 ↓1 – Dressing Up for University
Go university in style with a simple tank top and a jeans. Wear a suede jacket with this look and tie your hair in a perfect bun to rock this look to perfection.