Outfits For Short Height Girls- Short girls in Pakistan face quite many problems because of their height issues, and designing a wardrobe is not just as simple for them as it may seem. Most of the time, either your pants or tops turn out to be too long, or certain types of trousers are just not perfect for you.
Girls are quite conscious when it comes to clothing and shoe wear. It's not sometimes that easy for short heightened ones to pick up the fascinating items from the clothing racks because those lovely dresses are most of the time too long for your size, and the sleeves are your worst enemy quite often, which makes a choice quite difficult for you.
How To Dress For Short Height Pakistani Girls
Confidence is an essential gesture, regardless of your height. Sometimes confidence comes out of your attire. Many girls feel confident in an outfit that reflects their personality and style audibly. Your choice of shoes tells much about your preferences and style statement. Being short, you have the leverage to slay sky-high heels without putting so much effort, but in the case of curvy girls, block heels also work the same way. The article is going to guide Pakistani ladies who have a short height and are very selective when it comes to their clothing choices. We will create some fantastic options and give a few bits of advice which are going to make it easy for them to slay regardless of their height.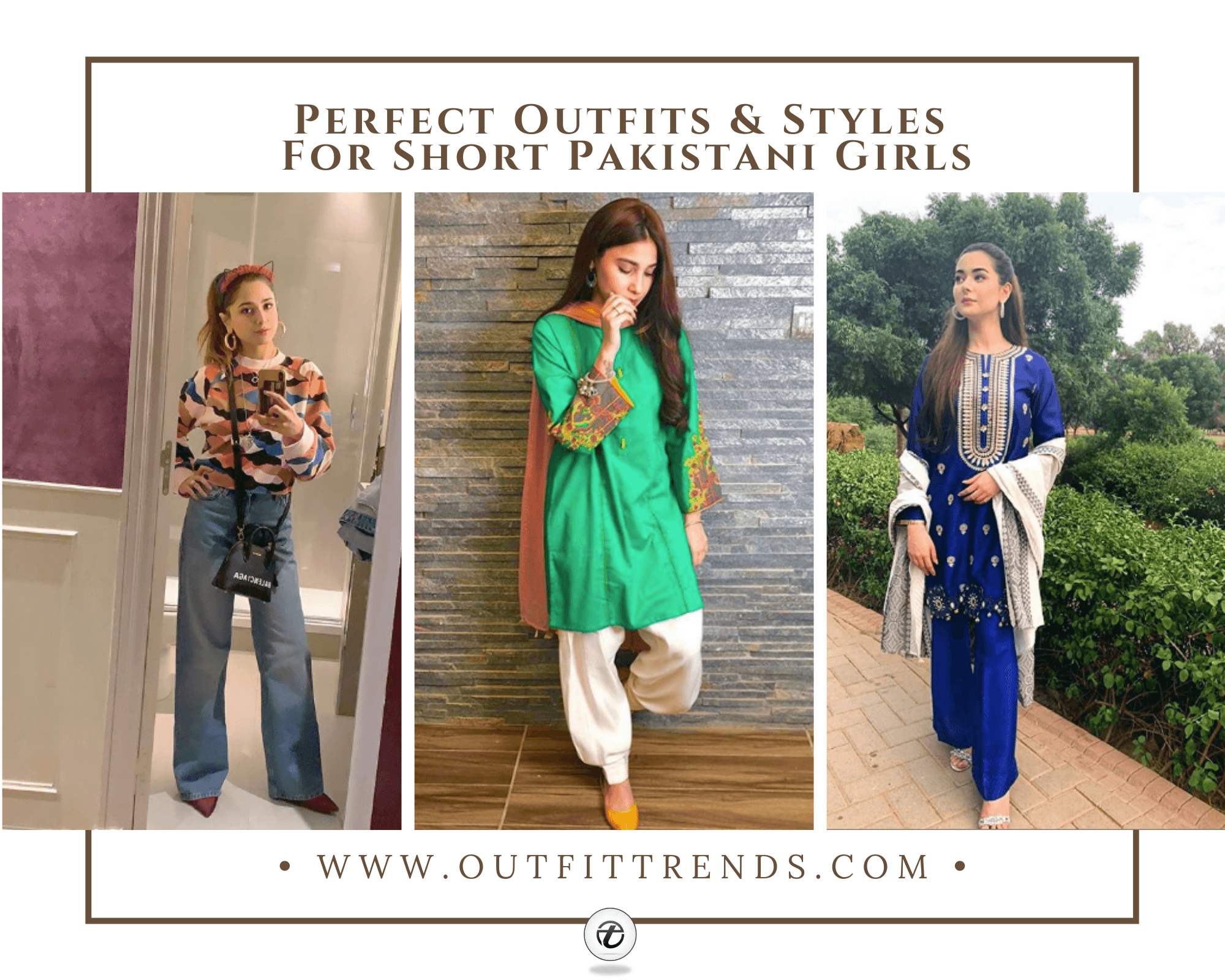 Here are a few tips for shorts girls that can make any outfit look good on them. We have also added a few tips for you, which can make you look taller.
Avoid wearing full-length outfits or a single piece outfit that too in large prints as that will make you look composed, and you will appear shorter than your real hight.
Don't wrap yourself in dupatta or shawls completely, instead wear them on one shoulder or delicately in your neck.
Don't wear outfits that are too baggy because you will look like a hanger in them, and in clothes too tight, you will look way to petite. Hence a little bit loose outfit with significant cuts will make you look amazing.
In winter, wear jackets and shirts with a tapered waist. Don't hide your waist in your outfits.
Short frocks are an excellent choice for you, especially in summers. You can swap kameez shalwar with short trendy gowns.
Instead of wearing three-piece kameez shalwar and giving desi Aunty like the look, go for straight pants and Kurti.
Wide leg pants and trousers with short shirts, kurtis, and frocks are ideal for you if you have a short height.
Monochromes and contrasting colors are ideal for people with short height as they give you elongating effect.
Young girls who want to look tall and create an aesthetic street style look should go for high waist denim and tucked in shorts. Belts are a must!
Too many colors and prints, when mixed and matched, can cut up your silhouette. Also, such combinations will create a blocky appearance.
Wear heels if you want to look taller. 2-3 inches heels should be a part of your everyday wear, and 3-4 inch heel should be a part of your attire. Heels not only make you look taller but also accentuate the calf muscles.
Don't over-accessorize your outfit. Dainty jewelry like chains and studs will suit you more rather than substantial statement jewelry.
If you keep your posture upright and walk straight with your shoulders broader, then you will look extremely classy regardless of your height.
↓ 25 – Loose Kurta's With Straight Pants
Girls, if you are short, no matter how old you are, you can try this look and ace it. Wear a loose knee-length Kurti with pretty bell sleeves and pair it up with white trouser or straight pants. These two pieces balance out each other and give you a perfect look. Don't go for shalwar with such shirts as two loose pieces will ruin your look and make you look short as well as wide. Curl your hair or go with a twisted hair roll, and you are good to go out with your friends on a summer day. And to complete your look, here's a list of the best Shoes to wear With Kurtas.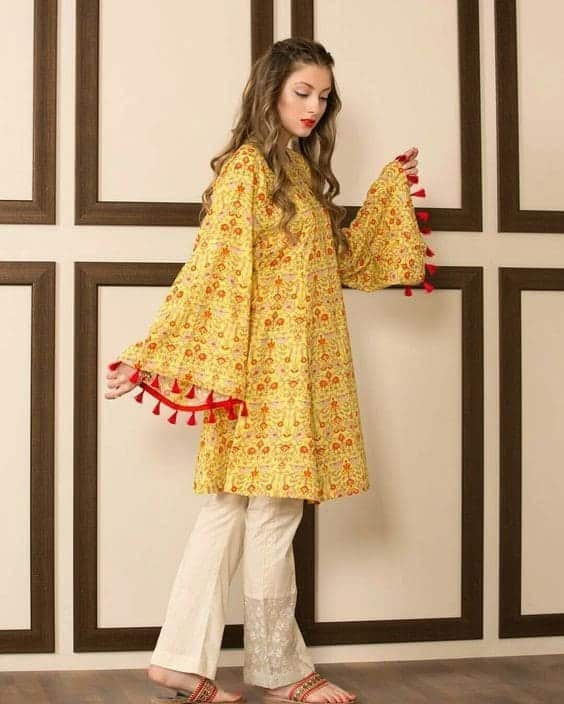 ↓ 24 – Follow The Latest Trends
In this world of fashion revolution, following the trends is what we need to do. As short frocks with shalwar are really in these days. All girls with short height really should try this style as it complements their height. Make sure your outfit is well-fitted. You can wear Khussa and Jhumkas's with this outfit and create a traditional look. You can opt for this style in winters as well as summers.
↓ 23 – How To Wear Fancy Outfits If You Are Short
What to wear to a wedding if you are short? How to style up at a wedding and look tall? All these questions hit our minds when we hear of a wedding. Girls, you need not worry now as outfit trends have a fantastic idea for you. Go for a floor-length dress in monochrome. Add some detailing on the blouse and go for short sleeves as the rest of the outfit is heavy. Pair up the outfit with at least four-inch heels. Make sure you don't overdo the makeup and also avoid accessorizing heavily.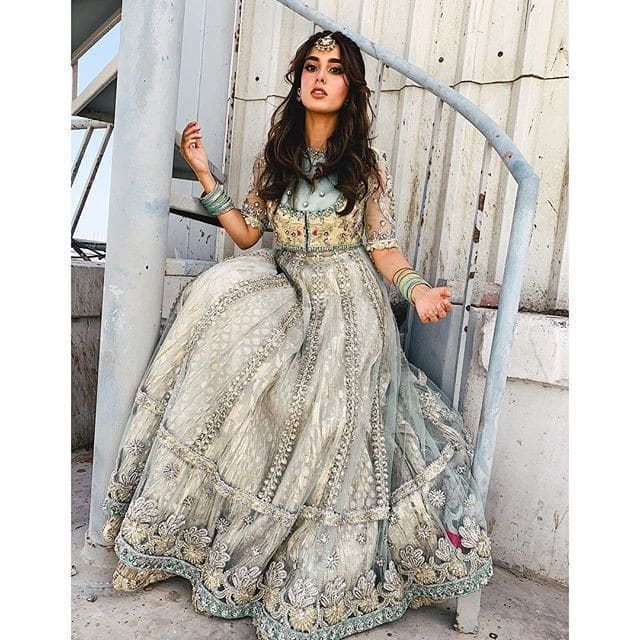 ↓ 22 – Manageable Kurta Trouser
Straight pants and well fitted Kurta is all you need to have when you want to look decent or don't have enough time and stamina to test and try different styles. You will never go wrong with this style. Wear pumps with this look, and you are all set.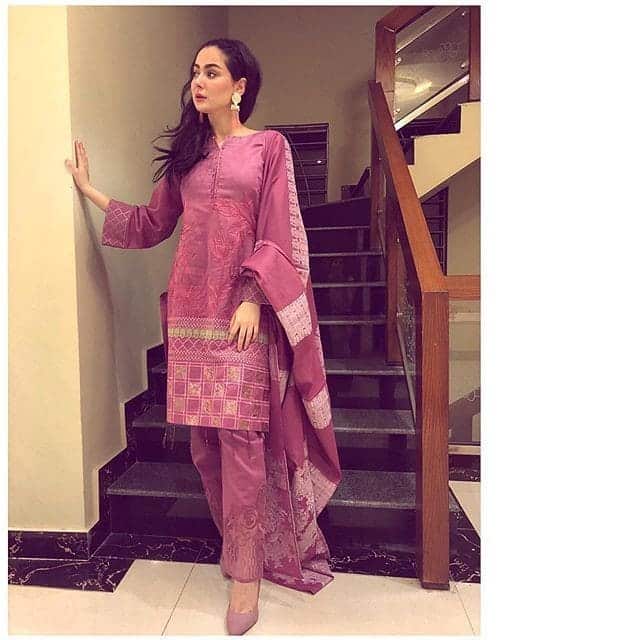 ↓ 21 – Short Frocks With Jeans

↓ 20 – Classy Jumpsuit
If you want to go for a jumpsuit, then trust me it has to be either stripey or just plain in a neutral shade, preferably black, gray, or blue. With the bell-bottom cut, which is trending much in Pakistan, you can go for stiletto pumps, which will make you look more confident and elegant. This Charles and Keith onesie worn by Aimen Khan is one of those distinct options for you. You can choose a sassy smokey makeup look with this particular attire and can wear it to formal gatherings. For some fantastic inspiration, don't miss out these Cute Jumpsuits Outfits & Ideas On How to Wear Jumpsuits Rightly.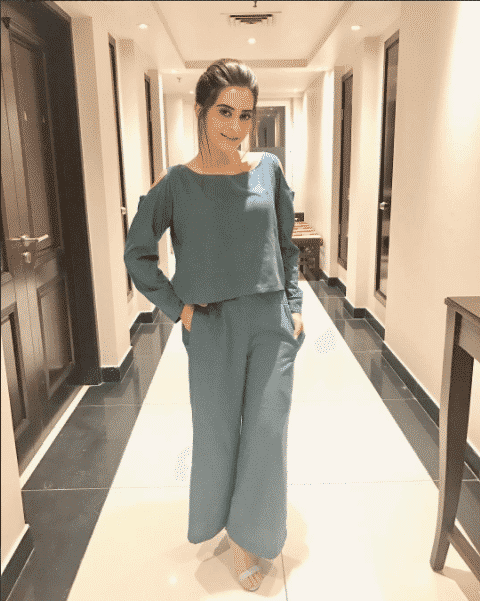 ↓ 19 – Ripped Jeans For Short Heighted Ladies
You can look as sassy as the super hot actress Sajal Ali in ripped high-waisted jeans and a luxurious designer top with elegant stiletto sandals. Go for darker shades tops if your jeans are faded and cuff the bottoms of your jeans to make your heels your statement.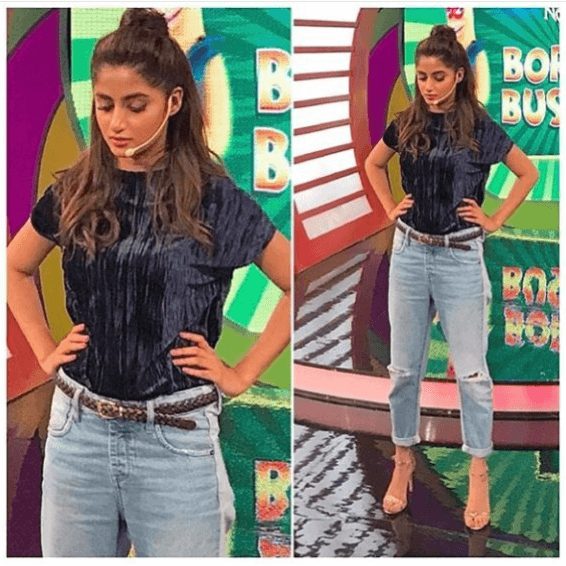 ↓ 18 – Royal Dress For Short Women
Long flared dresses are loved by Pakistani girls, especially when it comes to weddings and engagement parties. Nowadays, an accessible slit cut with another layer at the bottom in Jamawar or silk material is considered quite trendy and gives a royal look to one's outfit. Keep your heels simple with minimal embellishments, and you can go for block heels as well since the heels are going to be invisible, and you'll get your favorite royal look. Also, have a look at these 16 Cute Hairstyles with Maang tikka/Maatha Patti This Season.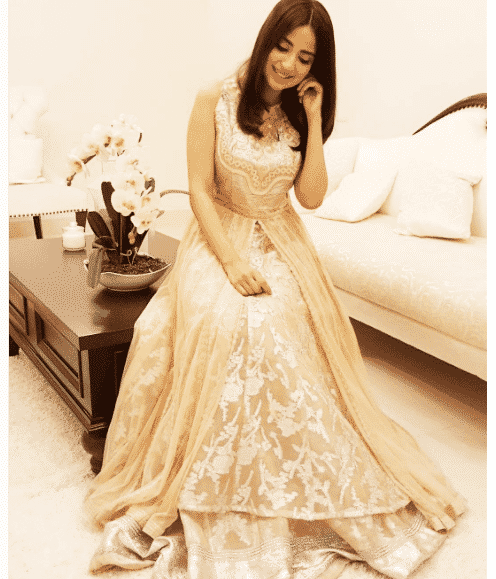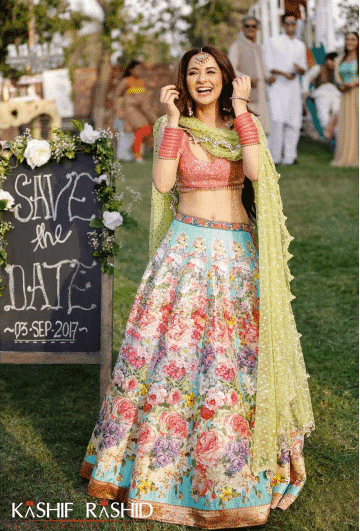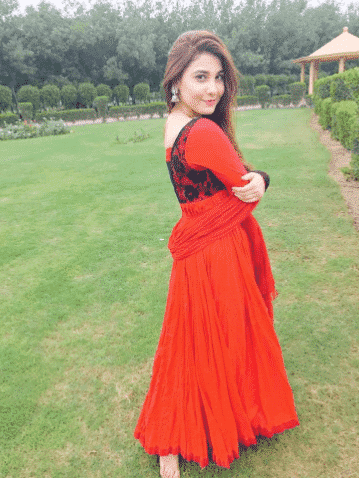 ↓ 17 – Casual Look For Short Ladies In Pakistan
The off-shoulder top style is every petite girl's favorite look because she can slay her beautiful collar bones in such a form. A simple off0-shoulder top in Syra Shehroz style is all that you want for a girls day out in summers. Keep your top a bit longer than your waist so that your leggings look classy, and you can wear them with snickers or even high heel pumps. Jewelry is not necessary with such attire.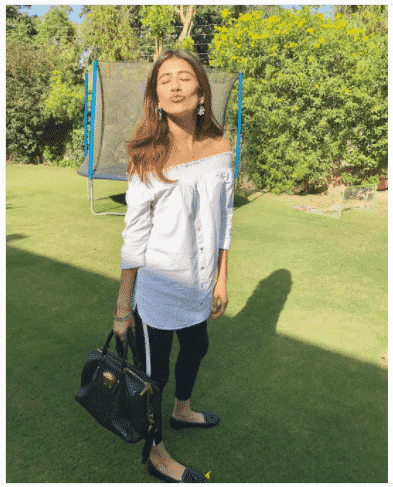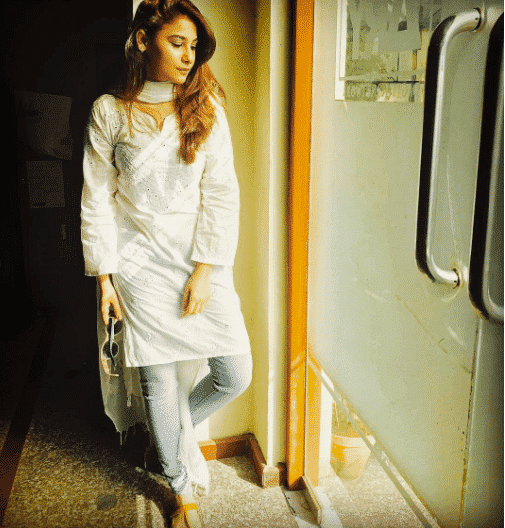 ↓ 16 – Shalwar Kameez For Girls With Less Than Average Height
Shalwar Kameez is the national attire for Pakistani women. Short girls can slay a shalwar kameez with classy block heels or khussas. Don't add too much variety of colors and prefer pastel shades as they will make you look slimmer and neater. Here are the Top 10 Pakistani Fashion Bloggers Every Girl Should Follow.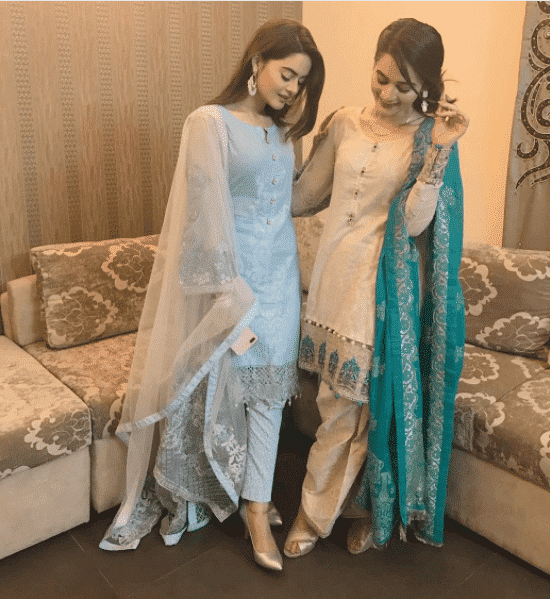 ↓ 15 – Monochrome Attire For Parties
5 feet 2 inches beauty Ayesha Omer's monochrome outfits are quite exquisite and fashionable. You can look as hot as her in a white saree with a black blouse on your farewell or a white blazer with a black shirt in bandage cut inside on your presentation day. Don't forget to try these classy black stiletto pumps.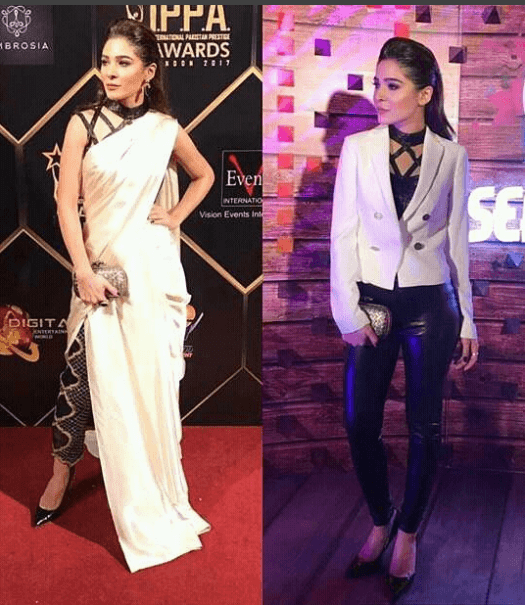 ↓ 14 – Funky Dress-up For Short Teenagers In Pakistan
Just like Yumna Zaidi, you can dress up funky for a day out with friends during spring, which will make you stand out among all. A yellow knee-length top, which has a small slit cut in the front with black tights, will make you look effortless. A top bun or even space buns will look incredibly cool. Do check out this exclusive guide on Curvy Pakistani Girls Fashion.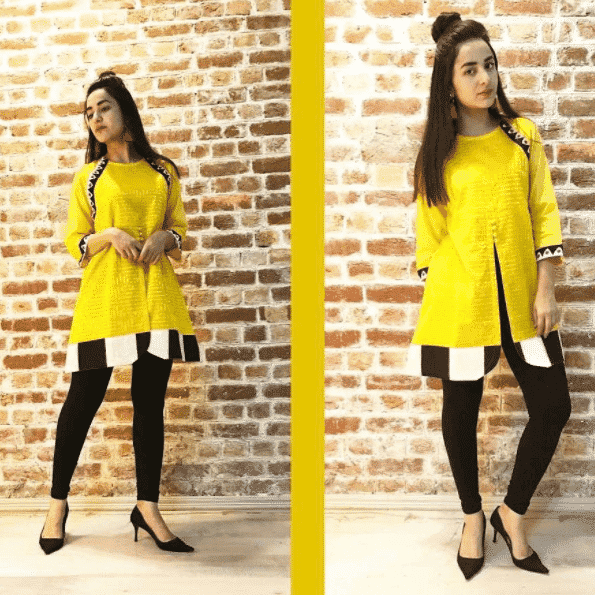 ↓ 13 – Printed Straight Pants
Printed straight pants can only be worn with plain tops, but girls can experiment with cuts, and if your top is longer than your desire, you can get your pants over your top and add a stunning bet to your waist, which will spice up your outfit. Here are some Ideas on How to Wear Palazzo Pants if You Have a Short Height.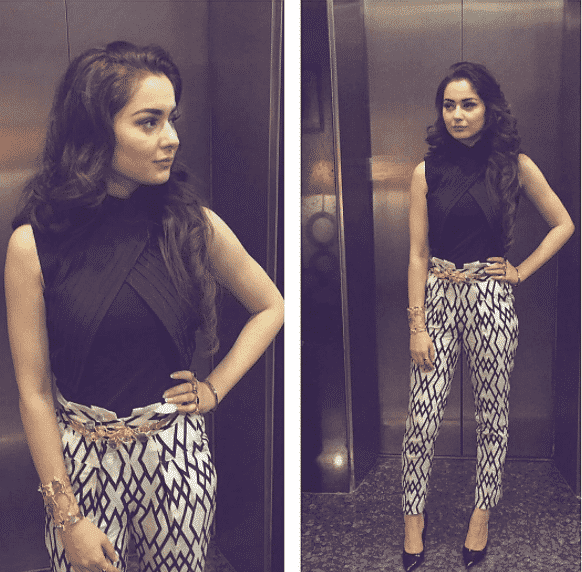 ↓ 12 – Gharara Pants For Formal Wear
Gharara pants are taking over the fashion world this season. These pants are going to hide your 6-inches high heels and give the illusion of longer legs as well. Also, they look extravagant with short Kalidar dresses, which are quite traditional and beautiful in its sense.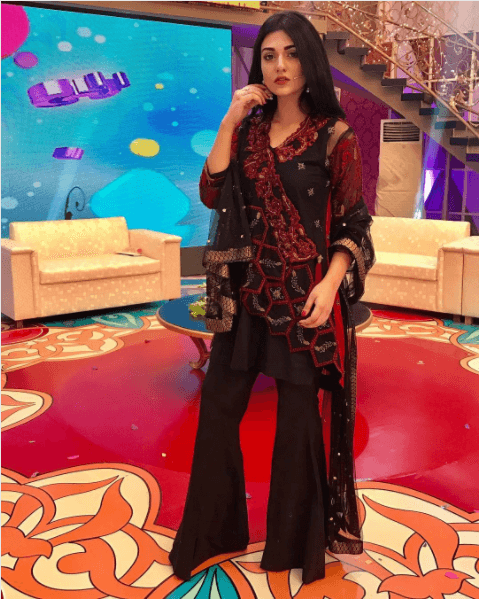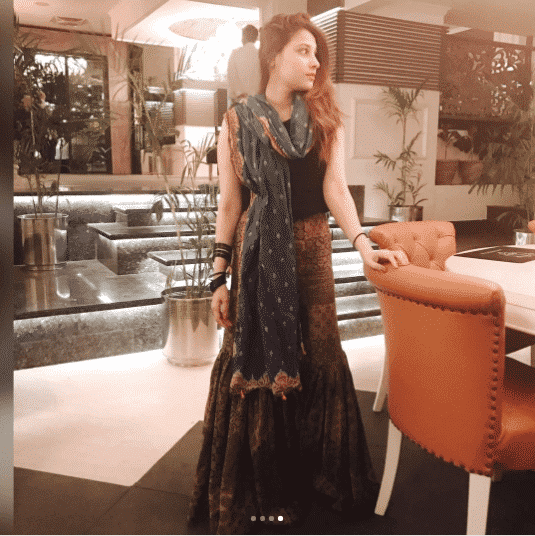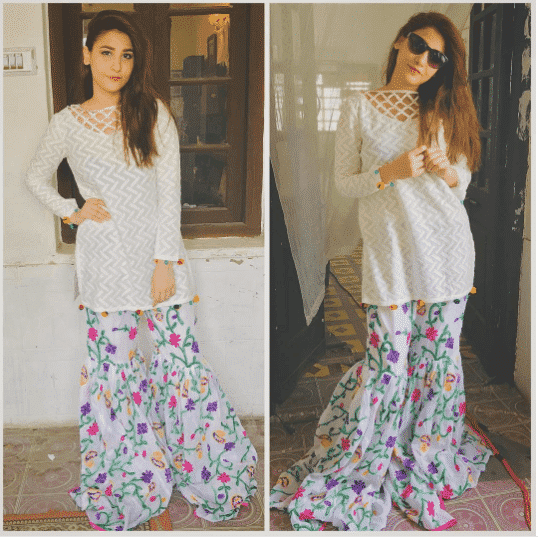 ↓ 11 – Charming Attire For Short College-Going Pakistani Girls
Printed embroidered short length dresses with flared sleeves and trousers are the new trend that is loved by college going girls, and these can be worn over tights with wedge heel pumps.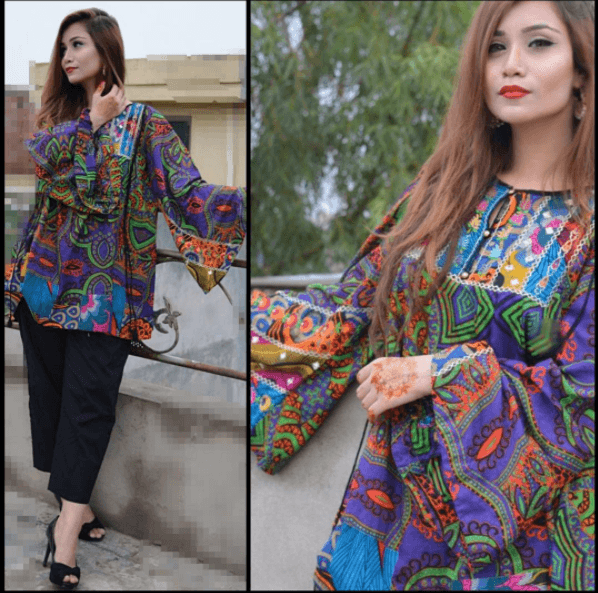 ↓ 10 – Peplum Tops For Short Women In Eastern Style
All the Pakistani girls love peplum tops in funky prints with embroidery, and just like the adorable singer Aima Baig, short girls can slay peplum tops with faded jeans and high-heels. Keeping the jewelry and makeup minimal. Here are 17 ways to Wear Peplum Tops in Summers.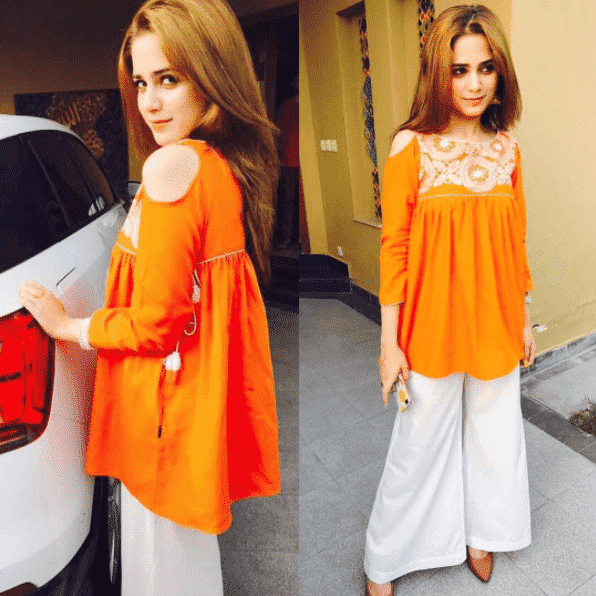 Afsheen Mehboob has designed this beautiful peplum outfit worn by Hina Altaf, the color and the cuts both look awesome for sure.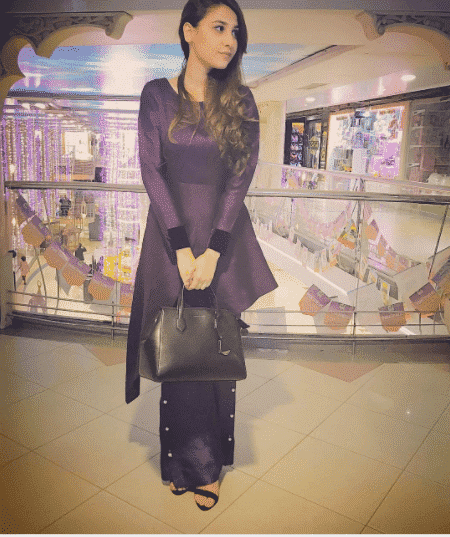 ↓ 9 – Travelling Attire
Pakistani girls, most of the time, wear moderate clothes, i.e., not that revealing and long dresses are the ultimate option for them. These foot length dresses in chiffon or other soft material can be worn with sandals, and high buns look extremely sassy with them.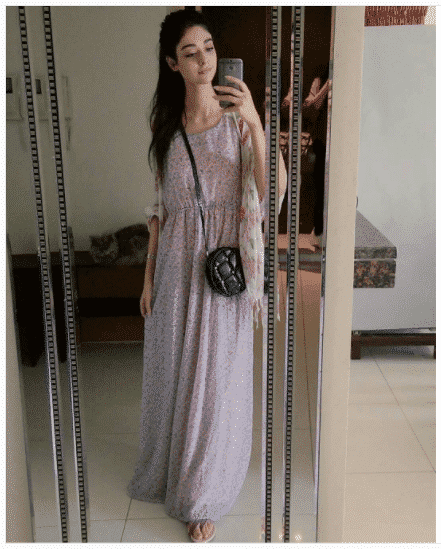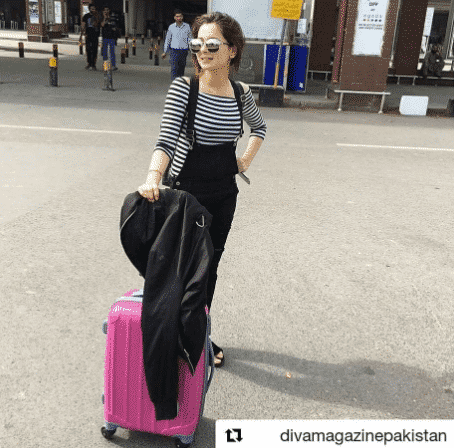 ↓ 8 – Charming Eastern Outfit For Formal Events
Girls, wear foot length umbrella frock in a pastel shade with a multi-color dupatta. Pair it up with churidar and sky-high heels in a nude shade. It is the most comfortable option for any short Pakistani woman when it comes to dinners and family gatherings. The length and cut of the frock will give the illusion of a taller figure as well. Jhumkas or dangling earrings will further beautify your attire. Here are 20 Elegant Outfits for Pakistani Women Over 30.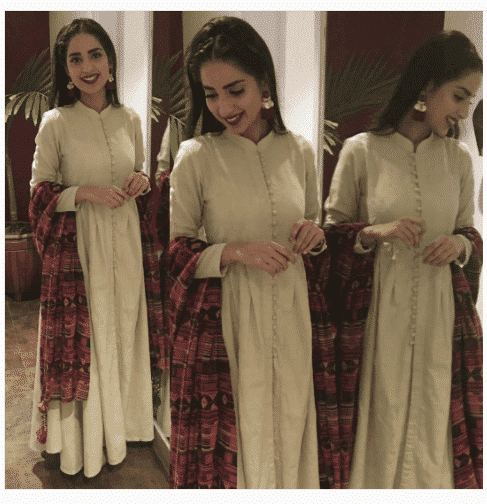 This gorgeous ethnic outfit is by famous Pakistani designer Layla Chatoor: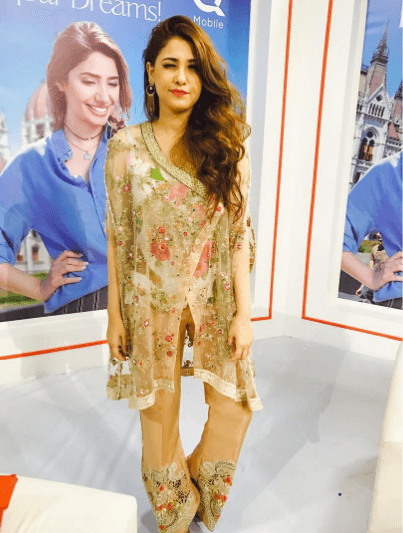 And this refreshing outfit is designed by IVY: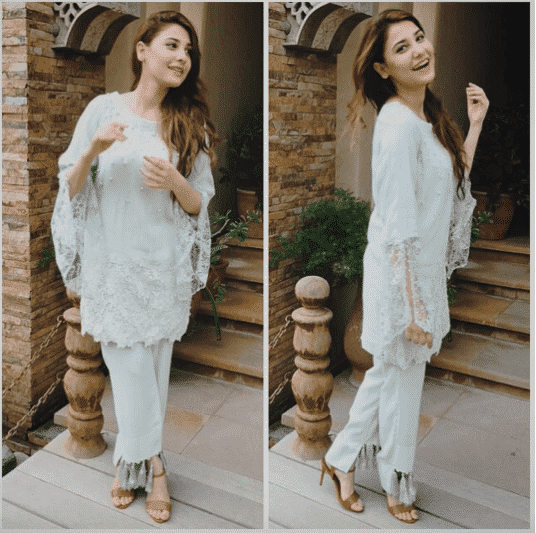 ↓ 7 – Statement Cuts
The cute actress Iqra Aziz has a relatively short height, but her attires depict her confidence. Just love the printed slit cut long dress with white pants.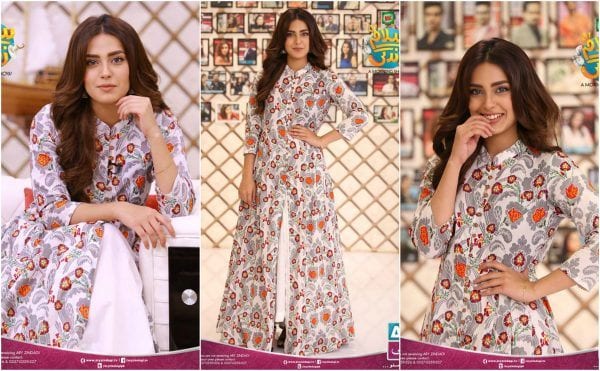 ↓ 6 – Luxurious Eid Outfit
On Eid, little Pakistani beauties can slay in short dresses with boot cut pants, both in a pastel palette. Sexy heels are a must on occasion like Eid to boost that confidence and look beautiful. Do check out 25 Best Outfits Of Pakistani Celebrity Couples.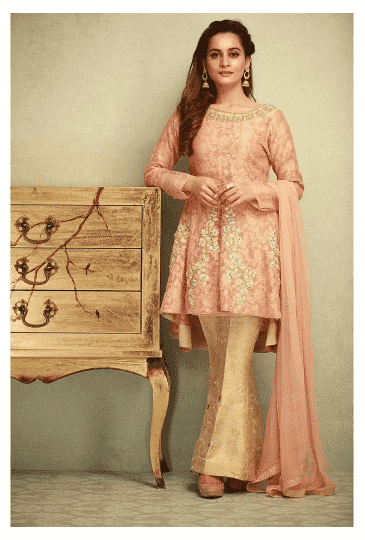 ↓ 5 – Cool Embroidered Outfit
There are many tassel embellished and embroidered frocks available which look suitable with straight pants, and the trendy flared sleeves regardless of being an inch longer make you look stylish.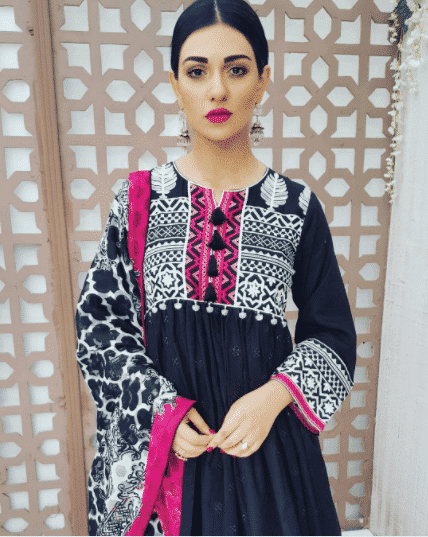 ↓ 4 – Western Look For Short Eastern Ladies
Short ladies who want to go for a bit western street style can go for high-waisted pants with luxurious, classy tops. They are available at different stores, and brands like 'Mango' and 'Charles and Keith', which are now available in Pakistan, can make the hunt easy for them.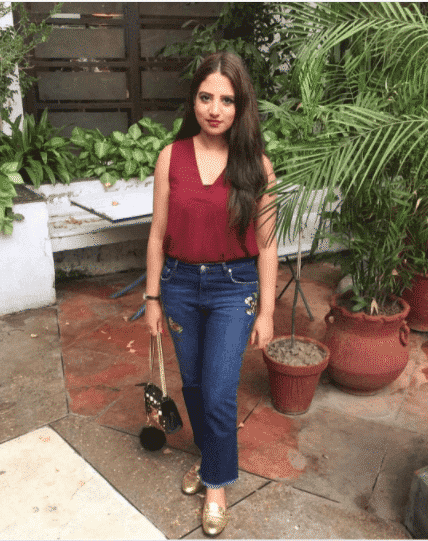 ↓ 3 – Denim Outfit For Short Heighted Pakistanis
Double denim style is trending much in the west, young girls who have a short height can try a short denim jacket or top with black or white skinny denim jeans and pair them up with sassy peep-toe heels. Here are 23 Chic Ways to Style White Jeans.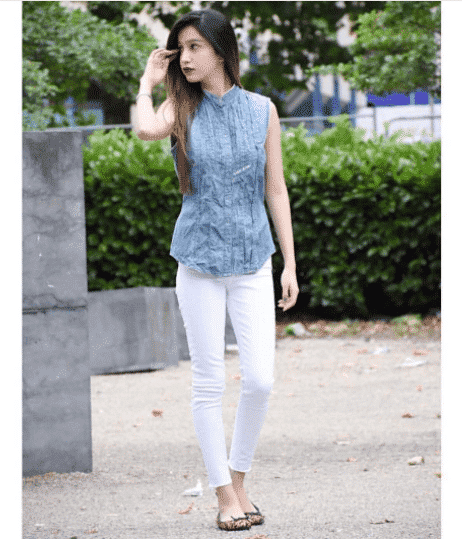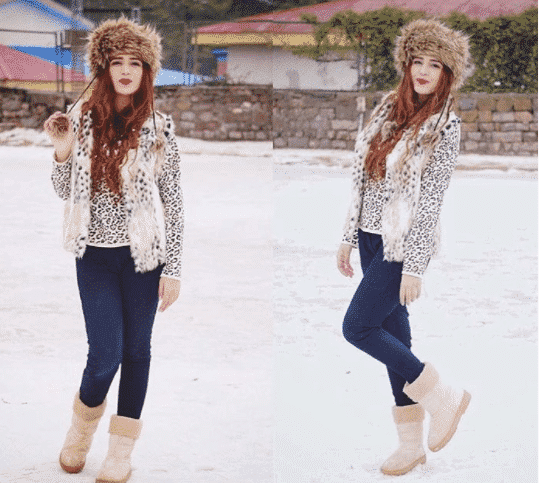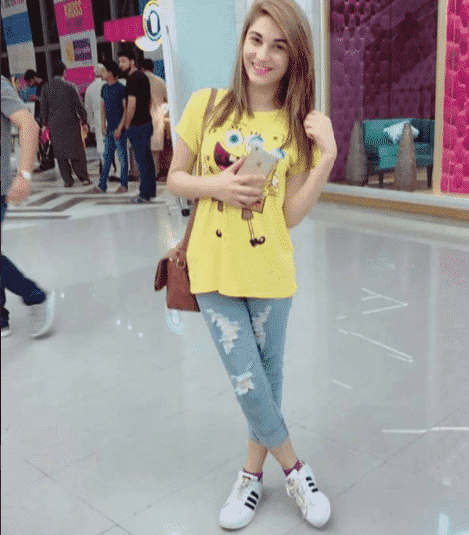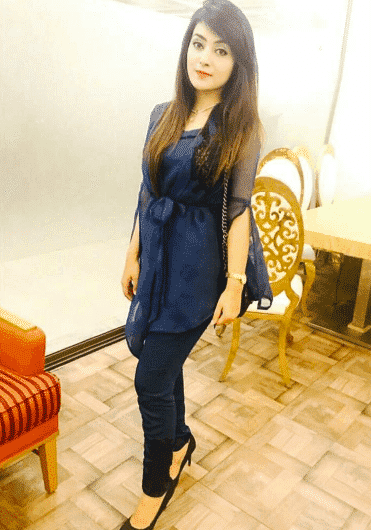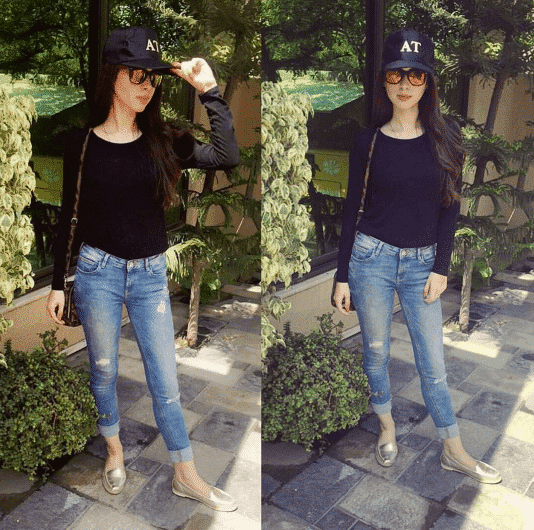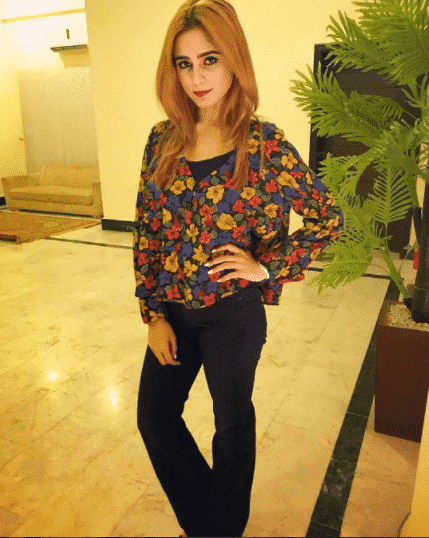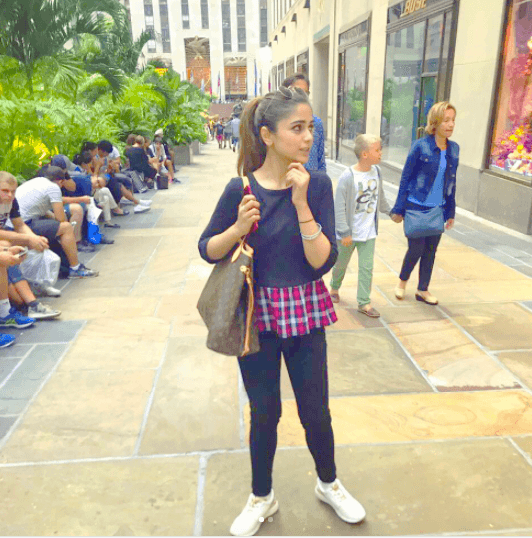 ↓ 2 – Short Frock For Skinny And Short Girls
Skinny girls who have a slightly shorter height can try pleated frocks with skinny jeans or even with tights and heels make them look super sassy.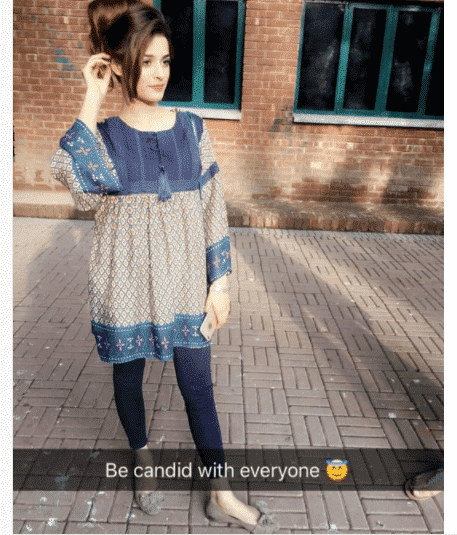 ↓ 1 – Simple Summer Look
In summers, various brands like Khaadi, Ego, BeechTree, etc. come up with their pret collections, which only require mix and match, and you can make them suitable for you through little alterations as well. All that you need is that confidence, which makes it you look like an effortless beauty.