Shoes to wear with kurta for women – Every girl needs a couple of chic Kurtis in her closet for the perfect desi look. These days, it's pretty easy to find a Kurti that matches your personal taste and style. Moreover, you can wear your favorite kurtis with leggings, tights, palazzos and even as a dress.
But it can be hard to find the right shoes to go with your kurta and make the perfect combination. This is why we're here with some super cool and trending ideas.
What Shoes To Wear With A Kurti
Kurtas are the perfect choice for every occasion. They're comfortable enough for casual wear and you can just be your usual lazy self in them all day long. They can be easily dressed up with the right styling and accessories for any party or formal event and even as a bridal outfit. And they are also great for work, school, college, traveling and what not! So without any more wait, let's go ahead and see some of the best ever looks created with kurtas and the shoes that should be worn with them. Here are some tips to help you out along the way:
Always consider the occasion you're dressing for. Whether it's for work, semi-formal wear, formal or casual wear, it's pretty easy to find the right kurti but your shoes also need to be chosen accordingly.
If you're going with heels and there will be lots of standing or walking involved, make sure that you choose comfortable heels.
And if you can't find good quality heels in a matching or complementing style/color, you can always go with flat shoes because, in my personal opinion, kurtas work much better with flat and desi shoes.
When choosing the shoes, another factor you need to consider is: what bottoms are you choosing? As we mentioned earlier, kurtis can be worn with literally all sorts of bottoms from skirts to shalwars but the choice of shoes depends greatly on the bottoms that you go for.
When wearing Western-style bottoms like pants, skirts or jeans with your kurtas, you can choose shoes like pumps, heels, and even loafers. But when wearing traditional bottoms like shalwars or ghararas with your kurtas, go for desi shoes like kohlapuris and khussas.
If your kurti is more formal, like an anarkali, go with dressy desi shoes like Mojaris or juttis.
If your kurti is really formal with lots of embroidery or some sort of fancy work done on it, you shoes should preferably be simple and elegant.
Similarly, if your kurti is really simple or a casual solid colored kurti, you can dress it up a bit with fancy shoes like Kohlapuris with a fancy look.
For simple, casual wear, the monochrome look is always a classic one for kurtis.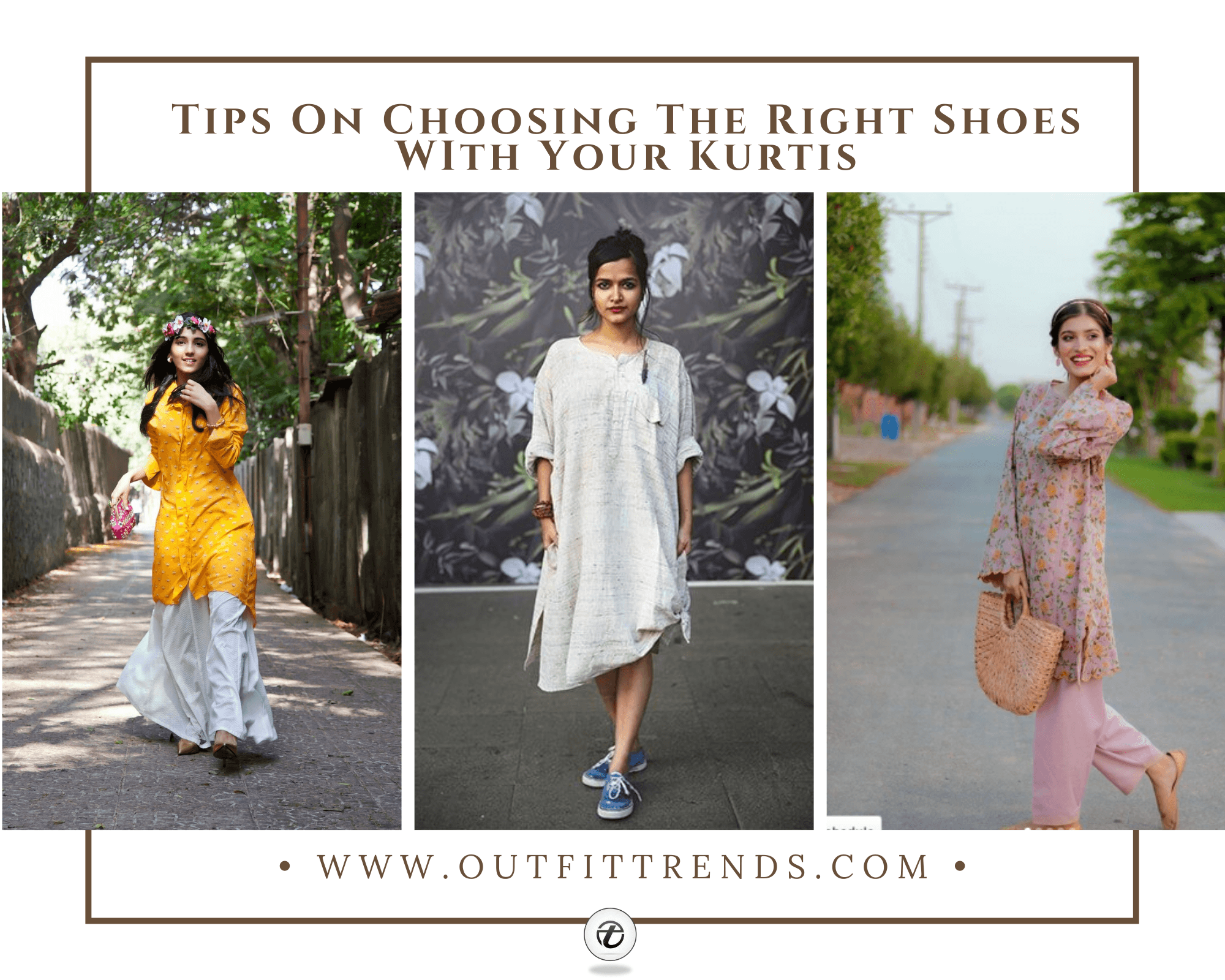 ↓ 15- Kurti with Pointed Pumps for Work
How cool is this black kurta, paired with pleated shalwar, which is more popularly known as patiala shalwar. For more ideas on styling such shalwars, check out our previous post on Patiala Shalwar Outfits.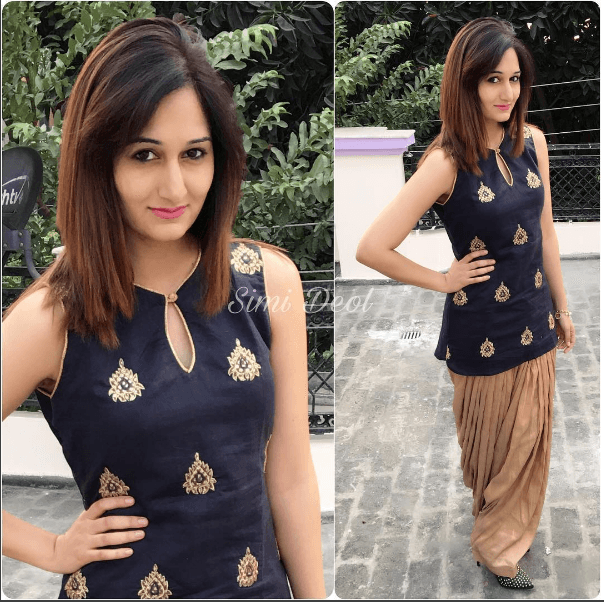 A printed kurta and palazzos, this outfit looks like it came right out of a Disney movie! Simply cute and enchanting. If you like this look, you'll definitely love our popular collection of ideas on How to wear Kurtis With Palazzo Pants.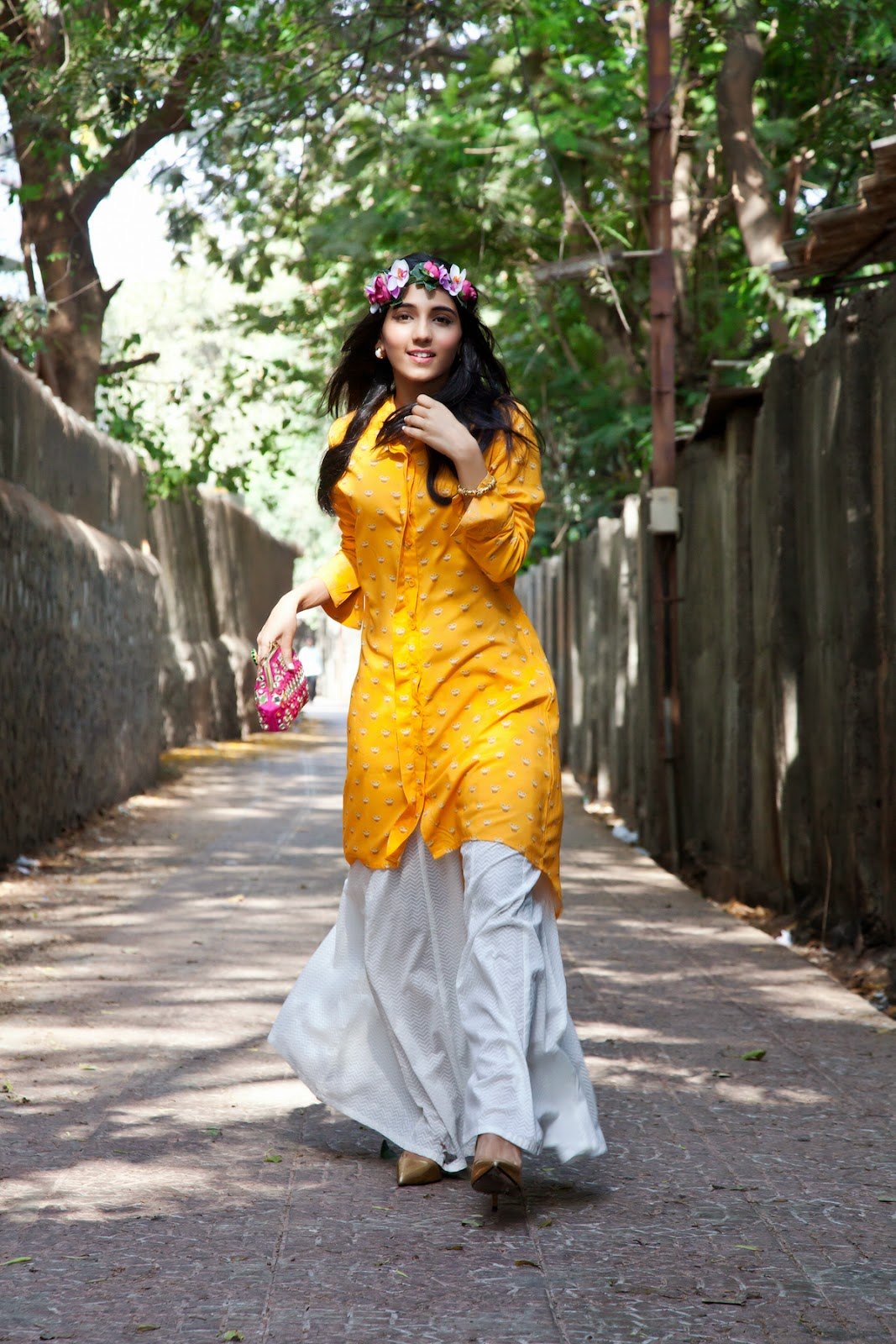 Via
↓ 14 – Kurti with Leggings and Slip-on Canvas Shoes
Everything about this outfit screams the word "comfort". A white kurta and printed leggings combination is something that you can wear every day in Summers.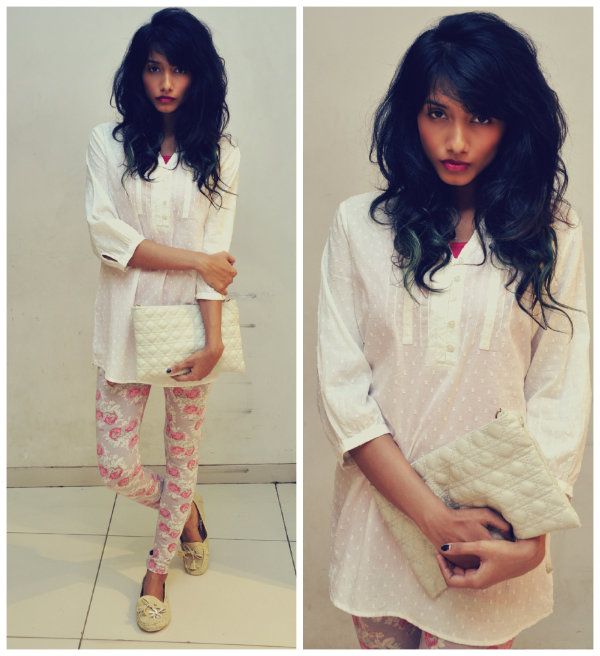 Via
↓ 13 – Dress Style Kurti with Strappy Heels
Turn your kurtis into a dress, simply by wearing a belt around your waist. Wear it with strappy heels for an elegant look that's great for work as well as parties.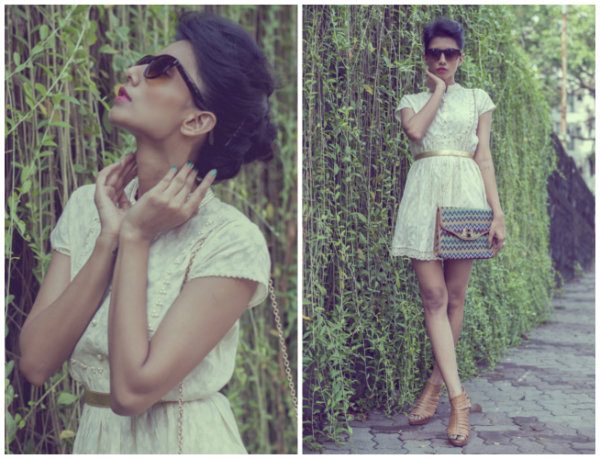 ↓ 12 – Ottoman Style Kurta and Printed Leggings with Slip-On Flats
Here we see the traditional Ottoman style Grey colored Kurta with printed leggings.

↓ 11- Kurta with Leggings and Mojari Shoes for Travelling
If you're the adventurous girl who loves traveling then this is the look that's made for exploring.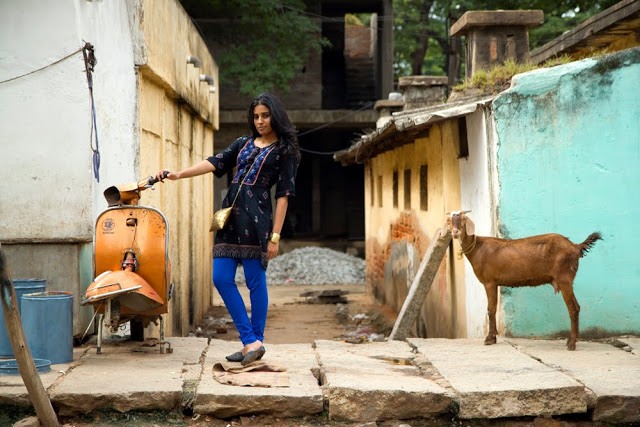 ↓ 10 – Kurta with Skirt and Leather Heels
How gorgeous is this outfit? It can be worn for Eid, Diwali or any other special occasion of your life.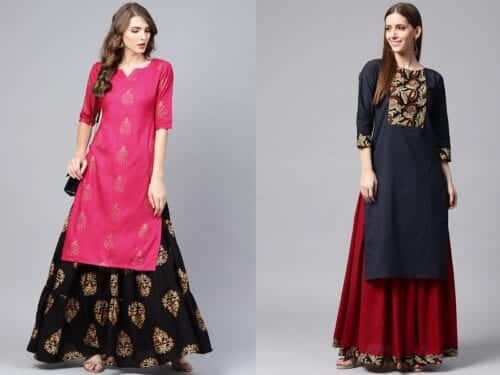 ↓ 9 – Kurti with Sneakers
The perfect combination of chic and sporty! For girls who prefer comfort over everything else, sneakers and kurtas are the safest and fail-proof combination. Do have a look at these Different Ways To Wear Kurtis With Jeans For Women.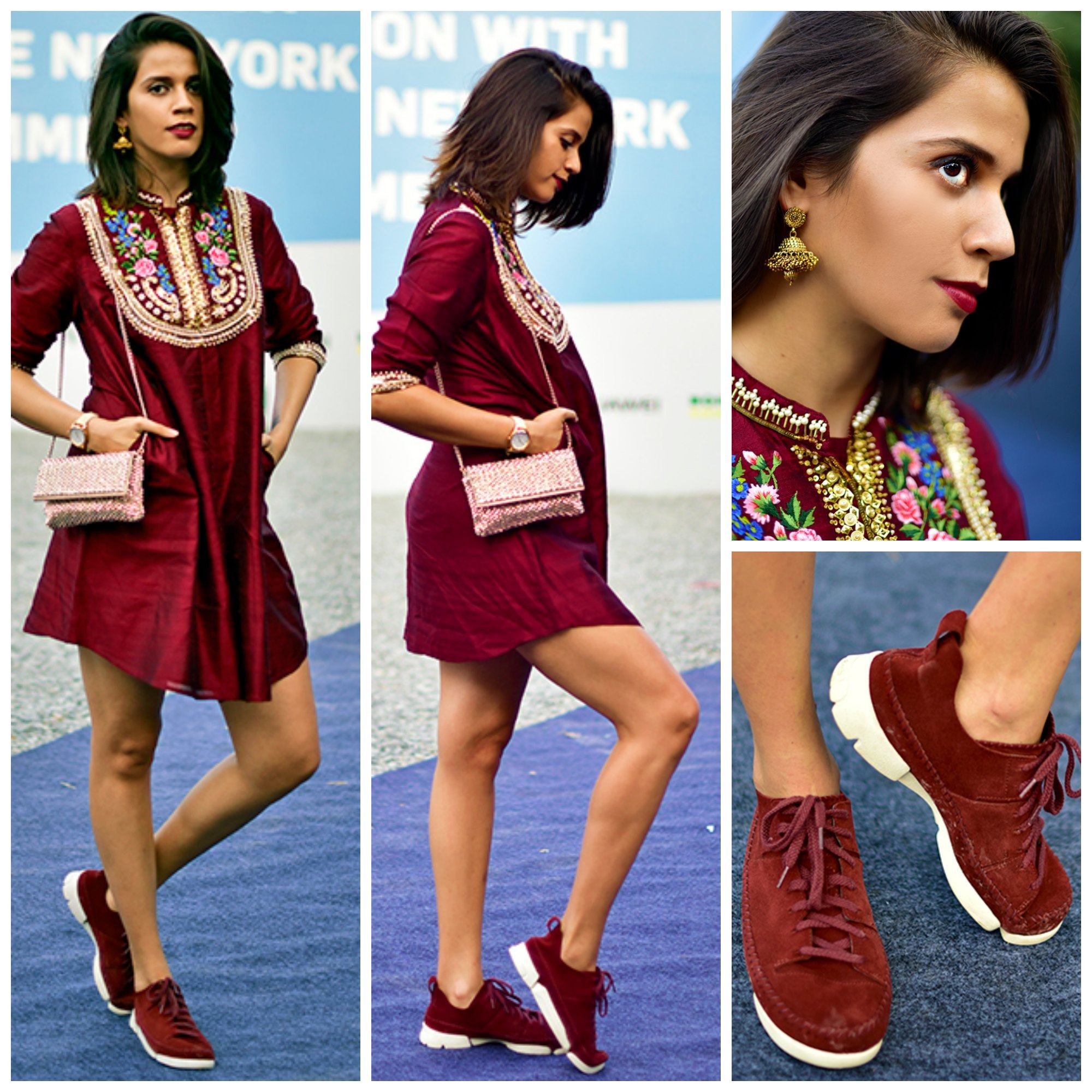 Via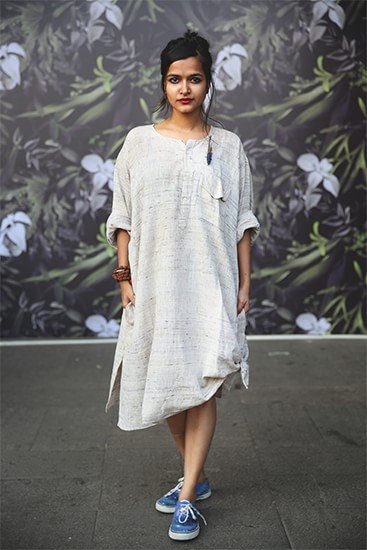 ↓ 8 – Anarkali Kurta with Pumps
One of the most popular and loved styles of kurtis is definitely the anarkali kurti, which is basically a merger of a kurta and an anarkali dress. Hence it brings together the grace of the anarkali as well as the charm of a modern kurta. It's ideal for semi-formal wear and looks spectacular with matching pump shoes.

Via
↓ 7 – Embroidered Kurta and Shoes for Winters
The Silver embroidery on the kurta has been matched with the shoes and a gorgeous long coat has been added to make this the perfect look for Fall and Winter.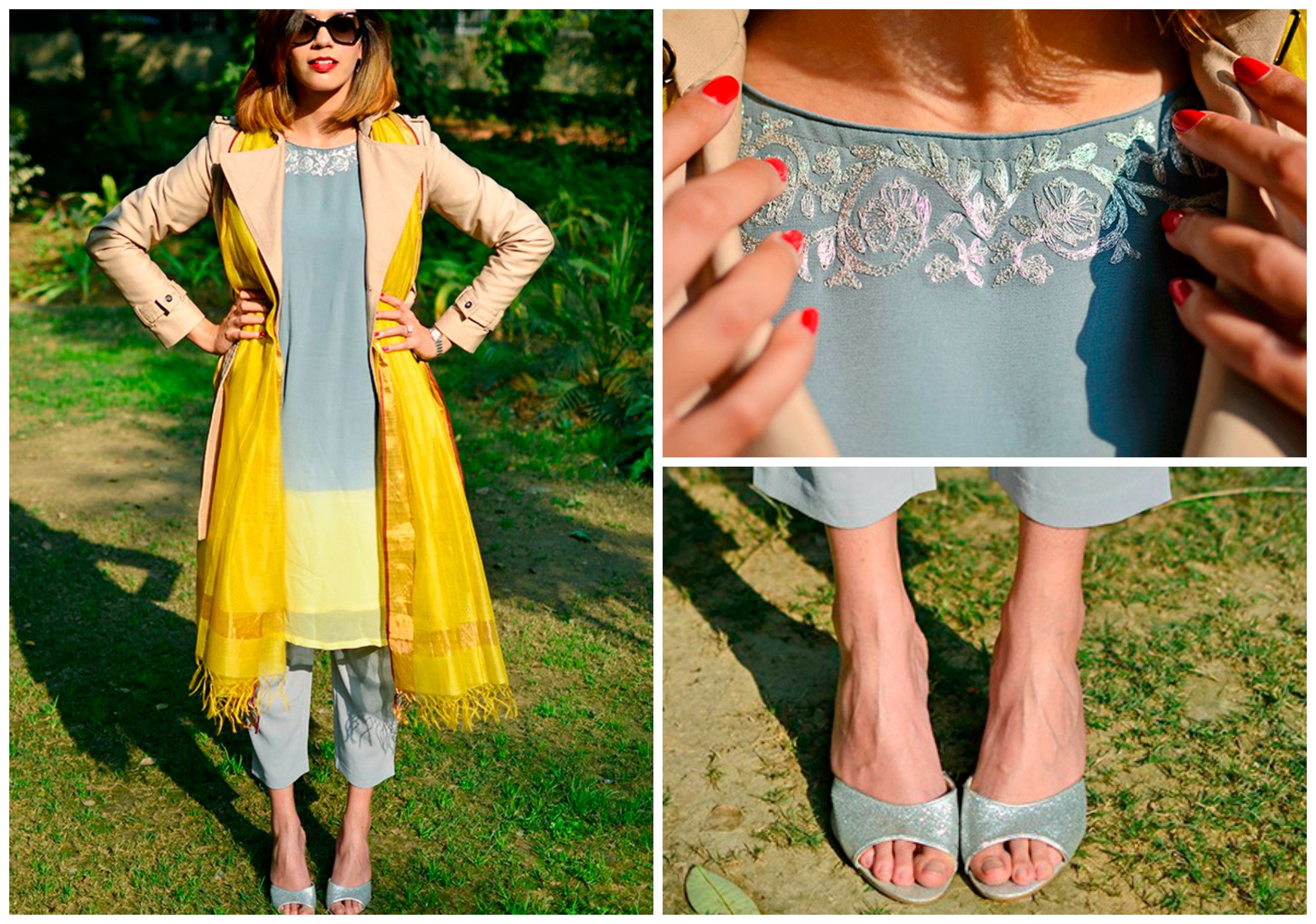 Via
↓ 6 – Bridal Kurta with Sharara and Wedge Heels
Wear an asymmetrically shaped kurta with sharara or flared pants on your wedding day for memories that'll last a lifetime. Since the shoes are hardly visible in this outfit, we suggest you wear wedge heels as they give you height, along with comfort.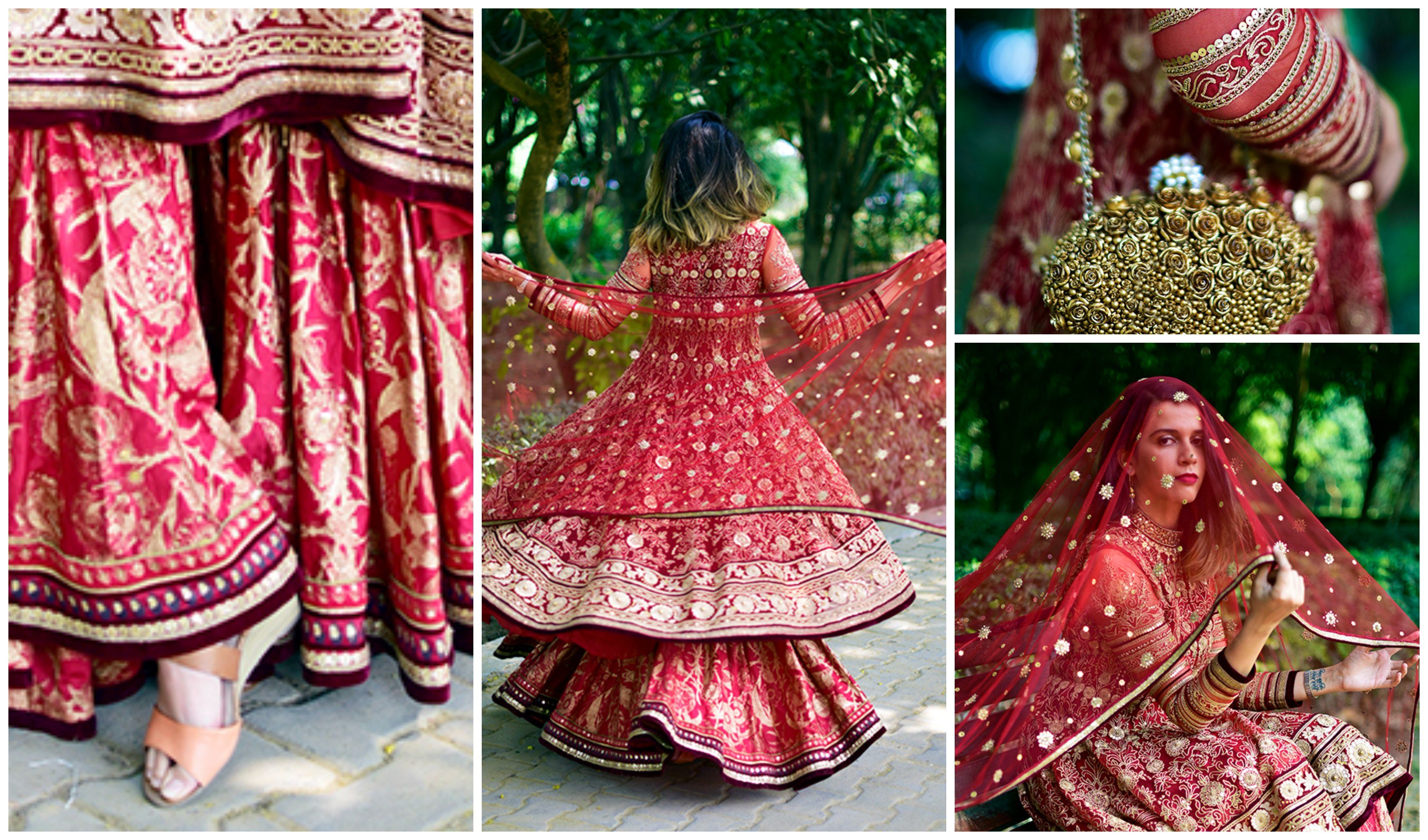 Via
↓ 5 – Chic Indian Summer Kurta with Palazzo and Flip Flops

Via
↓ 4 – Celebrity Style: Kurta with Boots
Here we see the Bollywood diva, Kareena Kapoor a.k.a Bebo in a front open kurti, jeans and long boots. This outfit is from her recent movie "Gabbar is back" (2015) in which Kareena is seen in a hot avatar. Here are some more ideas on wearing different Outfits with Cowboy Boots.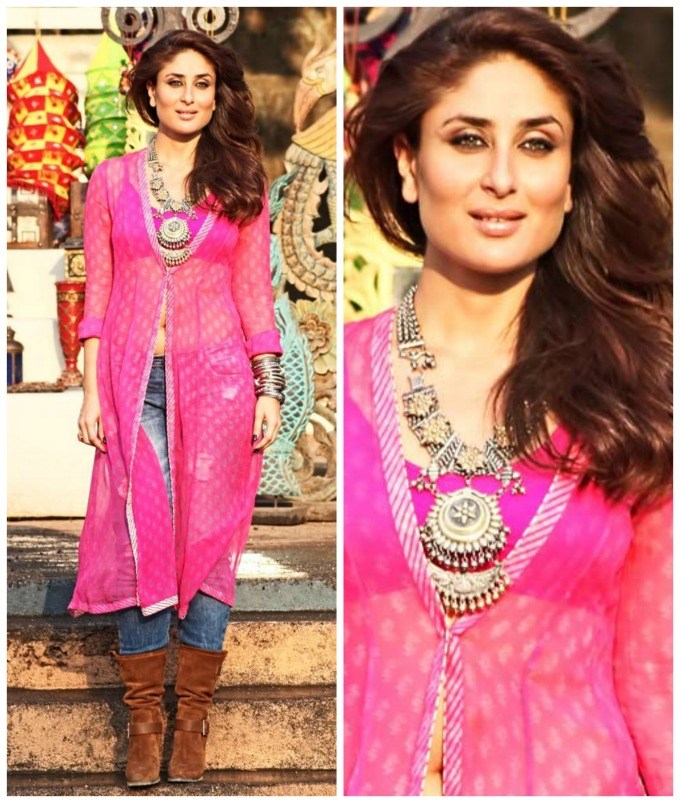 ↓ 3 – Celebrity Style: Kurta with Peep Toes
Kareena's sister, Karishma Kapoor looks equally gorgeous in a short kurta, tights and peep toes!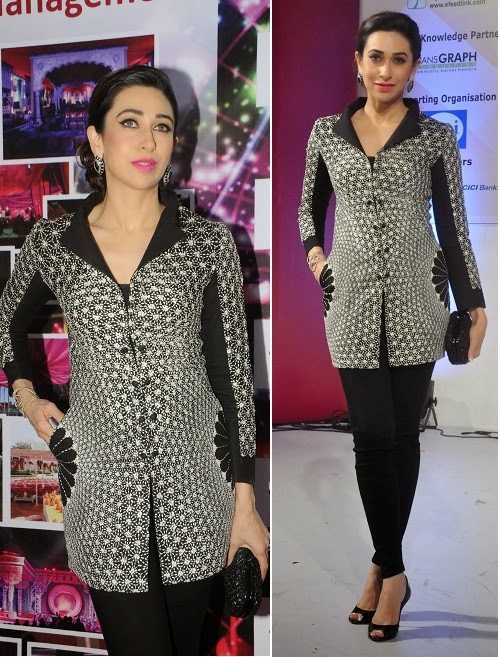 ↓ 2 – Kurtas and Khussas for College Girls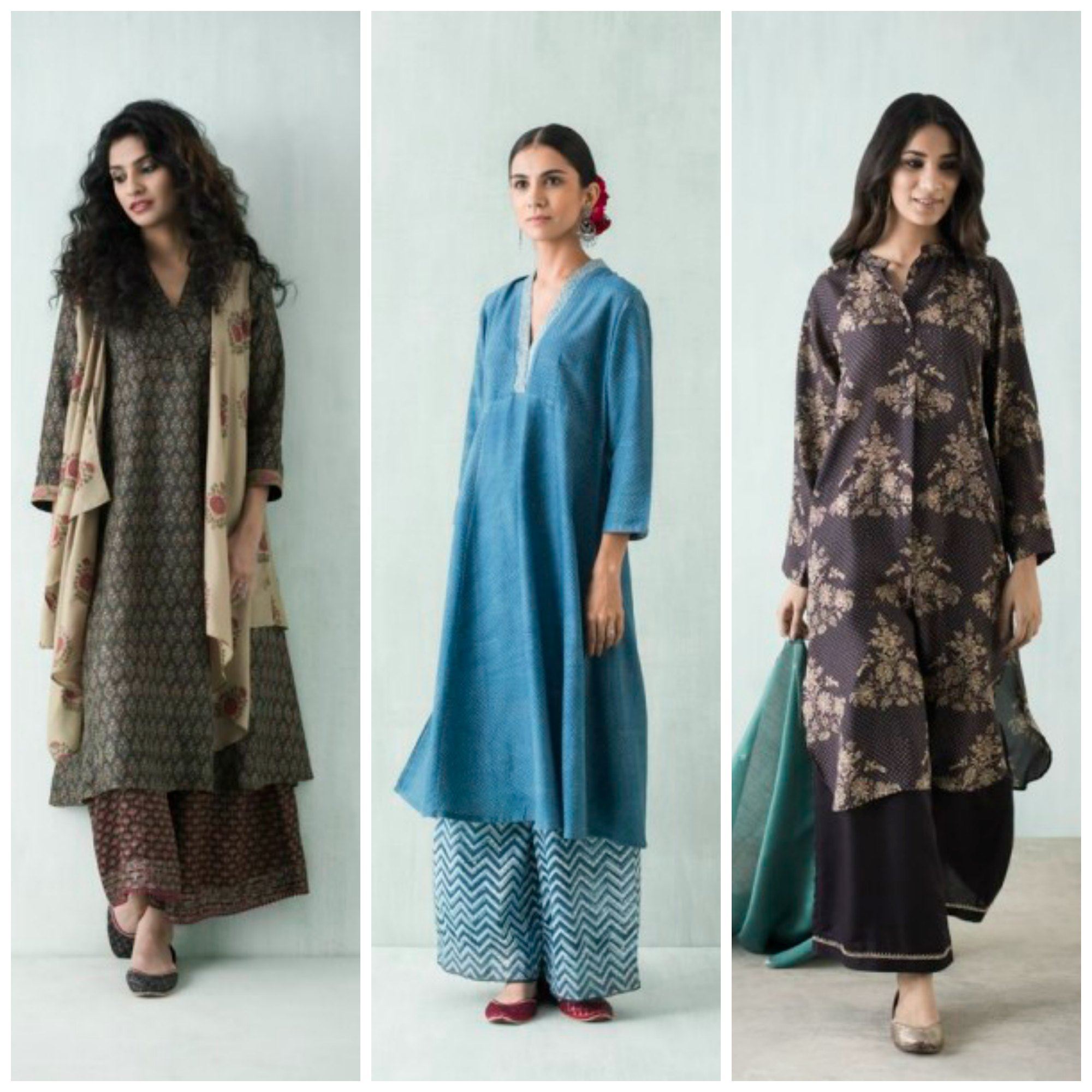 ↓ 1 – Kurta with Kolhapuri Chappals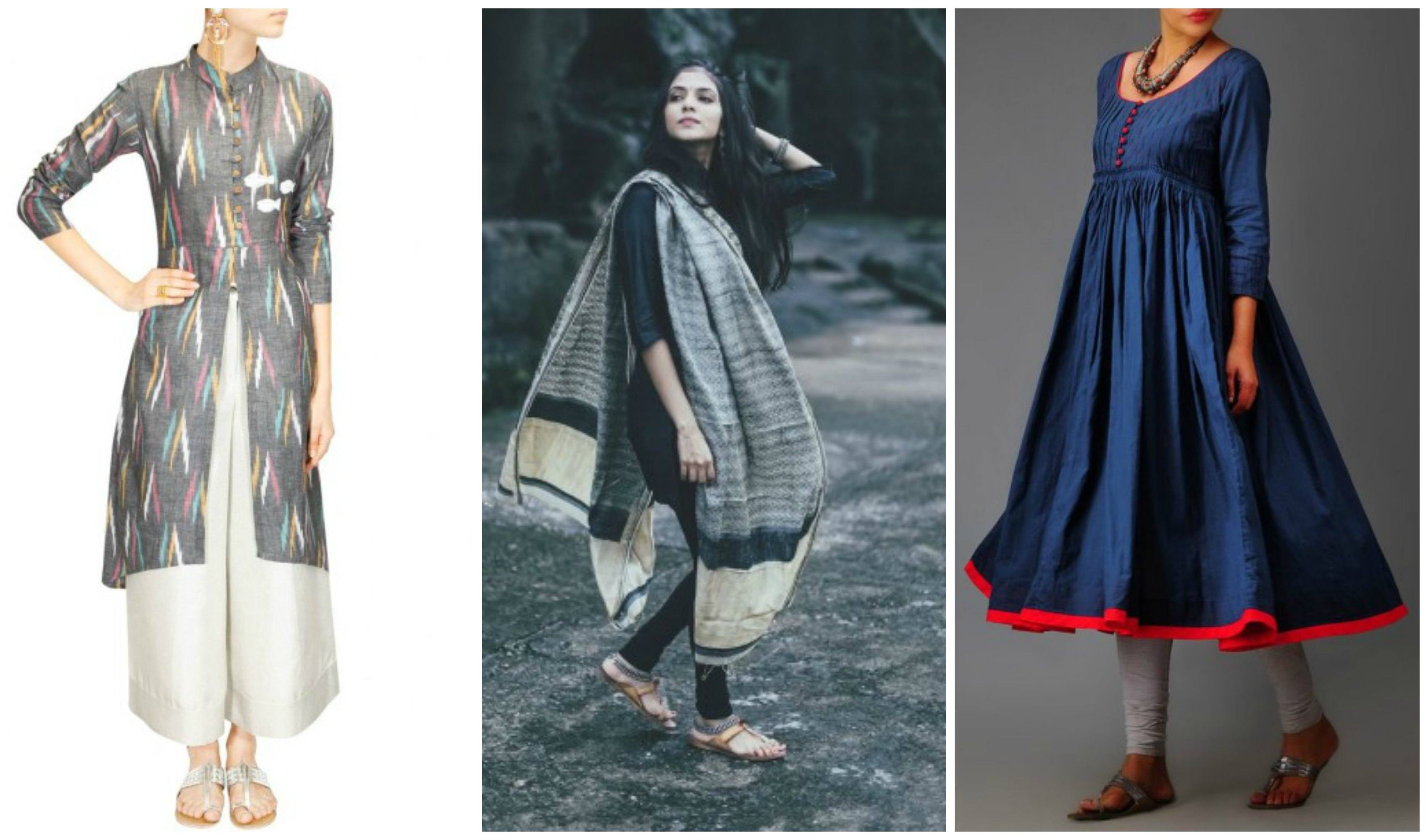 Here are our favorite Kolhapuris of the season: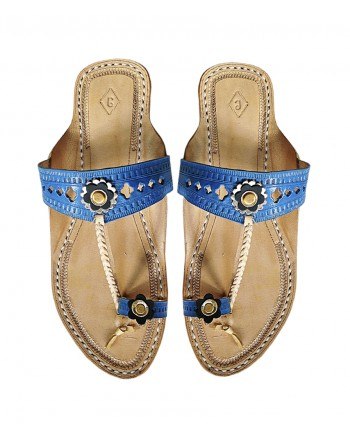 Via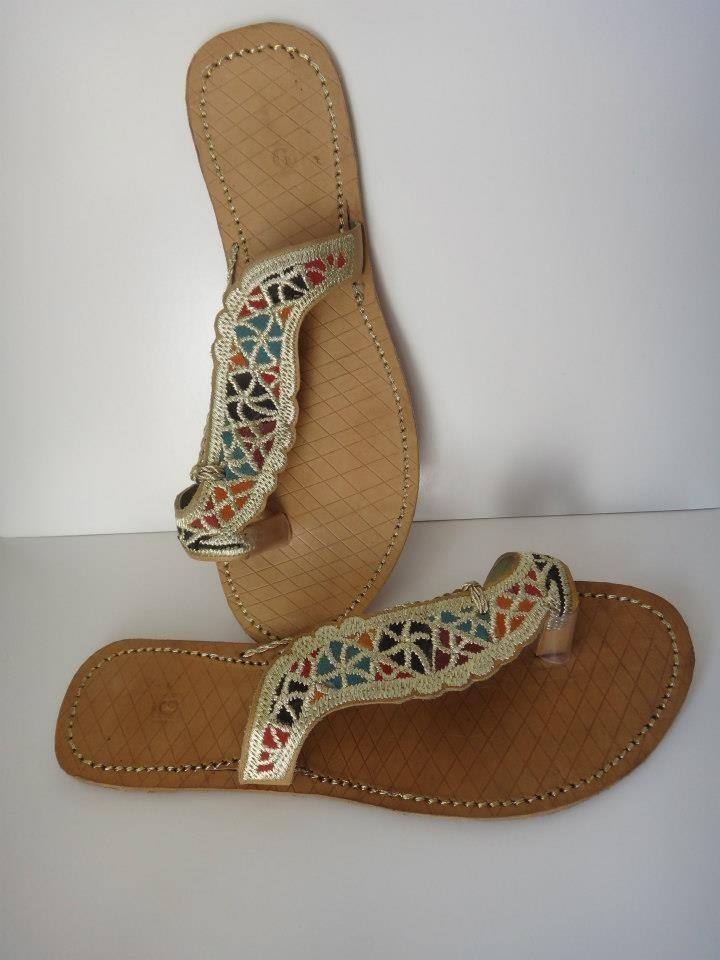 Via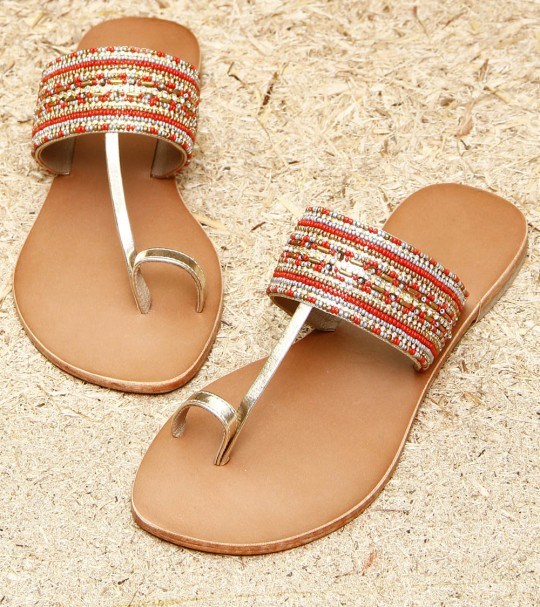 Via