What To Wear With Denim Shoes: As a fashion enthusiast, creating fun ways to style my outfits is my favourite thing to do. No doubt, how you look affects your mood. If your appearance is presentable, you are ten times more confident; at least for me, it is a truth.
Recently, denim shoes have become a huge trend globally. It wouldn't be an exaggeration to say that denim shoes are the new "it shoes" for the girls. Another characteristic that makes this shoe highly popular is that you may style it in many easy & fun ways. How? Let me show you 30 different ideas in which you can rock your denim shoes.
How To Style Denim Shoes
You all know how to style denim jackets, dresses, jeans, and all the other things related to it. But have you tried denim shoes yet? If not, then this post is your cue to do it. Believe me when I say you will do yourself a favour because denim shoes are worth all the hype. When we hear about denim shoes, our first instinct is those denim sneakers we wore to school. However, that's not what I mean when I say denim shoes.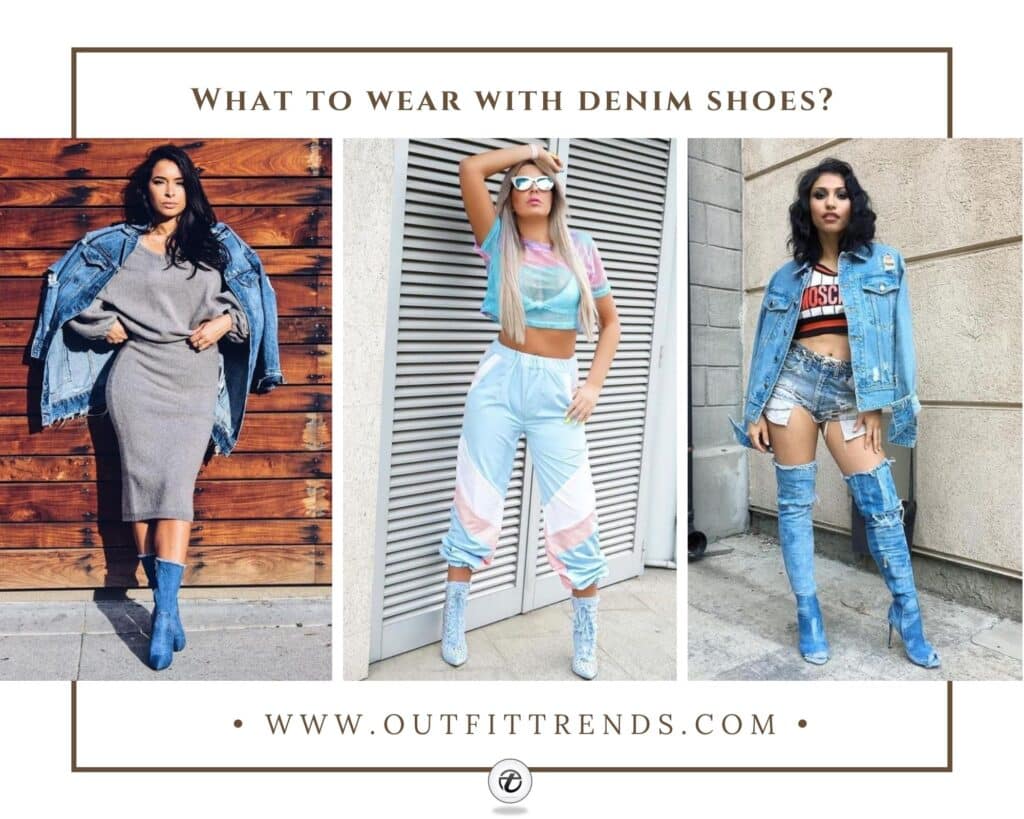 Tips
Denim Wedges – Denim wedges are perfect shoes for those who aren't comfortable with heels.
Denim Ankle Heeled Boots – You can pair ankle heeled boots with shorts and skirts. They will look classy and stylish. No doubt, ankle heeled boots reminds of 90's fashion. That's why they usually utilize vintage styling.
Gladiator Flat Denim Shoes – If you are a fan of gladiator shoes, then let me tell you that this style looks prettier with denim. You can easily style it with pants.
Denim Ballet Flat Shoes – All the older ladies reading this, denim ballet flat shoes are heaven-made for you all. These shoes are easy to wear, comfortable to carry, and classy on top of all.
Denim Heels – One of my all-time favourite shoes is denim heels. These heels feel timeless. You can stun them casually as well as you can look breathtaking wearing them at a party.
30 – Denim Jacket With Denim Shoes
While talking about denim, it is impossible not to mention denim jackets. Therefore, the first look on the list is this basic black outfit with the embellishment of denim. You can easily pull off this outfit for a concert night.
29 – What To Wear With Denim Sneakers?
If you are looking for a perfect comfy outfit, here is the best match for you. You need to take out any crop top from your wardrobe and pair it with your white trousers and denim sneakers.
28 – Casual Outfit For Denim Shoes
Who doesn't like to slay even in casual outfits? This look is perfect for showing that you didn't put any effort into getting ready. It is a spontaneous kind of an outfit.
27 – Button Up Shirt Outfit With Denim Shoes
Nothing is a better combination than a button-up shirt and denim shoes. Don't you think so? It is a boss lady look that makes you look more confident.
26 – Black Outfit With Denim Heels
Wear an oversized black outfit and pair it with denim heels. Let your inner diva come out, my girls!
25 – What To Wear With Denim Sandals?
What looks better than denim sandals if you want something to pair with your black flare end jeans? Indeed, it would be best if you gave this outfit a try.
24 – Denim On Denim Outfit
It is a fact that denim on denim can never go wrong. However, you might need to accessorize it with some gold or silver jewellery.
23 – What To Wear With Denim Shoes In Paris?
Vacations seem pretty dull if you aren't extra with your outfits. Check out this matching denim skirt with denim shoes. Moreover, complete your look with a basic white tee, and you will look utterly breathtaking.
22 – Yellow Dress
No doubt, light colour dresses are highly suitable to be paired with denim shoes. Therefore, always go with yellow, pink, orange type of shades and prefer floral prints.
21 – What To Wear With Denim Wedge Shoes?
Some people are more comfortable with wedges than heels. If you are the one who likes wedges better, then here is the outfit you should wear with denim wedges. Without any doubt, a short black dress with wedges makes you look taller.
20 – Puff Sleeves Dress With Denim Shoes
Puff sleeves remain in the top iconic trends list of 2021. Therefore, don't miss your chance to style a denim puff sleeve dress with denim shoes.
19 – Long Denim Boots Outfit
Firstly, can we all take a moment to appreciate how beautiful these denim boots look? Indeed, all the girls get excited whenever they see boots and that too in denim. Therefore, style a basic outfit with your knee-high boots to flex a little.
18 – How to wear Denim Flats
No doubt, whatever you wear with a white outfit will get the attention it deserves. The same is the case with denim shoes. In short, a perfect summer outfit for you to try out with denim shoes.
17 – Denim Shoes With Denim Jeans
Denim jeans have been in fashion way before denim shoes were ever even introduced. Until now, you might have tried a hundred different looks with denim jeans, even in casual attire. However, take your denim jeans to the next level by styling them with denim shoes.
16 – Button-Up Striped Shirt For Denim Shoes
Another sophisticated way to look stunning in your denim shoes is to pair them with a striped button-up shirt. Tie a knot on the hem of the shirt and keep your look more stylish. Moreover, the addition of sunglasses as an accessory would look unmatchable.
15 – Blazer Outfit
Blazers have the power to make you look extremely formal and professional. If you go with blazers and shorts, then denim shoes are the best option for you.
14 – Wear Denim Shoes Like A Boss-Lady
Shout out to the model who introduced this look and blessed our eyes. Yes, this is another denim on denim outfit, but the reason why this is on the list is how gorgeously the woman is carrying the whole look. Here is your cue to go with fierce makeup if you wear a denim dress with denim shoes.
13 – How To Style Denim Shoes With A Two Piece Set?
If you have a brown skin tone, then this is the look you should go for with your denim shoes. No doubt, a gorgeous outfit to wear with denim shoes. This stunning two piece in black is the best match for your denim heels.
12 – How To Style Denim Heels For A Night Date?
No joke, date nights are essential. When it comes to girls, we want to look nice & beautiful. It is not for the other person but ourselves. You can't deny the fact that when you look pretty, your confidence is boosted. That's why here is the perfect date night look to style your denim shoes.
11 – Style Denim Shoes With Office Outfits
If you are a working woman, you know the struggle to find comfortable shoes for your workplace. Because you can't afford to keep struggling with your shoes all day, isn't it? However, denim shoes can help you with your problem. No doubt, these are the comfiest shoes you will ever work with until now.
10 – Plaid Outfit With Denim Heels
Another tip is always accessories your outfit with gold accessories if you are going for a monochromatic look. It will be an excellent addition to the overall outfit.
09 – Best Denim Shoes For Moms
Finding a suitable outfit for mothers is a real struggle, especially for those who have toddlers. So, for all the moms out there. Here is the inspiration for you to style those denim shoes you are only thinking about wearing. The off-shoulder top with denim jeans and denim wedges is the most incredible outfit, and you can style it on almost every event.
08 – Denim Shirt Dress With Matching Shoes
Is this look bold enough? Use your oversized denim shirt to make it into a makeshift dress and pair it with denim shoes to create a monochromatic look. In addition to all these, wear your most fabulous shades to complete the vibe.
07 – Perfect Outfit To Pair With Denim Flat Shoes
On the other note, if you want a soft glam look, then here is the outfit idea to style your denim shoes. You can pair your black blazer with your casual clothes and flat denim shoes for the overall look.
06 – Denim Shoes With A Long Coat
To style, a long coat is one thing, but a long red jacket is a whole different scenario. No doubt, red is the sexiest colour for a reason. You can pair a simple black tee with it, and still, you will look mind-blowing. Therefore, the combination of a red long coat and denim shoes is made in heaven.
05 – Best Fall Outfit With Denim Boots
A jersey outfit with a denim jacket looks super-rich. However, to make it look even more gorgeous, all you need to do is wear denim boots.
04 – Street Style Denim Fashion
Street style fashion is incomplete without the touch of denim. Indeed, this outfit reflects the truth behind these words.
03 – Summer Denim Outfit
An outfit that represents how to look like a lady with grace. No doubt, without denim block heel, the whole outfit would be incomplete.
02 – Mesh Outfit With Denim Heels
This outfit looks like a tie and dye outfit, which has remained iconic in the past year. However, the lace denim boots are what got my attention here. Moreover, to style something is one thing but to carry it with attitude is another. The rainbow nails, colourful outfit and beaded denim shoes are a whole vibe.
01 – Denim Cowboy Boots
To sum up the whole plethora of ideas on denim shoes, here is my final and favourite look. These boots are to die for, and without any second thought, they need to be number 1 on this list. However, the question is, will denim ever go out of fashion? Surely not!
Frequently Asked Questions
Q: What colour pants go with denim shoes?
Ans: Denim shoes are available in different shades of blue, ranging from sky blue, navy blue, and royal blue. It is always preferable to go with darker pants, like black, brown, and grey. On another note, white pants look chic if you style them correctly with denim shoes.
Q: Is it appropriate to wear jeans with denim shoes?
Ans: Usually, girls are confused about whether they should wear skinny jeans with denim shoes or not. There are no restrictions on what you can wear with denim shoes. However, other than denim sneakers, girls usually avoid wearing jeans. Pants, skirts, and dresses are more in fashion with denim shoes as compared to jeans.

More to this, if you are a jeans person, then go with ripped one. You can always pull off faded ripped jeans outfits with denim shoes.
Q: Is it okay to wear denim on denim?
Ans: I would hundred per cent recommend this combination. You can see various denim on denim outfit ideas on the above lookbook. Moreover, you can style denim dresses, shorts, denim pants, and many other denim articles with your shoes. Another trend that was trending in the past year was wearing the same denim shoes and pants. It creates coherency to the overall look. This monochromacy looks inspiring and vibing.
Q: Should I wear socks with denim shoes?
Ans: If you are talking about denim sneakers, then the answer is yes. You should wear ankle socks with denim sneakers. However, there is no need to wear socks with denim boots. No doubt, if we are talking about cold weather, then the scenario is entirely subjective. But, overall, you are all good in denim shoes without socks.