Stylish shoes with Palazzo pants. We have already covered  28 ways to style your palazzo pants. Palazzo pants are my personal favorite style of trousers as they are super comfy, come in an array of colors, patterns and styles, give a gorgeous flowing silhouette and perfectly adaptable to any body shape. Because of their bagginess, however, it can be difficult to choose the right footwear with palazzo pants.
Make sure the shoes you choose add the correct height to your palazzo pants. They should be ideally ankle length and not dragging on the floor. Cropped palazzo pants are a great spin-off for summer time and will add just as much swing to the shape. This article covers 18 great shoes which go with palazzo pants perfectly. Use these to finish your perfect palazzo pants outfit.
#18- Outfit Combination. Match bronze, brown and cream. Wear brown leather, platform heels with these palazzo pants for extra lift.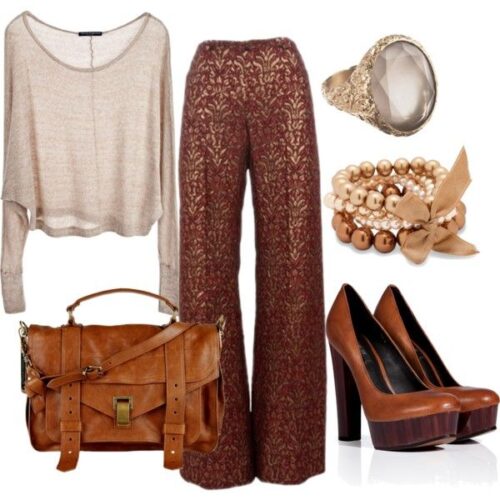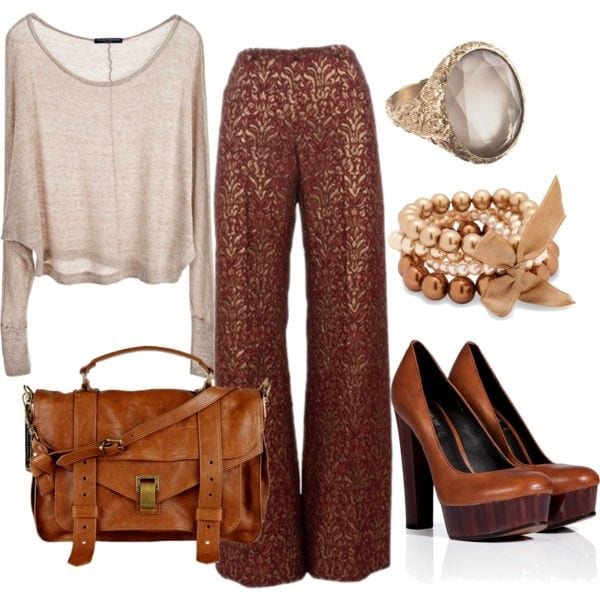 via
 #17- Summer Look with Sandals. Plain blue palazzo pants with the geometric patterned top. Match this look with flat silver sandals. RECOMMENDED: 16 Cute Summer Hairstyles for College Girls to Stay Cool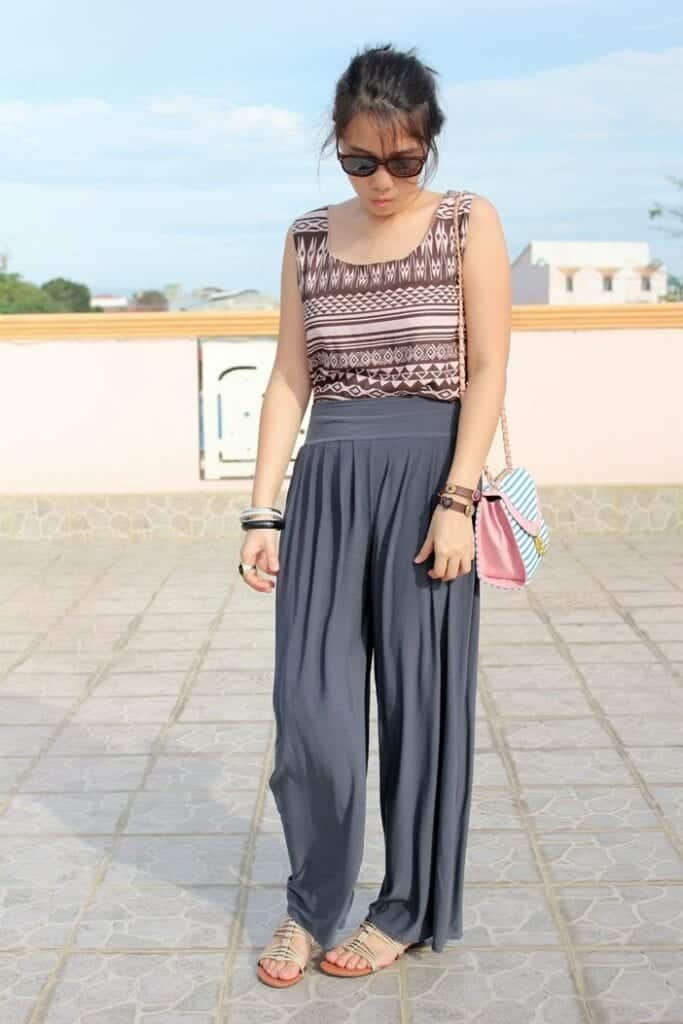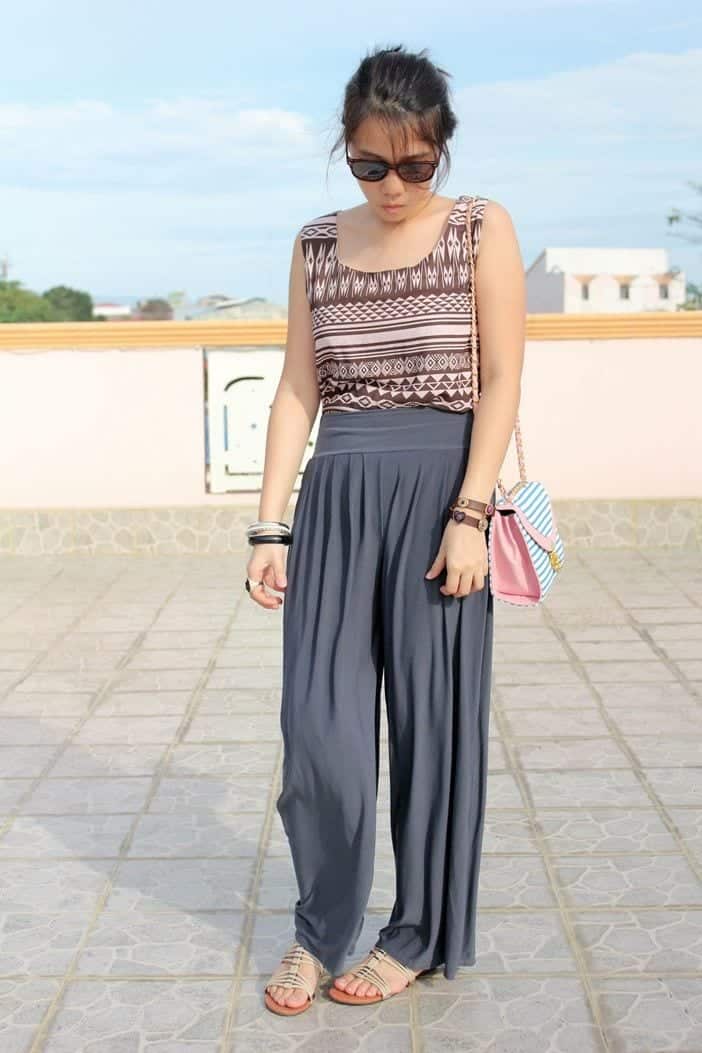 via
 #16- Palazzo with Heels. Black top with black and white patterned palazzo pants. For this look use stiletto strap heels.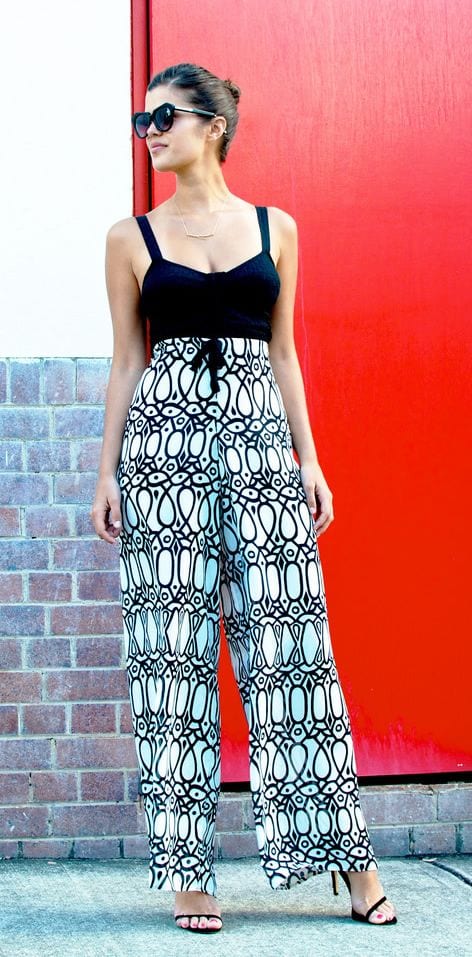 via
 #15- City Summer Look. Gorgeous peep toe heeled pumps finish this outfit. Cropped top with cropped white palazzo pants and wide brim trilby. Use cat-shaped sunglasses as an accessory. For this perfect summery outfit idea, you can wear pure white palazzo pants and then wear a gray colored or black and white colored cropped top on top of the palazzo pants. For shoes wear black high heels. RECOMMENDED: Top 10 Sunglasses Brands For Women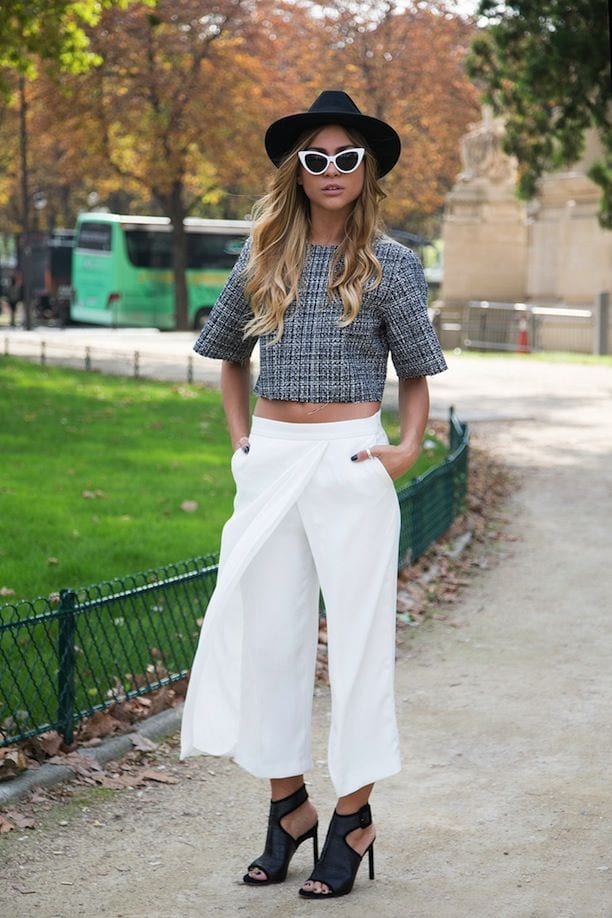 via
 #14- Casual Style. Patterned palazzo pants with a black top and denim jacket. Finish this look with a pair of sandal wedges. These will add volume as well as a lift.
via
 #13- Casual City Chic. Zigzag pattern black and white palazzo pants with white flowing top and summer flip-flops. Perfect outfit for a casual city stroll. Check out 18 Best Spring Casual Outfits for Girls to Try This Season

via
 #12- Formal Look For Winter. For a formal party or business look go for the burgundy and black. Wollen blazer, black palazzo pants, and black gladiator heels are a stunning combination. Finish with black earrings and vintage style handbag.
via
 #11- Work Wear Style. Pale green and blue are great spring colors. Match a blouse with palazzo pants and contrasting ivory pointed pumps for a clean, crisp spring image. This outfit idea is perfect for spring and winter season because of its cool color tones. For the blouse, you can go for a turquoise colored front open cardigan and then wear a white shirt inside the cardigan and tuck then in. For palazzo, you can wear black and white palazzo with white polka dots or any other print involving these two colors.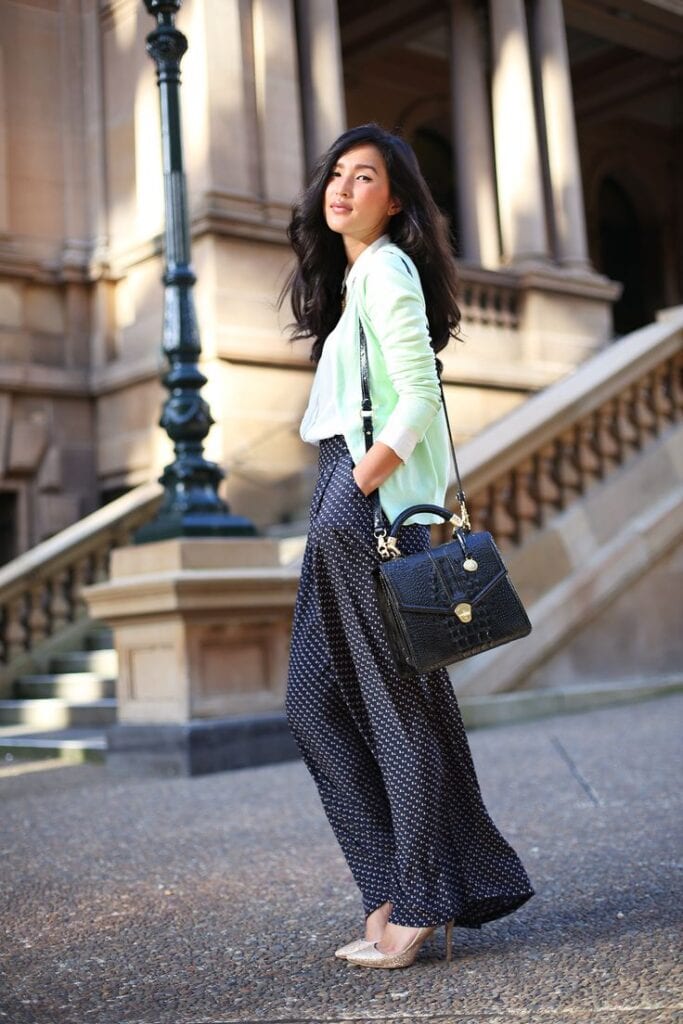 via
 #10- Simple Yet Sleek Look. They say less is more and this is so for this look. Zigzag palazzo pants with a plain white vest and chunky ankle strap heels make for a great look. Black and white are perfect for everyday look, this combo can be worn with any kind of family gathering or when going out on girls night out. Don't forget to add a matching hat to the outfit to complete the whole look.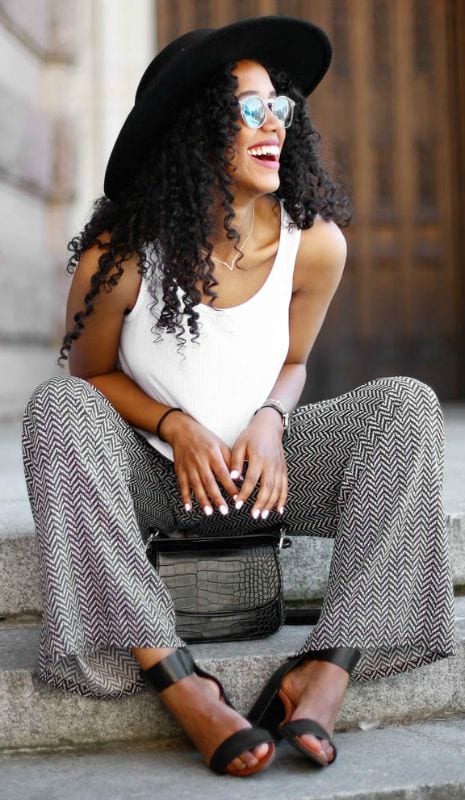 via
Step by Step Tutorial on How to Wear Palazzo Pants
 #9- Beach Style. Perfect holiday combination with palazzo pants and white flat sandals. Here are the most beautiful Hollywood Celebrities Beach Outfits-30 Top Celebs in Beachwear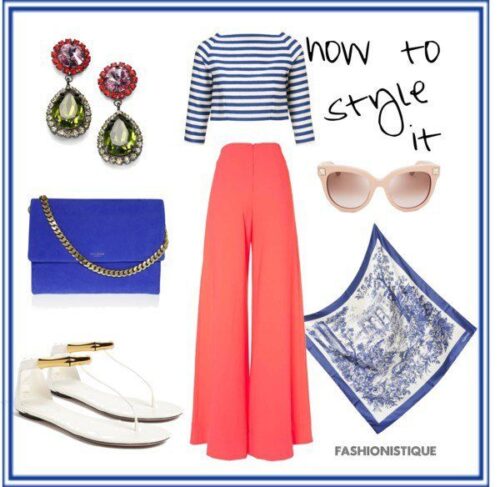 via
 #8- Bohemian Style. Bohemian pink and yellow palazzo pants with ruby top and silver strap sandal heels. You can also see 12 perfect bohemian outfit combinations for a chic look. This style is all about wearing colorful combos. You can wear funky patterned palazzo with contrasting colored shirt tucked all the way into the palazzo. For shoes, you can wear black heels in brown color. When it comes to accessories, you can keep them in neutral colors to kind of balance out the color schemes.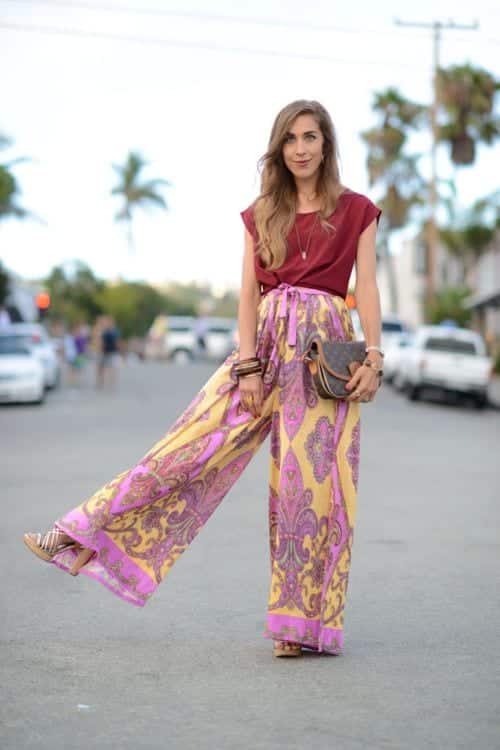 via
 #7- Business Style. Workwear outfit combination with palazzo pants and wine suede rounded pumps. This key item in this outfit look is see-through leopard print shirt. You can pair this shirt up with anything and still be able to rock it. This look is perfect for work or even for formal gatherings.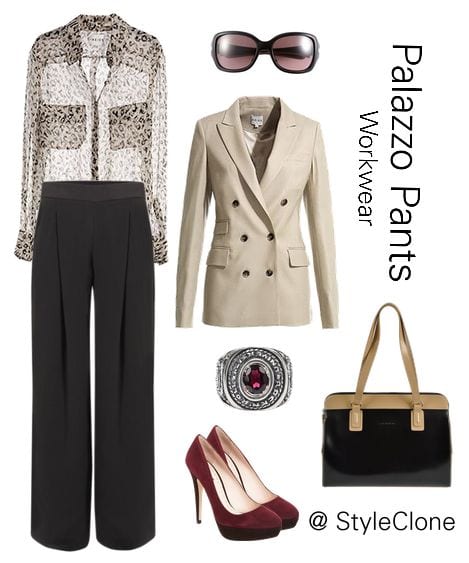 via
#6- Alternative Winter Style. For the more gothic style. Wide brim hat with a black fur coat, fishnet top and black and white patterned palazzo pants. Finish this style with a fringe handbag and black suede platforms. Check out 17 Cute Winter WorkWear Outfits For Women For Elegant Look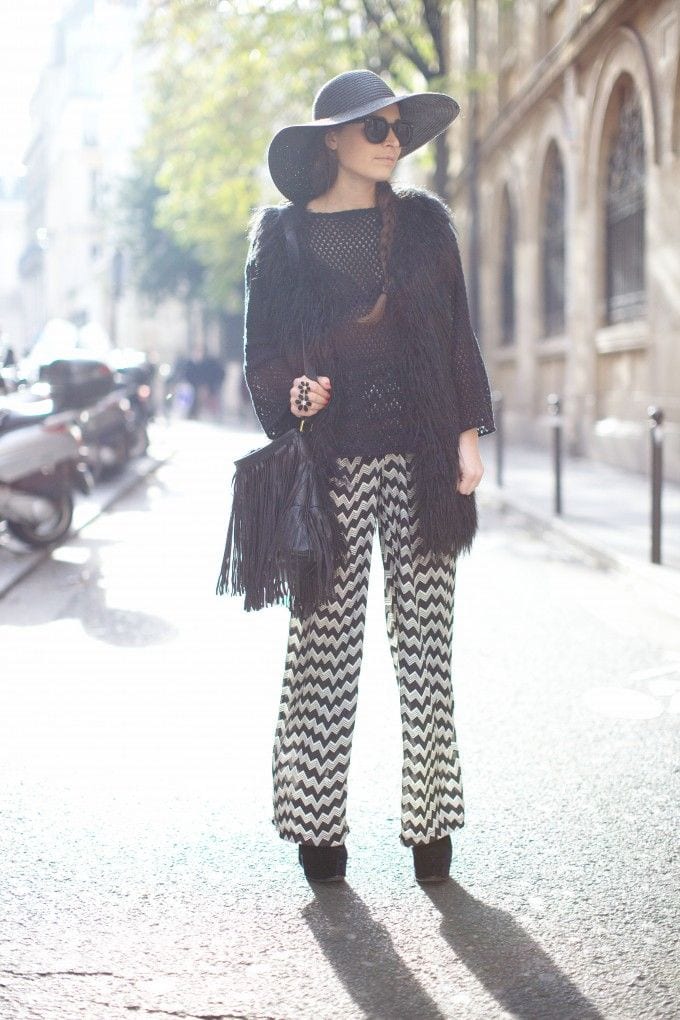 via
 #5- Smart Casual Combination. Coffee and cream combination matched with gorgeous ivory heels. Perfect party wear.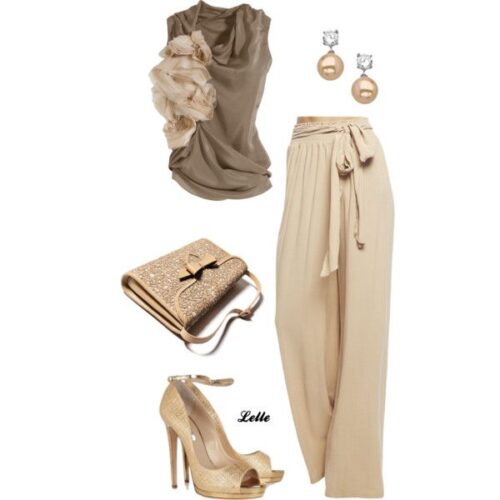 via
 #4- Casual Beach Combination. Simple denim jacket, turquoise patterned palazzo pants and wood effect studded wedges.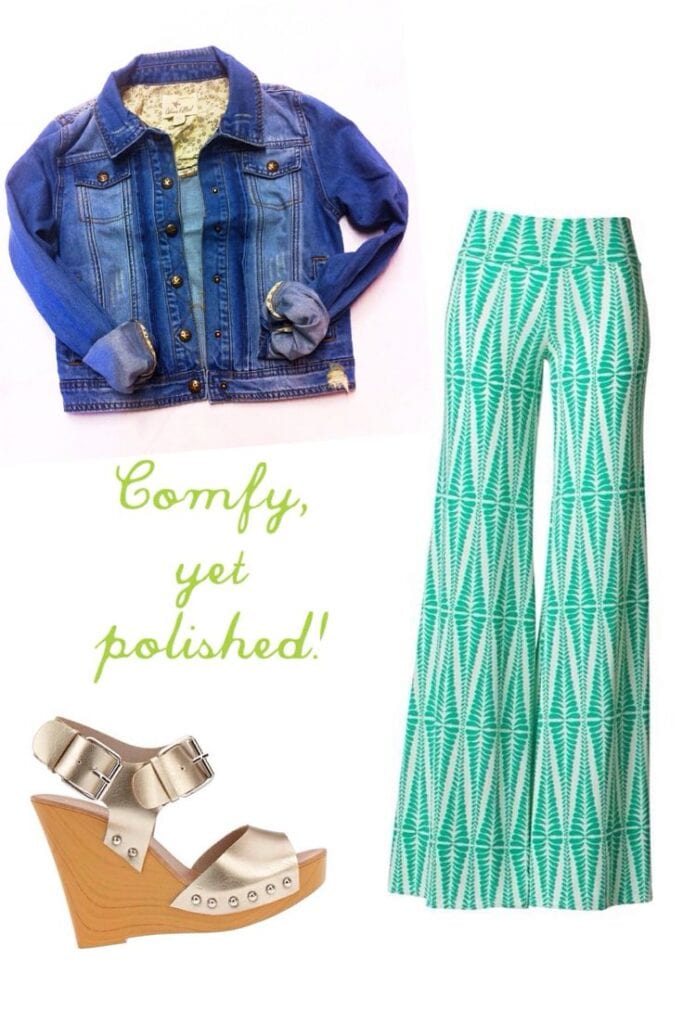 via
 #3- Simple Work Look. White t-shirt with black palazzo. Match these garments with sunglasses, chain handbag, and stiletto ankle boots. Add a splash of color with bright red lipstick. This outfit idea is perfect for women who work at offices or even at schools and colleges. For this outfit, all you need to do is to go for black or dark blue palazzo pants and the wear white permit shirt tucked inside the palazzo. For shoes go for high heeled coat shoes. You can wear any kind of the clutch with this look e.g black, red, yellow etc.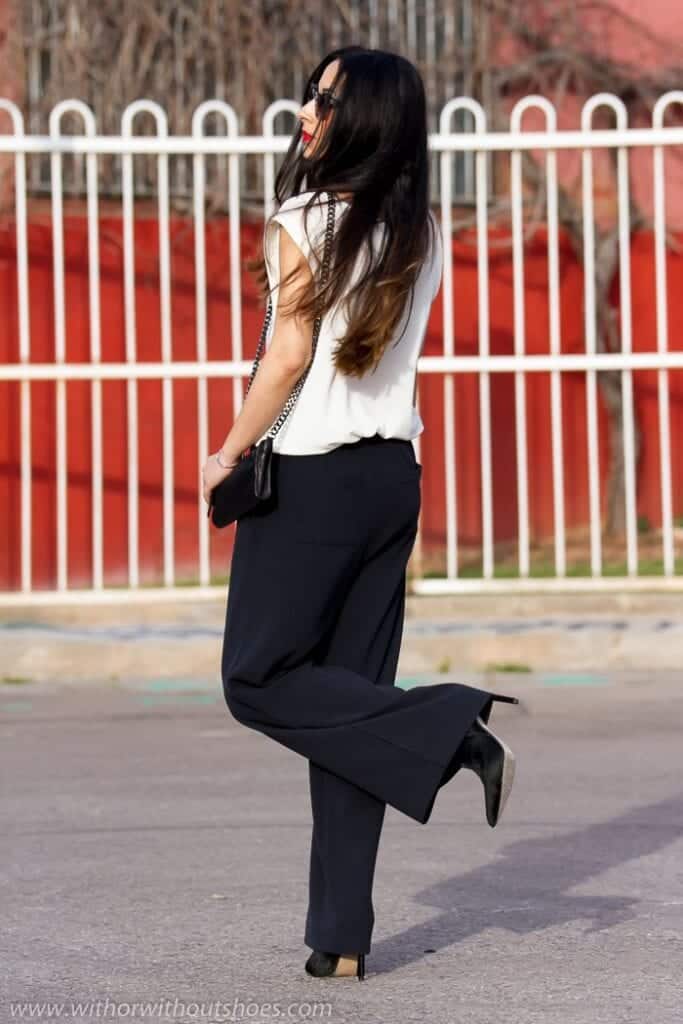 via
 #2- Summer Festival Style. Black vest top with black and white tie dye palazzo pants matched with simple silver flip flops. This outfit idea is perfect if you are going to attend a beach party or any summer party. You can easily wear this dress and look extremely good. For this outfit idea, you can go for gray or black and white palazzo pant along with black tank top. For shoes, you can wear flip flops to keep everything casual.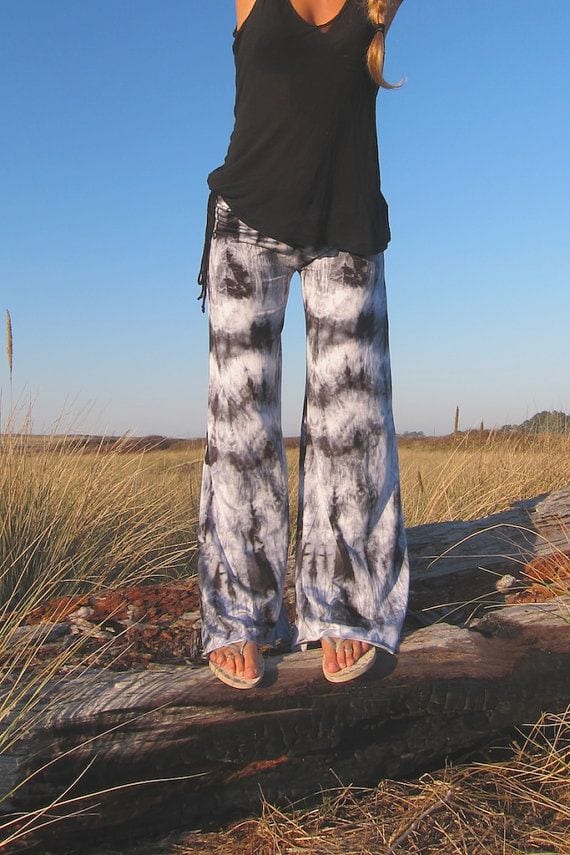 via
 #1- Summer City Style. White vest top with cropped red palazzo pants. Striking gray and brown buckle peep toes and leopard print clutch bag add a stunning twist to this outfit. This outfit is all about going for contrasting and bright colors. For example, you can wear a bright red knee-length skirt with white sleeveless shirt tucked into your skirt. For shoes, you can go for any kind of heels according to your preference. You can also go for a nice leopard print clutch to complement this look.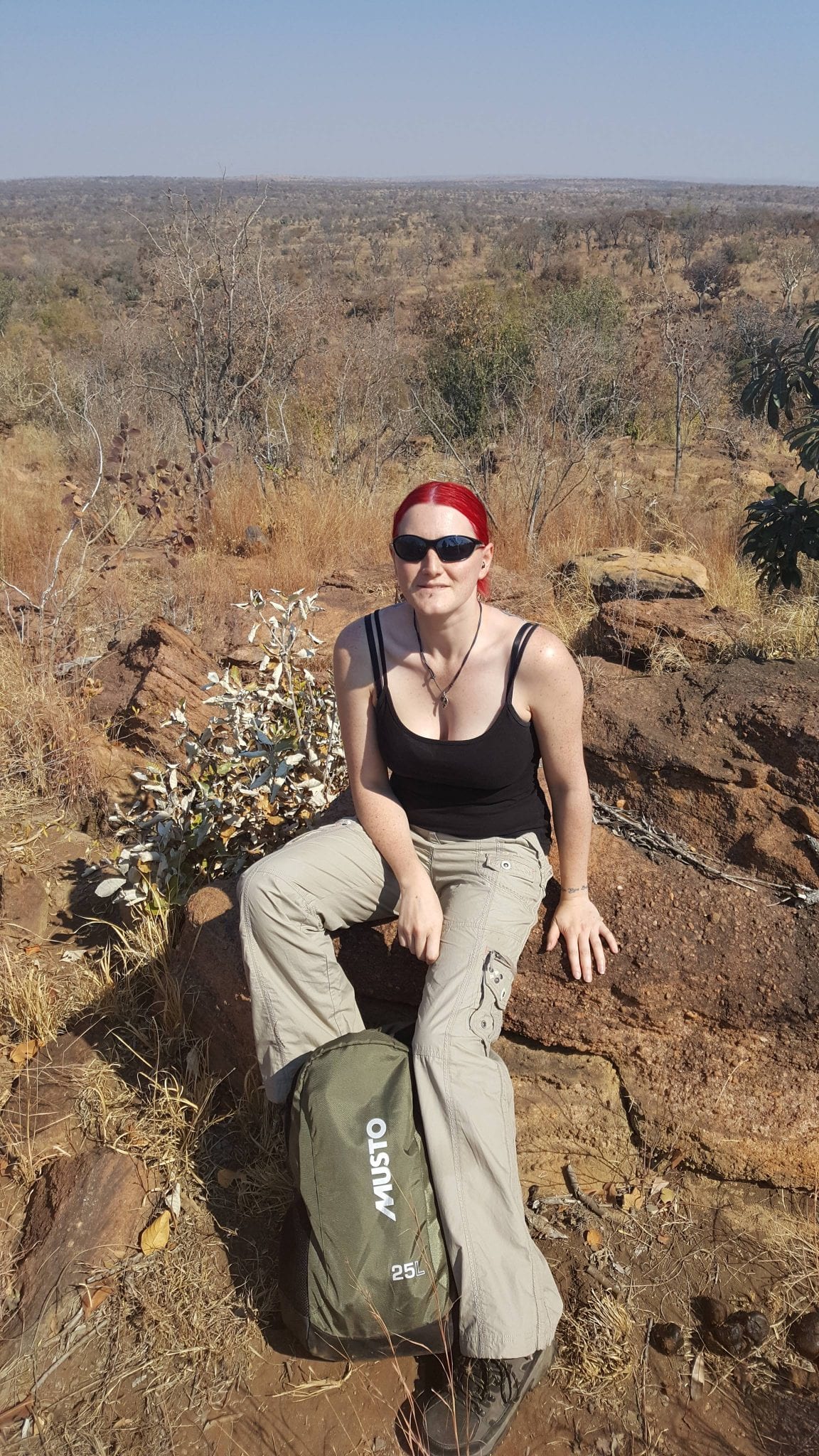 Caz, aka Vixen, has been freelance creative writing for several years. She has a lot of experience in different fields including high street fashion, tattooing art, and even the gothic and historical costumes. Caz has a Diploma in Fashion and Textiles and also a Bachelors Degree in Historical Costume and Corsetry. Her passion lies with gothic design, corsetry and any other styles considered to be taboo or unusual. Style-wise Caz has a love for Vivienne Westwood and her take on the punk era. Although Caz loves the weird and wonderful, she has a deep love for all fashion and allows this to show through her work.