Bohemian outfits for women: As time progresses, people have been increasingly and largely embracing the bohemian way of life. The bohemian aesthetic has influenced various aspects of life, whether it be clothing, home decor, and even weddings.
While still embodying its French origins, the free-spirited and lively yet, laid-back boho persona has revolutionized over the years. Albeit some changes have been brought about in the fashion over the years, the core remains the same: colorful, soft, embroidered, and hand-knit fabrics. To this day, prairie dresses, threadbare coats, fringed kimonos, and leather jackets remain wildly popular.
How to Dress in Bohemian Outfits?
The key to styling boho outfits is to keep comfort as the main priority while still standing out in a crowd and working around that. Add in layers and layers; I would suggest even more layers – but let's keep those for the gloomy, rainy, summer days.
Next, throw on a good old pair of boots and accessorize with some contemporary wooden jewelry. Moreover, you will find your hair to be the messier, the better. And on goes the list! Therefore, if you're looking for ways to style your long skirt, or ripped jeans and make it elevated boho-chic, then you've come to the right place. We have got you covered!
Where to Buy Boho Outfits?
If you are recently stepping into the realm of boho fashion – you do not have to be overwhelmed because everything that you need to start is mentioned right here. A couple of staple wardrobe pieces, like ripped jeans, leather jackets, ankle boots, would already be buried somewhere in your closet.
So get those out, dust them off and get ready to style them. These outfit pieces from the following brands are stylish enough to make you stand out remarkably in the crowd and yet cause you to save a couple of big bucks, making them easy on the pocket.
SHEIN. This brand has got your outfits and your accessories both covered. Pair this super cute sunflower two-piece set (here) with these perfect-for-every-outfit tassel earrings (here).
ZARA. Zara carries a versatile range, and this knit crop top (here) is the perfect pair for these tie-dye jeans (here).
FOREVER 21. You can never go wrong with this breezy and fresh jumpsuit (here). It is perfect for a beach day, paired with a sun hat.
WINDSOR. These flared pants (here) are economical yet chic.
Next. Looking for a perfect white wardrobe staple? This brand has got you covered (here).
Styling Tips
Colors: For having a bohemian wardrobe, prefer incorporating warm hues in your closet. Mix those warm hues with cold hues to have the perfect attire. Also, for the best look, you should have a minimum of six colors and a maximum of twelve colors in your outfit.
Tops: Look for tops that are relaxed and loosely fitted. Tops with V neckline and quarter sleeves are ideal choices as well. Moreover, floral patterns and mixed print designs are a plus.
Bottoms: Your bottoms should include flowy and bouncy pieces like skirts, wide-leg pants, harem pants, or flared jeans.
Outerwear: For outerwear, choose jackets, coats, and kimonos that are slightly oversized and have cute trims and decorative fringes.
Shoes: The best shoes with boho-inspired outfits are suede ankle boots, gladiator sandals, and platform heels.
Fabric: The ideal boho fabrics are lace, crochet, suede, and rattan, etc.
Patterns: Boho patterns include Ikat, floral, tribal, lattice, paisley, and trellis, etc.
↓ 55 – Cami Top with Printed Skirts
This blogger carried this extremely laid-back and casual look, which is perfect for beach days! The beauty of a white cami top is that it looks exquisite with any skirt. Likewise, this top seems trendy, relaxed, and effortless. Along with the bright blue sandals, the flowy printed skirt adds in just the right amount of color and expression.
She opted for some classic golden hoops – which, of course, you can never go wrong with. And this cream straw handbag truly brings the entire look together, which screams boho chic. Overall, we love this whole look, and the unruly, messy beach wave hairstyle is to die for.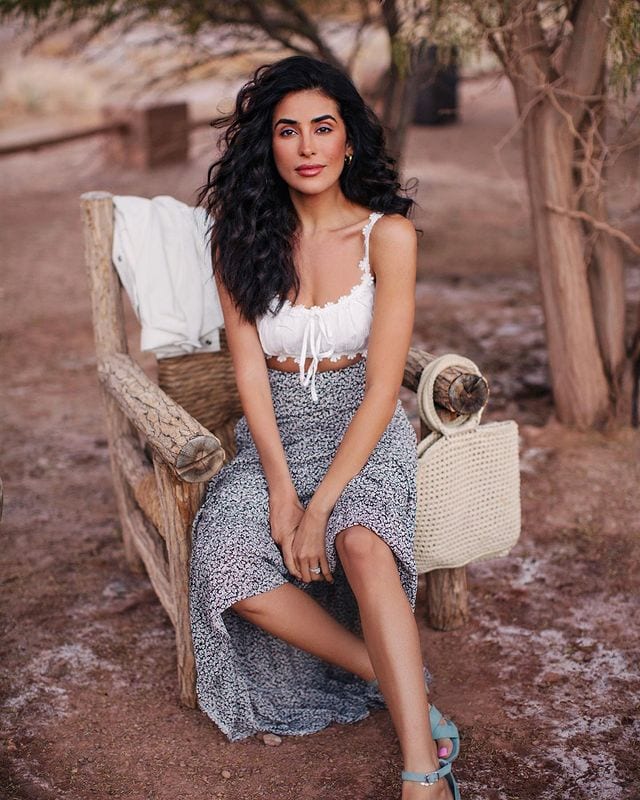 Check more ways to style skirts for a chic and trendy look.
↓ 54 – Bohemian Kimono with Jeans
Everything about this look is absolutely adored! The long printed kimono is fun yet breezy and light, making it perfect for the hot summer days. The high-rise, washed jeans pair perfectly with the button-up cami top while adding to the statement kimono.
Moreover, the straw weave handbag is an ideal boho wardrobe staple making it perfect for any outfit. Accessorize with a dainty gold necklace and cat-eye sunglasses – this look is a win on the hearts. Here are some more Kimono Outfit Ideas.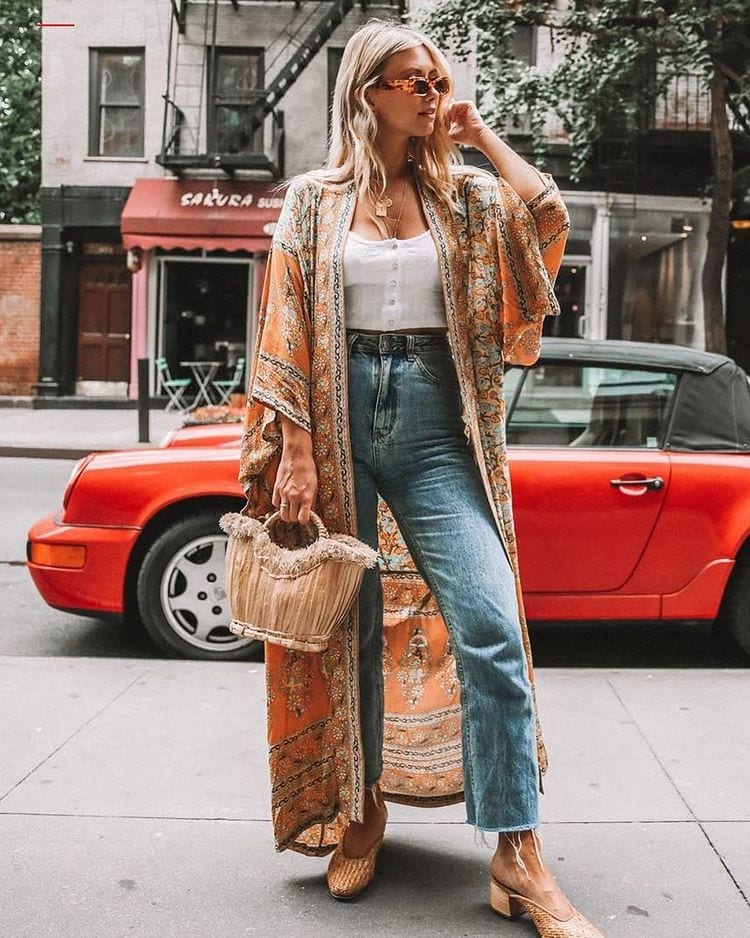 ↓ 53 – Classic Jumpsuit
Talk about comfort style! Alexis looks like a vision in this classic white jumpsuit paired with a cream knit sweater. This look is perfect for the chilly days in summer and provides the ultimate coziness. The cream sweater blends perfectly with the jumpsuit, and the buttons add in just the right amount of detail.
Along with that, the puff sleeves and loose pants of the jumpsuit make this ensemble the ultimate comfortable boho outfit! To unify the entire palette of the look, those brown ankle boots are a tasteful choice. Finally, to tie off and elevate to the next level, throw on some brown tassel earrings, along with a dainty gold necklace. And you are good to go!
Check out more amazing ways to style jumpsuits!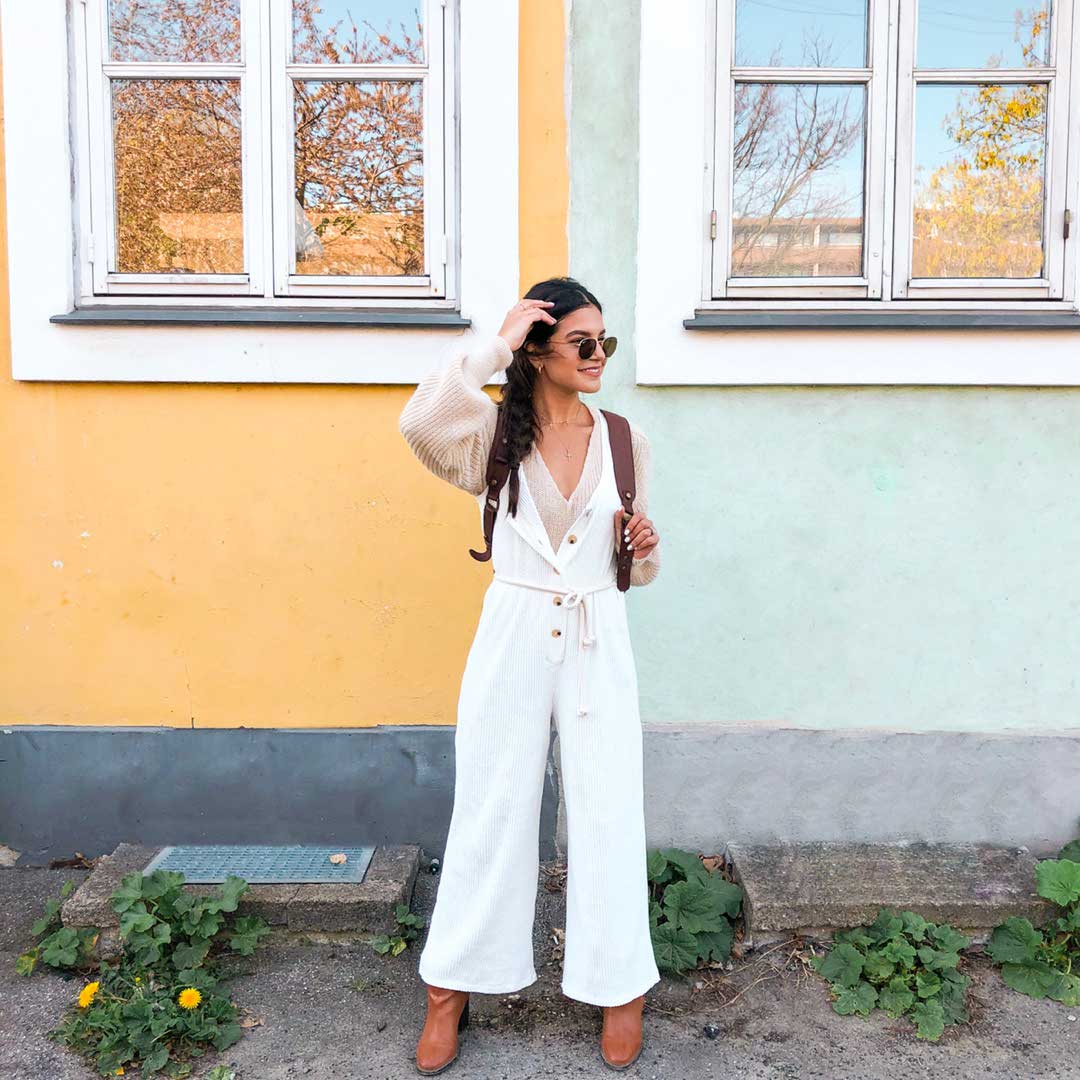 ↓ 52 – White Dress with Statement Belt
When dressing in summers, the main focus must be to remain fresh and light. This attire is just that – and more! We adore the messy bun thrown at the nape of the neck – add a hair scarf to bring more texture to your look.
An oversized shirt or a lace dress can substitute the white mini dress to fit your aesthetic and taste accordingly. Furthermore, the sun hat and the heeled boots are just the right amounts of rustic with the white dress. And this belted fanny pack is not only adorable but also conventional! We would suggest keeping the accessories minimal and allow your outfit to do the talking. Regardless, this ensemble is promising enough for Sunday brunch with the girls or a trip to the farm.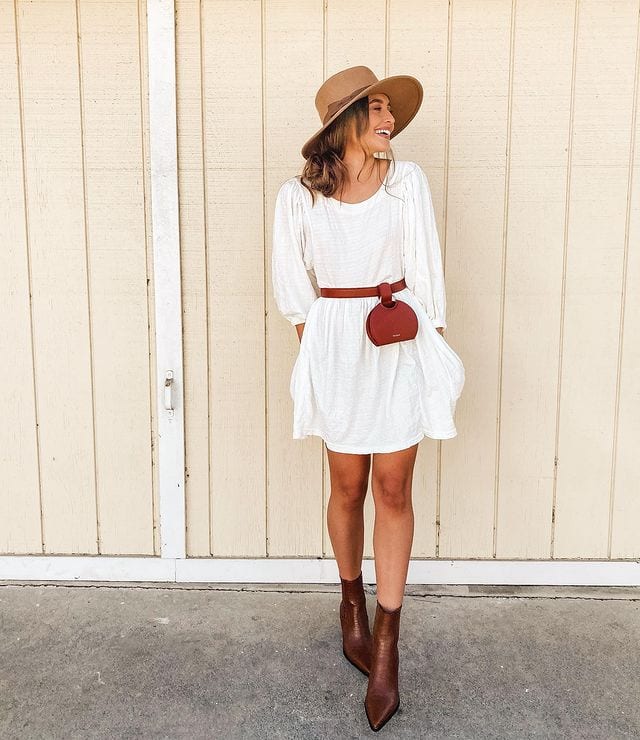 ↓ 51 – Printed Culottes with Puff Sleeve Top
These funky printed culottes are laidback and comfortable yet eye-catching. The colorful and loose cut of these culottes is easy to style and would look impressive with various tops. From a fitted cami to a flowy puff-sleeved top as styled below, this ensemble is extremely easy to carry!
To attain a more casual look, opt for a pair of white strappy flat sandals instead of these heels. Finally, bring this entire look together by accessorizing with colorful feather earrings and gold detailed rings!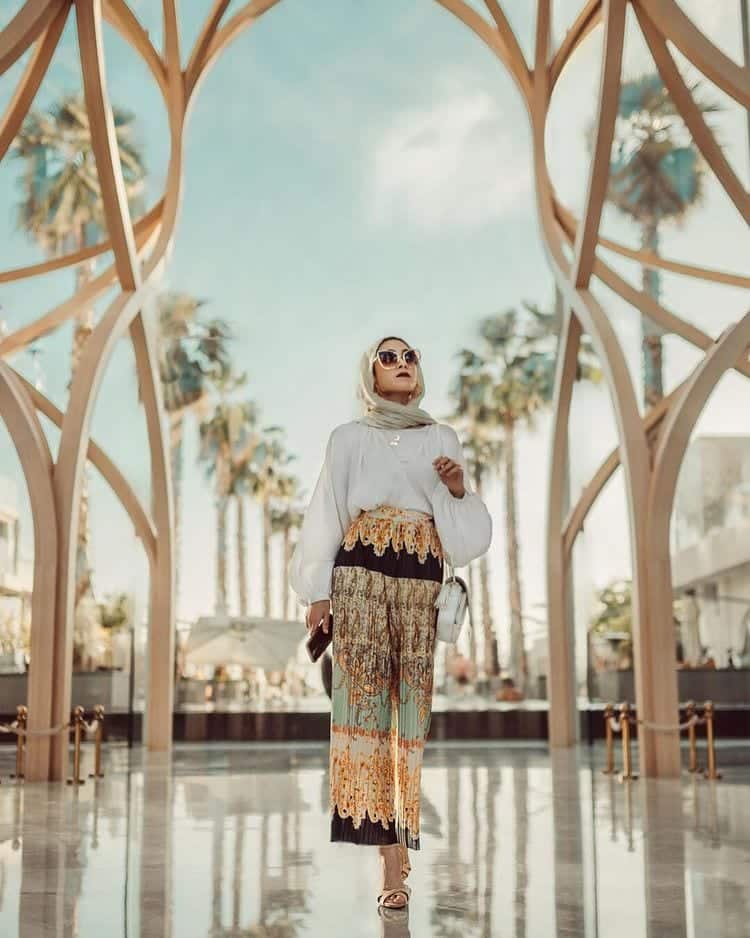 ↓ 50 – Faux Fringe Jacket
For all our grunge lovers out there, we have got you covered with this remarkable black faux fringe jacket. One can honestly never go wrong with black, and this statement outfit is the living proof of just that. The spunky metallic belted chains and jewelry provide a refreshing contrast against the black faux on denim.
Additionally, replace the black hat with a bandanna, and you may as well have established that you are not to be messed with. Exactly the way it should be!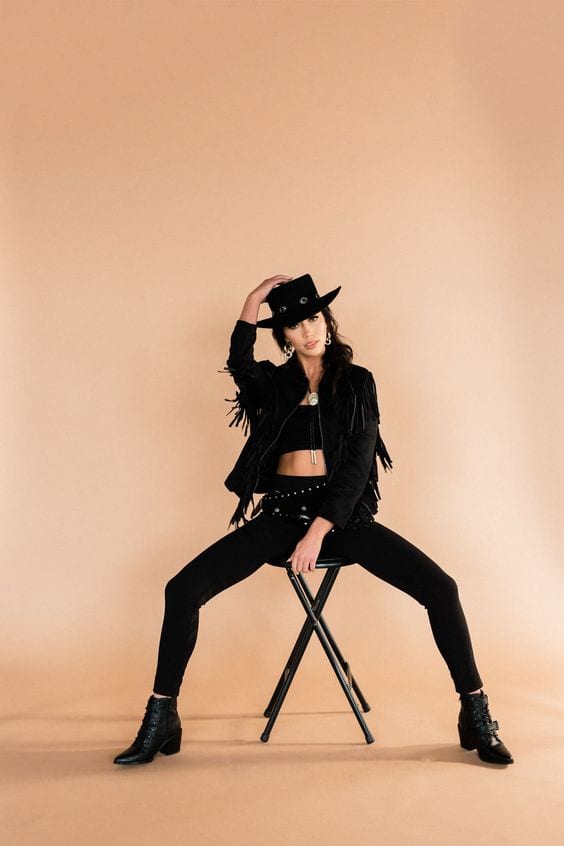 ↓ 49 – Midi Ruffle Dress
How absolutely delightful is this entire look?! The tropical pattern on the midi ruffle dress exclaims boho-chic for the modern days! The dress's silhouette is similar to the prairie dresses of the olden days but with a modish spin. The layered ruffles are enlivening and truly enhance the outfit.
The beach waves kept in place by these trendy oversized and embellished hair clips are the perfect hairstyle for your carnival and beach days. Additionally, the straw sandals and shoulder bag are contributing ideally to this look, making it the ultimate boho chic. Smear on a nude lip gloss and add bronzer for a sunkissed make-up look.
Check some cutout dresses to up-your fashion game right now!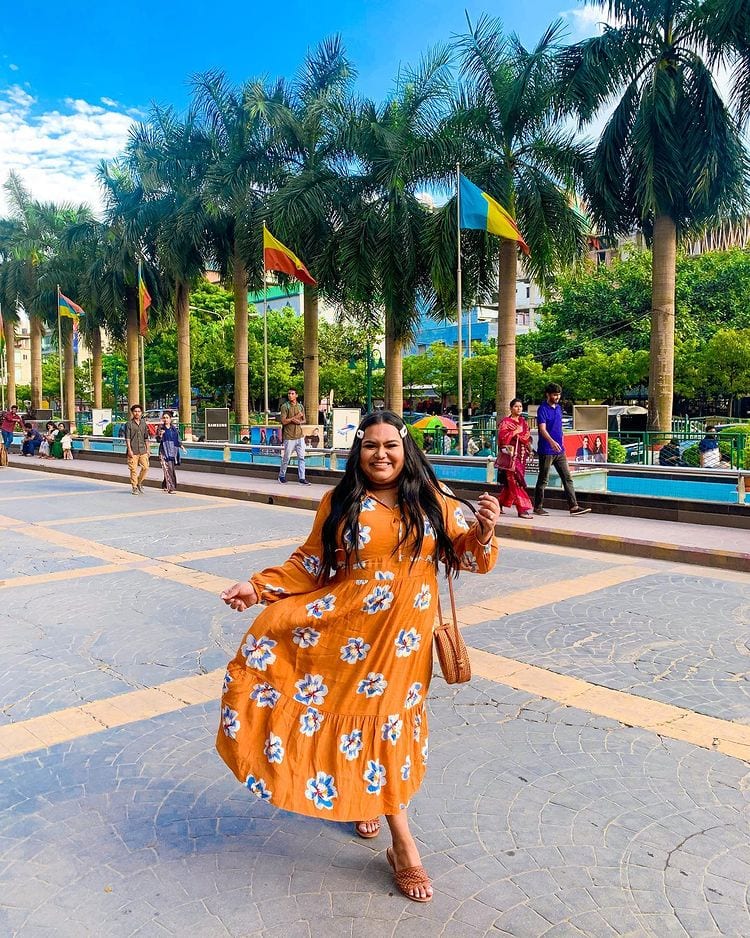 ↓ 48 – With Plaid Pants
Now, this outfit is an ideal example of a contemporary boho-chic get-up. We are absolutely in love with the modern yet classic cream and nude color palette of this look. The cream plaid pants look oh-so-modern with this plain button-down tucked-in shirt. On the contrary, the bold red lip serves as a stark contrast against the nude outfit.
The platform on the weaved wedge sandals provides just the right amount of poise and confidence to the look. Style with chunky gold hoops and a statement straw weave clutch handbag to match the shoes – and you are a vision to behold!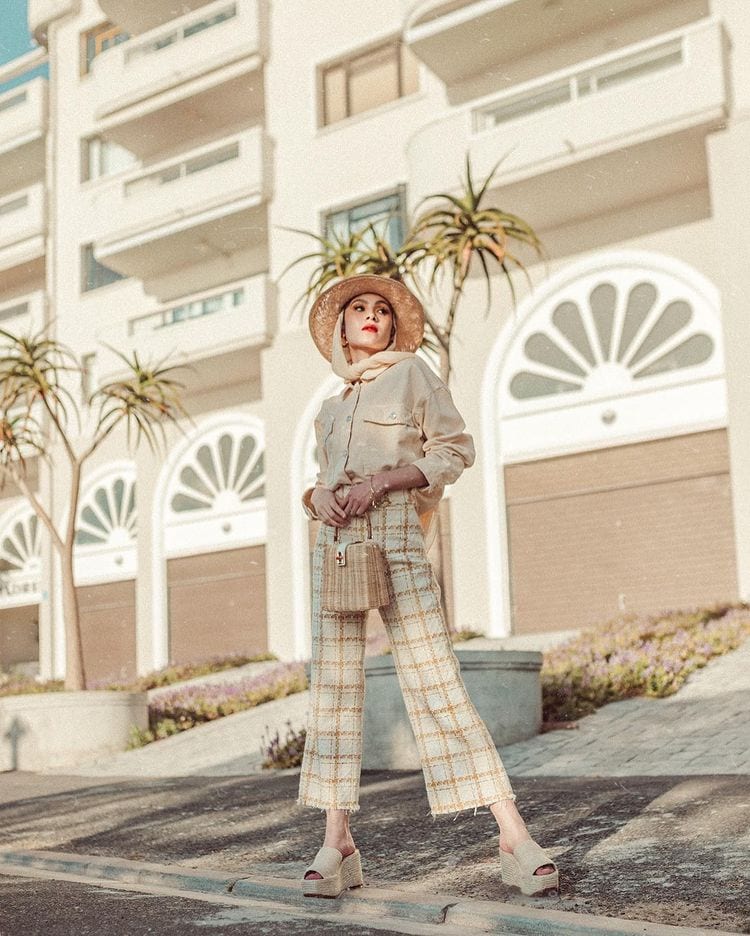 ↓ 47 – Cowboy Boots & Denim Shorts
Cowboy boots are such classic wear that is easy to style in abundant ways. However, just like in the image below, they are commonly seen accompanied by boho fashion. The expressive pairing of cowboy boots and denim shorts is an all-time favorite of bohemians all around. And we can fully understand why!
Opt for a kimono according to your mood for the day. Also, keep your make-up minimal and your hair down and wavy. Finally, add on a similar dream catcher necklace and wooden bead bracelets, and you have quite the look on your hands, a look that is just as free-spirited as your soul!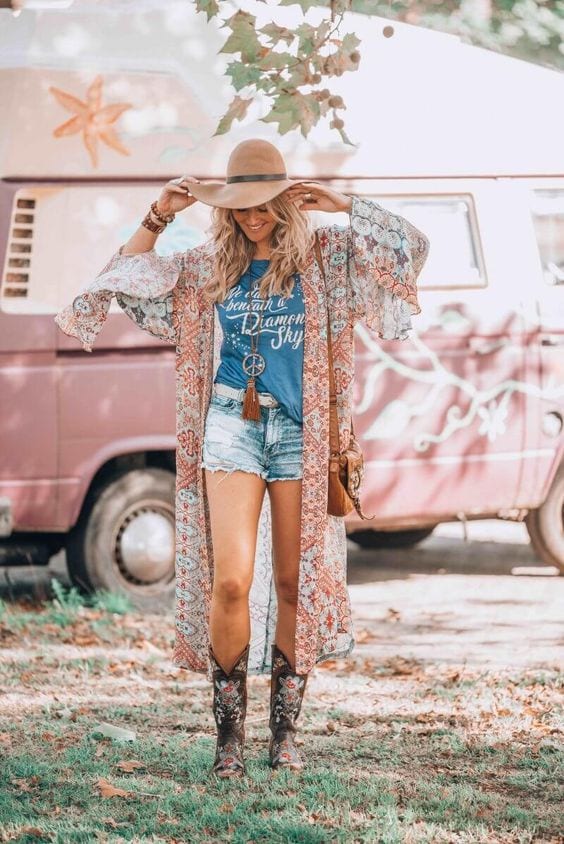 ↓ 46 – Elsa Hosk's Rainbow Maxi Gown
The former Victoria's Secret Angel and model Elsa Hosk looked emulate in this elegant boho maxi gown. She truly stood out with how effortless yet chic her entire look is. We love that she kept her jewelry to the minimum and let this gorgeous rainbow-hued piece do the talking.
The belted waist and plunging neckline make the dress just the right amount of sexy yet sophisticated. And the train inarguably brings out the more romantic side of this look. This entire ensemble is a vision to behold, and the crown braid hairstyle makes her look effortlessly boho chic on the red carpet.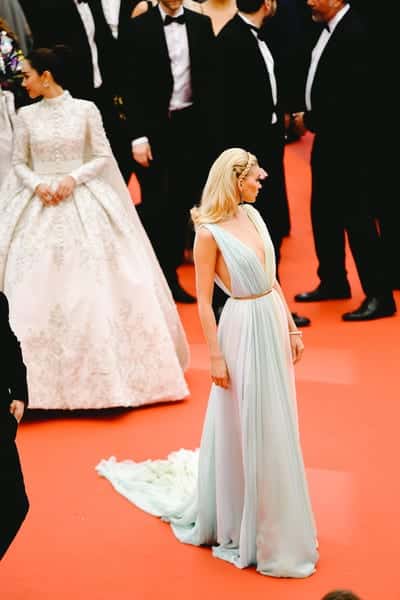 ↓ 45 – Boho Chic for Plus Size Women
If you are a plus size woman who adores her curves, why not accentuate it too with you dressing. Wear a cropped top with culottes, the style looks totally summery and fashionable. Invest in a pretty white top because that can be paired with any kind of trouser. Don't forget to wear your floral sandals too, with it.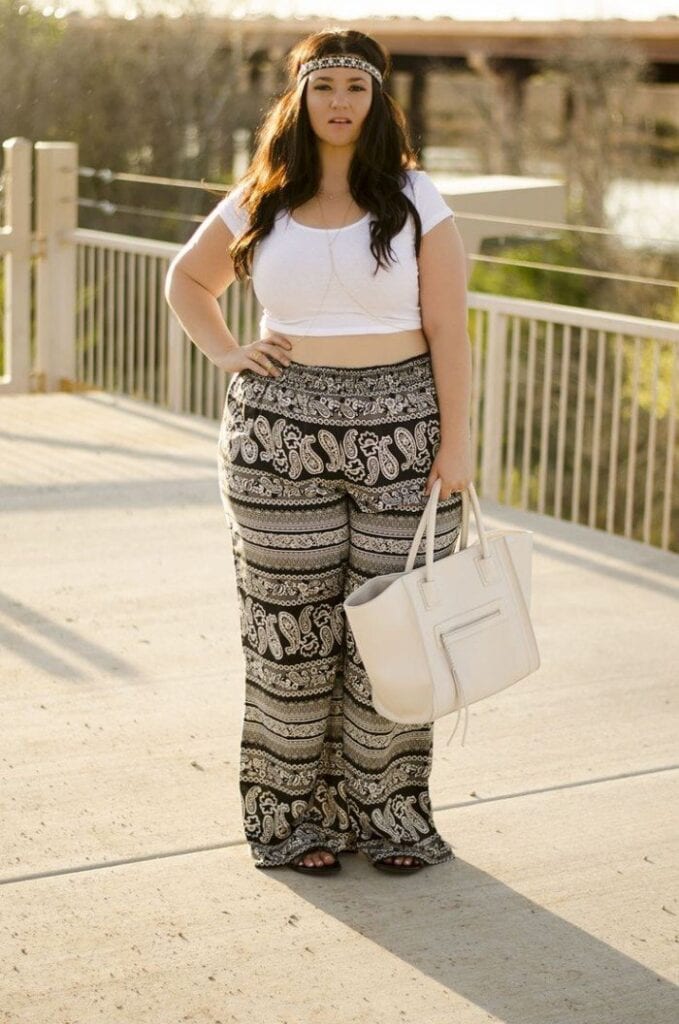 ↓ 44 – Winter Elegance
This style is totally about flowy dresses, loose cardigans and sweaters. Combine your oversize, heavy, knitted sweater with a lace dress underneath and infinity scarf. Black stockings and brown boots will look lovely with the look.
↓ 43 – Summery Feel
Bohemian style is perfect for voluptuous ladies. Look at this beautiful pink frock. It looks absolutely gorgeous on this woman. You can wear it with your white heels for a formal occasion or wear it with your brown boots. Accessorize with earrings and a bracelet. We sure get a picnic feel with this funky dress.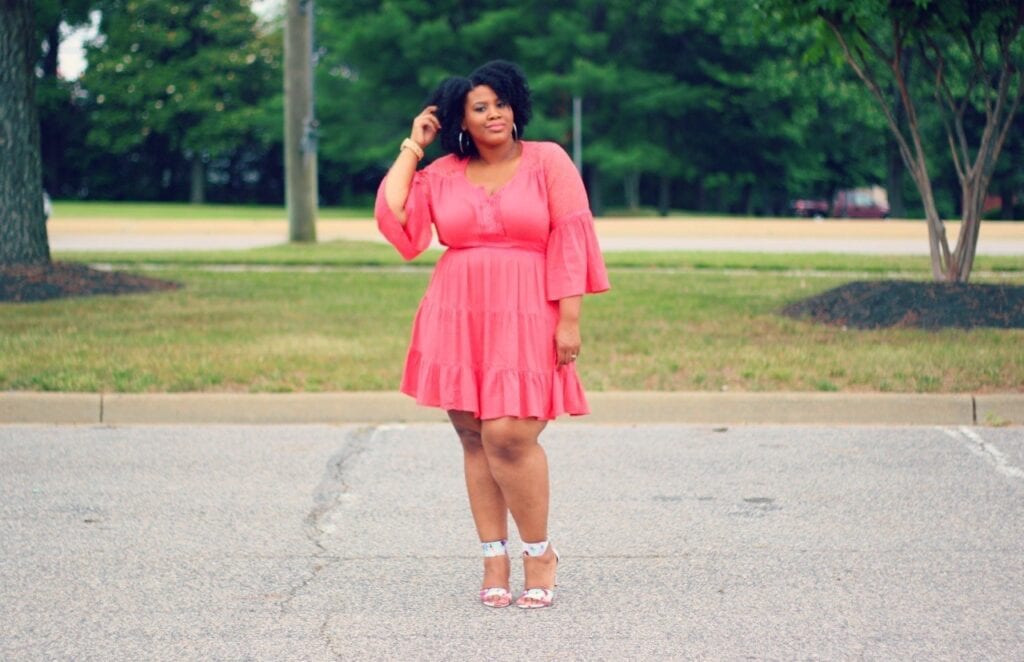 ↓ 42 – Stylish Poncho for Fall
Who doesn't love Aztec prints. They look stylish, no matter what. You too can carry this chic look by pairing up this stunning red poncho with leather pants and a fedora hat with red boots. Time to turn some heads with your style.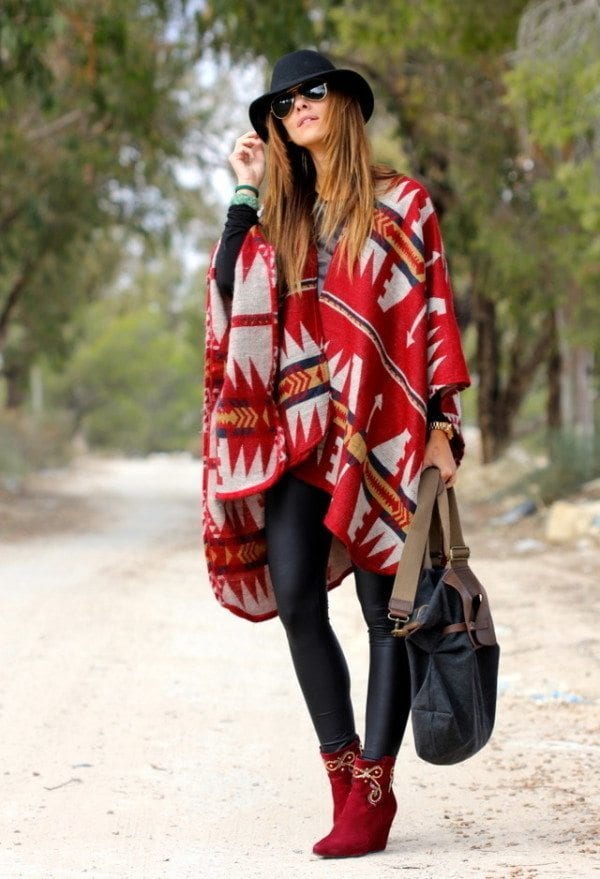 ↓ 41 – Styling Idea for Winters
Be it summer of winter, Aztec prints are always part of fashion. Lets prepare for Boho winter wears. How about a very sexy, pair of trouser with earthy tone of cardigan? You know you're drooling over this style already.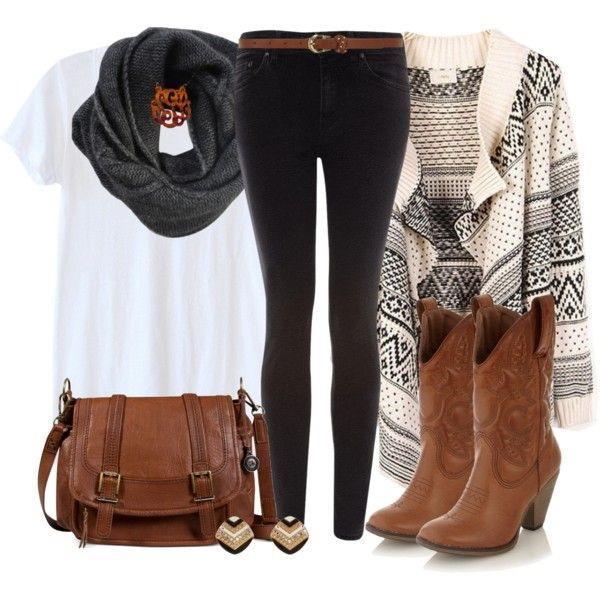 ↓ 40 – Sunday Outfit
Go casual, go carefree because hey, it is Sunday. This maxi is all you need to stroll in style. Jazzing up with a leather jacket and beach waves and you're the real Diva of the day!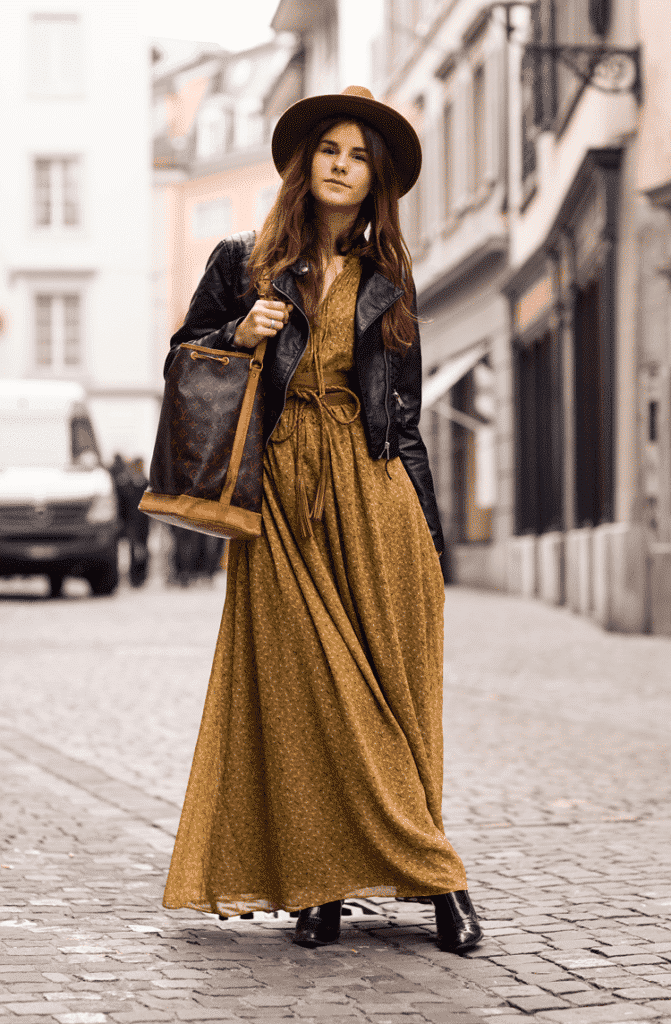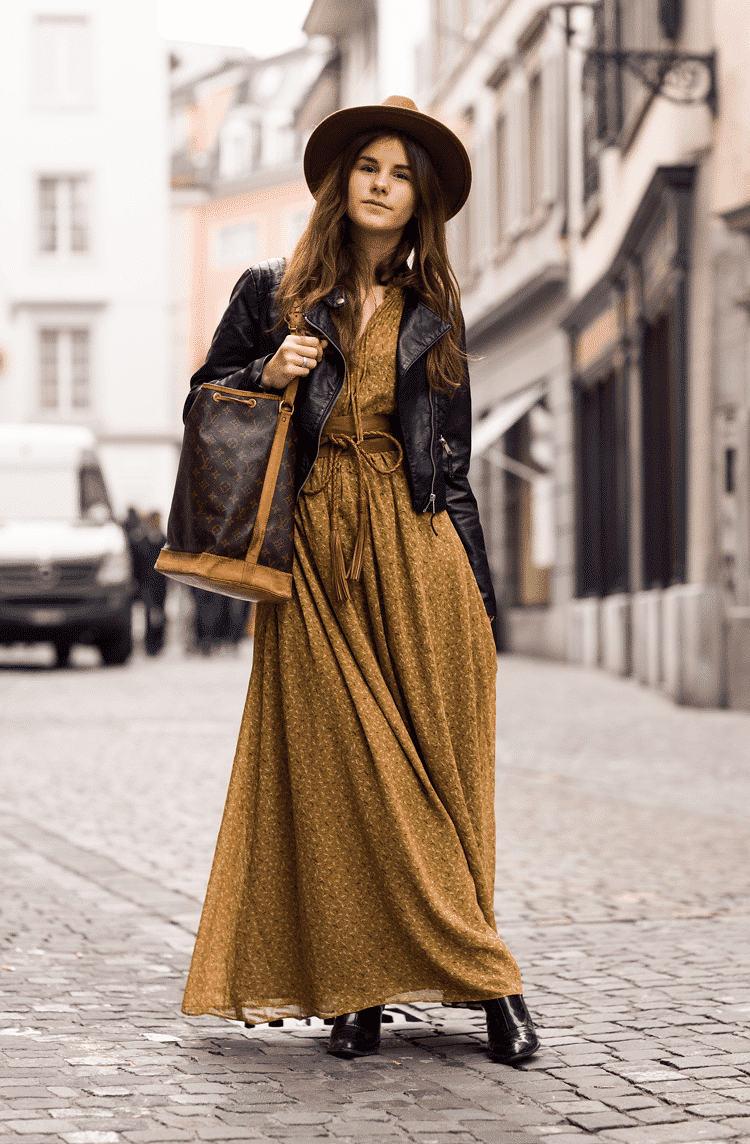 ↓ 39 – Spring Madness
Don't let the Covid-19 dull your mood. Feel happy and at easy in a floral mini frock with a washed up denim jacket. Pair it up with a scarf and head out for an evening walk around town. Remember, we follow the Bohemian culture, we are free-spirited!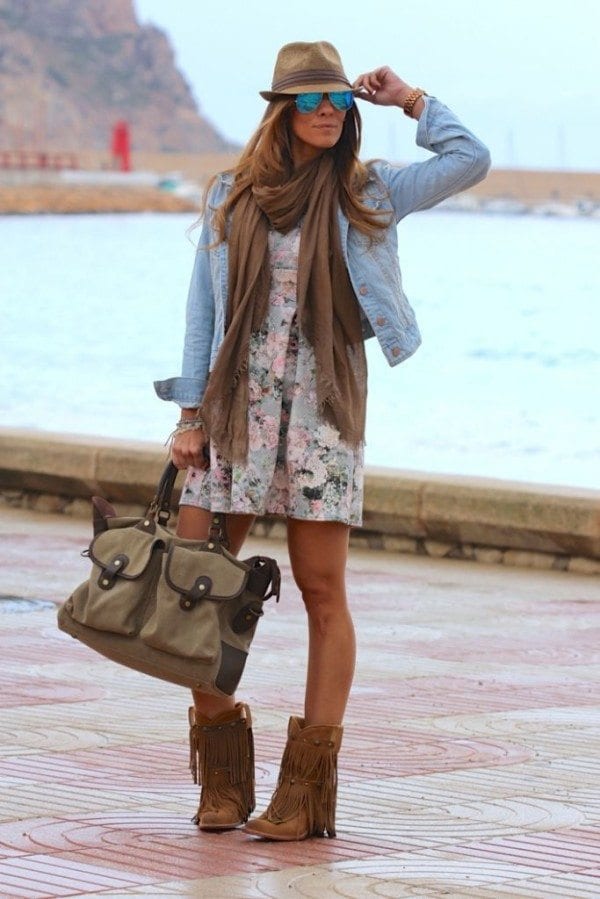 ↓ 38 – Just a Casual Boho Attire
Ugg Boots look nice when worn with a pair of jeans and a printed top with a cardigan. To complete the bohemian look put on pom pom necklace and a pair of neon sunglasses. Woho! you're all set to be the style statement of Boho style.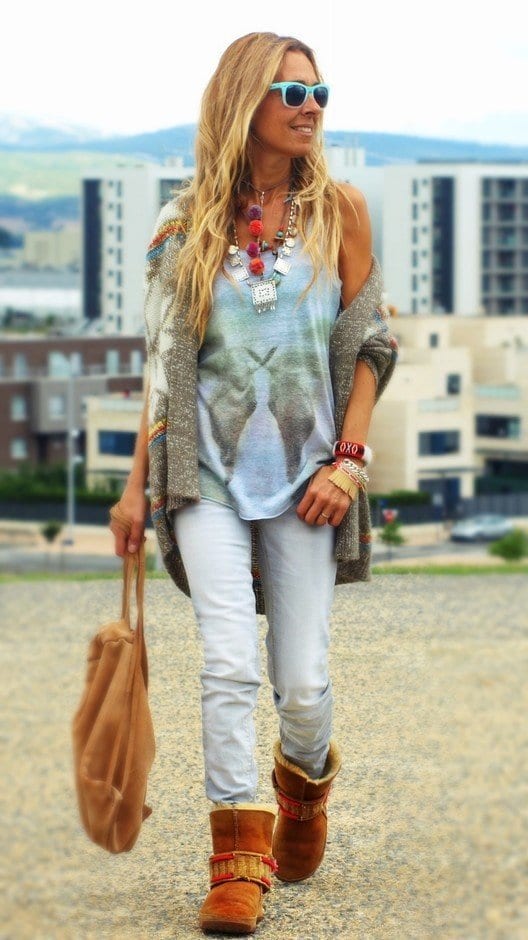 ↓ 37 – Off the Shoulder Maxi
Doesn't Vanessa Hudgens looks gorgeous in this off-shoulder maxi?. You too can look this cute, just be yourself and beat the heat with this beautiful maxi style that can be carried well if you pair it up with chunky necklaces and heavy hand cuffs.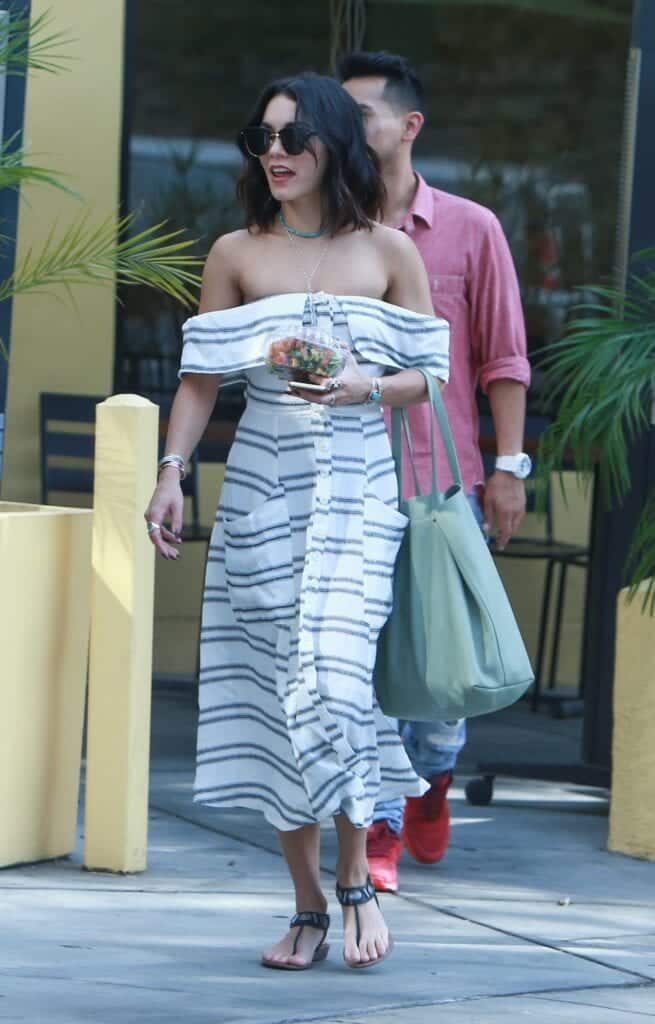 ↓ 36 – Animal Print Inspired Dress
Well, if you're a Boho Chic fashion lover, you need to have a maxi with animal print on it! Like, that is a must, if you have not bought yet, time to search right away, online!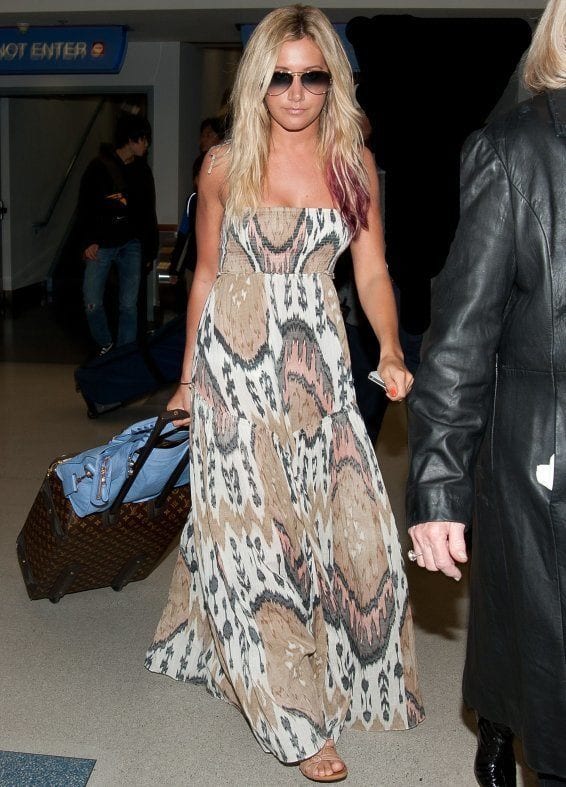 ↓ 35 – Evening Gown Idea
Who says Bohemian style is for casual wears only. If you hate fashion which is too restricting, you feel uncomfortable following it, lets switch to boho chic trends. This comfortable, silk, printed frock is elegant, yet so easy to carry. Casual ponytail and couple of bangles are all you need to rock this look.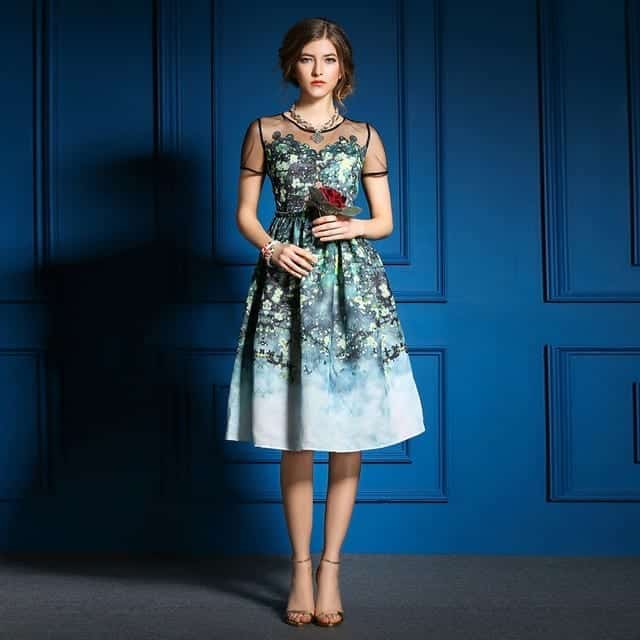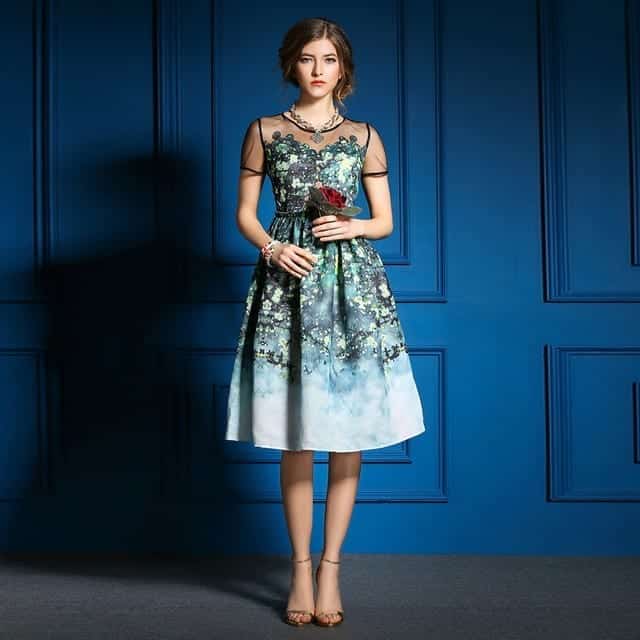 ↓ 34 – Faux Fur for Fall
Faux furs have always been in fashion and this patched sleeveless jacket paired with a maxi is high fashion. Accessorize with a heavy brown belt and you're perfectly dressed for the candle light dinner at home!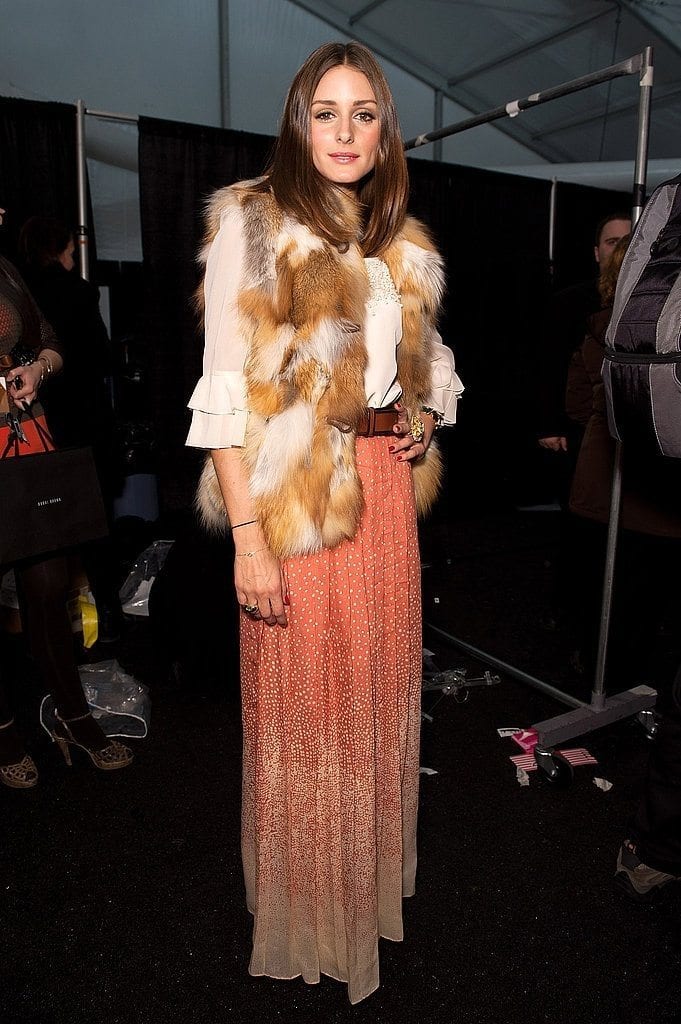 ↓ 33 – Sundays in Cold Weather
Purple denim combined with knee length black boots and a loose grey sweater for a relaxing Sunday. Beanies not only give warmth but look gorgeous when worn with loose curled hair. The fun boho chic look is ready!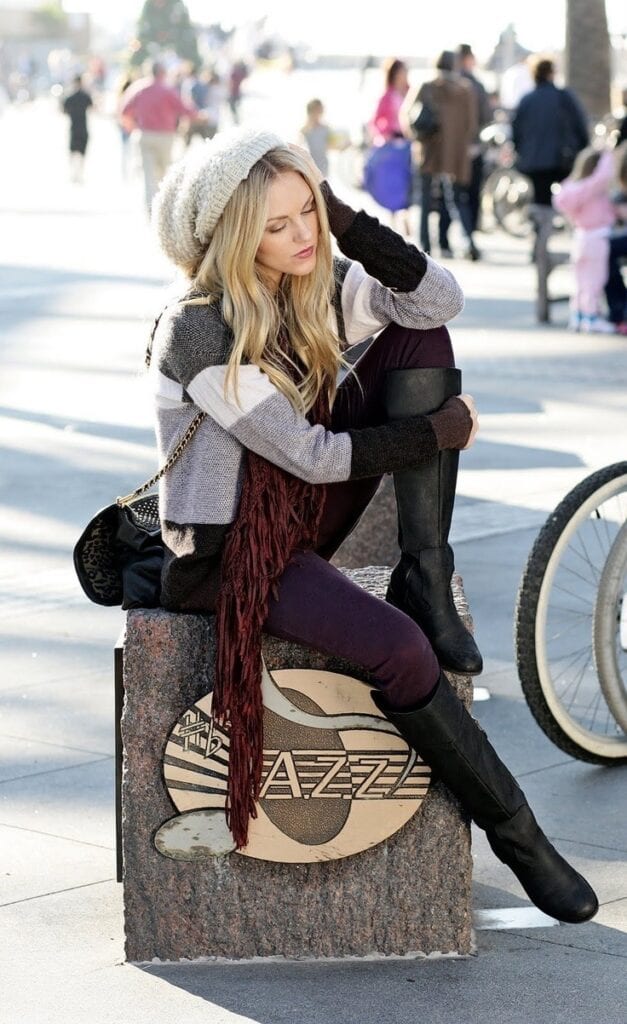 ↓ 32 – Bohemian Floral Dress
Definitely invest in a gorgeous vibrant colored maxi for an evening function. Whether you wear thick pearl necklace with few chains or a choker with it, it will look graceful. You can elegantly tie a bun over your head or let your tresses flow, this look is bound to make a positive impact around you, for its playfulness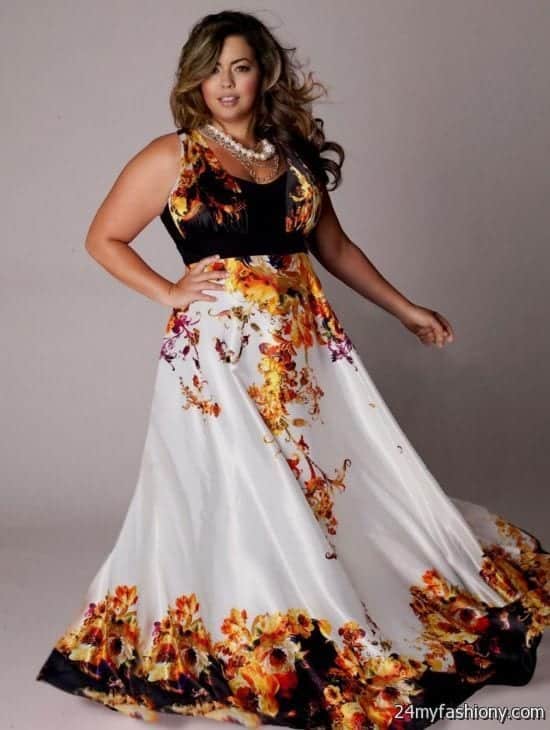 ↓ 31 – Shirt Dress
We all know, it is pretty hot in some regions of the world. So, if you're from Asia countries where sultry summers are making you very uncomfortable, time to add some funky boho chic mini dresses to your wardrobe. You can get variety of colors and patterns in them and they look uber cool with summer hats and sandals.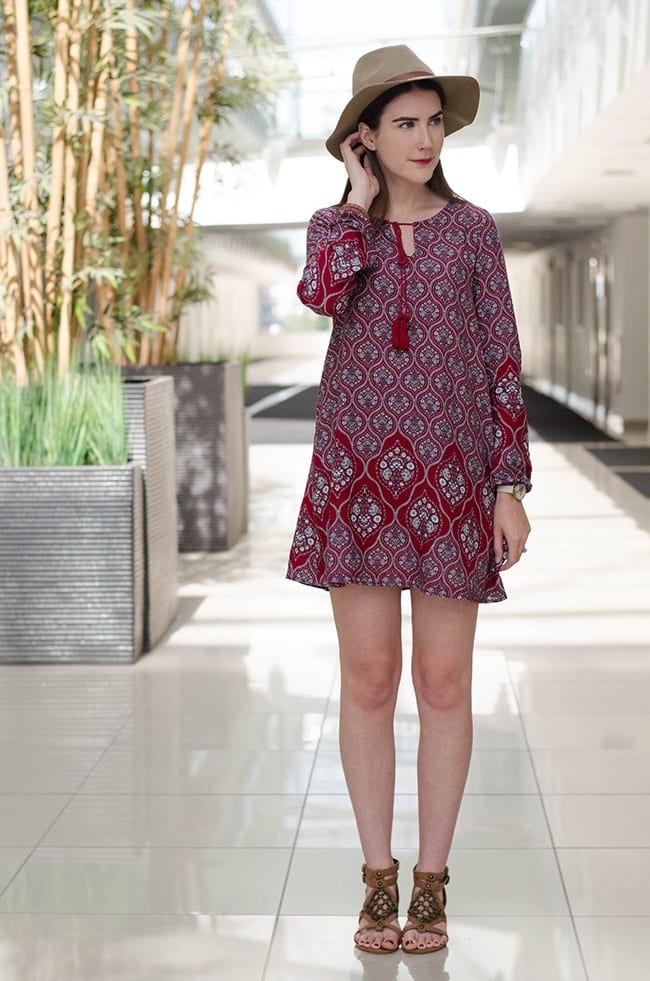 ↓ 30 – Loose Silhouette
If you are from a region where the weather is moderate, well, go for printed palazzo with summer sweaters. Slightly warm, super soft and very trendy. Just tie your hair in a high ponytail and you're all set for the evening date with your girlfriends, in a bistro.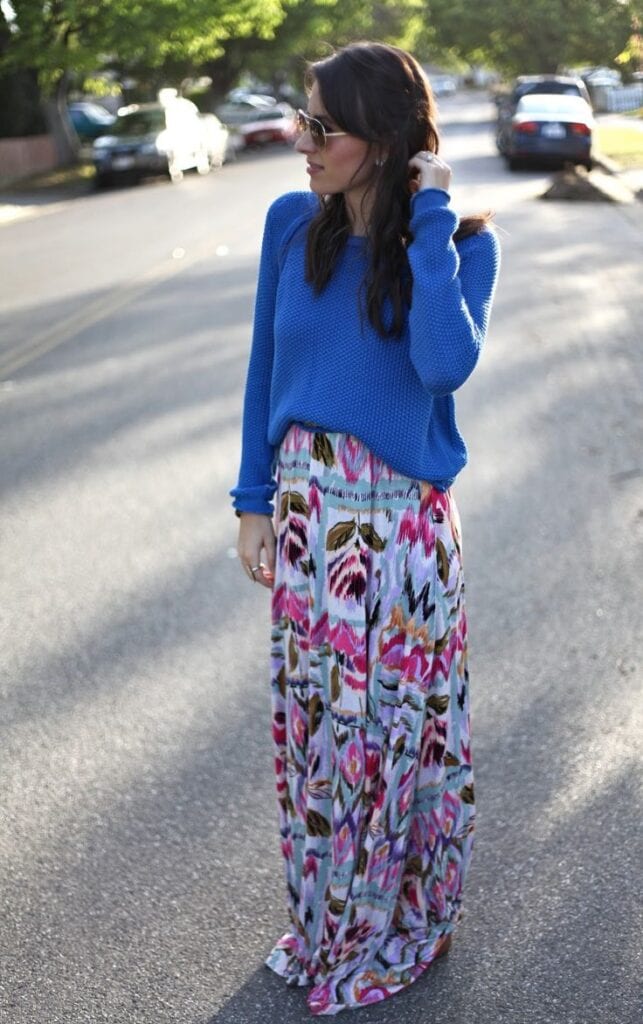 ↓ 29 – Ultra Mod and Chic
When you don't feel like dressing up alot. Go for a casual look. Denim shorts with a long gown looks very casual but has the aura of its own. This boho look can't be completed without a floral headband! Try it right away because you can't wait.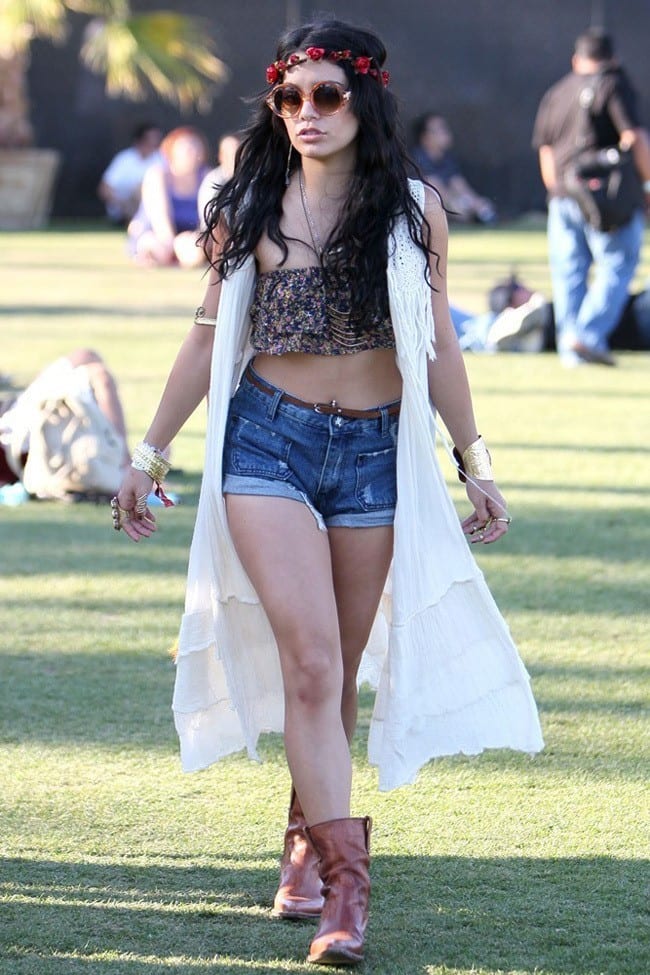 ↓ 28 – White Lace Mini Dress
Going for groceries but don't want to look lethargic and dull. Well, how about a cotton, lace mini dress which looks super mod and it is very comfy too. Pair of shades and casual sandals with the dress and you're the trendiest person in store!
↓ 27 – The Breezy Summer Boho Look
Dive into this summery, breezy dress which is not only cute but is light and the perfect wear for the hot weather, which is killing us all. You should always choose the bead hoops to go with the look! Time to head to the beach immediately.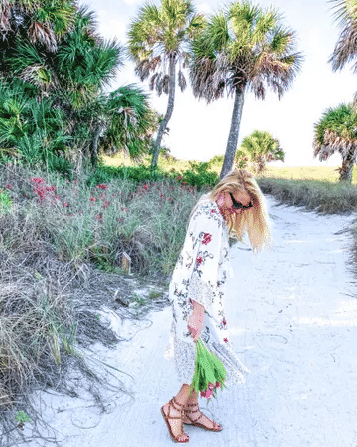 ↓ 26 – The Boho Chic Beach Look
Planning to head over to a beach for a stroll? How about a cute crochet mini skirt in the color of your choice along with a fun ballooned sleeved top? This look can even be paired with colorful funky tops. Vibrant flip flops will complete the look for you!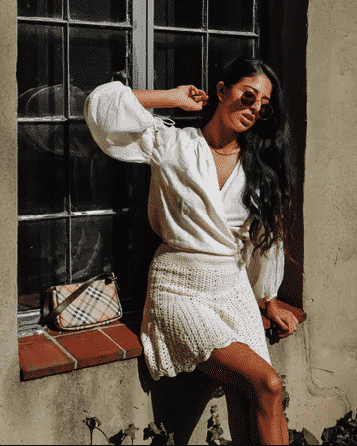 ↓ 25 – The Girl Next Door Look
Want to look uber chic yet simple? The perfect look in that case would be a cute embroidered dolly shirt with ripped pants. Don't go with cigarette jeans, instead choose something casual and comfortable. You can complete this look with a pair of round hoops and a round cross-bag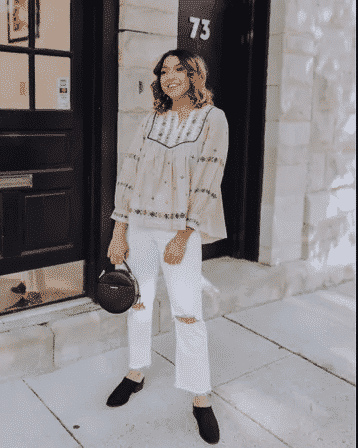 ↓ 24 – Go Vintage
As Boho Chic is all about Vintage Fashion, lets experience the 19th century fashion, in their style. Dress up in a long, flowy, maxi, with bat winged sleeves and you are perfect for the Dress-Up Party at your friend's backyard. Time to go vintage for sure!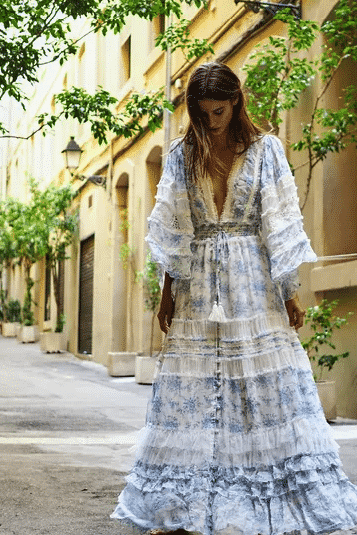 ↓ 23 – The Funky yet Classy
Go bold in this embroidered top with crisp white jeans shorts! The look is not just fun, but it is classy too. You can wear your sandals or even high heels with the look. Accessorize it with a statement necklace and matching earrings. Isn't it the prettiest yet the dandiest look! Try it right away and let us know about the compliments you get for carrying it, for we know, you will get many!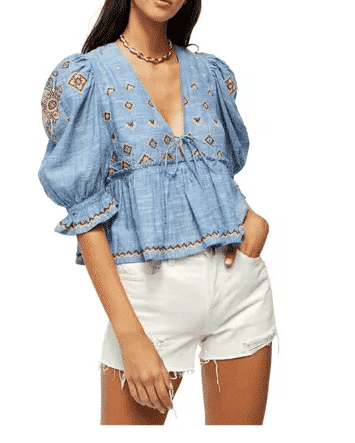 ↓ 22 – For Cool Summer Nights
We all know how unpredictable the weather these days  is. We have pretty sunny summers and very cool winters. For such weather, wear something which can keep you cool during the day and cosy during the night. How about a long Kimono Cardigan that you can wear over your T-shirt and ripped jeans? Cool, right? You surely can try this look if you are one of those who wants all the comfort without compromising on your style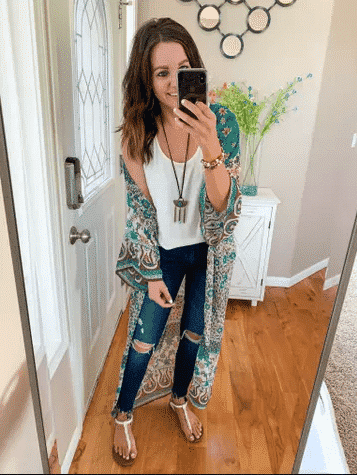 ↓ 21 – The Easiest, The Better
Boho chic is all about being easy in what you wear. You do not have to put in extra efforts for setting a trend. Because if you have to try too hard and have to try things that are outside your comfort zone, then that won't be boho.
The uniqueness of this trend can be experienced by wearing the simplest printed maxi that you always have in your wardrobe. The bright colored maxi, with some laces, is all you need. So, go for it and enjoy the most easy fashion because fashion should never give you hard time!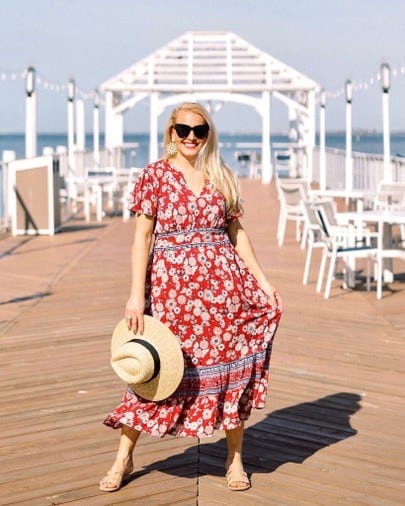 ↓ 20 – Summer Date Night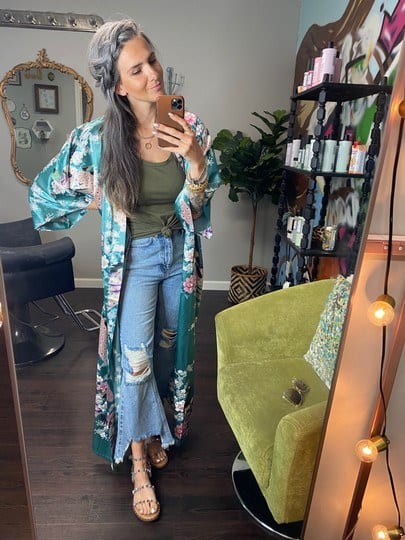 ↓ 19 – Boho Beach Look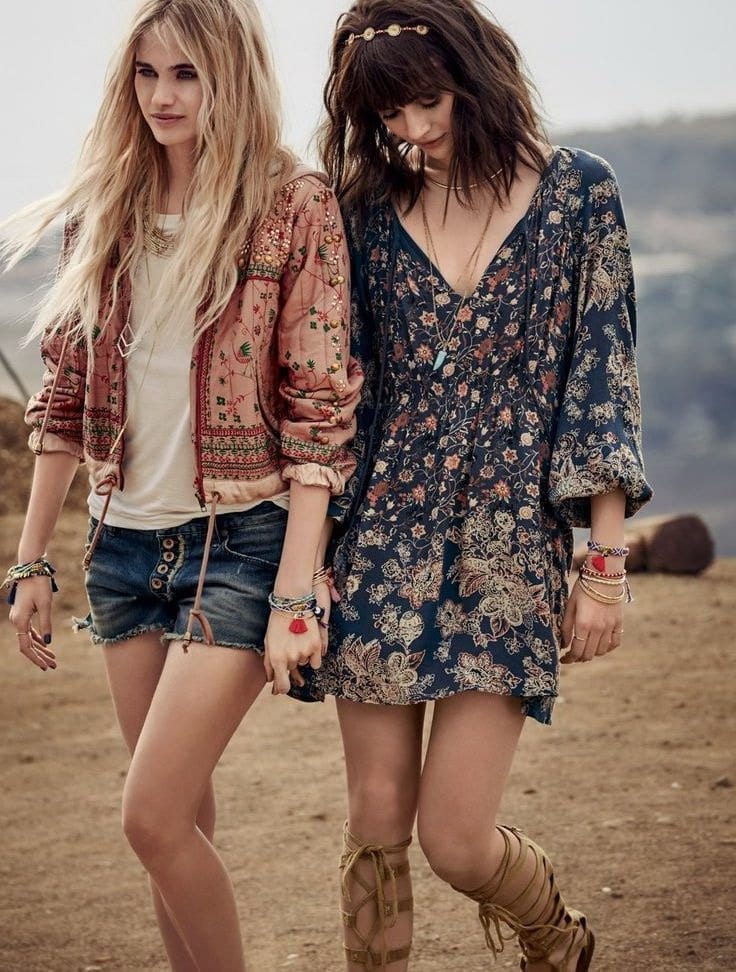 ↓ 18 – Cute Two Piece Sets
↓ 17 – For Pregnant Women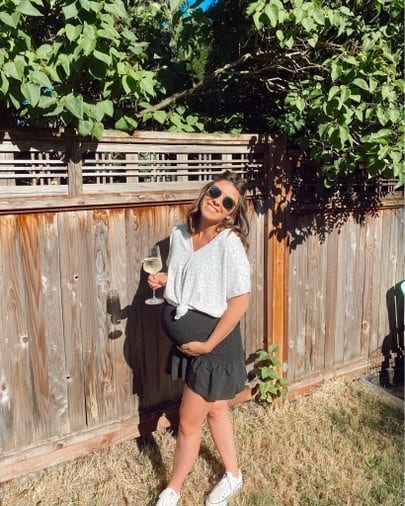 ↓ 16 – Floral Pants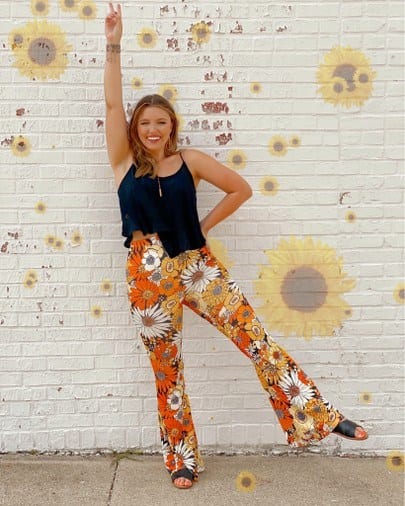 ↓ 15 – For Plus Size Women
↓ 14 – Flowy Blouse
A flowy, shimmery, bouncy, and glittery blouse is something that you can totally rock on a party night or even on your first date. Pair it up with jeans or flared pants and accessorize your look with platform heels and golden hoops.
↓ 13 – Stripes
A multi-colored striped tee with white denim shorts and tied up hair is another adorable look that you can create and slay in. It is a mesmerizing choice for teen girls who find it hard to decide what to wear to school and college every day.
↓ 12 – Cute Mother Daughter Boho Twinning
No mama minds twinning with her little princess. How about you two go on a girl's date in matching boho outfits? All cute and flowy dresses with strappy sandals and nude hats. So adorable!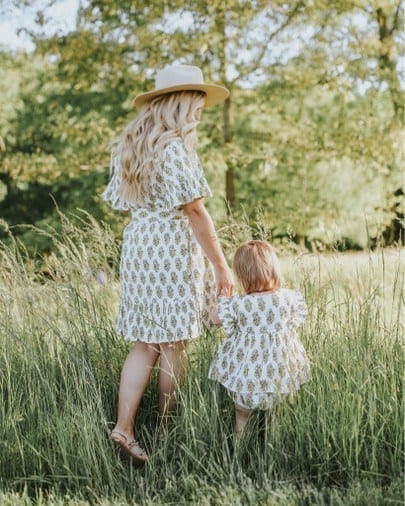 ↓ 11 – Yellow Outfit
Yellow is one of the favourite most colors in summer. So, make sure you have at least one or two of them. Be it a vibrant yellow or dull mustard outfit. Accessorize the look with bright colored footwear and popping jewelry. You are not done unless you have a peachy-pink makeup on.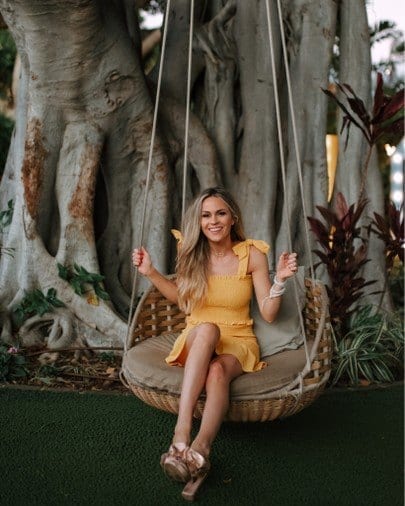 ↓ 10 – Bohemian Style Dress for College Girls
This outfit idea is perfect for college going girls. They can wear the outfit effortlessly in the morning without getting late or anything. You will stand out at your college if you wear this dress. The theme of this outfit is a nude color, but for sure, it will not let you look pale or sick.
For the shirt, you can go with a see-through shirt in nude color with lace touch in it as well. For the jeans, go for something in the shade of chocolate brown colors, or you can even go for white-colored jeans. When it comes to shoes, you can wear high heels as they look amazing with this outfit, or go with nude-colored channel pumps or ballerinas. You don't want to miss out on a purse or messenger bag.
For college, you should wear something that is comfortable and can hold your notes in it as well, hence you can go for a brown colored messenger or tote bag. Next, comes the jewelry you can wear gold accessories like gold-colored chain necklace and charm bracelets.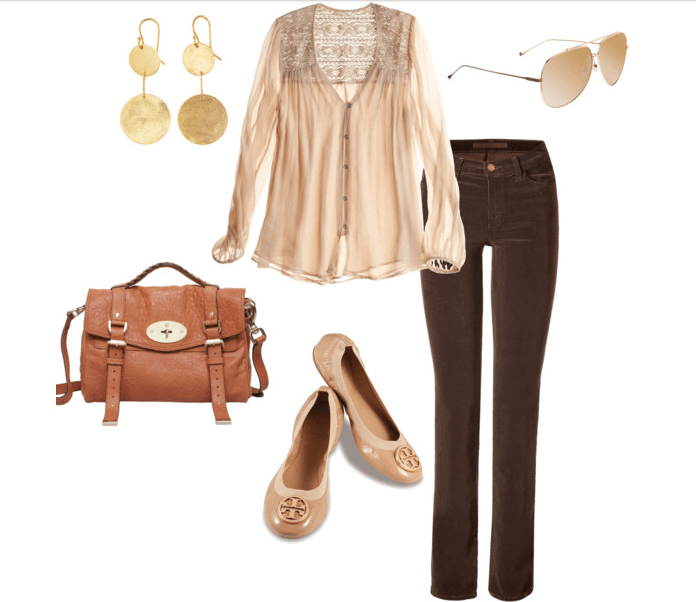 ↓ 9 – Tom Boy Look
This outfit is perfect for boho kind of girls who want to look chic, boyish, and elegant at the same time. All they need to do is to follow our guidelines to achieve that fantastic and perfect look. For this vibe, go for denim shorts in classic blue color, and for a shirt, opt for a fitted crop top in floral print with a black base.
You can also add black colored cowboy cap to match everything and even wear black colored fringe messenger bag on the side to keep your wallet and mobile safe. If this outfit is too revealing for you, you can add a white-colored loose tunic top over it to kind of tone it down. For the shoes, you can wear sandals with them in brown or red color. Voila, you are ready to rock and roll.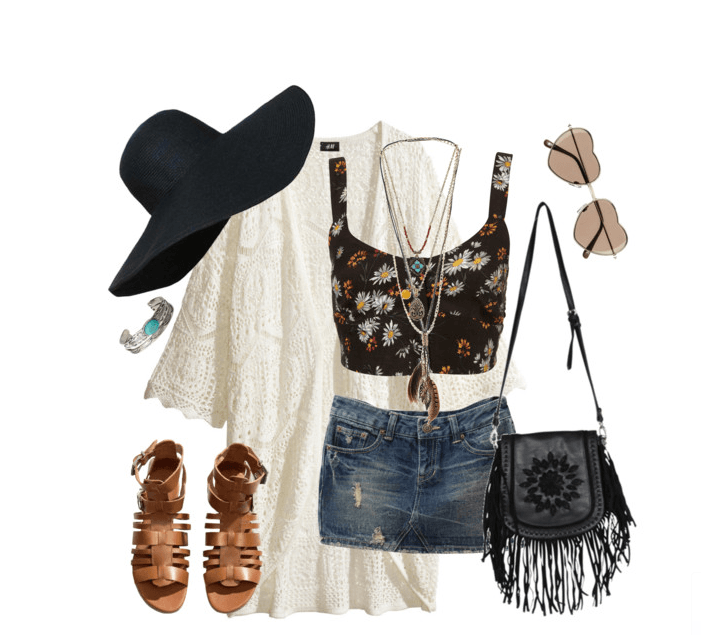 ↓ 8 – Cute Maxi Dresses
Maxi outfits never go out of fashion. They help you create a simple, casual as well as formal outfit. It all depends on the colors, patterns, prints, details, and accessories that you choose. So, always make a wise decision and don't forget to check out our detailed guide on Latest Maxi Dress Trends & Styling Tips!
↓ 7 – Long Skirts
Who says you can't wear a long skirt to college or your school. Yes, you can wear them, but you must know how to wear and it and what to wear with it. For the skirt, go for a foot-long dress to make sure it looks elegant and not vulgar.
For the shirt, you can go for a cute tee and tuck it inside your skirt, or you can go for a dark-colored skirt and wear it with bohemian styles cropped top or a loose bouncy shirt. For the shoes, you can wear black colored sandals and polish off your look with a white-colored cute necklace.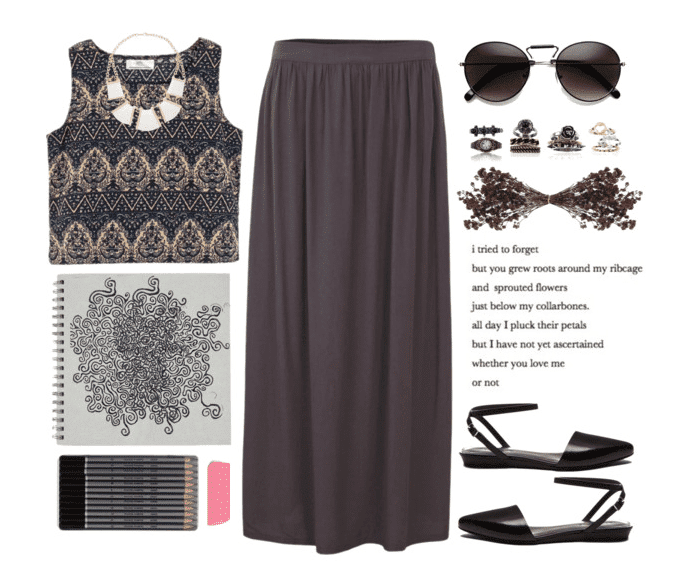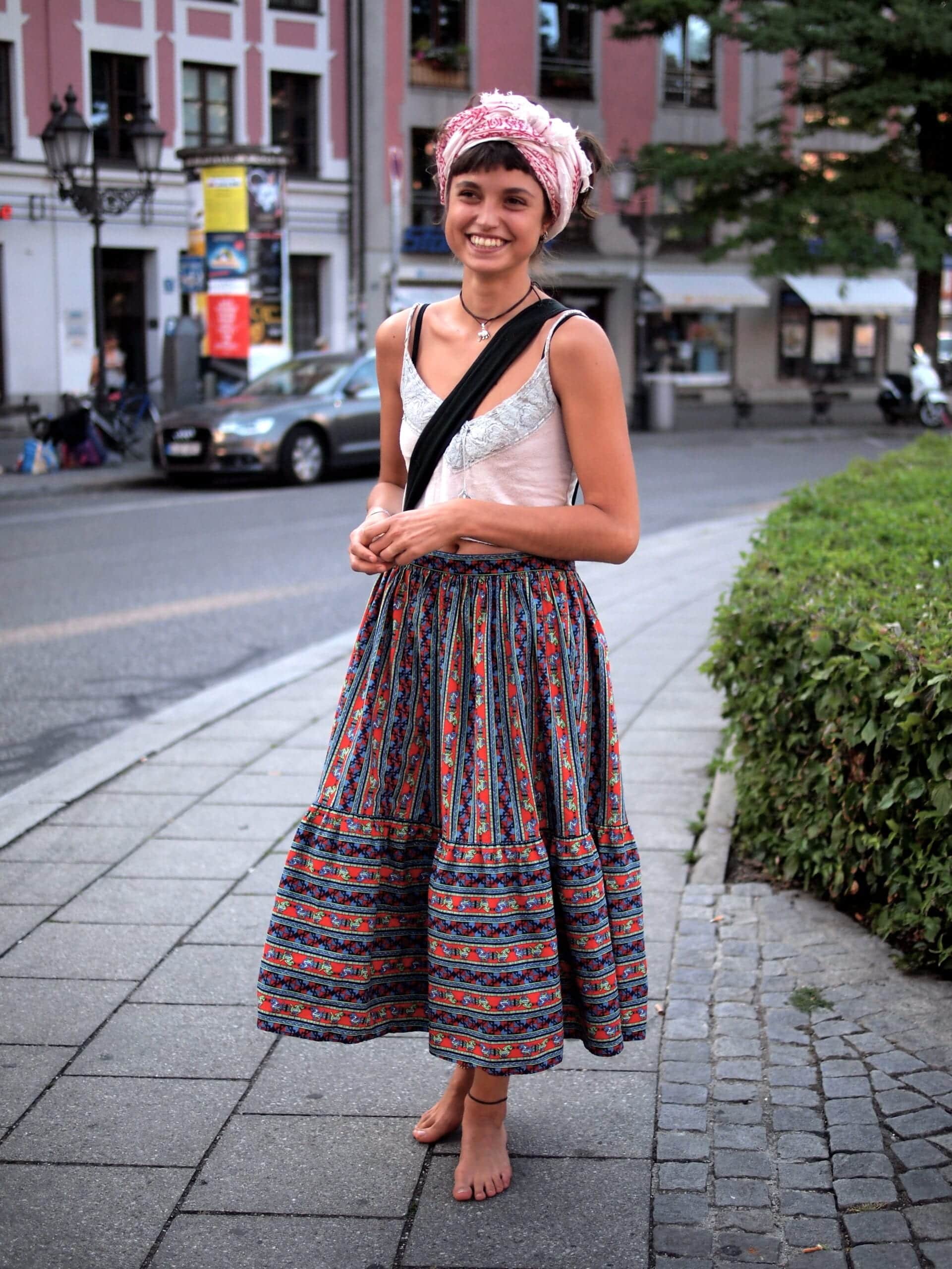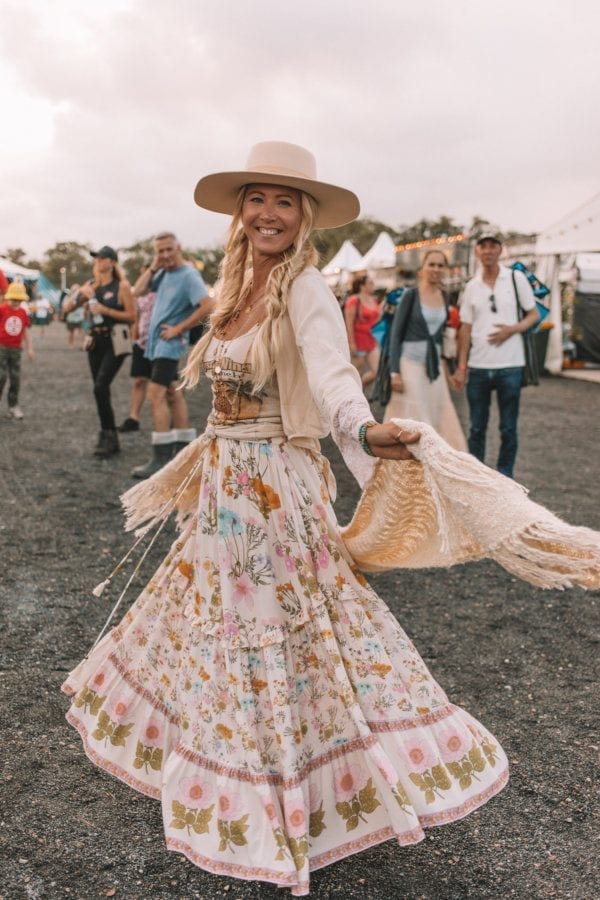 ↓ 6 – Bohemian and Hippy Style
Style up all bohemian and hippie, and create a lookbook similar to that of the 18th century. Be all cool, edgy and cute at the same time in a loose flowy lace detailed top along with an edgy midi skirt. Accessorize your outfit with cool accessories and leather shoes and bags.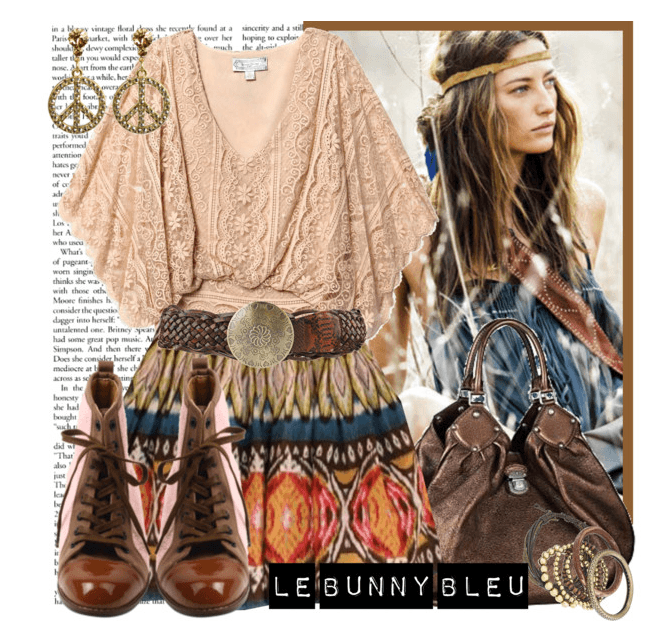 ↓ 5 – Printed Skirts With Plain Shirts
Printed skirts with plain and light-colored shirts make the best combo for every casual occasion. You can even rock this outfit combo to college or your school. For the style, go for a bright-colored skirt with extra flare, and for the shirt, you can wear white colored or any other light-colored top and tuck it all the way inside the skirt.
For the jewelry, opt for a bright colored beaded necklace, and some vibrant statement rings for more prominence. The perfect option for a bag is to go with a straw bag. Go with high heels in warm colors, and you are good to go. Here are some more ideas on White Shirt Outfits For Girls.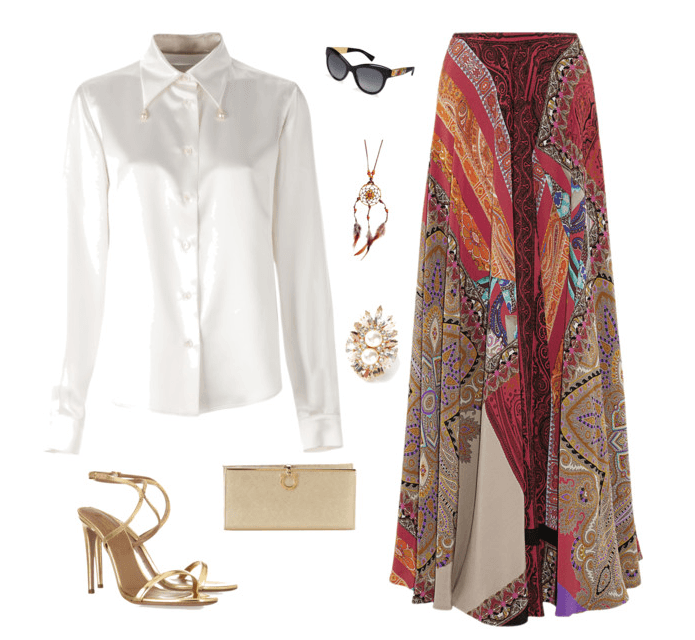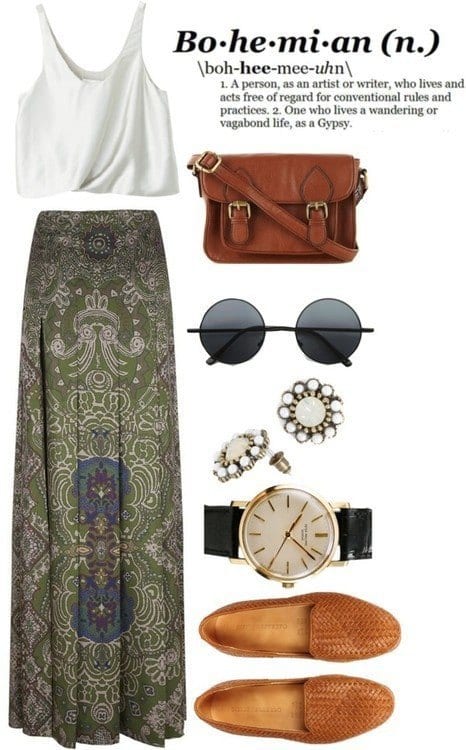 ↓ 4 – How to Dress Bohemian Teen Girls
Bohemian styles do not have to be all bright colored and different patterns in it, but it can also be white-colored and lacy. For this kind of bohemian combo, you can wear a white-colored pleated knee-length skirt, and for the shirt, you can go for the lacey flowy vibrant blouse.
You can try the opposite as well, which is a plain top and colored bottom. Jewelry can be in a gold-color along with earthy colored shoes. Pair it up with a gold-colored clutch or side bag, and don't forget to wear red-colored lipstick to make your outfit pop out even more.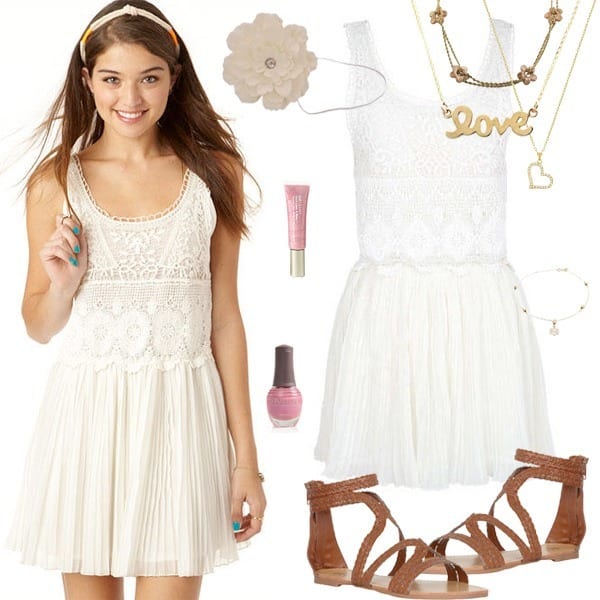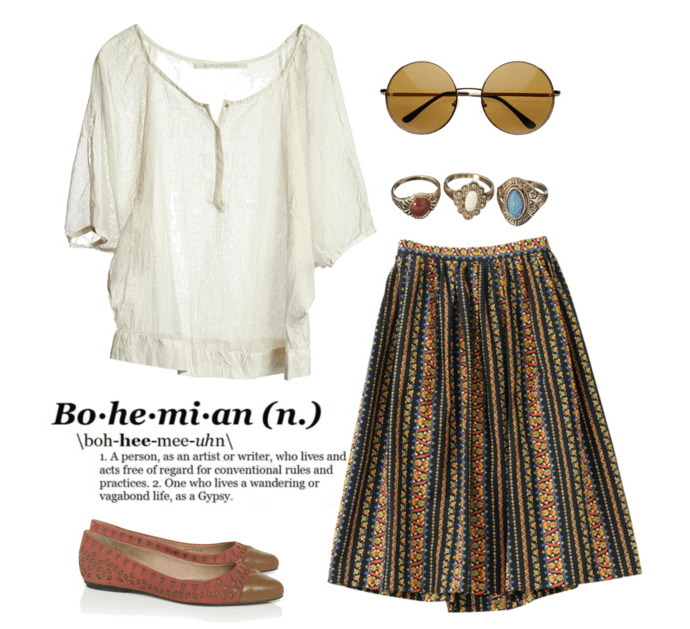 Dark blue colored sleeveless shirt and blue colored knee-length skirt also make the best bohemian outfit combo.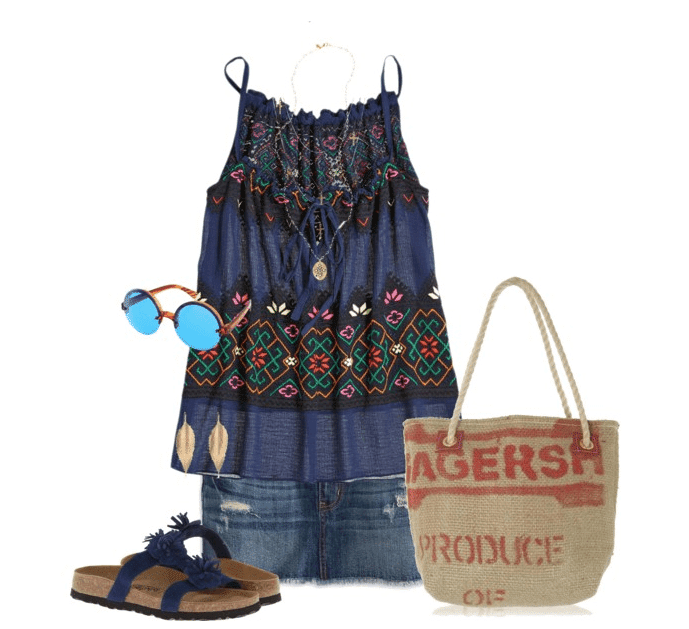 ↓ 3 – Step by Step Bohemian Braid Hairstyles
Girls can never neglect their hair, right? It is a blessing in disguise. Wear your hair in cute styles like a half braid, side braid, pony, buns, and so much more. Watch the video below to learn boho-inspired braid hairstyles.
↓ 2 – Summer Bohemian Outfits
It is definitely the best season to style your boho outfits. It is all about colors and vibrance. So wear all those beautiful patterns, vibrant colors, charming accessories, aesthetic footwear, and the most relaxed fabrics. Radiate all the positive vibes and energy. You go, girl!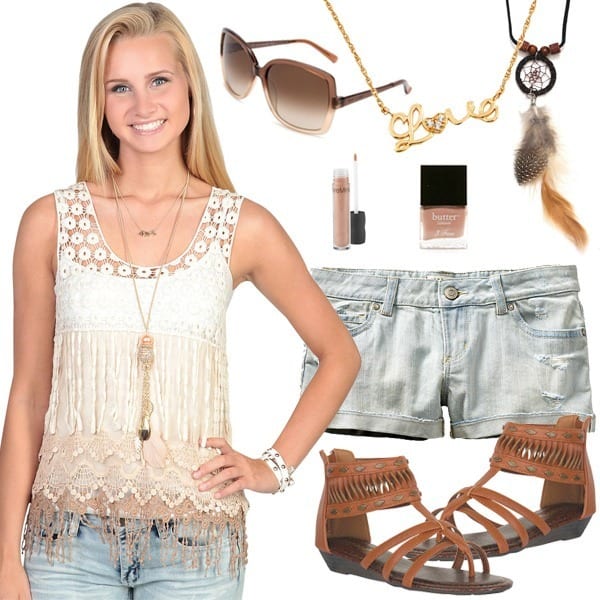 ↓ 1 – Bohemian Hijab Styles
For all Muslim girls who want to get boho look with hijab, here you go.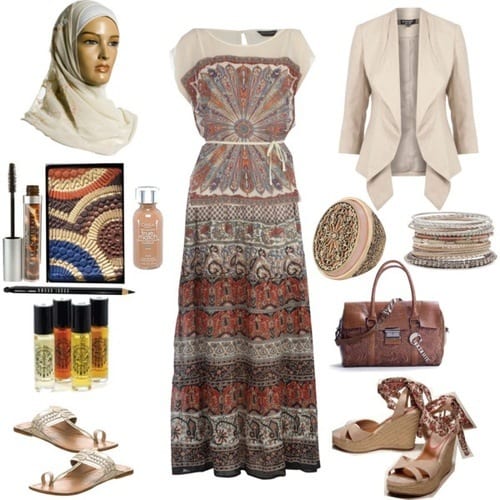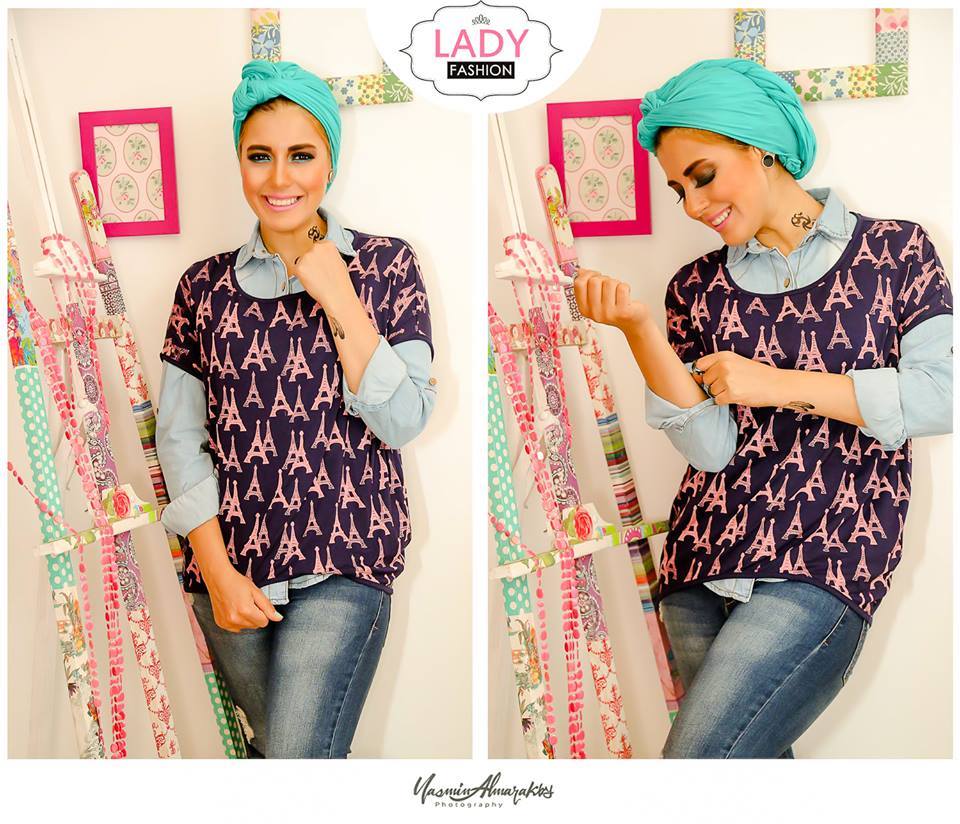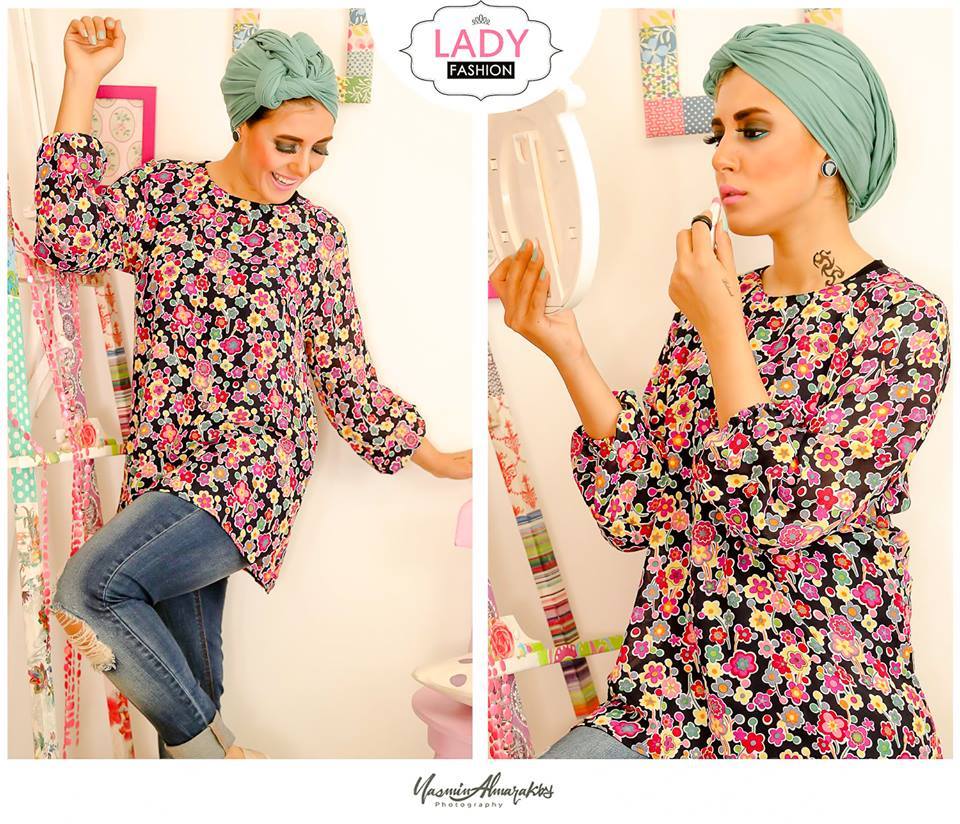 Frequently Asked Questions
Here are some of the most frequently asked questions about this topic. Give it a read; it might help you find answers to all the questions wandering in your mind.
Q. What is bohemian fashion?
A. Bohemian fashion, also known as boho, started emerging during the 60s and 70s by the French. Back in the day, bohemians wore loose and used clothes made using worn-out fabric. The fashion style has greatly revolutionized over the years and is highly vogue and trendy in the current days. You will find this fashion abundantly at music festivals and on the red carpet too!
In the modern days, boho fashion consists of funky prints, layering, breathable light fabrics tailored in various designs. You can be wearing a fitted garment instead of the mainstream loose designs and still classify as boho. The key is all in the way that you style it. One of the most ideals tracks to vibe with boho fashion is by styling one fitted and one loose garment. For example, you might love a cute fitted top; pair it with a flowy skirt or palazzo pants. Even on the contrary, you cannot go wrong with both loose garments – top and bottom – if you accessorize them aptly.
Q. What is the difference between the bohemian and hippie look?
A. I would say that boho is the chic version of a hippie – just more upscale. While hippie is unconventional and worn without putting thought into the outfit, boho is a bit more than that. You might find yourself putting thought and planning into your boho outfit by thinking of the ideal shoes and accessories to go with. While it may look effortless, a hippie look is an actual definition of straightforward.
Q. Where can I buy boho clothing?
A. You will find appealing boho pieces at brands like UrbanOutfitters, FreePeople, and Zimmermann. For affordable luxury, visit brands like Lulus, Zara, Shein, and Forever21. More detail is available at the beginning of this article.
Q. What are some boho chic hairstyles?
A. If you are someone with unruly and wild hair, you will blend in with this fashion style. Throw on a messy braid, or let lose those beach waves, and you will be right on brand. However, if you wish to be more elaborate, put in the effort to master the art of messy buns. Accessorize with bandannas and hair scarves to elevate your look!
Q.

What is the boho look?
A boho look is all about uniqueness and sophistication. An ideal boho look has 6-12 colors that are a blend of warm and cold tones. Also, the patterns are diverse; the fabric is luxurious and flowy with intricate detailing. Moreover, the accessories have a soft yet vibrant touch. Not to forget the shoes- they are comfortable yet very decent.
Q.

What are some boho prints and patterns?
Some of the best boho prints and patterns are trellis, Ikat, floral, tribal, kilim, paisley, and lattice, etc. Make your outfit colorful and vibrant but in an elegant and sophisticated way.
Q.

How to dress for a bohemian party?
For party wear, we recommend you wear a floral printed ankle lenght maxi dress that has intricate detailing and cuts. Pair your outfit with a vibrant jacket- preferably with decorative fringes. Wear platform heels and finish off your look with golden accessories, a crossbody bag, and a cute hairstyle.
Q.

What are the boho colors?
Boho colors include all the warm tones like pink, blue, beige, and earthy colors. But for a perfect look, make sure you merge these tones with a few cold hues.
Q.

What shoes do you wear with a boho dress?
Your shoes should include warm hues like browns, beiges, and greys. Also, they should have some wood accents and embroideries. You may want them to be in the form of comfortable chunky heels, suede ankle boots, platform heels, or low cowboy boots.
Q.

How to wear a boho outfit in winters?
In winters, your outerwear matters the most. So for an ideal look opt for oversized jackets, long coats preferably made of shearling material or those that have vibrant prints, fringes, ruffles, and tassels, etc.
Q.

What are some easy and quick bohemian looks to create?
Here are some quick and easy bohemian looks to create and rock in.
How to look like boho-chic? One of the quickest and easiest ways to get a boho look is just pairing the boho tops with jeans, Leather studded purse, and leather sandals.
Do the icing with some cool boho style jewelry, and you are good to go.
Another simple boho-chic look tip is to add more leather outfits in your combination.
In summers, you can style your other hippie outfits with stylish leather shorts. And for a winter boho-chic look, style it with color full leather pants. See here how to wear leather Pants with other outfits. As it is all about adding colors to your outfits, the spring season is best suited to wearing colorful costumes. You can style it with color full boho skirts that can dramatically change your look.
Bohemian attire is all about adding colors to outfits that can give a new life to your overall look. In the bohemian fashion style, much attention is paid to Bohemian Jewelry. Bohemian-inspired jewelry can be the extra topping for your tees and dresses.