Gloves outfits for women: There are plenty of ways to enhance your outfit and one of them is to add statement gloves to your outfit. Gloves are one of the trending accessories in recent years. On one hand, they give your outfits a chic and elegant look but are also quite complex to style with your dresses. You must be aware of how to style different kinds of gloves with different dresses to pull them off confidently.
What to Wear with Gloves?
You need to identify what kind of gloves will suit your outfit the most. There are many kinds of gloves like simple silk ones, leather gloves, lace gloves, wrist, opera gloves, fingerless gloves, and much more. There are even embroidered, embellished, and printed gloves available that match your dress.
One more thing that matters is the length of the gloves. Opera gloves are above the elbow which is why they suit more with sleeveless tops and dresses. While wrist and cuff length gloves can be worn with almost all the outfits and give you an old-school look. Gloves are a great accessory to amp up your look if you know how to style them properly.
Tips For Choosing Gloves With Different Outfits
Go with a bold color of gloves if your outfit is in neutral shades.
Satin gloves are preferable and look more appropriate for formal events.
Short crochet gloves are most suitable for day events while leather gloves are ideal for winters.
Elbow-length gloves are the right choice for you if you have short arms.
20 – Black Opera Gloves With Checkered Pants & Tube Top For Everyday Outfit
It is easier to style gloves with formal and fancy outfits, but there is a misconception that gloves can't be worn with everyday outfits. Only by adding long black gloves to this outfit, doesn't it looks more attractive?
Similarly, you can replace these pants with denim and experiment with different kinds of tops. A small shoulder bag and white sneakers would act as a cherry on top. Here are some more looks you can create with checkered pants.
19 – Black Shoulder Padded Top Paired With Denim Jeans & Satin Gloves
The special thing about satin gloves is that they can be paired with both formal and informal outfits and looks equally fashionable. This outfit can be easily worn when you are out with your friends for shopping or lunch.
Add some jewels like multi-layered necklaces and small hoops to make this outfit more stylish. Lace-up boots give you a chic look, but you can also go with canvas shoes or sneakers for the sake of comfort.
18 – What To Wear With Red Gloves?
Red is a bold color and if you are wearing red gloves, you need to style them properly. They don't match with every other color, especially light colors. The classic combination of red and black can never disappoint you therefore the best choice is to pair red gloves with an all-black outfit like this one.
Some other colors which look good with red gloves are white, royal blue, and bottle green.
17 – Give Your Dress A Retro Twist With Silk Scarves And Fingerless Gloves
You can also recreate the iconic looks from the fashionable era of the 60s. Adding a few accessories like gloves, scarves, and glasses would give your simple dress a retro twist like this one. While your entire outfit is in neutral tones, choosing gloves of a bold color like hot pink would simply amp up your entire look.
16 – How To Style Gloves For A Vintage Look?
Nothing can be a better option than a polka dot dress when you want to go for a vintage look. A sleeveless dress with a boat neck design and a cute bow belt will give you all the feels from the'90s. Short lace gloves will suit the best with this look.
To spice it up, add red sparkly heels and bold red lips. With voluminous curls in your hair, you are ready with a perfect outfit for your vintage-themed party.
15 – White Cuff-Length Gloves With Floral Dress For Spring Season
The best season to wear floral prints is unarguably spring. Even though they look equally adorable in all other seasons, spring brings out the best of them. Since this dress has cap sleeves, cuff-length gloves will suit more however, if you are opting for a sleeveless dress, then you can also wear long gloves in white color.
Accessorize your look with a pearl necklace and retro sunglasses. Lastly, white add white mules to complete your outfit.
14 – Winter Outfit With Long Checkered Coat And Gloves
What I love most about winter outfits is layering. You can layer so many different things and form a cute outfit on your own.
Another way in which you can style white cuff-length gloves is to wear them with coats and jackets in winter. In this look, a pleated skirt is paired with a white blouse and layered with the long checkered coat.
13 – Styling A Cape Shawl As Belted Dress With Gloves
Another great thing about winter is the shawls. There are so many different prints and ways of styling a shawl. They keep you both warm and stylish and you can even wear them as a dress also. If you own a cap shawl like this one, just add a stylish belt and your outfit is ready.
But that's not it, to make it look more stylish you should pair black below-the-knee gloves and grey thigh-high boots. And lastly, accessories like large hoops and a bag to complete your look.
Here are some more of my personal favorite Cape Outfit Ideas.
12 – The Stylish Combination Of Leather Gloves & Thigh High Leather Boots
Ideally, the best time to wear leather gloves is obviously winters. You can make a style statement by wearing a black dress with black leather gloves and high-heeled leather boots. Both of these things will keep you warm in the cold weather as well.
An oversized coat in white or any other bold color would add extra charm to your outfit. You can also wear a leather jacket if you want to.
11 – Summer Aesthetics With Wrap Dresses & Crochet Gloves
Hot summer days are here and you might need some outfit inspiration for your beach parties and picnics. As floral wrap dresses are a must-have for the summer season, you should style them with crochet gloves. Try to choose different colors instead of white and black as they look very pleasing in summer.
And of course, get your inner creative fashionista on work and style the outfit with different accessories like a bag, hat, sunglasses, and others. High-heeled pumps in white or dark green color are preferable with this look.
10 – Vintage Inspired Summer Outfit
Very few people have the talent of mixing and matching different clothing pieces and creating a whole new look out of it. However, we are here to guide you on how you can achieve a vintage-inspired look from your everyday outfits. Firstly, pair a basic spaghetti strap tank top with wide-leg pants and keep both of these in neutral shades.
Now comes the part that will transform your entire outfit. Accessories play an important role in any outfit. They can make or break any look, and this is the case with this outfit as well. For a pop of color, add a scarf and a small bag to this look in any bold color.
Lastly, white wrist gloves and slim cat-eye sunglasses give the final vintage touch to this outfit. Or go for one of these Vintage Makeup Ideas.
9 – Mini Silk Dress Paired With White Gloves For Christmas
We all know the color palette for Christmas is white and red hence you can go with an all-white outfit for your next Christmas party. Get your hands on this sassy mini dress and pair it with white long gloves, or else you can also wear red gloves.
You can go with heels in black or red color with this look. Since the weather is cold around Christmas, a trench coat or a white furry jacket would also go along with this outfit for the outdoors.
8 – Form A Chic Outfit With Feather Gloves
Undoubtedly, feather gloves are more fun to style than the normal ones. In this look, they are styled with straight-leg pants with a front slit in beige color and a simple high-neck crop top in black.
This outfit is quite simple however adding a few things like long gloves with feather cuffs and rhinestones ankle strap heels make it look more attractive.
A black blazer can also be added if you are opting for a more formal look. Just like this, little things and accessories can transform your outfit and improve your fashion game.
7 – Leopard Printed Dress With Matching Gloves
Once in a while, we all get a desire of wearing animal prints, and what is more sizzling than leopard print? You can never go wrong with a mini leopard printed tube top along with matching gloves. Even though black satin gloves would also look amazing with this dress but matching prints would take this to another level.
A statement collar necklace along with earrings will also look good with this kind of strapless dress. Sharp smokey eyes with beachy waves in your hair would make you look fiery in this look. Lastly, add pumps in black or beige color to complete the outfit.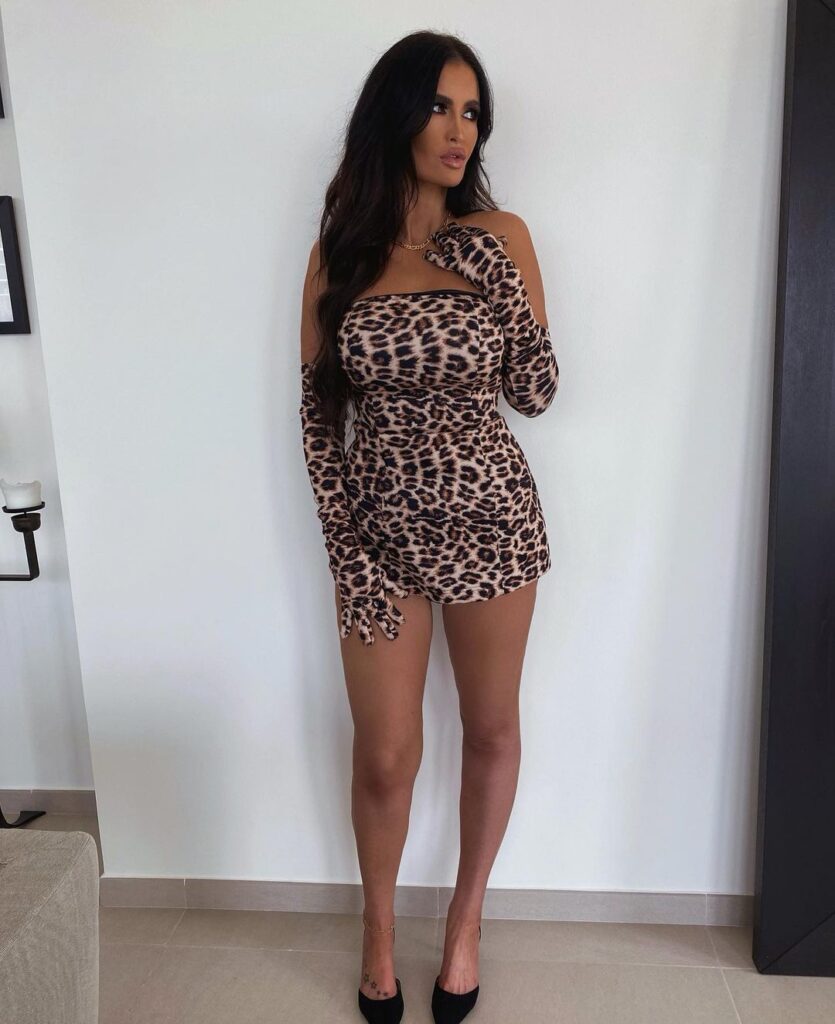 6 – All-Black Outfit For A Date Night Look
A little black dress never goes out of style. It is perfect for parties, night-outs, dinners, and most importantly for a date night. Whenever you are out of ideas, just wear a strapless black dress and style it with lace gloves, platform heels, and a small necklace with silky straight hair, and you are ready with a simple yet elegant outfit.
Another way of styling this dress is to accessorize it with silk gloves, a pearl necklace, and black net leggings. A black blazer can also be layered for the cold days.
5 – Cute Outfit With Pleated Skirt & Vintage Gloves
We know that the outfit is going to look cute if skirts are involved in it. Pleated skirts are one of our favorites because of the fact that they look cute even with the simplest top. Choose the skirt in pastel colors and pair it with a cute white blouse and white gloves.
Moreover, you would also need a belt to wrap up your look. Keep your accessories minimal like white pearl studs and a locket. Last but not least, white slingbacks complete this cute outfit.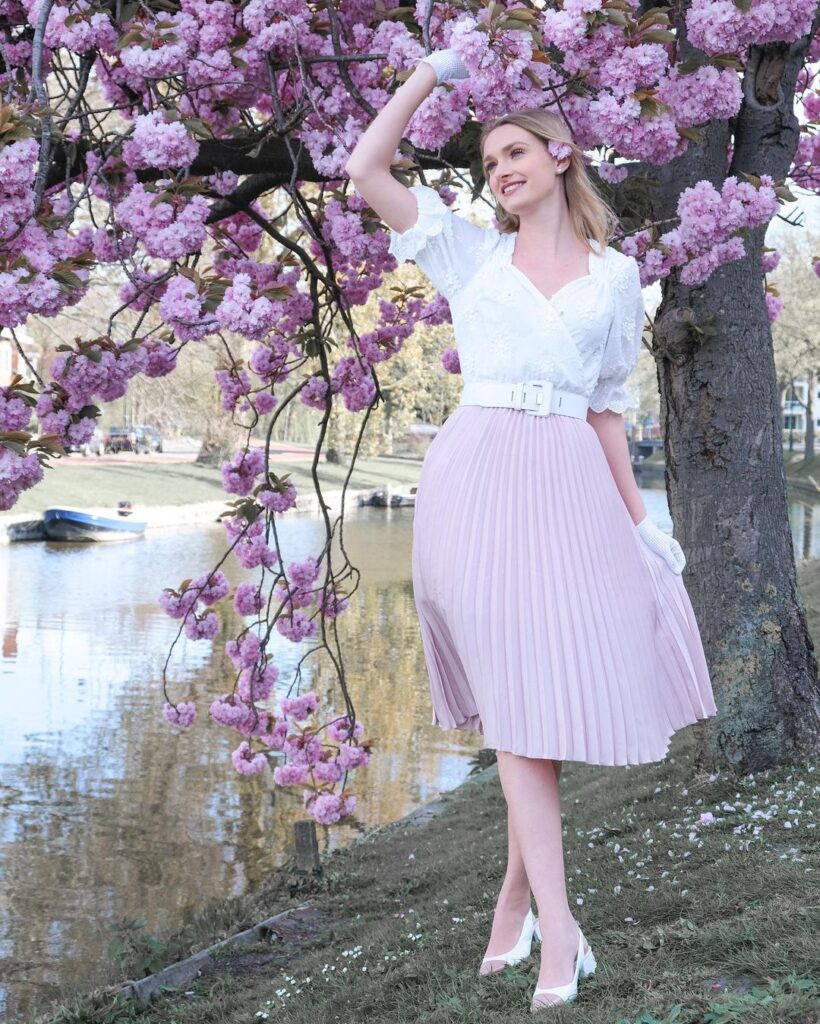 4 – Lace Gloves With Slit Dress & Cardigan For Petite Girls
Everyone has a different body type and they should try to dress accordingly. Here is an outfit inspiration for petite girls which can be perfect for formal occasions. A body-fitted slit-up dress is layered with a cardigan to give it a balanced look. Along with that lace gloves in black color are also paired with the dress. Lastly, add fancy or lace-up chunky heels to get a more defined look.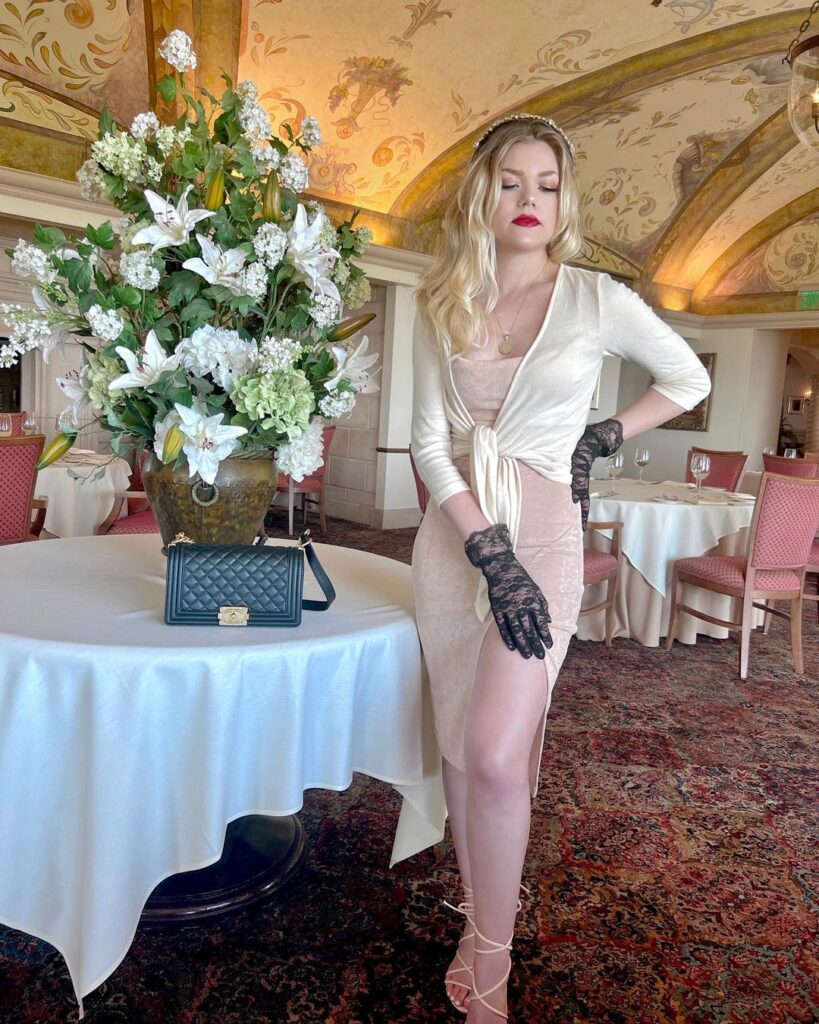 3 – Play With Pastel Colors
You are going to love this outfit if you are also a pastel lover like me. It is not necessary that you only wear white or black gloves, they look adorable in different colors as well, especially in pastels. Form a colorful outfit like this one by pairing high-waisted shorts with a top or blouse and gloves.
Here are some of the most trending pastel color combinations that you can choose from.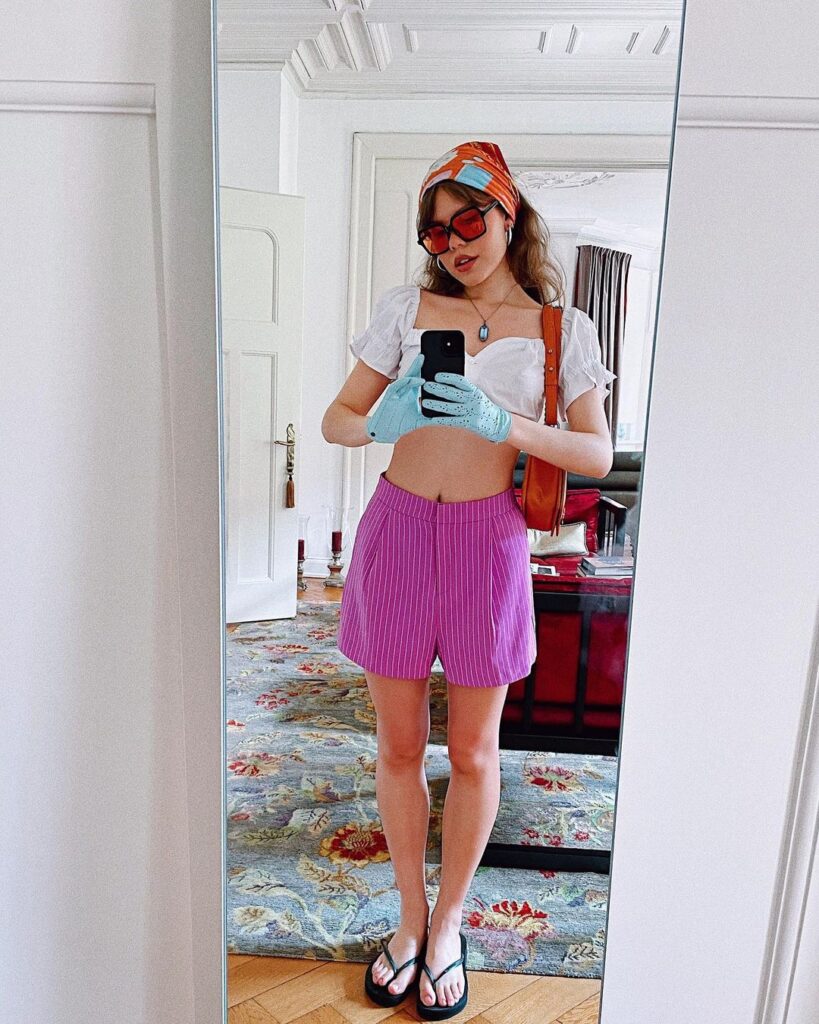 2 – Peplum Top Paired With Denim Skirt, White Boots & Gloves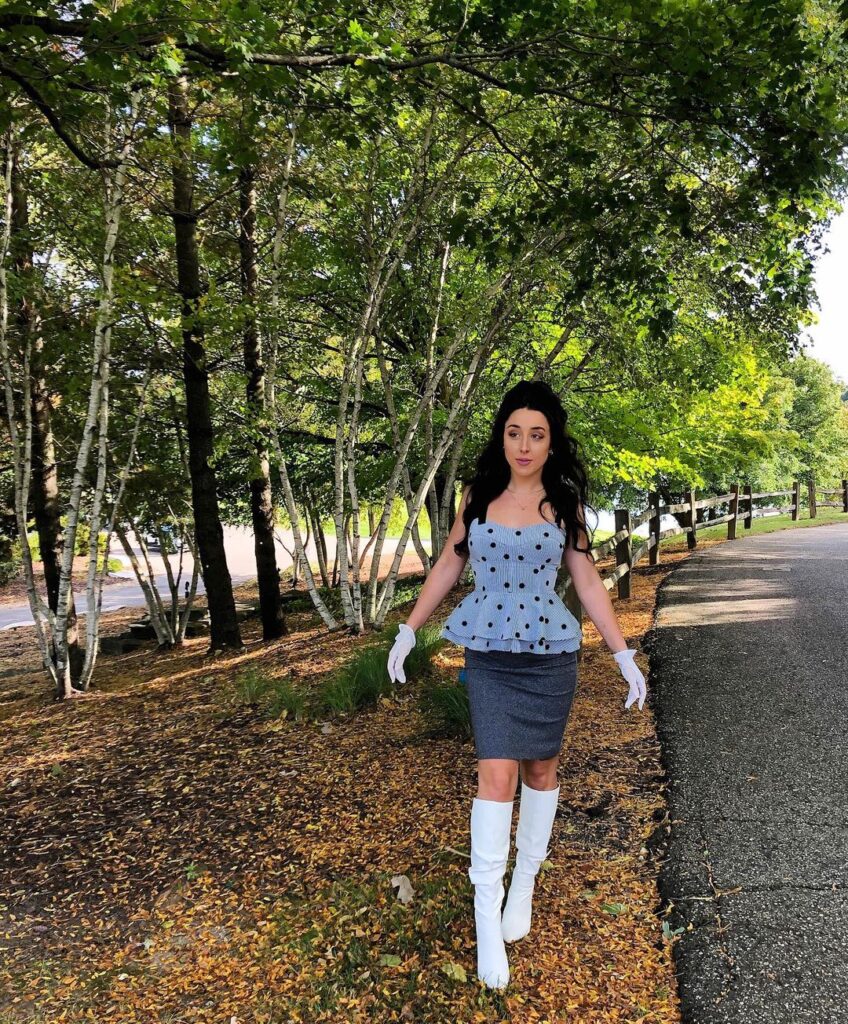 1 – Lace Fingerless Gloves Styled With Zebra Printed Top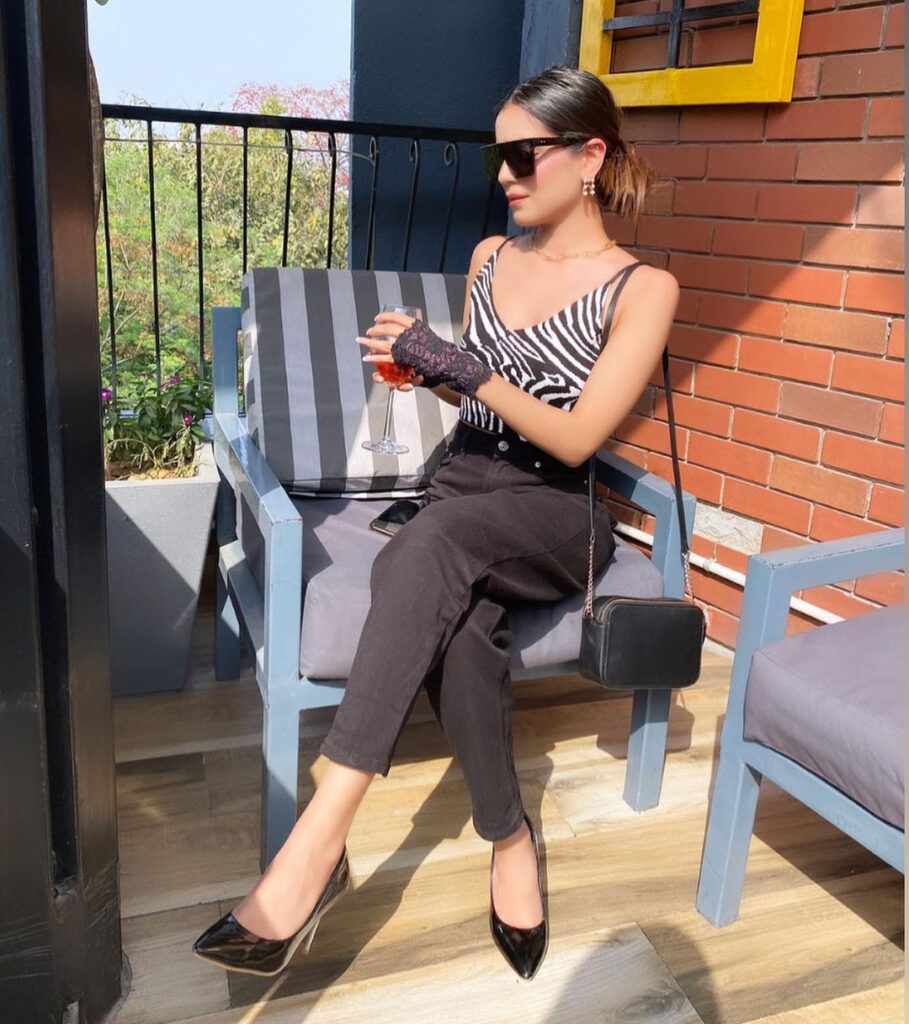 Frequently Asked Questions
Q. What glove color suits a completely white outfit the most?
Ans. Choosing an appropriate color for a completely white outfit is quite easy as any color of the glove would suit it. However, the two colors that pop out a lot with an all-white outfit are red and blue. But still, the color and length of your gloves depend on an individual's preferences and the type of dress you are wearing.
Q. Are long gloves in fashion?
Ans. Long gloves, also known as "opera gloves" evolved in the 17th century but they are back in fashion. From the famous to celebrities to fashion influencers, everyone is styling them in their own unique way. Those days are gone when you would only wear them with ball gowns, now you can style them with your casual outfits in summers as well. So, it is safe to say that statement gloves are the latest trending accessory of this year that you should definitely add to your wardrobe.
Q. Can you wear rings and bracelets on gloves?
Ans. The basic gloves etiquettes suggest that rings should not be worn over gloves, however, you can wear bracelets over them. Of course, you can't wear these accessories with leather gloves, but wearing rings, bracelets, and watches over lace or silk gloves depends on personal choice.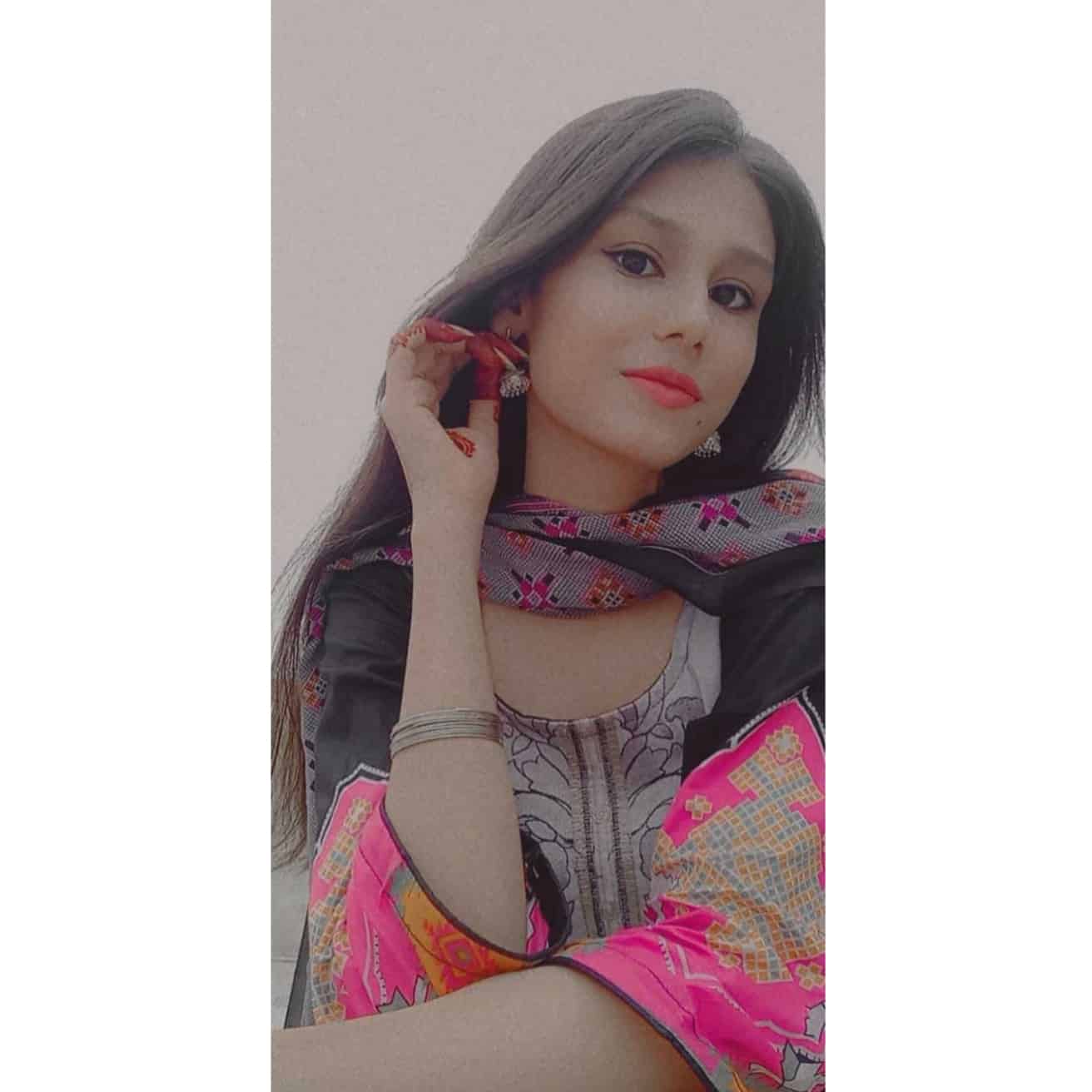 Yumna is an undergraduate business student and a freelance writer. Her life revolves around writing and reading. Being an introvert, she might not speak much but she can write for you as much as you want: )