How To Style A Sports Bra: Spring is among us and as the warm weather is coming we will not need all of those warm layers anymore. Instead, we will resort once more to the light, cute and comfortable clothing options. Similarly, you might be getting ready for summer, and going to the gym is your top priority. In which case a sports bra is the best option.
What to Wear with a Sports Bra?
The sports bra top is a trend that never leaves. The best thing about it is the number of different styles and colors that it is available in. As a result of which you will be able to find the perfect option to express your style. Similarly, these tops are manufactured in all types of silhouettes, sizes, and fastenings. This is great as it will be a comfortable day-to-day option and appealing to every body type.
When it is and isn't appropriate to wear a sports bra outfit
Do not wear a sports bra outfit to a business lunch or to a place of work: Wearing something athletic and revealing is not the best option for a professional setting. Perhaps you might want to avoid wearing this for the fear that you will not be taken seriously at your place of work.
Do wear on an active day: A sports bra outfit is perfect for when you want to include activity in your day but also have errands to run. Wearing a sporty top and some casual clothes over it allows for you to look presentable and fashionable. Whilst leaving a lot of functionality for when you get to the active part of the day. This way you will be ready and save yourself time.
Do not wear it to a party: Although there are various fashionable ways to style this top it still does not fit the theme of a night out. You will certainly not want to wear it to a dinner or a club, it will not match the occasion. You will most likely feel highly underdressed.
Wear them on a very hot day: These tops are amazing for a very warm summer day because they layer very easily. Wearing this top underneath a jacket or hoodie gives you the option to undress if you get too hot. Similarly, they layer seamlessly with all tops so you can choose anything starting from a simple long sleeve to a light cable-knit sweater.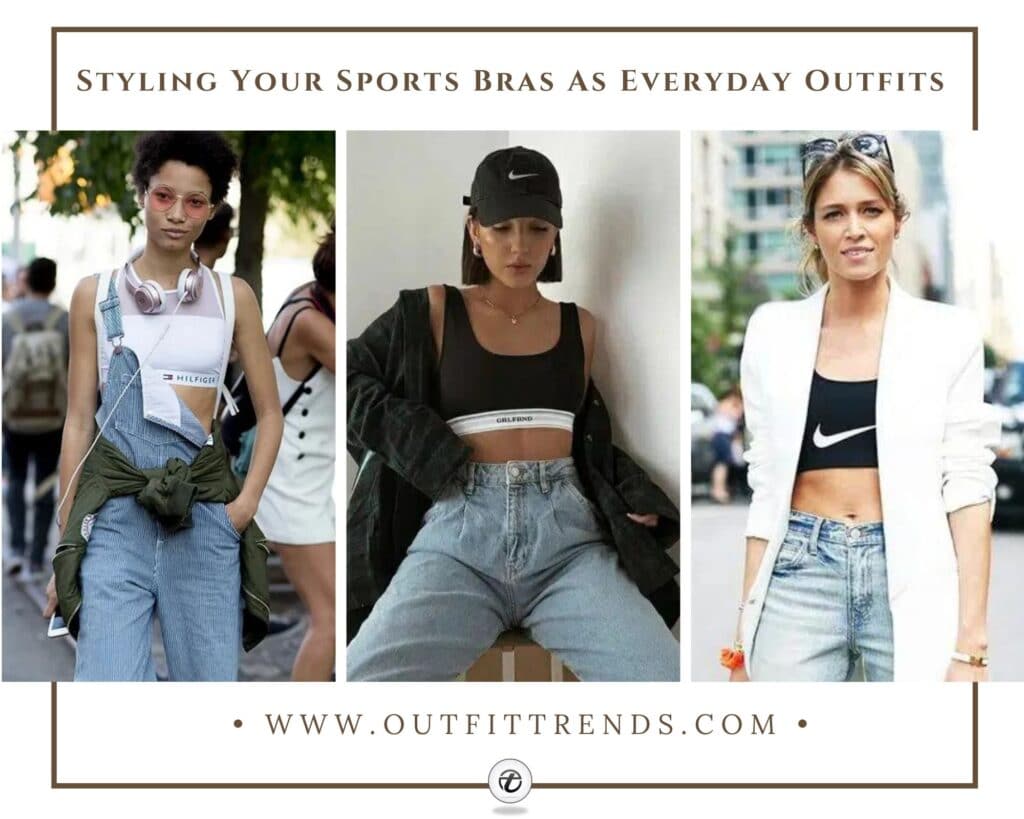 20 – Match Your Workout Bra In Colors To Have It Blend In
Since it is understandable that wearing a workout bra as a top can bring you out of your comfort zone. We want to start this list off with several casual outfits. Namely this black and white ensemble. By blending in your top with the rest of your outfits. Especially in a black and white outfit – you can rest assured it will not catch any unwanted attention. Here are some Super Cool Gym Outfits for you to take inspiration from.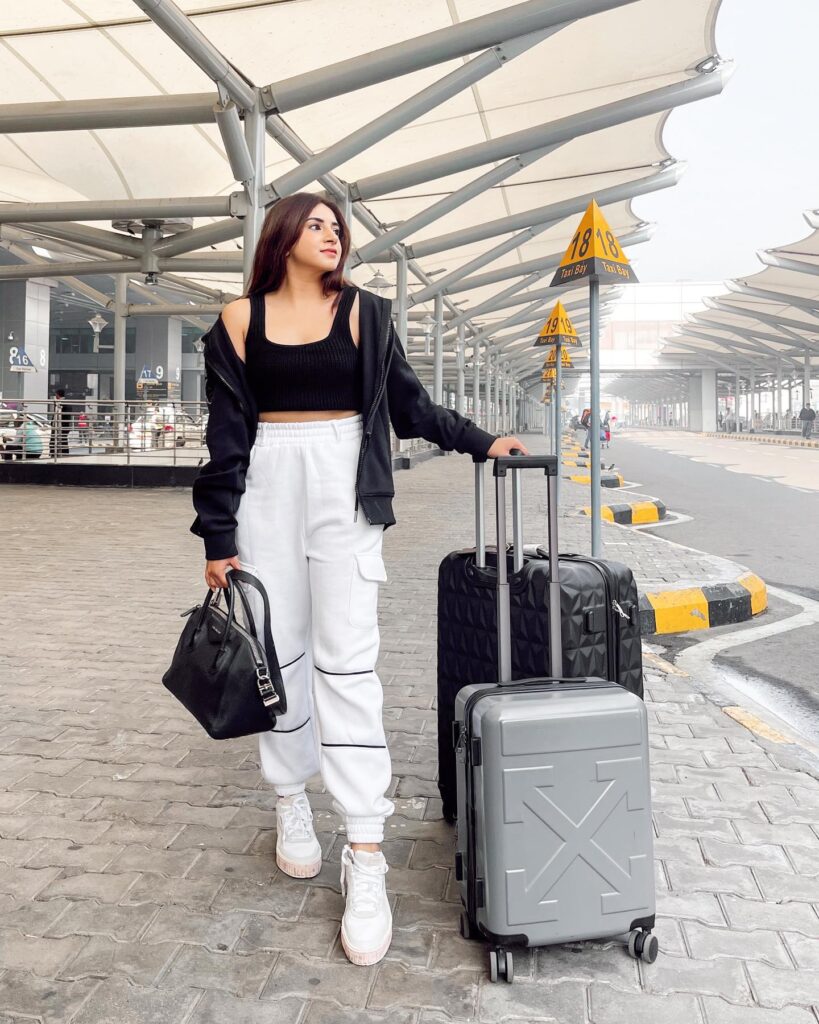 19 – Create A Simple Look With A Black Workout Bra and Jeans
Similar to the previous option we recommend you pair a black bra, with any outfit. Any other color can attract attention by being a stand-out piece. Pair it with some very casual jeans and you are good to go. Lastly, you can complement the sport's appeal with a matching black cap. It will bring the outfit together.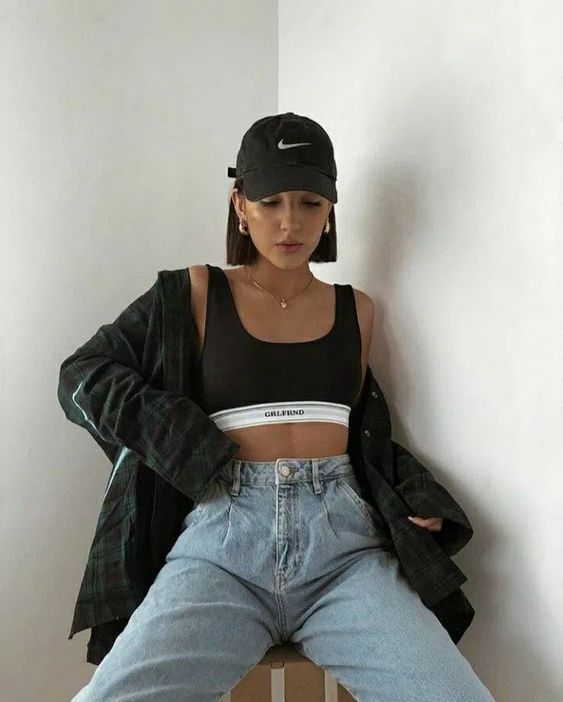 18 – Create A Light Matching Outfit With Beige and White
Alternative to the previous option we propose to choose a white bra top. This outfit is especially great for those of you who don't like very dark colors. Yet who wants to blend this top into your outfit. Try to match it to a beige and white flannel, a matching cap and also some casual jeans.
17 – Contrast Pastel Hues For A Statement Piece
A surprising way in which you can create a subtle contrast is the color of your bra compared to the colors and forms of the rest of your clothes. Contrasting both the color, and the rigidity of a tight sports bra can create a great street style look. Pair a loose long flannel, and loose pants in pastel colors with a tight black bra top.
16 – Create A Glamorous Look With All Nude Colors
Another simple way to create an elegant outfit with a sports bra is to work inside a nude color palette. Instead of choosing top options which are quite basic. Like blue, grey, or black – find a light pink or beige. In an effort to further blend in with the outfit, pair it with a cardigan in the same color range.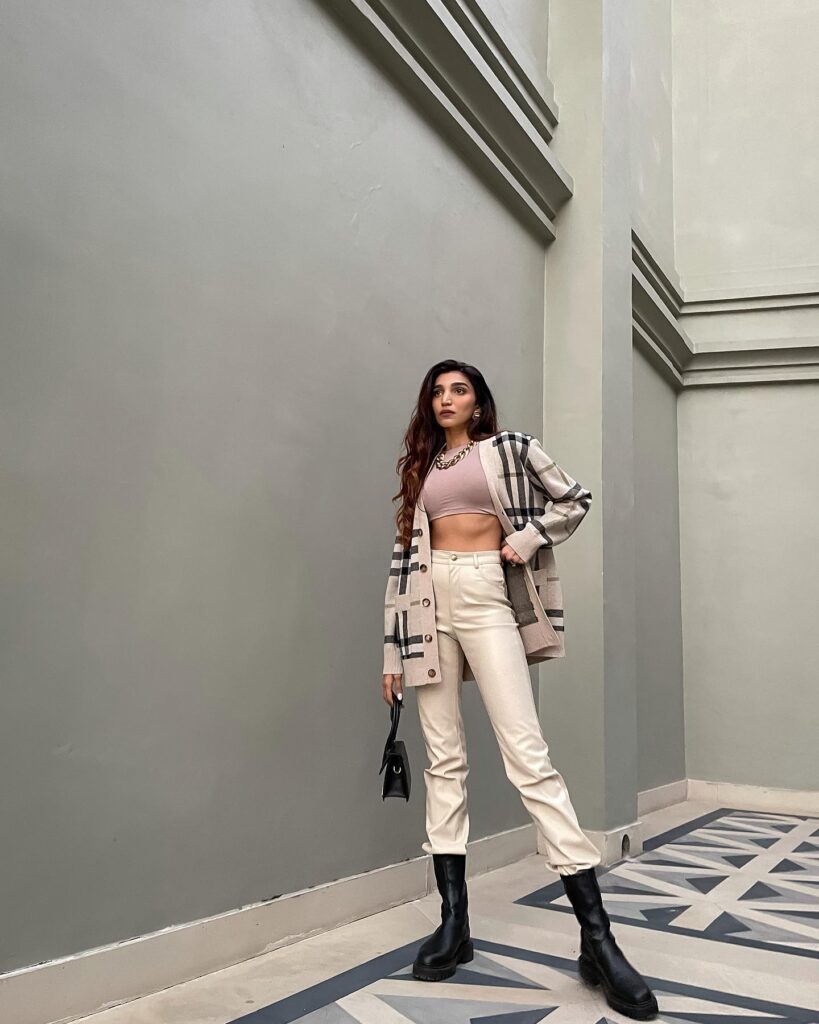 15 – Pair Your Favorite Printed Workout Top With A Long Beach Coverup
If you are living in an area with a lot of beaches this outfit is perfect for you. If you don't want to wear a bikini top to the beach but with your favorite woven beach cover-up.
14 – Switch Out A Basic T-shirt For A Sports Bra With Your Overalls
It is simple and repetitive to pair a t-shirt with your overalls. However, it is much more unique if you replace that basic T-shirt with a workout top.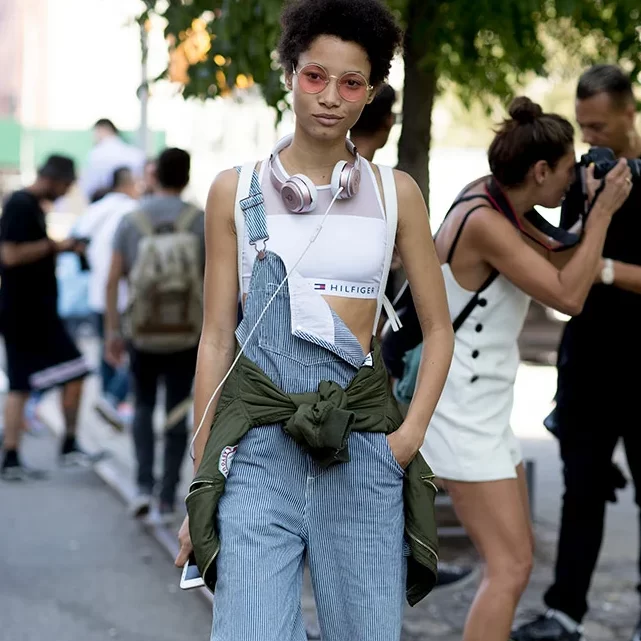 13 – Match A Simple Black and White Printed Top With Some Oversized Pants
The next few outfits are going to be more on the theme of athletics. An element that is unanimous through almost every outfit is that the sport's top is printed. This is the more simple way of integrating a top with a heavy print into the outfit. Firstly it's important to choose a print that is black and white, it is the most simple to blend in. Here are some of my favorite Ways to Style Baggy Pants.
12 – Match The Rest Of Your Clothes To The Color of Your Top
Finding a sporty co-ord set with a small workout top and matching color pants is the way to go. Although if you aim to differentiate this look and make it your own, find a cable knit cardigan in the same color and wear it instead of a sporty top. As a result, you will achieve a completely unique to you outfit.
11 – Contrast An Athletic Top With A Chic Brown Jacket
It is no surprise that certain sports tops have a certain laid-back appeal, mainly due to the fabric. Although there is more than one way of styling and wearing them. Try out elevating their look by putting on a chic leather jacket with it. This will be more effective if the leather jacket is in a unique color.
10 – Layer Your Sports Top With Extra Cropped T-Shirts For A Youthful Outfit
If you have found yourself as an owner of a very cute extra-cropped t-shirt or tank top, but you have yet to find a way to style it – this is how. Firstly, match it or contrast it in color to a sports top. Secondly, choose the option of pants you like. Either low rise to accentuate the cropped top. Or high-waisted to limit how much skin you're exposing.
9 – Get Creative And Mix And Match Sport and Elegance
A sports brand logo is a classic and thus can be easily mixed in with more uptight clothing. For example pair branded sports top with an uptight blazer. However, don't forget to bring balance with a pair of jeans.
Via
8 – Pair It With Your Favorite Pair Of Fitted Pants
Another way to slowly ease into pairing this sporty article of clothing with more casual and chic outfits is through pants. It is very possible to pair this top with a pair of comfortable office pants. The most important rule to follow is to match them in colors. It will look foolish if your top is highly athletic and brightly colored. Especially in comparison to your composed pants.
Via
7 – Pair It With A Skirt When You Need A Summer Elegant Look
When the summer days get so warm that anything besides a bikini just seems impossible to wear. But when you need to go somewhere and look cute, try pairing your workout top with a high-waisted skirt. However, make sure that it is white and without any markings or logos that would make it look athletic. Do check out this list of the Best Bras To Wear With A Backless Dress For A Perfect Look.
6 – Match The Color Of Your Bra Top To Your Blazer
Nothing looks more appealing and fashionable than a direct collaboration in color. If you find a workout bra that matches perfectly in color to a blazer pair them together. To complete the outfit pair it with jeans. As a tip – we recommend that the color you go for is grey. Since denim and grey mix very well together.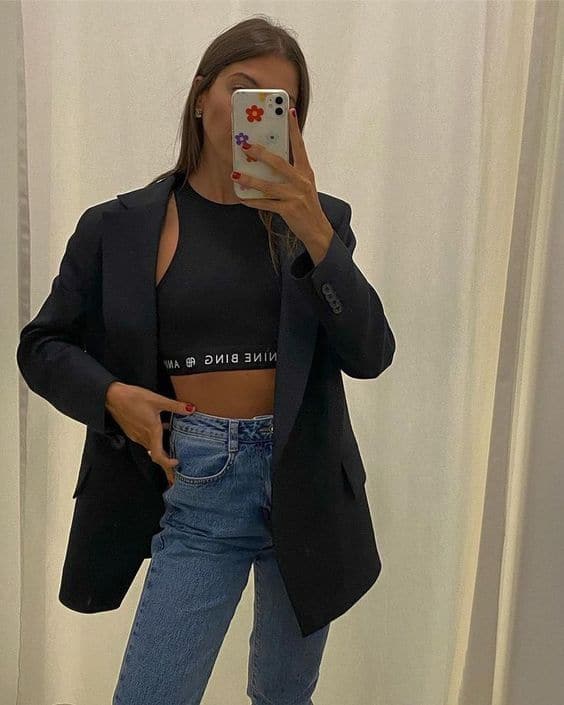 5 – Play Around With A Mix Of Leggings And A Blazer
This option is very unique, primarily due to the type of leggings. They must be short/cropped leggings that end just below your knees. Pair them with your sporty top but contrast this look entirely with your final layer – your blazer. Don't just choose any blazer, make sure it is a form-fitting one.
4 – Make Something Else In Your Outfit The Focal Point
Since workout clothes especially bras being integrated into outfits is a large widespread trend. It could be more unique to make something else in your outfit the focal point. In which case you will still follow the worthy trend and look fantastic, but much more unique. Try to use color to accentuate a different article of clothing.
3 – Pair Seamlessly with Blazer and Pants Co-ord
If you have a sports top in a neutral color – such as black, brown, white, or grey. Chances are you will be able to pair it with at least one pantsuit in your closet. This is perfect for a hot but windy summer day. You will have the option of wearing the jacket on when it's chilly, and taking it off when it gets super warm. Here are some more of the Best Matching Sets to Wear & How to Style Them.
2 – Wear Your Workout Bra Over A Mesh Seethrough Top
It is possible to be uncomfortable with how much skin this top exposes. An option that will preserve the unique look of the bra top yet make you feel more secure – is a mesh long sleeve. However, this outfit is more suitable for a night look.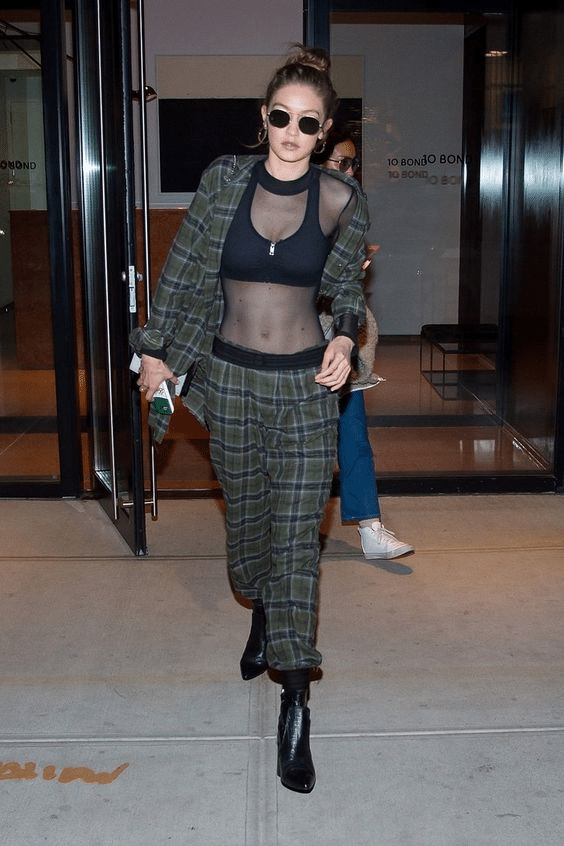 1 – Pair With A Bright Blazer and Pants Co-Ord
Everyone must have a workout bra in white and black color. Because they so seamlessly blend in and elevate a blazer and pants outfit. Even when the pantsuit is of a crazy color – these colors will blend in. Wearing it instead of a regular top can make the same pantsuit you have worked on 10 times prior, look brand new and unique.
For more ways to style a blazer in warm weather check out this article!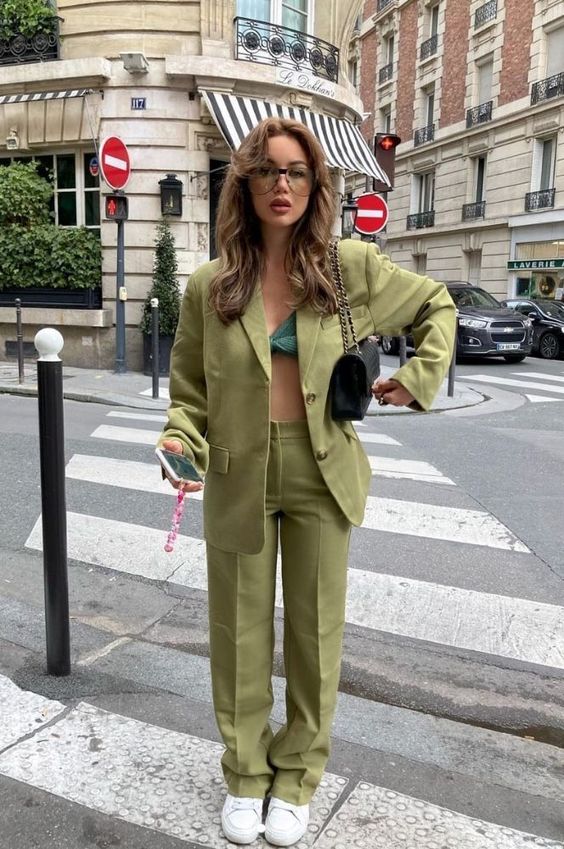 Frequently Asked Questions
Q. Is it healthy to wear a sports bra during the whole day?
It is an understandable concern since sports bras are designed specifically for the occasion of you working out. However, we can assure you that there are no researched health risks of wearing sports bras. Even when working for prolonged periods of time. However, one great piece of advice we can offer is to find the right size. Since an average sports bra is tightly fitting and contains an elastic band, it is good to find one that is not too small and tight around your chest area. Once you have the perfect size top you can rest assured there are no health concerns.
Q. What is the main difference between a sports bra and a push up bra?
Firstly, the function of each of these tops is different. Hence their construction and fit differ greatly as well. A push-up bra contains extra padding in order to increase the appearance of cleavage. Whereas a sports alternative is less fancy, and much more day-to-day. Mainly because they are more simple in composition, they are lightweight and will hurt your back much less throughout the day. Although they are usually tight-fitting, they too increase the appearance of cleavage.