Outfits with Baggy Pants. Are you feeling totally puzzled when it comes to styling baggy pants? Rest assured, girl, you are not the only one! Many of us have taken note of the trend and yet some of us have definitely felt a little shy when it comes to trying it out.
After all, it's easy to get wrong and while Billie Eilish may rock the totally baggy look with aplomb, us everyday gals might have a different goal in mind. Top designers and fashion bloggers have changed the common perception that these pants can only be worn casually.
Now more than ever we see all sorts of baggy pants – from oversized jeans to wide-legged trousers and slacks – worn in a variety of ways and settings. Now you can wear them for formal functions, business trips, or even work (as you will see in this collection).
Lots of celebrities have been spotted wearing these pants in different functions as well. Last but not least, baggy pants (particularly oversized jeans) have taken over the Instagram influencer generation, with many girls like Emma Chamberlain and Madaline Beer rocking baggy jeans and crop tops.
In today's article, we are going to show you exactly what types of outfits you can create using baggy pants from work looks to casual ensembles to weekend travel outfits. Let's get started!
 How to Wear Loose or Baggy Pants 
Before we show you our top 26 ways to style baggy pants or jeans, here are a couple of quick tips to keep in mind.
Balancing your overall silhouette is key. Be mindful of your layers so as not to overwhelm your figure with too much fabric.
As with any type of clothing or particular piece, keep in mind that baggy pants may not be super appropriate in some settings. (For instance, wearing baggy jeans and a crop top to the office. That's a pretty obvious example but you get the idea.) Be careful when it comes to formal events like weddings or funerals and keep in the mind the environment of whatever event you are attending.
You can definitely wear baggy pants to work but it will have to be tastefully and carefully done. In today's article, we give you a couple of good options so be sure to check them out.
Tuck in your blouse or top as a rule of thumb. While your tops don't have to be skintight or close-fitting, you want to try and avoid super baggy shirts with baggy pants as a general rule.
Try belting your pants to further streamline your silhouette and draw in your waist.
Style with different kinds of jackets or blazers for extra fashionista points.
Lastly, have fun with your baggy pants! They are comfy and at times a daring clothing choice but with some trial and error, you can certainly master the look.
Now, let's look at some outfits!
↓ 26 – Like an Influencer
Let's just start things off with the one we're all kind of curious about: wearing baggy pants or jeans like a proper Instagram model! One might argue that they basically ignited the trend. So how do you get the look for yourself? Start with a cute fitted crop sweater and pair with some high-waisted cargo or jogger pants. Your goal should be pants that fit closely around the waist and hips and are loose around the thighs. And, of course, no real influencer look is complete without some big ol' white sneakers and a cute bag.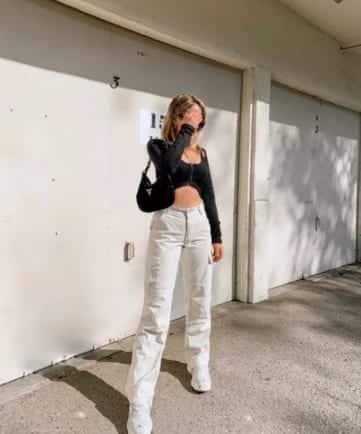 ↓ 25 – Loose Pants with Bandeau Top
If you love an easy weekend look, here's one for you! This adorable pairing of lounge pants with a bandeau top and a long denim jacket is super in style these days.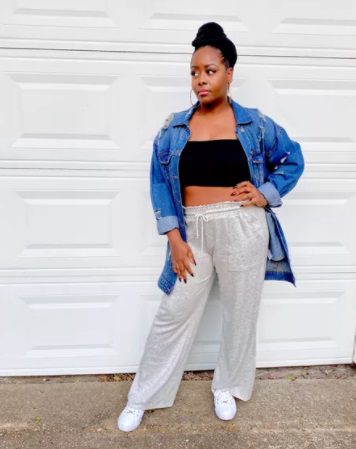 ↓ 24 – Chic Summer Styling
For a chic summer look, these high-rise, straight-leg cropped pants are simply unmatched. Pair them up with a short-sleeve button-down top tucked into the front to visually draw the eye in and voila! Add espadrilles, sandals, or other delicate shoes to complete the look.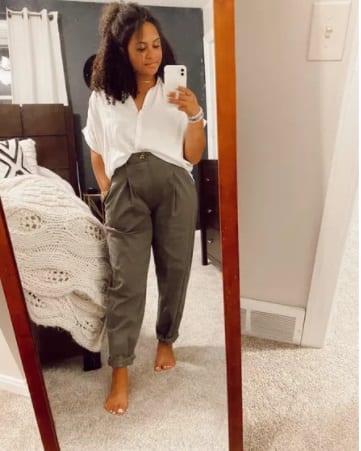 ↓ 23 – Street Style
An all-black look always makes the chicest street style fashion. Here are some more Popular Spring Street Style Outfits Ideas For Women.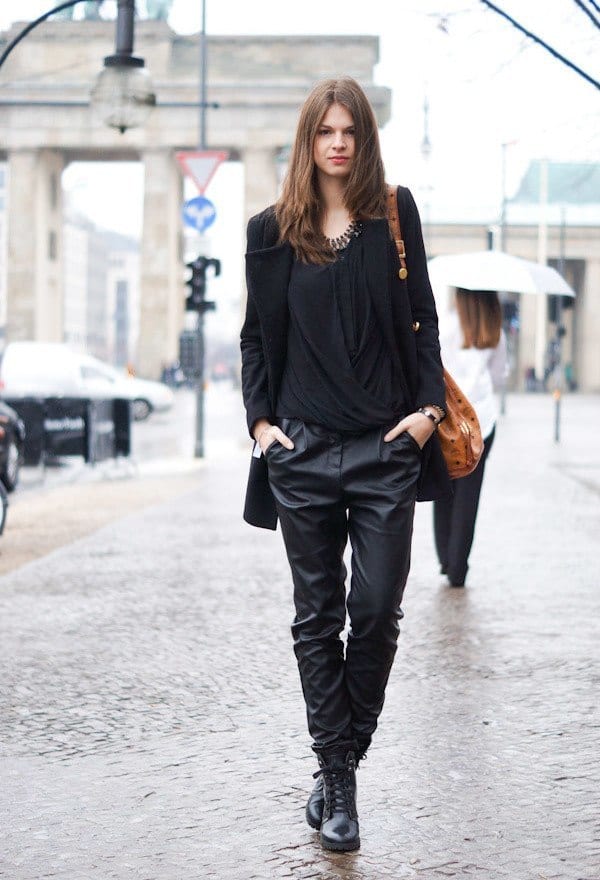 ↓ 22 – Baggy Trouser with Heels
Bold yellow is always a fun color.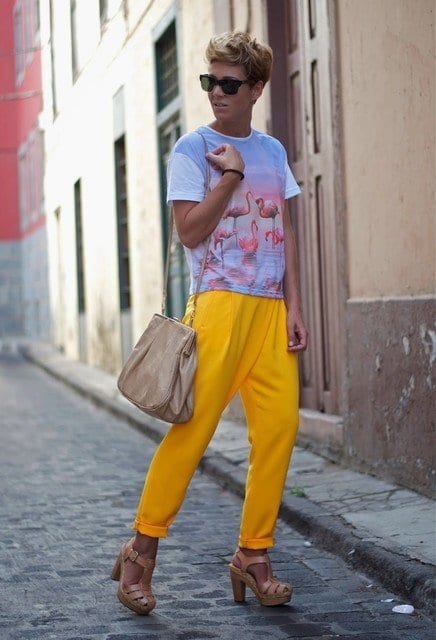 ↓ 21 – Cheetah Print Pants
This is an awesome weekend look for a day out with your gal pals!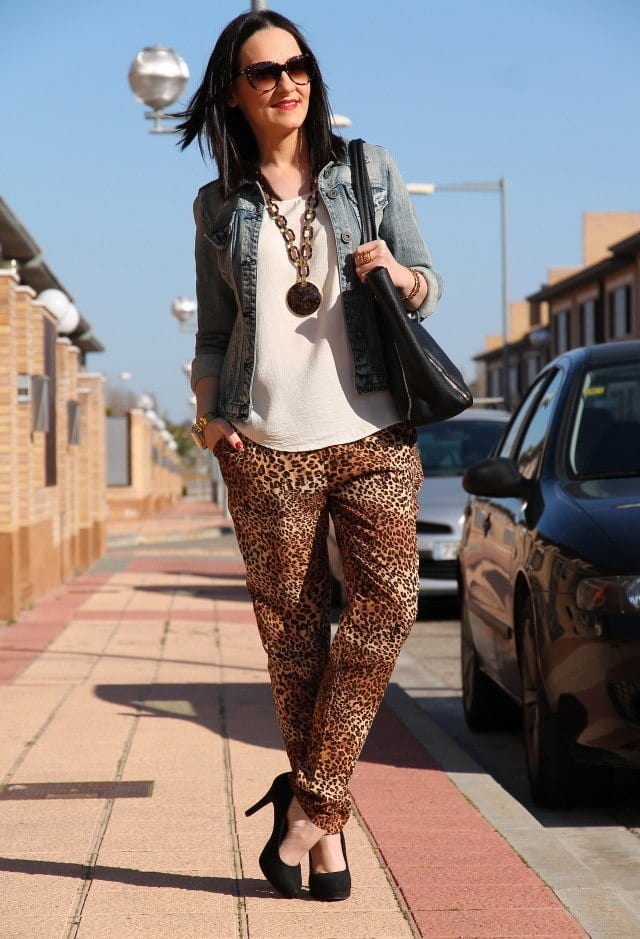 ↓ 20 – Gray and Purple
We love a neutral look rounded off with a pop-of-color accessory. Check it out.
↓ 19 – Celebrities Wearing Baggy Pants
We love an all-beige look! A sleeveless turleneck crop top with baggy linen pants is a classic look as sported by Selena Gomez. Do check out these Hollywood Celebrities Beach Outfits.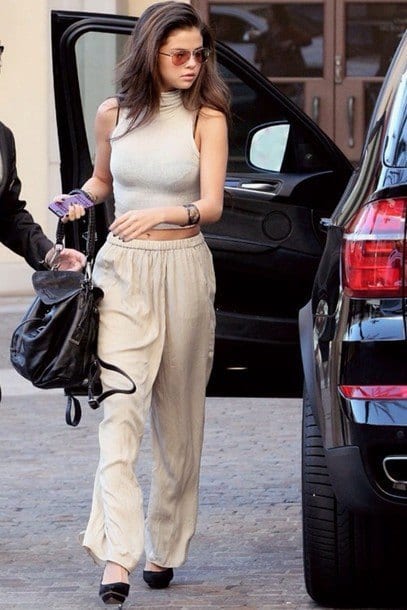 ↓ 18 – Espadrilles and Little White Tee
Here's a classic Palazzo pant look that includes a little white tee tucked in and paired with beautiful espadrille shoes.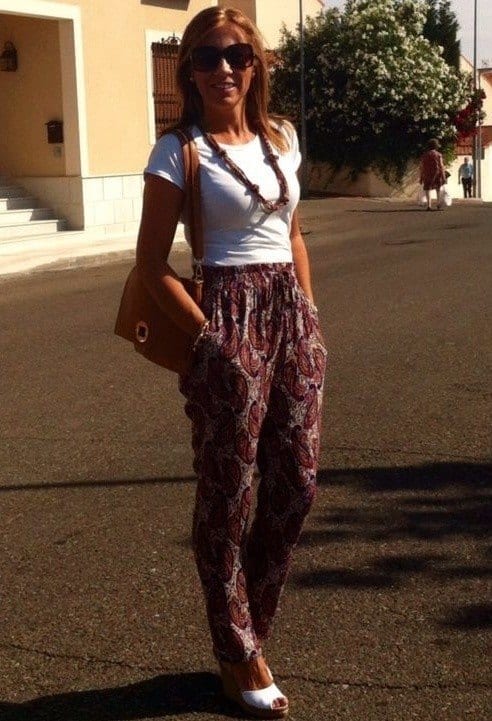 ↓ 17 – Sleeveless Top and Metallic Heels
We love this look for a party or baby shower. It's sweet and feminine but ultra-comfy!
↓ 16 – Fashion Blogger Style
This ultra-stylish look will have you feeling like a proper fashion blogger.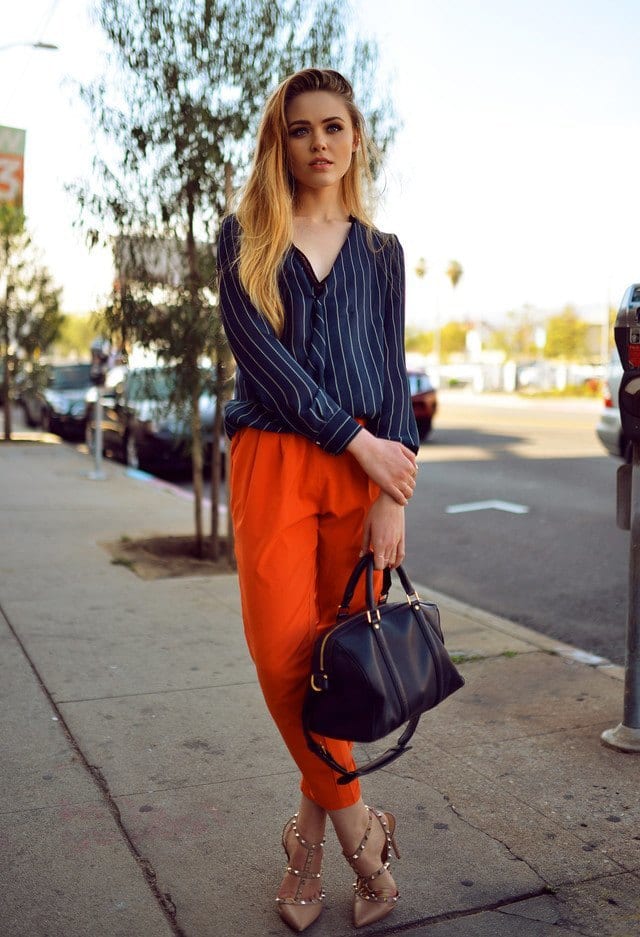 We highly recommend checking out Trendy Palazzo Pants for awesome summer outfit ideas.
↓ 15 – Comfy Winter Travel Outfit
This mostly monochrome look will keep you feeling chic and toasty warm.
↓ 14 – Pink Pants
Shake up your baggy pant style by opting for a pink velvet pair.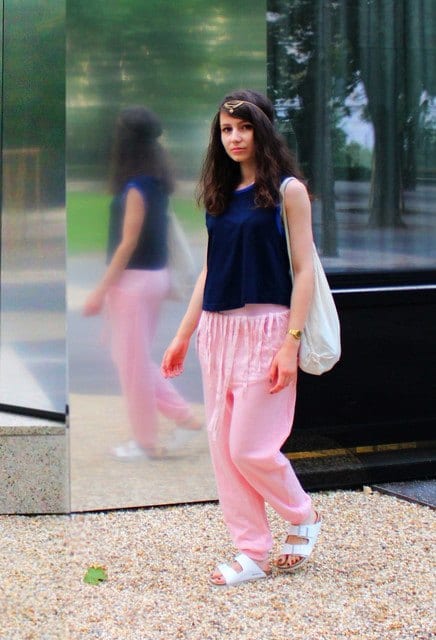 ↓ 13 – Kim Kardashian in High Waisted Pants
Check this picture out if you want to wear baggy pants to any formal gathering or official party. Isn't the use of sequin in this outfit simply amazing? If you agree on this then you need to check out these 18 Plus Size Sequin Outfits-How to Wear Sequin as Curvy Women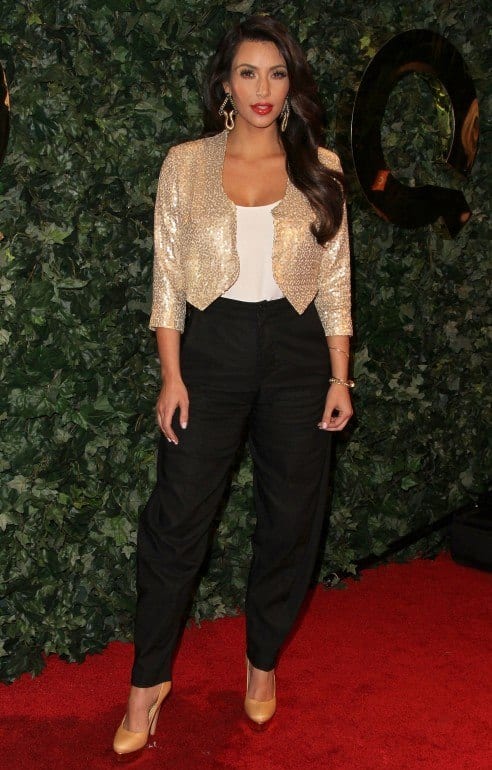 ↓ 12 – Spring Wear
For the warmer seasons, you can wear baggy pants with a cropped top and a blazer. For example, you can go for dark green baggy pants and wear them with a black cropped top. Pair it off with sandals and a statement necklace.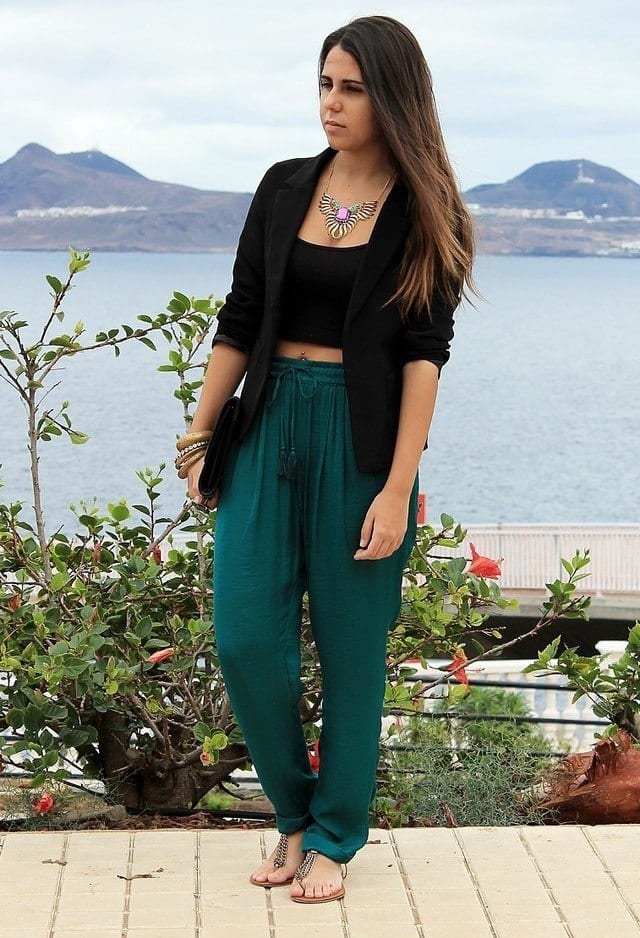 ↓ 11 – Teen Girl Look
A white off-the-shoulder top lightly tucked into some taupe jogger-style pants paired with slip-on shoes is a great casual summer look for teen girls.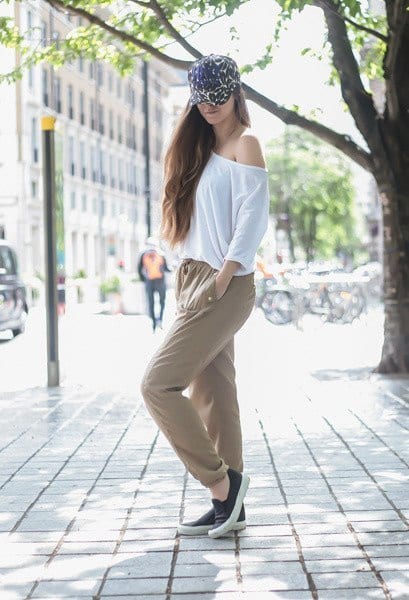 ↓ 10 – Selena Gomez Print Pants
Here Selena Gomez is rocking her beautiful pair of baggy print pants along with a matching tank top. She added a stylish jacket on top to bring the look together.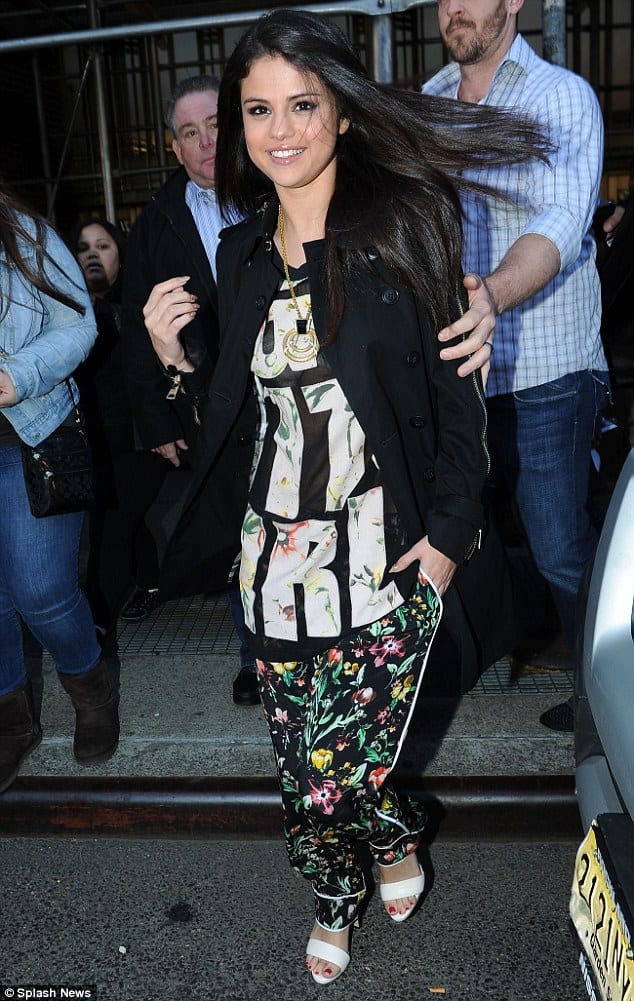 ↓ 9 – Cara Delevingne Baggy Trouser Style
Cara Delevingne is known for her comfortable outfits and with good reason. They're always cute and they always look comfy! This one is no exception. To get the same look, tuck a button-down long-sleeved shirt into some loose slacks tucked into combat boots. Finish off the look with a cap and an oversized bag. This is a great look for traveling, which Cara seems to be doing here.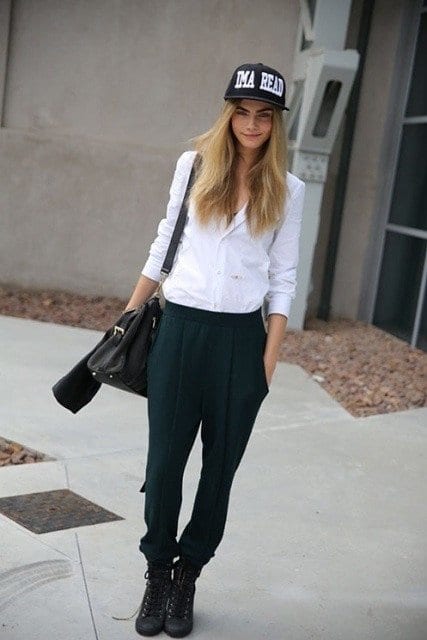 ↓ 8 – Professional Look
If you work in the fashion industry, this could be a great look for you, especially as we head into the colder season. Go monochrome, not quite head-to-toe but at least head-to-ankle! Charcoal gray is always a chic color to don. Try tucking a turtleneck into some oversized slacks belted mid-waist and topping it off with a matching suit jacket. Finish off the look with some thick-soled, slip-on sneaks and a long beaded necklace.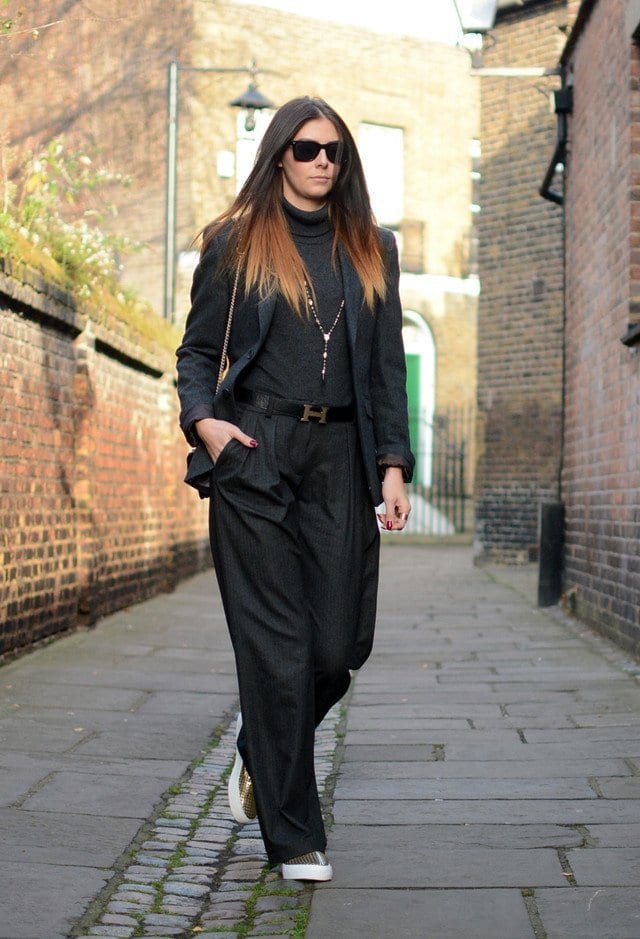 ↓ 7 – Floral Top and Converse
Tuck a fun floran print halter top into a pair of mid-rise tapered slacks belted at the waist. This daring style look will have you feeling every inch the fashionista. For more inspiration, here are the Cutest Floral Print Outfits Combinations for Spring Season.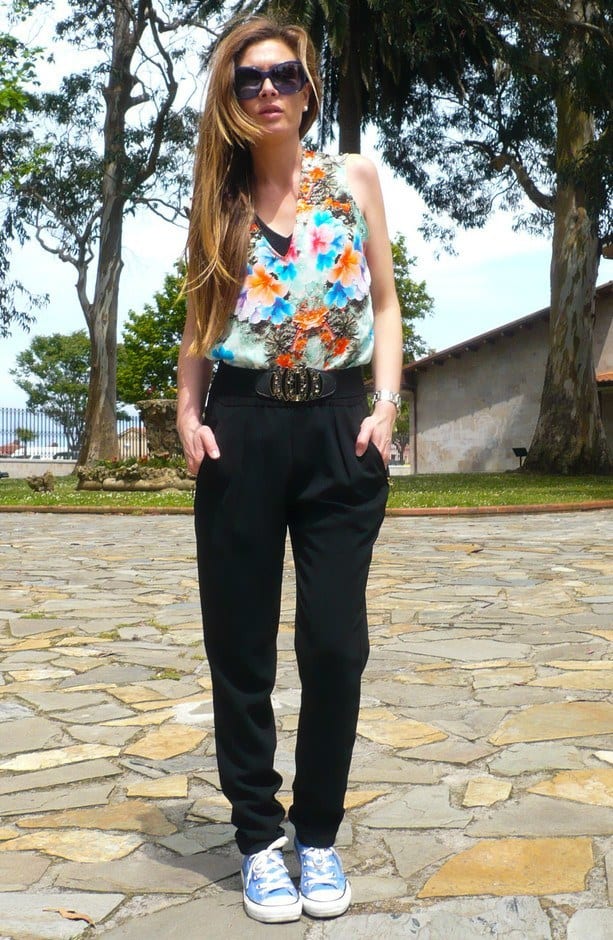 ↓ 6 – Cute Work Style
Some lightly loose print pants are perfect for work, especially if you are tired of plain trousers or slacks. Pair with a satin magenta top and a moto jacket in dark brown for a cute work outfit you'll love showing off at the office.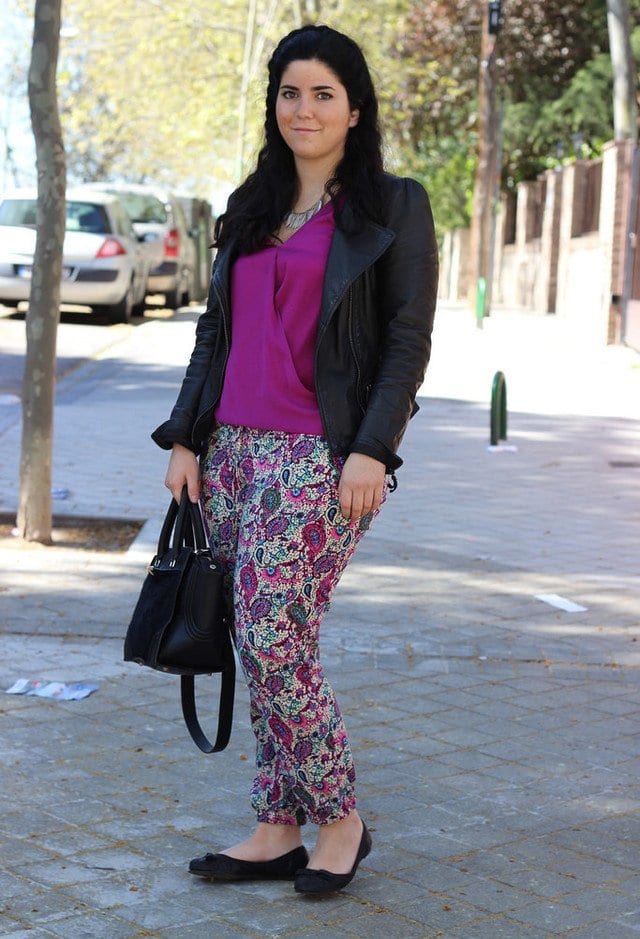 ↓ 5 – Summer Wear
If you are sick of wearing jeans in summer then baggy pants are the best pick for you. You can wear baggy pants in any plain dark color and pair it with a sleeveless top. The sleeveless top can be in any light contrasting color. For jewelry, you can wear it in similar shades to your baggy pants and shirt.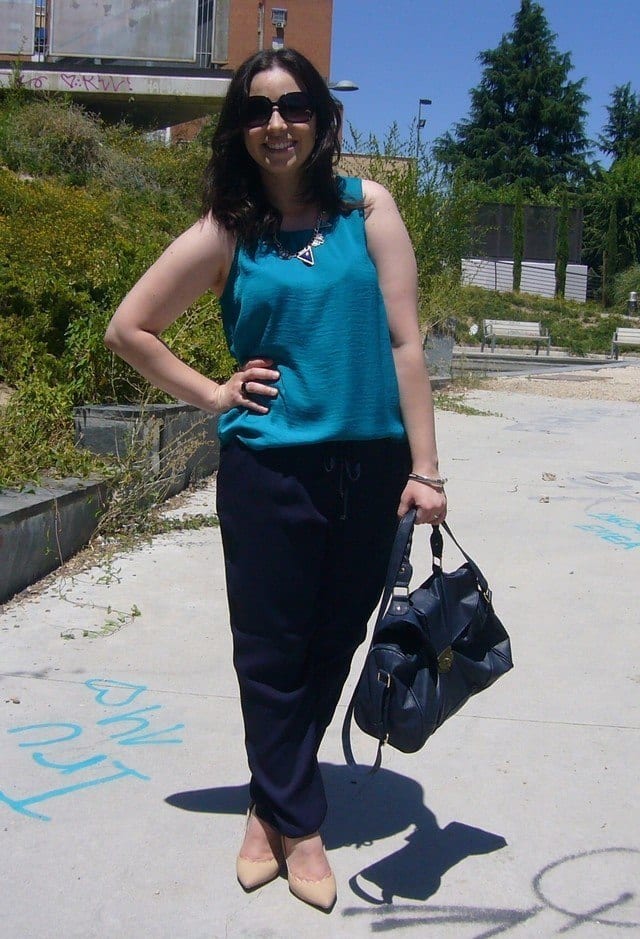 ↓ 4 – Casual Outfit
Baggy pants are great for casualwear but only if worn properly. You can add a denim jacket with baggy pants and a ponytail to make them look casual but also dressed up. For colors, you can wear beige pants and with a white tank and a denim jacket. As far as accessories are concerned, we suggest that you go for black as you can see that they look awesome with this combination. Don't miss out this Season's 12 Most Hot Casual Outfit Combinations for Girls.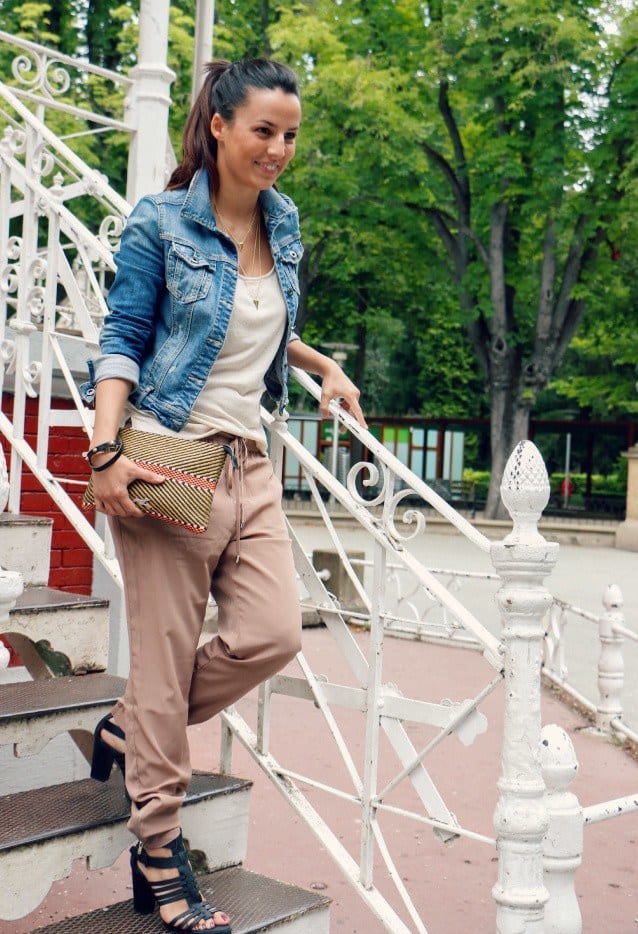 ↓ 3 – Party Wear
This outfit idea is perfect for night parties or for even official parties. You can wear sparkly and sequined baggy pants with a plain white shirt and ruffled velvet jacket. Accessorize with statement earrings and some studded boots.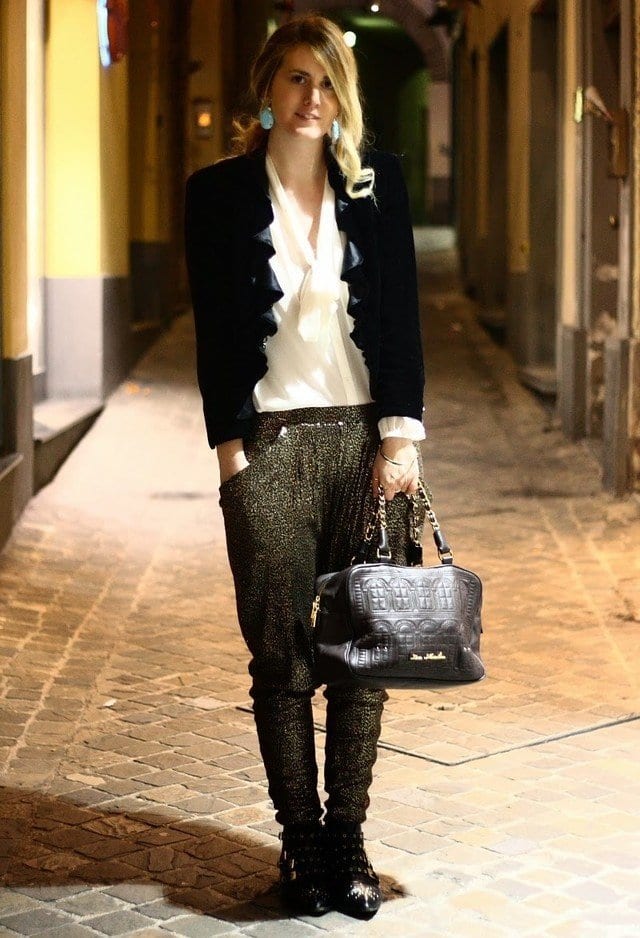 ↓ 2 – Casual Street Style
Long baggy trousers are the perfect go-to option for running quick errands or feeling comfy on a crisp fall day. You can match them with any kind of plain tank top tucked in and an open jacket. This look is also great for grabbing coffee with friends.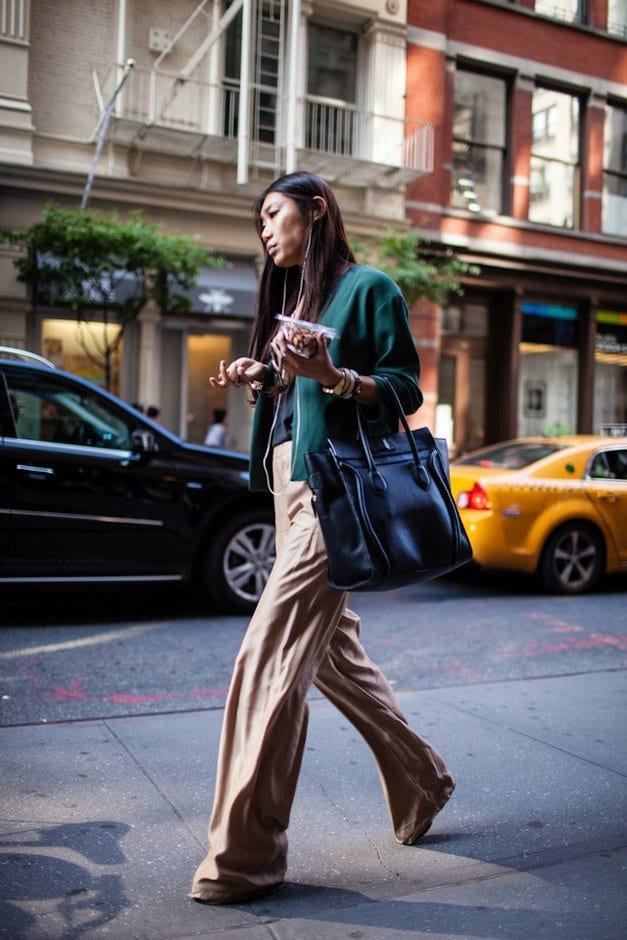 ↓ 1 – Holiday Style
Wide-legged jeans rolled at the ankle paired with nude pumps and a fun blazer jacket can be a gorgeous ensemble for your next summer holiday.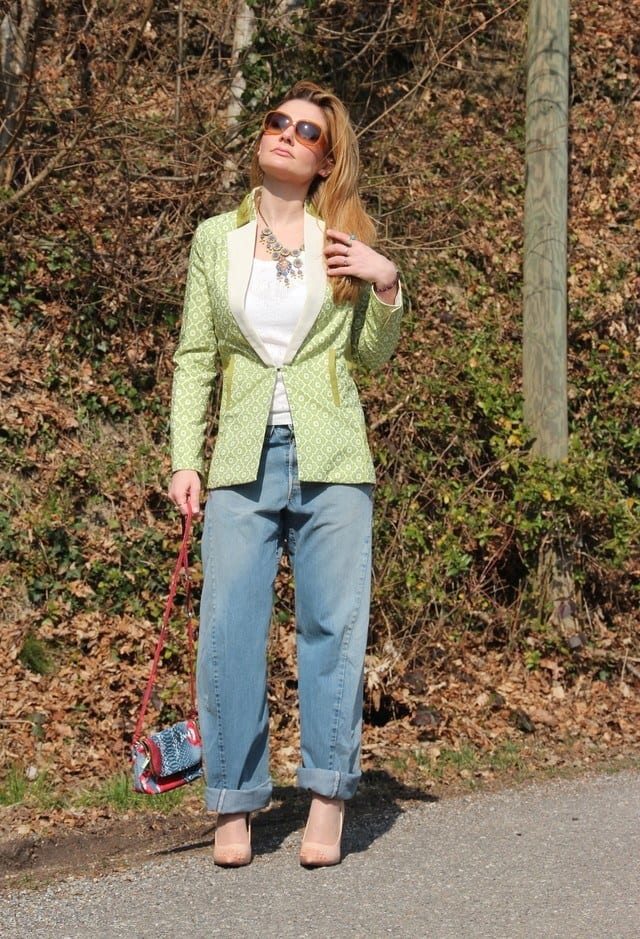 Frequently Asked Questions
Here are some frequently asked questions about how to wear baggy pants, how to style them, and what looks good with them. Check them out!
Q.

How do you make baggy jeans look cute?
A. This is a great question and it's one we have probably all had at one point or another. Styling baggy jeans so that they look cute is not as tricky as some might think. It's just a matter of keeping a few things in mind.
Remember there are different types of baggy jeans. Some baggy jeans are merely loose-fitting. Some are very fitted around the waist; others are baggy from waist to hem. Experiment with a few different styles (if you're not sure where to start, simply get your hands on some oversized jeans and start there) until you find the ones you like best. Thrifting for gently used jeans is a fabulous way to find baggy jeans at a low price as well.
Remember baggy jeans look best when they are worn with close-fitting tops. Think crop tops, bandeaus, and bodysuits. If you go loose on top when you are already wearing baggy jeans, you risk looking sloppy and unkempt. If you don't like showing too much skin, simply throw a short jacket or open, plaid shirt over your top. You can knot the plaid shirt at your waist as well to make sure you keep a tighter silhouette on top.
If you do want to wear something a little looser on top, consider a cropped sweater or a sweater knotted at the smallest part of your waist or a graphic tee knotted at the waist.
Try and shoot for a high-waisted pair of baggy jeans or mid-rise. Low-rise is simply not a good option for jeans in general.
You can also try turning up the hem of your jeans, especially if they're super long, or getting a pair that stops just above the ankle. This is a good way to break up the width of the look and add some dimension.
Q.

What do you wear with baggy pants?
A. Depending on the type of baggy pant, you have a little more versatility than with baggy jeans. You can rock some Palazzos, paper bag pants, or brand-name joggers and try them out with a variety of tops and accessories. As a rule, try to wear shoes with a heel… unless your baggy pants come to a tapered ankle, as with joggers. A little heel of some sort will help balance the loose pant leg.
However, this isn't always the case, as in outfits #6, #7, and #8. A chunky sneaker, ballet flat, or thick-soled fashion sneaker can all look fabulous with a loose-pant style.
Q.

What tops to wear with baggy jeans?
A. A close-fitting top or blouse is always a safe bet but this isn't a hard and fast rule. You can rock a baggy tee, an off-the-shoulder top, or even a tank with relative ease… but we do recommend tucking your shirt in! This is an easy way to keep from "losing" your body beneath the layers and keeping a general sense of your silhouette. If you hate adjusting a tucked-in top throughout your day, give a bodysuit a try! We happen to love bodysuit turtlenecks as they provide coverage without sacrificing chic style.
So are you feeling ready to rock the baggy pants look? What was your favorite outfit from our curated picks? Let us know in the comments below!
R.H. Elias is a freelance writer, aspiring author, and freelance transcriptionist. She is a homebody all the way and loves curling up on a cold, rainy day with a good book and a warm cup of tea. Her favourite pastimes include reading, writing, and watching period films. She currently lives in Puerto Rico.