Embroidered Jeans Outfits. Jeans is the ultimate closet staple and a part of everyday wardrobe. And what you think about the embroidery embellishment on jeans. Embroidered jeans is a chic piece in your closet for the day and night wear. If you are not sure how to carry your embroidered jeans with outfits, what to wear with embroidered jeans ?you can simply fit the jeans with top, cardigan, jacket or coat.
We have given the ideas that how your embroidered jeans pieces can be fit with with the different outfits in a myriad ways. Scroll through the outfit ideas that will definitely spice up your closet.
How To Wear Embroidered Jeans
#16- With Burgundy Leather Jacket
You couldn't get enough of this style ever. An awesome combination of burgundy leather jacket with embroidered red flowers on the jeans. Paired with ankle booties will definitely brighten your day.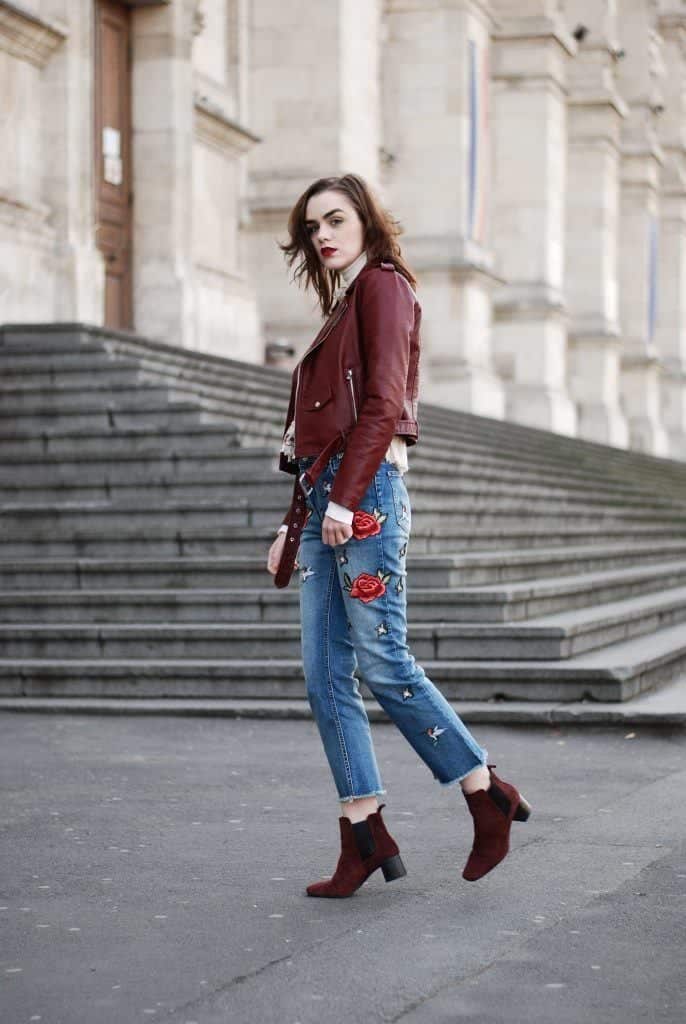 via
#15- With Relaxed White Tee
Floral embroidered jeans with relaxed white tee and a pair of white leather trainers is the perfect ensemble if you think a comfy and casual style with the embroidered jeans. The look is super easy and comfortable.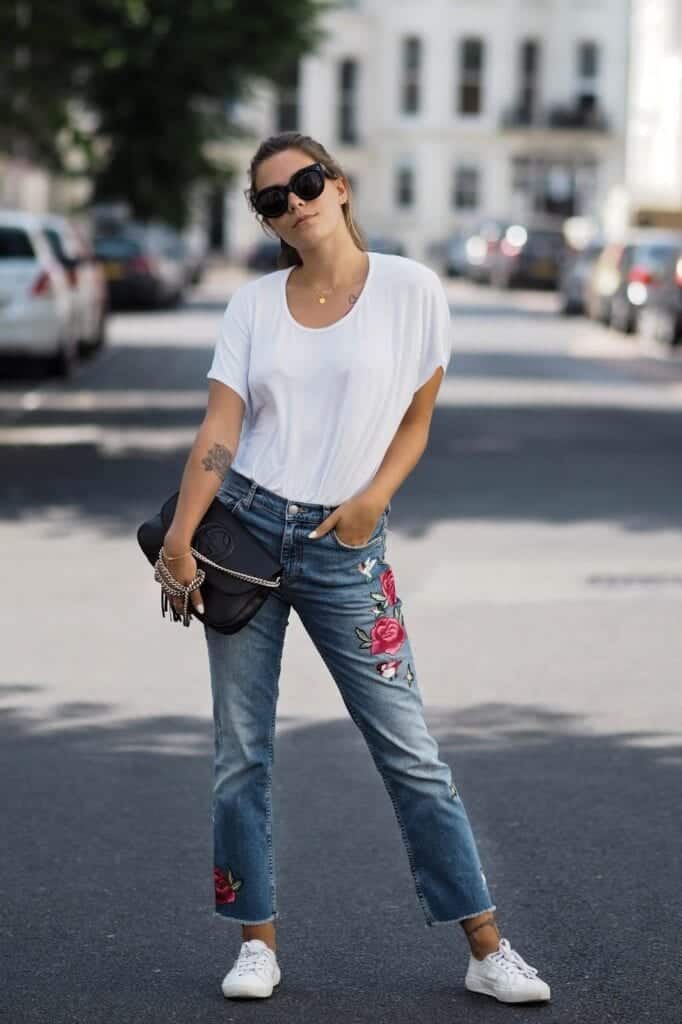 #14- Cozy, Winter Beach Style
Fit a baby pink cardigan and white tee with embroidered boyfriend jeans. Its really cool and slouchy. Don't wait to try this fabulous perfect pair. Buy it now.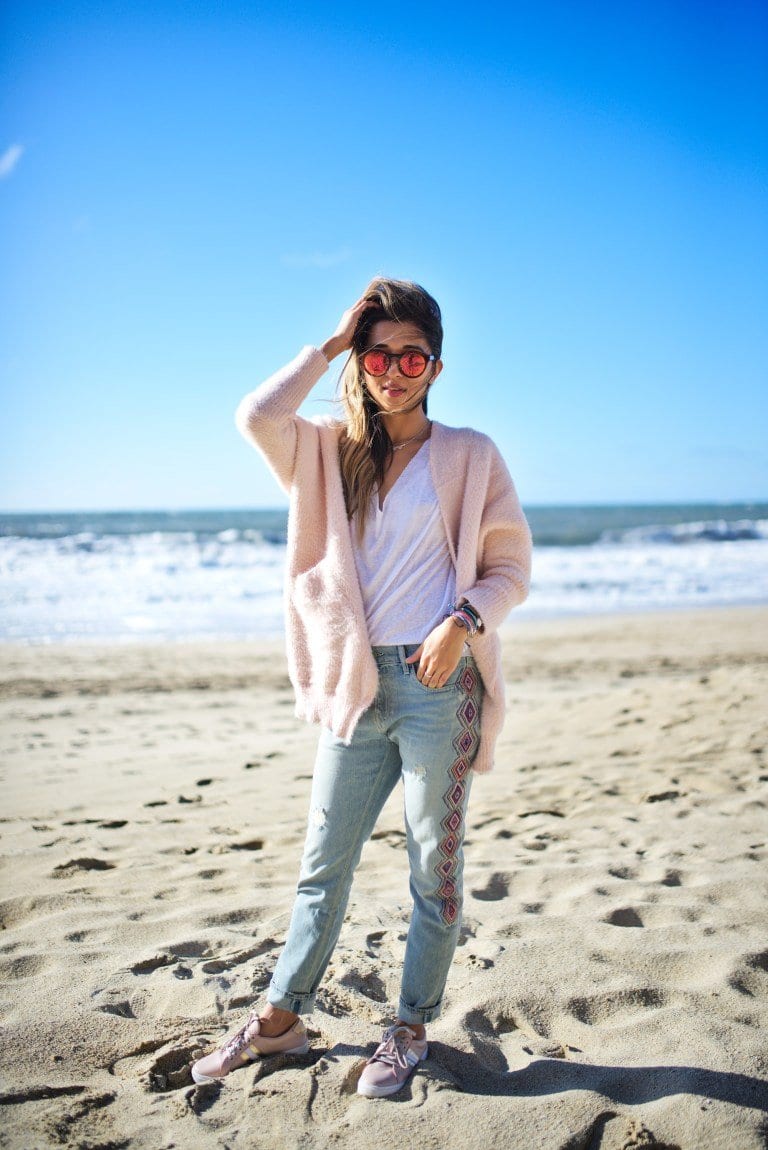 #13- Pink Converse
What shoes to wear with embroidered Jeans ? well answer is here .Pink faux, pink lips and pink neck tie. Add a pop of colour to make your outfit less monochrome.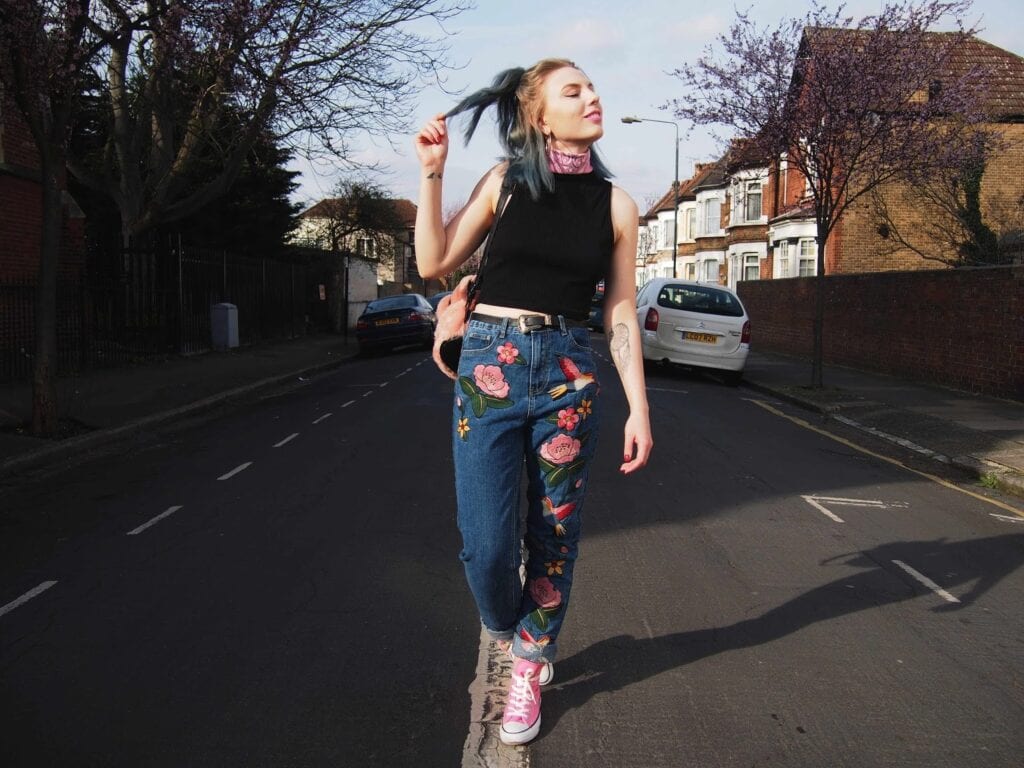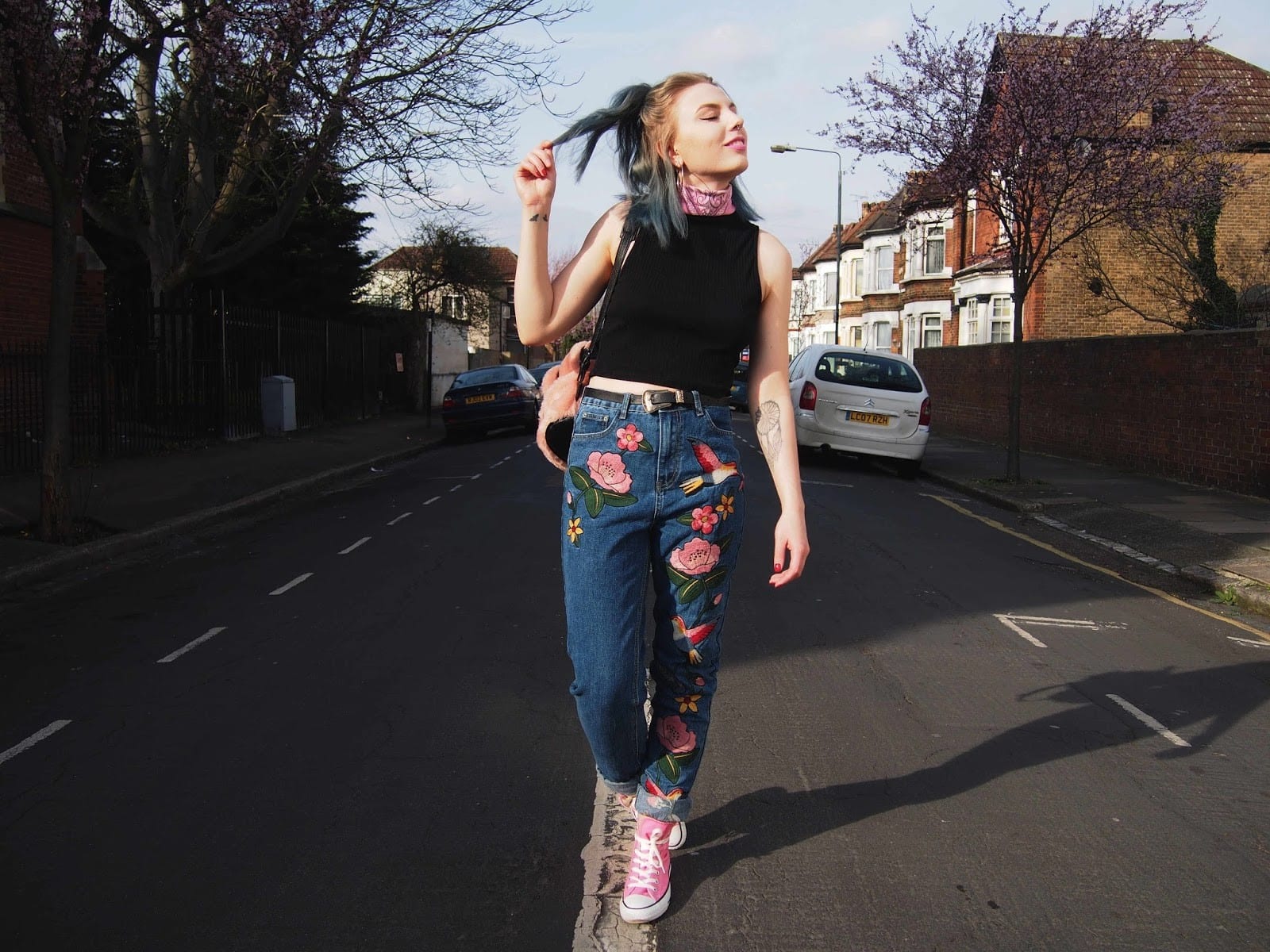 #12- Ruffles and Embroidery
Obsession on ruffles with embroidered jeans is another stylish statement. Well pleated bell sleeves ruffle with jeans look decent and sophisticated. Pink hues on the top and embroidery on the jeans blend amazingly.
#11- Embroidered Jeans with Embroidered Jackets
You can never say no to this perfect combination. Pair of embroidered leather jacket with embroidered jeans can define a better style. So keep wearing the beautiful statement pair on repeat.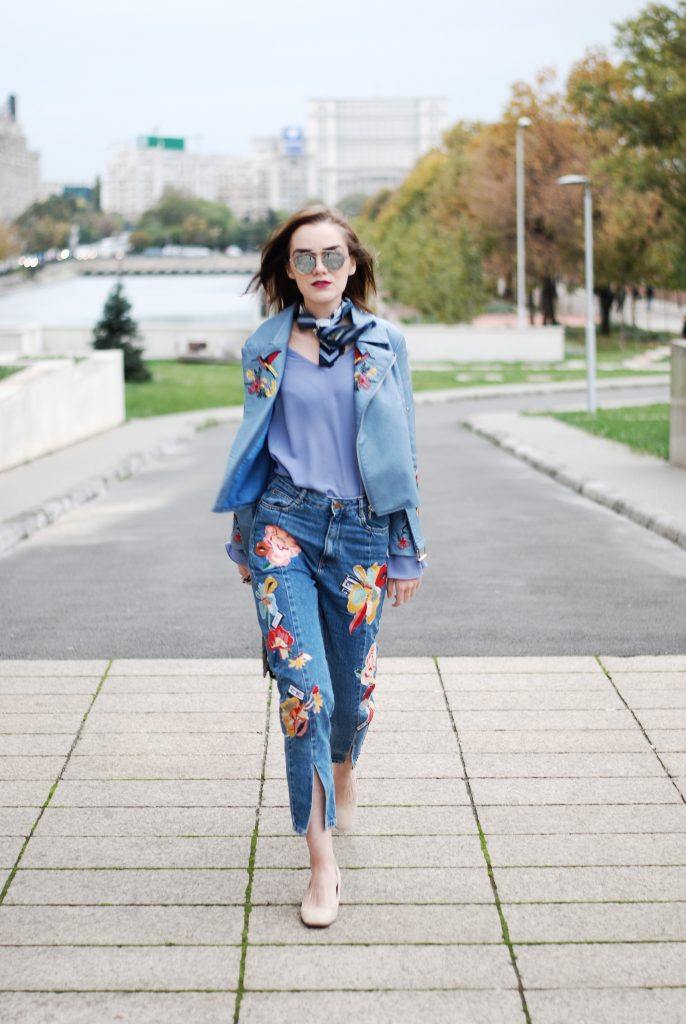 #10- With Black Graphic Blouse
Opt a relaxed aesthetic look by pairing your embroidered jeans with black graphic button front blouse. Dress down your look with blue leather driving shoes.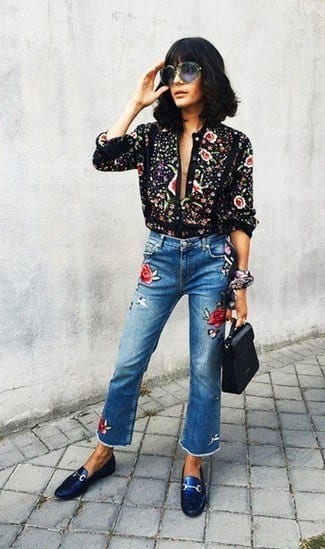 #9- Winter Wear
For a cool chilly day, go for a warm, comfortable and relaxing pair outfit. Here the embroidered jeans goes best along with the coat and shirt.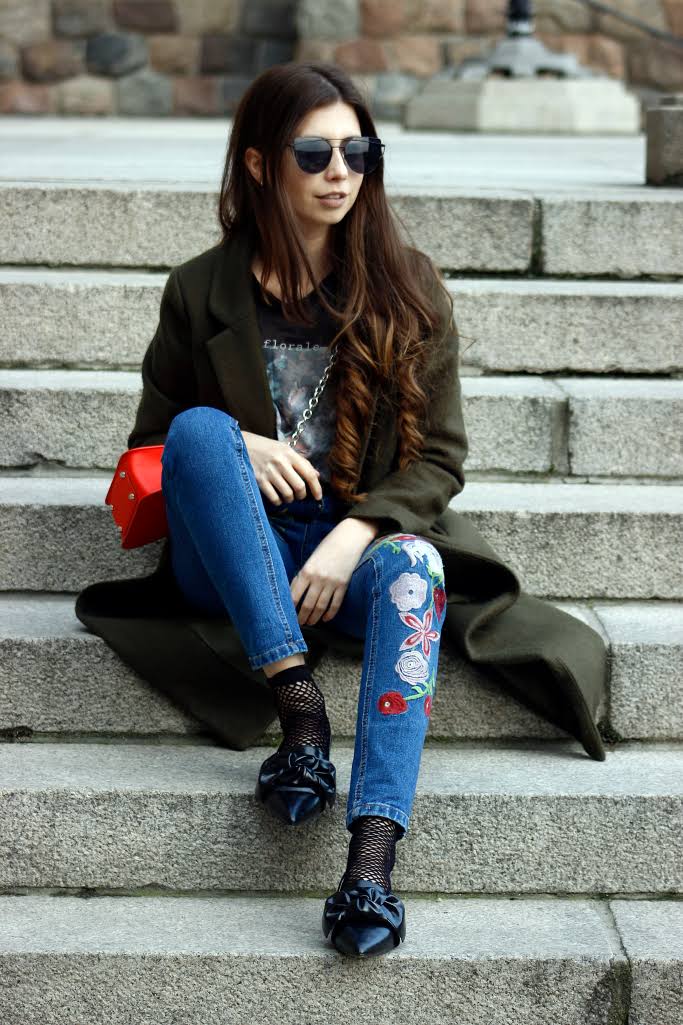 #8- Celebrity Style
Embroidered denim are a hot trend right now. These embroidered flares seem top high street fashion, so that you can not get enough ever.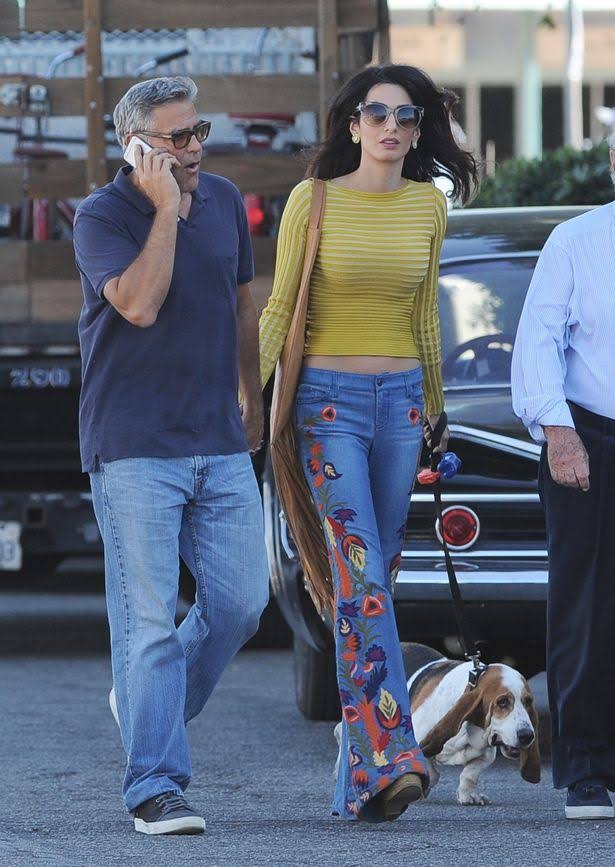 #7- Casual Hang out Ensemble
You can add Bella's look to your closet. She is wearing the look for casual hang out. Hang at home or shop with friends this is the ultra relax look she is embracing.
#6- Party Wear
Want to stand out at party? Go for conventional colours instead of black and white. Embroidered jeans, embellished tops and denim booties will update your party look in a stunning way.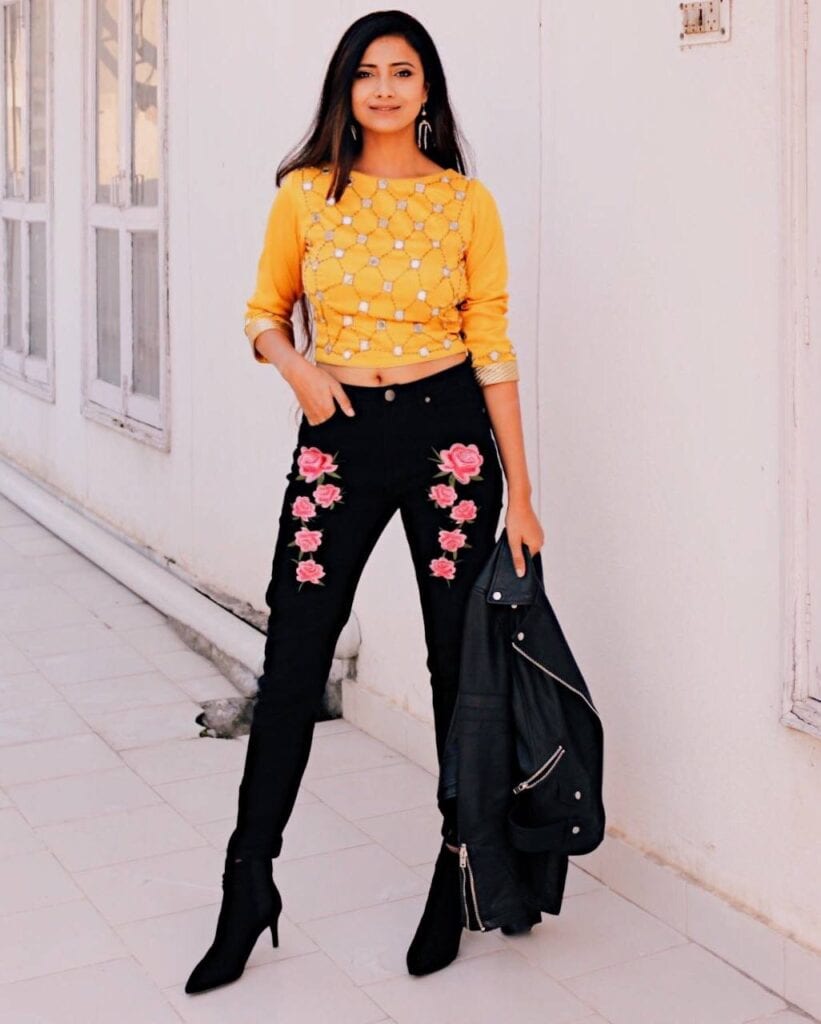 #5- Floral Jeans
This time make this fall a blossomed floral. Oversized tweed jumper with grey boots and well fitted pair of embroidered jeans is perfect to go this fall.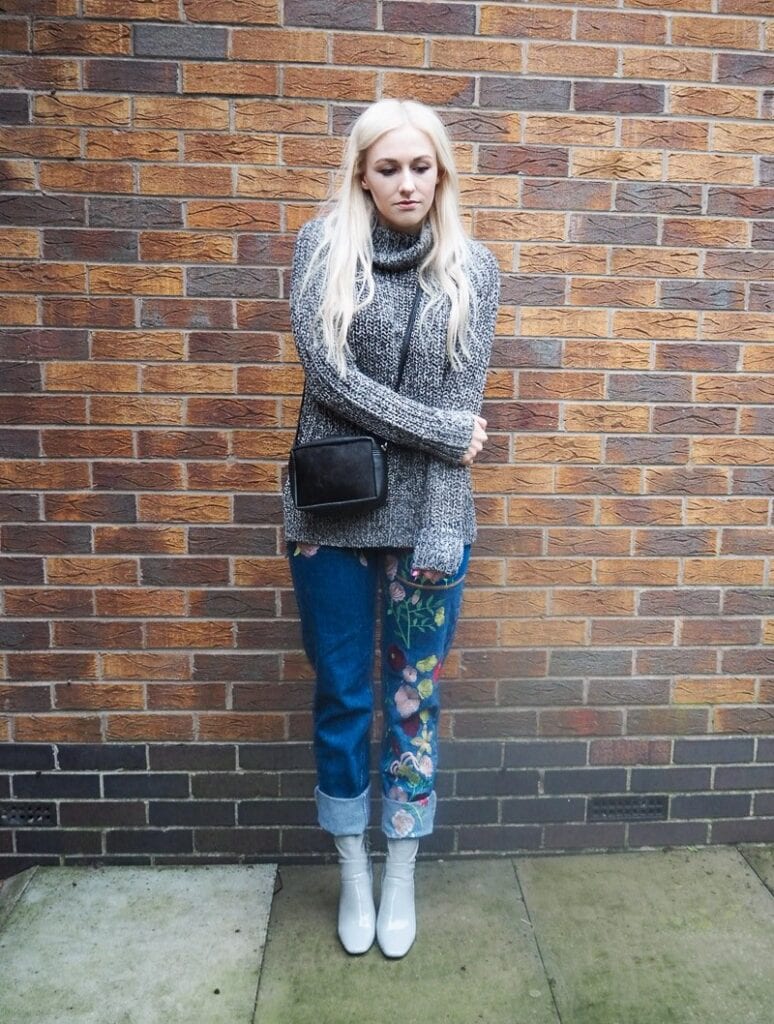 #4- With White Shirt
This would be the ultra amazing, super collection if you have all the statement pieces in your closet. Plain white buttoned shirt, embroidered denim, leather booties and saddle bag. Really an ultra chic and stunning outfit to go with that embroidery on your jeans.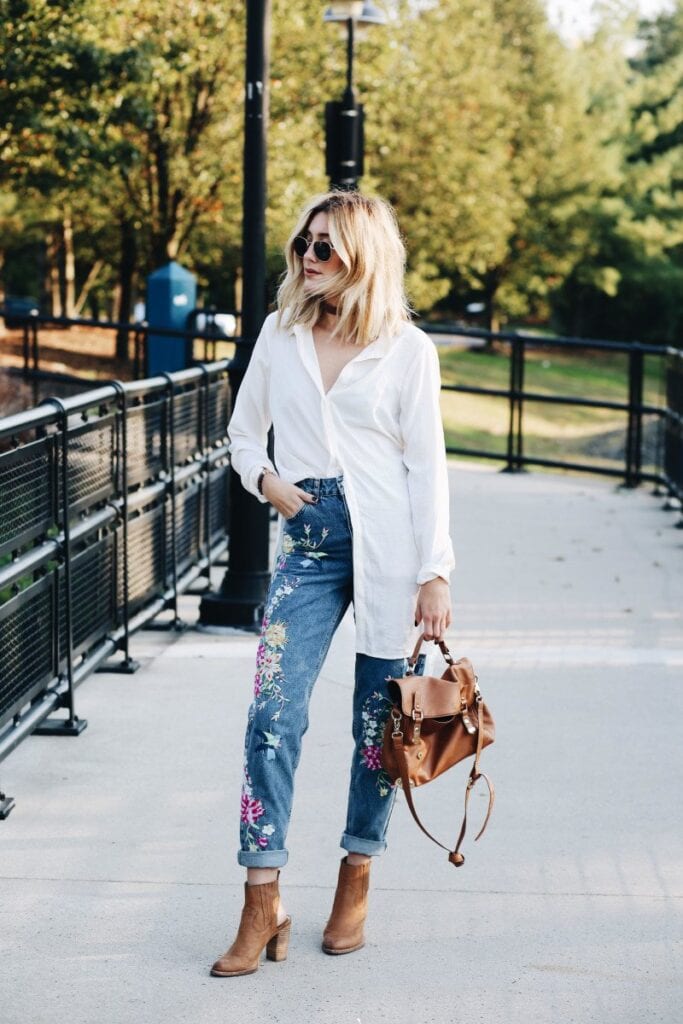 #3- Street Style
Let the flowers embroidered on the jeans talk with a style and boldness. Let them the focal point with the confidence. Pair a black top and slay the day.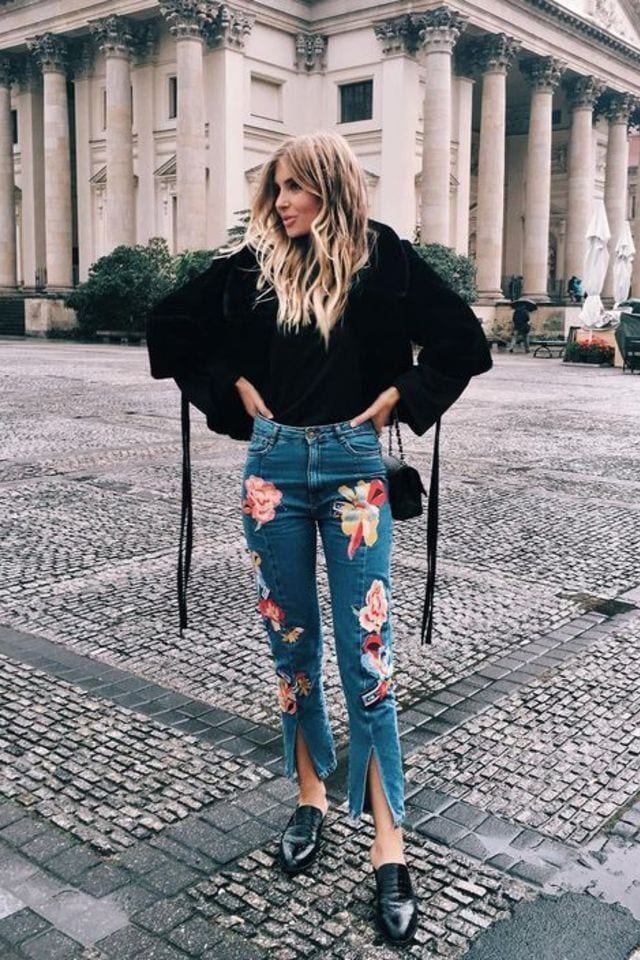 #2- Champagne Blush
You will be super obsessed with this color blush. First the trendy embroidered jeans and champagne colour blush is the real fascination of every girl. The colour is the real magic. The colour of bomber and feminine heels is ultra stunning and chic.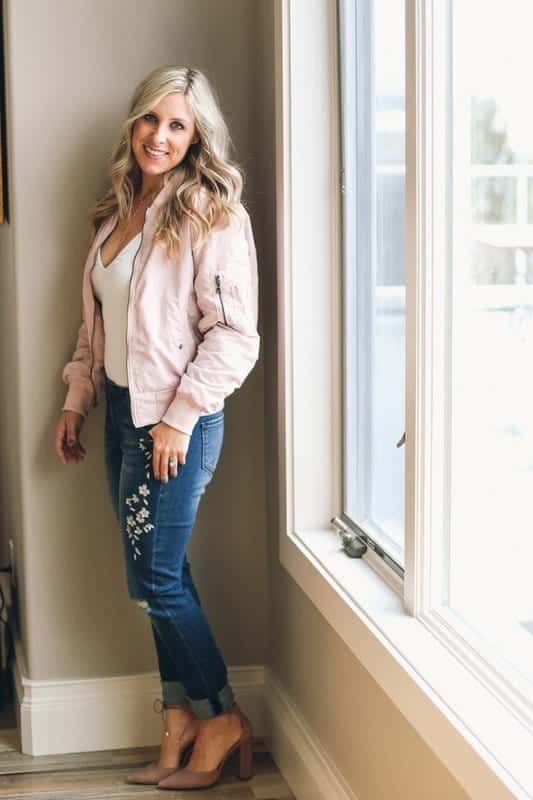 #1- With Cardigan
Perfect for winters, style the jeans with long pink coat. Add a statement colour pop to your denim look, to make your outfit effortlessly cool.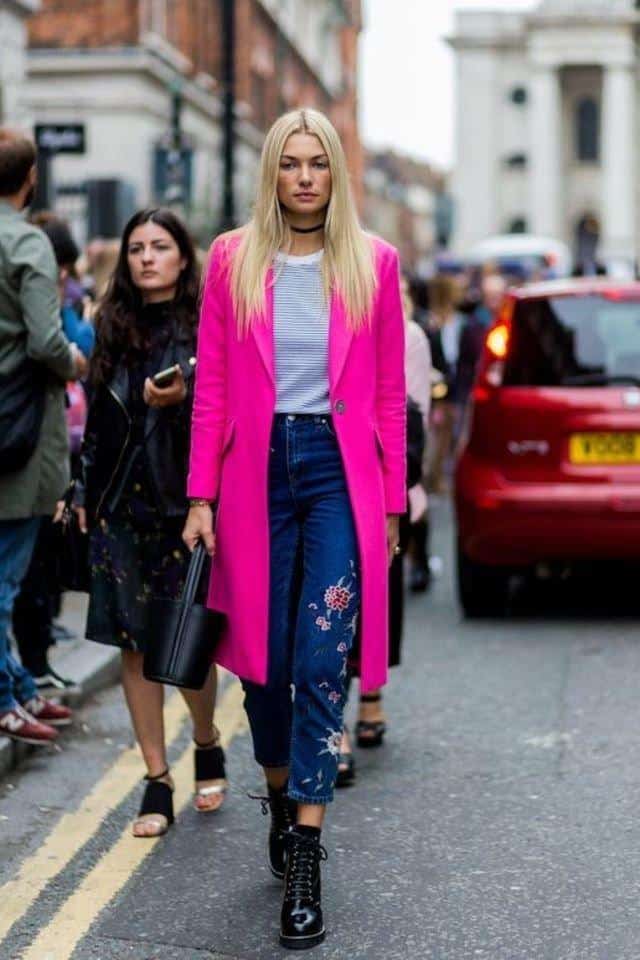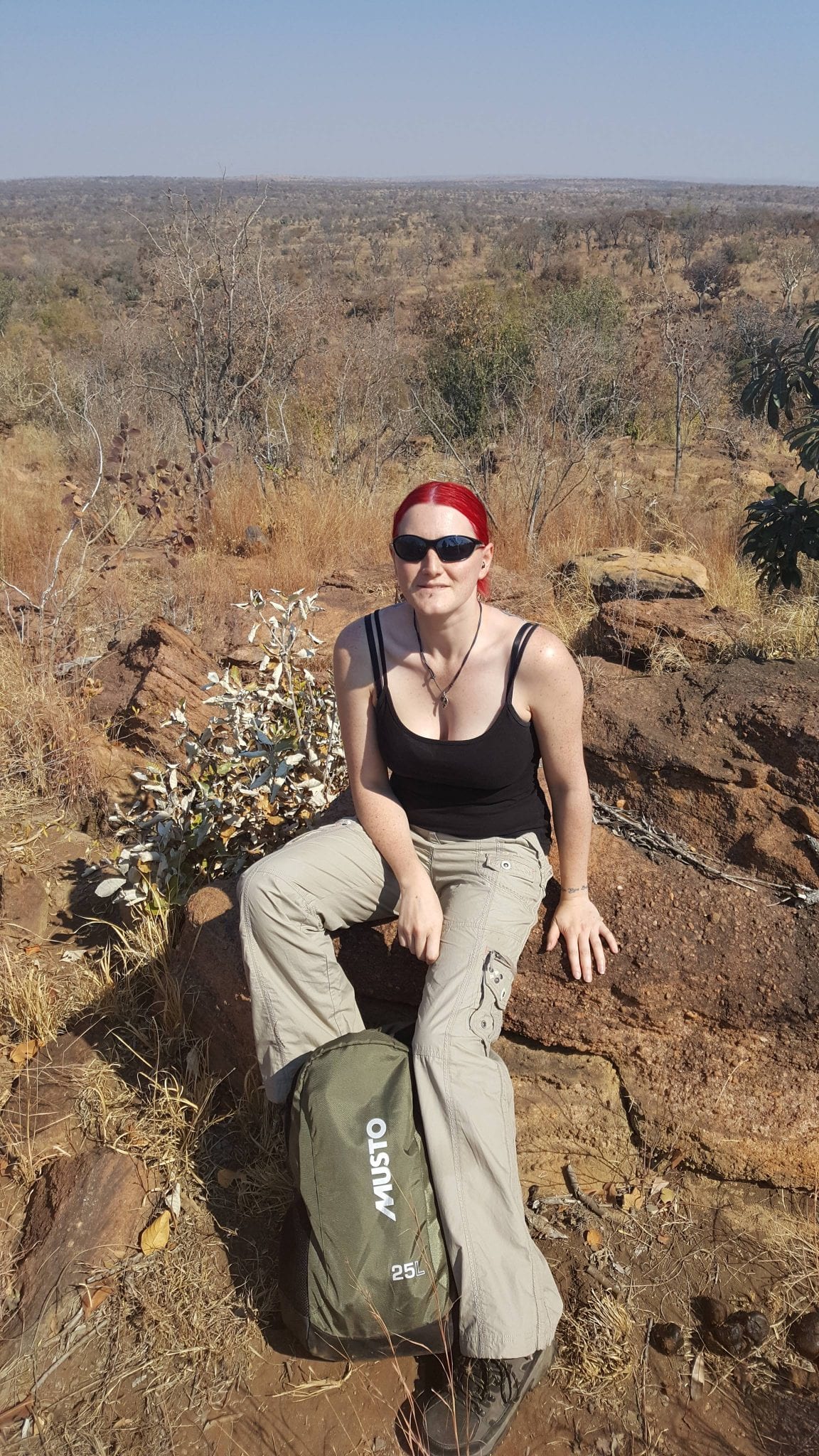 Caz, aka Vixen, has been freelance creative writing for several years. She has a lot of experience in different fields including high street fashion, tattooing art, and even the gothic and historical costumes. Caz has a Diploma in Fashion and Textiles and also a Bachelors Degree in Historical Costume and Corsetry. Her passion lies with gothic design, corsetry and any other styles considered to be taboo or unusual. Style-wise Caz has a love for Vivienne Westwood and her take on the punk era. Although Caz loves the weird and wonderful, she has a deep love for all fashion and allows this to show through her work.