Jeans and Heels Outfit Ideas. All women simply love wearing heels. Heels not only make women look taller but heels enhance their posture and give grace and elegance to their walk. There are a great many numbers of heels available in the market. It becomes tough to decide which one is the best pair to wear.
Whichever type of shoes you choose to wear, boots, pumps, wedged, sandals, pointy front or peep toe, heels are available in every shape, size, and style. Heels go with a wide variety of outfits. However, the combination of heels and jeans is smart, stylish and chic. It is for both casual and formal occasions because jeans give a casual vibe, but jeans enhance it to a formal level.
How to Wear Heels with Jeans
While wearing jeans take care of the following guideline
Wear the right size of heeled shoes. It might seem a silly common sense advice to give to anyone however according to stylists, the number one mistake most women make while wearing heels is not buying the right size for their shoes.Heels are seldom very comfortable, and if the size is not right too, then you will end up with serious foot aches. RECOMMENDED: Trending Heels Which Should be Part of Your Closet
The second is again a commonsense guideline, but sometimes women make this mistake too. Do not wear high heels if you are going for a rough camping weekend. Don't wear heels for outdoor activities like hiking, trekking or running. If you are about to wear a specially high heel to an event make sure it would require you to run a marathon. You can end up in hospital in that case.
Do not wear heels if you have back pain leg cramps issues. Ask the advice from a doctor first.
Whenever you are under a lot of work stress, try to wear the most comfortable pair of heels. For example when you are hosting your child's birthday party and are responsible for taking care of a bunch of boisterous kids. Or when you are hosting a big dinner party at your home, and there is no catering.
Try to take breaks from heels and avoid wearing tall and delicate heels for very long periods. Whenever you get few minutes, just kick them off for a few minutes and relax your feet.
Other than the few above exceptions you are free to wear heels with confidence and poise. Remember anyone can wear heels, it just needs a little practice to master the stylish walk along with heels.
Here are twenty different ways to wear jeans with heels
↓20 – Ankle Boots With Jeans And Heels
Ankle boots with high heels look great with jeans and heels. Shorter heels in ankle boots can give you a strong cowgirl type look while higher and more delicate look will go well with skinny jeans and a casual blouse or even a t-shirt. Here are some cool Outfits with Combat Boots- 22 Ideas How to Wear Combat Shoes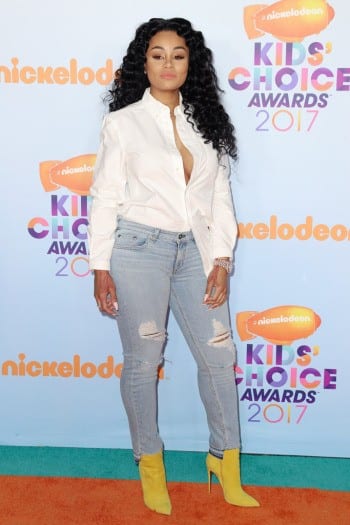 ↓19 – Multi-colored Peep Toe Heels With Jeans
Peep toe heels are always awesome and would look great with jeans. Combine them with a wonderful blend of colors, and you will be the centre of attention where ever you go.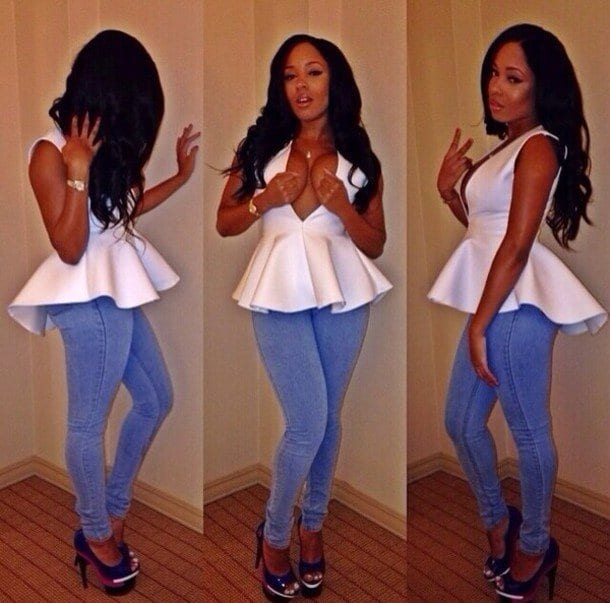 ↓18 – Top To Toe Denim Look with Tall Heels
Top to toe denim look is sometimes hard to pull off but pair it with a carefully chosen pair of high heels, and you can easily pull it off just like Kim Kardashian in the following picture. Here are some of the coolest Outfits with Black Jeans-23 Ways to Style Black Denim Pants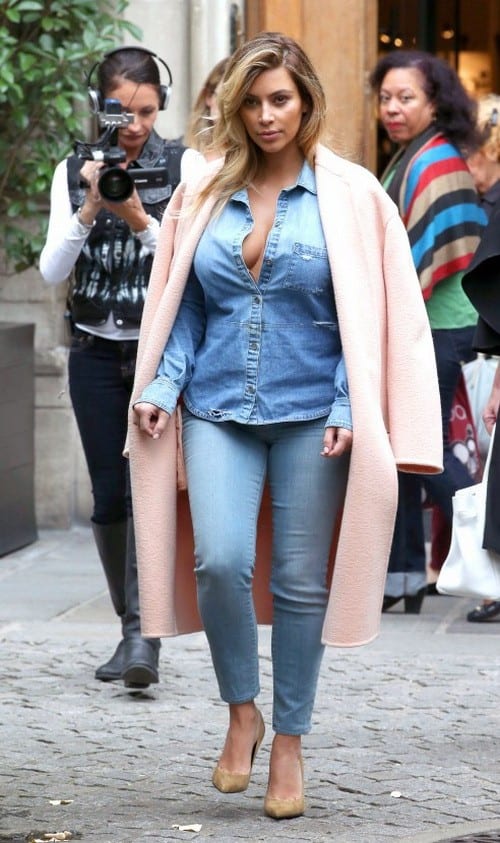 via
↓17 – Going To School Look With Jeans And Heels
With jeans and heels, there is little more you need to do to make your style statement at school or college.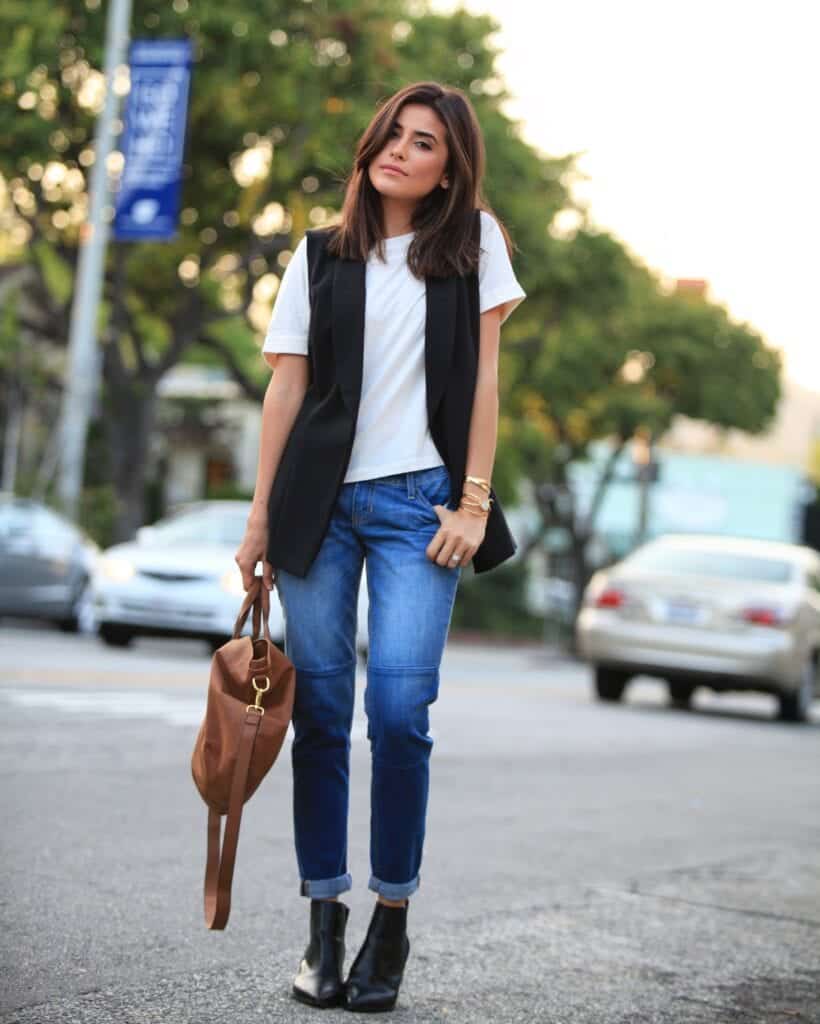 ↓16 – Plus Size Women
Even if you are a plus size do not shy away from wearing jeans with heels. It is a combination that you can easily pull off. Check out this guide on Casual Outfits for Plus Size Women-14 Funky Curvy Women Style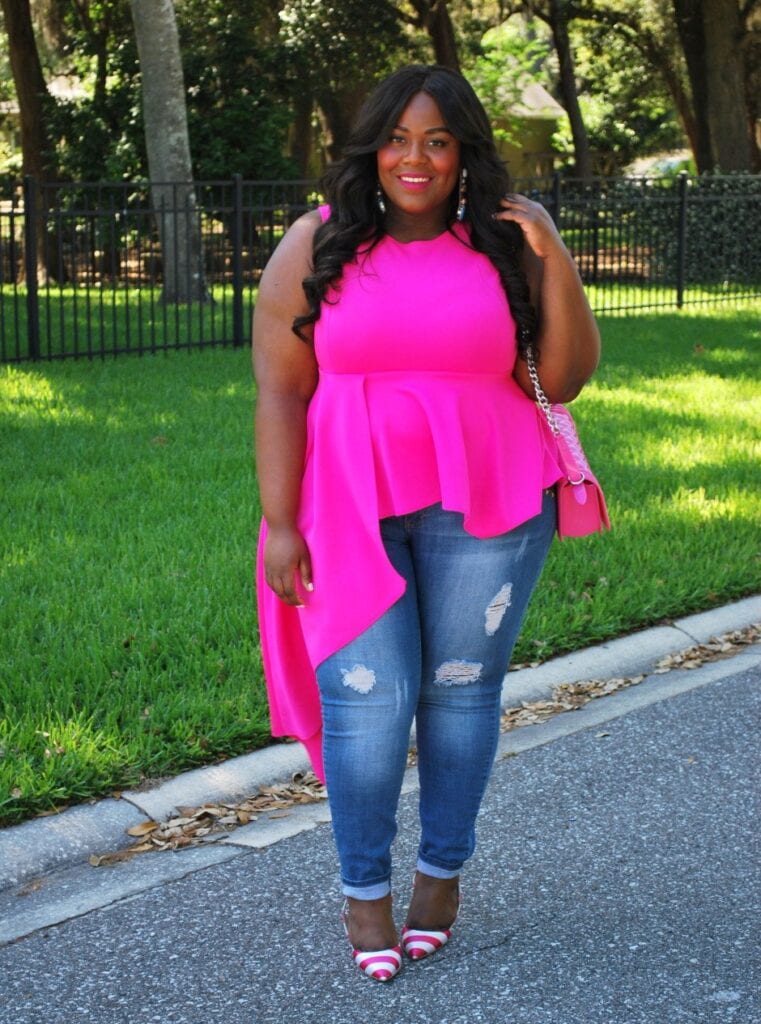 ↓15 – Office Outfit With Jeans And Heels
Jeans and heels is a combination that you can try at the office too. Wear a formal top and a couple of accessories to complete the look for the office.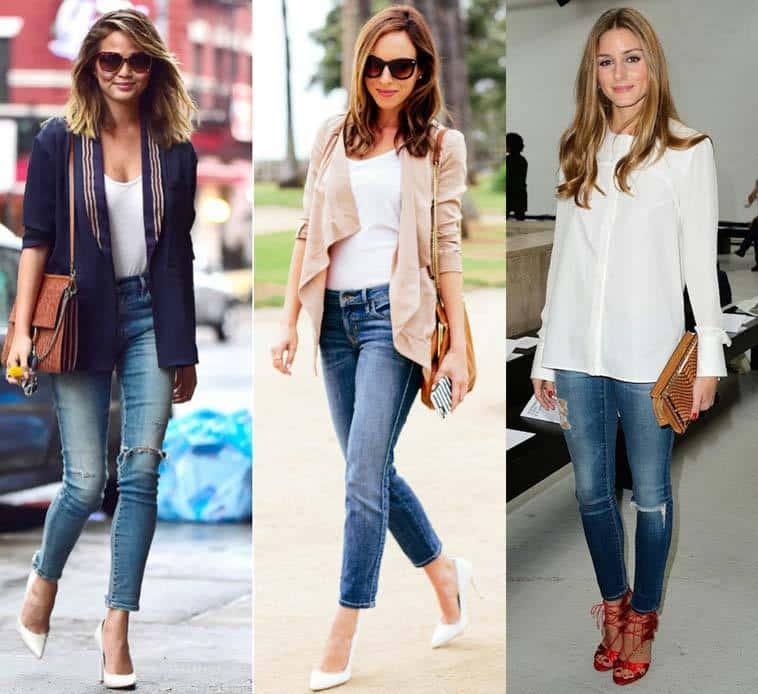 via
↓14 – Animal Print Heels With Jeans
Animal print heels never go out of fashion. But remember to wear plain denim with printed heels. Even better wear plain top and denim with printed heels to highlight them. RECOMMENDED: 16 Cute Outfits To Wear With Gladiator Heels/Sandals This Season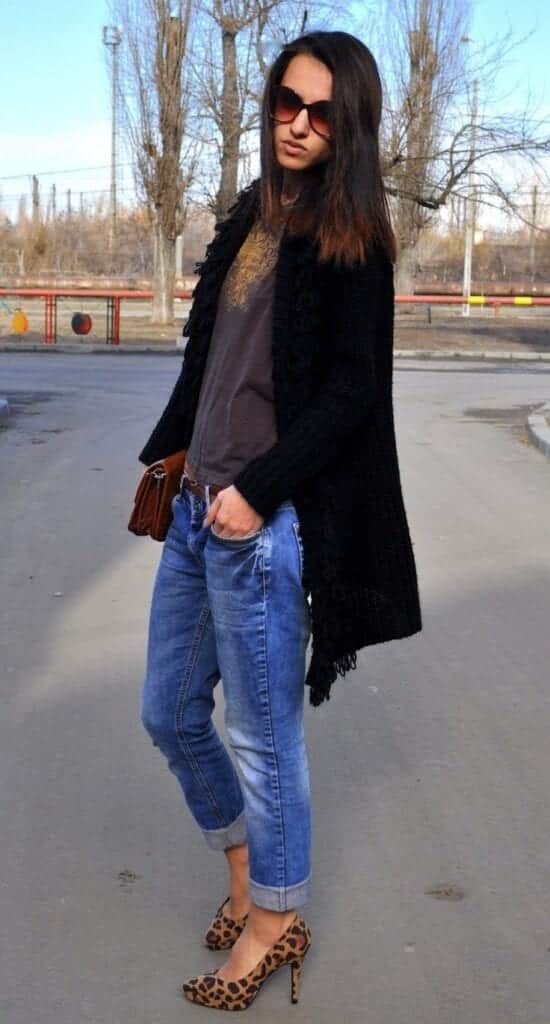 via
↓13 – Bold Colored Heels With Jeans
Going to a party but want to wear jeans, well pair them up with heels in bold colors and you are ready for the party.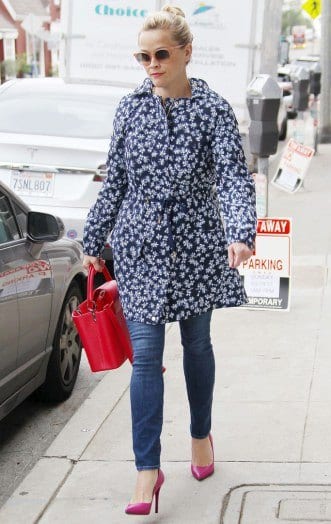 ↓12 – Wedged Heels With Jeans
Wedged heels whether in sandals style, ankle strap or pointy toe, all go well with the right pair of jeans. This outfit is also an excellent choice for travelling; you can also find some fantastic travel inspiration in these Kate Middleton Travel Outfits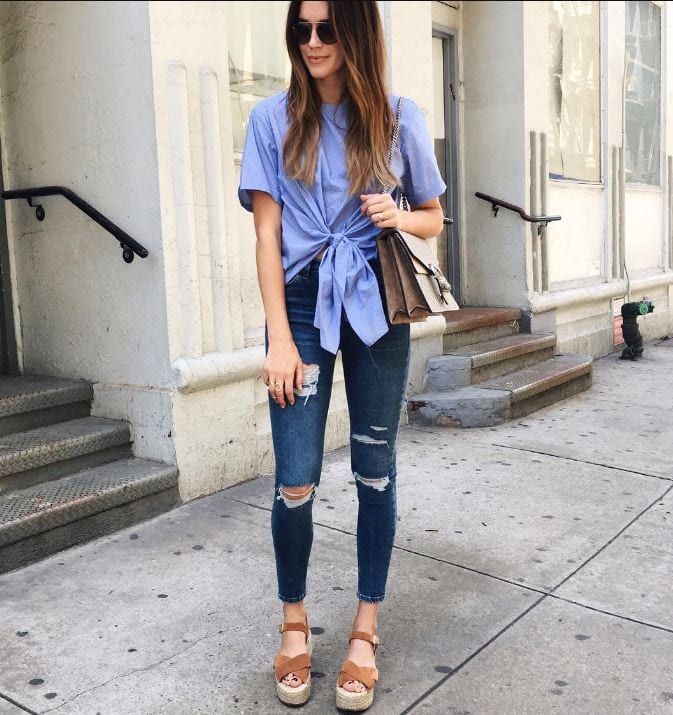 ↓11 – Street Style With Jeans And Heels
Check out the street style look with jeans and heels.

↓10 – Winter Look With Jeans And Heels
RECOMMENDED: Cute Tops to Wear with Jeans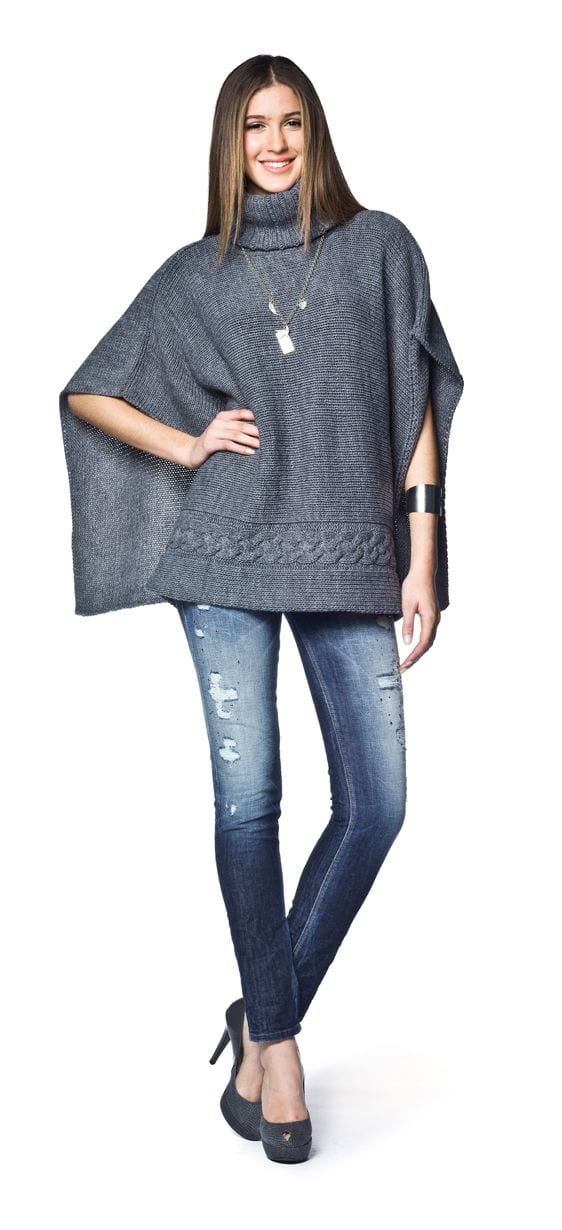 ↓9 – Pointy Toe Medium Sized Heels With Jeans
Sometimes medium-sized heels are also suitable for a change. Especially when you want to be in the relaxed mode.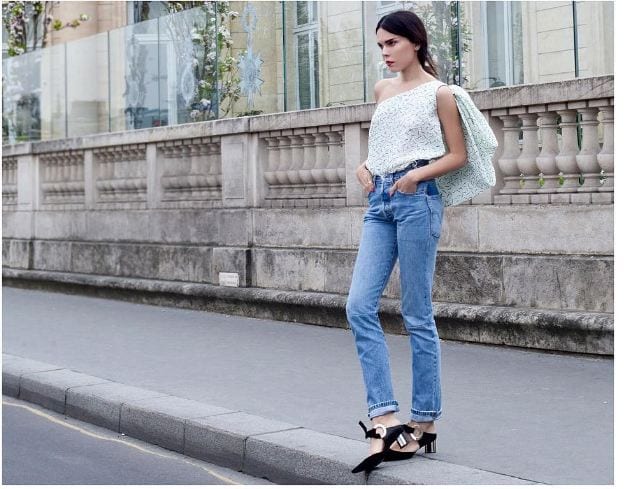 via
↓8 – High Boots With Heels And Jeans
↓7 – Hairstyles With Jeans And Heels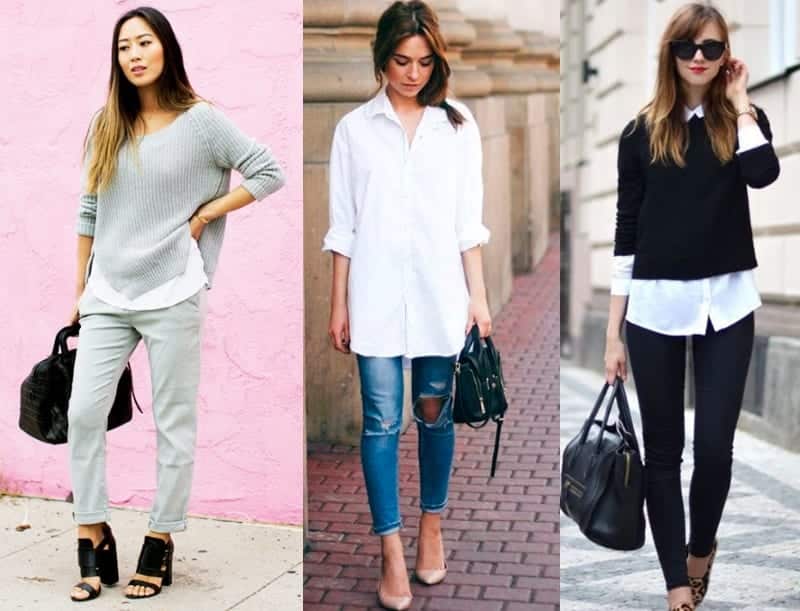 ↓6 – Skinny Jeans With Heels
↓5 – Heels With Crop Jeans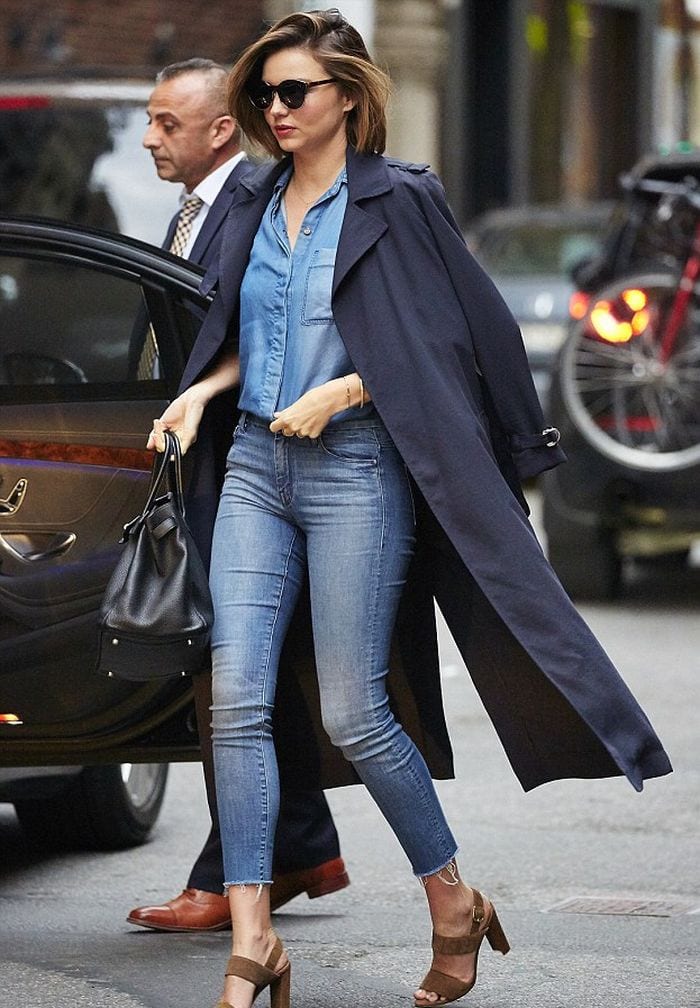 ↓4 – Black Pumps In High Heels With Jeans
The black statement pumps are a must-have shoe for every woman. It goes well with almost everything.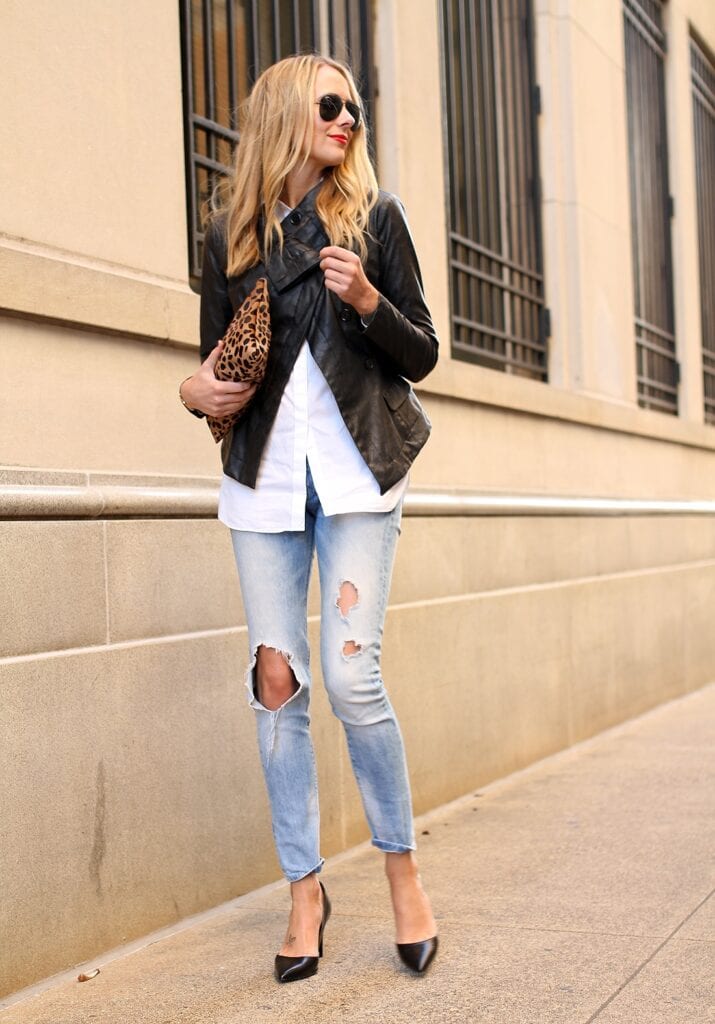 ↓3 – Accessories With Heels And Jeans
A leather jacket looks good with jeans and heels. Or you can try a trendy pair of dark sunglasses. Bags or clutches should match or complement the color of your top. Do not wear any heavy jewellery because with jeans you do not want to overdo it.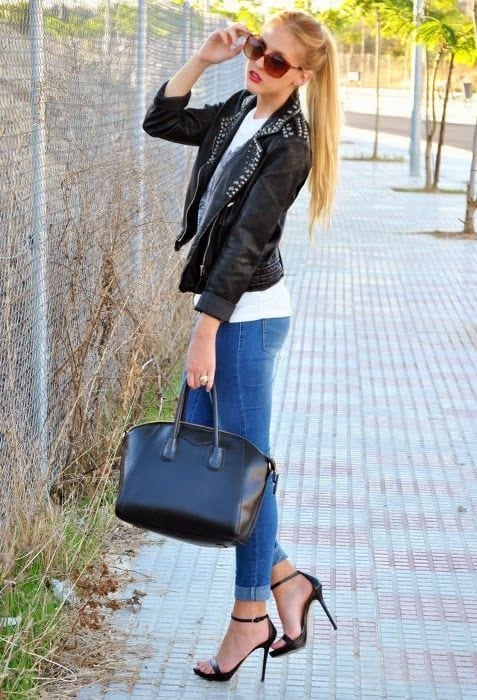 ↓2 – Funky High Heeled Ankle Strap Sandals With Jeans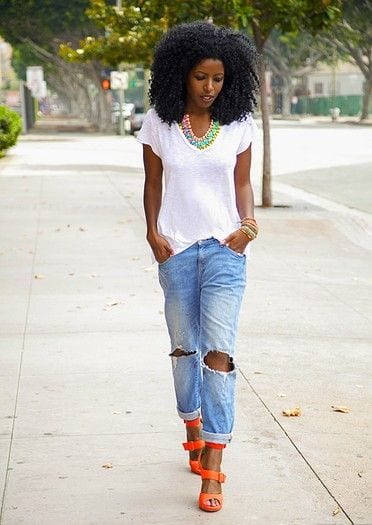 ↓1 – Ankle Strap Heel Sandals With Jeans