Outfits with Combat Boots. Looking for ideas on what to wear with combat boots? Or outfits that go with combat boots? For any fashionista's wardrobe, combat boots are a must. They are rugged yet comfortable to wear, and they can be worn with different outfits.
They are especially famous among tomboys or girls because of their edgy and sporty vibes. But many girls also want a more feminine look with combat boots, and it is definitely achievable. Lately, these shoes have been getting much attention as even the most famous designers like Valentino launched these shoes with some stylish twists like the one you see below. In one of our posts, we talked about amazing outfits combinations you can make with uggs and also, outfits to wear with Timberland boots. Today we will focus on combat boots, which offer great versatility. Lace-up combat boots are the perfect pair for anyone looking for a girly and feminine but unique look.  Here are a few ideas about how you could wear combat boots with different outfits.
 What to Wear with Combat Boots
Let's start with some quick go-to tips on How to style combat boots:
Combat boots are extremely versatile. They are very popular among young girls and celebrities, too. Colorful combat boots are also a great way to bring color to your wardrobe. Other than that, you can wear colorful cardigans and scarves with your boots to add a touch of funkiness. Other shirts like lacy blazers are also suitable for combat boots.
Do try combat boots with shorts, tights, and a layered blouse.
Avoid wearing boot cut jeans.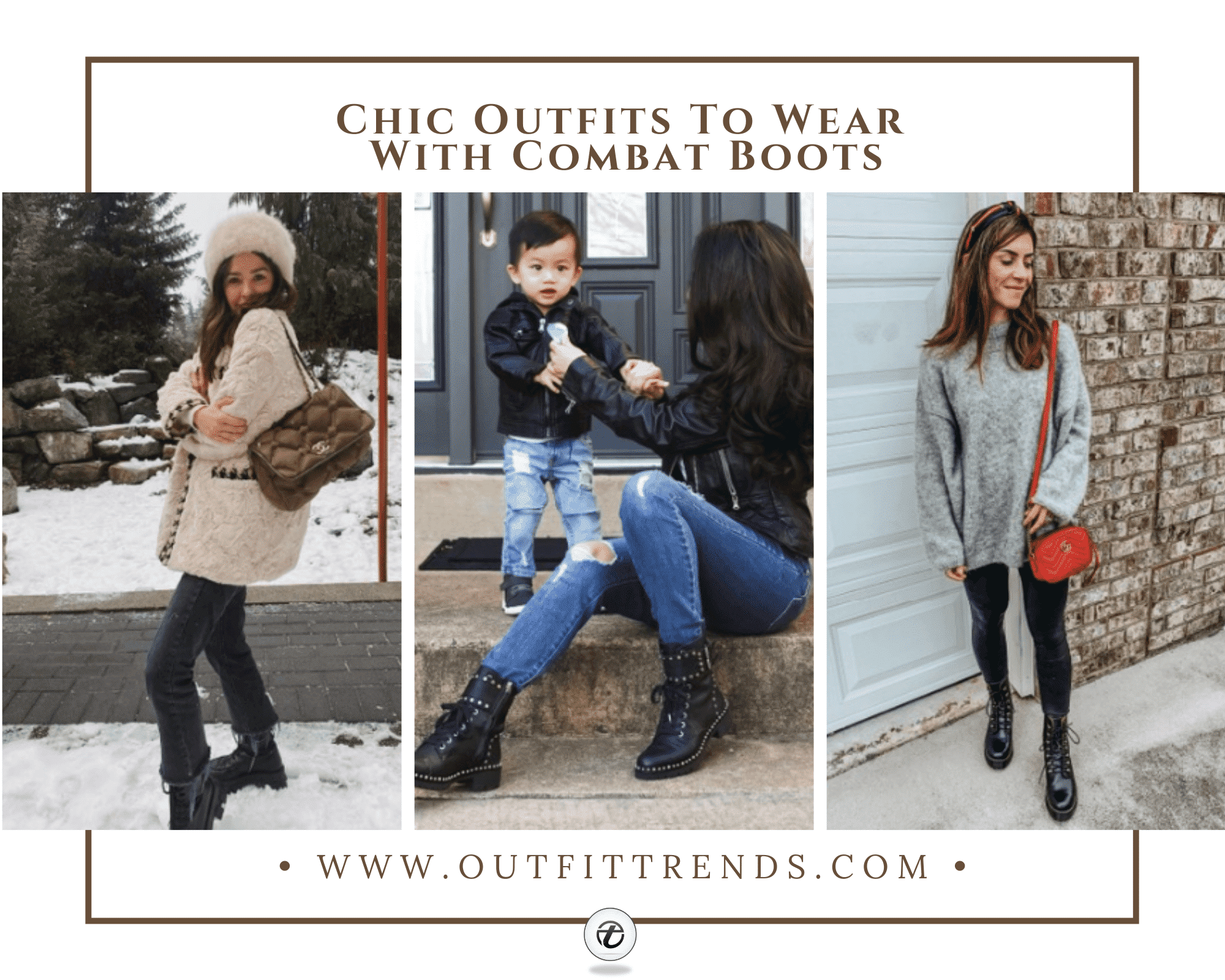 Now let's check out those outfits!
↓ 22. Combat boots with Mini skirt
A white collared polka dot shirt is the perfect addition to your wardrobe. Match it up with a beautiful pleated leather black skirt and a chain bag in blue to add a pop of color. Here are some more ideas on How to Wear Polka Dots.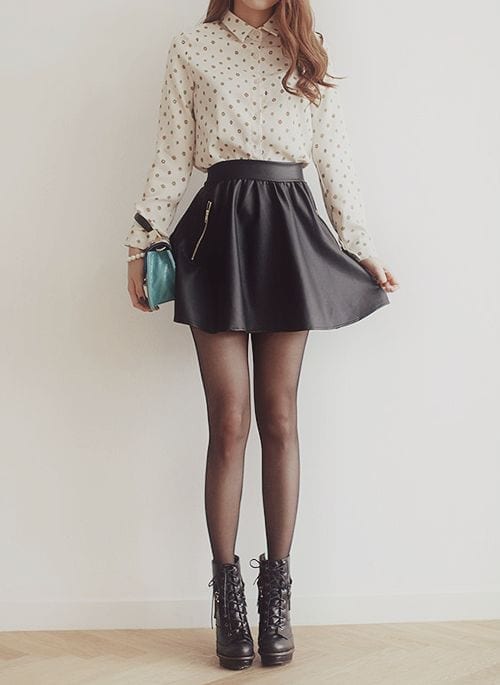 ↓ 21. Casual Tomboy Look
Since combat boots make a strong impression, it is essential to wear a shirt that goes well with the outfit. Wear a tucked in a plaid shirt with jeans. This will create a casual, almost country girl style. To keep the profile a little girly, keep your hair loose but for a strictly professional image, go for a bun or a high ponytail with sunglasses. A wristwatch will look really lovely with the outfit as well. This is a great outdoors look that is both rugged and stylish.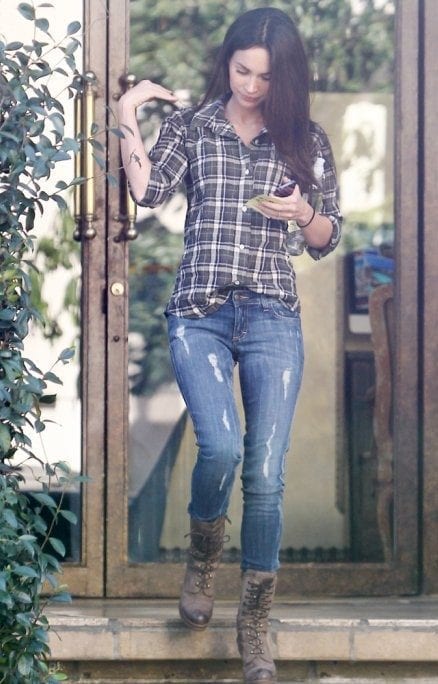 ↓ 20. With Graphic Tee
A super simple, go-to look for you can be a pair of ripped jeans, a black graphic tee, and your favorite pair of combat boots. A couple of easy tricks to make this outfit more memorable is tucking the front of your tee into your jeans and folding the cuffs on said jeans as well. Combat boots can be a little tricky with jeans sometimes because they don't always fit inside the boot. Cuffing them is an easy way to bypass that issue.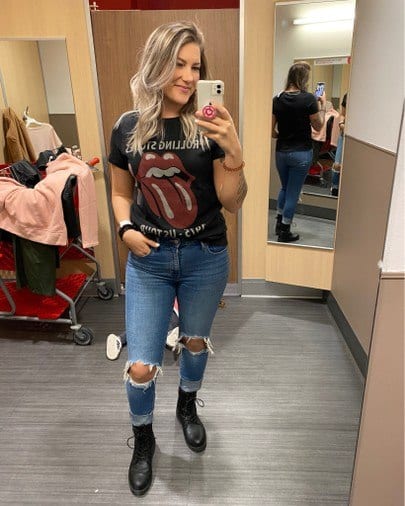 Love the look? Shop it at the links below:
Target's The Rolling Stones Short Sleeve Tee Shirt $12.99
Levi's 721 High Rise Ripped Skinny Jeans $68.98
DSW Crown Vintage Rugged Combat Boots $59.99
↓ 19. Chic Fall Outfit 
Now, this is a fall look we truly stan. It's chic and elegant yet the studded combat boots bring an almost gothic-inspired vibe to the whole ensemble. What's not to love? Pair a puff sleeve beige sweater with super skinny black jeans and, of course, studded combat boots. Add a little crossbody purse and sunglasses to round off the look.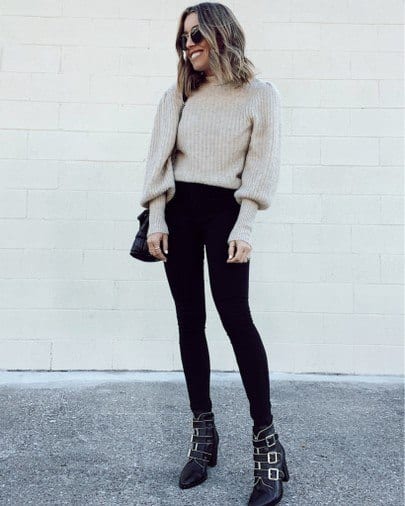 Shop the look at the links below:
Nordstrom Rachel Parcell Puff Sleeve Sweater $75
Nordstrom Levi's Mile High Super Skinny Jeans $98
Nordstrom Sam Edelman Jennifer Studded Combat Boot $169.95
↓ 18. Winter Outfits  
A fantastic look for the winter season is a styled poncho outfit. Pair a slouchy pullover sweater in a soft shade of eggshell white or cream with a poncho shawl pulled over. We love this geometric style print and the pairing of black and khaki over beige. Wear with faux leather pants and studded combat boots and you are ready to take on any drab winter day.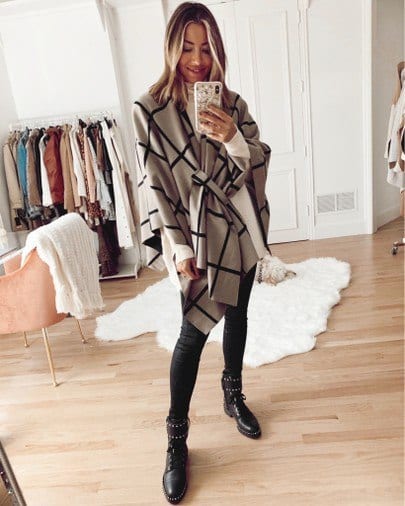 Love the look? Shop it at the links below:
Cable Stitch Women's Mock Neck Cozy Sweater $59.50
Moss Rose Women's Poncho Shawl Cardigan $27.99
Revolve Dr. Denim Plenty Jean $89
Sam Edelman Jennifer Leather Studded Buckle Detail Combat Booties $127.49
Another lovely winter look is this one right here. Opt for a deliciously cozy teddy coat with a plain lining and pair it up with a beige or light brown sweater. Black skinny jeans, a designer belt, and black combat boots tie the whole thing together.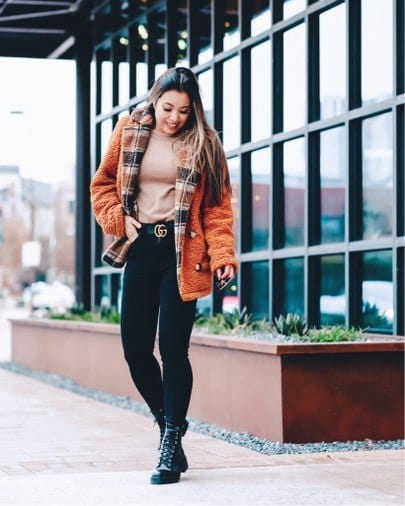 ↓ 17. Cute Teen Girl Look  
For this cute and casual teen girl outfit, check out this look. This awesome school outfit is not one you'll want to miss. Pair a beige ribbed knit jumper and pair it up with some jeans and a heeled combat boot. Tie up your hair with a scrunchie and hit the school hallways.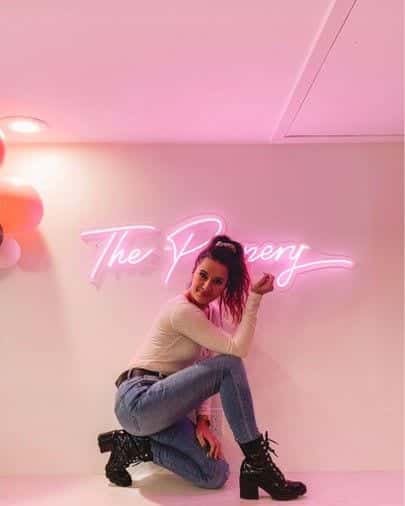 Love the look? Shop it at the links below:
Nordstrom Naturalizer Madelynn Combat Boot $84.97
Lily Lulu Roll Neck Ribbed Knit Jumper Top $28.82
Macy's I.N.C. Embellished Ripped Skinny Jeans
↓ 16. How to Wear Combat Boots with Different Outfits
We often find ourselves trapped in a closet full of shoes, but eventually, we get down to that one favorite pair. When it comes to how often you should wear your favorite pair of footwear, it all depends on how you carry yourself and how you can match your outfit with your favorite shoes. You can also see how to wear the same dress in different ways.
Here are three cute outfits you can build based on the same combat boot. For the first look, pair tights with a skater skirt, a striped tee tucked in and a thin black pullover underneath. For the second look, pair black jeans with a red long-sleeved top. For the last look, a deep burgundy top can be worn with white or off-white jeans and your go-to combat boots.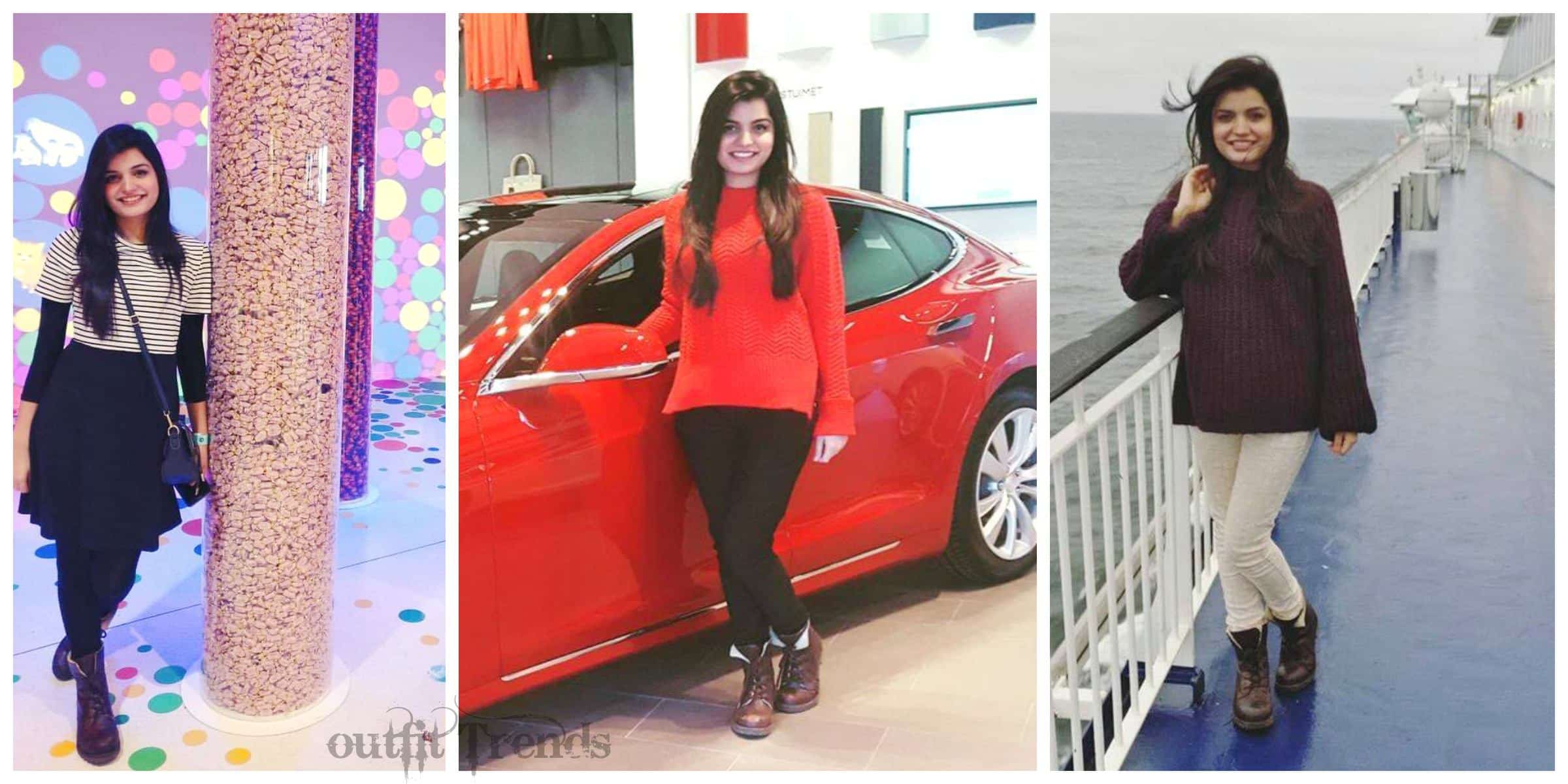 ↓ 15. With Skater Skirt Dress for Summer
Wearing combat boots in the summer is not impossible! In fact, for a look that will surely help you beat the summer heat, give a little skater-style dress a whirl. This monochrome look is light and easy to put-together; plus, it's fun to juxtapose girly pieces with more rugged footwear like combat boots.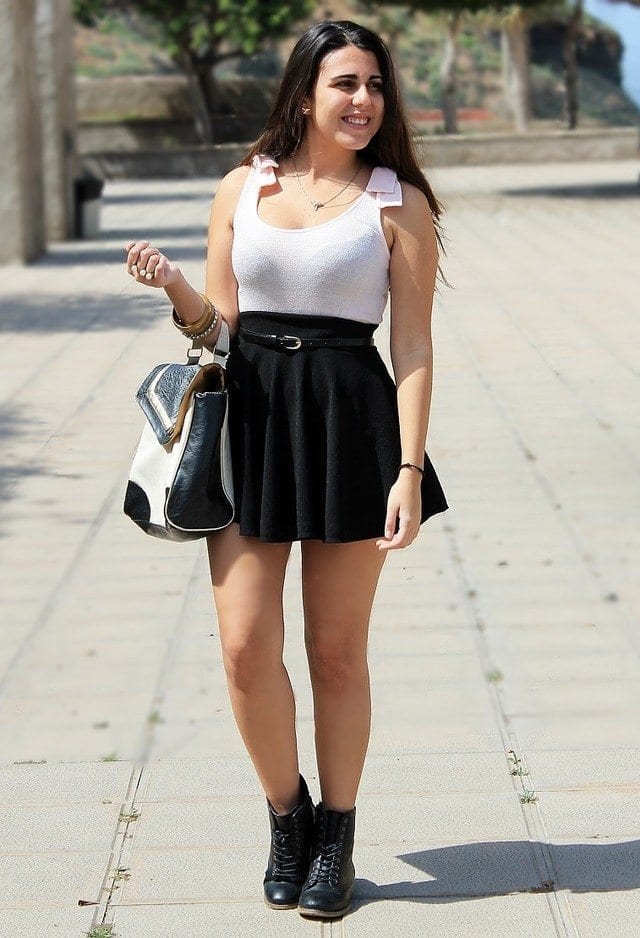 ↓ 14. With Black Leather Leggings
Leather always goes really well with combat boots and is the preferred choice for goth-inspired fashionistas and rock-and-roll lovers. Try out this outfit for a great concert look. A sweater and a collared shirt underneath with a statement necklace in the same tone makes a great combo and looks fabulous with leather leggings and combat boots.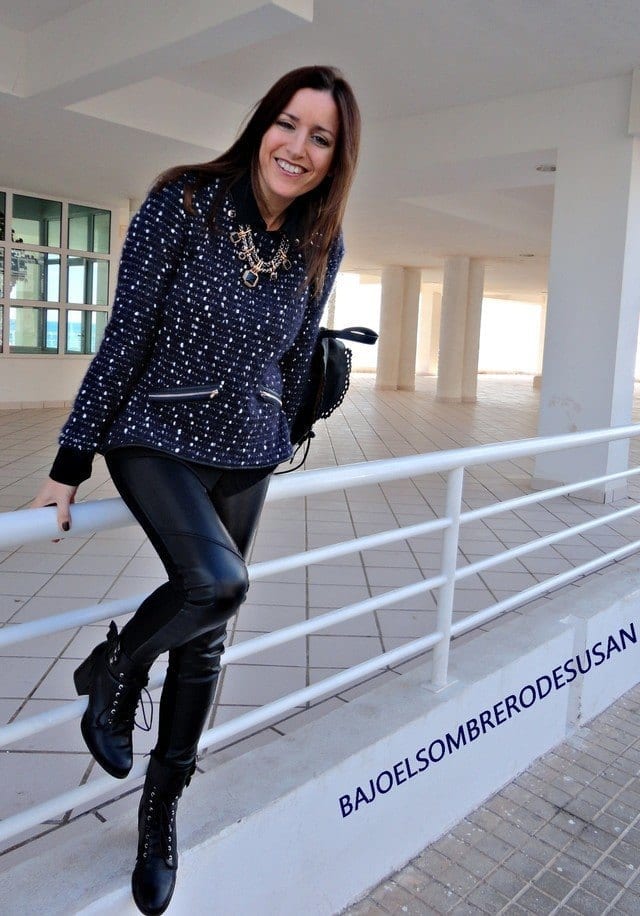 ↓ 13. Rugged Street-Style Look
For a casually rugged, street-style look, try out this bad boy for size. Jazz up your outfit with a leather jacket and a knit beanie. Remember that belts always accentuate the details in the outfit. Stick to a monochrome look or similar shades of green, brown, and charcoal for a picturesque ensemble.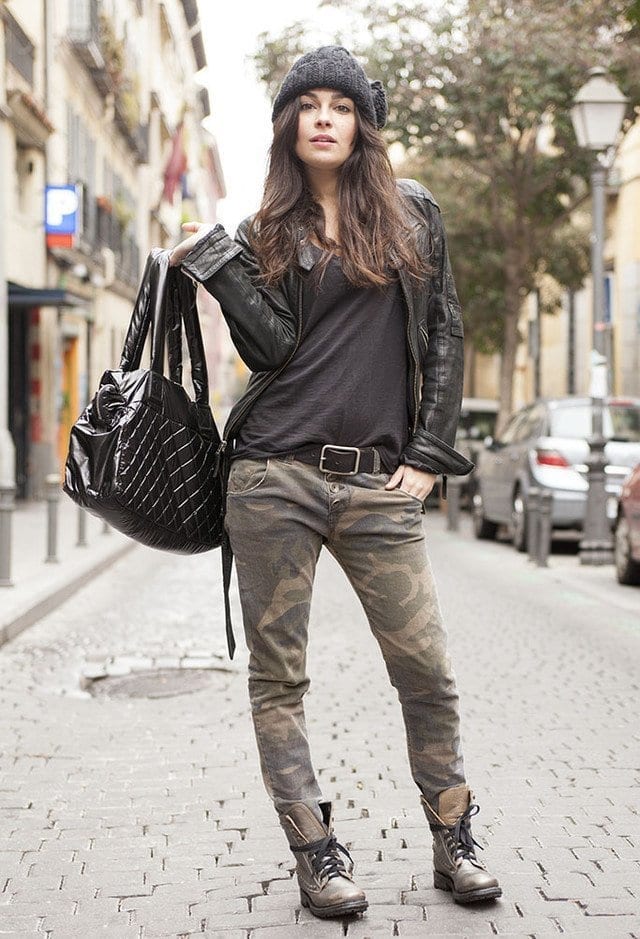 ↓ 12. Semi-Casual Everyday Look
For a simple everyday look using your combat boots, try pairing them with a tunic-style dress over black tights. Add a calf-brown shearling jacket if it's a chilly day and accessorize with a gold chain necklace and a little brown purse. Need to run errands? Going to catch up with a friend for coffee? This outfit fits the bill perfectly.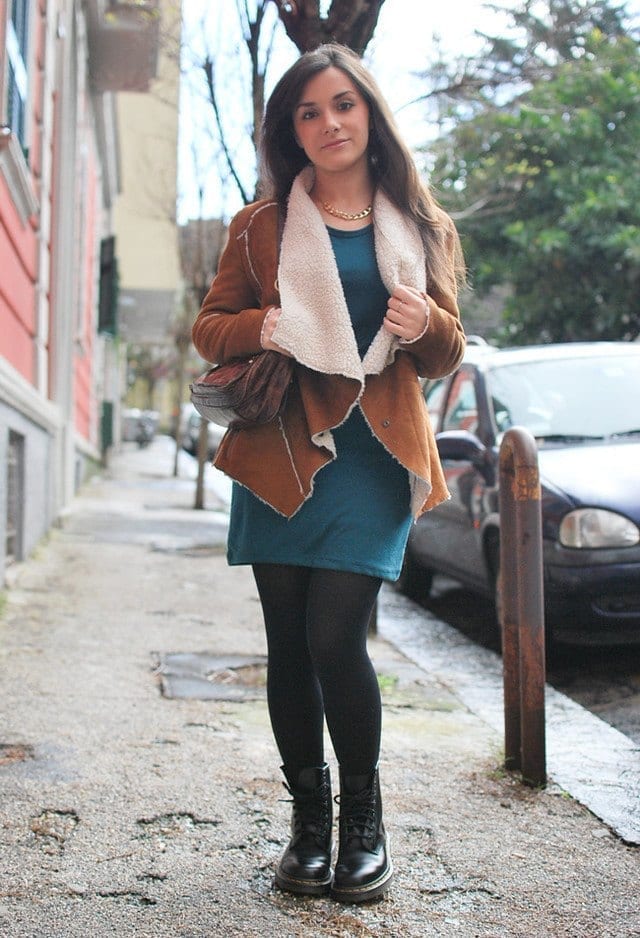 ↓ 11. How to Style Colored Combat Boots
You don't always need boots in monotonous colors. Go for different shades such as red, burgundy, or purple and pair them up with complementing colored pieces and matching accessories. We love this beige and purple ensemble (even matches her hair, how fun!) that is perfect for college girls who are off to class and want to make a statement!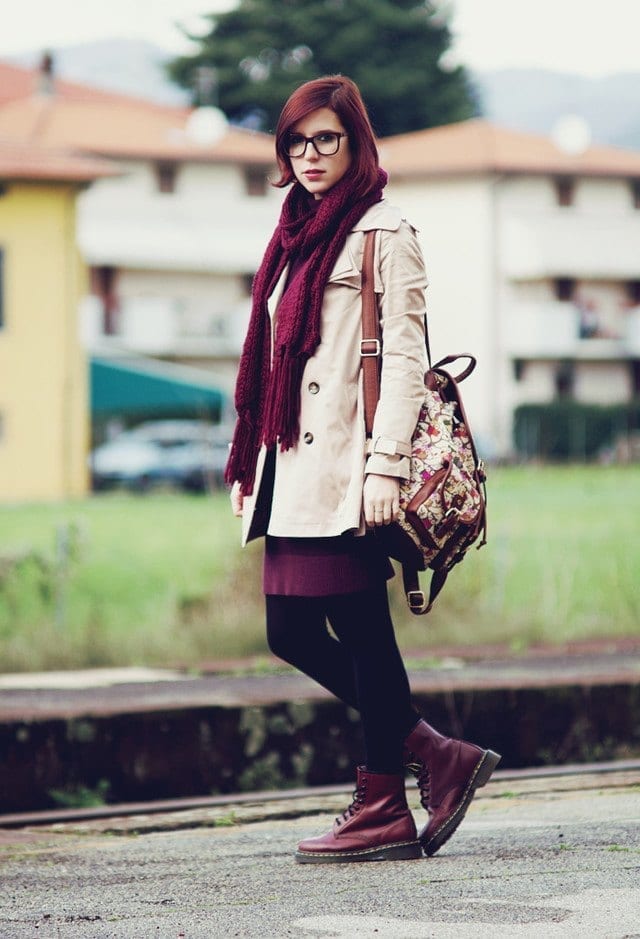 ↓ 10. Spring Outfit
A bodycon dress in floral print is an excellent way to show off your feminine side as well as the fun side. Add a jacket over the dress and a beanie for a chic look.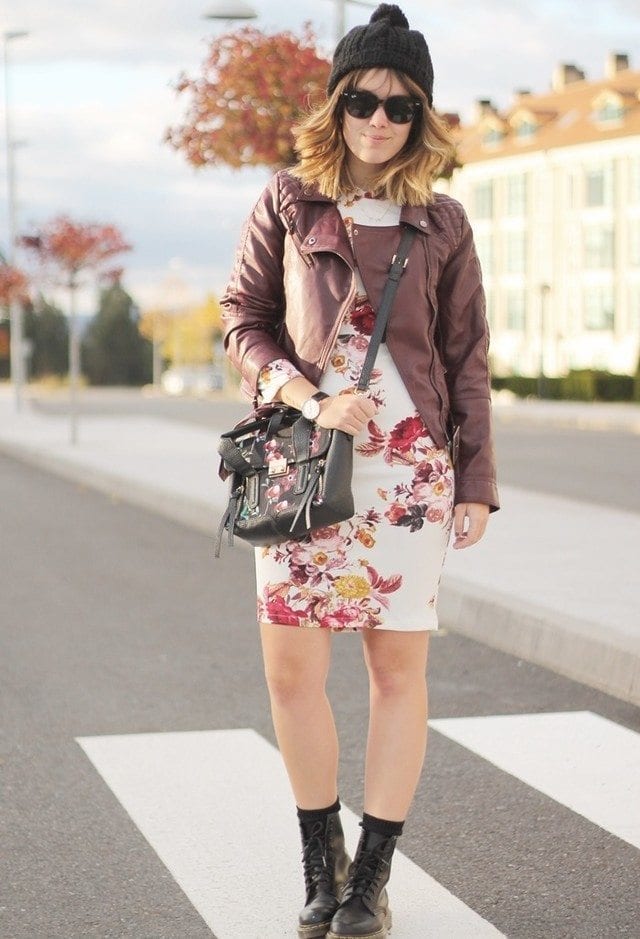 ↓ 9.  Cute, Fun Everyday Looks
This outfit is just downright adorable. From the cute striped long-sleeved top to the light-wash mom-jeans rolled at the cuffs, to the adorable knit headband, there's a lot to love. Some chunky combat boots (covered in a light floral pattern!) are just the icing on the cake. Go light on the makeup for a fresh, natural look but be sure to add a swipe of red lipstick!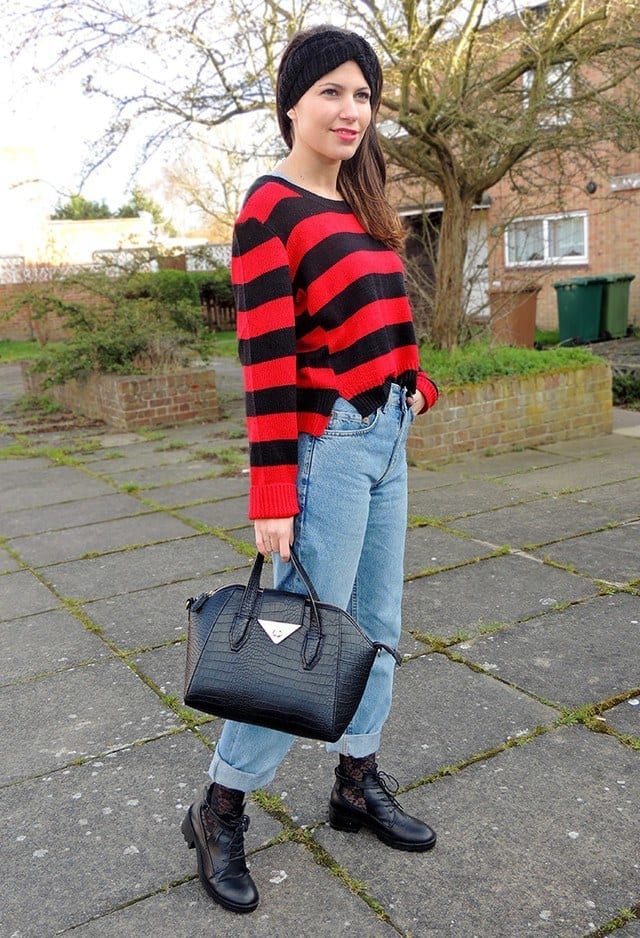 Do you love to push the envelope a bit, even with your daily wear? Then give this daring look a try. From the stacked necklaces to the fuzzy teddy coat over plaid and the chunky combat boots, you'll turn every head in the room or on the street, wherever it is you may wander!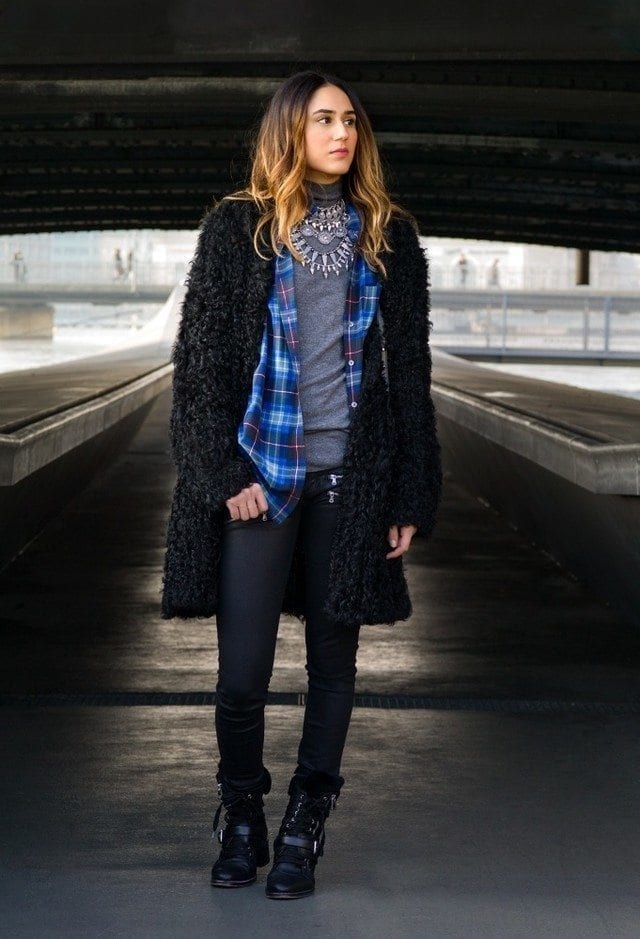 ↓ 8. With Peplum Top
For a fun, girly-but-still-edgy winter look, try a pink polka dot peplum shirt-dress! Layer it over tights and add a shaggy black coat with a chunky purse and you'll be ready to build snowmen in style. You can also see our 15 trendy ideas for how to wear peplum in winter with different outfits. Do check it out!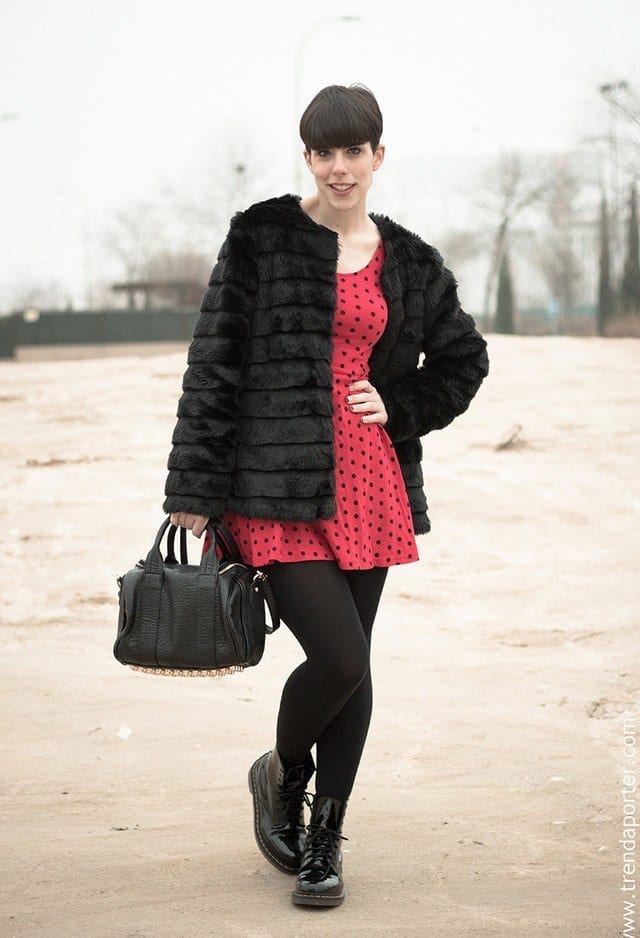 ↓ 7. Preppy Elegant Outfit for School
For the perfect blend of preppy style with elegance and a bit of tomboyishness, try out this lovely schoolgirl look! You can either find a collared pullover sweater or layer a sweater over a collared shirt to achieve the same style. Pair it with some black leggings (we love the sheeny panel down the sides on this pair!) and accessorize with a small floppy hat.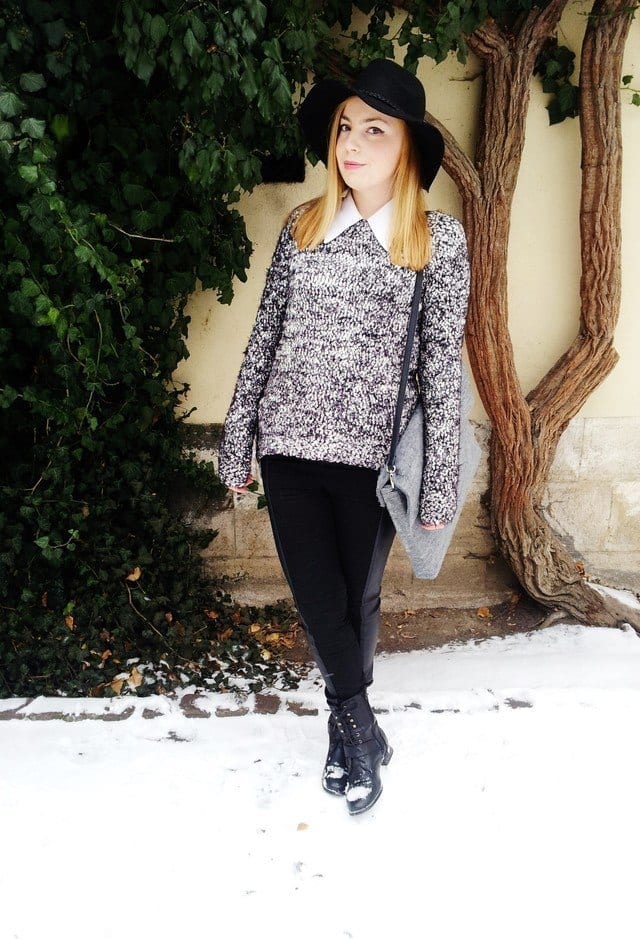 ↓ 6. What to Wear with Combat Boots in Winter
This one is for the fashionistas! It's all about the details, as you well know. And with this gorgeous ensemble, you'll be feeling yourself for sure! Get yourself a big ol' oversized sweater with a fun print, decal, or graphic (this fuzzy skull-head is quite chic in its own right) and pair it up with some sleek leather leggings. Heeled combat boots, red lipstick, and a snazzy purse tie the look together. This makes for a great winter party look or even a college girl look if you like showing up to class in style!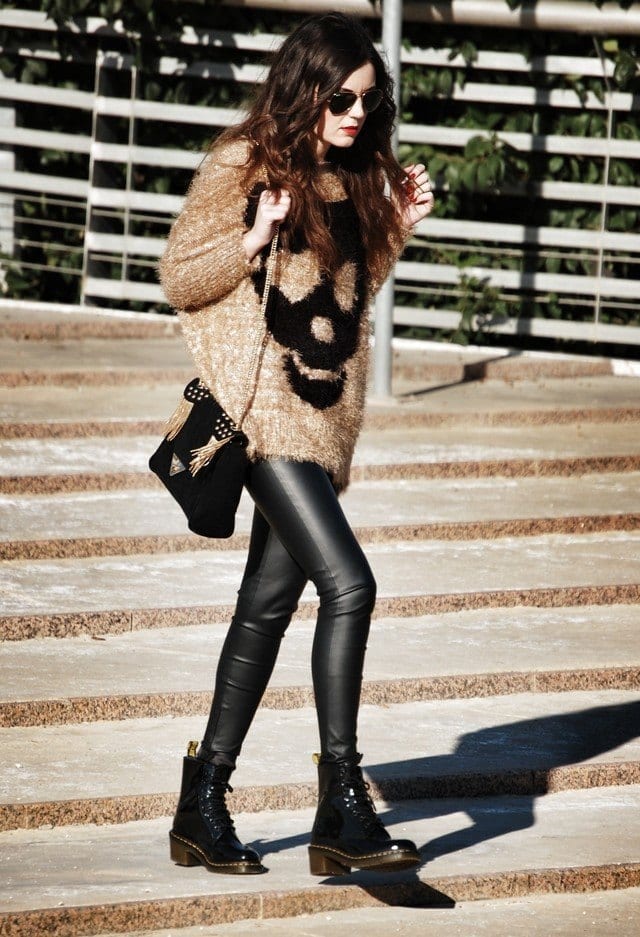 ↓5. Monochrome Look
Go all-black with this look, my friend! Layer a black turtleneck with a fitted leather jacket and a ropey gold chain necklace. Add a bling-ed out hat and some patterned leggings. The only other thing you'll need are your combat boots and black purse! This makes for a great concert look or party outfit.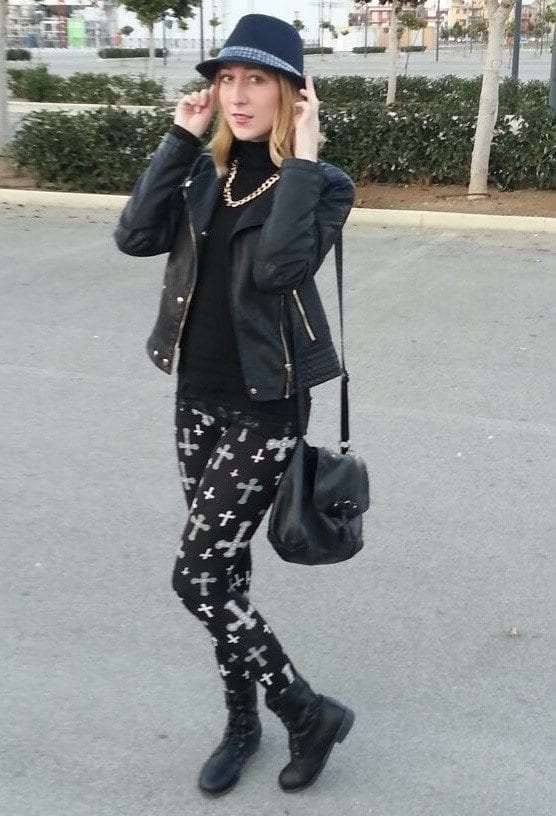 ↓ 4. With Shorts in Summer
Cute, cute, cute! For a summer look that'll keep you feeling and looking fresh, pair up some super-pink shorts with a camo-print button-down, shin-high combat boots, Aviator sunglasses, and a cute clutch. We like this look for outdoor parties and photoshoots with friends.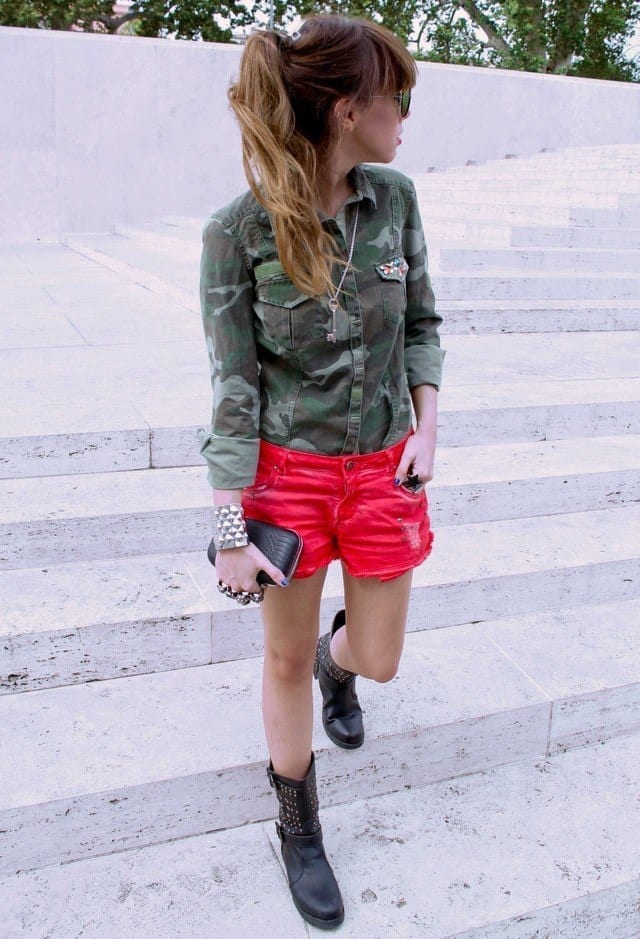 ↓ 3. With Animal Print Leggings
Now, this is a chic look if we ever saw one. For this edgy, stylish, and alluring look, layer a sleek leather jacket with an inky black turtleneck, animal-print leggings, and unlaced combat boots. Remember, the magic is in the details. That's why these oversized, slight cat-eye sunglasses are the bomb.com and look great with a ponytail, handbag, and stacked bracelets for accessories.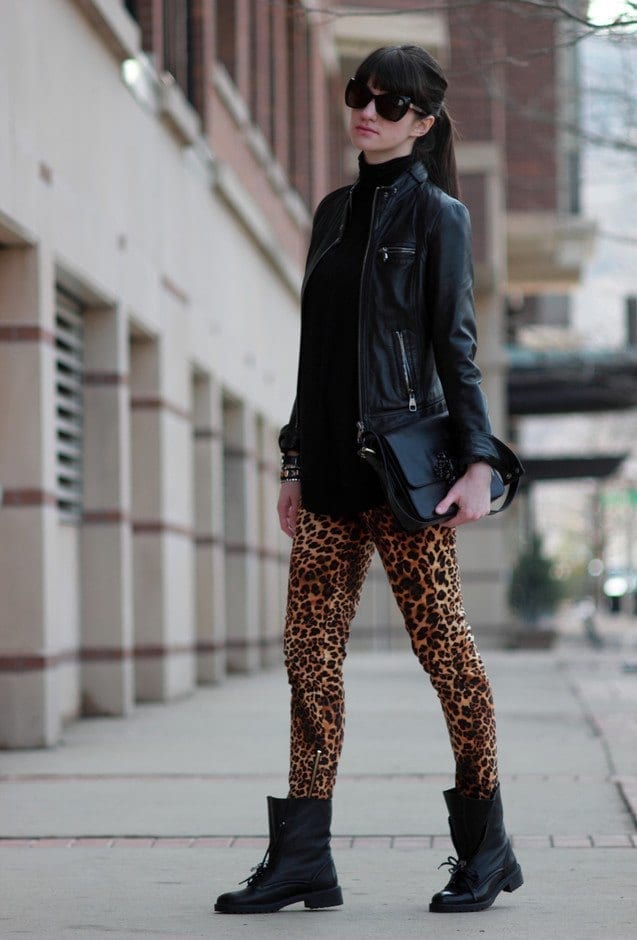 ↓ 2. Travel Outfit With Ripped Jeans
Traveling to a new city? Exploring a museum? Meeting with friends for brunch? This outfit covers all the bases. We love the pairing of this three-buttoned coat with a colorful scarf, mom jeans, and combat boots. A bold lip and simple earrings tie the look together.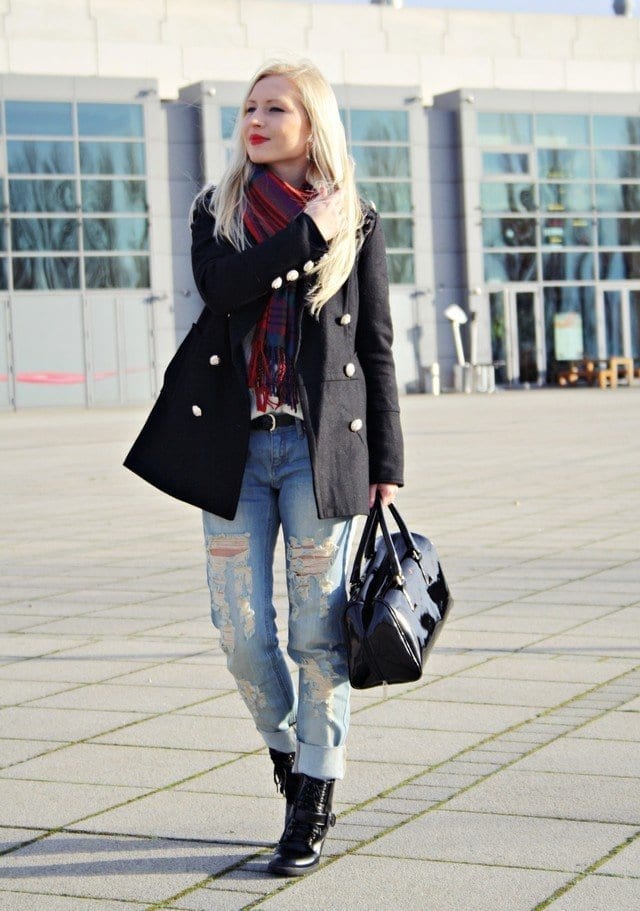 ↓ 1. Can You Wear Combat Boots To Work?
Think you can't wear combat boots to work? Think again. This lovely, understated ensemble is great for workwear. Pair a patterned top of your choice with a gray blazer and some mid-wash denim jeans. (No rips. Remember, professionalism is key for workwear.) Pair with durable combat boots and a simple pink oversized purse with a red lip and you can look forward to next Monday, knowing that this is a cute and comfy work outfit you can rock with confidence.