Same Outfit With Different Styles: Wearing the same dress every day is boring but keep changing the way it looks is something very fun to do. There are few tips which can give you a quick fix while choosing what to wear every day, without spending much on your wardrobe.
You can easily get a different look every day. It is not even too difficult at all to wear same outfit everyday. There are few staples we all have in our wardrobes and no one can understand the comfort we get by using these.I have put together wearing same dress in many different ways for different occasions.
How to Wear Same Dress in Many Ways

This is not necessary that one have to get lots of tees and bundles of pants to look trendy and chic every day. With an army of dresses, you can conquer the world of fashion, not really. All you need to be is creative and unique. If you have a pair of denim and pants and has few tee and button up shirts, or some dresses you can rock the look every day just by adding or subtracting the accessories you have.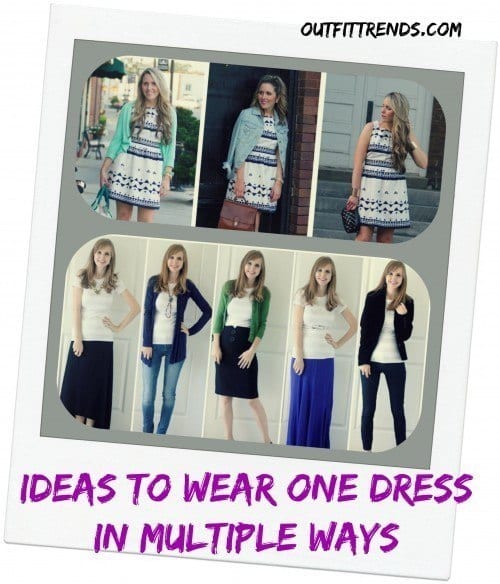 Also check out Cocktail party outfits-27 dresses to wear to a cocktail party
Read on for some amazing dress transformation tips that you can easily follow in everyday routine.
Tips to Follow for Dress Transformations
Accessorize your dress with color, shape and texture to make it look completely different.
When you are going for a business trip or going to stay out of town for some long time but do not want to carry all your wardrobe with you, then some outstanding fashion ideas can save your life indeed. Keeping the clothes' burden minimal and carrying maximum style is not difficult at all. If you are planning a long trip then keep these basic things packed.
Blazer
Cardigan
Pumps
Kitten Heels
Comfy sneaker or flats
Some funky and decent jewelry
A handbag and a clutch
The same dress can be worn to a less formal wedding with a completely different look by adding a contrasting or patterned short jacket, wrap or cardigan with a bold statement necklace instead of the scarf.
Adding accessories or a shirt can completely change your dress look. Try this for a fall season with a skirt.
Remember investing in one classic dress is an investment as you could have it for years. So do not hesitate to buy one elegant and classy dress.
Do not discard your old stuff, your denim can be turned into shorts and it can be worn with any tee shirt or blouse.
Some colorful accessories and staples can be a saviour so do not stick to basic solid colors and buy some stuff which can be contrast or matched with most of your dresses.
Be fearless and choosing something which is not conventional can be unique. So keep experimenting.
If you fail once, do not get discouraged and try it next time and by following some basic fashion tips, you can wear one dress in multiple and fashionable ways.
If going for a trip, rather than packing lots of clothes, keep the weather and nature of your trip in mind, and pack things which are easy to wear and can be paired up with different jackets or bottoms. This could save you from carrying lots of baggage.
Do have a look at 20 cute outfits with top bun hairstyle to compliment style
Style 1- 4 :
4 Ways to Wear A Floral Dress in different ways – From teenagers to middle aged women, floral prints are love for all. But wearing the same dress every time makes it bit boring. Here is an example of wearing your one floral dress in four different ways. Obviously, you can wear it as it is, but in fall just putting on leggings and a jacket can work out or in spring with some cute hairstyle. To add more charm to your dress a waistcoat can make the look slightly different and sheer leggings can make the outfit a little bit formal for lunch or other formal gatherings. While putting on a skirt, either of black or some other popping color can enhance your look more. Add different colored accessories each time – a belt, a scarf, a wrap or a coat, a hat, a different bag and contrasting shoes is all it takes.
Style 5- 9 :
5 Ways to Wear a Navy Blue Dress differently
Investing in a branded dress is a very good idea and you do not need to wear the same dress with one style. Keep adding some charm into what you wear. In the picture below you can see a navy blue dress worn in the funky, casual, elegant and formal way. This is very easy to do and one can try it by using their style sense and look fashionable every time they wear the same dress. Single dress can be used for college, office meetings or for a hangout, just keep in mind that adding textures and jewelry can transform the dress into what you desire.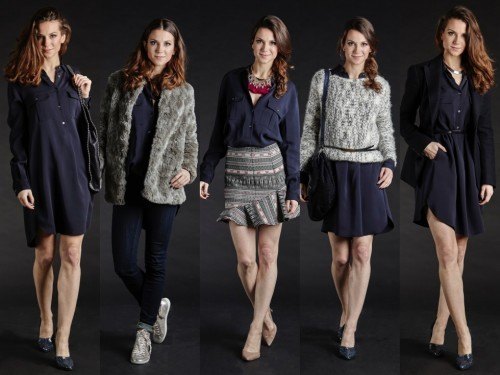 Simple Look: Feeling casual and not doing much effort? Then just put it on the way it is.  A stylish handbag and elegant pumps can flare up the simple and casual look. Do not need to wear lots of makeup or have nicely done hair, just be yourself and a same color bag can be replaced with different color bag if necessary.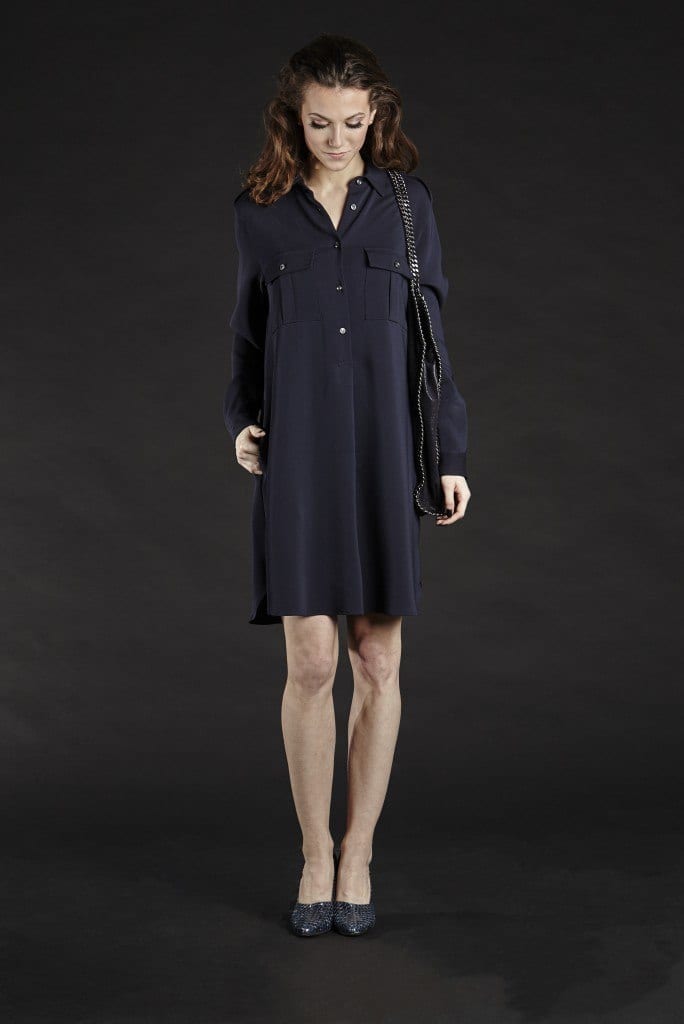 Elegance and Style: Going to the office or for a formal meeting? A classy dress is indeed a good investment and by adding on a Blazer and waist belt can turn your simple dress into a highly styled formal woman. This will keep the outfit elegant yet stylish. You do not need a suit to look formal just a blazer can suit up your dress. In a business meeting or a board meeting, this outfit will definitely look very elegant.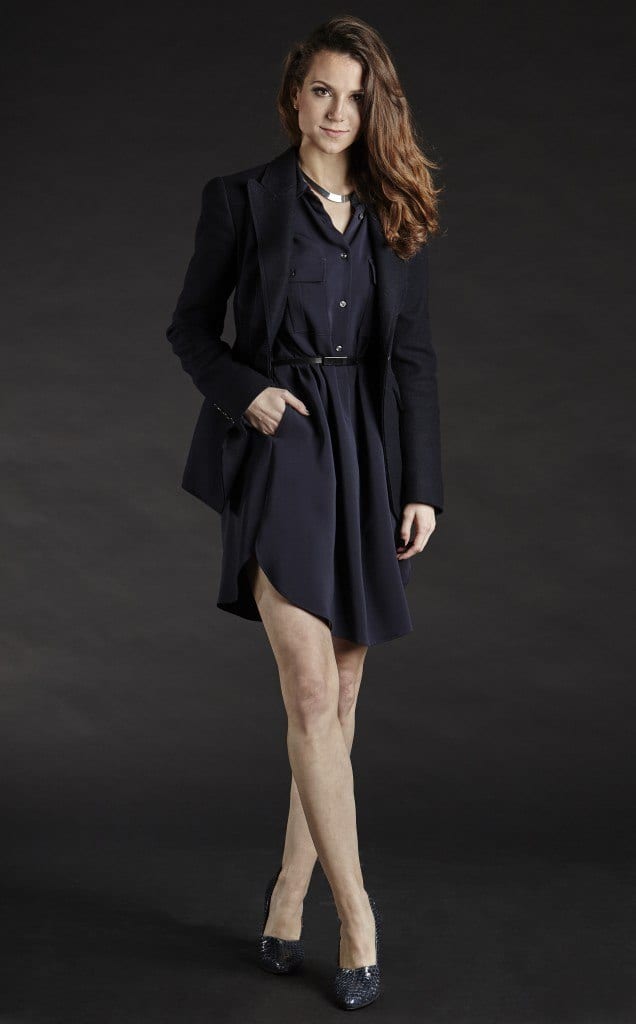 Wear it with skirt: A skirt with a statement necklace and a side braid or some other funky hairstyle can give you the funky look which you wanted. Turning a dress into blouse is not much difficult.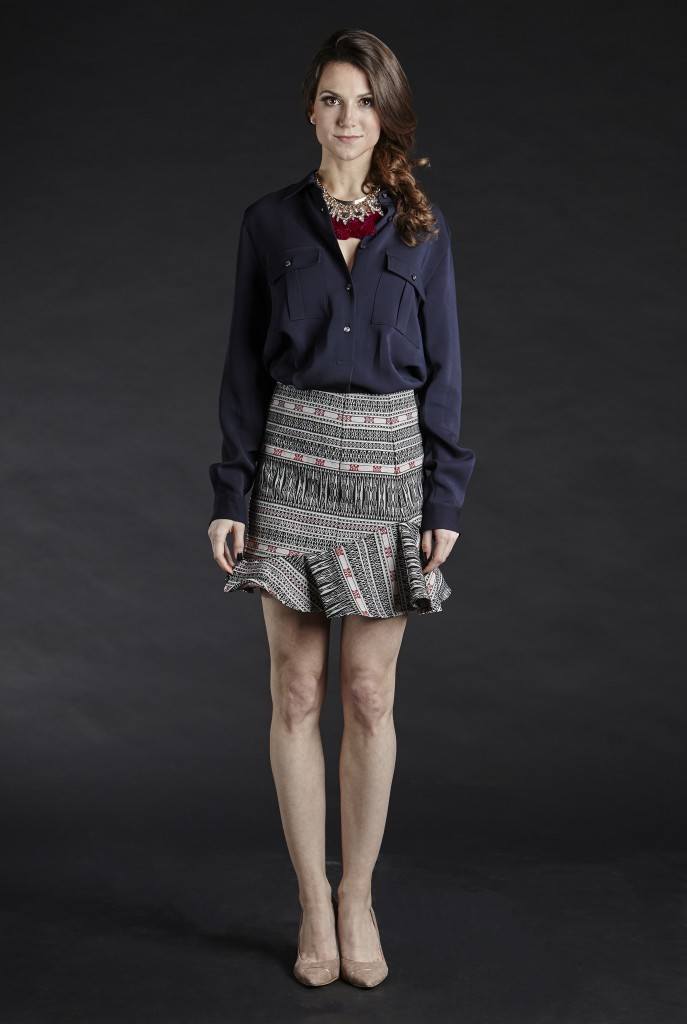 Street Style: Having winter's street style with the same dress is not difficult at all. Pair up the dress with a denim, sneakers and a furry coat or winter jacket can give you the look you desire. A top hair bun will make the outfit more fun and stylish.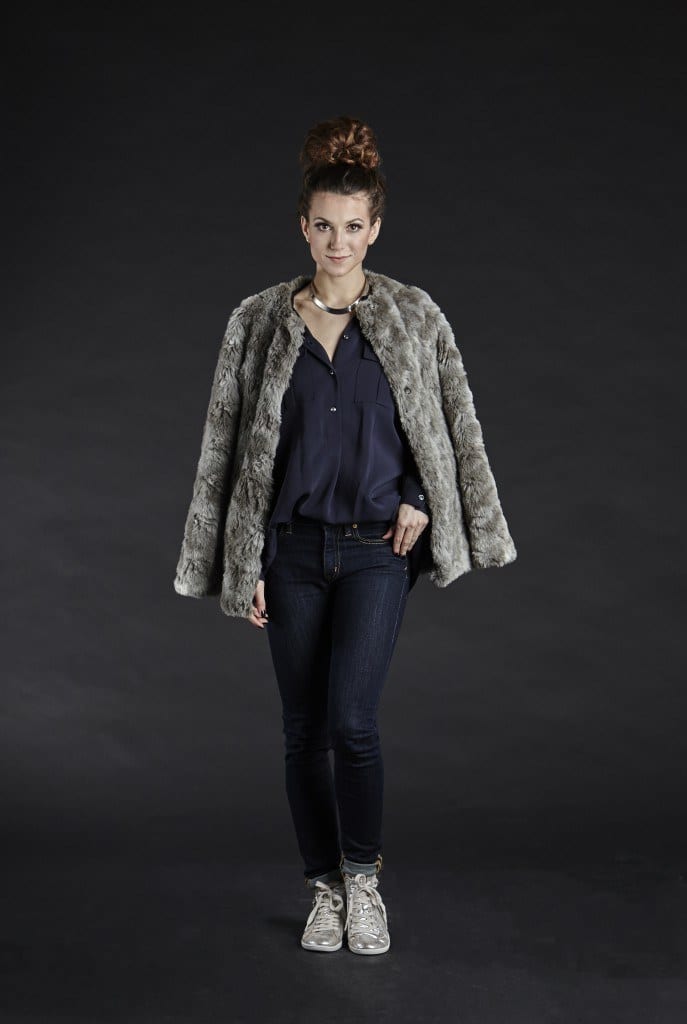 Semi-Formal/ Office Look: Keeping the style and elegance in mind, just pair your that same dress with a sweater and then you are ready to outshine in the office or for a college presentation. This semi-formal look is easy to carry. See a single dress can be transformed into so many ways and every time you can wear it on different occasions.
Source
Style 10- 13:
 Plus Size Outfit Idea – Plus size women can also wear a simple dress in different ways. Just keep the fabric and fit in mind and try to keep the add-on minimum. It won't be heavy and uneasy to look at you and some belts can give you an enhanced figure. Showing some curves is good and just be confident of your body type.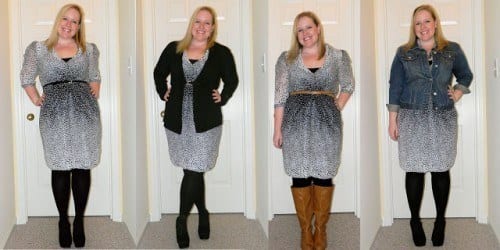 Don't miss out 28 fashionable night club outfits for plus size women this year
Style 14- 18 :
Wear Same Shirt in Different Styles
A simple white shirt can save your life. It can be worn in as many ways as one can imagine. Even pregnant women can also use this kind of stretchy t-shirt and it will be useable for quite long. As many women do not prefer to spend much on clothing while they are expecting. So this kind of shirt can save their day by ending up looking awesome and nicely dressed up. From the office to hangouts, going to church or shopping, this stretchy tee can be worn during pregnancy while before and after pregnancy as well.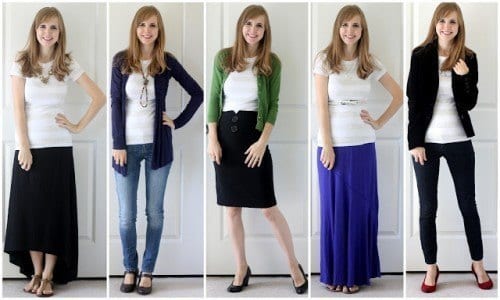 Source
Style 19- 20 :
Wear Same Wedding Outfit on Different Occasions
You have one cocktail dress but need to wear it on a formal dinner and a wedding as well. No worries. Simple transformations can change your look. A blazer with red dress, black statement bag some bling of golden jewelry with heel pumps are a perfect fit for a formal dinner. To wear the same dress on a wedding ceremony, add a mini shrug with same dress, some fancy shoes and more bling of jewelry  can turn you into a perfect Diva.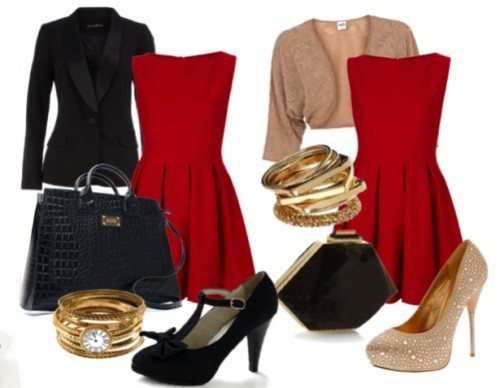 Style 21- 24 :
A Convertible Wrap Up Dress in Many Styles
Invited to more than one wedding this year? the costs can add up no doubt. No one wants to wear the same outfit twice, particularly in front of some of the same crowd but if you know how you can wear the same dress in two very different ways. Save money and still look stunning. The convertible dresses are the new thing and save your lots of money. You just need to learn how to wrap up this jersey convertible dress and you are ready for the party. Such convertible dresses are available in all lengths and can be worn in many ways. You can add some jewelry to give it a whole new look and even a shrug can also add some different color.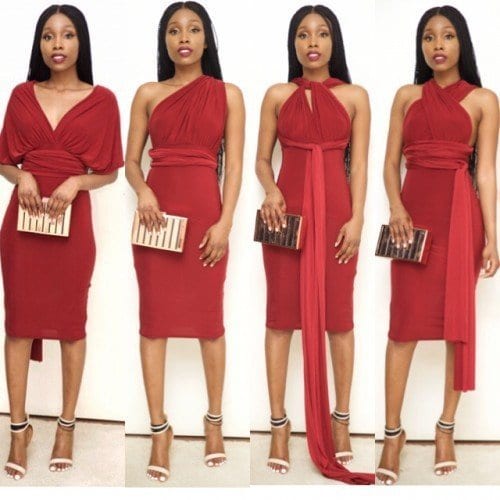 For Kimono Style:
Step 1: Take both pieces at the front and pull towards the neck.
Step 2: Let the fabric of each piece fall down to create a cape-like sleeve.
Step 3: Wrap around the back and pull through to the front , around the waist band and take to the back
Step 4: Secure in a knot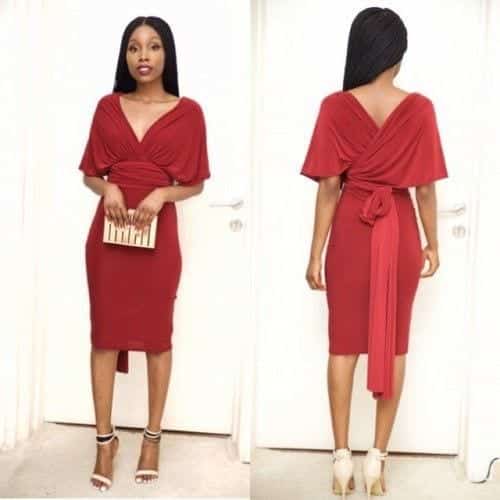 The Sexy Back Style: 
Step 1: Take both sections and cross at the front
Step 2: Twist both pieces across the shoulder
Step 3: Cross straps and twist until you reach the waist
Step 4: Wrap straps around the front and back and secure in a knot.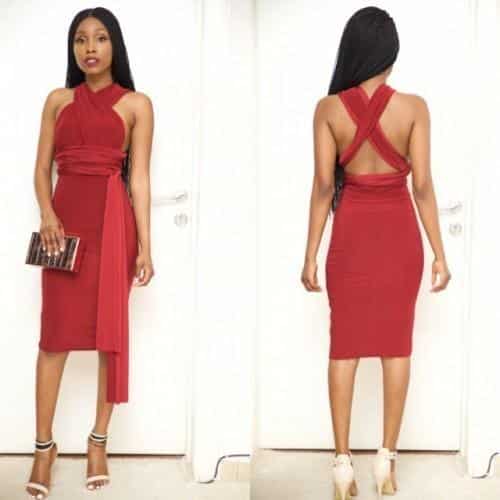 Backless Sexy Dress:
Step 1: Take both pieces and pull over the shoulders wrap in one piece around the neck.
Step 2: Pull straps and wrap around the back shoulder and under the arm
Step 3: Twist and wrap around the waist to the front and tie picking the tip of both straps.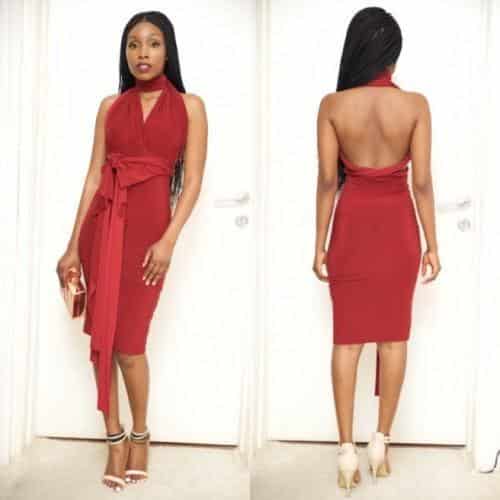 Source
Style 25- 26 :
A simple bodycon dress can be wrapped in different styles. Want to show some skin, then just twist the dress from shoulders, to keep it modest let the shoulder straps open. There are many other ways to transform a wrap-up dress in many ways. These bodycon and maxi dresses are a safe investment and one does not need to buy many dresses if they have lots of weddings to attend.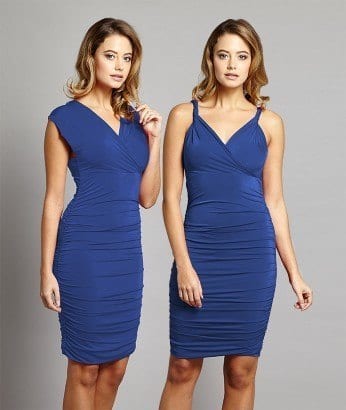 Source
Style 27- 29 :
Dress Ideas for Middle Aged Women
If you are little bulky and crossed your thirties , do not be afraid to experiment. Being stylish is one of the traits women have from the beginning. A Summer dress can be worn in fall and on lunch, just add a Cyan color sweater, pumps and bag on a black and white dress to make it work in fall. Same dress can be worn with a jacket and, in Summer lunch avoid more staples and just add some statement jewelry.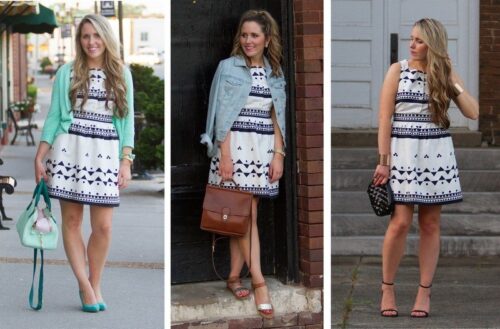 Style 30- 35 :
Wavy Neck Dress in 6 Multiple Ways
You are sleek then you can wear whatever you want. A wavy neck dress looks very smart of sleek women and it enhances the figure as well. You can use this dress in as many ways as you want. Wear it just like that or with a jeans, skirt or with sheer tops, adding and subtracting few things will keep the dress sexy and stylish.
Style 36- 45 :
Polka Dot Button Up in 10 Different Ways
Polka dots look cute but a red and white polka dot button up could be boring. Worry not, you can add as much style in your personality with that one shirt as you can think. Whether it's summer, fall or winters, party, school, office or an interview. This one shirt can be transformed into many different outfits. Pumps, heel, long boats, Blazer, sweater and jackets, you can wear it even with a skirt if want to show some skin.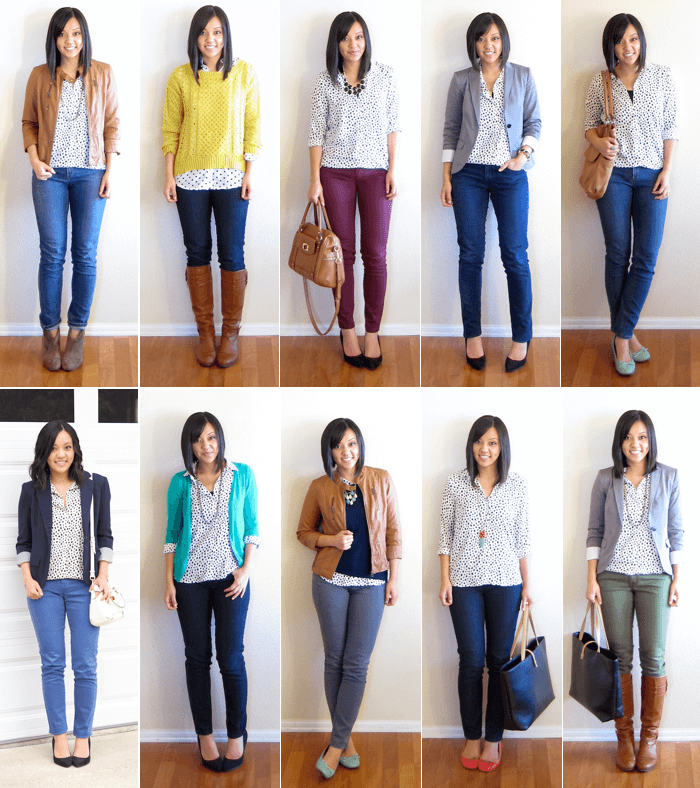 Source
Style 45- 57 :
Circle Scarf In Multiple Ways
Who knew that a scarf can be transformed into a dress? Maybe no one. Circle Scarf is the most versatile item you never knew you needed. This one circle scarf can be turned into a skirt, a halter dress, a tube top, a jacket, and in so many more dresses that you are going to love it. A belt can make it more stylish. So, buying many dresses just get few funky colored circles scarves which are cheaper and can be worn differently.