In summer sassy skirts, floral shirts, nice handbags, cool accessories, breezy dresses, and glamorous sandals are a must to have in your closet. Here are some  Popular and Cool Summer Outfit Ideas for Women that are worth buying and totally wearable outfits for summer. Scroll down and have a look at the outfit ideas to brighten up your summers. But, before heading straight to the topic, here are a few tips for you that will help you dress up sexy in this hot summer heat.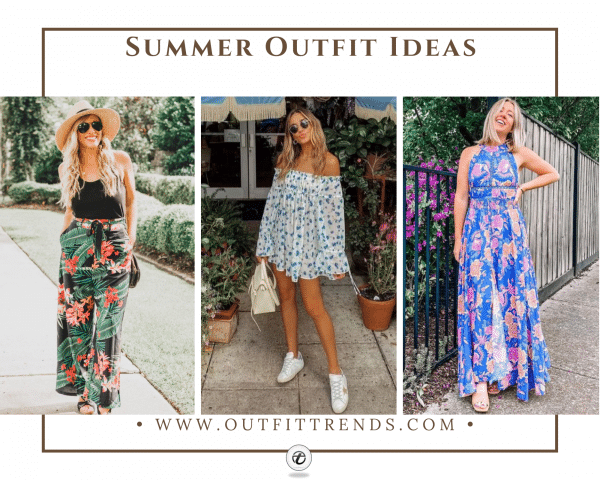 Tips For Styling A Summer Outffit 
Try to go for outfits with breathable and light fabric to feel less heat.
Wear light makeup and accessories to embrace the summer extravaganza.
Choose bright colour floral prints for a fresh look. 
For a more elegant look, go for pastel shades.
Wear comfortable footwear that compliments your outfit well.
17 – Maxi Dresses 
While making a list of summer outfit ideas. It will be unfair not to include maxi dresses on our list. Summer maxis are one of the most stylish dresses that you can wear in summer. In addition, the ease of styling with minimal accessories and makeup is another plus point of wearing this outfit in summer. Look! how cute she looks, wearing this cool floral halter neck maxi with a nude pair of heels and that lovely smile on her face.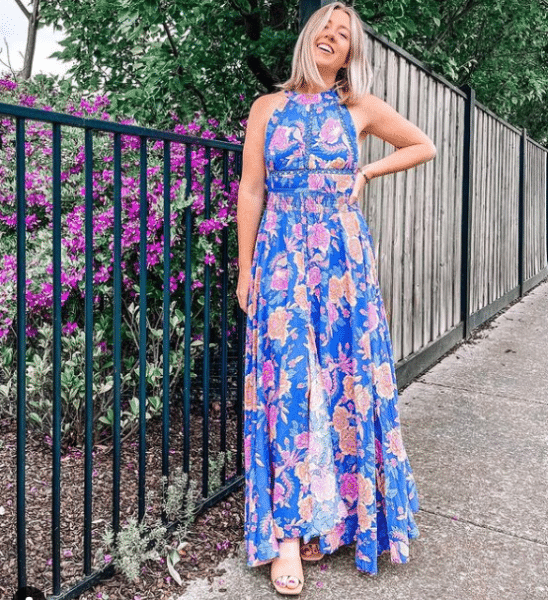 Halter Neck Floral Maxi Dress 35.99
16 – Wearing Palazzo Pants
Palazzo are one of the best options to wear on a casual summery day. The freedom of styling a palazzo outfit in summers with any style of top makes it the best thing to add to your summer wardrobe. We loved the use of floral print in this palazzo look. Moreover, the way this girl paired her usual cami top with this printed palazzo pant is surely a wise fashion move. Lastly, The use of a beach hat and sunglasses surely added a  unique style to the overall look.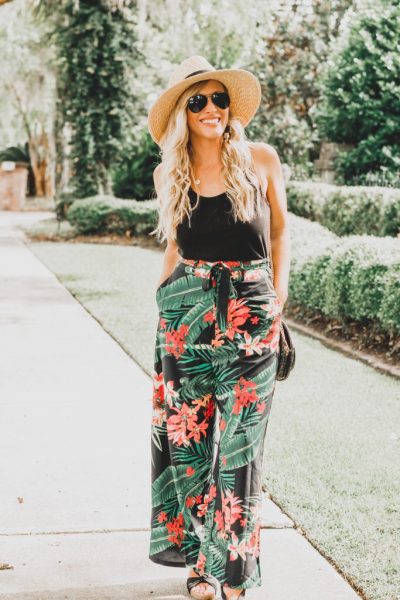 15 – Styling Crop Top Outfits 
Crop Tops are surely a versatile piece of outfit that you can style year-round regardless of the weather. For summers, you can style your usual sleeveless crop top with a pair of shorts, crop jeans or mini skirts to pull off a really chic look in no time. In this look, the girl has styled a grey turtle neck summer crop top with a pair of black leather pants, and we surely liked this effortless combination!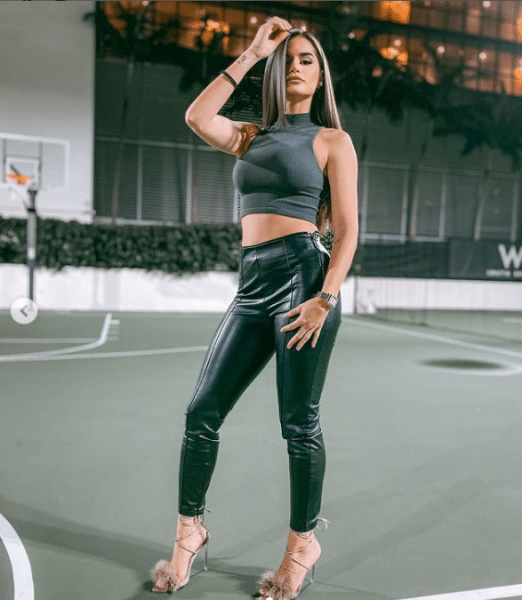 14 – Ruffle Dress
Did you know that ruffle dresses and skirts are a trendsetter? Rock your summers in a ruffled skirt or a shirt. You can look your best with minimal effort while styling yourself in a beautiful mini ruffle dress. Moreover, try to choose some crazy colours, such as Indigo, Saffron, Sea Green, Red etc.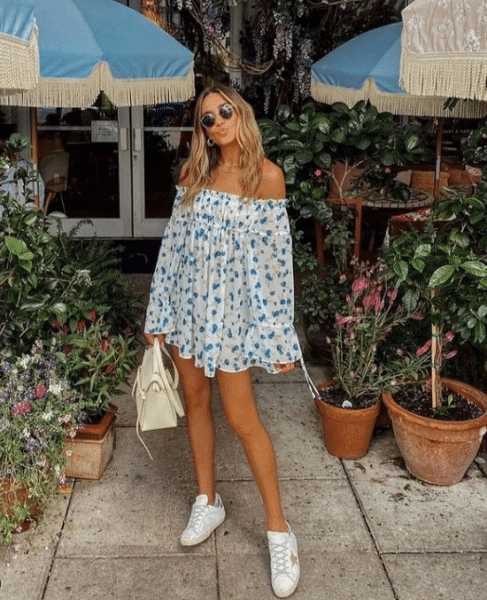 Off Shoulder Ruffle Dress 36.99$
12 – T-shirt and Jeans
A fun way to wear a T-shirt and jeans would be to combine your existing pieces with the new ones. You could also wear a belt around your jeans and look absolutely chic in them. You will surely love it. A clutch in hand and a gorgeous statement necklace over the shirt would be great.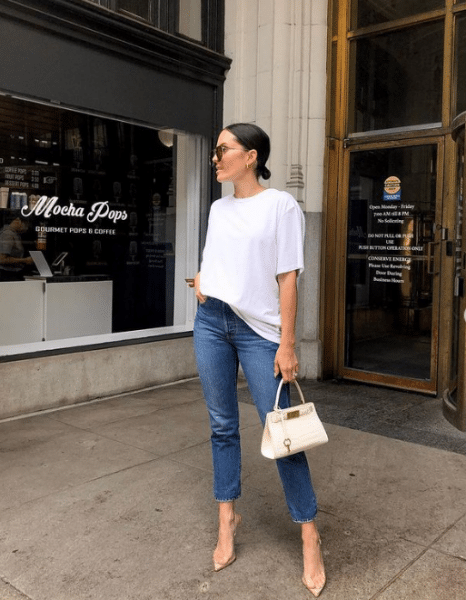 11 – Shorts All The Way
Wearing shorts would be a fab idea. A tucked-in shirt could be a plain, a floral or a printed funky shirt. Anything would work as long as it makes you look good. The perfect outfit for a summer beach party or a date night.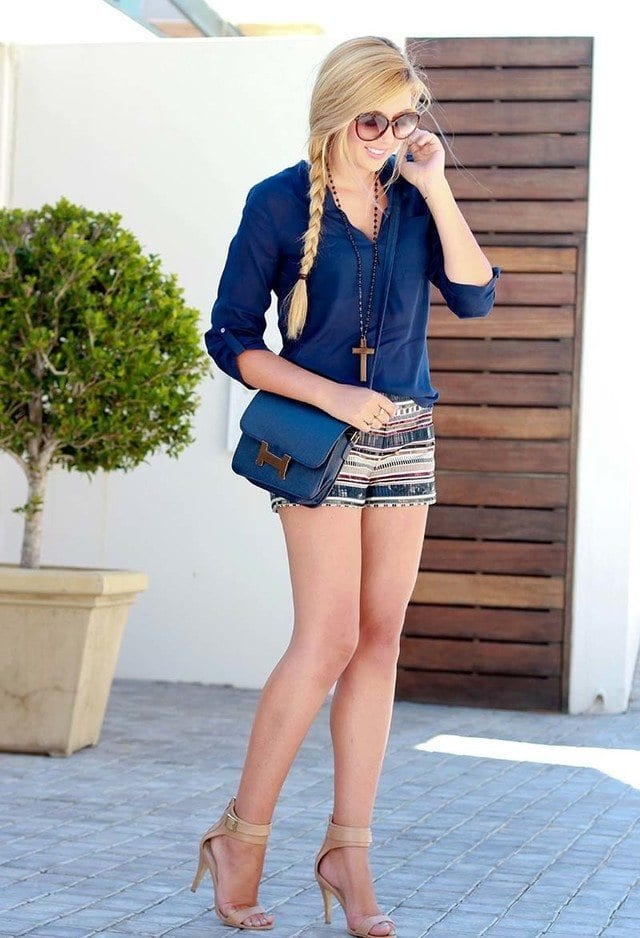 Blue Button Down Blouse Shirt 24.95$
10 – Tank Tops
Tanks top with a nice pair of jeans, or white pants would make up one amazing combination. Try your favourite heels and flaunt your amazing style. We loved the way she added a hinge of a black clutch to add a pop of colour. The leopard design heels are enhancing the beauty of this look beyond measure.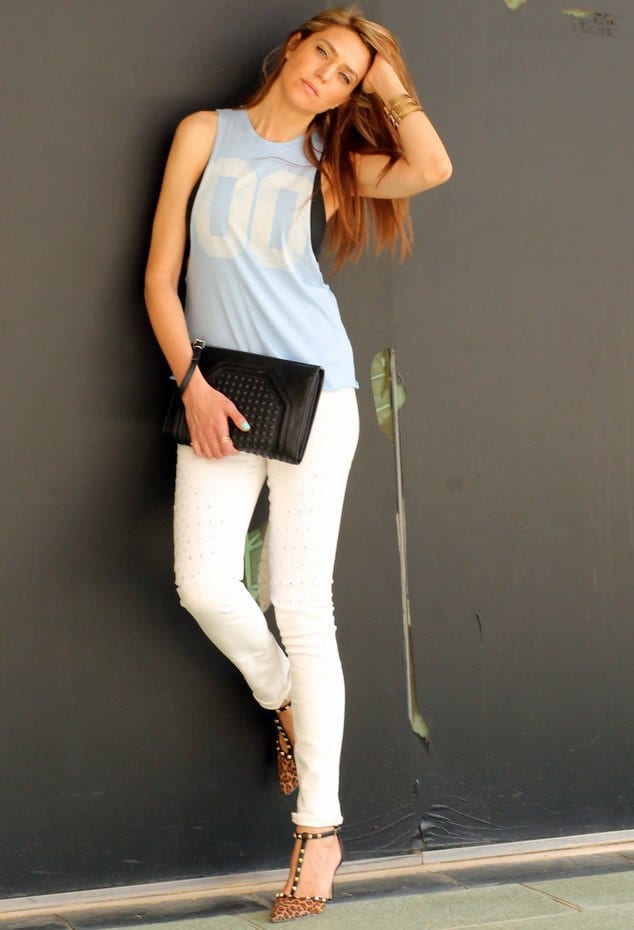 This yellow tank top outfit paired with shorts is a perfect style to opt for any formal daytime event. We loved the way how this plain outfit is styled with the right use of accessories and makeup. Moreover, the stoned waistbelt and the clutch give this look a whole new dimension.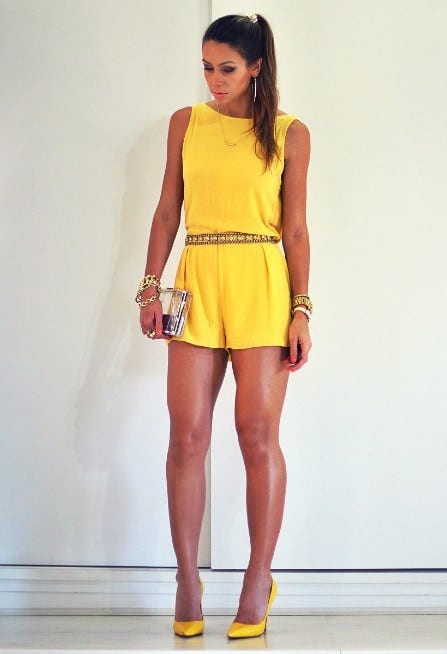 9 – How To Style Black In Summer?
If black is your favourite colour, but you do not know how to style it into your summer outfit, then these outfit ideas are the answer to your prayers. Just contrast your black top or bottom with white or any light colour to pull off an adorable summer look. This surely is a pro tip to get through summers with your fashion game in check.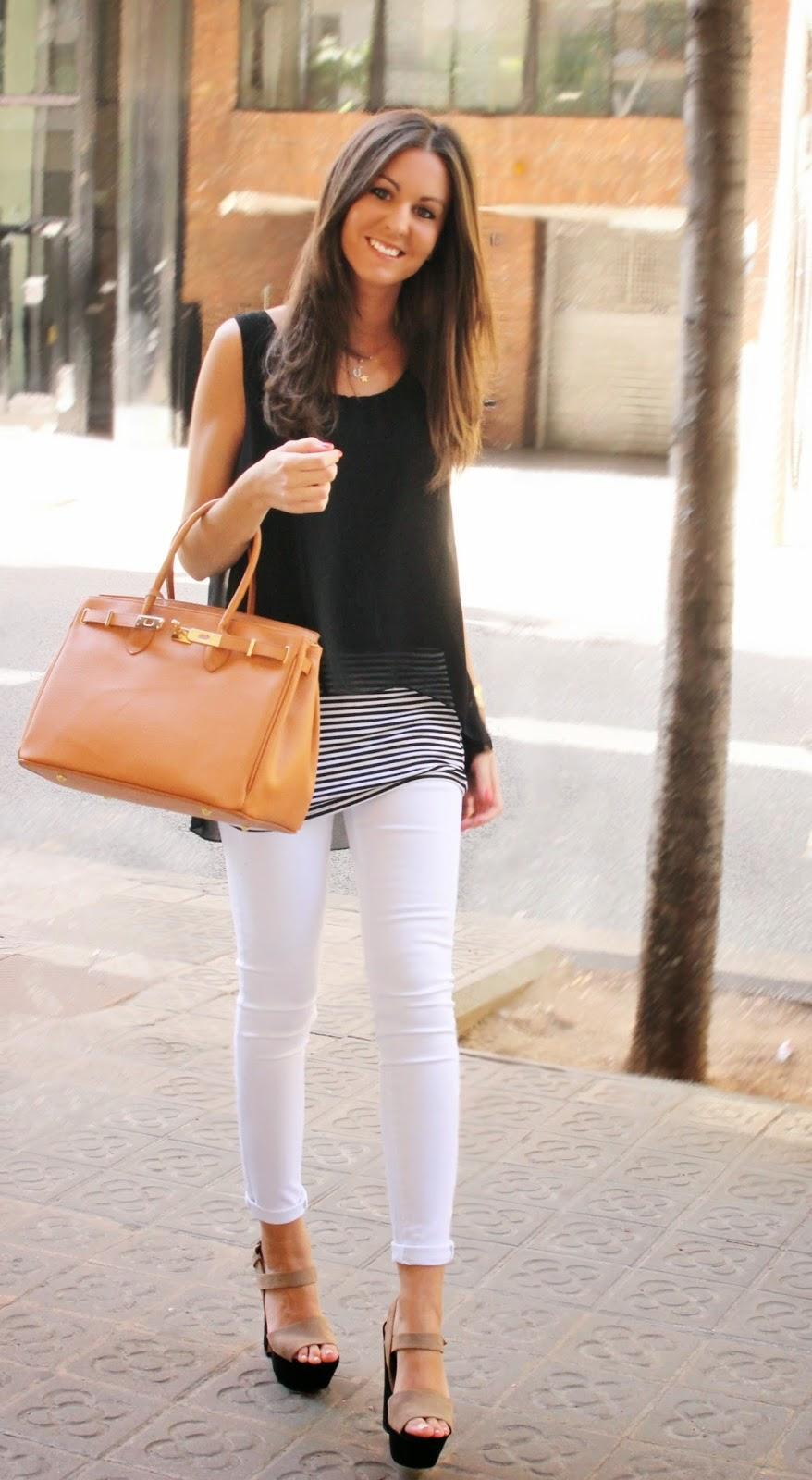 Black Sleeveless Chiffon Blouse 19.99$
We loved how this girl styled a black sleeveless mini dress with black heels and silver accessories!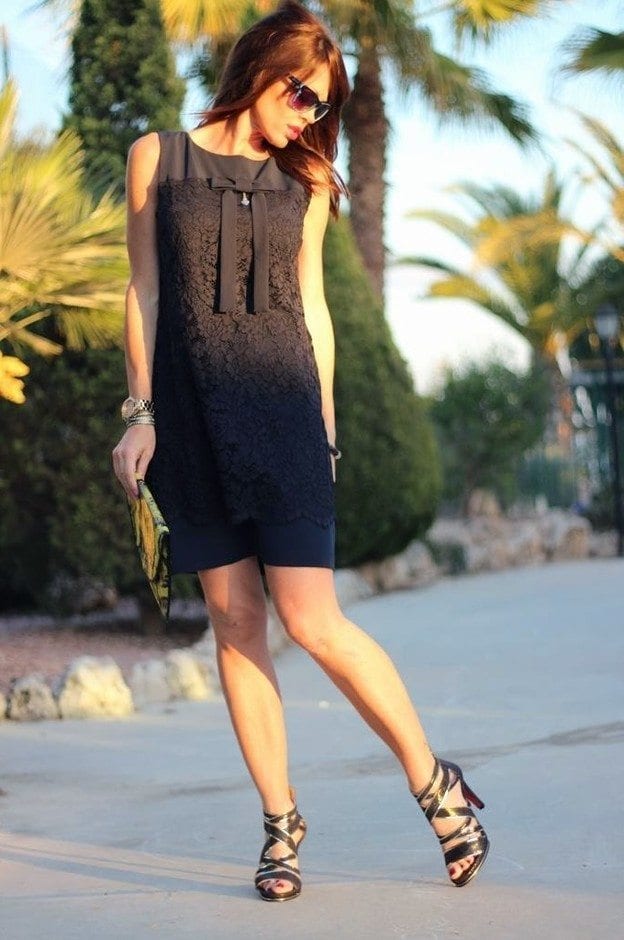 8 – The Mini Skirt Outfits 
Mini skirts are surely the perfect piece of outfit to create a style statement. You can wear a printed or plain skirt and pair them with your favourite top to create a trendy summery look, effortlessly. Indeed, the use of floral tops with plain skirts will always be a classic summer look.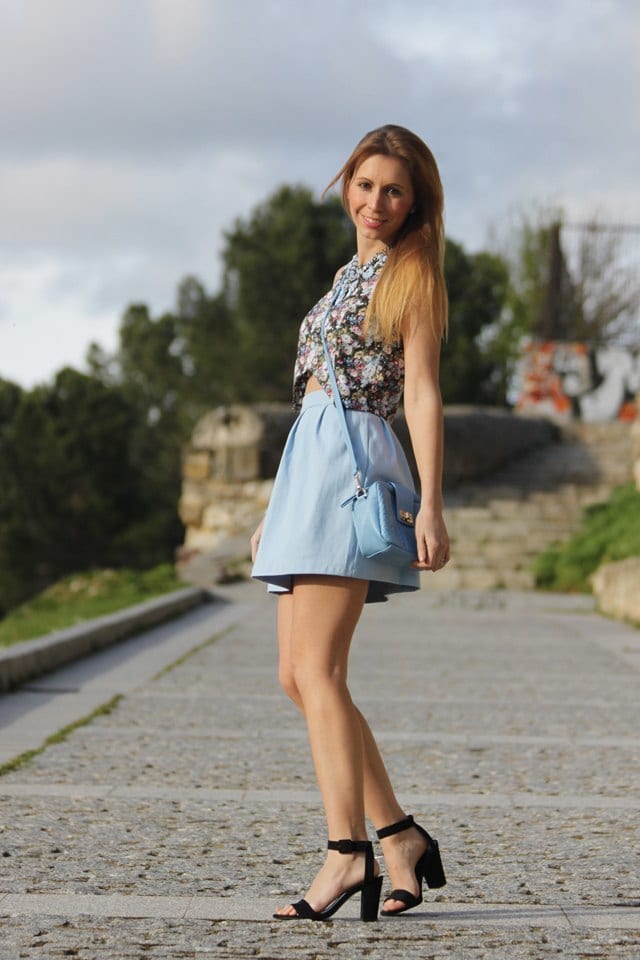 Floral Halter-Neck Crop Top 9.99$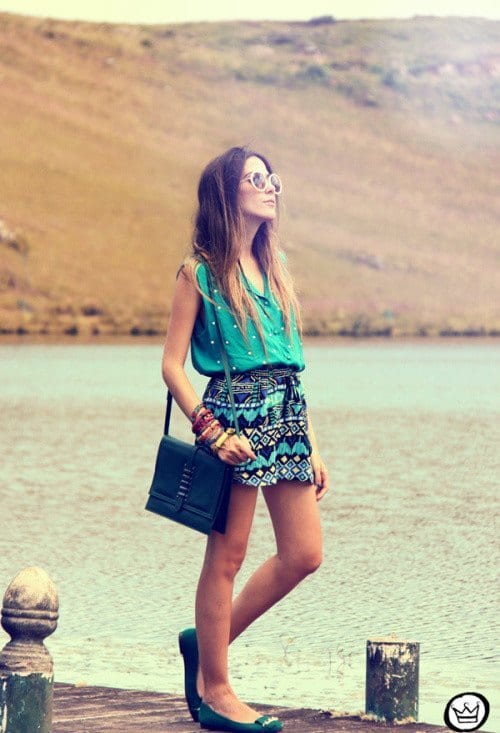 7 – Stripe Print
Like all the other prints, the black and white striped prints are also the newest trending fashion these days. You can wear them with anything to pull off a really aww look, in no time. As you can see how this girl wore a really simple swing dress and styled it with a few pearl accessories like a pro, and we love it!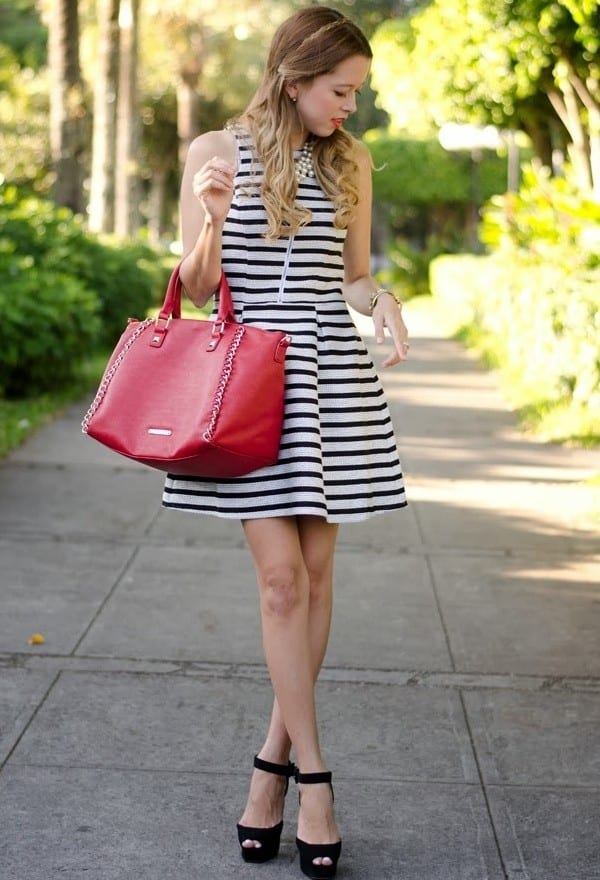 6 – Floral Prints and Designs 
A floral print can enhance the outfit, and it makes the person look glamorous. Good and stylish design or print can make you stand out in the crowd. You can wear a printed maxi with black leggings, that would make a beautiful outfit.
5 – T-shirt Dress
T-shirt dresses will always remain the classic way to carry your summers in style. You can also wear a T-shirt dress in winter by pairing it with a jacket and stockings. So, it buying a t-shirt dress can be your next step towards sustainable fashion. For a summer look, you can pair it with some nice accessories and footwear, and you are good to go!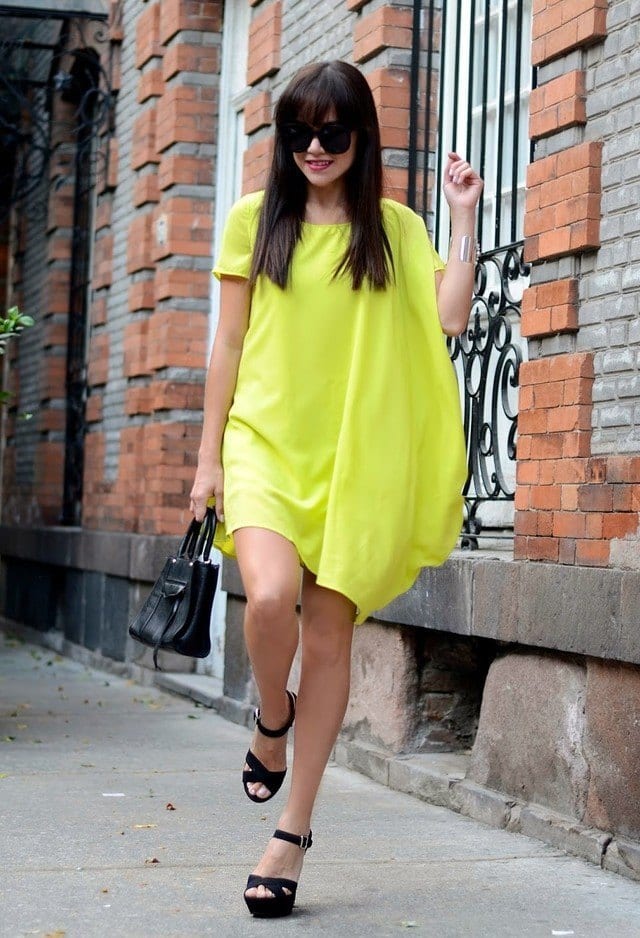 4 – Swing Dress
Swing dresses will always be a top outfit choice to wear in summer. You style it with a stylish pair of heels and some statement accessories to create a really chic casual as well as party look. We loved how this girl styled this look with minimal use of accessories and makeup!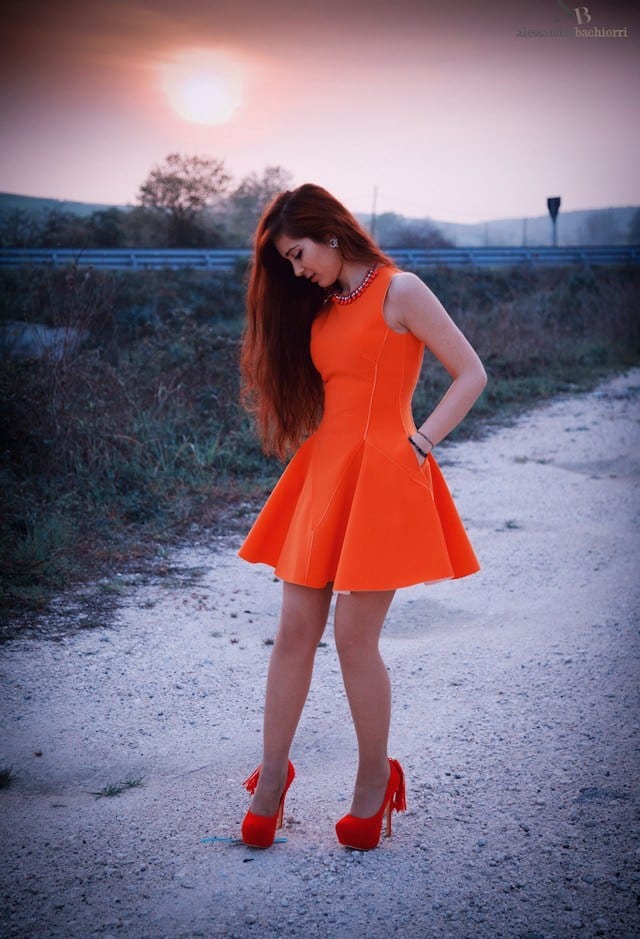 The way this girl wore this printed sleeveless swing dress with lace-up sandals and hat surely has our heart!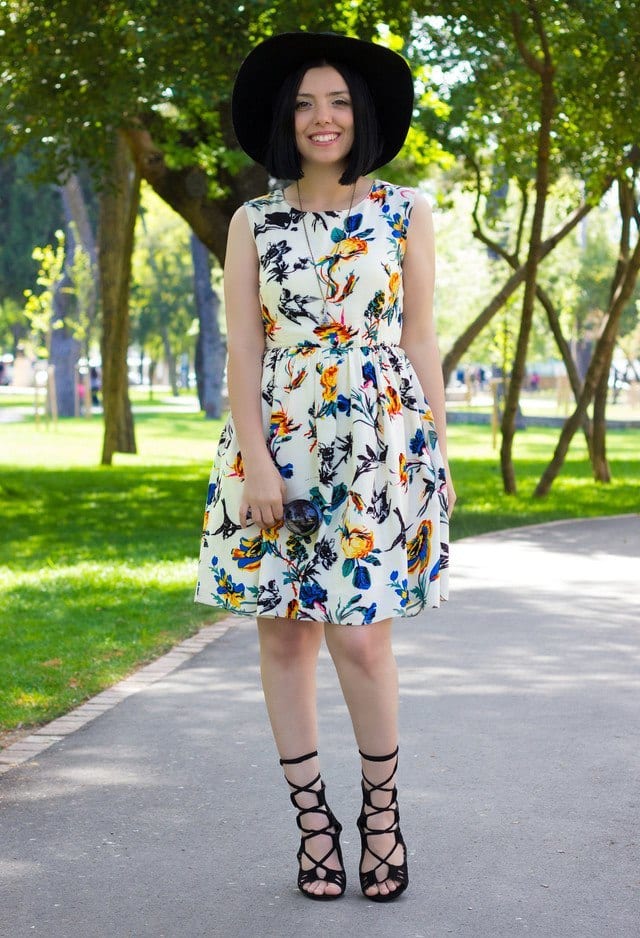 3 – Everyday Casual Look
If you are looking for something casual and chic to wear to your next day out with a friend then this is the right look for you. Wear a cool crew neck floral mini dress and style it with some neutral colour accessories, and you are ready to slay your day with your fashion game in check.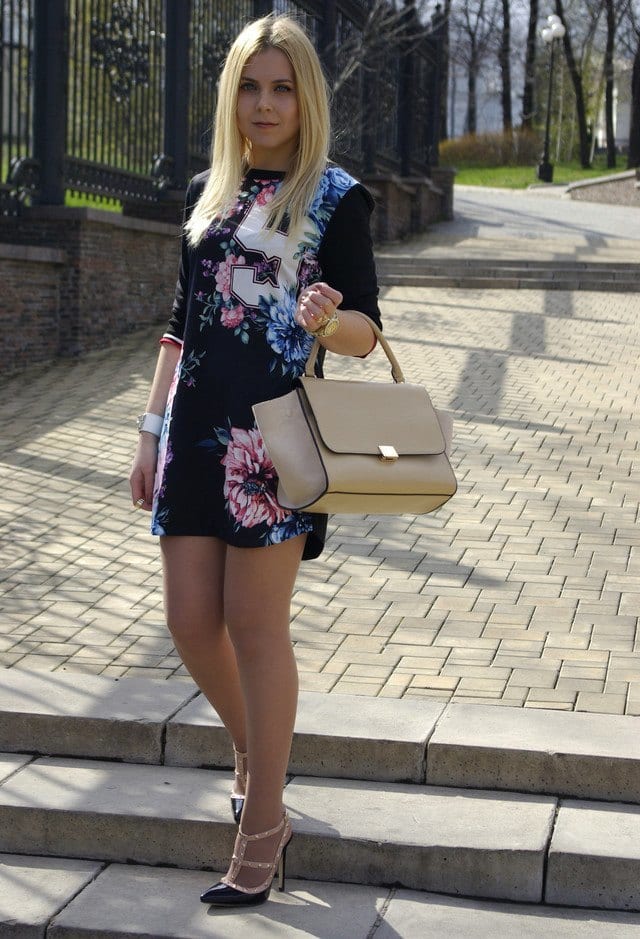 2 – Dressing Up For Beach Day 
Planning a beach vacation or a family picnic but out of options to wear on this event? Then you can surely choose from the options below. Wearing a summery tank top with the same colored shorts and a wrap-around neck scarf can be a great option to wear on a sunny beach afternoon!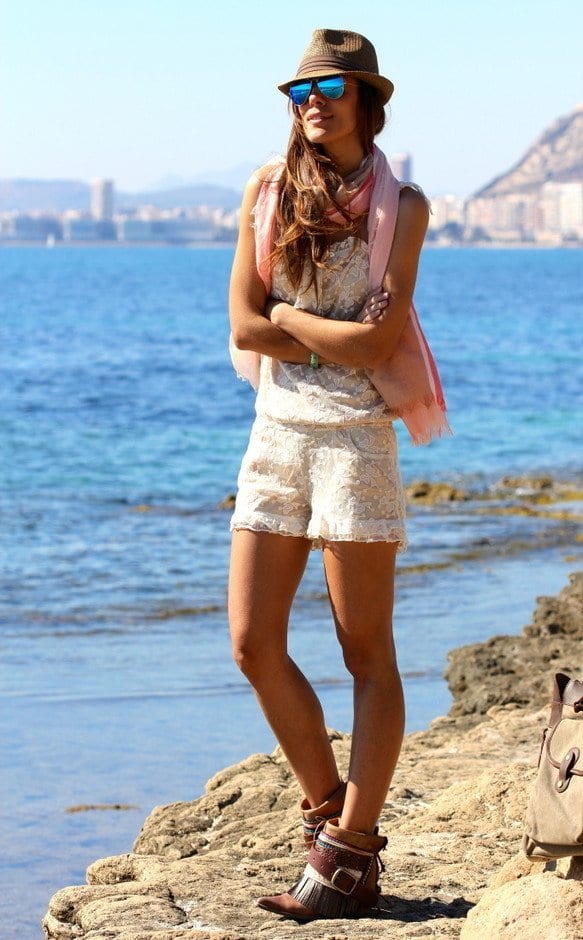 You can also wear a floral sleeveless top with a cute pair of shorts is a great idea to wear on a summer picnic day. You can also customize this look with your favourite pair of accessories to style this look.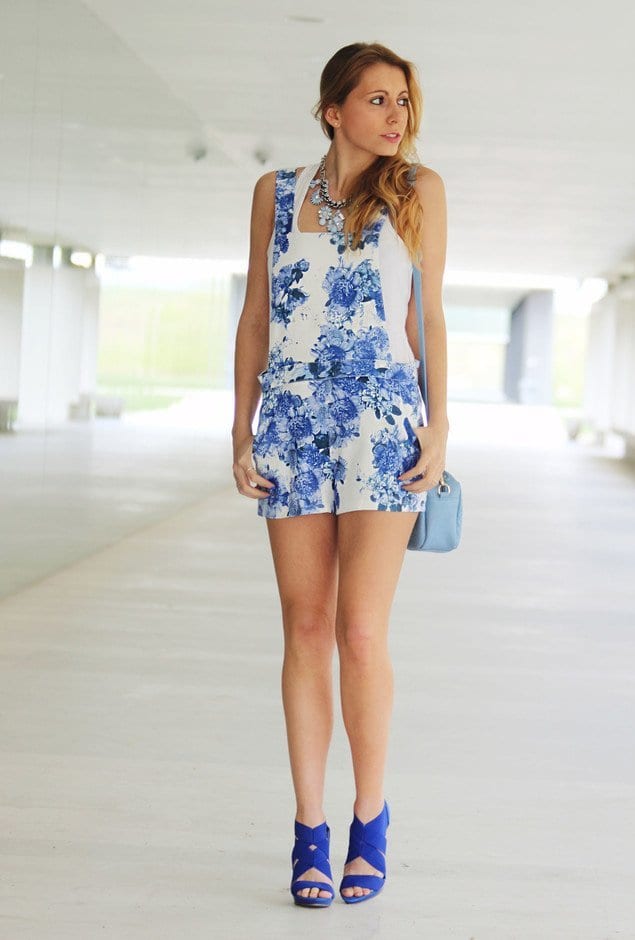 1 – Colorful
If you are in favour of adding some colour to your summer look, then this look is surely made for you. Style this colourful outfit with your favourite bright-colored heels and a handbag with minimal accessories to create a chic look.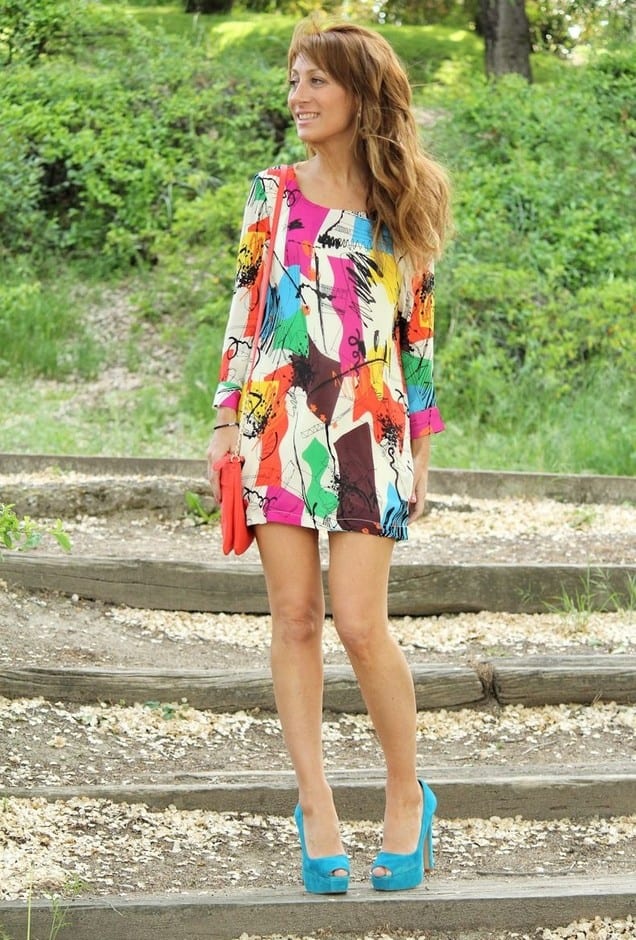 After having a look at the entire post and the pictures, we know you all girls won't have to stand in front of your closet and remain still for the entire next hour. Don't worry; all the girls do that. Hopefully, you will not spend much time deciding on your outfit.
Frequently Asked Questions
Q: How should I dress for summer vacation?
Ans: Vacations are the most awaited time of the year. Therefore, dressing right on your holidays is an important aspect of vacay planning. If you want to opt for a comfortable and stylish option, colourful mini dresses and skirts will be the perfect options for you. In addition, you can also go for a classic jeans look with a T-shirt, crop top, or summery blouse. Moreover, you can consider wearing floral skirts and beach coverups for sunbathing on the beach while having the time of your life.
Q: How should I not wear in summers?
Ans: When it comes to summer outfits, dark-tone outfits are a big No-No. Go for pastel shades and flowy outfits to embrace the cool in the burning heat of summer. Also, avoid wearing tight-fit dresses to let your skin breathe. Moreover, do not wear leather boots or footwear that do not allow air passage, as it may cause you heat rash. Lastly, do not wear heavy makeup or jewellery with your summer outfits.
Q: What colors should you wear in summer?
Ans: In summer, pastels and neutrals work best. However, you can wear darker shades like red, black, and dark blue, try to style them with a lighter colour to tone down the effect. In my opinion, white, pink, orange, yellow, sky blue, light green, beige, and ivory are some of the best colours to wear in summer.