Burgundy Outfits for Women: Just like fall means that it's time to enjoy pumpkin spice lattes, it's also perceived as the time of the year to let your burgundy pieces shine. But the fashion trends suggest something quite interesting. Burgundy has not only reclaimed its title as falls most flattering hue; rather, it's been deemed as an all-season most versatile color to incorporate in your wardrobe. You heard us, Burgundy is in fashion and here to stay for all four seasons.

Be it Kate or Meghan, Gigi or Kendall; we've seen everyone rock burgundy. From red carpets to fashion week and street style, Burgundy is everywhere! Consider us at your service to provide you tips on styling the 'it' color of the year.
How to Wear Burgundy Outfits
Let us help you explore options to incorporate Burgundy in your wardrobe.
Where to buy Burgundy Outfit Pieces?
We've compiled a list of burgundy must-haves for you; check them out to add the extra flair to any look.
Milumia Burgundy Maxi dress for a beach party or a picnic date.
Nordstrom Satin A-line Gown, the perfect ensemble to get you the prom queen title.
Crystal Doll Sweater set to look fabulous while chilling at home.
Forever 21 ribbed mini cami dress for a night out with your girlfriends.
Throw on a Burgundy blazer by Burberry and look impeccable at the office.
Need a top to compliment your leather pants? Emmerson Burgundy Satin cowl neck bodysuit at your service.
Bride to be? Get the Nordstrom long sleeve sequin wrap gown to shine at your Bachelorette.
Forever 21 turtlenecks bodycon dress, the best of both worlds!
Look gorgeous at any formal event with Lulus Burgundy Lace Jumpsuit.
Harley Burgundy leather mini skirt perfect for autumn.
#30. Yellow Yellow, dirty fellow
Who said winter was all about dark neutral pieces? Don't be shy, ladies, and add colour to your winter wardrobe. Burgundy pants paired with a yellow tucked-in sweater, isn't it so chic? You might as well add a burgundy bag to match the vibe. While everyone else is in an all-black outfit this winter, you will undoubtedly stun the crowd with this striking look.
Check out more amazing ways on sweater styling.
#29. Burgundy on Burgundy
Burgundy shades, burgundy lips, and an all-burgundy outfit; this is what we mean by Burgundy on Burgundy. The silver bag and shoes are unquestionably doing wonders for this look by giving it just the right amount of bling. Get this ensemble together and look no less than a celebrity.
#28. Play with Plaid
Who doesn't love to play with plaid? Pair your plaid pants with a Burgundy cropped sweater and watch it be a game-changer for you as you claim your title as the "it" girl.
#27. Chunky knits and Burgundy bits
Talk about serving looks, ladies. Opt for a burgundy chunky oversized knitted sweater with matching knee-high boots and look effortlessly stylish. An exciting technique to break up the color scheme would be to add a pink bag to your ensemble. Top it all off with black shades, and you're serving looks, girl!
#26. Burgundy Bolero
Are you bored of your shawls and capes? Shake things up with a bolero, better yet a burgundy bolero. The best part about boleros is that they add to your look and keep you extremely warm and cozy. Show off those collar bones in the chilly weather, all while the bolero keeps you warm. Nonetheless, fur certainly adds brownie points to your outfit, no matter what the occasion is.
#25. Later Alligator
Looking for a look that defines unique? It's not every day that you see someone rocking a burgundy alligator skin cami dress. Tie your look together with a net puffed sleeves collar shirt and Burgundy thigh-high boots, and you have that stylish, unique look you were searching for!
Want to see more looks on cutout dresses? check dresses you can actually wear!
#24. Wear a Burgundy scarf
Be it an all-black outfit or a casual sweater and jeans look, let a burgundy scarf add that pop of color to your look this season.
#23. Burgundy to the Beach
Looking for a versatile look for the beach? Burgundy sarong is the piece you've been looking for! Sarongs have always been popular at the beach, so why not a burgundy sarong if you want to jump on the 'it' color bandwagon. The best part is that this look is super easy to pull together, and with that burgundy sarong, all eyes will be on you, queen!
#22. Crop Top, Mic Drop!
Wondering how to add Burgundy to your summer wardrobe? A burgundy crop top will be your best friend. Complete the look with your favorite jeans, and you're all set looking amazing.
Check out more cute ways to wear crop tops this season!
#21. Back-to-school with a Burgundy touch
Converse and school bags are back-to-school must-haves. So, what better way to incorporate Burgundy into your look than opting for burgundy converse and a matching burgundy school bag. Now that you're all caught up on the latest trend, it's time for your class!
#20. It's the time to disco!
If it's the time to disco, then what better way to show up than in a burgundy sequin top. Let the flashy top shine as you pair it with minimalistic pieces and little or no accessories. You're certainly the life of the party now that all eyes are on you.
#19. Burgundy Beanie
A dash of color always makes a look stand out. Get a burgundy beanie for that extra edgy vibe, all while keeping you warm and incorporating that hint of color into your look.
#18. Desi Girl
Who's the hottest girl in the world? It has to be a desi girl. Rock everybody's world with this burgundy satin floral print skirt and a Burgundy embellished crop top. Don't forget the jhumkas because ain't nobody like a desi girl!
#17. Burgundy Quilted Jacket
Winter is right around the corner, which means it's time to protect yourself against the chilly winds because you certainly don't want to feel under the weather. Ladies, your winter layering doesn't have to be boring. Throw on a Burgundy quilted jacket to level up your fashion game this winter; better yet, pair it with leather pants and look stylish as ever!
#16. Prom Queen
Finding the perfect dress for prom is almost like finding a pot of gold at the end of a rainbow. But this burgundy dress is here to save your day and get you the title you've always dreamt of. The flair and the design of this dress are to die for. So, keep your heels, head, and standards high while you're being crowned prom queen, thanks to this gorgeous dress that added to your beauty.
#15. Burgundy velour lounge set
Chilling on a Sunday or heading out for a quick grocery run? This burgundy velour lounge set is the perfect look for you then. With a half pony or the hood over your head and a pair of sneakers, you're ready to take over Netflix or the grocery store (whatever your Sunday plans might be).
#14. Sweatshirt and skinny jeans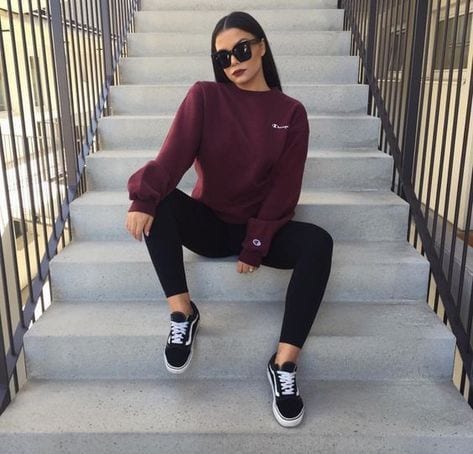 Want to keep it simple yet absolutely chic and trendy. Let a burgundy sweatshirt do the job for you. Tie the look together with skinny black jeans and a pair of vans. Style your look up a notch with black sunnies and a burgundy lip
#13. Burgundy Floral Maxi Dress
Be it spring or summer; floral dresses have got your back. Brighten up your summer days with a burgundy floral maxi because the sun might be striking, but you'll undoubtedly beat it in this stunning ensemble.
#12. Ready for a dance off?
Remember how Nora Clark, aka Jenna Dewan, became everyone's heartthrob in step up? Channel your inner Nora with a burgundy cami top, p cap, and track pants. A bold lip color, hoop earrings, and a layered necklace will add more sass to your look. Now you're ready for a dance-off more than ever.
#11. Turtleneck? Check!
source
A phenomenal yet simple look? Turtlenecks to the rescue. This winter, add a burgundy turtleneck to your collection to brighten the gloomy winter days with that pop of color.
#10. Velvet Tuxedo
Tuxedos are an all-time classic, but this burgundy velvet tuxedo is such a darling piece. Go for a lacy top under the tuxedo and if you don't want it to be super formal, then pair it with black jeans. Time for your boss babe duties or a date you're ready to take on the world!
#9. Faux Fur
We love to look phenomenal and be ethical at the same time. An oversized burgundy faux fur jacket is the way to go, ladies. Add hoops to your look and make a statement with this absolutely stunning piece this winter. Be it your hoops or your jacket, just keep in mind the bigger, the better!
#8. Burgundy Accessories
We can't help ourselves but go for an all-black outfit in winters. If you're a fan of an all-black ensemble and love playing with colors, we have a fantastic idea for you. Add a burgundy hat, bracelet, and boots to your all-black outfit and make heads turn as you add color to bleak weather.
#7. Corduroy Overalls
As winter approaches, the corduroy pieces are dusted off to let them have their moment, but this burgundy corduroy overall will undoubtedly let you have your moment, too, as all those around you stop and admire you.
#6. Burgundy Overcoat
Throw on an overcoat over almost any ensemble, and you will look effortlessly chic; we mean it! But this look has to be our favorite. A double-breasted burgundy overcoat with a belt and matching joggers paired with an all-black outfit. Complete this look with a black bag and stylish shades, and let the world be your ramp!
#5. Time to skrt with a skirt
A short burgundy skirt and a plaid scarf with hints of Burgundy. If you ask us, this is the outfit you gotta wear while sitting on a bench surrounded by autumn leaves, sipping on a pumpkin spice latte while enjoying a book in the chilly weather. Oh, wait, did we forget to tell you that you're indeed giving us beauty with brains vibe!
#4. Leather Weather
Your winter look book isn't complete without a leather piece. But there's something special about this burgundy jacket; it's got two styles in one showpiece. Fur and leather, both of our winter favorites in one piece; can it get any better? Look rebellious yet classy with this banger!
#3. Office Wear
Work outfits can be super trendy if you want them to be. Take your 9-5 outfit from a 5 to a 9 with just a touch of these burgundy pants. Take on the corporate world in style and be the boss babe you're meant to be!
#2. Vinyl Pants are a thing!
Yet another burgundy monochrome ensemble, but this time we're playing with different textures. Top off your burgundy sweater with matching vinyl pants and a leather bag and make the world your oyster.
#1. Denim and Burgundy
Don't worry, ladies, we didn't forget about denim…how can we? Got lunch with your girlfriends in between your 9-5? You don't have to rush back and forth and put together two looks. Layer a denim jacket over your burgundy formal ensemble to make it a little casual.
Frequently Asked Questions
People are curious about these questions and you might be too. Give these a read to clear out any confusion.
Q.

Is Burgundy a type of red?

A. It is a type of red as it's a deep reddish-brown shade inspired by wine from the Burgundy region of France. the deep, dark red is the result of mixing red with a dash of green and blue, resulting in a brownish shade with purple undertones.
Q.

Are plum and Burgundy the same color?

A. No, there's a slight difference between the two colors. Plum is a darker shade of purple, whereas Burgundy is a dark reddish-brown shade with purple undertones.
Q.

What colors go well with Burgundy?

A. If you're playing it safe, then the neutrals (black, white, tan, brown, beige, etc.) go best with Burgundy, but you can play around with colors if you want to explore more options.
Avid reader and Fashionista. London Based freelance lifestyle editor