Best Pants for plus size women and tips on styling them: Do I look out of shape wearing these pants? Does this color expose the extra five pounds that I gained this week? Do I look overweight in this new pair of jeans I just purchased?
Which trousers do look best on my curvy body? These are just a few of numerous questions that hover around the minds of plus size women every day. Although the matter may sound dramatic to others, we understand your concerns over finding the right pants. We are all ears to your insecurities and sensitivity towards the way you dress. Yep, we do hate to use "Plus size" adjectivally to describe someone based on their weight and size. Therefore, I must highlight the importance of being fully and mentally aware of the fact that it doesn't matter whether your size is small, medium, Large or Xxlarge, but the power that is capable of causing a change is knowing how to wear a piece of cloth, what to wear and what not to.
What Pants To Wear If You're Plus-Size?
In a nutshell, you are not overreacting if you grumble over the wrong pants that expose your weight explicitly. As a matter of fact, following trends and being updated is cool, but you have to keep in mind the not every trendy dress can fit you, or anybody else. Especially with pants, you have to be picky and careful. And this is not limited to plus size women, but it applies to ladies of all sizes and shapes. However, in this article, I am targeting plus size women to put an end to their perplexity, by answering the most commonly asked questions of our plus-size readers. Starting with a summary of the pants that I feel work best for me:
Cropped pants in a well-tailored but not slim-fit style
Khaki pants
Ruffled pants with detailing around the waist
Cargo pants
Pinstripe trousers
Wide-legged pants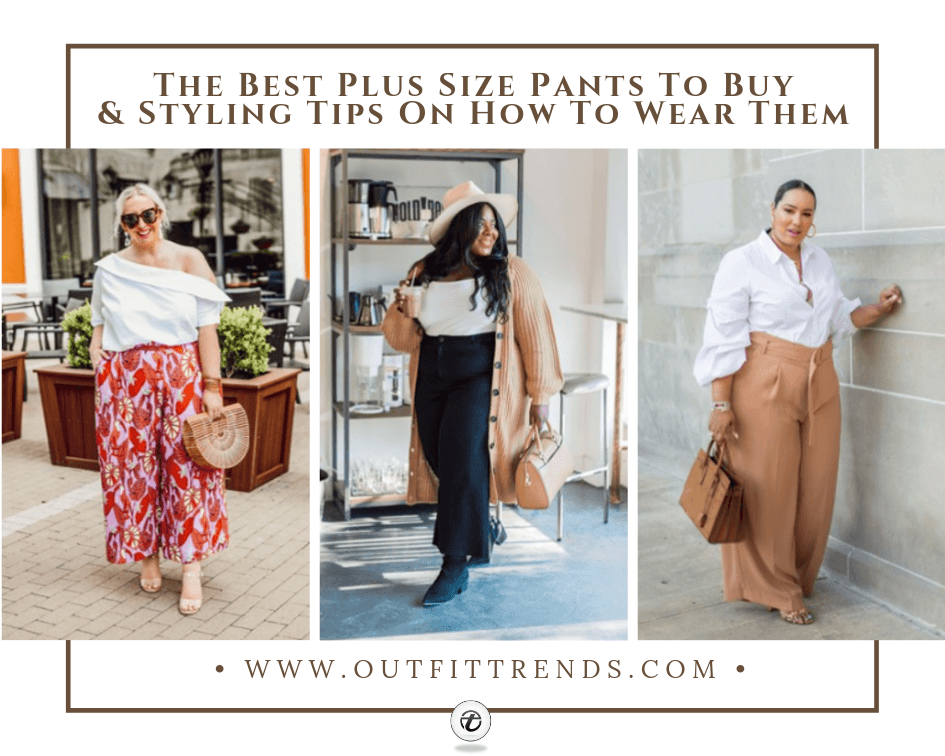 The images and ideas shared below will give you a more detailed answer on how you can style your plus size pants, along with some other pretty cool options.
↓ 12 – Special Occasion Pants For Plus Size Women
No matter how many pants I get, my go-to pants for special occasions are always my solid black cigarette pants. You can easily pair them with a fancy shirt or peplum top.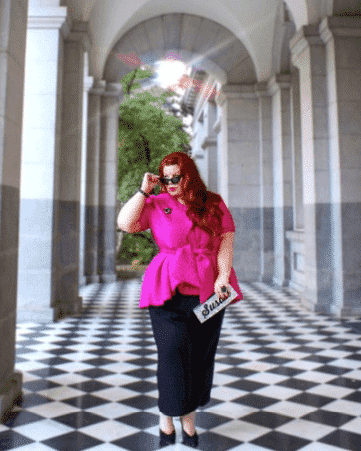 ↓ 11 – Frayed Wide Leg Cropped Pants
The plus-size frayed wide-leg crop jeans are befittingly appropriate for a business meeting or meet-up with friends at a coffee shop. Best option to go to in a day in summer instead of shorts. They are sleek and soft to touch. And the frayed hem adds a sweet and alluring finish. As the cropped wide legs open space for airflow, so they prevent having sweaty legs in a long day out. Stick to dark colors when you shop your plus size pants, especially, magnolia green. These pants will support your footwear appearance, make sure to never miss out on this chance to wear your minimalist heels with them. High heels are the perfect go-to if you asked me. I suggest wearing a blouse or striped wrap top where the hem covers the mid-rise front side of the jeans to cover up your belly.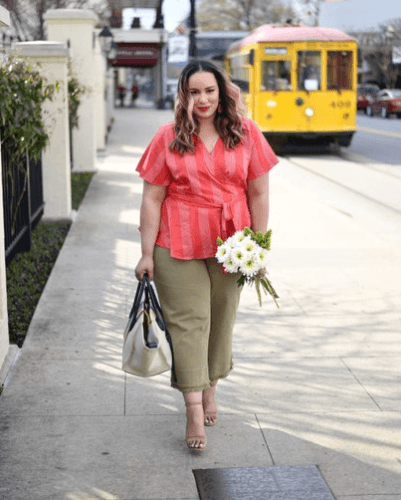 For Outfit details:
Loft Plus Frayed Wide Leg Crop Jeans cost $24.88 in magnolia green
Loft Plus Striped Wrap Top costs $54.50
↓ 10- Khaki Pants
For street outfit or a business casual one, your khaki pants will adapt and fit perfectly both ways. It's a good alternative clothing since they would keep you from wearing denim jeans and skinny pants that are known for exposing your weight. Khaki pants with crop twill, rolled cuff have gained wide popularity and interest from fashionistas around the globe lately. So, your wardrobe has to have at least a pair of khaki pants. We acknowledge some of plus size women are concerned about sticky pants. Although there are not one hundred percent pants that work against sweats, khaki pants are pretty much included in the category of best pants that feature sweat resistant. The khaki texture will keep you sweat-free on a hot summer day and offer you great flexibility. You will love to wrap your legs in those work pants, plus experiencing unbelievable comfort during walking and sitting all day long. In terms of styling, match your khaki pants with darker tops like this floral tank and jeans jacket with flip flops. If you're looking to wear these pants to work, you can find some great looks in our earlier post on 17 Elegant Plus Size Work Wear Outfits Combination Ideas.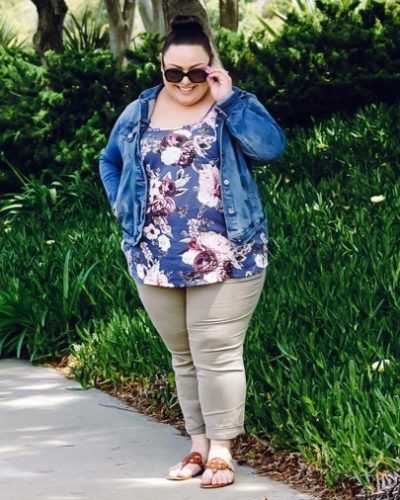 ↓ 9 – Ruffle Waist Crop Pant
Crop pants are more comfortable than your expectations. Some people may think they can't be categorized for plus size women, but they actually feel loose on the legs giving an irresistible appearance. The elastic waistband of ruffle waist crop pants makes it feels light and appropriate for different sizes. Absolutely as a curvy gal, you should focus more on rounding up a haul of pants that feature a stretchy waistband. So, you won't struggle with holding your breath hoping for not dealing with a sudden moment of having unbuttoned jeans or feeling squeezed in your jeans. Don't feel like you have to cover your whole legs fully, but crop pants offer a vintage look as it's fine to show off your curves every now and then. Feel free to head to your workplace dressed up in them with a long blazer of the same or different color. P.S. don't give a scare to try out bright colors and pastel colors thinking they will make you look fat because this theory and old fashion rule are not functional anymore. Heels are close to necessary when you decide to have crop pants on for blooming a sexy and feminine look. Tuck your fitted top in it for a perfect fit.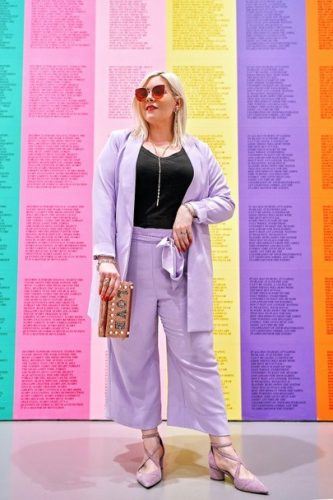 For outfit details:
↓ 8 – Cargo Pants
Cargo pants are the best go-to when you are traveling or just hanging out with a friend. They are actually more comfortable and better than jeans when you have an active day planned. They are convenient and flexible naturally as they are friendly by adding zero restrains to your free movements. With their military vibe, the best thing about cargo pants is they don't only make you look stylish, but they are useful too. They feature big pockets that you can use it as an alternative to your bag.
More Tips on styling Cargo pants:
You can wear them with a t-shirt or tank.
It's always better to show off the military design pockets of your basic cargo pants.
Tuck your shirt into your pants in order to show your cargo pant's big front pockets for an appealing look.
Avoid wearing a cross-bag with your cargo pants because it will cover the front pockets area, makes you look bigger and might bring you discomfort.
Sneakers or leather sandals are highly recommended to wear when you opt for a casual outfit.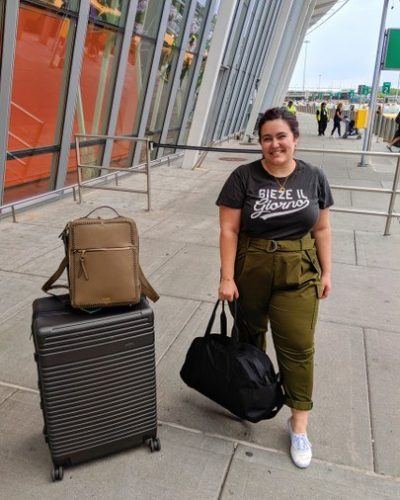 For Outfit Details:
↓ 7 – Pinstripe Trouser
For a subtle look try on pinstripes, exceeding the limits. The classic pattern will still spice up your modern outfit making you look slimmer. I highly recommend trousers made from polyester fiber to suck in sweats in the heat. Match your pinstripe trouser with a pinstripe jacket. If not pinstripe jacket, then it's recommended to focus on dark colors of any blazer or cardigan to match with your dark pinstripes. This will help you look lean and fit.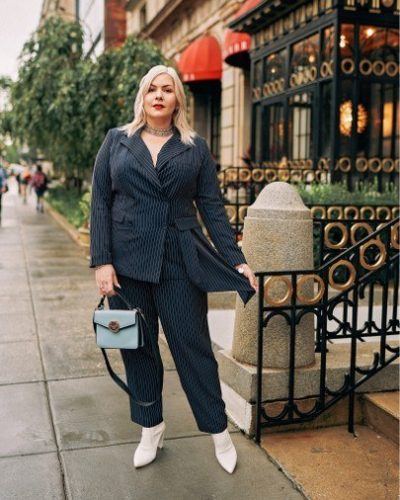 ↓ 6 – Slim Leg trouser
I know for a fact, opting for frumpy and inconvenient trousers is repulsive and distasteful like tasting boiling hot water in a very hot day or even worse. Especially if you want to pull out that independent woman persona to people through the strong feminine garments that help substantially to display your powerful personality at work and business districts. In order to bypass this lame moment of being trapped in the plainest and boring trousers, release yourself from all insecurities and go wild. Slim leg trousers will give you a moderate curvy shape and make you look slimmer at the same time. It's an appropriate business outfit too. Therefore, it's up to you to choose between using slim leg trousers for fashioning a casual business outfit or a classy formal one. In terms of casual business outfit, try to match your slim legs trousers with paneled blouse or basic pullover. For the latter, it's best to stick to the classic old rule of formal, which you wear a shirt and blazer. Never think twice regarding wearing red and its impact to expose your weight. A full outfit of bold red and maroon will make you look like you're on fire, and we all need that kind of energy every now and then. Go for high heels or crocs as your shoewear, depending on the occasion.
↓ 5 – Striped Palazzo Pants
Don't give a listen to the old fashion magazines that say that striped palazzo pants will double your weight and make you look bigger. Enjoy fashion and trendy trousers like anyone else. You can actually wear striped palazzo pants on a day to the beach and get benefited from its lightweight feature. Purchasing a baggy striped palazzo will help the air to scatter everywhere inside so you feel fresh all day long. It will definitely give you a beautiful and yet simple summer outfit and vibe. Feel free to support your summer outfit with off-shoulder tops. For more ideas, check out these Palazzo Pants Outfits for Plus Size Girls.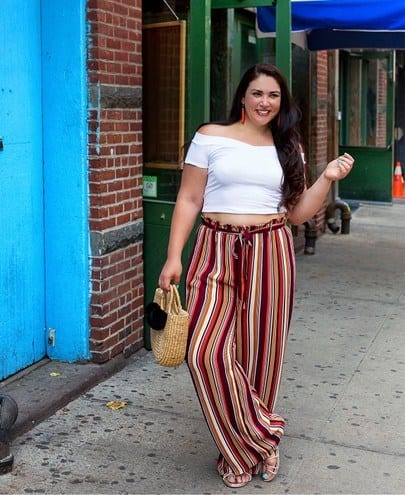 ↓ 4 – Pull-On Printed Woven Pants
This summer, try to opt for printed woven pants. Woven pants never bring discomfort if you ask me. You barely feel you are wearing any pants. They are light on the skin; you will feel almost naked in them for how soft and baggy they are. Add a relish to your look through wearing wedge sandal. It's better to keep your outfit simple when you take on these types of printed woven pants. Black shirt or white to harmonize with your pants, you choose.
For Outfit Details:
Pull-on Printed Woven pant (plus size) costs $29.97. Also available in various prints.
Shirred scoop neck tank costs $14.97
Rorie wedge sandal costs $59.97
↓ 3 – Plus Size Nolita-Stripe Wide-Leg Pants
Are you getting ready for a party? Preparing yourself for a dinner date or are you just planning to spend your day outside in public? Take on Nolita-stripe wide-leg pants and head wherever you want. The Nolita-stripe pattern will provide you with elegance. Nolita-stripe pants are very special and appropriate for different events and occasions. Style them with a plain blank white shirt and heels.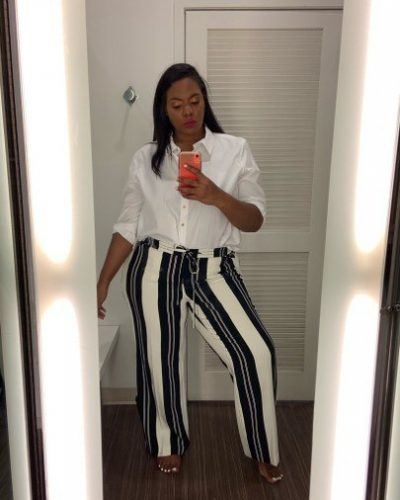 For Outfit Details:
↓ 2 – Plus Size Evening Pant Suit For Weddings
Feel luxuriant in your own bones wearing stretch ankle pants. Choose a monochrome look with them, in which you get to wear a full outfit of the same color or have the same value (e.g. light, dark, etc) to reduce your body form. Empower your decent look with a blazer of the same color to match your plus size stretch ankle pant and round hoop earrings to blow everybody's mind away.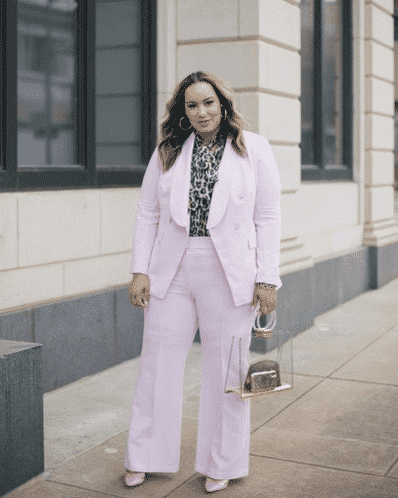 For Outfit Details:
Stretch ankle pant costs $28.61 in blue and lilac.
Sock-style pumps from H&M costs $17.99
Lilac Blazer costs $41.2
↓ 1- White Wide Leg pants
Many curvy girls doubt selecting white pants which their concern is absolutely right. Bright colors, especially white make your body look larger. White pants show and highlight all the details of your thighs and legs, so I don't recommend it for every plus size woman. However, you can for a fact slay it with your sharp appearance wearing white wide-leg pants. Wide-legs make your legs shape a mystery to people as they are actually fun to wear. Well, enlarging body parts through wearing whites is not always a negative thing to do. Whites can make you appear more attractive, shaking and driving the attention positively. Only if you are into it, wearing white wide-leg pants will truly make your back look larger visually giving you the Kardashians vibe that you need it. It all still depends on your specific weight and body type (whether it's an hourglass, oval, spoon or apple, etc). I recommend always trying these pants on before buying them to make sure that you're going for the right fit.