Sunday Brunch Outfits for Women. Sunday brunch is a popular occasion for us ladies to get together to enjoy some delicious food while getting the perfect opportunity to dress up a little. But choosing the right outfit for it can be a bit confusing.
Generally one tends to choose casual wear for brunches but if there is a brunch party or a formal gathering then you need to make a perfect combination for that occasion. So, what to wear for brunch? What shoes to wear for brunch? This article will be a perfect guide for your Sunday brunch look. Hope you seek inspiration from them, as there is a style to suit all! You also must check out these 17 Cute Holiday Outfits for Girls.
What to Wear to Sunday Brunch
Here are some tips for dressing up for brunch.
You don't need to go all out but putting together a stylish, elegant outfit for Sunday brunch is typical.
For the most part, try to stay away from wild patterns or garish colors. Look to a lighter palette of colors as well as neutrals.
It's better to try an elegant but minimalistic look than going too crazy with accessories, layers, or superfluous pieces.
Always be sure to find out ahead of time if you need to dress a little fancier (say, for a formal brunch or charity event).
Stay away from overly revealing pieces.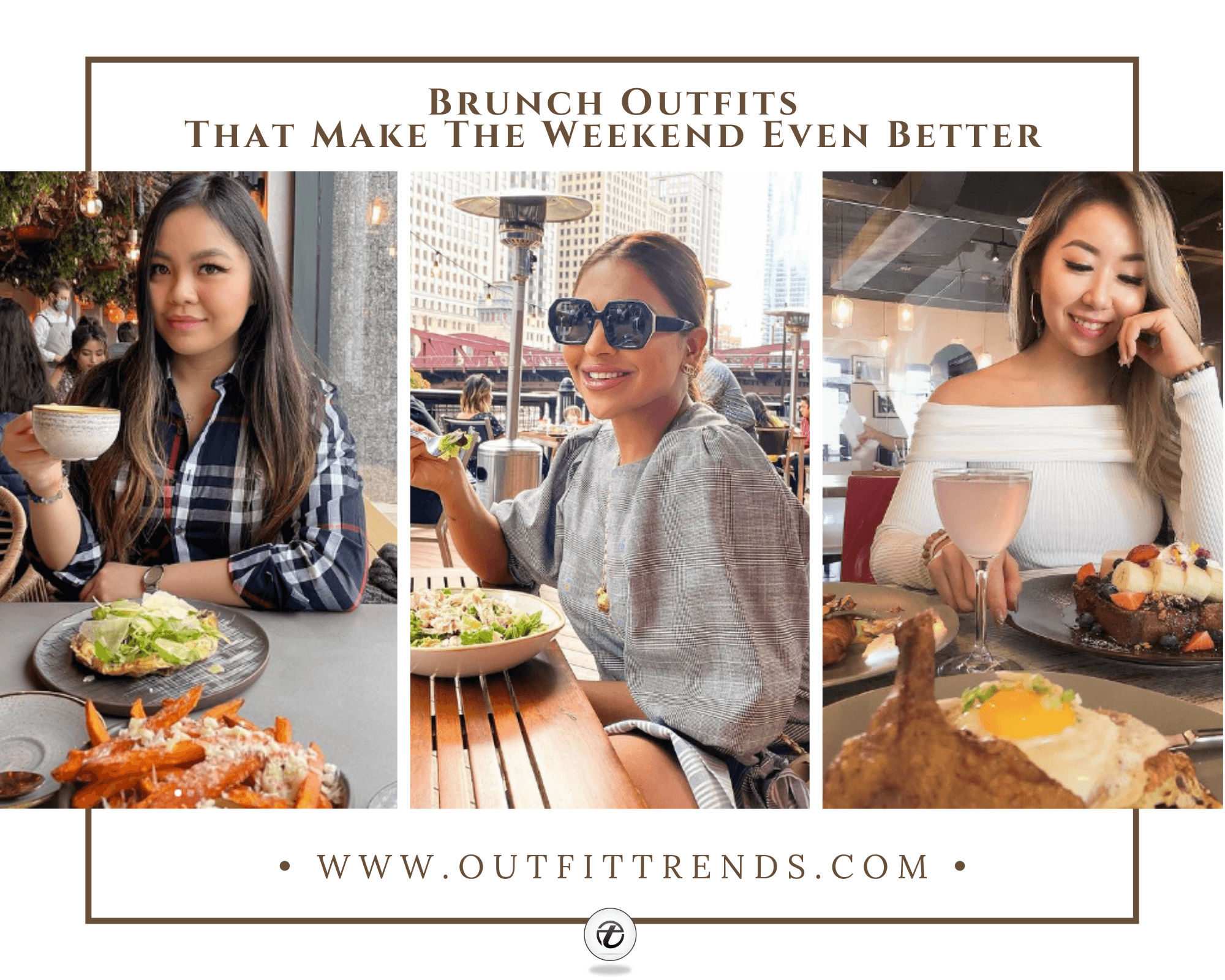 Let's start with a short video tutorial, showing you seven different and beautiful outfits to wear to a Sunday brunch.
Let's now take a look at our outfit picks!
↓ 1. All Suited up
This outfit requires a clean-cut, well-tailored suit paired with a minimal shirt, bright lipstick, and stylish necklace. This outfit idea for brunch is for those girls who like to dress up in a well-mannered way.
Wearing this style will make you look like a well organized and chic woman. For this outfit idea, you can wear a full black tailored and well-stitched dress. For accessories, you can wear any gold or silver jewelry or you can also go for a thick choker necklace. I also recommend that you check out this collection of the best Women's Suits With Sneakers.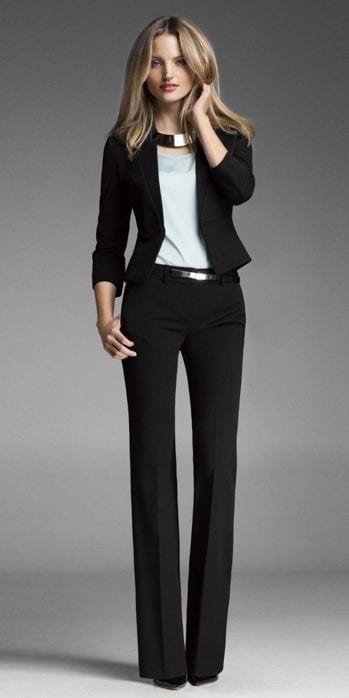 ↓ 2. Denim Jacket with Skirt
Bring out your fierce side with this stylish outfit. Pair a leopard or cheetah print with denim. Just like floral printed skirts, animal printed skirts are the next big thing. They look super cute and can be worn with almost everything.
You can get any of your favorite animal prints in any color because a wide range is available. You can wear classic leopard print and pair it up with a denim shirt tucked inside your knee-length skirt. For those, you can go for high heels in contrasting colors. Check out these 32 Beautiful Denim Dress to Inspire your daily Fashion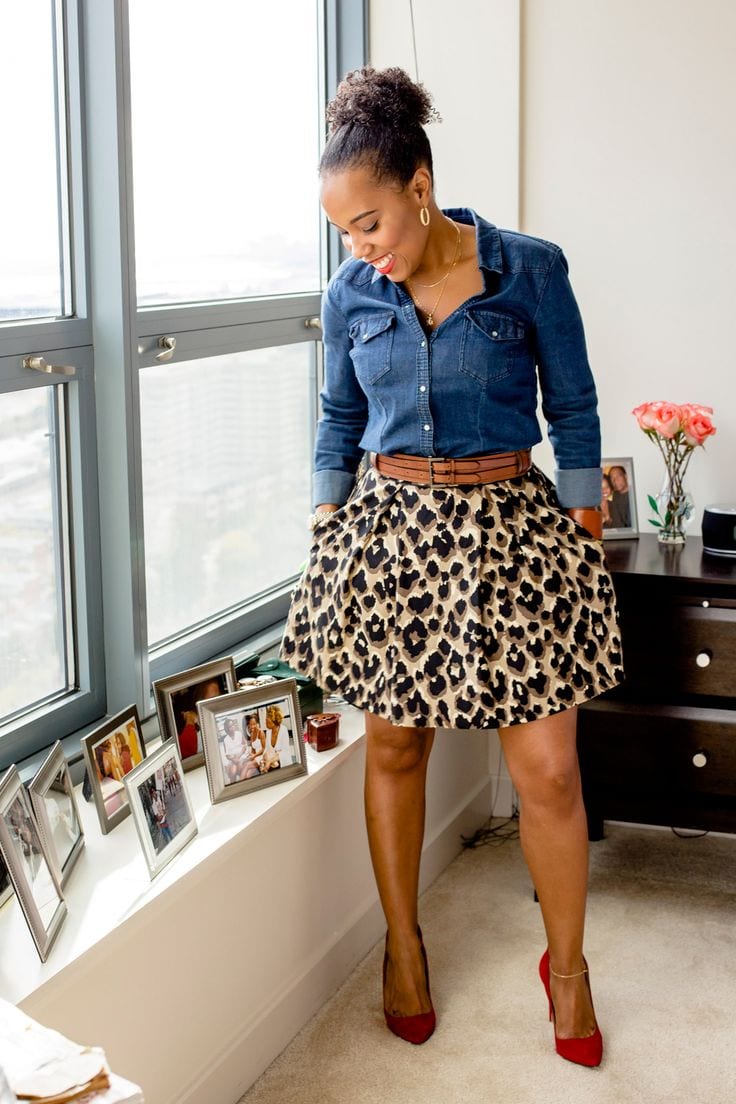 ↓ 3. Brunch Party Wear
Brunch is all about looking good, so choose a bright neon colored dress. Pair this dress with a bold, statement necklace and matching bag. This will make you stand out at the Sunday brunch.
Neon colors are super trendy these days, they look extremely popping and eye-catching on every occasion. You can get your hands on any neon color for a perfect brunch outfit ideas like yellow, blue, orange, pink, etc. For this particular outfit idea, you can wear a yellow neon knee-length dress and pair it up with nude-colored accessories and shoes. Or else you can also go for gold accessories.

↓ 4. Bare Back
Flaunt that body by wearing a low-cut top from the back. This will highlight your curves and make you appear trendy!
Black can be worn with any other color and it looks just as good as any other bright color. Who says black is not an exciting color. Black can be worn with anything, for example, you can wear a fitted short shirt in white color and pair it up with black floral formal pants. This combo can be worn for any kind of formal brunch as well. Love going backless? Check out 15 Great Bras To Wear With A Backless Dress For A Perfect Look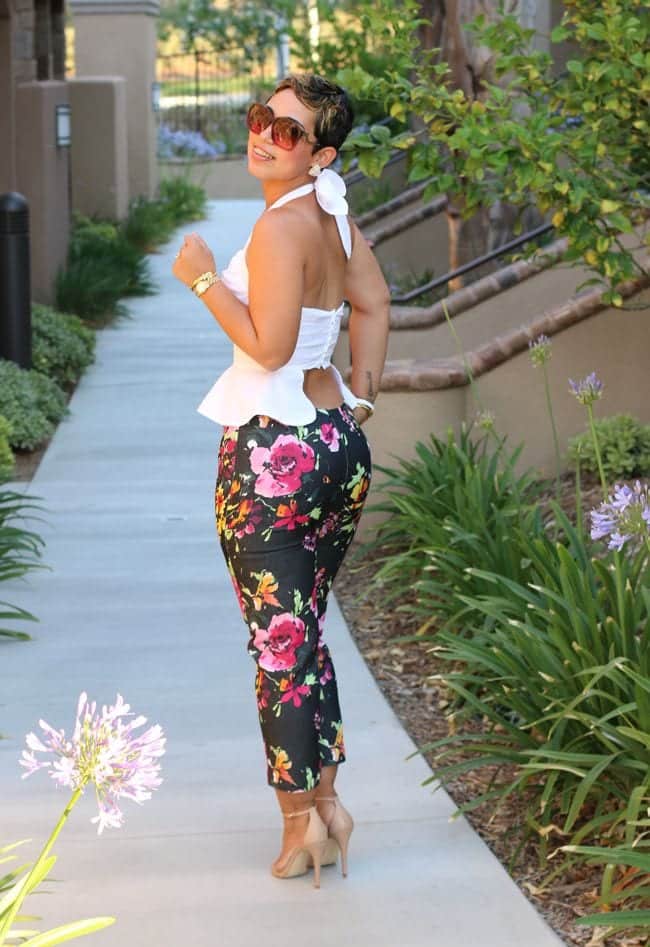 ↓ 5. Choose a Jumpsuit
Jumpsuits are very popular these days, especially brightly colored ones. Pair yours with a big necklace and a chunky belt, with neon nails. This will make you appear funky, cool, and stylish.
The best thing to do when choosing a jumpsuit is to choose it in bright colors. For example, you can go for a striking red or fuchsia pink colored jumpsuits, paired up with gold or nude colored jewelry for extra spice in your whole outfit look. Here are 16 Cute Jumpsuits Outfits; Ideas How to Wear Jumpsuits Rightly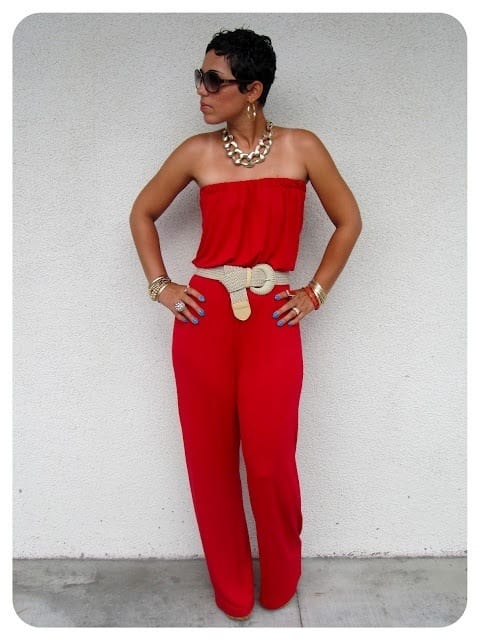 ↓ 6. Stripes and Colours
This is an interesting outfit, with a striped top and a brightly colored pair of pants. Pants are both stylish and formal, making you appear sophisticated at your brunch.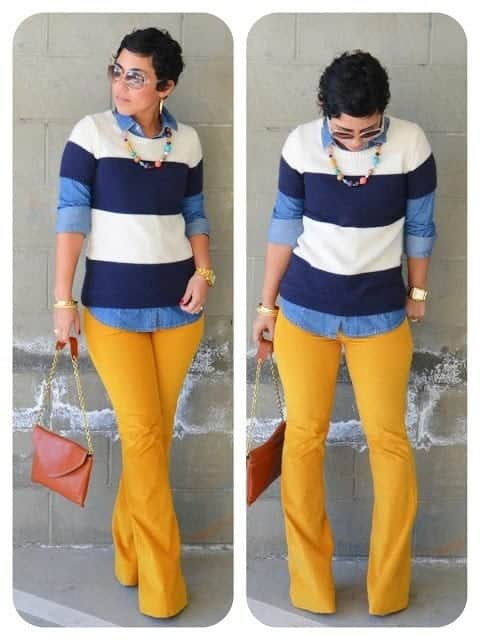 ↓ 7. What Colors to Wear to Sunday Brunch
This style is all the rage these days and is very easy to carry. Simply wear a brightly colored jacket, a plain t-shirt, and funky floral pants. Such a stylish way to dress up for the Sunday brunch! Here is a great color option for the day. Here are some Awesome Outfit Ideas for Black Women this Season.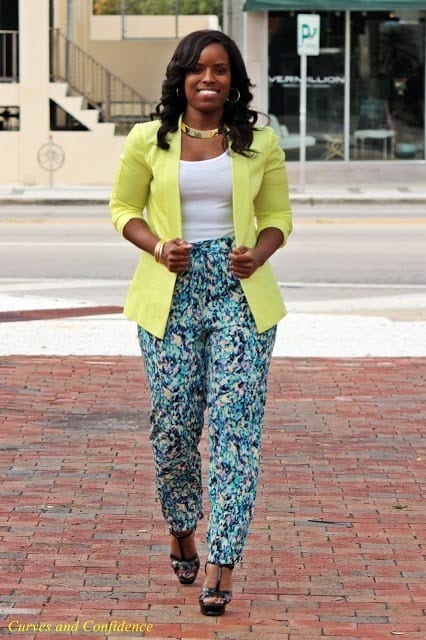 ↓ 8. Classic and Chic
This style is for all the classy and sophisticated ladies out there. It requires wearing pastel colors and chiffon tops with a lace skirt. It is all about keeping it simple yet elegant at the brunch.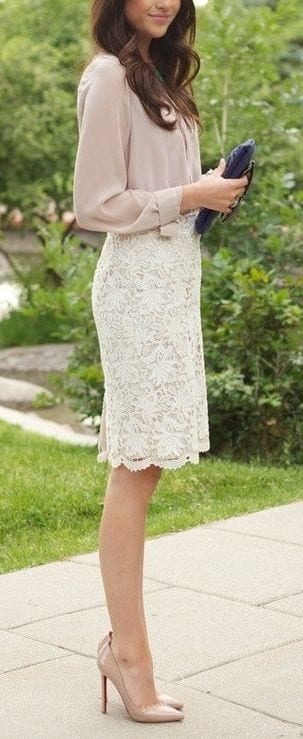 ↓ 9. Celebrities Brunch Wear
The best way to stay on top of current styles and trends is to look to the top celebrities and see what they are wearing for such occasions. Here Kendall Jenner is spotted wearing a denim top with leather tights for a casual Sunday family brunch party. Also, see 80 pictures of Kendall wearing different shorts.  You can wear such clothes to appear laid-back and relaxed at Sunday brunch.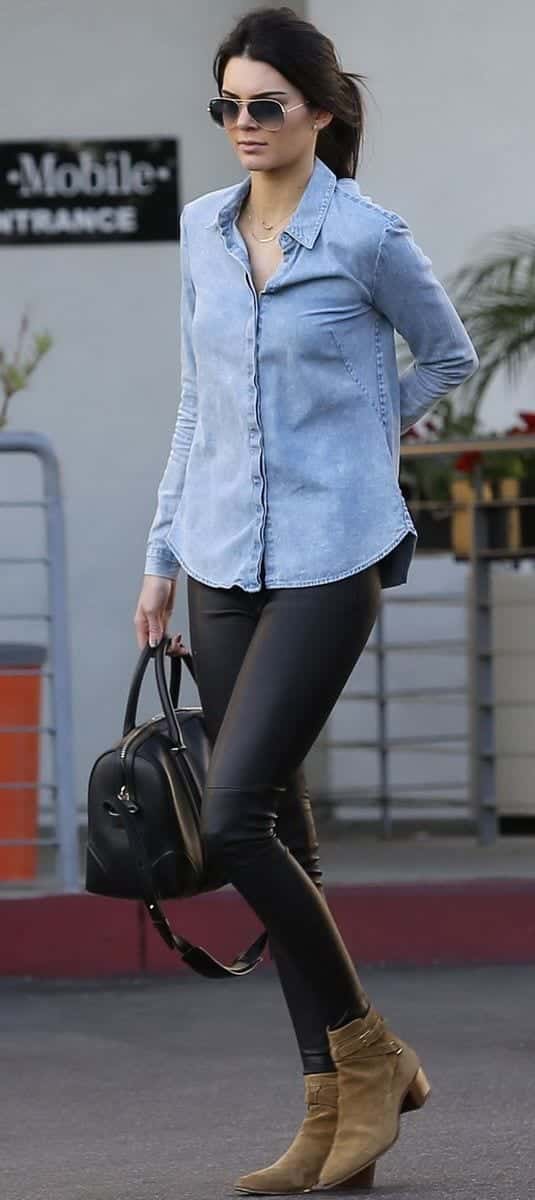 ↓ 10. Summer Outfit
Choose to keep your outfit plain and simple, and wear a bright handbag with it. The handbag will appear obvious and trendy.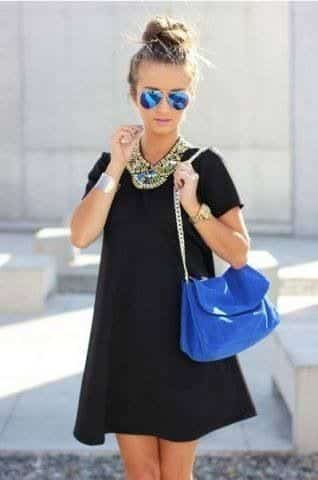 ↓ 11. Comfortable Sporty Outfit
For all the sporty girls out there, this look is for you! Pair a t-shirt dress with a plain bucket handbag, sunglasses, and white tennis sneakers for your next Sunday brunch. No wonder t-shirt dresses are very comfortable to wear and you don't have to run around the room to find the right thing to match with the dress.
Because they are a one-and-done look, you can wear a striped t-shirt dress and pair it with your favorite pair of classic sneakers and go for a matching bag. This look can be worn if you are going to play sports and then for brunch. Check out 19 Cute Sporty Style Outfits for School Every Girl Must Try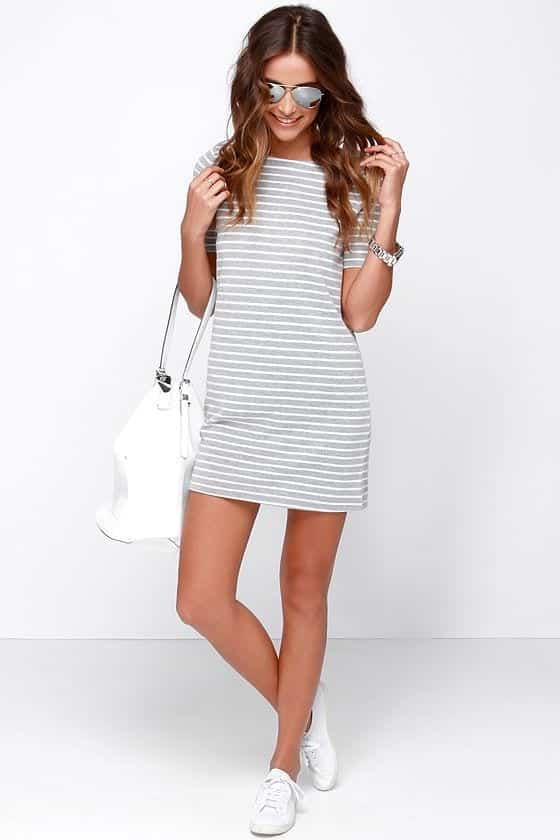 ↓ 12. Casual Wear for Brunch
To appear stylish, you can braid your hair in a fish-tale style braid. Pair it with a bright, floral bracelet and matching lipstick and heels. Cute hairstyle for Brunch that compliments this look.

↓ 13. Spring Wear
For all the busy moms out there, this look is for you to try out! Pair a shirt with a bright sweater, along with jeans and flat shoes. Flats are the perfect footwear for Sunday brunch. This outfit idea is very comfortable and that is why it will allow you to take care of your kids whilst hanging out with your friends. Also, have a look at 20 Ideas How to Style Floral Skirts This Spring/Summer.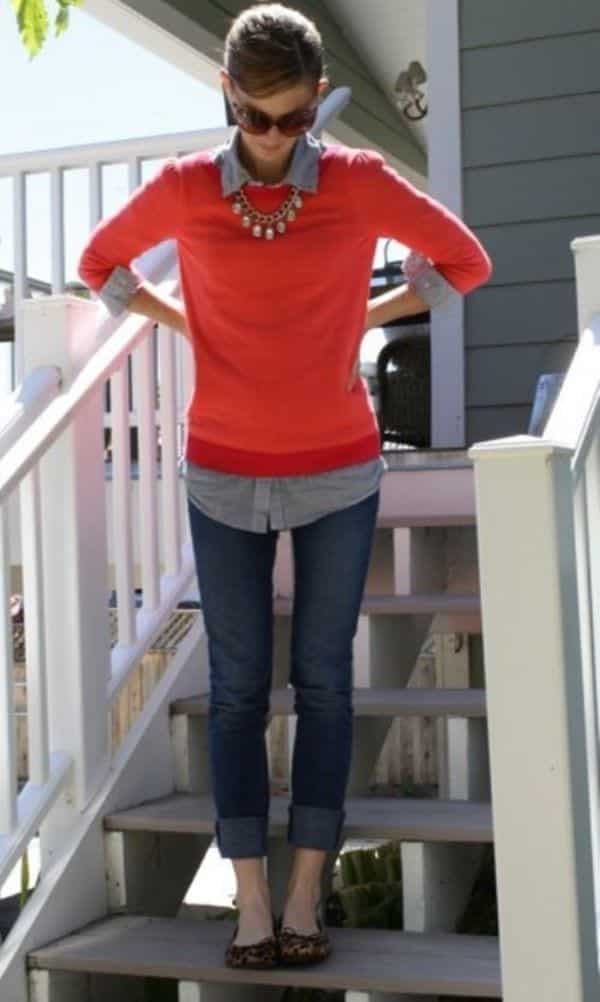 ↓ 14. Brunch Date Outfit
For those attending brunch with their boyfriends or husbands, you can always match your outfits! Don't over-do it but it can look very cute and chic. This will look super cute and chic at the brunch. Denim is a great way to do this without being over the top. Or by wearing a similar piece, like a button-down top. Here are some amazing Date Outfits for Women: 20 Best Outfits to Wear on a Date.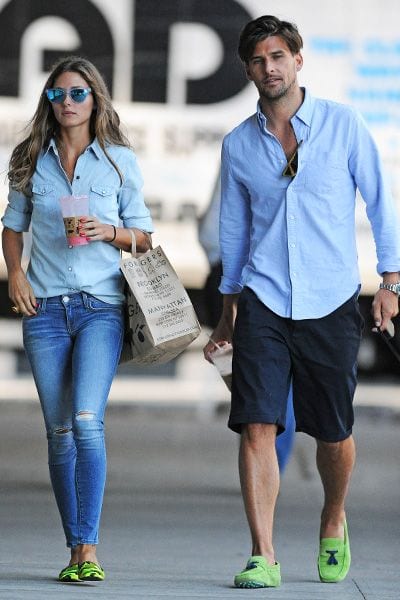 ↓ 15. Winter Brunch Wear
For Sunday brunches during winter, a brilliant wardrobe idea is to wear a long coat. The coat can be of gray, brown, or black color. This coat can be paired with a bright-colored t-shirt underneath or a handbag and shoes. Winter provides a wide range of dress opportunities to choose from. You can wear a long coat and underneath it, you can wear a bright colored sweater.

↓ 16. Brunch in Fall Outfit
Brunches in fall are such a fun experience and they are the perfect excuse to pull out a cute hat or your favorite sweater dress. Here is a cute, stylish look, great for women of all shapes. Layer a midi ribbed dress with a long-sleeved cozy sweater and add white boots. The magic lies in the accessories: a gorgeous brown purse and matching wide-brimmed felt hat.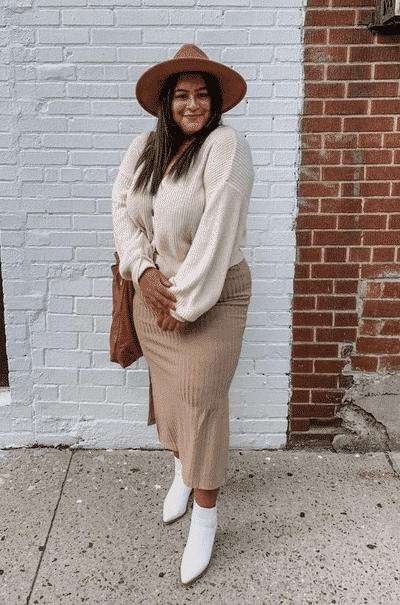 ↓ 17. Chic and Classic
If you are headed to a slightly more dressy brunch, this elegant and very chic ensemble will do the job nicely. Tuck a sleeveless mock turtleneck into a pair of high-waisted slacks and pair with white ankle strap block heels. You can keep your accessories minimalistic or wear your choice of silver jewelry. Diamon studs would look extremely elegant.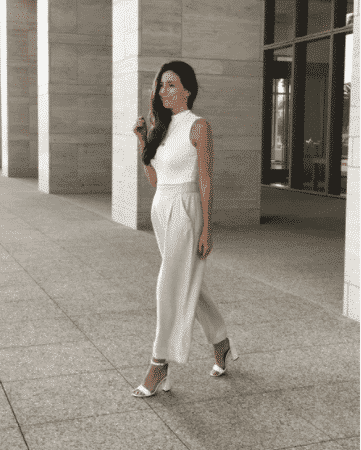 ↓ 18. Summer Brunch Attire
A summertime Sunday morning brunch with friends or your significant other is the stuff of dreams. Here's a fabulous option for the lady who wants a semi-casual, semi-dressy ensemble on a warm day. Pair a breezy animal print wrap skirt with a black crop tank. Silver hoop earrings, clear-strapped sandals, and a designer purse tie the look together in a big way. Add your choice of sunglasses and a few stacked bracelets.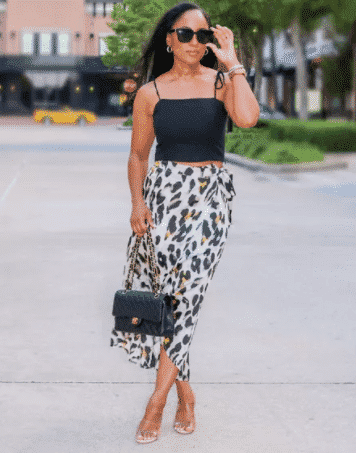 ↓ 19. Brunch Outfit for Petite Ladies
Nude heels paired with a beige skirt, white crop, and white purse are all elegant, classic colors, perfect for brunch. Need sandals or heels will help elongate a petite leg. Try and get a little bit of a heel for extra height.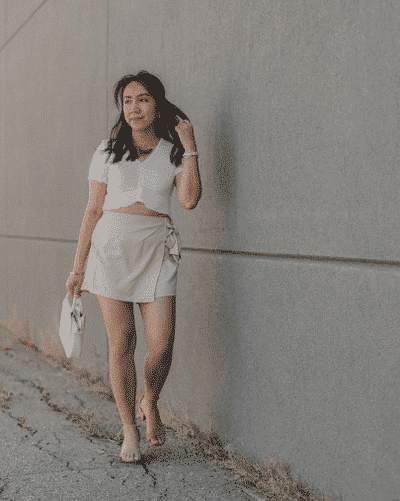 ↓ 20. Blazer and White Booties
If you love a business-chic look, this outfit is the one for you! Perfect for early fall weather, this ensemble is bright, eye-catching, and still elegant. Pair a top in the color taupe with a blazer or jacket and add your favorite cropped jeans. White cowgirl boots (not tall ones) tie the look together in an unexpected way. Add a pair and minimal jewelry.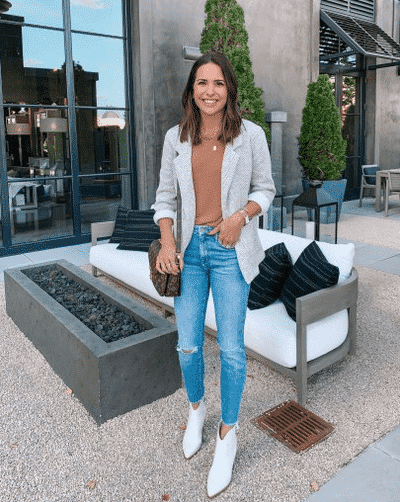 ↓ 21. Shirt-Dress and Turban
For the lady who loves to show off her cultural heritage, this beautiful ensemble is wonderful for a Sunday brunch affair. Here are more ideas on how you can style a Shirt Dress.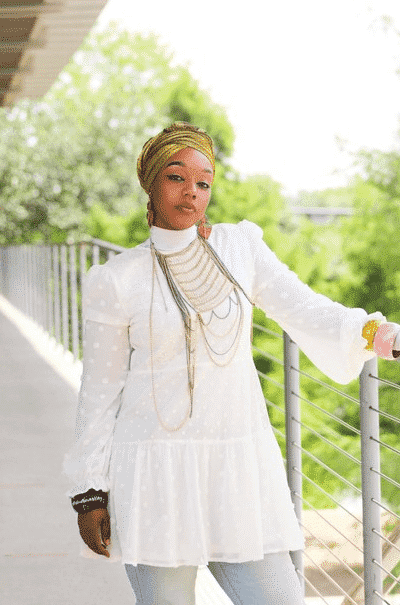 ↓ 22. Pinstriped Top and Jeans
For Sunday brunches, light, summerlike colors are preferable. This outfit shows a great example of them. A lightweight pinstriped top paired with white jeans and slip-on sandals is wonderfully stylish while remaining casual. Accessorize with silver hoop earrings.

Frequently Asked Questions
Here are some frequently asked questions about Sunday brunch attire.
Q.

What to wear to brunch in the fall?

A. Dressing for a Sunday brunch in the fall is one of the best opportunities to indulge in some lovely fashion. Not only are the seasonal colors flattering and eye-catching but the typical textures, fabrics, and materials can add a wonderful dimension to a common brunch look. Stick to neutral colors (with a little pop-of-color, perhaps in an accessory or a pair of shoes) and keep your ensemble elegantly cozy without getting too casual. A sweater dress is a lovely option; or a pair of jeans with a blazer and neutral top.
Q.

What to wear to a family brunch?

A. Depending on how casual you expect the brunch to be will determine your outfit for a family brunch. Luckily, with a family brunch, you don't need to have any qualms about pestering the host for suitable attire! (We kid.) But in all seriousness, start by finding out what the expected dress code is. You also need to factor in the season and the weather. Then you can work on your look. For a casual get-together, try outfit #9 in this post. For something a little more dressy, consider outfits #2 or #5.
Q.

What do you wear to brunch plus size?

A. As with any occasion, highlighting your best features (beautiful legs, a shapely waist, shiny hair) is key. Structure your look to bring attention to those features. Well-tailored clothing is also important. Avoid anything baggy or shapeless. Stick to neutral colors; or, as with outfit #7 in this post, a solid-colored blazer paired with some patterned high-waist pants is a gorgeous option. Take a look at outfit #16 as well for further inspiration.
Q.

What is considered Sunday best attire?

A. If you would be comfortable wearing it to church, you can assume it's Sunday best attire!