Shirt Dress Outfits-Summer is just around the corner and every girl is worried about updating her wardrobe. Women are planning shopping sprees to buy newer clothes which are high on trend within the market; could be party wear, simply casual or office wear. Well, before you go out for your next shopping spree, do keep an eye on the classic, evergreen shirt dresses which high in demand this season as these are the most versatile garment pieces available right now.
Talking about the shirt dresses, what actually is a shirt dress? Well, the name is enough to give away the entire definition. A shirt dress is one button-down shirt piece which you can slay as a dress just anytime. Ain't it the coolest clothing piece which can be styled in various chic ways and can never get too old or boring? Wear these to parties, working, brunch or a romantic date, this is going to be your best friend when it comes to picking the ideal outfit. These unique dresses can be worn in the house with slippers or for a day out with friends, however, the turning point is the styling of these classic pieces. Creativity is the key to best styling. Moreover, since you are reading this article that means you are quite interested in shirt dresses and want to borrow ideas for creatively wearing these beautiful yet comfortable dresses.
How To Wear Shirt Dress?
Before we move on, do you know why the shirt dresses are being known super versatile in the market? Well, it quite simple, these are the clothing items which can transform your entire look with just one or two extra accessories. These are easy to locate in the market as it is only about buying a shirt that is three to four sizes bigger than your own or you can easily turn your (or your guy's) oversized shirts into a shirt dress for yourself.
Here are some simple tips on wearing your shirt-dress like a pro:
If you have a skinny waist then show it off with your shirt dress by adding a belt which accentuates your waist and compliments your curves in the best possible way.
The shirt dress is going to remain in trend for a long period of time so invest in quality ones. However, in case you cannot afford the designer pieces, simply try to play with the local oversized shirts available in the market. Keep your optimistic fashionista's spirit high while shopping for these classics.
Use accessories like hats, scarves, and jackets for creating your own fashion statement.
The fitting of your shirt dress should compliment the shape of your body. If you have a broader structure, then a fitted one will give it a prominent shape while wearing a fitted one on the super-thin body will make you look even thinner.
Always play with your shoes as shirt dresses are not that complex to style with. Your shoes can definitely give away if not a whole but a piece of your personality.
Avoid colour blocking when wearing a shirt dress since they're all about simplicity and trendiness. Experimenting with colours will only beautify your entire look.
Do not opt for a shirt dress which is too short for your taste. The length of the dress should be proper, not too revealing yet not completely hiding.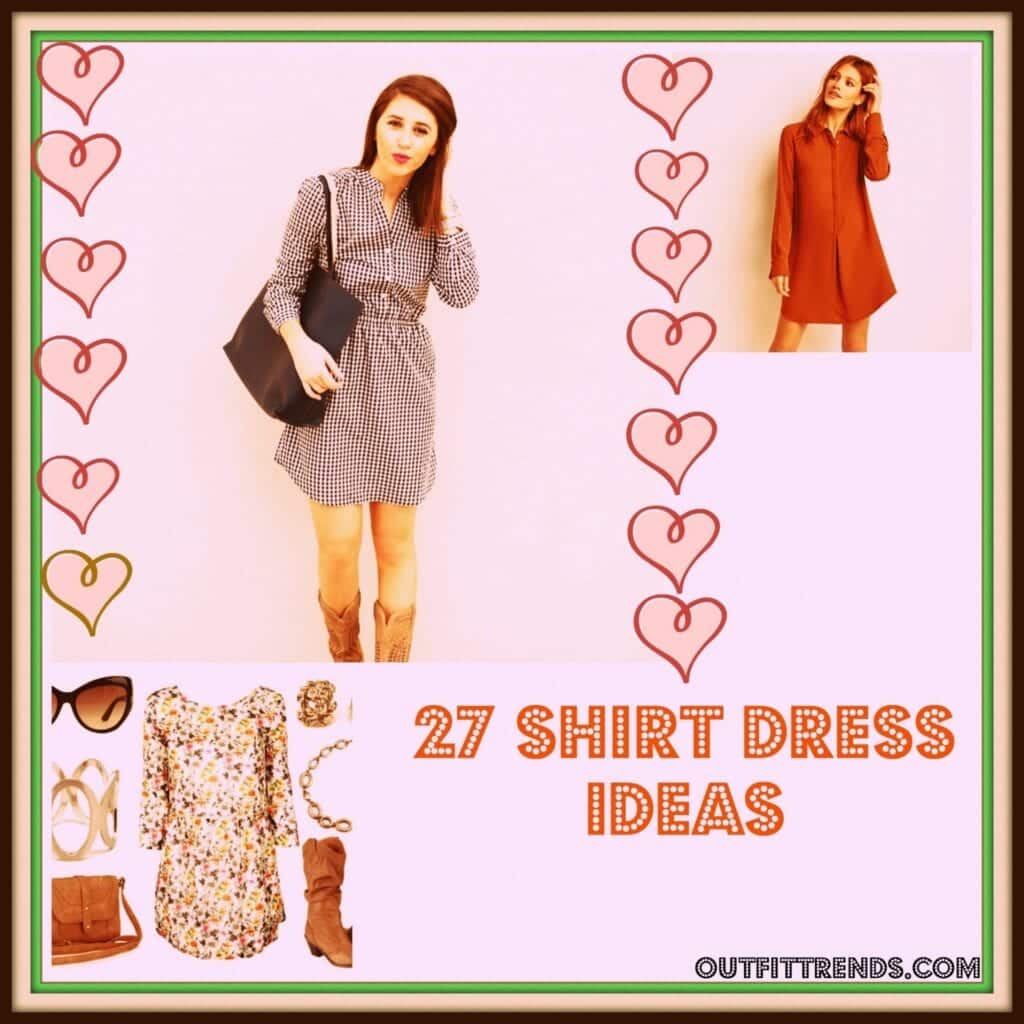 Aren't these shirts yet dresses are super cute and high-grade fashionable as you can walk around the streets in them without putting too much effort on your look and also, slay them as luxe garments at the parties. Shirt dresses are usually considered ideal for summers, however, it is no sin to wear them during winters using a little bit of imagination and effort; all you require will be some skinny tights or skinniest jeans of the town and you are ready to go. Also, these are ideal for girls who wanna experiment a bit but prefer to go for modest outfits only. Going through the 27 outfits below will make you your own fashionista and by the end, you will have a clear idea of when and how to wear a shirt dress.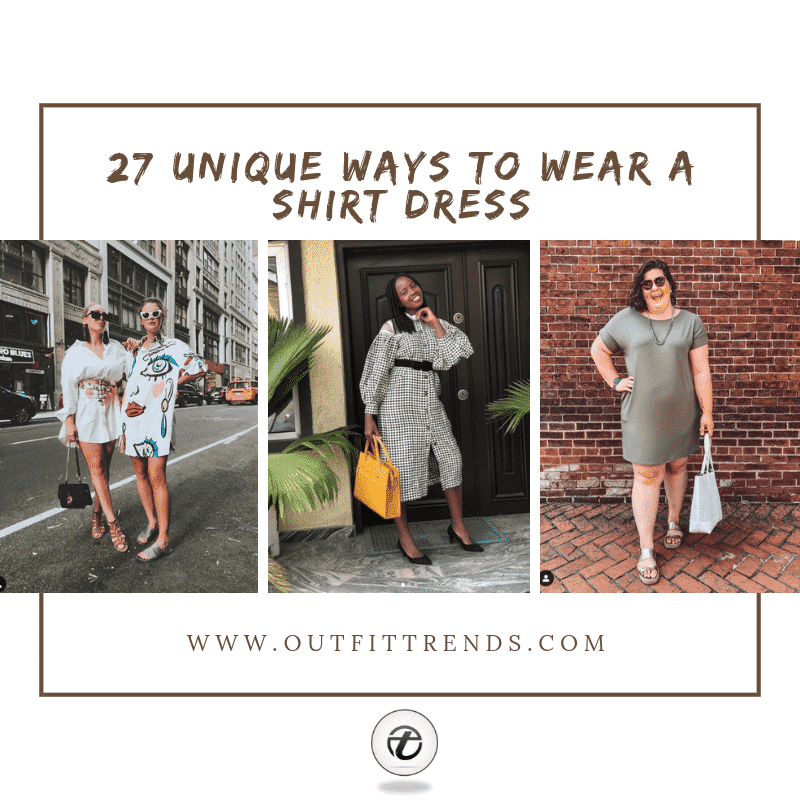 ↓ 27 – Shirt Dress for Clubbing
Shirt dresses in solid colours are the best option because you can create hundreds of different looks with them. Everyone opts for something on the glamorous side when it comes to nightlife. Black is the highly-preferred shade as nothing can get darker than black, especially for clubbing as black is going to look ethereal in all the glitz and glam. You can add a little sequence to your dress shirt for slightly luxe approach. Wear the tiger print heel and a matching bag to add a charming touch to the simplicity of the dress. For some more cool looks, you can check out these Beautiful Evening Dresses for Women this Season

In case you have the ideal model-like figure, you can go for something more revealing. A strapped silky thigh-length dress from Zara in solid black can be paired with a glittery sling bag and studded slides. The dress is supposed to be fitted to compliment your body type. Get ready for grabbing a lot of attention from the fashionistas out there.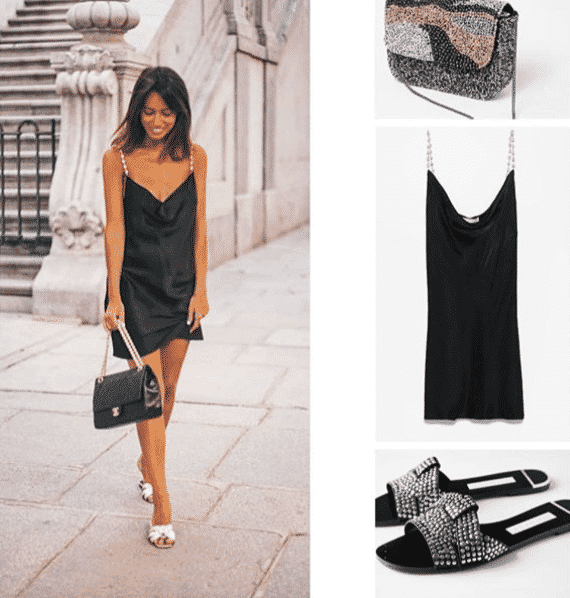 ↓ 26 – How to Style it for Lunch?
A plaid shirt dress is one of the great choices for casual lunches. You can add a fedora for a style statement and high heels if you are short heighted and want your legs to look a bit longer than they already are. In case it's a casual lunch date, you can opt for white converse as well. A red sling bag is all you need to spice up your outfit. Such an outfit can also be worn to professional meetings, interviews or presentations since they give off very professional vibes.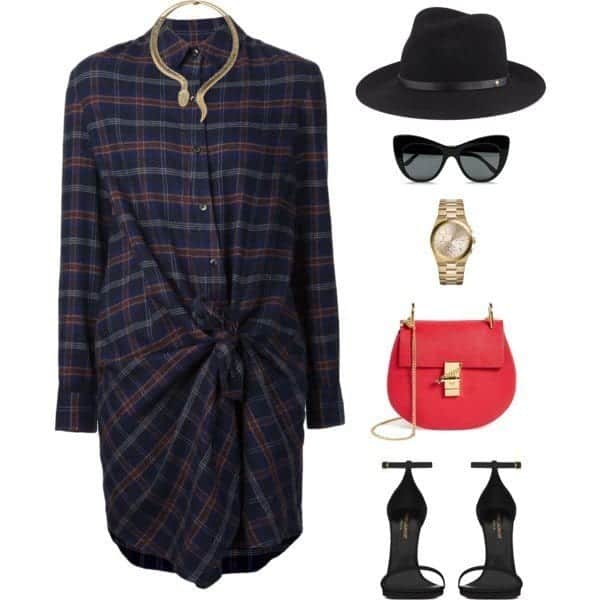 Pastel pink button-down chiffon dress with a leather brown belt is ideal for a lunch date with friends. Style it with silver bangles and matching silver sandals and you are ready to slay your lunch like a queen.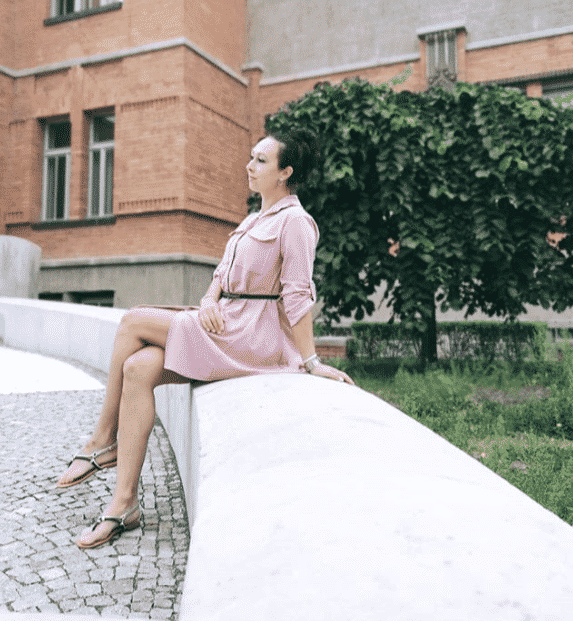 ↓ 25 – Tee Dress for Curvy Women
If you are a woman with a fuller body, then a t-shirt dress is ideal for you in case you are going for some grocery shopping or some casual lunch. Make sure its mid-length and you can rock it with some wedges or white classic sneakers. A white tote bag with it and you are all set to go. Since the look is super casual, it does not require many accessories but a neckpiece and a bracelet won't hurt the look.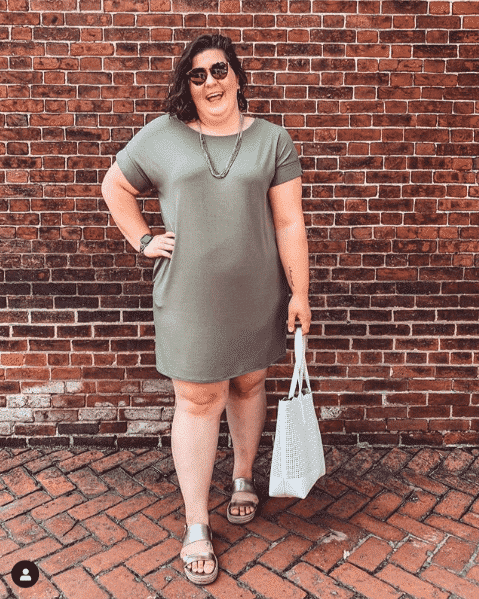 ↓ 24 – Office Shirt Dress Look
Monochromatic tones are preferred by most of the working women out there as these are considered to be quite formal when looking for professional wear. A gingham print long button-down dress with some net embellishments around the neck and solid black belt is what you need to wear to work on a Monday. The classic black high-heel pumps which are owned by most of the working women will do fine with it. Leave your hair draping around your shoulders or you can straighten them for a bit of shine and gloss. Go for a bold lip colour like blood red or maroon to add glam to this look.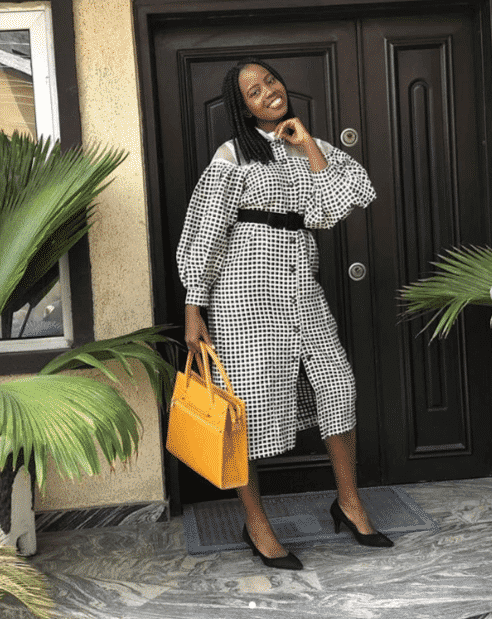 Another entirely different look you can create with a beige button-down dress shirt is through layering. A short all-white luxe onesie with pleated sleeves will look exceptional with a beige or skin coloured shirt dress on top of it. Go for matching beige heels and a white duffel bag to finish it off. A soft pink lip shade and a sharp winged eyeliner will do justice to this enchanting look.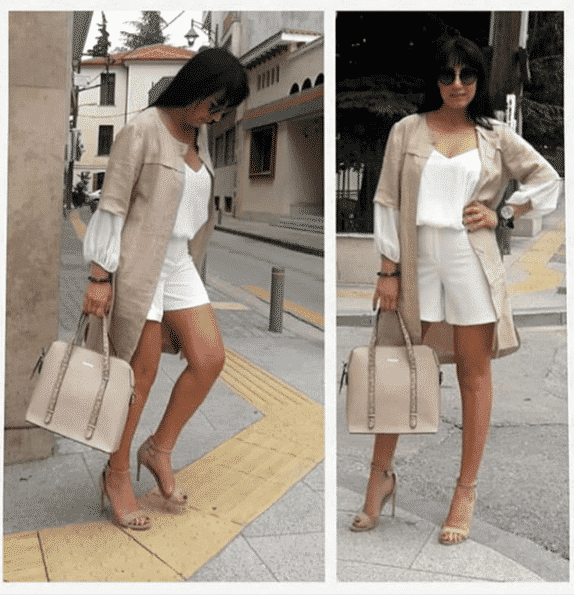 ↓ 23 – Funky Picnic Look for Young Girls
Why not go for something on the quirky side when going for a picnic or beach day with your friends or fam? Add a little funk to your look by wearing artistic white collared shirt dress in a quirky style. A printed white button-down shirt or a white shirt with a funky corset to accentuate your thin waste is something all of us would like to experiment with. Wear these with funky shades and Fergalicious classic gladiator sandals. Go for minimal makeup with this look or simply a neon coloured winged eyeliner or mascara.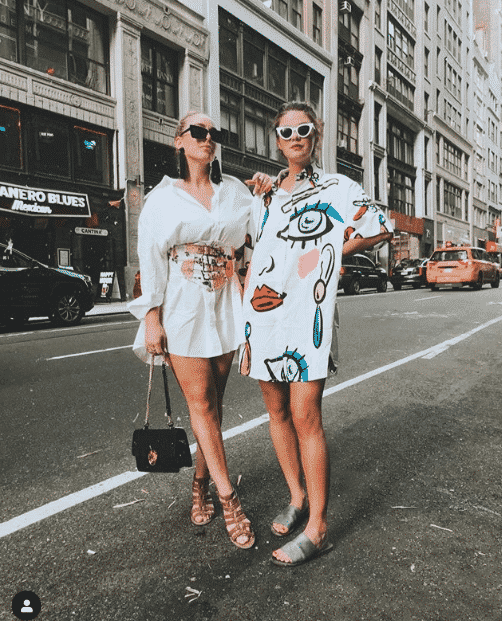 ↓ 22 – How to Wear Shirt Dress to Beach?
This look is for women of any age. You can rock a tie and dye shirt dress on a day out at the beach or to some seaside. Wear it with cute white flipflops and do not forget to carry a sling bag containing essentials with you. Rosy cheeks and tinted lips will look best with such a look. Diamond cut studs are perfect for your ears with this shirt dress.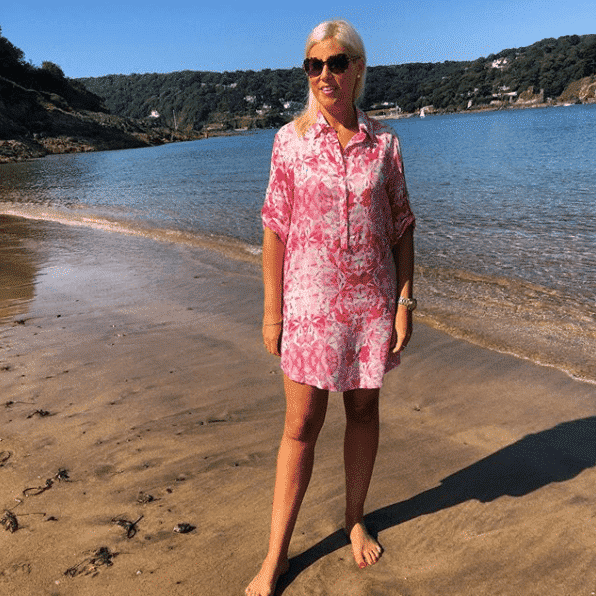 ↓ 21 – Amp Up you Look with Over the Knee Boots
You can rock a check print long dress shirt with suede black knee-length boots during fall with bold red lips and hoop earrings. If you love check prints, don't miss out these Plaid Blazer Outfit Ideas.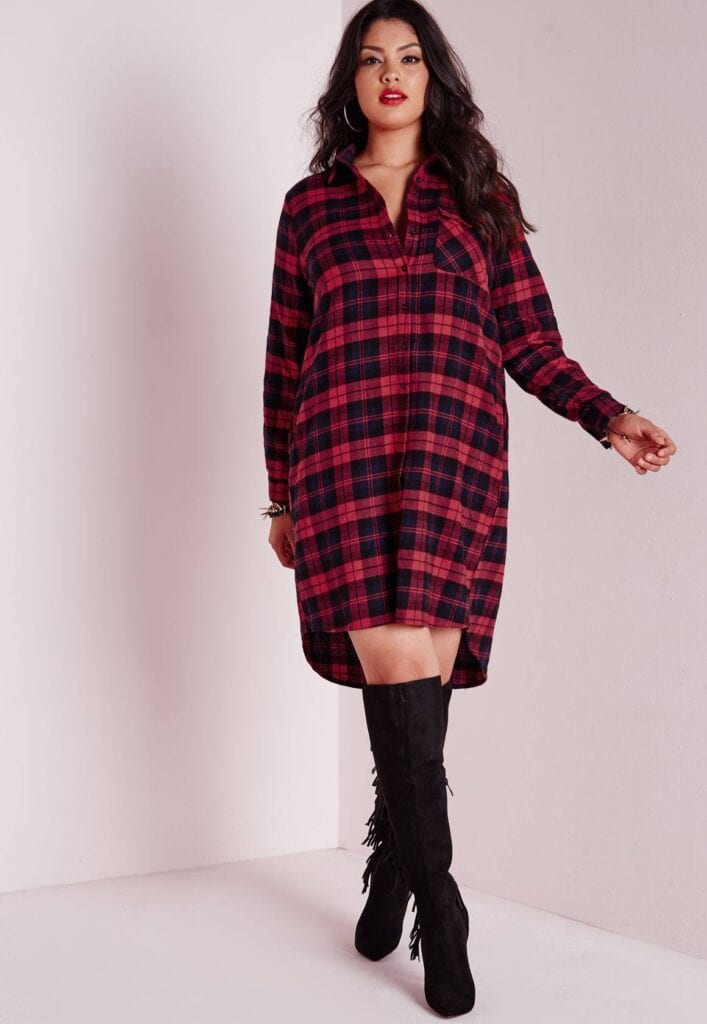 Source
↓ 20 – High School Girl Look
Such a sweet and chic look! Ain't it? Wear this horizontally striped tee dress to school or college with leather boots and long chains. Add a leather bucket bag to enhance this look.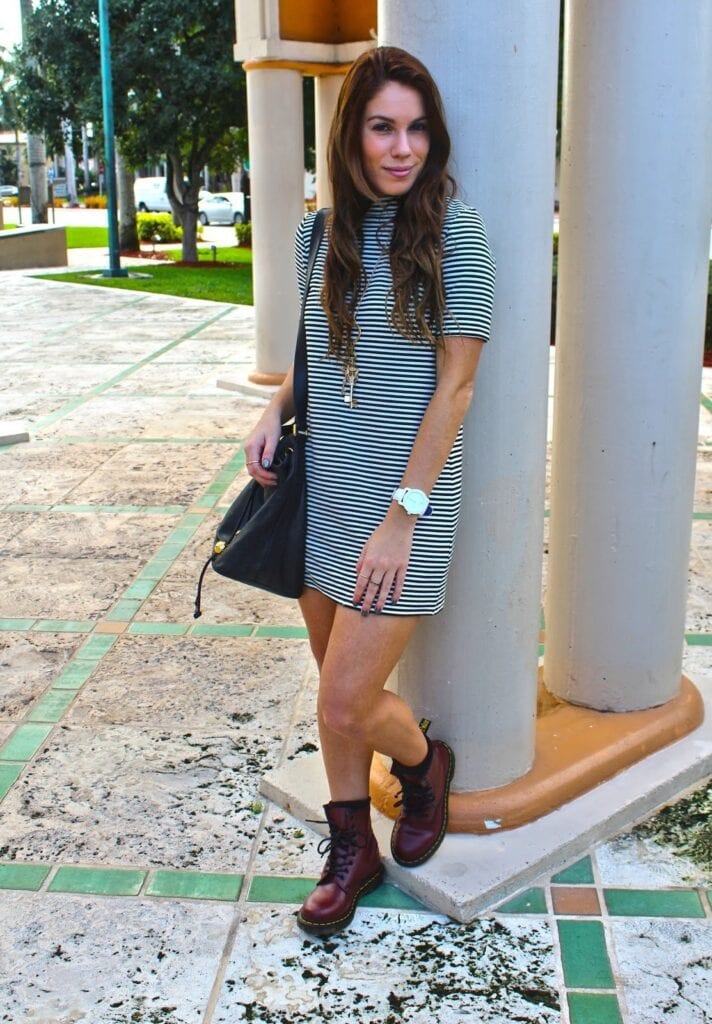 ↓ 19 – Parisian Stripes for Daytime Date
The classic Parisian look with a striped collar shirt dress and thigh-length boots is your way to go on a lunch or coffee date.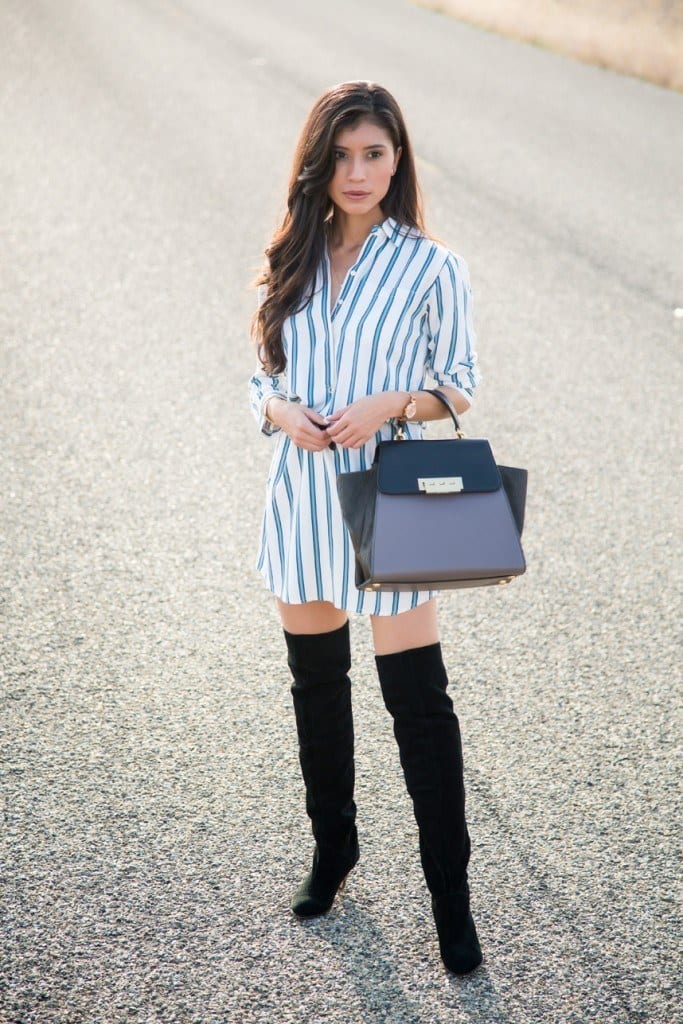 ↓ 18 – How To Layer Your Shirt Dress
Wear a round neck checked wool sweater over a simple white long dress shirt and peep-toe high heels.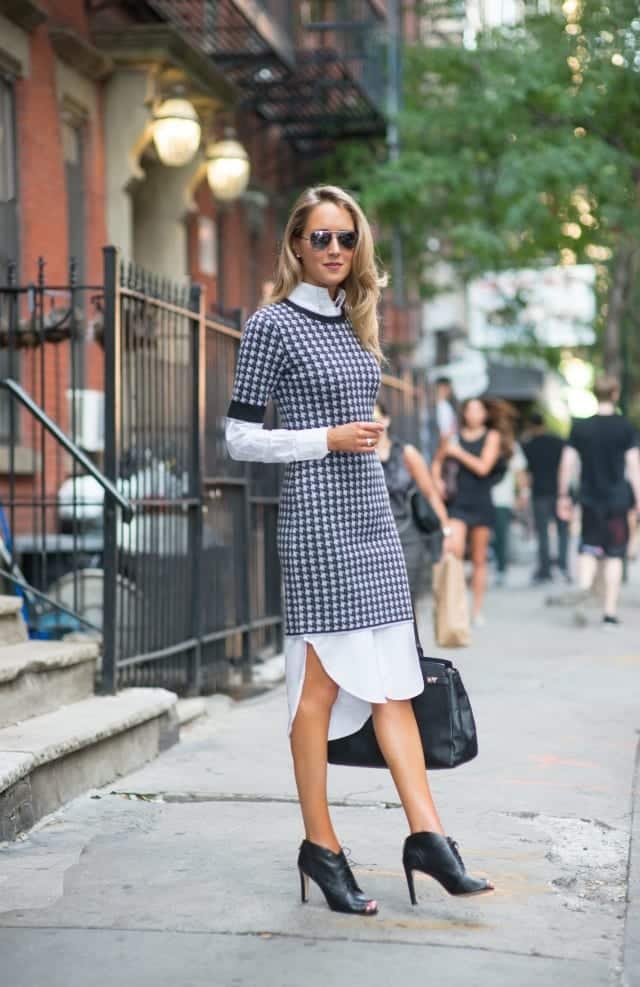 ↓ 17 – Perfect Streetstyel with Shirt Dresses
Get this Olivia Palermo's classic look with a high-necked white shirt dress and studded boots.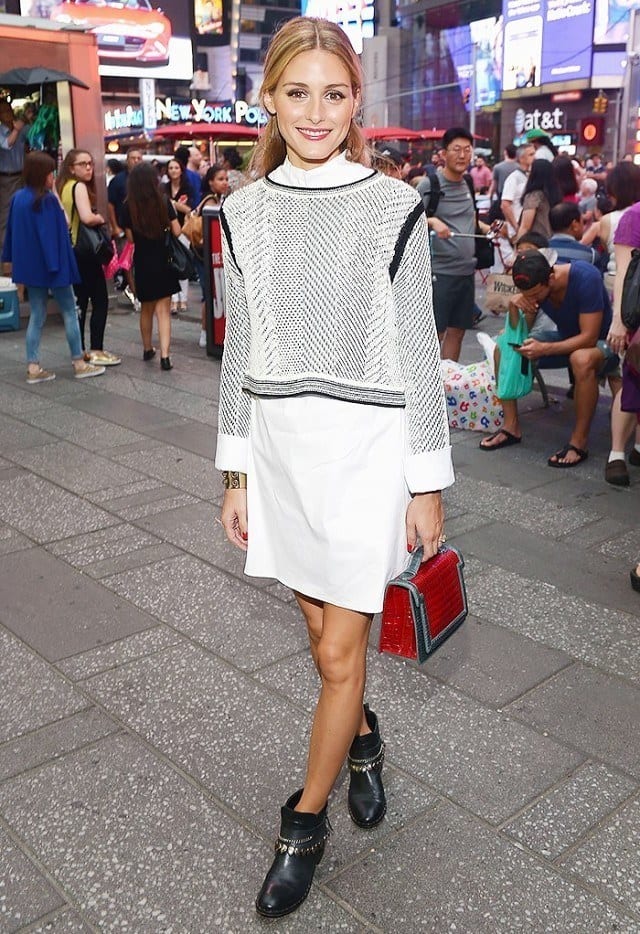 ↓ 16 – Holiday Shirt Outfit
Rock a navy shirt dress with big white and navy printed scarf and beige hat on your vaca.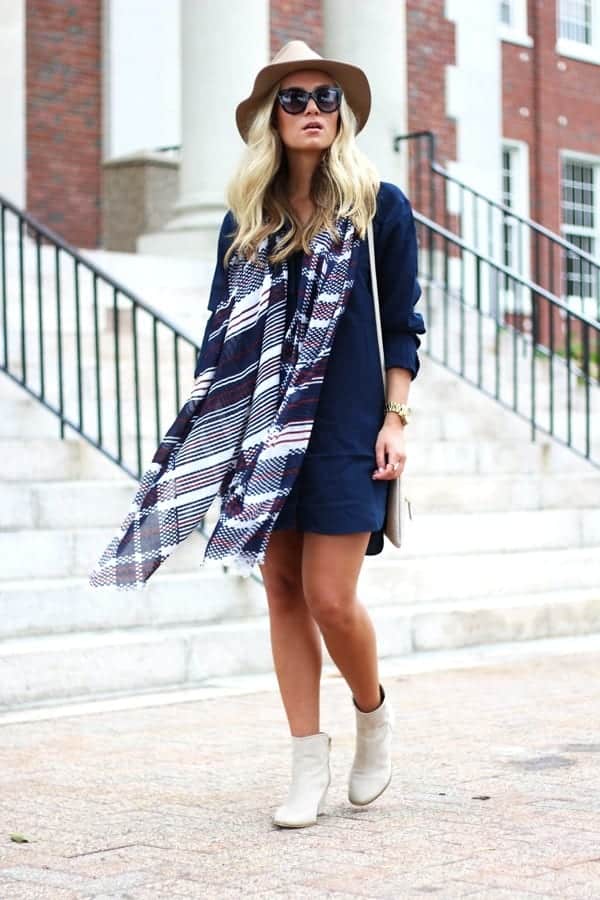 ↓ 15 – Formal Summer Style
Statement heels can really help in making a simple cotton striped shirt look formal during summers. Shirt dresses also look great when worn backwards, for more ideas on this, check out our earlier post on How To Wear A Backward Shirt.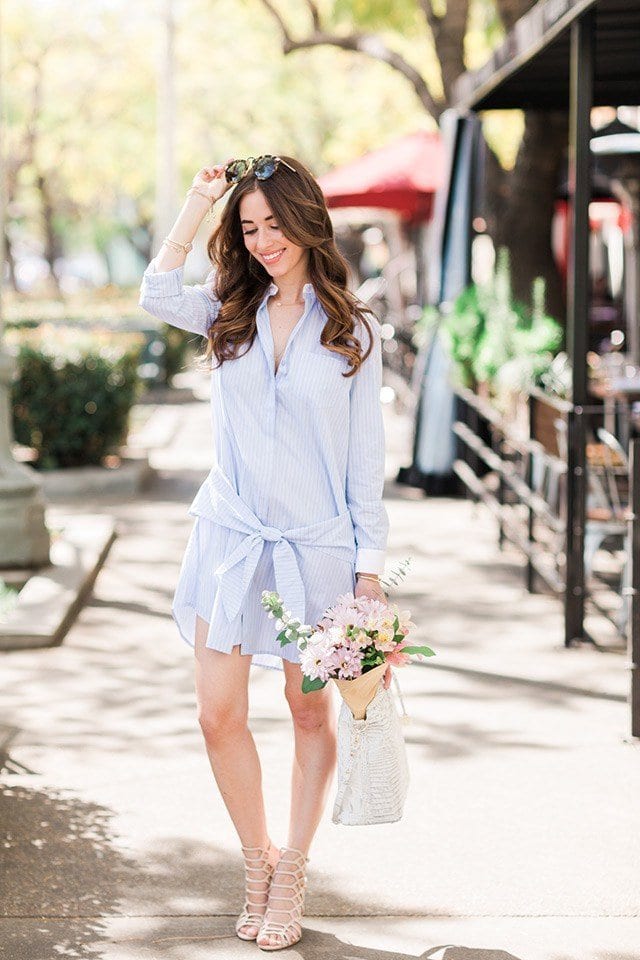 ↓ 14 – Formal Vintage Ensemble
Vintage-inspired fashion has always been considered unique. Dress up in this polka dot navy frock style shirt dress and silver glossy shoes.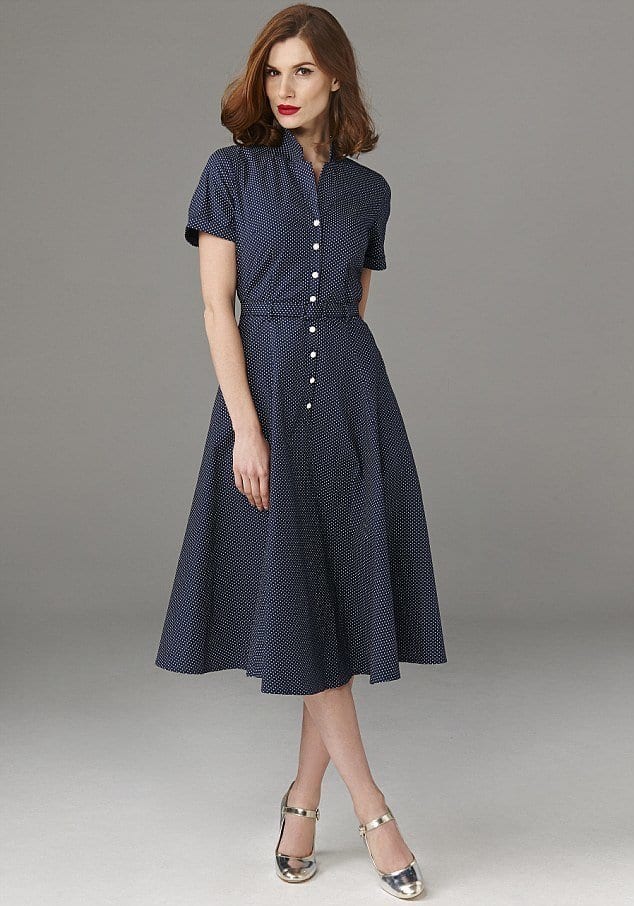 ↓ 13 – Dress Up for College in Style
A printed shirt dress with a tote bag and a chain statement watch is the way to dress up for college.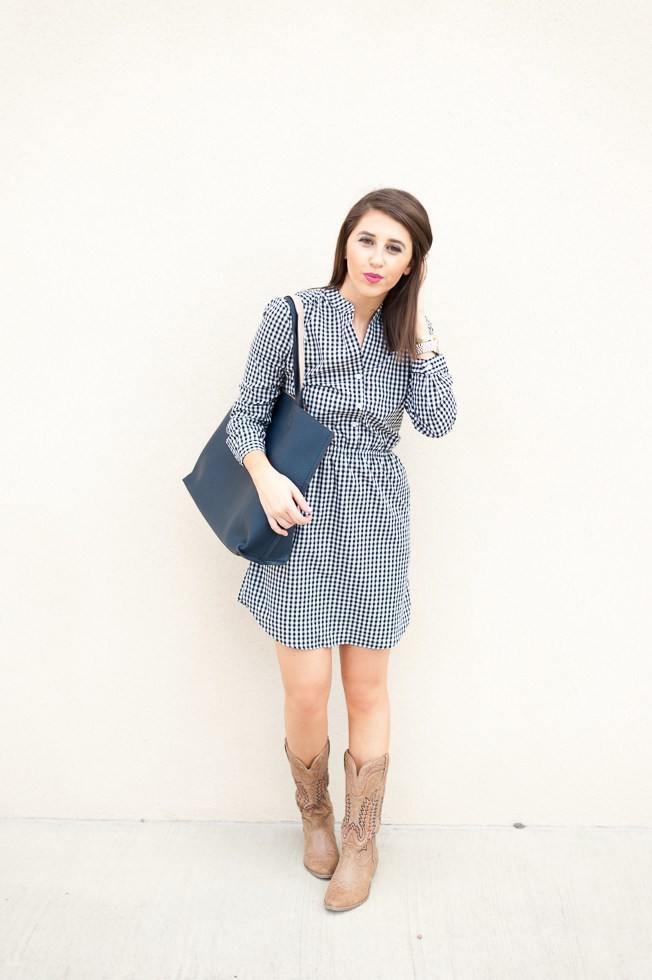 ↓ 12 – Style Like a Celebrity
Shirt dresses are totally street style material which is why celebrities are seen rocking them all too often. Here's Olivia Palermo wearing her shirt dress with a sweater around her waist and those mirrored sunglasses are making her look even cooler.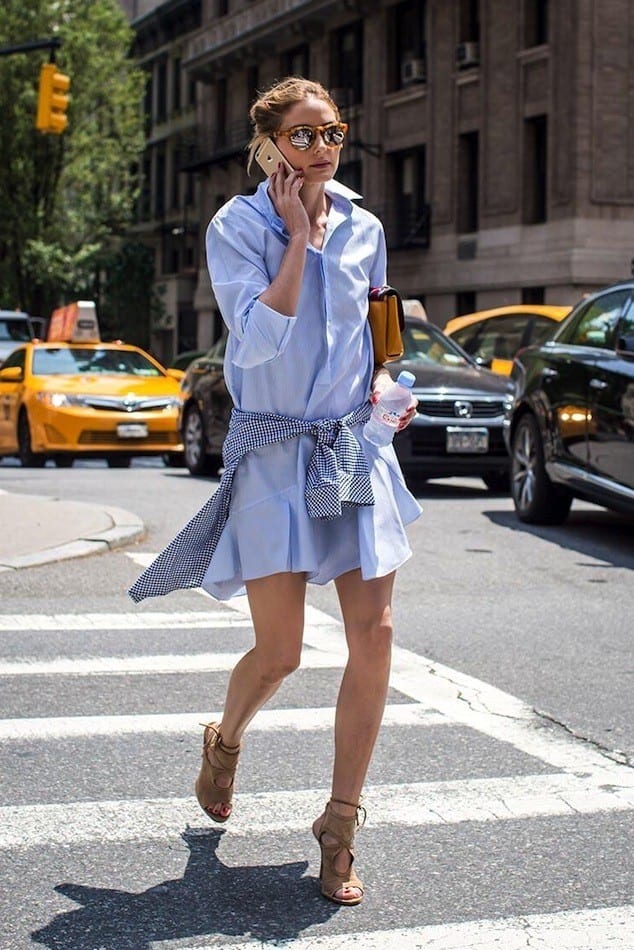 ↓ 11 – Safari Look
Amp up your safari-style with this olive green collared button-down dress with black gladiator heels to mark your statement.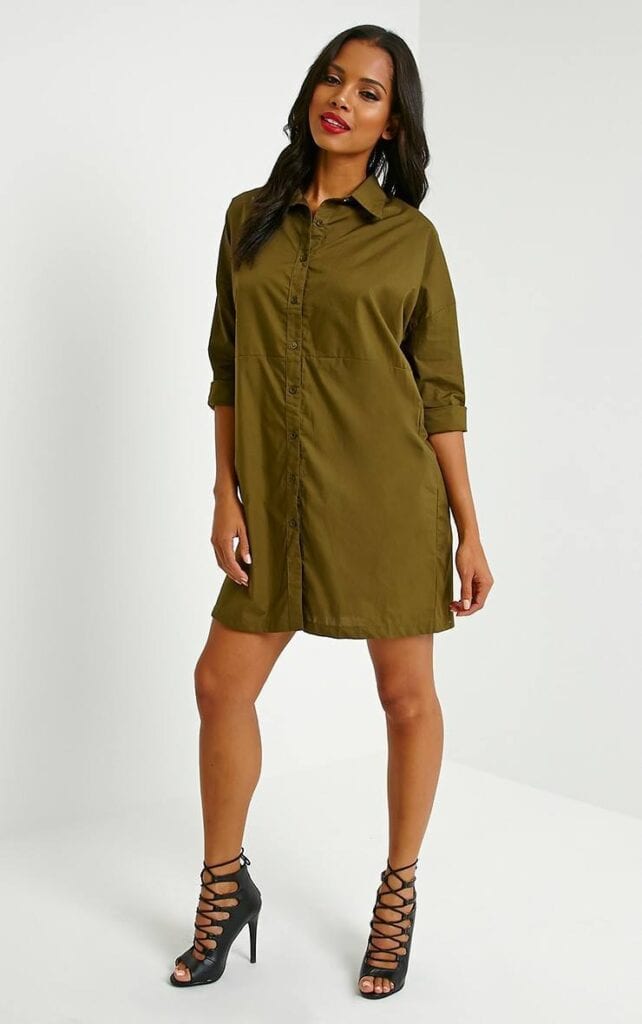 ↓ 10 – How to Rock a Printed Shirt Dress?
Wear this classic Bohemian style shirt dress with a sheer bra top underneath for some festival this season.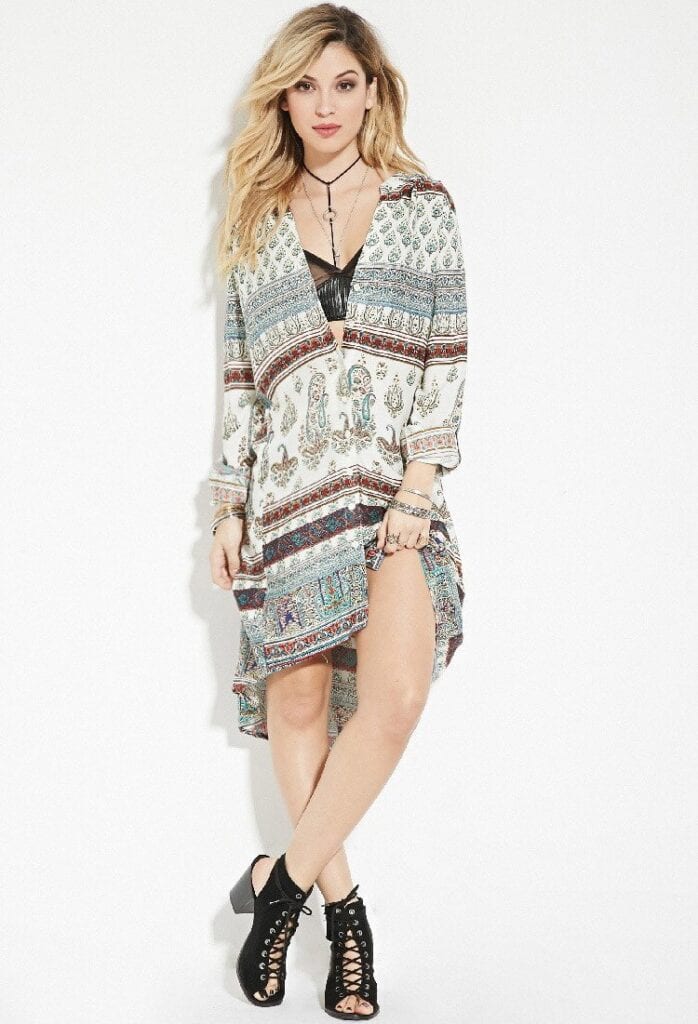 Source
↓ 9 – Elegant and Classy One Color Dress
Invest in this beautiful purple piece with floral embellishment and grey boots for a classic summery neutral look.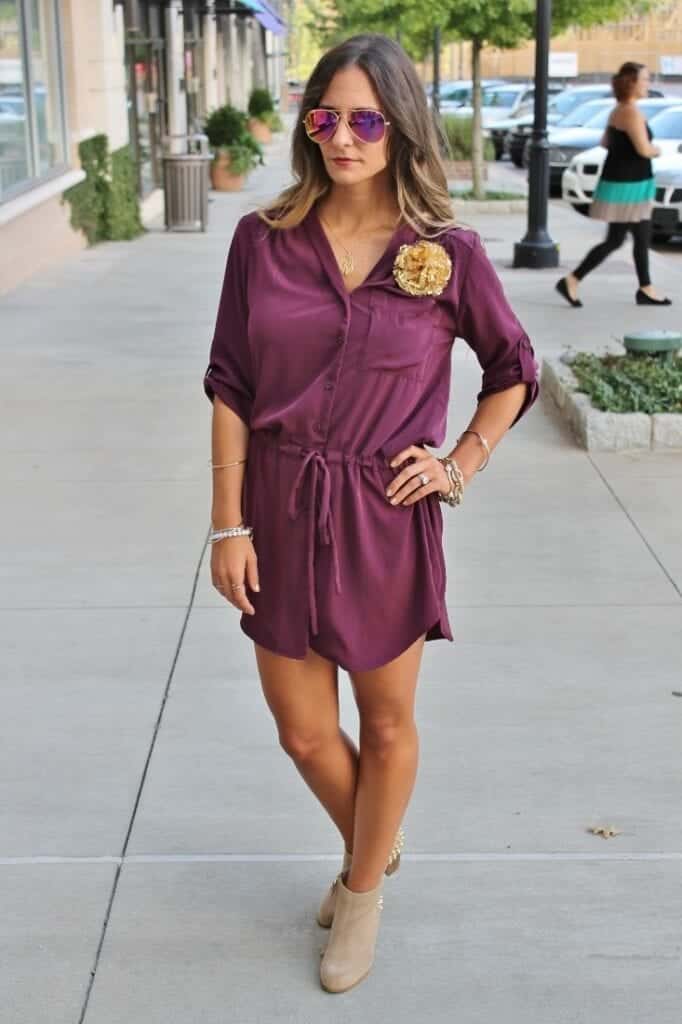 ↓ 8 – Swaggy Shirt Dresses
A collared shirt dress with a check print and a belt around your waist is the simplest way to style in swag.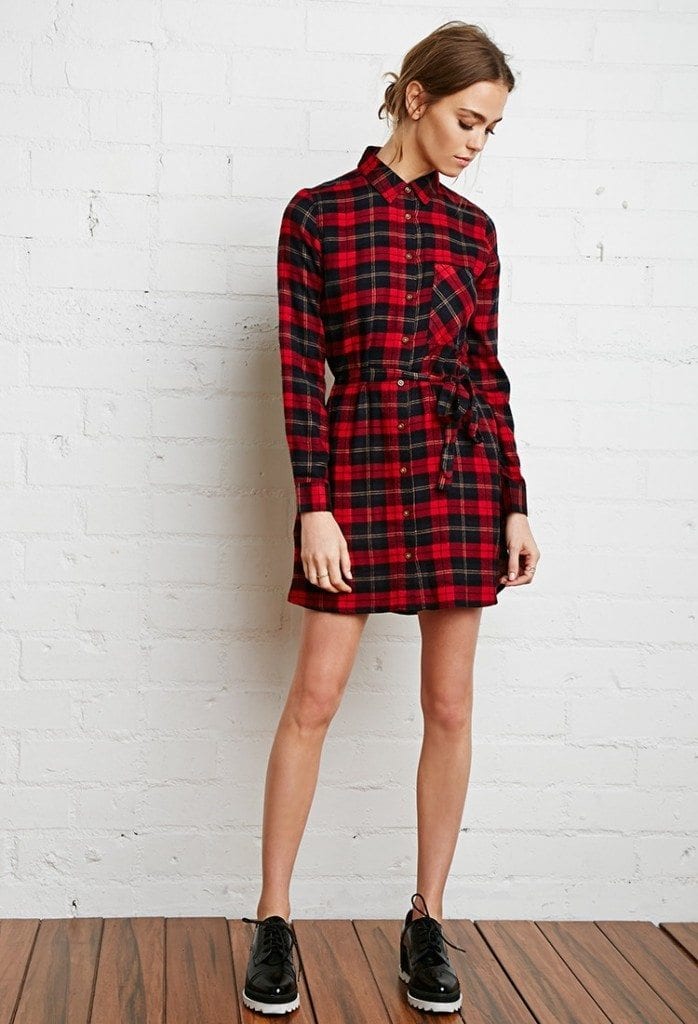 Source
↓ 7 – Midi Maxi Dress for Warm Weathers
A mid-length maxi is an excellent choice for church on Sundays. Wear your white sneakers and put on a straw hat and you are fit to go.

Source
↓ 6 – Denim Shirt Dress Look
A high school girls best friend should be this plaid shirt dress. Comfort and coolness offered in one piece.

Source
↓ 5 – Chic Collared Shirt for Baby Shower
Have been invited to a Baby Shower? This is a very classy dress to wear with its light tone and simplicity.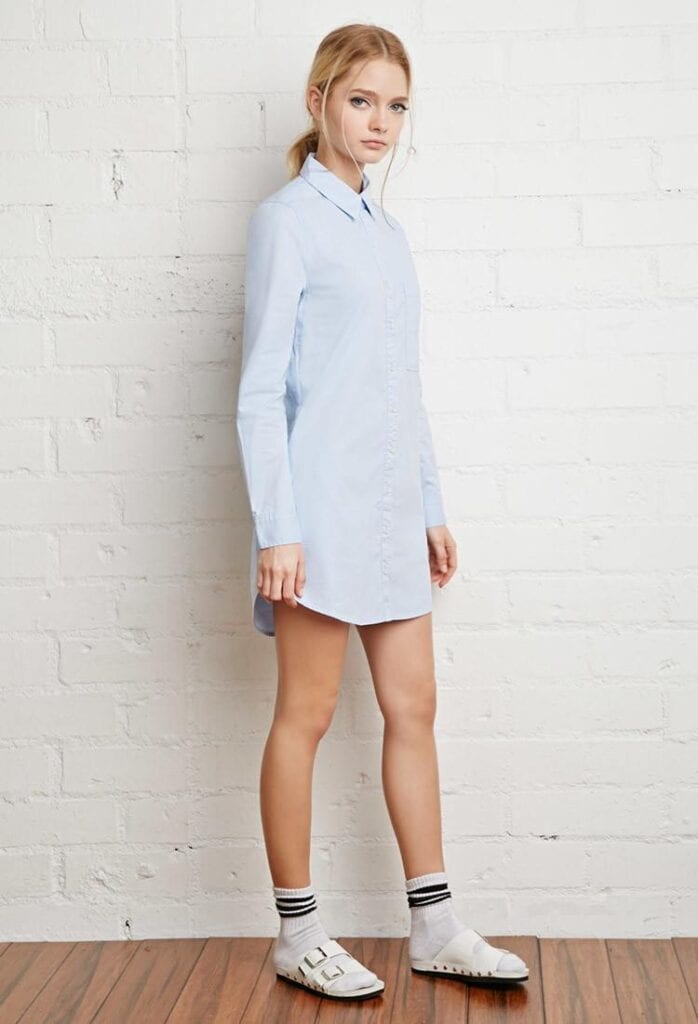 Source
↓ 4 – Scarves for a Cool Look
Loose-fitting cotton dress with self-print and the same coloured scarf are fit for a shopping spree.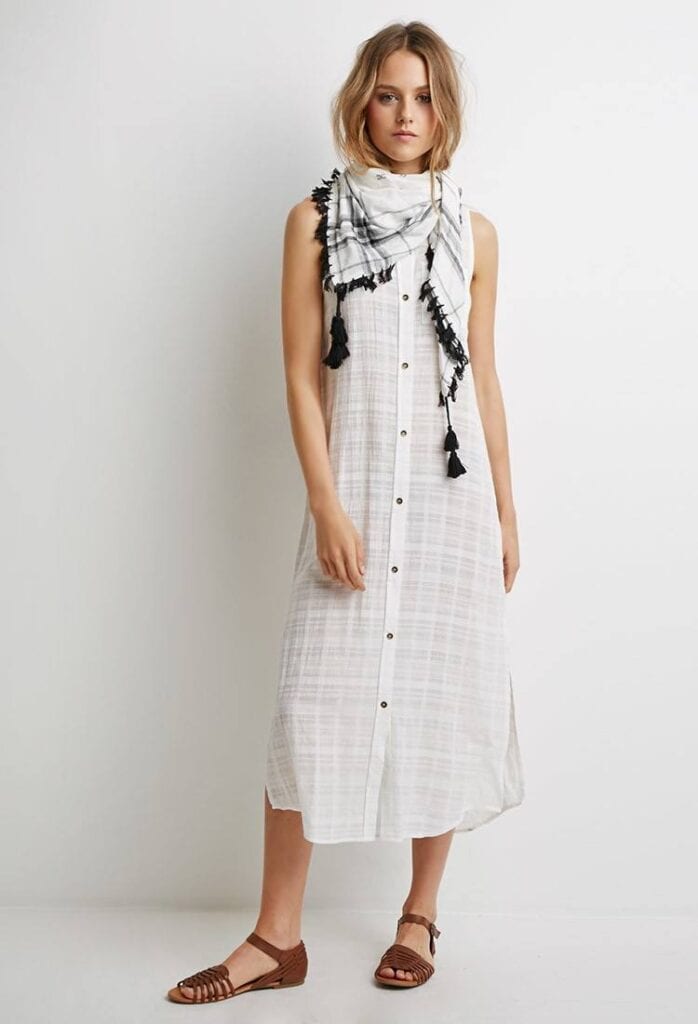 Source
↓ 3 – Off the Shoulder Top with Skinnies
Off the shoulder tops with flare and frills look chic when paired with white pants and baby pink heels. It can be worn to a number of events during this holiday season.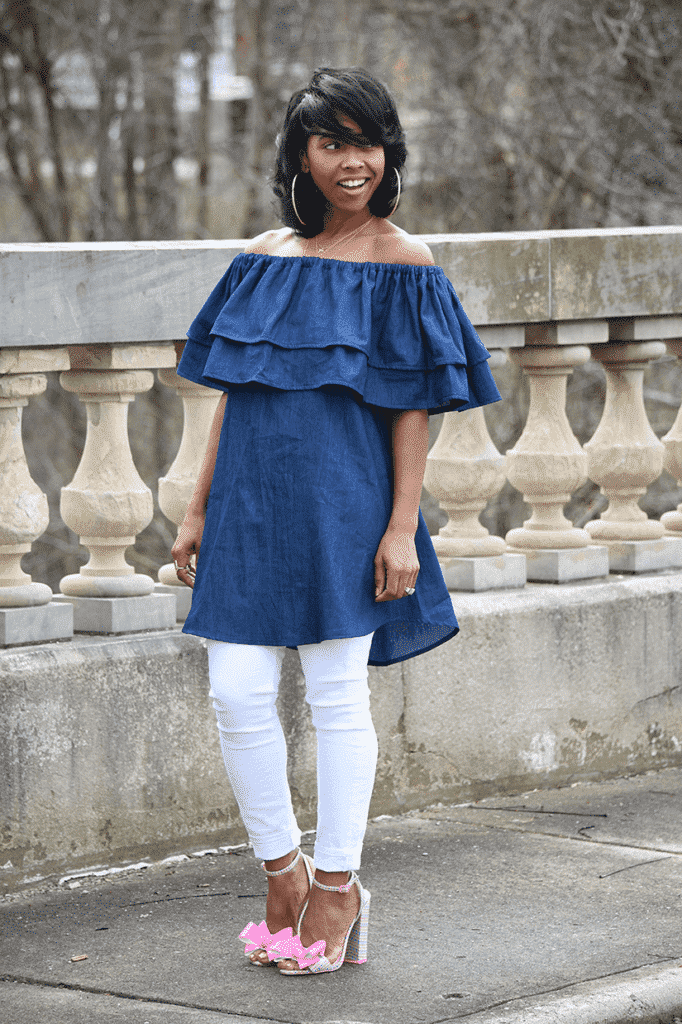 ↓ 2 – Denim+Sporty Look
Denim is the favourite American piece of cloth and this shirt dress combined with a neck scarf looks super cool and sporty with low-top basic cons.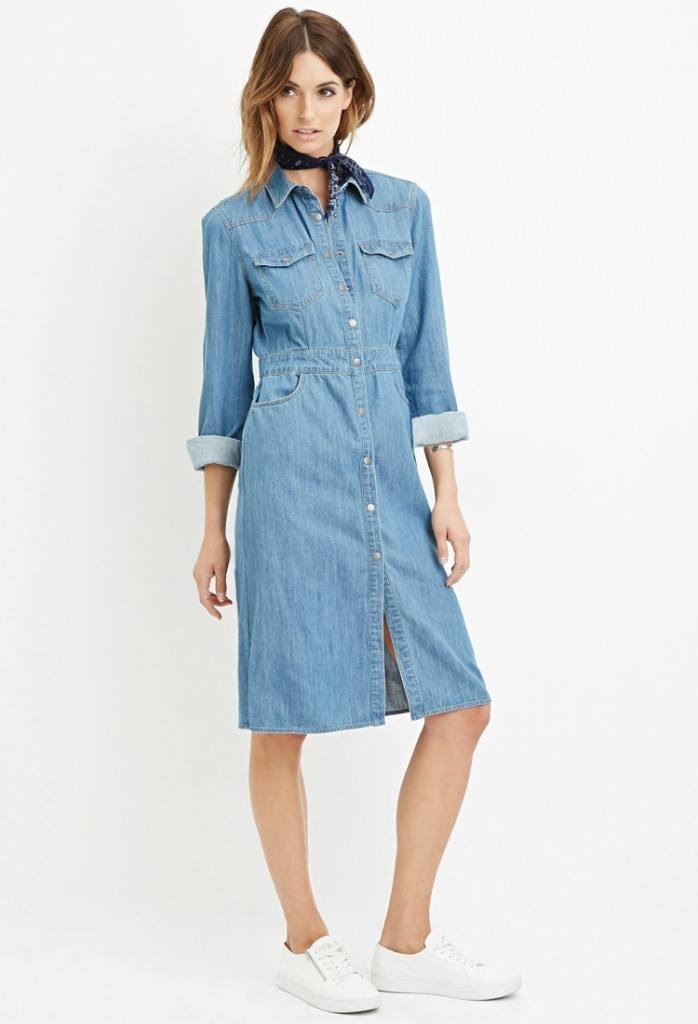 Source
↓ 1 – Style your Shirt Dress with a Leather Jacket
A leather jacket can add style to any dull outfit. Here black collared jacket with a scarf and a statement bag are looking gorgeous together. So wear your shirt dress with leather jackets in Winters for a swag look.