Church Outfit Ideas. Once upon a day, wearing your "Sunday best" meant that people only wore their very best dresses and outfits to church on Sunday. This was common for people who may have only owned two or three dresses (in women's cases, at least) and so, their most formal and special dress was worn only on Sundays when attending a service.
Today, of course, this isn't really the case. For most of us in the Western world, our closets are stocked with a variety of formal and casual options… and none of us would really consider a floor-length frock outside of a gala or extremely formal event. With so much to choose from these days, knowing what to wear to church can sometimes be a puzzling conundrum. For one thing, there are a lot of factors to consider. Is this church renowned for its specific dress code? Is it considered a very casual church? Is it okay to wear jeans? Is there anything you shouldn't wear to church? In this article, we will touch on some of these questions and more, as well as offer you 30 beautiful and appropriate outfit ideas that will hopefully bring you some clarity and get you pointed in the right direction.
How to Dress Elegantly for Church Services
Before we show you our top picks for what to wear to church, here are a few tips and things to keep in mind:
A general rule of thumb that holds true in most if not all cases when attending church is to dress modestly and with discretion. The church is a place of worship, not a social hangout. Be respectful and keep this in mind when planning your attire.
Most churches in the Western sphere are air-conditioned (not every country is so lucky) and are usually kept quite chilly in the summer. This varies, of course, but having a light cardigan or jacket on hand is always a good idea.
Avoid overly skintight clothing if possible as it is not usually considered appropriate.
You don't have to wear a dress or skirt if you do not want to. However, they are one of the most typical and common attires for women when attending church.
If this is your first time attending a particular church (or church in general) don't be nervous or anxious about what to wear! Coming as you are is what matters. Assess your wardrobe choices and try and pick whatever looks nicest but don't overthink it. When in doubt, a dress is always a suitable option but try and pick one that is not overly short or revealing. (Pro tip: if you are worried about a low-cut front or back, pop a light cardigan or shawl over it! It's an easy fix and will also keep you comfortable if the church is chilly.)
Dress comfortably and not too high-maintenance. An outfit that requires constant adjusting or fixing can be an annoying distraction.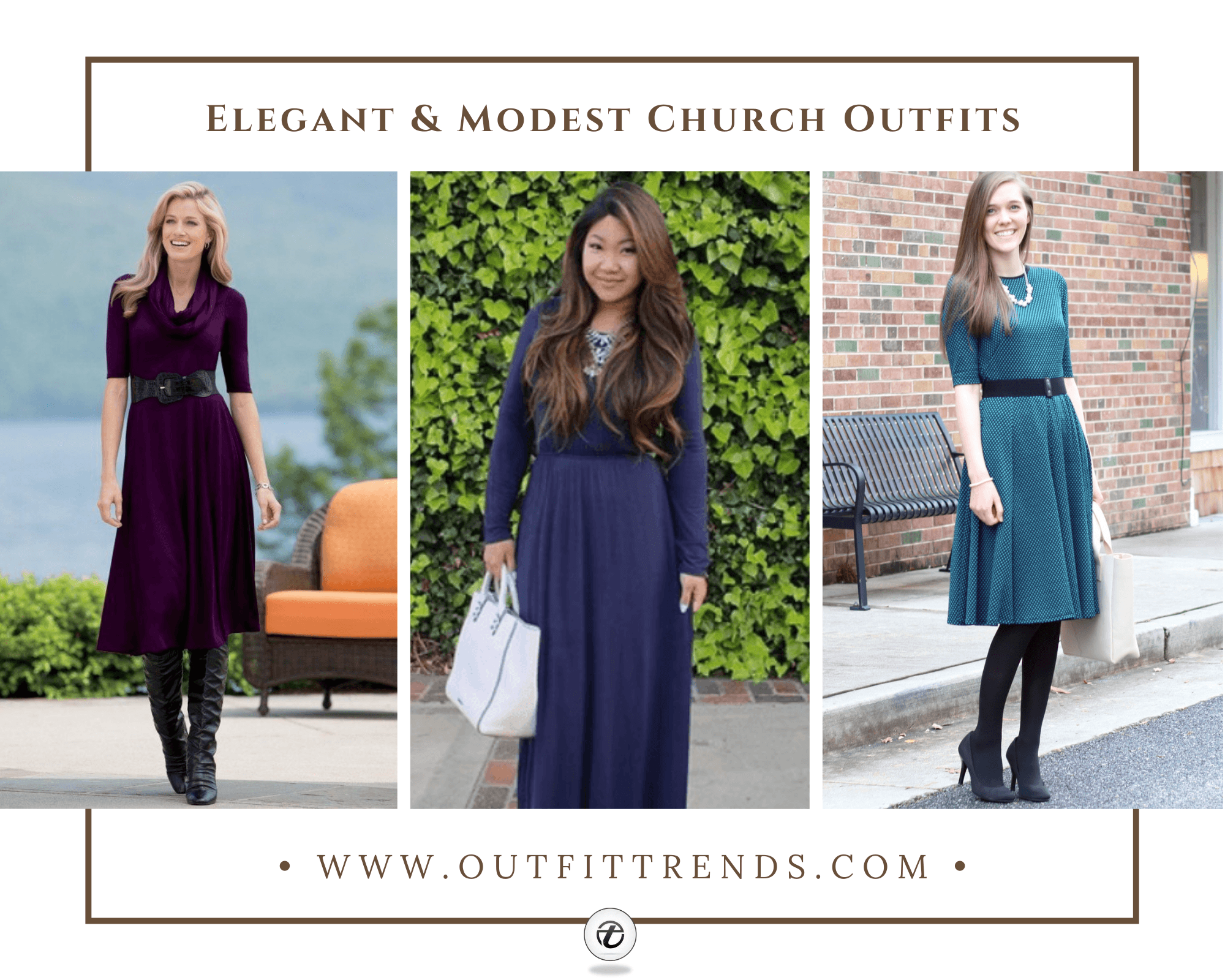 Here are our top picks to inspire you on what to wear to church.
↓ 30. Long-Sleeved Maxi Dress
Let's get started with an absolutely classic option: the long-sleeved maxi dress. For a dress like this, the sky is the limit on accessories and shoes. You can opt for a solid colored dress and brighten it up with a white purse, statement necklace, and heels, or sandals. Loose hair looks lovely with long dresses so consider that when styling your tresses.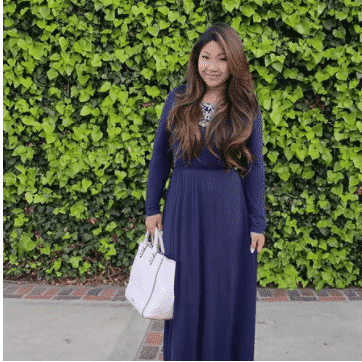 ↓ 29. Denim Headband and White Eyelet Dress
We absolutely adore this white button-front eyelet dress worn with gold hoop earrings and denim knotted headband. For this look, you can wear sandals, flats, or heels to complete the outfit. Love!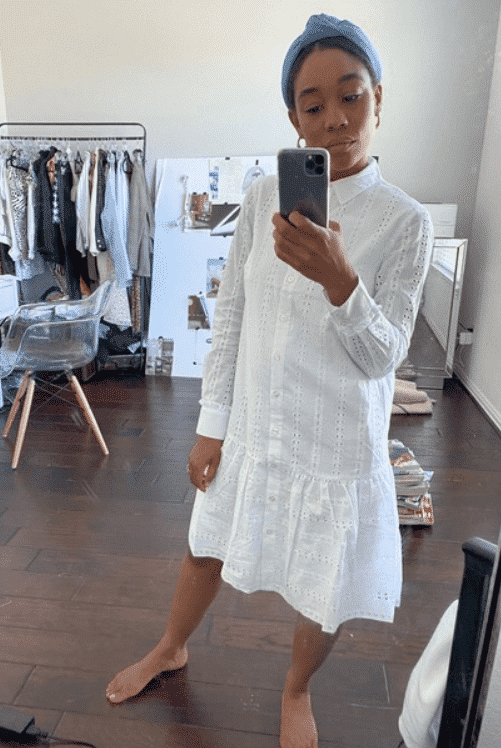 ↓ 28. Simple, Stylish Church Outfit for Moms
In the hustle and bustle of getting little kids washed and fed and dressed in time for church, putting together an outfit for yourself may feel like one more task you might never get around to. If that sounds like you, why not give a simple gingham dress a try? It's a one-and-done look you don't have to think too much about. Pair it with some platform espadrilles, pop in a cute pair of earrings, and you'll have your outfit done in five minutes flat.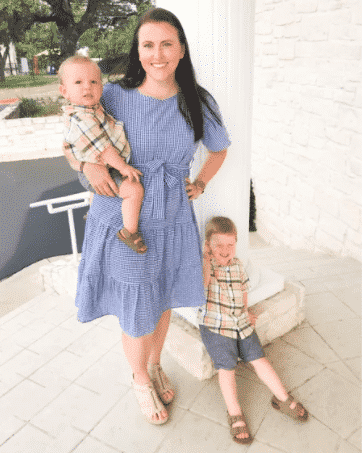 ↓ 27. Cute Outfit to Wear to Church in Winter
For the style-conscious young lady, this adorable winter look is a great option. Leggings are always a fantastic option to wear under a dress in cold weather and a tailored wool jacket will keep you warm as well as stylish.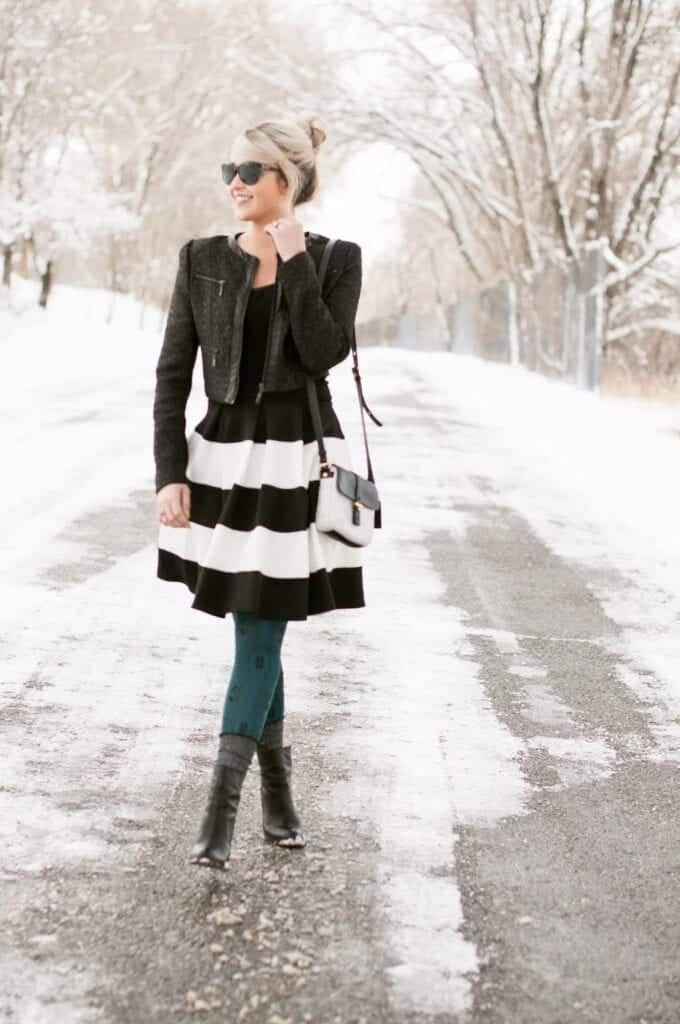 Also, have a look at How to dress up for job interview-Proper outfits for women
↓ 26. Modest Church Dress
While floor-length frocks are mostly a thing of the past when it comes to church services these days, a bright-colored maxi dress is a lovely option. A floaty skirt is also super enjoyable to wear, making maxi dresses a popular choice for many women. This light-hued outfit is best kept for sunny days in warm weather and is very decent for going to church. Wear a statement blue beaded necklace and pair it with either sandals or heels. Add a jacket as well if you feel you need it!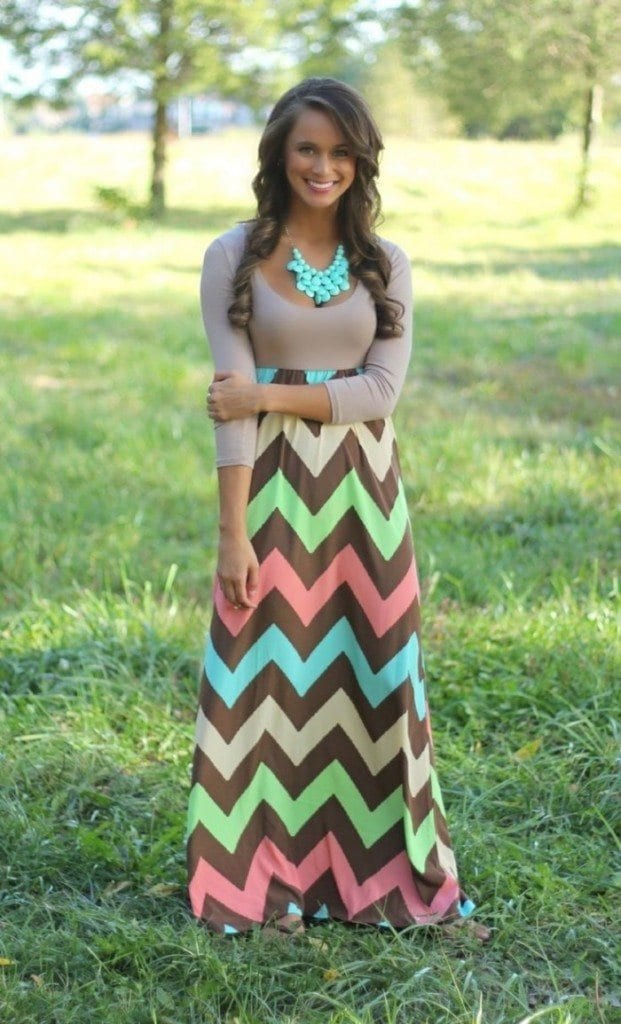 ↓ 25. Casual Church Outfits with Jeans
If you aren't a dress kind of girl, here are two versions of the same look you can try. White jeans are lovely in spring and will have you feel fresh and cool. Simply pair with a cute blouse and pop on a pair of sandals or even little sneakers. Accessories and styled hair will keep this look from getting too casual.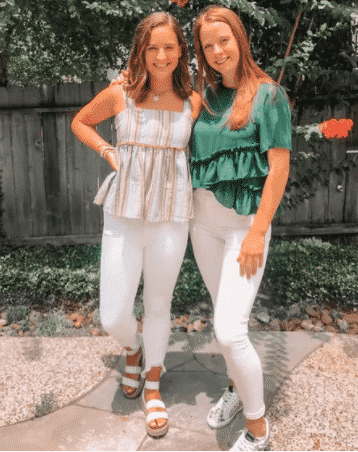 ↓ 24. Block Printed Maxi for Summer
This blue and white long sleeveless maxi is an eye-catching number that is equally stylish and trendy. Add a white hat with white kitten heels and you are good to go. Add a shawl or denim jacket if needed.
Love maxis? Then do check out trendy maxi dress and fashion accessories for plus size women.
↓ 23. Soft Colors for Fall
Pair your black skinnies folded up with a powder pink coat and oversized knitted wear. A statement maroon bag and high heeled nude pumps complete the look.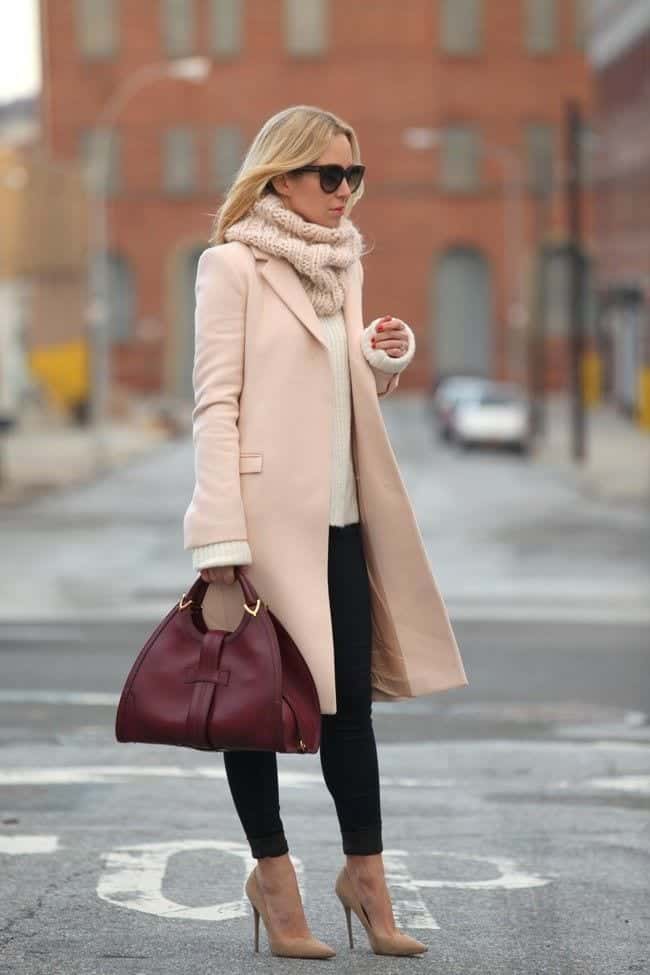 ↓ 22. What to Wear to a Formal Church Service
For a formal service (particularly a Catholic church) a pleated skirt and sweater is a great option. Complete the outfit by taking a blue bag and black kitten heels. We also love that this outfit can double for a wedding guest ensemble (perhaps one held in a church).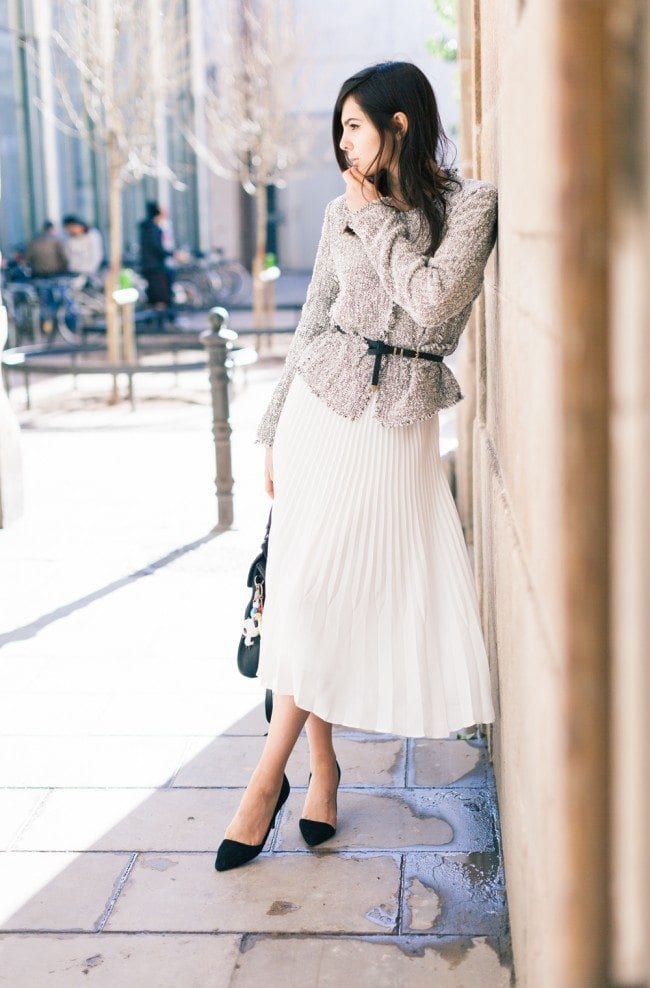 ↓ 21. Church Outfit Ideas for Plus Size
Here are a couple of fantastic options for plus-size gals. With our first, we get another example of a great maxi dress worn with a drawstring peplum jacket and adorable red ankle heels.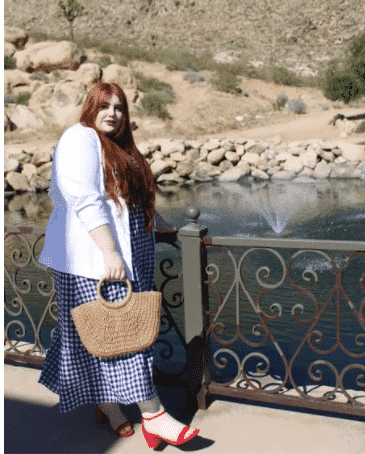 If you are a fan of bright colors, then this is the look for you. Combine a mustard yellow midi dress with a teal handbag and some indigo pumps. Complete the look with a mulberry lip and a multicolored scarf tied to your handbag!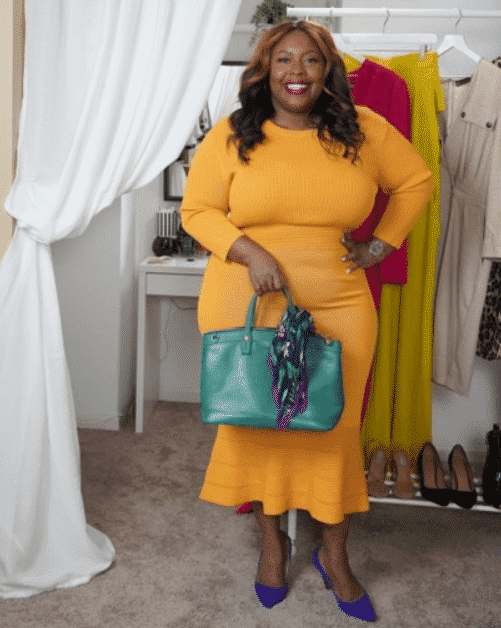 Lastly, a lovely little white off-the-shoulder frock paired with an oversize hat and lace-up espadrilles. Tie off the look with yellow statement earrings.
↓ 20. Outfit to Wear to Church in Winter
Make your coat a part of your church ensemble by opting for a white coat featuring a babydoll collar and bow at the waist. Match your heels to your belt and accessorize with pearl stud earrings.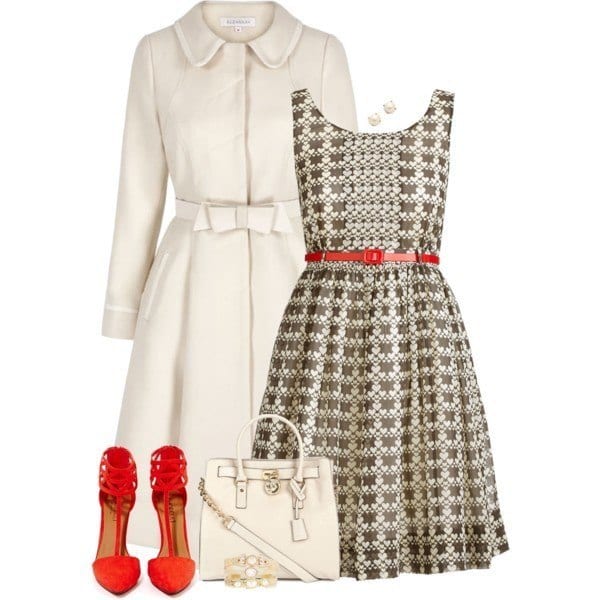 ↓ 19. Formal Pantsuit
A formal pantsuit can be appropriate in some scenarios and a black one like this can even be worn to a church memorial service. Fit is important so consider getting your suit tailored.
↓ 18. Fashion-Loving Church Outfit
Here this simple beige skirt with a belt tied like a bow at the front and printed yellow flower shirt is a very classy choice for spring weather.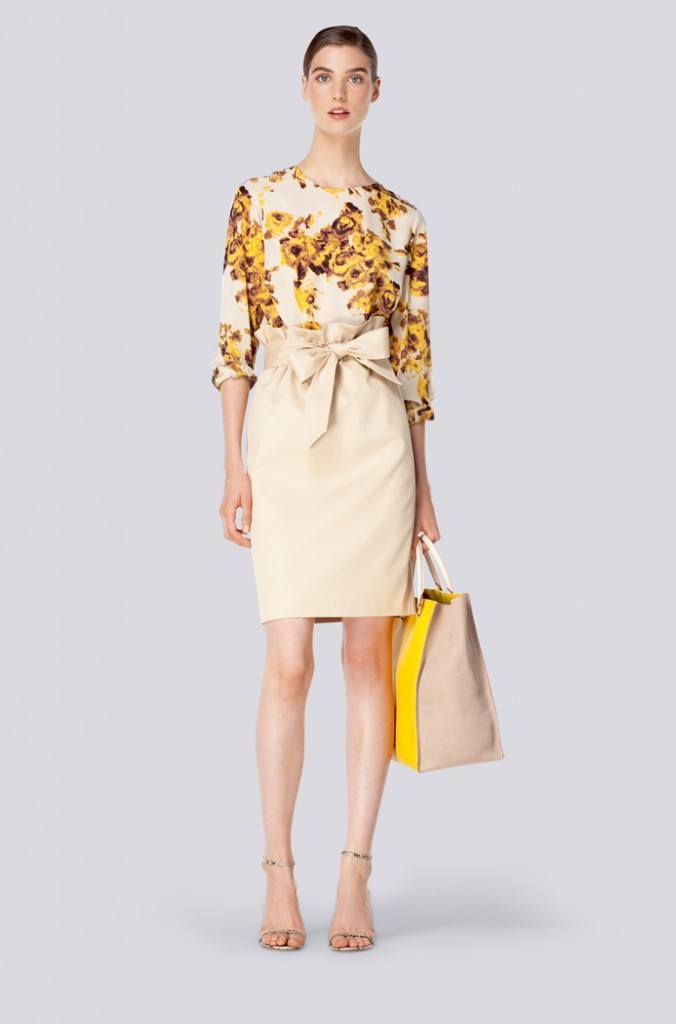 Source
Do not miss out 20 cute lace-up dresses that are trending these days
↓ 17. Spring with Red Hues
This seventies-inspired dress with a frill is perfect if worn with hair tied up in a French chignon and with beige heels. Keep your makeup natural and skip accessories.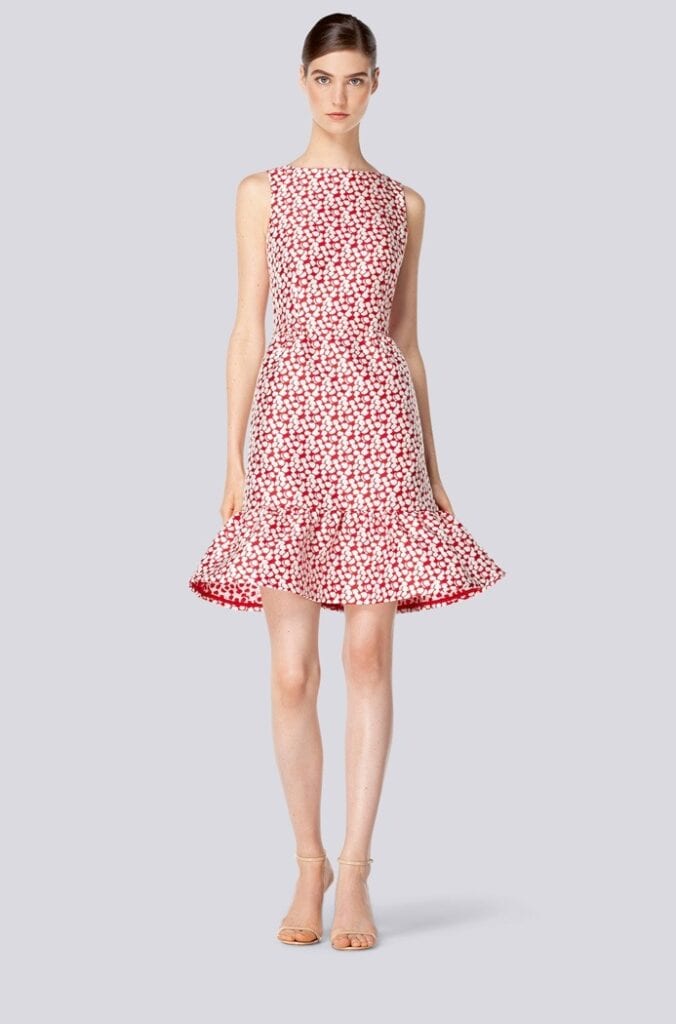 Source
↓ 16. What to Wear to Church – Teenage Girls
Teenage girls may sometimes feel overwhelmed trying to find the right look for attending church. Here is a perfectly appropriate option to try! A mid-length pencil dress with a boat neckline is classy and chic. Pair with chunky black heels with it. Keep everything else simple.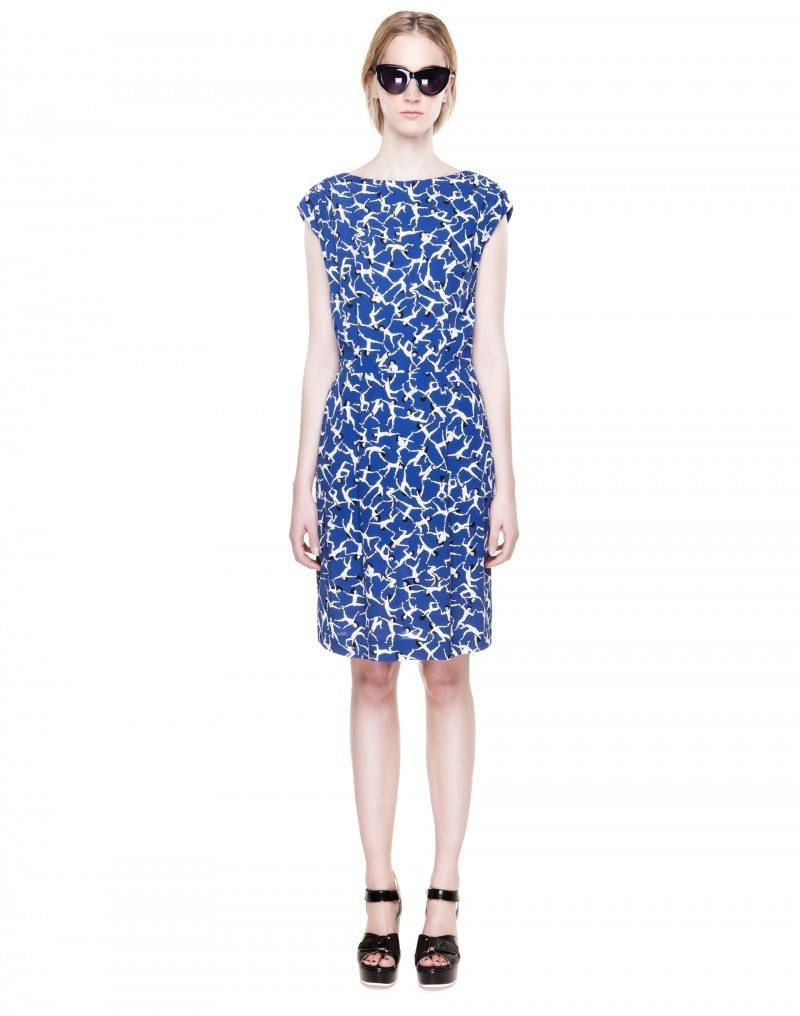 Source
↓ 15. Printed Peplum Top with Ankle Pants
A floral gray and red peplum shirt is dressy but when paired with simple slim fit grey trousers and black kitten heels it makes a perfect outfit. Wear a statement necklace and tie your hair at the back. You can also take a simple gray bag with you.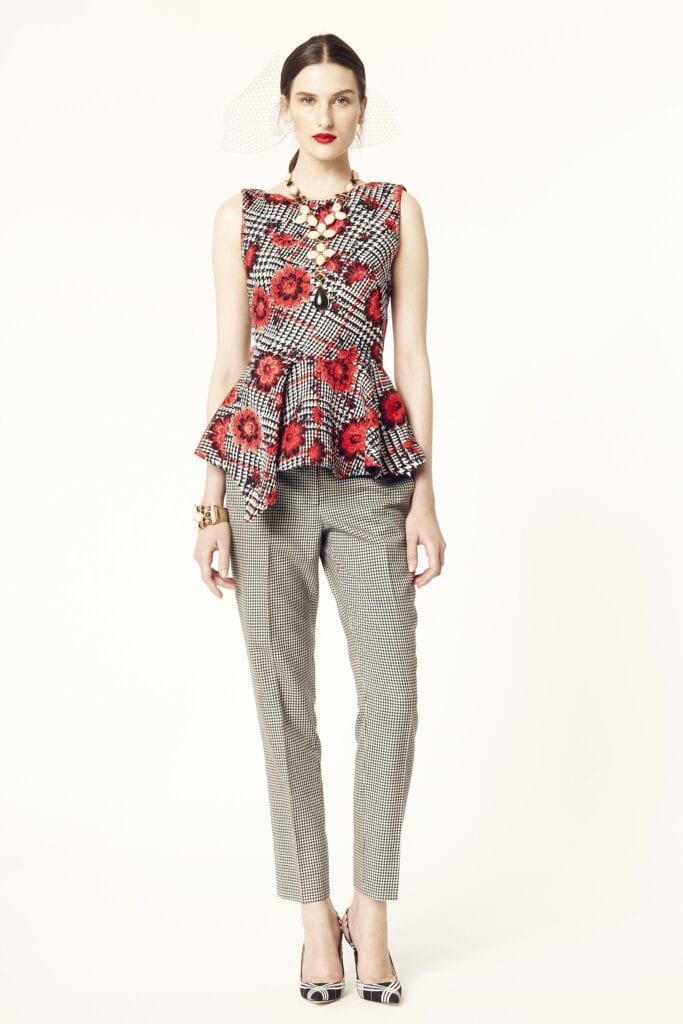 Source
↓ 14. Classically Sophisticated
For an especially sophisticated look, try this navy blue option.
Source
↓ 13. Florals for Spring
A Bohemian style dress can be a fantastic option as well. You can belt at the waist and add chunky beige heels.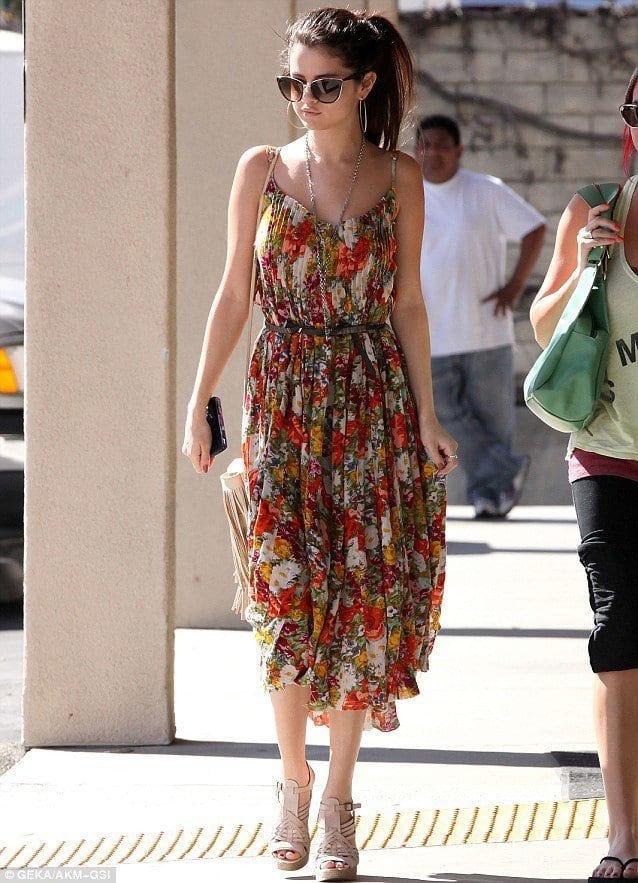 ↓ 12. Pop of Color for the Fall
We love this option for curvy ladies.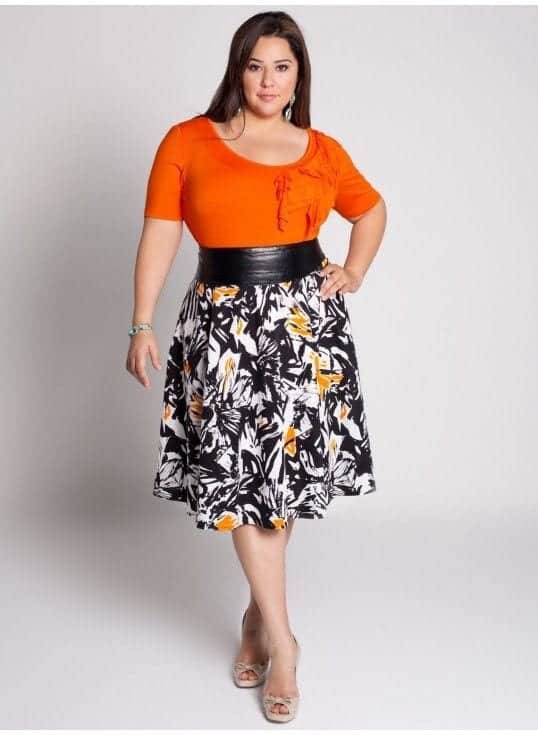 ↓ 11. Flared Printed Dress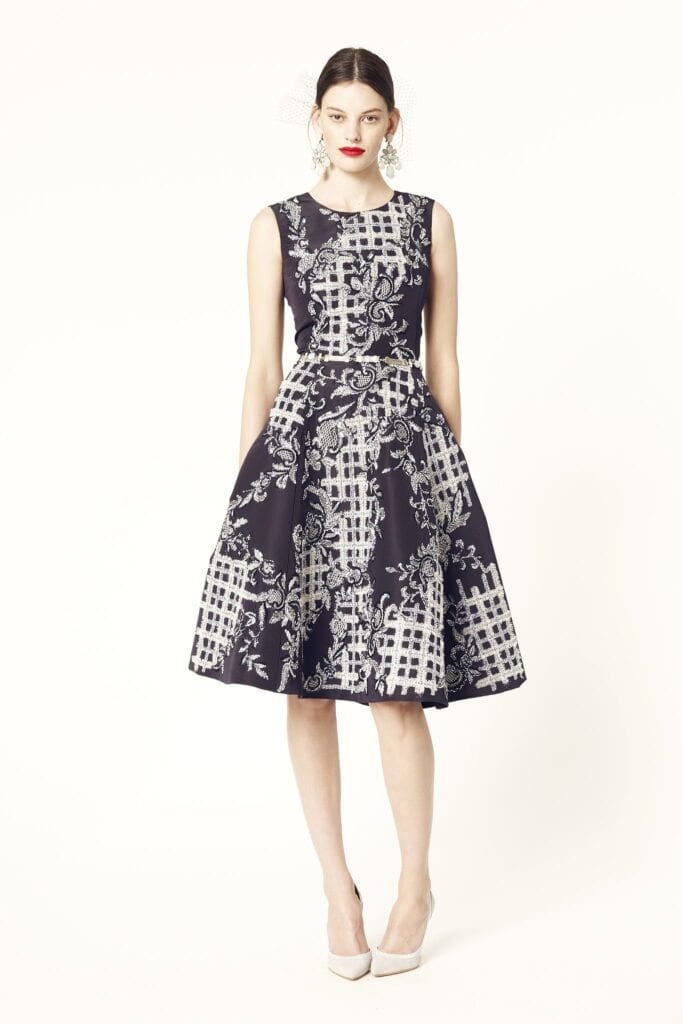 Source
↓ 10. Tee Shirt and Jeans
While jeans and a tee-shirt aren't prime options to wear to church, they can definitely be done! Here is a great example of how to do it. Heels will dress up the look and if you get the jeans a little loose it will add a chic effect to the look.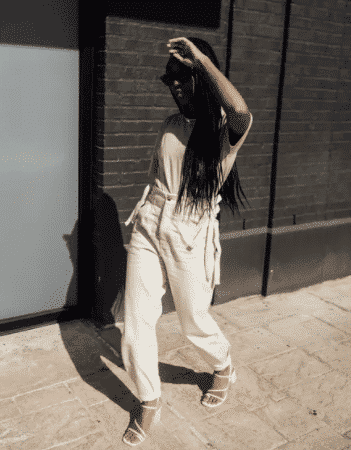 ↓ 9. Matching Suit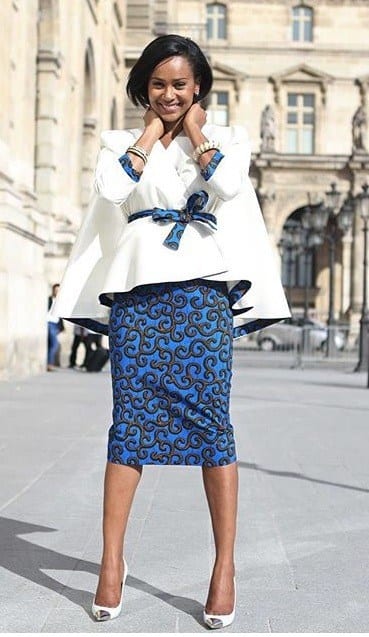 ↓ 8. Casual Winter Style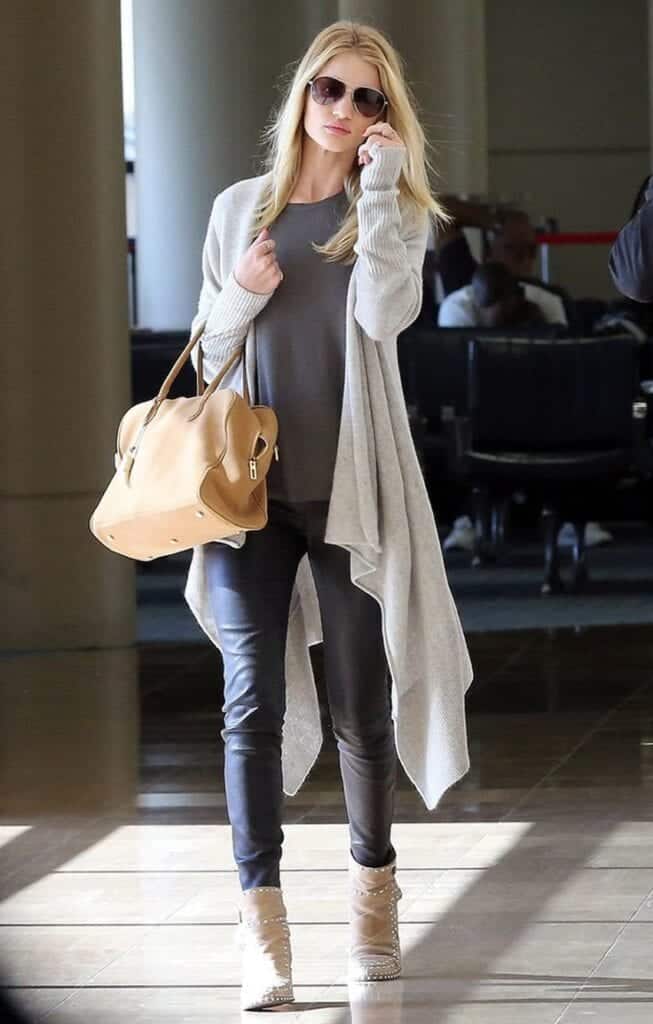 ↓ 7. How to Wear Pants to Church
If you want to wear something a little dressier than jeans but prefer pants over jeans, try out this classic ensemble.
↓ 6. Polka Dots with Color Pop
Bring the sunshine with you in a gorgeous yellow blazer, ruffled top, and polka dot skirt.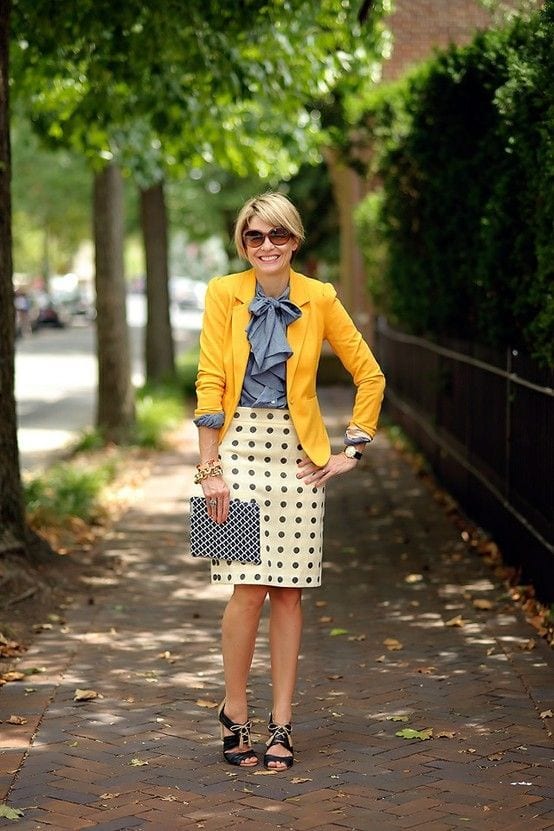 ↓ 5. Wool Suit
Try a wool suit for winter, especially in northern areas where it is particularly cold.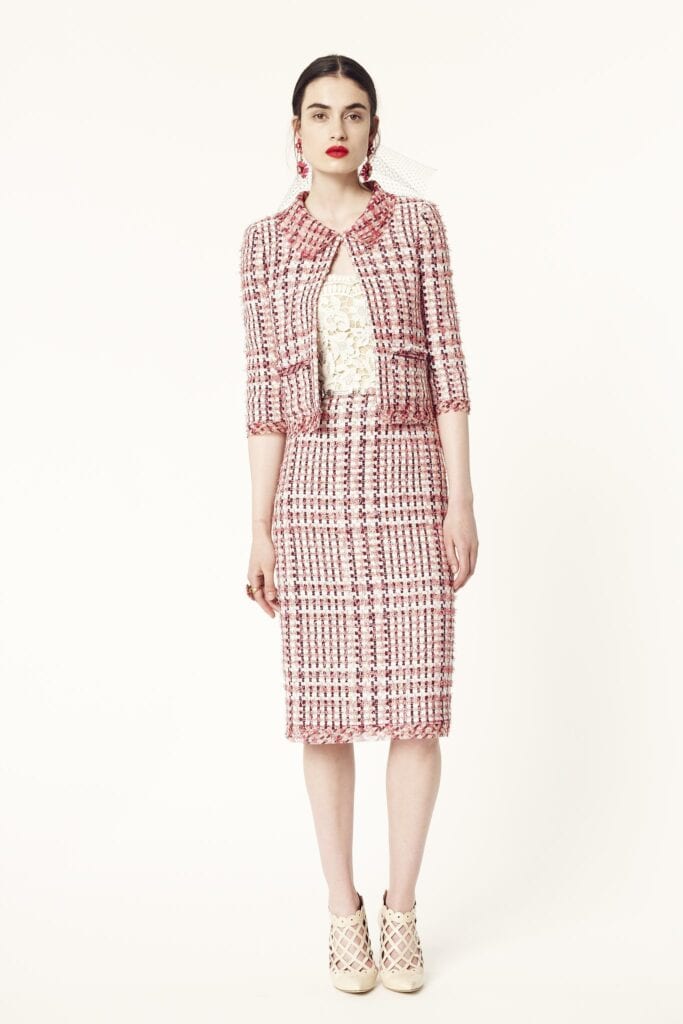 Source
↓ 4. Stripes and White Button Down
This is a super chic outfit that can be worn to church without tweaking.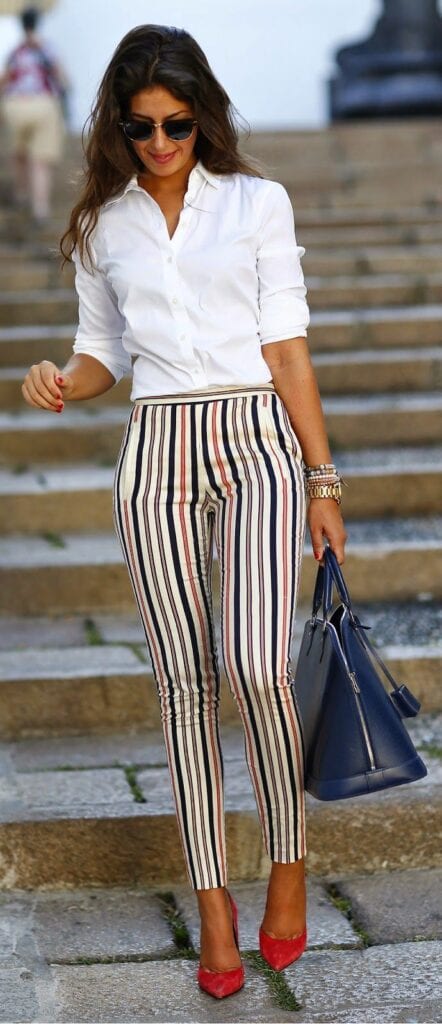 ↓ 3. Purple Dress and Boots
For a striking ensemble, try a midi-length deep purple dress with slouchy boots.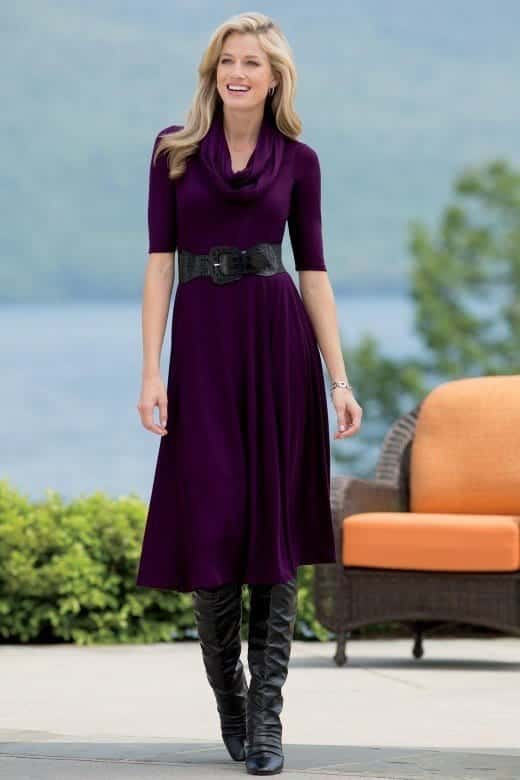 Source
↓ 2. Midi Flared Skirt and Purple Top
We adore this look!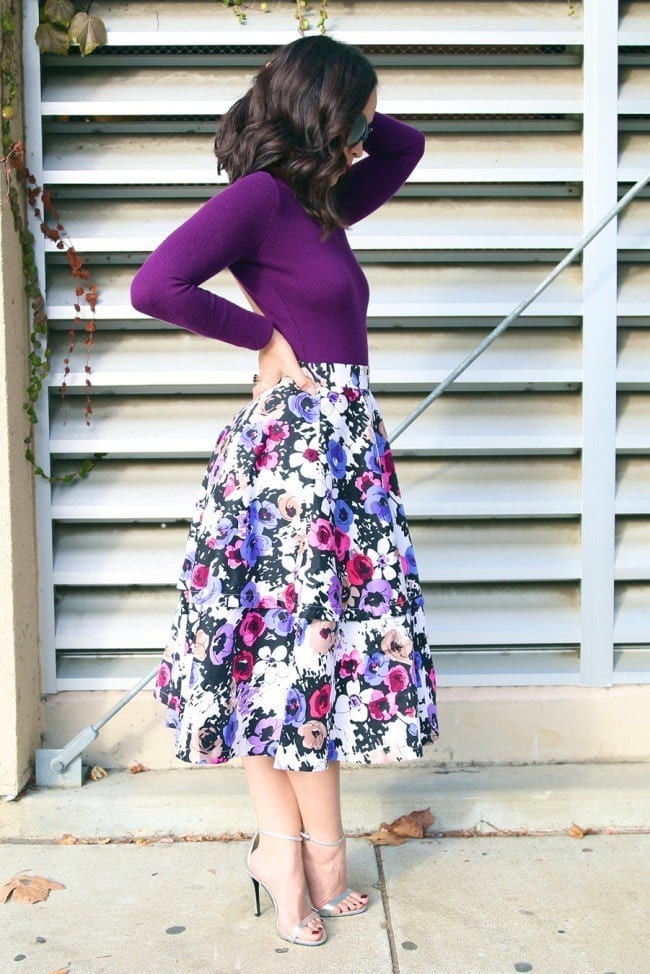 ↓ 1. Business Chic
For the lady that loves a business casual look, try this one out.
Frequently Asked Questions
Q.

Is there a dress code for a church?
A. Not usually. Some denominations request that men don't wear shorts and that women wear dresses or skirts that are at least knee-length but this is usually the exception. If you are unsure, you can always call the church and ask.
Q.

What do you wear to church casual?
A. If you are attending a renowned casual church, a nice blouse and jeans are fitting. You should still avoid short shorts (Bermuda shorts are a possible option but try to avoid shorts in general) and camisoles or spaghetti strap tanks.
Q.

Is it OK to wear shorts to church?
A. Whenever possible, avoid wearing shorts to church unless they are long like Bermuda style shorts.
Q.

Is it bad to wear jeans to church?
A. No, it's not bad. Jeans are a perfectly suitable option. However, try to avoid ripped jeans or skintight jeans. A dark wash jean or white jean are both good options.
Q.

What should you not wear to church?
A. Before telling you what you should not wear to church, you should know that what you wear to church is of little importance compared to the monumental reasons for actually attending church. The reality is, some people don't have the luxury of quality clothes or their wardrobe is comprised mostly of hand-me-down garments that can be stained or ripped or ill-fitting. If this is the case for you, then wear whatever you have on hand, and don't let it stop you.
If you are in the position to afford to be choosy, then, as a rule, avoid overly revealing clothes, anything too skintight or excessively casual. Remember the true reasons for attending church and dress with discretion and respect. You could even consider what you wear in light of a "Sunday best" outfit as this will help you keep with the spirit of the gathering.