White Midi Dress Outfits: Have you ever seen a woman slaying a gorgeous white dress and wonder if you will be able to pull off a similar look or not? I certainly have and, for some reason, had always thought of white as daunting and challenging to wear/ style. If you have similar thoughts, then I would like to -very happily- inform you that the color white has been timeless for a reason. And that reason is that I have found white to look good on every person, regardless of their skin color, size, age, or identity.
In this article, I bring you the best ways to wear and style a white midi dress! Midi dresses are incredibly stylish, comfortable and come in so much variety. Additionally, they are ideal for any occasion you can think of, the versatility extending from brunches to bridal outfits. So grab your whites and get to styling!
How to Wear a White Midi Dress?
We have already talked about White Jacket Outfits in our last post and today, the spotlight is on white midi dresses. If you do not already have a midi dress in white, trust me when I say this, you are majorly missing out. Once you get a taste of wearing these outfits, you will be craving the comfort, openness, and breathability that they provide with their wear. And you will find yourself going back to this clothing over and over again, making it a staple for your wardrobe. Not only this, but they are straightforward to style. You can make yourself look as laid-back or as fancy as you want. The key is all in accessorizing aptly!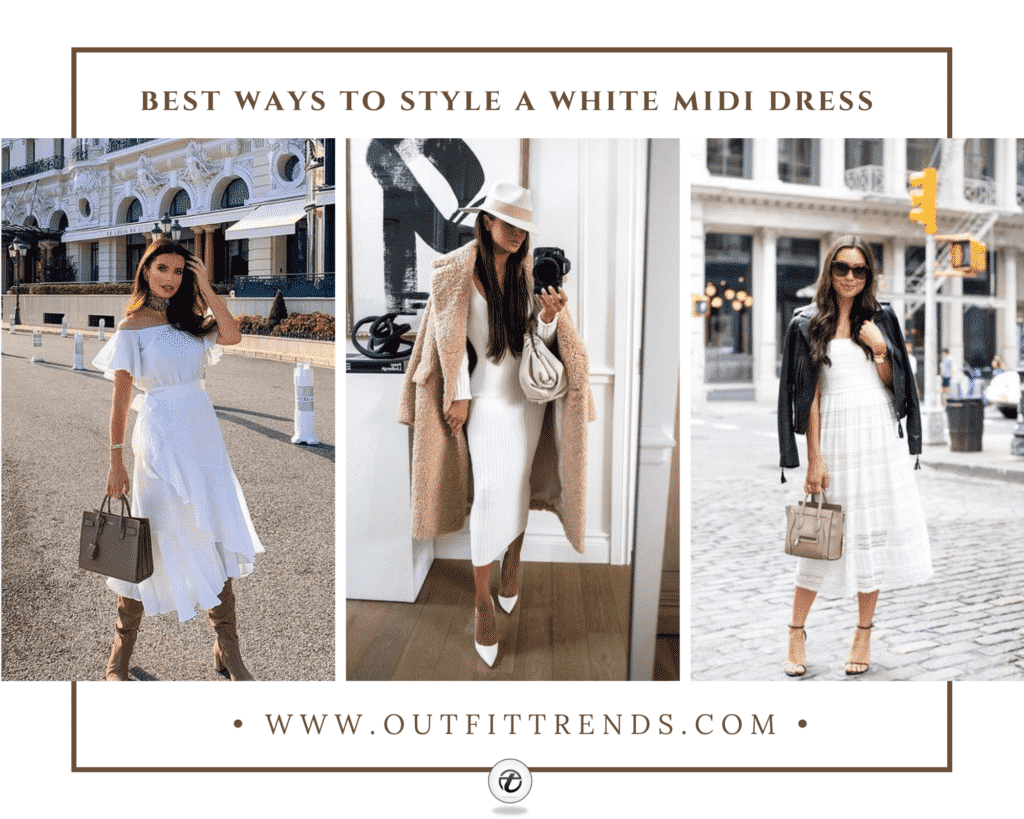 Where to Buy White Midi Dress?
Lulus: This wrap midi dress in white (here) is the perfect pick for any occasion!
Urban Outfitters: Fulfil your dreams of dressing country with this gorgeous georgette dress right (here). Style with cowboy boots, a cowboy hat, and a lightweight fringed jacket.
Bloomingdale's: Pair this gorgeous number (here) with a light cardigan, and you are all set for a cute picnic.
Next: How perfect is this printed midi dress (here) for a date look?!
Nordstrom: Waist baring cutout details on this dress (here) make it a must-have!
BHLDN by Anthropologie: Confused about what to wear to the next formal event? Check this dress (here) out!
↓ 38 – In Silk with Selena!
And our queen Selena is back with a bang in this gorgeous form-fitting white dress! The contrast of the black accessories against the white is effortless, and I love the minimal accessories. Furthermore, her natural hair and make-up add to the grace of the dress and let it be the show stopper. A look appropriate for a confident queen! Here are some more Ideas On How To Wear Silk Outfits.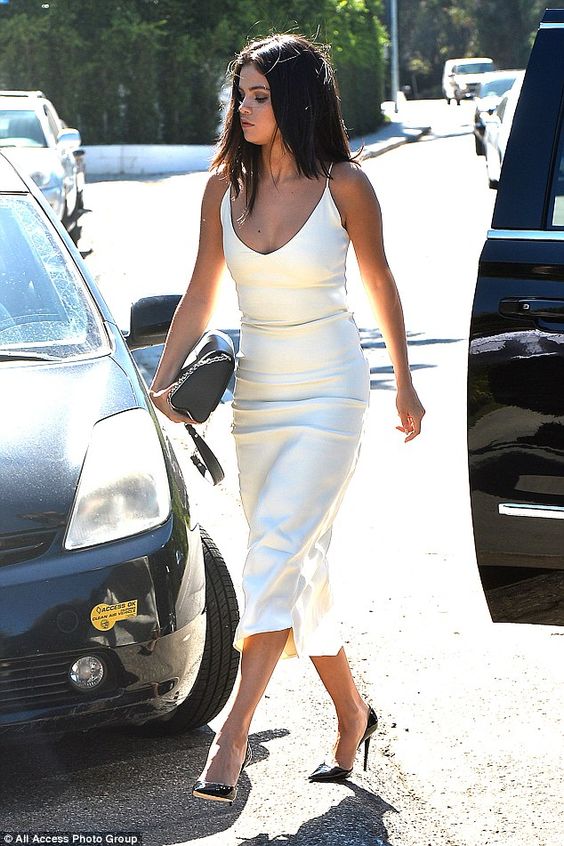 ↓ 37 – The Lace Affair
Swap these flats for some gorgeous transparent heels, and this lace ensemble is ideal for attending a formal brunch or a rehearsal lunch/ dinner. If you wish to add a pop of color to your look, opt for a bright clutch and compliment nail paint.
Shop the dress below:
Spring Half Sleeves Midi Dress $156
↓ 36 – Sweater Midi Dress for the Winters
I believe I can positively say I am not the only one whose mind gets clouded with ultimate coziness and comfort looking at this outfit! This look is perfect for the winter season. Not only would you be warm and cozy but a fashion icon in this turtleneck knit sweater dress. And the combats boots are a cherry on top of a highly put-together look!
↓ 35 – Vacationin' in Broderie!
↓ 34 – Classy Fit for a Classy Lady!
What a graceful way to carry this gorgeous dress and fascinator hat?! I can assure you that you will be turning some heads your way in this fantastic outfit! This elegant ensemble is the way to go when attending a christening or a summer soiree.
↓ 33 – White Midi Dress Outfits for the Graduation Party
You are finally wearing the black gown and receiving the fruit of all your hard work. And this graduation outfit inspiration will leave you glowing with the contrast of black against the white! Thus, it only makes sense for you to dress your absolute finest on this special day.
↓ 32 – Picnic Ready? Yes, Please!
↓ 31 – Ruffles to the Rescue!
A fun and romantic look for all the dreamers out there! I love how bright this dress is; the glowy make-up and full hair add to the beauty and simplicity of this look! Moreover, the weaved briefcase handbag is ab absolute statement with the complimenting shoes. Overall, I rate this entire ensemble an A-plus and worthy of bring worn to the occasions closest to your heart!
↓ 30 – Printed White Midi Dress Outfits for Every Ocassion!
Floral printed maxis and summer dresses are a winner this spring-summer season. And with a dress like this, I completely understand why! The collar neckline, refreshing print, and puff-sleeves detail all contribute to the timelessness of this dress and make it a must-have. I adore the matching nude shoes and clutch, which compliment the outfit exquisitely. And to top it all off, we have those rings and earrings. This lady knows how to stand out in a crowd, and I am all here for it! I would also recommend that you check out these Cute Floral Print Outfits Combinations for Spring Season.
↓ 29 – Fit for the Chores!
A loose-fitting dress, making your chores and errands easy to do and in style!
↓ 28 – Unmatchable Simplicity
Shop similar items below:
Gucci Bag Web Supreme White Tote $597.00
↓ 27 – Girl's Day Out Look
Are you searching for the ideal outfit to wear for your next get-together with the girls? Look no further because this outfit is the answer to all your queries! A perfectly romantic, low-key yet dressy, and refreshing look that leaves you comfortable enough to carry out various activities with the gang.
↓ 26 – Monochrome the Right Way!
↓ 25 – Oozing Elegance
How perfect is this look for a date with your significant other? The patterned and fitted midi dress is a unique find and a must-have for your wardrobe. Moreover, I love how she added a pop of color to her look with this gorgeous shade of green in her handbag. And to compliment the purse, we have those pretty earrings, tying the entire look together!
↓ 24 – Beachy Baby!
Swap the heels for flats if you will be spending most of your time in the sand and you are all set!
↓ 23 – The One with the Fanny Pack
Don't like to carry purses and clutches? Well, the beauty of a white midi dress is that you can style it with a fanny pack! Not only is it effortless and trendy, but also right up your comfort zone!
↓ 22 – An Effortless & Romantic Look
↓ 21 – Going with the Flow!
Here we have another gorgeous look fit for the beach but is flexible enough to be worn whenever you wish. All the extra fabric on this dress contributes to its uniqueness and makes it twirl-worthy! The pink handbag pops against the white and provides a refreshing contrast that I am all here for.
↓ 20 – When to Wear this Gorgeous White Midi Dress?
This gorgeous dress is produced from Broderie Anglaise fabric, where you will see cut-out patterns and holes pierced into the fabric. And as a result, we get a lovely crafted dress similar to the one in the image below. This attire is ideal for wearing to a Sunday brunch, a carnival look, or for a fun evening get-together with your friends! If you like this look, I would also recommend that you go through these Monochrome Outfits for Women.
↓ 19 – The Off-Shoulder Edition
↓ 18 – Walk Your Dog in Style!
↓ 17 – How to Wear a White Midi Dress?
A white midi dress, as seen above as well, is so easy to style and can be done in your unique manner. This look again is true to the wearer and is so eccentric! The rustic styling with the brown boots and matching handbag is a welcome change. Furthermore, the snake-print choker is a fantastic addition to a very well-put-together look.
↓ 16 – Winter Wonderland
If you have been associating midi dresses with summers only, then this look will happily prove you wrong! I am in awe of how chic and vogue this lady looks. All I can say is, if you do not have a similar dress in your wardrobe, then put it on your list to purchase this item as soon as possible. And later, style it similarly!
↓ 15 – Accessories for White Midi Dress Outfits
Denim jackets are a lifesaver during the cool summer days and look good with any outfit that you wear, regardless of the season! If wearing all white is not your cup of tea, this outfit will serve as some significant inspiration. Put on brightly colored accessories and shoes, and they do not have to be red necessarily. It can be any color you would like to wear because paired with a white dress and denim jacket; they will look flawless.
↓ 14 – White Midi Dress Done the Modest Way
↓ 13 – White Midi Dress for Senior Women
A youthful and refreshing look for all the senior women out there!
↓ 12 – Bodycon Babe!
Shop the look below:
Jagger & Stone – Christy Midi in White $55.00
Oppointed-Lacey Pump Shoe $32.99
↓ 11 – Shoes for Midi Dress Outfits
Similar brown block heels are a wardrobe staple. Along with that, they look effortless with whichever white midi dress you style them with, making them oh-so-versatile!
↓ 10 – Casual Cruisin'
↓ 09 – Midi Dress with the Slit
White satin indeed does have a charm of its own. And this outfit is the living proof of that! The sheer simplicity is welcome, and the hint of sexiness provided by the slit ties the entire look together. This outfit has been accessorized just the right amount, enough to make the dress stand out. The gold jewelry and metallic purse are the right fit for this exquisite ensemble!
↓ 08 – A look for Teenagers
The polka dot pattern on the dress is timeless and looks effortless on the wear. And the pop of color provided by the red har scarf is the cherry on top of a fantastic outfit – quite literally. Wear black boots or heels and carry a small red clutch to match the hair scarf, and you have a fantastic look at your hands!
↓ 07 – Bridal Look in White Midi Dress
↓ 06 – Plus Sized Women in the House!
↓ 05 – The Dress of Your Dreams!
You truly can not go wrong with Broderie Anglaise on white dresses! The pop of blue on the necklace and purse looks tasteful and flattering.
↓ 04 – The One with the Sleeves
↓ 03 – White Midi Dress Outfits for Formal Occasions
↓ 02 – Leather Jacket to Make it Edgy!
↓ 01 – The Ultimate Sweetheart Outfit!
This look is ideal for wearing to the farmers market, picking fruit from the farm, basically any country activities you can think of!
Frequently Asked Questions
Q. How do I style a white midi dress and look good?
A. There are so many ways to style a white midi dress and look like an absolute dream! But the significant aspect which you need to consider is the occasion that you are dressing for. For the summers, keep it light and airy for casual days and semi-formal events. Similarly, you will find satin midi dresses or a princess-style dress in white appropriate for more formal occasions.
Add on a classy scarf to your look and shoes to match the occasion. Accessorize with dainty jewels for a formal event, or go all out with straw weave jewelry and tribal pieces for a more laid-back yet glamorous look. Moreover, do not forget to add a classy watch and an anklet to wear with open shoes. Let your hair down in gorgeous waves to frame your face. Lastly, keep your make-up glowy and natural because honestly, you can not go wrong with this makeup look as it is timeless!
Q. What shoes do I wear with a white midi dress?
A. The shoes that you need to choose with your dress must be according to the event you are dressing for! If you are going to be on your feet all day, running errands and chores, you are better off with your trusted sneakers. Opt for court shoes with stiletto heels for formal occasions and gorgeous wedged heels for a day out with friends or a date. Moreover, flip-flops are the ultimate choice for a beach day! Finally, you will find boots to be your savior during the cool summer and winter days.
Q. How do I wear my white midi dress in winters?
A. For the winter season, make sure to choose a sweater dress or a knitted one to provide you with warmth. Layer your clothing with jeans or leather jackets (you can throw these on for the cool summer days, too) or an oversized, long coat. Add on a cute beanie and combat boots or long shoes to match your dress.
Janeeta Khan loves to write and loses herself in the world of fiction during her free time. You will probably find her curled in the corner with a Harry Potter book and a steaming mug of hot cocoa.