How To Style A Denim Vest For Women – Whether it's winter or summer, denim vests are a must-have in anyone's closet. These sleeveless denim jackets can be styled in several ways for both men and women.
There are several ways to style these for women and can be worn to any casual occasion, a day out with a group of friends, the bowling alley, the mall, or even a basketball game.
Outfits To Wear With Sleeveless Denim Jackets
Traditionally, people are more likely to wear denim with a t-shirt and jeans only. However, by the end of this article, you will know how not to limit yourselves when it comes to styling denim. Additionally, these vests are also of several types; they can be either tightly fitted or even oversized, ripped or non-ripped, and come in several colors including black, blue, white, grey, etc.
To make outfits with denim jackets even more interesting, trendy shoes like ankle boots, a pair of heels, or sneakers can be worn with them. Accessories are also a must! More specifically, wristwatches really complement them in the best possible way.
Tips For Putting Together Jean Vest Outfits
Variety is key: Instead of wearing only blue colored vests, explore a little more and wear other colors as well, like grey, black, white, etc.
Shoes: To keep the look casual and trendy, always go for closed shoes like sneakers, boots, toms, etc.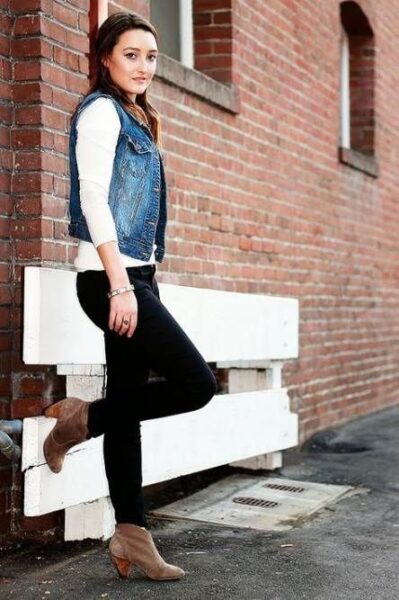 Accessories: Accessories can really make your outfits look very chic and that should definitely be your goal. Add several accessories like bangles, bracelets, necklaces, and ESPECIALLY rings.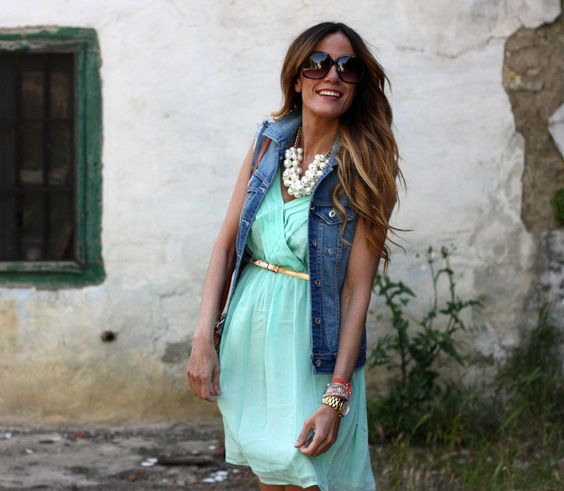 Avoid wearing the same colors again and again, as it may get very boring to look at. Most people would like to play it safe by wearing black and white but we recommend colors that are a little out there, like pink, red, or even neon green.
You can never go wrong by pairing a denim vest with a white t-shirt and a pair of jeans.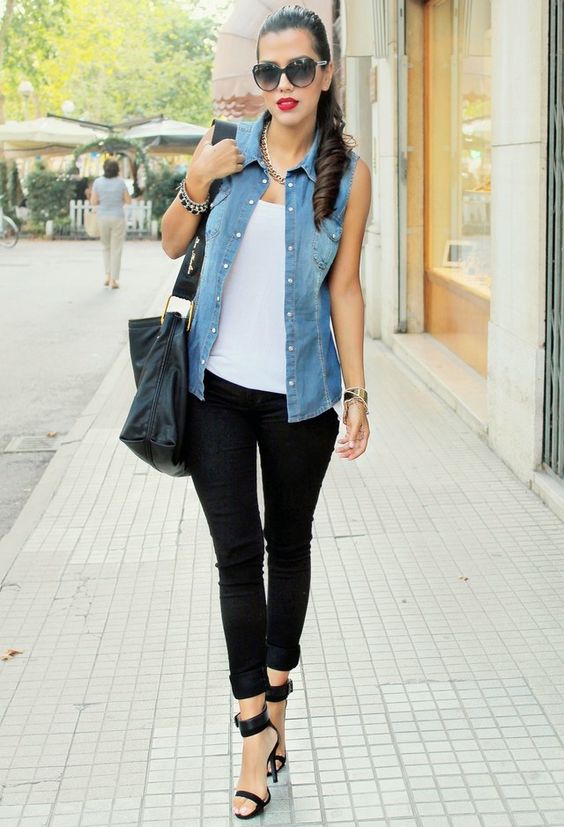 20 – Denim Vest With An Oversized Shirt & Cowboy Boots
This is one of the best outfits to make you look sexy and casual at the same time. The knee-length boots further accentuate this look. So, one of these times, do remember to style your vest with an oversized button-down shirt (or as we like to call it, The Boyfriend Shirt).
Besides white, the shirt can also be black, blue, or even pink.
19 – Grey Embroidered Vest With A White Dress
The embroidery on the jacket looks elegant and vintage. It also gives the outfit a cultural spin without being problematic, and the white angelic-looking dress will keep you cool and comfortable.
To accessorize, add a pair of sunglasses and a wristwatch.
18 – Blue Printed Dress And A Sleeveless Denim Jacket With Canvas Shoes
Try wearing your denim over a light blue sundress. To complete the look, go for a pink bag (we would recommend mustard or yellow as well) and a pair of sneakers.
17 – White Vest Over A Stripped T-shirt
Now comes the part about the white vest. Blue denim is classic but white is a pleasant change and everyone loves this kind of change. The stripes really highlight the jacket and the grey jeans perfectly complement it.
Also, carry a brown cross-body bag and you are ready for the day! The bag makes the outfit practical as we need a place to keep our phones and wallets because let's be honest, jeans made for women still have no useful pockets even in 2023!
16 – Ripped Knee Lenght Vest With A Black Dress
Now let's talk about ripped denim vests. These look equally stylish and sexy. The knee length of the vest gives it a dress-like appearance.
So, if ripped denim is your thing, you should really invest in this type of denim. The body con black dress further emphasizes the look.
15 – With A Floral Dress & Gold Shoes
The knee-length dress will certainly turn you into a head-turner. With this outfit, wear a bear of gold-colored ankle boots.
To accessorize, wear bracelets and a long necklace, and to top it all off, a straw hat is also an addition that we would recommend.
14 – Black Vest With A Red Maxi Dress
The ripped back of the vest will make you feel confident and sexy and the red dress is something almost anyone can pull off.
13 – Jean Vest Styled With A Sheer Body Suit
This is one of those outfits that you need for a party when you would like to look incredibly sexy and breathtaking. To complete the look, wear a pair of leather boots and also, carry a hand-held printed bag to keep your belongings in.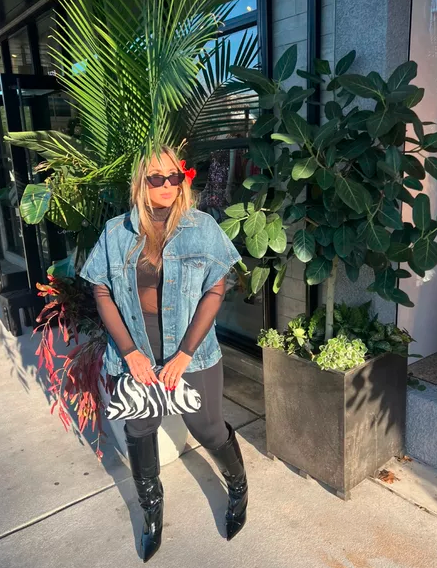 12 – Printed Vest And A Green Printed Kurta-Esque Shirt
Most of the jean vests we have seen are plain but this one has scenery on its back, and we love that about it! Under this vest, you can definitely wear a plain shirt too but we would recommend styling it with a printed shirt or kurta – the material can vary from cotton to chiffon.
Complete the look with a pair of sunglasses.
11 – Styled With A White Maxi Dress
This outfit looks trendy and stylish and gives us another way of wearing the dresses that we own. To accessorize, add earrings and a wristwatch.
Similarly, the vest can also be worn with other printed dresses – it does not HAVE to be flowers! You could wear it with striped, polka dots, or even abstract patterns.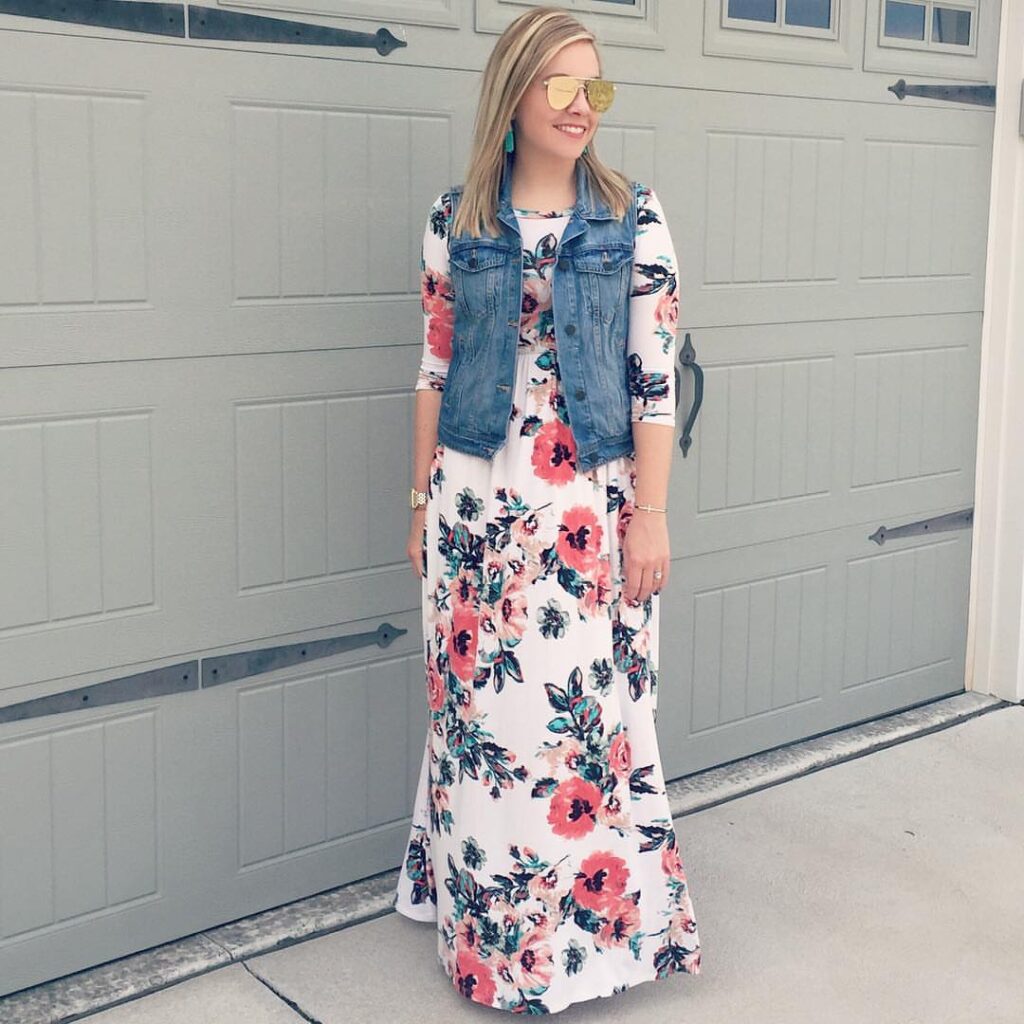 10 – Blue Vest With A White Button Down
Anyone in the world could easily pull off this outfit and look trendy as hell. Button-downs are always in style for both men and women and everyone has one or two white ones in their closet. Therefore, get a hold of that and combine it with your denim vest to create yet another outfit!
A pair of black pants and black ankle boots shall complete the look conveniently. Bracelets and a necklace can be worn as accessories.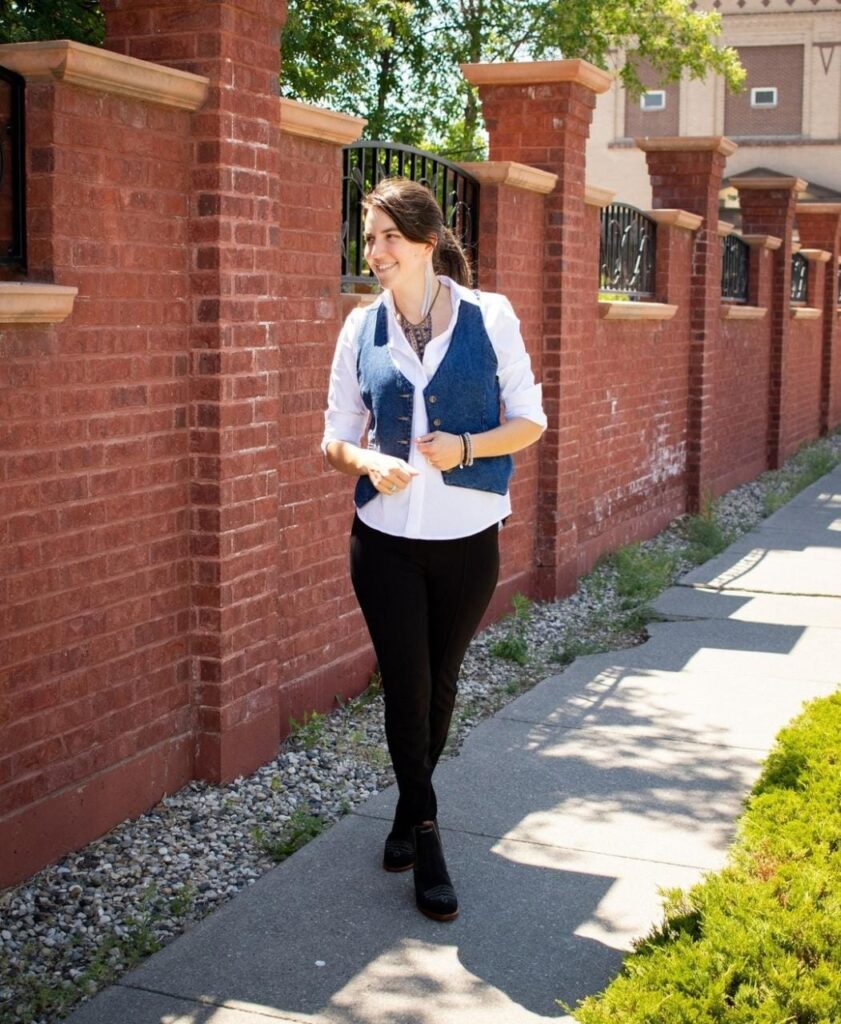 9 – Graphic Vest With A Striped Bodycon Dress
This look might be one of our personal favorites. You might ask: why? Well, the graphic print on the jacket is an absolute game-changer! Additionally, the body con dress with stripes further accentuates the outfit and gives you a pretty great body shape.
To complete the outfit, wear a pair of snake print ankle boots and carry a blue cross-body bag as well.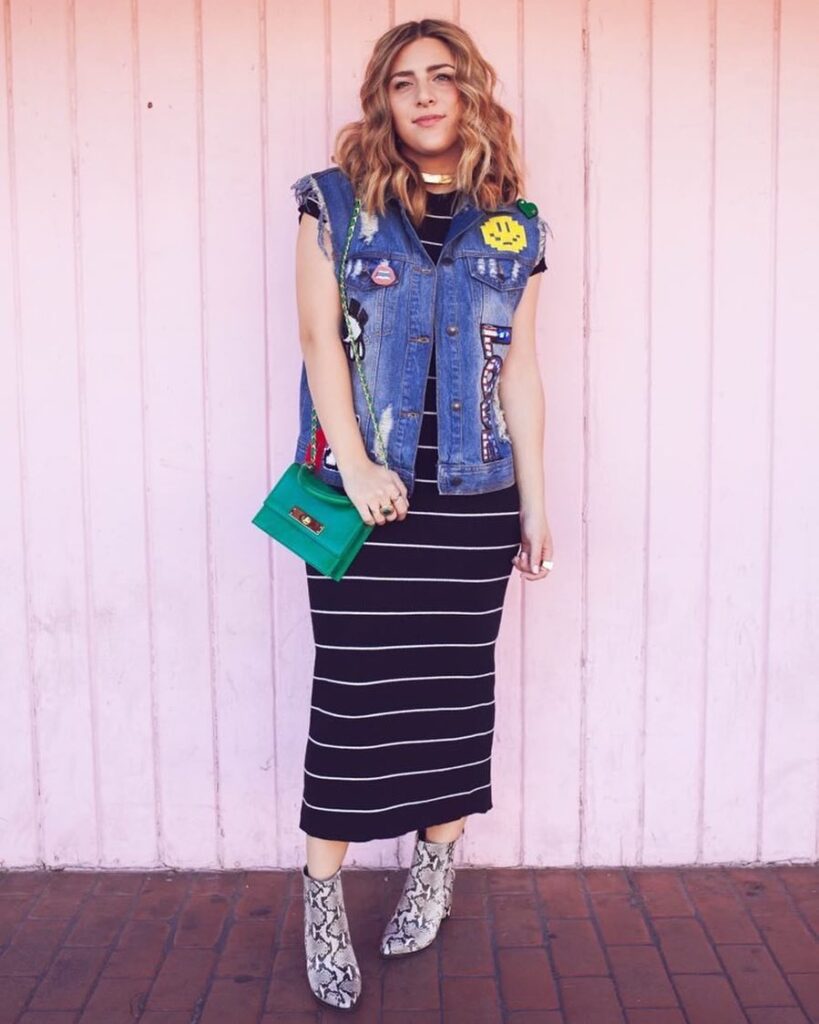 8 – White Vest With A Printed Knee Length Dress
Some outfits are just made for picnics and this look is definitely one of them So, if you have planned a picnic with your friends and want to look good and Instagram-ready in pictures, then this should be your go-to!
To top off the look, carry a cream-colored handbag and wear a pair of open-toe heels.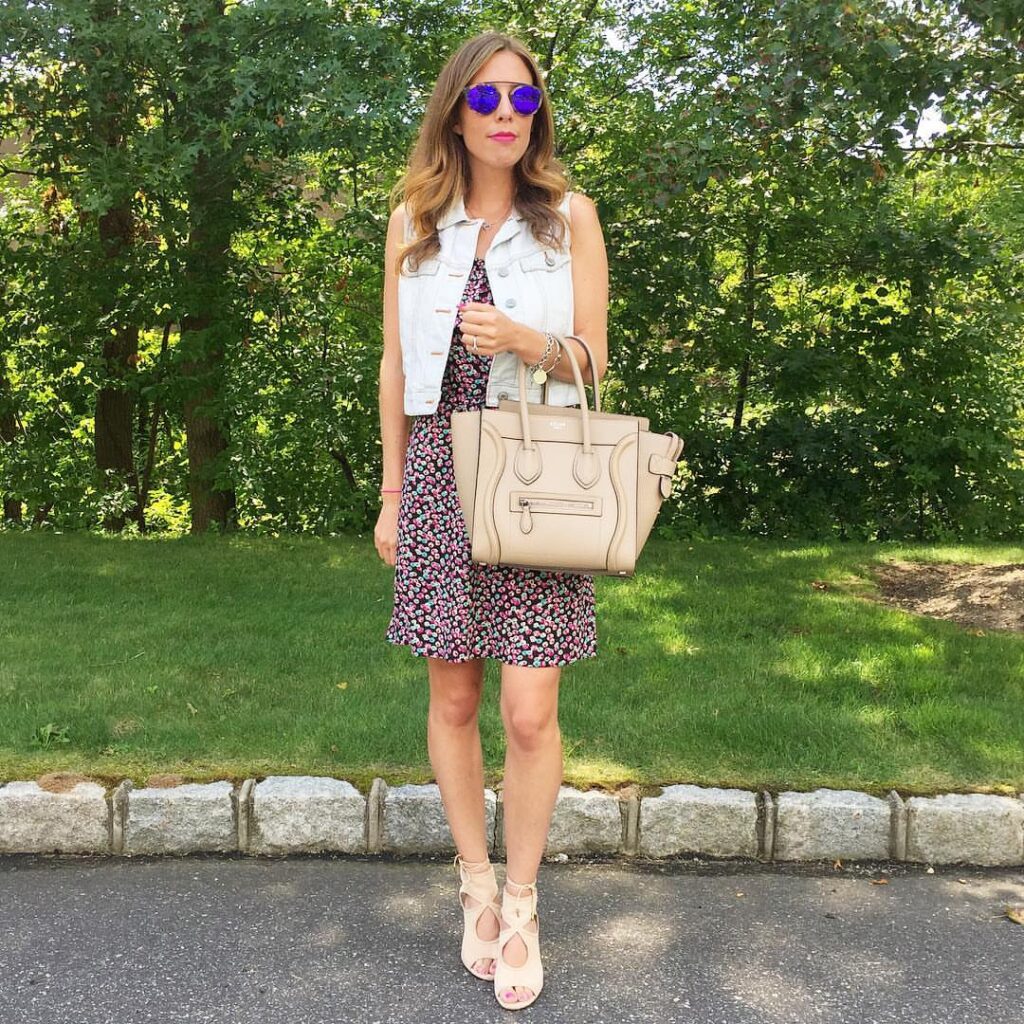 7 – Oversized Vest With Shorts And A Green Crop-Top
Shorts worn with a crop top is a pretty terrific outfit on its own but the denim, if added to it, further intensifies its charm and makes it looks even cuter.
With this combination, wear a pair of white sneakers because you can never go wrong with them.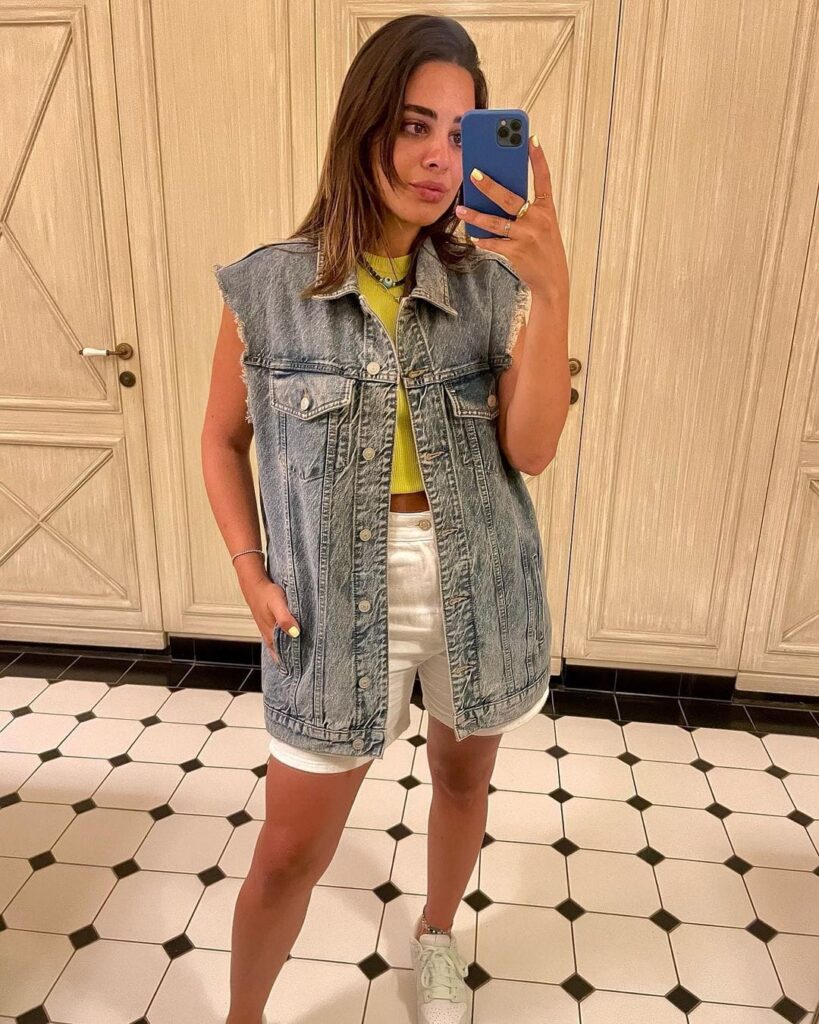 6 – Denim Vest Over A Crop Top And Black Palazzo Pants
This look below proves that not only can jackets be styled with a shorts-crop-top combo but can also look pretty amazing with pants and a crop top as well!
Plus, the wide-legged high-waisted pants will help give you a slimmer body shape. And for the shoes, we believe it is time to bring out the neon heals now!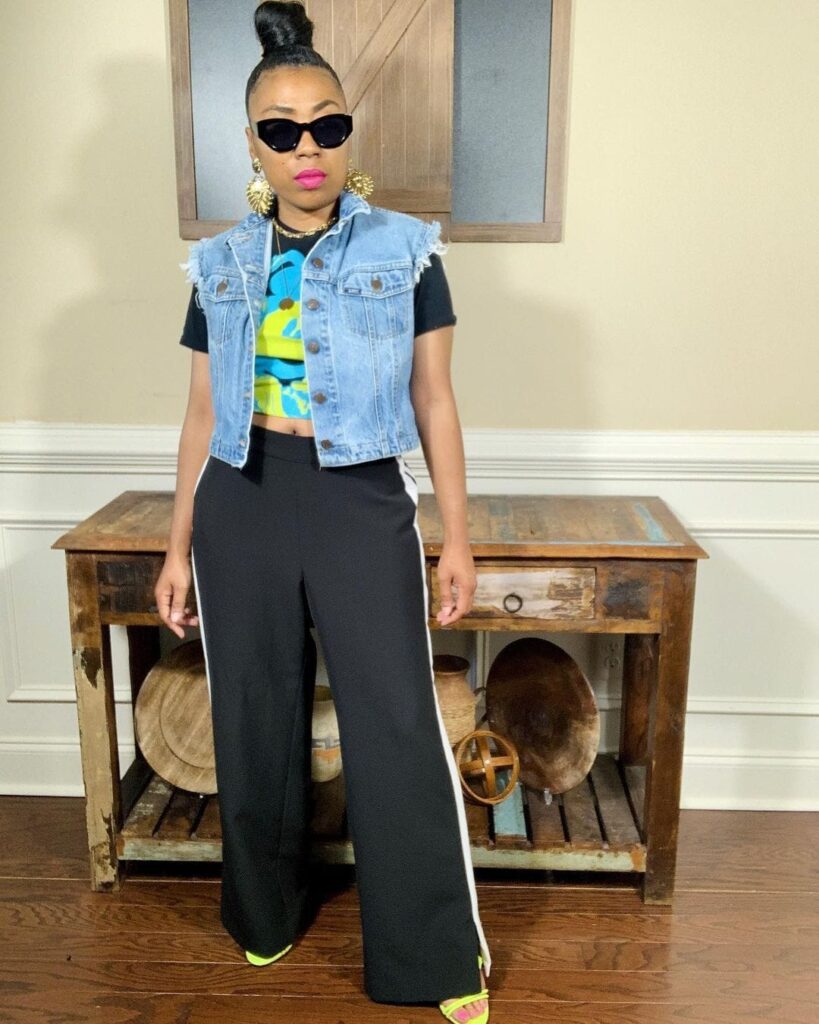 5 – Blue Vest Worn With A White Romper
If you own a romper and also a vest, put them together, and there you go! To complete this look, wear a bright-colored cross-body bag and a pair of brown, black, tan, or dark blue wedge heels.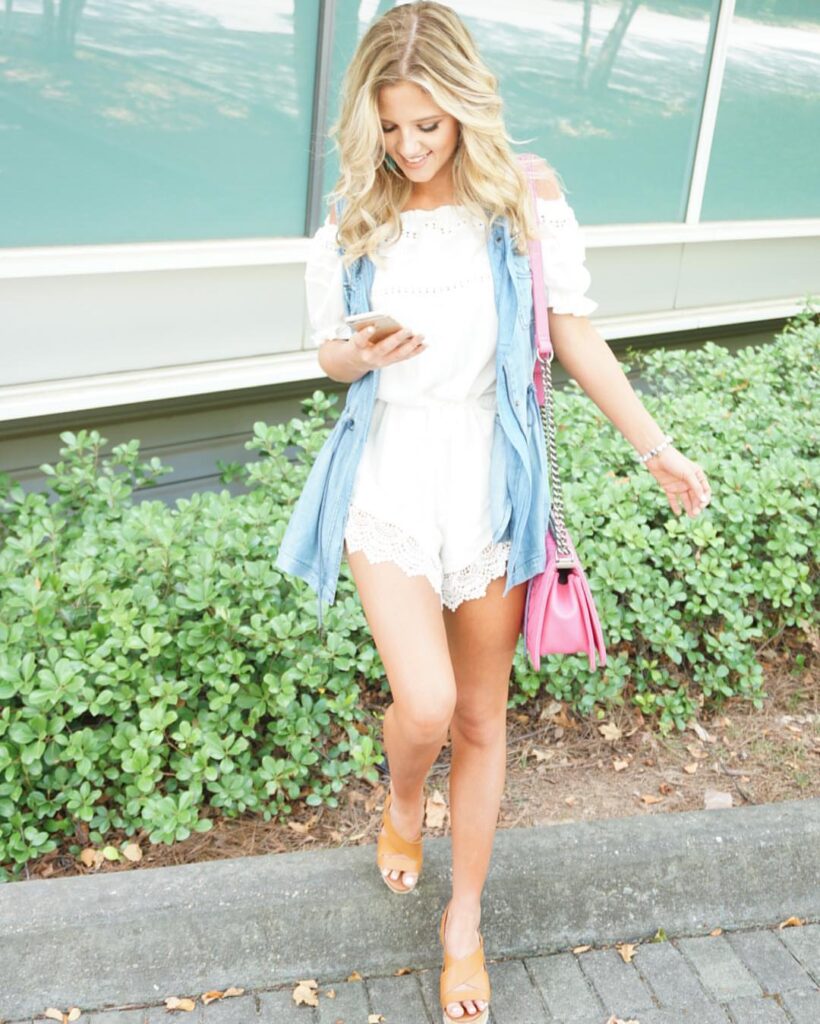 4 – Vest With Frills And Matching Denim Shorts
For this look, we shall be breaking one of our own rules. Usually, we would not tell you to wear denim over denim, but here we shall be making an exception.
What accentuates this style, are the pink ruffles coming out from under the jacket and the trendy embroidery near the shoulder region.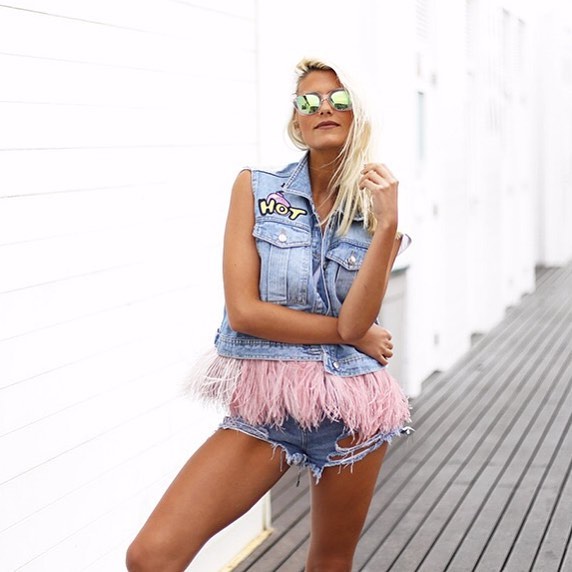 3 – Lightblue Jean Vest Worn With Silver Pants And White T-shirt
We think that the denim jacket and silver pants combination is to die for. To accessorize, wear a few wristbands or bracelets with a white colored wristwatch.
When it comes to shoes, what could be better than plain white sneakers?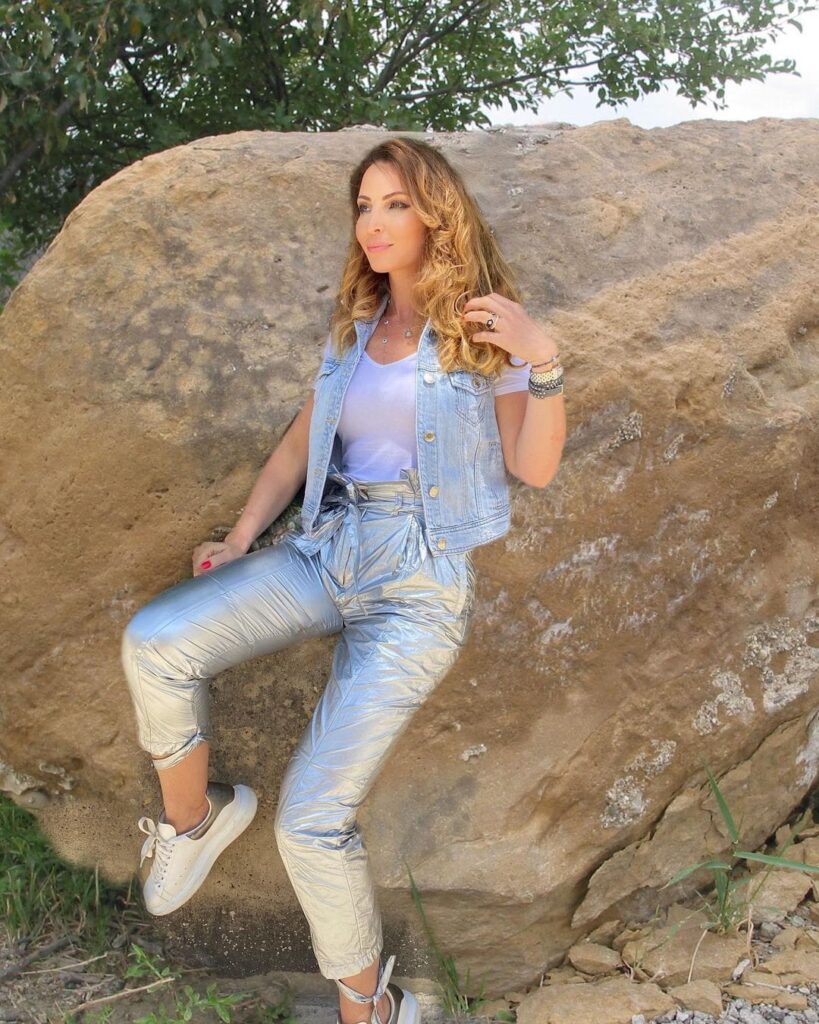 2 – Cropped Vest With A Short Bodycon Black Dress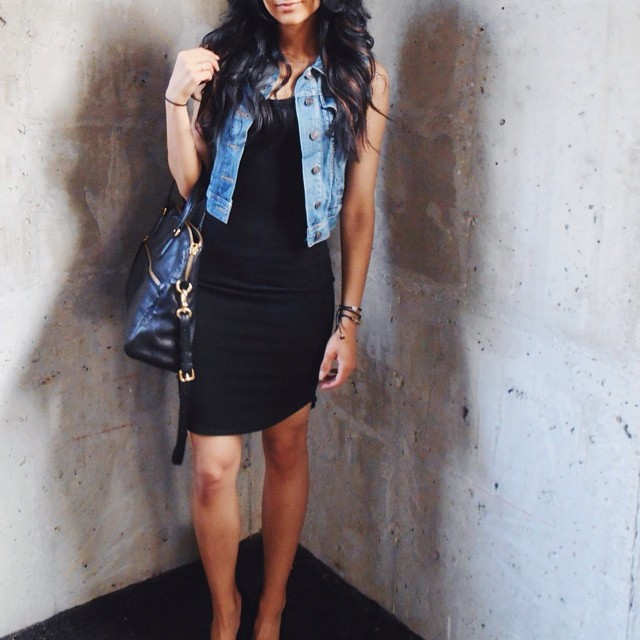 1 – Long Denim Vest And White Frill Pants
This long denim vest is perfect for plus-size women who want their hips covered. Under the vest, a t-shirt of any color can be worn. The frilled pants are an interesting spin on the outfit.
To complete the outfit, put on a pair of black ankle boots.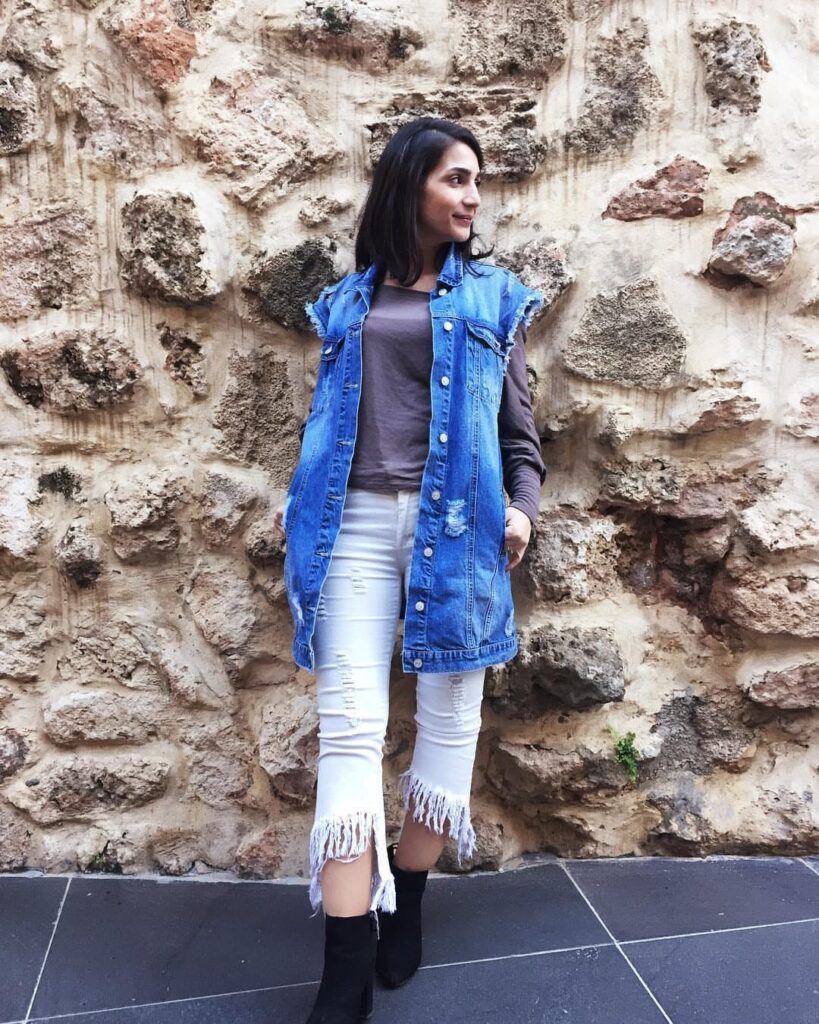 FAQ
Q. In which seasons can denim vest can be worn?
A. They can be used during the winter or the summer seasons. They do not make you feel hot and can be paired with warm clothes in the winter at the same time.
Q. Are denim vests in style in 2023?
A. These vests are one of those components of fashion that hardly ever go out of style. Women, and even men, like to wear them no matter what fashion magazines suggest.
Q. Have any celebrities been spotted wearing denim vests?
A. Yes! Famous celebrities, including Jennifer Aniston, have been spotted wearing them on a number of occasions – on and off the screen.
Q. What is the best occasion to wear denim vests in?
A. Denim vests are perfect for all casual occasions. A day at the park, a day at the mall, a picnic with friends, or even while you're getting coffee at your favorite coffee house.