February outfits for women: Keeping up with Winter fashion pop-ups and new trends can be grueling and frustrating once February arrives. Especially if you have been following different styling ideas until you are on the edge of running out of fashion inspirations.
For many of us, weather starts changing in February which makes it difficult to decide what to wear. Chill out; you are still safe and in good hands. Today I am gifting you a special cheat-sheet of the most irresistible collection for improving your February personal style and inspirational outfits to opt for on Valentine's day.
What To Wear In February This Year?
For February, you need a fresh start with your winter outfit ideas. The weather tends to be somewhere between chilly and mild, so you have to be prepared. Consider ambrosial and feminine looks by adding these special pieces to your February wardrobe:
Leopard Print Sweater
Dusters
Faux Shearling Jacket is a must-have
Rib Knit sweater dress
Over-the-knee boots
Mac coat
Puffer Jacket
Poncho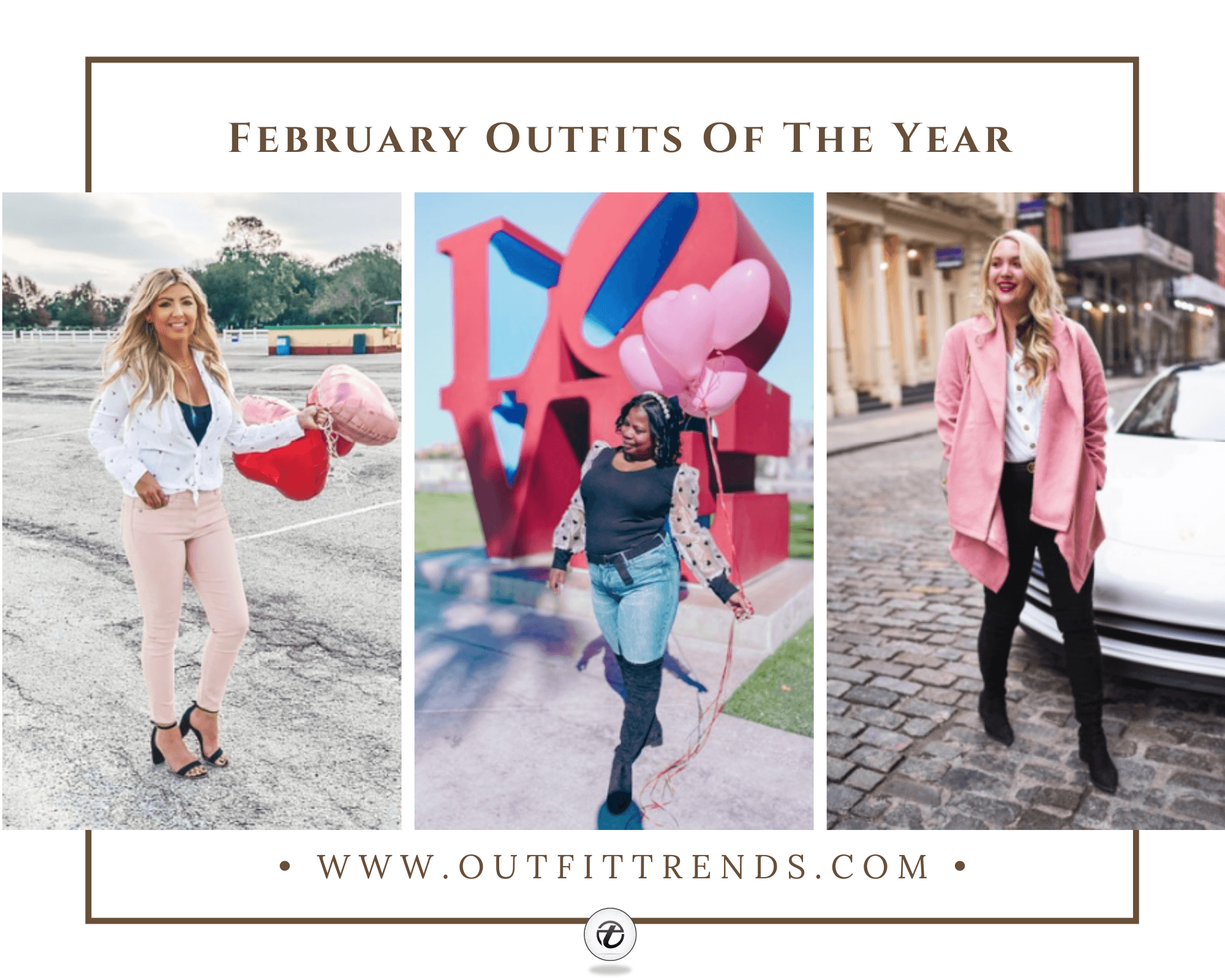 ↓ 25 – Valentine's Date Outfit
How can we talk about February without mentioning valentine's day! It is the most important day of this month for most of us. This valentine's, make use of your plus-size cardigan and transform the common styling techniques of your knitwear to an elated one. You don't have to layer pieces together along with your basic cardigan anymore. As you can briefly embrace a stylish and different way of wearing your bold red cardigan, where you can style it as a sweater. This maxi summer floral skirt is perfectly proportioned to be paired with your cardigan sweater. You can consider it as a fitting choice besides high waisted boyfriend jeans to combine with this style. Simple white trainers will give you the much sought after street outfit look. And if you're looking for something more on the romantic side, you need to check out our post on Amazing Outfits Ideas For Valentine's Day.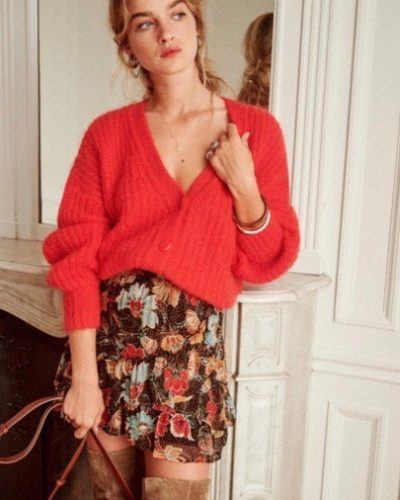 Outfit Details:
↓ 24 – Elegant Is Your New Name
Elegant is an adjective word that goes best to describe this look after adapting it. A single-button camel coat is required for this outfit before putting the rest of the pieces together. Layer your camel coat over a fitted high neck sleeve top with black wash denim jeans in order to gain a feminine look. Mid Heel Boots are the perfect match for your footwear. The choice of colors for this outfit is completely on point. Tucking the top in the jeans adds to this modern, chic look.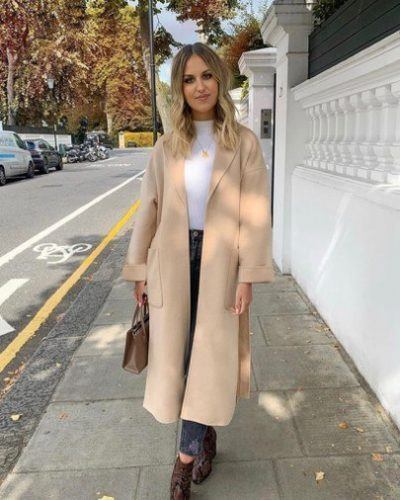 For Outfit Details:
↓ 23 – A Sweet Touch Of Lavender
Enjoy grocery shopping while wearing a chunky knit turtle neck sweater with high-waist dark wash skinny jeans. Lavender is always the most appealing color that provides your outfit a decent look. Harmonize your beige sweater with a pastel lavender coat for an extra delicate and calm appearance. Casual high heel pointed toe ankle boots are definitely an eye-catching choice here.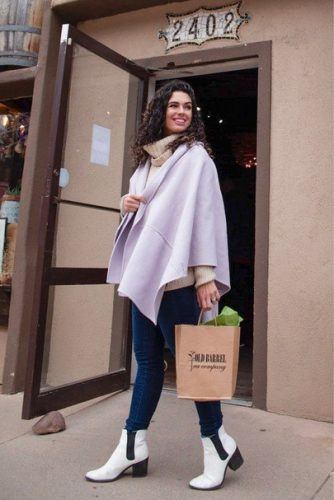 For Outfit Details:
↓ 22 – Leopard Print is The King Of The Season
Recent fashion trends are inclined towards everything in Leopard print. This print is back, and it's carrying nostalgia for many of us. As it's been dispersed after being printed on things such as bags, pants, boots, etc. Its global prevalence drove me to suggest this outfit in which a leopard print faux fur pullover is the star. I guess Leopard print is very reliable and independent on itself without the need of adapting the concept of color-blocking. So, it's preferred to pair your sweater with black leggings rather than radiant and colorful colors on the color wheel which are dispensable. Make your look more sporty by wearing eye-captivating Nike Tanjun trainers.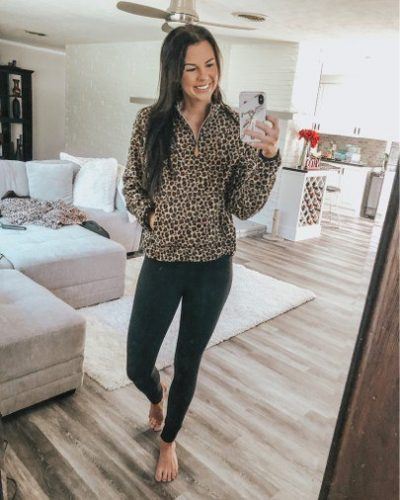 For Outfit Details:
↓ 21- Wear Over-the-knee boots As Pants Alternative
Be the only hot thing to be found in a cold and chilly place. Compose an electrifying outfit with the help of a tight roll neck mini knit sweater dress. Throw on a wool overcoat accompanied by a scarf to stay warm. For a fierce dose of sexiness, put your bare feet in a pair of jet black over-the-knee boots. If you are longing for a slim fit appearance, these shoes will help with that. Honestly, these boots are so powerful to turn the ordinary into something sexy. Doubtlessly, they are the queen of the season and should be on the top of your shopping list. Now you can give a final effective addition of oval sunglasses.
Shop This Outfit From Amazon:
↓ 20- Style Puffer Jackets Rightly
As winter progresses, a puffer jacket is a perfect go-to when you can't help walking outside with a heavy jacket. It's never too late to rebuild trust in your puffer jacket when all you have to do is style it with short sleeve tee and a pair of Petite tapered pants. Petite tapered pants will enhance the elegance of your outfit. Regarding the golden rule, tuck the tee to tapered pants to look more fit and refined. For ideal completion, sock boots are the best footwear. Stick around with beanies pretending to have another day in December. Here are some more ideas on How To Wear a Puffer Jacket.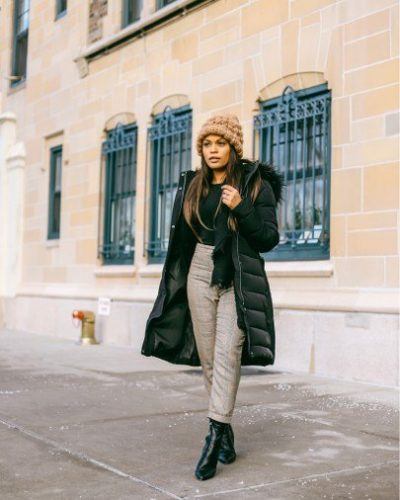 Shop This Outfit:
↓ 19- A Challenging Dress
This outfit is a little different from the rest that we are suggesting today but doubtlessly cute. Start off with a floral print dress and layer with a soft raincoat. Waterproof rain boots are unexpectedly stylish as they aren't restricted to rainy days. Add a girlish touch in displaying over-the-knee cotton socks.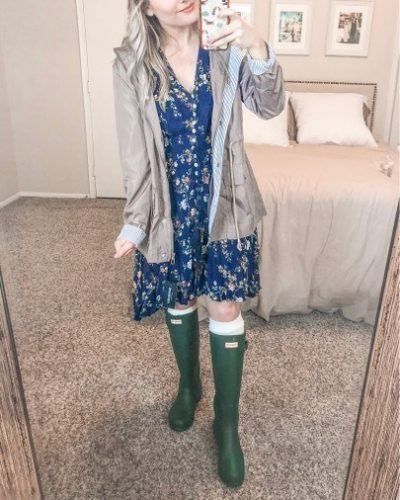 Outfit Details:
↓ 18- A Belted Coat With Plain Jeans
If you desire an effortlessly feminine look, give a try to a belted coat with basic plain jeans. This selection goes amazingly with suede cone heel mules for balanced finery.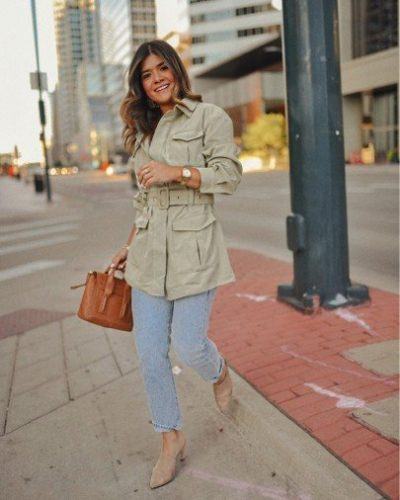 Outfit Details:
↓ 17- Too Baggy
Oversized clothes never fail in evoking attention and providing an embellished look. A baggy funnel neck jumper is delightfully sweet looking when you pair it with black wash jeans. For an ostentatious addition, get a frilly leather belt from Gucci. Foreground your Gucci belt, bringing a harmonic effect by tucking your jumper's hemline into your pants. Your footwear is better being a pair of fashionable black ankle boots to match them with the outfit's palette. If you like this look then you have to check out these Superb Ideas on How to Wear Oversized Clothes.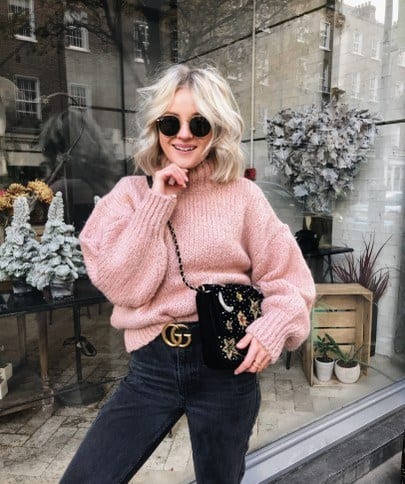 Outfit Details:
↓ 16- A Sweatshirt That Doesn't Look Casual
Every girl has a part in her closet which is loaded with folded sweatshirts. Sweatshirts aren't restricted to jeans and sneakers; in fact, you can have a sweatshirt with a pair of Faux leather pants and a duster coat. Wear a jersey top before your sweatshirt to smarten your look and tone down how casual your sweatshirt is. Bid adieu to sneakers for something more spicy and stunning, like these studded Stiletto boots.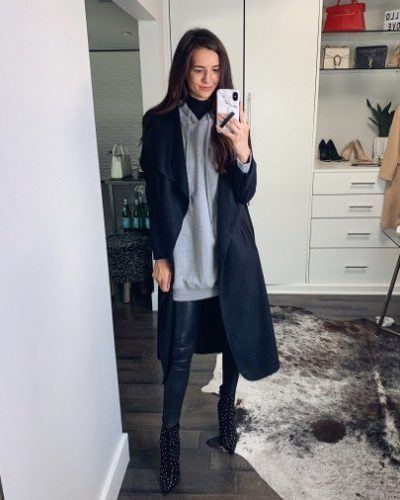 Shop This Outfit:
↓ 15- The Most Trending Coat of The Month
Your February haul is incomplete until you've tried on a shearling jacket. If you are one of those who are not sure about styling a shearling jacket with a sweater dress, thinking they may not chime together I guarantee your concerns are true until you try it out for yourself. The best thing is that it fits in with everything, dresses, T-shirts, tops, tees and white plain shirts, it exquisitely works with all. You can have your shearling jacket on like the blogger in the picture with a mock wrap knit sweater dress, a buckle belt and over-the-knee boots. It is a proper outfit for many different places such as the school, date at the park or restaurant, and work. Getting ready can't be more effortless and cozy.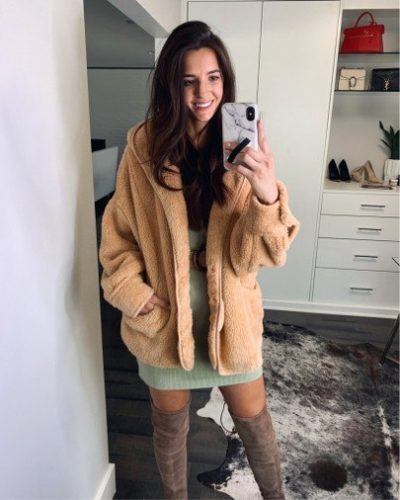 Shop This Outfit:
↓ 14- A Simple Dress for A Special Occasion
If you do not want to do much with your look, opt for a knit turtleneck midi dress. It is sufficiently decent, and convenient for different occasions and rites of passage. Your bare feet deserve skyscraper pump heels to spice up your whole outfit, so it carries simplicity and an intense attraction.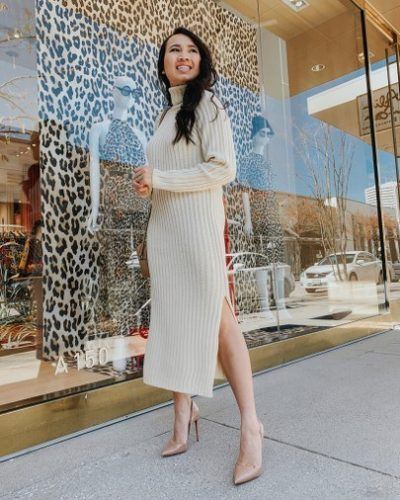 Outfit Details:
↓ 13- Discover A Better Styling Idea for Your Sweater Dress
Layering clothes is a fun game for fashion fans. It makes the one learn and discover pieces that can go together independently. I encourage you to experience the glamour of putting an androgynous touch of a baby blue shirt with a cream long sleeve sweater dress as presented by the model. If you aspire to include the ribbon brooch that she presents on the top of the dress neckline, make sure to not have it with a scarf. Note that this won't be an interdependent match with any shoe except for greyish over-the-knee boots. Here are the Best Styles of Sweaters for Women to try this year.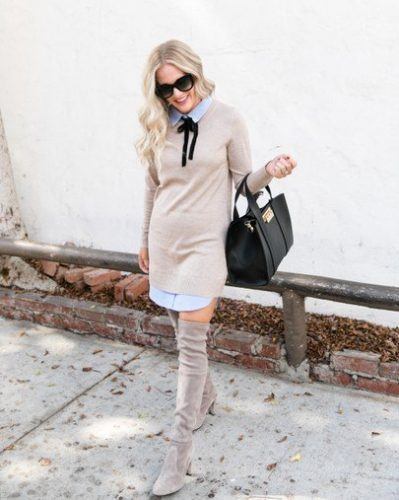 Outfit Details:
↓ 12- Add Prime Colors To Your Palette
Who says you can't put on coats with skirts? Generate a color palette of burgundy, black, white, and medium brown to bring out a compelling outfit on your canvas. Your figure probably calls for a sense of your mama's fashion back in her 20s, most specifically considering a pleated skirt. Insert a white wool jumper into your burgundy pleated skirt while letting a camel-hair coat hugging them loose. Choose the color black for those heeled leather loafers and this tote from Everlane to double their remarkability.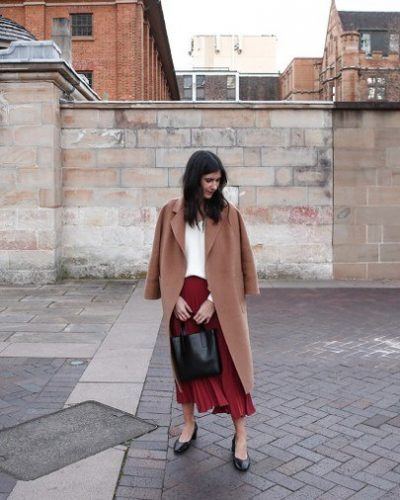 Outfit Details:
↓ 11- Mom Jeans And An Ordinary Cardigan
Luckily, February covers days on the calendar when you can have a break from heavyweight quilted coats and puffer jackets. Heading out in basic knitwear is more than enough for February. You can merely have on a burgundy long sleeve cardigan. Striped tops go best with distressed mom jeans in a medium wash. With these pants, you can get a relaxed and comfy silhouette.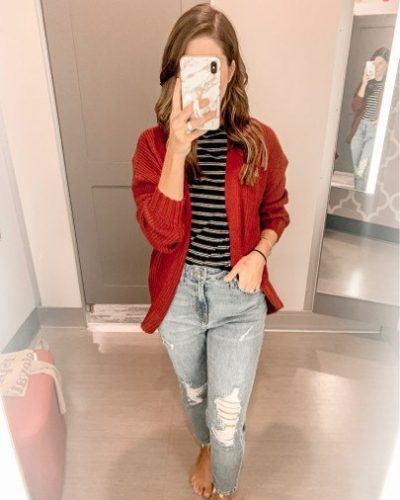 Outfit Details From Target:
Long-sleeve Cardigan costs $20.00
Mom jeans cost $22.00
Short sleeve striped T-shirt costs $10.00
↓ 10- Leggings are too right for you
Are you fond of leggings? If you find them to be the comfiest choice for you, make your leggings chicer with a white crop top and a shearling jacket for warmth. This summer-versus-winter combination will reduce driving attention from those people who are stereotyping leggings and restricting it to the gym outfits. Athletic sneakers are the best go-to to enrich your casual look. Complete the look with these Shoes to wear With Leggings.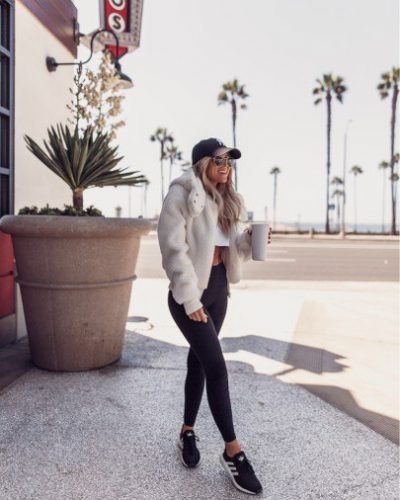 For Outfit Details:
↓ 9- An Effortless Look
A sherpa jacket is everyone's winter must-have. It's super casual if you mingle it with your short sleeve striped top and dark wash jeans. A sherpa mock neck jacket works best with striped tops to boost your body warmness and get an interesting casual street look. This outfit is perfect for college students and high schoolers – where you don't do much but still look stylish. Keep your dress cool and simple with a pair of your ordinary sneakers.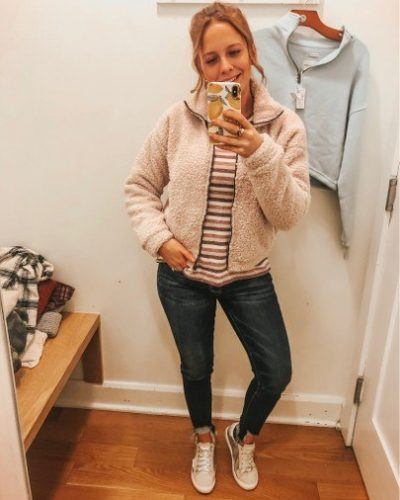 Outfit Details From American Eagle:
↓ 8- A Thrilling New York Street Style
This outfit has a taste from the fashion capital, New York, and brings a nostalgia of the 90s. To put it successfully together, it is essential to come across a wardrobe that has a camel double-breasted coat. Throw your camel coat over a white faux fur jumper, then slightly match them with the streamlined style, having on pinstripe pants. You can showcase an official retro vibe for your head through a Baker Boy hat. For your feet, scop sweet relish of vanilla kicks on them.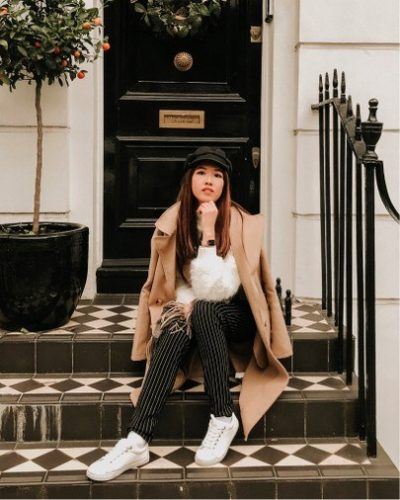 Shop This Outfit:
↓ 7- A Rain Jacket Needn't Boots
Opt for a striped T-shirt and dark wash jeans for a casual flair. The outfit is incomplete until you throw on a Rain Jacket to improve a dashing look. Rainy days' outfits are commonly collections of heavy coats and waterproof jackets paired with boots. But, this doesn't have to be a fixed rule for you to follow. Give up on boots for trendy Leopard flats. If February is a rainy month in your area, you should have a look at these Outfit Ideas on What to Wear to Work When It's Raining.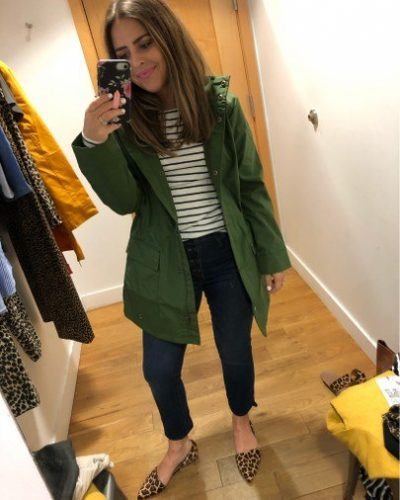 Outfit Details:
↓ 6- Make Your Sweater Look Formal
Dress up confidently for work by relying on this classy work attire through layering a long-sleeve crewneck sweater on a fitted tailored shirt. For a comfy texture on your legs, consider another tailored cloth for your outfit. These slim leg tailored trousers will give you the boss look, and they are ideal for these pointy-toe pumps as well.

Outfit Details:
↓ 5- Let The Outfit Speak For Itself
Looking appealing and feeling cozy is what this outfit idea would taste like. Present a playful appearance in a maxi shirt by combining it with a grey cable sweater and a pair of over-the-knee-boots. The hemline of your cable sweater shouldn't see the light again; it has to be tucked into your skirt.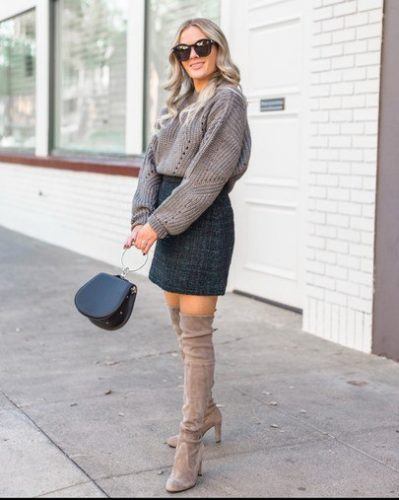 Outfit Details:
↓ 4- Feature A Poncho and Gigietta Boots to Your Simple Outfit
If you are a fan of uncomplicated looks, start off a white long sleeve tee for a bright appearance. This ripped high waist ankle jean is sufficiently qualified for influencing a fashionable style. To avoid your outfit from looking boring, you can feature a poncho and Gigietta boots. They carry a gigantic beauty power that will protrude and breathe life to the Instagram model inside you.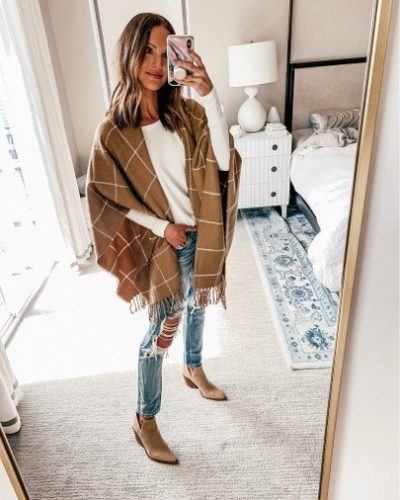 Shop This Outfit:
↓ 3- Change The Way You Style Flannels
Wearing flannels is no longer boring looking. For February, style your flannels differently. Breathe life again to your basic flannel that sticks around with you since fall with layering a Sherpa vest over it. At last, style these two pieces with high-waist leggings and high-top sneakers.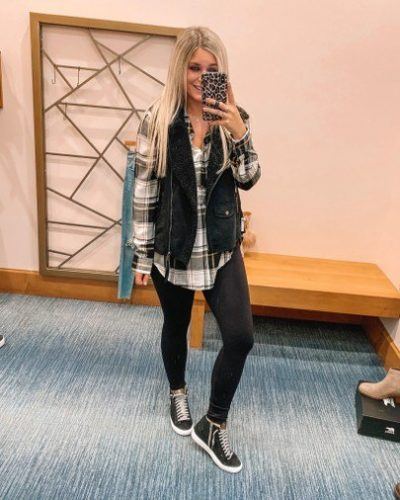 ↓ 2- Afternoon Walk Outfit
It's recommended for this month to match garments of varied tint. Avoid repeating colors while casting up an outfit of Mac coat, v-neck sweater, and slim fit-fixed waist pants. Your sweater's hemline has to stay tucked in your slim pants. Build on a touch of bright red with this crossbody bag, and a sense of dark black with these pointed leather loafers.
Shop This Outfit:
↓ 1- Put Pieces Of Leather Together
Try to not be repetitive with the material of the clothes you wear. Leather adds glory and a sense of grandeur. For a change, pair your funnel neck long sleeve bodysuit with a buttoned leather skirt. This outfit suits a date night or just a day when you just crave a feminine look. Drive confidence to yourself walking in a slouchy leather heels boots and carrying around this leather purse.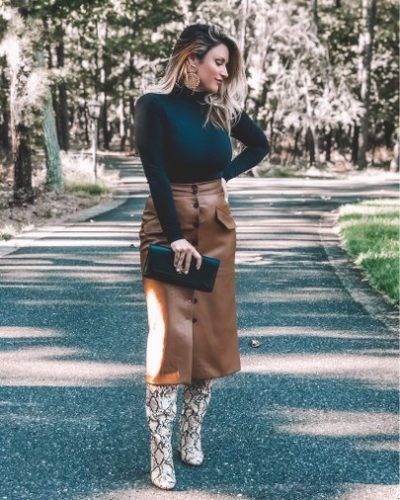 Outfit Details: