Regencycore fashion trend outfits – If the term aesthetic could have a synonym in the fashion world, then regencycore would be it. There is hardly anyone out there who didn't imagine themselves in floral and flowy dresses after watching the wildly famous Netflix show 'Bridgerton'.
Apart from the storyline, diversity, and chemistry in the show, everyone absolutely adored the way the team carried out aesthetic outfits. After the series became a hit, it didn't take long for the famous theme of the show to become a trend.
If you're looking for ways to incorporate this aesthetic trend into your daily wear, we've got you covered! Our style guide just wants you to need to navigate yourself through this recent trend.
Best Regencycore Fashion Trend Outfits
To put it in a sentence, the essence that regencycore carries with it is extremely feminine. Many people think that this area of fashion is suitable only for glamorous events. But you will be surprised to see the different ways you can get in with the trend.
This type of trend gives off romantic, spring vibes. However, if that isn't up to your taste then don't worry, as in our style guide, we have something all in for everyone!
Before getting into it, make sure to follow the below-mentioned tips on styling your outfits to the top-notch!
Do's And Don'ts of Regencycore Trends
Most of the outfits from this trend include long, floral dresses paired with pumps or mid-length heels.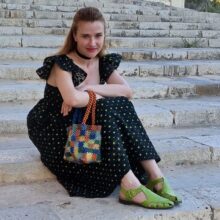 Regencycore makeup includes subtle and soft makeup. So if you want to completely go all in, make sure to keep your makeup light with fresh and glowy skin!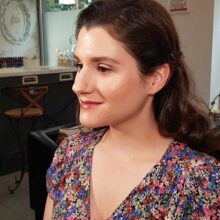 Always remember that accessorizing yourself can make or break your look. If you are confused about how to do that, then just stick with pearl jewelry.
Don't be afraid to wear a headpiece! It will add extra bling to your outfit.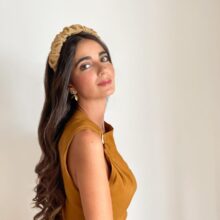 Don't just restrict yourself to just floral dresses. This area of fashion is way more diverse than that.
20 – Corset Top with Leather Pants and Velvet Jacket
When the event requires you to glam up, why not do it in regencycore style?
Silk, corset tops are easily available everywhere. Get one and pair it up with leather pants. The two paired together will instantly give your outfit the required bling. To keep things classy wear a velvet coat.
End your look with a high ponytail to get your A-game on! The best thing about this trend is that you can style your look with modern touches and be your most comfortable self.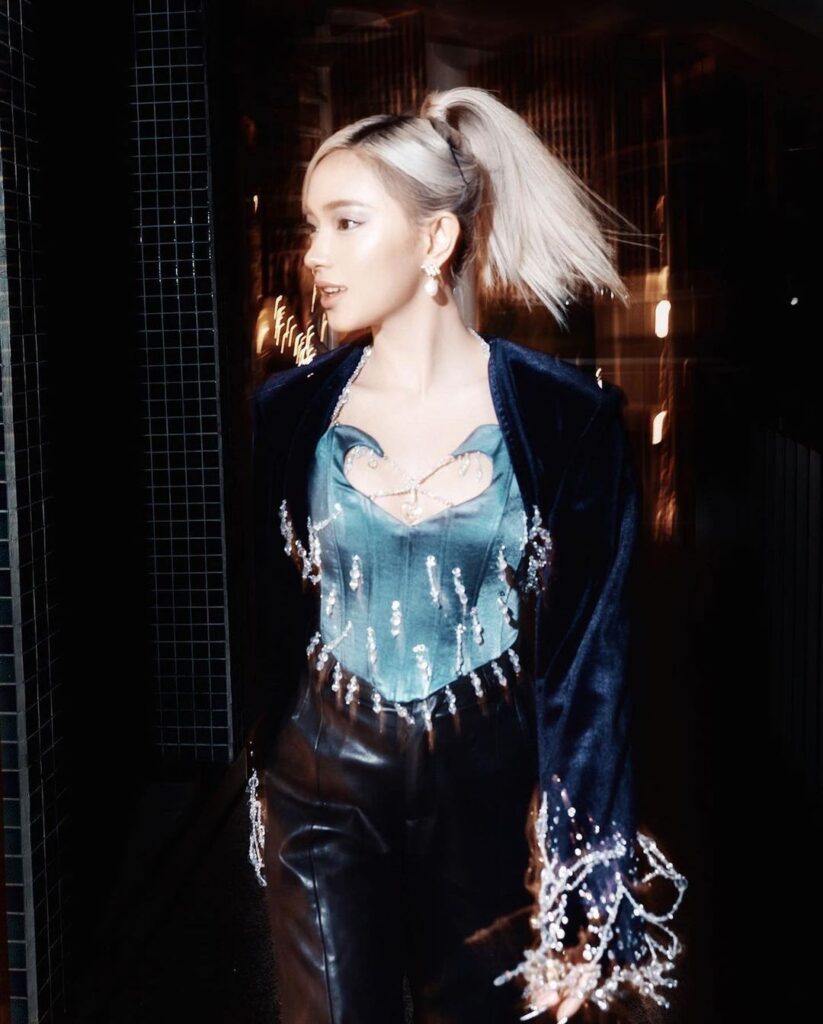 Have a night out planned with the girls and have no idea what to wear? Take inspiration from this next idea ahead.
Pairing a silk top with printed pants will make the perfect fit for a night out. Always remember, less is more. This current trend carries on with this slogan very well! Hence, the two clothing items paired together will be more than enough for a stylish look.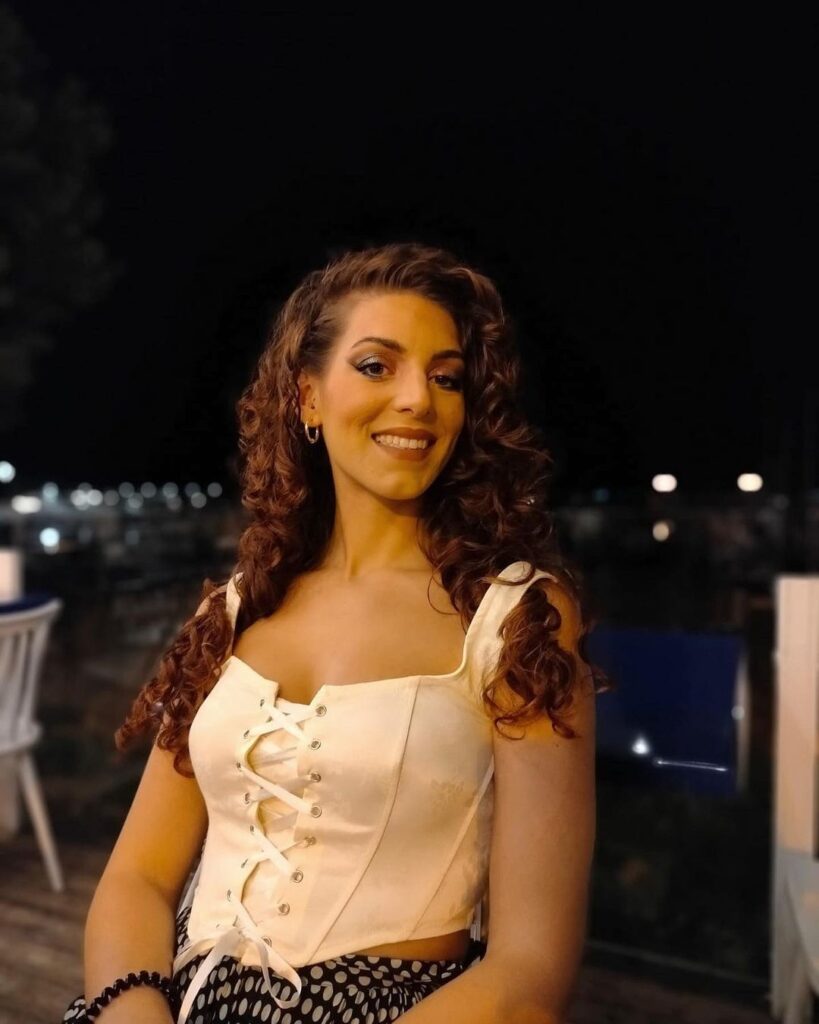 18 – Light Pink Balloon Sleeves Top
The ongoing trend is all about feminine style with pastel colors. What better shade to demonstrate that than a pastel pink?
If you are looking for a casual fit for college or an evening out, then you need to get a top like this here.
Balloon sleeves are a statement in the aesthetic world. A light pink top with sleeves will blend effortlessly with the trend. It can easily be paired with any colored denim jeans as well.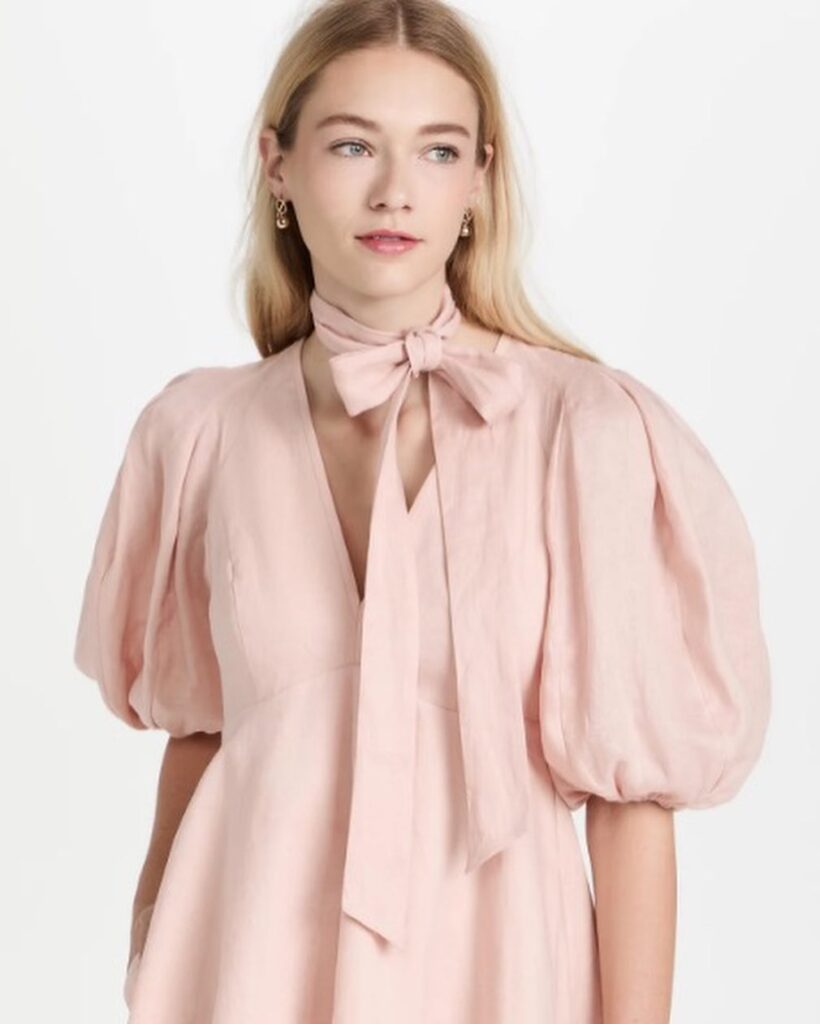 17 – Black Puffy Sleeves Top
Since it's 2023, let's spice this trend with a touch of our own. Back then, black was only worn at funerals but times have changed! If the typical pastel colors of this era are not up to your style, then simply get a black top with puffy sleeves.
Black is also one of the most flattering colors that suit every skin tone. So get those heads turning by getting a top like this one!
16 – Sky Blue Puff Sleeved Sweater with Lemon Yellow Overalls
What is everyone's number one goal when trying to pull a look together? To look and feel the cutest among all, and to your luck, this next outfit idea can guarantee you just that!
Combining two light colors together has always done the trick. So get a sky blue sweater with lemon yellow overalls. To accentuate your features, get a crochet headpiece like this too! Since we want to stay within the trend, get a puff sleeved sweater.
15 – Off-shoulder Top with Statement Hair Piece
If you have to go some place casual but still want to keep things a little blingy, then this outfit idea is just for you.
Off-shoulder tops are already a stellar piece in the fashion world. What better way of pulling off a modern outfit than an off-shoulder vintage top? Pair it up with a simple pair of jeans or trousers and a statement hairpiece for that extra glam!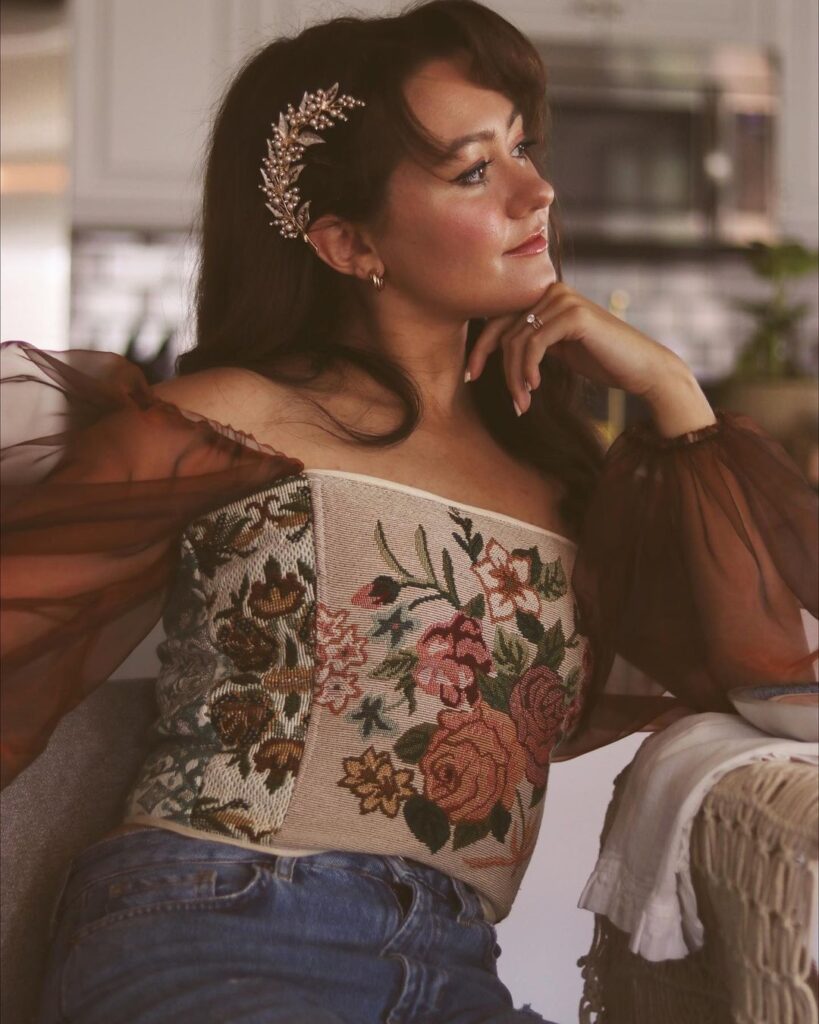 14 – Brown Plaid Skirt with a Corset Belt and Off-white Sweater
Most of the outfits that you see include a corset belt or top. The truth is that such outfits got their popularity back then due to corsets that would give an appearance of a snatched waist.
So, to keep up with the trend get a brown plaid skirt and an off-white sweater. Wear the outfit with a corset belt. As for makeup, keep it light and subtle.
Corset belts and tops come in all sizes nowadays. So don't be shy to wear one.
13 – White Floral Dress
One of the best things about this trend is that it can be followed while staying on a budget.
If you are looking for an affordable regencycore fashion outfit, then floral dresses are your best bet. They compliment every body shape, can be styled in both casual and glamorous ways, and are easy to carry too!
Wear pumps, sandals, or sneakers, basically any shoe you are comfortable with. Put on a handbag to make the perfect cute trendy outfit!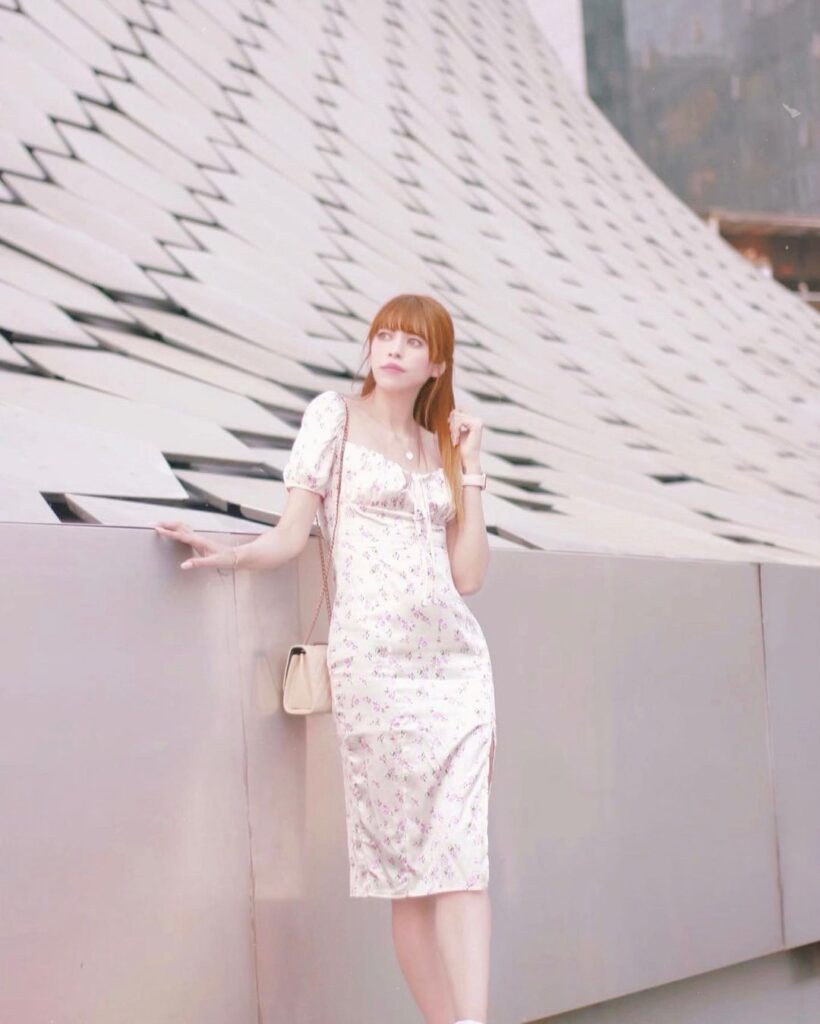 12 – Light Pink Floral Dress with Pearl Jewelry
If you are planning outfits for your vacation, then you might want to look into this one more. To mimic the romantic vibes of Bridgerton, get a light pink floral dress with puff sleeves. End your overall look with pearl jewelry.
An outfit like this can also be suitable to wear for an evening stroll or lunch with friends! Carry a straw bag to go in contrast with the overall look.
11 – Black Corset Top with Flannel Jacket
Back then mini skirts would be a no-go. Lucky for you it's 2023 and you can mix some things here and there!
Get a black corset top and finish off the look by wearing a matching color flannel jacket and a skirt. Black can go with any other color, but for a unique touch, go with beige.
10 – Black Tent Dress with Bucket Hat
Talk about an outfit that looks cute, can be worn on multiple occasions, and gives off hints of the regencycore aesthetic. A black tent dress is a must-have in your wardrobe. Pull off your look with a bucket hat and you are good to go!
9 – White Top with Sailor Collar and Green Skirt
This zone of fashion that you are trying to claim includes different types of collars and sleeves. One of those includes the sailor collar.
A collar style like this is not commonly seen in outfits. So, if you want to go for a unique look, get a white sailor collar shirt and pair it up with a green skirt. The sailor collared top will give you a different appearance as well in the best way possible!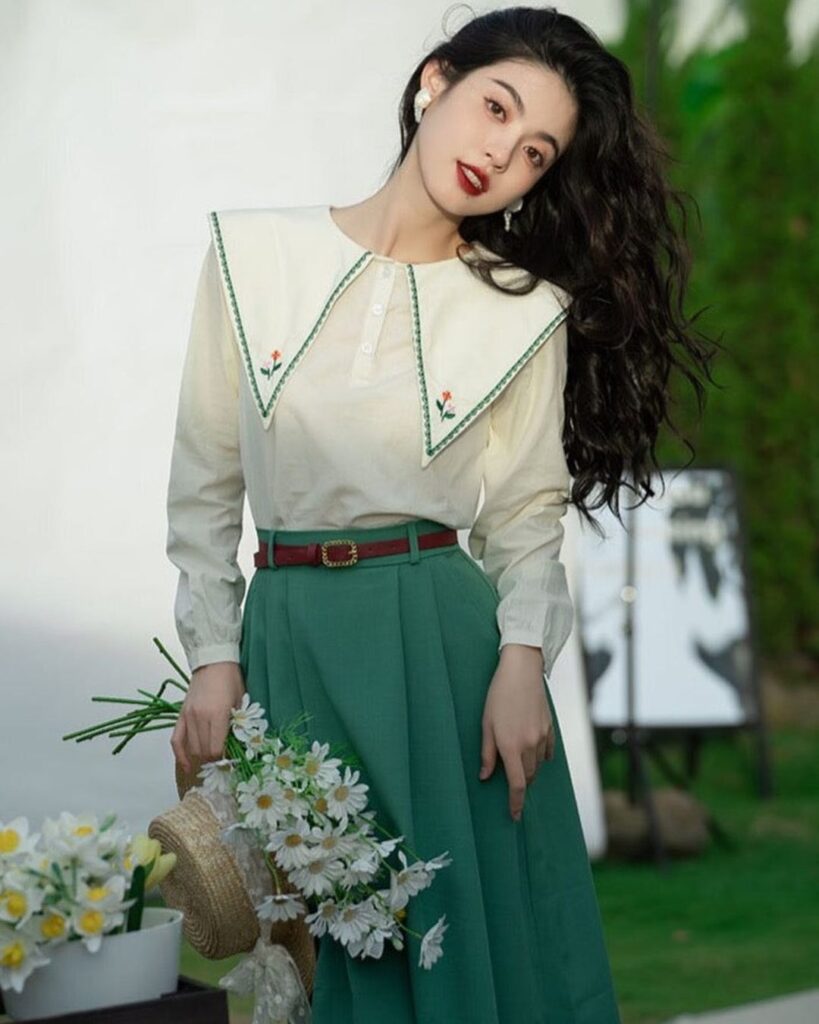 8 – Satin Top with Lace Gloves
You might've been wondering about the iconic lace gloves. After all, you cannot wear regencycore outfits without lace gloves!
An item like this is a statement piece and can make your look from zero to a hundred real quick. Take out a satin top and wear lace gloves with it. The gloves will give the top the correct amount of sizzle!
7 – Light Blue Pleated Skirt with Pink Sweater
As much as we love keeping things classic, we also love throwing in retro fits too. The next outfit idea is the perfect fusion of regencycore and retro fashion.
Get a light blue pleated skirt and pair it up with a baby pink sweater and white embroidered top. The color combination will complement each other well. Wear this outfit to a lunch date and don't forget to carry your sunglasses!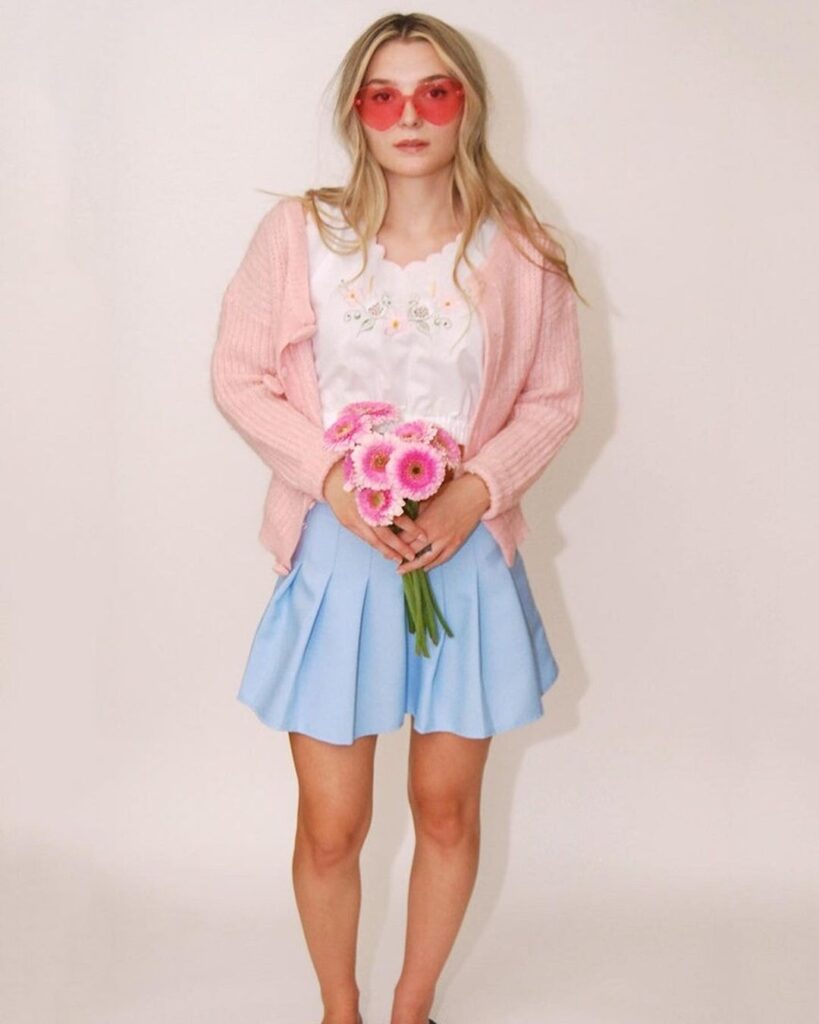 6 – Boat Neck Long Dress with Puff Sleeves
Are you looking for an outfit to wear to a bridal shower? And want to go all in with the current trends? Then, this next outfit is just for you.
A dark blue boat neck long dress with puff sleeves is just what you need to pull off this look. Wear pumps to complete the outfit. For makeup and hair, do as you please since long dresses look great with everything!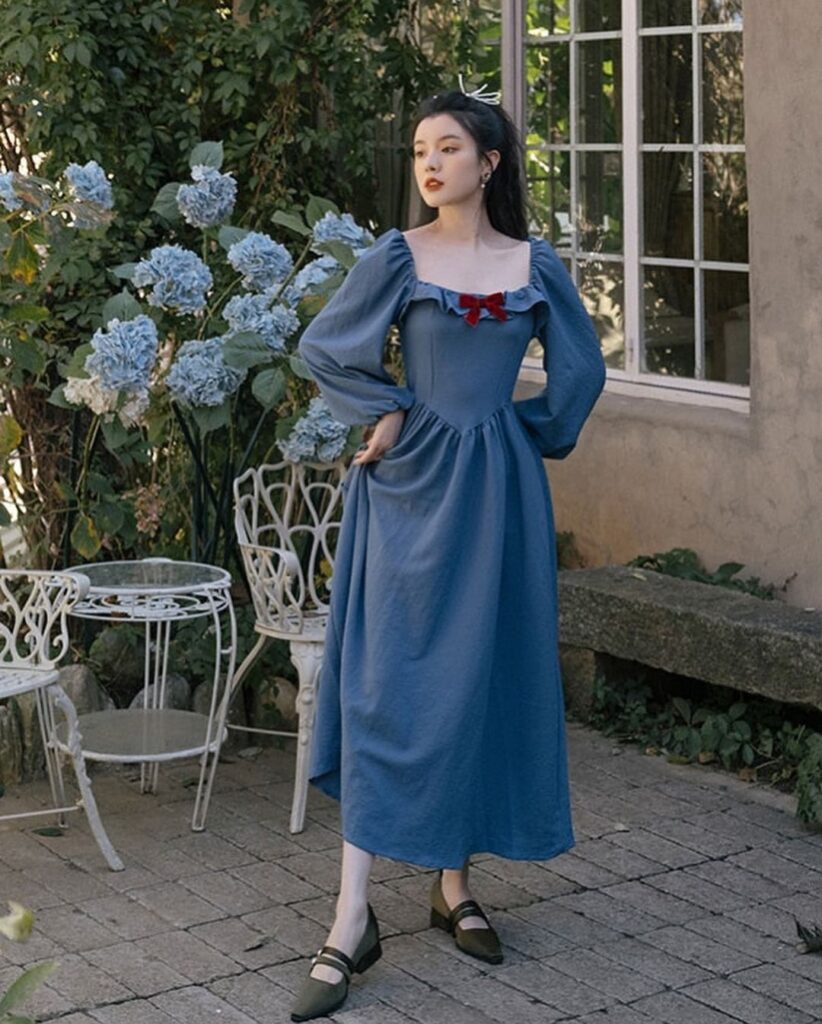 5 – An All-Black Attire with Statement Hat
A soiree in winter? Yes, please!
Simply wear an all-black attire. For this outfit, you only need to look for a bold and statement hat. If you can't find one then make one yourself. Get some pearl pieces and stick them to a plain hat. Wear that with your all-black attire and you will find yourself answering questions related to your outfit throughout the event.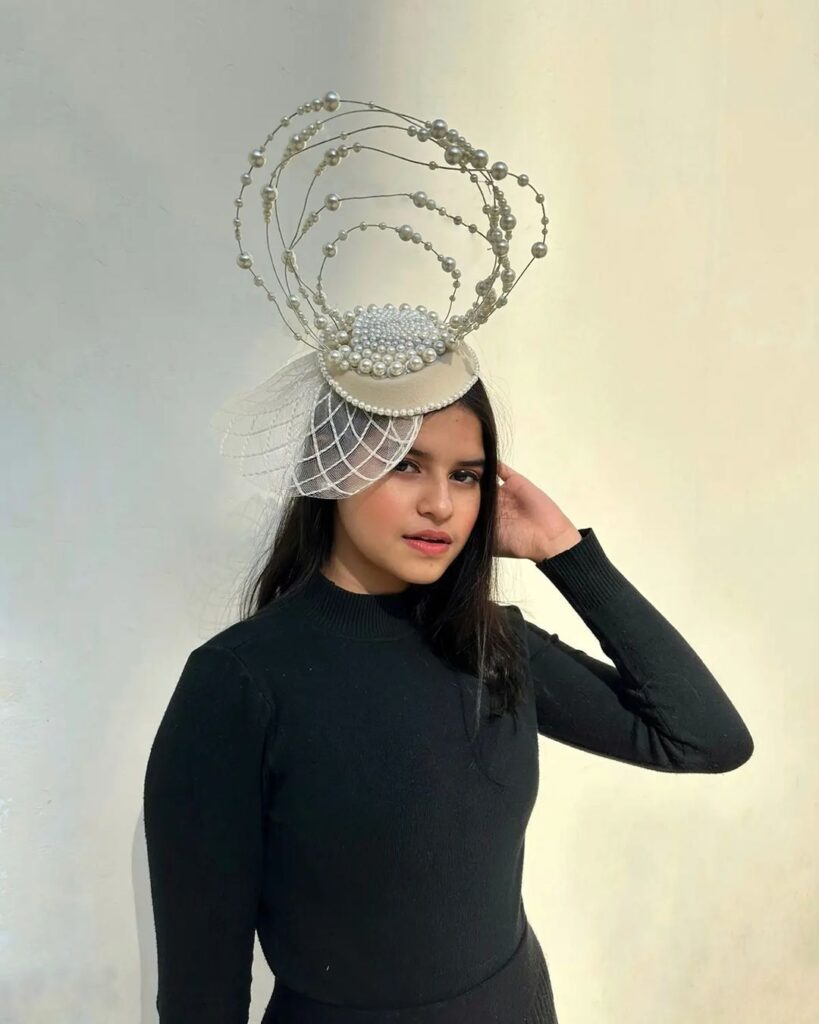 4 – White Tent Dress
When in doubt, wear white. Any style of dress that is white in color is a staple piece. Tent dresses are making quite the hype everywhere and all for good reasons. They are easy to carry, flowy, and with the right accessories can look like the correct part of an elegant dress.
White dresses are complemented best with pearl jewelry. Regencycore makeup is usually a soft and subtle glam, so do your makeup according to that.
3 – White Peter pan Collar Shirt with Brown Pleated Skirt
When planning an outfit that involves a skirt, always make sure to pick the correct shirt.
Your shirt can make or break your entire look. Try styling a brown pleated skirt with a white peter pan collared shirt. The outfit will look cute, elegant, and will fit right in with the aesthetics. Don't forget to accessorize well!
2 – Cream Puff Sleeved Dress with Black Lacey Top
This next look has to be a crowd favorite. Almost every fashion influencer out there has tried their hands with an outfit like this. Follow along as we show you how to layer it up correctly!
Till now you may have guessed that puff sleeves serve as a staple in the current fashion world. Get a cream-colored puff-sleeve dress and wear a black lacey top over it. If you'd like you can pair the black lacey top with a different-colored dress as well. Here is a picture for reference:
1 – White Corset Top with Black Skirt and Pearl Jewelry
The perfect bachelorette dress doesn't exist! After looking at this dress, you may have found the right dress for your bachelorette! Corset tops have been a hit for quite some time now.
If you have been following most of the fashion trends from the last few years, then you may have one lying in your closet. It is time for it to come out to be worn with a black mini-skirt. If you want you can add gloves too. Complete the look with a pearl necklace!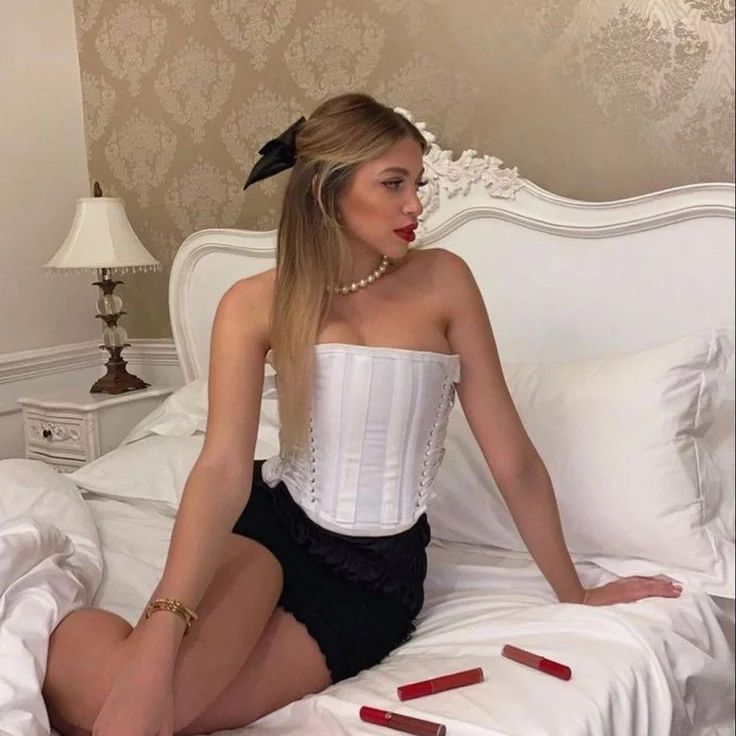 Q. Where can you wear Regenycore outfits?
A. You can wear them to regencycore themed parties, girl's day out, and college parties. It is a common misconception that such outfits can not be worn as daily wear but this trend is a very versatile area of fashion and can be styled in various ways according to the occasion.
Q. What is the most simplest style of Regencycore?
A. If you want to choose simplicity with your outfits while also staying in with the trend, then get a corset top and wear it with your jeans. If not this, then you can also get a floral dress.
Q. How did Regencycore get its popularity?
A. It all started with the famous Netflix show 'Bridgerton'. Everyone on social media went gaga over the floral and feminine style that the regencycore core era possessed.
Q. From where can you buy Regencycore outfits?
A. You can find some of the best picks in an affordable price in Amazon and Walmart.