Numerous girls have posted questions in different forums asking what outfits to wear with Chuck Taylors? How can I wear chuck Taylor for a cool look? What dress to wear with them? And on goes the list.
Is it time again to grab your bag and set up to take the bus to your calling commitments? I know it feels difficult to sacrifice your comfortable time at home, but we have something in store for you which might interest you. How does dressing up in cute outfits with converse sound? Here, we bring you some exciting and classy ideas on looks that you can style with them
What to Wear With Converse Chuck Taylors?
You need to consider a few things to put together an admirable outfit. Most important is the type of shoes you want to choose. Generally, high-tops are worn with bottoms of shorter length, including shorts, playsuits, dresses, and skirts.
However, if you plan on wearing leggings, jeans, or longer-length dresses, then low-top shoes are the way to go. Furthermore, these shoes are available in all sorts of patterns and colors, making it easier to make them the star of your outfit!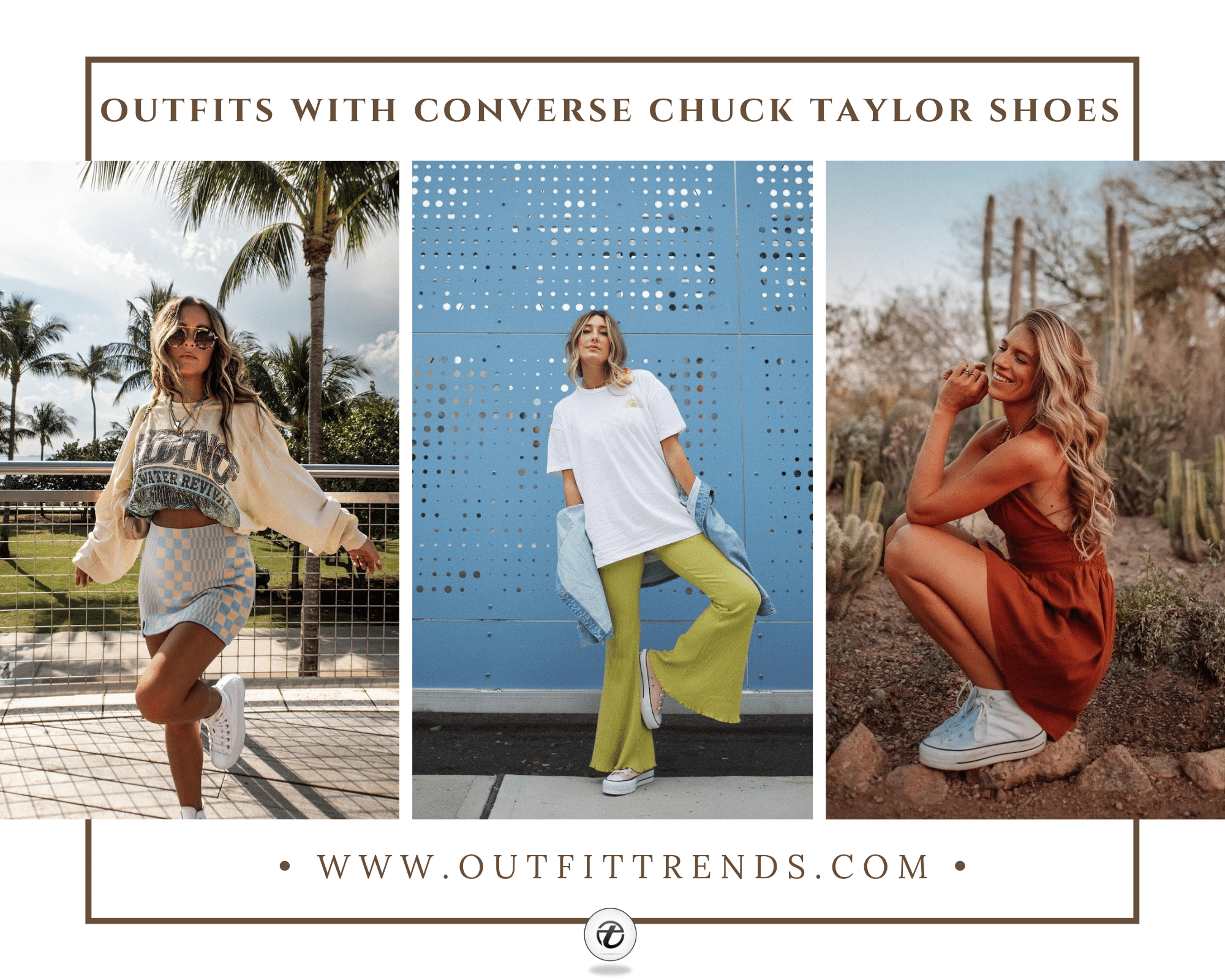 Styling Tips
High-top shoes are to be worn with outfits with shorter bottoms.
Longer bottoms are best paired with low-top Converse shoes.
Opt for colorful shoes with a neutral and single-toned outfit.
If your outfit needs color blocking, use your shoes to do so!
Going for a classic sweater and jeans look? Match your Converse to your sweater's color to spruce things up!
Show off your cute socks with low-top Chucks when wearing a short dress for a flirty, feminine look.
25 – Simplistic Shoes with Printed Outfit to Tone Down the Look
Who said print-on-print is not a good combination? This stunning and super summery outfit proves all those notions unnecessary! And a chic pair of glasses is just what this look needed!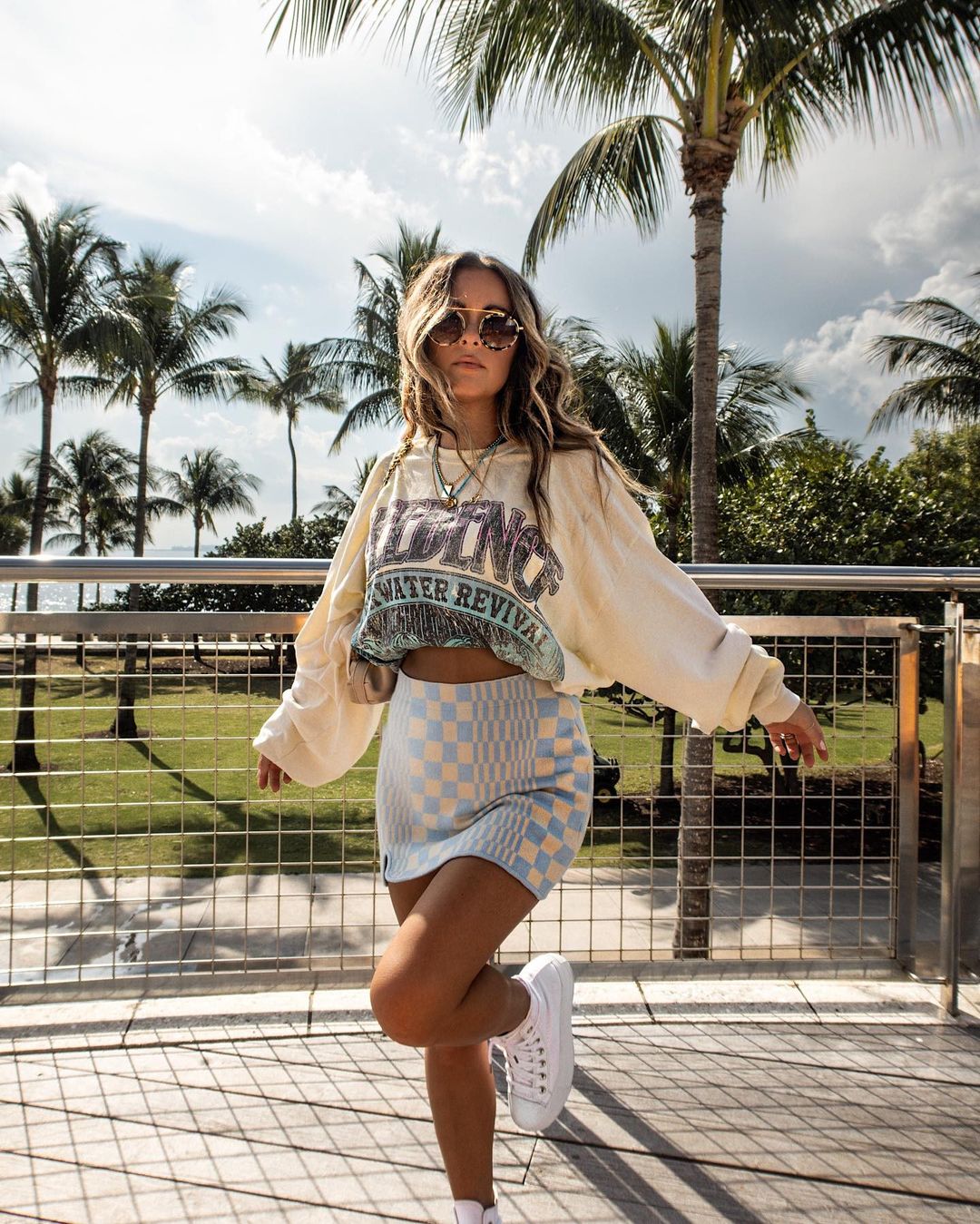 Shop the look below:
Creedence Clearwater Revival Tee
Platform Chuck Taylor All Star $75.00
24 – Bubble Gum Pink Low-Tops with Green Flared Pants
Talk about the perfect spring outfit! Messy hair, bright colors, and flared pants color-blocked with the details on the shirt all work together flawlessly. Here are some more Cute Outfits with Flared Jeans.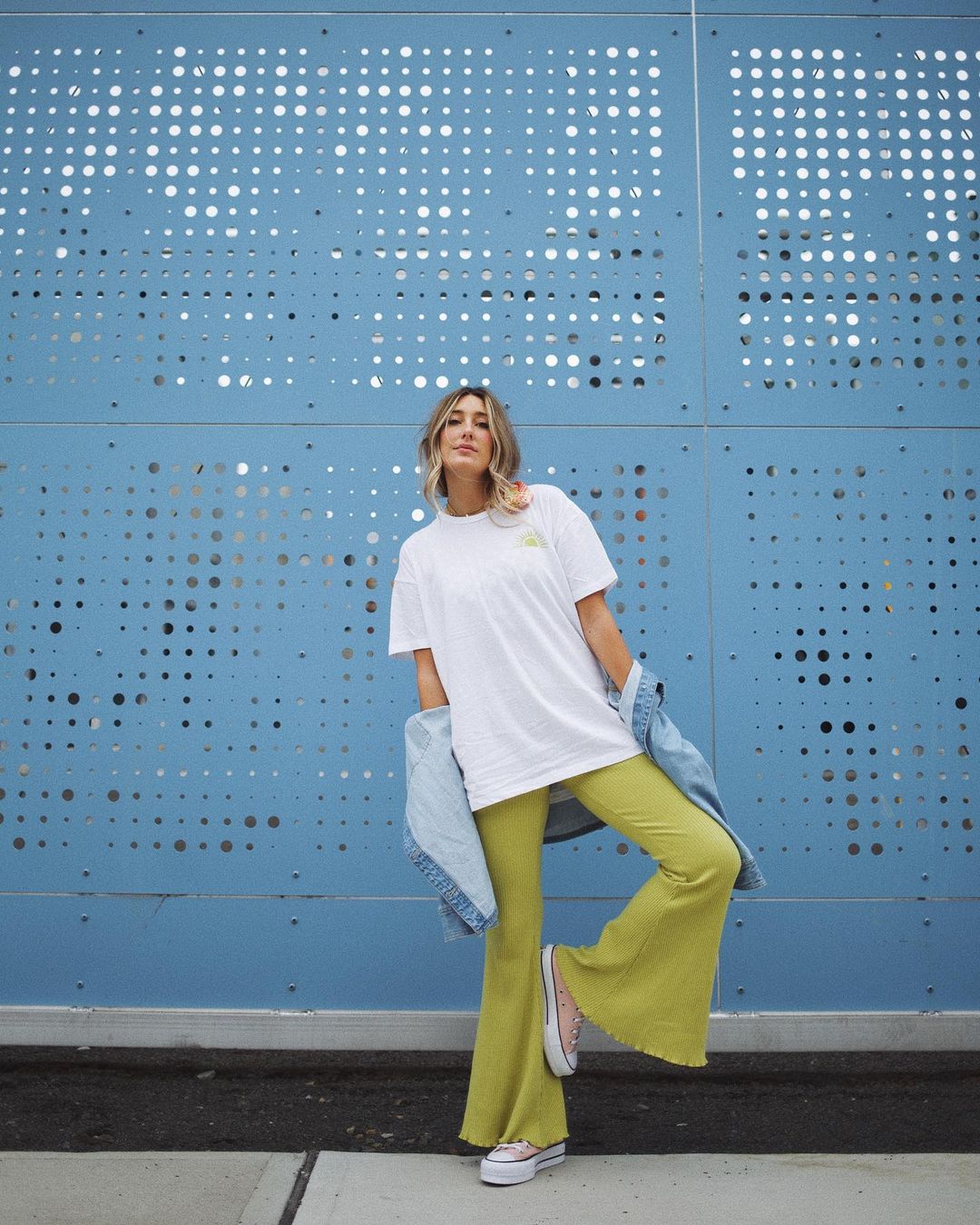 Get these pants and sneakers:
High Waisted Super Flare Pant $49.95
Chuck Taylor Lift Hi-Top Sneaker $70.00
23 – Summer outfit
If you want a quick and easy outfit, this is it! The pairing of dark with light colors is always effortless, and this shade of terracotta works wonderfully with stark white converse.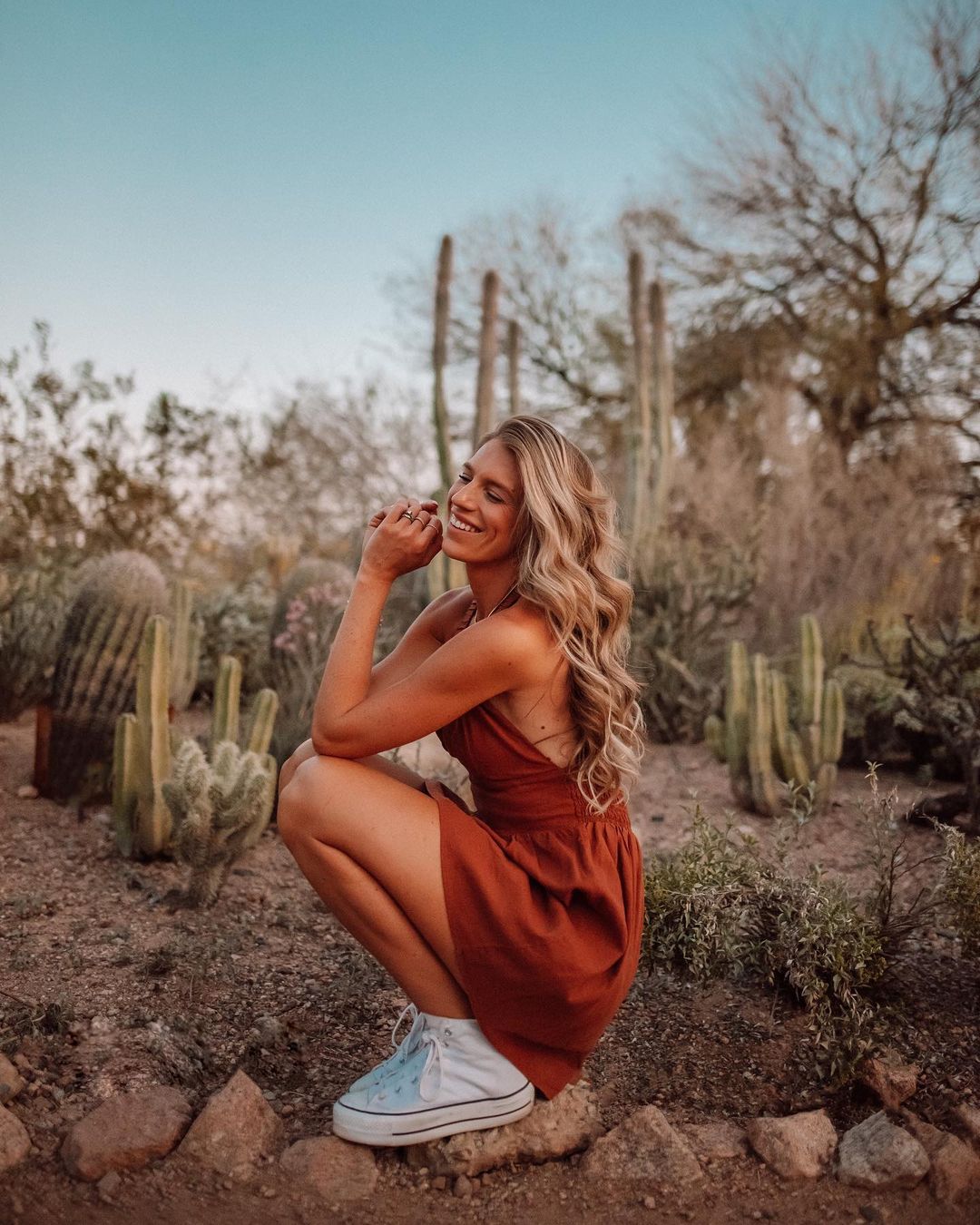 Get the outfit right here:
Chuck Taylor All Star Lift Sneakers $92.50
22 – Match your Top to Similar Colored Converse
This look is worthy enough to strut down the streets during the New York fashion week! Everything in this outfit, from the jewelry & hair & make-up to the clothing and shoes, exudes fancy and street chic.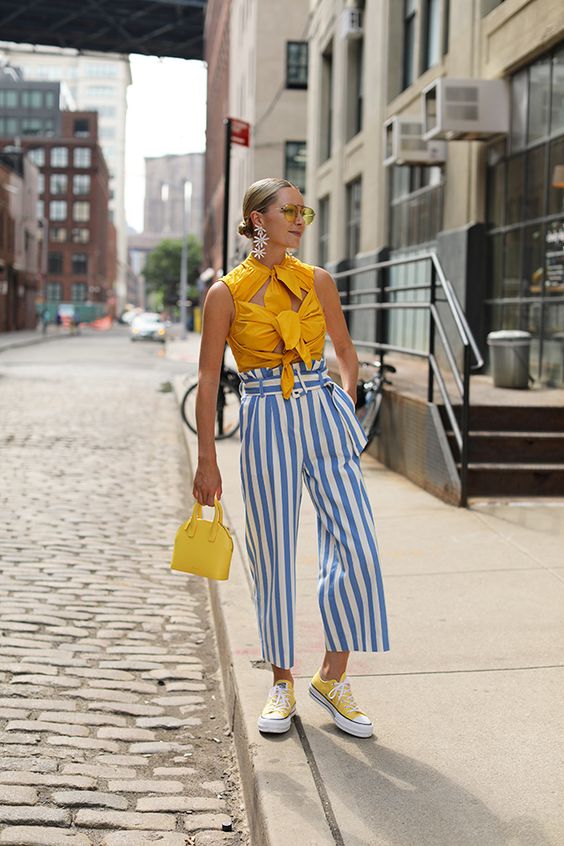 21 – Style it with Denim Shorts
This cute, drop-dead gorgeous, and stylish teen shows her outfit off by wearing her high-top Chuck Taylors with denim shorts and an antique style thick belt in brown.
Her shearling sleeveless Jacket with a simple grey shirt underneath defines her sophisticated sense of style and adds an element of coolness that the teenagers love very much. Styled sunglasses add a more edgy appeal to her looks. And accessories, such as bracelets and chains add edge to her outfit.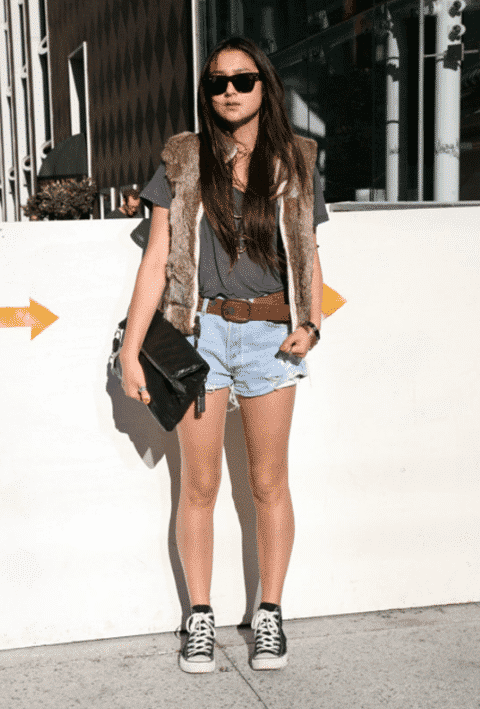 20 – With Sweater and Black Pants to Twin with the Little Ones
I don't need to say much about how stunning this girl looks in this perfect combination. Pairing her black Converse shoes with skinny jeans and a simple camel sweater is the perfect look for college/University girls or an everyday look. Wear small pearl earrings and a wristwatch for an extra touch. Sunglasses will look chic is going out into the sun.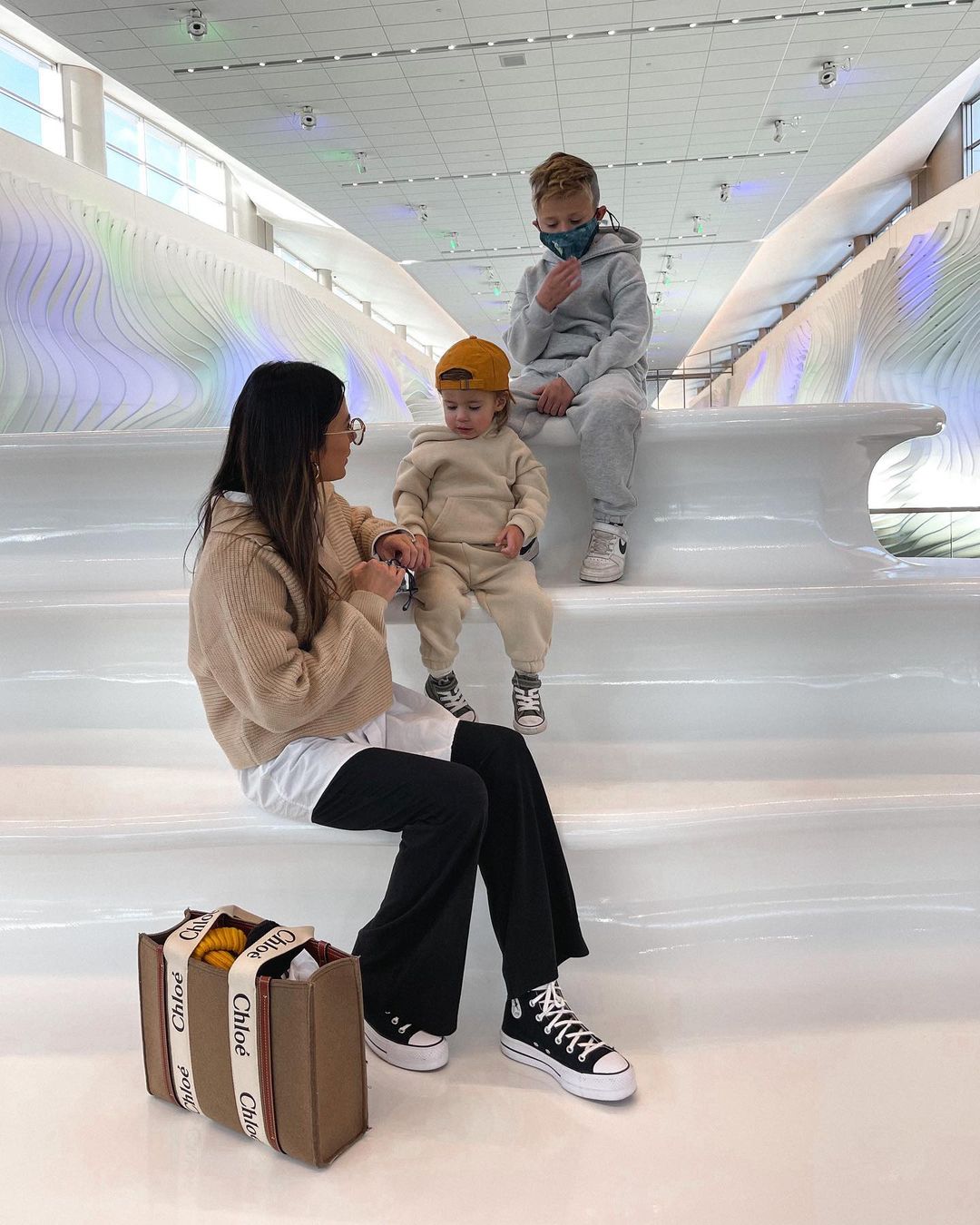 Shop the shoes:
Canvas Platform All Star $70.00
19 – Add a White Jacket and Red Purse for a Complete Look!
This classy-looking teen has opted to wear her white Chucks with skinny jeans and a bright red short peplum-styled shirt. The sophistication of this dress is the color combo that she has decided to go with. She is not wearing any jewelry, but it adds more grace and decency to her style.
However, small studs will add a little more glamor. A brown bag will do the rest of the trick for any girl. . You can also get ideas about what outfits to wear with white tights this season.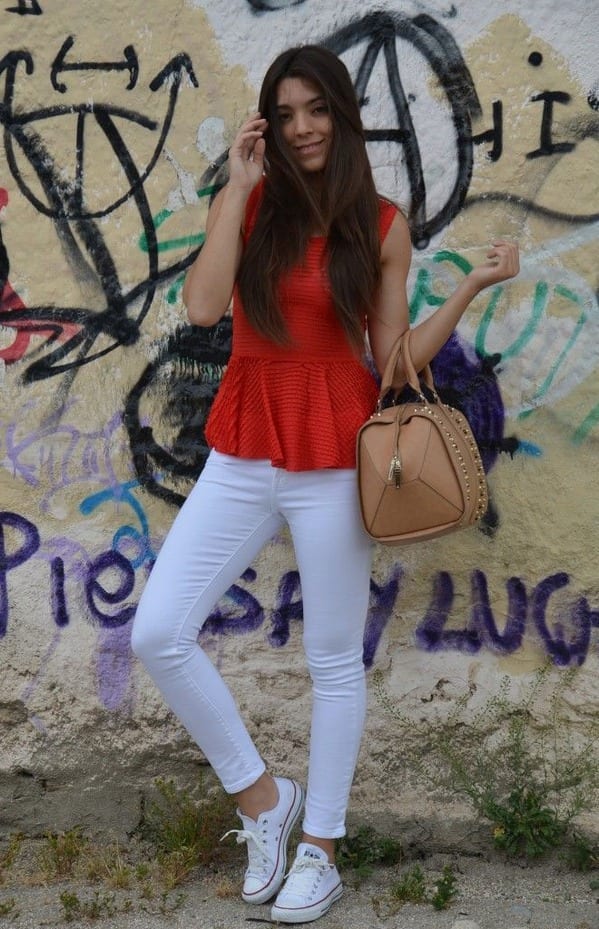 18 – Throw on a Beanie with a Suit to Make it Street Style
Capri-style plaid trousers with a similarly printed blazer give an effortlessly cool look. Loosely fit tee-shirt in comparatively light and dull color matches her Chucks and shows tasteful fashion sense.
This look is a head-turner for the winter season, and the added beanie touch will make you a style icon. Nail paints always look nice, so choose any dark color and have your nails manicured.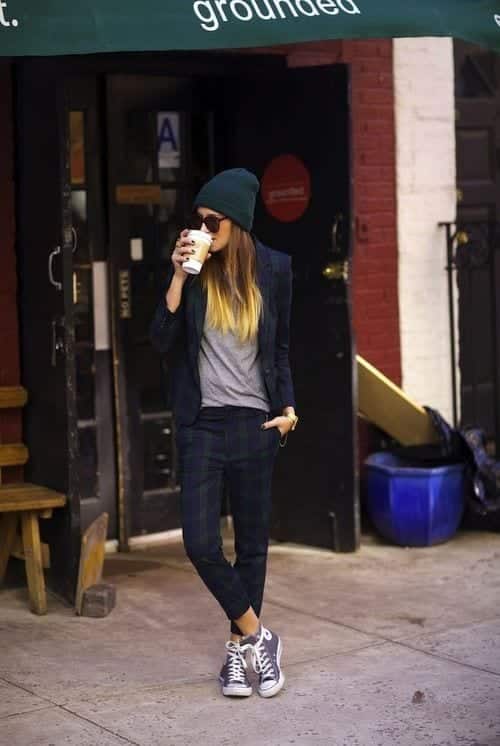 17 – For Teens
I adore this teen's fashion sense. The color combo she is carrying, the choice of apparel with classy chucks, her adorable summer hairstyle (add summer glasses), everything about her is highly appealing. She is wearing pastel Taylors with dull-colored tight jeans and a crop top.
You can carry this style everywhere you want – at school, in shopping malls, or hanging out with friends, etc.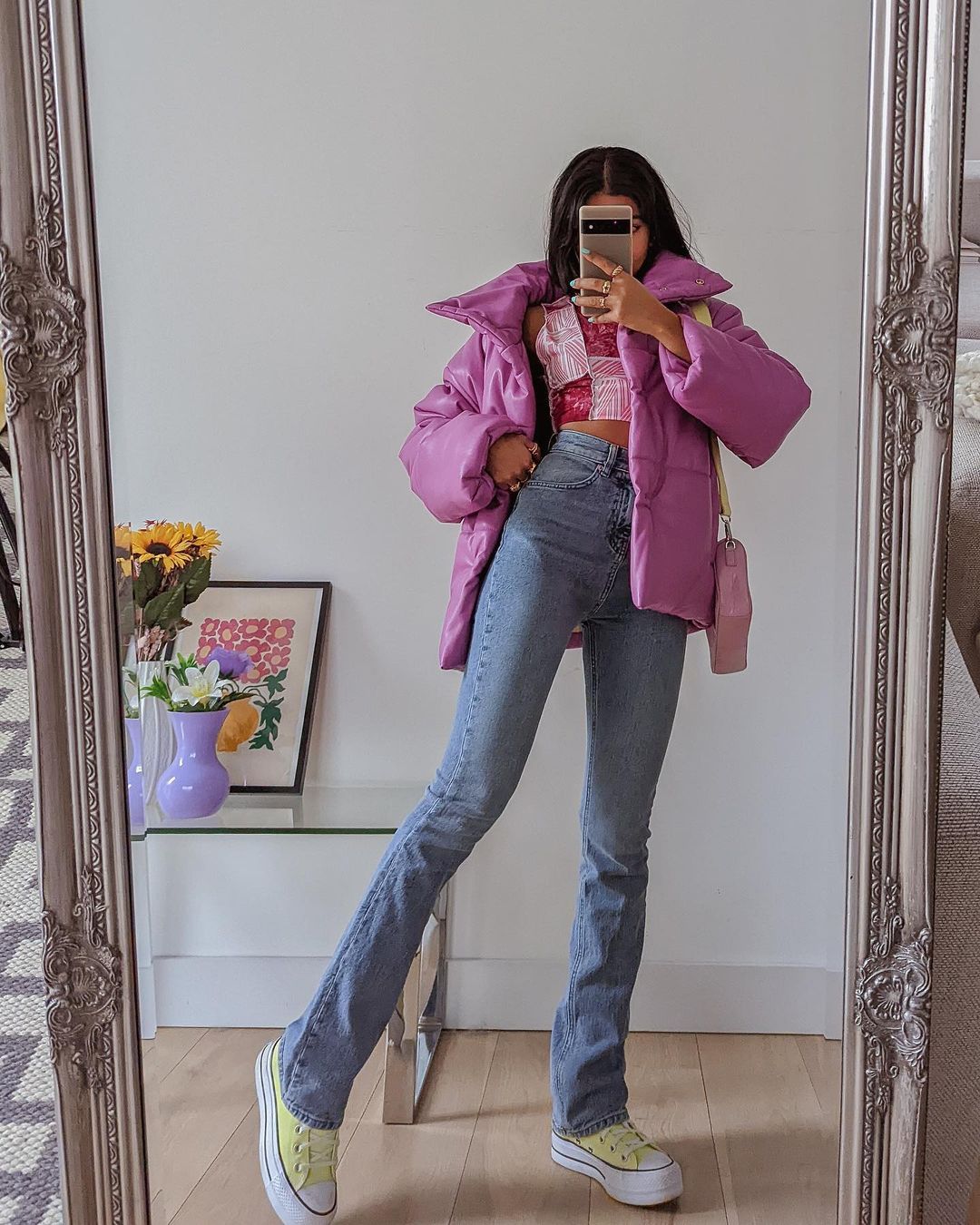 Get the shoes:
All-Star Low-Top Converse Sneakers $55.00
16 – Summer Season Style with Classic White on Denim
These cool white low-top chucks are perfect for school girls. Wearing them with studded denim shorts in a slightly matching toned under-shirt looks flawless with a white shirt.
When wearing a classic yet straightforward combination; go for light make-up and accessories. An orange lip color with a metallic bracelet and a black handbag for your notes is enough.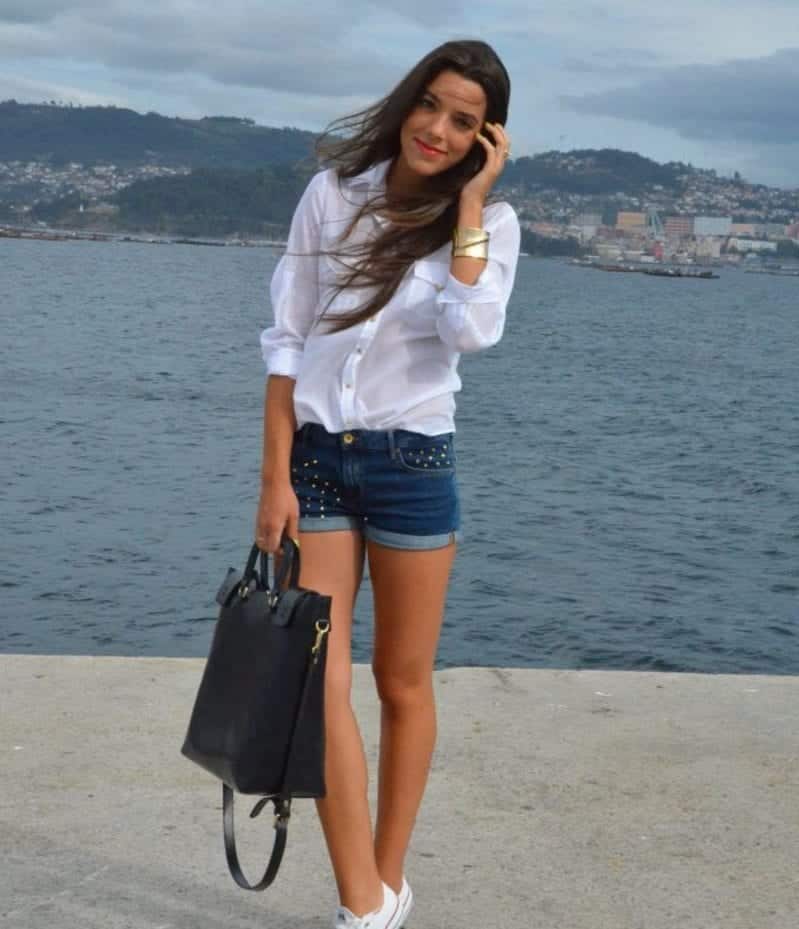 15 – Wear it With Floral Dress For Spring Season
This girl has opted for another unique and stylish way to wear black and white shoes with a printed floral dress. Wearing a sleeveless jean jacket is toting up her tasteful fashion glance. A delicate silver chain and small shoulder for a day out shopping with girlfriends is a great way to dress up.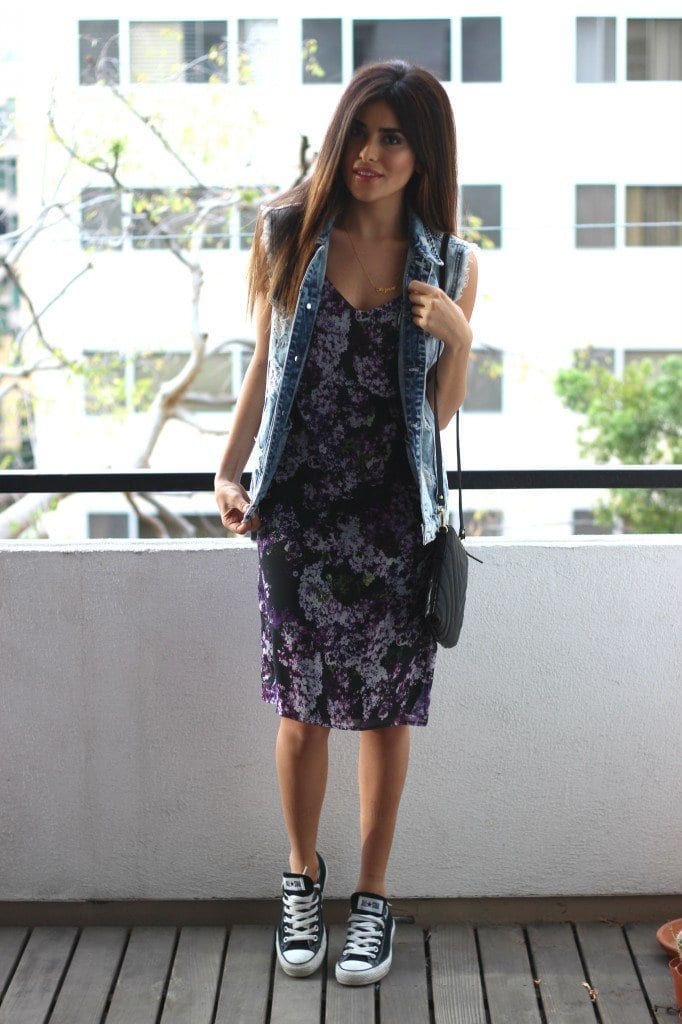 14 – How to Wear Converse at School?
Skater cum pleated skirt in grey matched with a white graphic shirt and a pink statement necklace is going well with high-top black sneakers and is a unique look for any teenage girl.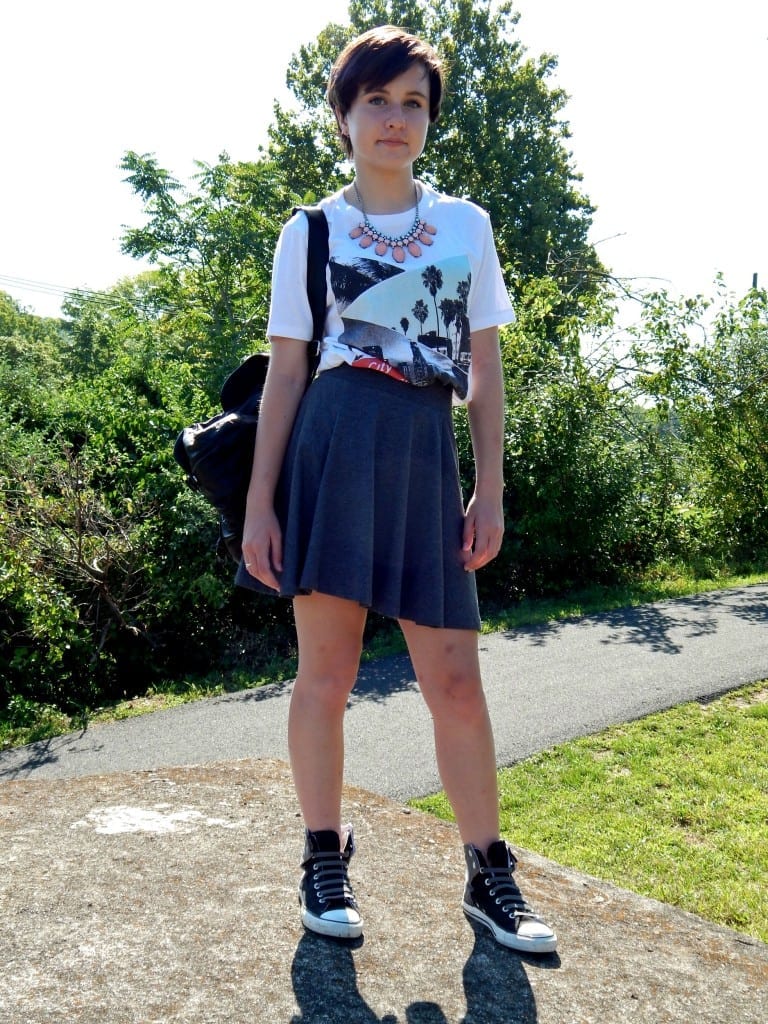 13 – Summer Street Style with Converse
This is a chic dress. Nothing needs to add to this masterpiece. A sleeveless mid-length black swing dress is what you need to have in your wardrobes for the new session in school. Wear your hair in a high bun and low-top sneakers as your shoes. A white shoulder bag is the last item for this ensemble.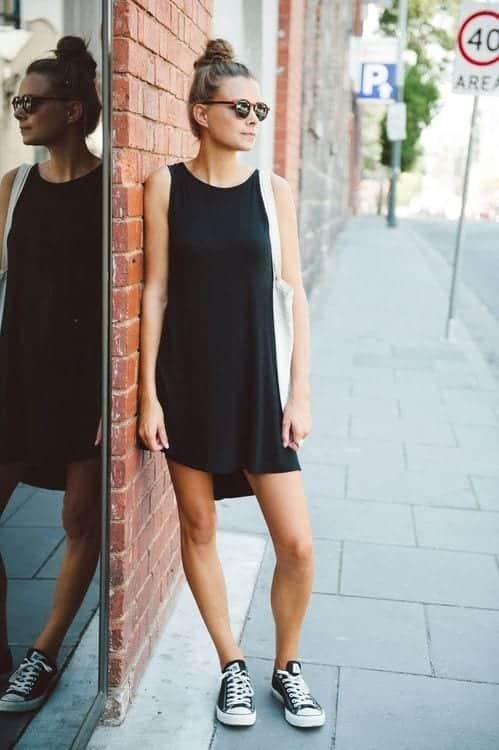 12 – Converse Chuck Taylor for Work
Are you preparing for a presentation session? Wear the same colored jacket and shorts with a white shirt and Chuk Taylors. For a little oomph, take out your animal-printed clutch.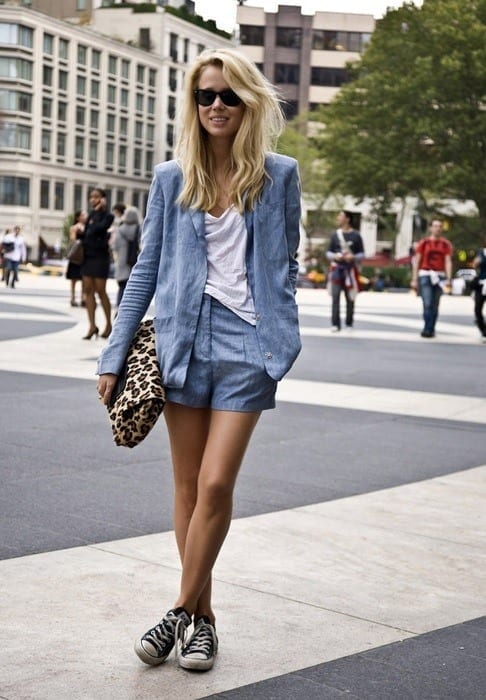 11 – Add on a Neon Handbag to Add Brightness to Your Look
Lace is the new rage among girls, and it looks incredible with all kinds of shoes. But sneakers are the best way to give yourself a modest yet stylish look. Match a sweater in black and white with silver hoops and a hot pink clutch for the edge.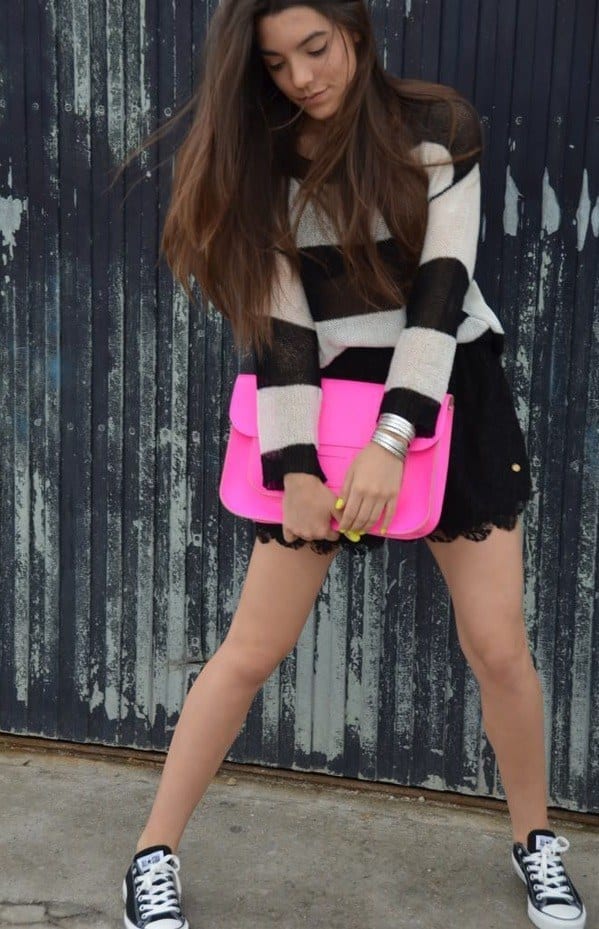 10 – With Denim Jacket and Printed Dress.
A colorful, printed dress matched with a denim jacket and Chucks is complementing the look nicely. Tie up your hair and put on your Ray-Bans.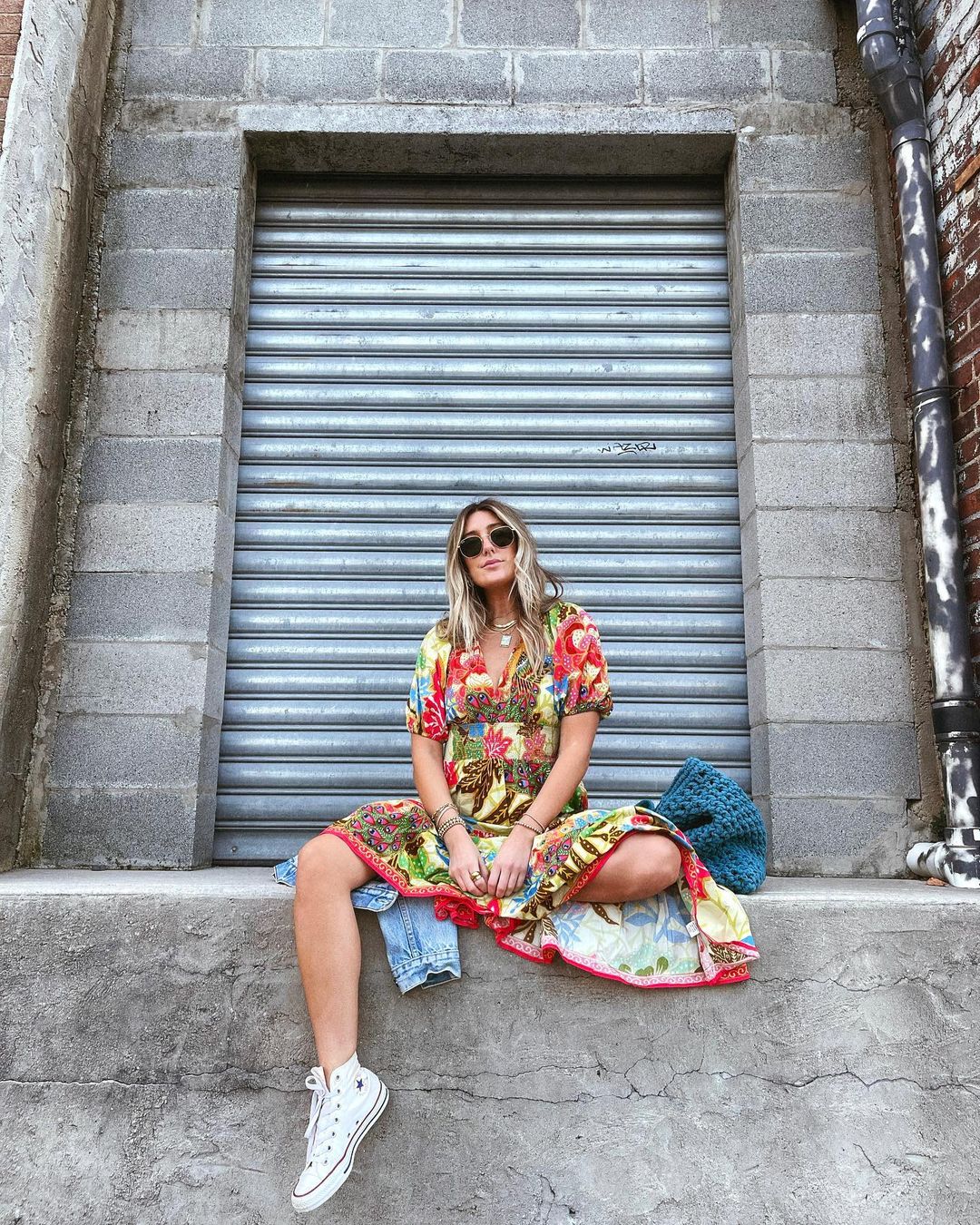 Get this look below:
Puff-Sleeved Maxi Dress $178.00
Chuck 70 Vintage Canvas $85.00
09 – You Can't Go Wrong with All-Black!
Jumpsuit with shorts – another classic choice to show off your classic shoes and your chic styling sense. Just wear a wristwatch as an added accessory.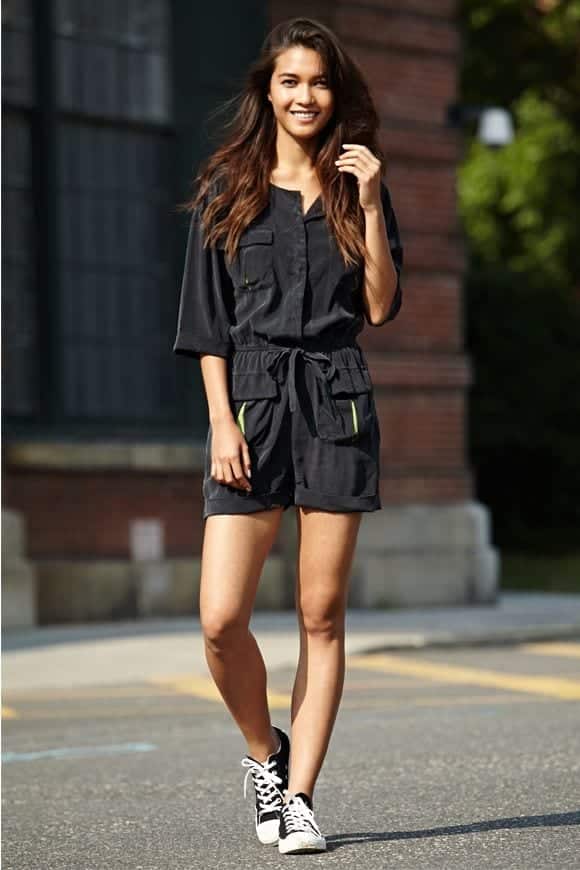 08 – Cheetah Print Coat and Black Tights to Make a Statement!
Dramatic is the name of the look with blue hair spiked up beautifully and a leopard printed coat. Underneath, you can see a black peplum shirt with skinny jeans. Bangles and chains are enough of the jewelry required.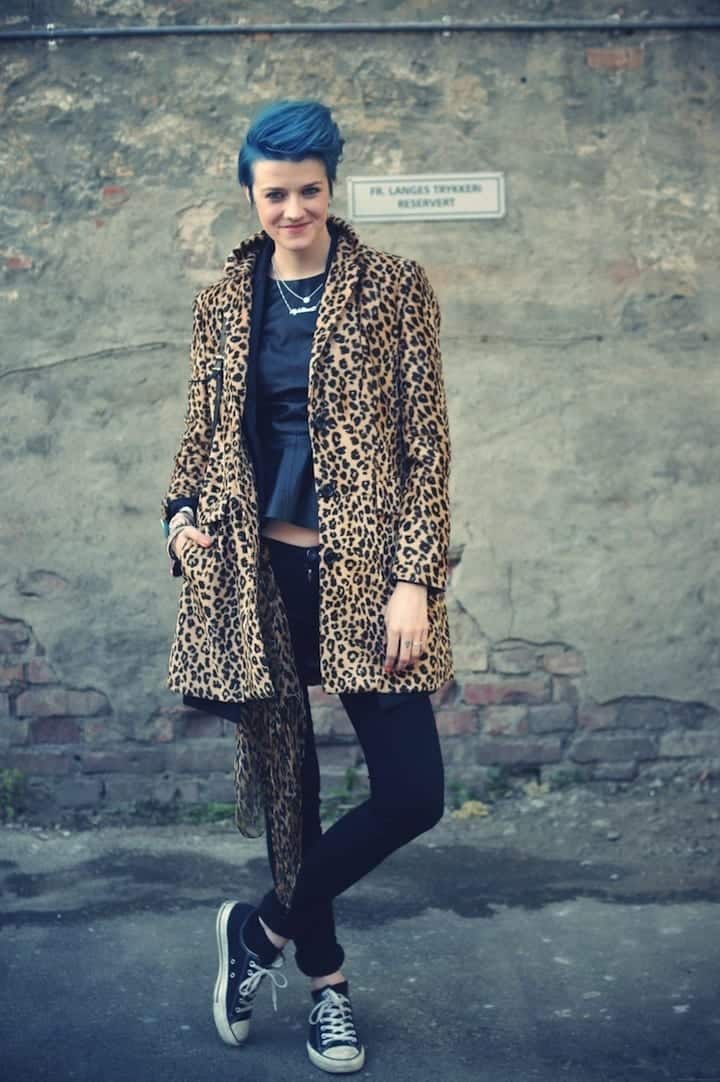 07 – Go Casual in Converse with Leather Pants
Bold and beautiful. Red leather pants are easily spotted from afar. So to tone down the outfit, match them with a grey shirt and shoes in red and white. Here are some more Cute Outfits with Leather Pants for Women this Season.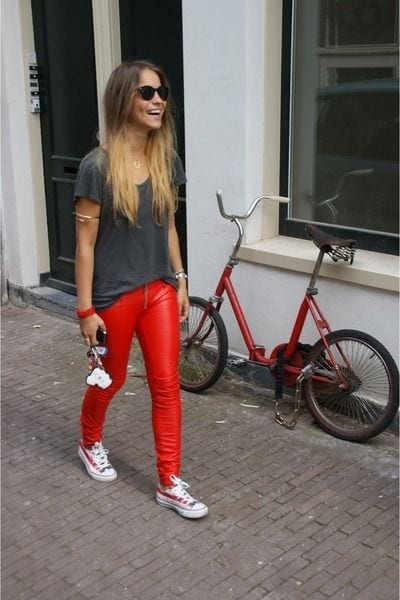 06 – Go with a Striped Monochromatic Look
Choose to opt for low tops when styling an outfit with leggings. I would suggest going for mixed black & white Taylors for a more blended look!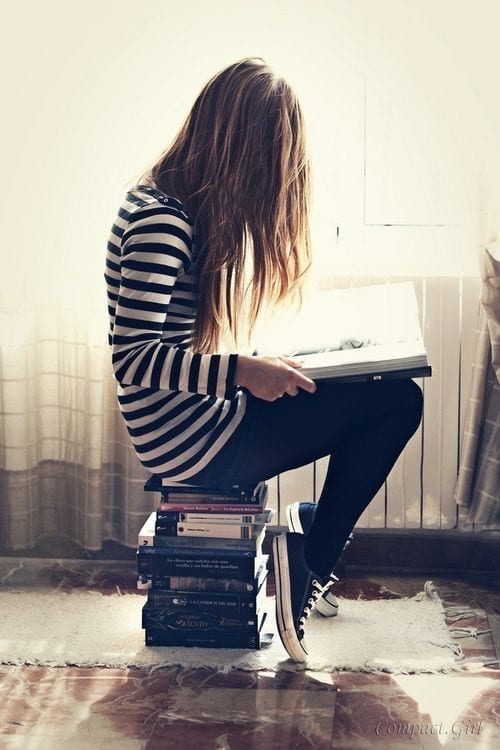 05 – Make your Outfit Winter Chic with Ripped Jeans & Beanie
A classic casual winter outfit with sneakers. The button-down shirt wins blue with matching jeans and a camel-colored coat.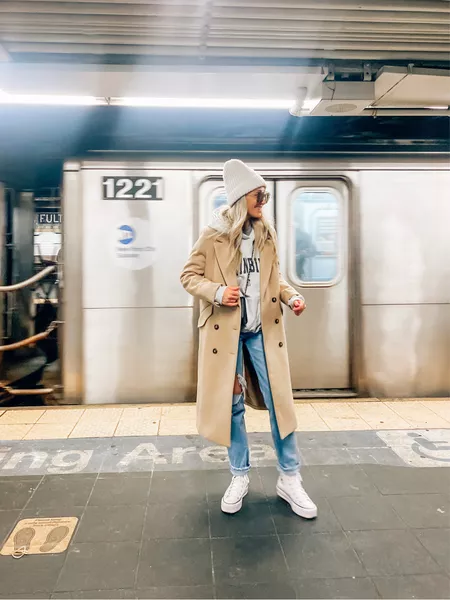 Shop the outfit:
04 – Sweatsuit Swag
These Converse shoes are the perfect pair for a street-chic look with sweatsuits!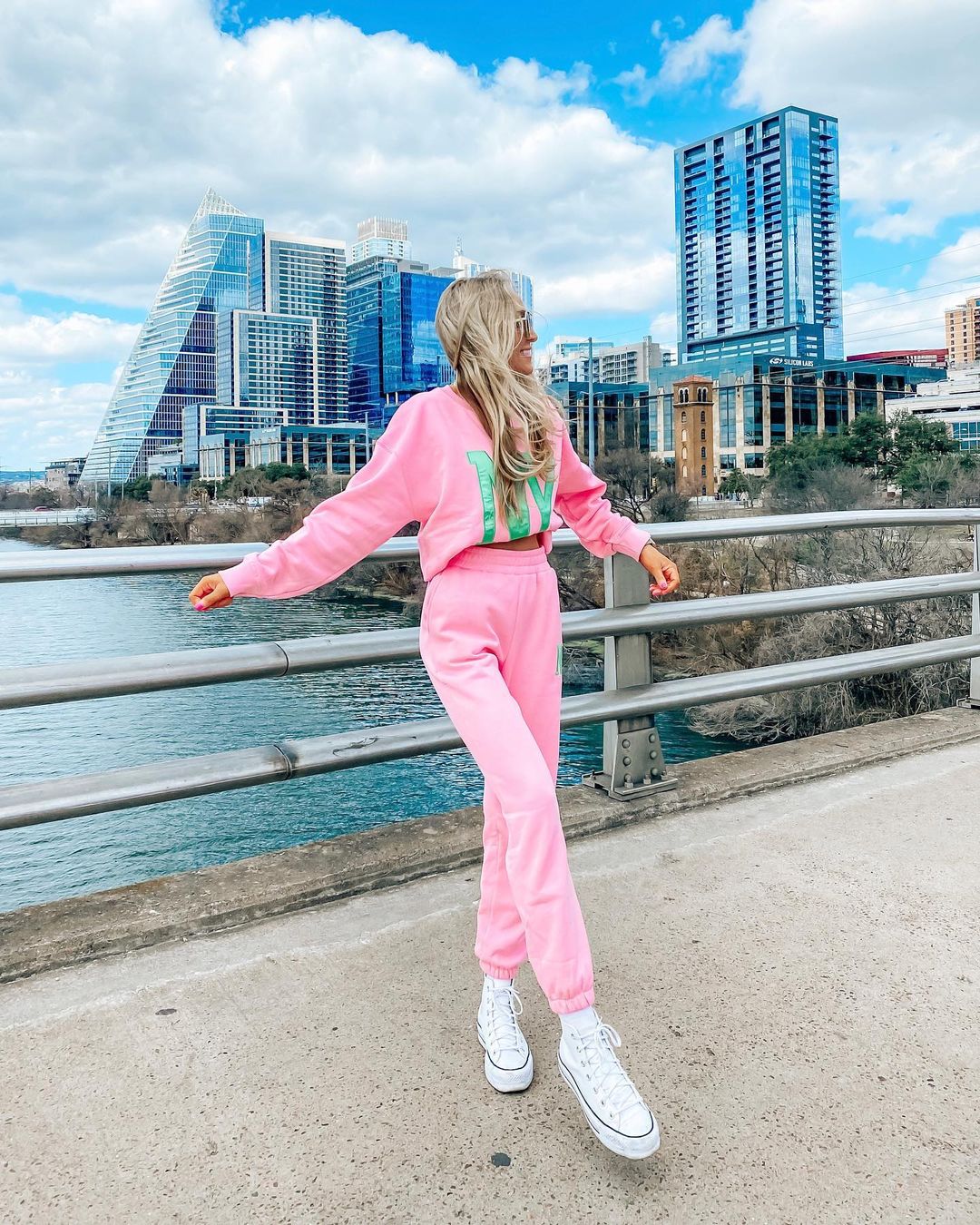 03 – Color Block Your Skirt with Matching Converse
The green of the jacket adds a decent pop of color to this monochromatic outfit!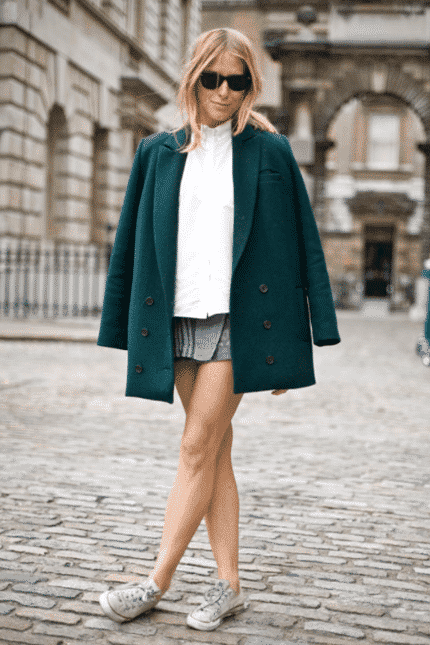 02 – Make your Dark Outfit Bright with Lighter Shoes
Adding accents of lighter accessories to your dark outfit is the perfect way to create a balanced look. In this case, the white shoes and light scarf serve the purpose of neutralizing the look!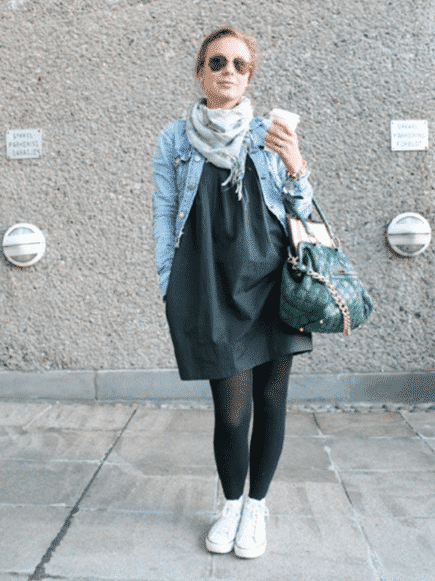 01 – Add A Lighter Blazer Jacket for a More Formal Look
You could even go for a brighter bag to add color to this outfit.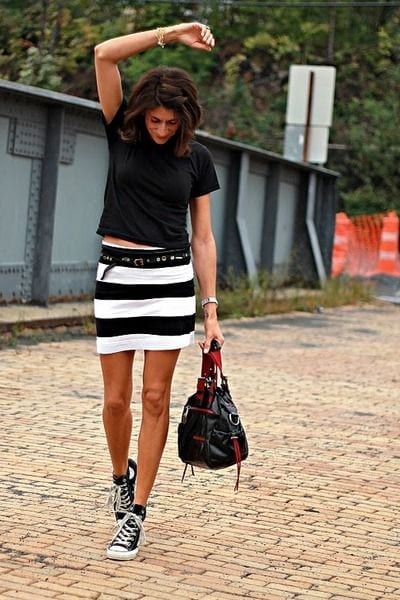 Frequently Asked Questions
Q. How can I wear Chuck Taylor's for a cool look?
The shoes are incredibly versatile and a classic staple item for your wardrobe. One way to style a cool and fashion-forward look with these shoes is to go for darker converse with a lighter-colored outfit for an edgier look.
It sounds a bit weird but looks seamless on the wear. Moreover, try color-blocking your top or accessories with the color of your converse.
Furthermore, snapbacks, beanies, bandanas, and glasses are the ideal additions to give your outfit a cool, edgy look. When wearing shorts or skirts, consider wearing fishnets. And lastly, throw on an oversized jacket or flannel shirt left open from the front to show off your cute fitted crop top!
Q. Should I wear socks with Chuck Taylors?
Absolutely! I would insist on you wearing socks with them. And not just them, but any other closed shoes you plan on wearing. If you do not wish to show off your socks and give off the illusion of going socks-less, then I would suggest opting for ankle socks that do not show. They are significant to avoid blisters and stay free from any unpleasant odor that would inhabit your shoes if you were to go socks-free.
Q. Can I wear Converse with leggings and skinny jeans?
You definitely can wear Converse with leggings and skinny jeans. You can style some pretty phenomenal looks with the combination of the two. I suggest opting for low-top sneakers when wearing skinny jeans or leggings paired with a shorter top or blouse. However, if you are going to style your leggings with a shorter dress or skirt, you should consider hi-top shoes. Furthermore, they are so many different patterns and colors for you to choose from! So find the perfect fit according to your outfit!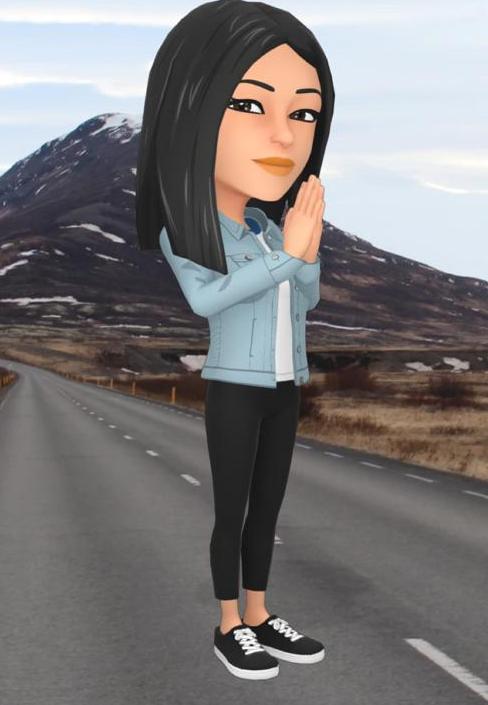 I am a third-year MBBS student. Alongside my studies, I aim to utilize my excellent writing skills and fulfill my childhood passion for creative writing while helping people who need expert writing. But, it is not all boring, as I am always ready to have a friendly chat about various topics and TV shows, especially if you are a FRIENDS fan.