Girls College Tailgate Outfits: Tailgating is an American tradition long rooted in the eighteenth century before the start of the civil war. As per historians, in 1861, a flock of civilians showed up in Washington DC to observe the first battle of bull run.
They also brought picnic baskets filled with scrumptious food and booze to make the best out of their time. This event was the foundation stone for modern tailgate parties.
The actual college football tailgate is believed to be started in 1869 in New Jersey. It was the first time in history when people wore different colors to cheer their respective teams while enjoying themselves by eating pork and taking in alcohol. So now you know how our beloved football tailgate parties came into existence.
What To Wear To A College Tailgate?
Tailgating has now become an eminent part of college events. It always brings a sense of community spirit among the students as people from different social groups gather around to sport the same cause or their favorite sports team.
Now the question is, what should be the dress code for attending a college tailgate. The answer is simple, just get in touch with your basics. It can be your casual pair of jeans, a classic tee-shirt with your favorite team's logo, or your basic sweatshirt.
You cannot go wrong with a casual pair of sneakers for a college tailgate party. Concluding all, basically, just go with whatever suits your style and comfort level.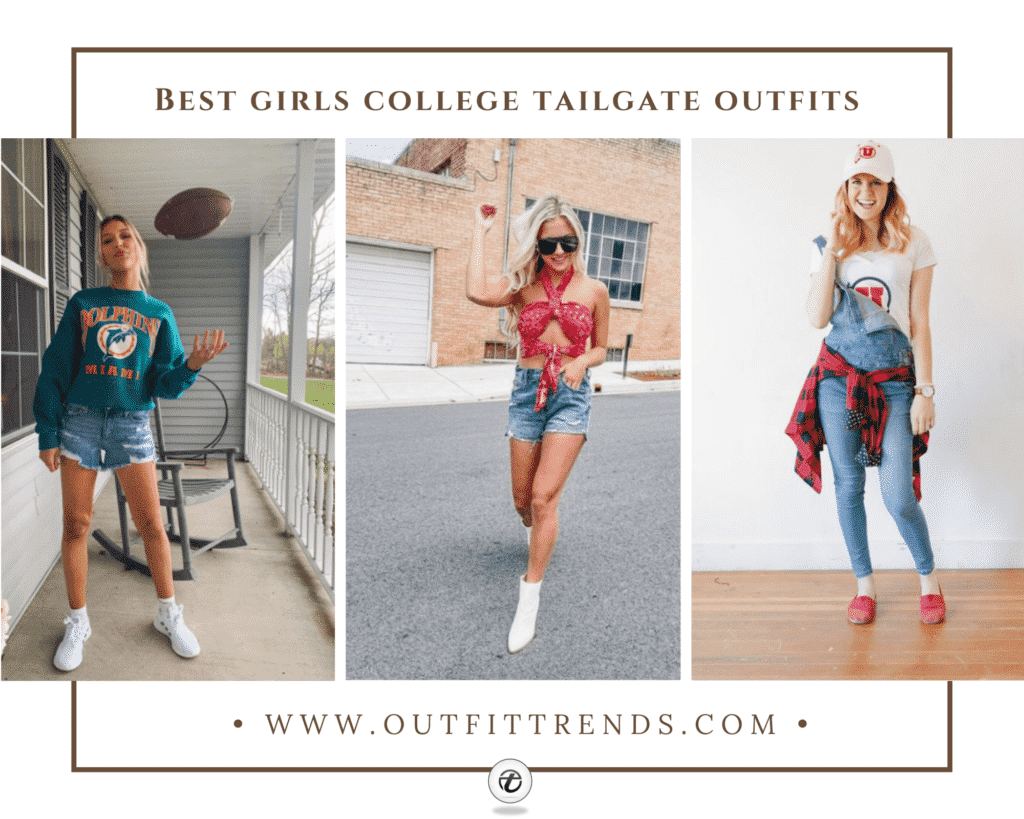 Dressing Tips
When it comes to dressing for a college tailgate party, there are no rights and wrongs. Just wear what suits your style; let it be casual. But there are some things you need to be cautious about. They are :
Do not over do your look and try to look natural with minimum accesories and makeup.
Always choose comfortable footwear. never wear heals or stiletto to a tailgate.
try to experiment with colours to make the look more fun.
A pair of sunglasses is a must to add that cherry on top to your tailgate look.
↓ 20 – All White College Tailgate Look
If you are indecisive about what color would make a good choice to wear to your college tailgate party. Go for an all-white look. This outfit gives a cool vibe. The ruffle trim strapless top with a pleated mini skirt is a look you can always carry to your tailgate without giving it a second thought.
Moreover, the snake print boot is adding that extra spice to the overall attire. Accessorizing it with contrasting fluffy earing and a transparent jelly handbag making it even chicer.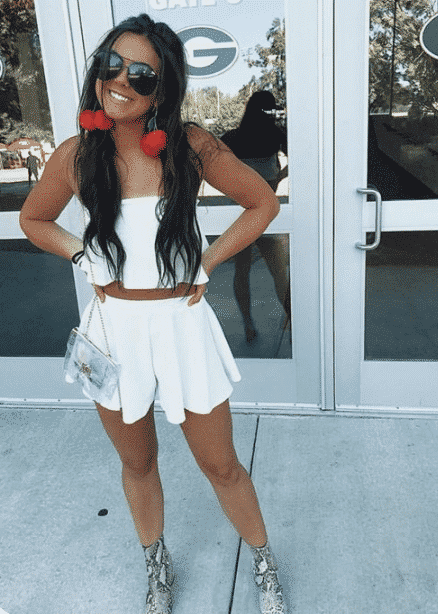 3
. ruffle trim strapless crop top 17.99$
↓ 19 – Denim Romper Outfit Look
Denim rompers or overall is a classic look to pull off for a tailgate event. Especially this outfit will be the perfect choice for young teenage girls. As you can see, this look has a denim overall wore over a white T-shirt to complement the denim texture and style.
Adding the matching P-cap with T-shirt makes the look pop up even more. Moreover, wrapping a check print button-down shirt around the waist and the wristwatch gives it a statement of style to drool over. Lastly, the contrasting red slip-on shoes complete this look like no other shoes.
↓ 18 – Classic White Sneaker Look
This is one of the easiest looks you can carry to your college tailgate. You just need a dark color sweatshirt and your favorite denim shorts paired with a pair of white sneakers, and you are ready to slay the day. In this look, you can see a sweatshirt with a sports team logo paired with distressed denim shorts and white Adidas sneakers, a classic, effortless white sneaker look.
↓ 17 – Tube Top With Denim Skirt Look
The denim skirt is a sensation. It can be paired with any top, but they are also extremely comfortable and easy to carry, especially in summers. So while going for a football tailgate event in this burning heat, denim skirts will be your favorite college tailgate clothes.
In the below look, a trendy tube tank is paired to wear with a denim mini skirt. Moreover, you can add a waist bag and chic sunglasses to make this look more fun.
↓ 16 – Black And White Sweat Shirt With Basic Pair Of Jeans
A decent pair of jeans is more of a wardrobe staple for every college girl. It looks good with anything and everything. In this look, the conventional black and white combo is used to make a fun outfit. A white sweatshirt with black stripes printed horizontally is worn with a basic pair of jeans.
The black stripes give the illusion of width, making it a nice choice for people with lean bodies. The cherry on top is the trendy sunglasses and the wristwatch worn for this look.
↓ 15 -Bell bottom jeans with basic white shirt
This outfit is the easiest among all options to pull together. The basic white T-shirt is a clothing item every girl owns. You can take it out from your closet to wear it with wide-leg bell-bottom pants with grey sneakers. A neutral color pair of sneakers can be a valuable asset in your shoe collection.
A grey color sneaker shoe pair can go with almost every outfit and color. Complete this look with cool glasses. Don't forget to check some more outfits with bell-bottom pants.
↓ 14 – Winter Tailgate Look
Are you a person with low cold tolerance and who does not like winter very much but also wants to slay your winter college tailgate? Then this is the outfit for you. The camouflage hoodie worn with basic slim-fit jeans and cowboy long shoes gives a vintage vibe and protects you from the cold outside.
↓ 13 – Black Turtle Neck Shirt With Check Print Shorts
Check print is an evergreen fashion statement. You will forever have the edge to experiment with checker print and still pull off a fashionable look. In this outfit, a black turtleneck is paired with a checkered print skirt. You can wear some jewelry and other accessories to make the look pop even more and oh don't forget to carry a cap to make your own style statement.
↓ 12 – How To Wear A Casual Denim Jacket look
This look has a casual below hip denim jacket paired with a simple black mini dress underneath. The look is completed by adding a black crossbody bag over the shoulder and the iconic Adidas sneakers, which are the constant outfit accessory for every college tailgate look.
↓ 11 – An Evergreen Over Sized Tunic College Tailgate Look
Are you going to your college tailgate event just to sport your favorite football team? Then what can be the best way other than showing your support by wearing your team's shirt to your college tailgate? The oversized tunic and t-shirts are an evergreen outfit choice for tailgate events. However, you can make the look more fun by adding leather shoes and chic sunglasses to it.
↓ 10 – An All Black College Tailgate look
An all-black is a classic fashion style that will always hit the target. This is a look you can wear when you want to appear stylish and minimal at the same time. In this outfit, a turtle neck black sweatshirt is made to wear with simple straight fit black pants and black shoes. Adding a hinge of white earrings gives it a very cool vibe.
↓ 9 – Where To Wear A Black Leather Skirt College Tailgate Look
A black leather skirt is more of a fashion staple for every girl. This is one piece of clothing you can wear practically everywhere, whether it's a party, dinner, and, of course, a college tailgate event. This look is simple yet elegant: a black faux leather skirt paired with a brown sleeveless v neck top and black leather boots. You can also find more ideas here College Party Outfits.
↓ 8 – Casual college football tailgate look
↓ 7 – Distressed Jeans With Basic White T-Shirt Tailgate Look
↓ 6 – Sporty Girls College Tailgate Look
A tailgate is all about being sporty, so why not dress up like the vibe. A simple white crop top with your sports team logo paired with a contrasting color mini skirt and sneaker shoes worn over knee-length white socks is a perfect outfit for your college football tailgate party or for online casino party. This is the perfect outfit to wear with your best friend.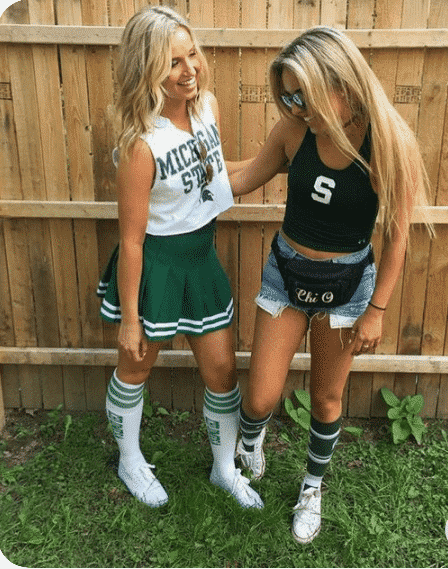 ↓ 5 – Minimal College Tailgate Look
This outfit is the most minimalistic of all the other mentioned options. Take a long neutral-colored tunic top or dress and wear it with your favorite pair of sneakers; you can also carry a stylish pair of glasses to this look. With this effortless minimal look, you are good to go to your college tailgate party.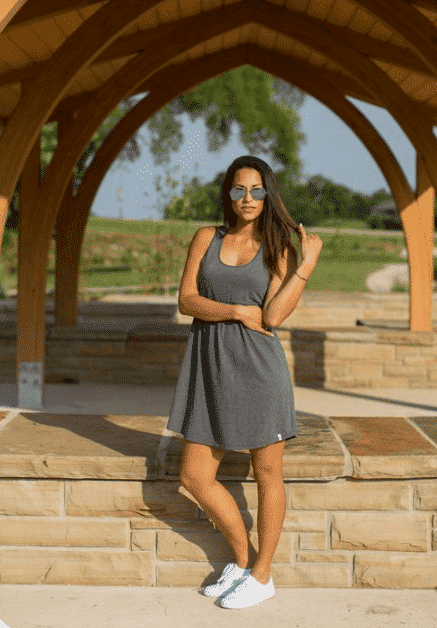 ↓ 4 – When To Wear Cool Loungewear For A College Tailgate
Do not have any good outfit to wear to your college tailgate party? There is the solution to your problem .you can wear your stylish and trendy loungewear also to your tailgate party. You just have to put in a little effort and add accessories like a nice hang bag, sneakers, and sunglasses to complete your tailgate look.
An over all-white loungewear look is something to droll for. You can style overall white loungewear by adding a hinge of the black cap with neutral color sneakers to slay your all-white tailgate look.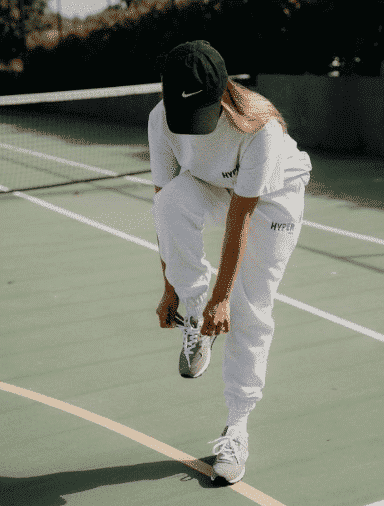 ↓ 3 – The Printed Mini Dress College Tailgate Look
A printed mini dress is every girl's favorite. Then why not wear it to your all year awaited tailgate event. You can wear a printed mini dress with ankled boots contrasting with your dress color. Don't forget to accessorize it with your favorite jewelry pieces and a hat.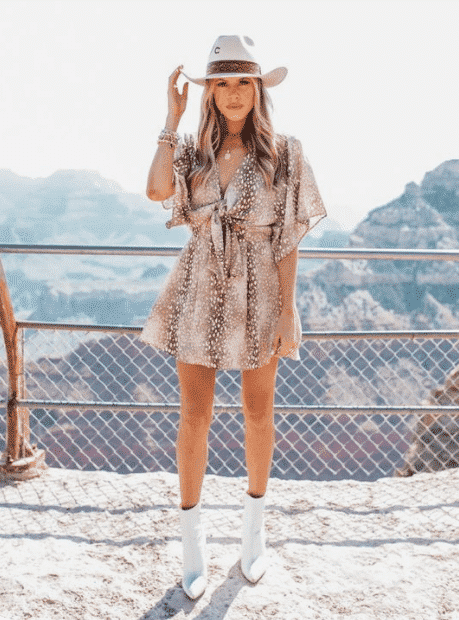 A polka dot black and white dress can be a head-turner for you. You can wear it with your favorite pair of sneakers to slay the day.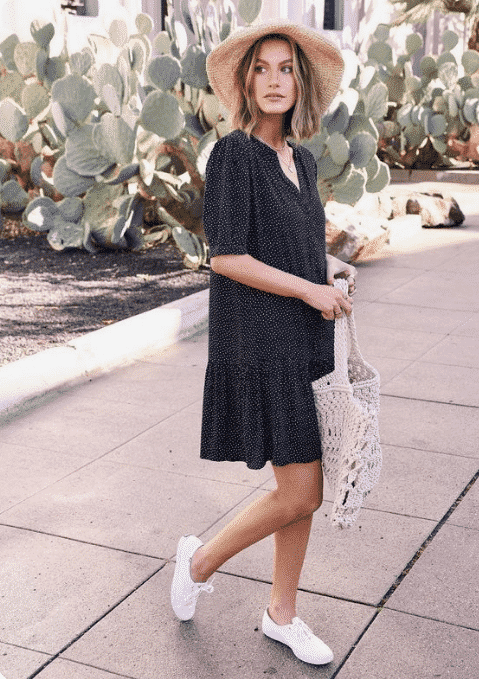 ↓ 2 – The College Tailgate Gameday Goofy Look
Goofy is the new cool. So styling yourself in goofy styled printed jogger pants with t-shirts and undersleeves and high ankled sneakers is a perfect look for you to have on your college tailgate.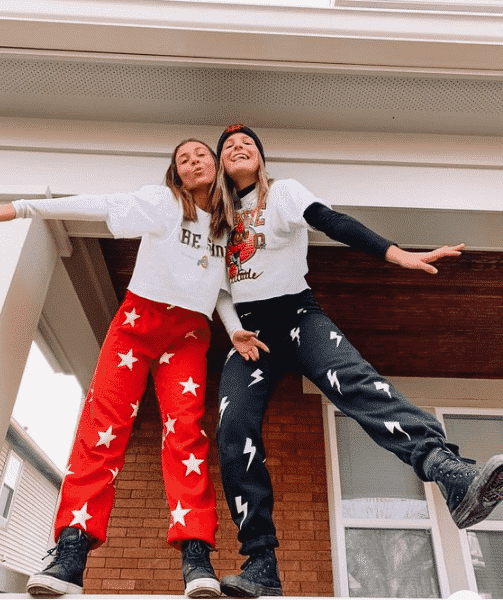 ↓ 1 – The Ultimate Bandana Halter Top Tailgate Look
The bandana halter tops paired with denim jeans and white boots are the ultimate look everyone will love to carry on your college tailgate day, especially if it's a date day. For more ideas check halter top outfits.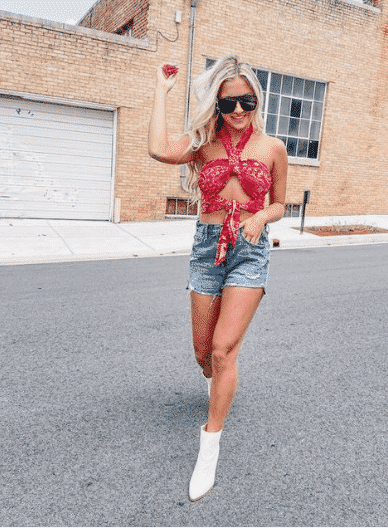 Frequently Asked Questions
Q: What is College Tailgate?
A: Tailgate is a fun event organized by college students before a football game or concert. It usually is celebrated on huge grounds or parking lots. People from all over the college with different majors and social groups flock together to support their favorite teams. The foremost purpose of such events is to party with delicious food and, of course, alcohol and enjoy themselves to the fullest.
Q: Where to shop for college tailgate outfits for girls?
A: Finding the best shop that meets all your needs to pull off a great college tailgate look can be a challenging task. But not to worry, you can choose the best girl's tailgate outfits online from Amazon online store. Here you will find a wide range of outfits to suit your styling needs. But in case you are not so comfortable with buying clothes online, you can always find a range of amazing tailgate outfits at your near clothing store.
Q: What is the best outfit for girls' college tailgates?
A: There is no best outfit for college tailgate. You can always experiment with your own style by keeping it casual and comfy. However, a snug outfit in a bright color, preferably red or orange, with long boots or sneakers, can pull off a great tailgate look for you. Another way to play it safe is to go with the existing theme of your college tailgate party.