Viva Magenta outfits: Is your wardrobe making you incredibly bored? When the weather outside is dreadful and wearing several layers is necessary, it's easy to become demoralized when choosing an outfit each morning. You should take a look at the Pantone color of the year if you need some new style ideas.
The authoritative color expert Pantone declared Viva Magenta to be the year's color for 2023 in December.
With this information, you can be sure that the brilliant color will become more and more popular throughout the year, so why not incorporate a touch of the in-vogue shade into your wardrobe?
Without further ado, check out these ensembles we've chosen exclusively for you, and let this intensely rich color create a lasting impression on everyone you encounter.
How To Wear Viva Magenta?
A vivid, assertive, and inspirational color has been selected as the Pantone color of this year. We explain how to use the splash of color in your wardrobe and give examples of chic outfits for you to try.
Fortunately, the striking color is easy to find and wear.
The color complements neutrals like beige and other earth tones and other jewel tones (like emerald and sapphire). Therefore, you can't go wrong whether you finish your ensemble with a hint of vibrant pigment or go for a monochromatic approach.
It is a new lively red that revels in pure excitement, enabling experimentation and self-expression without restraint, an energizing and boundaryless shade that is blossoming as a standout statement, according to Pantone, who named it a deserving statement color.
Tips on Wearing Viva Magenta
Tone it down: If you're not too used to such bright colors, consider pairing them with a darker hue like black. We recently saw Kate Middleton try this trick as she layered her magenta dress with an Aubergine colored coat: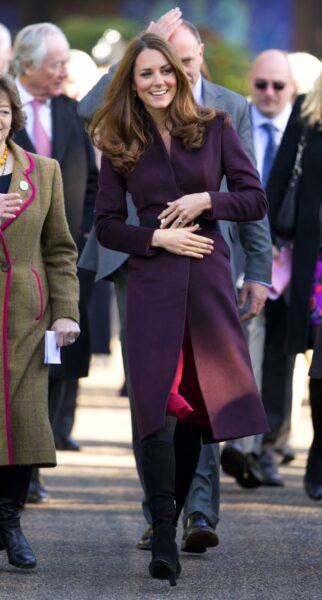 A patterned shirt looks great with viva magenta jeans as well. Although it isn't overtly so, it is stylish enough to draw attention to you.
The color looks best with gold jewelry.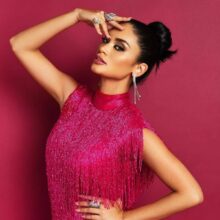 Viva Magenta is a safe choice if you want a coat in a statement hue because it rarely clashes with anything you are wearing. Furthermore, due to its adaptability, magenta would undoubtedly be a color to take into consideration if you're searching for a strong hue to keep you warm this year.
If you're confused about what colours to pair with Viva Magenta, I would say go for orange, olive, or teal if you're adventurous enough. And if you want to keep it simple, black, purple and grey are safe options.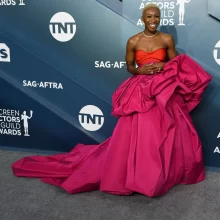 Still not sure about wearing this color in your outfit? No problem. Start small by trying it out in sunglasses, jewelry, nail color or lipstick.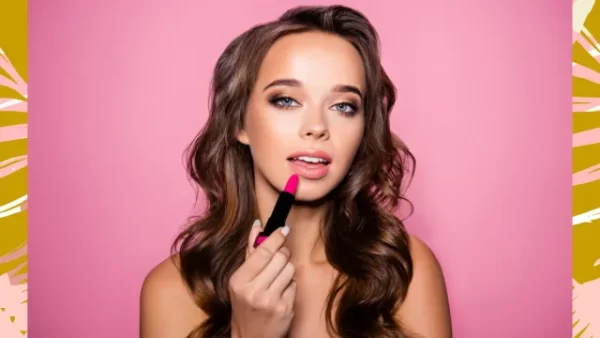 Formal Outfits
22 – Shine with the Pleated Chiffon Dress
You can look bright, stylish, and fiery. What's not to adore about this stunning color?
This color is perfect for you if you have any occasions where you need to look your best. For your upcoming big event, invest in a floor-length gown, a formal dress like this one, or perhaps a vibrant magenta pant suit.
Magenta is unquestionably the new red. It will boost your confidence and help you stand out from the rest. You can accessorize the outfit with some rubies or diamonds, a rose-gold set, and a chic minibag.
Maintain a simple makeup look and hairstyle for a balanced appearance.
21 – Partywear Slit Dresses
The color of the year is an incredibly joyful and wonderful color that is ideal for a holiday wardrobe. Who wouldn't want to appear stunning when on vacation?
This Pantone color works well for bodycon dresses, beachy dresses like this one, cocktail dresses, and even cover-up dresses for bikinis.
Incorporate this color of the year into your 2023 holiday wardrobe to look as stylish as you are. These days, there are numerous possibilities available, but if you need a hack, you may also get a lovely white beach dress and dye it vibrant purple.
In addition, stylists advise adding hats, jewelry, or shoes in magenta color.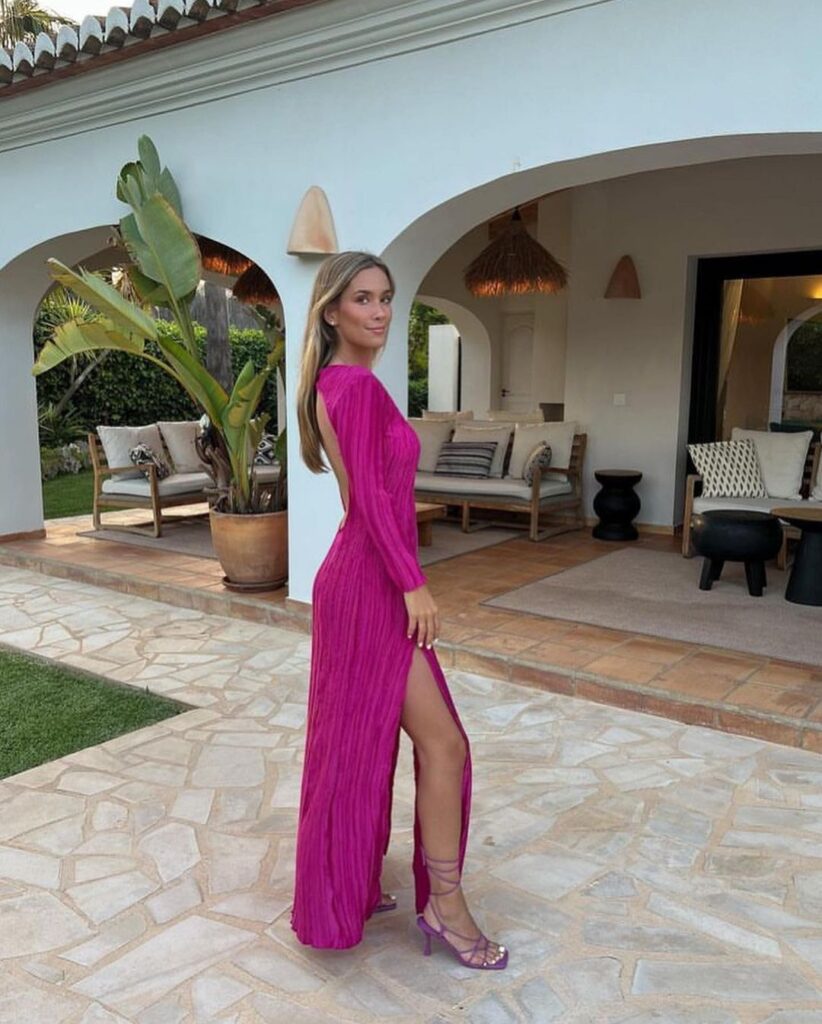 20 – Stay Confident with this Color
Red and crimson can be used with various hues, but if you are still learning how to mix and match colors, it is best to avoid daring combinations.
Combining Magenta with the basic palette and nearby hues in clothing as well as accessories like red, orange, and burgundy would be a win-win decision.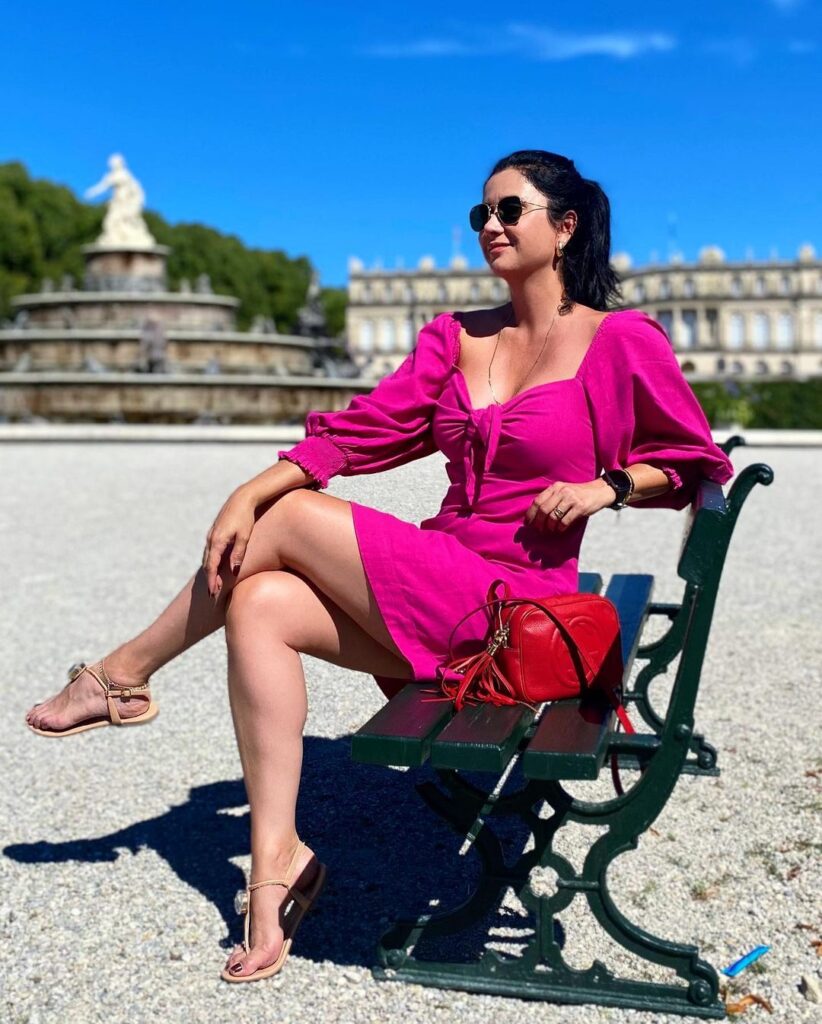 19 – Varied Down Magenta Off-Shoulder Sweater Dress
A rather subdued variation of magenta creates an understated yet fashionable appearance.
18 – Long Bodycon Dress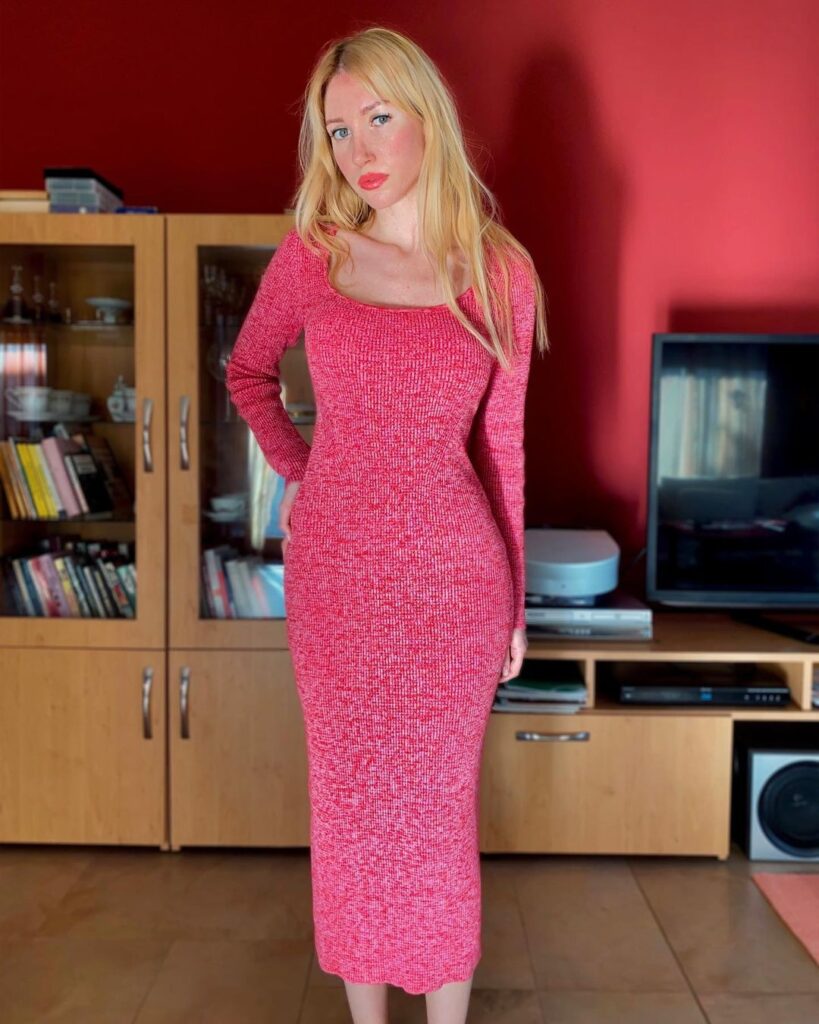 17 – The Color On Silky and Shiny Monochrome Fabric
Going monochromatic is one of the best ways to wear magenta this year. Since they seem incredibly well put together and emit an exquisite mood, monochrome outfits have been popular for a long time.
Because the Pantone color is a member of the red family, you may combine it with other red, maroon, and even pink hues. The best thing about monochromatic ensembles is that they are almost always successful.
This magenta may or may not match well with other hues, but hues from the same family will look fantastic together. Shoes and bags in neutral colors are a good way to finish the appearance.
For a bold look, a complete ensemble in the color Magenta is a good choice. Remember that mixing different textures helps to avoid an outfit's "flatness" when wearing monotone outfits.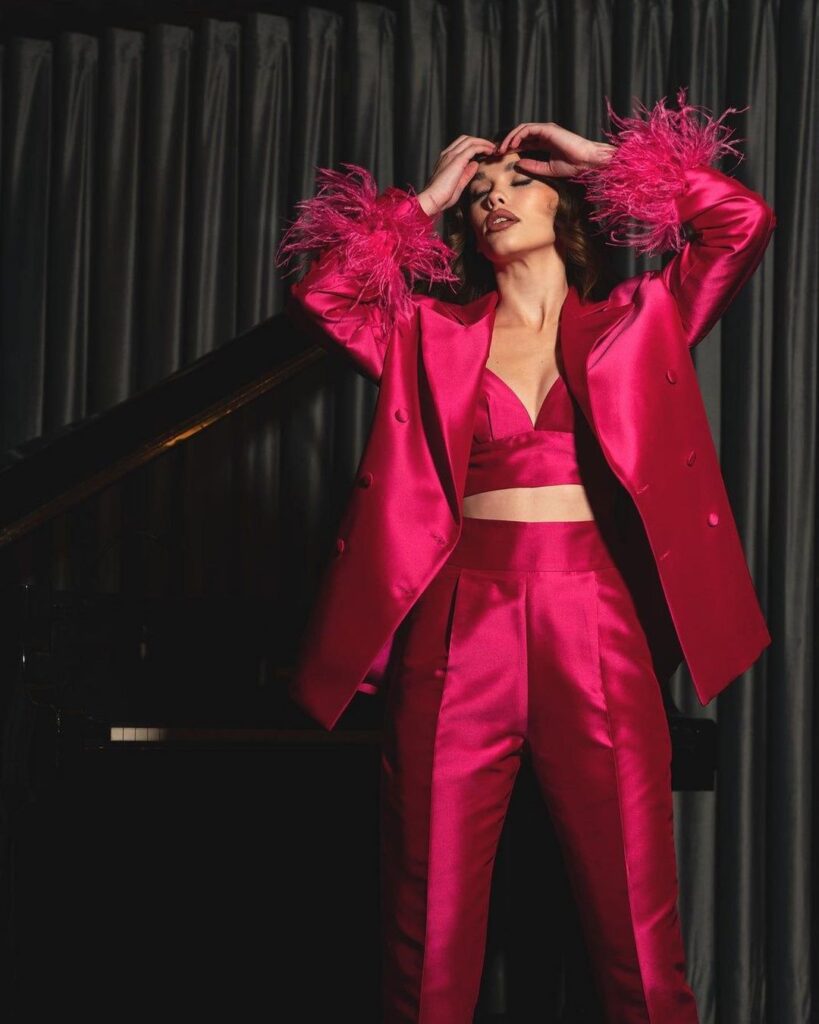 16 – Draped Mini Skirt and One Shoulder Top
Donning the color of the year to a party would be the perfect choice for you. By wearing a silk magenta-colored outfit and minimal jewelry, you will look absolutely stunning in this fit.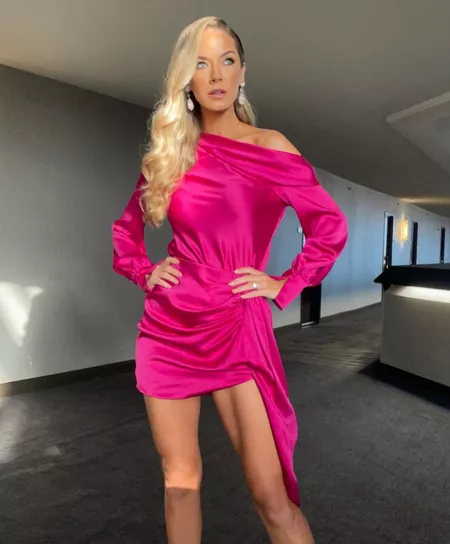 15 – Celebrate with the Color of the Year Blazer
White, black, beige, and milk are some examples of foundation colors that can be combined to lessen the brightness. As a result, you will continue to be the main fashionista without any extra baggage.
14 – Pop of Color with Neutral Tones
Want to add our favorite color to your outfit on a more understated level? Try using this striking shade on your lips. For a quick pop of color to your appearance, add lipsticks in various tones of magenta and pink to your makeup look.
As for the outfit, the Pantone staff offered their own suggestions for pairing the crimson-red or magenta with complementary neutral hues. The list of acceptable hues also includes lilac gray, khaki, and sandy gray.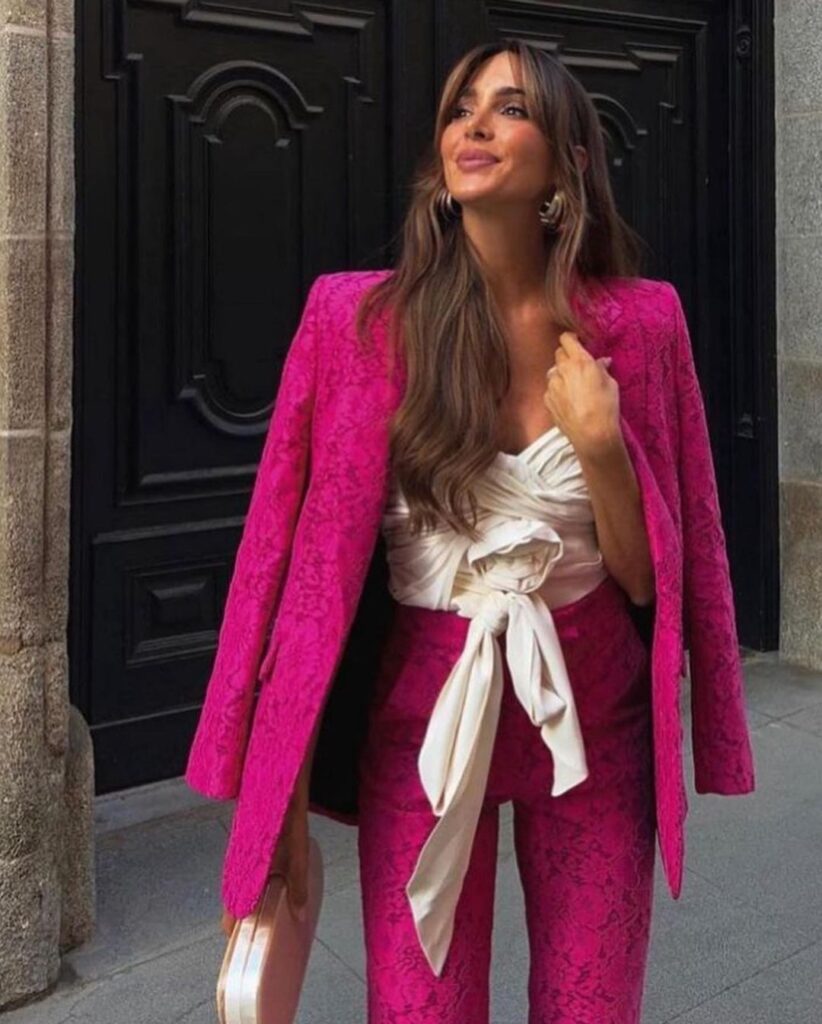 13 – Coffee Date in Furry Coats
It's all about being courageous and fearless when trying on magenta, so don't be afraid to wear uncommon or unconventionally fashionable clothing.
Use this chance to mix and match Pantone's new color of the year with trendy designs on clothing or asymmetrical shapes on accessories.
You might try bolder frame styles like these oversized round-shaped sunglasses instead of the traditional aviator or small sunglass.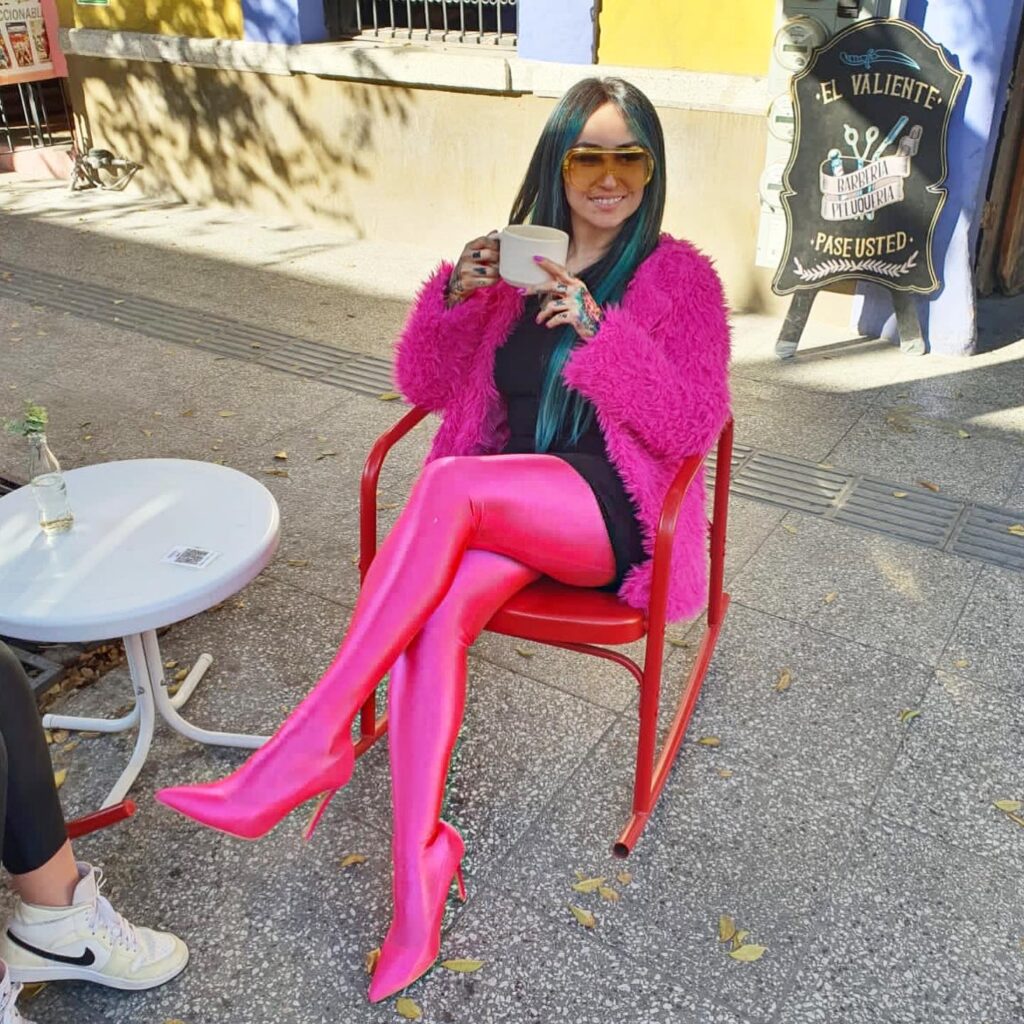 12 – With White and Beige
The simplest fashion tip for anyone who favors understated styles and subdued color schemes is to pair magenta with neutrals.
Additionally, it makes the highlighted color of your OOTD shine out more, which is ideal if you want your shirt, accessories, or bags to take center stage in your ensemble.
Casual Outfits
11 – Inspiration of the Year, V-Neck Long Dress
Wearing the 2023 hue with other colors is okay because it is a color for the courageous and fearless who love trying out different combos.
You may choose a softer color scheme with tones like lilac and white if you want to have a little mellowed-down appearance.
You can also combine magenta with equally vibrant complementary colors like turquoise or yellow for an eye-catching explosion of color.
10 – Magenta Two-Piece Co-Ord Set
You don't have to force yourself to make the preceding choices if getting dressed is too much work. Do not like dresses? Not an issue.
The red, pink, and purple mix of the famous color palette already exudes excitement, especially when worn as part of a coordinated monochromatic outfit like this one.
Additionally, a basic cropped shirt is always in style and is both easy and simple to wear. This looks utterly effortless whether worn with either high-waisted jeans or sweatpants.
9 – The Power Behind Magenta
The fact that this color is the Pantone color for 2023 doesn't necessarily imply you have to wear it. You may incorporate the color of the year into your life in a variety of ways, including your digital backgrounds, home furnishings, etc.
You can therefore hunt for accessories in addition to magenta-colored clothes instead of just attempting to push yourself to buy them. You may get many accessories in this scorching red color, including earrings, bracelets, bags, shoes, and belts.
Let's have a look at some footwear that exudes magenta vibes and that you can effortlessly pair with any clothing you already own.
When worn with your fit, these can instantly brighten up your basic clothing. There are countless accessories one can own, and each year is a great chance to update your wardrobe.
Of course, you can also incorporate this trendy hue into your jewelry, handbags, headbands, and other accessories.
8 – Casual Jeans and Off-Shoulder Blouse
7 – Long Sleeve Blouse and Loose Fit Jeans
Wearing your vivid magenta while accessorizing with neutrals is another fantastic and foolproof way to style it. It is a fantastic color for enhancing any straightforward appearance because it is so bright and dazzling.
You can dress up your outfit with brown or white heels or just layer a magenta blouse over light-colored jeans. When combined with white, tan, brown, and cream colors, the magenta color looks simply gorgeous.
Viva magenta can add a splash of color to any bland outfit, making you look chic everywhere you go. This is a fantastic trick for wearing this color to the office as well.
Given how vibrant it is, workplaces probably shouldn't use it. However, if you add a little pop of magenta here and there rather than designing your entire wardrobe around it, you may wear it to work as well.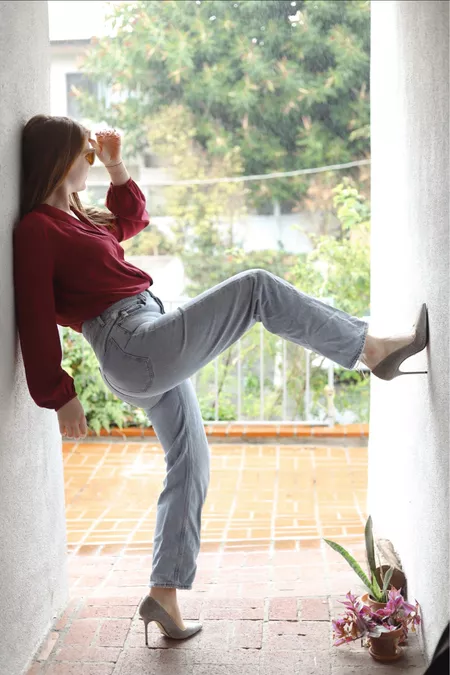 6 – Y2K Style Outfit on a Girls' Night Out
Like the early 2000s, the dramatic resurgence of Y2K is taking over the internet, and it's all about making a strong message.
With this beautiful top and upper for a rebellious drama, revive your ailing inner baddie. Wear it with confidence and your preferred pair of baggy black, white, or denim slacks.
You're now prepared to parade around town like a real-life Bratz doll.
In order to balance out the attention-grabbing nature of the famous color's shade, it is preferable to choose simpler, less flashy jewelry. Replace excessive bling and jewels with delicate silver and gold items.
5 – Coziest Brightly Colored Fleece
There are so many different ways to incorporate the Pantone color for 2023 into your looks, whether you're looking for a monochromatic look or simply want to add a touch of magenta.
Making it a part of your winter wardrobe is one of the best ways to do it. Overcoats, Fleece like the one in the picture, sweaters, jackets, and even accessories like hats, gloves, and mufflers come in this year's color. You can combine a magenta overcoat with a variety of colors and outfits, making it the ideal winter wardrobe piece.
Put on your fleece to add a splash of color and appear really beautiful, whether you're wearing an outfit, a high-neck sweater, or a jumpsuit.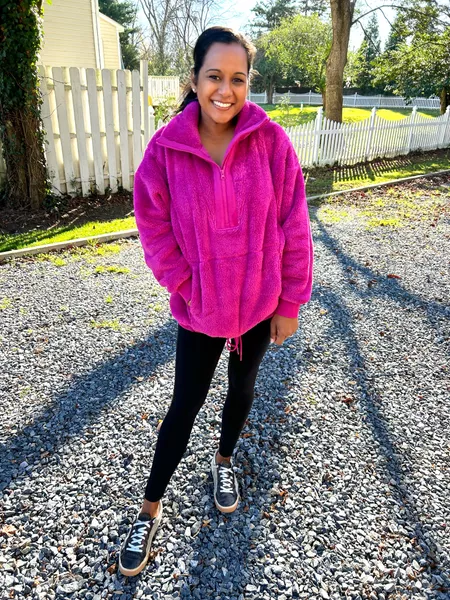 4 – Crewneck Sweater and Flare Jeans
Despite being a vibrant and lively color, magenta may be utilized as both an accent and the primary color of an ensemble.
As in this outfit, the sweater is magenta, while the jeans and accessories are different colors.
It's possible that the occasion or event is more laid-back and only calls for the in-between to be worn. Not to worry. The color of the year can still be used in your OOTD even if you're wearing a skirt or pants.
Celebrity Styles
Here's a quick round-up of how we have seen celebrities wearing Viva Magenta lately:
3 – Kate Middleton's Matching Set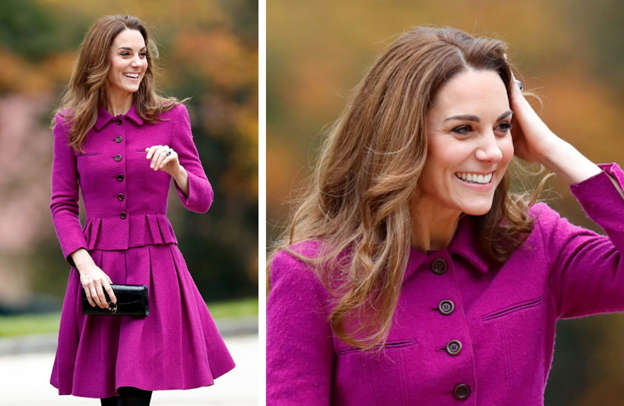 2 – Anushka Sharma's Sequin Dress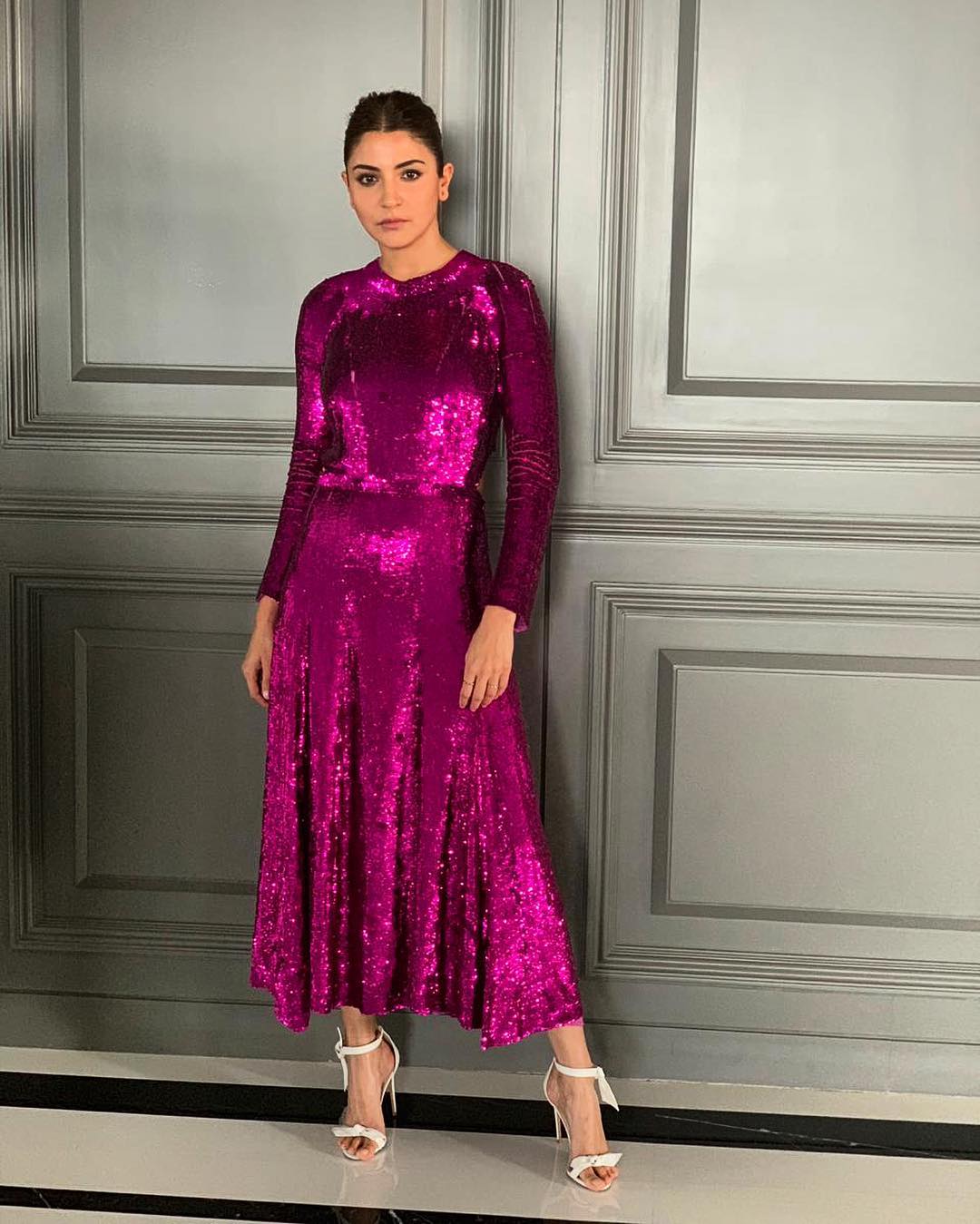 1 – Zendaya's Skirt & Top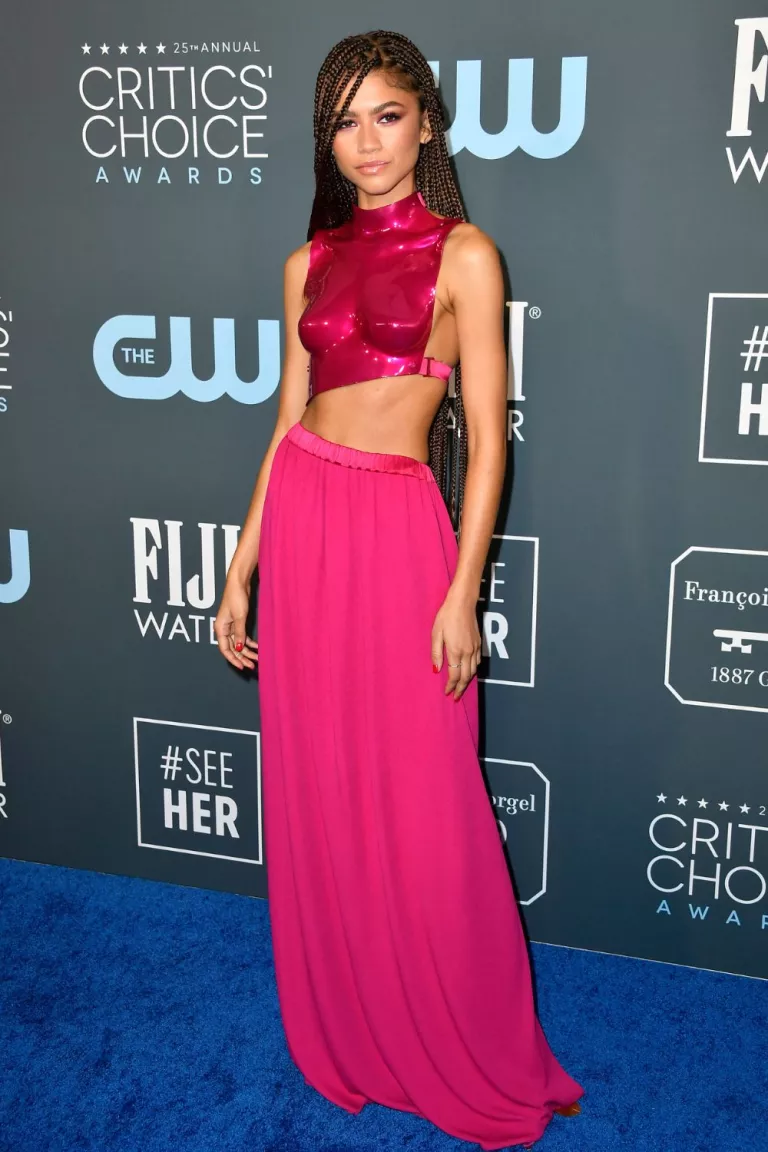 Editor's Picks – Viva Magenta Items on Our Shopping List
If our article has made you want to shop Viva Magenta, here are some picks from our style editor, Olivia: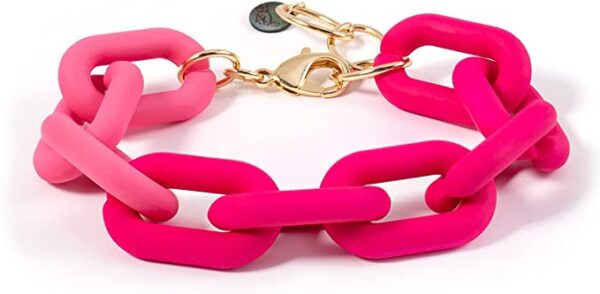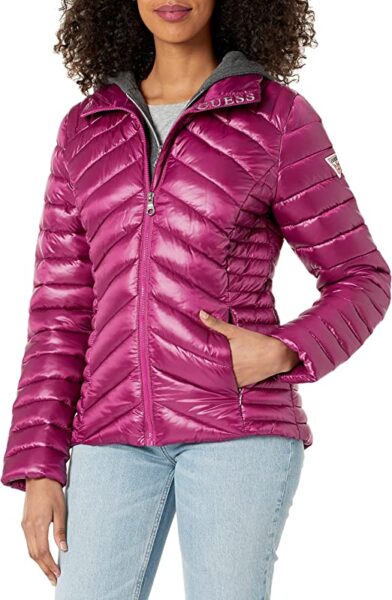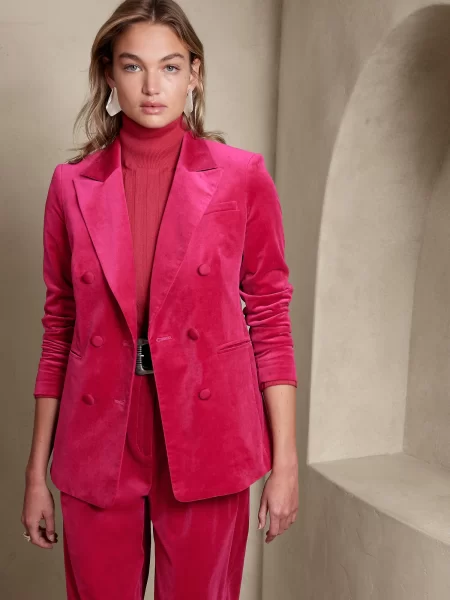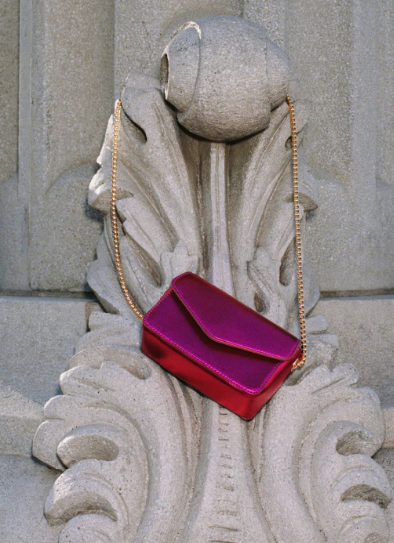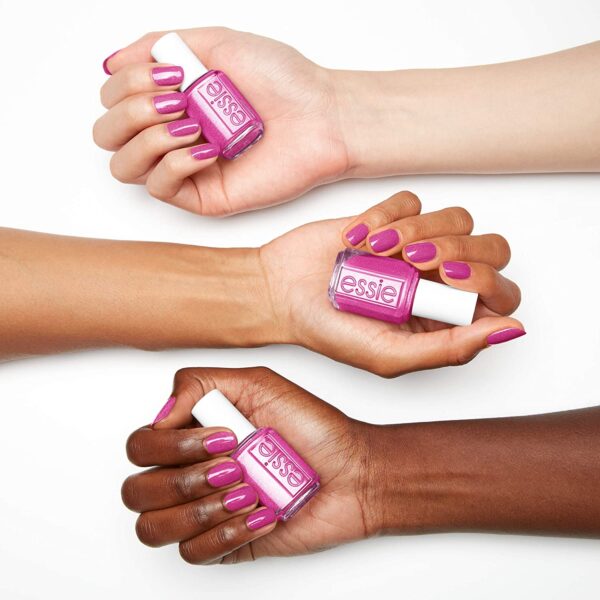 Frequently Asked Questions
Q. Why viva magenta was chosen as 2023 color of the year?
Ans. The purpose of choosing "Viva Magenta" was to encourage us to move past the tragedy of the coronavirus outbreak and embrace modern advancements wholeheartedly. This color represents optimism, boldness, excitement, and fun, restoring hope where it has been lost due to the pandemic.
Q. What does Pantone color of the year mean?
The Pantone Color of the Year expresses what people are searching for in a color and what is happening in our global culture.
Q. Is viva magenta a pink?
The color is typically a pinkish-purplish-red color. The formal response is that magenta is simply pink or purple concentrated. It can occasionally be mistaken for pink or purple. Pink and magenta share the same hue on the HSV (RGB) color wheel; only the saturation and value are different.
Q. What are some good color combinations with for Viva Magenta?
The following color schemes complement Viva Magenta well:
Magenta, coral, gold, and white for a lively and upbeat appearance.
Magenta, turquoise, mint, and white for a vibrant and contemporary appearance.
Magenta, purple, lavender, and white make up this color scheme's sophisticated and beautiful appearance.
Magenta, coral, coral pink, and white for a fun and lively appearance.
Lastly, the color combination of magenta, turquoise, blue, and white creates a light, ocean-inspired appearance.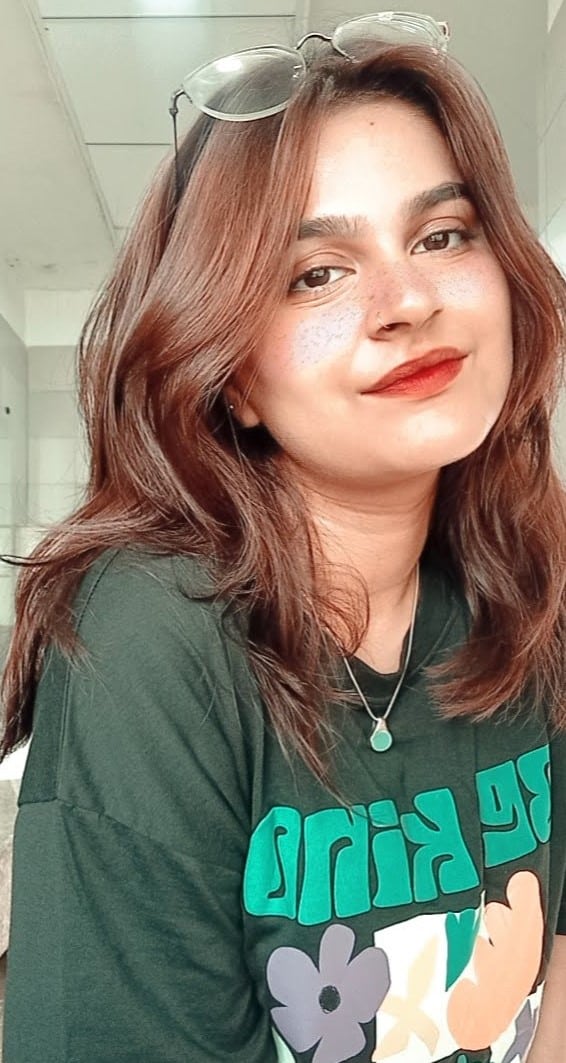 Adeena is studying Media Sciences at IoBM. She is a freelance content writer and graphic designer with experience in UI/UX as well. Adeena loves writing about fashion, taking photographs, making videos, and exploring many artistic things in her life.