Saree with Jackets. If there is a garment that makes us weak in the knees it is the 6-yard of timeless beauty. Nothing makes us fawn over an attire like fangirls like the elegant and quite magnificent – Sarees. An unbeatable ensemble for any occasion, sarees are as dramatic as they are simple.
With versatility like no other, today we have paired the regal 6 yards with different types, materials, and styles of jackets just to prove the timeless versatility of this number. And the imaginably stylish ways you can wear your saree with jackets.
How to Wear a Jacket with a Saree?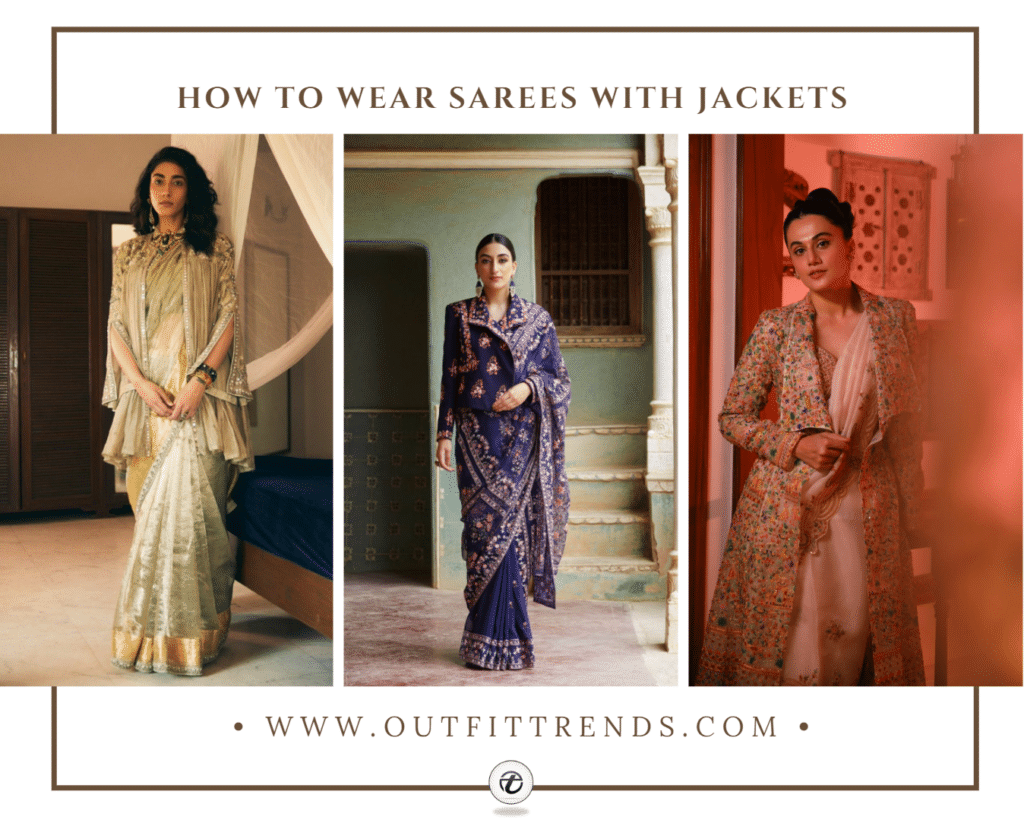 Keep the weather in mind while choosing a jacket to pair with your saree. A velvet jacket with traditional embroidery goes exceptionally well in the winters whereas, a feather or net cape is perfect to keep you cool during the summer seasons.
If you are opting for an embellished saree, pick out a jacket in a more subtle shade with dainty details but if your saree is plain, a heavily embellished jacket is your best bet.
Add a layer of edgy style to your traditional saree look by pairing your saree with a leather jacket.
Pick the color of your jacket in consideration of the color of your saree, opt for a contrasting or complementing color to enhance the whole look. Or choose from one of these 50 Latest Saree Blouse Designs & Blouse Styling Ideas.
16. Saree Adorned with Jacket Blouse
Ditch your blouse and style your plain saree with a printed jacket blouse to add a hint of oomph to your outfit. This ensemble, though casual, has a certain pizazz that is going to make you stand out from the crowd. Opt for an easy-breezy fabric with an eye-catching print for the jacket and style it with a plain saree in a bold shade. Wear your hair in a stylish ponytail with silver oxidized jewelry and strut.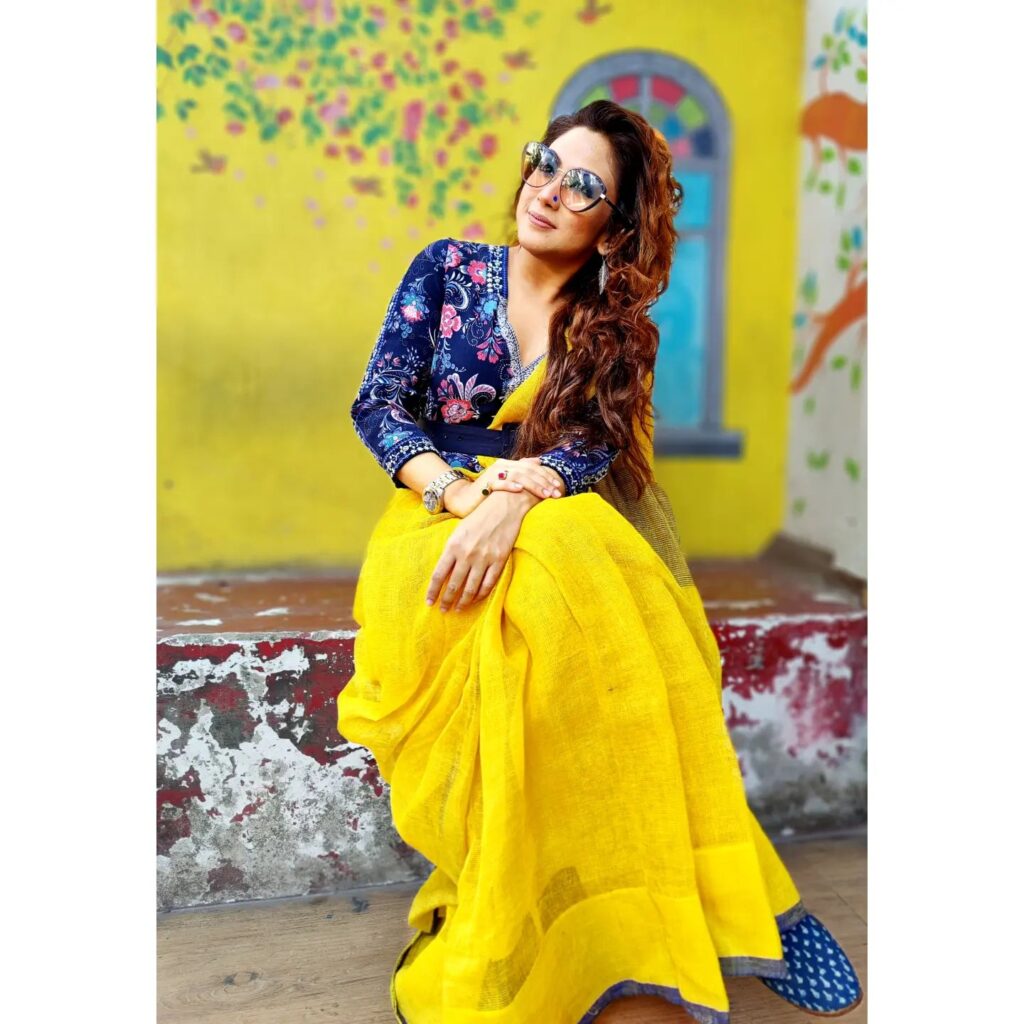 15. For Mature Ladies
An off-beat yet super stylish look for the mother of the bride, this elegant blush pink saree paired with a contrasting black long jacket is a combination to die for. With intricate embroidery and a unique and trendy cutwork design, this black jacket compliments the saree beautifully while also adding a layer of uniqueness to the whole outfit.
Throwing on a jacket is also a super smart way to re-use and re-wear your saree and create a whole new look with your old sarees.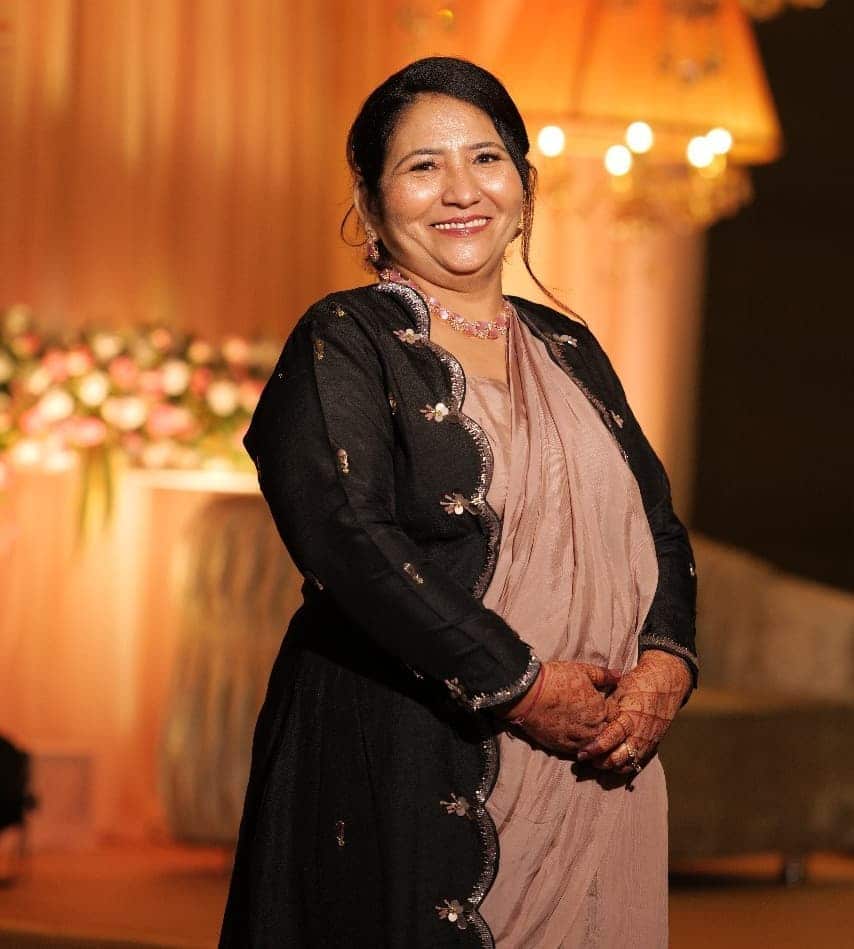 14. With Shoulder Cape Jacket
Strut like a superwoman in this chic and trendy saree with a shoulder cape jacket combo at the next wedding and garner compliments for your splendid fashion sense. This satin saree with net cape jacket has grabbed our attention and rightfully so.
Perfect for evening soirees or sangeet parties, style this with statement earrings sleek bun, and let your cape jacket get all the limelight.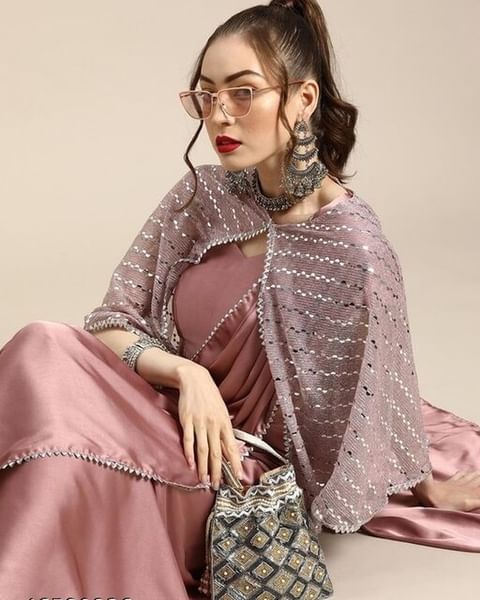 13. With Hakoba Jacket
Synonyms with impeccable craftsmanship and intricate embroidery, hakoba fabric was the fabric of the riches and was worn by kings and queens. This regal fabric is again gaining traction in recent times, thanks to its rich appeal and also breathability.
A printed saree styled with a contrasting hakoba jacket is the perfect summer-appropriate office wear outfit you were looking for. Style it with soft nude makeup, a sleek ponytail, and a smartwatch to finish off this chic office look.
12. With a Pearly Jacket
If an all-white monotone look is the hottest trend of 2022, then an all-white saree look is one of the top styles of this trend. Fashionably magnificent, this white saree with delicate pearl details, chic fringes, and gorgeous beads makes it a one-of-a-kind piece and when paired with a stunningly embellished pearl jacket this look is class apart. Opt for a classy side bun with a rose and wear it to your best friend's wedding and let your splendid outfit be the star of the show.
11. Fringe Jacket
Fringes are making a huge comeback this season and this printed saree styled with the white fringe jacket is the exact combo you need to nail this trend this 2022. Effortlessly chic, this cheeky number is young and fresh with a hint of classic beauty that you can wear at your farewell party or to a brunch with your friends. With a sleek side bun and a bold red lip to compliment the colors, this look is for our fashion queens.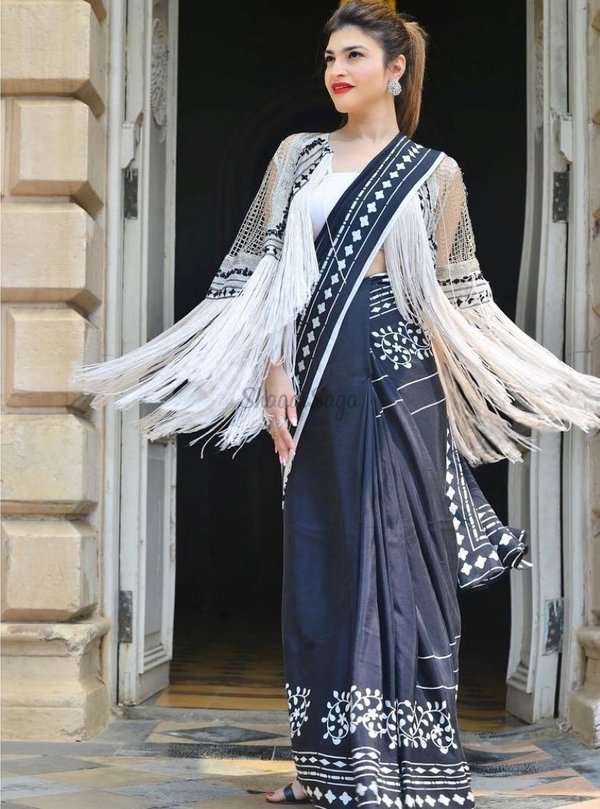 10. With the Classic Leather Jacket
Hello our rocker-chic girls, we have got something fantastic for you. A silk saree paired with the classic black leather jacket and styled with a belt is the bold and beautiful outfit you need to raise your street style outfit game to a solid 10. Style it with a chunky bracelet and aviators and turn the streets into your runway.
9. With Floral Jacket
Your search for a stylishly trendy yet comfortable saree look for the upcoming summer wedding season ends here. A white printed saree paired with a floral jacket is exactly the fresh and summery outfit you need to take your summer looks from 1-10 in a hot minute. Style it with a dramatic side-swept hair, bold red lip, and an embellished clutch, and you are all set to make heads turn.
Via
8. Printed Saree with Patola Jacket
For the love of Indian handloom and the impeccable craftsmanship of the artists of India, this patola saree matched with a contrasting patola long jacket is simply divine. With a striking color combination and commendable detailing, this outfit is hard to miss. With statement silver jhumkas and bangles this outfit is absolutely ready to hit the streets.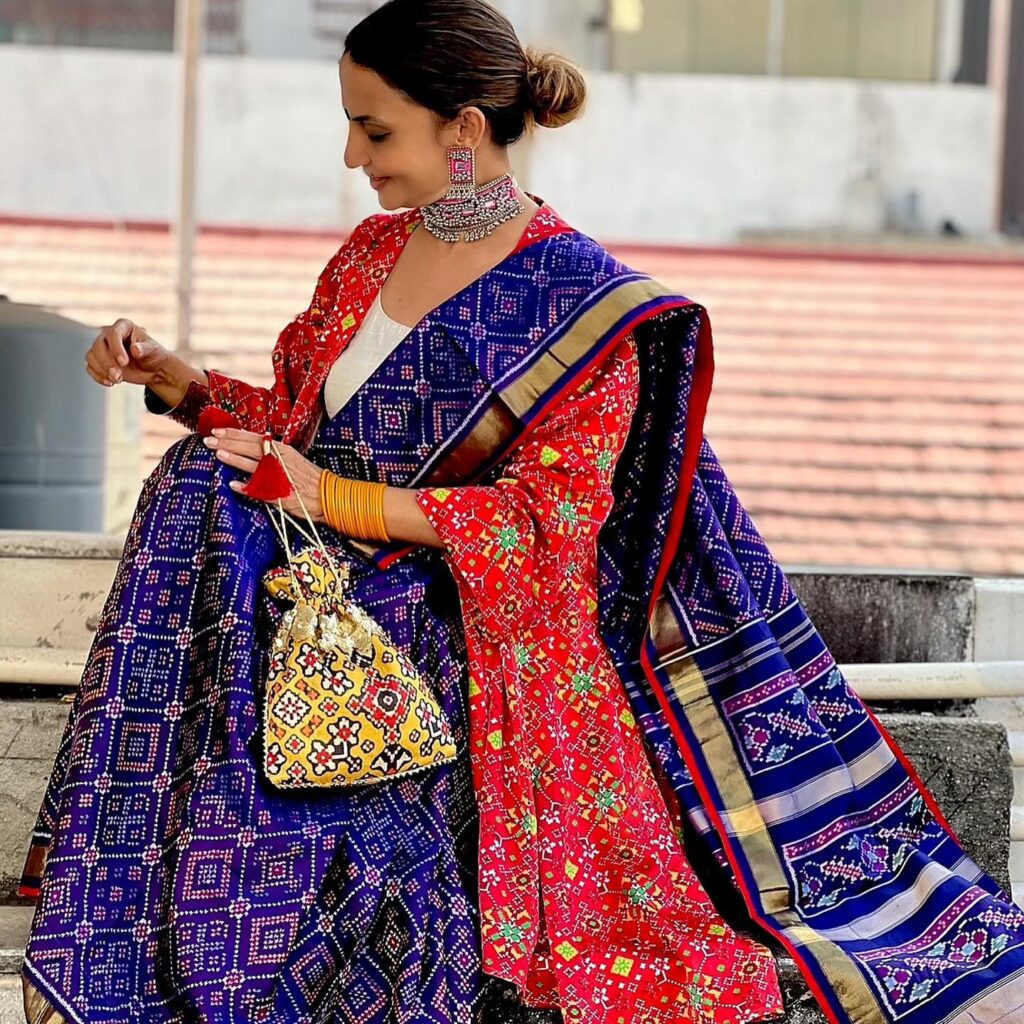 7. Hand Embroidered Saree with Chanderi Jacket
In a fashionable play of fabrics, this sage green tissue saree with dainty hand embroidery, adorned with a matching jacket in chanderi silk screams elegance and class. A gorgeously regal saree with its traditional banarasi border makes it a perfect outfit for a night event.
Wear it to your friend's sangeet or even a Mehendi party. When paired with this beautiful matching jacket, gold and green contemporary earrings, and beachy waves this fit will surely be a crowd's favorite. Here are some of the Best Banarasi Saree Designs.
6. Modest Fashion
For an elegantly modest bridal look, this soft peach saree paired with the matching jacket in the same fabric has the richness and grace fit for a bride. Wear this to your sangeet with diamond jewelery and dazzle.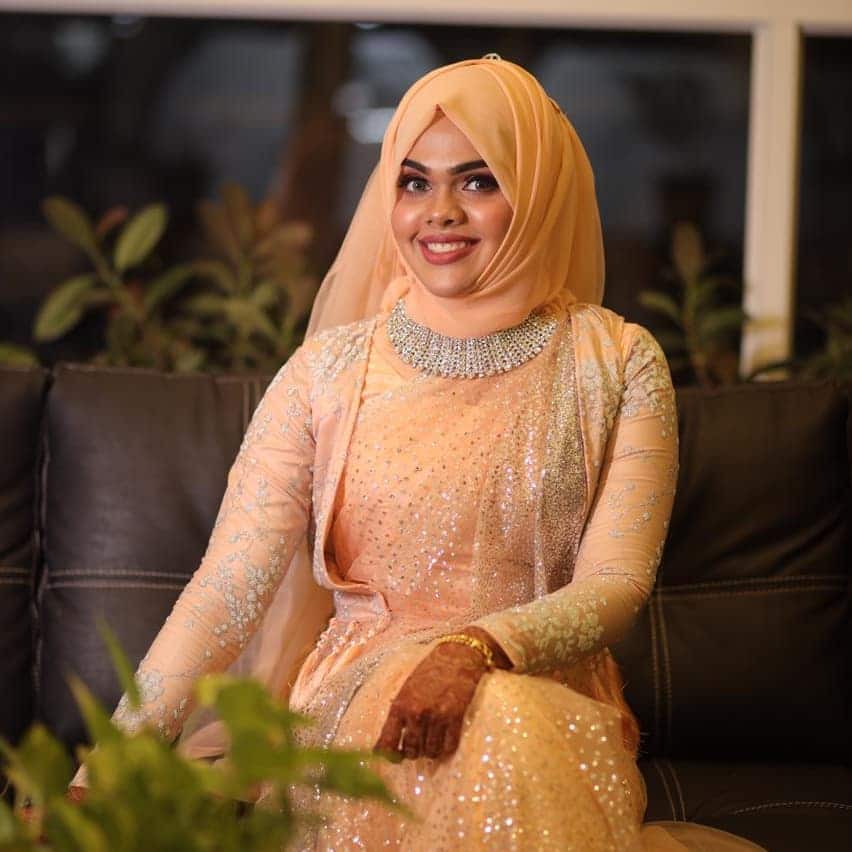 5. With Fitted Jacket
If jackets remind you of the winter season, then we have got some news for you. This sleeveless fitted jacket with striking sparkling embroidery is the 'it' summer wedding look that the fashionista within you was looking for.
Fresh with a hint of glam, this style is as chic as it is unique. Stand out in this one-of-a-kind outfit at the next party and click tons of pictures for the gram.
4. Embroidered Saree Paired with Embroidered Biker Jacket
A super fun and chic outfit, this navy embroidered saree styled with the oh-so-stunning embroidered biker jacket has stolen our hearts. For the fashion forwards and young at heart, this unique fit is going to make you the star of the show.
Take your style game up a notch with this unique embroidered biker jacket, and be the hot topic at the next party. Wear your hair in a messy bun with statement contemporary gold earrings and dazzle.
3. With Formal Blazer
Take notes from our favorite influencer on how to turn your printed saree into sophisticated office attire. With a simple addition of a contrasting blazer and a statement belt, a printed saree look turns into influencer-approved smart wear and we are here for it. Style it with dainty jewelry, and a beautiful wristwatch and you are ready to rock that office meeting with panache. For more on this, check out my guide on All the Ways to Layer Your Saree.
2. For the Wedding Season
Dreaming of a white wedding with a desi twist? We have got you covered. This stunning white saree with a heavily embroidered jacket is exactly what bridal dreams are made of. Decorated with magnificent pearls and fringe details to die for, this attire is perfect for the brides that are looking to blend the sophistication of the white wedding with the drama of the desi.
With striking Indian craftsmanship, this piece has to be in your bridal trousseau. Style it with cascading waves, and statement emerald jewelry, and our bride is ready to walk down the aisle to the love of her life. Here are some more ideas on How To Style A White Saree.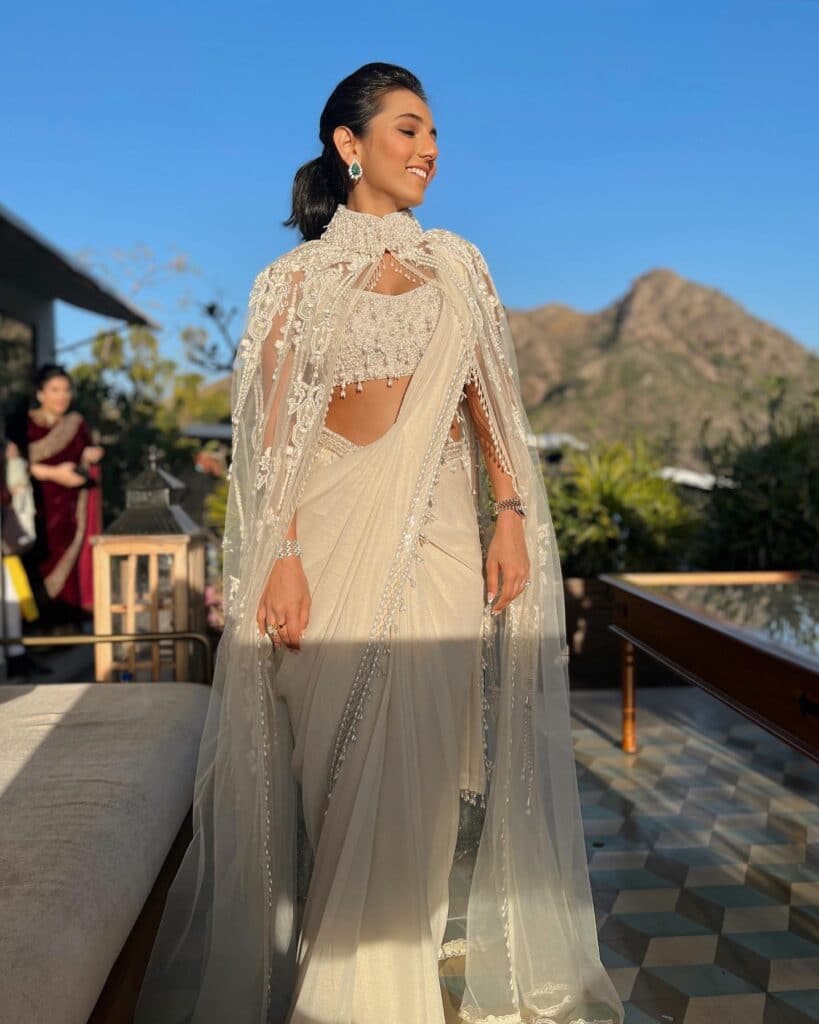 1. Celebrity Edition
A dreamy pastel affair, Tapsee Pannu is giving us major style goals in this magnificent pink saree adorned with a beautifully embroidered long jacket.
A simple yet magnificent fit, this look is perfect for day weddings and engagement parties where you want to opt for an easy-breezy fabric that also looks regal. Accessorize it with dainty Polki jewelry, side-swept hair, and get ready for your bridesmaid's duties.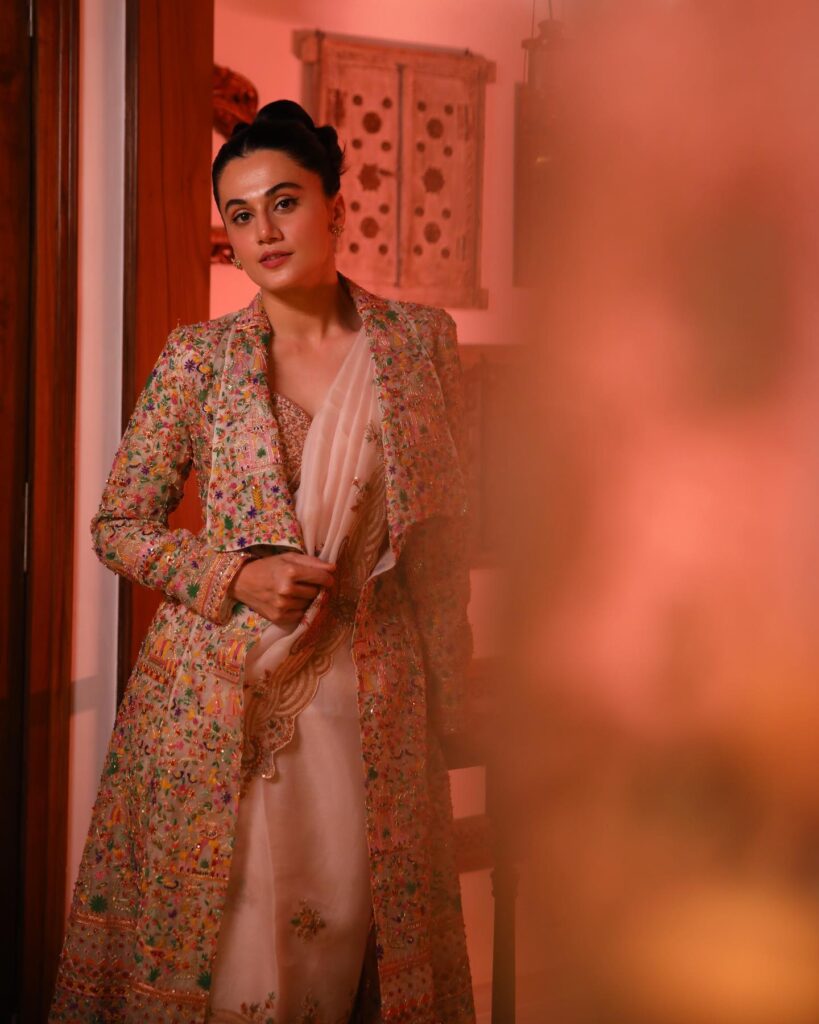 Frequently Asked Questions
Q. Can I wear Jacket with Saree?
Styling your saree with a jacket is a stylishly cool way to add a hint of oomph to an otherwise predictable outfit. The jacket and saree combo not only makes you stand out from the crowd but also helps give your old saree a completely new makeover.
Q. How do you style your saree with Jacket?
There are gazillion ways in which you can style your saree with a jacket thanks to its versatility. If you are looking for a more formal look, style your saree with a blazer jacket and keep your jewelry to a minimum. For a more wedding-appropriate look, pair your saree with an embroidered jacket, Polki jewelry, and an elaborate hairdo. For a casual look, opt for a printed saree and style it with a biker jacket. For more tips and styles, browse through our list above and find your perfect style.