summer outfits for young girls – For our dearest readers, we will be showing some of the latest teen summer fashion trends that will save your time to pick one outfit that will surely be eye-catching. If you are planning for the first date in the summer season then you must check out first date summer outfits.
For a perfect well-coordinated look you need to go through multiple dresses to find the most appropriate one. Only then you can arrive at a conclusion. Your wardrobe might be filled up with very casual clothes that are the basics of your daily life. You might end up getting worried if you can not pick the right outfit. At times when you are going through your insta feed or online fashion sites, you might want to grab all the dresses. You certainly don't have to buy a new dress for a party. If you have got some understanding of fashion then you can do a little brainstorming and create a new combination for yourself from the things that you already have in your wardrobe. Since summers have arrived, you would surely want to keep away all the winter clothes and get trendy clothes for the hot season.
We keep bringing the latest fashion ideas for teenage girls. In the last article, we talked about teen girls street style ideas. In summers, the basics mean clothes such as denim jeans, sleeveless shirts, floral prints, bright skirts, etc. The colour palette you choose should be exclusively for the particular season. Teenagers like to wear bright and bold colors which is why floral tops are perfect for summers. Cropped skirts are a great option for girls who love to wear skirts. You can wear colorful accessories over your top for a refreshing and funky look.
What To Wear In Summers For Teenage Girls
Teenage Girls fashion is a broad and vibrant topic with lots of different designs and colors. There is so much variety when it comes to teen fashion that it is difficult to pinpoint one type of outfit that is the defining outfit for the entire season. Here are some essential points to consider while shopping for a summer wardrobe. Summer clothing is very calm and relaxing.
Shirts and shorts are the hottest commodities for the summer season. They are easy to pair up too. Among the shorts and skirts, the denim ones are easiest to pair with tees as denim goes with everything, so make sure you buy either a denim skirt or denim shorts for emergency plans where you have to dress up quickly.
Summer outfits must have lots of color in them. Although teenagers prefer black color, if you are planning for a long outdoor day, avoid black or dark colors as dark colors absorb heat, and it will be scalding and sweaty if you wear dark colors outdoors for a long time.
Wear loose-fitting clothes that allow passage of air through, so that you feel relaxed and breezy.
Wear light colors for everyday clothing. It will make you feel cool and look good. Keep the darker shades for the evenings and nights.
Choose materials that are easily washable because summer clothes need washing every now and then.
Do not do dark makeup in the summer season. Cool and electric colors look good in the hot weather. Also, do not overdo the accessories to kill your natural beauty. Use bright colored accessories with light colors only and use light color jewelry with bright colored clothes to balance the outfits.
Make sure you use an ample amount of sunscreen to protect yourself from the sunlight in the summer season. If you are going to the beach, do not forget to bring sunscreen.
↓ 61. Summer Street Style
↓ 60. Denim with Lace Skirt.
You can also get a lot of ideas what to wear with lace shorts in summers.
↓ 59. Funky Summer Style.
↓ 58. Elegant Dress with Belt
↓ 57. Hipster Look
↓ 56. Casual Summer Dressing Style
↓ 55. Summer Dress for High School Girls
↓ 54. Blonde Teen Girls Fashion Ideas
↓ 53. Crop Top With Denim Shorts
Expert Tip: Bring a little diversity in your dressing style so that your clothes don't look the same every time. Add style to your clothes. Even with a simple top, you could wear a blazer on top. This way you will change the look and at the same time, it will look great on you.
↓ 52. Beach Style for Young girls

↓ 51. College Outfit
↓ 50. Crop top with Animal Print Skirt.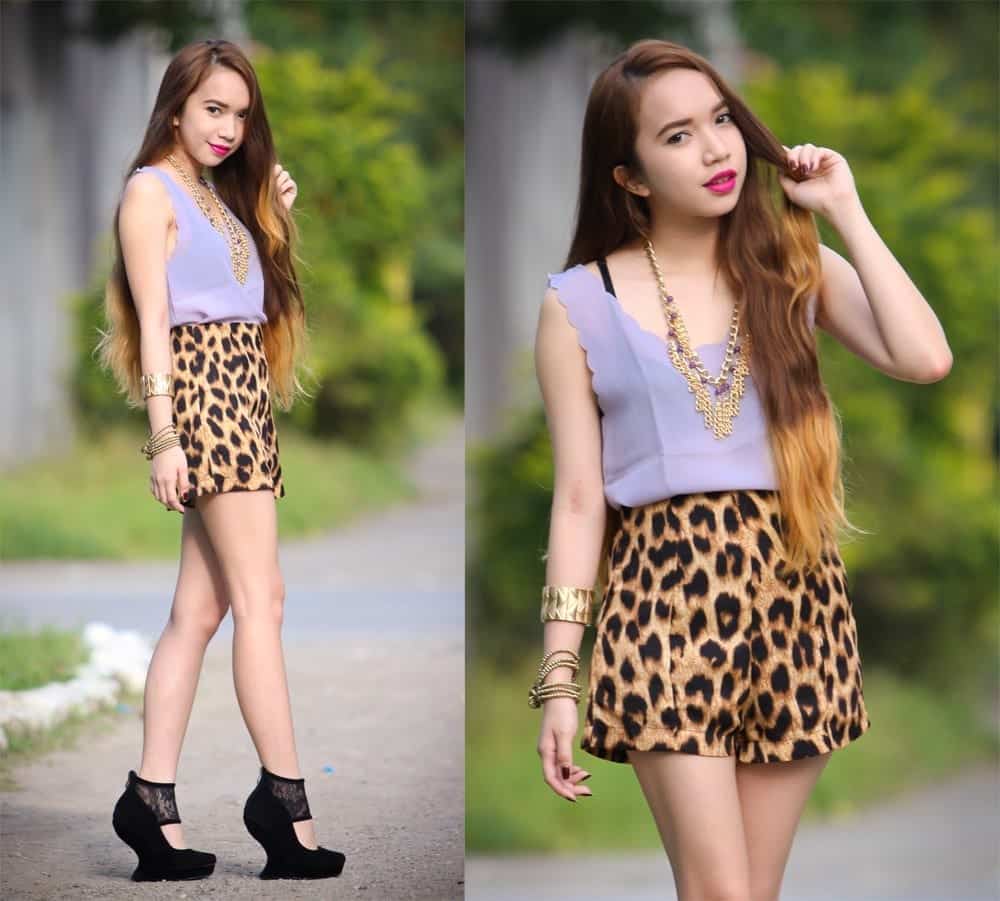 ↓ 49. Best Hats For Summer
Fedora hats are the perfect summer accessory for teen girls. Try wearing them during day time or at a beach for a chic look.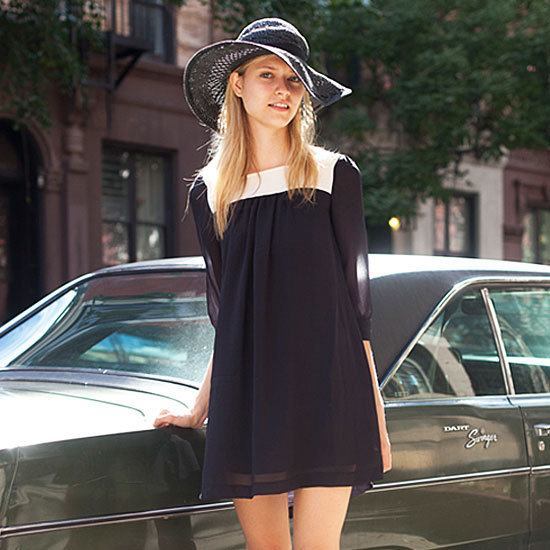 Why not follow teen celebrities Summer style? Yes, try wide-brim hats with outfits. See these girls how perfectly they have matched their summer dress with hats for a cool look. If you want to try wearing hats this summer, you wouldn't want to miss out our very popular post on Cute Hats for Girls To Wear In Summer/Spring Season.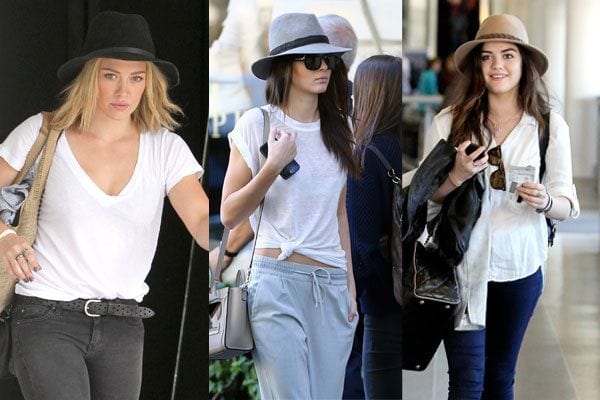 It's almost time for school to finish and you girls can enjoy flaunting your favorite outfits, whether you are partying at the beach or hanging out with your friends at Starbucks. But wait! Is the scorching summer heat puzzling you about what you should wear? Wonder what you should wear to beat the heat? Or what casual styles you could wear that is comfortable and yet give you a chic look? Don't worry, you beauties: we have gathered a list of top casual summer outfits for teenage girls. From the following pictures, you can get a lot of fresh ideas for summer dressing combinations for all sorts of occasions.
Keep reading to find out what they are!
↓ 48. Floral Kimonos
A kimono is light, breezy, and perfect for summer. They make great cover-ups for the beach and are light enough to wear over a tank or other thin material. They are the perfect way to finish off an outfit; they are casual, yet very trendy and stylish. You can pair a floral kimono with a plain tank top, high waisted shorts or even leggings, and your favorite statement necklace.
Nowadays kimonos are available in a variety of textures and color combos. Before the summer's approach, go out and stock up on a few of these. Also, check out super-stylish Ways To Dress Up With Kimono Outfits.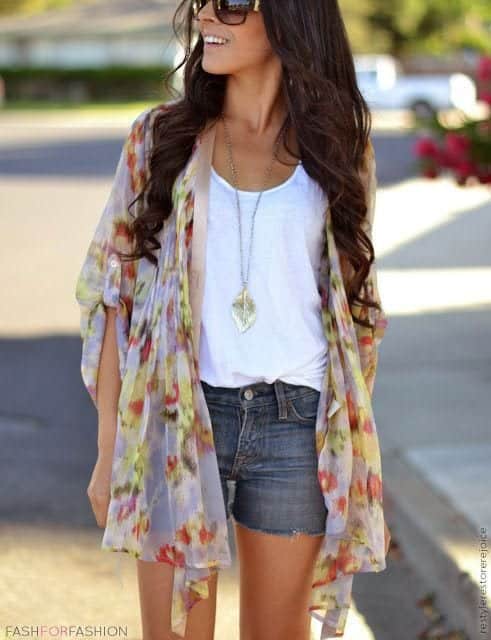 ↓ 47. Boho Tops
The best thing about Bohemian prints is that they can be paired up with almost anything and any color combo. If you are going for a black and white tribal print loose shirt, then you can tuck it into your black shirt or black mini skirt. If you want to add more pizzazz to your outfit, then you can also wear shorts in a totally contrasting color. Also, make sure to add different vintage accessories. For example, a long chunky necklace, and big and prominent rings. Check out 12 Chic Style Bohemian Outfits Combinations for this Season.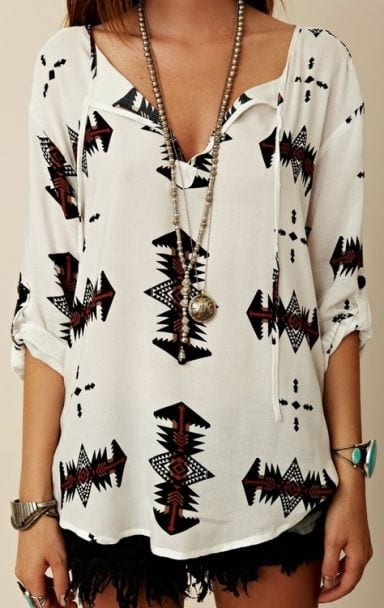 If you are going on a date and want to keep it casual then tribal printed shirts are a good option. Pair your shirt with denim shorts and a long gold necklace. Wearing midi rings and flat shoes is also a great way to complete the look.
↓ 46. Boyfriend Jeans
Don't have a boyfriend? No worries, boyfriend jeans will love you forever! The best thing about boyfriend jeans is that they can be worn for both casual and formal occasions. So take out your jeans from the wardrobe and pair them up with your favorite crop top. Check out our top 30 picks of stylish shoes to wear with your boyfriend jeans.
These ripped up boyfriend jeans are perfect for college or work. You can wear them with a white tee shirt with a cool and funky print on it or some kind of logo that resonates with you. If you want to take it one step further in this outfit, then wear a denim jacket around your waist and add a pair of Ray-Ban sunglasses.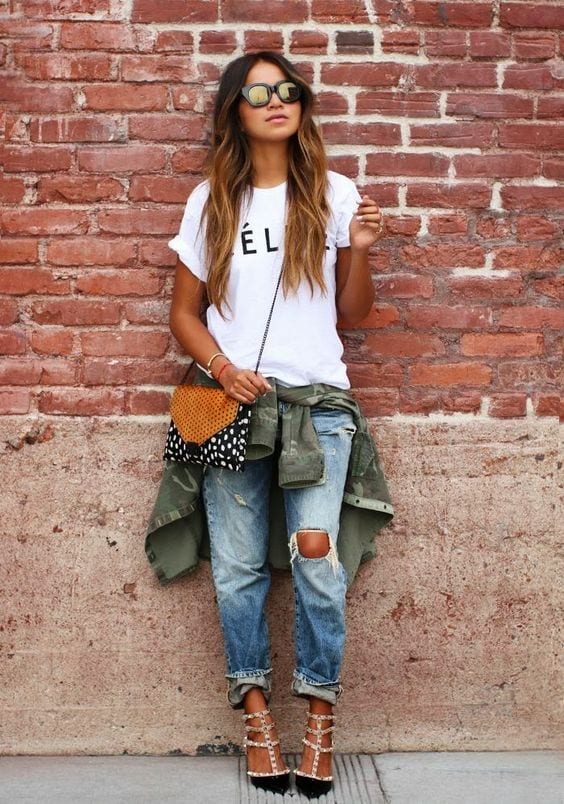 ↓ 45. Lace Tops
Lace tops are another way to dress up casually in the summer. Pairing them up with gladiator sandals or ballet pumps will really complement the lace texture. These lace tops are perfect for every occasion and you can wear them with almost anything. They have a perfect blend of elegance and casualness to them. For example, you can wear them with denim ripped shorts, and for shoes, you can go with contrasting-colored sneakers. Take the lace top to another level by wearing them with lace shorts… Here are some really Cute Outfits with Lace Shorts.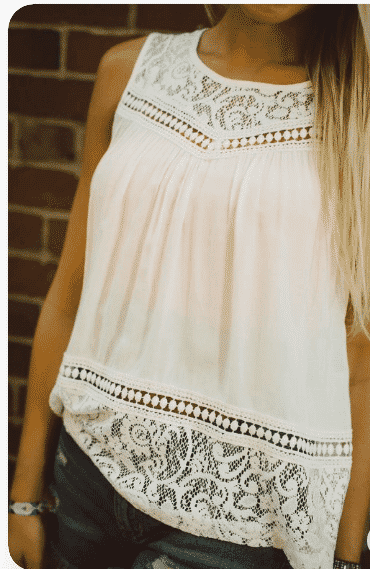 ↓ 44. Floral dress
Spring and summer are never complete without floral dresses, right? So pull out all of your favorite old floral dresses and pair them up with some wayfarer sunglasses and messenger bags. You can also see these 22 gorgeous floral outfit combinations for a perfect Spring Summer Look!
Floral dresses are perfect for all sorts of occasions. You can wear one to work, to class, or even to a formal get-together. They are both elegant and eye-catching. For accessories, go for messenger bags in contrasting colors and opt for some trendy high heels to go with your outfit.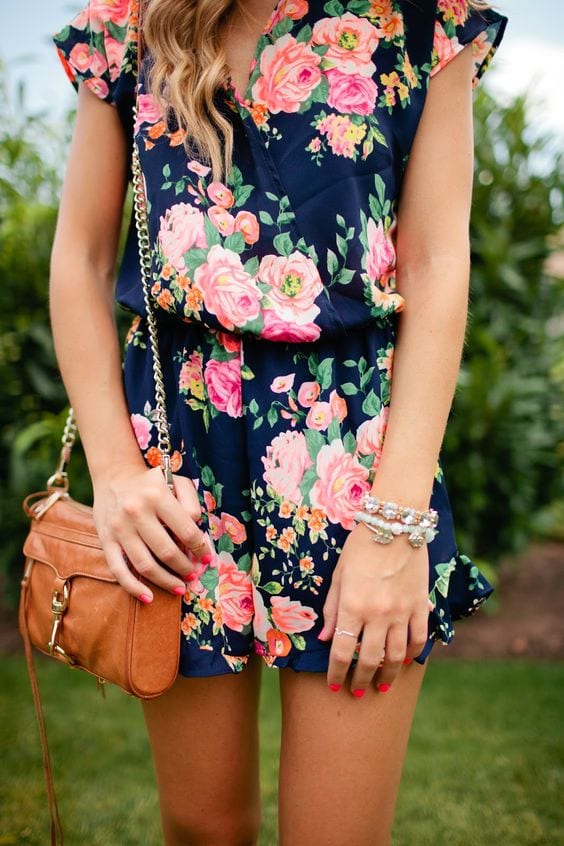 ↓ 43. Style Your Outfits with Denim Jacket
A denim jacket is an extremely versatile piece of clothing for the summer. It's light enough to wear on a cooler day and adds some extra texture to your outfit. You can pair it up with some high-waisted shorts, skinny jeans, or a printed skirt. You can also wear it with a dress and style it up with matching wedges. Here is another exclusive look at how to style denim jacket with different outfits.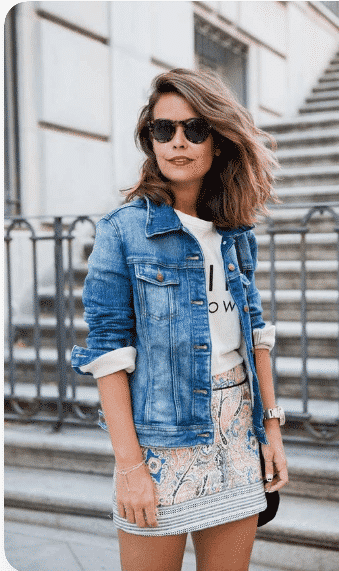 ↓ 42. Casual Style with Floral Pants
Floral pants are one of the best ways to dress up a plain top. Pair up your floral pants with a tube or crop top and your favorite chambray shirt for a perfect look for brunch with your BFFs.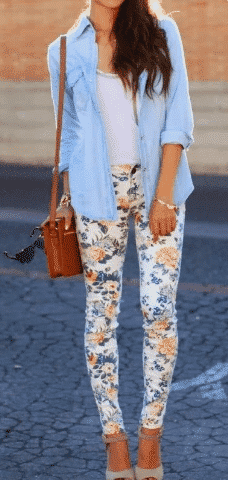 ↓ 41. How to Wear Rompers in Summer / Look
A romper or pair of overalls is such a cute and versatile summer look! Pair them up with a white tee or tank top and throw on a pair of little white sneakers. Accessorize with some statement sunglasses.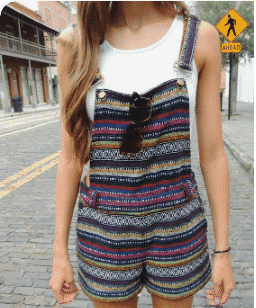 Whether they are plain or printed, rompers are a great way to beat the heat. Who says rompers are only for little kids? They look great no matter your age and they make a perfect dress option for summer.
Don't forget to apply sunscreen before heading out in the sun while wearing these rompers. To show off your rompers fully, tie up your hair in a messy bun and pair it up with a statement lip color. Check out 20 Cute Outfits with Top Bun Hairstyle to Compliment Style.
↓ 40. Maxi Dresses
Maxi dresses are a total summer must-have for teenage girls! These are extremely effortless to wear. They're light, breezy, and an all-in-one outfit that will take no time at all to put together. To dress it up, carry a matching statement clutch with your maxi dress, as shown in the picture. For a great color scheme, you can go with light but bright and attractive colors to look fresh and summer-ready. The most common color for this type of maxi dress is blue or pale orange. These colors are used because they look extremely fresh when worn in summer.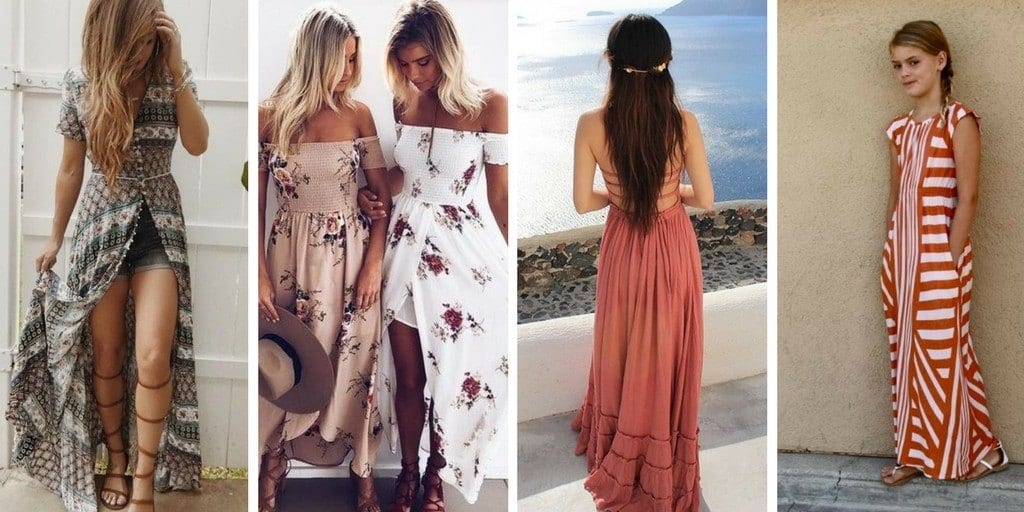 ↓ 39. Polka Dot Shirts
Whatever the weather is, polka dots never go out of fashion. Wearing a boyfriend pair of jeans or skinny jeans is a nice way to enhance the polkas on your shirt. Add a super chunky statement necklace, like one with pearl beads, to really make a statement. Plus, check out the 17 Best Polka Dot Outfits/ Dresses of the Season.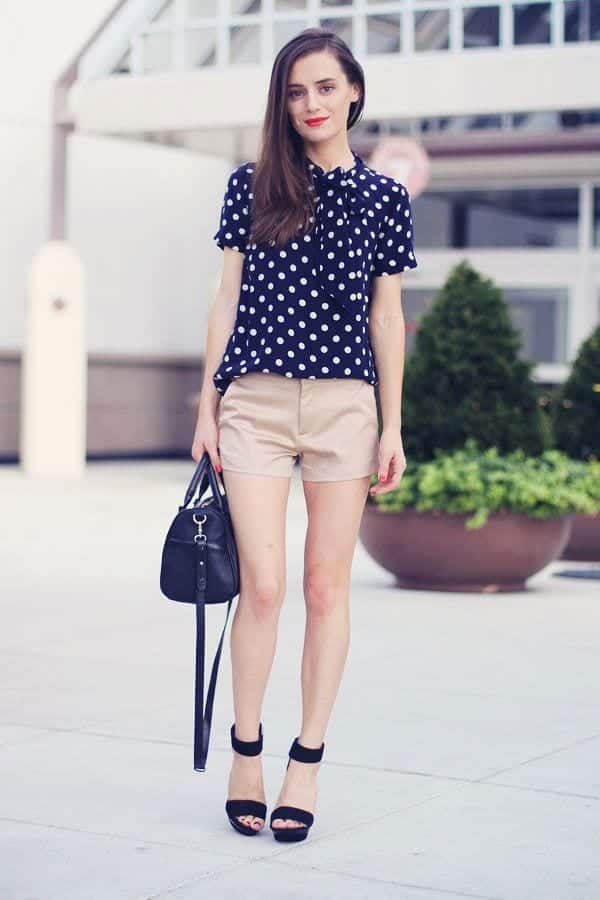 ↓ 38. Cropped Shorts
Cropped tops are an extremely cute choice for girls. They can be worn to every occasion but only if you know how to wear them. For example, you can wear pastel-colored cropped tops with denim shorts. As pictured, you can wear a cropped top with a V-shaped distressed hem, and choose a light color like this pale sea blue. Crop tops look super cute with denim shorts. For lipstick, go for a bright colored one to make your lips pop on top of pastel-colored cropped tops. Check out these amazing High Waisted Shorts Outfits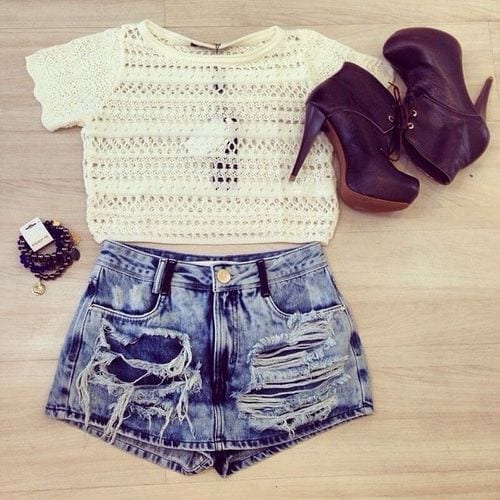 Skater skirts are the best way to spice up a plain, boring top. These go best with gladiator sandals and a contrasting belt.
↓ 37. Skater Skirt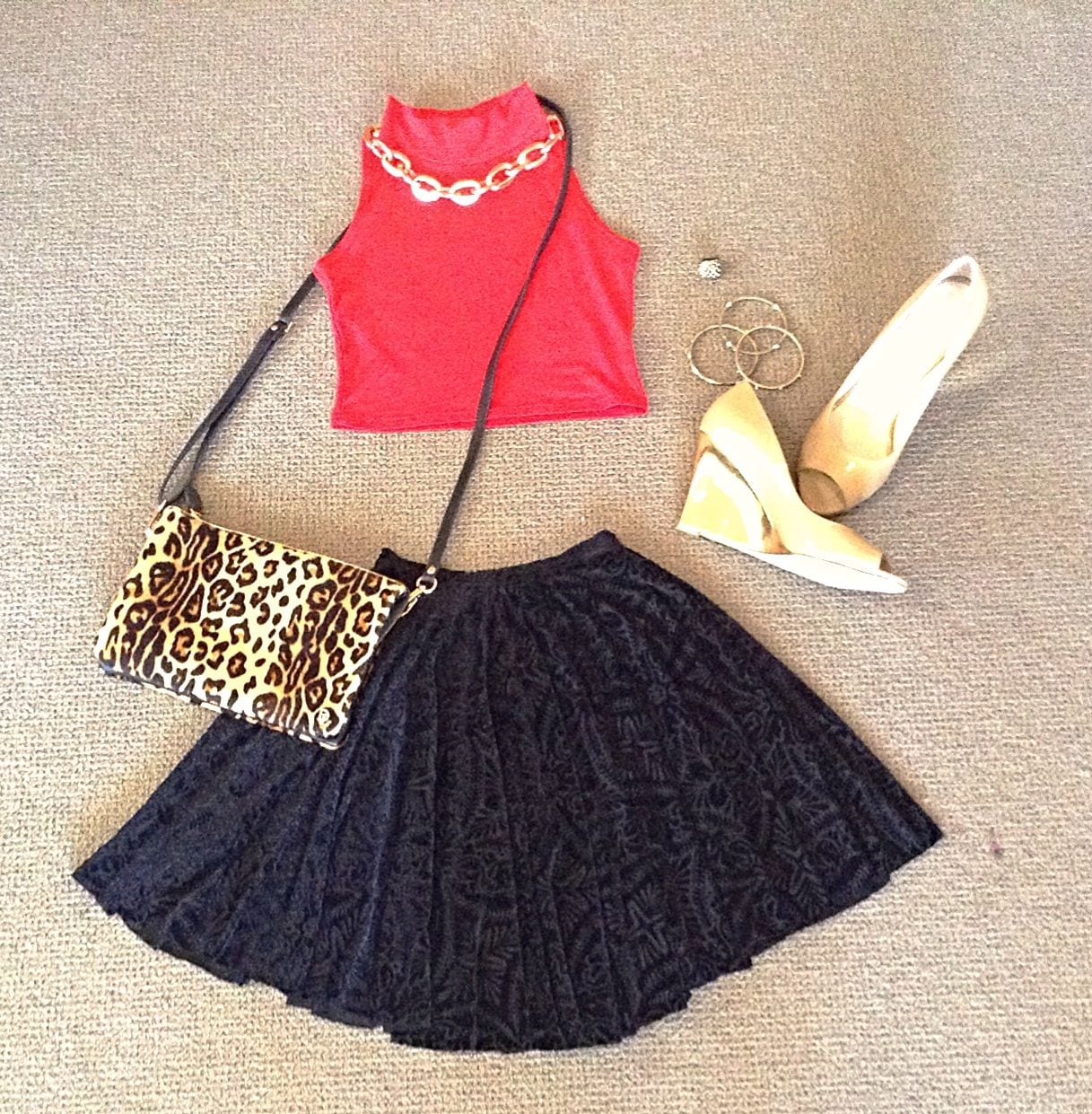 ↓ 36. Cute and Basic Summer Wear
When in doubt, go basic. Pieces like this will never go out of style, so you might as well stock up so you always have them on hand! A simple tee can be worn a million ways. With this look, simply knot your tee at the waist. Pair with some high-waist denim shorts. You can wear these for any number of occasions. They also are great to wear at the beach. Slip-on some sandals and pop on your favorite accessories. This is a great look for grabbing coffee with friends or running errands.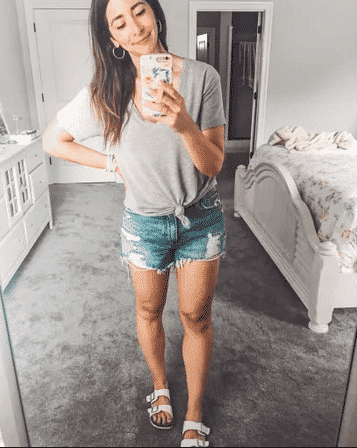 Get this outfit for yourself:
Abercrombie & Fitch V-Neck Drapey Tee $15.12
Abercrombie & Fitch High Rise Denim Shorts $23.20
↓ 35. Plaid Shirt and Baseball Cap
Here is another outfit built on basics that you could easily pull together today. Start with a basic tank top and tuck into a pair of high-waist shorts. Tie a plaid shirt around your waist. This is great for adding layers to your look; plus, in case you get cold you have a ready-made coverup waiting for use! A baseball cap worn over loose or braided hair is so cute. Wear with sandals, flip-flops, or Keds.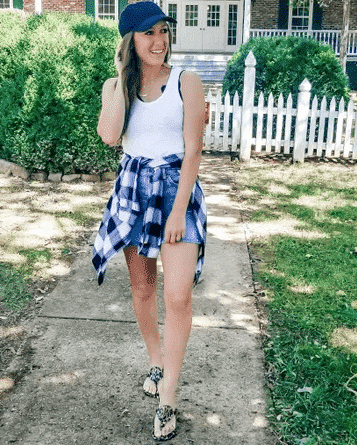 Grab this outfit for yourself!
Dickie's Long-Sleeve Plaid Shirt $12.50
Abercrombie & Fitch High Rise Denim Shorts $23.20
↓ 34. Denim Jacket and Dress
This is a classic summer look that is so, so easy to put together. Simply pop on your favorite summer dress and add a light-wash denim jacket. Sandals or Keds are the perfect footwear for this look.
Get the look for yourself:
Women's Striped Sleeveless V-Neck Dress $18
Women's Acid Wash Destructed Denim Jacket $32.49
↓ 33. Casual Yet Girly
We love these long denim shorts. They're different and they're totally cute! Pair with a tucked-in white tee and some girly sandals. For accessories, a patterned tote bag rounds off the look and is the perfect way to carry all your summer necessities with you.
Check out the outfit details below:
Abercrombie & Fitch High Rise Long Denim Shorts $24.99
↓ 32. Perfect Beach Outfit for Teen Girl in Summer
Here is a good example of the perfect beach outfit for a teen girl. With this look, it's all about the accessories. A cute headband and sunglasses go a long way. Add a scrunchie to your wrist for that moment when you want to tie up your hair and you are good to go! A halter top or one-piece bathing suit makes the perfect complement to these jean shorts. Sandals or flip-flops for your feet and a cute necklace for your neck and you, girl, are beach-ready.
↓ 31. White "Playsuit" & Accessories
A playsuit (kind of like a romper or jumpsuit) is such a great summer outfit. It's all-in-one, as in, simply pop it on and you are 75% ready. From there, it's all about accessories. Layer some necklaces, throw on a watch, and sling on a neutral-colored crossbody purse. For shoes, sandals, slingbacks, or even Keds if you plan on walking a lot, make for great summer footwear.
Get your own version of this outfit:
Princess Polly Hunter May Playsuit $47
↓ 30. Hat & Sandals
A quintessential summer look is a hat and sandals! There just something so beachy about this look. It's great for grabbing a coffee, hitting the mall with friends, or touring a new city. We love this lace-trimmed striped tee paired with jean shorts, too, plus the cute little purse!
↓ 29. Graphic Tee & Mini Skirt
We love how this look just defies all fashion categories. It's casual but still chic and it's girly but also kind of tomboyish. Simply pop on your favorite graphic tee and tuck it into a cute ruffled patterned skirt like this one. Some chunky open-toed heels and a matching embroidered handbag bring some feminine elements to this look. Accessorize with some dangling earrings and curl your hair for some bouncy waves. Great for hitting up new spots in town!
↓ 28. Dress & Sandals
And now, the absolutely perfect summer look that works for any girl no matter her age:
The Dress & Sandals Look.
This is an outfit that is really all about your own personal sense of style. Have a favorite sundress you only pull out in summer? Buy yourself some new sandals to jazz it up! Have an absolute to-die-for pair of slip-ons that are both comfortable and cute? Experiment with a new type of dress! The options are endless. But, we have got to say, this look right here is pretty perfect.
Check out the outfit details below to score this look for yourself.
Faux-Leather Slingback Sandals
↓ 27 – Midi Dresses
You all young girls reading this post right now live for fashion, that's what we assume. So we want you to dress smart enough so that everyone can remember you. For casual brunch out, we recommend you wear a black jersey sleeveless V neck midi dress. The dress and its color alone speaks a lot. But pair it up with Adidas women's grand court sneakers. No girl and her outfit are complete without accessories. So, accessorize your outfit with black stone drop earrings and tie up your hair with polka dot hairband.
↓ 26 – Denim Jackets For Styling Up
Girls wake up every morning and dress up for yourselves. Pull out the best outfit from your closet when you wake up and live your day to the fullest because you deserve it. Here we have a very chic idea for you to try out if you are in your teenage and fashion queen bee of your school. Wear a plain long sleeve top and throw over a boyfriend denim jacket. Denim jackets work wonders with plain tops, don't miss it out. Keep the look casual and sophisticated, hence wear canvass lace-up sneakers. Style up your hair by doing a good hairdo like double braids. And polish off your look with large hoops and a little makeup.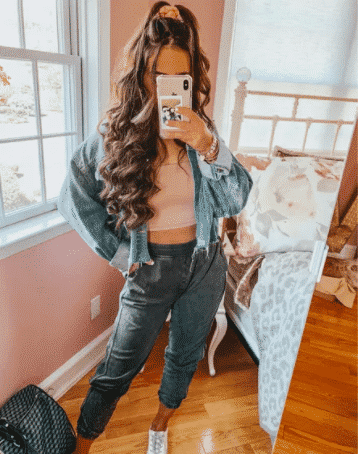 ↓ 25 – Denim Skirts And Cool Tops
Fashion is an art, and you are the artist. Design the best outfit that suits you and see people ask you what designer are you wearing. You don't need fancy outfits to stand out. The simple, sophisticated color combination and a sense to carry an outfit are all that you need. Fashion is in the blood of any girl, but the teenage years are when you start practicing it yourself. If you want to look like a sweet girl yet badass at the same time, then this outfit is for you. Wear women stretch mini denim skirt and pair it up with a white casual loose fit top. The best shoes to wear with this outfit are undoubtedly super gaga active fashion sneakers. Finish off your look with studs, chains, and a handbag.
↓ 24 – Off Shoulder Tops And Hats
Not a fan of dressing up? Or find it hard to dress up every day? Don't worry, girls, we get it school stresses you out, and homework drains your energy. But focus on yourself because your outfit is the first thing people notice about it. Also, your outfit plays a big role in boosting your confidence. Wear a basic off shoulder long sleeves top with girlfriend jeans and low top canvass sneakers. Add some style and step up your game by wearing a classic wide brim fedora hat.
↓ 23 – Top With Shorts
People notice your outfit before they do your personality. So make sure your outfit speaks on your behalf every single day. Wear a simple outfit but rock it like a badass teenager. If you want something sexy and hot, all you need is a high waist but lifting jeans shorts and da vibrant top. Put your hair in a messy ponytail and you're all set.
↓ 22 – Floral Frocks For Summer Season
Teenagers who look cute and lovely are everyone's favorite. Let people see your innocence and kind heart. Let your softness reflect through your outfit. Wear large floral printed gowns, maxis, and dresses in the summer season along with sandals. Opt for fresh, vibrant, and energetic colors like blue, pink, yellow, etc.
↓ 21 – Jumpsuits For Teenage Girls
Jumpsuits are another top pick for girls who are in their teens. Wear floral or printed jumpsuits along with pumps, and you are good to enjoy any day or event.

↓ 20 – Polka Dots On Light Colors Summer Dress For Girls
Polka dots never really go out of fashion. In summers, white polka dots on any light color looks great. You must have at least one polka dot outfit in your closet. You can glam up the outfit with gold accessories like in the following image. Dresses are also a good choice for not just formal but also casual wear, here are some more amazing Casual Outfits for Teen girls.
↓ 19 – Crop Shorts For A Rocking Summer Look
Crop shorts are the hottest summer trend this year. While earlier it was crop tees, this year crop shorts are everyone's favorite. It may be denim shorts or cotton ones, crop the edges, and see the difference.
↓ 18 – Cool Sun Dresses For Hot Summer Days
Gorgeous sundresses in light colors with prints all over are everyone's favorite for long summer days. They look great on the beach as well as to go to a friend's home. You should also have a look at How To Wear A Swing Dress This Summer.
↓ 17 – Casual Summer Dress With Handkerchief Scarf
As it is usually sweltering to wear a scarf, shrug or a shawl in summer, handkerchief scarf is a good way to accessorize in summer. Wear a contrasting handkerchief scarf to highlight your outfit and give style to it.
↓ 16 – Tunic With Belt
Tunics can be worn with tights or jeans or as is. To make your regular tunic look hip, use a chic looking belt with it. You can wear a plain tunic or a printed one. If you are not wearing a tunic with bottoms, then boots or high heels go well with it. Belts are the best accessory for Summers, so here are the Perfect Outfit Ideas with Waist Belts.
↓ 15 – Sleeveless Maxi Dress For The Beach
The best time to rock your sleeves sexy and cute outfits is the summer season. And what another place is better than a beach to wear your cutest maxi? Take it out from the closet and wear it along with sandals, and put on a belt to make your waist prominent. Make sure you put on a handful amount of sunscreen on your arms. You don't want your arms to be tanned, or do you?
↓ 14 – Off Shoulder Dresses For Formal Events
If you are in your teenage, then we are aware of this struggle. You find it hard to dress up for any formal event because people don't consider you as a kid anymore, and you aren't an adult. Hence, it is tough to make the right choice. Play it simple, sound, and safe by wearing a white lace midi dress and add a few hair accessories or bracelets. Don't overdo the makeup or hair because it takes one wrong move to make you look ten years older than you are.
↓ 13 – Floral Design Summer Dress
Whether you are going to school, attending a party, or just hanging out with your friends – floral prints are the safest of all for you. Wear colorful midi floral dresses along with sandals and feel easy peezy in the breezy summers. Such prints are ideal for the spring season as well.
↓ 12 – Short Skirts For Summer Swag
If you can't decide what to wear to look smart and lovely, then here's a great outfit choice for you. Wear lace skirts and tuck in denim shirts. Keep it simple and pair your look with boots. That's all you need, nothing less, nothing more.
↓ 11 – Long Skirt For Summer Teenage Girls Fashion
Not a short skirt person? Don't worry. Wear long skirts with sexy tops and rock the floor on any occasion.
↓ 10 – Skater Skirts For An Elegant Look
Girls, options are infinite when it comes to wearing skirts. Skater skirts and tee shirts are other great choices for you to try outside, especially for your school.
↓ 9 – Short Frocks For Cool Summer Look For Teenage Girls
Dresses look great in summer. Short or long, you can wear either. Frocks with bright colors and bold prints are a summer specialty. Summers are also the best time to wear snapback hats, so here are some of the best Snapback Hairstyles for Girls.
↓ 8 – Denim Short Jump Suits For Teenage Girls
↓ 7 – Hair Styles For Teenage Girls For Summer
Summer is a difficult season for hair. Due to the sweat, the hair gets damp and frizzy. Hairstyles do not last long in the extensive heat. So use sprays and hair gels to keep the hairstyles intact. I also recommend that you check out these Cute Hairstyles for Teenage Girls!
↓ 6 – Different Styles Of Denim For Summer
Here are various denim looks than you can try out and stand out.
↓ 5 – Plus Size Teenage Girls Fashion
↓ 4 – Accessories To Go With Summer Outfits
Sunglasses are a must in the Summer season and not just an accessory. Crossbody bags and wristbands also look very cool with simple summer dresses. To complete your summer wardrobe, here are the top Fashion Accessories That Every Girl Should have.

↓ 3 – Add Pink To Spice Up Your Summer Outfit
Baby pink is the hottest color this summer. Summer is the season when all light colors look good, and you can experiment with all of them.
↓ 2 – Summer Shoes For Teenage Girls
Sandals look great in summer since they go with everything. You can wear pretty flat sandals on casual occasions while for formal ones you can wear Sandals with Wedges or heels. Ankle straps and peep toes shoes are also good for the summer season. Flip flops are iconic summer shoes and are a necessity for beach outings. Flat dolly shoes are also a must-have. They look good with plain summer dresses.
↓ 1 – Summer Party Outfits For Teenage Girls
Ruffles and frills look great for parties. So does sequins and glitter. The dresses with sequin bodice and Frilly bottoms look great for the summer season. Here you can see a tulle dress with a beautiful gold bodice.
FAQs