Plus-Size Shorts Outfits: Shorts are the perfect summer staple item for your wardrobe, and they are super easy to style. As a curvy woman, you might feel self-conscious while wearing shorts due to the deep-seated toxic cultural mindsets.
However, you don't need to be anymore as the times are changing and people are learning and educating themselves! With more and more awareness about body shaming and acceptance of people irrespective of their body shape, it's time you stand up for yourself and show off those sexy legs.
New and modern styles of shorts have made them quite a hit for ladies, and styling them for various looks ranging from feminine to hardcore rock looks has become profoundly easy. Ultimately, it all comes down to details. Attention to the tiniest details can result in fantastic outfits. Even simple detailing on the shorts can make a visible difference in your final look. Thus, get ready to style!
How to Style Shorts if You're Curvy?
Shorts come in various designs and lengths, including short shorts, biker, Bermuda, denim, leather shorts, and many more! Next, you need to consider the occasion you are dressing for. If it is an ordinary day, a trendy blouse paired with denim shorts is the way to go.
On the other hand, biker shorts are the ones to choose when working out or looking for a trendy pair of shorts to style. And when you need to clean up formally, opt for a matching blazer and short sets. Pair them with heels, the right hair, make-up, and accessories, and you are all set!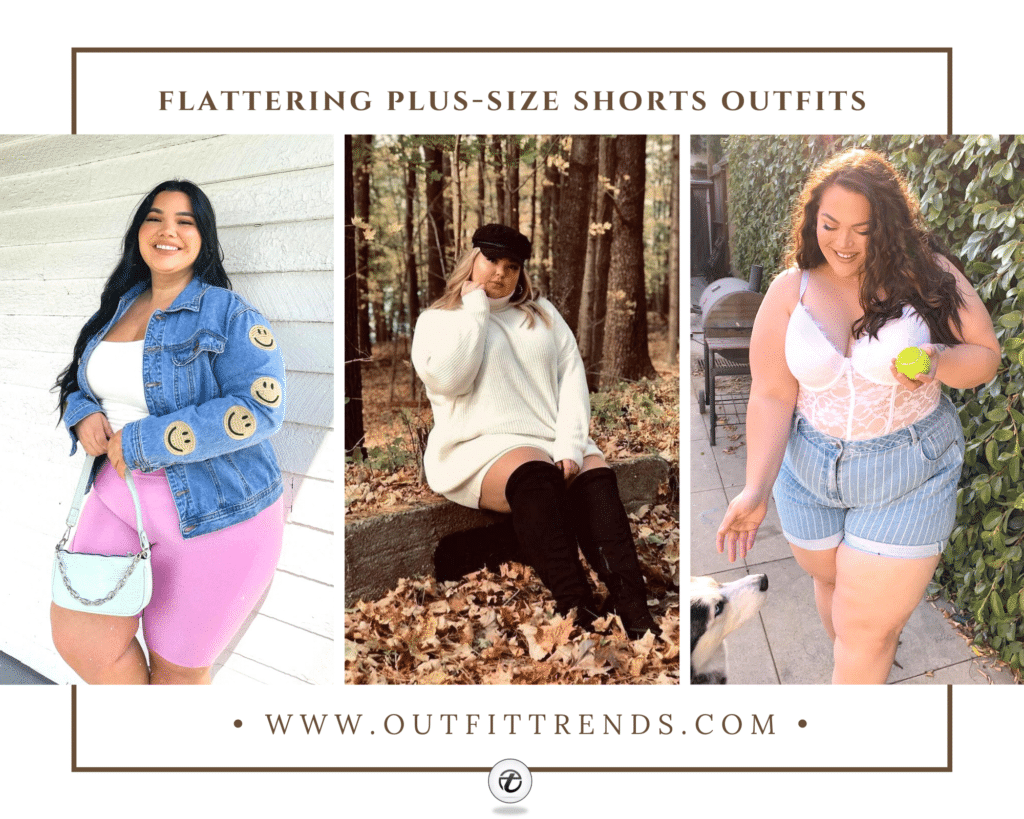 Tips for Plus-Size Shorts Outfits:
Here are a few important tips you need to keep in mind:
High-rise to medium-rise shorts is the best option for curvy ladies.
If you have an hourglass figure, wearing high-waisted shorts will be best for you, as this will emphasize your waist beautifully.
If you have wide hips and thick thighs, it will be advisable to wear boyfriend-style shorts.
If you are wearing short shorts, style it with a flowy and loose top, and if you are wearing relatively loose shorts, wear a structured top.
Wearing shorts in summer means you can have chaffed thighs. The best option to avoid this issue is to go for nude stockings that will not show. Similarly, you can apply anti-chafing balm or vaseline in advance to avoid this issue.
↓ 26. Add Gold Jewelry to Elevate your Trendy Fit!
Add trendy gold hoops, a chain, and some rings to elevate this super cute outfit to the next level. The pink of the shorts wears well with the detailed denim jacket. Opt for white sneakers or black platform boots for a laidback and chill look!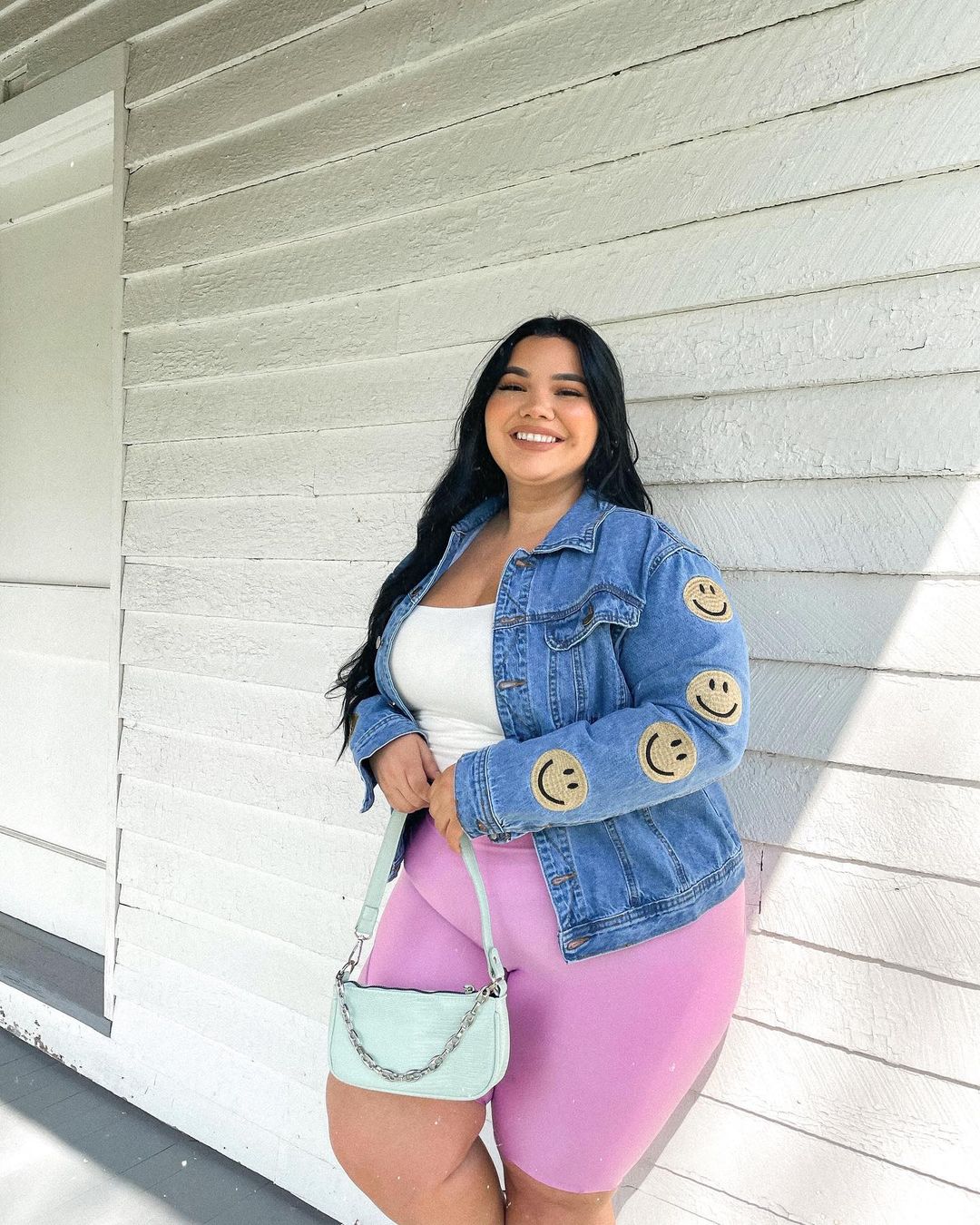 Buy the shorts:
↓ 25. Brighten Up your Outfit with a Pop of Color on the Lips!
This striking blue blazer shorts set deserves all the attention. Thus, go for a hot pink or red lipstick to make your outfit stand out and look phenomenal! You might want to tone down the enormous hoops and opt for tinier options.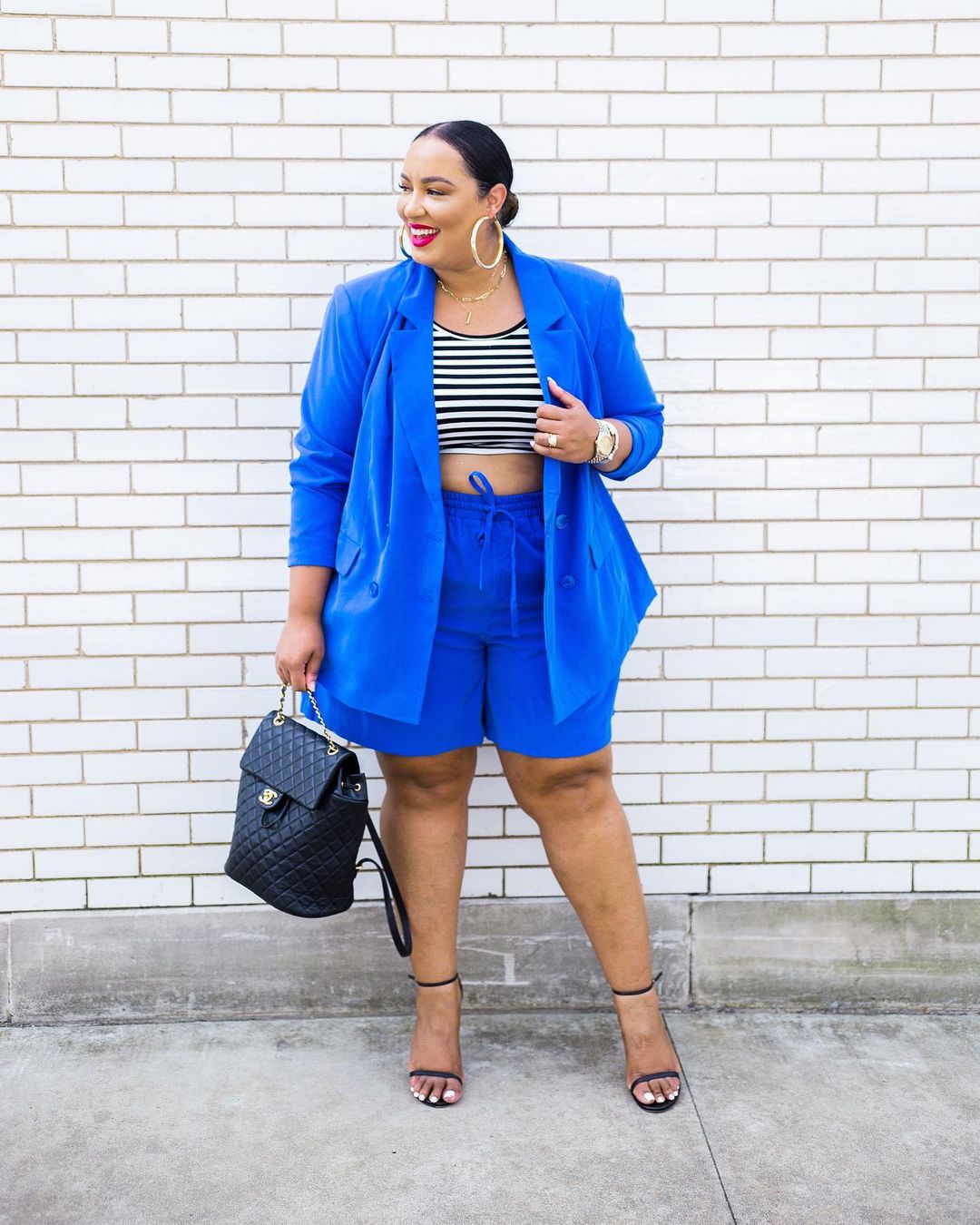 ↓ 24. Fit into that Grunge Aesthetic with an All-Black Outfit
Adding a plaid shirt in shades of black and tan is the perfect way to break the all-black streak you have got going on. It gives a more approachable touch and looks super trendy. And the combat boots are the icing on top of a fantastic outfit!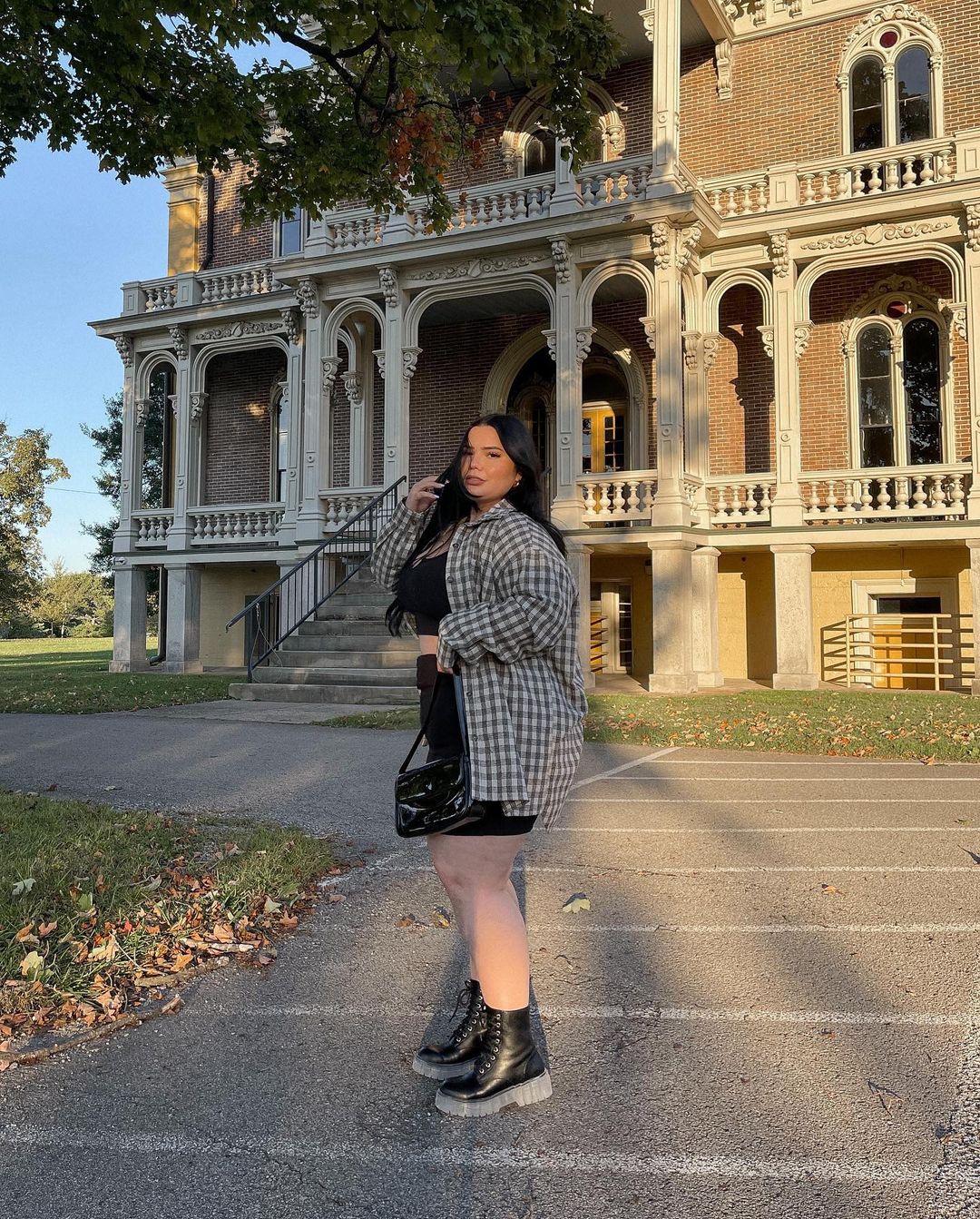 ↓ 23. Opt for Light-Washed Denim Shorts to Complement Pastel Shades
Off-shoulder tops are becoming increasingly common and make the perfect spring/ summer staple in their pastel colors. The earrings serve attention to detail and the top!
↓ 22. Get that Comfy Vibe Down to Get the Best Out of your Work!
Bermuda shorts are the perfect option for you if your job requires you to be running around on your feet all day long. And they keep you comfortable! So style your shorts with a basic tee shirt and pair it with a jacket and minimal accessories to stay classy and professional. Let your hair down or pull it back according to your requirement and preference.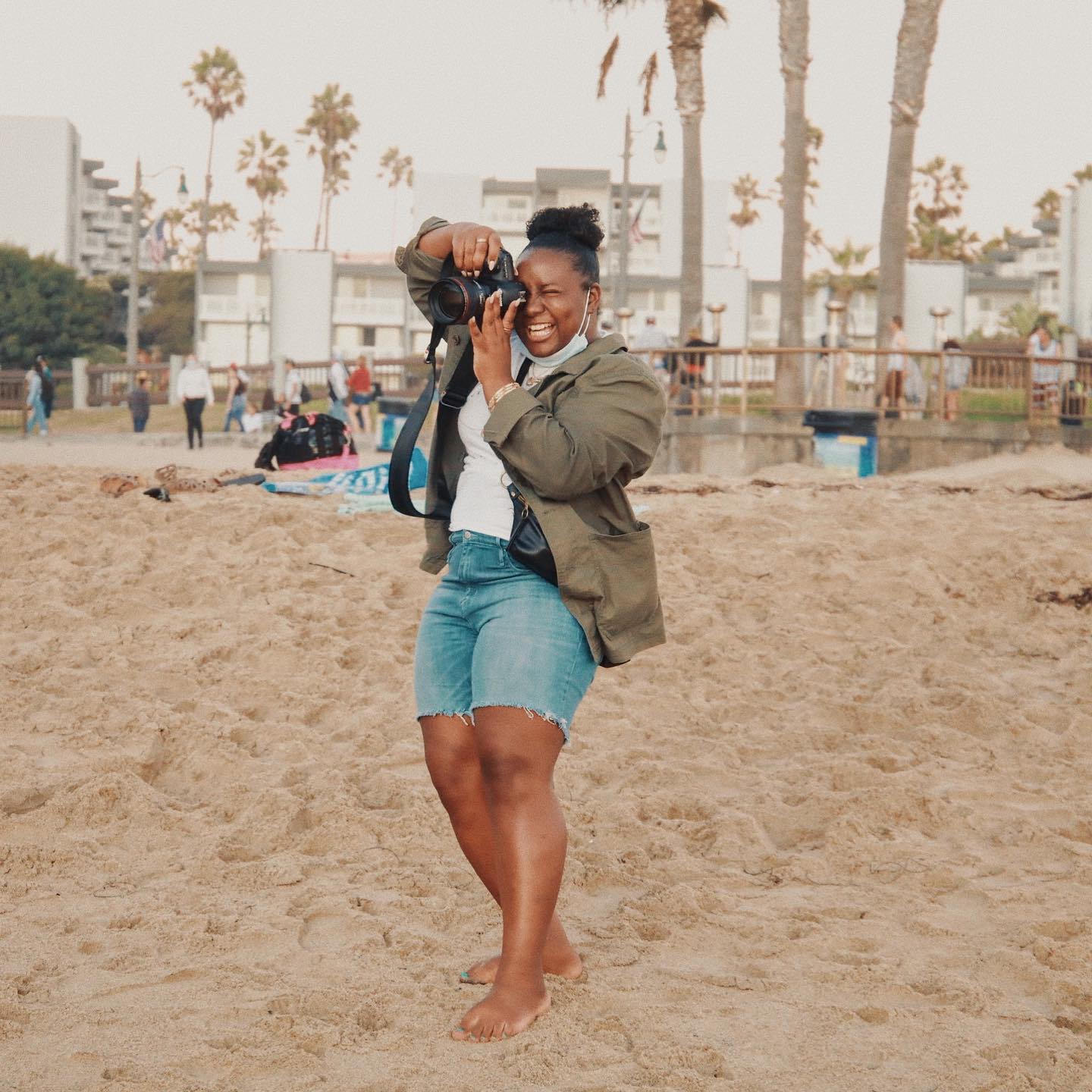 ↓ 21. Choose White Platform Boots for a Street Look
This gorgeous outfit works ideally for a formal and casual affair. I would advise opting for a classy pair of white heels and gold accessories, including an anklet, to nail the formal vibe. And swap those heels for combat boots; throw on a trendy hair scarf, and you are all set for a comfy casual aesthetic!
↓ 20. Throw on a Trendy Tie & Dye Denim Jacket Matching the Shorts
Fringe and tassels are the new trends that everyone is crazily following that can spice up any clothing item. Wear your fringe shorts with a beautiful tank top for a great look.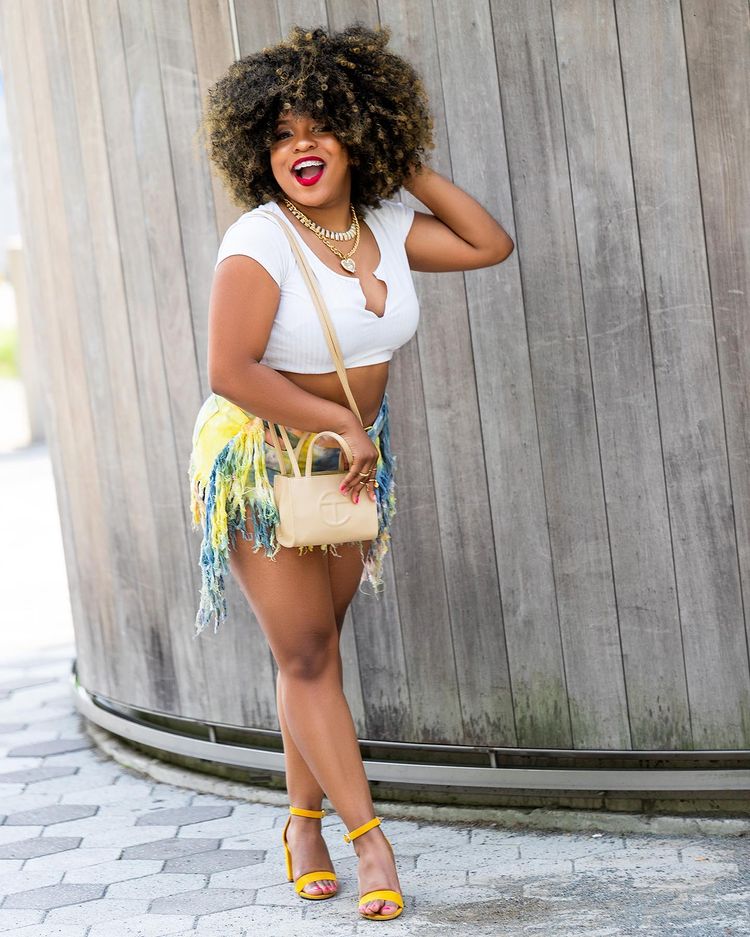 ↓ 19. Look Every Bit the Boss Lady you are in this Power Suit
Yield feminine power with these modern shorts with blazer power suits. Don both structured and unstructured blazers, depending on the occasion. To complete the look, wear high heels and walk with power! Here are some more of my favorite Ways to Dress Like a Boss Lady.
↓ 18. Leave the Kimono Open from to Front to Show off an Intricately Detailed Top
You can style vibrant open-front kimono in versatile ways. For a casual shopping trip to meet friends, you can wear a long kimono with shorts and a white tee for a refreshing look. This outfit option is perfect for summer as it is breathable too. If you like this look, do check out these Kimono Outfit Ideas.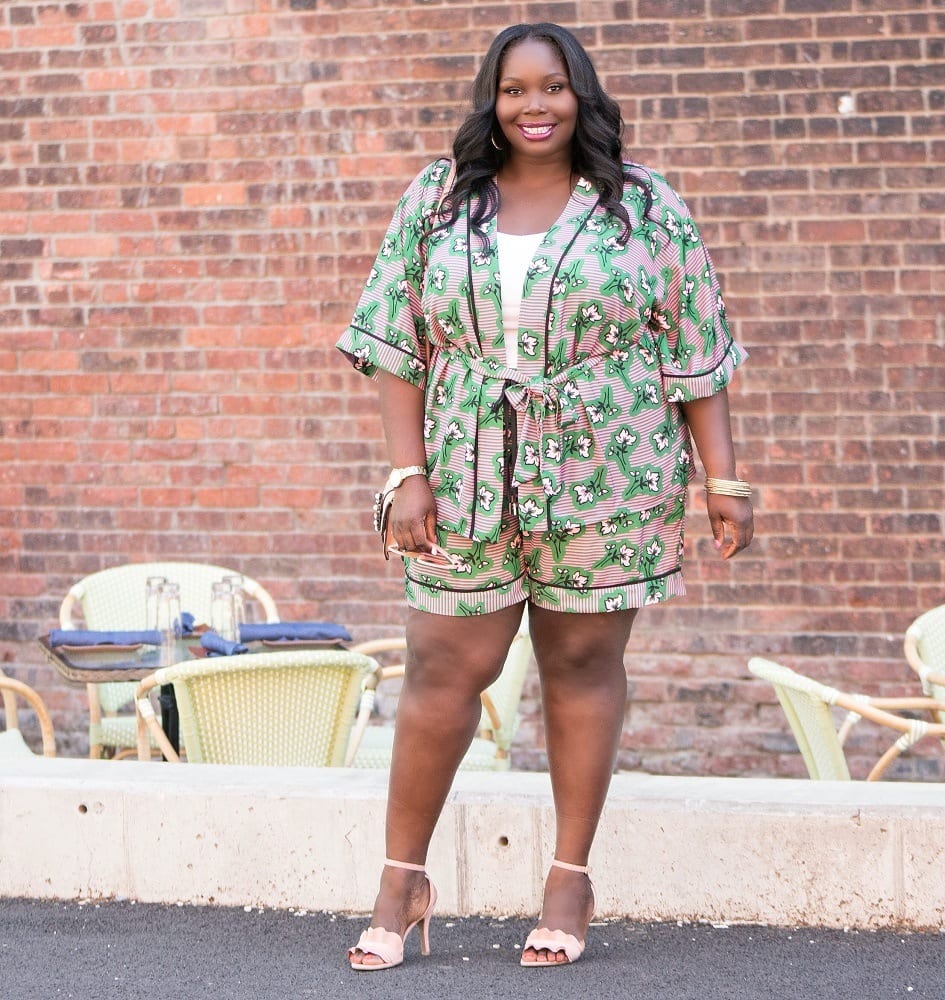 ↓ 17. Go with the Off-Shoulder Trend This Spring & Summer Season
You can wear your favorite shorts with elegant thigh-high boots or sneakers and an elasticated off-shoulder top in pastel shades. Show off those sexy shoulders in style! Here are some chic Ways to Style Plus Size Off-the-Shoulder Tops for Women!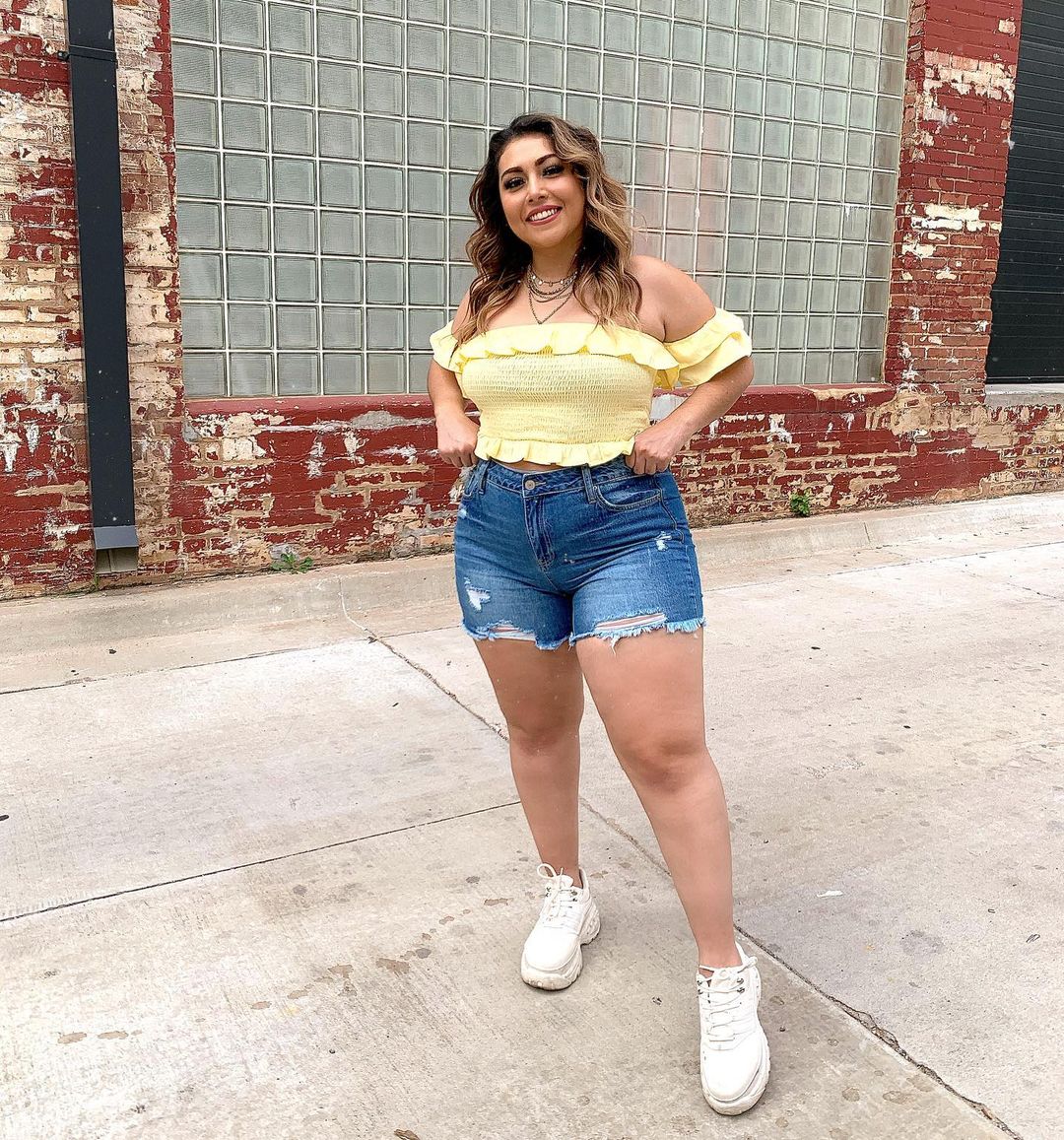 ↓ 16. Get the Touristy Vibe Down in this Sightseeing Outfit
Shorts are comfortable to wear and carry around when you are sightseeing. Pair your ripped denim shorts with an oversized shirt tucked in from the front. Let your pretty black camisole peek out for an effortlessly cozy sightseeing outfit.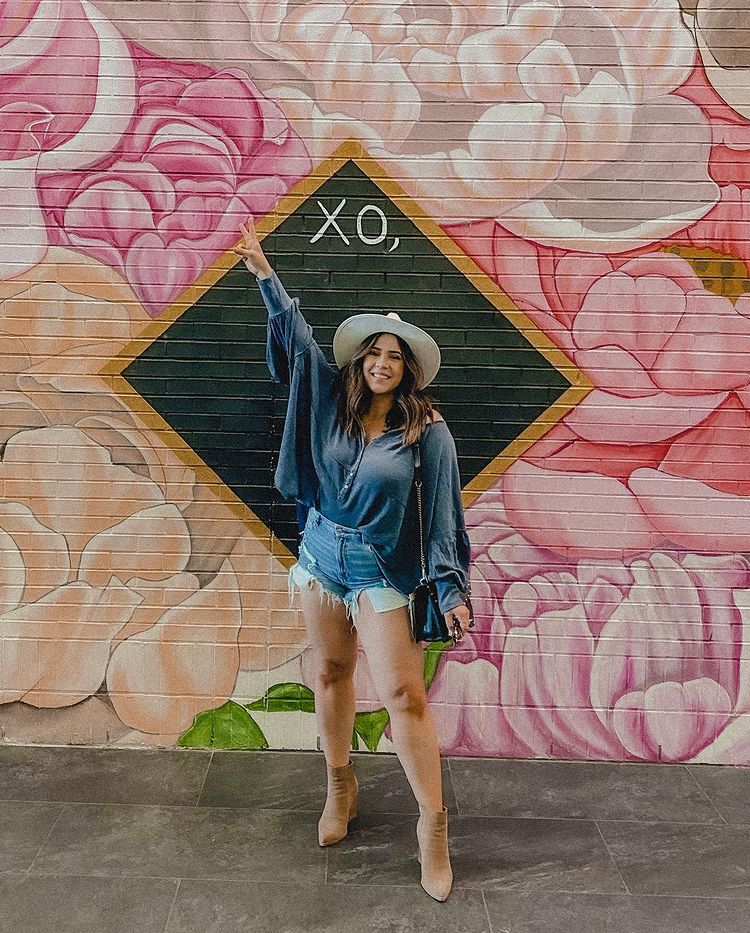 ↓ 15. Pair Solid-Colored Tank Top with Patterened Shorts
You can style cute solid tank tops with patterned shorts for a very modern look and bring a change in your usual style game. With tie & dye shorts, wear free-flowing tunics or tank tops for an effortless look.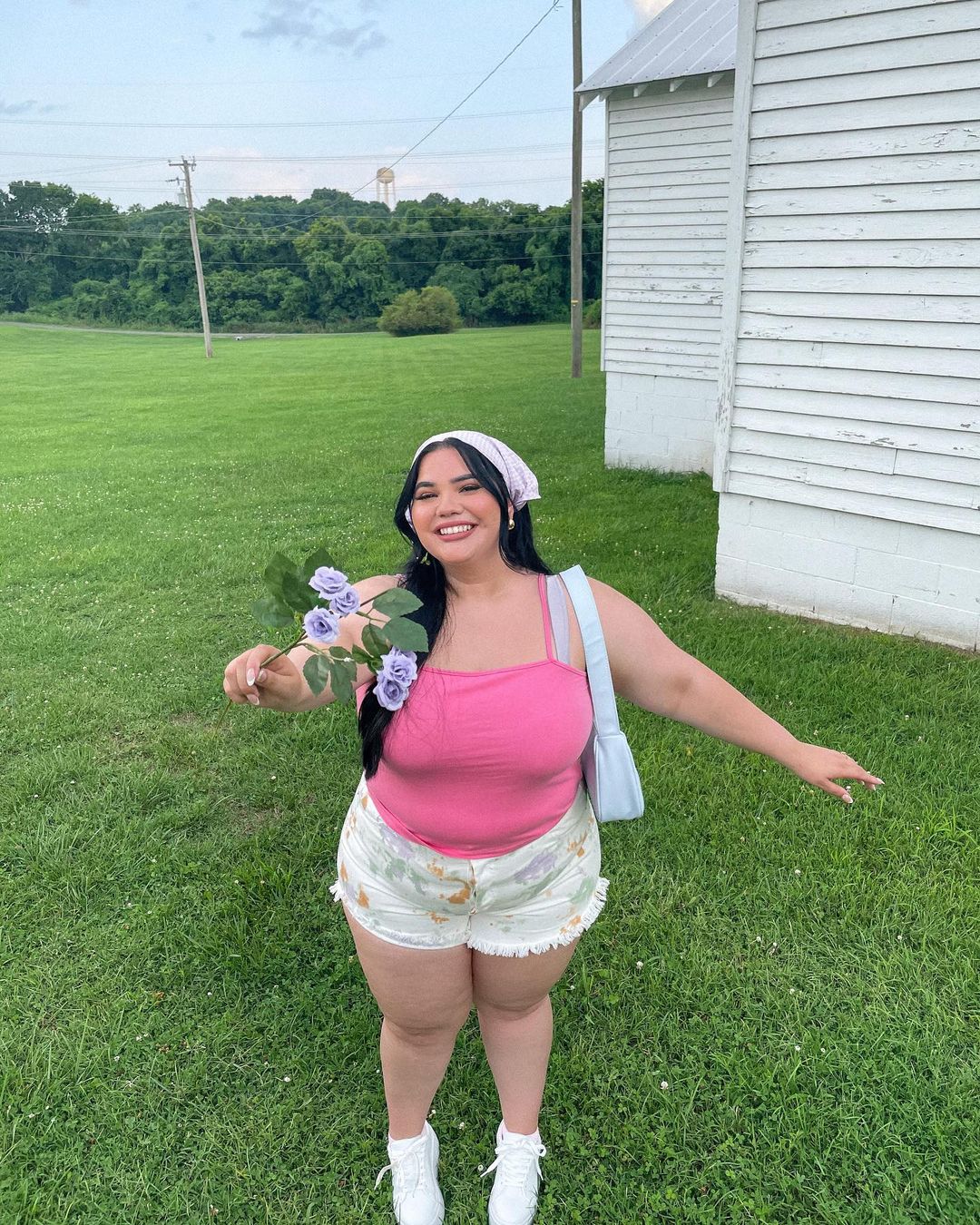 ↓ 14. Go for a Romantic Date Night Outfit with Detailed Shorts
For the date night, you want to dress up in something that is both sophisticated and flattering. Pair your shorts with a pretty front-slit dress with ruffled sleeves and gorgeous velvet booties. Keep your make-up natural and glowy, and let your hair down in gorgeous waves.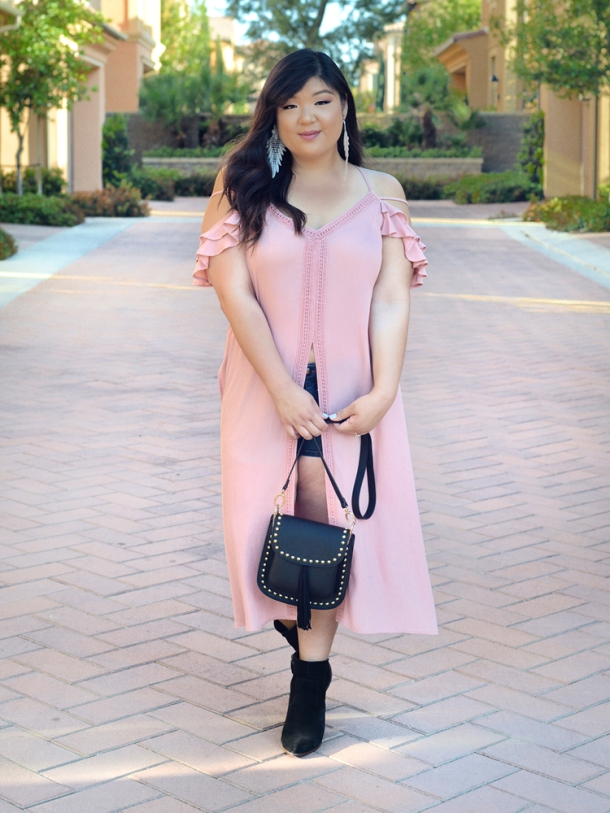 ↓ 13. Pair your Trendy Outfit with a Trendy Hairstyle!
A trendy outfit calls for a fitting hairstyle! And it does not get any more trendy than space buns! Leave a few strands from the front to frame your face.
↓ 12. Lace meets Denim in a Classic Blue & White Combination!
Lace or net detailing on and with denim is not only very becoming but adds that extra twist you are looking for. Style your denim shorts with lace blouses, and you will feel on the top of your game with the appropriate accessories!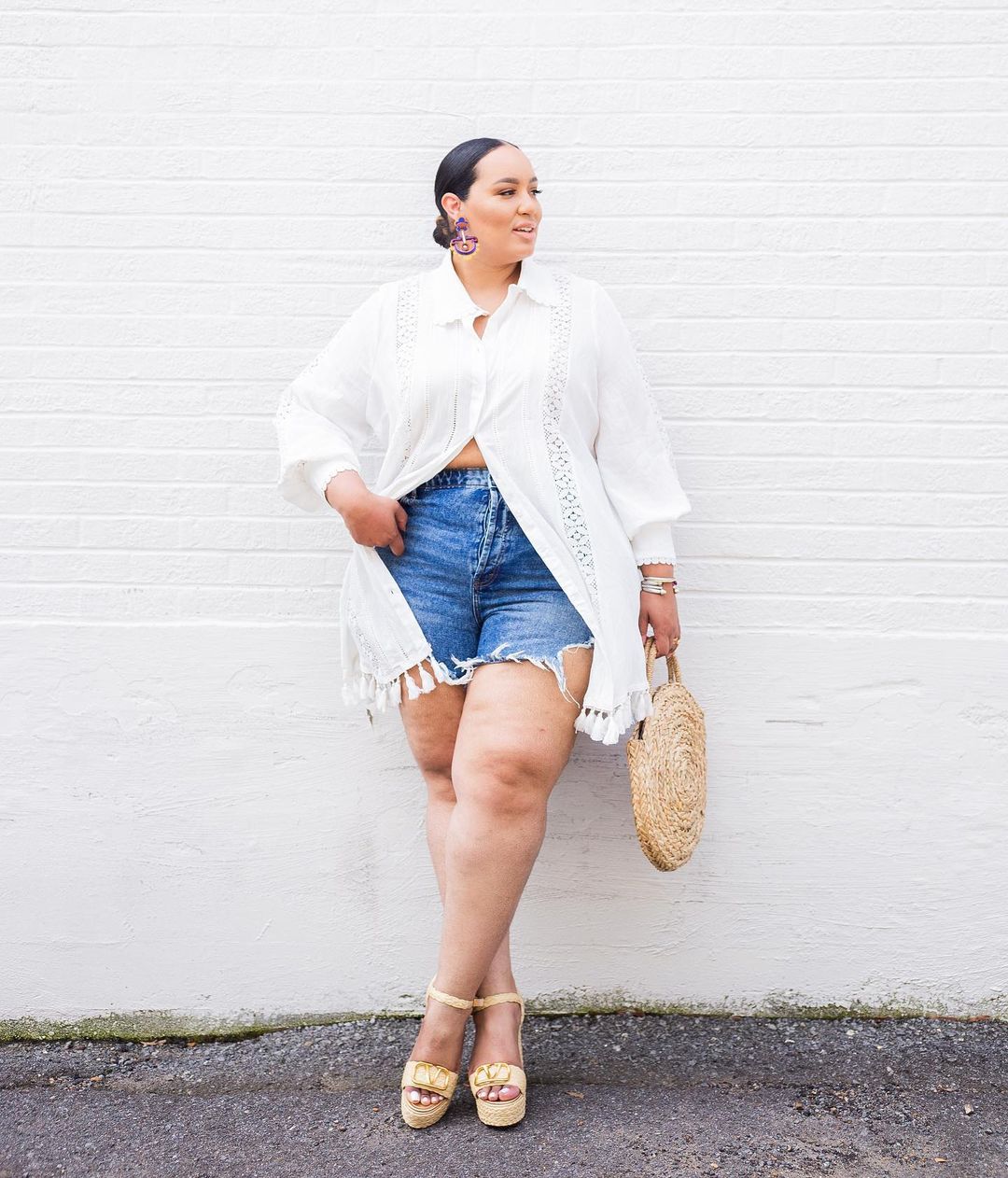 Get the shorts:
↓ 11. Pair your Short Shorts with Fishnet Shorts for an Edgy Look
Who knew you can layer shorts upon shorts? Wear fishnet shorts, and then put your casual denim white shorts on for a rock-chick-inspired look.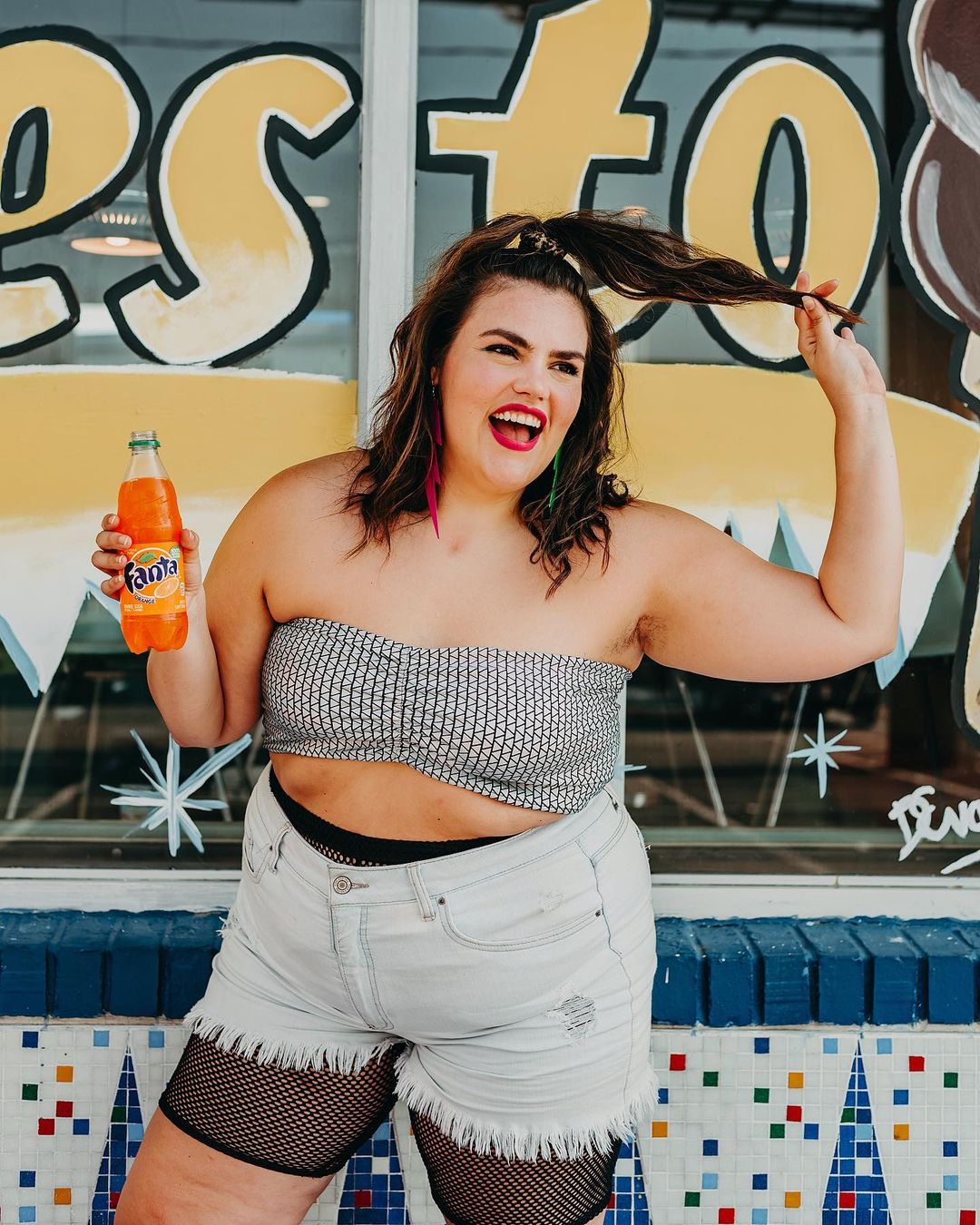 ↓ 10. Plus Size Black Shorts Styled Perfectly for Office Days!
These classic black shorts are a staple in everyone's wardrobe and will open endless styling possibilities for you. You can dress them up with a beautiful peplum net-top, or for a bolder look, wear them with a blazer and tube top.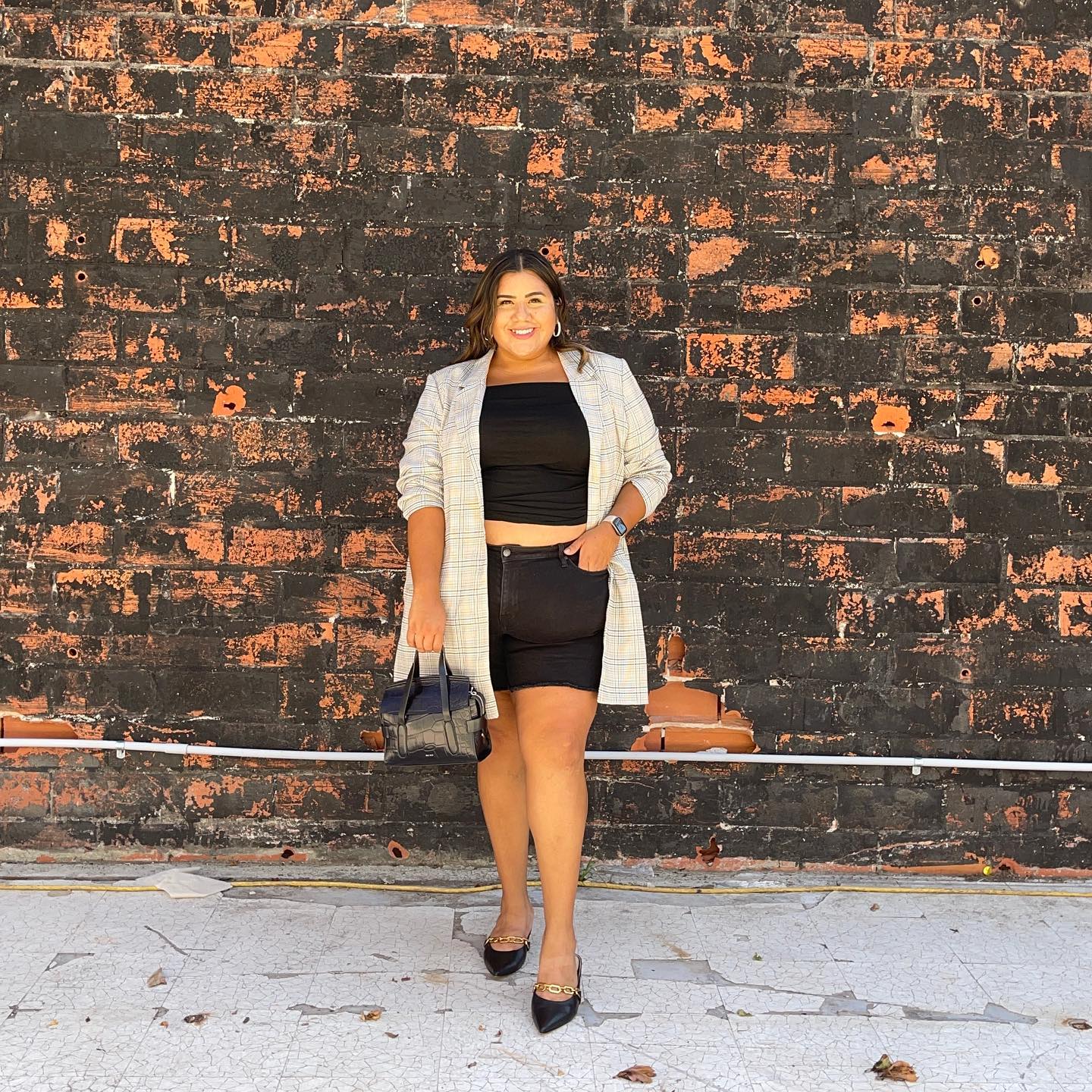 ↓ 9. Sunday Brunch Outfit Done Right with Butterfly Shorts
For an easy-breezy Sunday brunch outfit, you can choose these awesome butterfly denim shorts and team them up with a gorgeous blouse with details on the sleeves. Finally, add a pair of heels to match your outfit. Grab a handbag, throw on your accessories and you are all set! Don't miss out on these 20 Ideas on How to Wear High Waisted Shorts for Plus Size Women.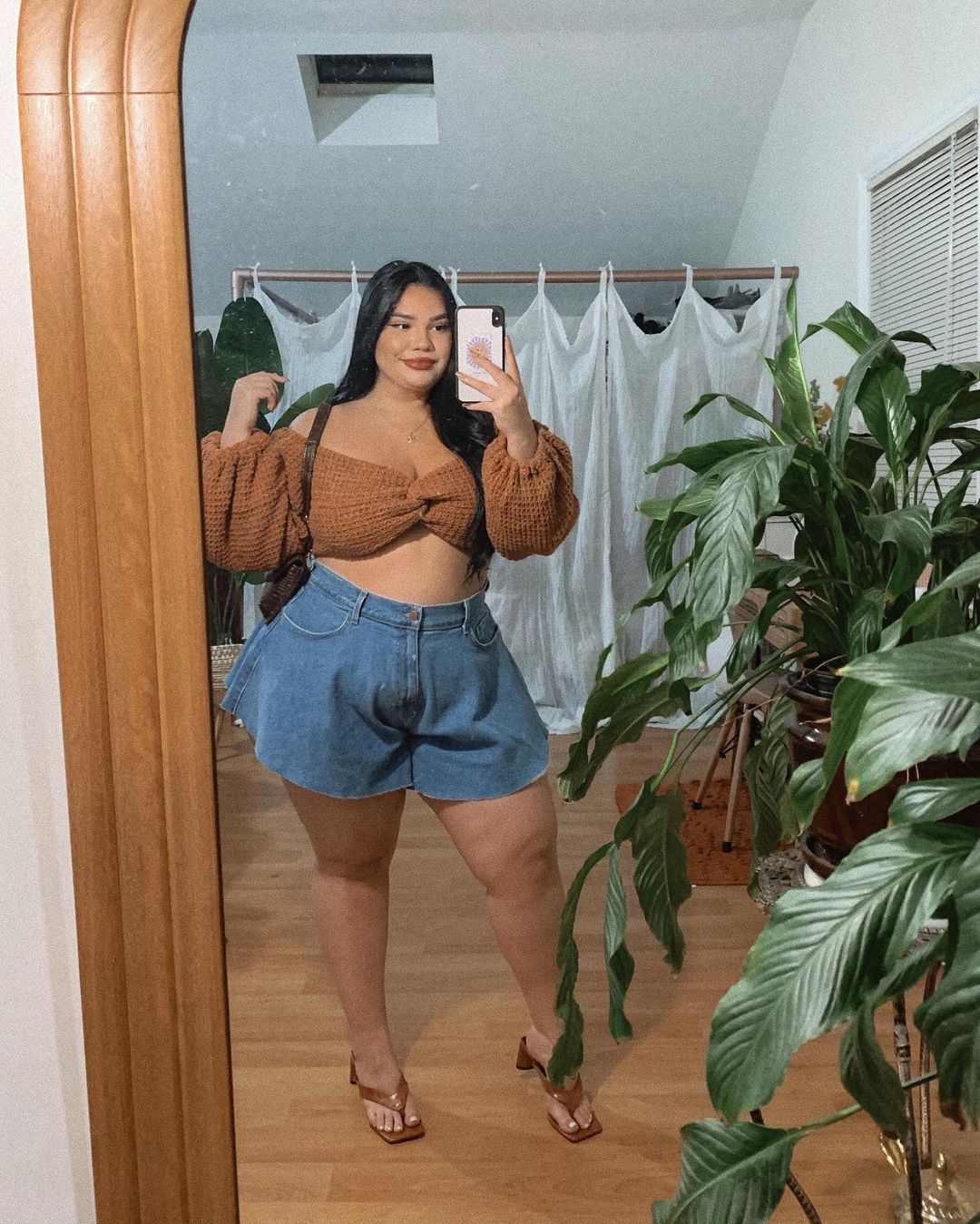 Shop the shorts:
↓ 8. Add a Cropped Black Denim Jacket with Puff Sleeves
Why be afraid to flaunt those gorgeous legs? Bring out your cute short shorts any day and slay the day by pairing them up with graphic tee shirts!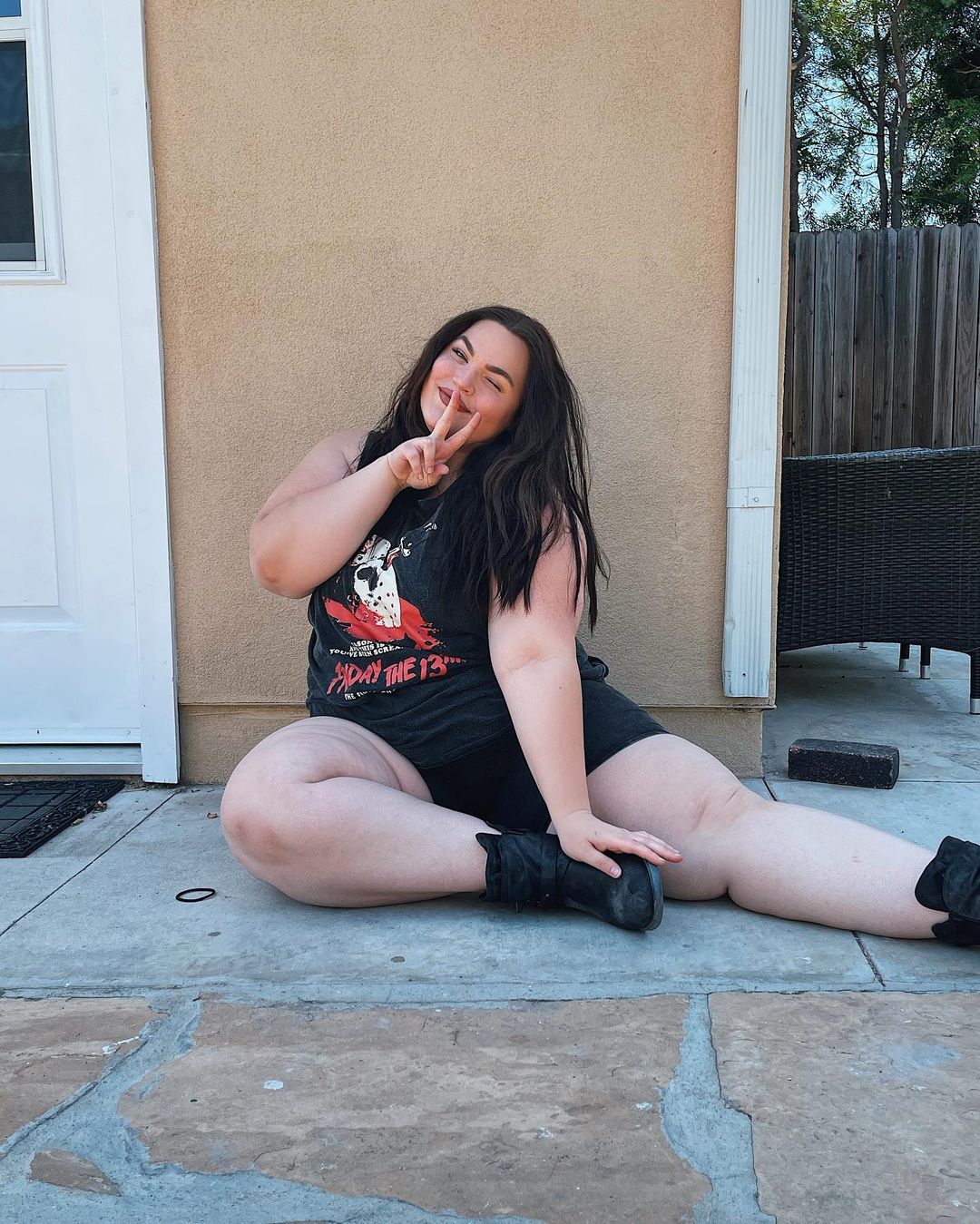 ↓ 7. Style a Cute Summer Outfit with Floral Tee and Denim Shorts
Summer outfits are all about breathable fabrics and clothes that will beat the heat and what better option than your great shorts? Bring on your stretchable cute top, and overall denim & floral shorts for that perfect summer look!
↓ 6. Opt for White Heeled Boots to Match the Pinstriped Shorts
Pinstripes can add a great flavor to your wardrobe! Pair them with cold shoulder tops or bralette tops, and enjoy all those appreciative glances you get! Add a light-washed denim jacket to hit this look right on the mark! Do check out these Bralette Outfits for Plus Size Women to Try.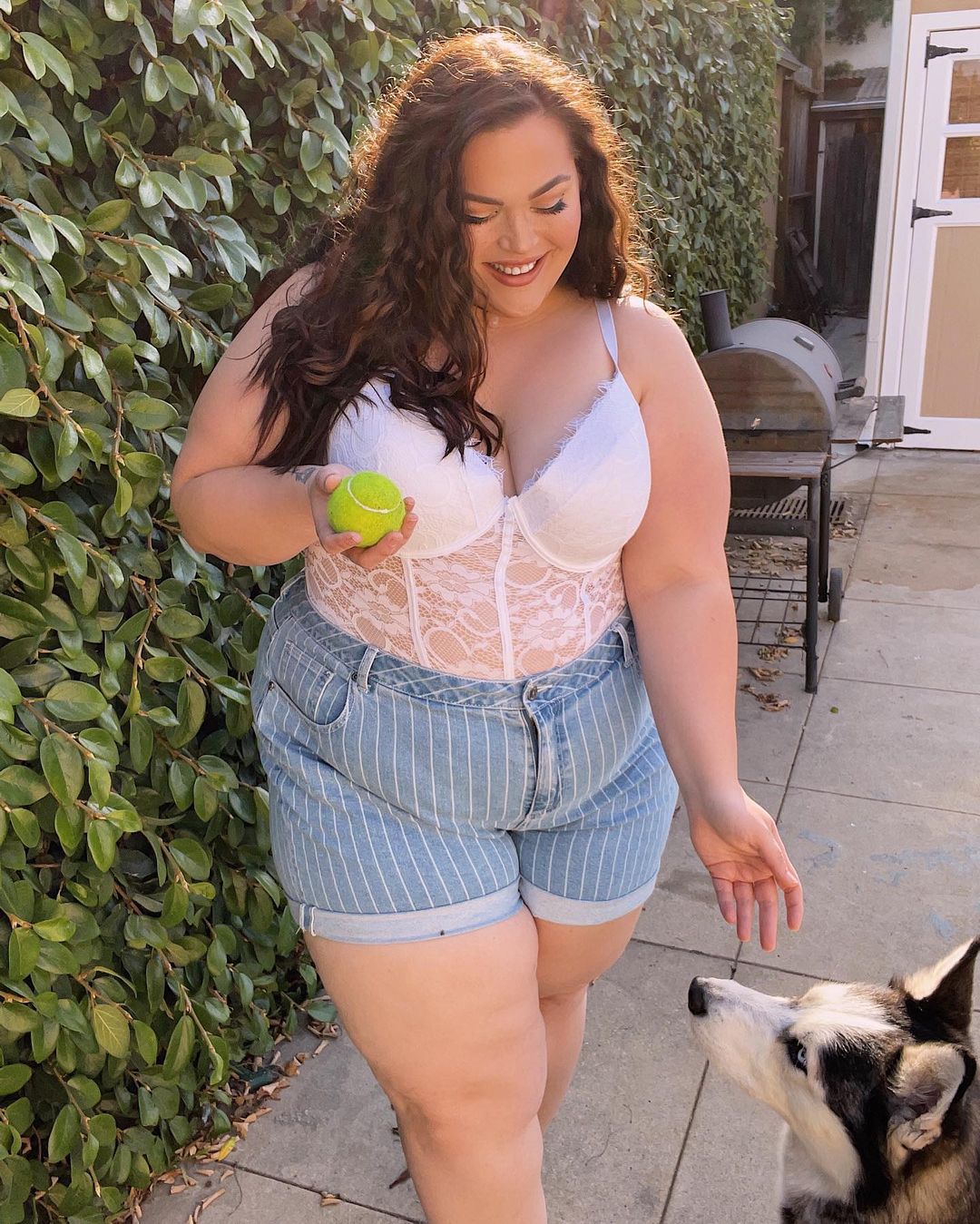 ↓ 5. Add on a Large Tote Handbag to Complete the Shopping Outfit
For a day out shopping, why compromise on your fashionista persona? Dress up in these classy denim shorts and a printed oversized shirt. This look will be great for a summer/ fall shopping mission. And don't forget to pin your hair back to keep them out of the way! Here are some of the Best Denim Skirts Outfits for Plus Size Women.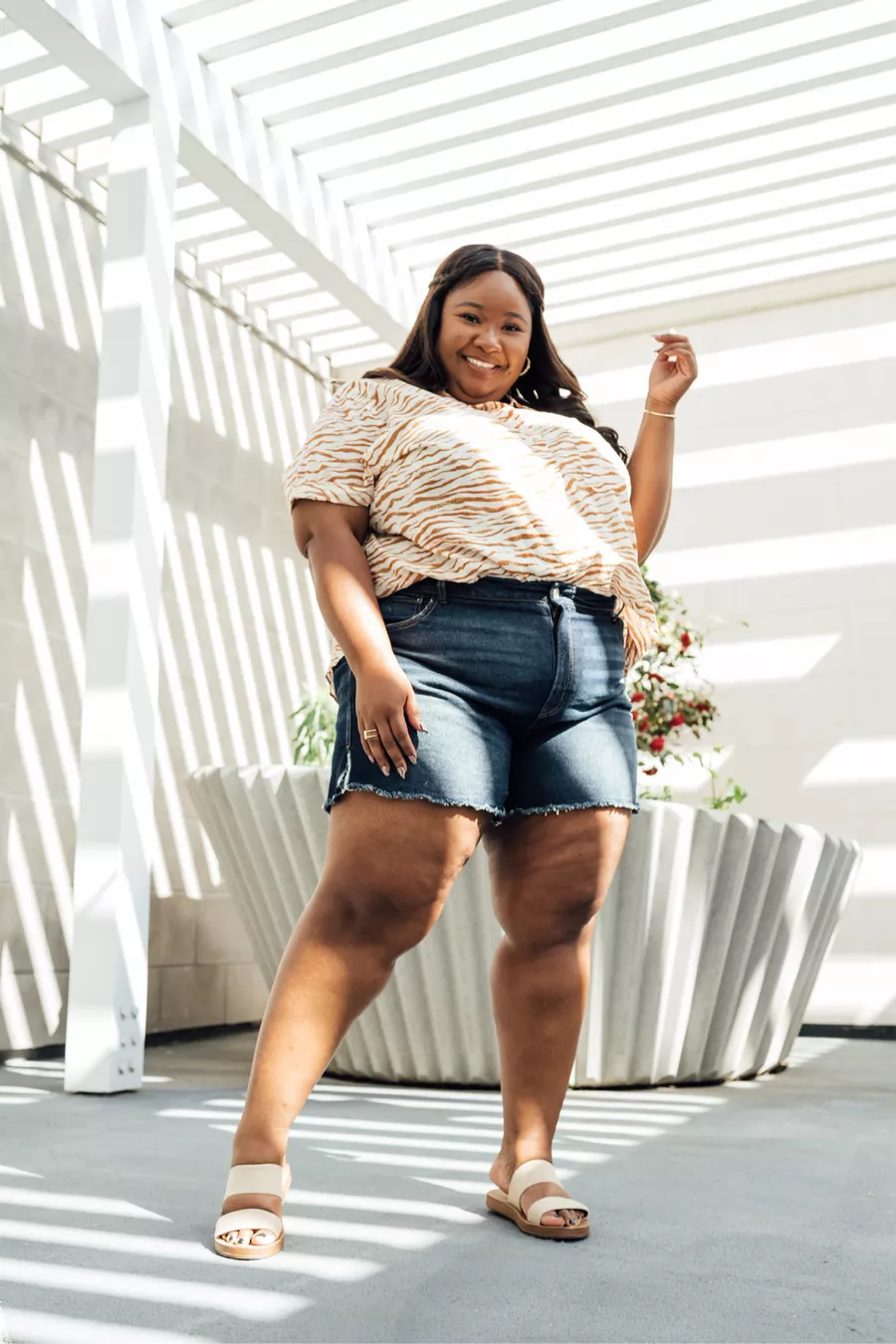 Shop the look:
Universal Thread Shorts $17.99
↓ 4. Get the Perfect Beach Look in Baby Blue & Bandana
Crop tops and shorts are the best companions, and rock this look for any beach party you have planned with friends this summer weekend! Time to go to the beach in style!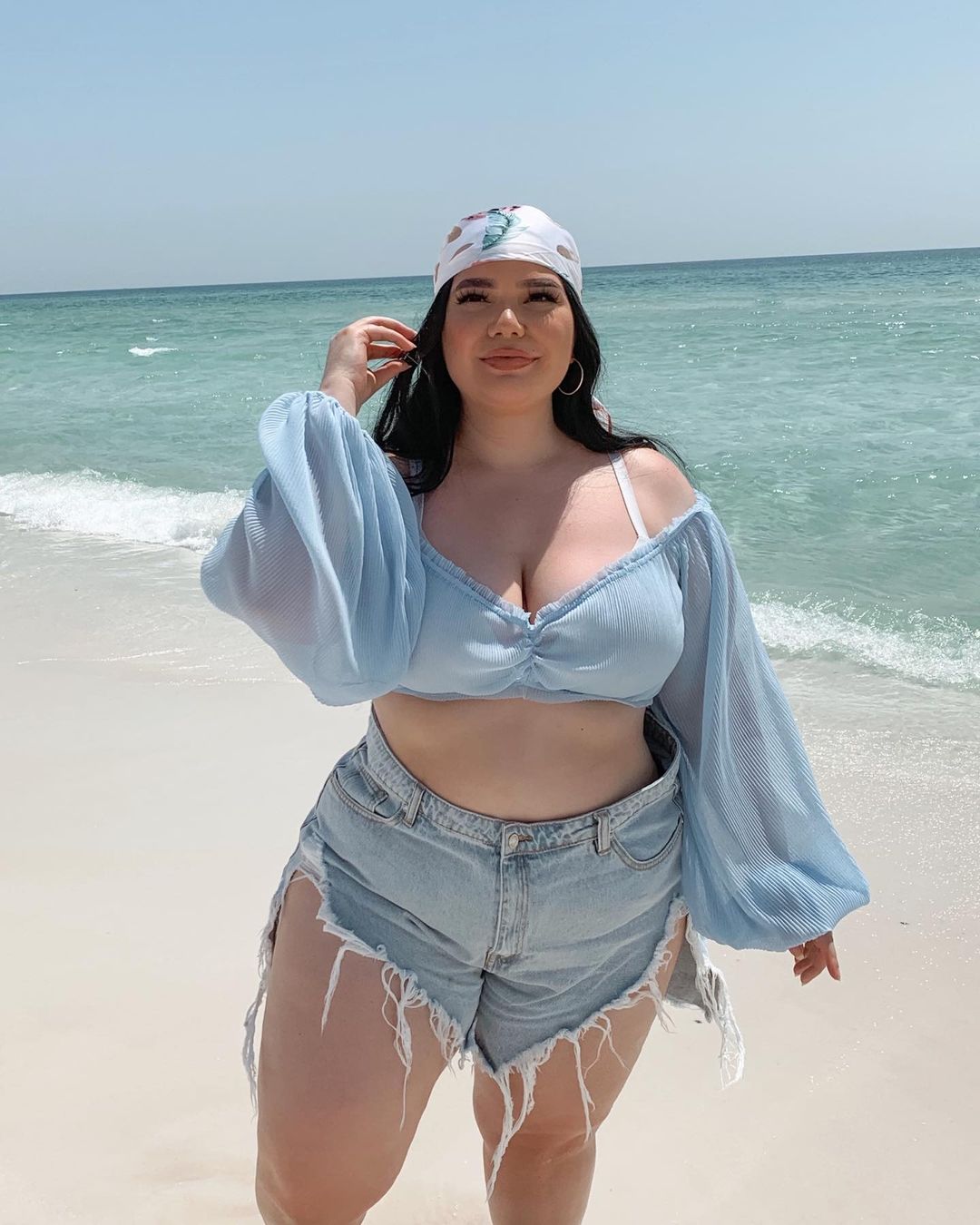 ↓ 3. Choose Matching Knit Sets During the Winter Time
Add stocking beneath your shorts to keep your legs warm. Additionally, they will blend right in with the thigh-high boots giving you a fantastic look. And the best part is, the outfit is a matching set, thus, requiring minimal planning and effort!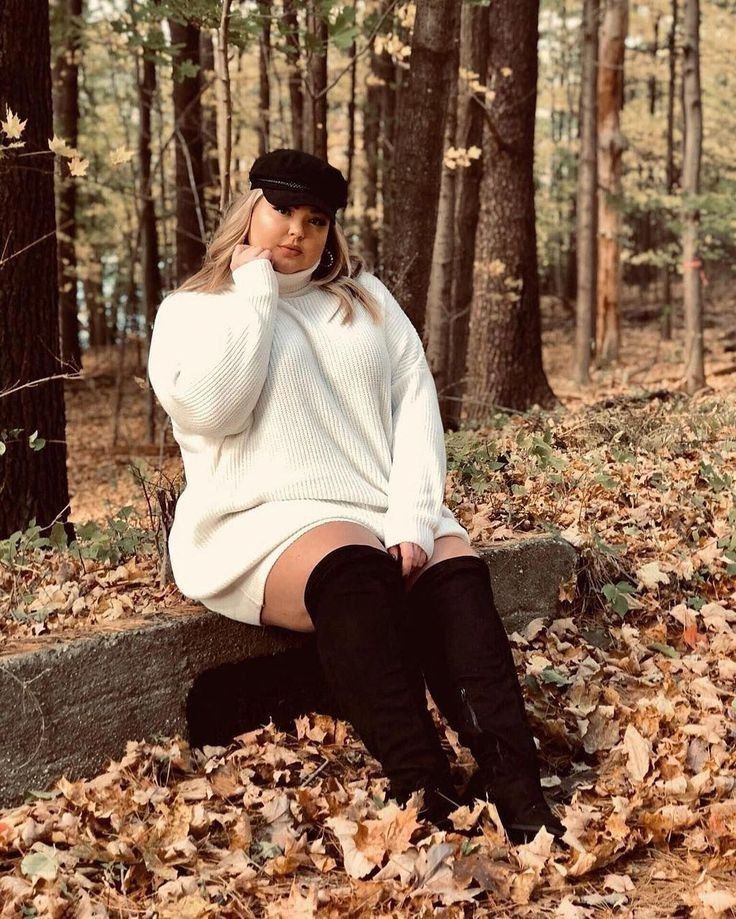 ↓ 2. Planning for Fall Outfit in Edgy Grunge Vibes!
Are you feeling a little chilly and thinking about what to do with those pairs of shorts you love? Layer up in an oversized hoodie and pair it with your shorts. For this look, it's best to go for slim-fit shorts or athletic ones like biker shorts. And with how trending biker shorts have been lately, they're a great option. Do check out these Ideas on How to Wear Bike Shorts for Women.
↓ 1. The Formal Rockstar Look!
To rock and roll your way through the day, style your intense black shorts with a cute graphic tee and a front black-lined blazer with a cute choker.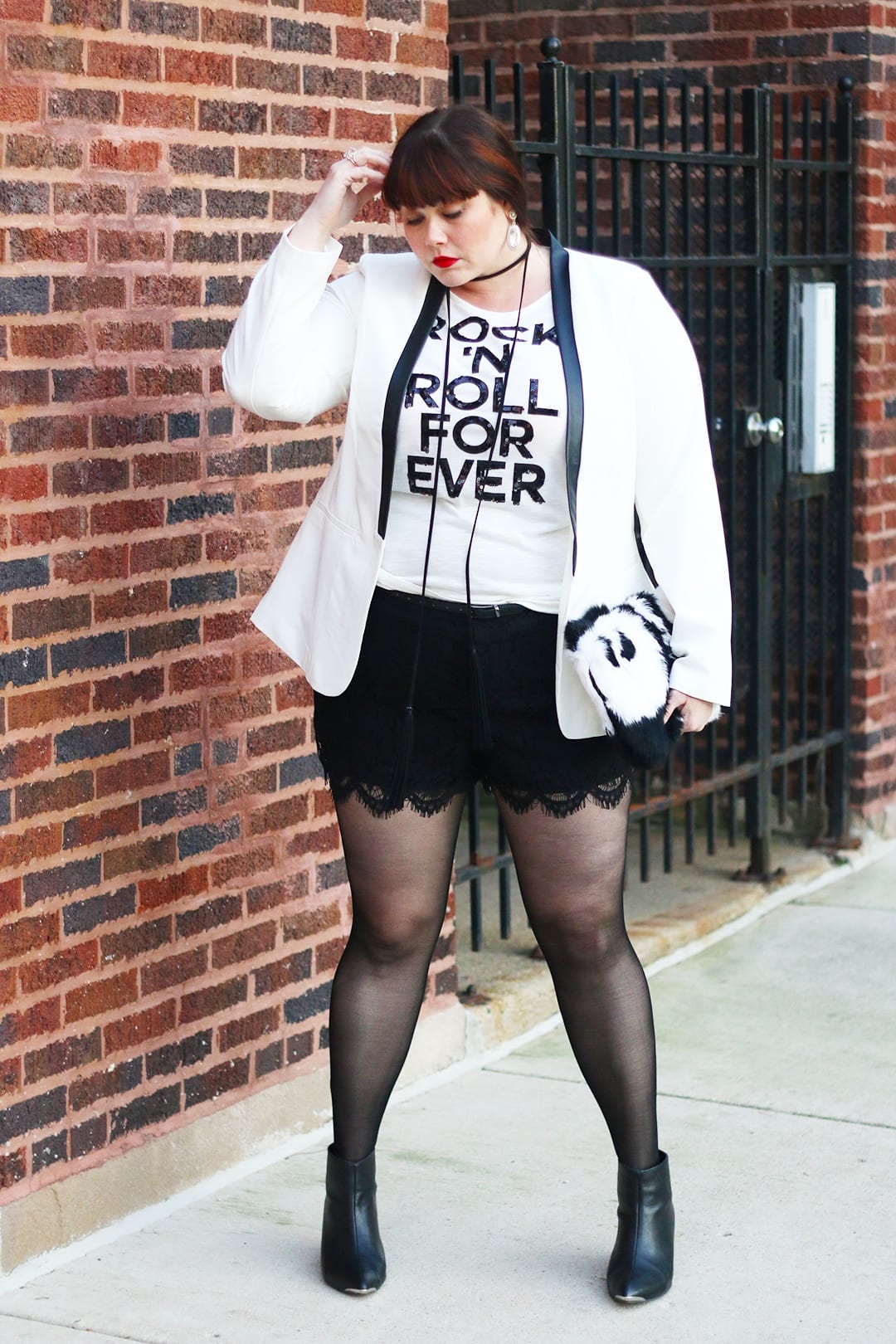 Frequently Asked Questions
Q. What shorts are most flattering on plus-size ladies?
Various shorts are perfect for a flattering look on plus-sized ladies. High-waisted shorts are the way to go to accentuate your curves and bring out your waist. Similarly, butterfly shorts, or ones with wide-leg holes, help bring out your figure. Moreover, Bermuda and biker shorts are also an excellent option for those women who are not the most confident with showing off their legs. Lastly, I would advise styling your short shorts with fishnets or stockings for an edgy and fantastic look.
Q. Can I wear shorts if I have cellulite?
Of course, you can! In fact, you should wear shorts if you have cellulite? Who made the rules and decided that shorts and cellulite don't mix? The key to carrying your outfit with class is to wear it with confidence and own what you wear.
I would also like to let you know that cellulite is not a plus-size only skin condition but rather affects skinny people as well! So grab your shorts and get to styling. You never know, you might inspire another lady to show off her legs with cellulite in cute shorts and skirts!
Q. Where to buy shorts for plus-size ladies?
Here is a list of all the best kinds of shorts available at these brands!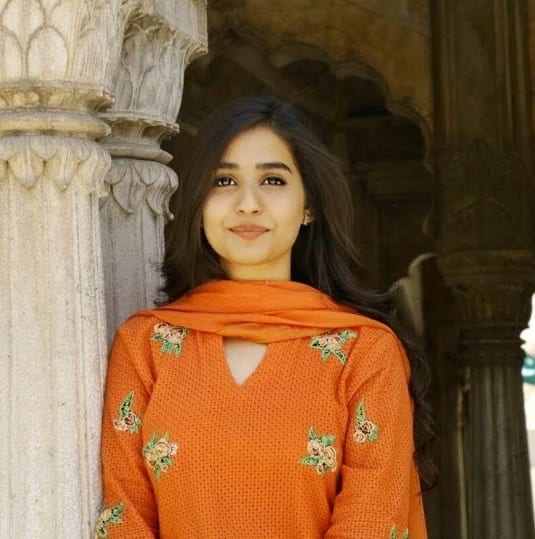 Janeeta Khan loves to write and loses herself in the world of fiction during her free time. You will probably find her curled in the corner with a Harry Potter book and a steaming mug of hot cocoa.