Flowy Shorts Outfits: The most comfortable and light apparel is necessary for summer in the fiery heat. The lighter the dress, the better and happier your mood. The thicker and warmer the dress, the more terrible your mood will be.
So try to fill your closet with comfortable clothing in the summer season. And what's comfier than flowy ? What I love about this outfit is that it is super comfy and trendy. These shorts are versatile so that you can pair them with anything. Whatever you wear these shorts with, will give your appearance a funky fashion statement.
How to Wear Flowy Shorts ?
These shorts are ideal for the summer season. These are stretchable shorts, and it's an informal, simple, and trendy piece of clothing to pair up with your tank tops, silk tops, blouses, and tees to rock your summer outfit and to beat the heat. There is a variety of shorts available in different styles in the market. It's one of those pieces of clothing that look fantabulous on everybody. They can be worn anywhere and effortlessly combine well with any top. Many stores sell these shorts so they are easily available everywhere but you need to know how to wear this casual clothing in a chic style.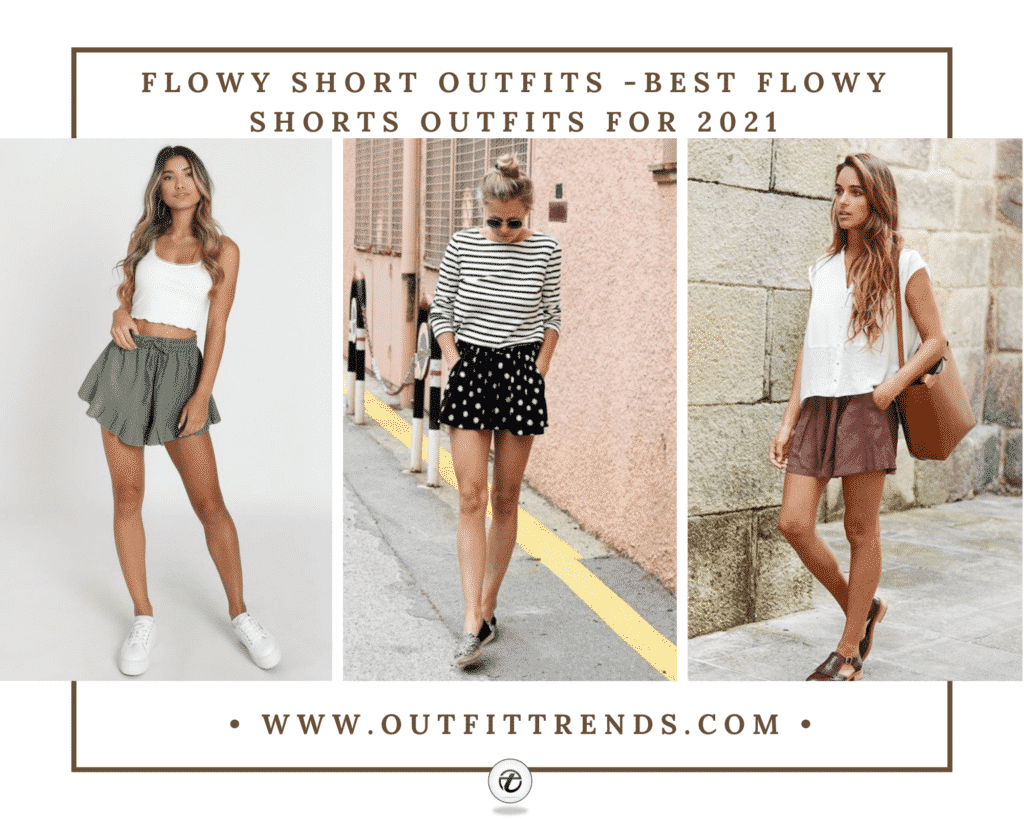 Tips For Styling Flowy Shorts
Style your shorts with a breezy white buttoned-down shirt.
Over-sized blazers will go perfectly with flowy.
Tank tops with shorts are perfect summer wear.
Long-sleeved boohoo shirts with shorts are a chic fashion statement.
Tie-dye shirts with shorts are so trendy nowadays.
A mini blouse with shorts is the most relaxed outfit in this heaty season.
↓ 20 – Striped Paperbag Waist Shorts
It is such a comfortable outfit to wear on a sunny day. You can wear these striped paper bag waist shorts with a basic high neck tank top with white sneakers. Finish the look by adding basic accessories such as round shape retro sunglasses and a basic colour handbag or clutch.
↓ 19 – Floral Printed
Black and white floral printed loose short with a V neck long bell sleeves shirt is a very chicly outfit to wear out and about. You can pair it with strappy nude stilettos and a nude crossbody bag, further curl your hair a little bit to give it the slightest wave and wear oversized mirror sunglasses with it. You are good to go.

↓ 18 – Clarity
It's an extremely lightweight, breathable, and comfortable short for summer wear, and it can be paired up with different tops. These shorts are available in a variety of colours on Amazon. You can wear these shorts in olive green colour with a basic white colour crop tank top for a casual day out.
↓ 17 – High Waist Shorts
High waist shorts not only make you look taller but also flatter your shape fantastically. If you're looking for something to wear to a casual evening party, this is the outfit you should go with. Black graphic tank top with white leopard print high waist shorts and for the footwear, ankle strap high wedges will look good.
↓ 16 – Tiger Print
Because of their pattern, these shorts are very eye-catching, and when paired with a lace tank top, they look extremely fashionable. You can accessorise with a wooden round bag to make the look even more eye-catching. Amazon has a huge selection.
↓ 15 – Tropical Print
If you're planning to go to a beach party, then this outfit is the best choice for you. Beach is all about tropical prints outfits; you can wear a ruffled off-shoulder bikini top with any colour of your choice. Try to go with brighter colours because they look good on beaches, and for the shorts, choose tropical prints and belted shorts.
↓ 14 – Black And White Combo
This is the coolest morning look if you're going out for a coffee or a brunch with your friends. Brunch outfits are simple and chic at the same time. Wear black bike shorts with a strapless mini blacktop; make sure to keep the innerwear of the same colour, and for outerwear, go with a white half-open button-down shirt and tie the knot with it to make this look chicer. Furthermore, wear it with white socks and sneakers. For accessories, you can wear a subtle gold chain and take a long chain bag with you.
↓ 13 – With Silk Cami
It is a simple yet elegant outfit choice, as we all know that black makes everything attractive and elegant and it can go with everything even with printed shorts. So here is an outfit for your daywear. Black silk camisole with palm print shorts is a pretty cool outfit; you can complete the look with a leopard print clutch and match your footwear with the colour of your clutch. So go with T strap sandals in brown colour and rock the look.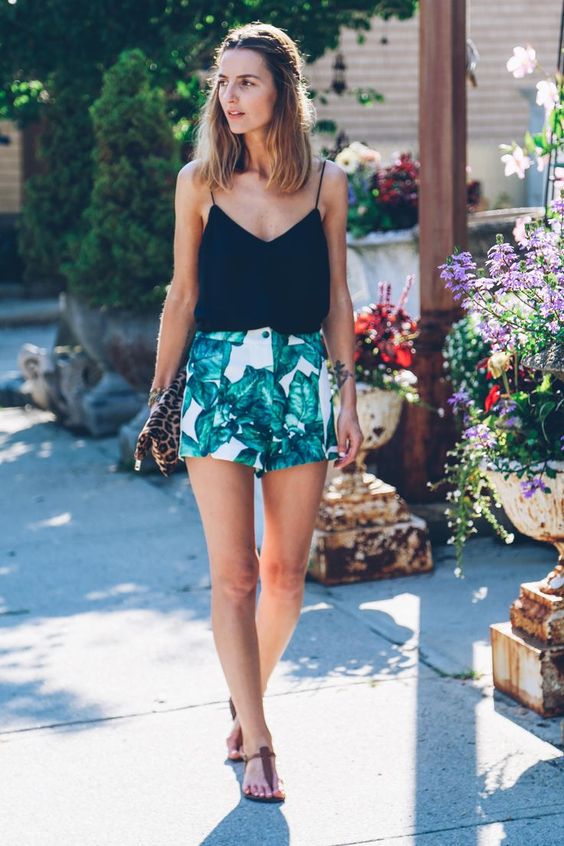 ↓ 12 – With Loose Fit Shirt
Black and white striped loose fit tee with a peachy pink colour flowy are an opposite colour contrast to wear together, but still, it is a very cool outfit to be worn for an evening outing. Furthermore, accessorize it with a brown long strap bag and with nude wedges.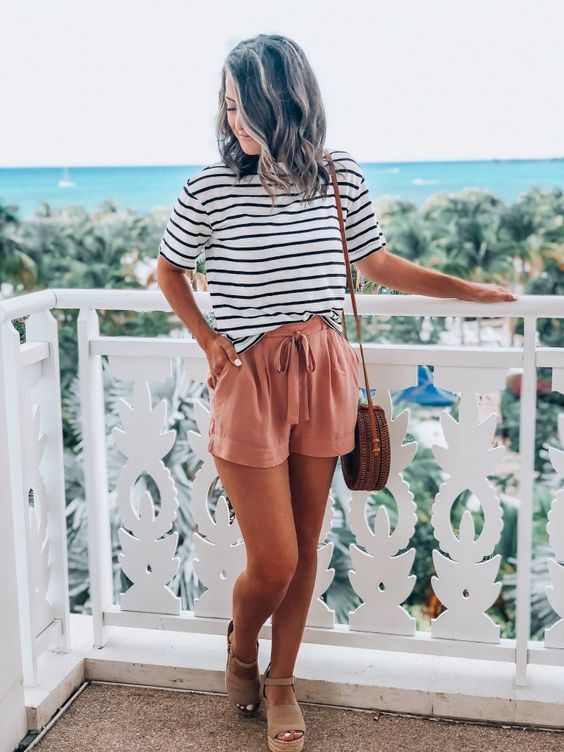 ↓ 11 – Polka Dots
It would help if you had these wide-leg shorts in summers; look at how relaxing it looks. It is available in a wide range on Amazon in many different prints and patterns; pair it up with a white front twisted top and a straw bag. It's a very casual look for summers.
↓ 10 – Date Wear
This sunflower print Bardot strapless crop top with matching sunflower shorts is a must-have outfit in your wardrobe and to make this outfit more attractive, you can wear a denim shirt over it with silver hoops and a silver watch. You're ready to impress your partner on a date.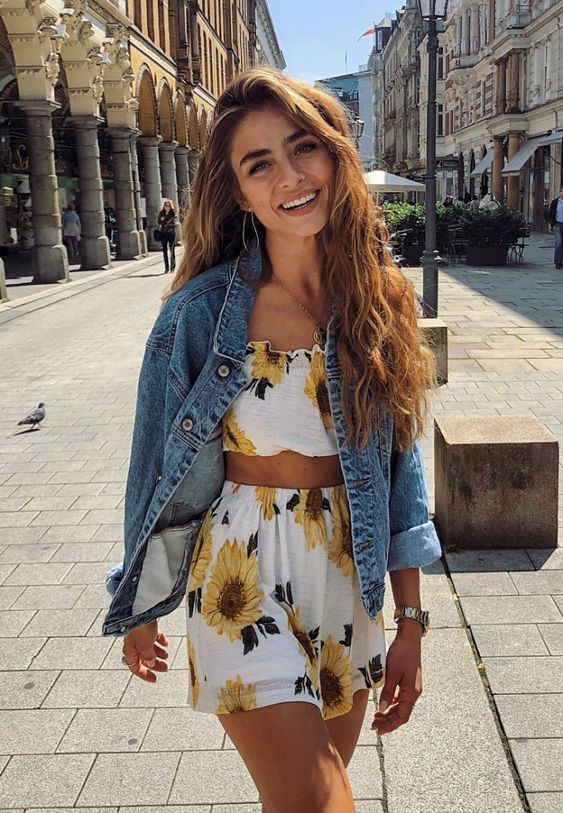 ↓ 9 – Cardigan with High Waist Shorts:
The more basic, the more lovely. Have you ever heard of this saying? I suppose that is valid by seeing this outfit. Take a look at the shades of this outfit. These tones are sufficient to make it look charming. This look is all about pastels and nudes. Pair high waist paper bag shorts with a ribbed white cami, and for outerwear, you can go with a pastel pink cardigan. Finish the look with nude high heels and a nude brown bag, leave the hair as it is. You're ready to meet your friends at a brunch.
↓ 8 – With Ruffled Shirt
It's a stunning outfit to wear to an event. There is nothing fancy happening in this outfit, yet it still looks very eye-catching and elegant. A plain ruffled dark green off-shoulder top with plain dark green shorts. Furthermore, you can match your footwear and clutch together to add more life to this outfit; go with a nude velvety bow heel and a nude pink clutch.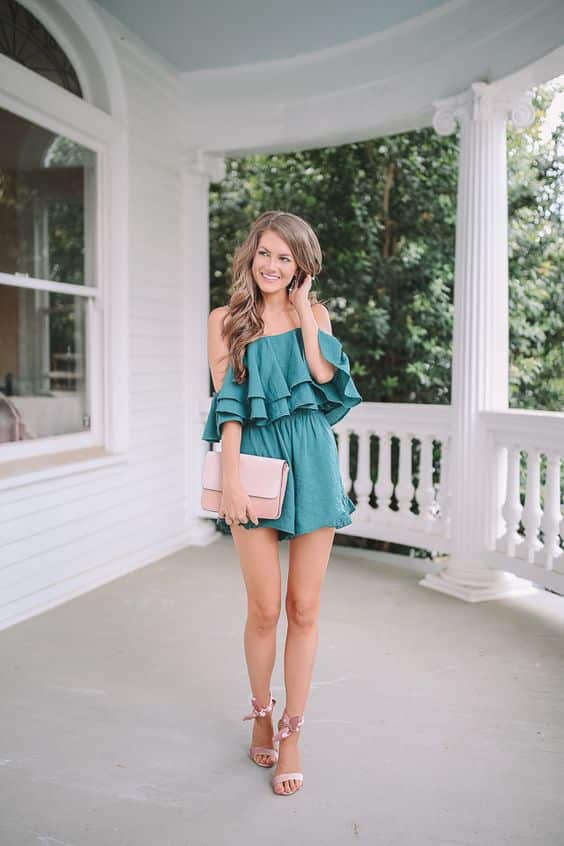 ↓ 7 – Shorts With Oversized Blazer:
That's a very classy look; we all have worn blazers with dress pants, but wearing an extra oversized blazer with paper bag shorts and with a mini blouse inside is a unique style statement, right? Go for this look and make an eye-catching appearance. In any event, this look would surely get everyone's eyes on you.; I can assure you of that. An oversized black blazer with a black high waisted paper bag shorts with a lavender strapless mini blouse inside is all you need for this look. Furthermore, you can take a black handbag and black sunglasses.
↓ 6 – Beige and White:
Warm tones always look so soothing to the eyes, especially in summers. And also, these tones are so much in trend. You can step out in a fully nude tone from head to toe and slay. These colours make you look decent and classy at the same time. Pair white high waisted shorts with a nude beige double pockets button-down shirt and add the belt to enhance these two shades together; further accessorize it with a tote straw bag and with bracelets and anklets. For footwear, you can go with beige pumps.
↓ 5 – Vacay Outfit:
Look at how relaxing the colour is looking and how cute this matching set of shorts and top is. Lavender is the prettiest colour for summers, and it is in fashion. Lavender off-shoulder crop top with long sleeves with the same coloured shorts make this outfit very pretty. Finish the look with a sky blue handbag.
↓ 4 – Neon Funky Shorts:
Everyone loves to dress up over the top sometimes, and this outfit is the perfect example of OTT. Neon funky yellow shorts with a neon purple crop top with puff sleeves is a very fashionable outfit to be worn, plus it is a very bold choice of colours. More than the outfit, the colours of this outfit are a head-turner. Further, accessorize it with a green colour handbag and with strappy sandals. Wear this to a themed party or even your birthday and slay!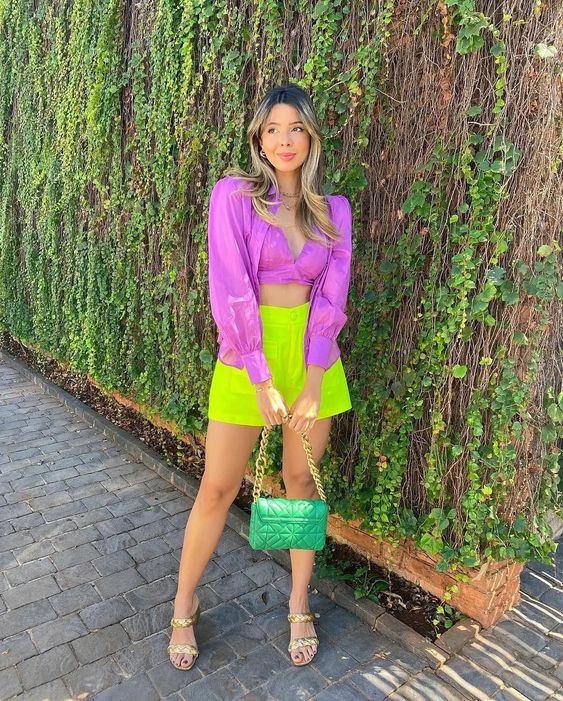 ↓ 3 – For Plus Size Women
No matter what size you are, zero or plus, there are no restrictions on anyone; you can wear anything you want, anything you like. Here is a cute shorts outfit idea for daywear. Wear light orange shorts with a spaghetti tank top and for outerwear, go with a long-sleeved pocket denim shirt. All these light colours together will look good. For accessories, match everything with your inner, wear matching colour footwear and some fancy pearl earrings, take a matching colour clutch, and wear some golden cuff bracelets to give this look a little fancy touch. And you're all set to step out.
↓ 2 – Party Look for Plus Size Women
It's the coolest cocktail party wear kind of Outfit. This Outfit will make a stylish appearance, and this bohemian shorts with a sleeveless blacktop are very fashionable indeed. Black makes everything pretty, and bohemian shorts never disappoints, so it's a perfect choice for a party outfit.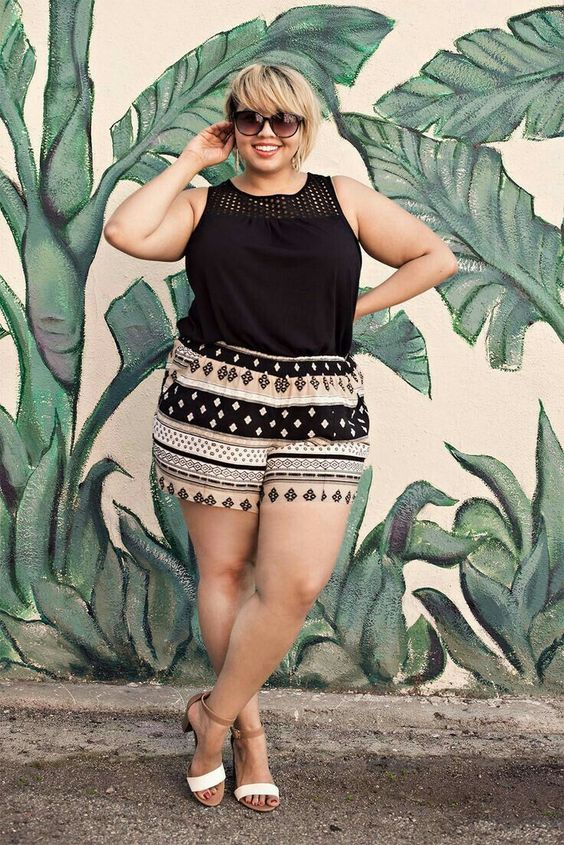 ↓ 1 – With Loose Fit Shirt
The super stylish and casual look for the night out. What is better than comfort, this look serves comfort from head to toe, and it is stylish at the same time. Pair your white loose-fit shirt with a snake print bowknot shorts, and for footwear; white sneakers will look good. Take a mini crossbody bag to keep your essentials inside, but it's better for a show-off, haha, just kidding. Finish the look by adding a subtle chain and small hoops, and you are good to go.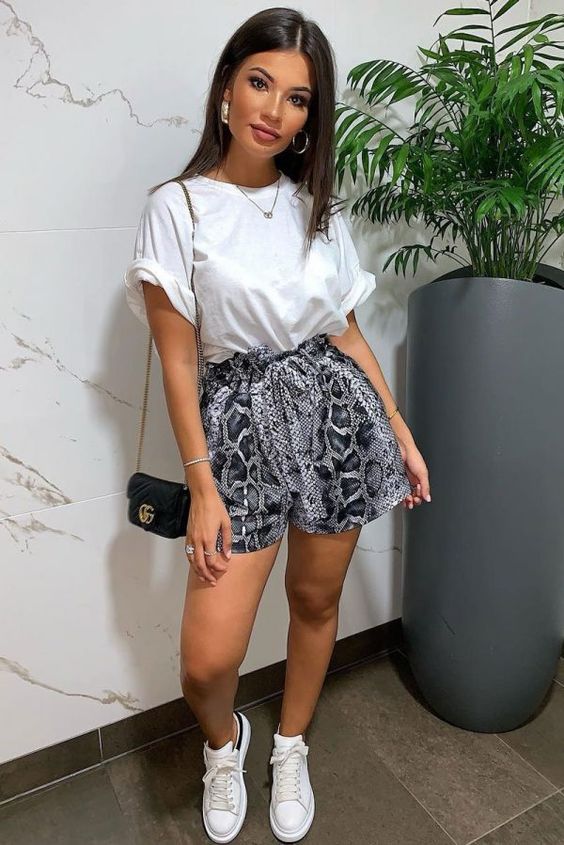 Frequently Asked Questions
Question: How to wear high-waisted shorts with big thighs?
Ans: High-waisted shorts are a good decision to wear if you have a big thigh because it makes your legs flatter and makes you look taller. But other than that, if you want to wear high-waisted shorts on big thighs, you can wear a long cardigan over it so you would feel comfortable, or you can also wear loose fit oversized shirts to feel more confident in those thighs.
Question: What shirts to wear with high-waisted shorts?
Ans: Tank tops, button-down shirts, cami top, oversized tee shirts, everything goes with high-waisted shorts. You can go wrong with these shorts because the attention grabber is the shorts, not a shirt, so anything you wear with it will look chic.
Question: Are flowy trending?
YESSSS! they are on the top of the list of trends nowadays because it goes with everything. As mentioned above, it looks good on everyone that these shorts are not made for anyone specifically, but everyone from zero to plus size. The best thing about these shorts is that you can pair them up with blazers, tanks, camisole, mini blouses, oversized shirts, spaghetti tops, denim, and off-shoulder tops; it will serve the look with every top for every occasion.