Blazers with Shorts Outfits for Women: Blazers are a wardrobe luxury worn and adored by people for casual and formal meet-ups. Why are they still considered so trendy and top tier? That's because they transform and complete your look. You can wear them over your dresses, your sweatshirts, collared shirts, basically anything and everything. You'll still look flawless nonetheless. And may I add one of a kind. All the different blazers allow you to dress and dole yourself up, fitting to the occasion. Not just that, you can sport accessories with them too to amp up your look. 
Blazers with shorts outfits are a hit and one of the favorites of our Instagram fashionistas. They have styled these outfits in various ways and befitting the different events. If it's a denim and a boyfriend blazer duo or chino shorts and fitted blazer look, the answer to both of these outfits is hell yes. You can easily create a new look using your imagination and accessorize as You see fit.
How to Wear Blazers with Shorts Outfits?
You have the liberty to pick and choose your options. A formal gathering encourages the attire of a fitted double or single-breasted blazer with chino or Bermuda shorts. In contrast, a casual one would be okay with a bolero or a deep lapel blazer with denim shorts. All of this with a pair of long or ankle boots, stilettos, or toe pump heels will leave an impression that'll be hard to forget.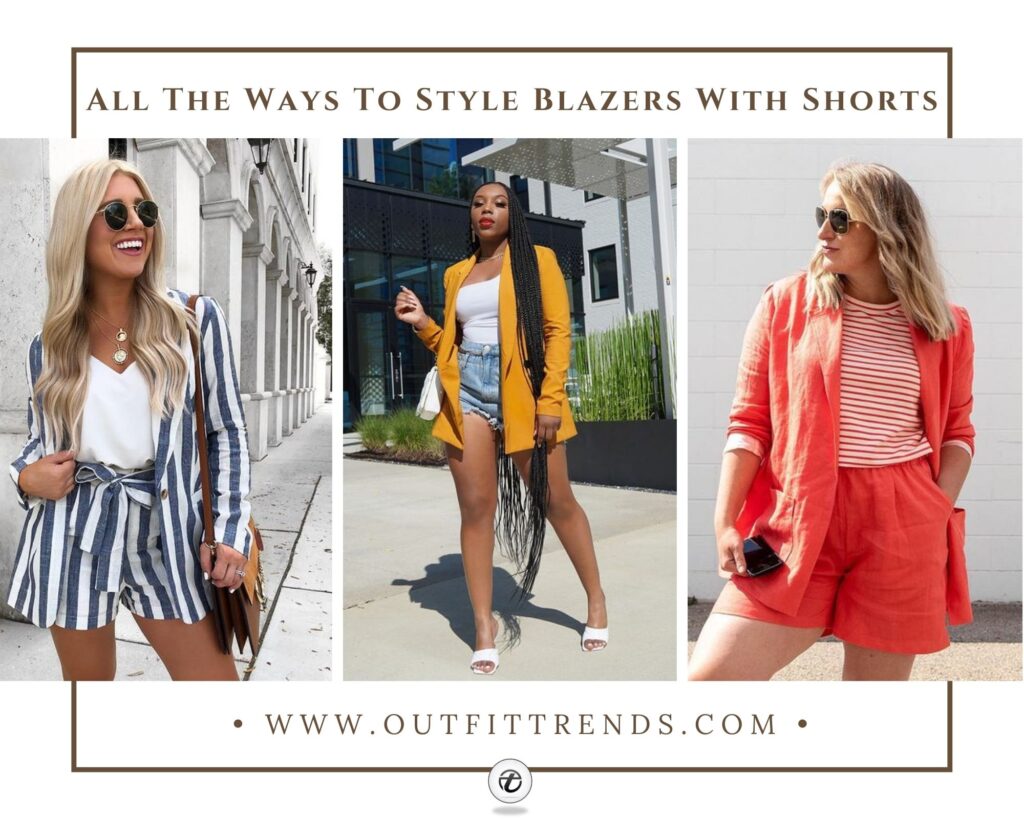 Where to Buy?
Did you think we would leave you high and dry and not recommend our best picks for blazers and shorts for this season? Surely not. Here are some of our most favorites.
After going through all these and buying some for yourself, let's take a walkthrough of all the different ways you can style these outfits.
↓ 39 – Mood for Yellow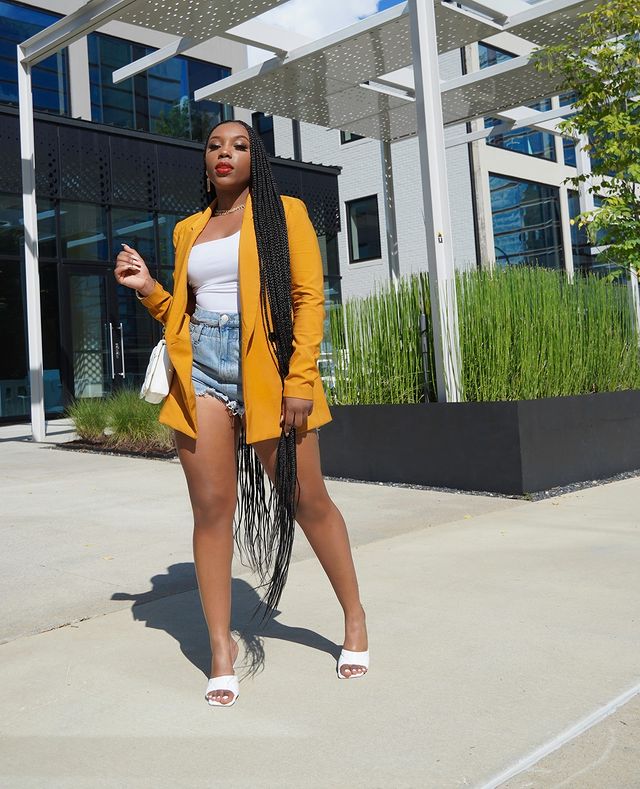 Yellow mood calls for a yellow blazer. The vibrant color of the blazer brightens up the ensemble and enhances it. The fitted blazer masks the impact of the denim shorts and tank top and imparts a formal touch to the attire. You can wear this outfit to work any day, and people will welcome you with lots of compliments and admiration. Here are some more of my favorite Yellow Outfits For Women.
↓ 38 – Formal Blazers with Shorts Outfits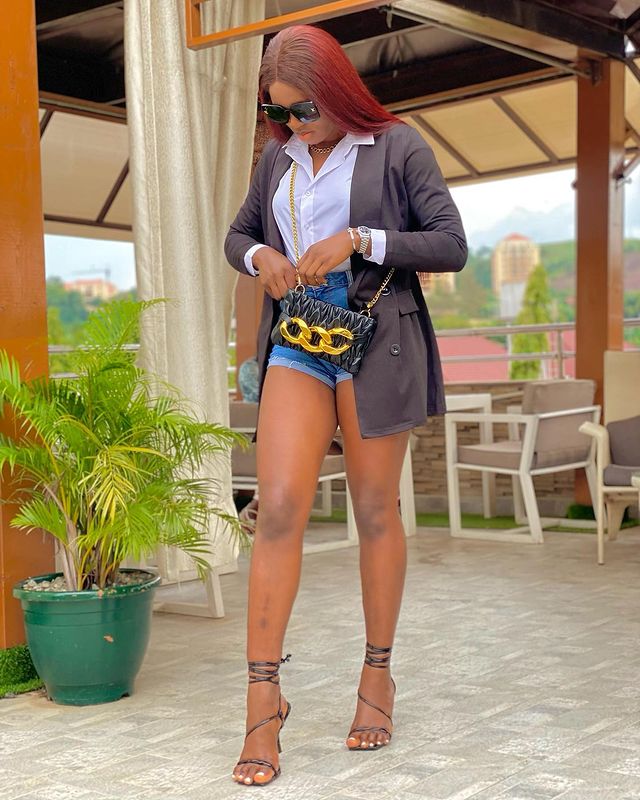 This, I believe, is the most common yet trendy workwear look. A blazer paired with a collared shirt is the ultimate definition of a formal work outfit. You can wear matching black chino shorts with it, or linen bow shorts would be a great pick too. Strapped or toe pump heels are more apt for an office look, but long boots with this sophisticated duo would look breathtaking.
↓ 37 – Statement Blouses and Blazers with Shorts Outfits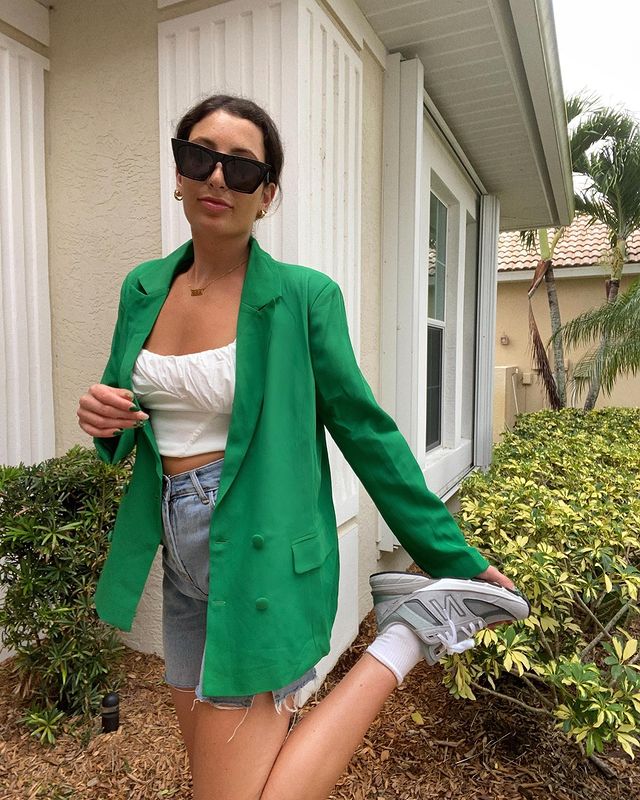 A statement shirt or blouse with a blazer would be awe-inspiring, and what's better is you can pair any one of your statement tops in any color with your blazer and shorts. If you go for a lighter shade top, choose a darker shade blazer and shorts or heels to go with it. This blogger had chosen to place her comfort first and worn her sneakers, which to everybody's surprise, are not inappropriate formal wear. As far as casual get together are concerned, if it's an informal one, opt for sneakers or chunky joggers.
↓ 36 – Belts are smexy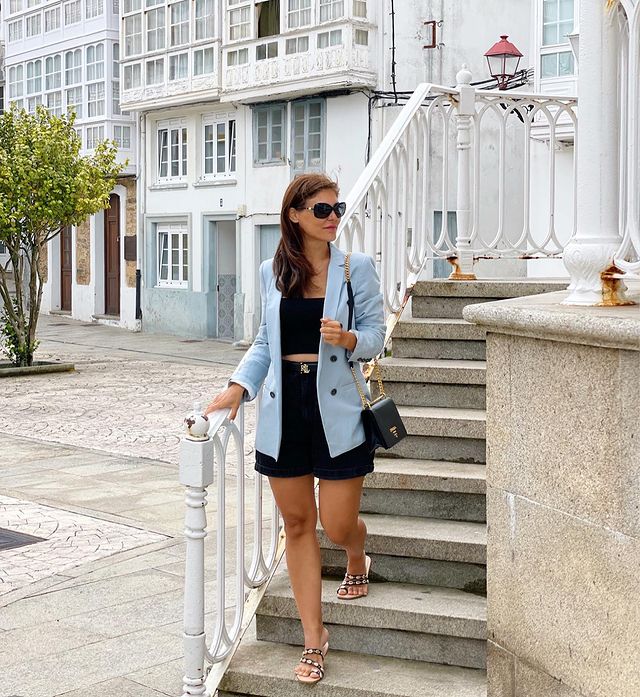 With belts tied over your waist, you'll look like one sophisticated individual. It's up to you to wear a plain or an embellished belt. This gorgeous blue adds color to the all-black outfit. Mules can also be worn instead of flats or sandals.
↓ 35 – With Rips and Fits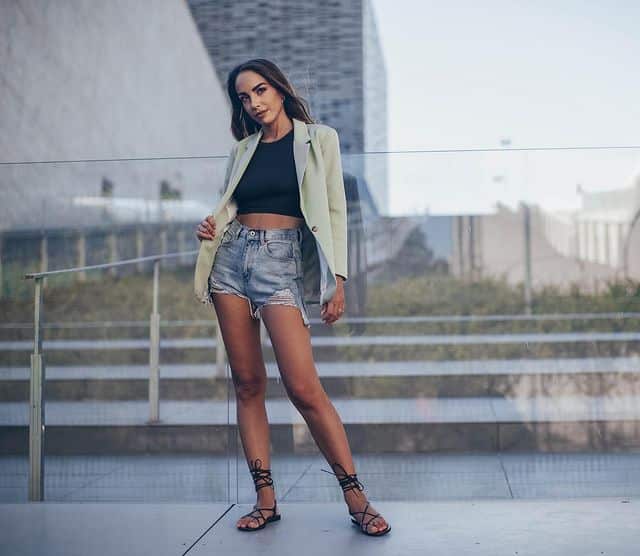 Ripped denim is not deemed apt for a official workday, so this outfit rules out to be a casual one. Remember, not all blazer attires are formal ones. I find the strapped sandals quite attractive.

↓ 34 – Cropped Top and Blazers with Shorts Outfits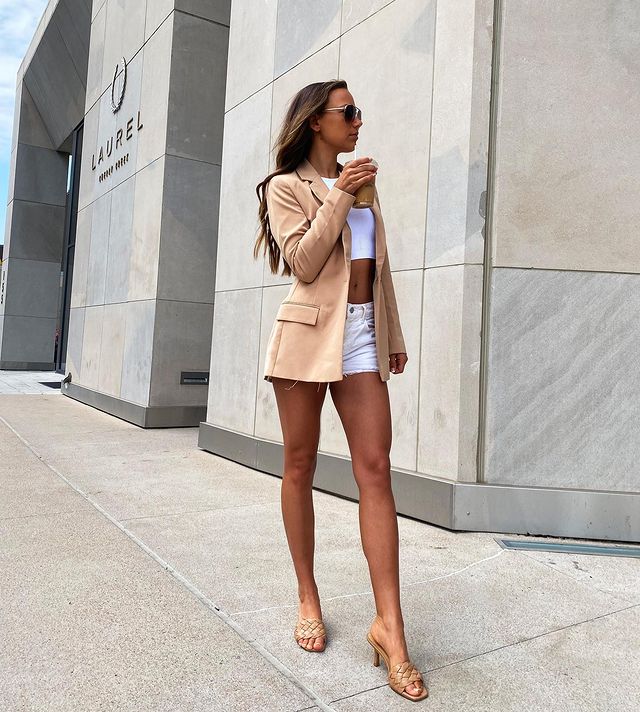 For me, and I hope many of you, crop top is a summery and adorable top. It's comfortable and trendy, which is a plus one. Wearing lightweight summer blazers with it and matching Bermuda or denim shorts can be a great summertime look.
↓ 33 – Single Pleats deets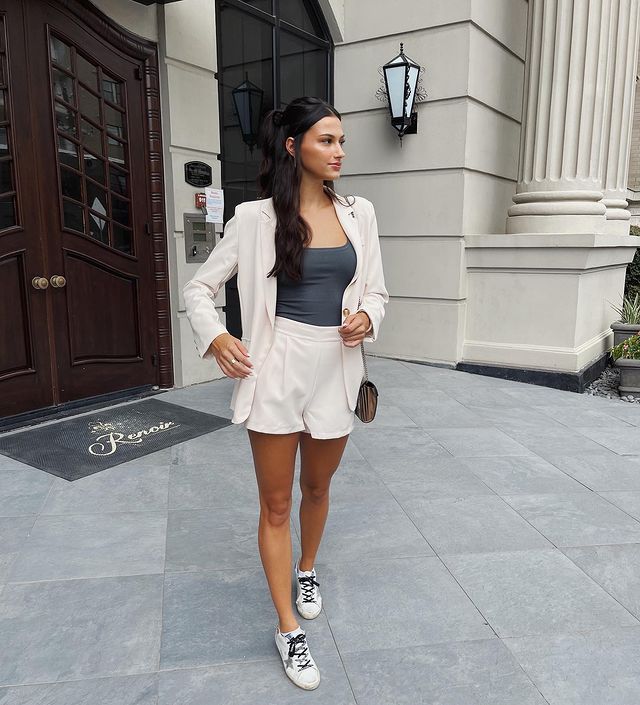 Ladies start sporting pleated skirts for work. This stunning single pleated skirt is something that we should wear more often. If you'd fancy wearing a belt over it, that would be cherry on top because you'll look like a total smoke show.
↓ 32 – Work out session
This blogger has splendidly demonstrated how to work out and flaunt your new blazer for your colleagues. Put on your cycling shorts for all the stretches and squats, and don't forget your deep lapel or boyfriend blazer. A headband, in this case, would be an excellent pick to hold your hair back while you meditate.
↓ 31 – Long Blazers with Shorts Outfits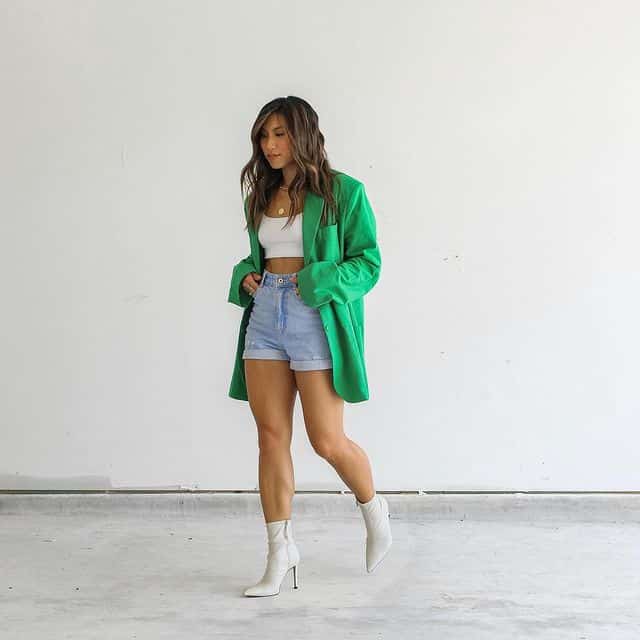 I can't figure out what I like more, the dapper long blazer or the kicky ankle boots. This look is to encourage you to buy more of your long blazers and rock them with linen or denim shorts and knee-high ankle boots.
↓ 30 – What Accessories go with Blazers with Shorts Outfits?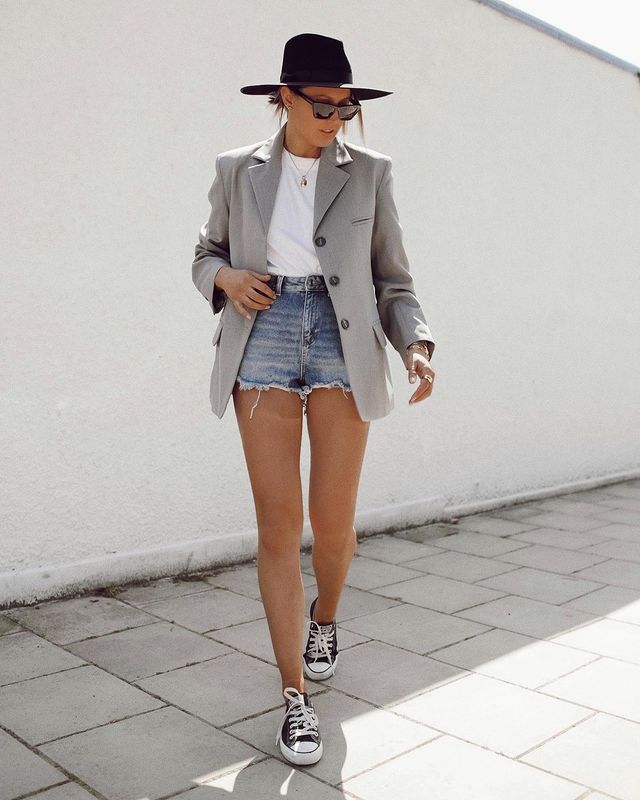 The extremely easy-going look of a boat neck with denim is worth commending, but we'll come back to that later. The accessories option this blogger has illustrated magnificently is eye-catching. Boat necks usually go with a chain pendant necklace; even so, you have other alternatives too. Hats are never not trendy; fedora hats, berets, or a cloche are some of my absolute favorites since ever. You can always try them out with all our outfits. Moving forward, rings and bracelets, along with a good manicure, is a makeover for your hands that you totally deserve. After all, who's ever tired of a good mani-pedi.
↓ 29 – Blazers with Shorts Outfits Sets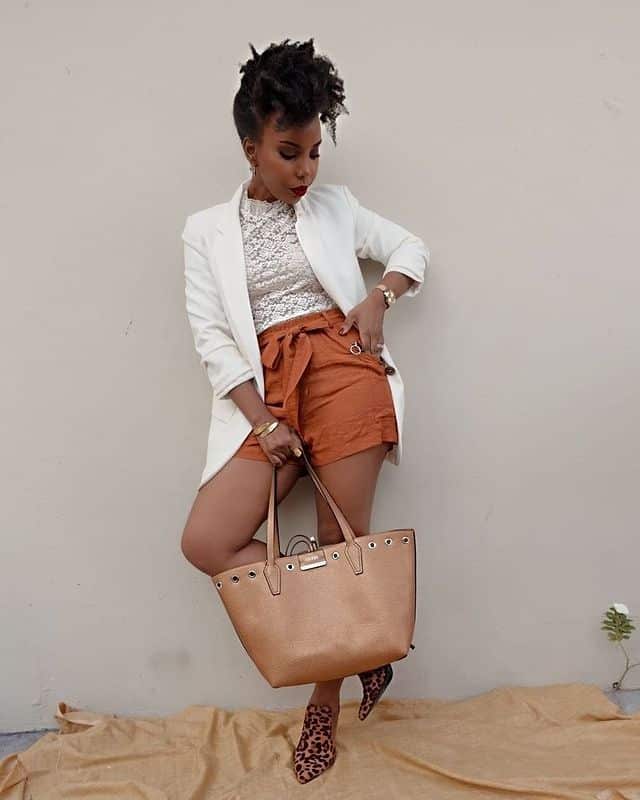 You can find a good pair of matching blazers and shorts set on any of your preferred brands, or you can also check some of the suggested brands above. These paired sets come in various colors and designs for all the seasons throughout the year. A satin shirt is an excellent addition because it shows off your style in the most impeccable manner.
↓ 28 – Hippie Style
I admire how this blogger has impressively carried her baggy shorts. To give her an altogether hippie look, a tinge of style, she has worn a belt. A crossbody is a helpful and fashionable pick.
↓ 27 – Striped Top and Blazers with Shorts Outfits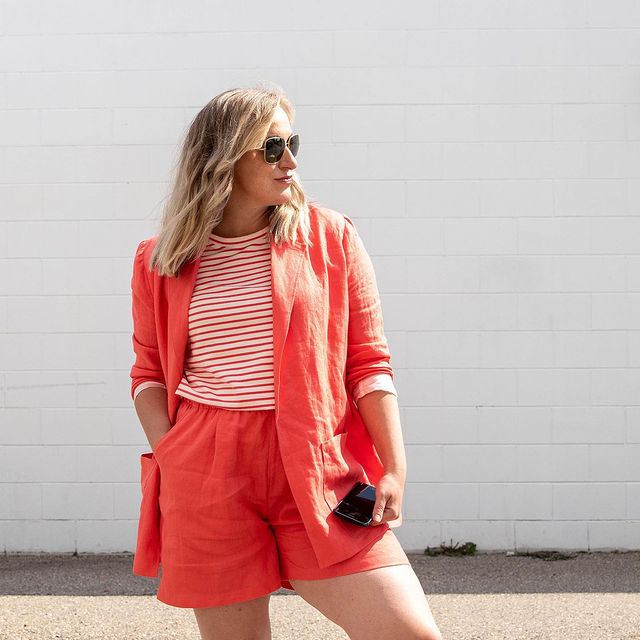 Some people of the olden ages considered striped clothing unconventional, but like the people, the sense of style has also revolutionalized with it. You can wear a striped blazer, shorts, or a top any day you like without raising any fingers.
↓ 26 – Check designs? Check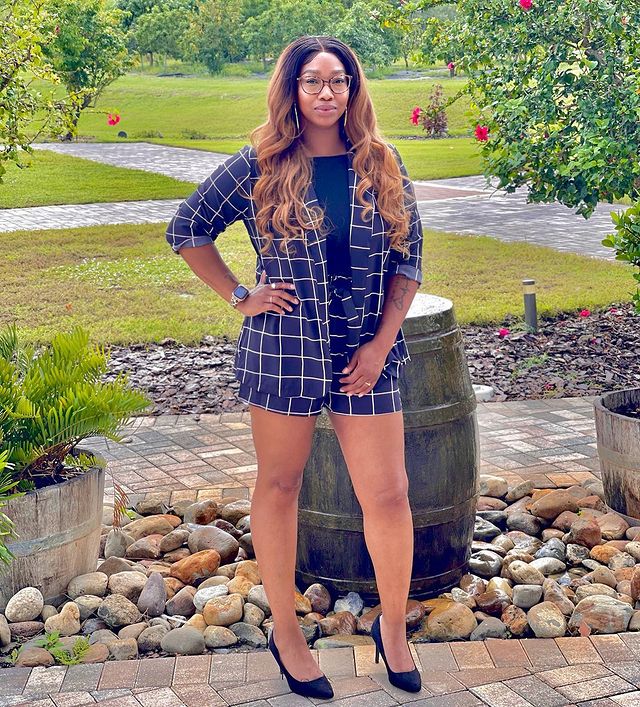 Many of you can relate to the love I harbor for checks and plaids. If you don't, then hear me out. They are never outdated also come in numerous designs and qualities. That leaves us with numerous alternatives. This check blazer and short set is one such example among many.
↓ 25 – Fall Blazers and Shorts Outfits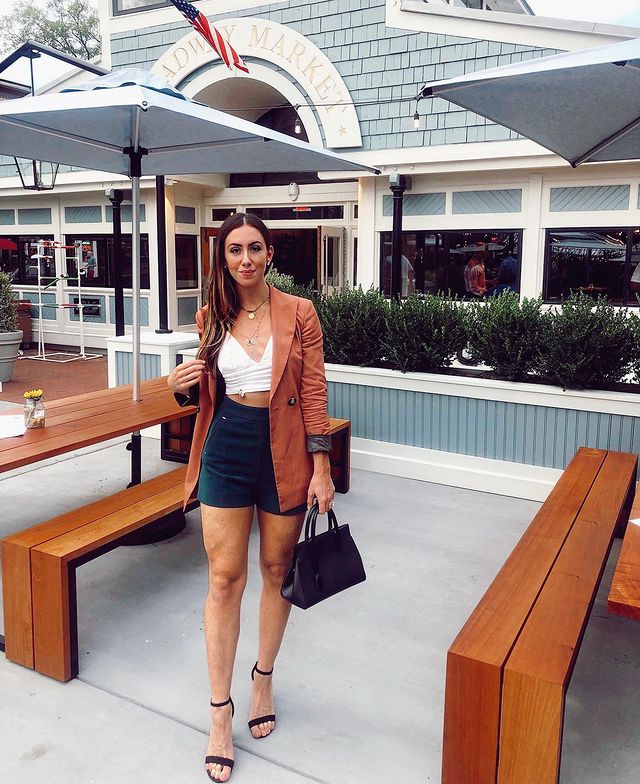 This attire calls out for a major style inspo alert. The cropped V-neck and the high heels are an off-the-charts duo. May I say this would be a great travel outfit as well.
↓ 24 – Bow Shorts are the new thing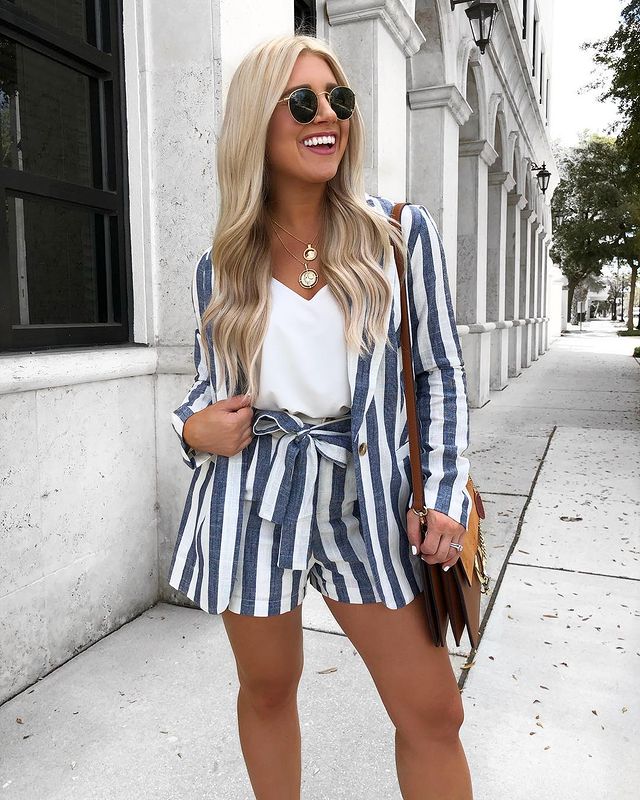 Linen bow shorts, surprisingly enough, are not that common. Many of the fashion gurus have used and abused them; they are an excellent choice when it comes to straying from your usual denim shorts.
↓ 23 – Oversized Blazers with Shorts Outfits
V-neck sweaters are good for layering in a breezy season. The loose-fitting blazer and shorts are a good pair; they keep you comfy enough to chill around. Here are some more tips on How To Wear Oversized Clothes.
↓ 22 – Ruched Blouses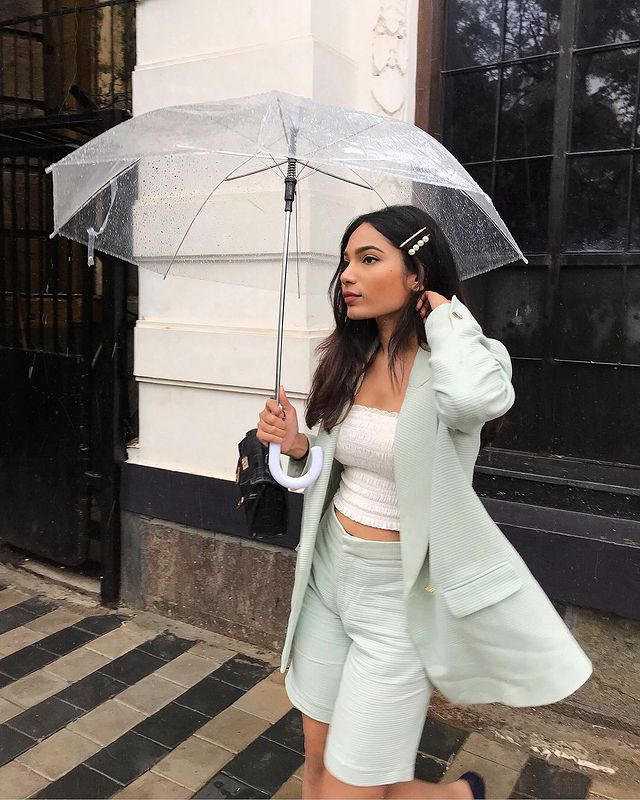 Ruched Blouses are a perfect pick for this season, cute and snazzy, they make your look stand out in a crowd. A pendant necklace with a pair of huggie earrings would be an great match for this attire.
↓ 21 – I Sea You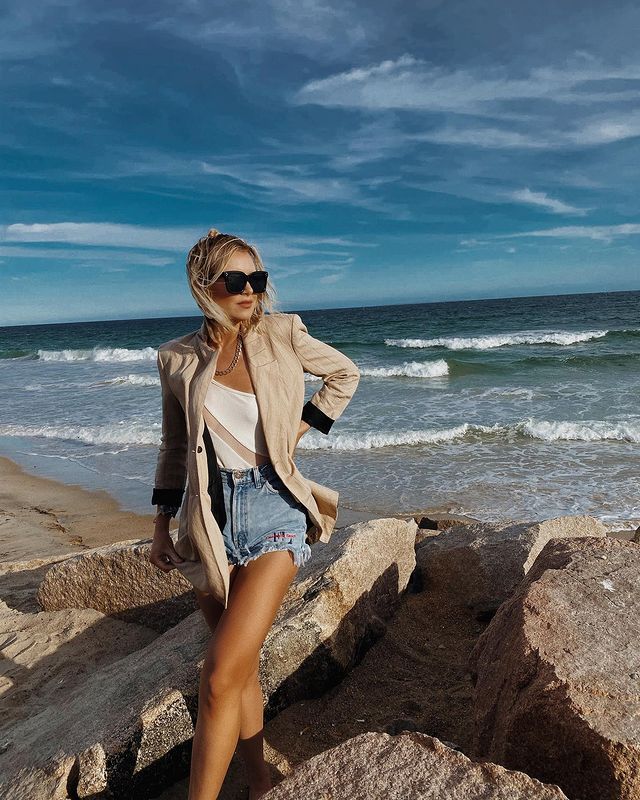 A cool beach outfit. This stunning mesh shirt is a piece of work and adds uniqueness to the whole ensemble. You'll be able to capture some aesthetic snaps in this beauty. Don't lose sight of your blazer; it might come in handy when the temperature drops.
↓ 20 – Satin Blazers with Shorts Outfits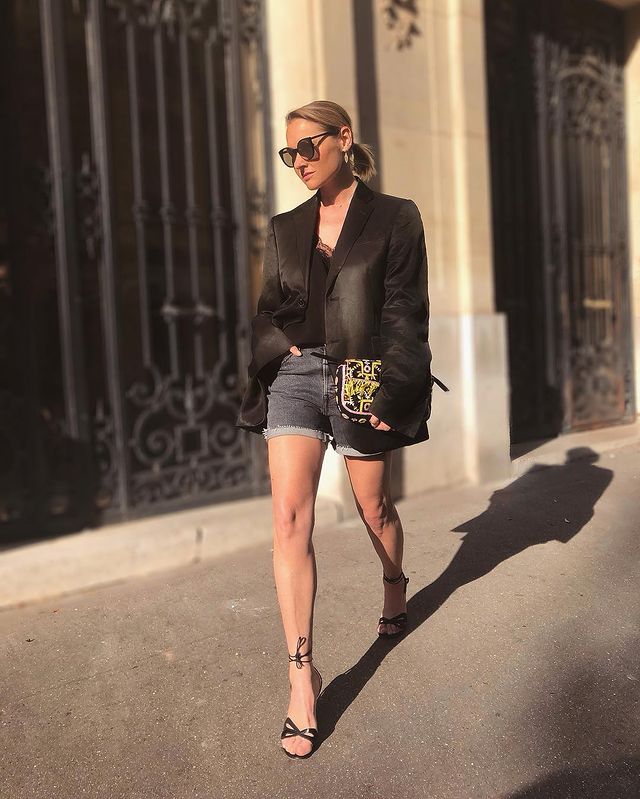 ↓ 19 – Not your Average Printed Shorts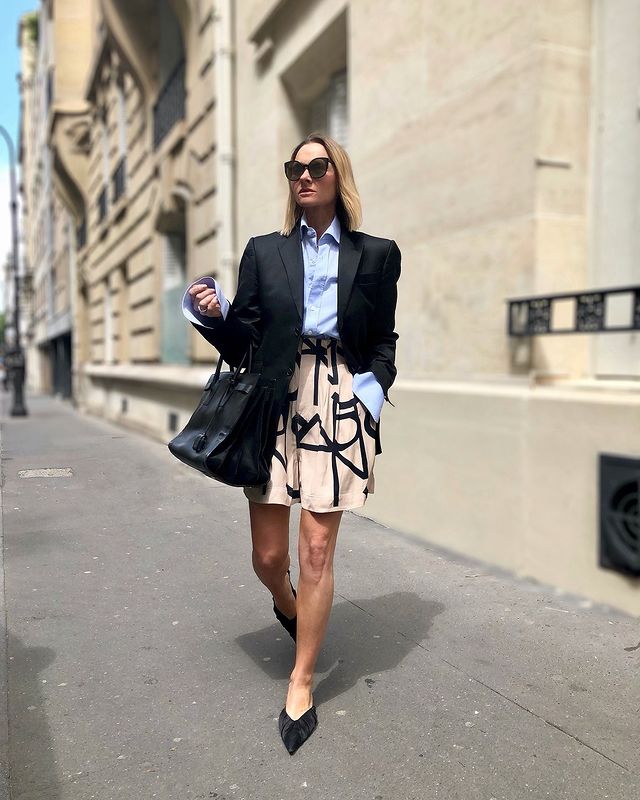 It's the pretty mules and printed shorts for me. A satin scarf atop the shirt and you are good to go. All of you gorgeous ladies can pull of this look with so much grave and elegance.
↓ 18 – Statement Shorts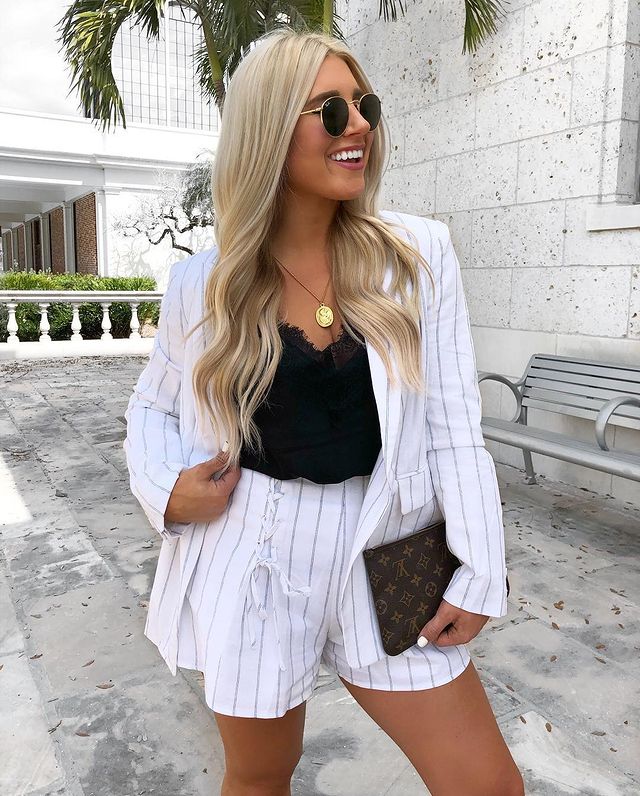 I'm loving the style of these shorts. You can surely sport this look on one of your boat parties dancing your life away.
↓ 17 – Playing with Prints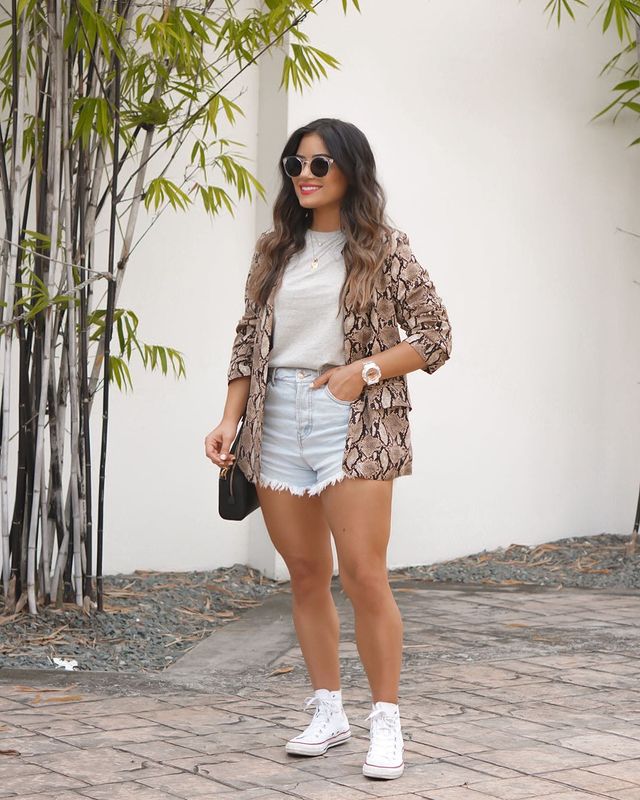 I'm sure you guys are not tired of our never-ending range of cheetah print clothes. This is one of those outstanding outfits, you don't normally see blazers like these. Accessorize aptly and in accordance with the event you are attending and there you have it, you'llbe a long-time trendsetter yet again.
↓ 16 – Fishnet Stockings and Blazers with Shorts Outfits
Gimme some of these phenomenal tights. I love how these days we are incorporating out of the ordinary fashion deals in our daily life. Wear long faux leather boots or ankle boots with them.

↓ 15 – Tees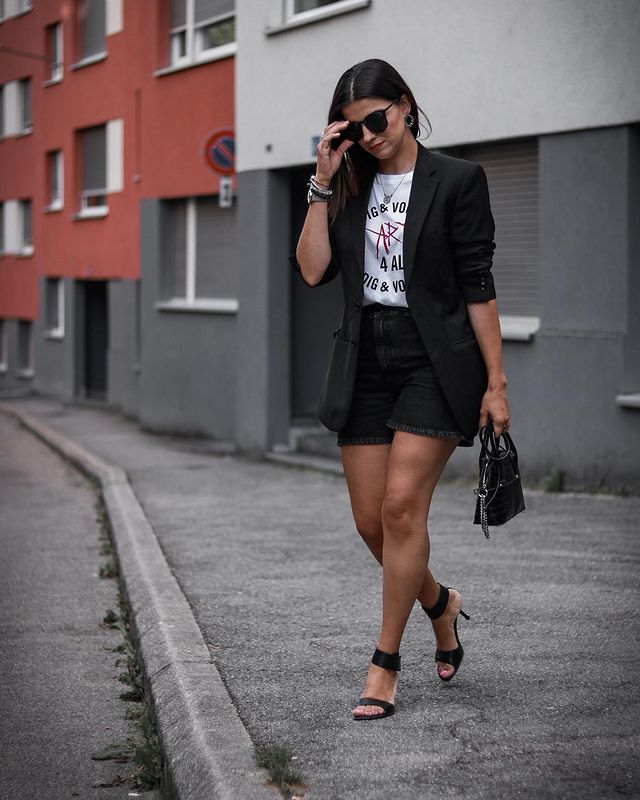 ↓ 14 – The Monochromatic Touch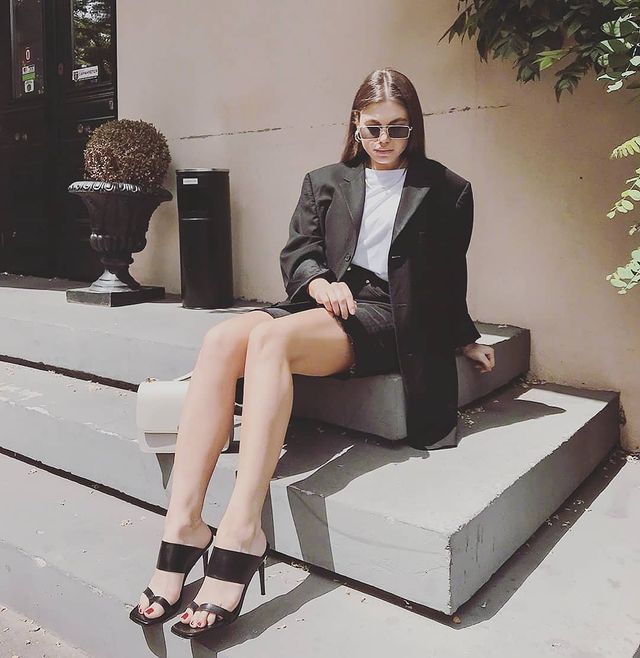 Monochromes are slaying the trends and we are here for it.

↓ 13 – Mismatched Blazers with Shorts Outfits Sets!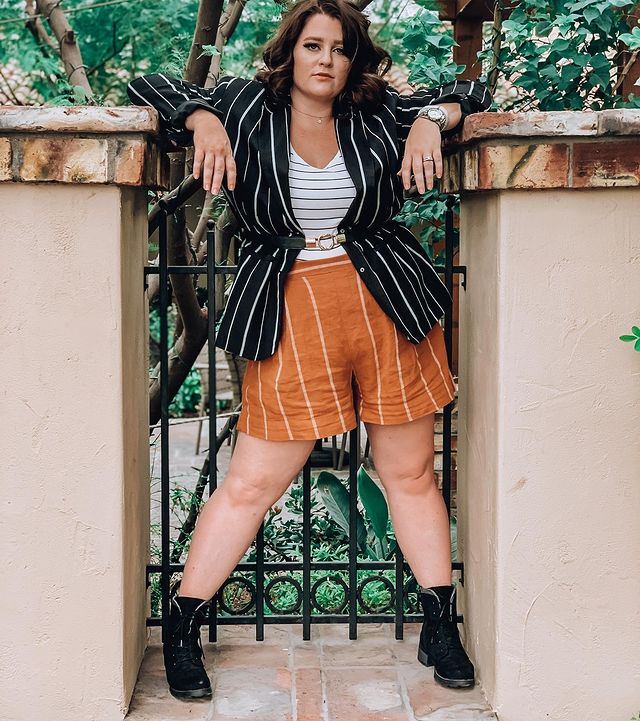 Who says you can't ace an ensemble with a mismatched pair? Because I can't see it. I'm here to remind you that you can ace any thing and any look if you believe in yourself and your imagination.
↓ 12 – Striped Pair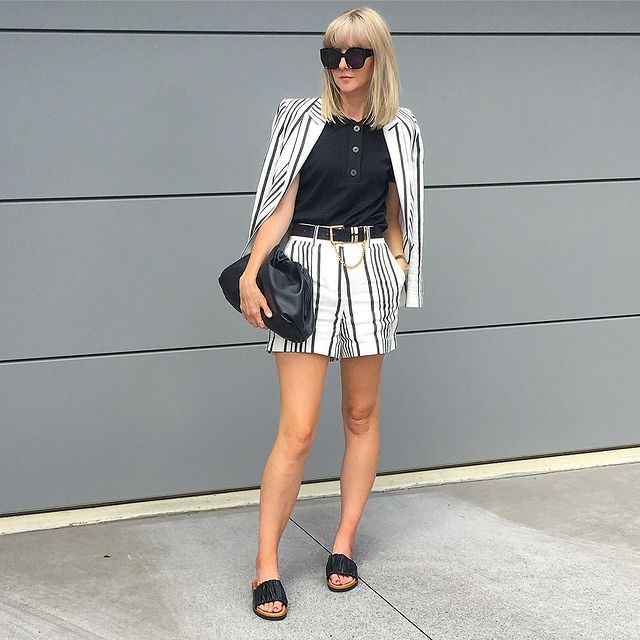 ↓ 11 – Vintage Versace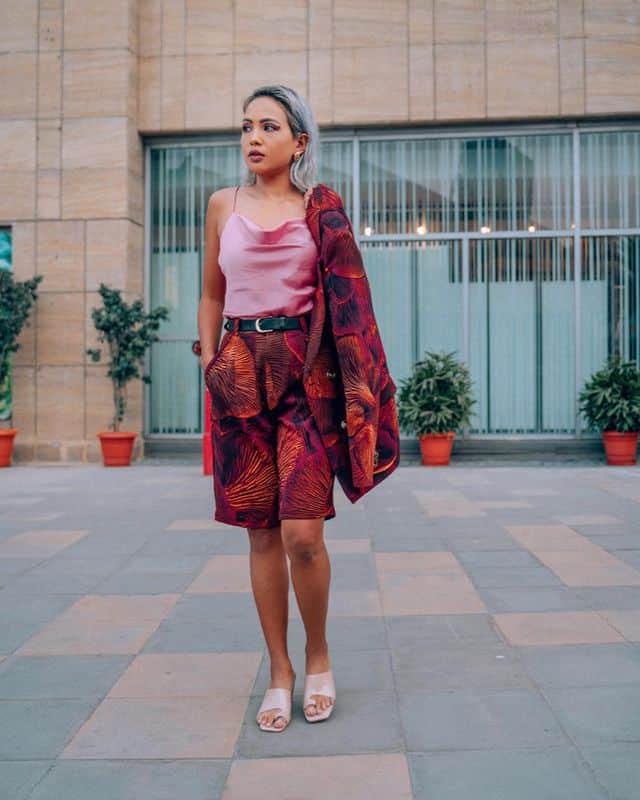 We all need to take some notes, because I am smitten with the colors and prints of this set.
↓ 10 – Valorous Queen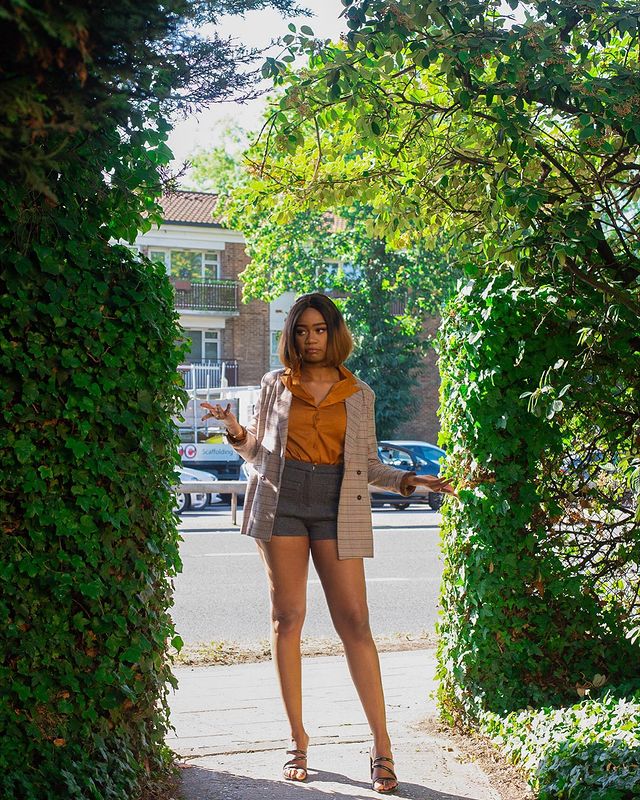 ↓ 9 – A Slayer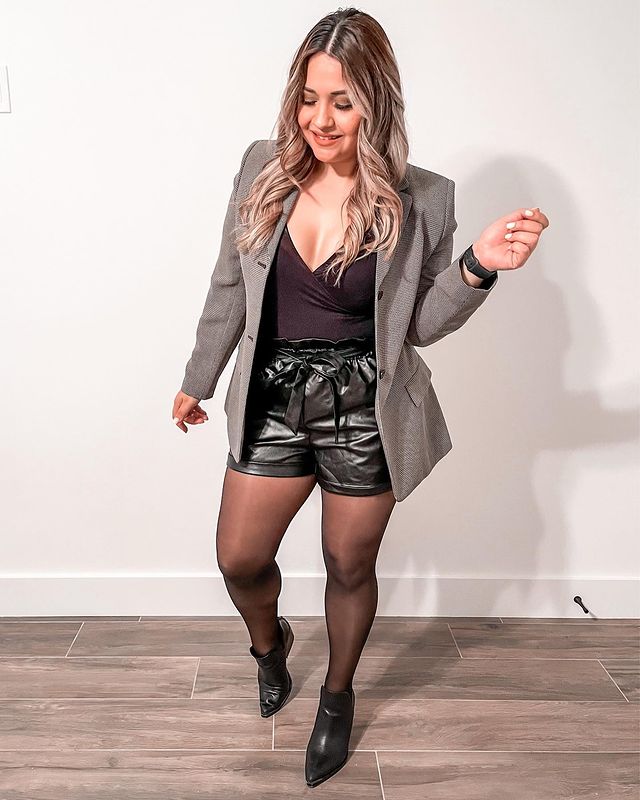 I spot a slayer queen in her leather shorts and fitted blazer.
↓ 8 – Traditional Blazers
↓ 7 – All Leather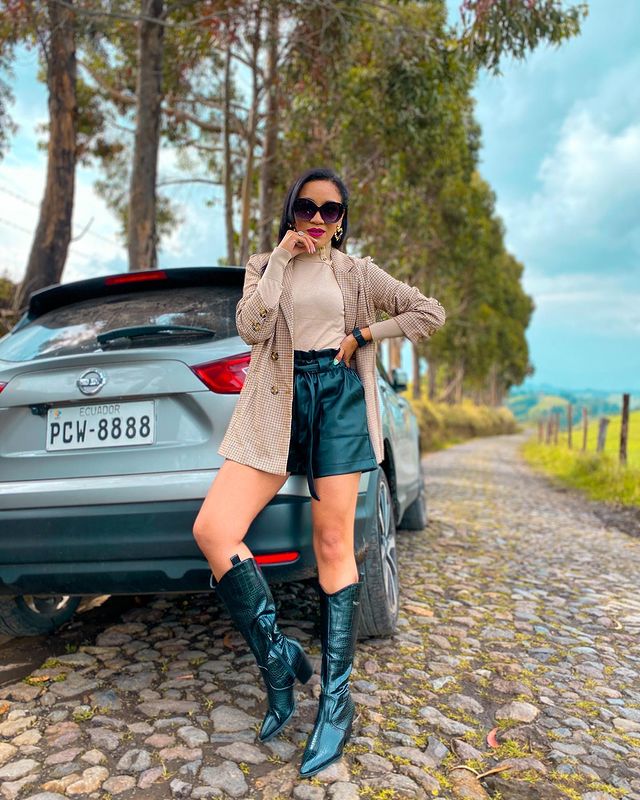 ↓ 6 – Bohemian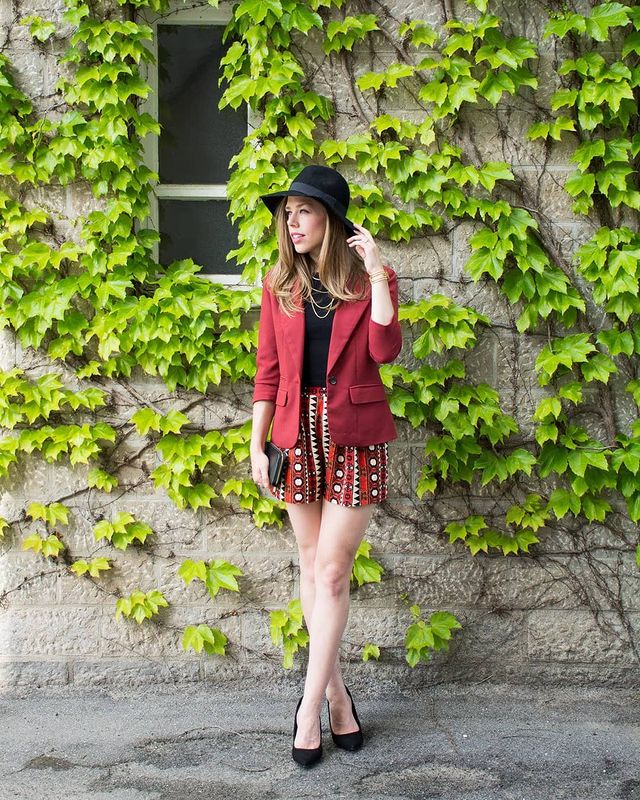 Go Wild and Boho with your blazers and shorts!
↓ 5 – Did Someone Say Classy?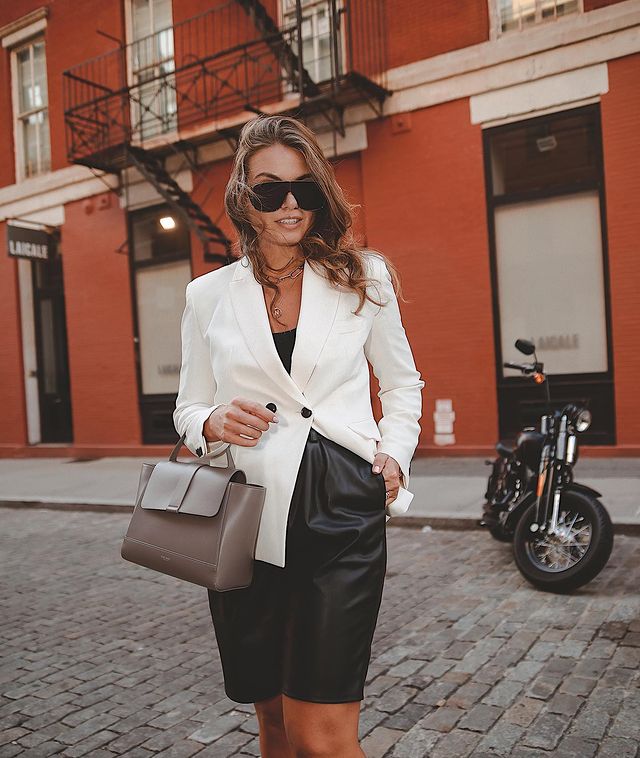 ↓ 4 – Silky Route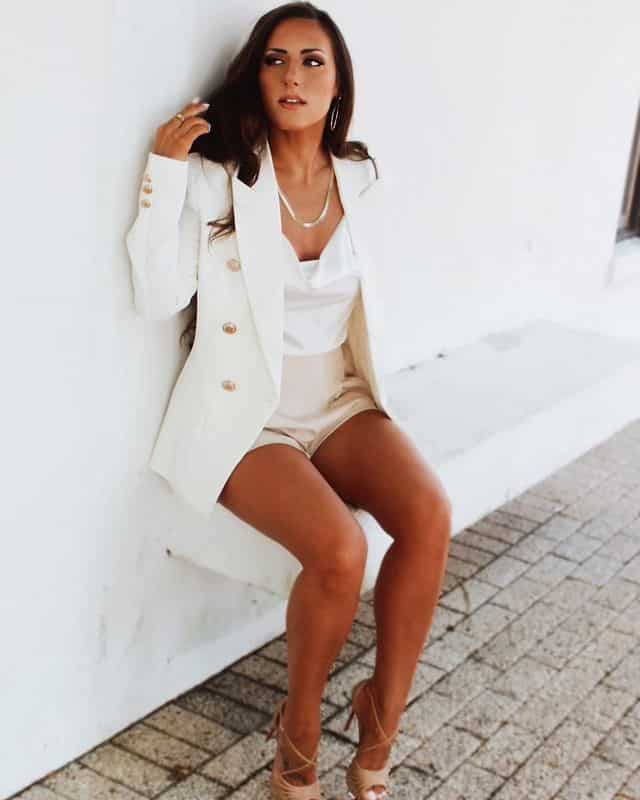 The silky blouse and shorts are on a whole new level of sophistication and serenity.
↓ 3 – Elegancia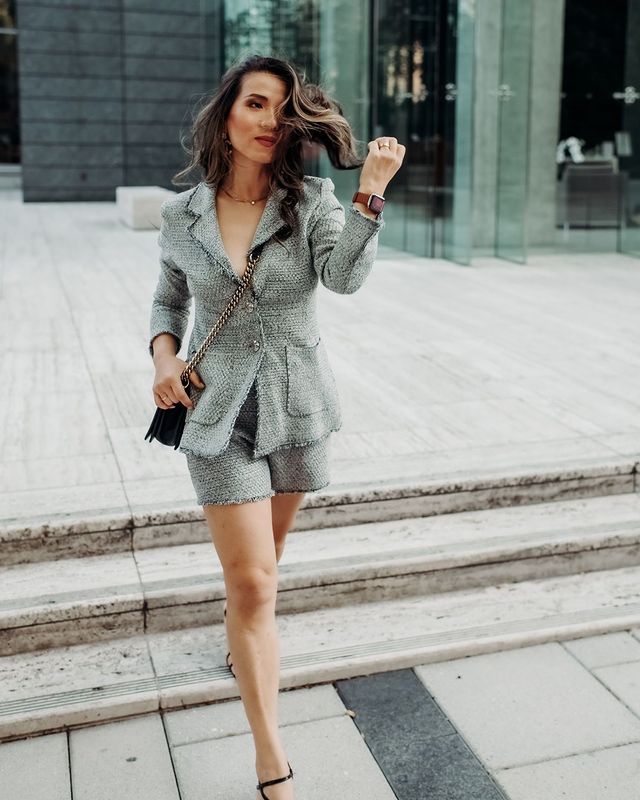 ↓ 2 – Chic-streme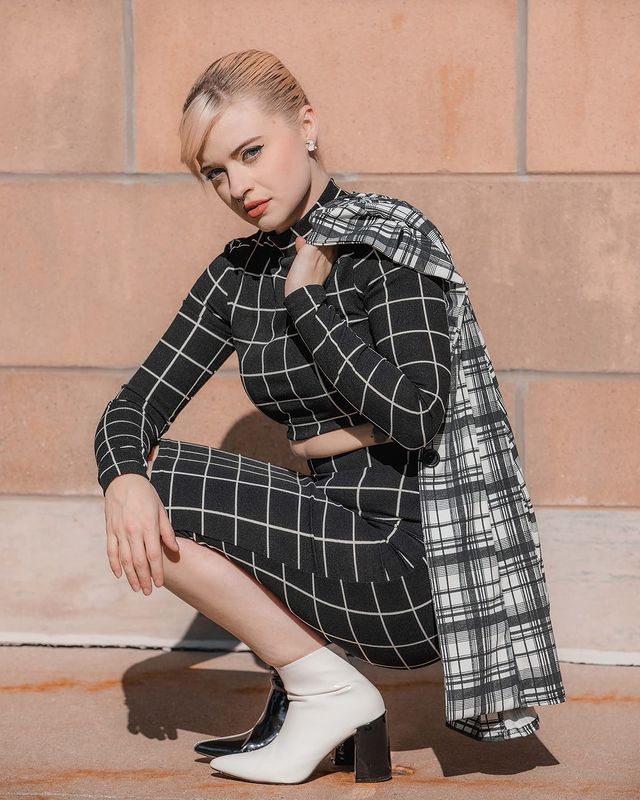 All that is missing in this ensemble is a Crown that this Queen deserves undoubtedly. With an outfit so classy, you can, without a doubt, serve some looks.
↓ 1 – Vogue
This poofy statement blazer steals the show. A combination so magnificent, I can only imagine how amazing will it look on all of you!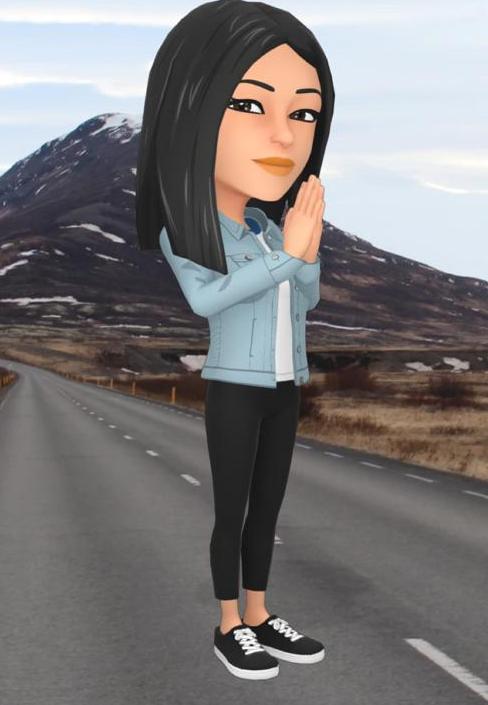 I am a third-year MBBS student. Alongside my studies, I aim to utilize my excellent writing skills and fulfill my childhood passion for creative writing while helping people who need expert writing. But, it is not all boring, as I am always ready to have a friendly chat about various topics and TV shows, especially if you are a FRIENDS fan.