Outfits With Shackets: Layering is one important part of putting together a stylish outfit. But sometimes it just gets too overwhelming with jackets and coats, and we need something light, breezy, and stylish. For this purpose, the latest trend of shackets is here for your rescue.
Shackets are basically a combination of an oversized shirt and jacket which are made from different clothing materials. They can easily be layered over your casual outfits and can give them a chic and enhanced look.
What To Wear With Shackets?
Honestly, it might get a little confusing if you should wear shackets as a shirt or a jacket. The answer to that is both. Yes! the advantage of this cool clothing piece is that you can style this in many different ways. The shackets are oversized, so you can wear them just as a shirt dress outfit without needing anything more. Moreover, you can also wear them as a top by pairing them with jeans, shorts, and skirts.
On the other hand, to utilize them as jackets, wear them over any outfits that you are wearing. Wear them over shorts and tops for a casual outfit. Skirts and tops for a cute outfit and layer them over dresses for a sleek look. In conclusion, even if you own only own one shacket in your wardrobe, it will help you in styling many outfits. Just pair the correct prints and colors of shackets with your outfits and you are good to go.
If you are still confused about how to style your shacket then keep scrolling for more outfits:
Tips On How To Wear Shackets
Choice of shacket: If you want a shacket that goes with all your outfits, consider getting a plain black or brown color shacket with no prints. This way, you can pair them with almost every outfit.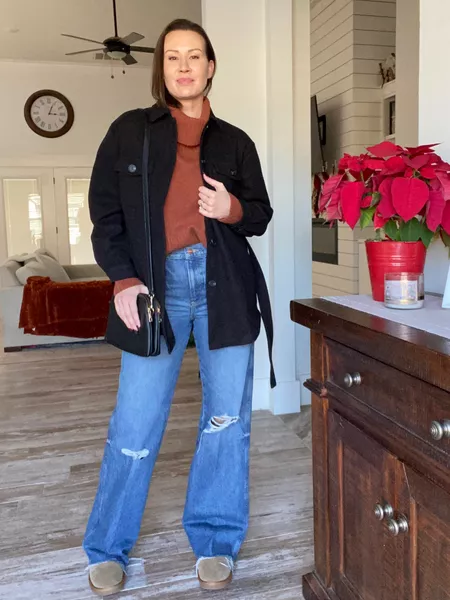 Mix & Match: Even though black and basic shackets look great, don't forget to experiment with your outfits. Choose vibrant colors and prints of shackets and mix and match them with your outfits.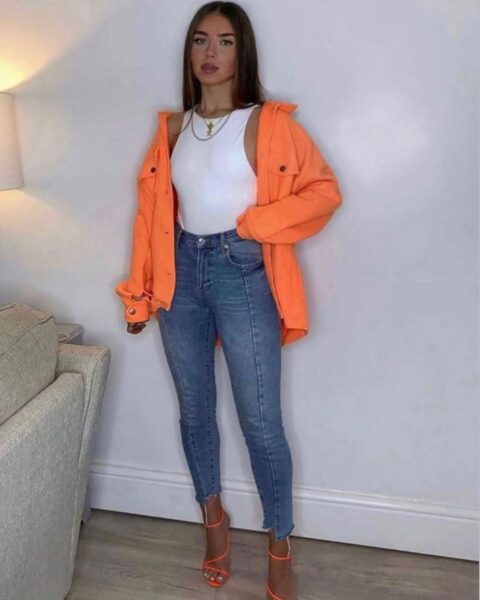 Balance the outfit: It becomes difficult to put together two clothing pieces that are equally colorful and vibrant. So, try to balance your outfit by wearing neutral undershirts and tops with printed and colorful shackets. A plain shacket can also be paired with printed pants for a statement outfit.
Avoid a bulky look: Shackets are already oversized so pairing them with other oversized clothes will give you a bulky look. Avoid wearing it with baggy jeans, oversized sweatshirts, or hoodies. Instead, go for straight or skinny pants or cropped hoodies.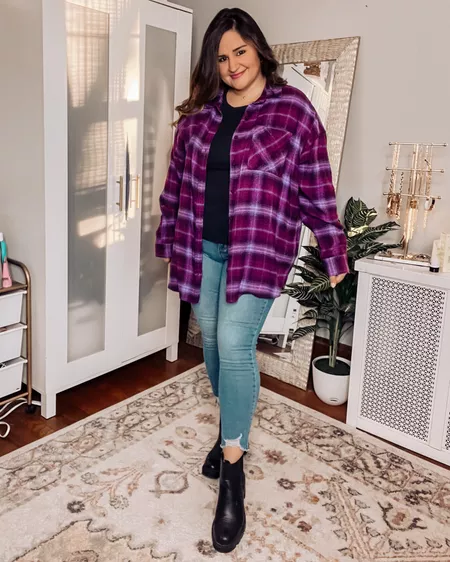 Don't put too much effort into styling: The concept of shackets is all about comfort. So don't put a lot of time into styling them. Even the classic combination of jeans and a white t-shirt would look great with shackets.
20 – Style A Denim Shacket With Skinny Jeans & Ankle Boots
19 – Pair A Shacket With Leather Pants
18 – Shacket With Plaid Skirt & Ankle Boots
Skirt outfits look adorable when they are paired with shackets. You can create so many different looks with only one skirt. In this neutral outfit, a brown leather plaid skirt is paired with a mock neck shirt and layered with a cute shacket and sneakers.
Now to make this outfit more colorful, you can wear the shacket in colors like pink, yellow, or others. Other types of skirts like skater, wrap, or pleated skirts can also be used.
17 – Denim Shacket Layered With Floral Dress
When you are wearing all the cute dresses in different colors, a denim shacket is the perfect thing to complement your outfit. Simply drape the jacket over the dress with your cute dresses. They are perfect to pair with your casual dresses when you are going for an outing or shopping.
Moreover, a denim shacket can also be paired with jeans and tops. They are suitable for casual looks, so sneakers and canvas shoes are most appropriate to wear with these shackets.
16 – Leather Shacket With Plaid Skirt & Boots
This chic outfit might be an inspiration for your next holiday fit. Start by wearing a mock neck full sleeves shirt with a plaid printed mini skirt. Leather has the power to instantly uplift the outfit which is why you should add a leather shacket and leather-heeled boots with this outfit.
Both of them add a chic element to this neutral and basic outfit. It is an adorable fall outfit that you can easily wear to dinner parties, hangout plans, and other outdoor activities.
15 – With Tassel Shorts & Slides
A Light and breezy outfit is much needed in the hot summer season. And what could be a better choice than shorts and tops for this purpose? But don't just opt for the boring and basic shorts, instead go for high-waisted stylish tassel shorts and pair them with a tube top.
Also, layer a flannel shacket over it to complete the outfit. While keeping all things casual, slides are the better option for this look. This outfit is perfect to wear for beach parties and other summer activities. You can also wear cute floral skirts instead of shorts.
14 – Shacket Paired With Denim Shorts & Crop Top
The most basic and easiest summer outfit has to be shorts paired with crop tops. However it becomes too boring with just the two of them, so add a cute shacket to your look. And this is how you can enhance your outfit with just one piece of clothing. Moreover, accessories like multi-layered necklaces, bracelets, and sunglasses are perfect for your mid-day plans in summer.
13 – Shacket With Biker Shorts & Tank Top
Another great use of a shacket is to wear it with your gym clothes or sportswear. They not only look stylish but also provides great coverage to your outfit so you can comfortably engage in your activities. So whenever you are wearing mini or biker shorts with crop tops and sports bras, consider adding a cool shacket as a layering option.
12 – Red Plaid Shacket With Mini Dress & Heeled Boots
Don't have an idea on how to style that plain mini black dress? No worries! We are here to help. A black dress is undoubtedly the chicest outfit idea ever invented, however with the right styling, you can make it look even more attractive.
Firstly, pair the dress with a color that complements it the most like red or royal blue. Layer it with other things like a plaid shacket. And lastly, wear knee-high leather boots in red or black color and a perfect holiday outfit is ready.
11 – Black Leather Shacket With Knee-High Boots
This oh-so-chic outfit with an oversized leather shacket is super easy to style. All you have to do is to pair this shacket with knee-high boots. The shoes can either be black or any other color like red or brown as per your choice.
Moreover, some silver accessories like multi-layered necklaces, rings, or chain bracelets could add up to your outfit. A stylish belt at the waist would be a cherry on top. Apart from that, this shacket is multi-purpose and can also be layered over other outfits.
10 – Houndstooth Shacket With Red Skirt & Platform Heels
9 – Colorblock Corduroy Shacket With Jeans
The shackets don't always have to be in blue and black colors and the same prints. If you are the kind of person who loves experimenting, then this two-toned shacket is ideal for you. The corduroy material of the shacket makes it ideal to wear in the fall and winter seasons.
Since the shacket is stylish in itself, it is better to wear it with a basic or neutral outfit. Simply pair it with ripped jeans and a simple top in white or brown color and you are good to go. You can also replace the jeans with straight trousers to get a dressier look.
8 – Corduroy Shacket Dress With Chunky Boots
7 – Plaid Shacket Dress With Leggings & Scarf
You can style a perfect fall outfit by wearing a shacket as a dress. Moreover, you will need some accessories to amp up your outfit. Wear a cool pair of sheer leggings, a colorful wool scarf, and a cute beanie cap.
For footwear, doc martens seem like the most appropriate option, however, you can also wear ankle boots. Finish it off by carrying a shoulder bag and wearing hoops. And this is how you can create this look just with a shacket.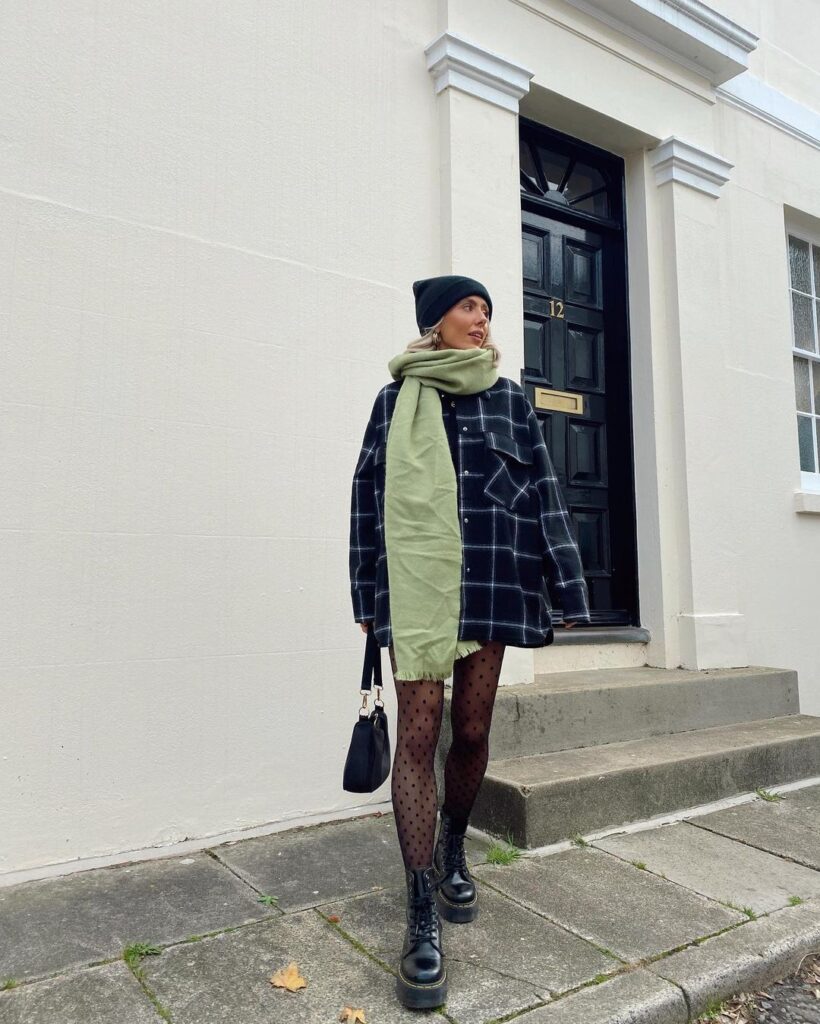 6 – Pink Shacket With White Pants & Colorful Scarf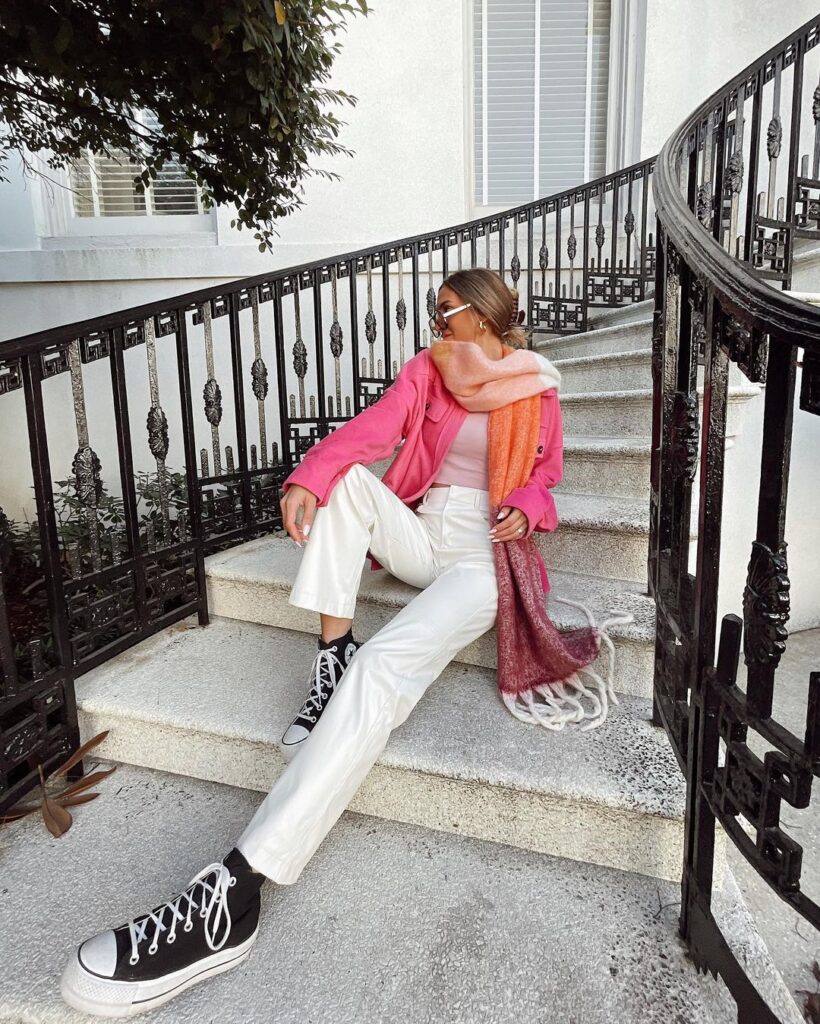 5 – Wool Shacket With Dress Pants & Loafers
A subtle workwear look with shackets can be achieved by pairing it with formal high-waisted dress pants and a top. You can wear all kinds of shackets but wearing plain cotton shackets will give a more formal look while denim and leather shackets would bring out the casual side.
If you are tired of wearing coats in cold weather, then a long wool shacket is a perfect choice for you. It's not only a good choice for trying something new but also keeps you warm. Pair some accessories and comfortable footwear like loafers or pumps, and you are ready with an outfit for the day.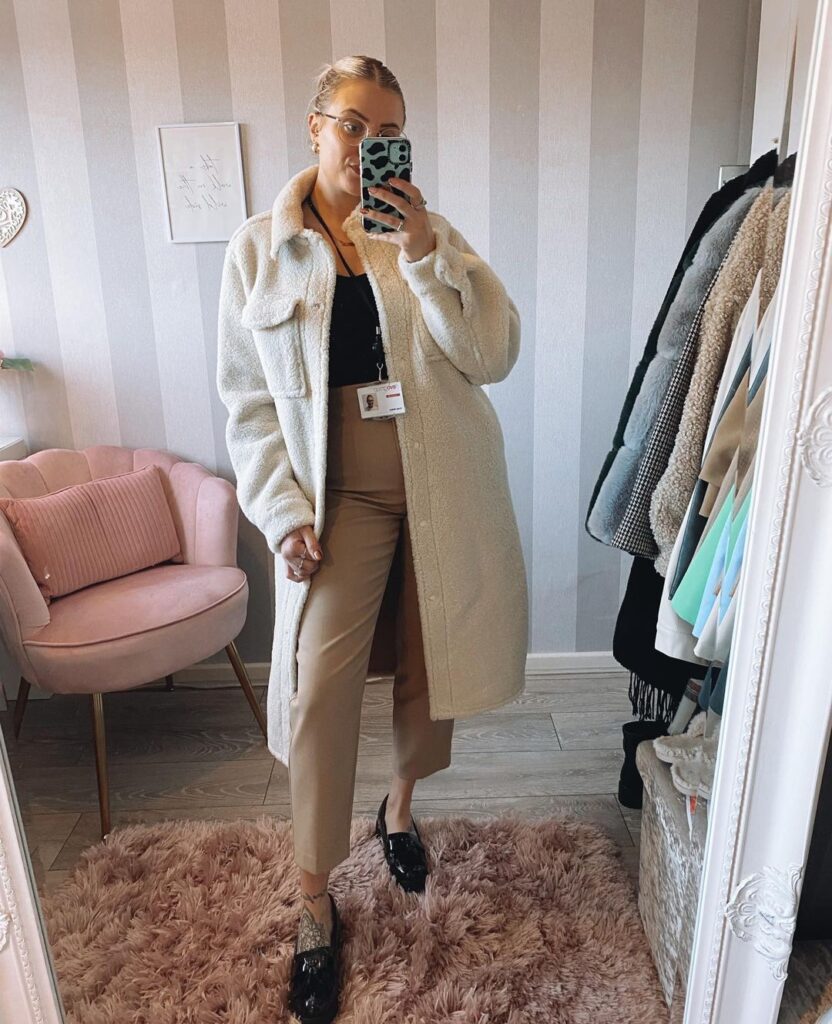 4 – Layer A Plaid Shacket Over Sweater Dress
The combination of dress, boots, and shacket is a classic one and looks good on almost everyone. Especially, in the winter, you can wear a long bodycon sweater or velvet dress in dark colors like maroon or black.
Pair it with classic long boots and finish it up with a stylish shacket. You can accessorize a bit by adding hoops and rings. This outfit can be a holiday outfit and can easily be worn to dinner parties and other such events.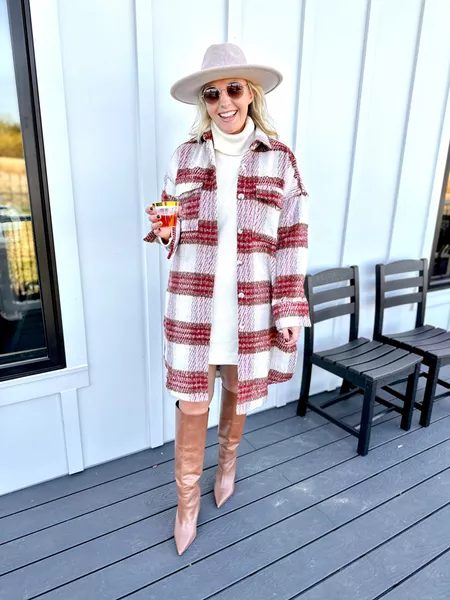 3 – Wool Shacket With Turtleneck & Jeans
As the name suggests, wool shackets are perfect for the winter season and can be styled with your winter outfits. The simplest and most basic way of wearing a wool shacket is to pair it with jeans, sneakers, and a turtleneck top.
You can easily wear this outfit to college, shopping, brunches, and even casual events. Wool jackets can also be paired with winter dresses.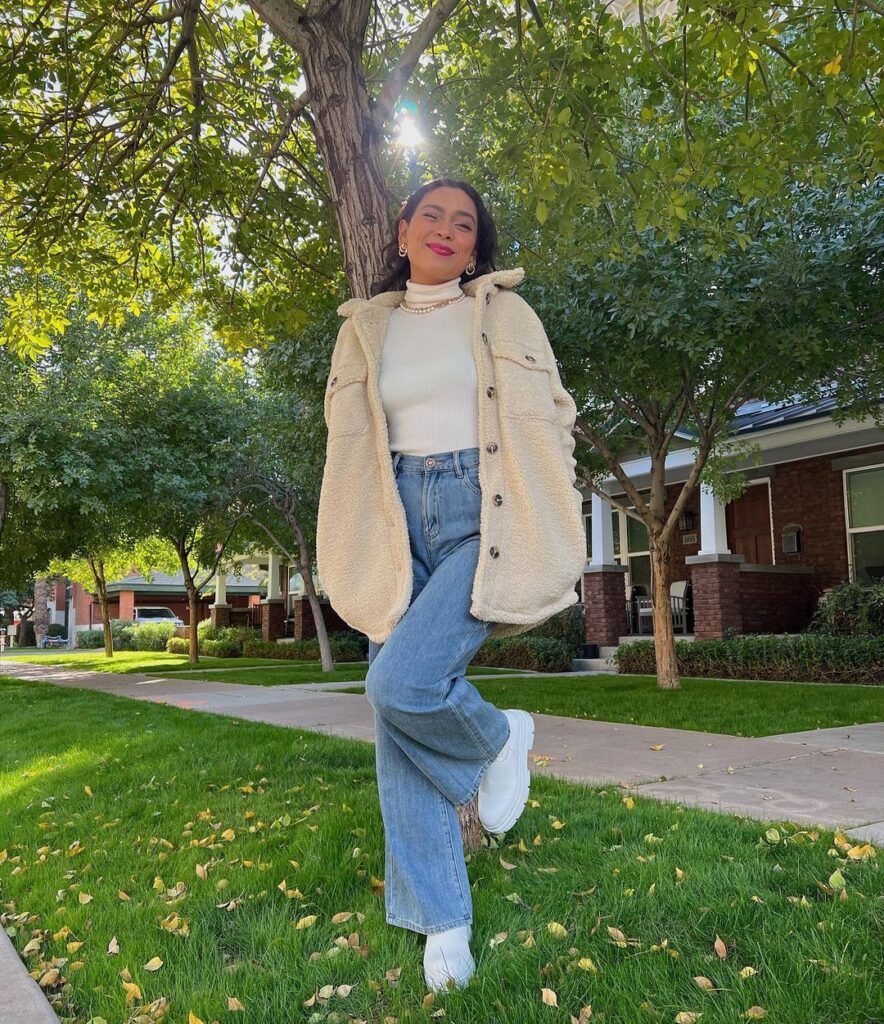 2 – Shacket Paired With Turtleneck & Straight Pants
This neutral outfit with a plaid shacket is another great look for the winter season. You can easily wear this to work, shopping, and anywhere else. To achieve this look, pair a turtleneck top with black straight pants and heeled ankle boots. To get this to look more casual, replace the straight pants and boots with denim jeans and sneakers.
1 – Plaid Shacket Layered With Vest & Boots
Extra cold weather calls for more layering pieces to keep you warm which means just a shacket is not enough. You can achieve a cool winter outfit by pairing skinny jeans with leather boots and a long-sleeved top.
On top of that, you can wear a flannel shacket and layer a vest sweater for extra warmth. This outfit is cool for when you are out in cold windy weather. Other options are to wear a turtle neck with a leather shacket, jeans, and boots.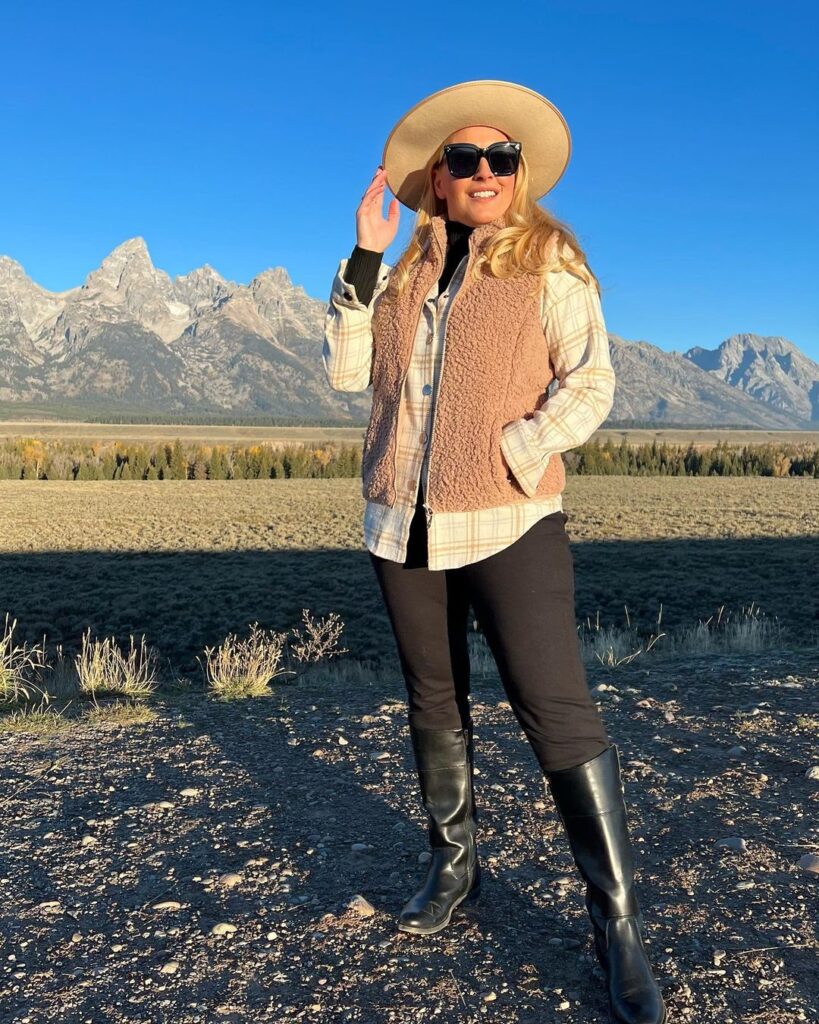 Frequently Asked Questions
Q. Are shackets good for summer or winter?
Ans. You might wonder about the most appropriate season to wear shackets. Well, it depends on the material and how you style it. Flannel, denim, and cotton shackets are suitable to wear when the weather is too hot to wear coats, jackets, and cardigans.
Moreover, shackets made from thicker materials like leather, corduroy, and wool ones, can be used as a layering option for the winter season. Wear them over the turtleneck and pair them with jeans and sneakers and you are good to go.
Q. Are shackets dressy?
Ans. Shackets can be styled on the dressier side by pairing them with your beautiful dresses. You can pair a plaid or flannel shacket with your favorite floral-printed dresses and strappy heels for summer.
Apart from that, you can also pair shackets with formal trousers, blouses, and heels along with some accessories to get a dressier look. Leather shackets over slip dresses and boots are another great combination for the winter season.
Q. What shoes do you wear with a shacket?
Ans. A classic combination is a mini dress paired with thigh-high boots and a flannel shacket. Apart from that, for a cool and casual outfit with jeans, a top, and a shacket, sneakers are a good choice.
If you are pairing your shacket with formal trousers and blouses, low-heeled pumps and sandals can be an option too. In conclusion, the choices for your shoes should be made by considering your overall outfit.