How to wear catsuits: What do you think when you hear the word catsuit? It seems pretty daunting, right? Don't worry we are on the same page. Thinking about wearing a catsuit seems like a great deal but don't worry we have got you covered. You don't need to worry about catsuits anymore because we have brought you 20 catsuits outfits that are different, fun, and sexy, all at the same time. So you longer have to worry about catsuits and feel like they are something you cant wear.
You need to remember that you can wear whatever you like. Yes, you might need a little more confidence to wear a catsuit as it is like a second skin but you can do it. Catsuits are super fun and they are especially fun because not everyone wears one. Catsuits come in all sorts of colors, designs, and prints. You can choose whichever one you like and wear it. Mostly, catsuits are worn with heels because they just look better overall. These suits are more of a formal outfit and you will find yourself wearing one to a party, dinner, or birthday. It is very rare that you find a catsuit you can wear around the house but this article includes those too!
How to Style a Catsuit?
When wearing a catsuit you will need to remember that because it is like a second skin, whatever you wear underneath it will show. You need to make sure that the undergarments you wear are seamless and don't show. Wear colors that match your catsuit and not something completely opposite that shows unless you want it to show. Also, make sure that you wear heels because heels complete a catsuit and they look the best with such full bodysuits. If the catsuit is backless, then of course you should tie your hair up. Just remember to stay confident because that is something you will really need when you wear a catsuit. Straighten up, remember you got this!
DOS AND DONTS OF WEARING CATSUITS:
• DO wear seamless undergarments underneath.
• DO remember to be confident.
• DO wear your favorite outfit always. No matter what.
• DONT degrade yourself.
• DONT forget that all bodies are different.
• DONT forget your worth.
↓ 20 – Purple Mesh Catsuit
This catsuit is in a stunning dark purple color with mesh sleeves and a cut-out mesh waistline. This suit can be worn to multiple occasions such as birthday parties, anniversary dinners, and a girl's night out. You can pair this catsuit with heels or sneakers if you are a sneakers gal. Tie your hair back to show off the mock neck and wear matching lipstick to complete the outfit!
↓ 19 – How To Wear A Red Catsuit
This red catsuit looks marvelous and it would be an amazing outfit for valentines day too! This full bodysuit is super sexy. Pair it with some gold hoop earrings and some rings. Heels always look best with catsuits so don't forget to put on a pair. This catsuit can be worn to parties or nights out with friends!
via
↓ 18 – Green Full Bodysuit
The color green is trending nowadays and it looks stunning in a catsuit. This ribbed green catsuit is perfect for any occasion. This suit looks comfortable enough to be worn as a casual outfit as well. Wear some chunky necklaces as they would compliment the plunging neckline. The outline around the chest area, the legs, and the waist make this suit even sexier!
↓ 17 – Black Lace
Black lace is something that will never cease to amaze. The lace detailing on this black catsuit is super sexy. This would be the perfect outfit for a night out or a party. Wear this catsuit with black heels and big earrings. A red lip would complete this outfit! You'll have to choose the right bra for an outfit like this which is why I recommend going through these Great Bras To Wear With A Backless Dress.
↓ 16 – How To Style A Black Leather Catsuit
A black leather bodysuit is something every woman should own. It is a versatile piece of clothing even though it is considered very formal. You can choose to wear it anywhere because it will never fail to amaze you. A black leather catsuit will always look sexy no matter what so wear it with bold makeup and some high heels to look the best!
via
↓ 15 – Colorful Full Body Suit
This one is for the ones that love to wear colors. This colorful printed full bodysuit is super cute and eyecatching. You can wear this to a costume party or whenever you feel like looking like a rainbow. It's fun and will look good too! If you own any chunky monochrome boots then make sure to pair them with this suit. Bright eye makeup would complete your look!
↓ 14 – Celebrity Style
Kylie paired this sexy white catsuit with a stunning overcoat that had white palm trees printed on it. Her bodysuit had a plunging neckline with a choker at the top. Kylie chose to wear clear heels with this bodysuit and carried a matching beige bag. Kylie always has a cool pair of sunglasses on her because one can never go wrong with them!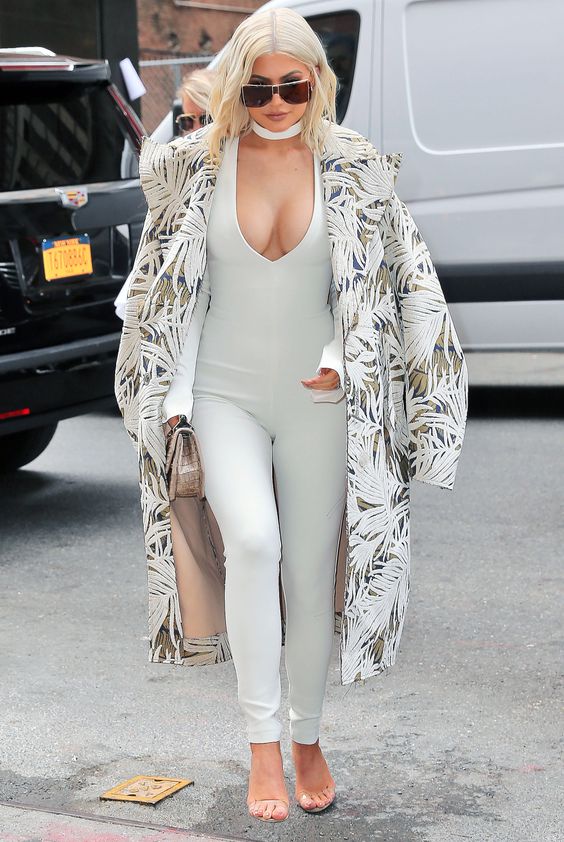 ↓ 13 – Cross Back Catsuit
This cross-back black catsuit is sexy! The gold detailing on the straps is amazing and makes it look even prettier. This catsuit can be worn to parties and you will easily be the best dressed! Don't forget to wear some black strappy heels with this outfit. You can also wear some gold bracelets and rings to make this catsuit look even better.
↓ 12 – Black Velvet
Black and velvet are some of the hottest combinations. This black velvet catsuit looks so comfortable it could even be worn around the house. Pair this stunning bodysuit with sneakers, slides, or heels, it will look good no matter what! Even if you wear less makeup with this suit, it will look great. So you can choose to do your makeup however you want and don't worry about how you look because you will look great no matter what! Do check out these Trendy Ways to Wear Velvet Dresses.
↓ 11 – Disco Rainbow Suit
This is another fun outfit you could wear to a party, a costume party, or just a themed birthday party for a friend. The design on this catsuit is super cute and the fact that it is reflective makes it all the more fun! Pair this suit with some black heels and hoop earrings to complete the look. This outfit is so fun and sexy at the same time which makes it quite incredible because you can look cool and sexy too!
↓ 10 – Black Latex Catsuit
Black Latex is hot. If you decide to wear this outfit, you will be turning heads throughout! Latex is shiny so make sure to wear some bling with it so you can look even cooler. You could wear it with silver heels or even black ones if you like. This outfit can be worn to birthdays, dinners, or any other sort of celebration.
↓ 9 – How To Style A Nude Pink Catsuit
Nude colors are trending and for a good reason! Nude bodysuits are super hot and stylish. They look better than any other color. Gold goes with nude colors so make sure to wear gold jewelry if you decide to wear this outfit (chunky jewelry would look best). Pairing this catsuit with matching nude pink heels and a bag would complete this outfit but gold heels would also look good.
↓ 8 – Blac Chyna's Snake Print Catsuit
Blac Chyna wore this stunning snake print catsuit and it left everybody speechless. Nobody could've worn this suit better than she did. Chyna wore this suit with a bandage belt which was also black. They paired this outfit with some silver bling and black matching heels. Snake print is one of the sexiest animal prints so of course, this outfit has to be one of the best! If you too have a thing for animal prints, here are the Cutest Animal Print Outfits for Women this Season.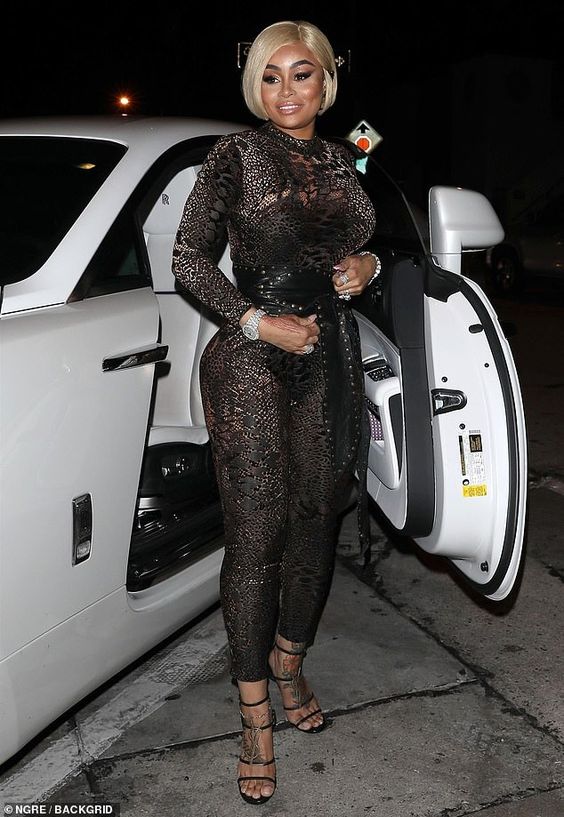 ↓ 7 – Off-Shoulder Catsuit
This off-shoulder black full bodysuit is super sexy and looks just as comfortable. You can wear it with heels or sneakers whichever you like better. Don't forget to wear some jewelry with it, usually, chokers look good with off-shoulder tops. You can wear this outfit for a date night, girls' night out, or even a family dinner. Pair this catsuit with a leather jacket in case the weather decides to switch up on you!
via
↓ 6 – Kim Kardashian's Black Catsuit
Kim wore this super sexy catsuit with a stunning neckline. This catsuit is one of the best ones we've seen so far. The neckline makes this catsuit formal and one that you could wear to parties, events, or night-outs. Kim paired her outfit with thigh-high black leather boots and a black belt to complete her outfit. There is no visible jewelry but if you decide to wear this outfit then at least wear some earrings.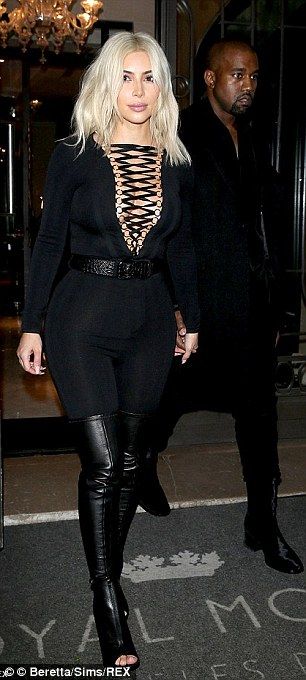 ↓ 5 -Kendall Jenner's Adidas Catsuit
Kendall Jenner was seen wearing this Adidas full bodysuit. Kendall kept it simple and paired the suit with some plain white sneakers. They are also not seen wearing any kind of jewelry or carrying a bag. If you are a minimalist and don't like to overdo your outfits then this one is a must for you. This outfit gives off a more athletic vibe too so if you are into that then go for it.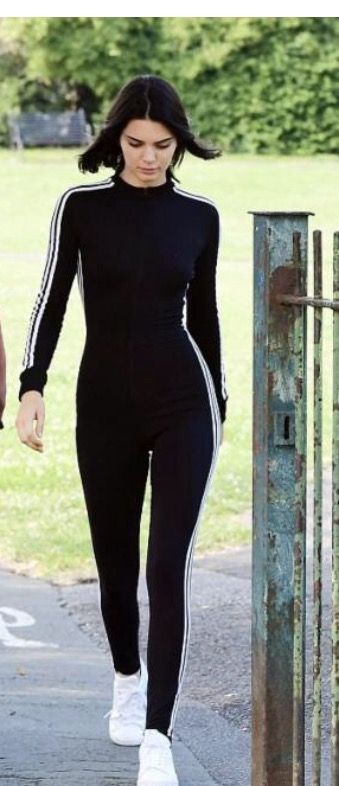 ↓ 4 – Emily Ratajkowski's Catsuit
Emily wore this sexy black suit and showed us all how wrong we are wearing our catsuits! Emily wore a black catsuit and paired it with white boots. Yes, white boots with a black catsuit! They made this contrast look so good! They also paired this outfit with a black and gold belt which makes it look even better. We feel like Emily always knows how to make the coolest outfits. This is a perfect dinner outfit!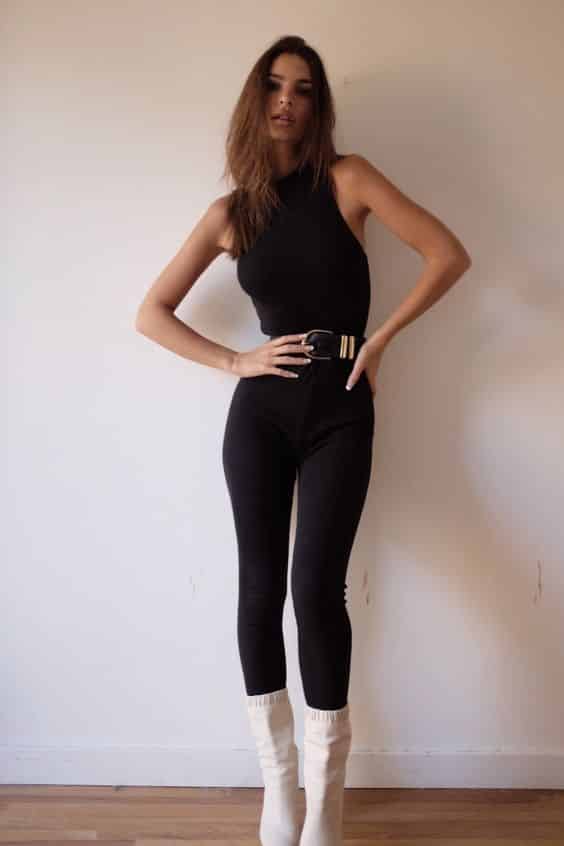 ↓ 3 – Add a Belt
↓ 2 – Gem Catsuit
This catsuit is royalty! This would be the perfect birthday outfit. Wear this gem-covered bodysuit with some black high heels and matching silver earrings. This bodysuit is sexy and stylish both so if you are somebody that likes to be extra with their outfits then this is something you will love. Try to stick to silver or black for accessories and do bold makeup with this outfit.
↓ 1 – Backless Bodysuit
This backless black bodysuit looks elegant and sexy. This bodysuit can be worn to meetings, lunch dates, or a day with your friends or family. This suit should only be paired with heels because sneakers would not look as good. Don't forget to wear your sunglasses and carry a leather jacket in case the weather changes!
Frequently Asked Questions
Q. What is the point of a catsuit?
A. Catsuits are just very different sort of outfit. There is no real "point" of a catsuit they are just like any other piece of clothing. They are made to be worn and to look stunning!
Q. What do you wear with a catsuit?
A. There are tons of different things you can wear with a catsuit. Usually, a catsuit is enough on its own and all you need with it are shoes or accessories. However, if you want you can wear a jacket, a coat or a pullover of any sort with it.
Q. Are catsuits trending?
A. Catsuits will always be in trend. They are a piece of clothing that cant really go out of trend and will always come back even if people forget about them for a while. Don't worry about what's trending and what's not, wear what you like no matter what. You should wear a catsuit if you like one and don't worry about trends. You might just set a new trend!
I am a women's holistic health coach and student that enjoys history, experimenting with makeup and skincare, playing sports, working out, and doing all things adventure-related.