How To Wear South Indian Saree: Do you like wearing south Indian sarees? Are you looking for a way to slay them with a different look? If yes, you have come to the right place. South Indian sarees have been a popular trend among those who proudly follow traditional attire. With the modern stylish clothes, the traditional south Indian saree is still trendy among the Indian folks and even folks outside India.
To keep the traditional clothes alive and in trend, the designers try to merge traditional and modern styles, giving them a completely different look. There are a plethora of stylish designs for these South Indian sarees. If you want to wear a South Indian saree but are confused about how to wear a south Indian saree, or want to know how to wear a saree in a different style, this article might help and guide you in choosing the right design and style.
Tips to wear Indian Saree in South Indian Style
Wearing a saree is not easy for most people. It requires skills as well as creativity while styling it. You need to be creative with your style. The styling of the south Indian saree, however, depends mostly on the occasion you are wearing it for. No doubt before going to any occasion, your mind might be stormed with questions like how to wear a south Indian saree, how to wear a south Indian half saree, how to wear a heavy saree, and so on. So, this article has been written to help you out with these questions and more.
Dos And Donts For South Indian Sarees
Here are some tips that you might find helpful if you choose to wear a south Indian saree:
Wearing a south Indian saree is not impossible, but it needs skill and time. So, If you are wearing it for a function or party, make sure you practice it beforehand, especially if you are a beginner.
Make sure the fabric and the style allign with each other. This means some styles are specifically for certain fabrics.
If your saree includes too many pleats, which south indian sarees usually have, make sure the fabric is thin and light.
There are a number of south Indian Saree designs out there. choose one that suits your physique and overall look.
While mixing a modern and traditional South Indian saree look, make sure they compliment each other.
20 – South Indian Saree Party Look
If you want to adopt a traditional look for the party you are going to, a south Indian saree is a good option for you. But if you don't know how to wear a south Indian saree such as styling it and the design to go for, you can get inspiration from this beautiful look.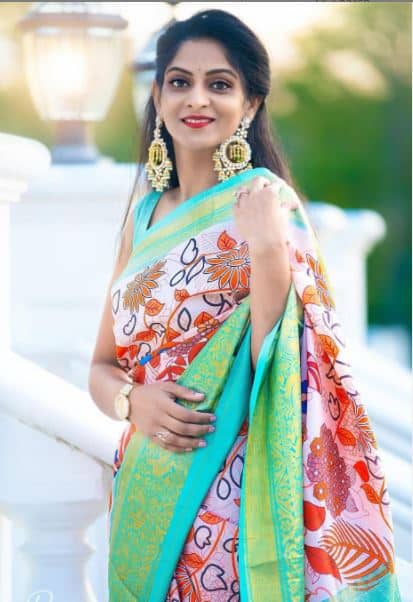 19 – Traditional South Indian Silk Saree Look
Various functions and parties go well with traditional attire. Most people choose to wear a saree. This choice is indeed a wise choice. You can look elegant, and stylish at the same time wearing a south Indian saree. You can wear this elegant plain saree with a contrasting blouse. Any dark colour blouse would do well with this saree.
18 – How To Wear Saree For A Wedding Ceremony?
Wedding ceremonies are the perfect occasions for wearing a south Indian saree. There are a lot of ways to style this saree. This is a decent south Indian saree look for a wedding. You might want to try this out beforehand so you're sure that the colour of the saree and the blouse suit you. Choose whatever you like to wear. You are going to shine in this saree.
17 – Modern South Indian Saree Style
This style answers the question of how to wear a saree in different styles. If you want to wear a lehenga but are a saree lover at the same time, you can mix the look and create a new and unique style like the one shown here.
via
16 – Chic Belted South Indian Saree
This look is one of the most stylish and latest among south Indian saree looks. This mint-green satin silk south Indian saree is styled in a unique way. The traditional look is combined with an updated blouse and belt. This would definitely look awesome when you wear it. I would suggest you go for it. Sarees with belts are super trendy nowadays so don't miss out on this trend!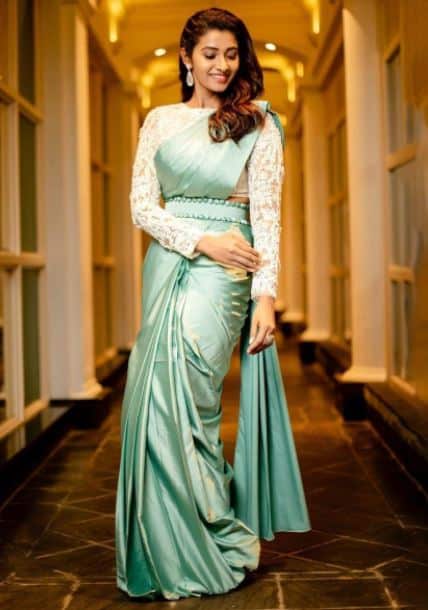 15 – Dhoti Style Saree
Dhoti Style South Indian Saree is quite popular these days among celebrities. Many celebrities opt for this look as it is cosy, traditional and beautiful. You can choose any fabric as long as it is light and can be easily draped around. The traditional south Indian silk saree and georgette saree are suitable for this style. Moreover, plain sarees are preferable for dhoti style saree.
14 – South Indian Half Saree Design
The speciality of this half saree is its comfortable length and the V-shaped drape of the saree. You will see the drapes wrapped in a way to make a V either at the front or back of the saree. This look is glamorous and hence is suitable for party wear and other functions.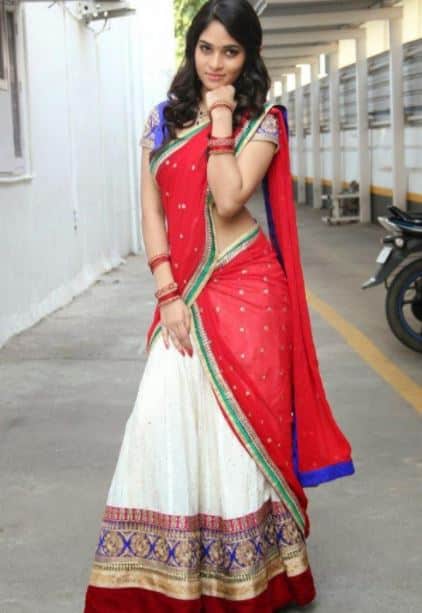 13 – Purple South Indian Saree
Purple is such a lively colour and is worn by many women from around the world. If you are planning to slay a purple saree look, You should definitely go for it. This design is elegant, simple, and glam at the same time. The plus point of this saree is that it can be worn on almost any occasion. This look can be your south Indian saree look for weddings as well. All you need is to add some accessories to match the occasion. Traditional Indian jewellery would do the magic of making you look stunning.
12 – How To Wear A South Indian Saree?
The overall look of your south Indian saree depends on the way you style it. To be specific, it depends on your draping style. What I mean is that the way you drape your saree around you defines your look. To get an attractive look, you can make neat pleats like the one shown to highlight your figure. Make sure the fabric you wear is not heavy otherwise you will get a shabby look. For more insights, you can check Indian Ethnic Wear Sarees.
via
11 – White Saree For A Decent Look
White never goes out of fashion. White south Indian Saree can be styled in so many different ways. It can be paired with a dark color blouse like black, dark brown, maroon, dark grey, etc. For instance, a white saree can be paired with a maroon blouse for getting a decent and classic look.
10 – How To Wear A South Indian Saree For Women Over 40?
There isn't much much difference between the saree style of 40 plus women and young women. They wear almost the same designs and colors. The former, however, prefer more mature colors and designs. They prefer plain sarees, but that doesn't mean they can not wear printed sarees. Here is an example of how to wear south Indian sarees elegantly. If you are going somewhere, this look is easy to adopt. Simply wear a purple saree with a matching or a lighter toned blouse with sleeves. Wear a simple necklace and you are all set.
9 – South Indian Saree For Girls
Be different and creative with your traditional attire. Usually, young girls are hesitant towards wearing sarees. You can wear it easily and start the trending look for young girls wearing a south Indian saree. This stunning saree with a waist belt is all you need to glow and steal the light.
8 – Brown Toned Sarees
Brown is a soothing color and an excellent choice to wear in your clothing. You can wear all brown, or a combination of brown with any other color that compliments it. For instance, a brown blouse with any other saree drape, or brown saree with any other color blouse, or you can opt for an all brown look. All brown look is cool and cozy. You can wear a self-printed blouse or a plain blouse with a plain or printed brown saree.
7 – Professional South Indian Saree Design
Undoubtedly, there are certain places and occasions where you just can't wear any type of saree. Places and occasions like offices, educational institutes, formal meetings don't allow you to go with just any fancy attire. Most of these have dress codes or even if there are none, a certain code is still followed. For this purpose, a well-planned professional look is necessary.
Make sure you don't choose a fancy saree design. Go for a plain saree and blouse. Wear it elegantly and you are done. You can take inspiration from this beautiful south Indian saree design. A grey blouse with a light color plain saree is the best option. However, the blouse can be with sleeves if that suits you.
6 – How To Wear A Plain White South Indian Saree?
Wearing white sarees never gets old. Many people like wearing a white saree as it is the color of purity. The choice of wearing a blouse with a white saree drape depends on the occasion or the place you are wearing it to. If it's a place where you would need to stand out or is somewhere between fancy and comfy, then you have to wear a blouse that will complement the white color well, probably a silk dark color blouse. A shiny blouse would do the job.
Take this look as an example. It is beautifully styled by pairing a plain white saree with a green blouse. This look is giving a pleasant vibe. You can style it however you like or see fit.
5 – South Indian Saree For Everyday Life
When it comes to the daily routine, wearing a saree that is light and comfy is ideal. You might not be willing to go into complicated styling on a daily basis. Hence, a south Indian saree that does not interfere with your daily activities would be a wise option. You might consider wearing a half saree for that purpose as well.
Simple Plain Sarees are good options for daily wear. If you want to look best in your south Indian saree, then go ahead for this beautiful yet simple look.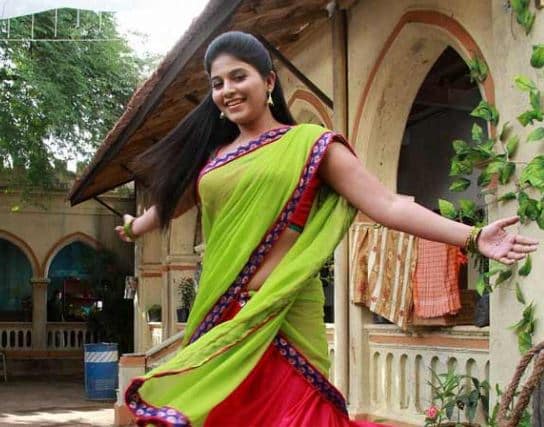 4 – Red South Indian Saree
If you want to know how to wear saree in different style as well as get a sober look, this is your cue. This can be your desired look. It is stunning as well as has a mature look. Wear some light jewelry and there you go.
3 – Coimbatore South Indian Saree Design
This south Indian saree design is attractive for all ages of women. The plus point of this design is that it is trendy but not over the top. You can wear it quite comfortably for any function or party and still stand out in the crowd.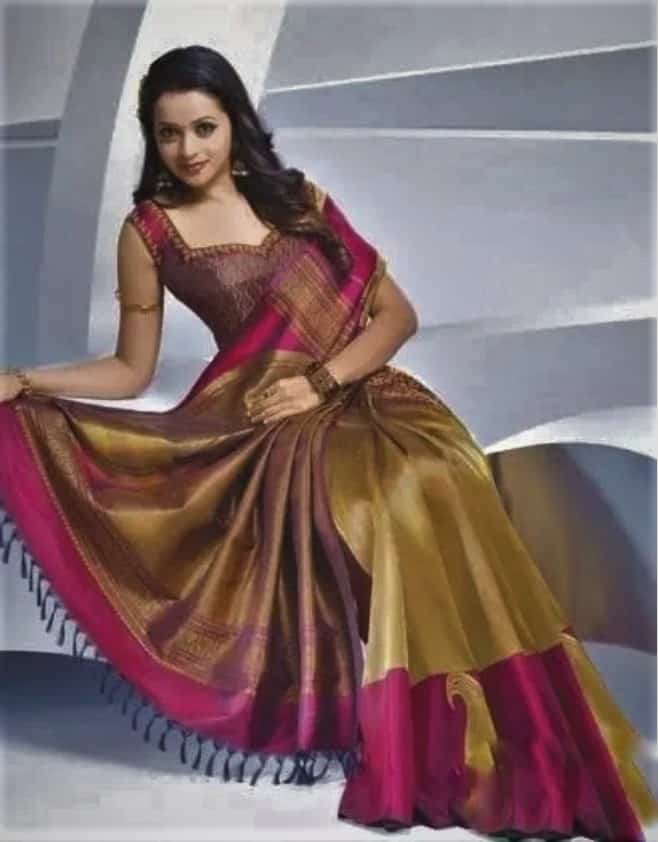 2 – Latest South Indian Saree Look
Are you a fan of the lime green color? If yes, go all green for your next south Indian saree look. This look is among my favorite saree looks. Adding matching jewelry to your look will complete your look. You can go with confidence anywhere in this look.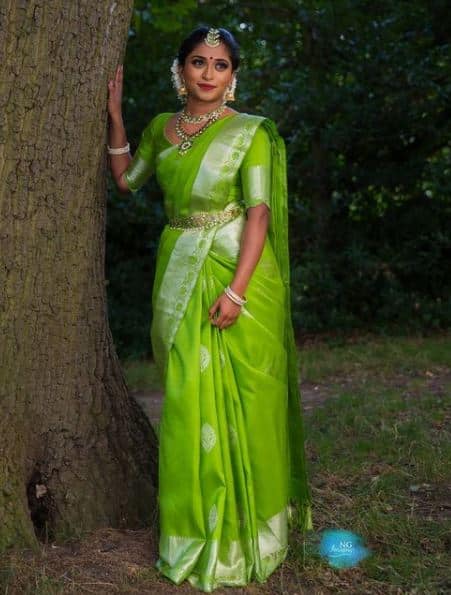 1 – Pink South Indian Saree Fashion
This look is ideal for pink lovers and those who love patterns on their outfits. You will catch the eyes of everyone who looks at you, whether it is a party, ceremony or any other function. If that's what you are looking for, you definitely should try this look. Don't forget to wear what makes you look even more beautiful: your smile.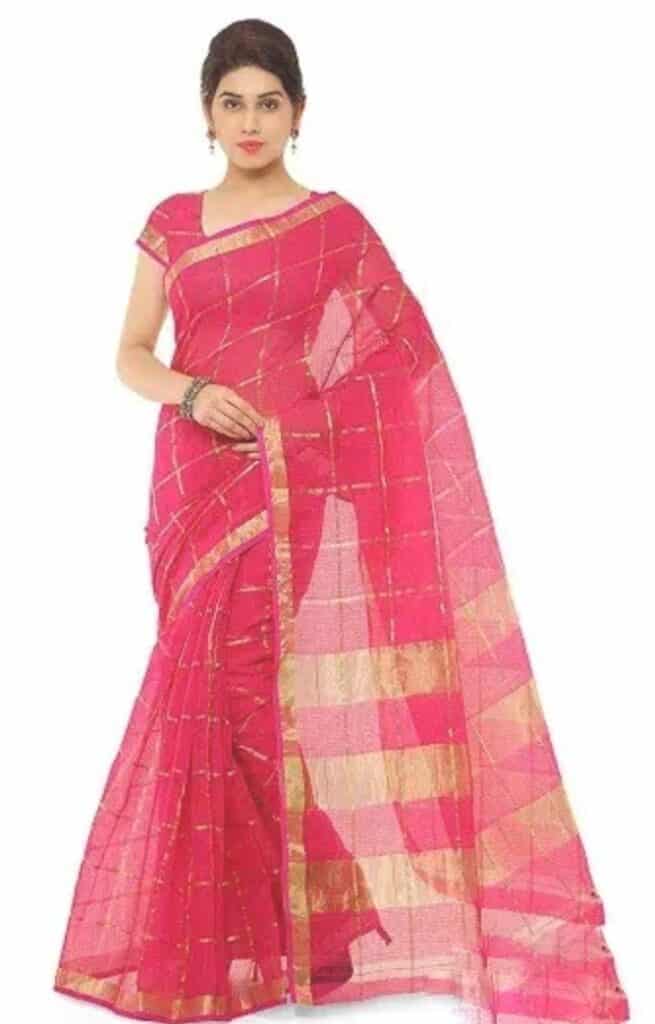 Frequently Asked Questions
Q. How can I look attractive in a saree?
Ans. Your looks while wearing a saree depend on the following factors: the occasion, the design, and fabric of the saree drape, your way of styling, and your body shape. You have to align all these factors with each other. What I mean is that you need to be careful about the occasion you are going to wear a saree for, choose your saree design and fabric accordingly. Besides, if you are a bit bulky or curvy, you have to be careful about styling your saree. In that case, make sure you go for colors that divert the focus from curvy areas. Here are some ideas on how to wear sarees for plus size women.
Q. How to wear a saree with pleats?
Ans. If you dont have any idea about how to wear a south Indian saree, you might find it easier to make pleats with your drape. It is similar to wearing a south Indian saree as it has a lot of pleats all around. Be careful while making pleats. Make neat pleats and pin them properly wherever they need to be pinned. You can check out different south Indian style images and videos for a better understanding.
Q. Which type of saree is best?
Ans. There is no absolute answer to this question. All sarees are the best. It just depends on the taste of the individual. If you know how to wear a saree in a unique way, your look would definitely be the best. If you are going to follow the trends, the south Indian saree is in these days. You may find it quite attractive and stylish. These sarees come in a lot of varieties (designs and fabrics). Opt for the one that you like the best. That is your best saree. If you really dont know where to start, check out how to wear a plain saree as it will be easier to carry and style.