You truly know how to party if you are throwing a disco party or perhaps are going to one. Disco is one of the best genres of dance that emerged in the 1970s and possibly the only one where you can go all out with your fit. I am talking about looking fabulously fashionable! 
There is something about these particular themed parties that is mesmerizing. The dim lights, flashing light balls, 70s-inspired flared or metallic pants, funky glasses, and the dance floor are all the vibes for a fabulous night ahead.
Therefore, today we will view some fantastic dresses you can wear and stand out. Here's everything that we'll cover today:
What to Wear to a Disco Party?
The first rule to remember is that you got to have fun! And secondly, you have to go all out in your clothes.
If you enjoy looking extra and trying out new styles, this is the perfect occasion for you to experiment.
Various designs of flared pants, from velvet to sequin, striped, metallic, silk, or printed work effortlessly for these parties.
You can even go for jumpsuits of different fabrics and pair them up with big hoops and platform heels or shoes. 
The outfits for such events are so versatile that you can almost wear anything if it is shiny, colorful, and metallic.
You can wear headbands, oversized colored retro sunglasses, and experiment with wigs too, for accessories. Furthermore, you can even walk in looking like a flashing ball with a full metallic pantsuit.
Styling Tips
Keep these tips in mind :
Bling out with jewels, shimmery pants, dresses, or tops.
Wearing animal print is always a good idea, especially for pants. Make the pants your statement item in your ensemble. You should check Shein and ASOS for some good options!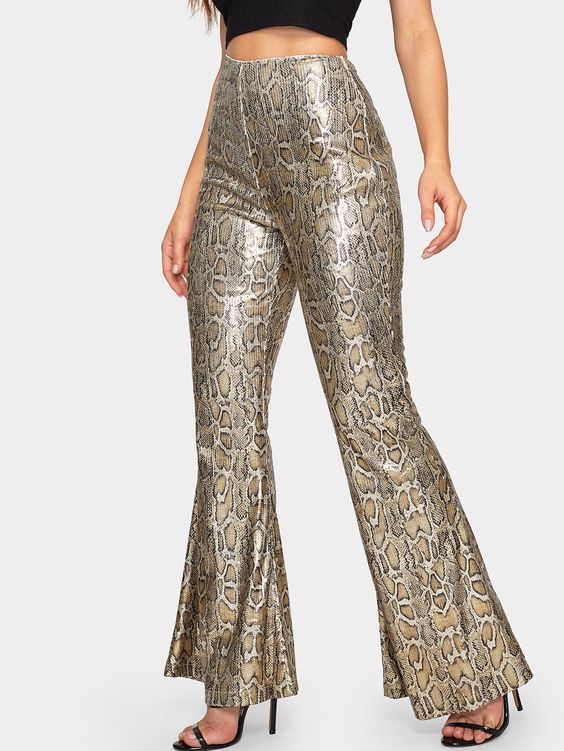 Avoid skinny jeans and opt for baggy, flared, bell-bottom jeans or pants.
Accessorize with fur, cowboy hats, and bling boots!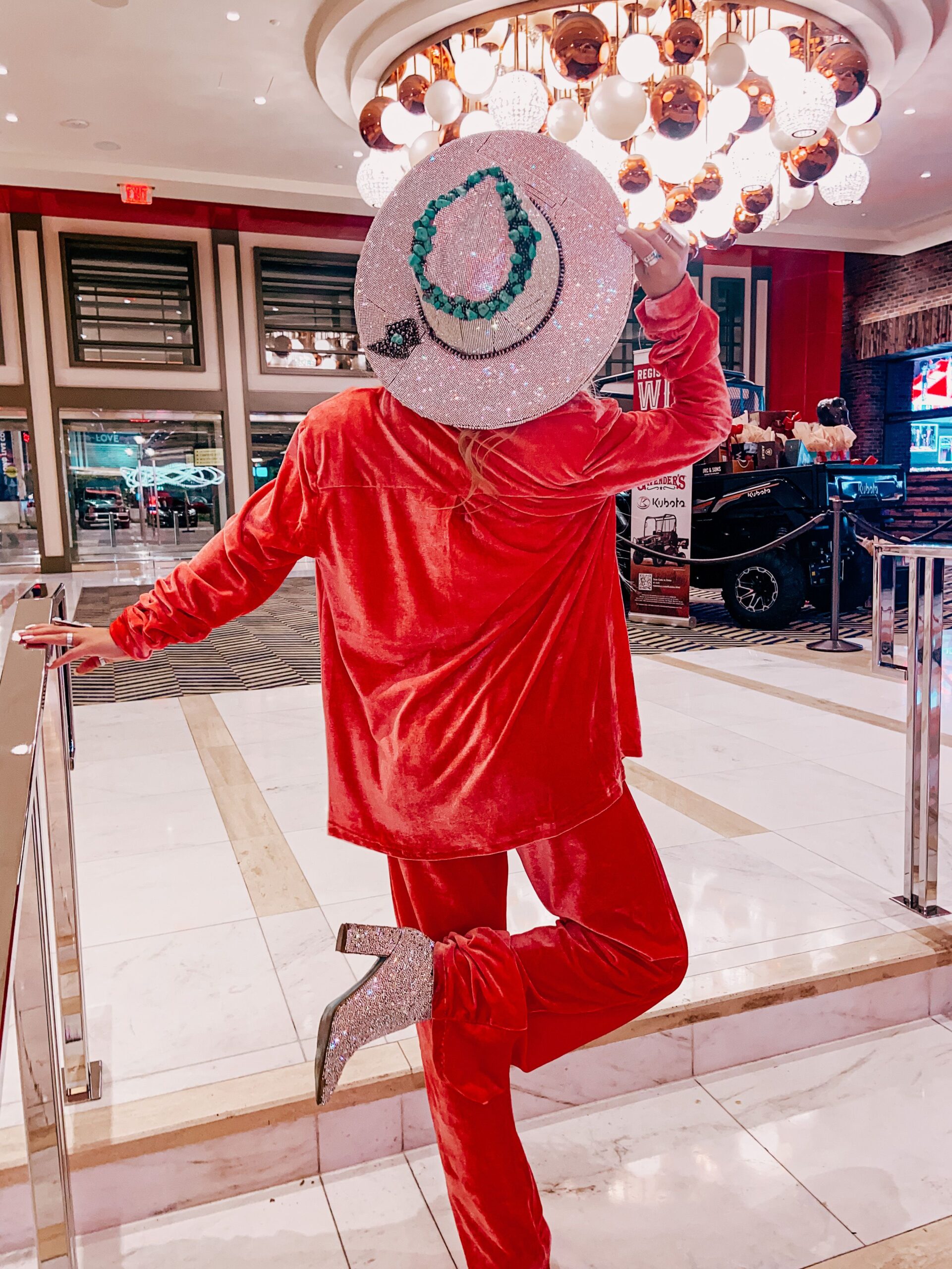 Show some skin! It's disco, baby! Experiment with different cuts and lengths to find the one most suitable for you.
Avoid neutral colors. Instead, opt for bright and bold shades, including hot pink, orange, red, purple, etc. Some elements of your outfit need to shine bright like a diamond so that it reflects off on the dance floor.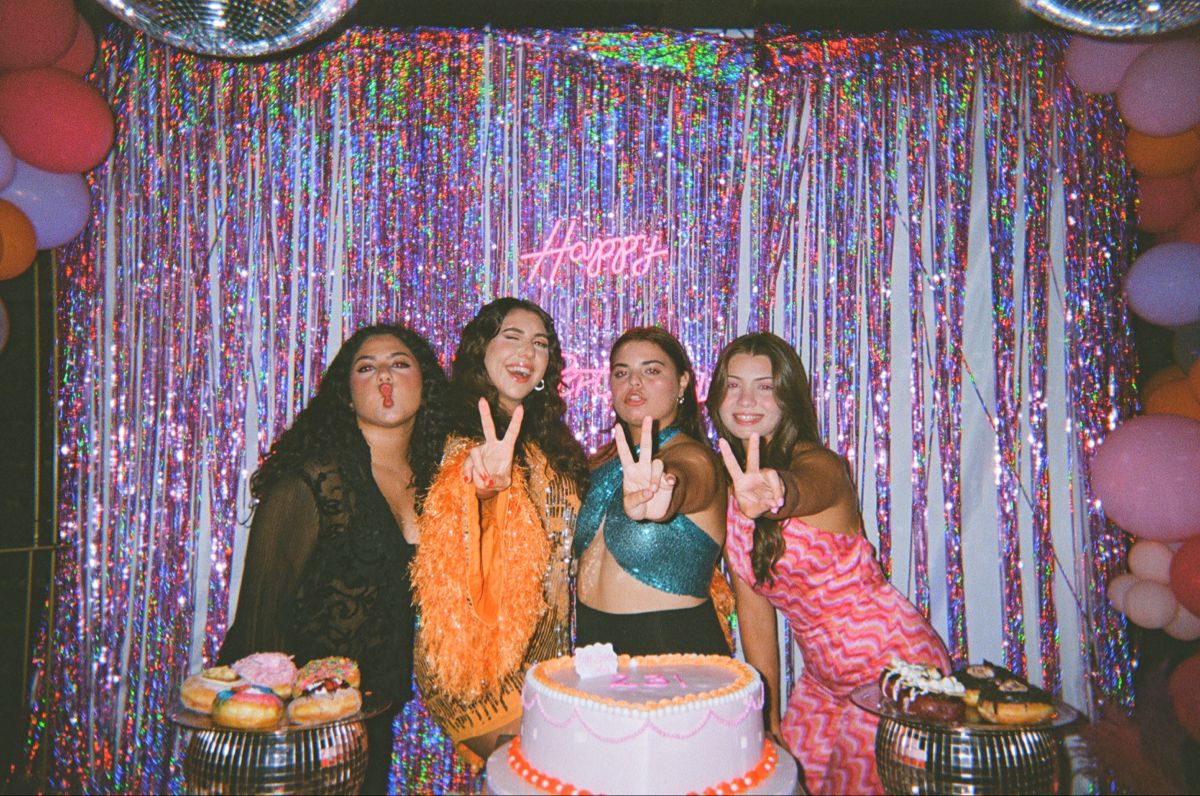 Pants & Jumpsuits
37 – Themed After-Party Outfit for the Bride & Groom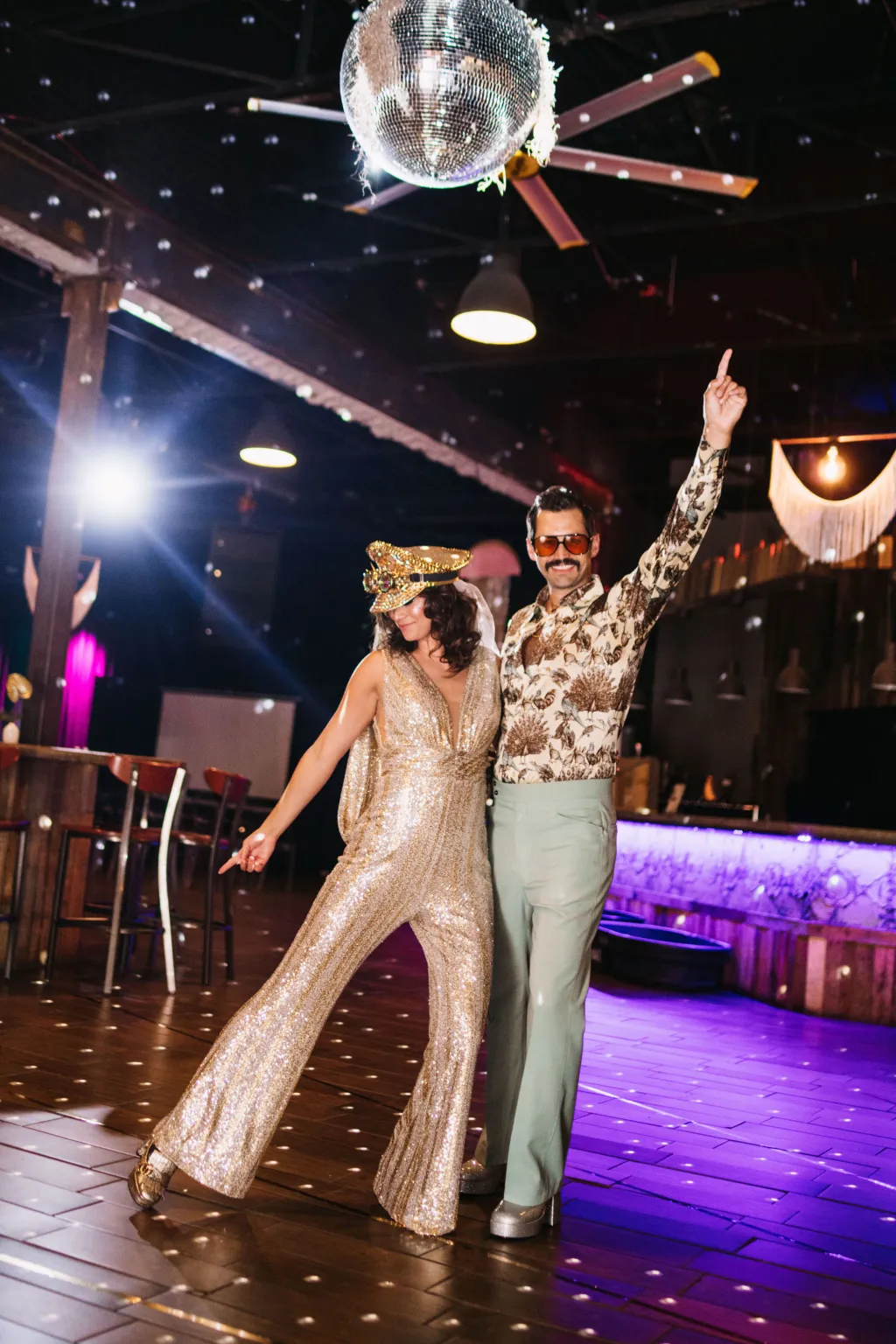 36 – The Flashier the Shades, the Better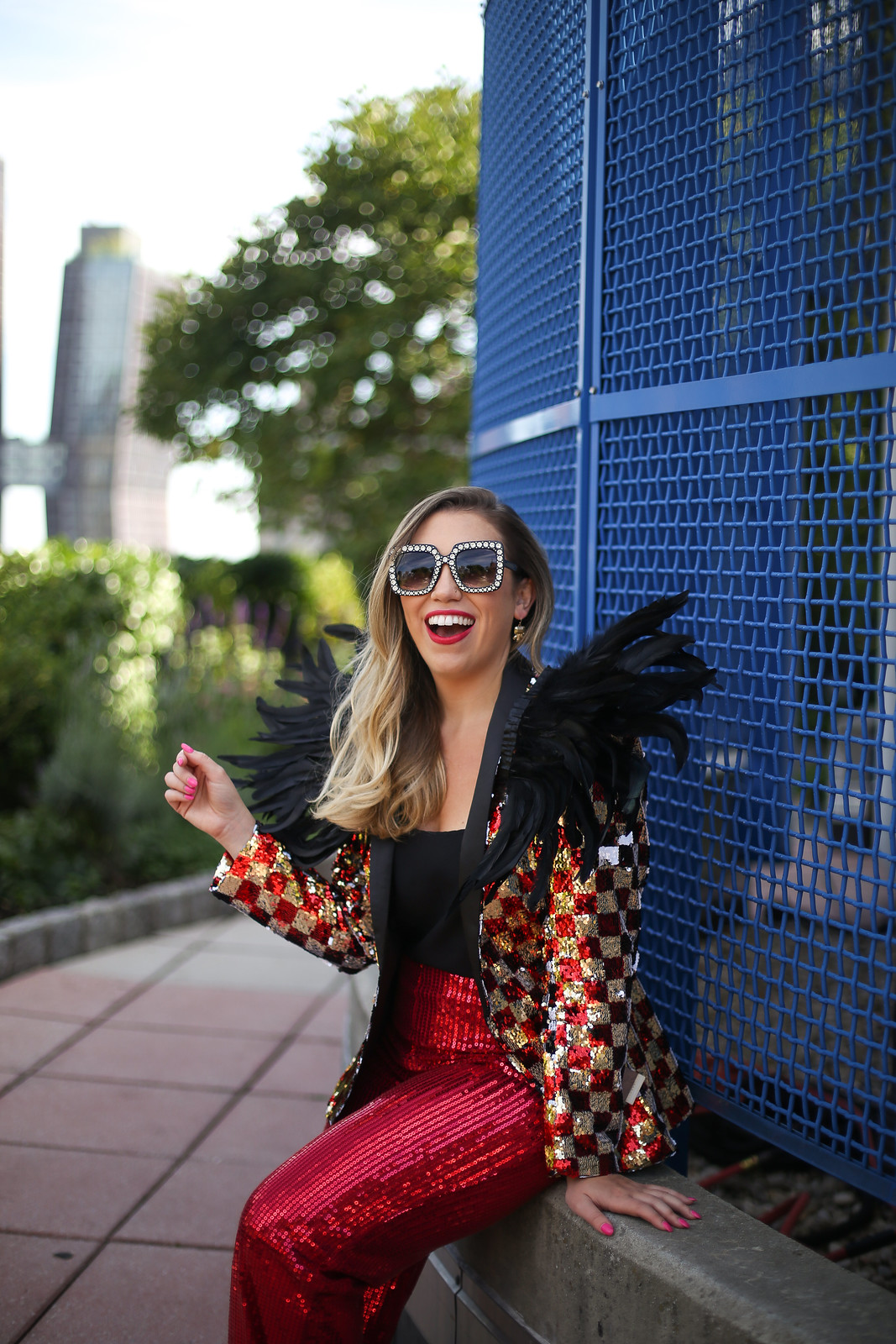 35 – Go for Crisp Lines & Bold Colors Stand Out in the Flashing Lights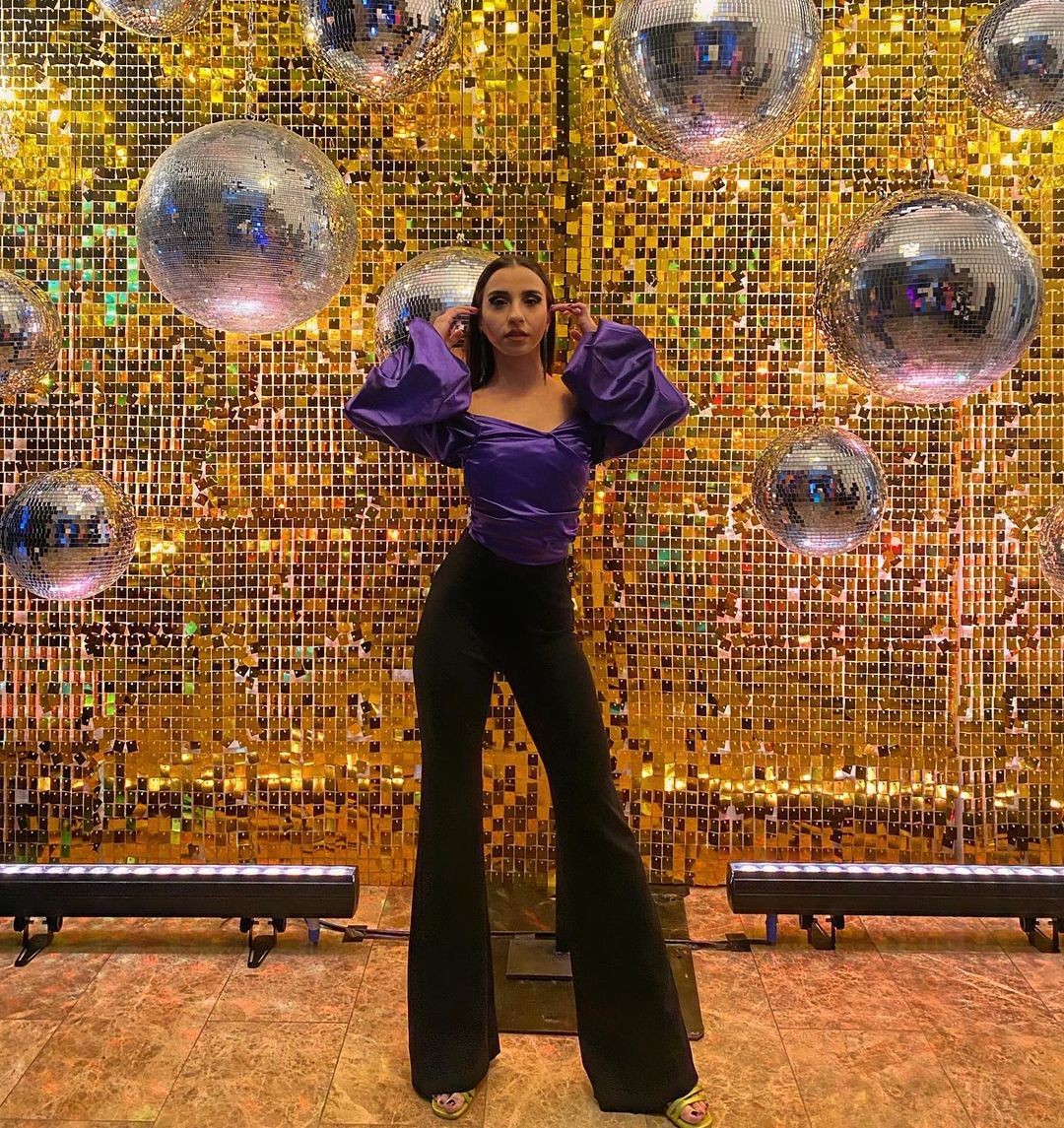 Shop a similar top below:
34 – Embrace Your Inner Retro Rockstar by Adding a Statement Belt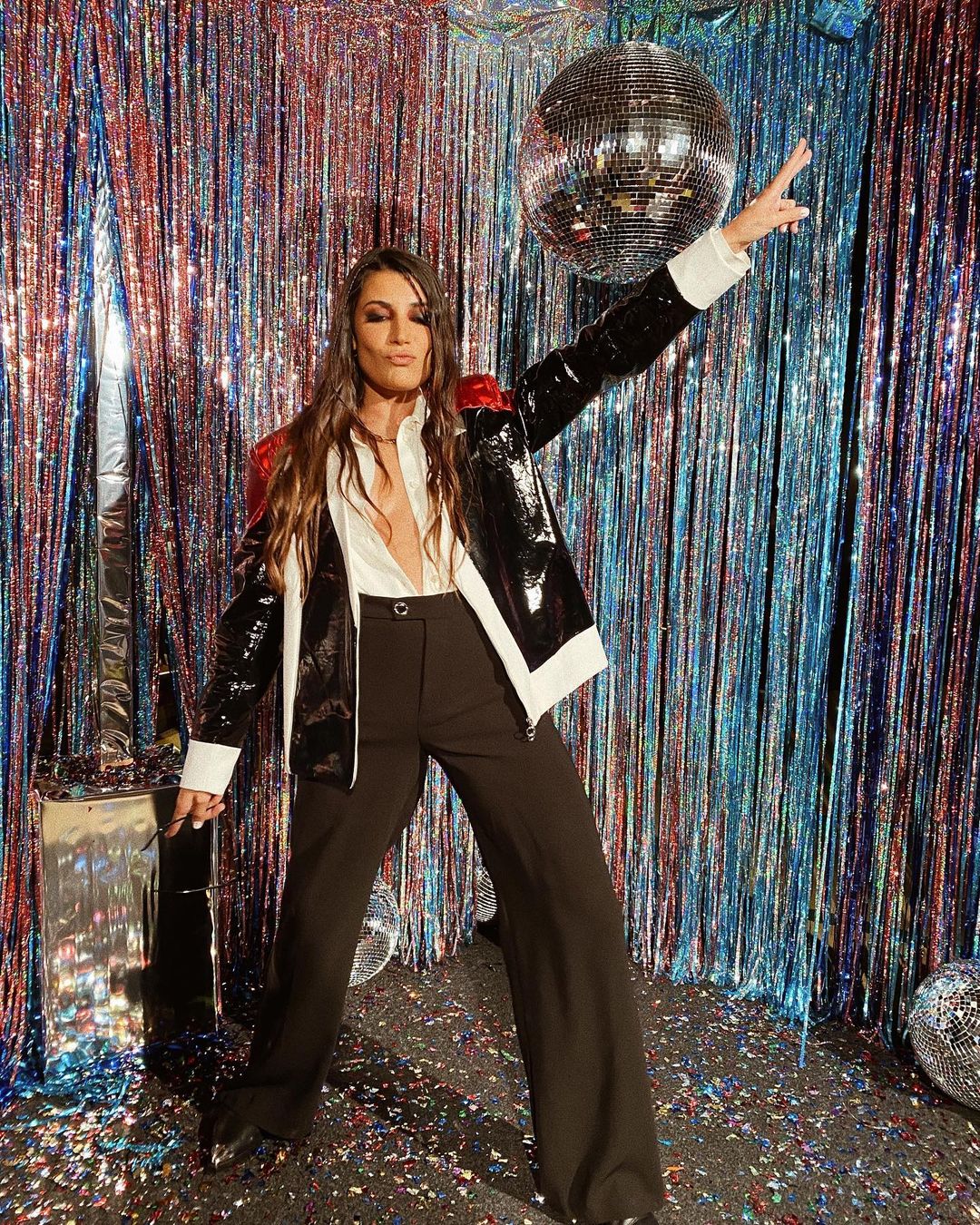 33 – Go for Trendy Couple Outfits
Are you going with a plus one to the party? You can sparkle through the night in a two-piece metallic set with a halter top serving 70's vibes.
And for the guys, walk like a stud in flared pants and a printed floral shirt. If you want to play the part, open a few top buttons of the shirt, and accessorize with jewelry, headbands, and sunglasses.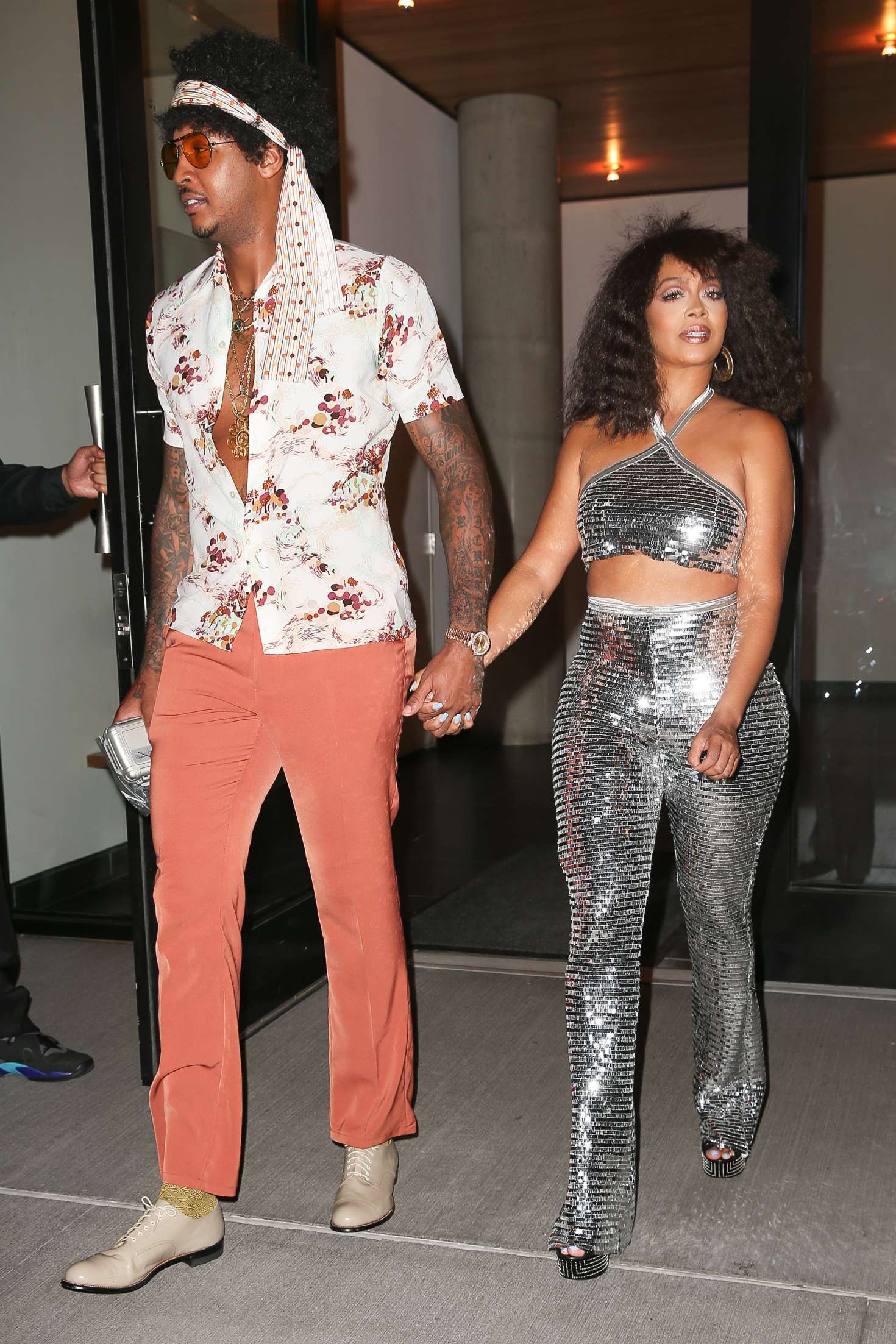 Shop similar pants:
Velius Women's Sexy Metallic Sparkly Wide Leg Pants Trousers
32 – You Can't Go Wrong With an All-Black Attire
I might be a little biased about black, but the color always looks stunning, no matter the style. Wear a blinged-out velvet off-shoulder bodysuit with leather pants.
Add a chunky silver belt and a beautiful pair of large earrings.
And black booties complete the all-black-on-black ensemble. This look is sexy, and the puffed sleeve adds the most modern touch to this outfit.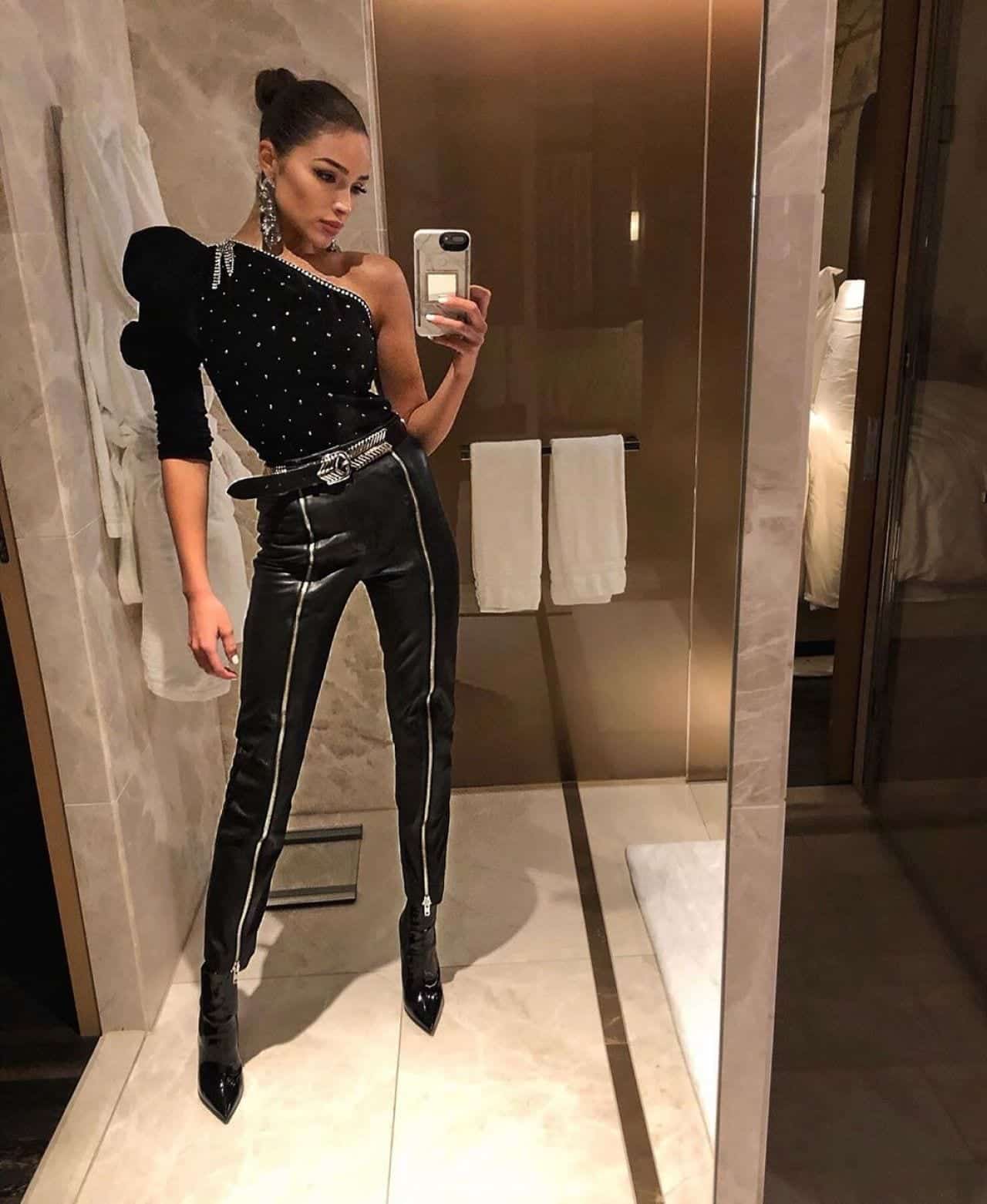 31 – Add a Sparkly Jacket to Make it Fancy
Matching sets are immensely popular this year, so why not take them to the club? An excellent way to amp up is to opt for a colorful, sparkly jacket on top.
Check out this collection of the Best Matching Sets to Wear This Year for more ideas and inspiration.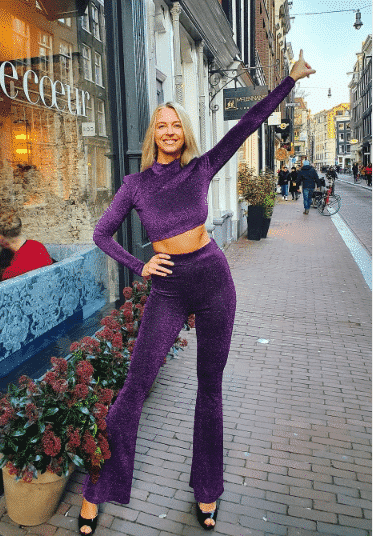 30 – Add Purple Eyeshadow to Match the Purple Blouse
It does not always have to be a dress or a jumpsuit that you have to wear. A sexy top like the one below is paired with denim jeans to appear as gorgeous as ever.
This outfit is one of my favorites. You can play with colors and match your eyeshadow with the color of the top.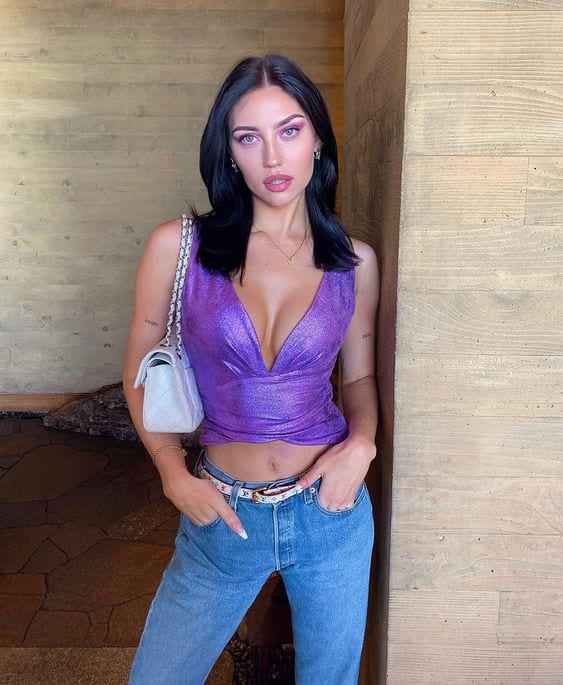 29 – Opt for Bedazzling Clothing Articles When Choosing Light Colors
You can be glam, and sexy while staying warm.
Even if you opt for something sheer or short under, such as a bralette, in this case, a thick fur coat like the one in the image will keep you warm throughout the night.
Wear a matching headpiece and dangling earrings for this look.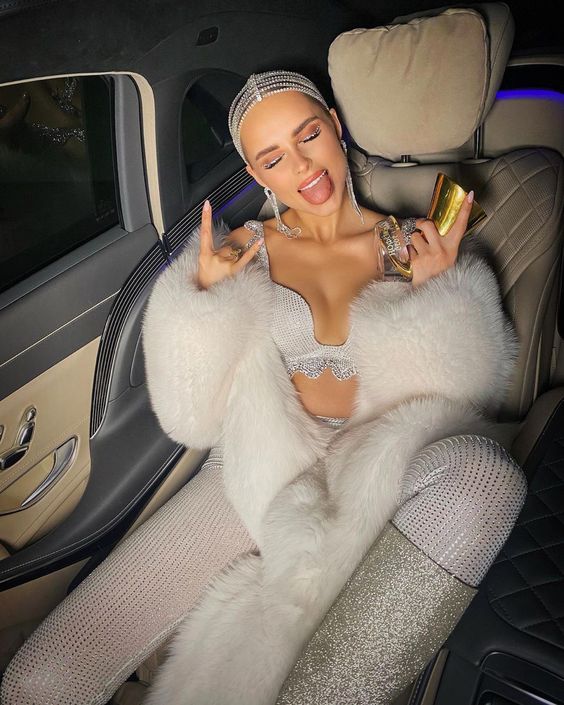 28 – A Little Sparkle Never Hurt Anybody!
And sparkle is exactly what this ensemble needs! This outfit can be perfect for women over 50 with a touch more glam and sparkle.
After all, you must party the night away because a little party never killed anybody! Play with patterns and mix and match them. If it is a winter party, add a coat to stay warm.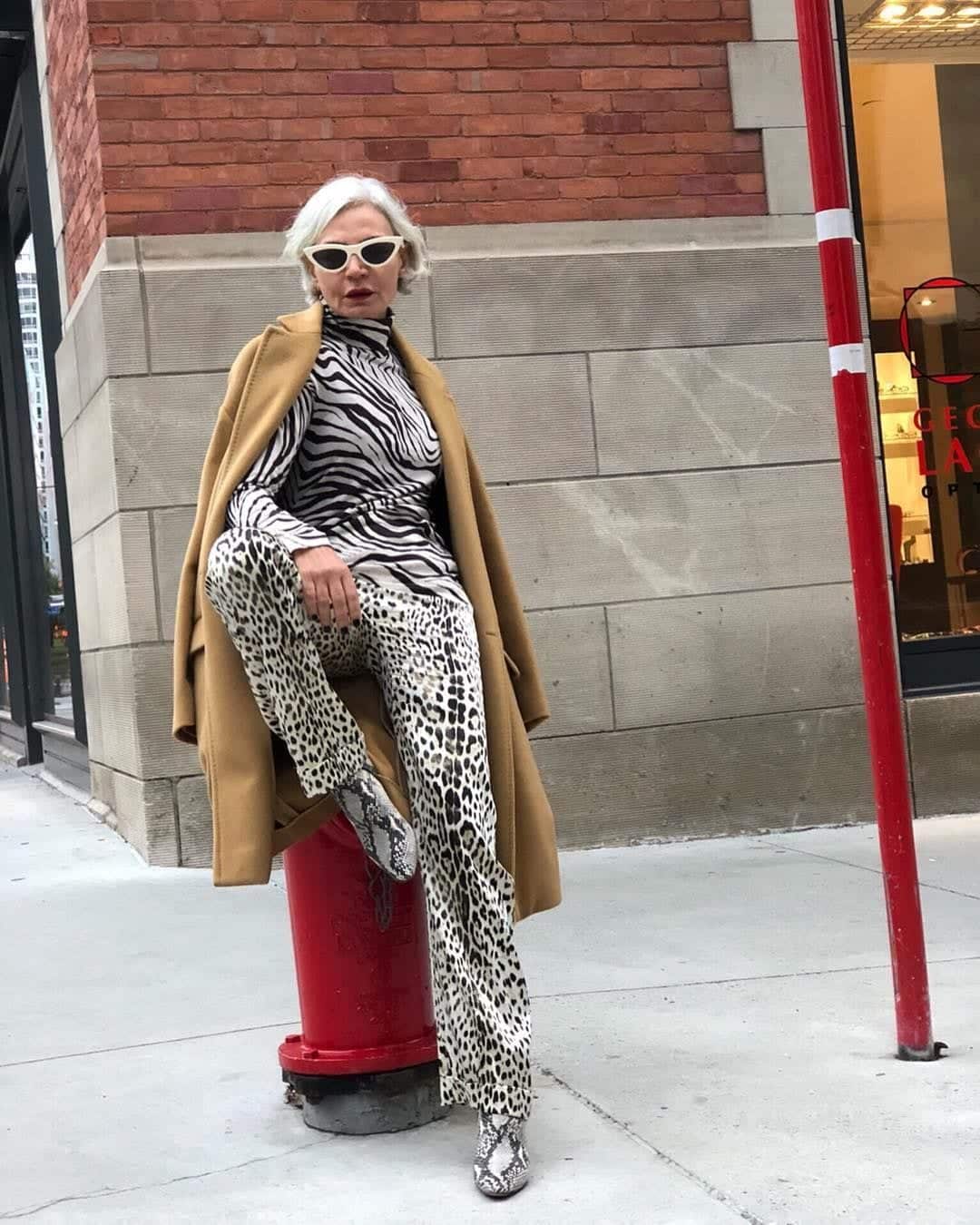 27 – Go for a Wavy Hairstyle with a Classic Mid-Part
I adore the color of this jumpsuit. The confetti material is spectacular. You can wear this in whatever color you want, and it will look great.
26 – Pair a Bell-Bottom Jumpsuit With a Statement Belt
The detailing on this Elie Saab jumpsuit is beautiful. The statement belt makes the entire outfit disco-chic, and the pants are flared than usual, which makes it look great.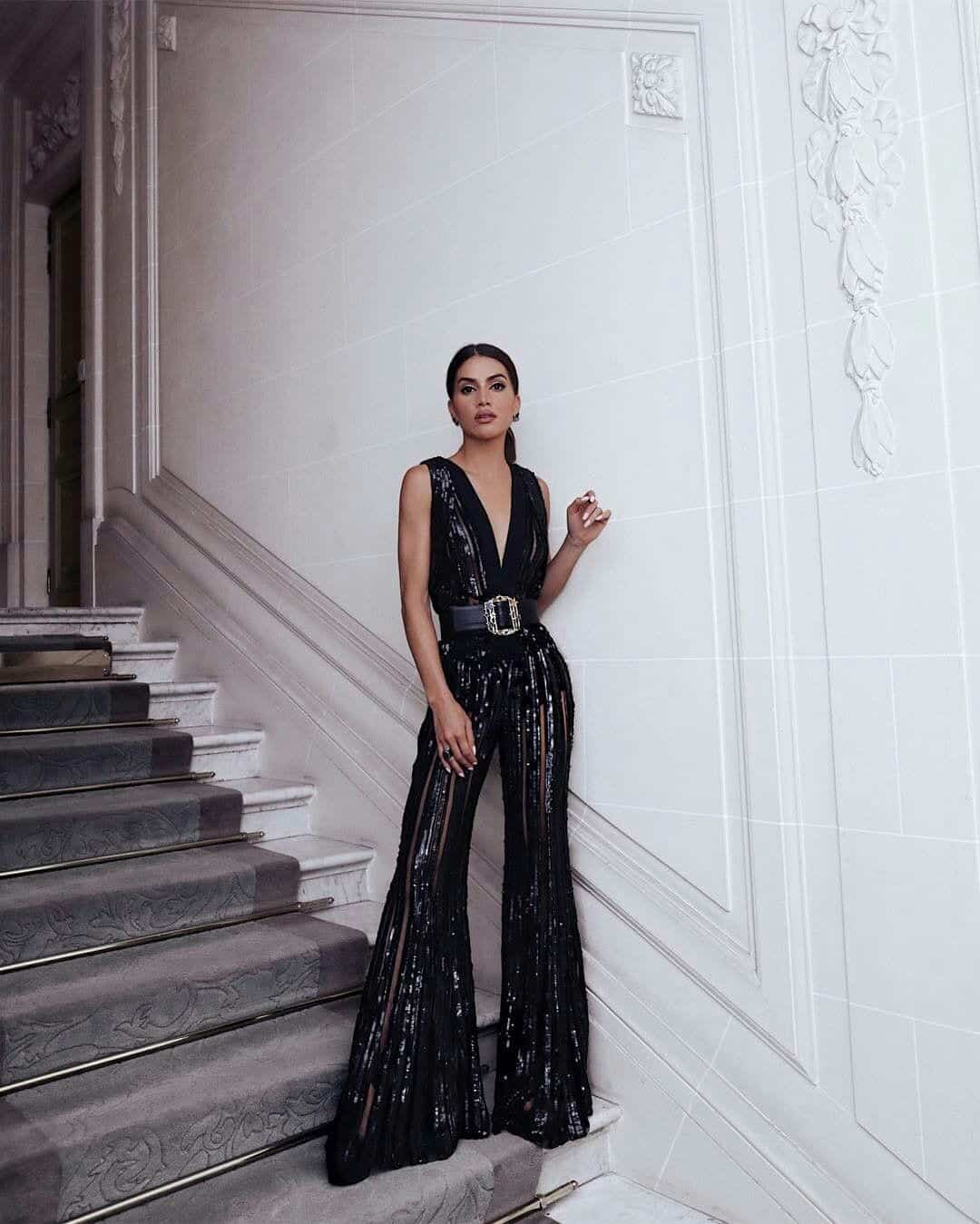 25 – Pair Sparkly Silver Boots with Sparkly Hat
Here is a purple velvet jumpsuit with ties at the front and pink faux fur on top. Add a pair of heels, and you are good to go.
You must add shiny silver shoes and a hat to make this outfit stand out.
24 – When in Doubt, Opt for Black Shimmery Clothing Pieces
Here is a very classy attire that you can wear. A studded blazer paired with trousers and high heels in black will never fail you.
Simply throw on a red lip to make you truly stand out.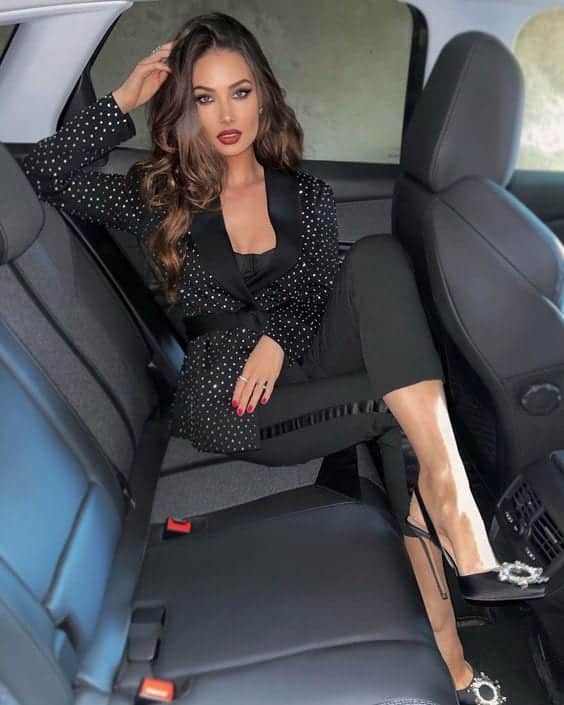 23 – Add a Flashy Belt to Complement the Starry Pattern
The entire attire is covered in silver stars that are accentuated by a flashy belt, hat, and boots. You can be the star of the show in this one!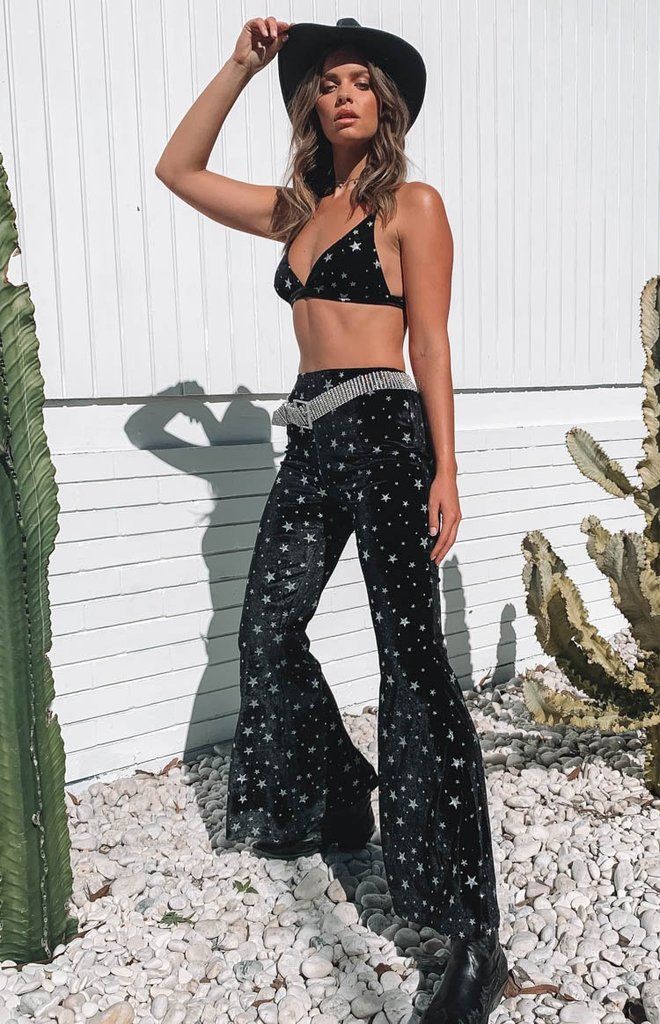 22 – Accessorize Aptly to Get the Most Out of Your Clothes
Here is a beautiful ensemble with multicolored polka dots and off-the-shoulder sleeves on the blouse. The high-waisted fit, floor-length, and flare of the pants will make you appear taller than you are.
Pair it up with a pair of gorgeous earrings and boots.
Moreover, adding a sparkly cowboy hat and a fur boa is the ideal way to make this fit more disco-appropriate. And it would not hurt to swap for sparkly silver boots too!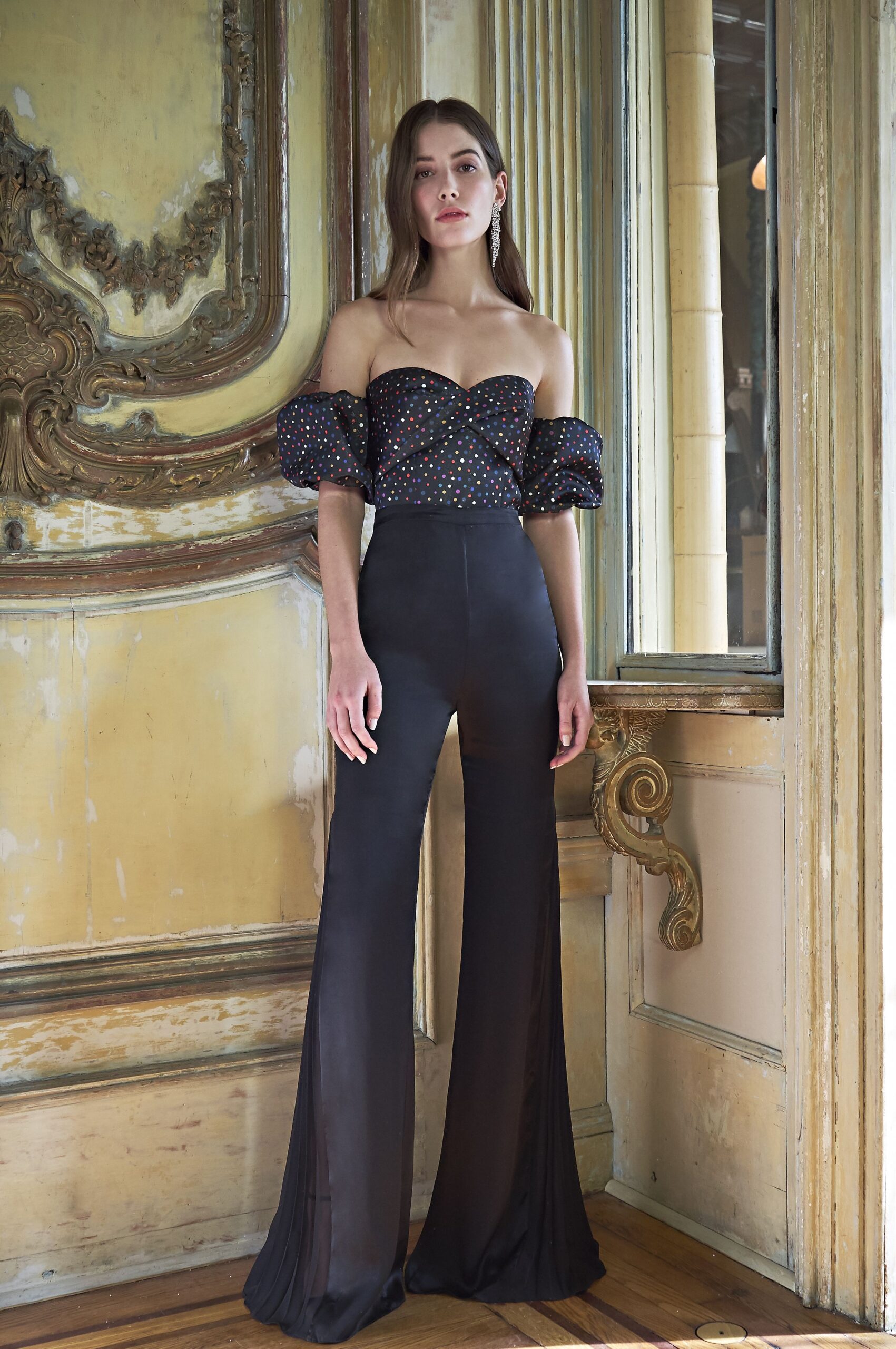 21 – Metal Chain Link Top for Classy Vibes
Metal chain tops have been a major trend for the past two years and for all the right reasons. You will look like a trendy babe in this top.
And the best part is it is so versatile and goes with almost anything. You can pair it with slit-straight pants, skinny jeans, skirts, or leather pants.
Skirts & Shorts
20 – Pink Sparkle Ombre Set Calls for a White Faux-Fur Coat & Blinging Glasses
I am absolutely in love with this look. The ombre pink glittery matching set is stunning and will look even more phenomenal paired with an oversized white faux-fur coat.
It will shine through the night as you dance away. Pair it with PVC heels and glasses, and add a lot of jewels to bling out.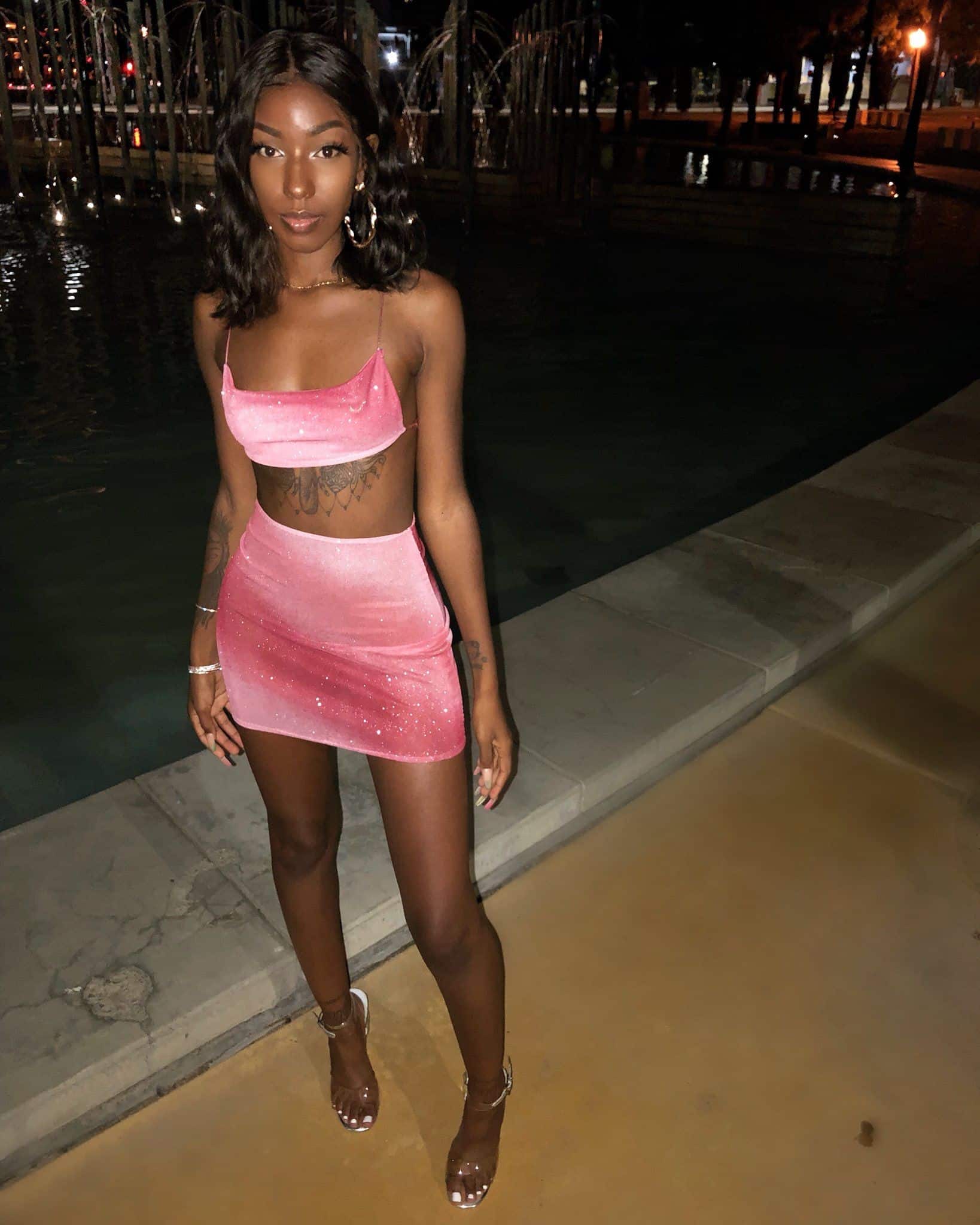 19 – Thigh High Boots & Mini Skirts Are the Perfect Pairing
If you plan on wearing a short skirt or shorts, you have to pair them with thigh-high boots. The way they elevate your attire in such an effortless manner is immaculate.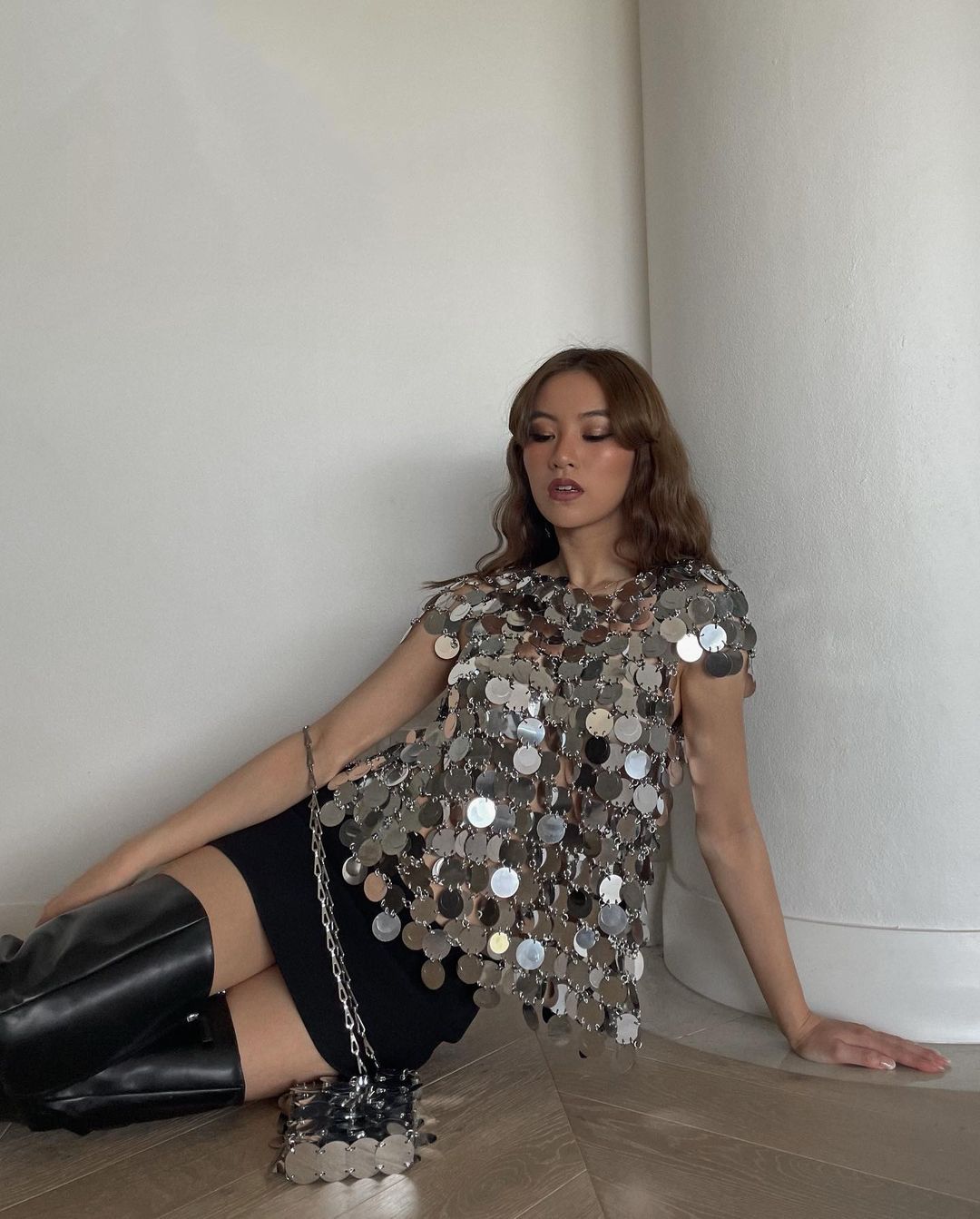 18 – How to Wear Skirts for the Occasion?
Skirts are a phenomenal option because all you need is a metallic skirt of your choice, and if you pair that up with a cute black top, you are good to go.
This is a great last-minute option; you will look great and play the part. This metallic skirt will surely shine in the lights.
Don't forget to pair it with all the right accessories to elevate this fit!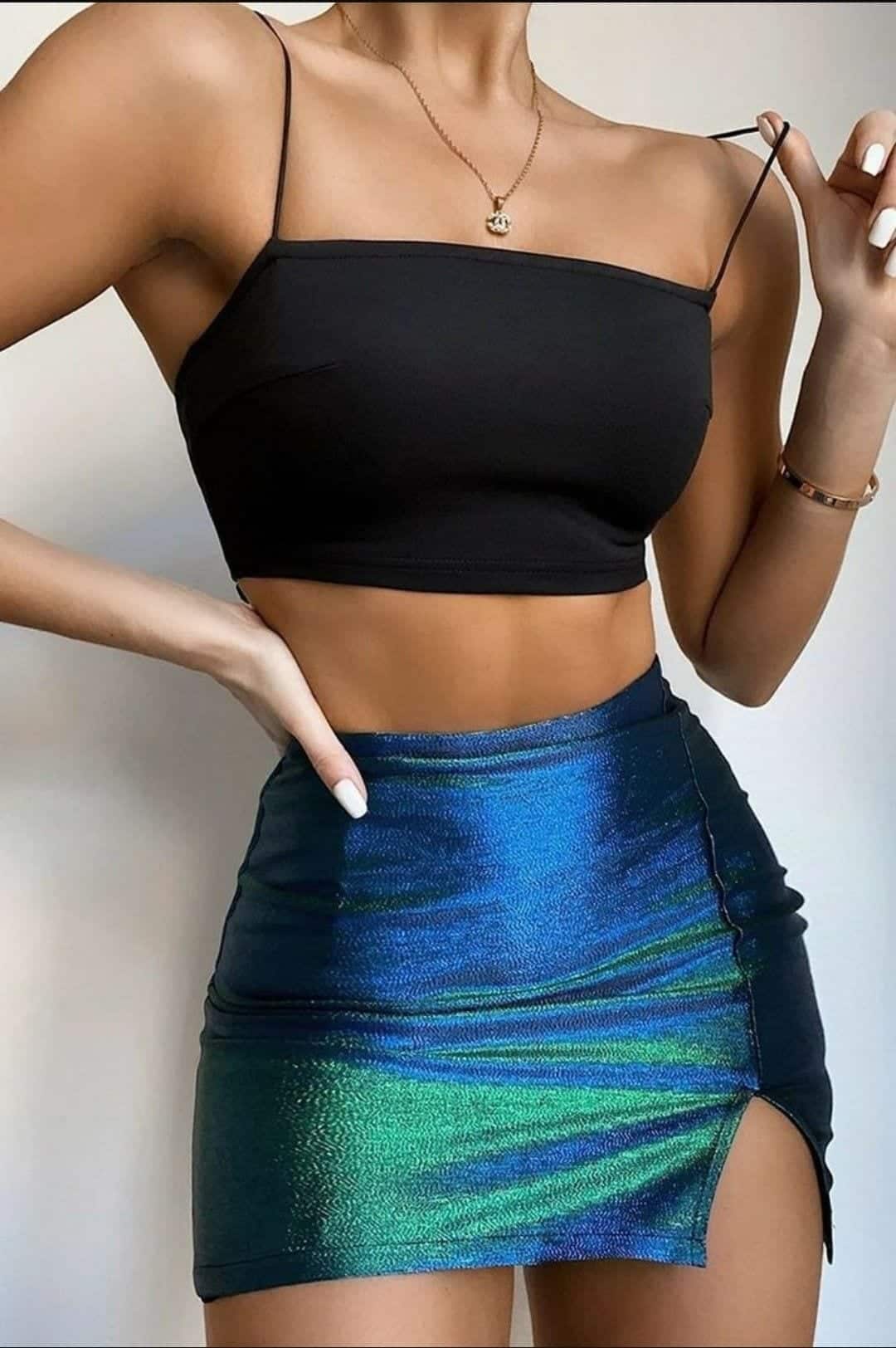 17 – Add an Oversized Faux Fur Jacket Over the Two-Piece Set
You can look like a million bucks in a sparkly two-piece. It is so effortlessly sexy, and you do not need to add a lot to this attire because the set is more than enough.
Add heels, and you are good to go.
A great way to elevate this ensemble is by throwing on a faux fur oversized jacket in deep, bold colors. Green, purple, and black will complement the outfit phenomenally!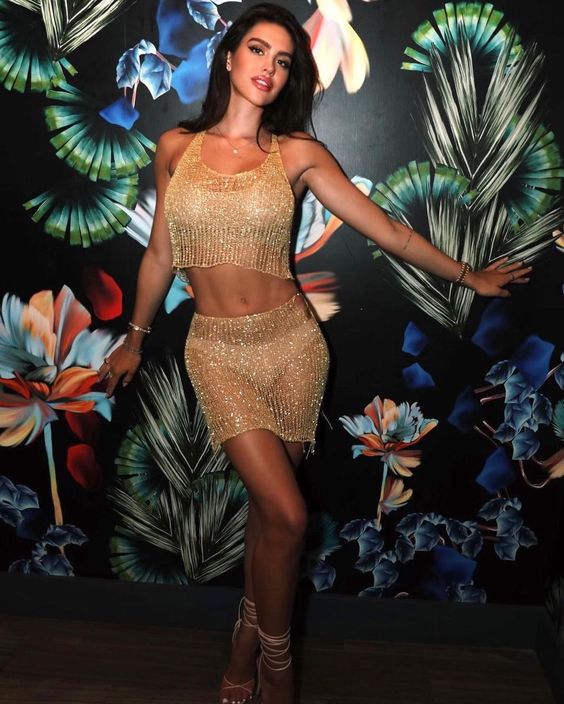 Dresses
16 – Match Your Accessories to the Color of Your Dress
You can wear short, loose-fit dresses like these as they don't stick to the body as much, look gorgeous as ever, and manage to hug your body in the right places.
These stunning dresses come in all colors and are great options.
The ideal way to style them is to opt for jewelry that is similar in color and complements the dress. With a pair of chunky platform heels on the feet, you have a unified and cohesive appearance.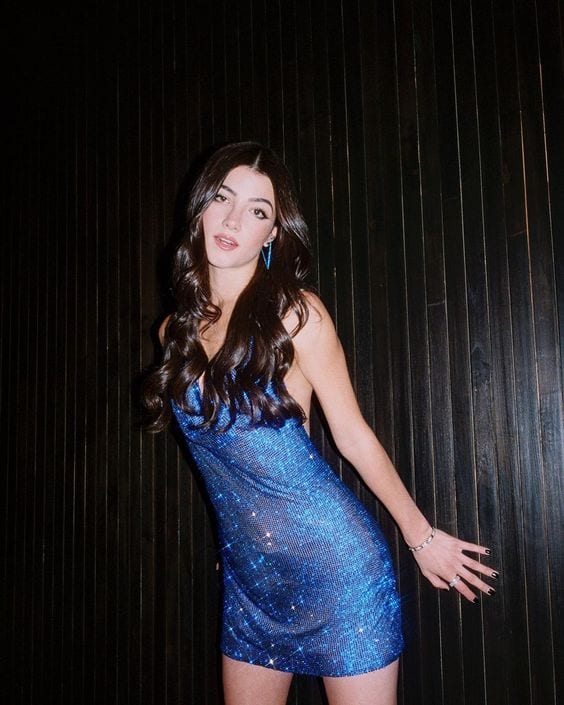 15 – Glitter Fishnet Stockings are Bound to Make Any Fit Fancy
These fancy fishnets will be the new most sought-after trend in 2023 because the sparkle is unreal! Your most boring outfits are going to come to life with these stockings.
Thus, wearing and styling them for the night makes sense!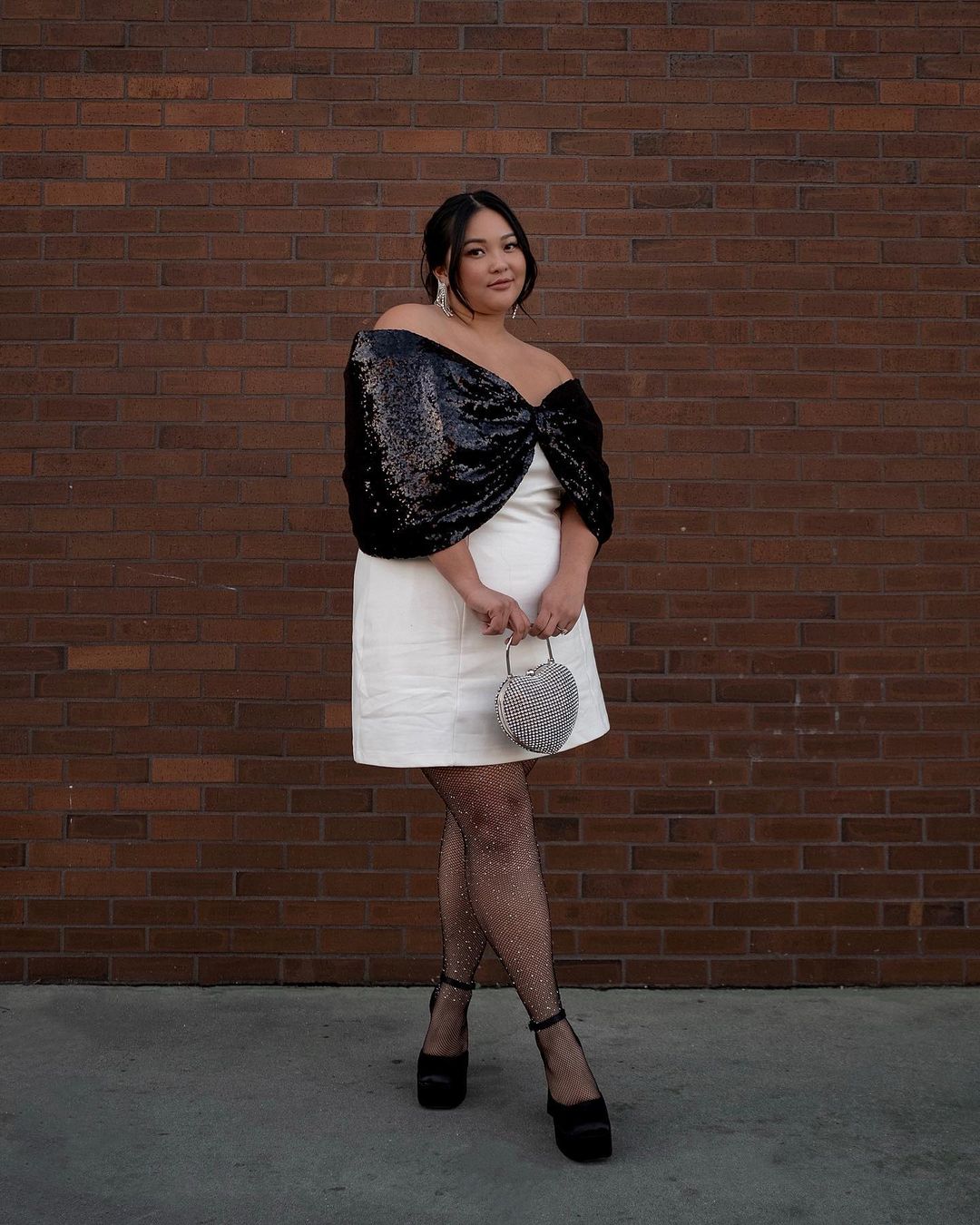 14 – Opt for a Sleek Hairstyle With a Psychedelic Pattern Dress
Add a touch of bling, and the best way to incorporate it into this dress is with bold glasses!
They will not clash with the dress and might just become the statement piece of your fit if you pull your hair back similarly.
I suggest opting for a white pair as they are reusable with so many outfits on different occasions!
13 – Add a Pair of Funky Glasses for Extra Glam
If you want to go all out, this is the attire for you. Look dazzling in a dress paired with even more sparkly stockings and big, long boots.
Surprise, surprise, they are fully jeweled and ready to sparkle throughout the night!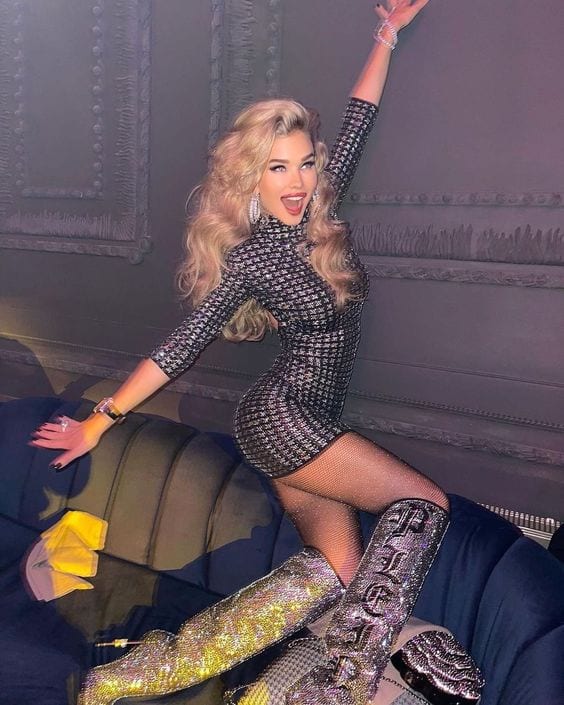 12 – Best Friend Disco-Theme Birthday Party Outfits
These outfits are so aesthetic and 80s inspired. In my opinion, these kinds of clothes are the best option to wear.
I love the metallic bell-bottom pants and printed illusion dress. These items need to be in my closet as soon as possible!
You might want to ditch the face masks, though because the Covid days are thankfully behind us!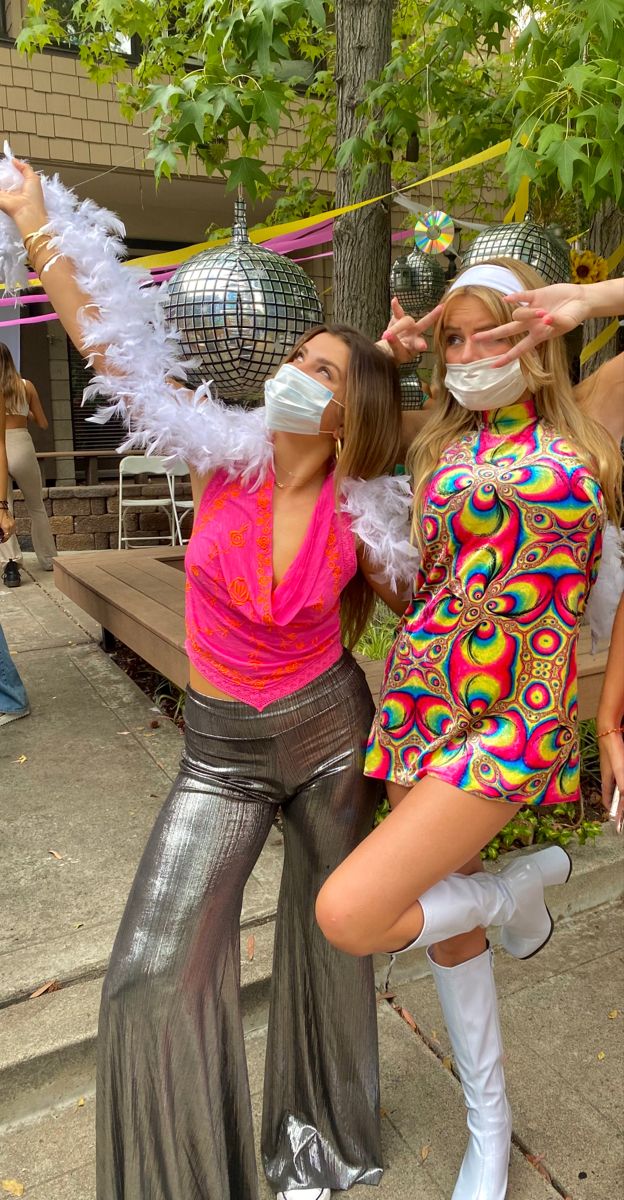 11 – Swap Those Heels for the Chunkiest, Brightest Pair You Can Find
Metallic multicolored dresses look phenomenal because they change color as you move and appear different from each angle.
The easiest way to make this outfit more fitting to the theme is by opting for the chunkiest, brightest pair of heels that complement your dress.
And curl your hair with rollers instead of leaving it sleek!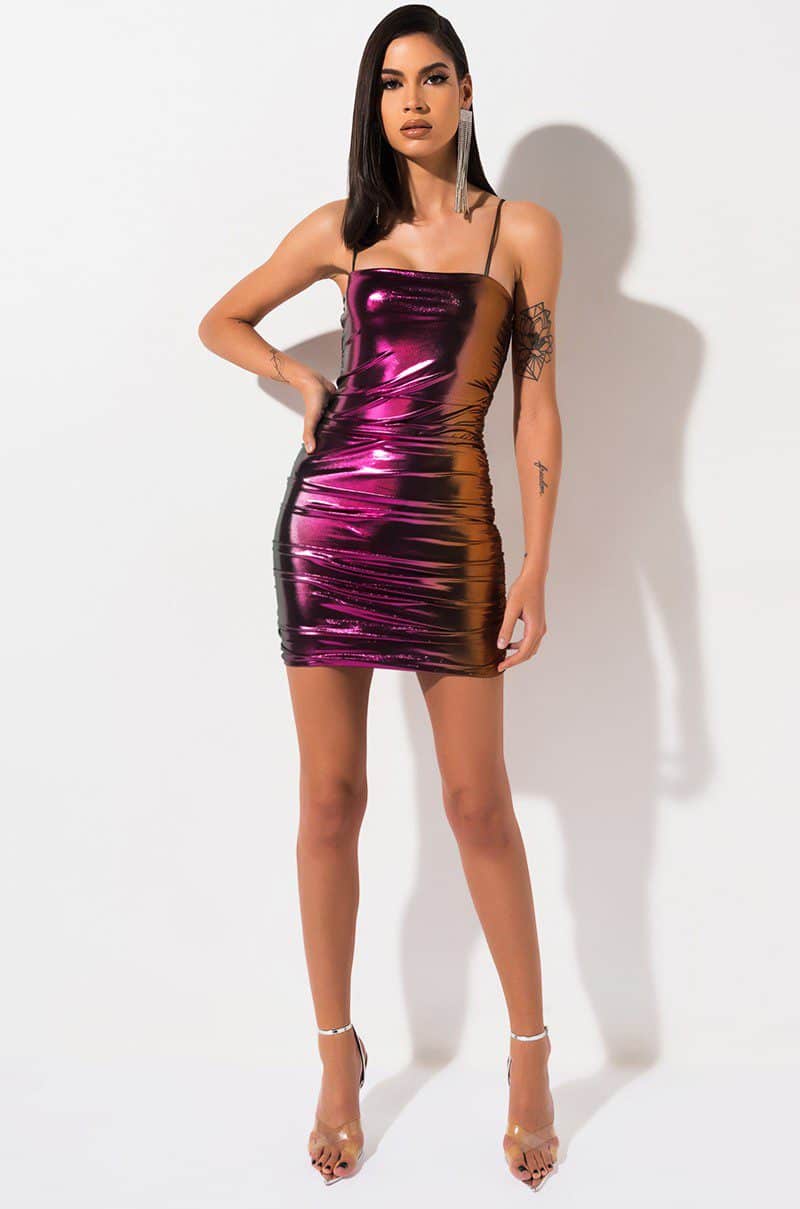 9 – Go for a Floor-Length Confetti Gown for Ultimate Glamour
Confetti always reminds me of a disco party, and this dress is gorgeous as it looks like someone made a dress out of gold confetti.
This long gold shimmery gown is perfect when paired with high heels, perhaps a fur coat, some hoops, and retro glasses. The keyhole cutout brings in the right amount of sexy to the look.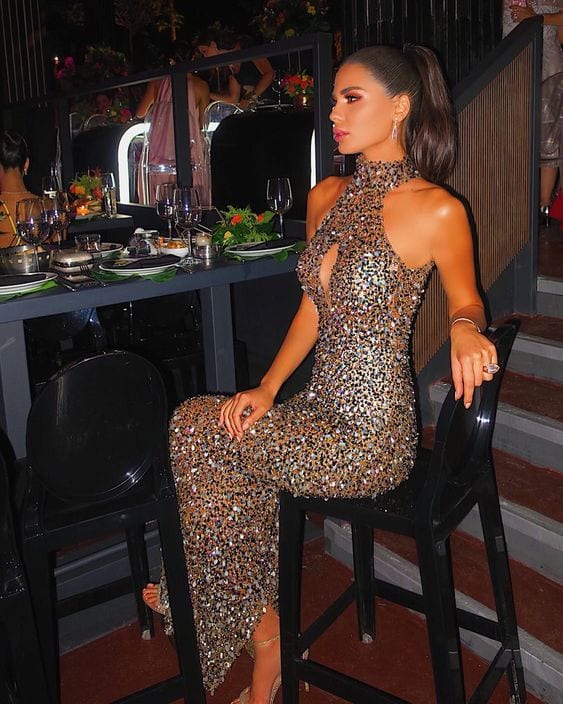 8 – Opt For Matching Silk Dresses For You & Your Bestie
Boho style and funky prints are great options for teens, mostly because these outfits are easier to recreate and look fun.
Another great idea is to wear the same ensemble in different colors with your friend group. Pair a bright patterned dress with a matching headband and add hoops and glasses.
Bell sleeves, V-necks, and off-the-shoulders are all very disco cuts and shapes.
7 – Show Off Your Uniqueness in a Punk Fit
The green leopard print dress paired with stockings and boots gives me all the vintage punk vibes. The heart-shaped hair clip adds the cutest bit of touch to the outfit.
Let the whole attire be your style but add an accessory to make it theme-appropriate!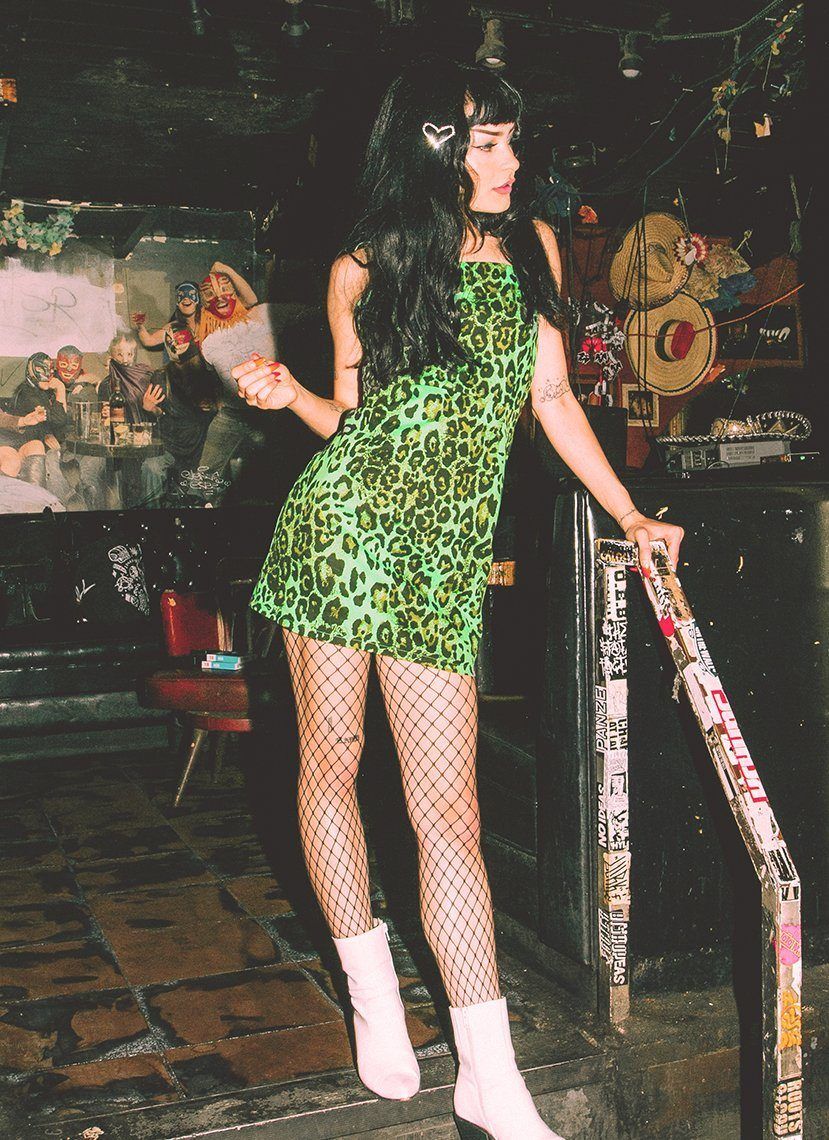 Celebrity Edit
7 – Go for 90's Inspired Disco Ensemble
Whenever I scroll through 90s fashion, it always reminds me of club wear. Since everything is so sparkly and eye-catching, it is perfect for the occasion.
Naomi Campbell and Kate Moss, the OG super-models stun in metallic dresses. These designs always make a comeback to the fashion trends now and then.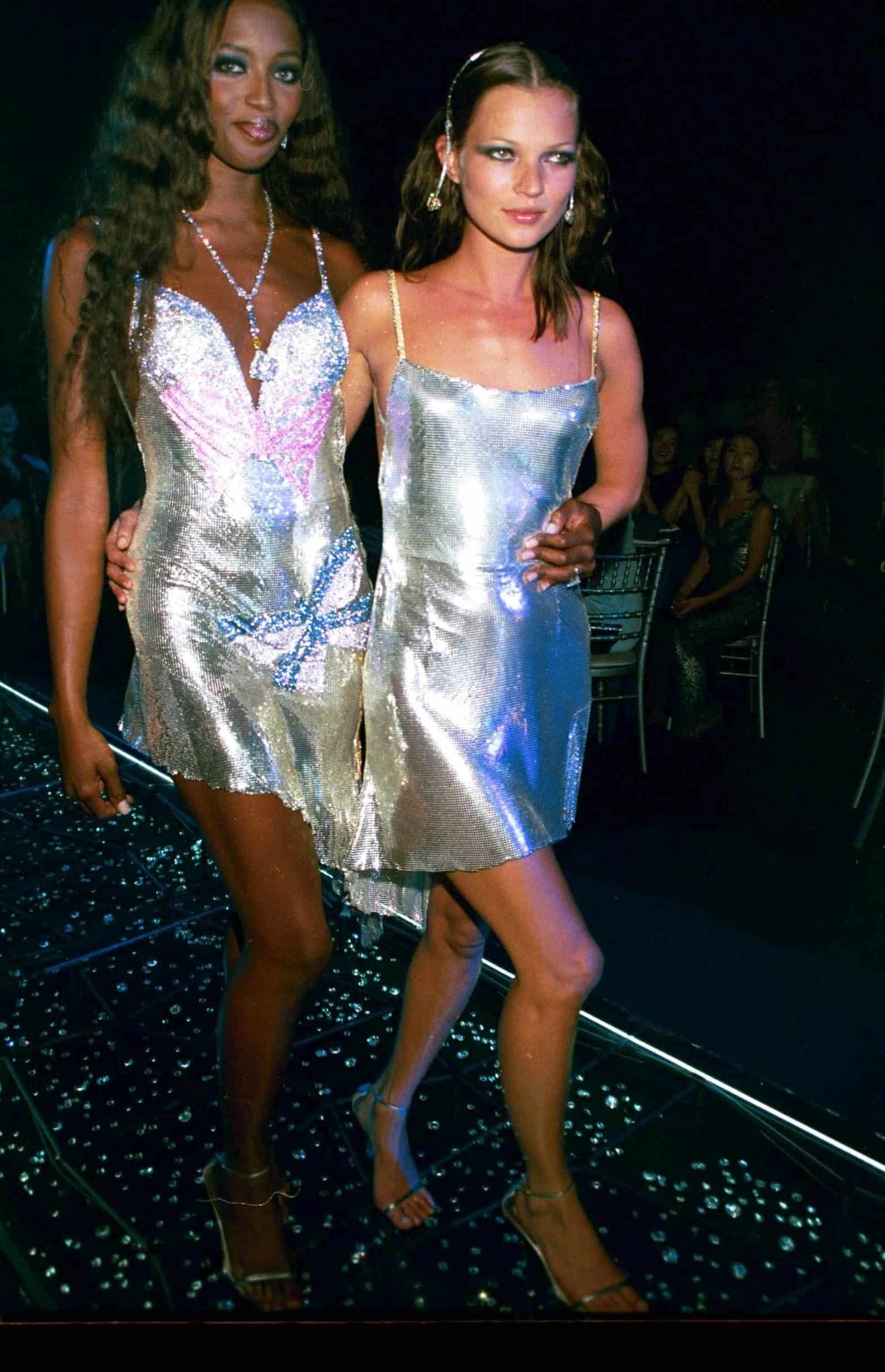 6 – Gigi Hadid Makes 70s Rockstar Meets Disco
Who knew a leather jacket in pink would look this good? This metallic barbie pink outfit is perfect for the night.
The cropped leather jacket with matching pants gives significant 70s rockstar vibes and can be worn with high wasted flared pants and colored shades.
Going to a 70's dance party with a 20's style is the ideal move.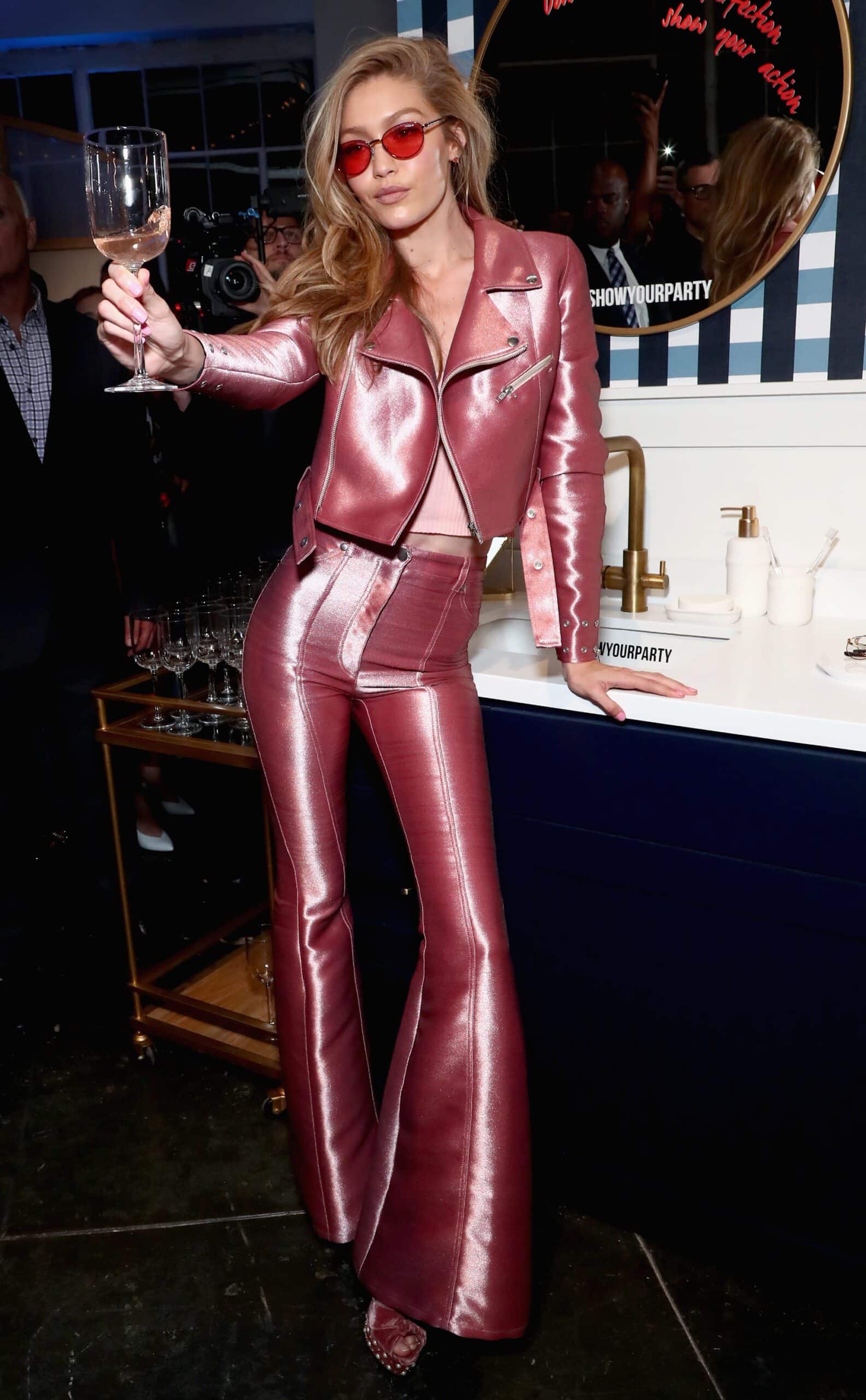 5 – Incorporate Hot Pink Zebra Prints for the Ultimate 60s Vibes
Kendall Jenner stuns in this striped, animal print dress, and so can you.
Bright-colored prints are perfect and effortless to style because they will be the star of your outfit. It is a simple dress, but the print makes it stand out.
And as always, reaching for the right accessories will make this ensemble right on-brand for the theme.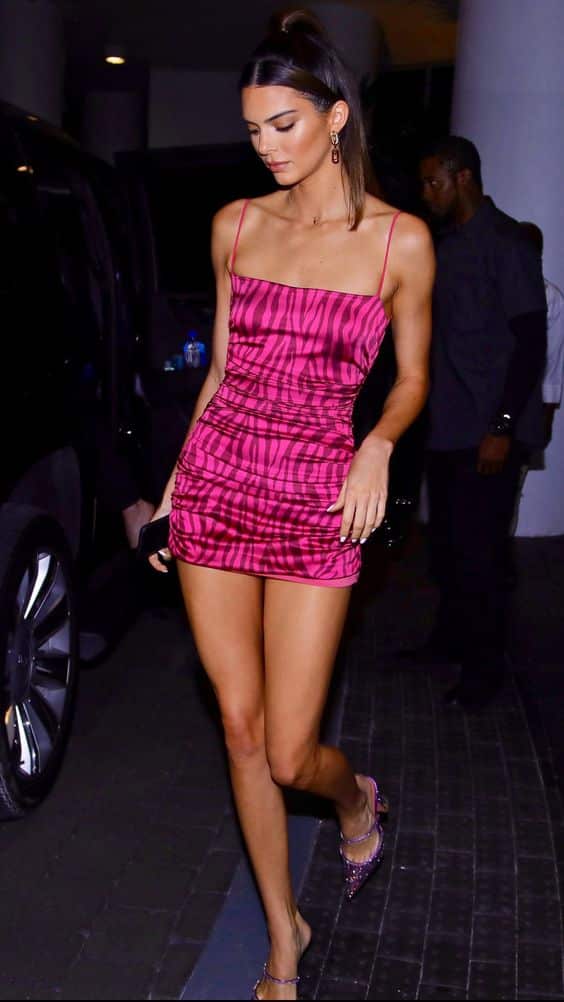 4 – Rhinestone Jumpsuits are the Ultimate Weapons!
Jumpsuits are the most classy option to wear to the party. I love everything about this look, the plunging neckline, the color, the metallic studs, and the rhinestone details.
Style your hair in a voluminous blowdry, pulled back in a high ponytail. Moreover, excessive chunky hoops in white are the perfect accessory for this attire.
Here are some more of our favorite Jumpsuits Outfits.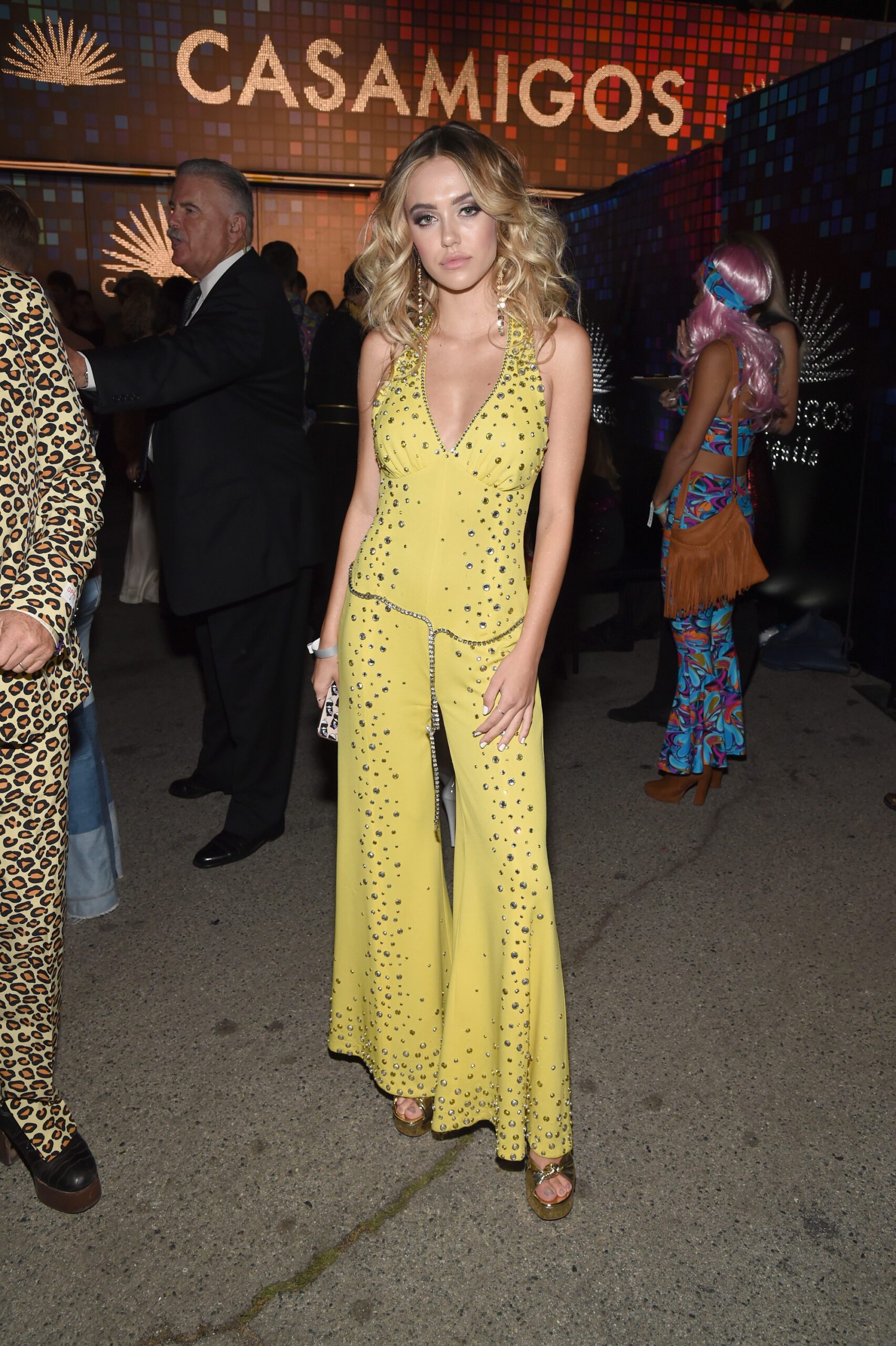 3 – Add a Fur Boa to Make the Sequined Short Dress More Glam
Rosie Huntington-Whiteley wore a gorgeous metallic dress to the theme party. Pair it with silver heels and a pair of silver hoops, and you are ready to dazzle on the dance floor.
Moreover, a fur boa in white will make your outfit more on-brand with the theme!
You can find similar outfits from these Ideas on How To Wear Metallic Outfits For Girls.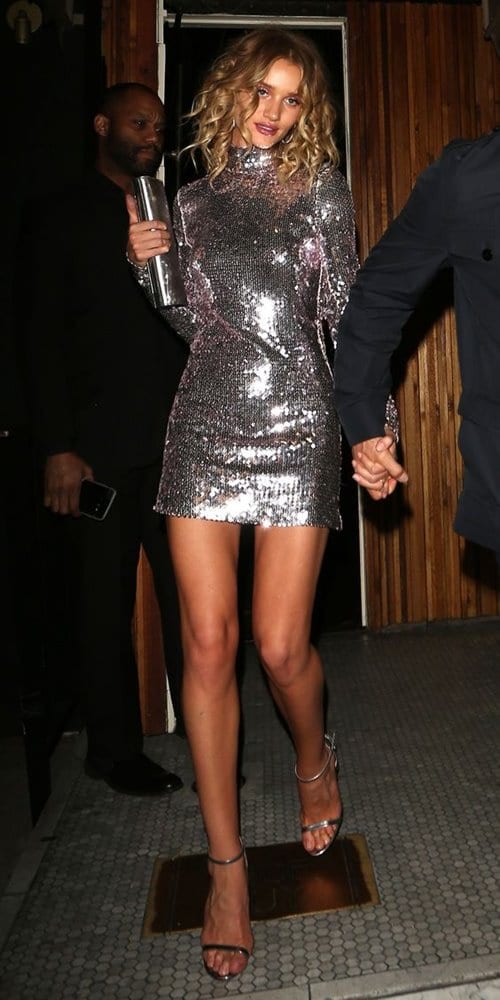 Outfit Details:
Anna-Kaci Womens Sleeveless Sequin Shift Halter Sexy Mini Cocktail Party Dress
2 – Add an Embellished Leather Jacket in Black for a Classier Look
Disco parties are the place you can wild out and wear something out there.
You can look sexy in a similar jumpsuit with cropped halter top and white shimmer bottoms, or opt for a two-piece set. This one is a look that will make all the heads turn your way.
I suggest adding an embellished, fancy leather jacket to get the best vibes out of this fit.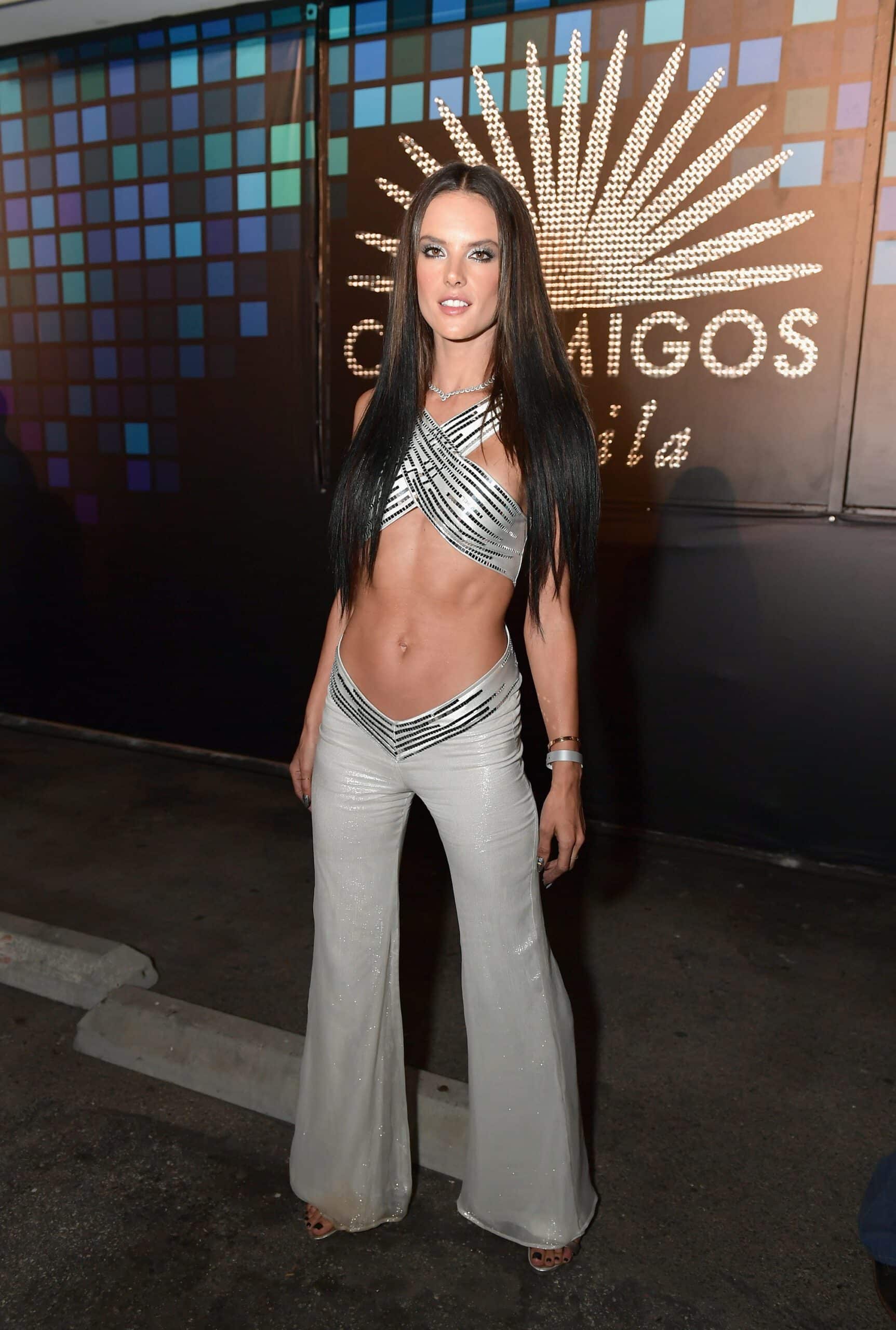 1 – Outfits in Neon Shades for the Win
An all-green outfit is hard to pull off, but when done right, looks stunning! Thankfully, we have Kendal Jenner to guide us!
This glittery set does all the talking for you, making you look like a colorful disco ball through the night.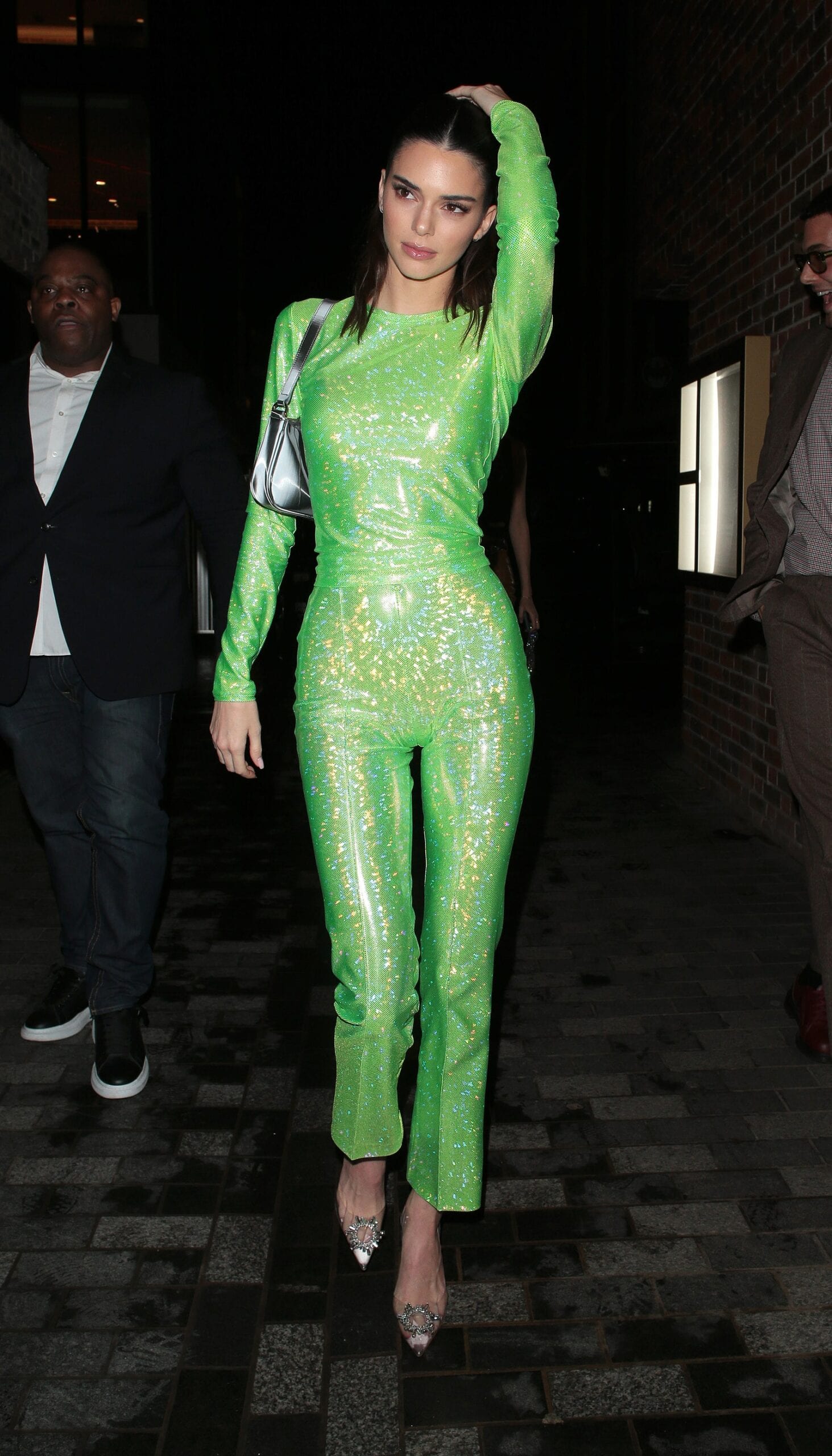 FAQs
Q. Where to buy disco party outfits?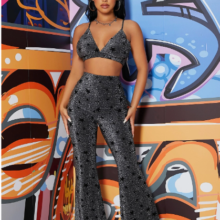 Q. What should guys wear to disco ?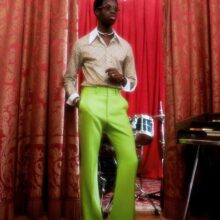 The options are endless, and there is a wide variety of looks to choose from. Opting for bright colors is a great option. If you do not want to wear crazy prints, wear silver boots or a tin foil material hat for a disco vibe.
Wear flared pants or bell bottoms if you want to look the part. Printed shirts with funky or floral prints or velvet or striped matching suits are also good options. A collared shirt is a must with big, buckled belts.
Q. Can I wear Skinny Jeans to a disco ?
There are no rules, but if you or the host of the party, want to follow the theme. There are many options to wear other than skinny jeans. You can wear a mini skirt, bootcut or flared jeans, and jumpsuits for the perfect look.
If you still want to wear skinny jeans, a great option is to maximize the club vibes with the rest of the clothing items. You can wear a colored wig, a metallic, sheer, or glittery top, a ribbon headband, a buckled belt, boots, and a funky jacket on top to complete the look.
I am a university student from Pakistan. I love fashion and creating content. Hope you like my content as much as I like creating it for you.