70s Fashion For Women– In this modern era of fashion, the 70s are still very relevant and have made a major comeback in the fashion industry. Whether you're going out on a casual day with your girls or you're going on a more formal event, you can incorporate this vintage look in any outfit you want.
This style of clothing is the perfect way to slay and so we've curated twenty outfits to help you on this nostalgic road ahead. Grab on to your bell bottoms because you're in for a ride!
What are the Most Popular Fashion Trends of the 70s?
From miniskirts, hot pants, and halter tops to bell bottoms, tie-dyes, and platform heels, this era was a wild and eccentric era full of creativity and adventure.
These 1970s fashion styles were inspired by our fashion icons, most notably Stevie Nicks, Jerry Hall, Jane Fonda, and many more, who led this fashion revolution in full force, which got translated into these funky and hippie outfits we now love and adore.
Do's And Don'ts of 1970s Style
Never Wear Double Denim. While this was a popular trend back then, it certainly does not mean it was a good one, especially if your denim pieces don't match. It can make you look weird and obscure, so we suggest sticking to one denim piece at a time.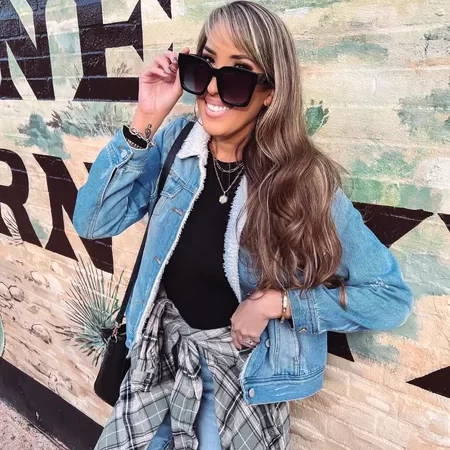 Funky Patterns Are A Must. A staple in the 60s and 70s fashion era was bright crazy designs. Remember to add polka dots, stripes, and all sorts of wacky and funky patterns to your clothing because this was the era where everyone went all out.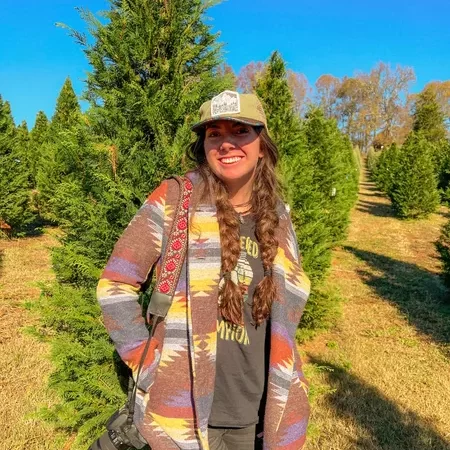 Accessorize, Accessorize, Accessorize. If you're going for a 70s look then this is very important to make your outfit look the part. Add in some oversized sunnies or a bandana or maybe even a studded belt to complete the fit.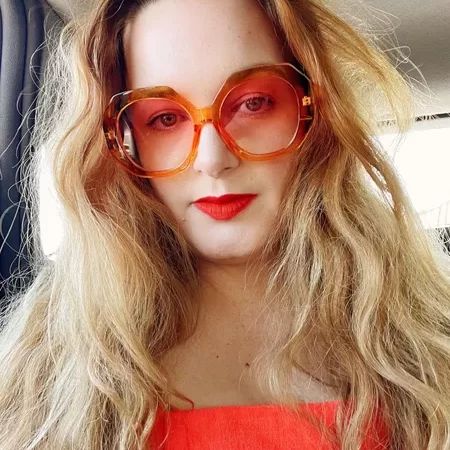 Say No To Very High Heels. One of the most painful trends we left behind in that era is massive eight-inch heels. They will literally break your feet so we don't suggest trying this trend.
How to Dress 70s Style?
If you want to dress 70s style, here are some of the most important items that you should consider investing in:
Frayed jeans
Maxi dresses
Bell bottoms
Any flashy or disco themed outfit
Graphic tee
Hippie print outfits
Wide-legged jumpsuits in big prints, highly recommended if you're going for a disco party outfit
Peace symbol jewellery pieces
Long boots and loafers
Now, let's have a look at some 70s-inspired outfits to further understand how we can dress 70s style:
Celebrity Style
We've been seeing a lot of celebrities bringing back the 70s trends so here are some of our favourite looks:
22 – Natasha Lyonne's Groovy Suit
Bold and groovy prints were a big hit in the 70s and they are back once again thanks to Natasha who rocked this suit on the Jimmy Fallon show: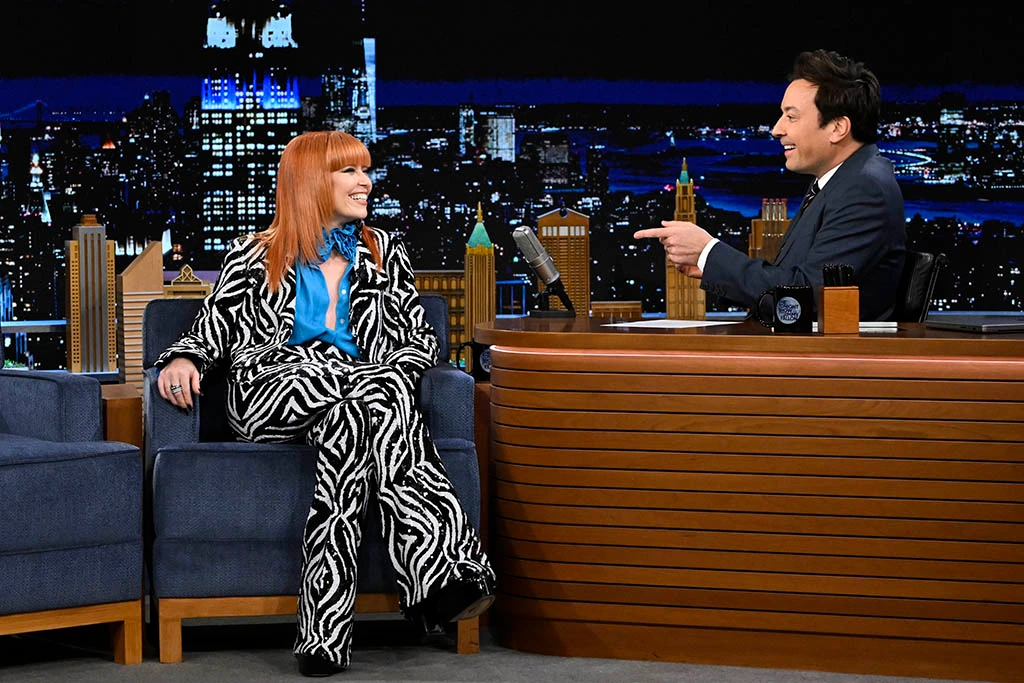 21 – Paris Jackson in 70s-Inspired Pants
Paris Jackson was spotted in this very grunge look recently as she sported a sheer top and boot-cut trousers.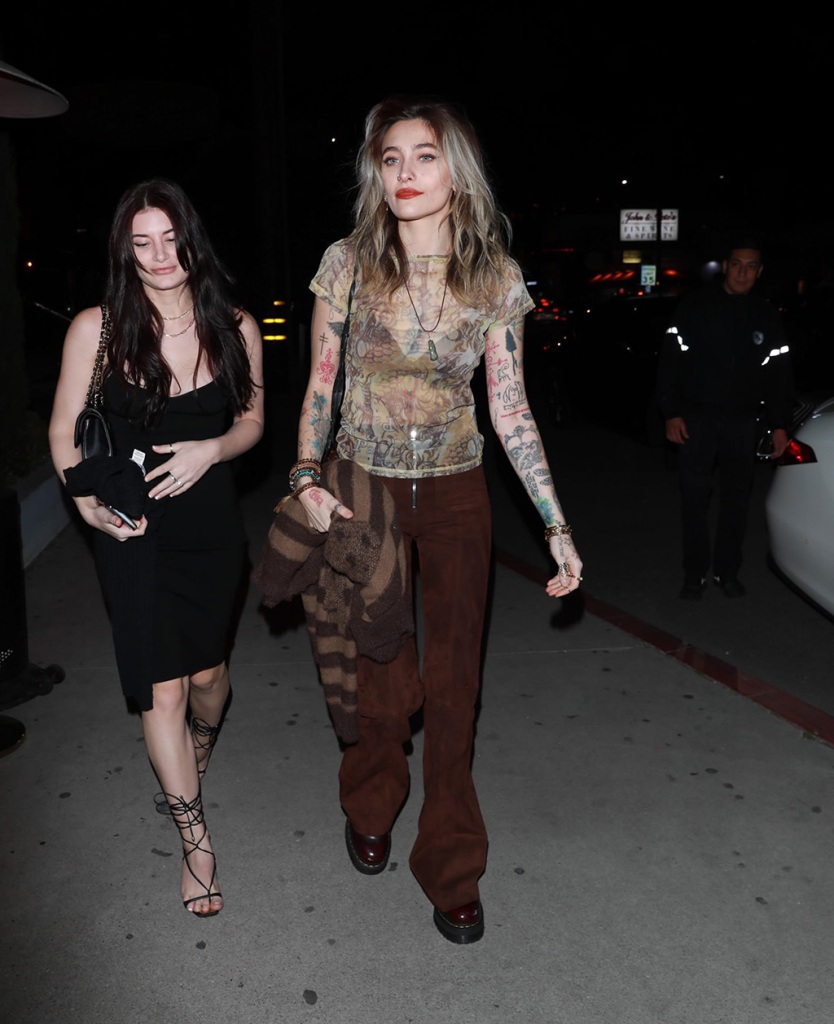 Fall & Winter Outfits
20 – Co-ord Set With Long Black Printed Skirt And Matching Front Tied Crop Top
This outfit highlights a black belted long skirt. Paired with this is a matching front knotted black crop top with see-through sleeves.
To complete the entire look, throw on a long black sherpa coat, silver dangling earrings, and chunky black boots.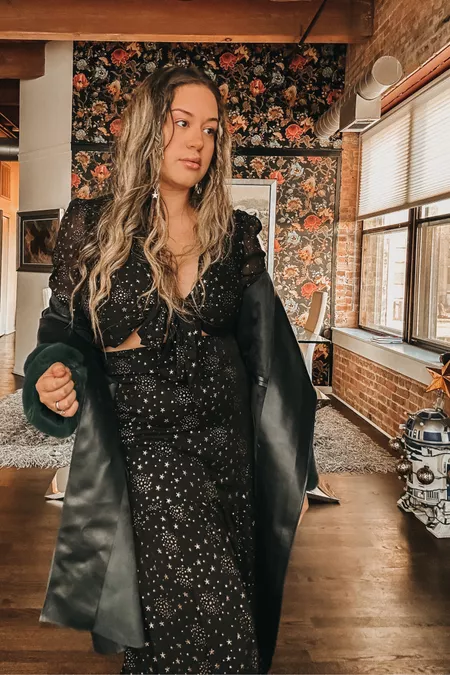 19 – Crochet White Sweater With Multi-Colored Flowers And Brown Mini Skirt
70s fashion ideas also include cute crochet tops which have made come all the way to 2023. This cute outfit showcases a white crochet full-sleeved u-neck sweater with multi-colored flowers all over it.
Additionally, pair it with a rustic brown belted mini skirt to complement the top. Add in some gold hoops and a bright lip tint to rock the fit.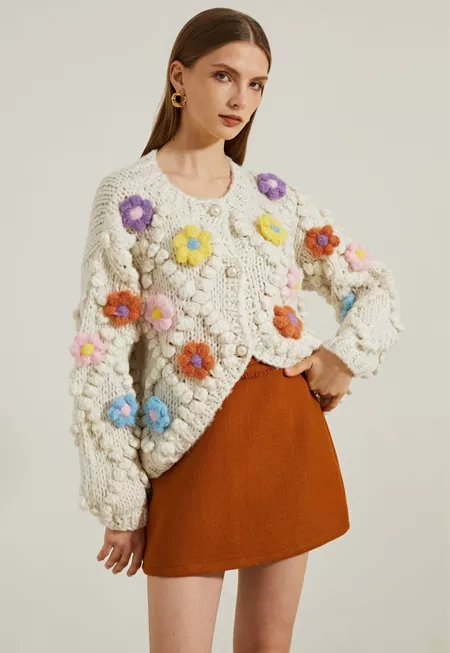 18 – Pink Crochet Vest With White Graphic T-shirt And Black Denim Jeans
A pink crochet top with square tiled flowers matched with a classic white graphic tee and high-waisted straight-cut black denim jeans.
To enhance the outfit even further, add in a chunky black buckled belt, some cute thick silver jewelry, and suede black boots.
17 – Long See-Through Colorful Crochet Dress With Deep V-Neck
Can't get enough of the crochet trend? Then this outfit might be the inspiration you've been looking for! It features a long full-sleeved maxi crochet dress that is multi-colored and has a deep v-beck with the center tied.
On top of this, add in a cute gold pendant necklace and some brown open sandals. Don't forget to wear something underneath!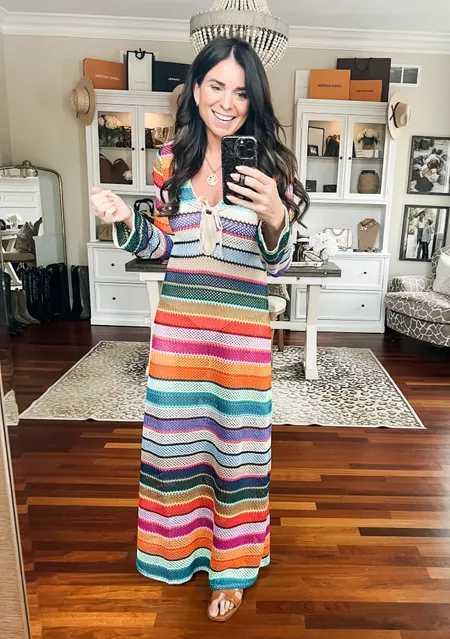 16 – High-Waisted Loose Denim Jeans With Printed Poucho Style Turtle Neck
To take a little break from all the funky bright outfits, we have a somewhat mellow outfit in store for you. This plus size 70s fashion look features a turtle neck with a poncho-style design going around it with cuffed sleeves.
Match these with classic dark blue loose-fit denim jeans, white sneakers, and orange-tinted oversized glasses to complete the outfit.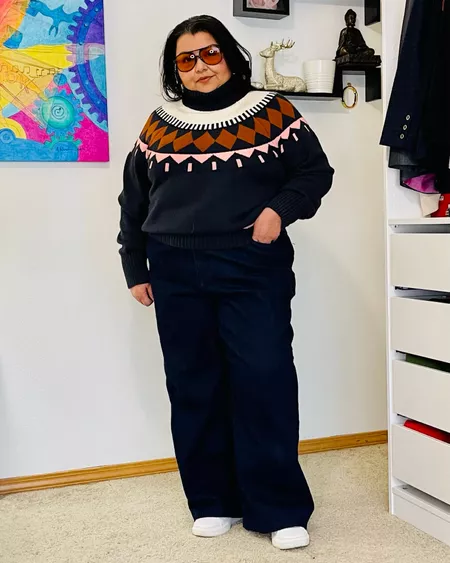 15 – Black Camisole With Seamless Mesh Overlay And Grey Flare Bell Bottom Pants
This cowboy-esque look is all about those bell-bottom pants which have taken over today by a storm. The look showcases a black fedora hat with a seamless mesh overlay top, and a black bralette style camisole tucked inside grey high-waisted bell bottom pants with a black double buckle belt across it.
Disco your way through the day by adding some black pointy-toed sparkly sandals, a thick strapped shoulder bag, and a sequin black blazer with it.
14 – Blue Denim Bell Bottom Jeans With White Stars And White Knotted Shirt
Wondering when we'll throw in a more hippie outfit in the mix? Don't worry girl, we've got you covered! This outfit highlights white star-printed blue denim high-waisted bell-bottom jeans with frayed ends. Paired with these 70s hippie fashion jeans is a white collared button-down that is knotted in the front.
We can't complete the look without mentioning the red bandana worn as a head scarf, the blue earrings, and the baby-pink heels at the bottom.
13 – Pastel Pink Graphic T-shirt With Embroidered Denim Jacket And Black Leggings
Mixing and matching two trends, we present the tenth look in the order. This outfit features a crew neck pastel pink oversized graphic t-shirt with some warm black leggings. Wear a blue denim jacket with embroidery on top or tie it in front of your shirt.
On top of this, add in some long white socks with grey joggers that have laces and some gold necklaces to complete the entire fit.
12 – Grey Graphic Tee With Knitted Grey Shrug And Light Blue Denim Shirt
This next look might be simple but it definitely is super chic and comfortable. It highlights a grey graphic tee with mountains printed on top which is paired with classic light blue denim jeans, a grey knitted shrug with exaggerated side pockets, and a cute brown smiley face beanie.
Pair it with a watch, some gold bracelets, and camel brown chunky boots.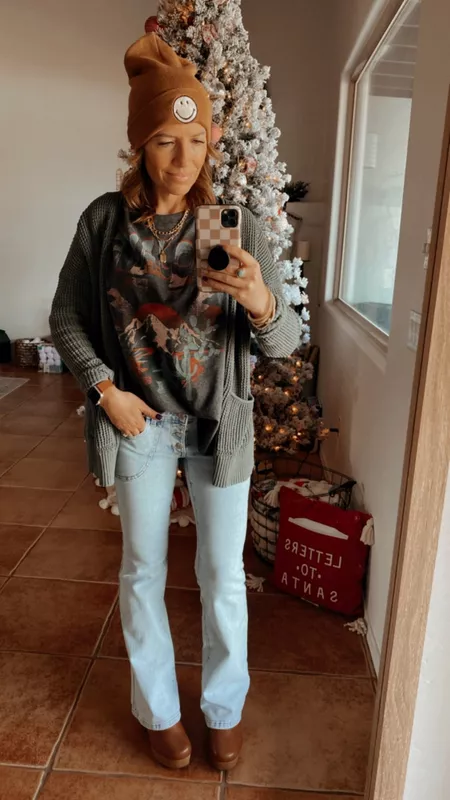 11 – Tie-Dye Shirt Dress With Grey Woolen Shrug And White Pointy-Toed Boots
Can't miss out on the tie-dye bandwagon! This outfit has a cute tie-dye grey shirt-dress with a white star printed in the center.
Matched with this is a long grey woolen shrug with some pearl white v-cute pointy-toed boots and bohemian silver jewelry. Don't forget to add a light blue side bag with strings hanging from the bottom and white embroidery on top.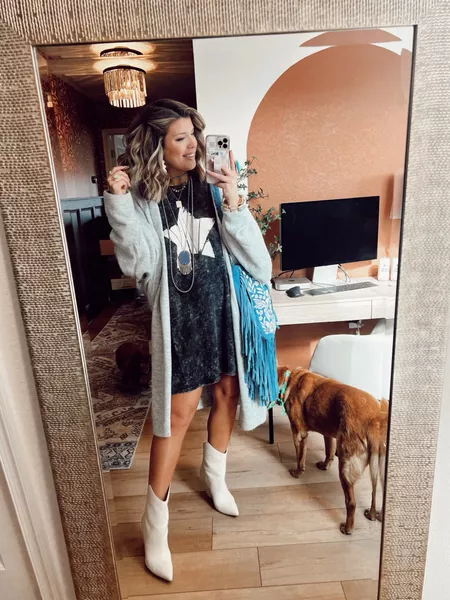 Spring & Summer Outfits
10 – Black Sequin Seamless Long Dress With Pointy-Toe Black Heels
One of the biggest fashion trends of this era was shimmery dazzling sequins! This outfit features a black bedazzled sequin overlay with a black spaghetti-strapped bodycon camisole underneath.
Match this outfit with some black pointy-toed heels with silver jewels on their straps, wear some nude lipstick and you're ready to be a diva!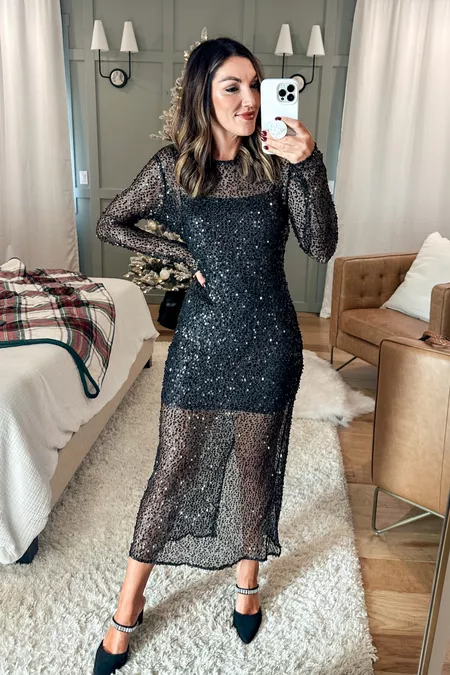 9 – Black Velvet Mock Neck With Red Loose-Fit High-Waisted Boho Trousers
The fit includes a black half-sleeved velvet cropped mock neck tucked inside some red flowy loose high-waisted and pleated trousers with a black belt going across it.
To tie the whole look together add in some black square-toed heels, a pendant necklace, and a textured black bag.
8 – Red Bandana Spaghetti Strap Top With Blue Denim Mini Frayed Shorts
If you're looking for a bandana fit, then we're here to serve it to you. This outfit displays a cute red bandana crop top with spaghetti straps. Additionally, add to the look by matching it with some cute light blue denim mini shorts which are frayed at the bottom. Bring the look full circle by throwing on black-heeled boots and chunky gold hoops.
7 – Blue Denim Knee-High Dress With Snake Printed Belt And Long Boots
How can we not include denim when this was the year when all things denim were super trendy? This outfit features a light blue denim zipped and collared knee-high fitted dress with a green textured snake-printed belt across it.
Add in some v-cut pearl white long pointy-toed boots, and a cute brown chained shoulder bag to complete the fit.
6 – Deep V-Neck Belted Shimmery Red Maxi Dress With A Side Slit And Black Boots
Rain down the glitter and bedazzle everything you see! The look is the literal embodiment of a 70s fashion disco with its red shimmery maxi dress that has a deep v-neck and is pleated from the waist. It also has flowy sleeves and a slit to the bottom. Paired with this sexy dress are some glittery stockings and chunky black boots.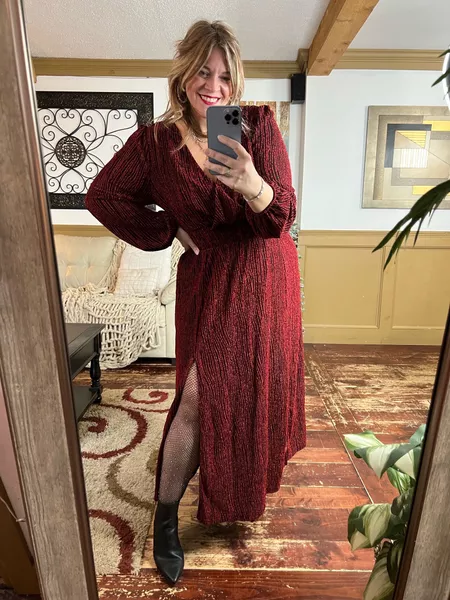 5 – Grey Peace Sign Knotted Tee With High-Waisted Blue Buttoned Denim Jeans
May we present to you some 70s hippie fashion trends with this simple look. It shows a knotted peace sign grey half-sleeved t-shirt with a textured sleeveless shrug and some high-waisted buttoned distressed blue denim jeans. Pair some suede cream pointy-toed boots with it and a gold pendant necklace to complete the fit.
4 – Black Printed Crew Neck Crop Top With Funky Flower Printed Jeans
The era of printed funky patterns and swirls is still alive and well today. To fully channel your inner diva, wear a black printed crew neck crop top with cuffed sleeves. Pair it with high-waisted green and white flower-printed jeans with thick chunky black combat boots. To accessorize the look, add a boho long necklace, some slim silver rings, and vintage hoops.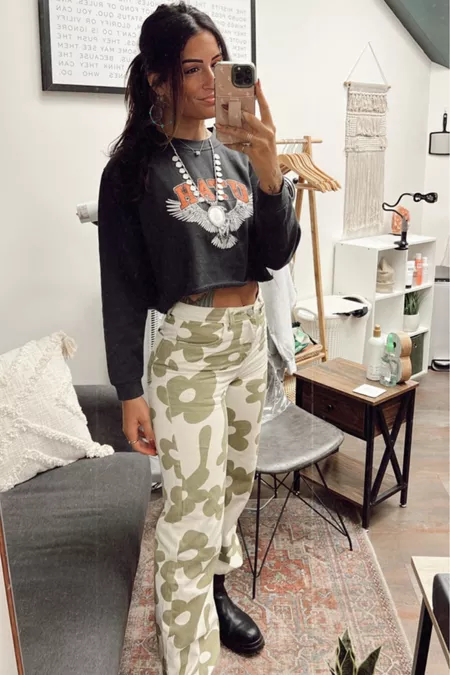 3 – Tie-Dye Fitted Long Dress With Faux Leather Camel Brown Jacket
We just can't get enough of DIY tie-dyes, they're colorful, cheerful, and make everything better! Wear a blueish-purple and pink-colored tie-dye fitted long maxi dress with full sleeves. This is a retro outfit we wouldn't miss out on!
Add a warm faux leather camel brown jacket and some white long boots to the mix. Don't be afraid to accessorize with a heart choker and a brown sherpa gold chained bag.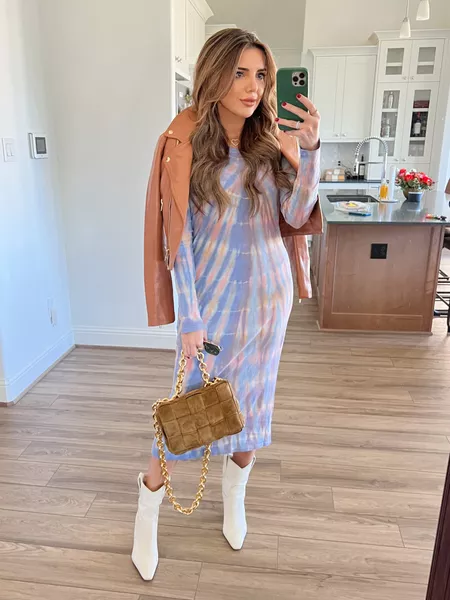 2 – Faux Brown Leather Jumpsuit With Matching Brown Belt And White Heel Boots
This outfit showcases a camel brown faux leather zipped jumpsuit with half-sleeves and a matching brown buckle belt going across it. Additionally, it also highlights some chunky pearl white heeled combat boots and cute dangling earrings to pair with it.
1 – Flared Bell Bottom Denim Jeans With A Belted Leather Trench Coat
Last but definitely not least, we have our hippie ready to go to a disco outfit. It features long baby blue flared bell-bottom denim jeans with frayed ends. Tucked inside these jeans is a blue and white button-down printed shirt with half-sleeves along with a belted brown leather trench coat.
Add in accessories like oversized shades, beaded bracelets, and some thick leather combat boots to complete the entire look.
FAQs
Q. What do you wear to a 70s party?
Ans. You can either go for something with bright, big, funky patterns and swirls or you can go for crochet tops and dresses.
You can wear flared bell bottoms, denim, leather jumpsuits, ponchos, platforms, more hippie-style graphic knotted shirts, and even oversized sunglasses and bandanas!
Q. How do I make an outfit look 70s?
Ans. With vintage outfit ideas, adding some exaggerated accessories to the outfit can really help enhance the whole 70s vibes like huge sunglasses or beaded boho necklaces and bracelets or even funky and multi-colored headbands would do.
Q. What colors were worn in the 70s?
Ans. This was an era where colors were rampant. They ranged from pastel pinks, blues, and greens to bright apple green, camel, wheat to rust, tangerine, copper, and pistachio. The possibilities were endless when it came to color.
Eman is an electrical engineering student at Fast University with experience in content writing and UX Strategy. She is deeply vested in all things space, loves cats, and can survive on gallons of coffee.