Tie-Dye Outfits: Every year new trends seem to be taking over the fashion world, and speaking about a blast from the past, we love to break it to you ladies; Tie-Dye Outfits are back with a bang and impossible to resist. With summer around the corner, colorful prints are everywhere to be seen. So, ladies, why not ditch your animal and floral prints this summer and go for the hippie chic boho style instead. Not only are tie-dye outfits big in the summers, but they've made their place in winter wardrobes as well. Be it jackets, faux- fur, or sweaters, people are going wild this winter with what seems to be a return of the psychedelic spirit from the '60s.

Ladies, get ready to steal the show with your tie-dye pieces as they are not only daring, rather eye-catching as well; it's time for you to make a statement. From casual wear to formal wear, just a night out, or even festivals- Tie-Dye has got you covered. So, don't shy away and hop on the bandwagon!
How to style Tie-Dye Outfits
If you're someone who hasn't experimented with tie-dye pieces yet or are looking for more ideas, then you came to the right place. Let us show you how women worldwide are hopping onto this trend and surely leaving us stunned!
Where to buy Tie-Dye pieces?
If we've already inspired you to be a part of this trend, then do yourself a favor and check out these tie-dye pieces that are to die for!
Boohoo Tie Dye Joggers
Next Broderie Puff Sleeve Dress
ASOS hair scrunchies
THE ELDER STATESMAN Tie-dye cashmere sweater
ASOS design oversized hoodie
H&M swimsuit
Armor Crop Tank Top
Nordstorm Tie-dye leggings
Tie-dye graphic tee
Canyon Ruffle convertible skirt
#30. Crop Top, nonstop!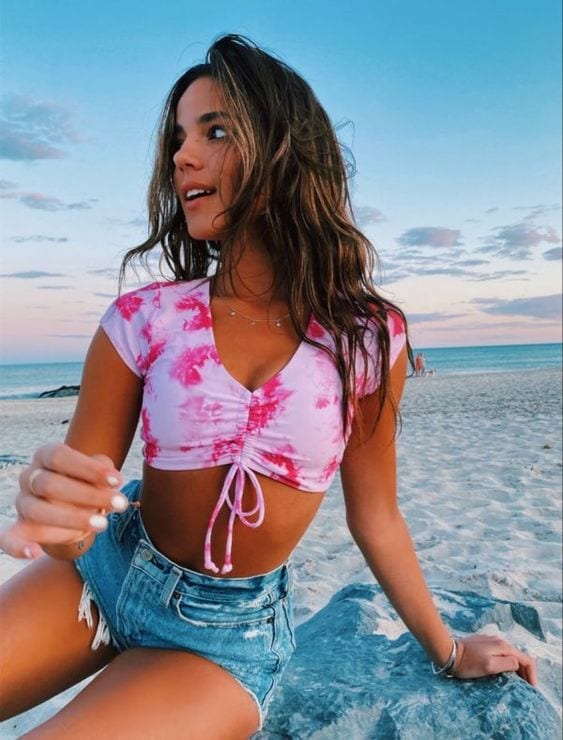 Summertime calls for light and breezy outfits; this tie-dye drawstring crop top paired with shorts is the perfect combo for a beach day. To add to the look, show off your beach waves, too, snap some pictures for Instagram and leave your followers in awe!
#29. Twinning on point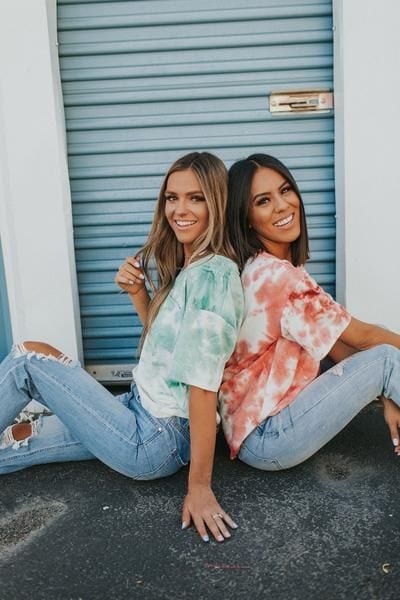 We know that best friends love to twin, and what better way to do it than matching tie-dye tees. Make heads turn wherever you go now that you are a force to be reckoned with and conquering the fashion world with your soul mate by your side.
#28. Oversize Disguise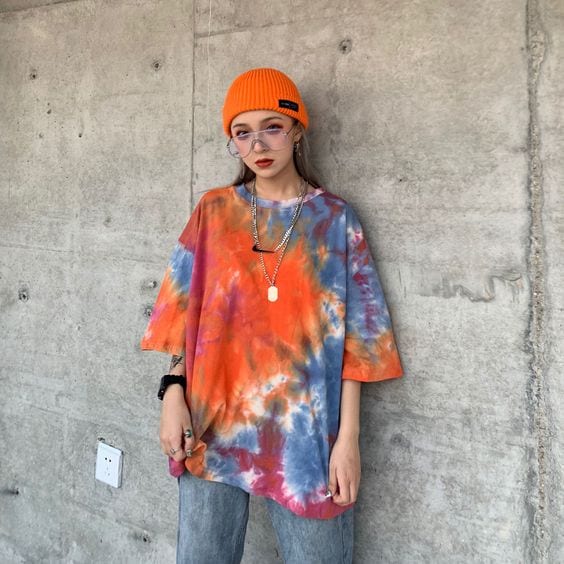 No matter what time of the year it is, we all love oversized outfits. But the question is that is there a way not to let go of your oversized garments and still look chic as ever, all while you're super comfy. Yes, ladies, go for oversized tie-dye pieces, and you won't look back. To amp up the cool of your look, add some accessories or even a matching ribbed cotton beanie.
#27. Hats off to you, girl!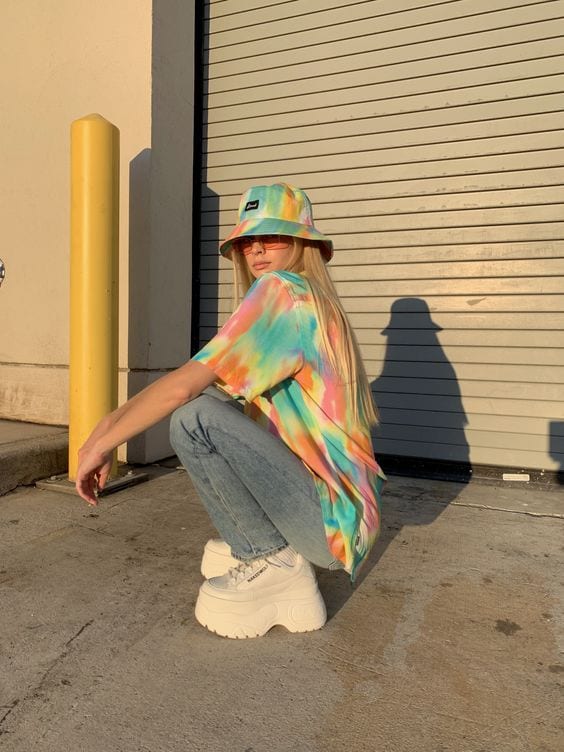 Need a solution for the bright, striking summer sun? Tie-dye bucket hats will not only do the job but will make you stand out in the crowd. Brownie points to you if you pair it with a matching tie-dye tee.
#26. Bandana and Jogger pants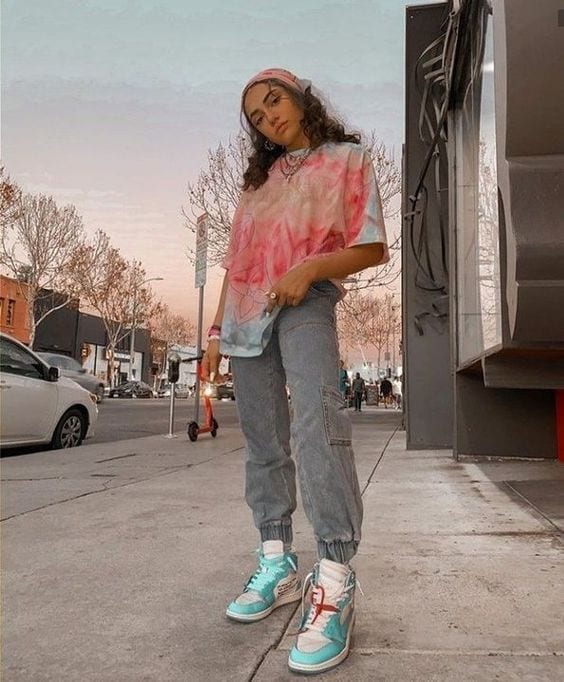 Bandanas and tie-dye pieces are two fashion trends that are back with the bang, and from the looks of it, surely here to stay. So, don't blame us if we can't think of a better way to rock on the fashion world than styling these pieces together. Throw on a tie-dye shirt with a matching bandana as a headband, and you got yourself the best of both worlds. However, the look isn't complete with the ever-so-cool jogger pants and matching sneakers.
#25. Tie-Dye Pants, bye-bye rants!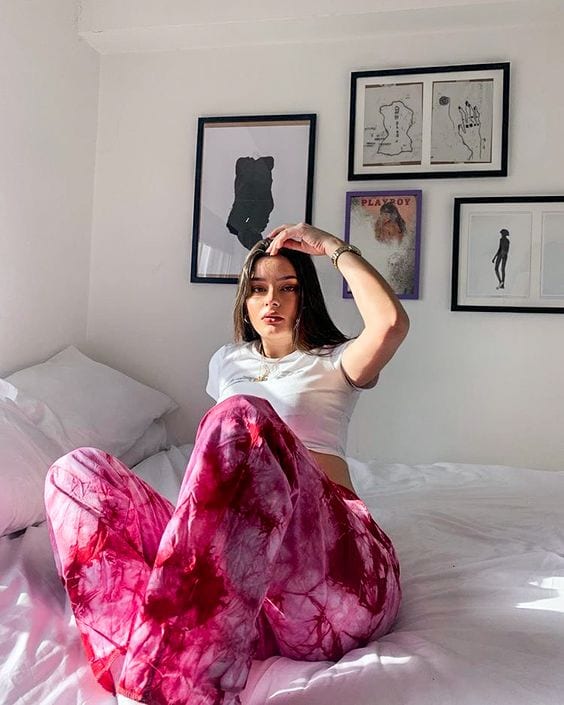 Be it sleepovers or just a stay-at-home weekend, the loose-fitted tie-dye pants have got it all sorted for you. Easy breezy, lightweight, and even stylish as hell, what more could you want?
#24. Satin Dress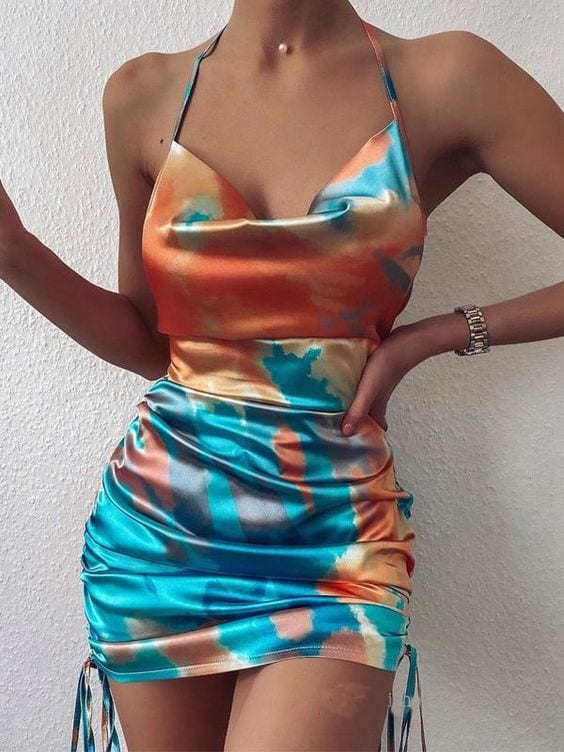 A night out definitely calls for a tie-dye satin dress. Serving as your fashion ammo, this dress will undoubtedly get you attention and loads of compliments.
#23. Hooded crop and skirt combo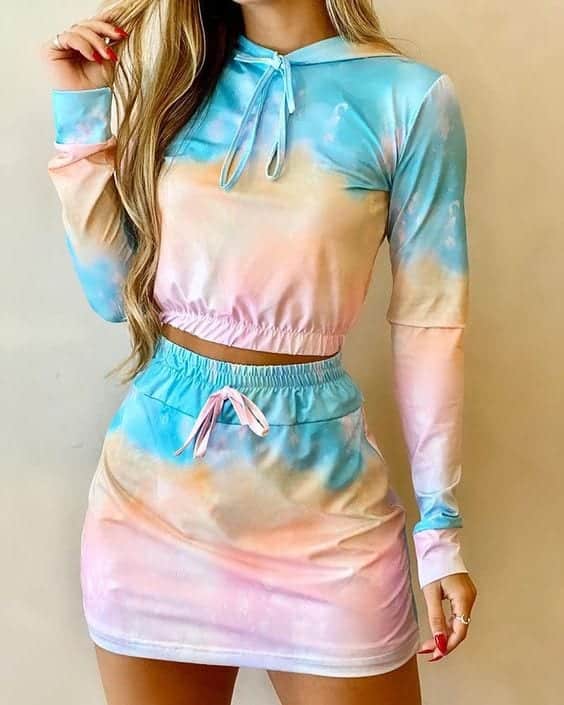 We are taking casual wear to the next level. Yes, you heard us ladies, and the only way to do that is to get yourself a tie-dye hooded crop and a matching skirt. It is casual, chic, colorful, and comfy; is there anything else you're looking for?
#22. Two-piece, Showpiece.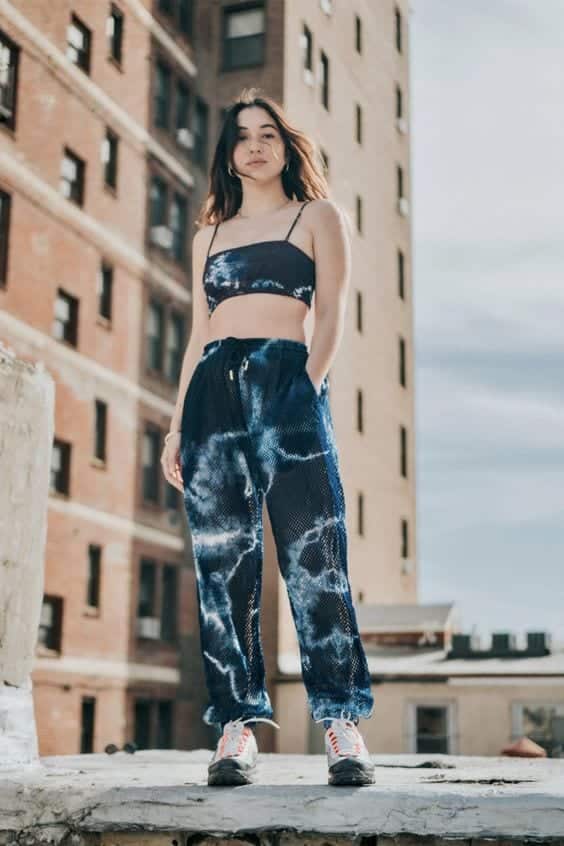 These tie-dye matching jogger pants and cami top are surely a two-piece showpiece! Wondering why we say that? Hop into this ensemble and be a showstopper while strutting around town, and you'll see for yourself that it is without a doubt a showpiece.
#21. Better with a sweater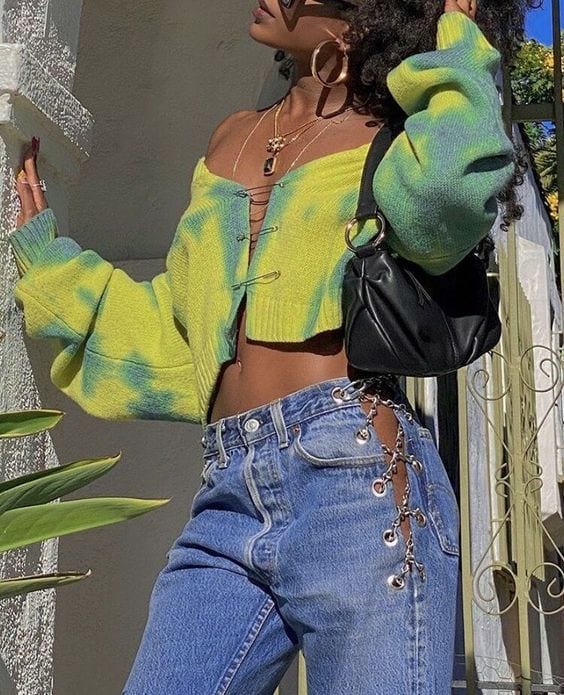 Call it manifestation or whatever you want, but colorful pieces can without a doubt make your gloomy days brighter. This is a sign for you to incorporate a tie-dye sweater into your winter wardrobe. We particularly love mixing shiny metal pieces in this look as it gives it a unique look.
#20. Tie-Dye and stripes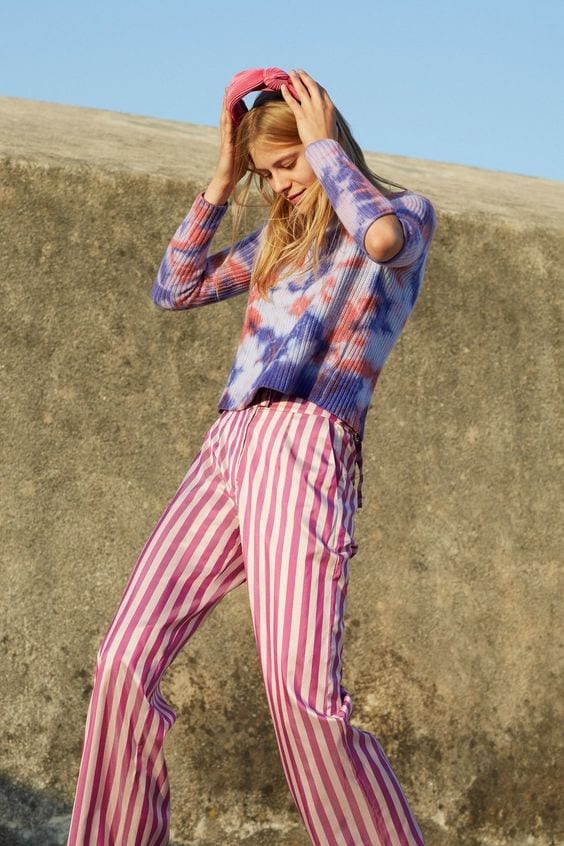 Pair striped pants with your tie-die sweaters and top, and you'll be looking like a magic eye puzzle straight out of Van Gogh's painting. Don't shy away ladies, we know this look requires some guts, but with a touch of confidence, you'll undoubtedly be making a statement in this ensemble!
#19. Lean on, neon!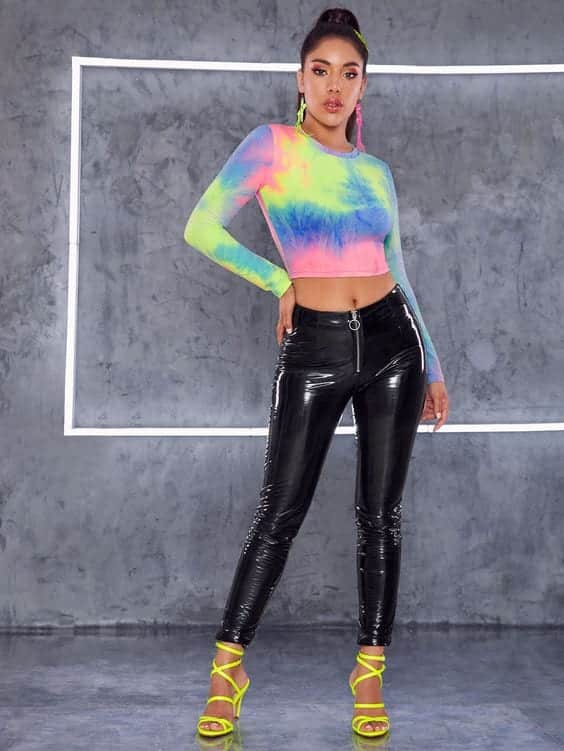 source
Neon colors have to be a sight for sore eyes. Pair your neon tie-dye crop shirt with leather pants, and don't forget to add neon accessories to your outfit for that extra buzz! Believe us, you'll be looking like a sight for sore eyes too in this eye-catching ensemble.
#18. Fairytale dreams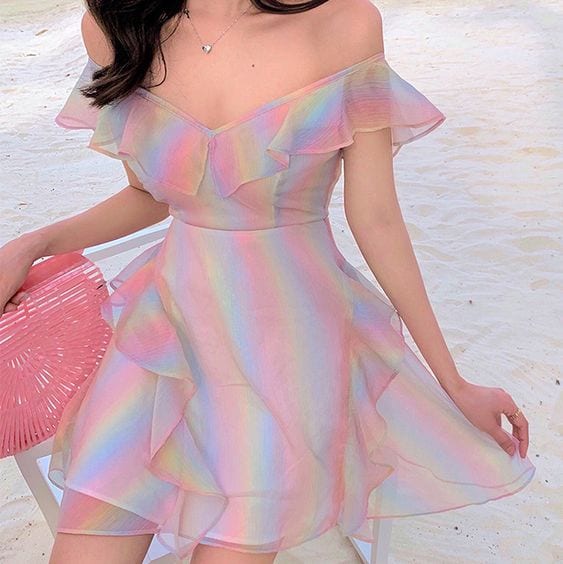 Not going to lie; this is definitely the dress of every girls' dreams. The tie-dye gradient effect on a ruffled dress truly gives off fairy tale vibes. Looking magical as ever is a thing, ladies!
#17. Pop of color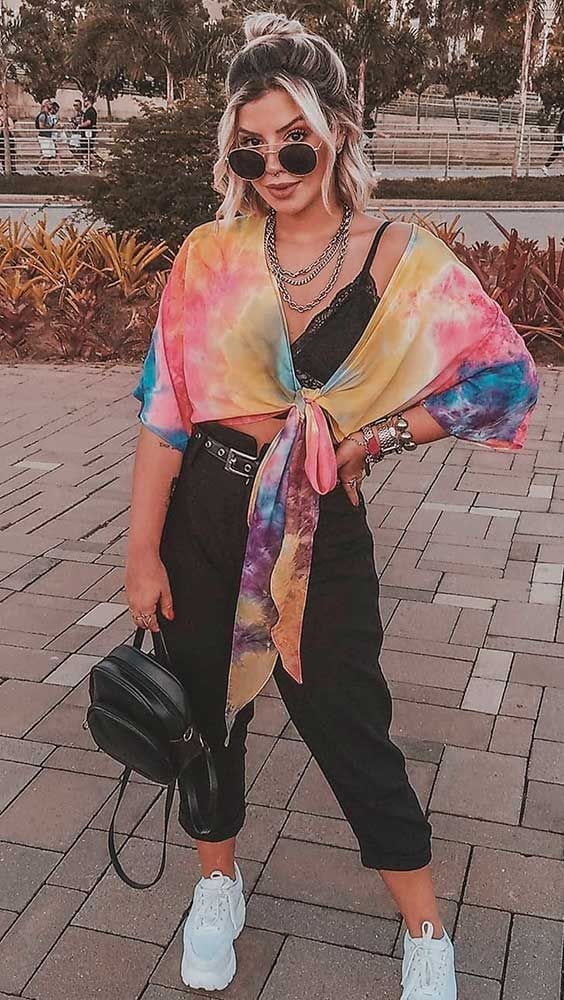 Come on, ladies, shake things up and add a pop of color to your all-black outfit with a tie-dye piece and trust us, you can never go wrong with this combo.
#16. Funky and Punky
Bored of the same old hair and the same old outfits? Are you daring enough to spice things up? Matching hair and outfits, how does that sound? You'll surely have fun playing around with these funky colors, so why not get a tie-dye shirt and get your hair dyed the same color too. Don't be afraid, ladies; Afterall it's hair, and it'll grow out, but you'll definitely be making a bold statement while you're at it.
#15. Rock on a Bodycon
Get yourself a tie-dye bodycon and show off that beautiful summer body you've been working out for. When it comes to footwear, let you lace-up stilettos, shine and do the job. Top of your look with a top handle clutch bag, and you're off serving looks!
#14. Street Style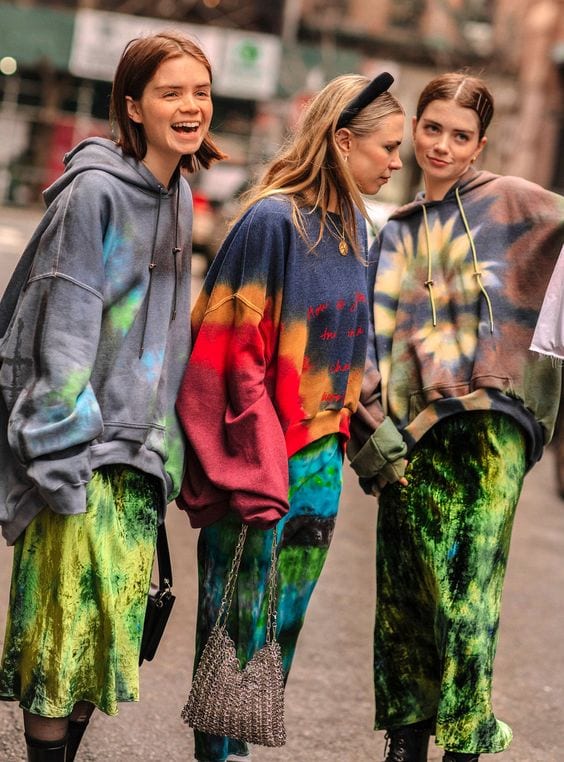 According to New York Fashion Week, tie-dye skirts with oversized tie-dye hoodies are the most popular street style trend of the year, and why would we second guess that. So, throw on an oversized tie-dye hoodie and dust off your tie-dye skirts to pair with it because NYFW can never be wrong.
#13. Straight outta Monsters, Inc.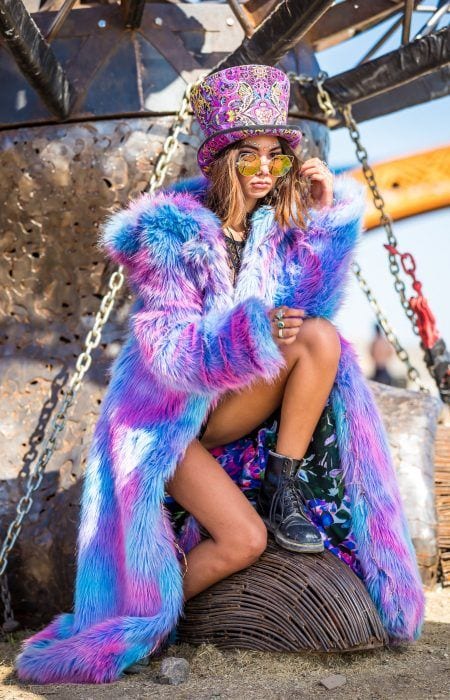 Are you thinking what we're thinking? This tie-dye faux-fur coat reminds us of Sulley from Monsters, Inc., and that hat is surely giving off the mad hatter vibes. If you're planning to go to Coachella, then this might just be the right ensemble for you.
#12. Hoodies for days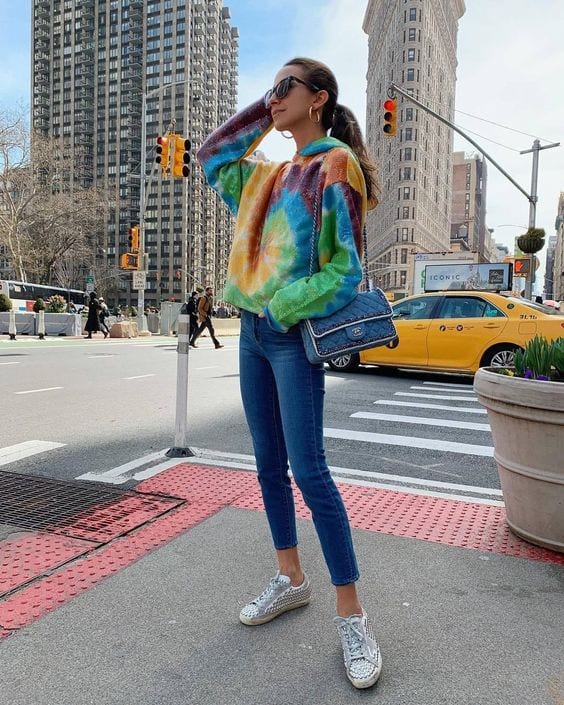 Hoodies are a winter staple. Go for a party on top and casual on the bottom look with this tie-dye hoodie and your favorite jeans. To tie the look together, a fancy bag and casual sneakers will do the job. Add hoops and sunnies to complete the party on top look.
#11. All about pastels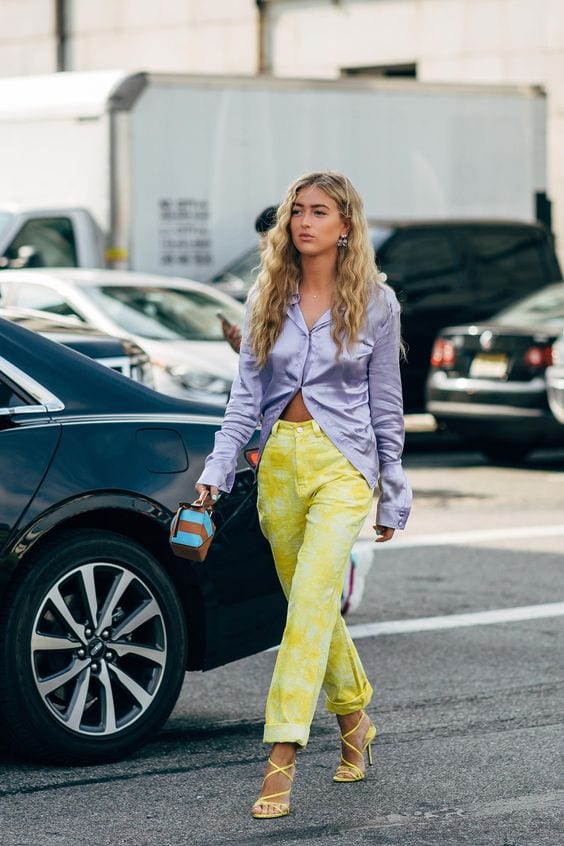 Pastel colors are light and easy on the eyes, giving you a very sophisticated and soothing look. Pastel colors are happy colors and with summer right on the corner, consider them the ideal shade to beat the scorching summer heat; consider this your que to get yourself some pastel tie-dye pieces. We are digging this pastel look with yellow tie-dye pants and a lilac button-down.
Learn more on summer fashion colors and trends for women.
#10. I'm a Barbie girl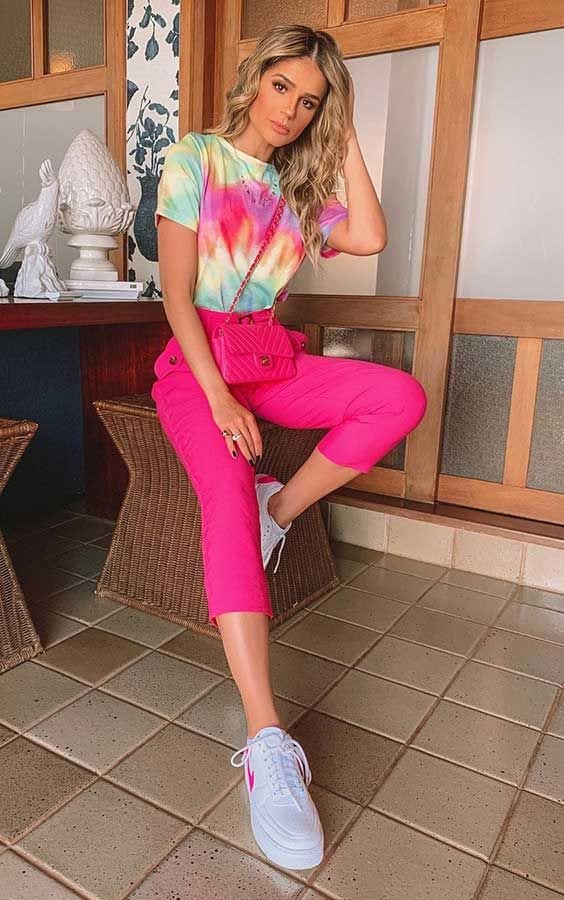 Barbie was every girl's first fashion icon. Channel your inner Barbie girl by coupling your tie-dye tee with shocking pink pants and purse. Add white sneakers if you want to break the color scheme. With this get-up, life will surely be fantastic for you!
#9. Denim on Denim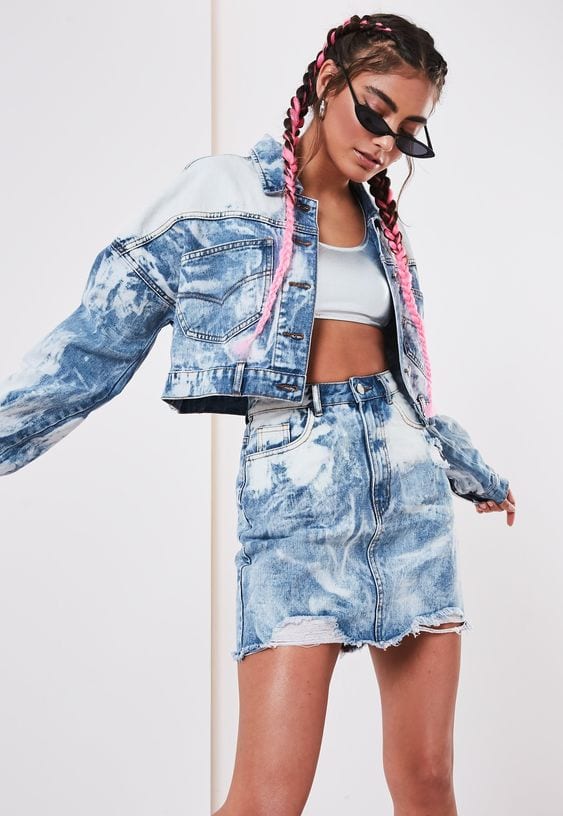 Denim on denim is an all-time favorite, so why not incorporate some tie-dye magic in our favorite wardrobe item. Buy your tie and dye denim pieces now or get yourself some bleach and get ready for some DIY fun with your existing denim pieces (but be safe and use gloves)!
#8. Black all day, every day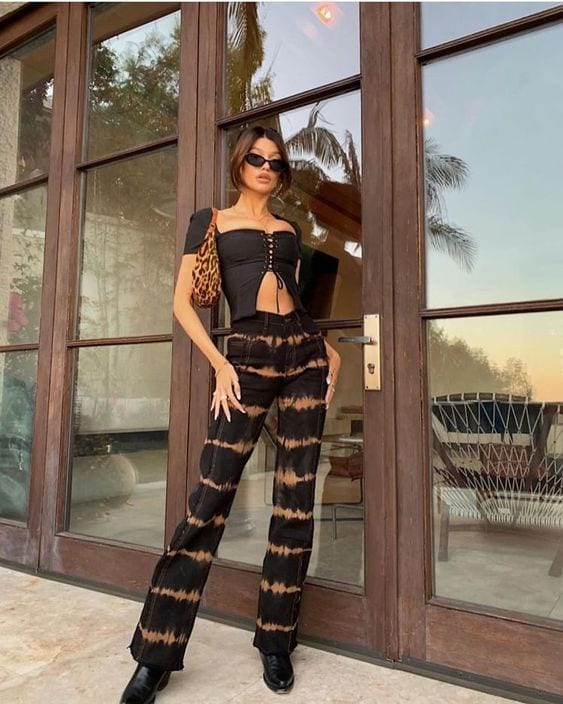 Be it chilly winter evenings or the scorching summer heat; we can't let go of our black outfits. There's something about black that makes you look effortlessly stunning. But ladies, take inspiration from these black tie-dye pants and make them a part of your all-black outfit. Show off some skin with a drawstring top and add an animal print bag that complements your pants. This is an exciting way of looking unique in an all-black outfit.
#7. Monochrome Vibes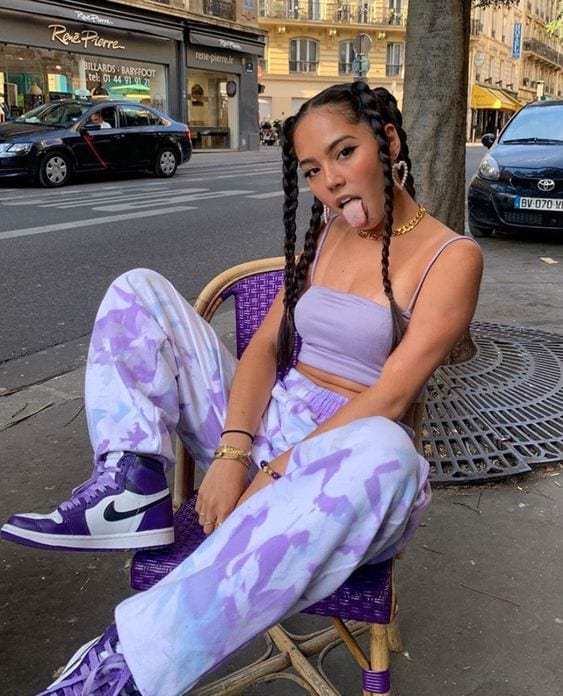 Level up your monochrome game by adding a tie-dye piece to it. A cami top with matching loose tie-dye pants will be your summer go-to once you give it a try. Slip on some matching sneakers and look tip-top from top to bottom.
#6. Don't forget the turtleneck!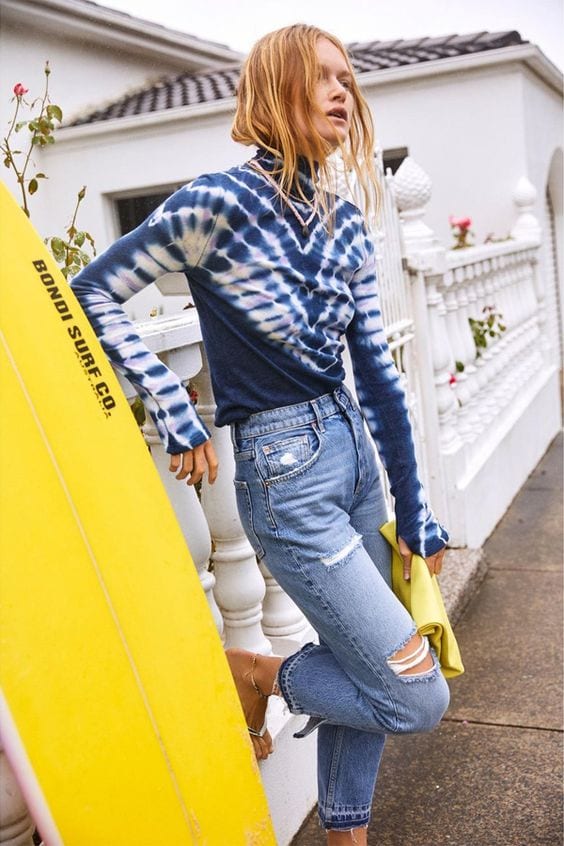 Tie-dye turtlenecks are a thing, ladies and the best way to style them is with high-waisted ripped jeans to keep the overall look minimalistic. Slip on a pair of sandals to complete the look!
For fashion outfits for women, check out more ways to style your jeans.
#5. Electric and Eccentric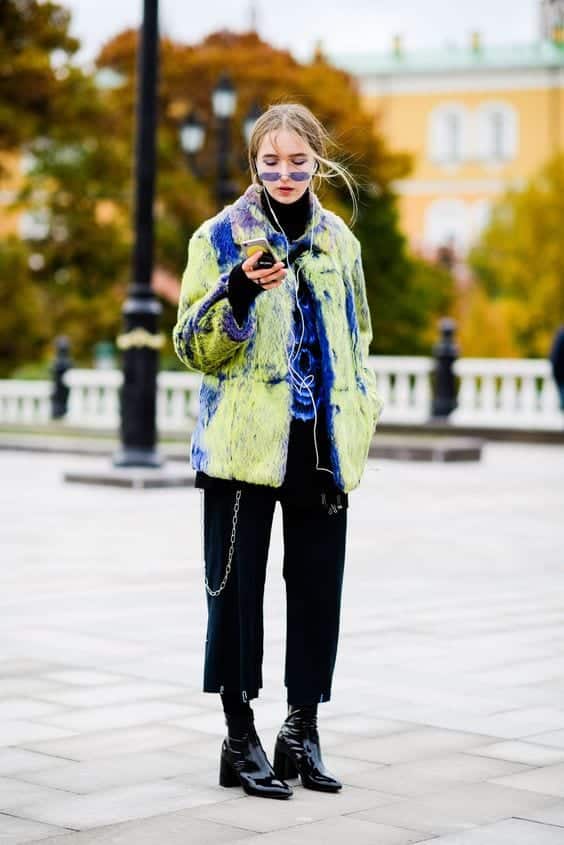 Is strutting around town looking eccentric your thing? Then you are bound to love this electric blue and neon yellow tie-dye jacket paired with an all-black outfit with hints of electric blue incorporated in the top. The matching sunnies and the chain on the side of the pants are undoubtedly adding to the look.
#4. Jacket and Short set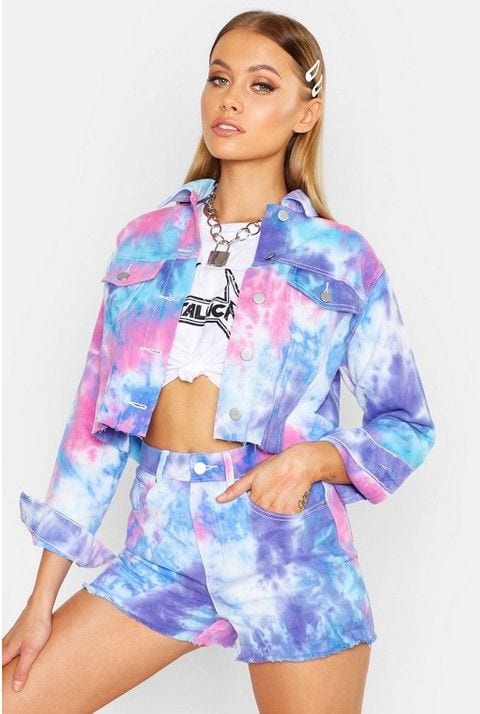 Matching two-piece outfits are a game-changer, so grab yourself a matching tie-dye jacket and short set and make heads turn wherever you go! We can't help but notice how the lock necklace is bringing out the look more.
#3. Ciao comfy, goodbye grumpy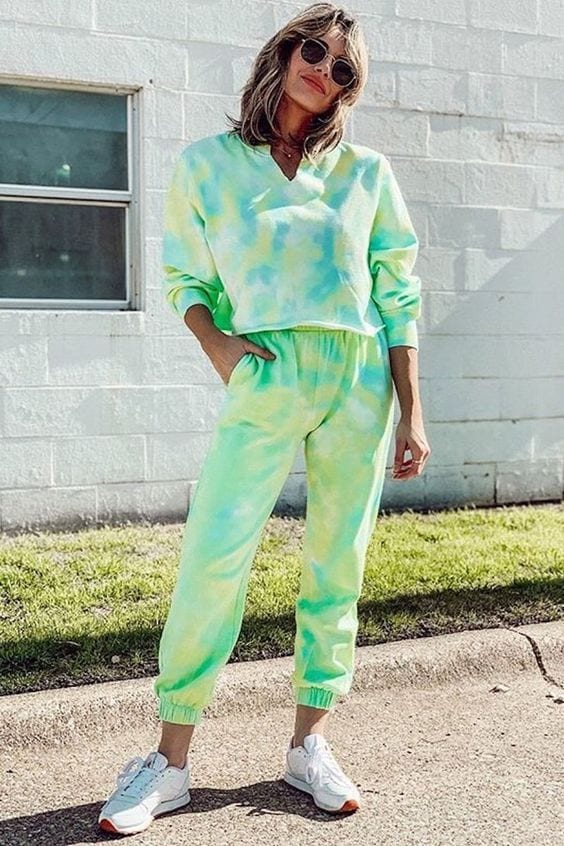 Say goodbye to your grumpiness as soon as you hop into a comfy yet chic tie-dye loungewear. Not only is this the perfect outfit for chilling at home, but you can even go for a quick grocery run in this and still make a statement.
#2. Mommy and me-cuteness overload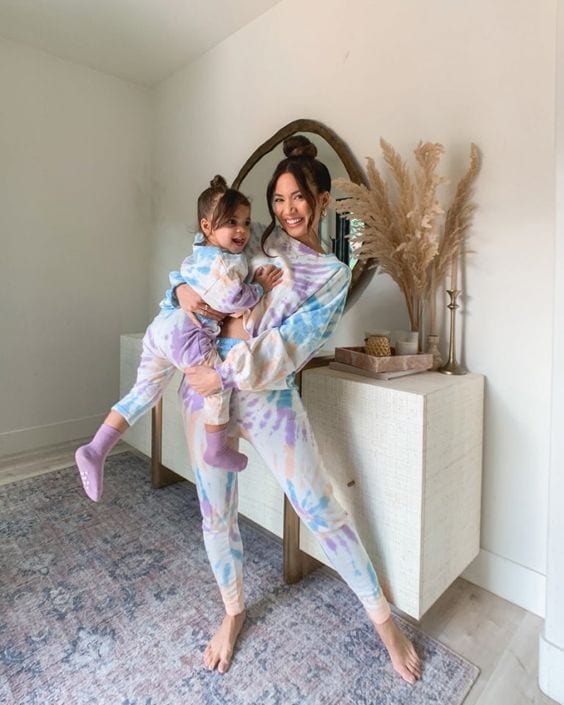 Mommies love to dress up their little girls, and when it comes to mommy and me outfits, they're heads over heels for them. If you are also a mommy and me big-time fan, then you need to give these tie-dye pieces a chance, and for what's it worth, you'll be giving us some major baby fever!
Check out more cuter matching fashion outfits for mother & daughter.
#1. Best suit? Jump suit!
Jumpsuits are without a doubt a statement style and a timeless look. But with tie-dye jumpsuits in the equation, you can, without a doubt, create a striking look and give all other jumpsuits a run for their money!
Frequently Asked Questions
Give these a read as you might have the same questions too!
Q.

Can tie-dye pieces be washed together?

A. Although tie-dyed pieces can be washed together, they require sufficient space in the washer to get thoroughly cleaned and rinsed. But if you're worried about your items bleeding together in the machine and getting ruined, then you can wash them separately.
Q.

How to wash tie-dye pieces in order to prolong their quality?

A. Turn your tie-dyed pieces inside out before placing them in the washing machine, as this reduces the chances of the colors bleeding out or even mixing with other fabrics. It is also extremely important to use a high-quality laundry detergent. Run the washer on the gentle cycle using cold water and promptly remove them from the washing machine after the cycle finishes.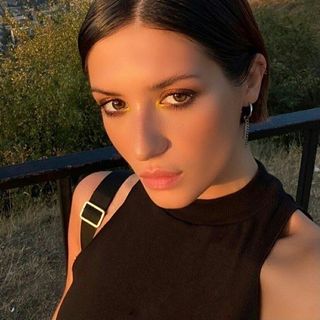 Avid reader and Fashionista. London Based freelance lifestyle editor