Pleated Jeans Outfits. Pleated jeans were quite the thing back in the eighties. Our moms probably rocked them like nobody's business, pairing them with oversized sweaters, Converse, and fluffy hairdos.
Lucky for us, this is fashion and whatever has been done before will be done again. So it is no surprise that pleated jeans are BACK and as long as they are around, why not hop on the trend and give your Mama's '80's fashion style a try for yourself?
How to Wear Pleated Jeans?
Now, before we go any further, let's touch base on what pleated jeans actually are. You might be picturing a long seam running from waistband to hem but this isn't always the case. A lot of the time, pleated jeans are just regular style jeans with a short pleat (or pleats) running from mid-calf to hem or waistband to mid-thigh. It's a subtle touch that takes average denim to a new level.
So, without further ado, let's get into all the ways you can style these bad boys, plus where you can find them to get yourself a pair!
Where to Find Pleated Jeans
As with any trend, the item in question will probably end up on the racks of your favorite clothing stores… eventually. But in the era of lockdowns and worldwide pandemics, it's helpful to know where you can find them online, or, to save you time, what stores carry them so you can knock time off your shopping ventures and get right to business. Here are six places where you can buy pleated jeans:
Styling Tips
Let's get real for a second. Adding the odd pleat to jeans, which are already a difficult clothing item to size perfectly, can make things a tad more complicated. How do you rock them without adding unnecessary width or bulk to your frame? How do you wear them in a way that feels modern and trendy? Well, check out these five tips on wearing pleated jeans that should help you out.
If you have never worn pleated jeans before, but you are game to try them, start with a lowkey pair that doesn't feel too showy. You'll want to feel comfortable and like yourself while wearing them.
High-waist pleated jeans seem like the best option for most body shapes as the close fit around the waist ensures you get some semblance of a shapely figure. Paperbag style is also recommended as they will really cinch the waist and draw the focus up and in… even as those well-placed pleats add some extra roundness to your hip region.
There seem to be two trendy style tops to pair with these jeans. You can go for a bodysuit to balance out the excess fabric on your lower half. Or you can tuck in a blouse-y style top which may puff out a little around your chest but should remain cinched in around your waist to keep that shapely silhouette.
Add a short jacket or tailored blazer to add some width to your upper half, all the while keeping that slimmed-in focus around the waist. (Catching on to the trend?)
Wear with heels to lengthen your figure and add that perfect chic finish to your look.
Now that you are armed with where to get your own pleated jeans as well as a few tips on wearing them, let's get to the outfit looks themselves: 15 ways you can style pleated jeans in 2021! (And no, these aren't the only ways to style them… but they sure are some of the best, in our opinion at least!)
#15. Alessandra Ambrosio's Neutral Look
Right out the gate, we get a great idea of how celebrities are rocking their pleated jeans. Here Alessandra Ambrosio paired a super light-waist pair of pleated jeans with a thin, crewneck sweater, a pale brown belt (that perfectly matches her small crossbody purse), and some ankle booties. This low-key look is great for running errands or grabbing lunch with your girlfriends.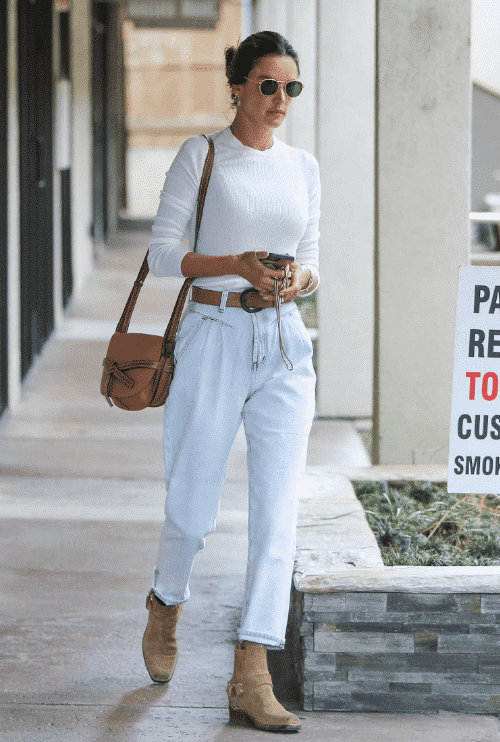 #14. With Flared Sleeves & Converse
This ensemble really gives an '80s vibe with its wide stripes, cloudy jean wash, and Converse. But it has a decidedly modern feel from those flared sleeves to the neutral combo of gray and white (no garish colors to be seen). This is a great look that feels and looks good, perfect for weekend shenanigans, working from home, or having a casual day out with your significant other.
For more ways to style outfits with a pair of converse, check ways to wear converse shoes.
#13. College Girl Style
Whether you are in college or a post-graduate (or you just like the college girl look), this ensemble is the perfect casual, comfy outfit you can wear no matter the day of the week. Start with your favorite white tee (can feature a logo or a phrase if you like it to) and tuck into a pair of high-waist, medium-wash jeans. This particular set of jeans have a very "mom jean" vibe going for them and we are here for it! Add an oversized, slouchy cardigan and your favorite pair of low-tops and you'll have the look down easy-peasy.
#12. Runway-Ready
If you had any doubts about just how "in" these jeans are, check out how the runway is rocking them. While head-to-toe denim might not be your thing, this ensemble certainly gives us an idea of how to do it in a very modern way. A splash of color, some cool bishop sleeves, and some diamante sandals will keep the look fresh and fun.
#11. Wear them like Jennifer Lopez
Following trends becomes a lot easier when all the major fashion icons of the day are keeping us up to date. As is the case with Jennifer Lopez, who sported these paper bag style pleated jeans with a blouse-y button-down, Aviators, and white sneakers. She added some signature hoop earrings, a cool bracelet, and a chain-strap purse.
#10. With a Blazer and Boots
If you are looking to create a casual work look or a chic weekend ensemble, pairing pleated jeans with a blazer will do the job nicely. This outfit is great for cooler weather, with a button-down layered over a thin, frilled turtleneck. Add some sleek booties with a chunky heel and a large, neutral-colored purse. Finish off the look with some sunglasses and a pair of drop earrings.
#9. With a Crop Top and Sandals
You can't really go wrong with a crop top these days. For that perfect grunge-style, ultra-casual look, pair it up with some faded pleated jeans, double-strap sandals, and a cute crossbody purse. Add some sunglasses to tie the look together.
#8. Matching Denim Outfit
With spring upon us, you might like trying a matching set or pairing a corset-style crop with some pleated, high-waist jeans as shown here by Olivia Culpo. If you like to be a little more covered up, add a light jacket or swap the top for something with a little more coverage. White jeels and pulled-back hair are all you need to tie this celebrity-style look together.
#7. Laidback Street-Style Leather Blazer
If you love a laidback, street-style look that can work as much for creative work meetings, coffee dates, and travel, this is the outfit you have been waiting for. From pleated boyfriend jeans to a loose leather blazer, this outfit is chic without trying too hard, comfy without looking sloppy, and just edgy enough to make you feel like a true icon while wearing it. It has all the elements we love and then some!
#6. With a Wrap Top and Heels
With pleated jeans, you aren't stuck with just blue denim. You have options! And these white pleated jeans (said to be a dead-ringer for Australian designer label Aje's $295 palazzo pants) are one of the best. This elegant-chic look is great for date night, dinner parties, and other semi-dressy affairs. You can dress it up or play it down: either way, these pleated jeans are the bomb dot com.
Do check on the Most Comfortable Heels of 2021.
#5. With a Tucked-In Tank Top
These jeans are so cute, you won't mind wearing them in summer (or you won't mind as much!). We love the addition of a wide belt to really draw the eye in. Pair with a tucked-in tank or bodysuit and have fun coordinating pops of color into your look. Finish off the whole ensemble with some metallic gold heels, hoop earrings, and a mini crossbody purse.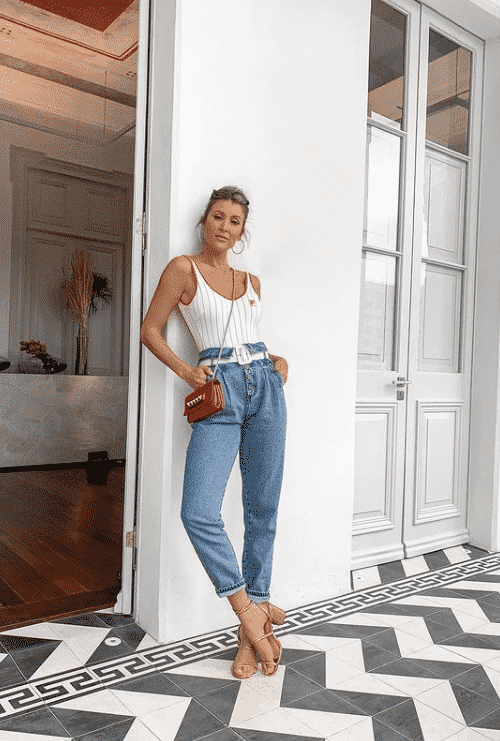 #4. Ultra-Glam Style
Wondering if it's possible to style an ultra-glamorous outfit with pleated jeans? The answer is a big fat YES. We are half in love with this whole look, from the cropped hair to the bell-shaped sleeves and the incredible gold heels. It's all about the little details with this look: so a teeny, tiny braided belt for the waist, gold hoop earrings, and matching heels are must-haves. Go full glam with your makeup (if you like makeup, that is) and let your trendy jeans do all the talking.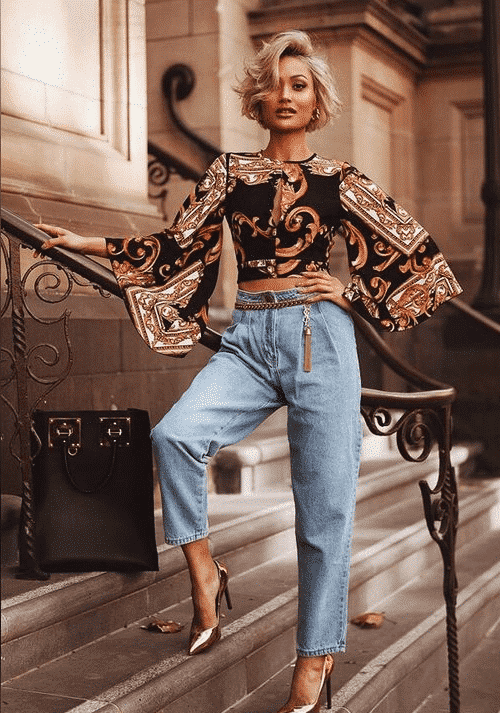 Check out stunning ideas to style accessories with Short Hair!
#3. With a Cardigan & Mules
If you love a laidback London-girl vibe, this is the look for you. Perfect for feeling cute, even when you are staying at home or having a night in, this ensemble will have you feeling comfy, too. Ditch the tight-fitting tees for a soft v-neck cardigan and pair them up with some slouchy pleated jeans. Shoes are optional. If you aren't feeling heels, try little white sneakers or some flat-heeled mules.
#2. Gray Jeans with Pleated Hem
A less common type of pleated jean has the pleated hem as well… and you can see here how cute they look! This is a more close-fitting pair that doesn't add too much bulk to the hip and thigh arena, which is perfect for petite gals. Pair up with a sleeveless mock-turtleneck top, loafers, and a big tote bag. You can throw together this outfit in less than five minutes, which gets big points in our book.
#1. With Open-Front Sleeveless top
Last but certainly not least, we have a casual-chic outfit, perfect for any day of the week!
Frequently Asked Questions
As with any trend, getting all your questions answered is an absolute must! Here are a few frequently asked questions about pleated jeans, from how to wear them to the more pressing question of 'are they even in style?' Check them out!
Q. What do you wear with pleated jeans?
A. What you wear with pleated jeans is really up to you but you might like wearing them with a bodysuit and white sneakers a la Hailey Bieber. Or maybe you prefer Jennifer Lopez's tucked-in button-down with the sleeves rolled up.
You can also try them with a graphic tee, a crop top, or a tank top tucked in, and have fun experimenting with different shoe styles like strappy heels or little white sneakers, or sleek booties.
Q. Are pleated jeans in style?
A. Like it or not, pleated jeans are definitely trending, perhaps because so many '80's fashion trends have been reemerging. They are considered a bit of a controversial trend as well, which makes them quite exciting to try.
Q. How do you style pleated jeans?
A. What you wear with pleated jeans will really boil down to your own unique sense of style, what you are comfortable wearing, and how trendy you like to be.
Have a look through these outfit picks in this article to see which really resonate with you. Then, glance through your closet to see if you have any of the items pictured on hand. If you don't and there's an outfit you really want to try, consider investing in a few of those pieces so you can create your own stylish pleated jeans looks.
Q. What shoes go with pleated pants?
A. It depends on the overall effect of your outfit, like whether you are creating a casual-chic look, a work look, or a date night looks, but pleated pants look best with heels, sneakers, booties, or delicate sandals.
Are you feeling ready to tackle this "controversial" trend for yourself? Let us know in the comments below! We love hearing from you.